A vintage chic Patiala wedding drenched in Color & Heritage : Abhaya & Uday
BY The WMG Bride | 27 May, 2014 | 8870 views | 7 min read
Somewhere between the first and last photo of this wedding lies our happy place. A wedding with splashes of bright color , with tiny meaningful details that go a long way, and with heirloom pieces that are enough to give you a history lesson- from the grooms 100 year old sherwani, to the brides reception lehenga originally worn by the grooms grand mother -this wedding is all things vintage ! Shot by
Joseph Radhik

,
The vintage Naths (lusting after each and every one of those), the english vintage decor at the morning wedding, and the traditionally Punjabi details make this a wedding in which each image is to be devoured and will leave you wanting for more.
Meet Abhaya & Uday
A classic Dehradun boarding school love story that started in Class 11. Ten years of knowing each other, and 5 years of a long distance relationship these childhood sweethearts became partners for life ! Abhaya says "I guess we understood what we both meant to each other, we didn't want to part ways even when it was so tough to carry on a long distance relationship cause we were the closest of friends more than anything else. I was 16 when I met him and we stuck with each other through all our ups and downs, happiness and sorrows and finally decided to marry each other this year. It feels like I have known him for a lifetime and marrying him was the happiest thing because it was like marrying your best friend. "
The Mehendi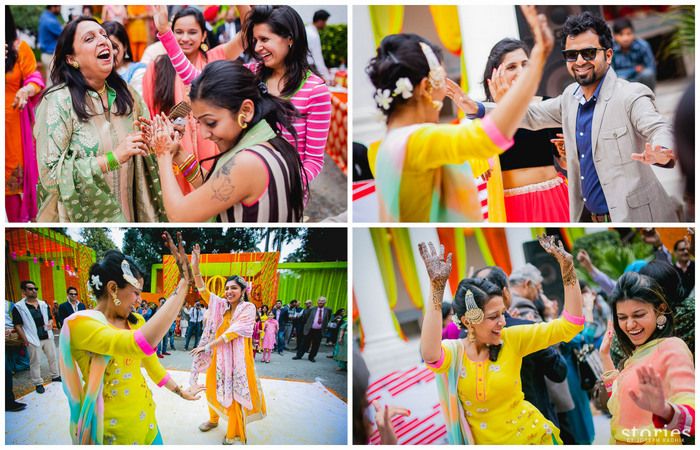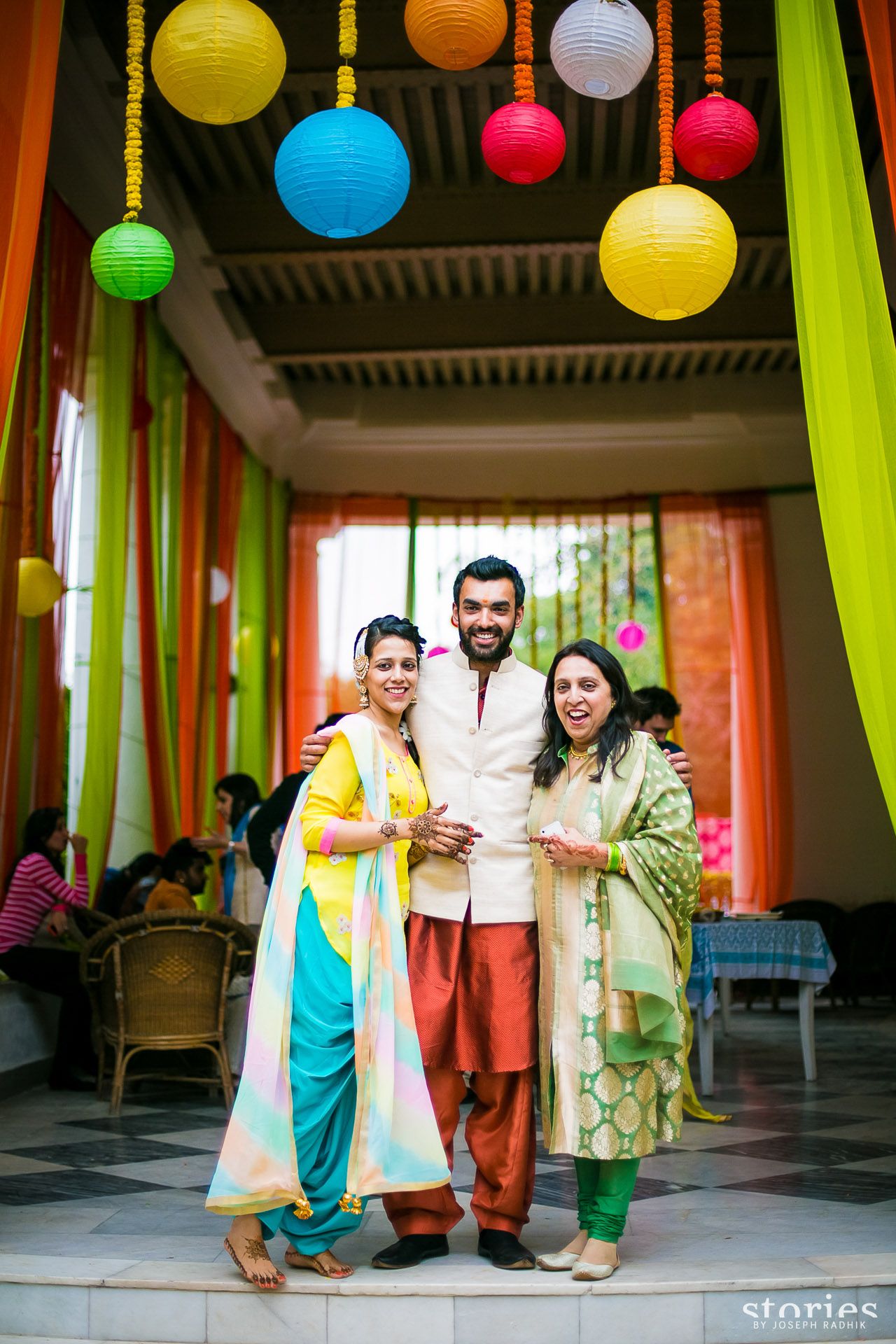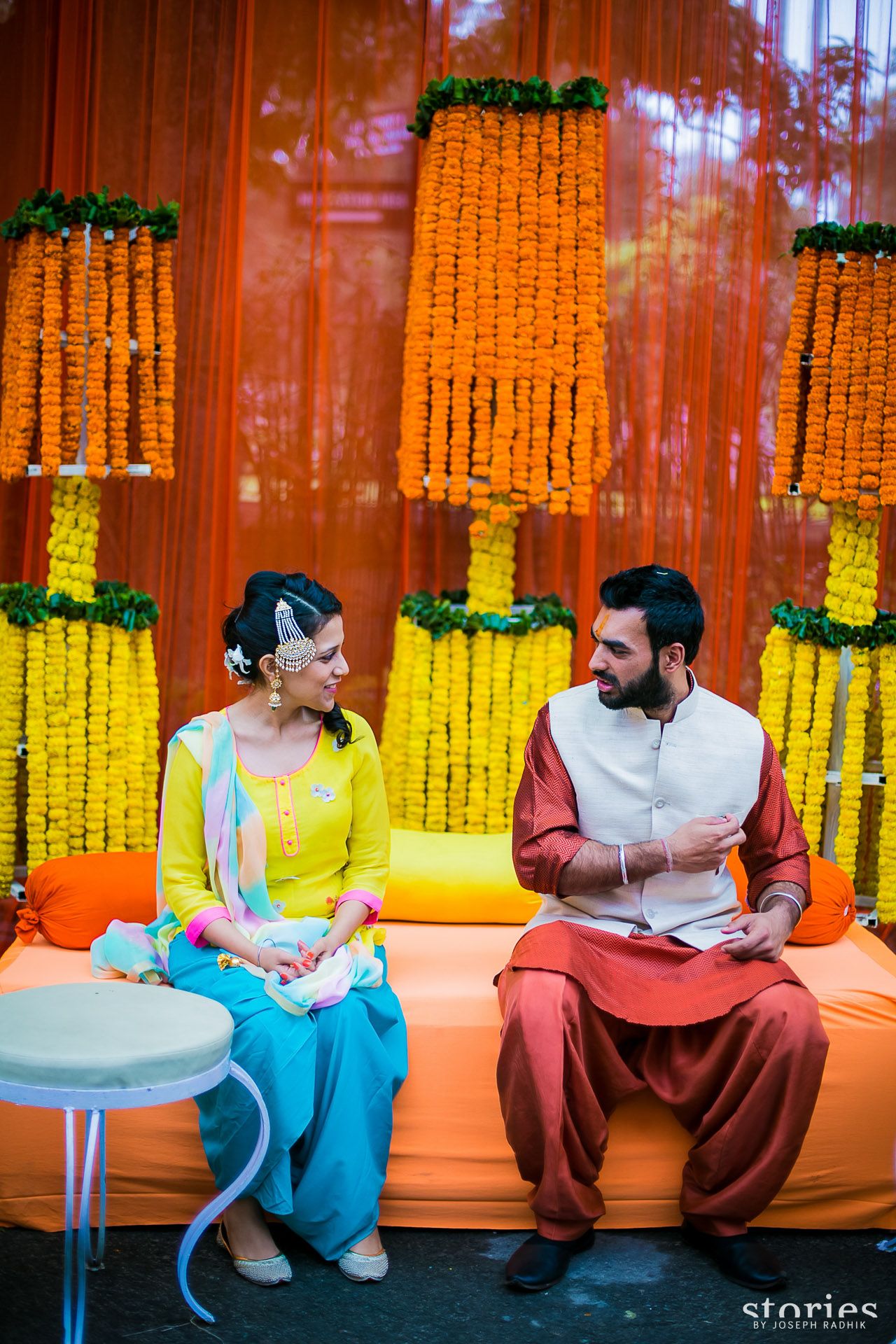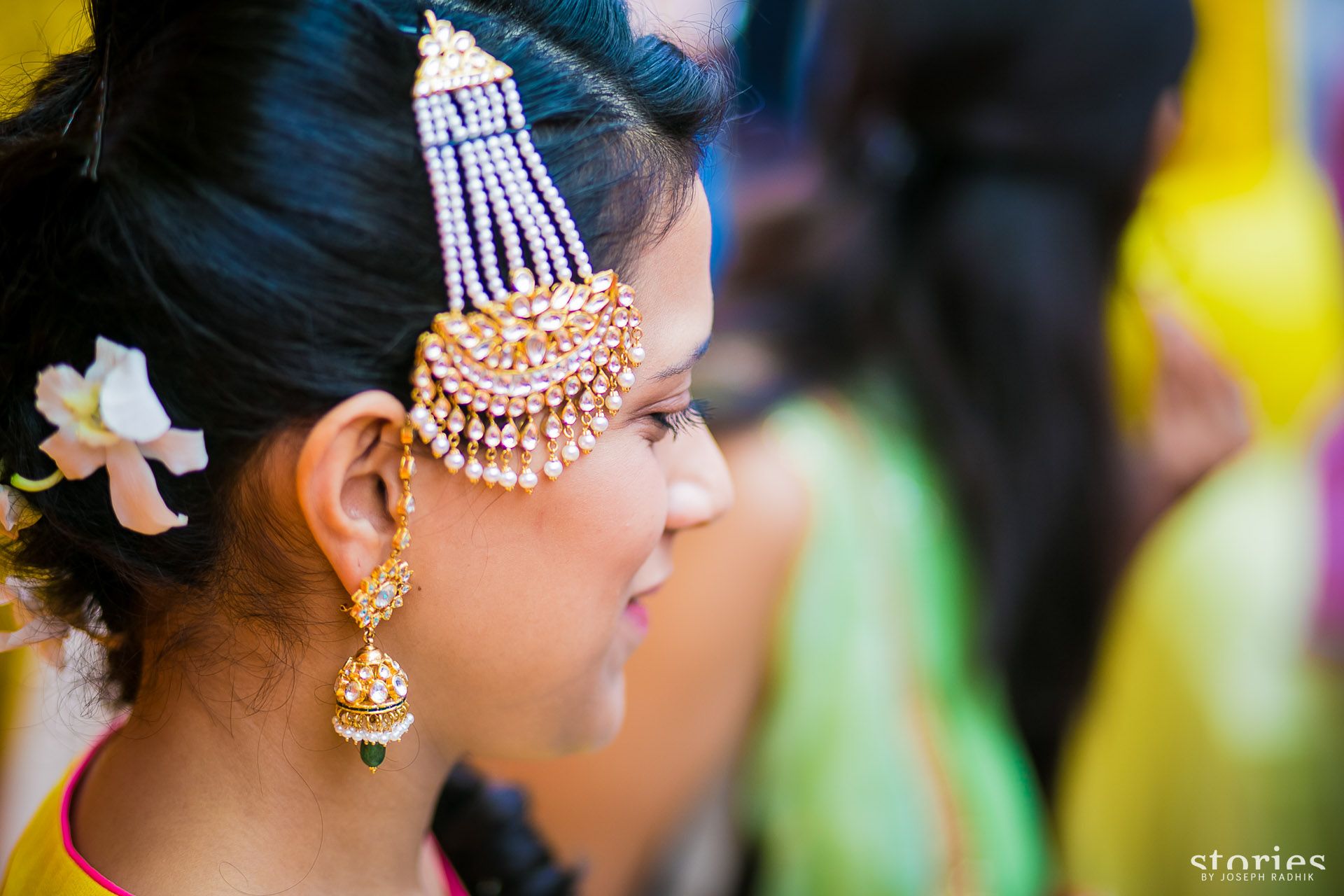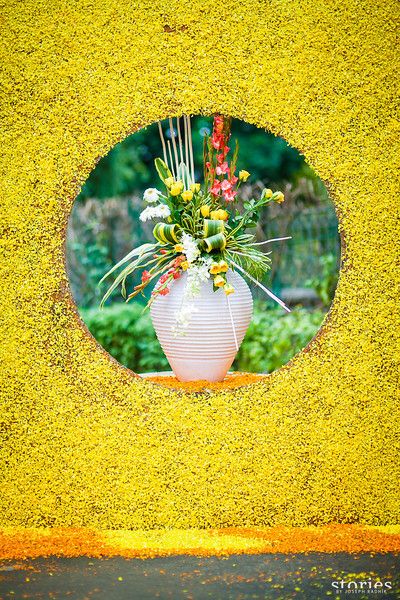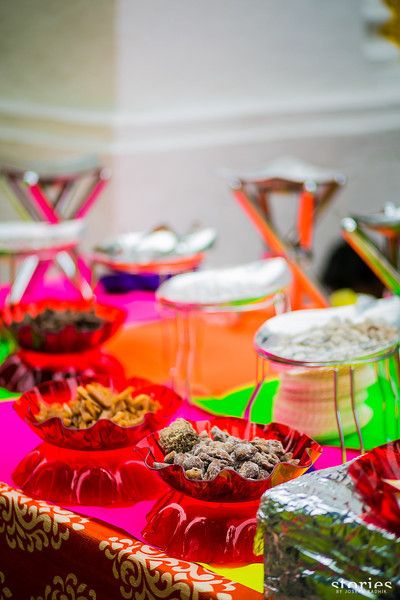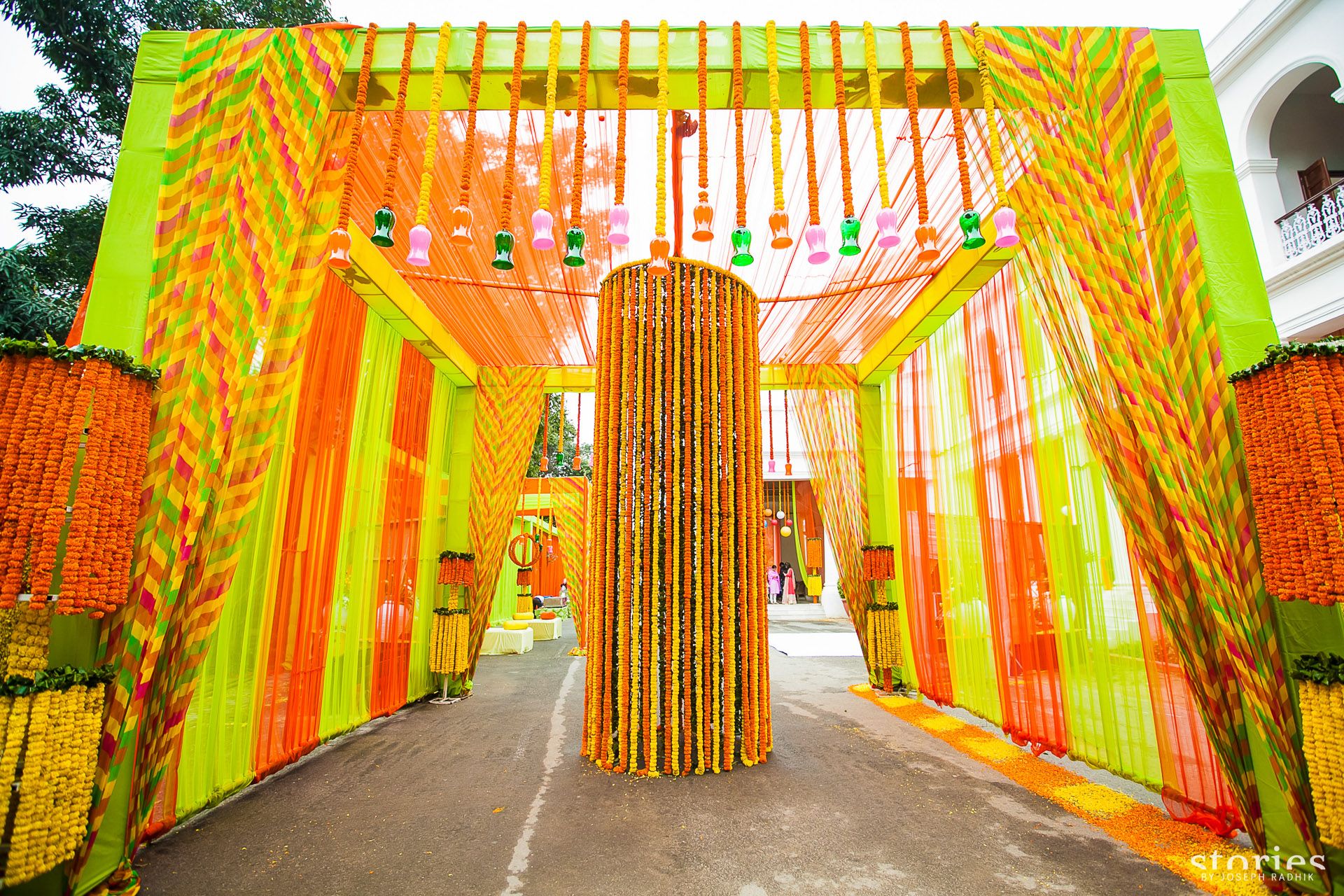 The Sangeet & Engagement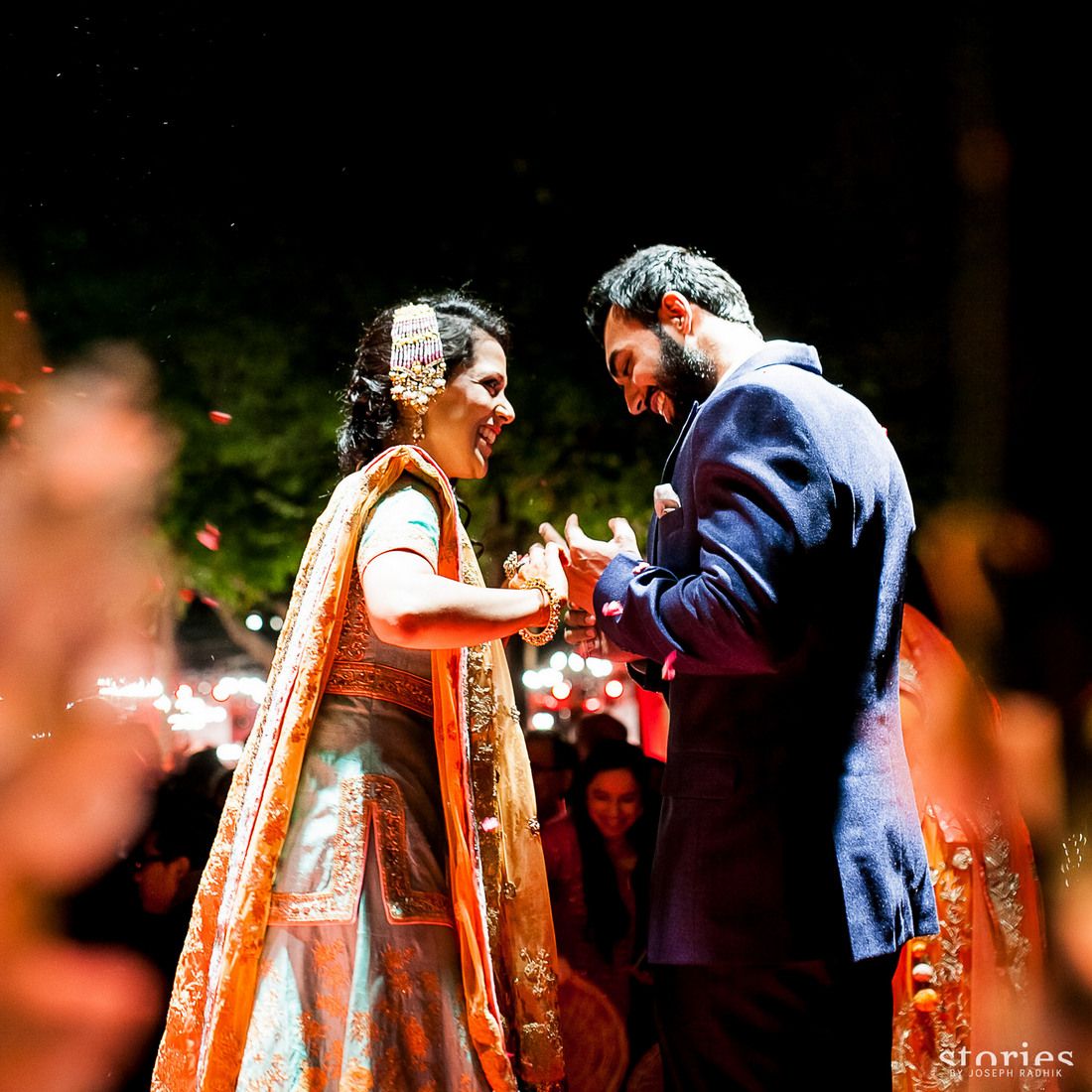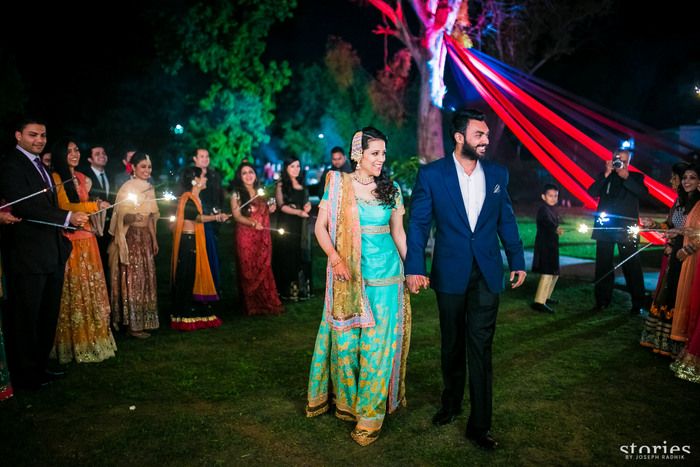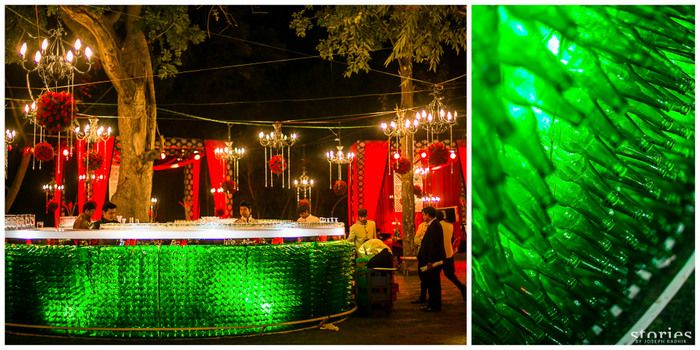 The Anand Karaj + Wedding Lunch
Love the shaded pink lehenga. Full vendor details at the bottom.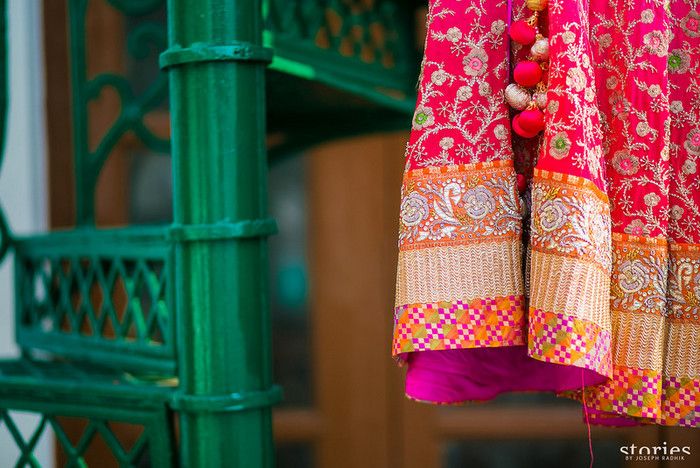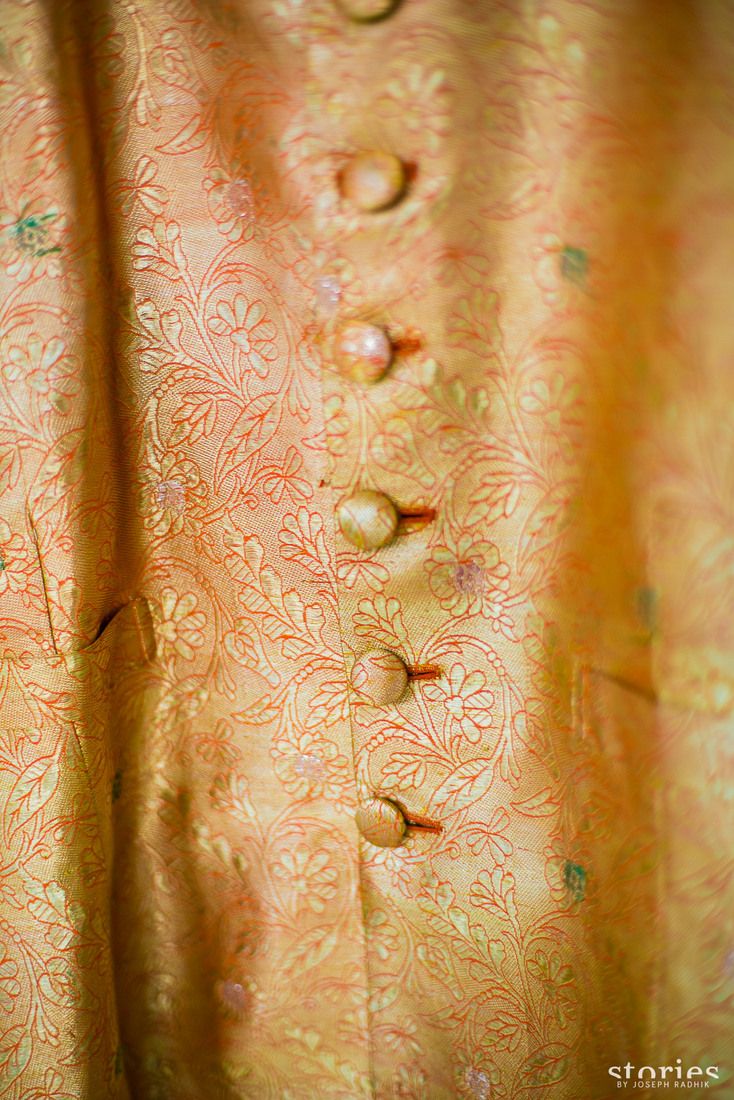 The Achkan is Uday's great grandfathers (more than a 100 years old), and the sword is Guru Gobind Singh Jee- the 10th Sikh Gurus sword.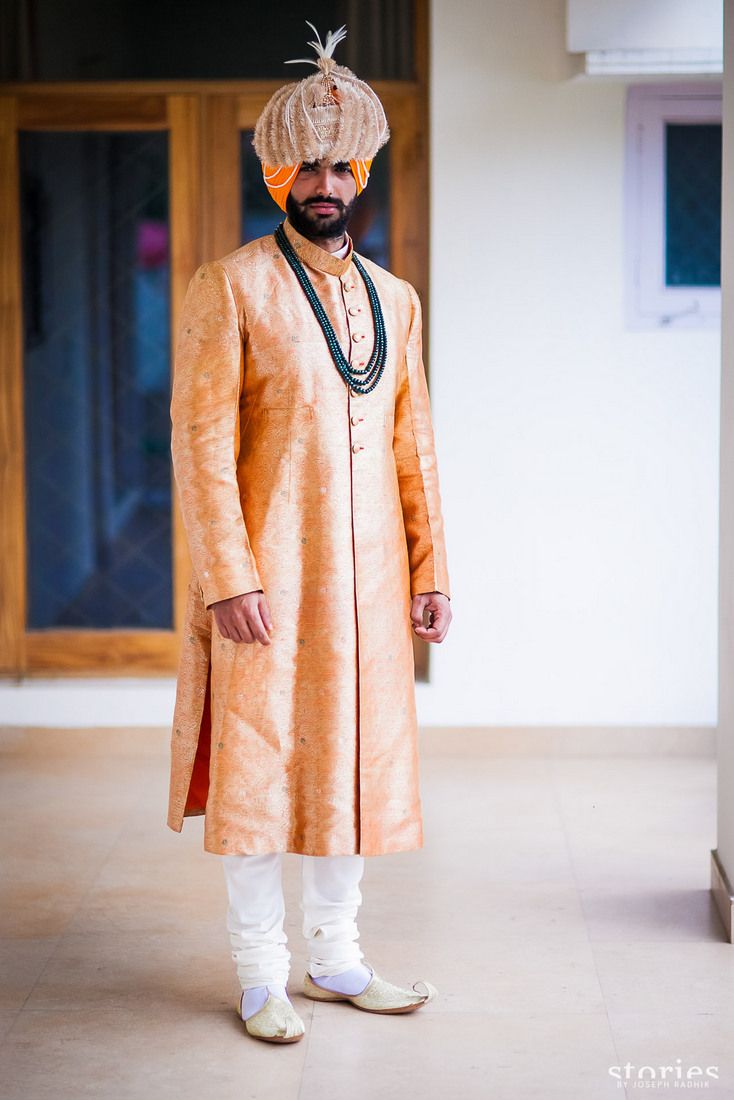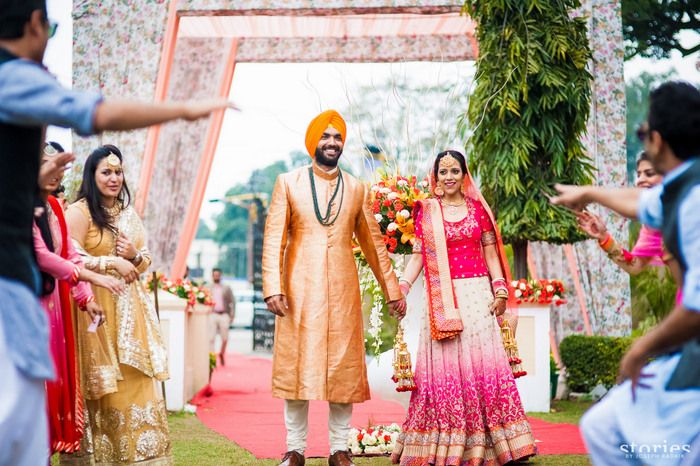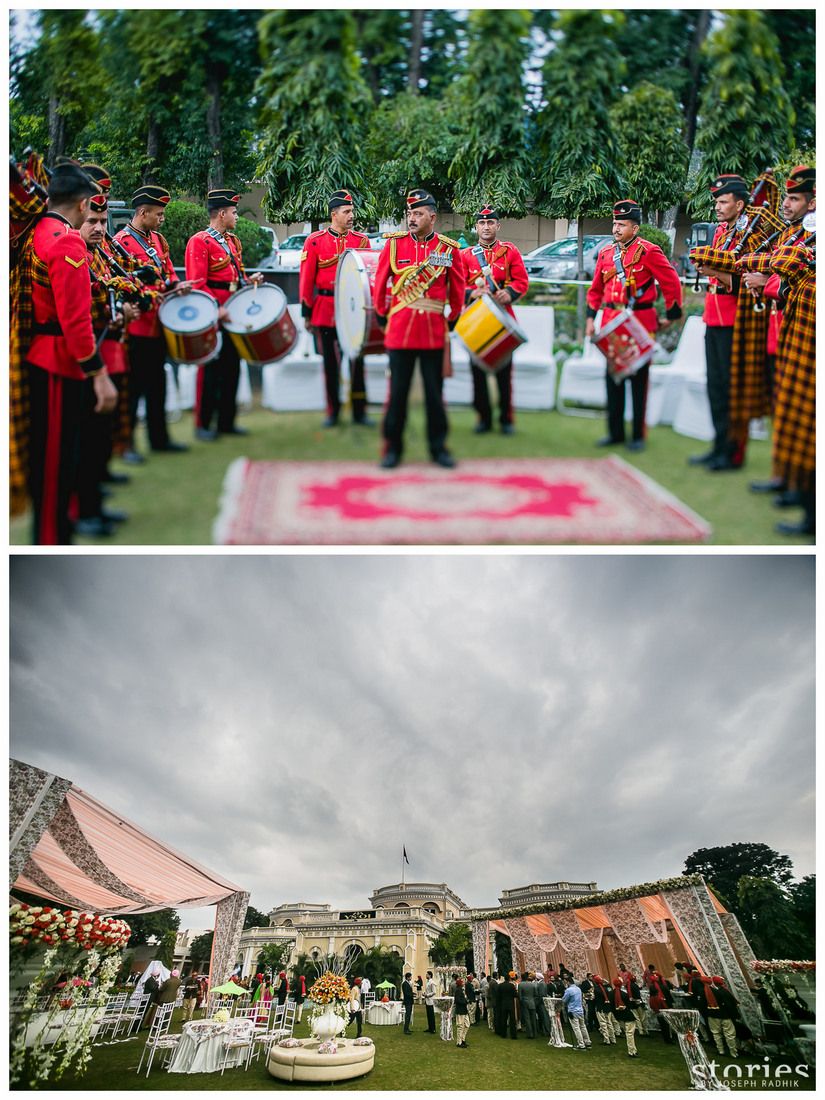 The nath Udays mom is wearing is Uday's great grandmothers and more than a 100 years old
Meaning of each fera was written on cards that the guests could read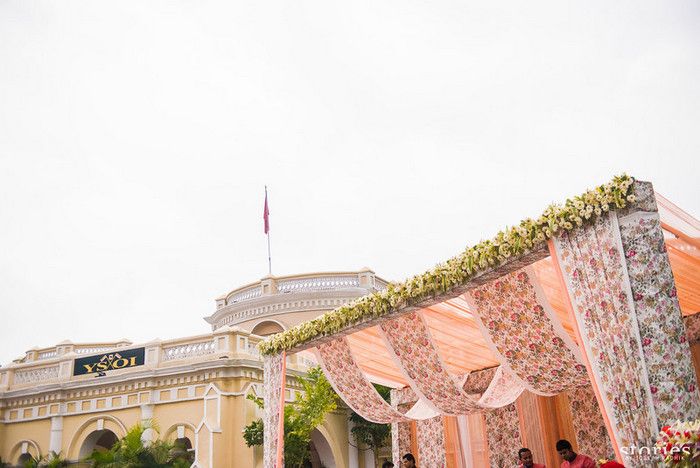 The reception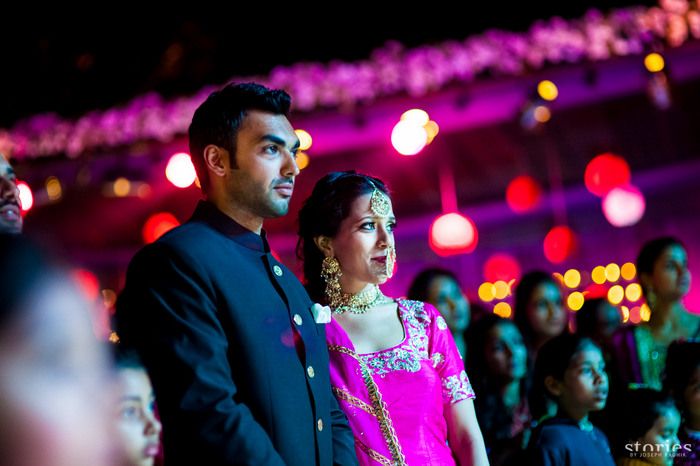 The Nath! Love it !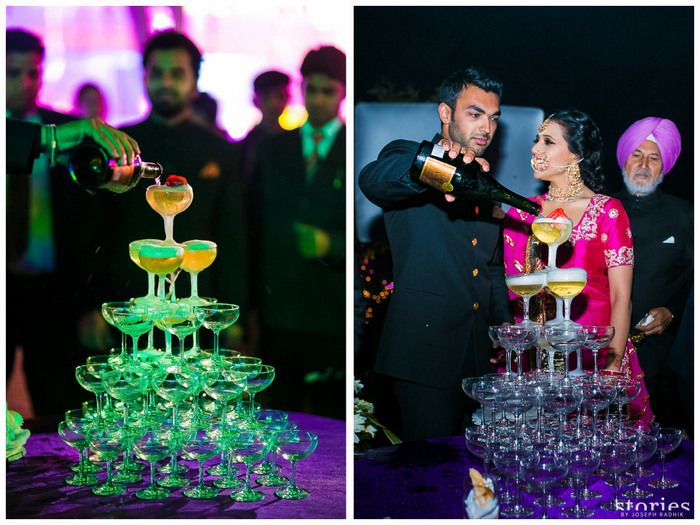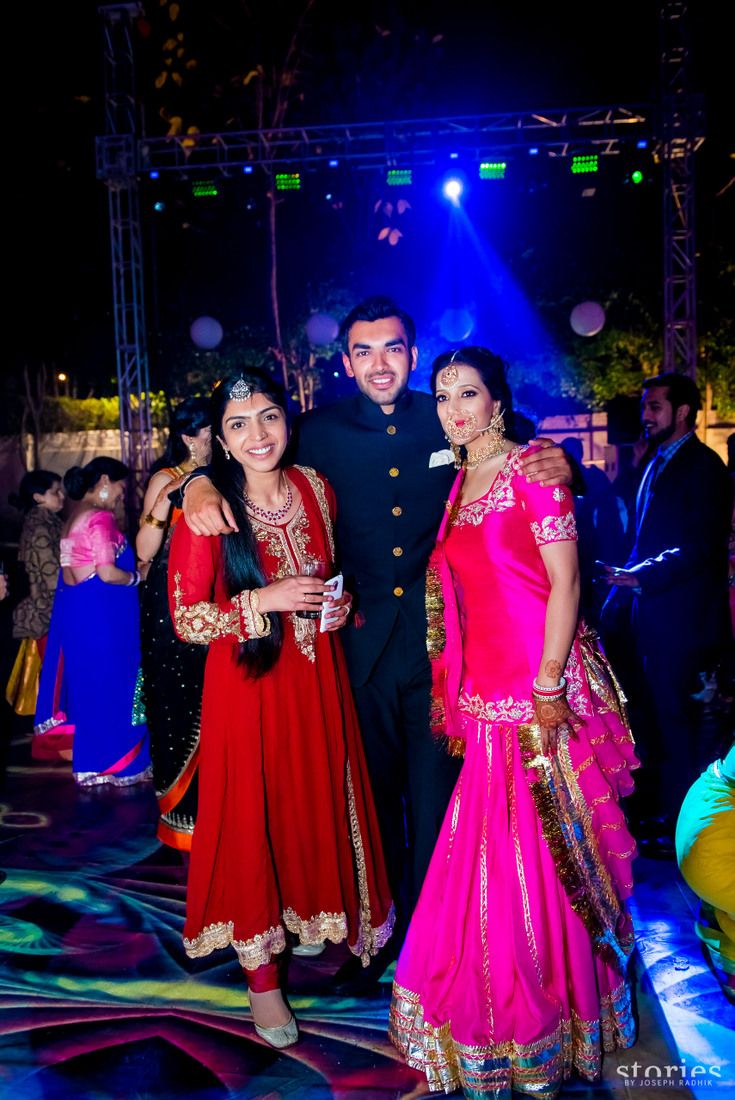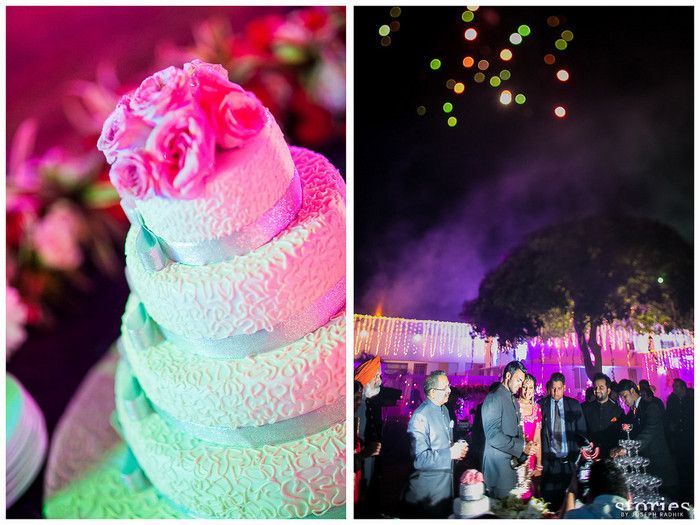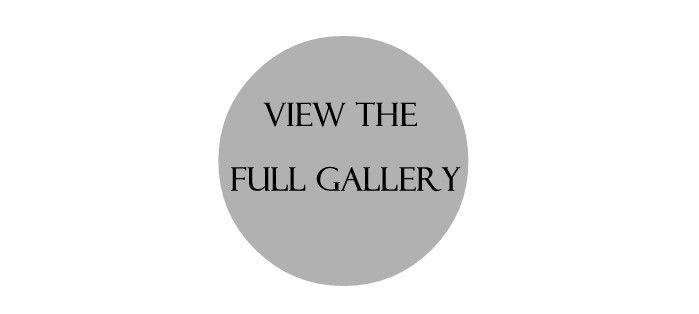 Abhaya, each detail of your wedding is gorgeous. Were you and Uday involved in the planning?
One thing Uday and me were very clear about was that we didn't want any function where we weren't enjoying because we were up on some stage. So we didn't have a stage for any of the functions. We wanted all functions to have an easy going feel, where we were as much a part of the fun as the guests. I was a very hands on bride and had a very clear idea of what I wanted each function to look like. The functions were all in Patiala, that's where my husband is from. We really wanted to have our functions in old heritage buildings and grounds. The wedding lunch was in YSOI, and we went for complete floral tents for this event. We didn't want an Indian theme looking wedding lunch. So we used floral tents and quilted floral overlays for the table. We kept the base colour white because we wanted it look very delicate and summery. The tents were also custom designed to the print that my sister and me picked. We didn't  want regular table arrangement so we asked for these umbrellas to be made as the center piece with a floral arrangement at the bottom and crystals hanging from it.  For the anand karaj ceremony
I got the meaning of the pheras written
and it was kept right at the entrance. I wanted everyone to be a part of the ceremony and to understand what each phera meant. Uday and me didn't want to enter for our lunch in the usual old-fashioned way to shehnai or dhol.  We wanted to do something that's different. So when Uday and me entered for our wedding lunch, all our friends and cousins broke into a dance. They entered in groups and pairs before us and came in one by one before us dancing. Almost like a flash mob. Then at the end uday and me entered dancing. It was great to see everyone so amused at what had happened. We wanted to set the tone for our function, we wanted it to be a chilled out function where everyone sips champagne and dances till they drop.
Loved each of your outfits. Tell us more...
I was very sure of one thing before I started shopping for my wedding clothes was that I wanted these clothes to become a part of my ward robe and not something that I wouldn't ever look at again. Also I'm a big fan of head jewelry, so I made sure that I wear head jewelry for all my functions. The mehendi outfit I immediately loved the minute I saw it on Pernia's Pop Up Shop. The Sangeet outfit from Maoosh was another love at first sight thing- I didnt want to wear the usual anarkali and saree so this sharara was perfect.  I personally don't like wearing very heavy clothes so I kept my wedding lehenga just about the right amount of heavy ( also I cant wear anything more than that). I personally like Bhavna's (the person who runs Kyra ) style so I trusted her 100% with my lehenga. The entire lehenga is hand embroidered and has very intricate work. It wasn't heavy to wear which was great as it would have been a nightmare to do the pheras. Reception- I wore a lehenga which is actually called a poshak due to the style. It is a pass down to me by my mother in law, and her mother in law wore it too. I couldn't believe that the outfit was that old cause it looked like as it was new. It  is all gota work with real silver threads on silk, that's why it didn't tarnish over the years. I just changed the top bit and got a raw silk top done and just to make it interesting I got gotta patti work done on the top rather than using the gotta from the original top. . Even the jewelry worn on the reception is a pass down by my mother in law. I was most excited to wear my reception outfit and jewelry as my mother in law had worn the same thing for her reception, including the jewelry.
 Any particular wedding professionals you want to give a shout out to?
Joseph Radhik
and his team of photographers and videographers gave Uday and me the best memories of our wedding. They made us re-live each moment of our wedding through their amazing photos and the video. They made us laugh and cry and  feel all warm and fuzzy inside. They are amazing!
Shruti Sharma
, she is incredible. She is so patient and excellent at what she does. The best thing is that she makes you look like yourself and not some caked doll. I have seen bride's makeups go all wrong, they don't look like themselves at all. What she does is make you look like a prettier version of yourself.
Aura, the caterers
- Another brilliant vendor. He and his wife are personally there for the functions and ensure very high standards of food. They decorate the food area in a great way, keeping in mind each day's theme. They offer all international and Indian cuisines and they ensure that there is a spread for every foodie to devour.
The decorator, Jatin
and his designer, were totally awesome. He made my wedding look spectacular and looked into little details to make the functions look unique. He custom designed everything that we asked for and delivered everything with great precision. I asked for a fairy tale wedding and that's what he gave me.
[handbook]
Shruti Sharma 
 (Makeup Artist) is a member of the
WMG Handbook
. To know how members are chosen please read our
FAQ
[vendor]
Vendor details:
Venues: Baradri Palace Neemrana Hotels, Patiala for Mehendi, Sangeet and YSOI for Wedding Lunch| Makeup:
 Shruti Sharma
 for  all events 
| Photographer : Joseph Radhik 
|
 Brides Outfits: Mehendi outfit from Ayinat by Tania o Conner , Sangeet Sharara from Maaosh by Ashutosh & Mohini , Wedding outfit from Kyra Delhi (This is in Jungi House in Shahpur Jat), Reception outfit is vintage and passed down | Decor & Event Management: Stallion Events  | Catering : Aura Caterers