50 Sabyasachi Lehengas We Spotted on Real Brides!
BY Sakshi | 19 Sep, 2017 | 148587 views | 7 min read
We have our fair share of Sabyasachi brides featured on WedMeGood and though we spot so many brides in the same lehenga, we have some of our favourites. The man himself - Sabyasachi Mukherjee does create breathtaking lehengas, so we thought we'd dedicate a post to some of the best ones worn by WMG Real Brides!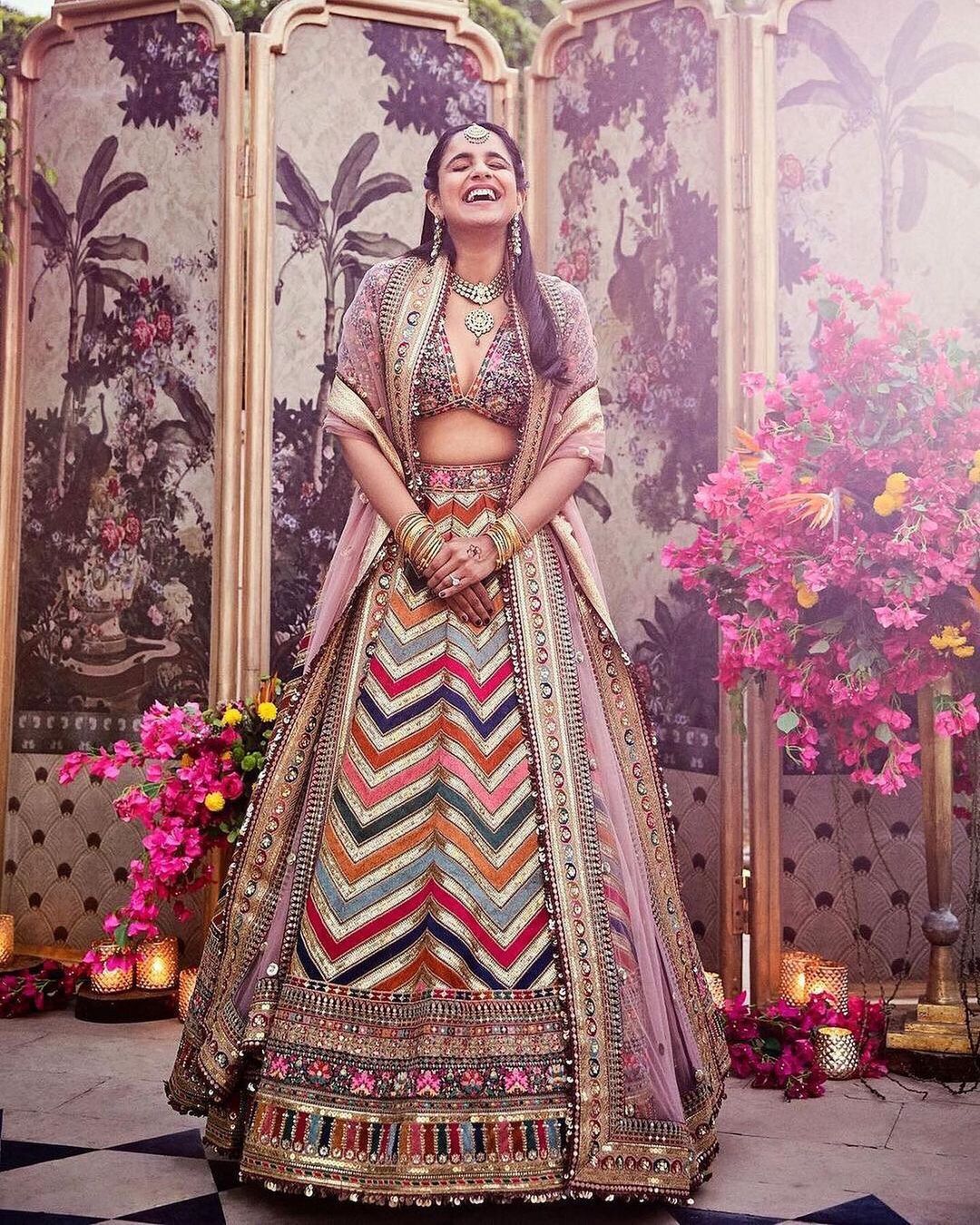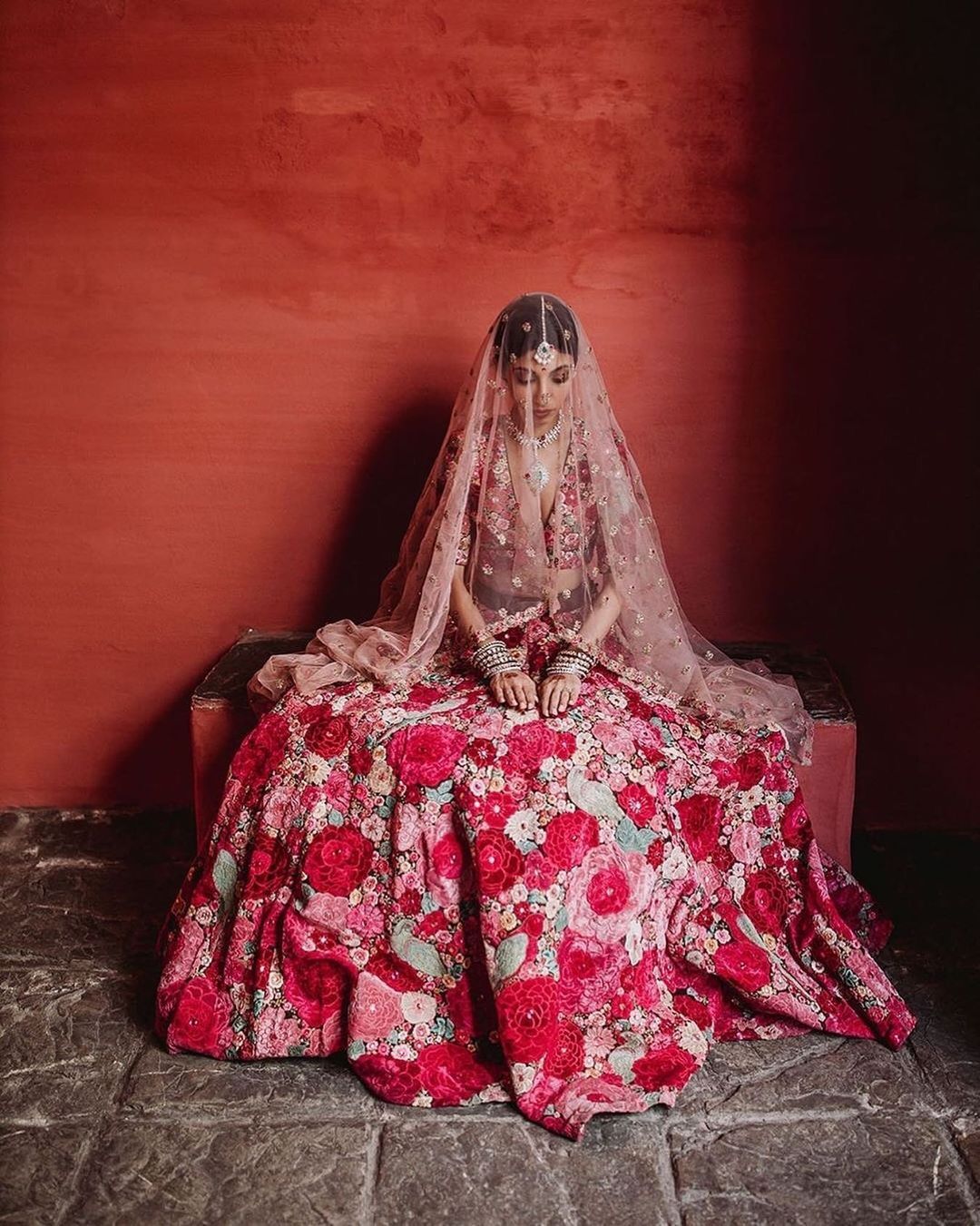 Images via @ronickakandhari and @raquelbenito_
Long post alert! Now let's get started :)
1. This lehenga that's probably the most popular right now!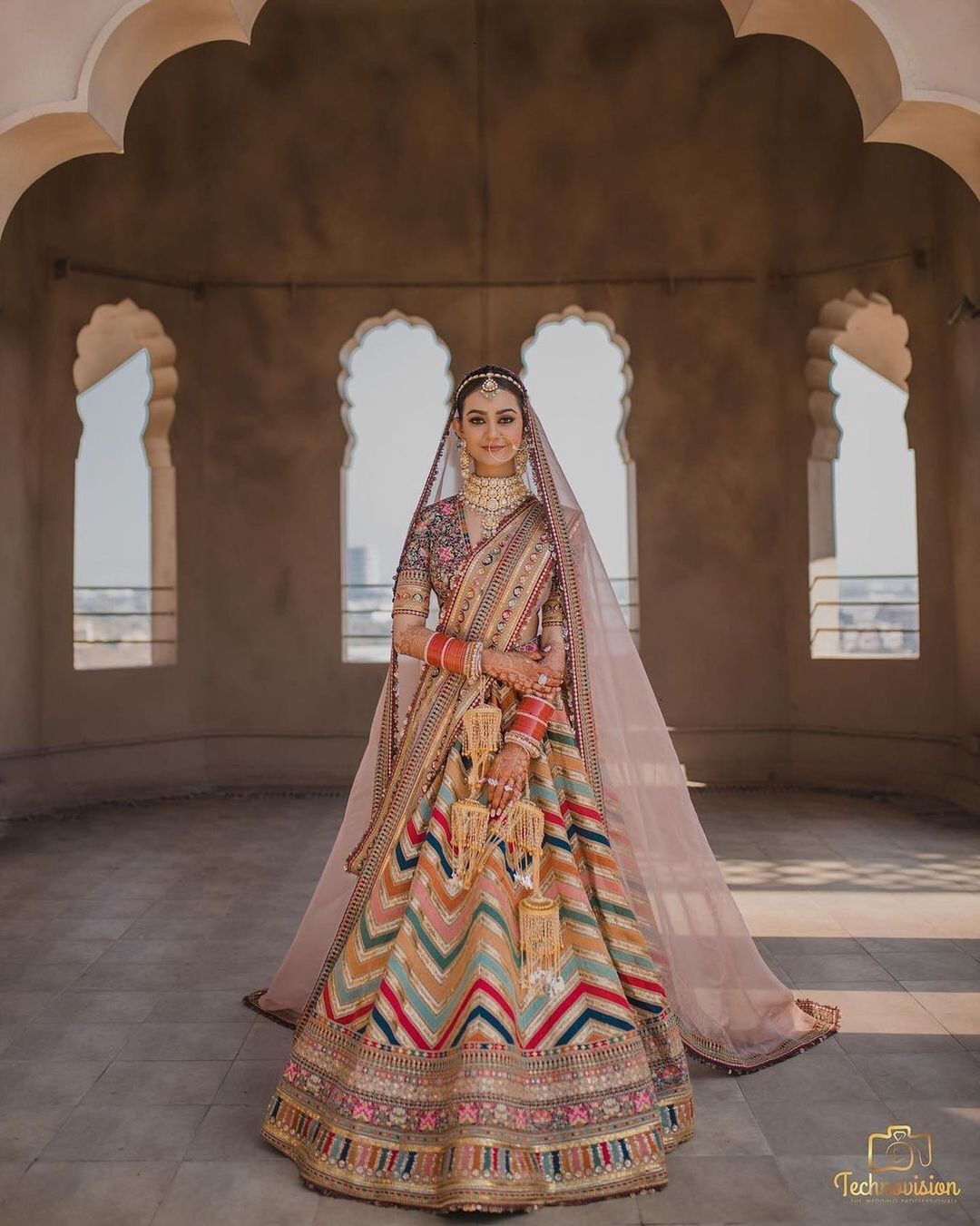 Image via Technovision★ 4.5
This multi shaded Sabyasachi bridal lehenga is one of the most trending and loved these days for all the brides to not choose one colour but to shine in all.
2. The 'Anushka Sharma' one that's still pretty popular too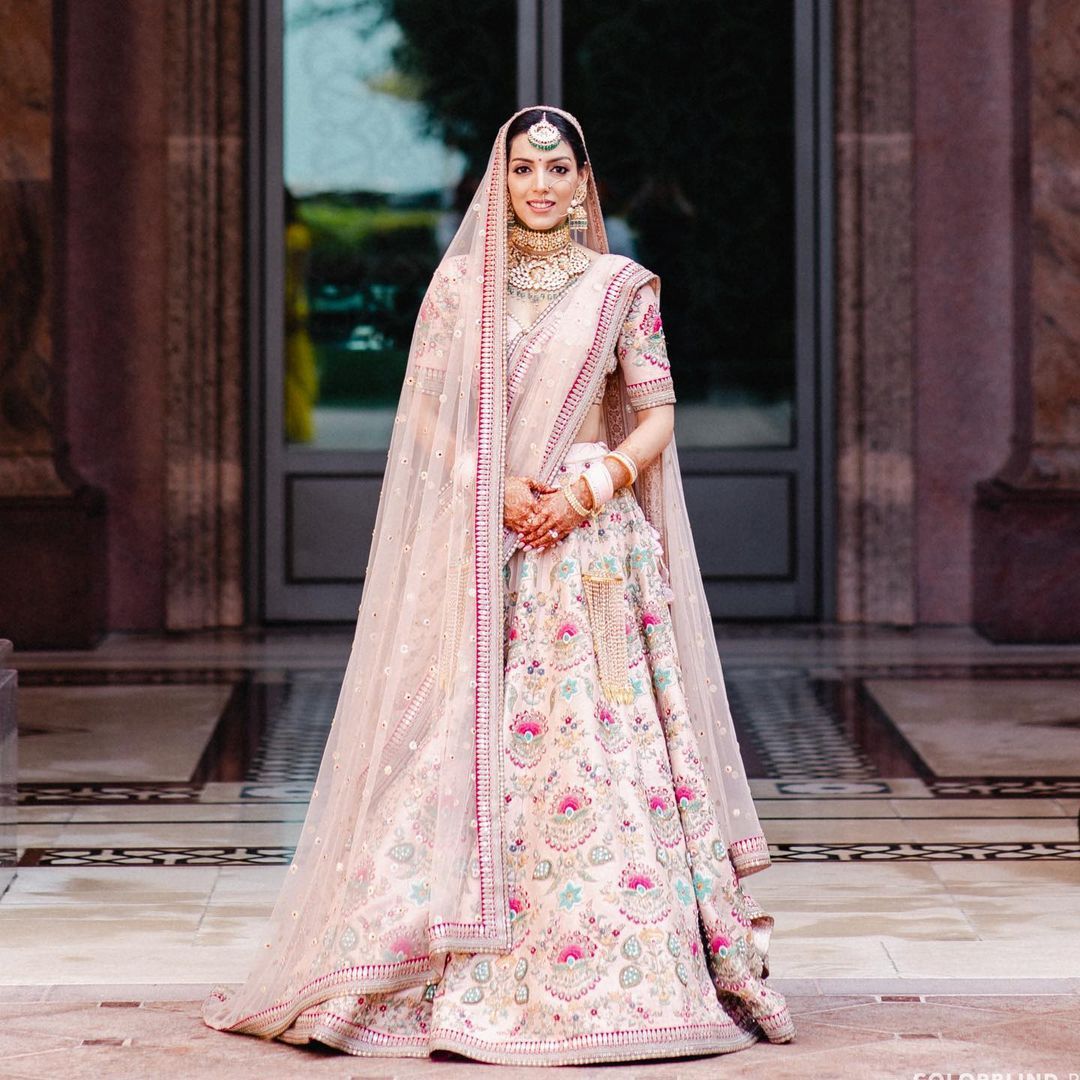 Image via Colorblind Production★ 5
The Anushka Sharma Sabyasachi Designer lehenga gained a lot of popularity since the wedding. Pastel pink became one of the favorites amongst brides!
3. Multicolour for the win!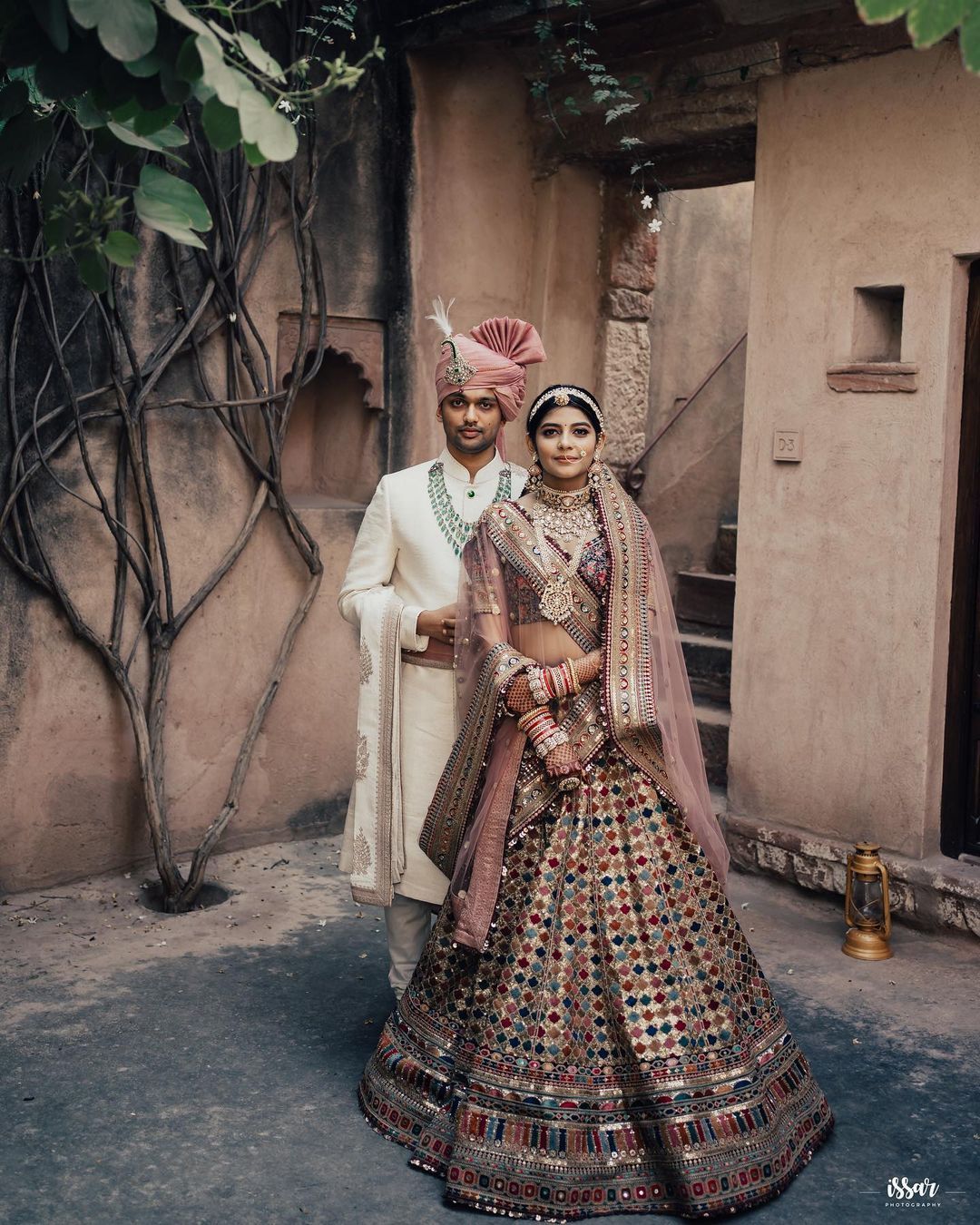 Image via Shashank Issar Photography
Her Royal Highness vibe with this stunning multi coloured Sabyasachi lehenga almost every girl's wish come true.
4. Pastel pink daintiness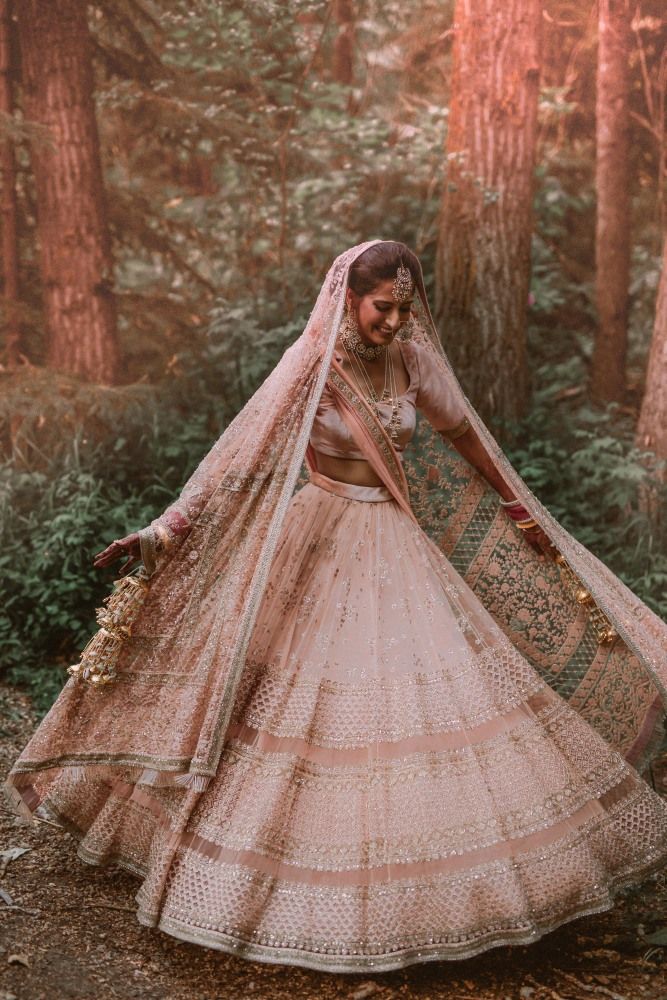 Image via Mannat and Jaswinder
Pastels have our heart so why not flaunt it everyone? This gorgeous piece by Sabyasachi is perfect for a day wedding.
5. This fuschia freshness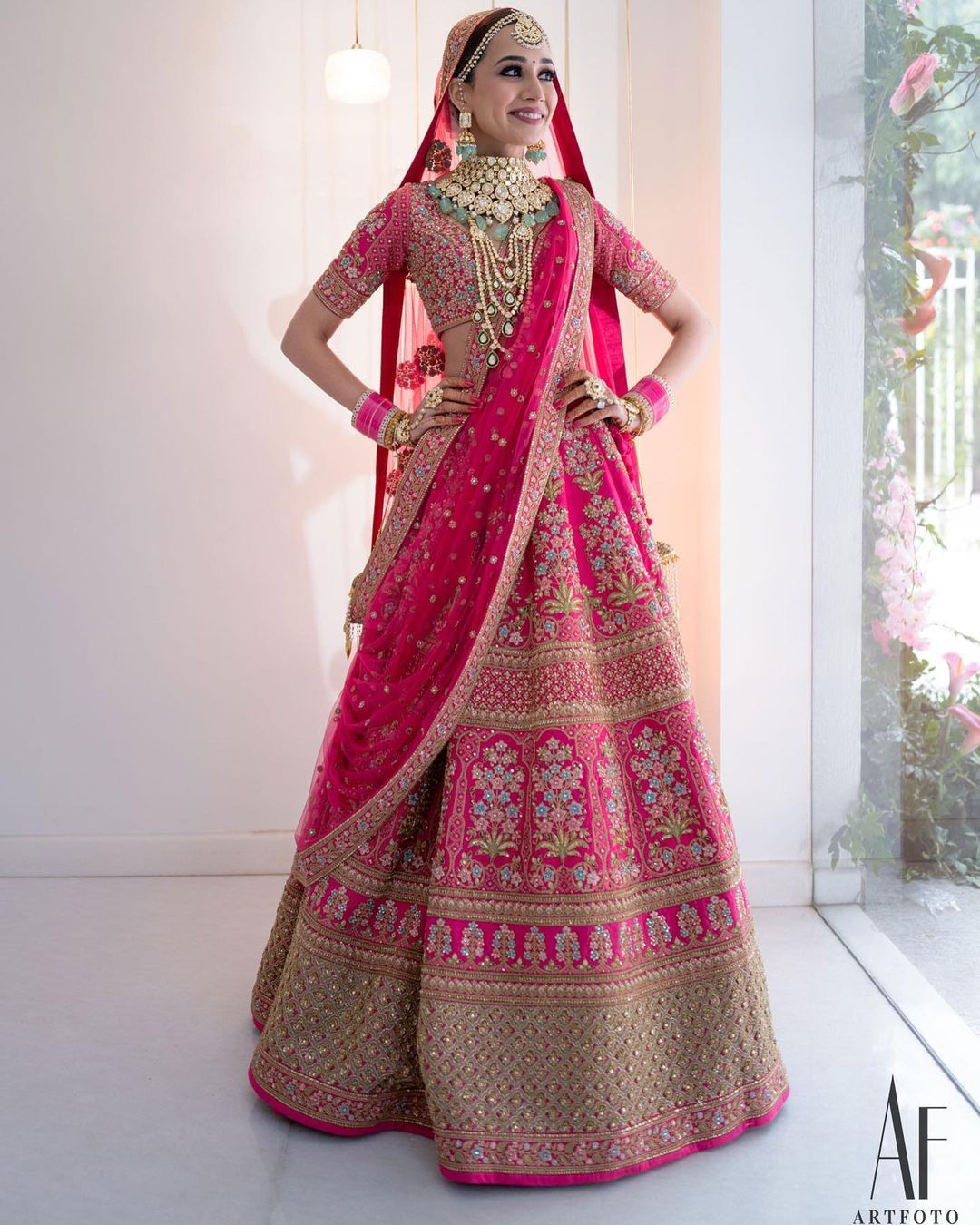 Image via Artfoto Studios
On our D-Day we wear pink, which has become the motto for every bride who wants to look different on her special day. Well you've got this amazing Sabyasachi lehenga to take inspiration from.
6. DP's 'Dil Guldasta' which is really popular with brides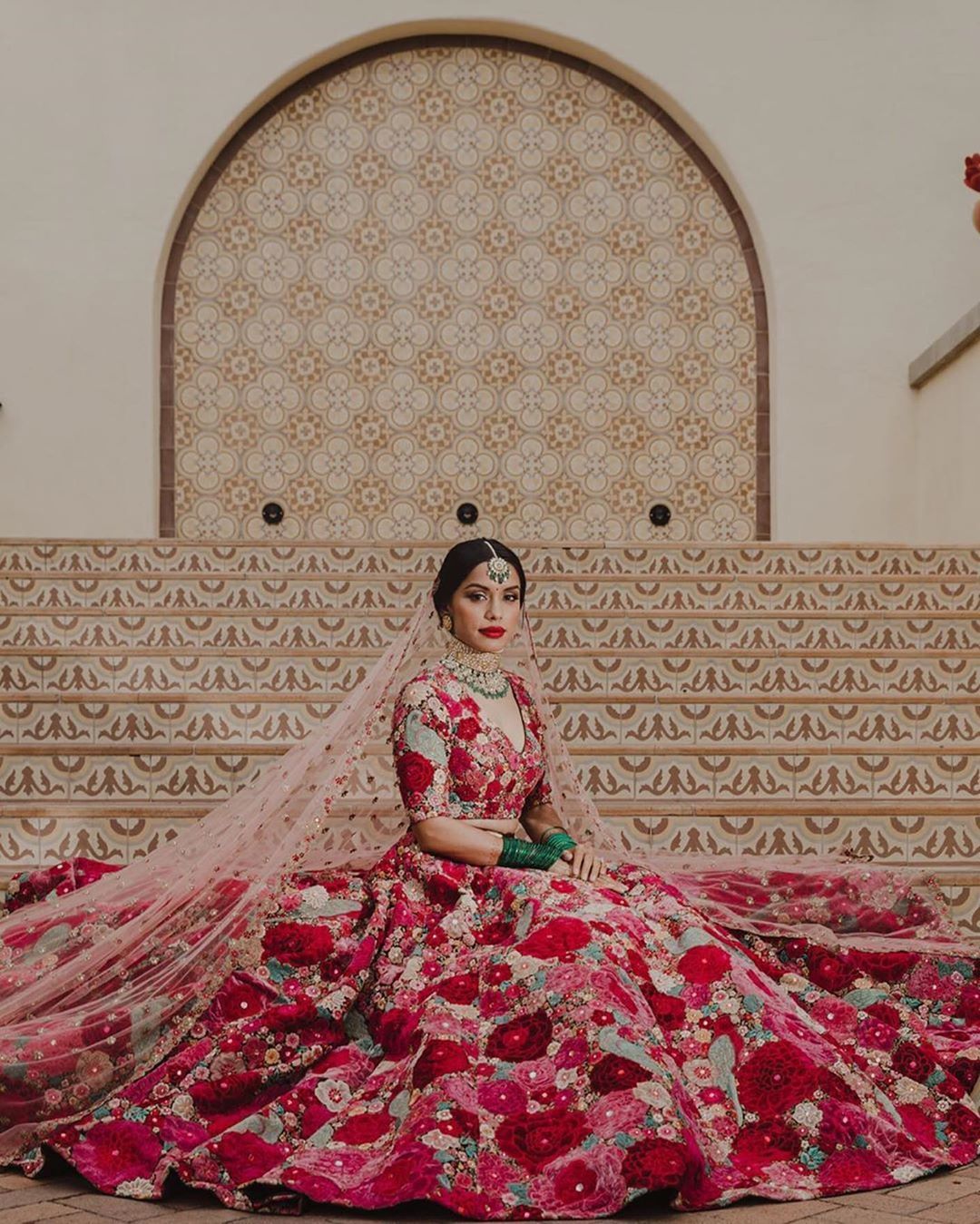 Image via Riya and Ankur
Florals are one of a kind just as the famous designer Sabyasachi Mukherjee and we're absolutely in love with this bridal lehenga
7. Subtle gold and pastel that's so elegant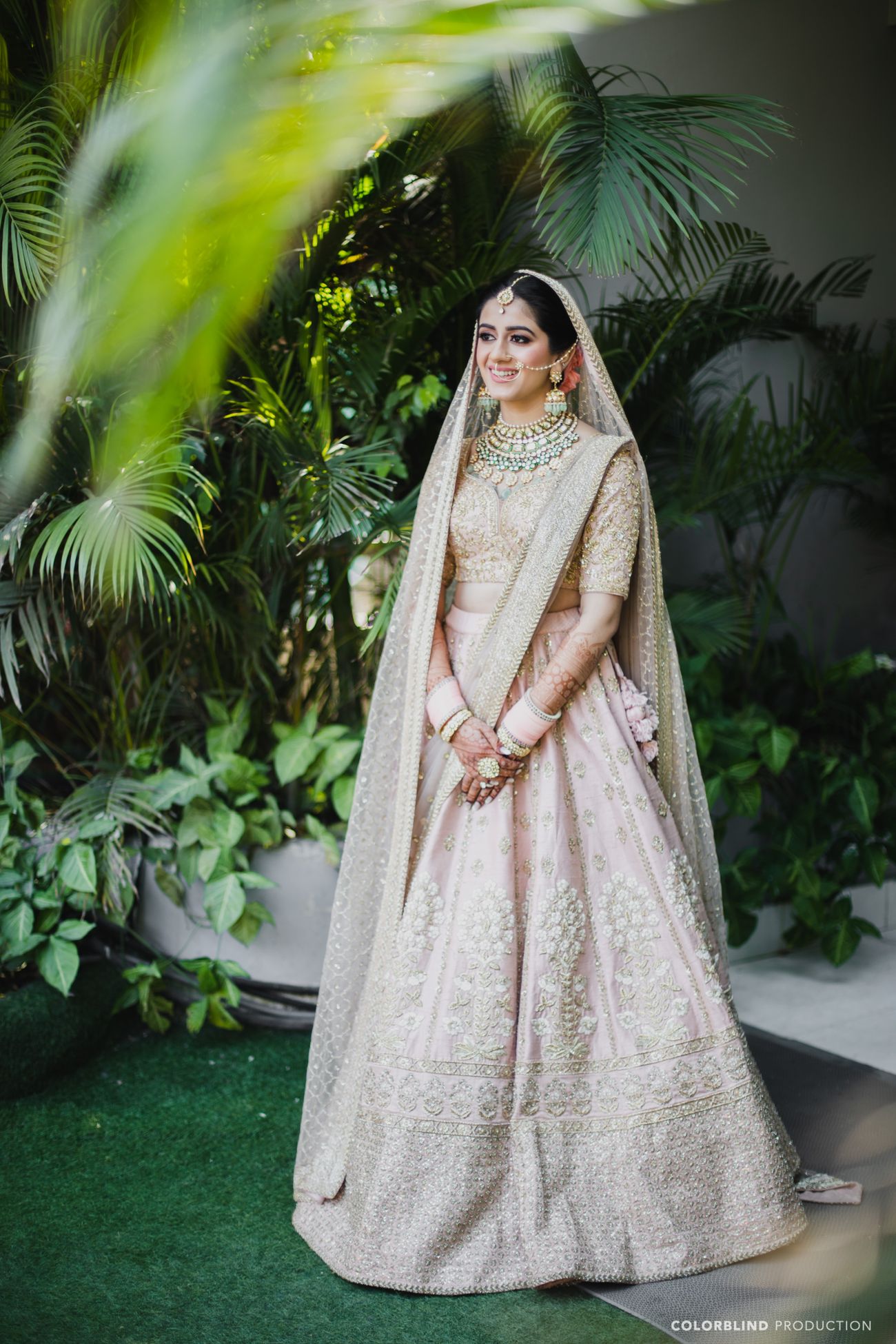 Image via Jaanvi and Jaideep
8. This gorgeous one in burnt orange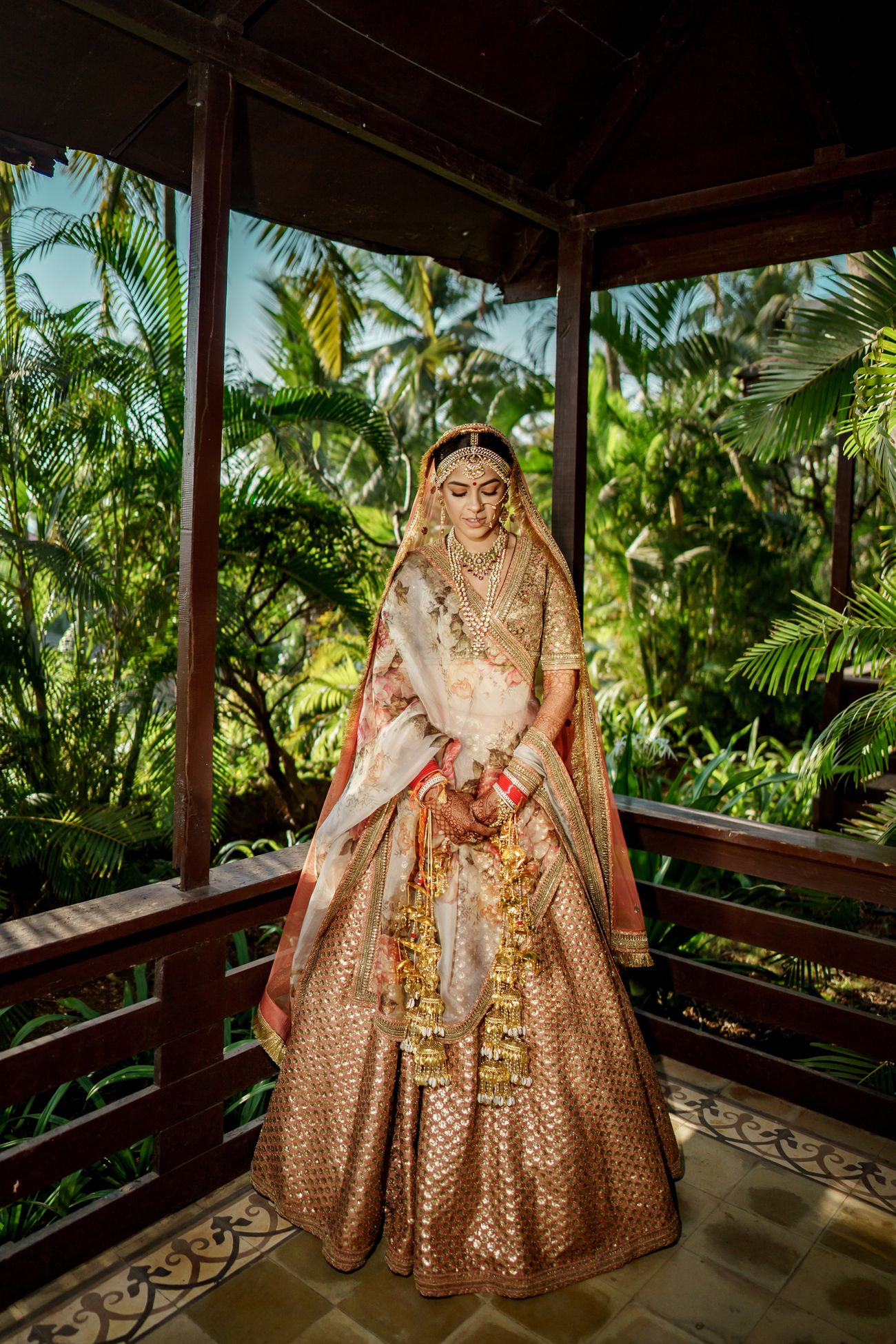 Image via Ragini and Vipin
Go a little over the place with your choice of colour and this Sabyasachi lehenga will definitely give you a push to do so.
9. Powder blue that's so unique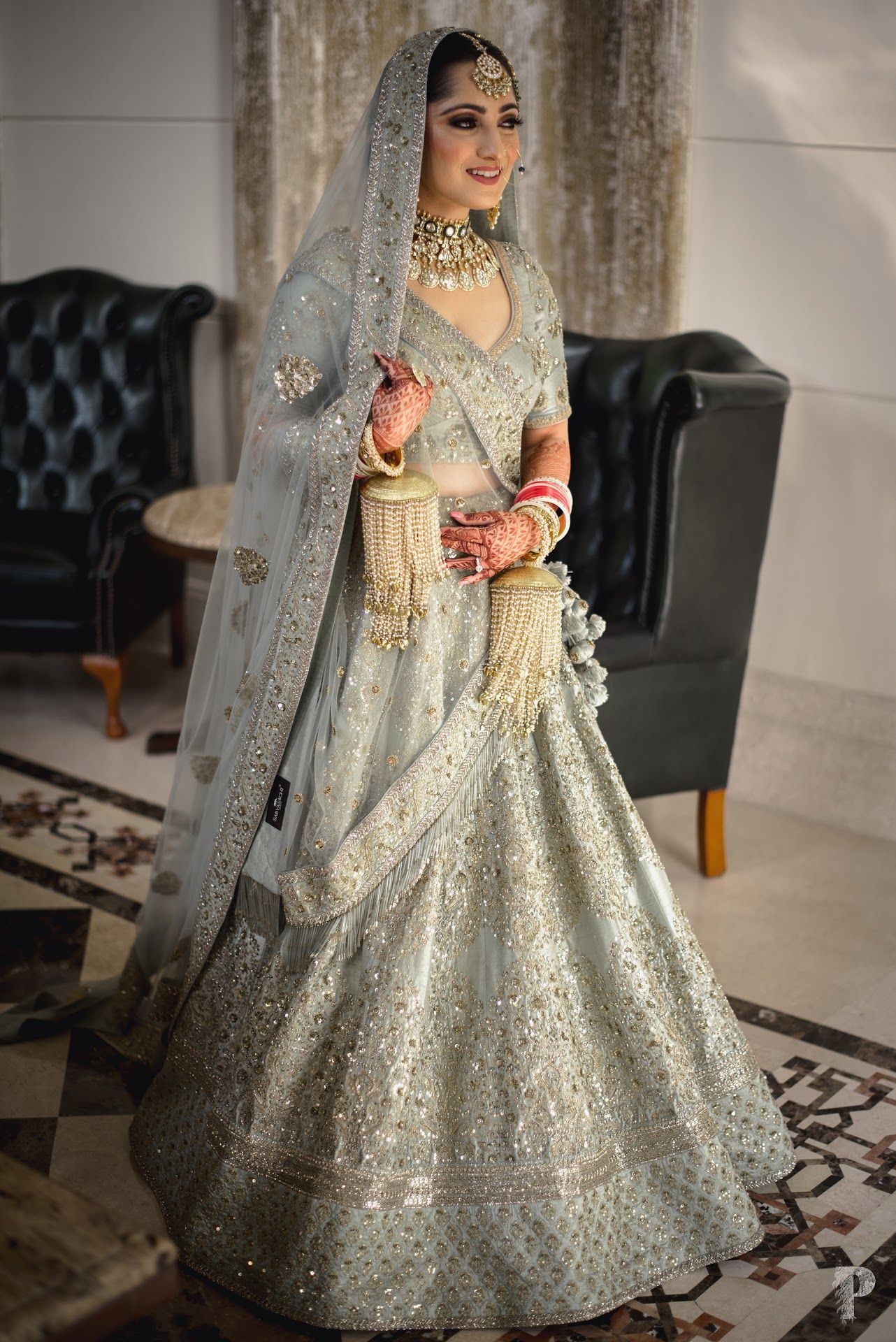 Image via Paran Singh Photography★ 4.8
Unusual than the bridal lehenga colour, this powder blue sabyasachi lehenga will win over many bride's hearts.
10. This one with the pretty dupatta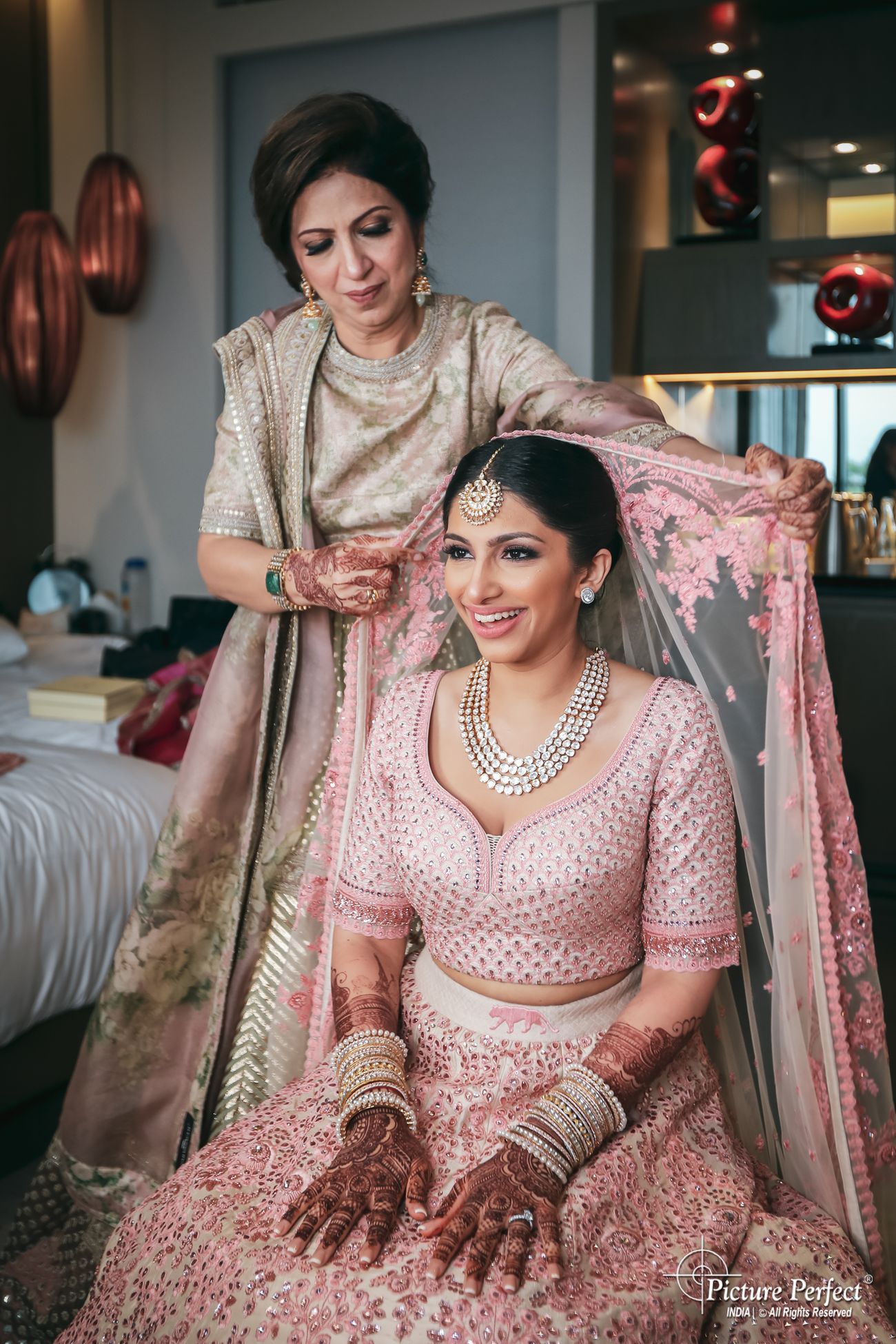 Image via Shilpa and Avinash
11. Dull gold that's so unique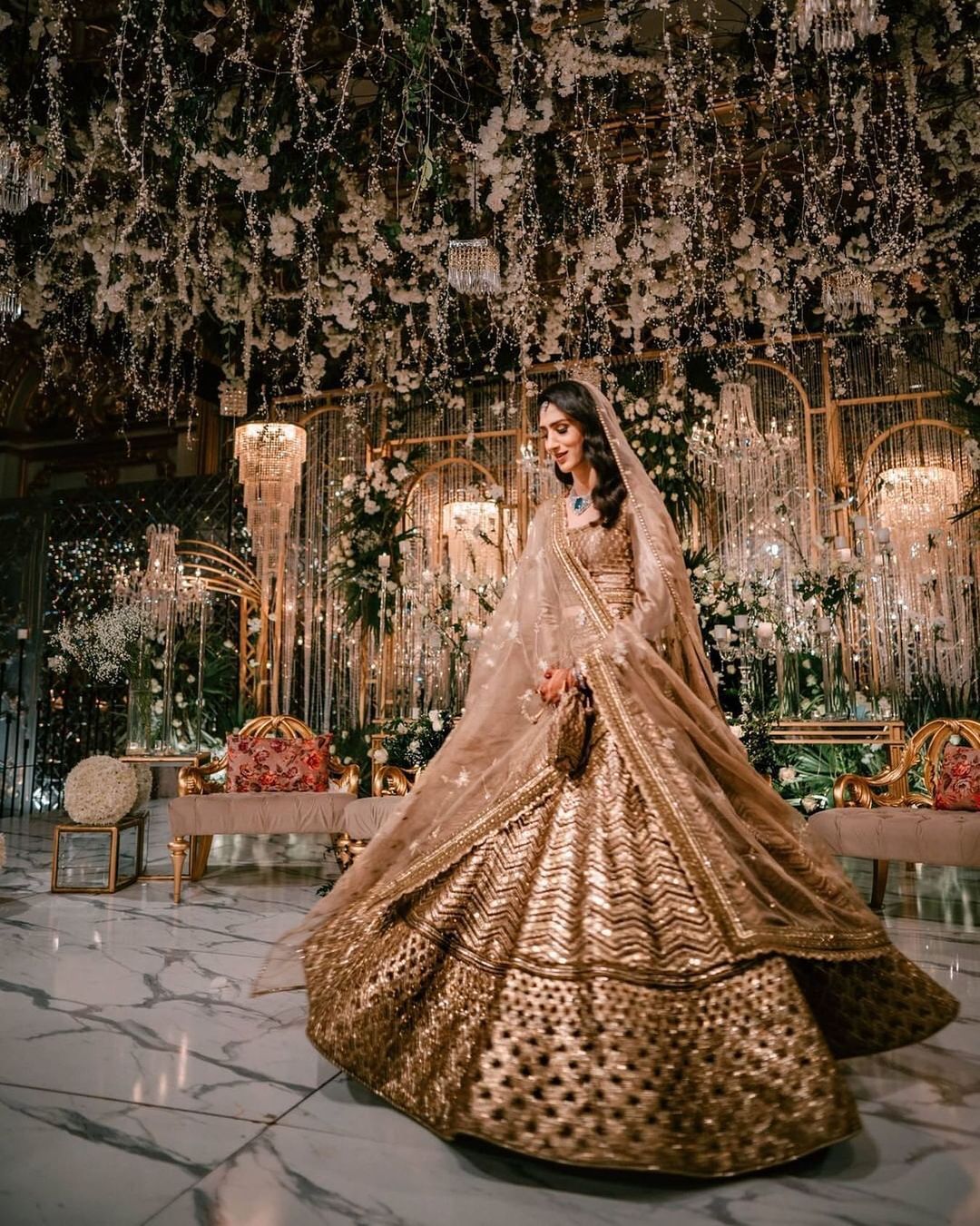 Image via @yrattamedia
12. This one that's the same as Deepika Padukone's bridal lehenga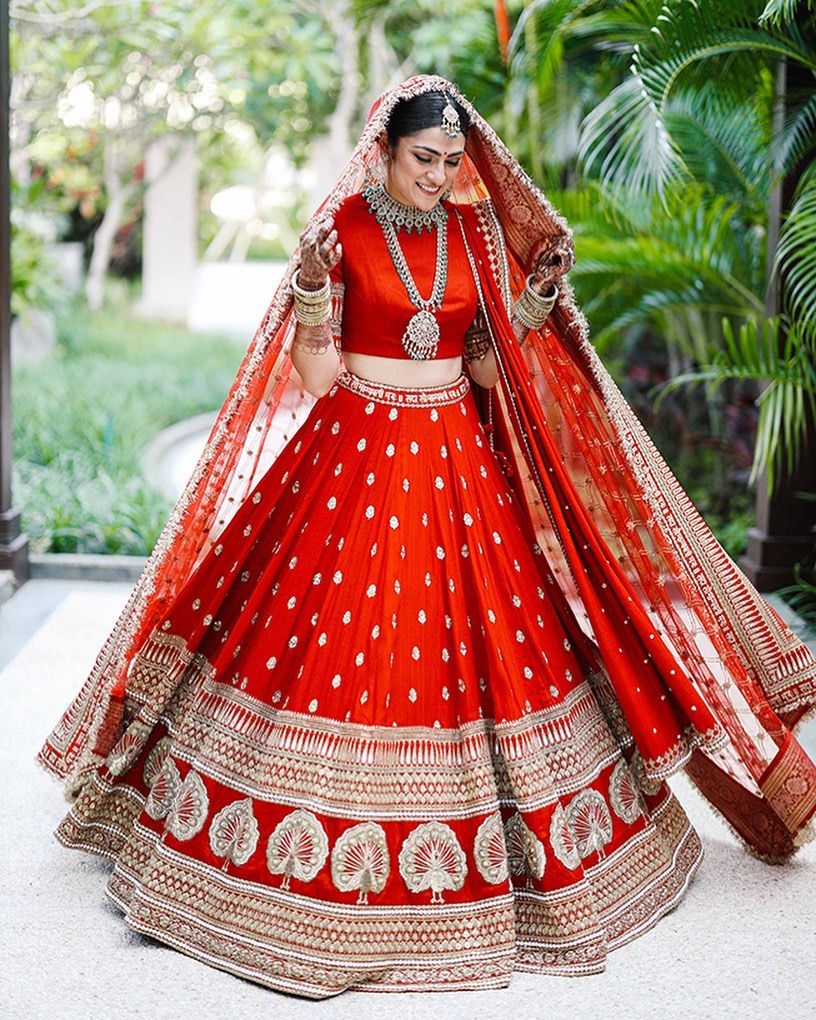 Image via Karen and Aakash
Want to go a bit lowkey with your lehenga? Try a plain blouse with a heavy skirt to match your dream look.
13. Florals that look so happy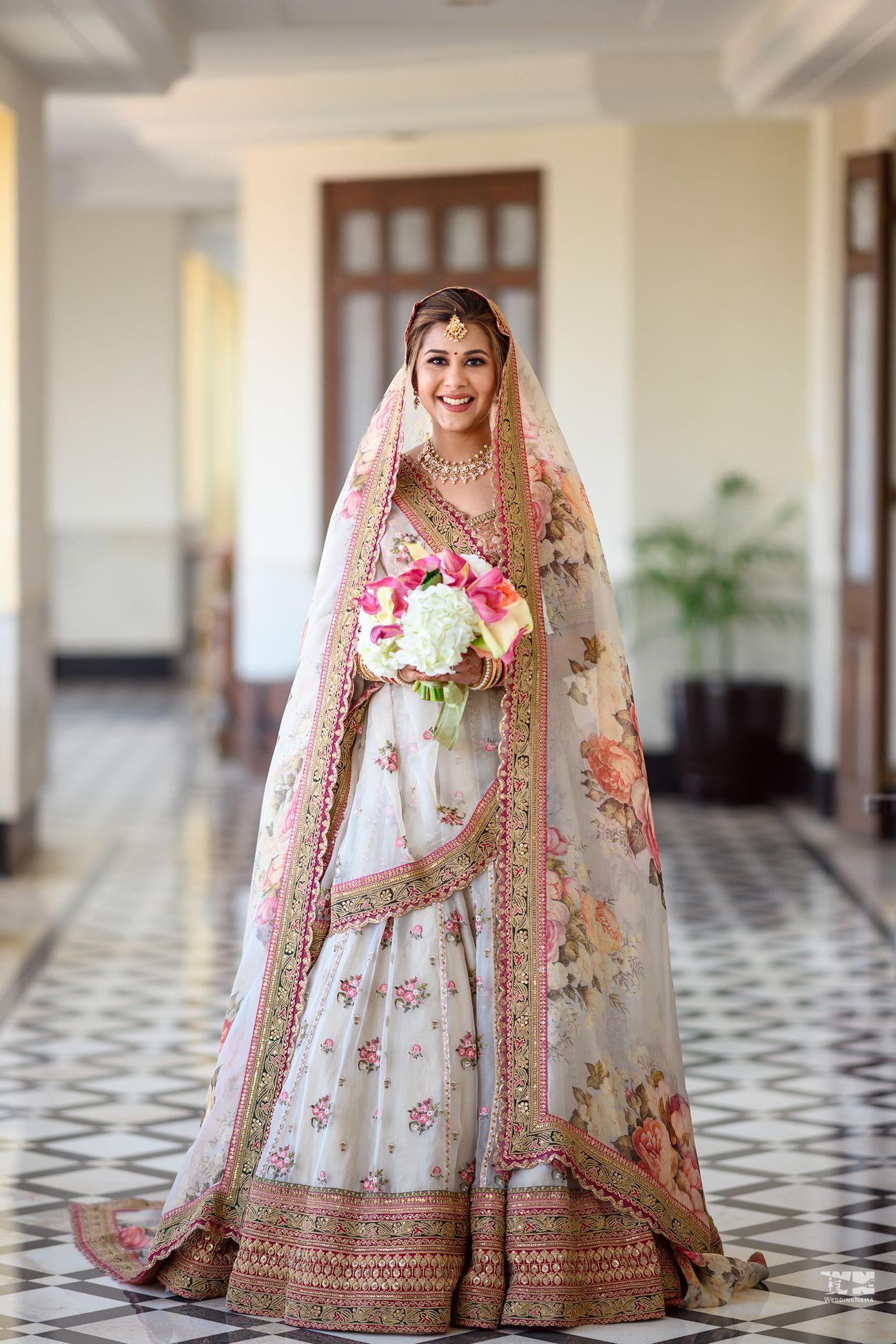 Image via Priyanka and Mishaal
Pastels and Florals? What a combination! Love this stunning piece by Sabyasachi that immediately pops a smile to every face.
14. This Benarasi stunner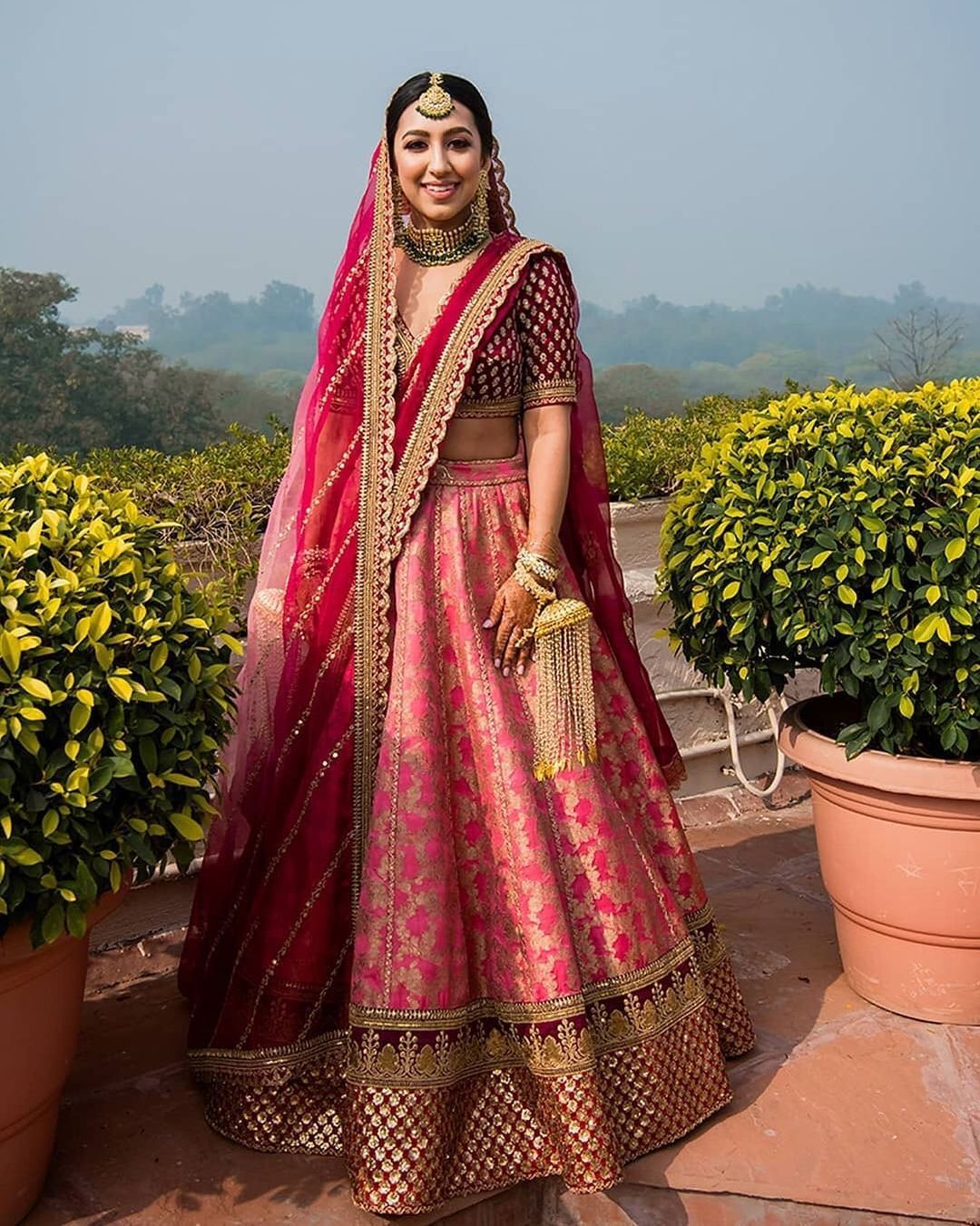 Image via Baraati Inc
This Benarasi Lehenga by Sabyasachi is an absolute idea of class and elegance. Subtle colours and minimal jewellery, what more do you want?
15. Regal red and velvet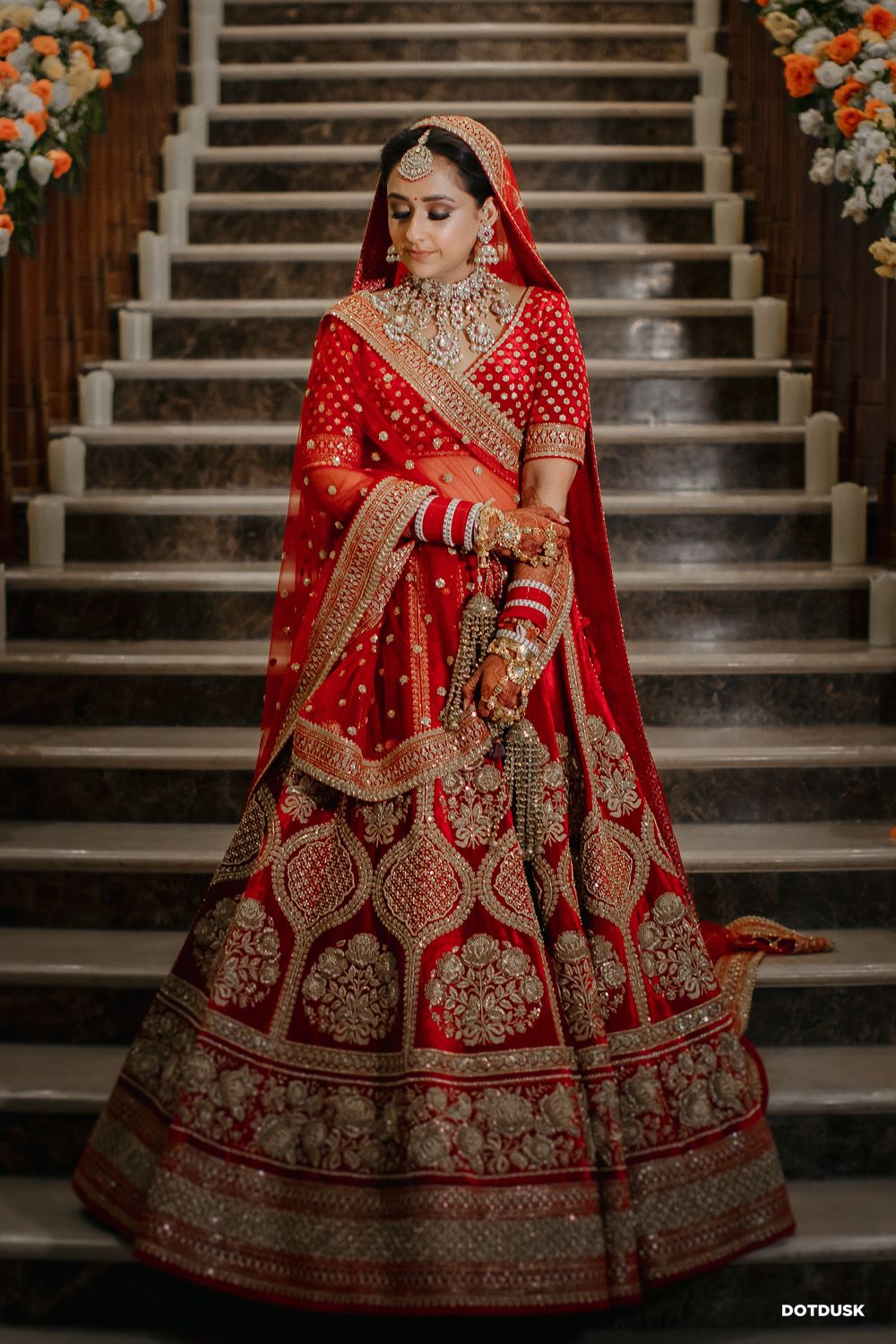 Image via Soumya & Rijul
Now this is what we call the classic Sabyasachi designer lehenga. The colour red goes hand in hand with bridal lehenga which proves the fact everytime just as we see in this image.
16. This pastel prettiness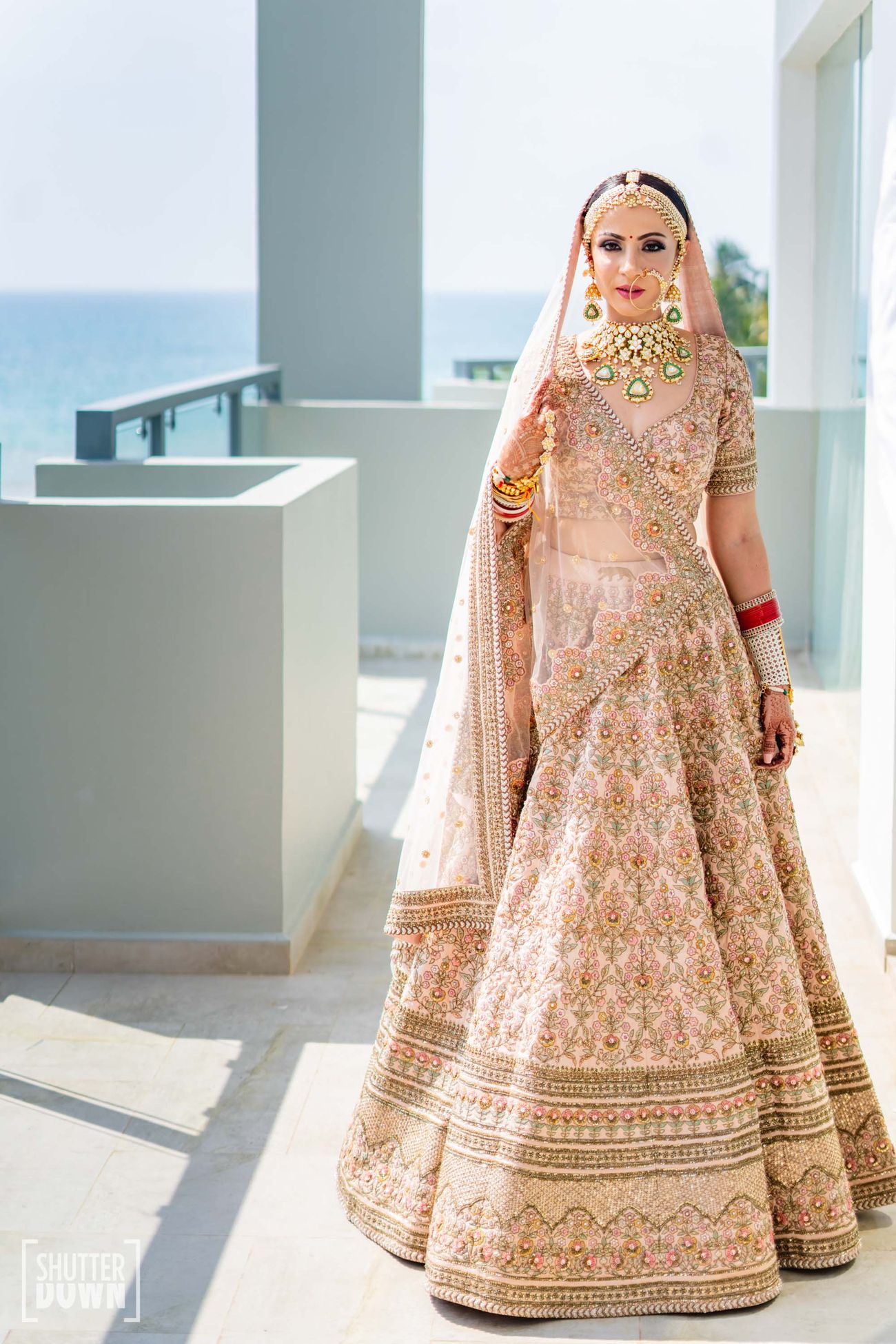 Image via Aanchal and Manish
We love how pastels have become a fav choice amongst all the brides. This bridal lehenga is beautiful in its own way.
17. This plain yet elegant pick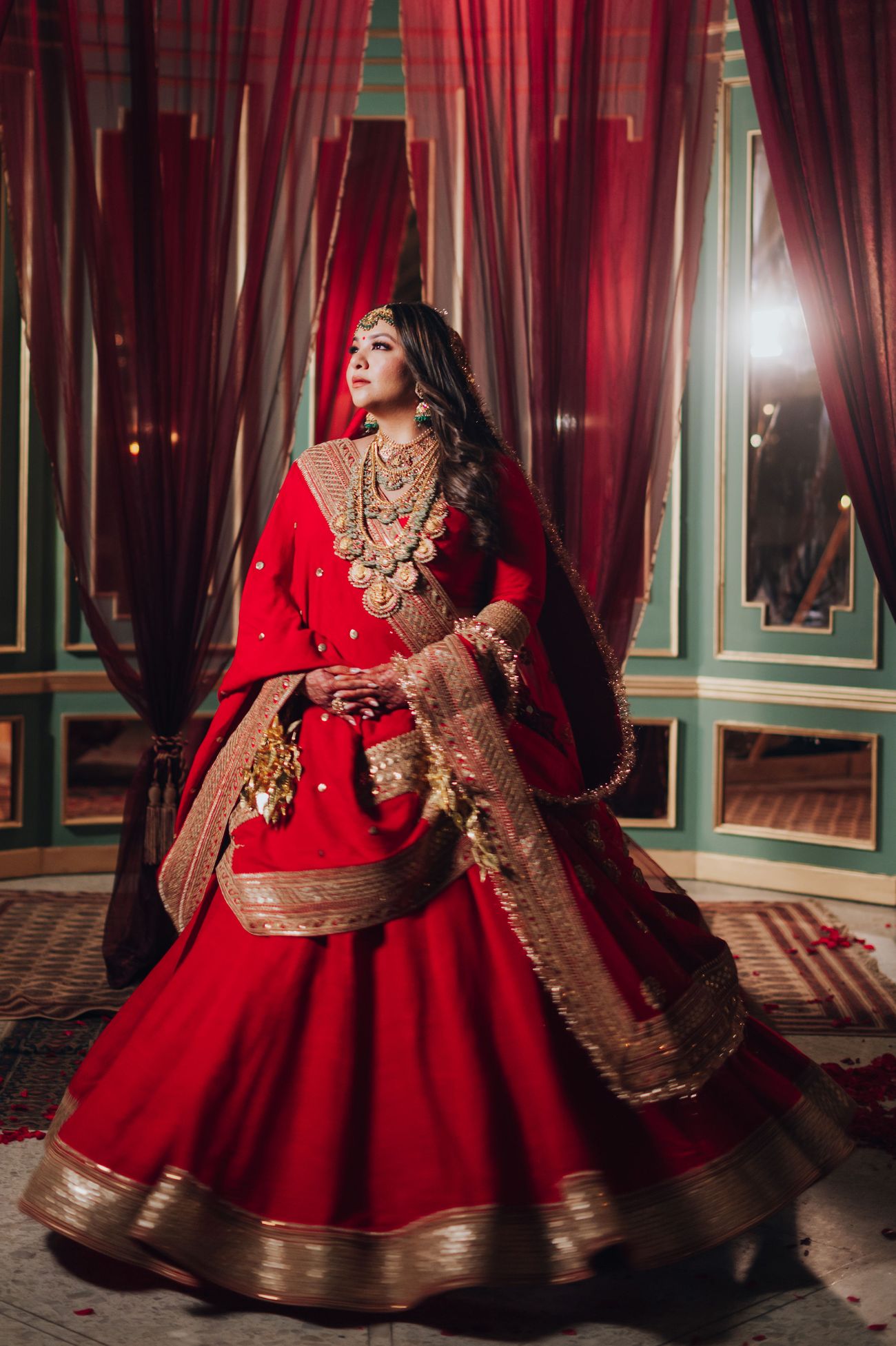 Image via Priyanka and Ashish
 Loving the idea of wearing Sabyasachi jewellery with this plain lehenga. Definitely a piece to take inspiration from!
18. Turkish Rose that sounds as pretty as it looks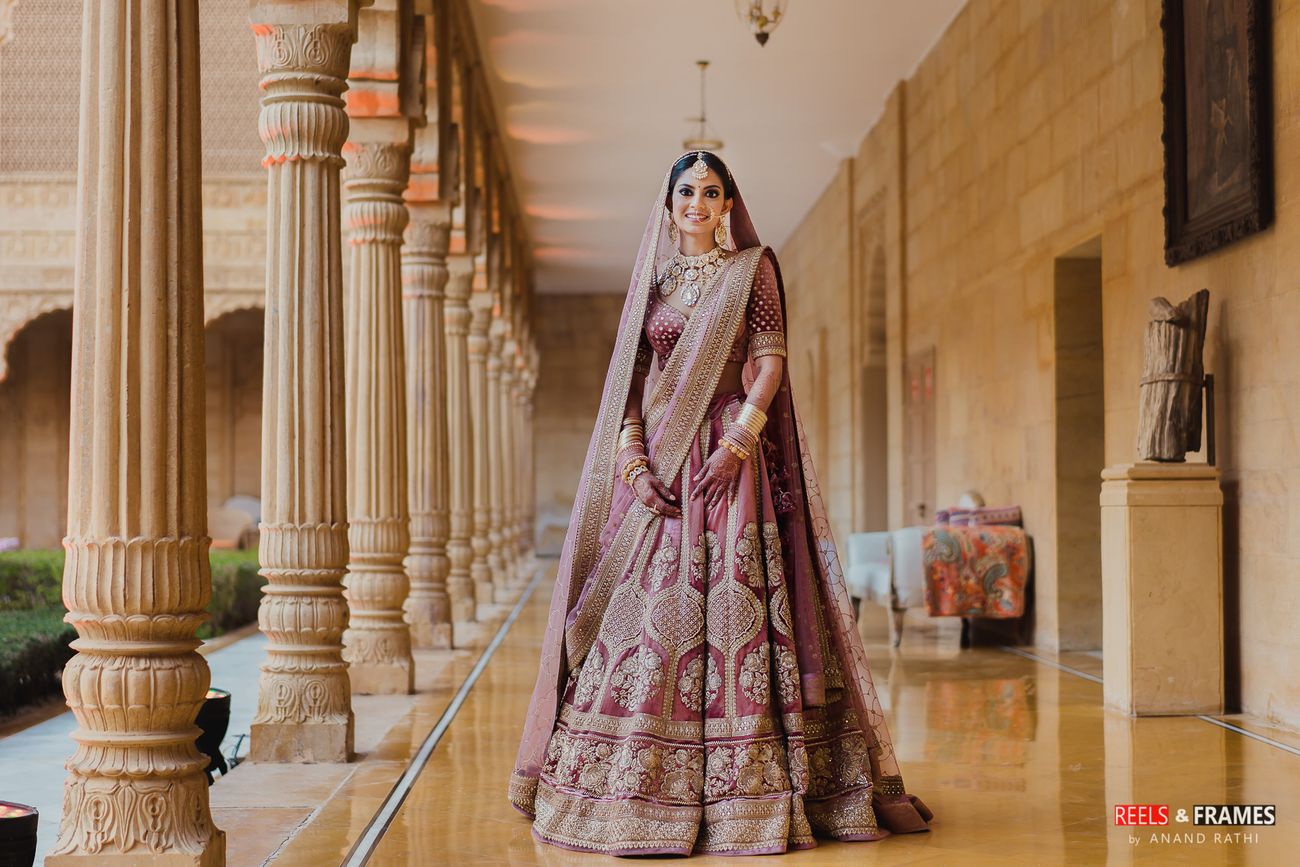 Image via Aishwarya & Ruchir
One of the most unique shades we have ever seen. This sabyasachi designer lehenga is here to make its mark.
19. Tangerine that's so darn happy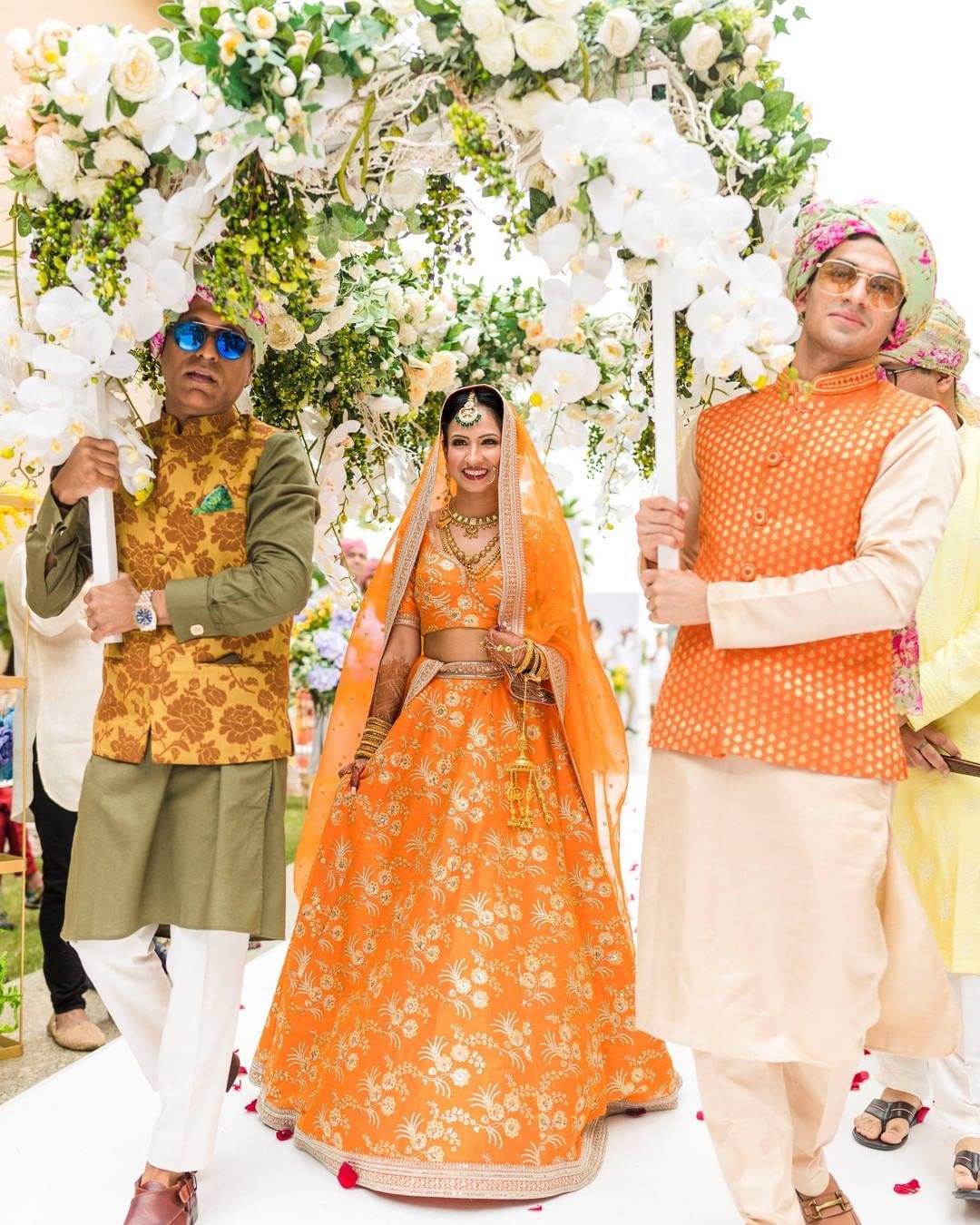 Image via Gautam Khullar Photography★ 4.8
All merry and bright is what this lehenga expresses, brides, you've got some serious digging to do on those colours.
20. This prettiness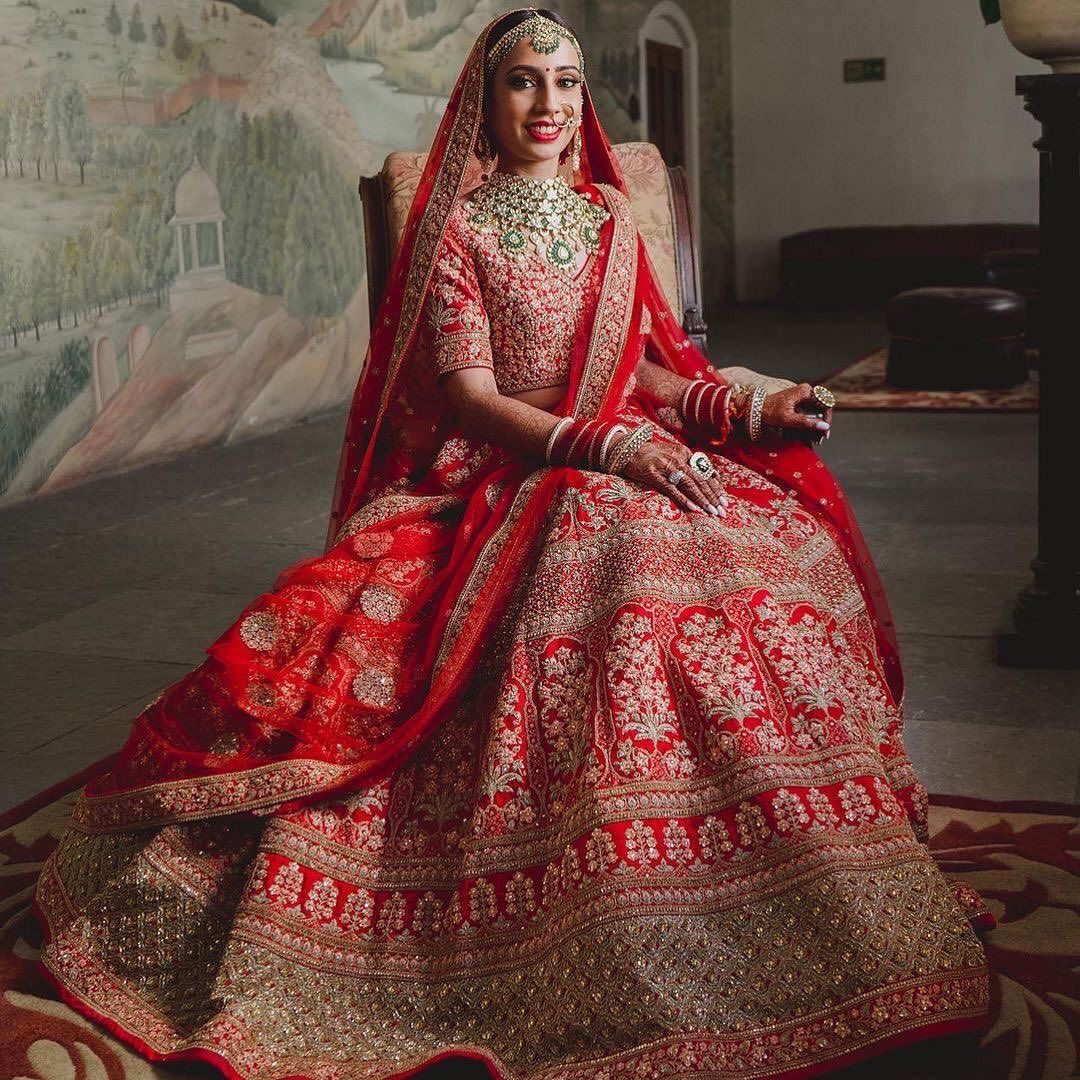 Image via Reelsandframes★ 5
21. Ivory that looks so delicate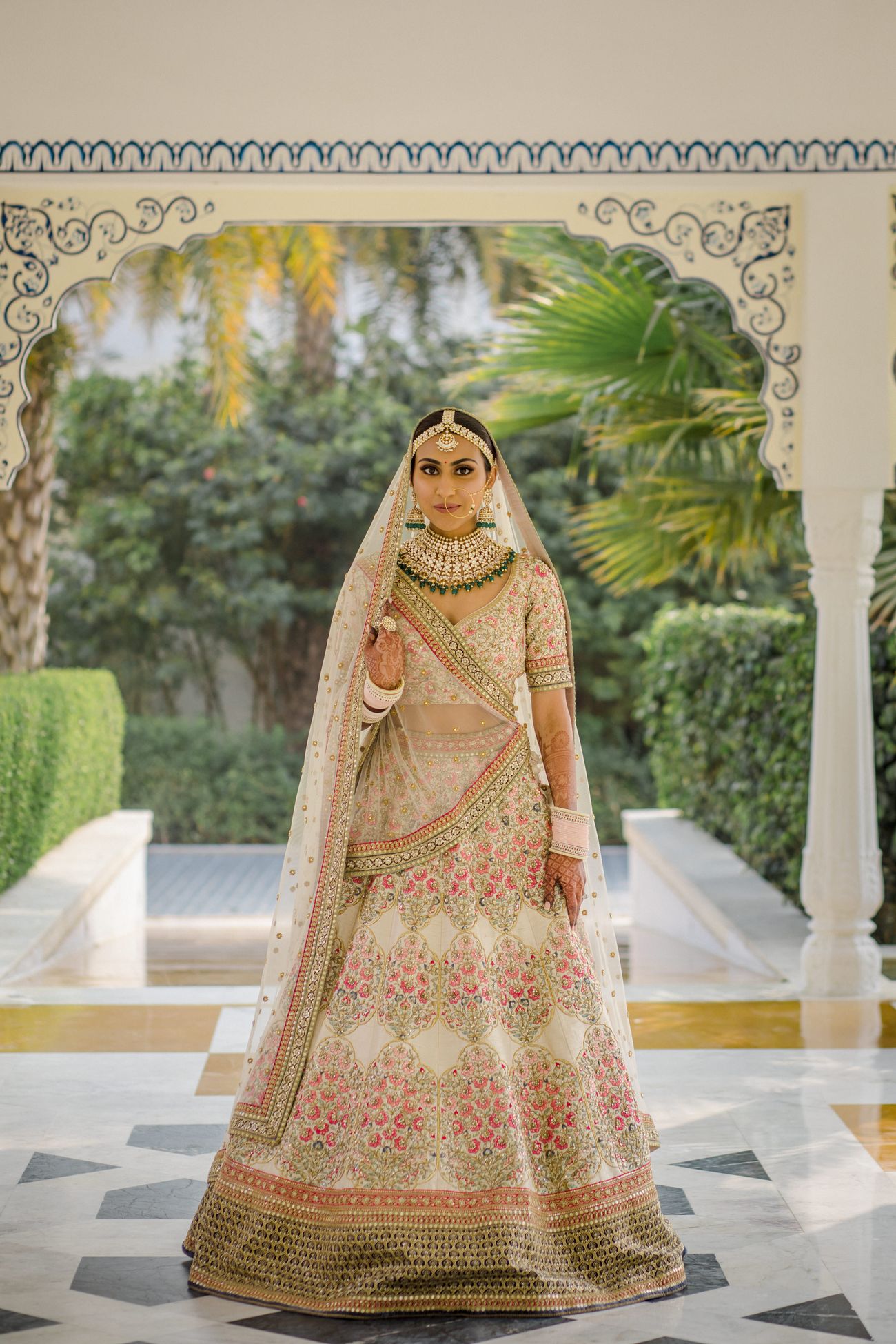 Image via Smiti and Nilesh
22. PeeCee style lehenga that continues to be popular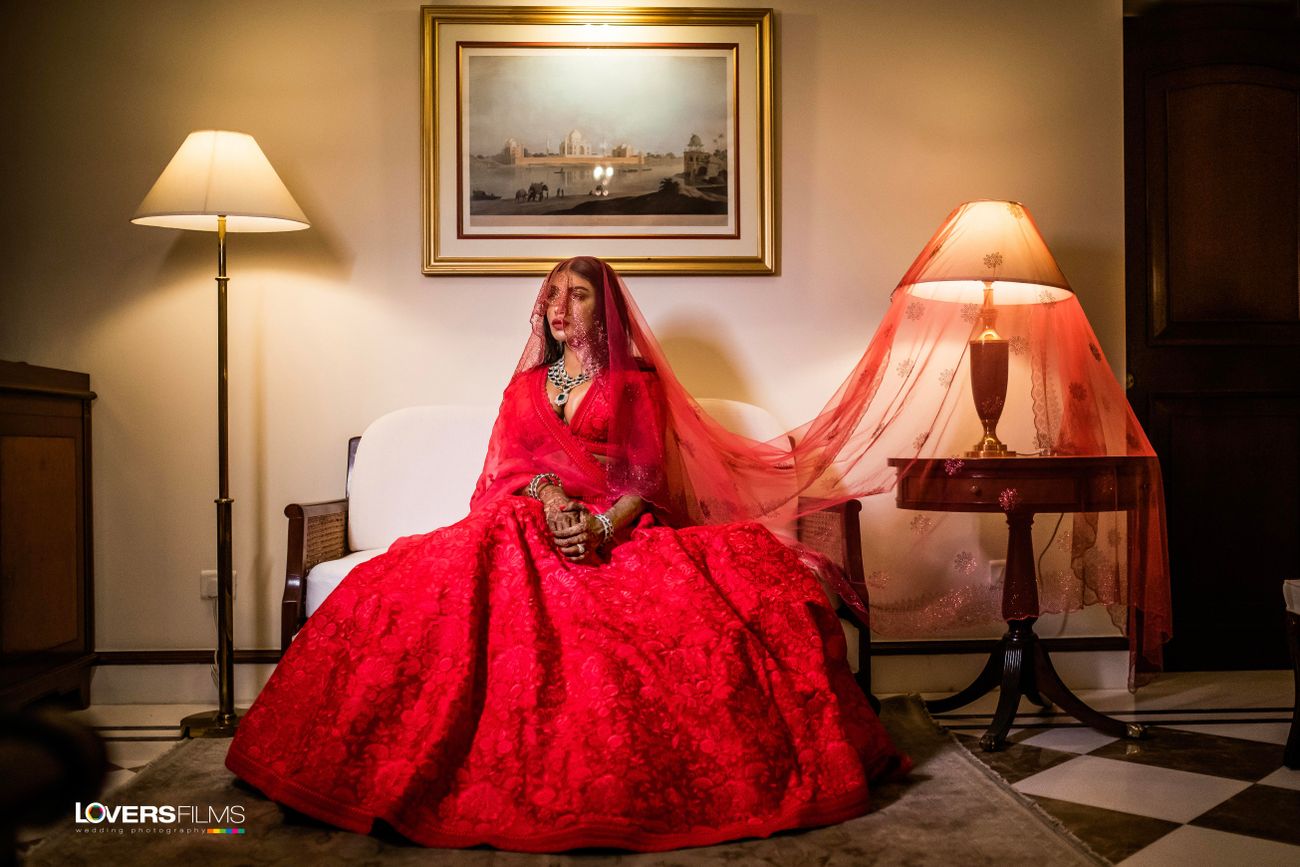 Image via Radhika and Jonathan
Bollywood divas remain to be a role model for every bride. This embossed red bridal lehenga is a mix of simple yet the perfect lehenga for every bride.
23. This one that's so different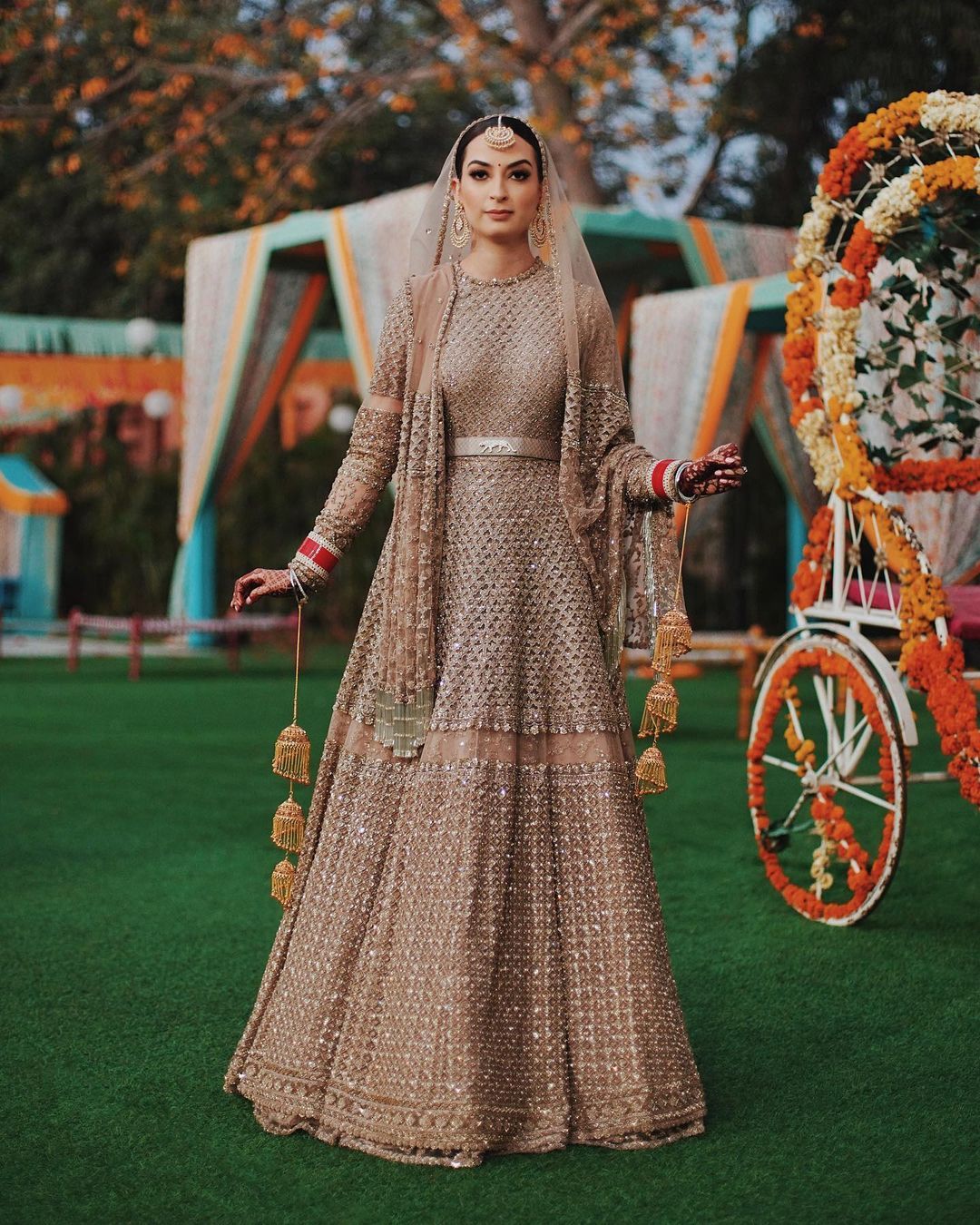 Image via Kanika and Simran
Gold that expresses beauty and power at the same time. This sabyasachi lehenga is so so elegant and pretty!
24. Red with threadwork that packs a punch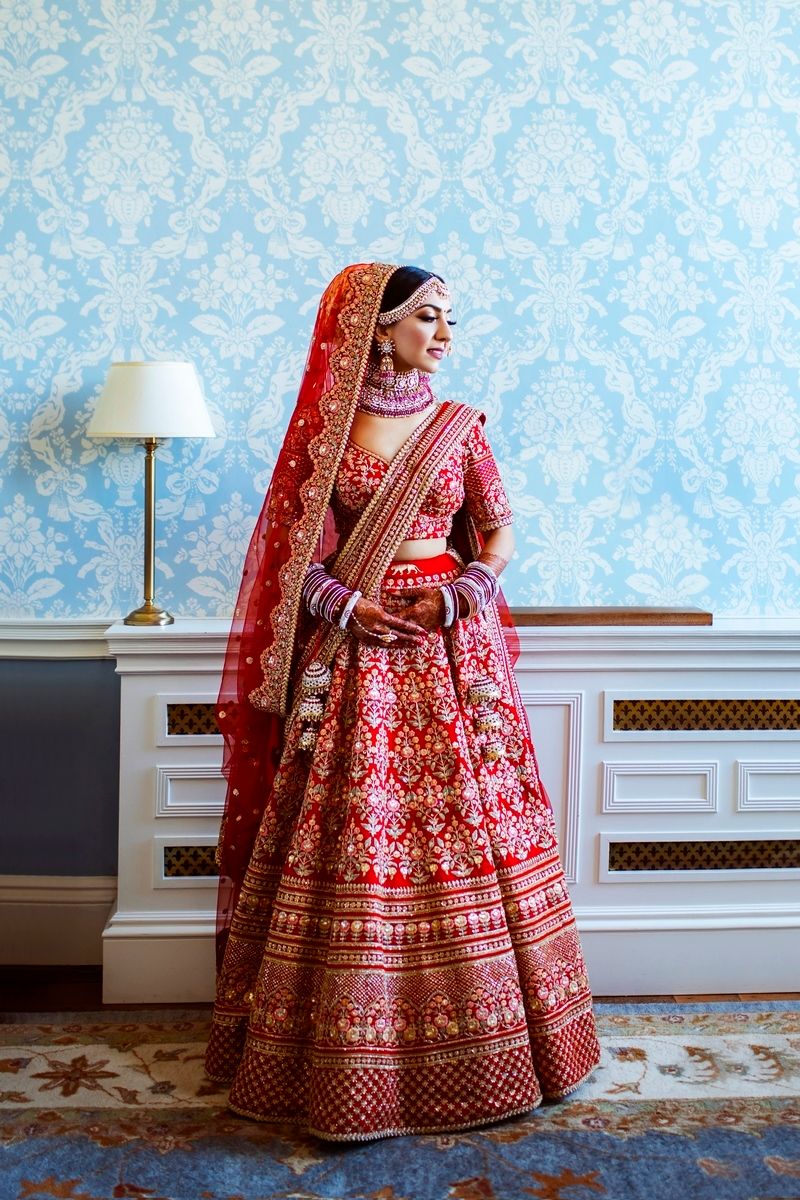 Image via Priya and Rajar
25. Some sage green that's so offbeat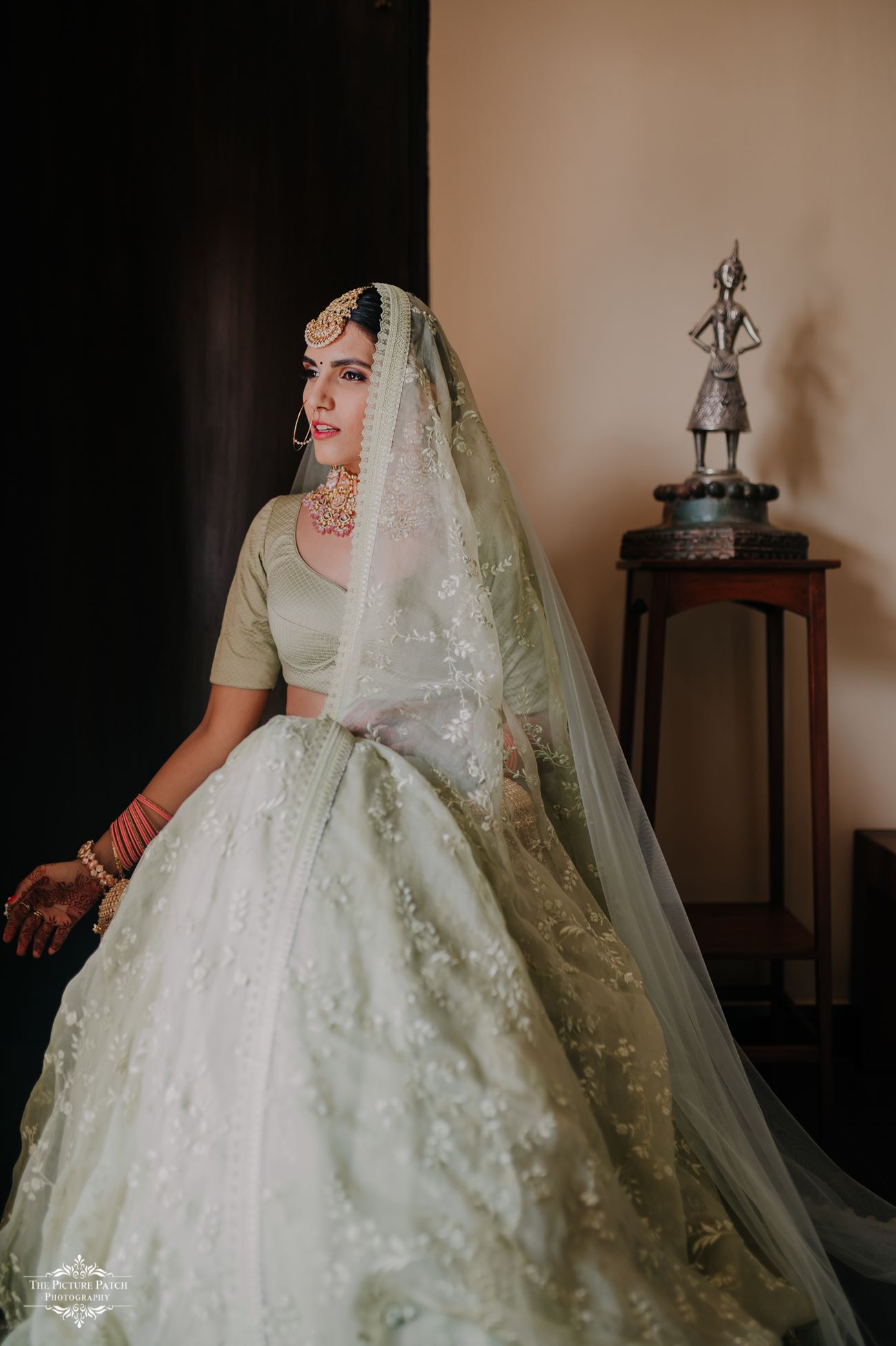 Image via Jeevika and Aryan
26. This printed lehenga that doubled up as a bridal one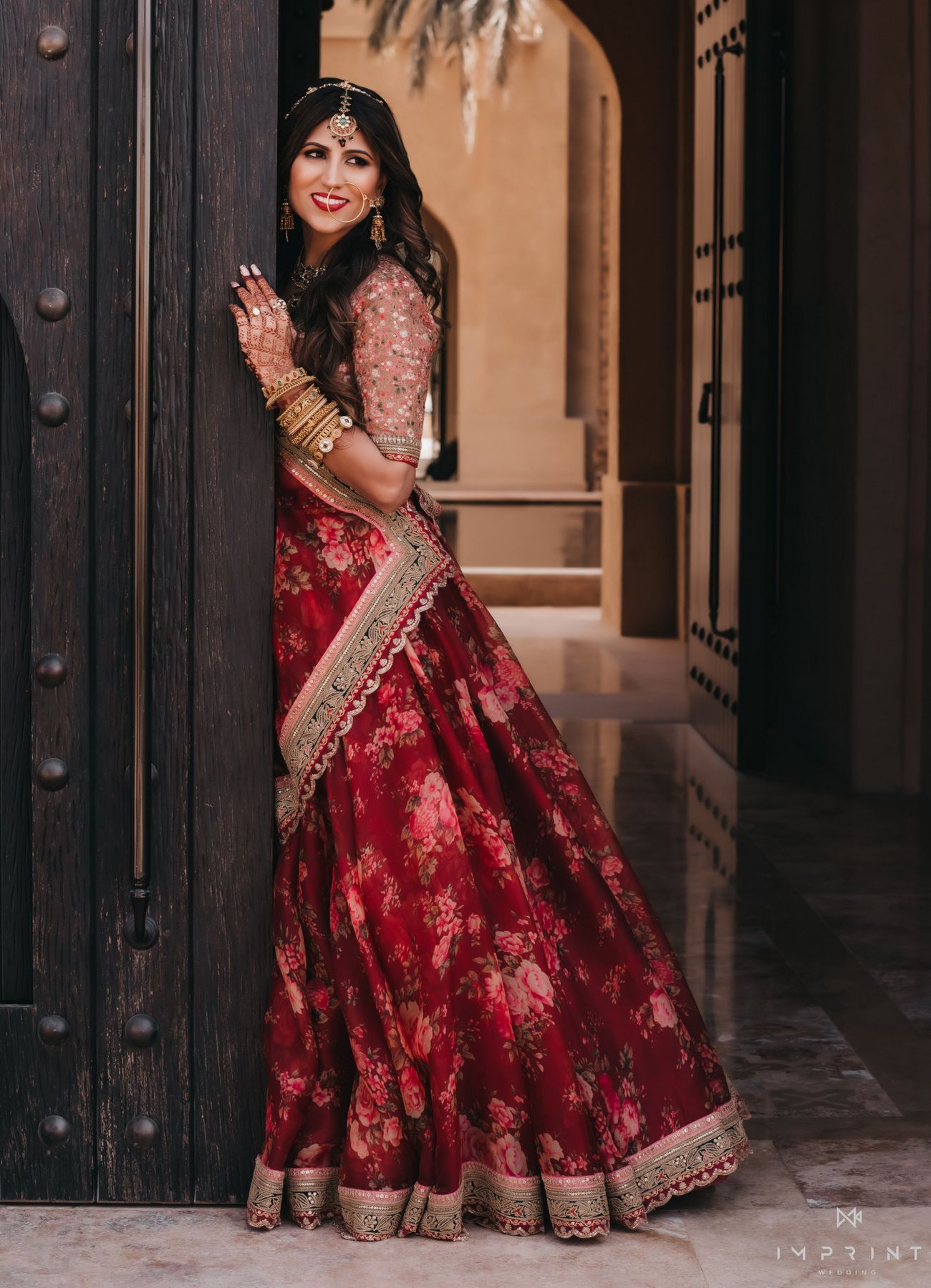 Image via Unita and Nikhil
Go for the prints is what this image is shouting. We absolutely love the combo of a printed skirt with an embroidered blouse to make your bridal lehenga one in a million!
27. Multicoloured benarasi weaves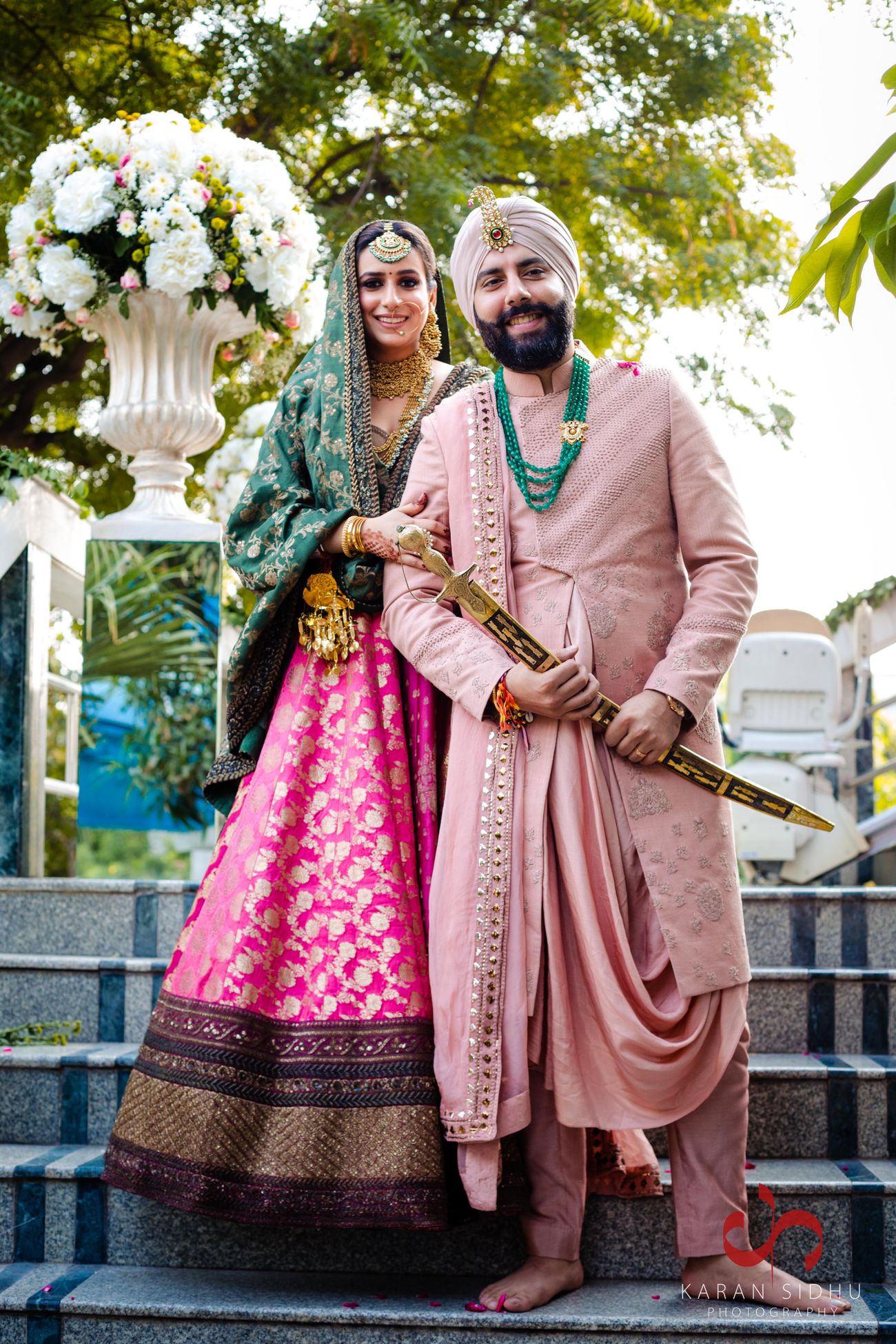 Image via Samreen & Sakhil
Another Banarasi lehenga to win our hearts. Something so contrasting yet a treat to the eyes pulled off beautifully by the famous Sabyasachi mukherjee.
28. This bright pink deliciousness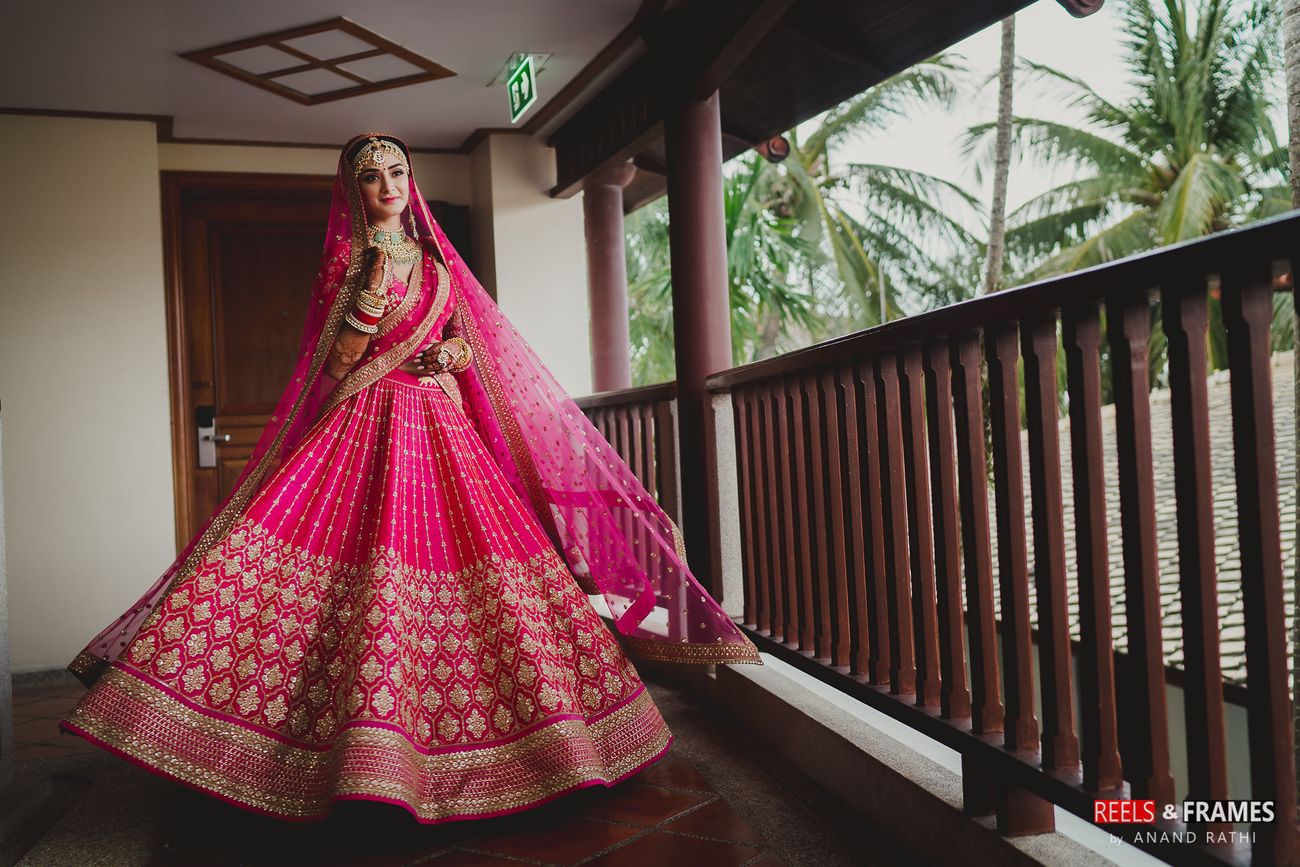 Image via Evneet and Chanpreet
29. Monotone maroon that's classy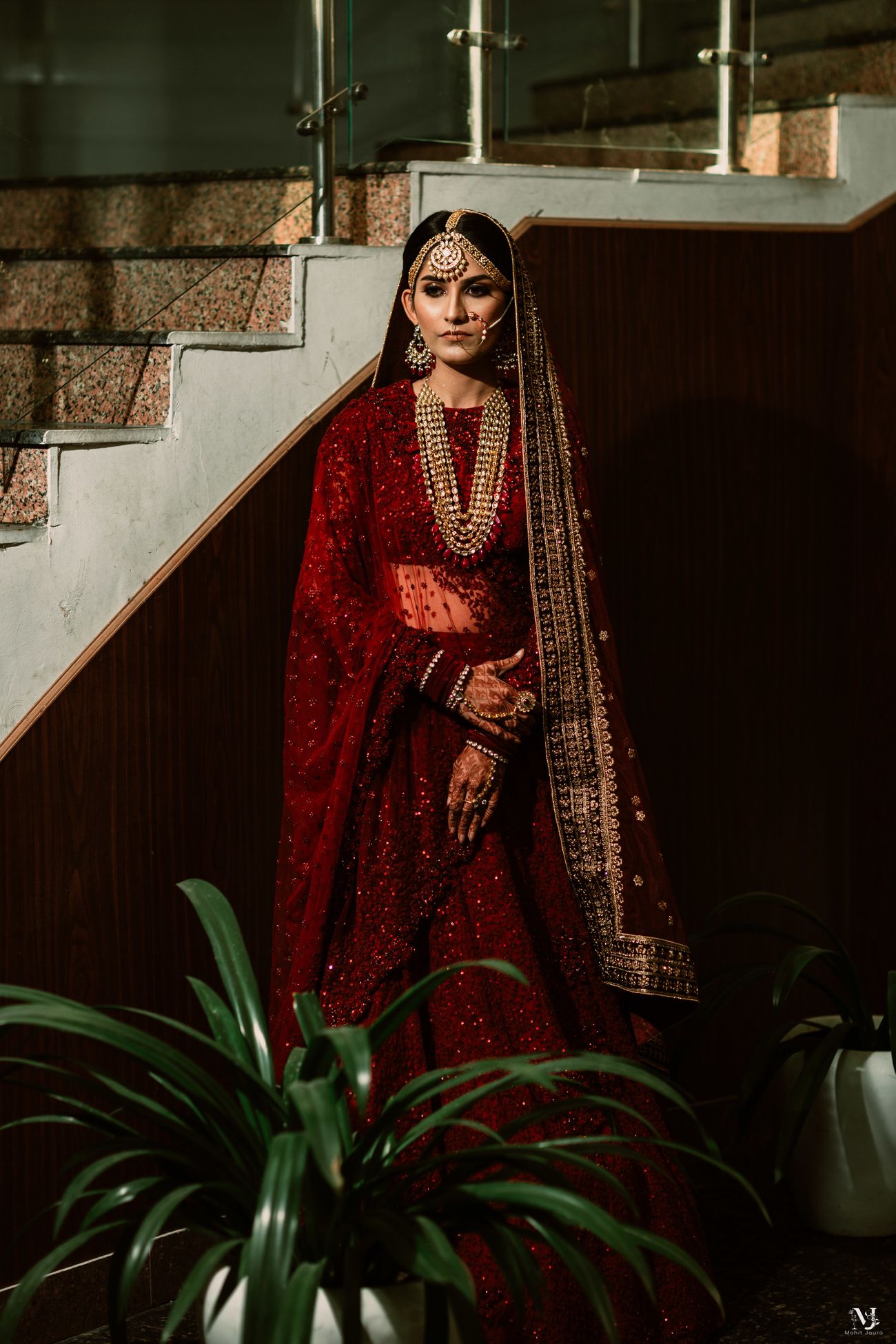 Image via Tanvi and Bouke
This Sabyasachi lehenga expresses actual class when we see it. Dull gold jewellery blending so well with the dark maroon shade. *goosebumps*
30. This gorgeous hue!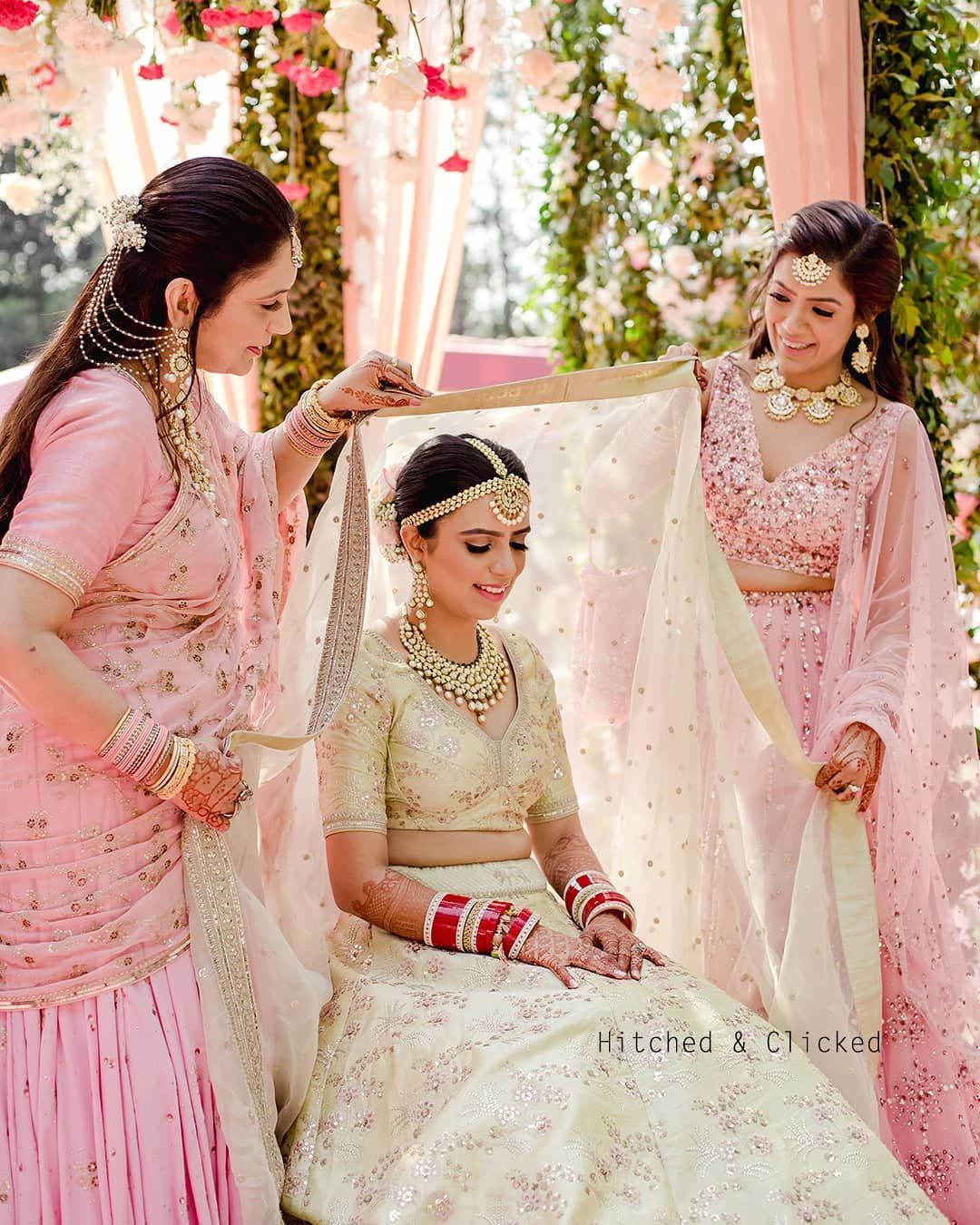 Image via Hitched and Clicked
31. White that's so elegant and classy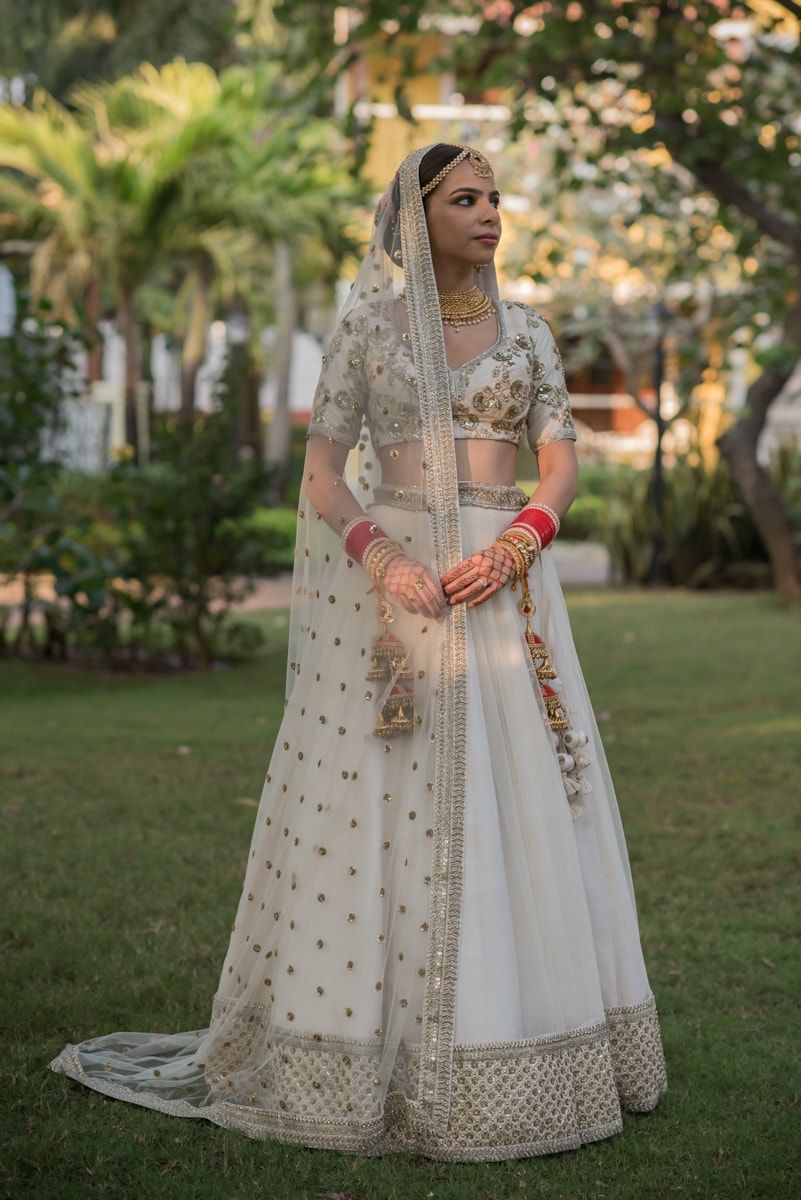 Image via Vedita and Arjun
32. Something so offbeat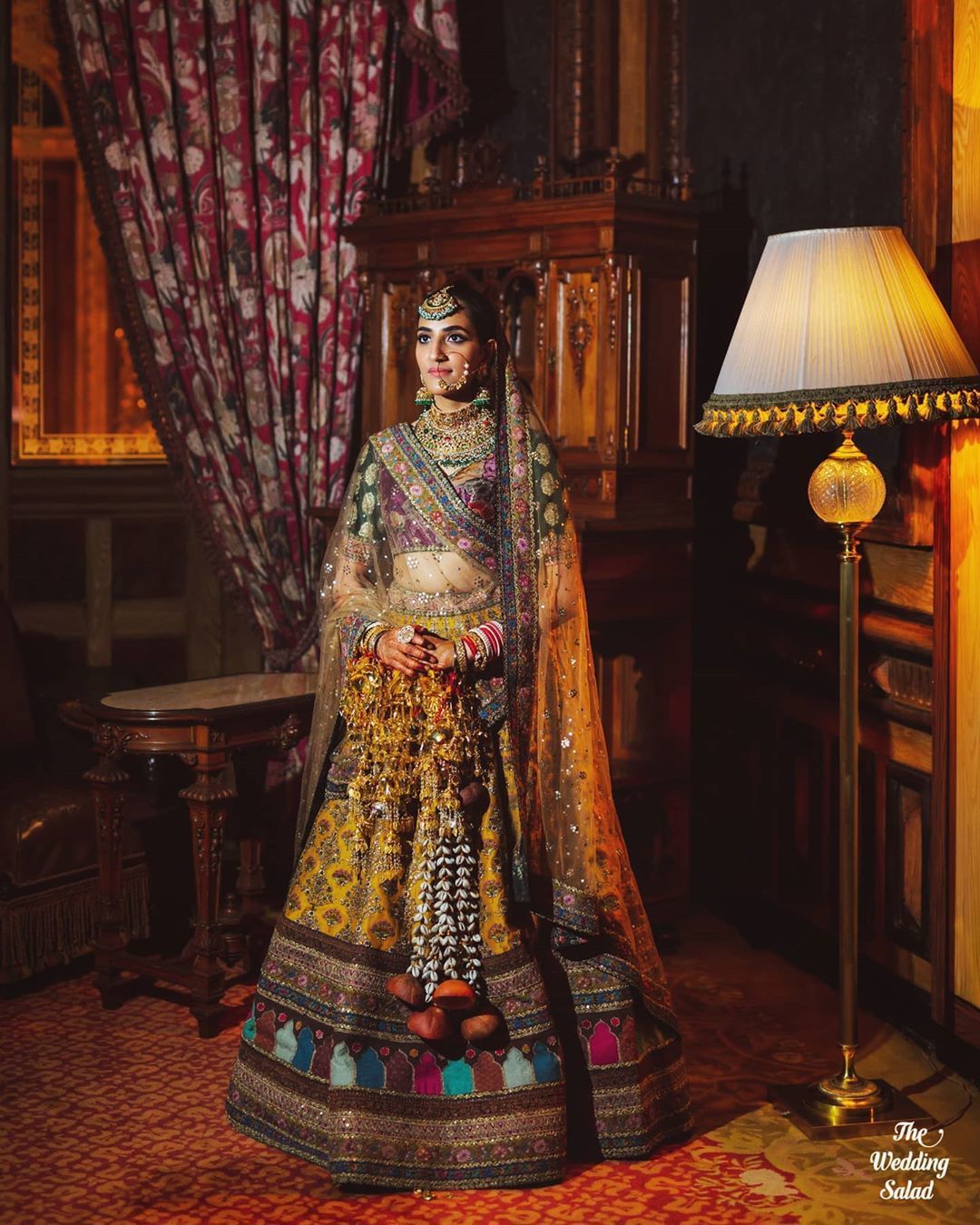 Image via The Wedding Salad
This comes across as an extremely unusual piece yet looks so remarkable.
33. Some teal goodness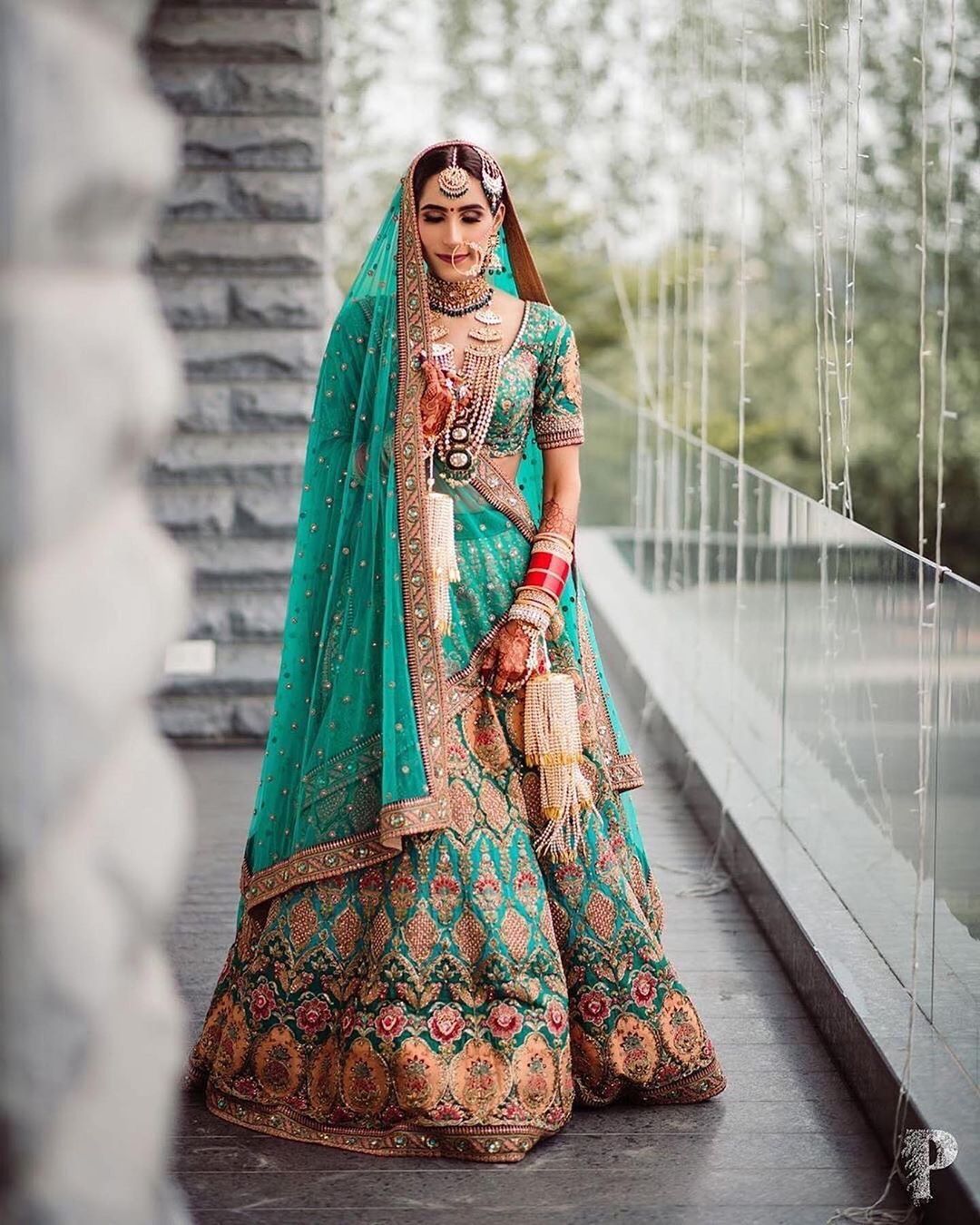 Image via Paran Singh Photography★ 4.8
Another eccentric colour to choose as your bridal lehenga. Watch out for the pastels as vibrants have also started trending in the charts.
34. This one with so many colours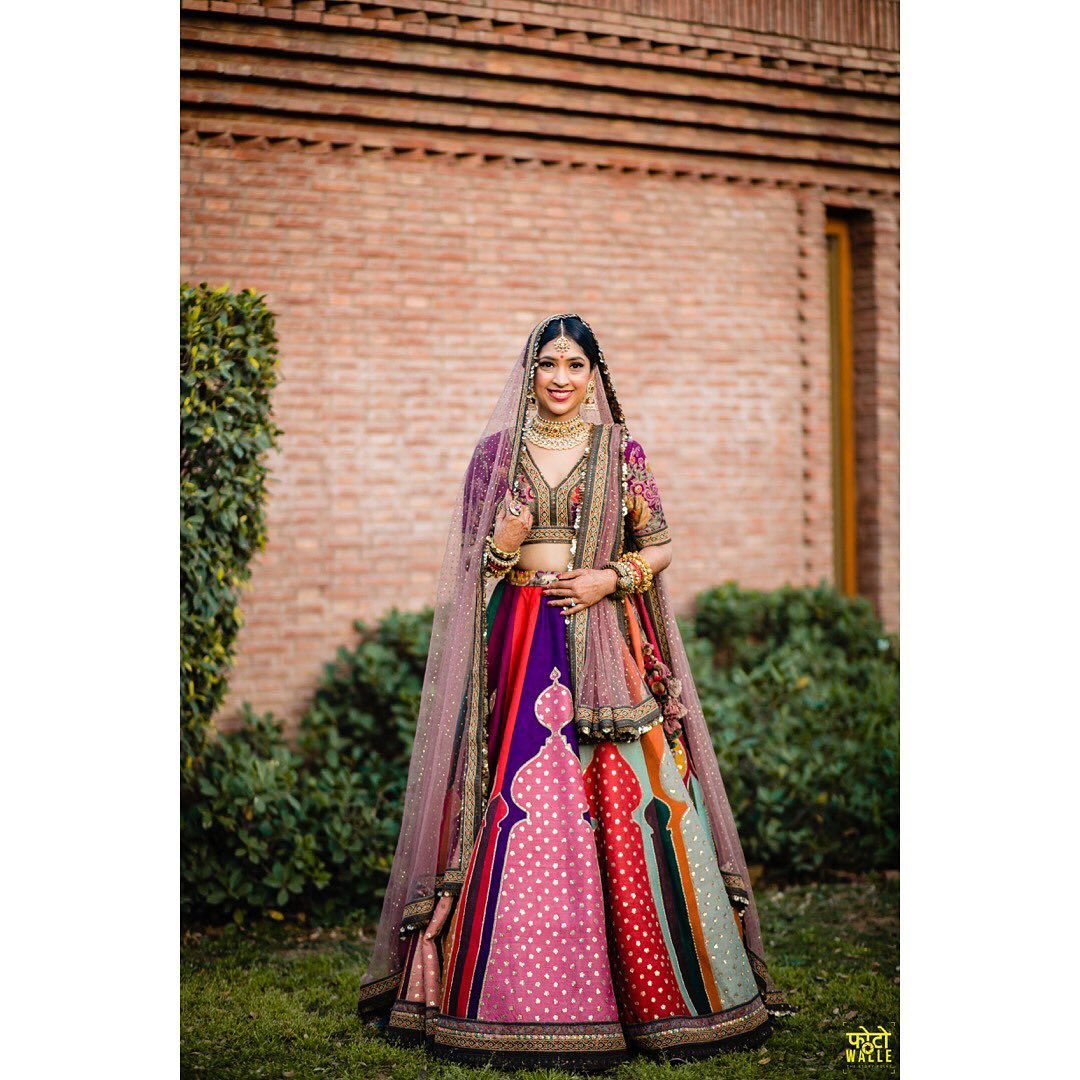 Image via Fotowalle - The Story Folks★ 4.9
Confused between many colours to choose from? Why not combine them all into one just as we see in this pretty image.
35. Red and gold that's timeless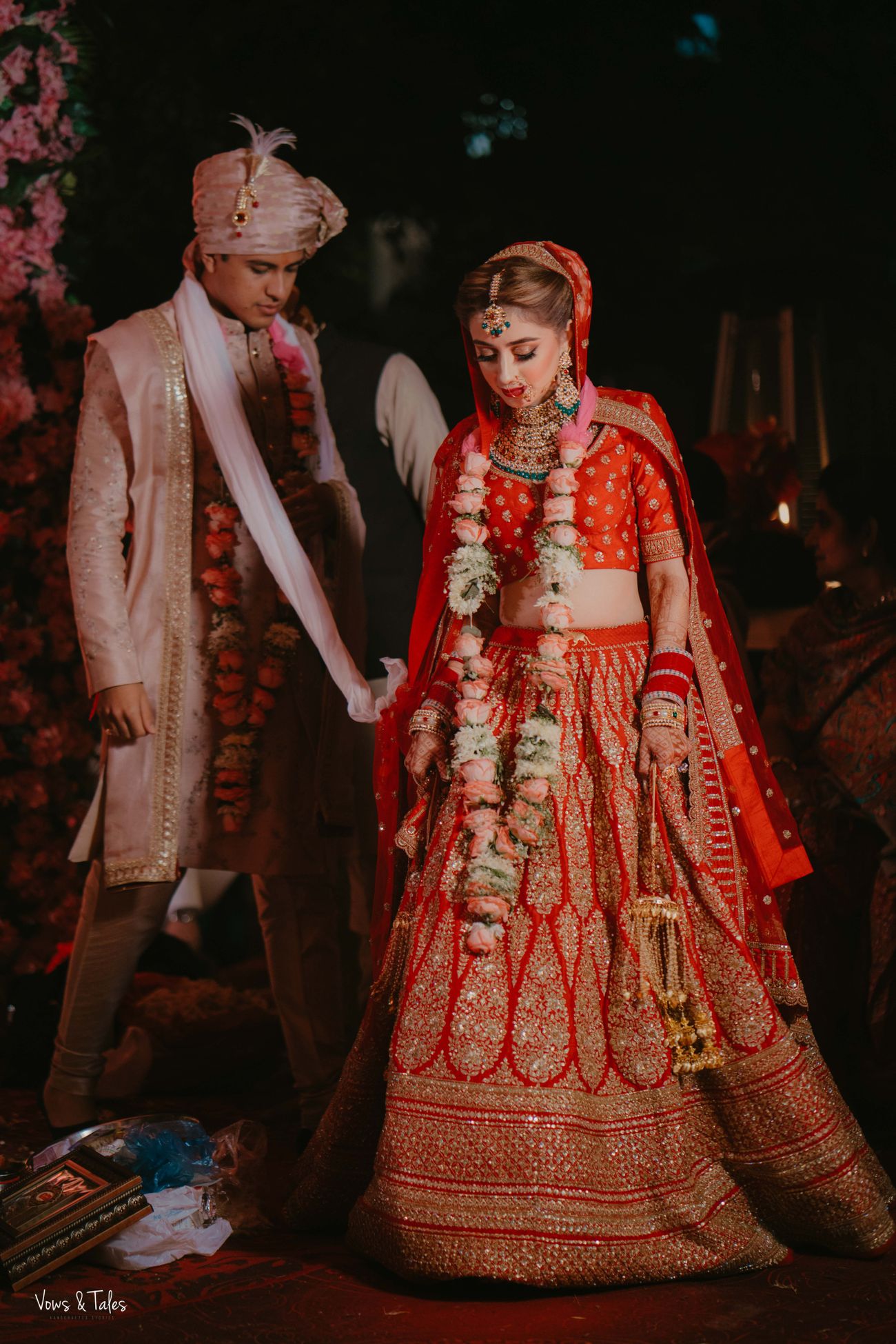 Image via Eshani and Dinkar
36. Deep burgundy & velvet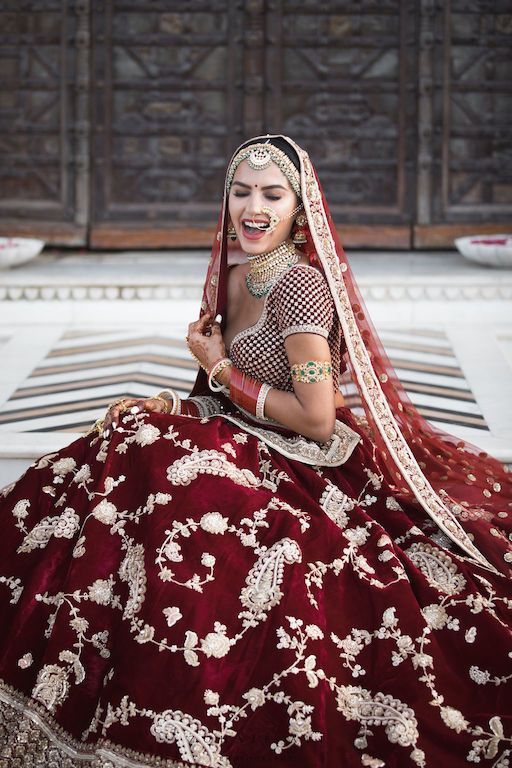 Image via Oleg & Diipa
37. This oldie that's still a goodie!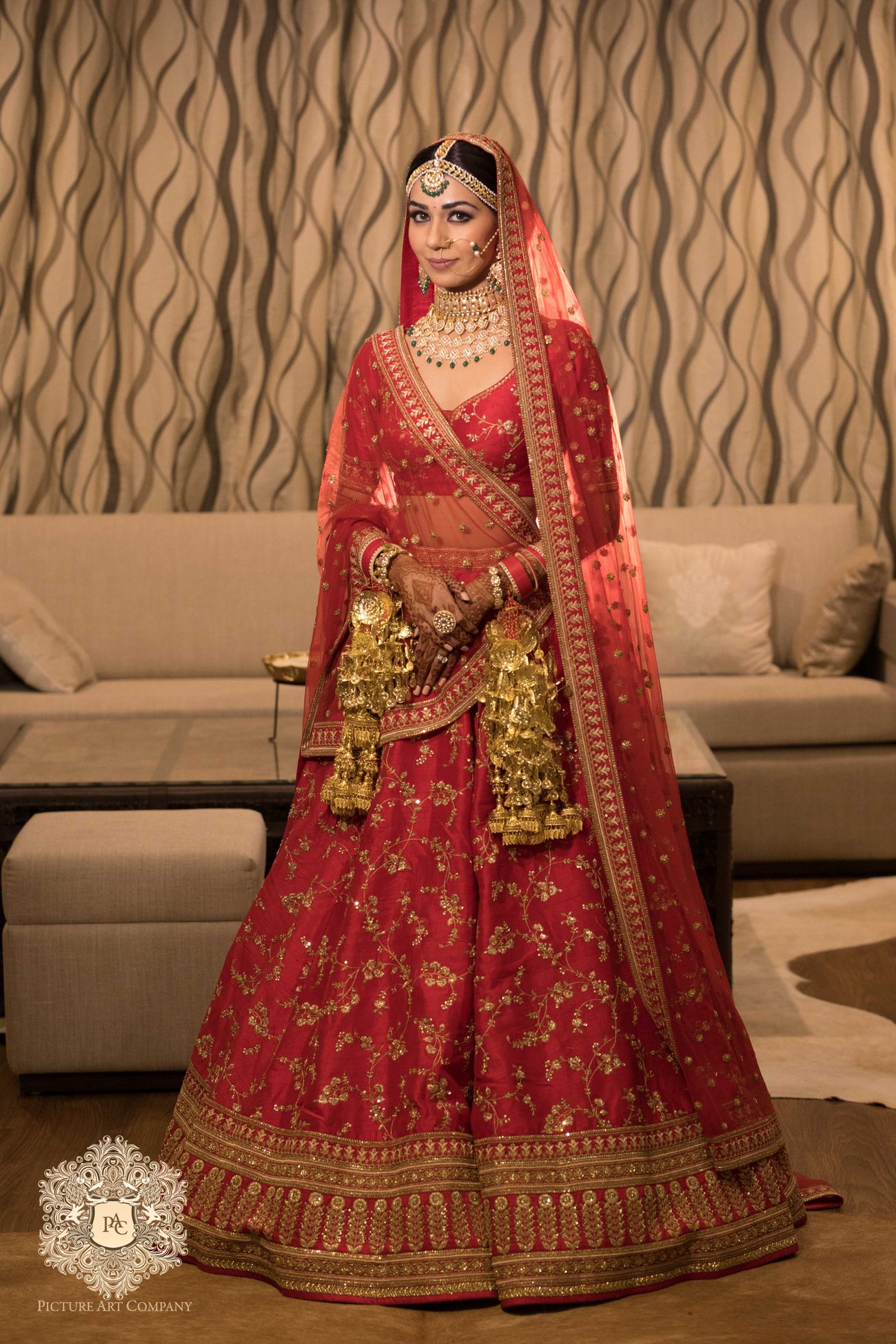 Image via Manika and Nishant
The classic lehenga by Sabyasachi Mukherjee that still holds its place amongst the various options in bridal lehengas.
38. Blush pink that's subtle and stylish
Image via Namrata & Tarun
39. This one that's pretty too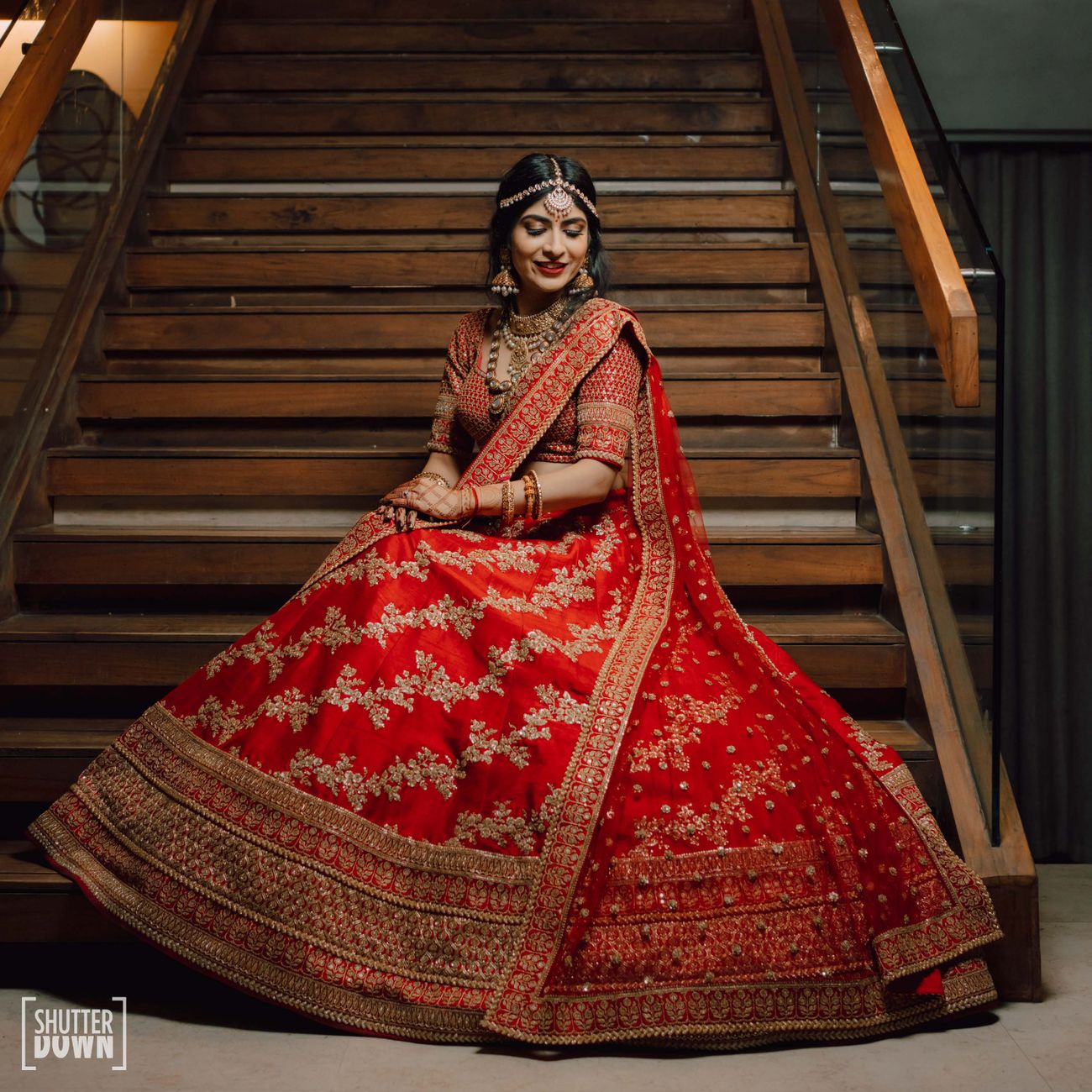 Image via Pallavi and Rajat
Light Sabyasachi Lehengas
Here are some pretty Sabya lehengas we spotted on real brides that are oh so stunning for the mehendi , engagement, reception or sangeet!
40. Velvet and teal in this gorgeous combo!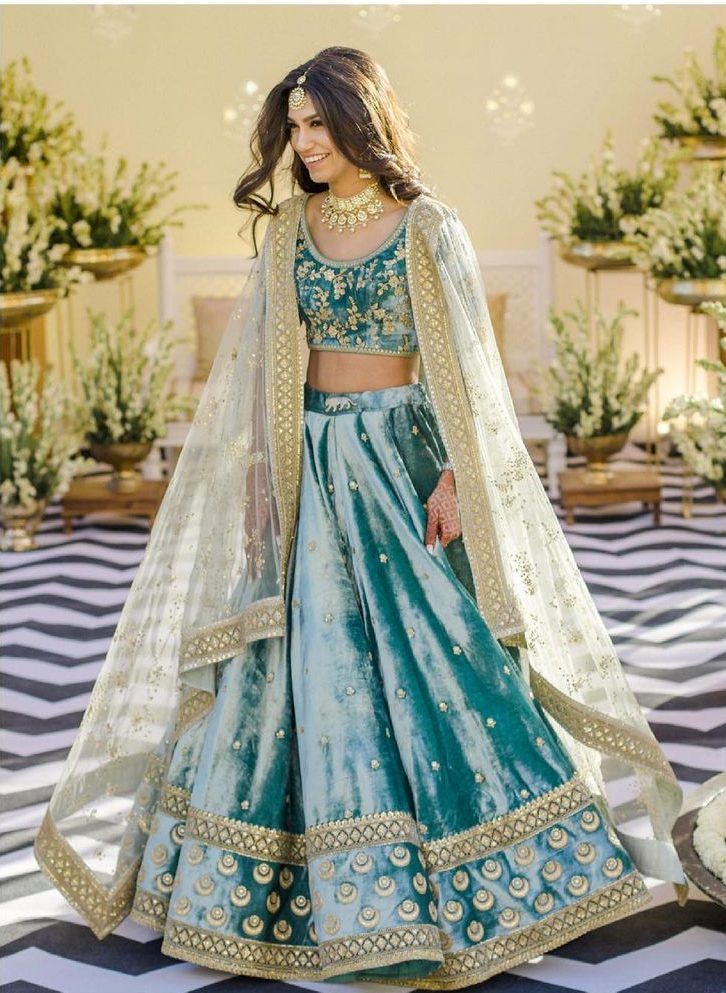 Image via Sam & Ekta - Sonder Frames★ 4.7
41. This panelled one that's so twirlable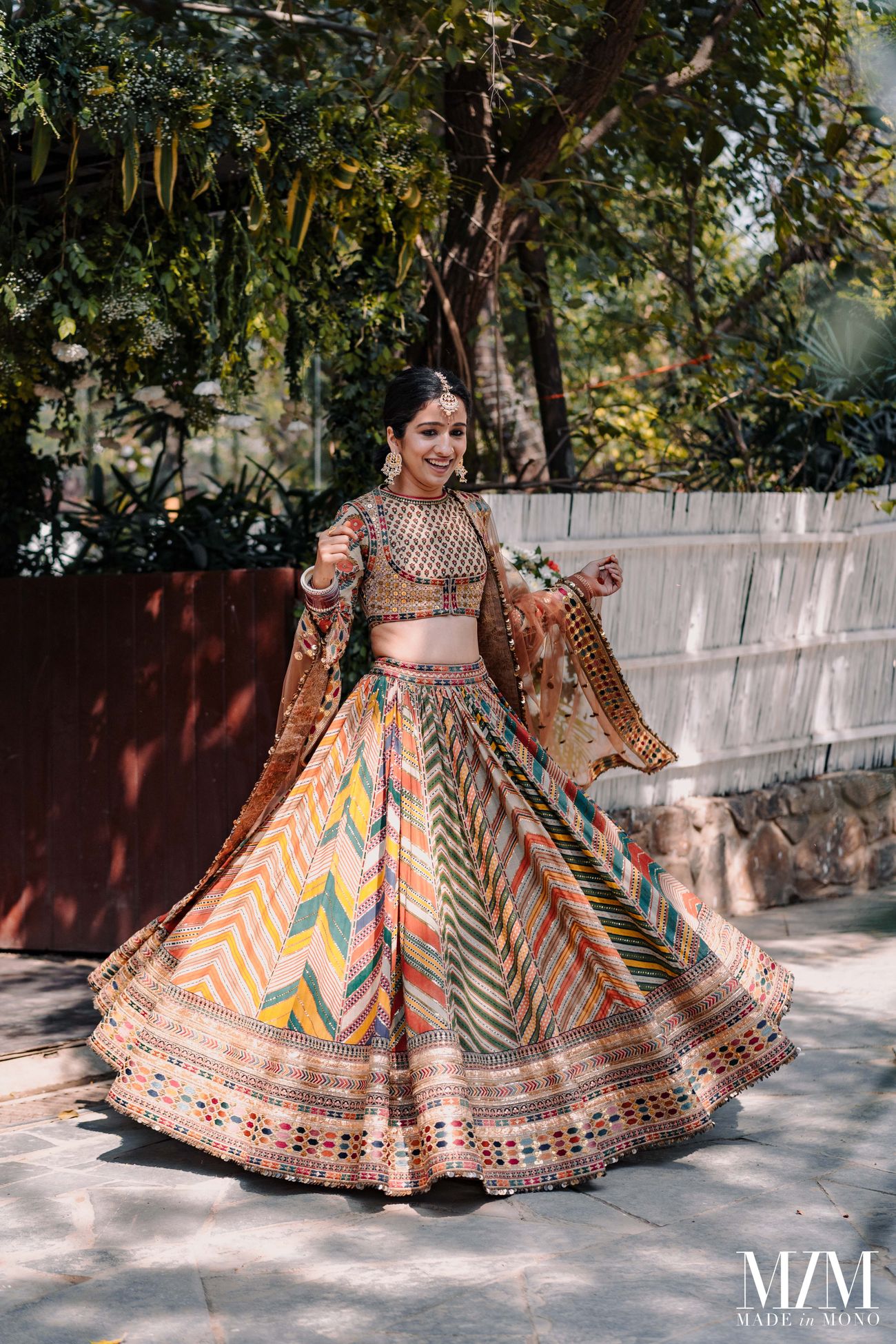 Image via Disha and Jayant
42. This glorious pick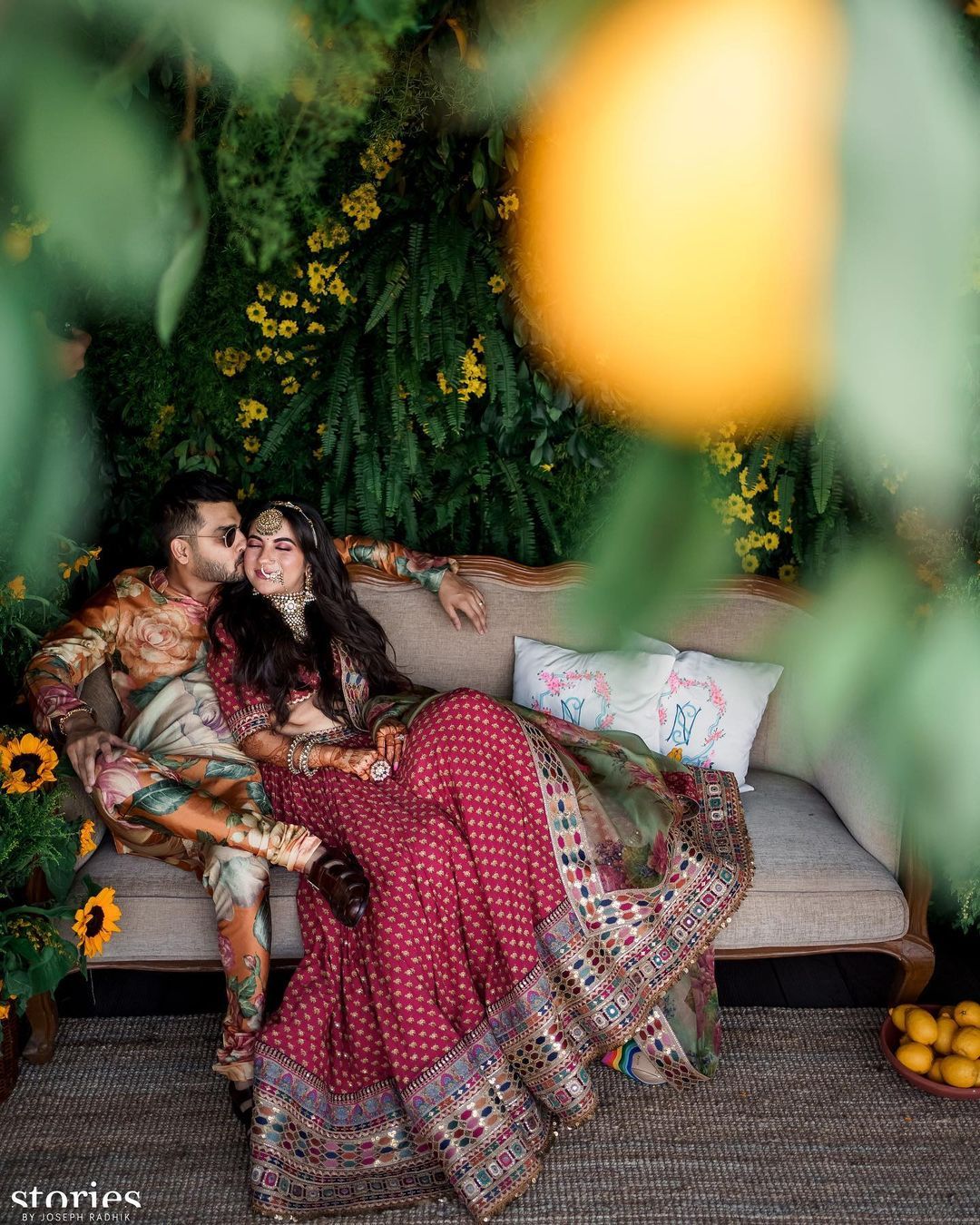 Image via @fashioneiress
Another mind blowing Sabyasachi designer lehenga that gives a boho vibe. Absolute stunner with the out breaking border but simple on the fabric.
43. Midnight blue that's so glam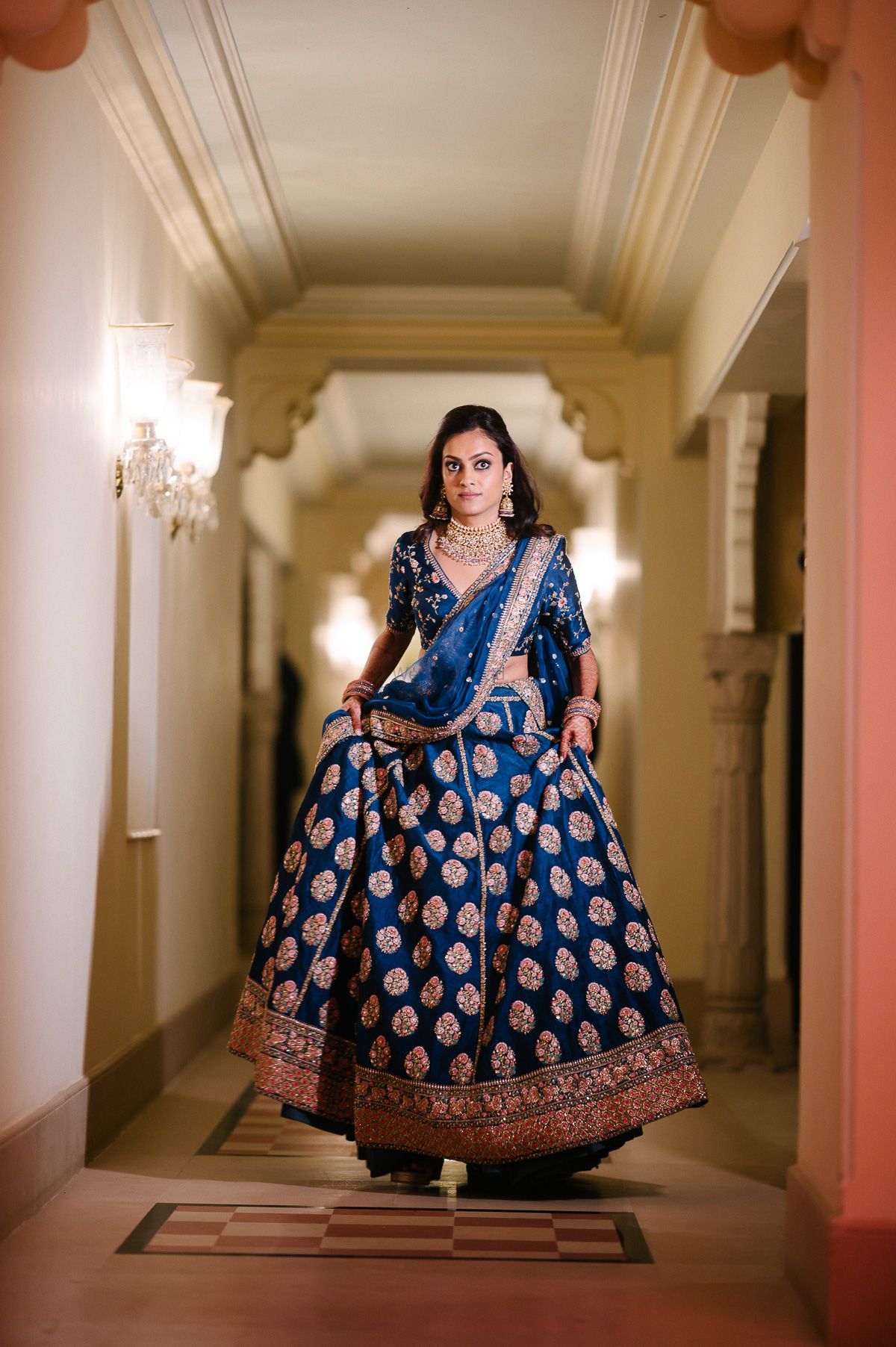 Image via Apoorva and Phalgun
This royal blue lehenga with butis on the skirt looks so girly and stylish
44. Who knew mustard could look so good!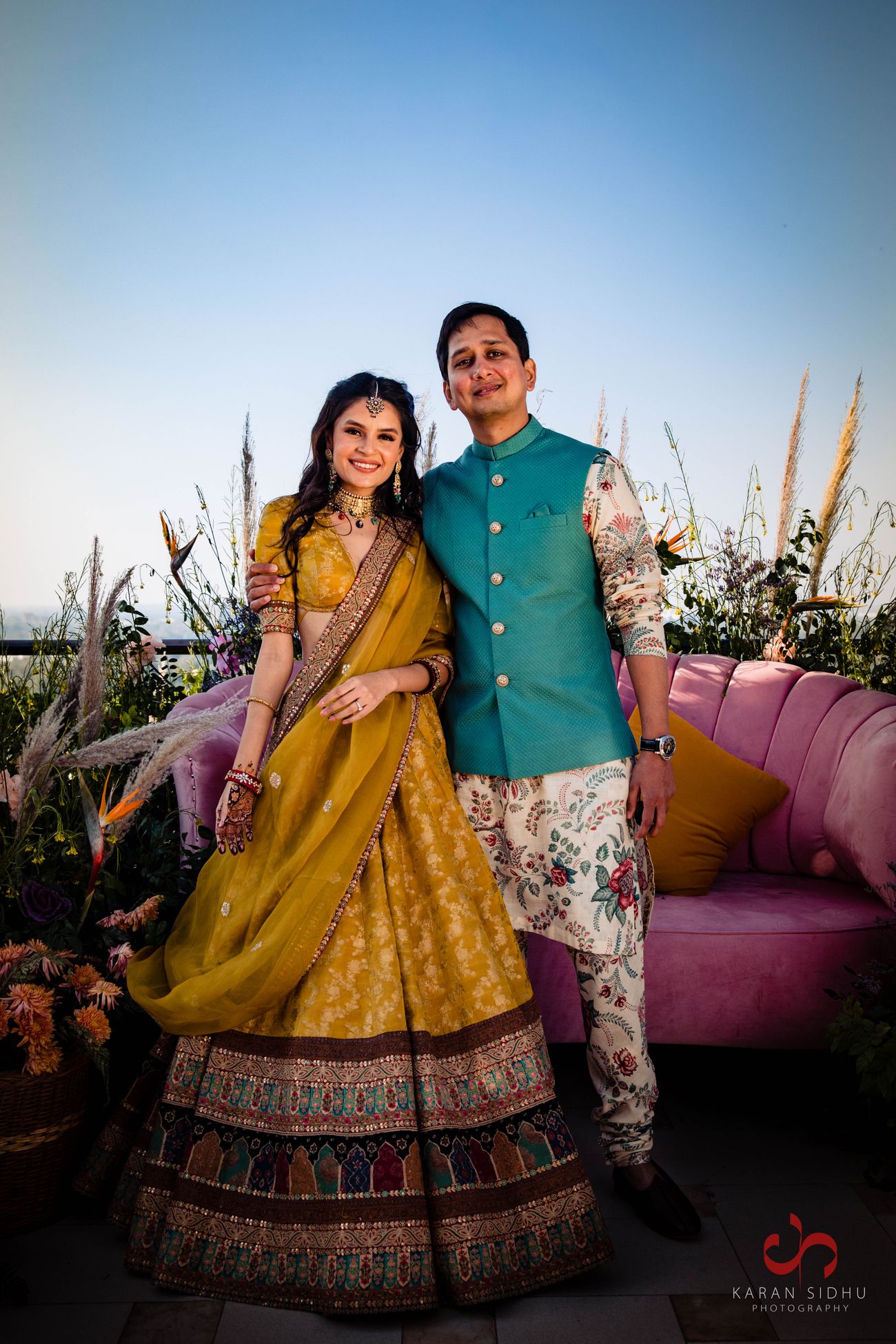 Image via Shinjani & Sidharth
45. Candy pink that's so happy!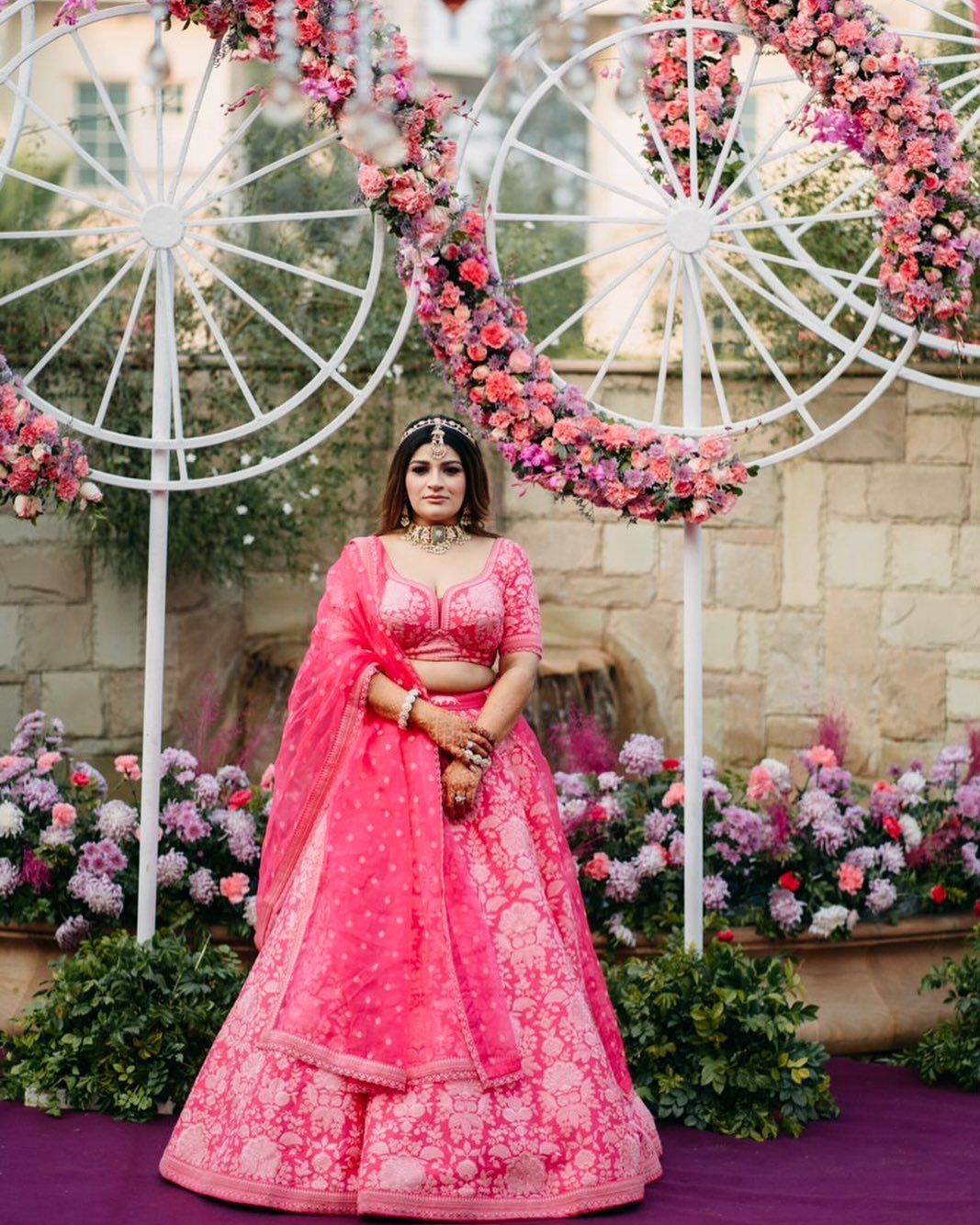 Image via Nainika and Sidharth
46. This contrasting floral beauty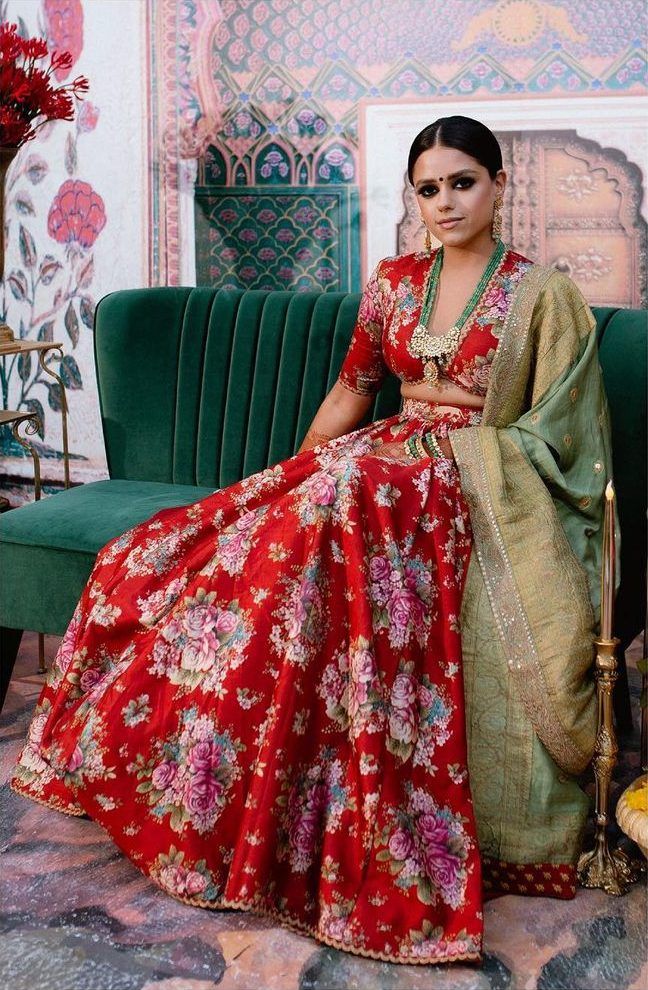 Image via @oliverrabanes
Florals will always be a thing and this bride justified it by wearing a sabyasachi bridal lehenga with a tinch of Banjaran look
47. This glam pick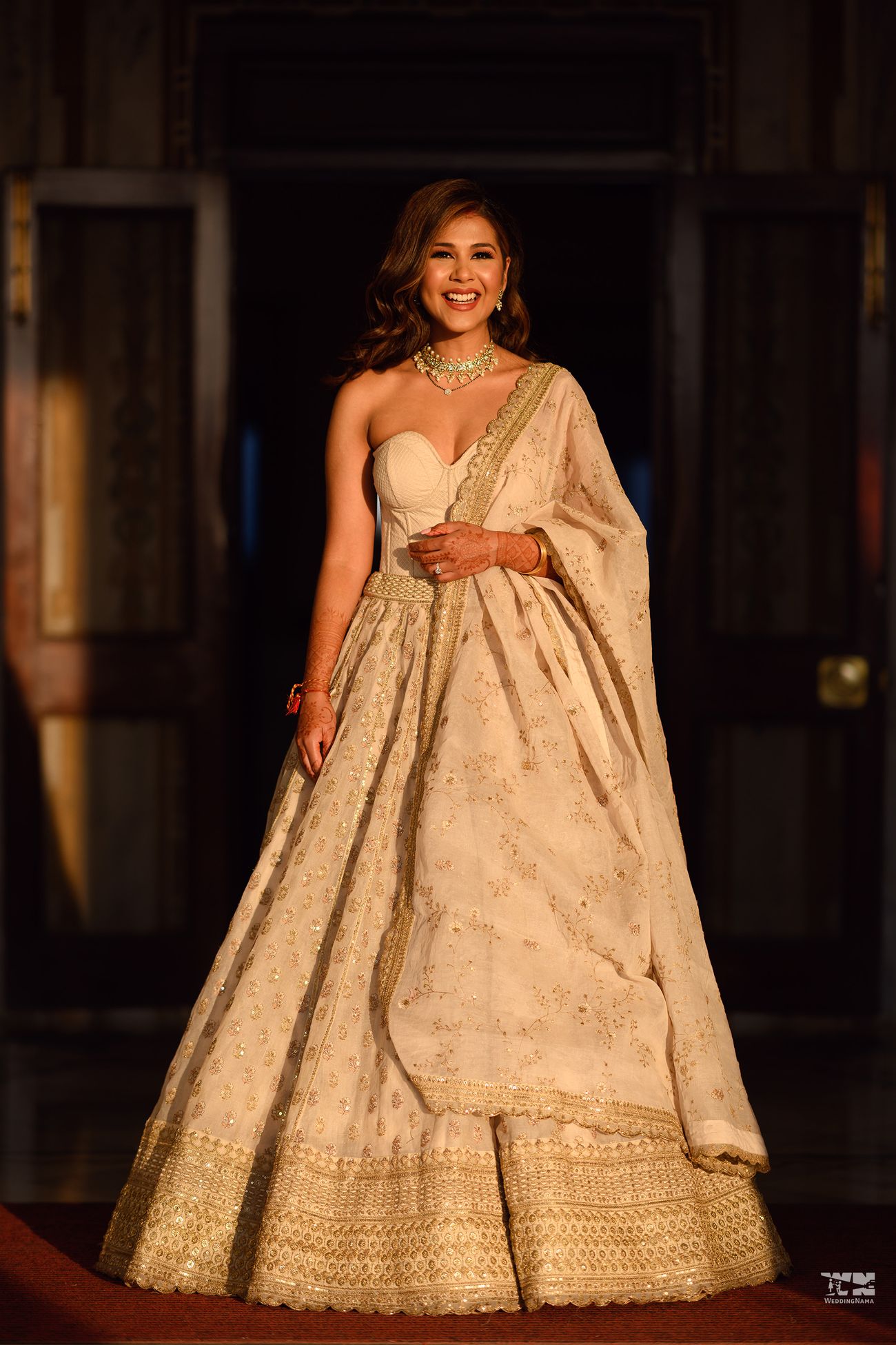 Image via Priyanka and Mishaal
This bride looks like an absolute diva pulling of the unusual corset blouse with a subtle gold and ivory lehenga.
48. Velvet and blue for a Sangeet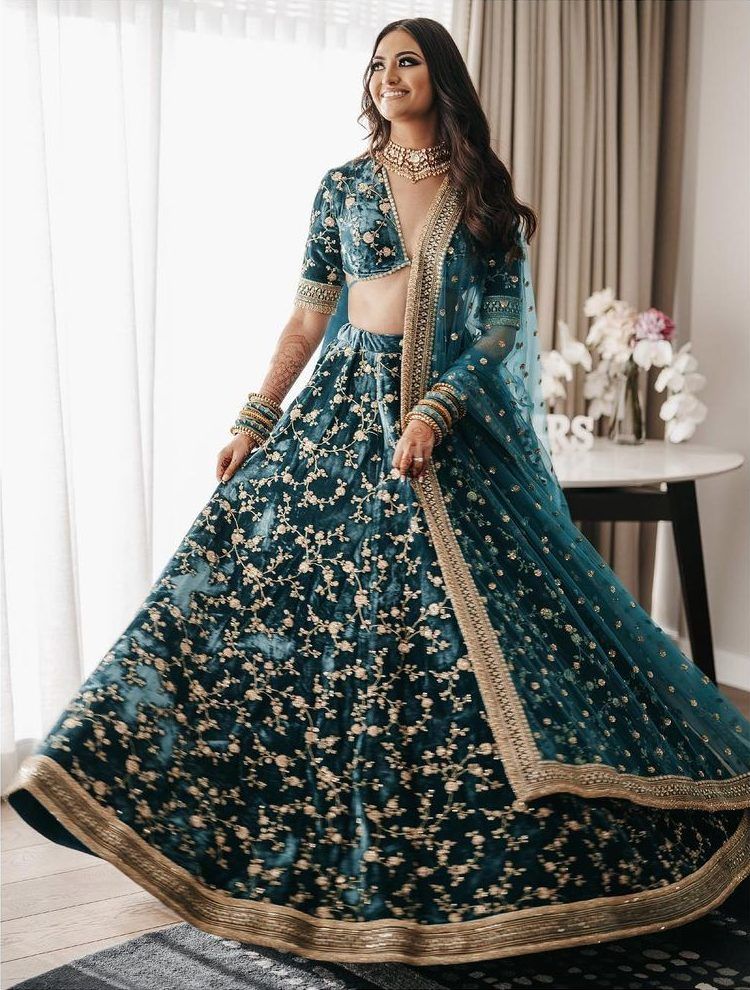 Image via @ks.creative_photography
Perfect for a winter function. Rock it by wearing a velvet lehenga in an unusual colour.
49. This one that's fresh and summery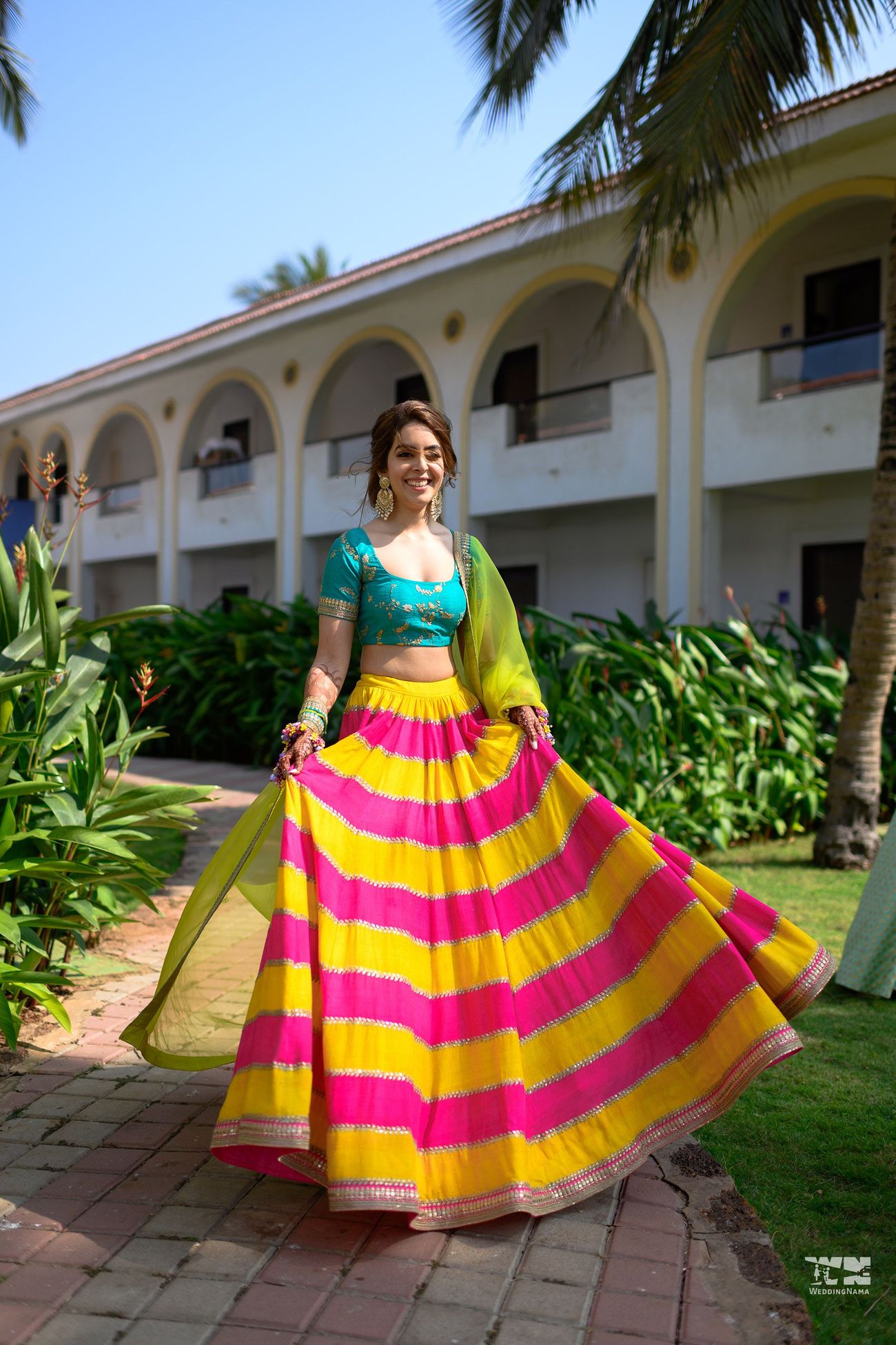 Image via Sanaa & Sidhant
Vibrance and Happiness, two things a bride must always carry just like this cute and pretty contrasting sabyasachi lehenga. 
50. This one that reminds us of spring!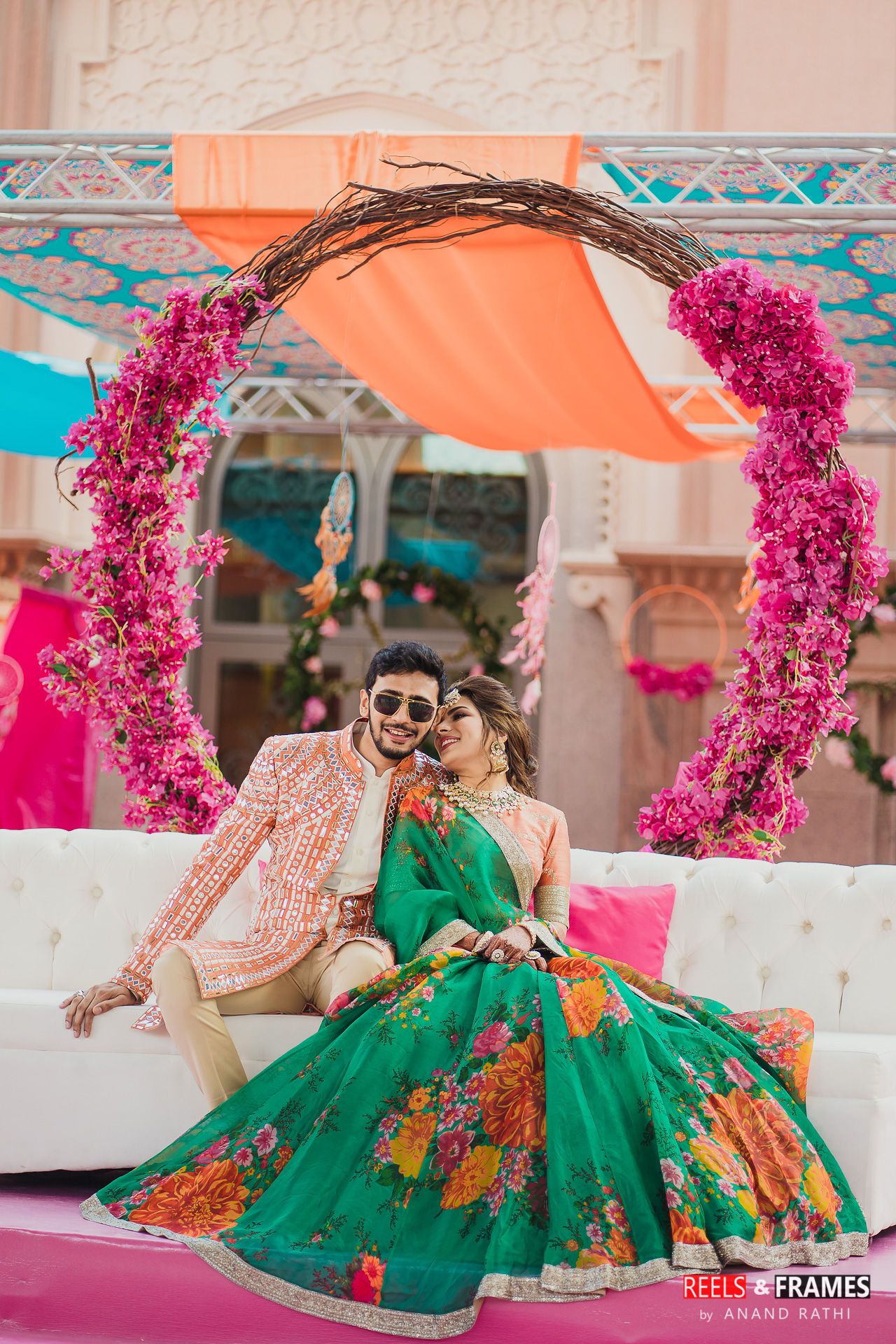 Image via Krupa and Ruchit
The contrasting patterns, yet so trending. Go for offbeat colours and prints with contrasting blouse to make it the best of both worlds just like this lehenga by Sabyasachi Mukherjee.
If you're planning on being a Sabyasachi bride at your wedding, you need how much does a Sabyasachi lehenga actually cost! Also, this bride's firsthand experience of buying a Sabyasachi bridal lehenga might just be useful. You can also look for our catalogue to know the Sabyasachi lehenga starting price. After all, you literally need a whole wedding brigade to buy the perfect wedding lehenga.