Bridal Lehengas in Chandni Chowk: Shops, Prices & Pics
BY The WMG Bride | 19 Nov, 2018 | 130157 views | 11 min read
When I first visited Chandni Chowk, it was  5 months before my wedding. I had limited knowledge, and  it was a spur of the moment decision to just hop on the metro to go and see if we could find some lehenga options . Two girls on the metro were discussing places to shop there so I was shamelessly eavesdropping on their conversation and made mental notes. Since then however I have been to Chandni Chowk close to 20 different times, with 20 different people so let me just say I know my way around this place.
Okay, so you have probably read about a dozen newspaper articles about how Chandni Chowk is this treasure trove of the most amazing bridal lehengas and what not, but when you actually land there, all you see is shiney, mind numbing bling (and people climbing on each other) that is totally un-drool worthy. Chances are, you haven't gone to the right store in Chandni Chowk yet!! Take it from somebody who writes only about bridal lehengas all day long, a self confessed bridal shopping expert (hey, I'm paid to help people find lehengas!) , and someone who is pretty obsessed with finding nooks and corners that sell bridal lehengas- these are probably the only places worth knowing. Here is a quick virtual tour for you with some amazing offbeat lehengas we picked in Chandni Chowk!
View this post on Instagram
So here's a lowdown on the bridal shops in Chandni Chowk, sorted budget-wise.
Most Expensive (Shops with lehengas over 70k)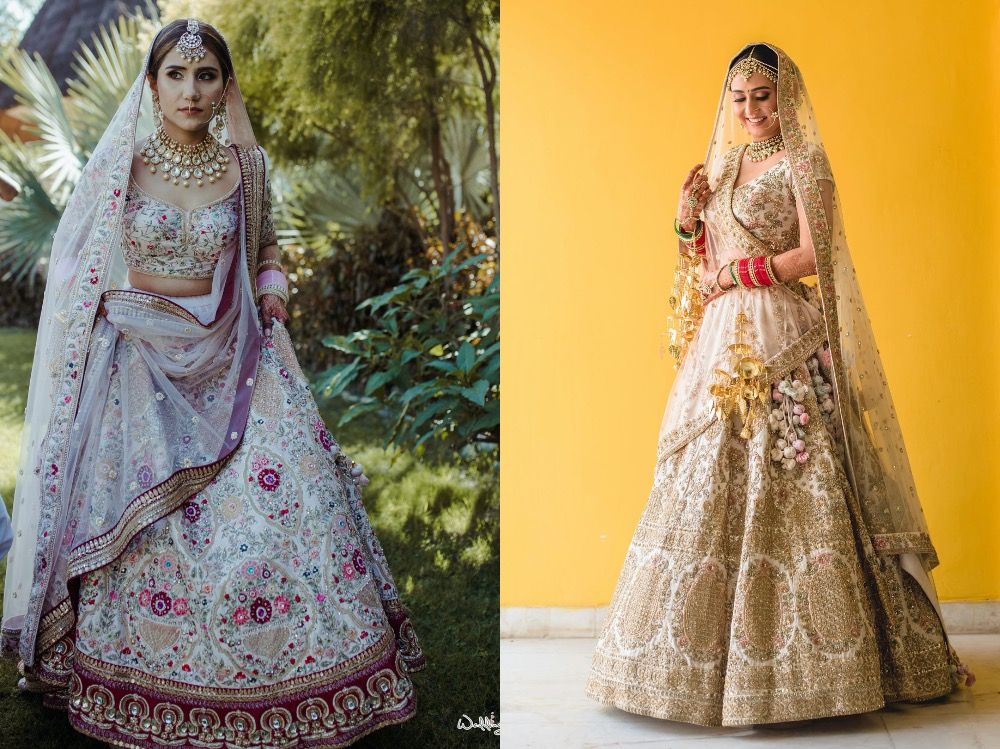 Image via Sarvottema & Akash and Aakriti and Abhinav
In a way, Asiana has redefined lehenga shopping in Chandni Chowk by turning small cubby hole shops into a large, two storied shop with vareties of lehengas.  Their outfits are on trend, premium , and high quality and a far cry from the shiny scary bling you can otherwise see in Chandni Chowk. You will find all your latest designs and styles here, and they also stock some sarees , some jacket lehenga pieces, some shararas and more.
Quick pointer: Largest variety, quality work & good experience
Real brides in Asiana: here
See more of Asiana Couture Collection: here
Price range: Bridals cost over 80k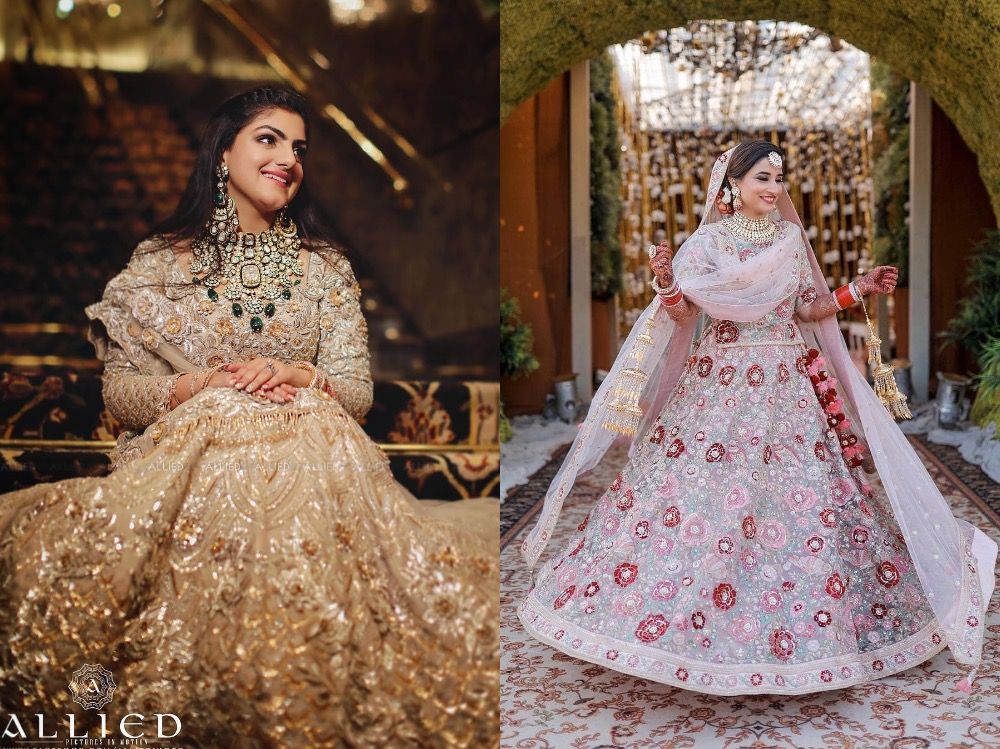 Image via Allied★ 5 and Safarsaga Films★ 5
Run by a father, daughter duo OPJL as they are called has been an old name in Chandni Chowk.  Compared to the rest of the riff -raff, they have nice, elegant pieces in similar style of Sabya and Manish etc. I feel like they can definitely add more can-can to their lehengas to improve the flare, but overal if you have only a little time in Chandni Chowk then OPJL should be on your list.
Quick pointer: Good quality work with trendy designs
Real brides in OPJL: here
See more Om Prakash Jawahar Lal photos here 
Price range: Bridals cost over 70k
Aditya and Mohit (A Unit Of Dalmia Fashions)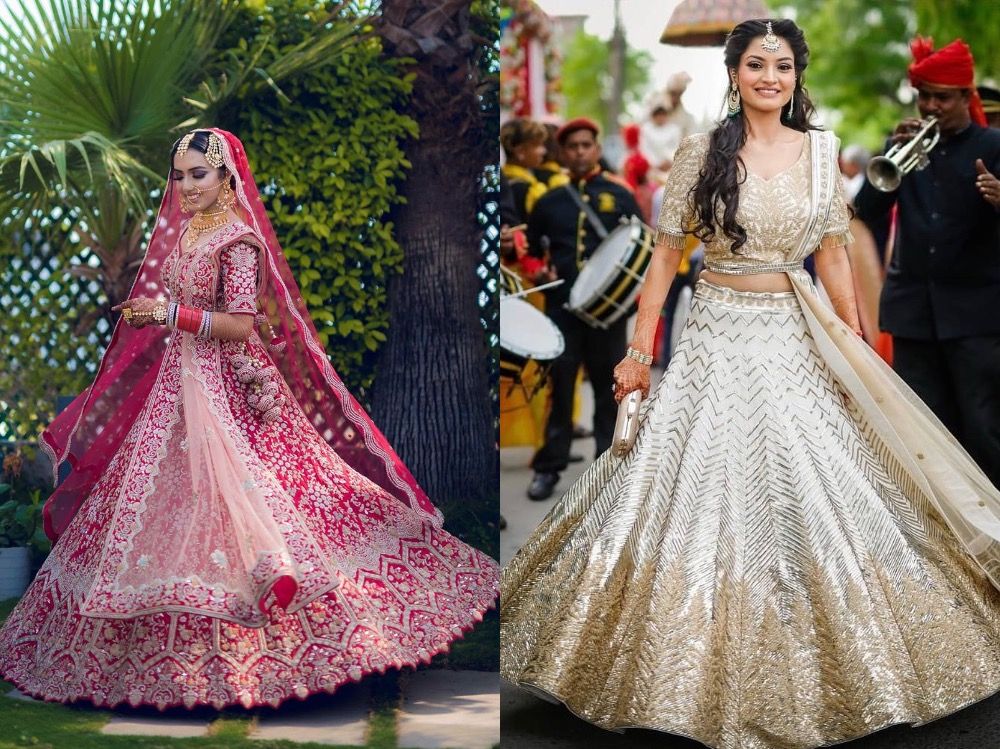 While earlier this was a smaller store, they have now completely revamped it to make a super swanky store for your bridal needs. Apart from lehengas, they also have some nice jacket silhouettes, and a lot of Sabya inspired outfits.  They are similar in prices, with bridal lehengas starting at 50K and going over a a lakh
Quick pointer: Can score a gem sometimes at cheaper prices than the irst two
Real brides in Aditya And Mohit (A Unit Of Dalmia Fashions): here
See more Aditya & Mohit (A Unit Of Dalmia Fashions)
Price range: Bridals cost over 70k
See them here: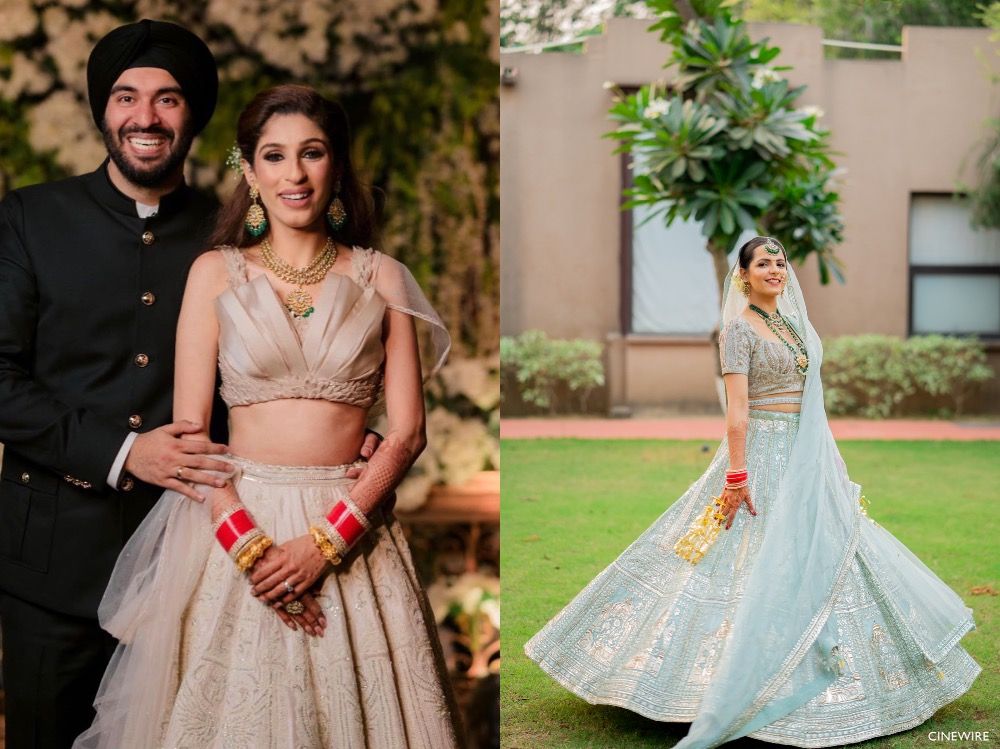 Image via Vows & Tales★ 5 and Aman and Nitish
Payal Keyal is a label which is definitely worth a try! Unlike the other stoes which mostly deal in replicas or inspired pieces, here you have original designs. You'll find contemporary and offbeat designs in fresh, yummy colors- off shoulder blouses, tassels, fringes etc. They weren't around when I had gone for my lehenga shopping, but over all these years of looking at wedding pictures, I have seen brides wear some stunning pieces from them!
Quick pointer: Original design, fresher cuts of blouses.
Real brides in Payal Keyal: here
See more:  Payal Keyal Design ★ 4.5 photos and contact here
Price range: Bridals cost over 90k
---
 Also read: 15 brides who wore the prettiest lehengas from Chandni Chowk
Also read: We took 1 lakh to Chandni Chowk and heres what we foun
---
Mid Range (Shops with lehengas over 60K)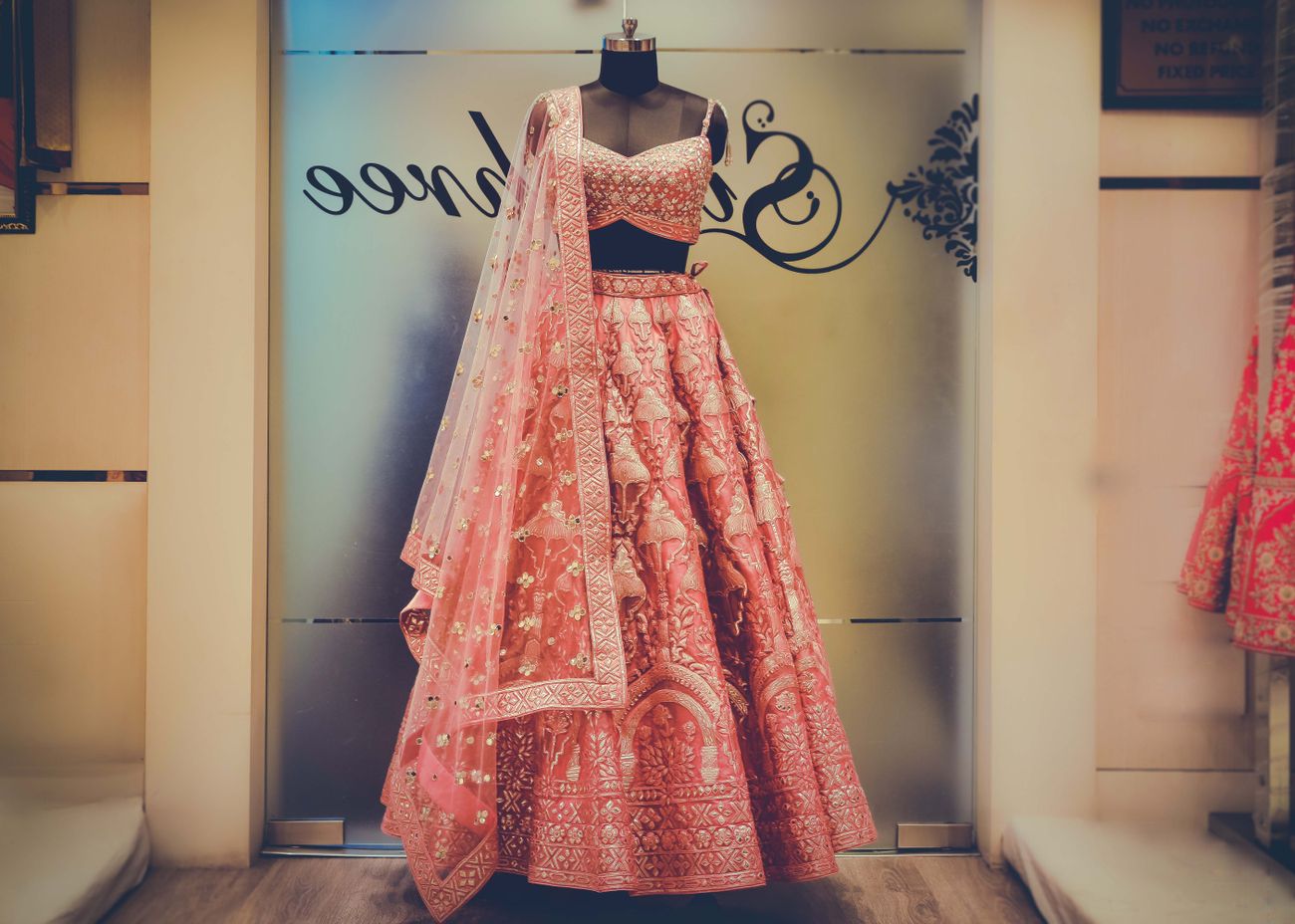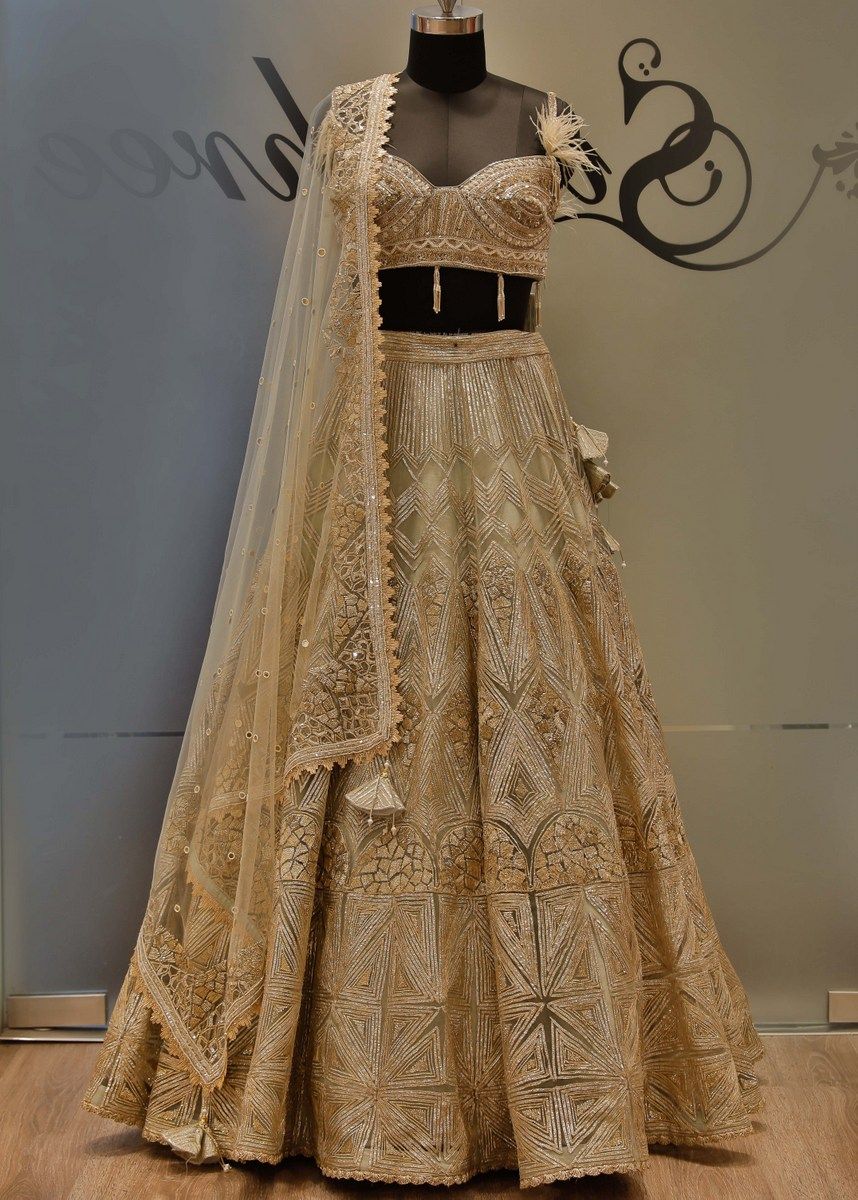 A lehenga from Sunehri : Price 75K
Sunehree too is relatively new in the Chandni Chowk market, however their work and designs are a steal. The collection here ranges from heavy royal pieces to lighter pieces. You can score some nice lehengas and couture outfits in the  budget of (80k to 1.5lakh) most of their beautiful pieces start from 60K.
Their shop can be easily located once you step into Chandni Chowk, as you just have to look for the big board of SUNEHREE. My friend got her wedding lehenga from here which was a  very nice shaded peach and coral bridal lehenga .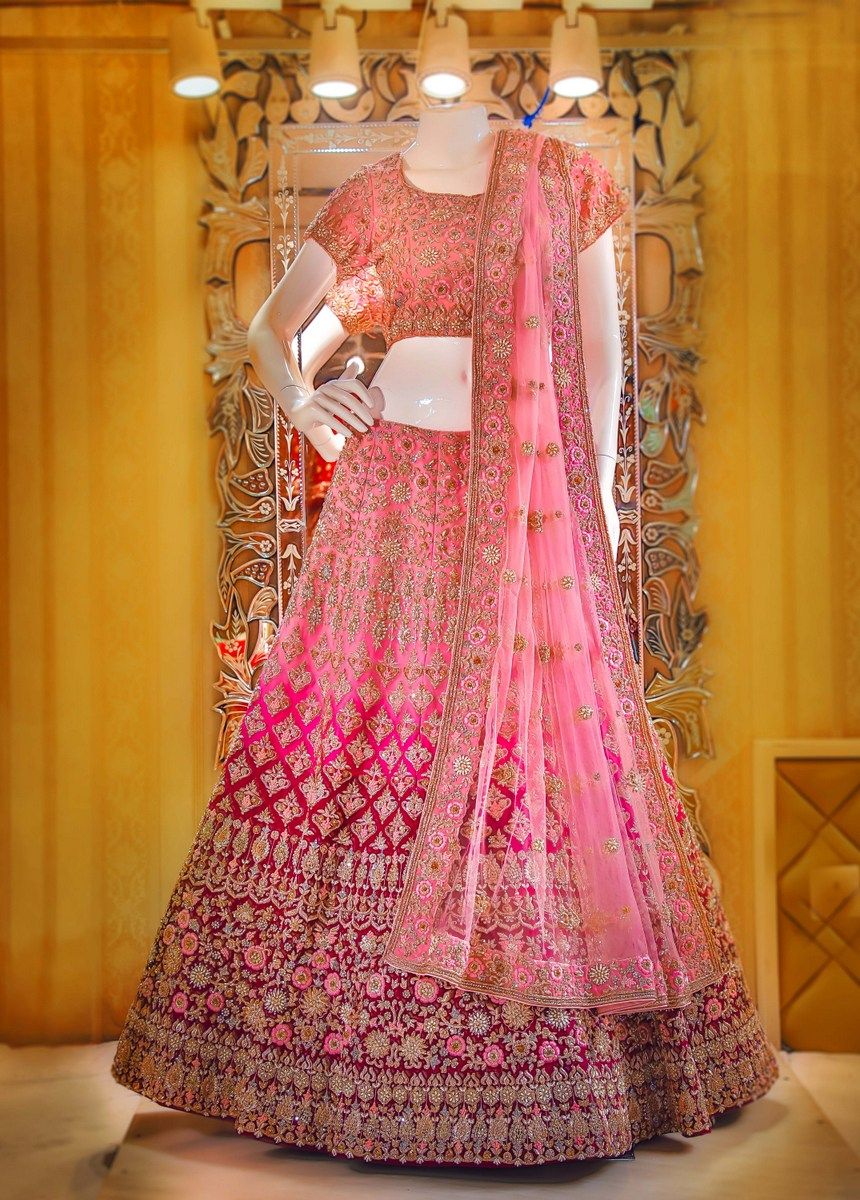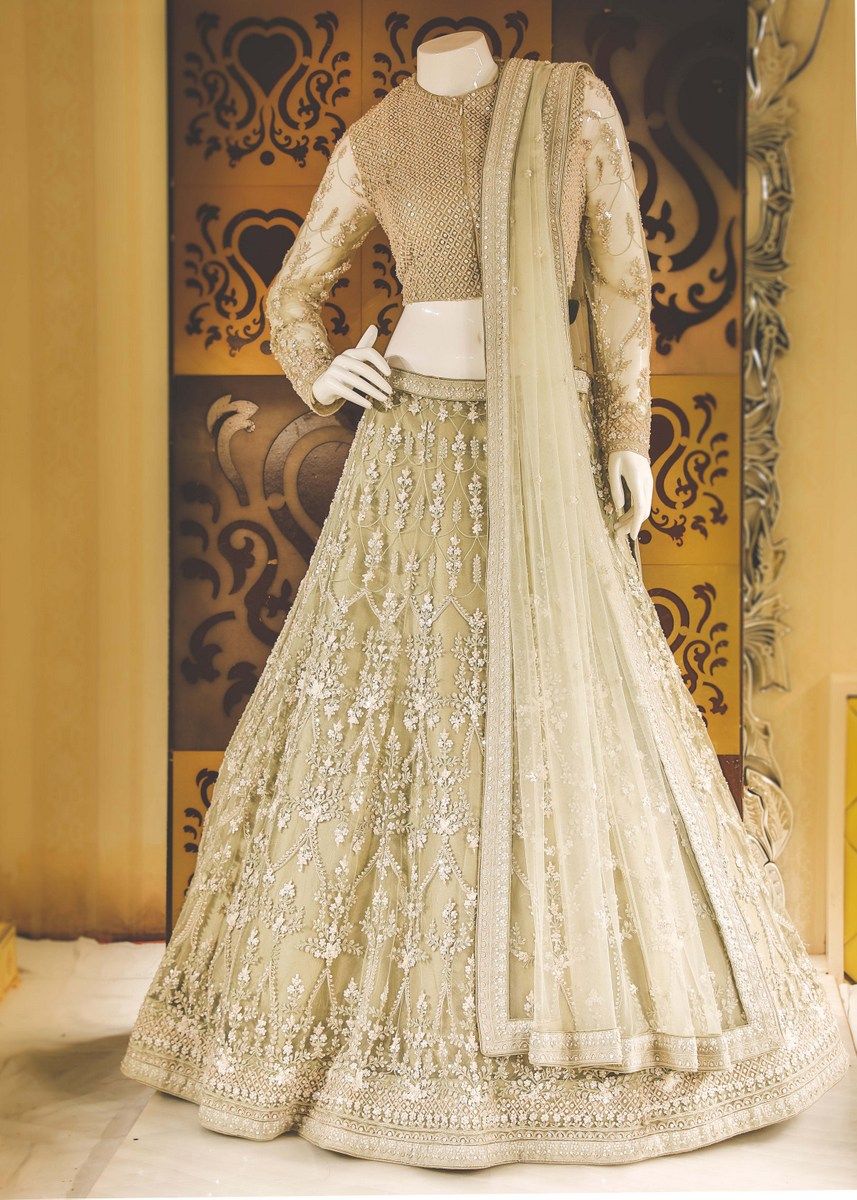 Again another new store that wasn't around when I was getting married. But I visited them fairly recently for a wedding in the family, and I absolutely loved some of their stuff! You'll get a fair share of variety in experimental range. Basically, they have something for everybody.
Quick pointer: Value for money
See more:  D'vasa ★ 4.5
Price range: Bridals cost over 60k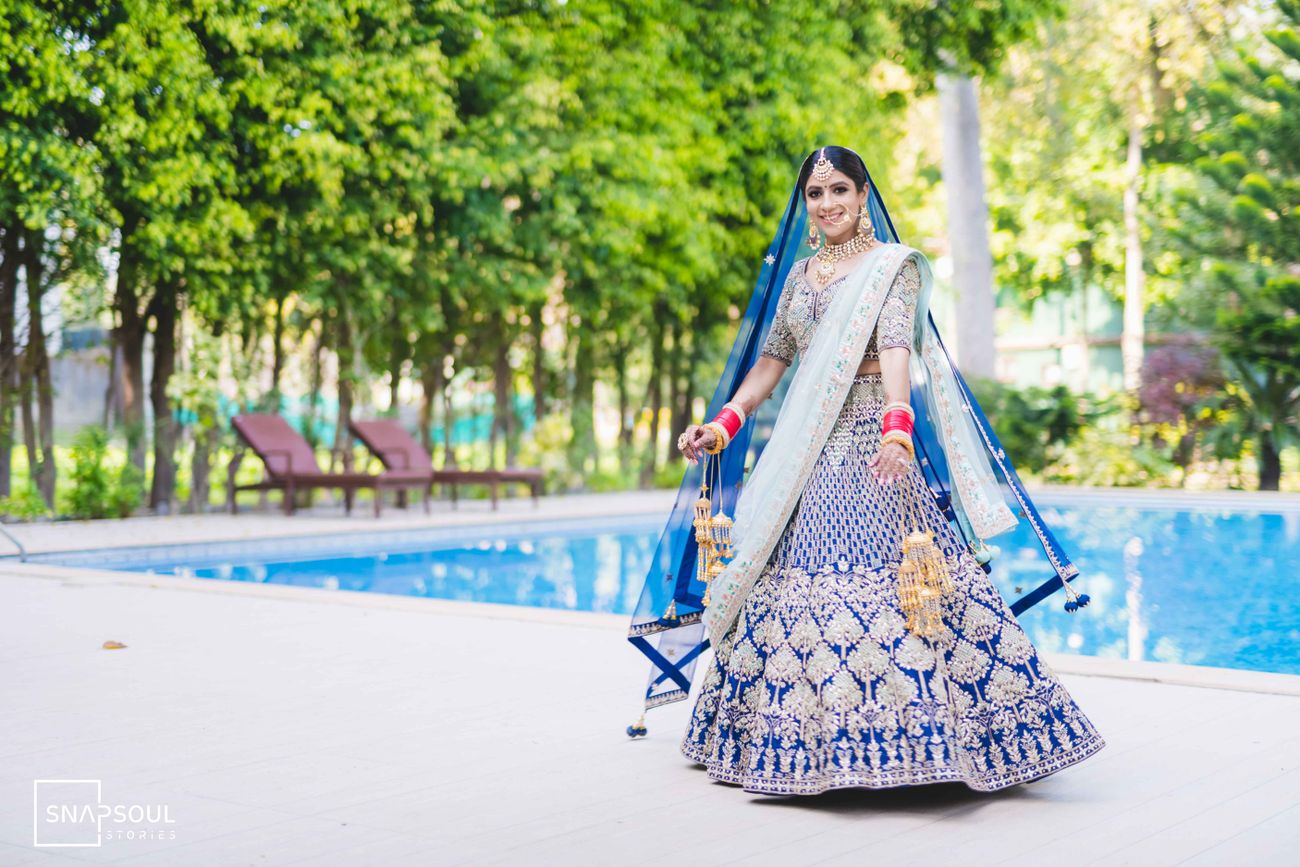 Image via Manvi and Kushagra
Tucked away in a corner near Kamal bhai, this small store is a hidden gem. The lehengas offered are all stunning and the prices can range from 40K rupees for a lehenga to 1.5 Lakhs and the styles are very current with styles inspired from Sabyasachi etc. Also spotted lovely Gota patti anarkalis and floor length jackets for engagement. While the number of pieces may be lesser the pieces in themselves are unique.
See more Ram Kishan sarees photos and contact here
Lehenga by Shrangar
Shrangar has been one of the oldest names around in Chandni Chowk and have recently gone through an overhaul with some great new collections added. If you are looking for a heavy bridal lehenga or reception lehenga you can definitely give it a visit and they also stock some sarees for your mum and sisters. It's located in the Maliwara area in Chandni Chowk but a lot of people know where it is so if you do ask around they are likely to guide you to the right place.
See them here: Shrangar Chandni Chowk★ 4.4
Image via Yasheeka and Kavya and Apoorva and Harshad
Have you noticed how all shops sound similar? Everyone is a Bhai or a Chand or Lal or a Singh!! Sudhir Bhai is another semi well known shop in Chandni Chowk and once we exited OPJL , this is where we went next. This has some stuff which is really nice and cheaper prices too! But sometimes a hit, sometimes a miss because the variety keeps changing. My friend scored a lovely peach and yellow lehenga for about 35,000 from here for her sister's wedding.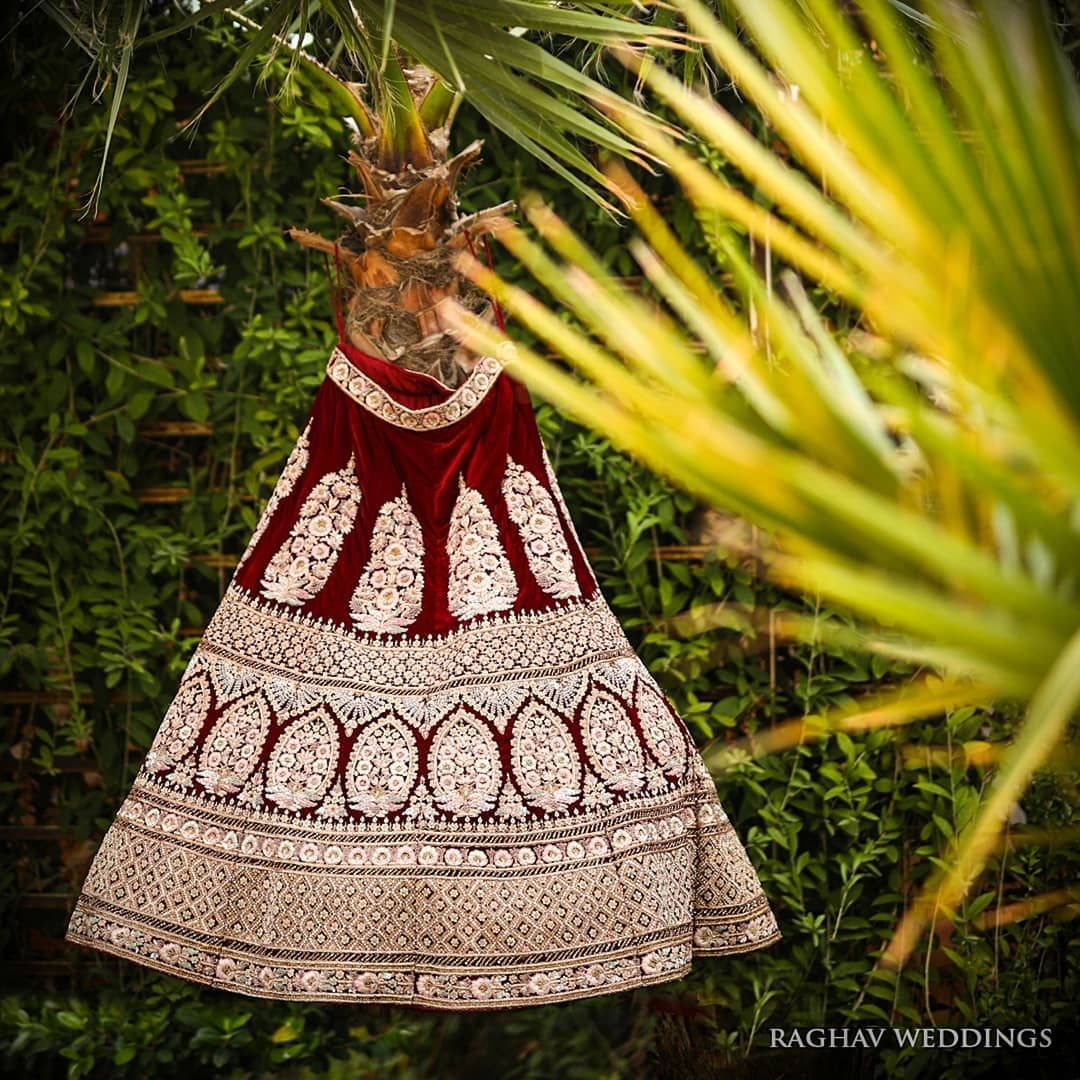 Image via Raghav Weddings★ 5
On my first trip to Chandni Chowk I had only gone to two stores- one was OPJ and the other was this one. While Tek Chand has lesser variety, it is also cheaper and the store staff there are helpful to help you customise your outfit.  It's also a nice place to maybe buy your sister of the bride outfits , and something for your mom. They're situated in Moti Bazar
See more from them here: Tek Chand Arjit Goel★ 4.9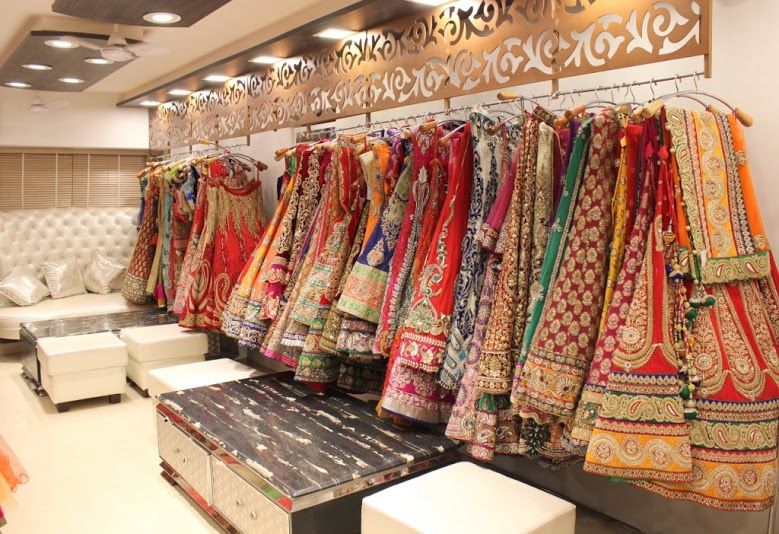 Photos of Kamal Bhai Saree Sangam
Another hidden gem that nobody really knows about - they sell styles similar to Om Prakash.  However the variety is kind of limited so at times it is a hit, and at times a miss. I saw a monotone deep red lehenga with gorgeous soft gold work all over which I had also seen at Frontier as well as Roop Sarees - but here it was half the price. I didn't pick it up because I wanted a color-blocked lehenga at the time- something with contrast.  Co-incidentally, my friend turned up in that red and gold lehenga on her wedding.I have also seen some gorgeous customised pieces and while they turn out nice the finishing never ends up being like the one had you just ordered off a sample. Prices  just a tad bit cheaper than OPJL but not more expensive than everyone else.
Budget Stores
These people advertise a lot and you will see their big-a** hoardings every where in Chandni Chowk ! Umm..personally I didn't find anything here- they have variety but I didn't find anything unique or different from what people generally wear. They are cheaper than the shops I have mentioned and you may find something here but I didn't find anything that looked super high end, you know?
 
You will have to hunt here, but sometimes you can score some nice stuff. SOMETIMES. Still may be worth a visit as it is cheaper than the big names and has quite a bit of variety! Real Bride Urvashi bought her lehenga from Pakeezah Plaza. See her beautiful orange and blue lehenga with gotta patti here
I haven't personally been to the store but I have seen some brides wear lovely pieces from here!  Trust me, their designs are a steal!  You can score some nice outfits and lehengas from here, at fairly decent pricing. So, win win!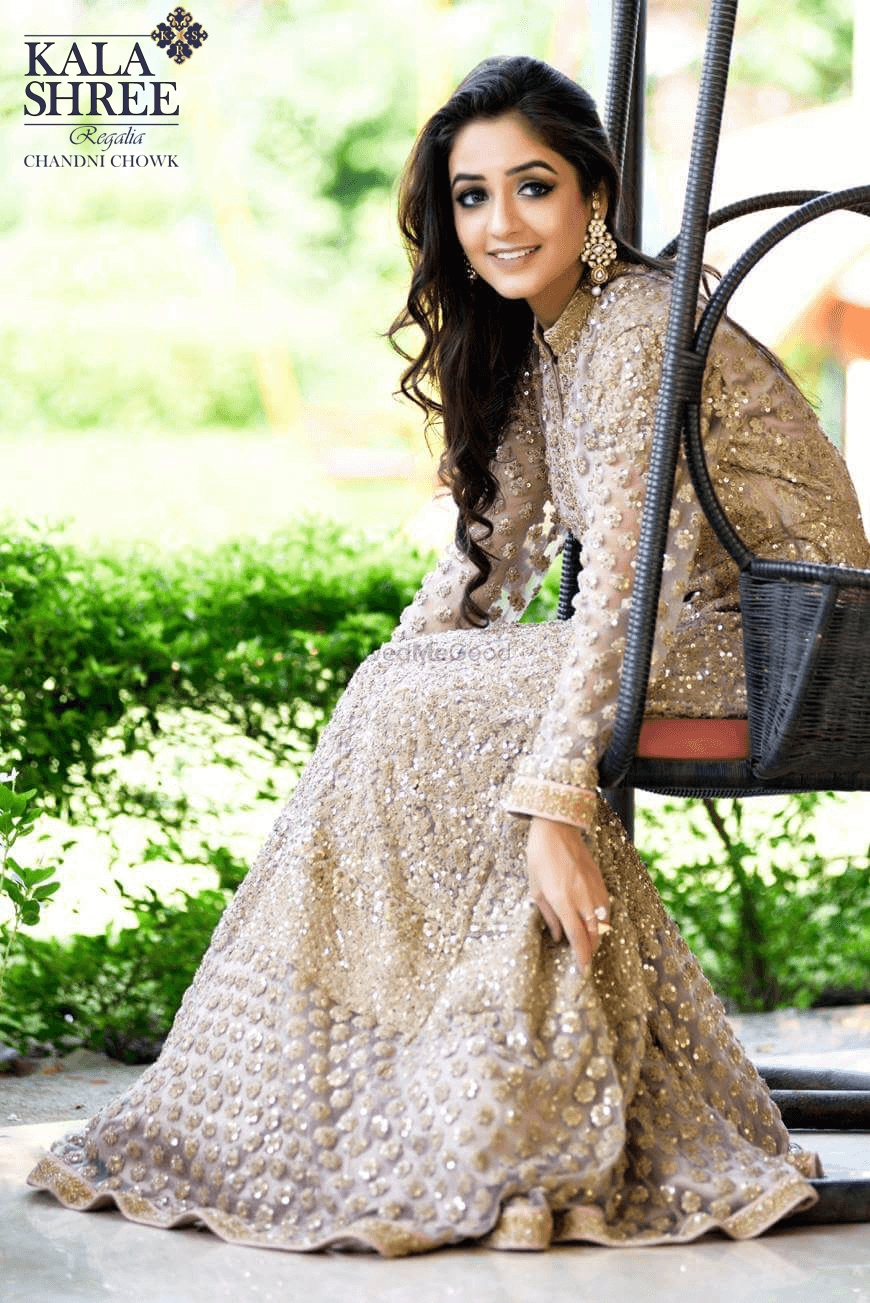 See more Kala Shree Regalia★ 4.7
If you're looking for gorgeousness on a budget, I would suggest you give Mehar a try! You can find good bridal lehengas here for as good as 50K! You'll find lots of options in traditional karigari and designs that will be hard to put down!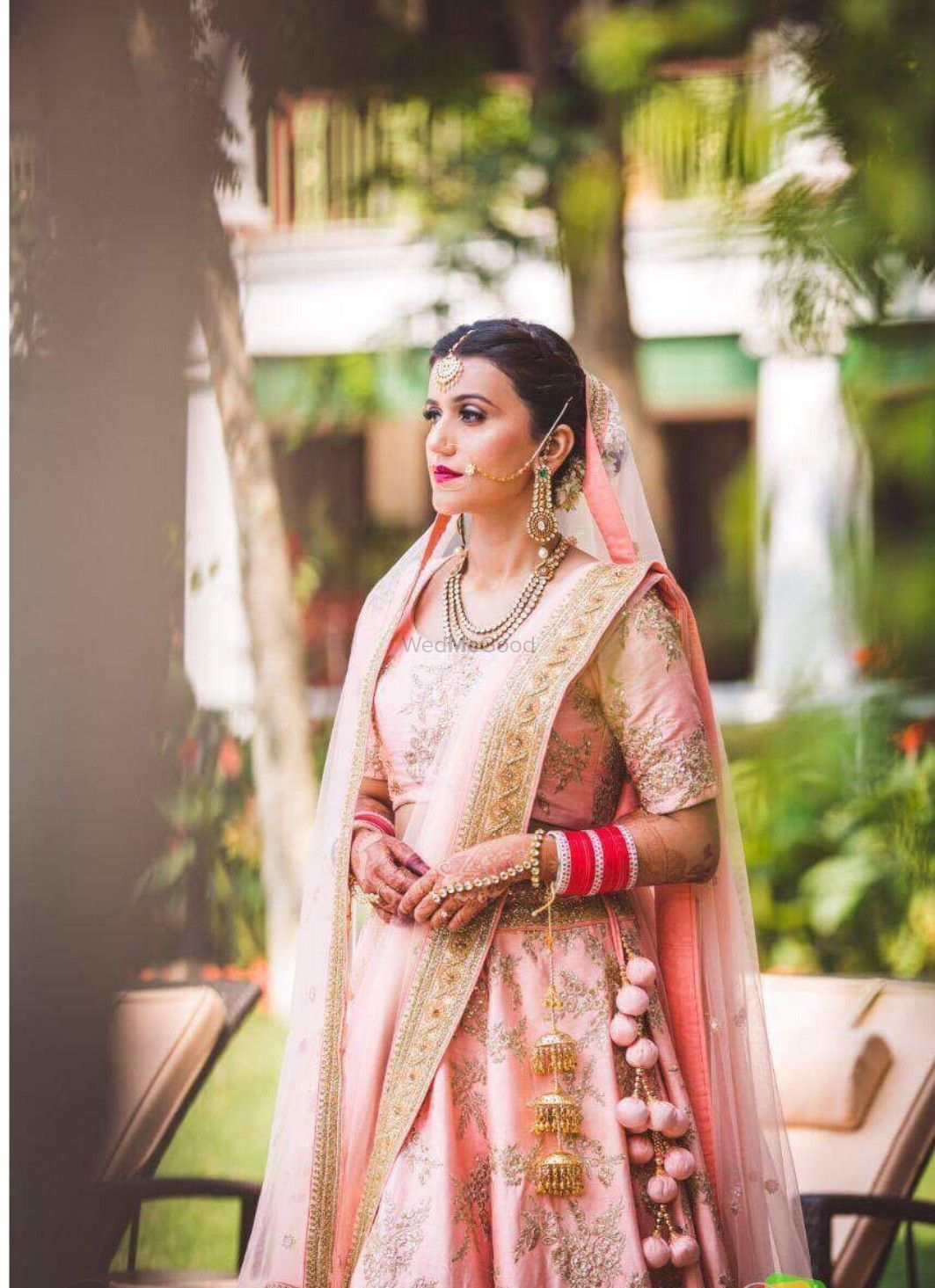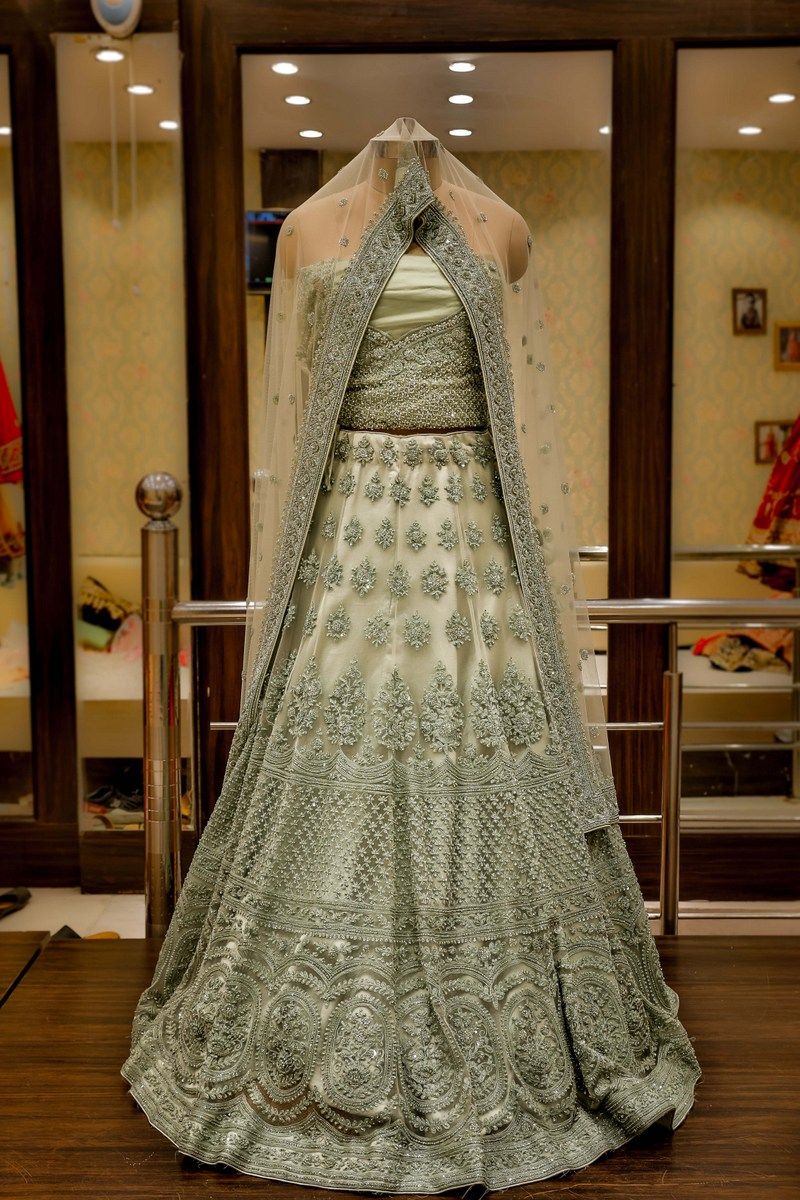 See more from them here:  Mehar★ 4.5
So, is Chandni Chowk the best place in Delhi to shop for lehengas? : Personally, I dont think so - it's definitely a must visit for bridal shopping just because it helps you gauge an idea of the vast variety they have, however do remember they take at least 4 -5 weeks to make a lehenga . Plus, if you compare prices, there isn't a very significant difference according to me. So while a trip to Chandni Chowk is nice, don't get too caught up if you don't find your lehenga there. I *almost* did, but then I didnt.
Points to remember
Those of you from outside Delhi- Chandni Chowk is like having a gazillion people fit inside a 10 feet box with lanes so narrow that only 1 person can go at one time. I am NOT exaggerating. Its not an easy to place to navigate in the least and honestly none of the shops have addresses
Be careful of those random lehenga agents who take you to shops they get commissioned on. Don't ask them directions for shops because they end of taking you to totally different ones. True story- a girl wrote in to me saying that she went to what was Om Prakash, but turned out to be a different Om Prakash than the one I recommended. That 'different' Om Prakash was a scamster and the shopkeeper dissapeared with their money!
Bargain. It works in Chandni Chowk.
Changing colors, a little bit of embroidery on the blouse or little changes to dupatta is fine but do not ask for a major overhaul of a lehenga here.  It is best to order on an existing sample!
Don't forget to stop for some chaat and some Karim's mutton korma. Even if you land up in the hospital the next day with a heart disease , or diarrhea, its bloody worth it!
Remember most shops in Delhi work with smaller 'masterjis' and 'workshops' who do the work. So chances are you see the same lehenga in 3 different stores. My aim was to find one that I did NOT see in every store , and I'm ecstatic that I chose what I did, but don't be disheartened if the lehenga you like in one store is very expensive. Go to a few others and you will hit jackpot !
Some more resources to check out :
Find vendors to plan your wedding on the go, Download the WedMeGood app now.