35+ Most Awesome Groom Entry Songs For Your Wedding!
BY Sakshi | 20 Nov, 2017 | 145013 views | 10 min read
Grooms, we haven't forgotten you guys! Yup, we know a lot of you love to make a fabulous entry with a lot of drama, and we've picked the perfect songs for that! From the fresh new tracks to the oldies which are still classic for weddings, here are over 35 of them in one post! So start picking and planning NOW!
A combined list? Hell yes! Here's everything you're going to find in this list-
Groom Entry Songs for Wedding Day (Baraat Entry)

Oldies But Goodies (Groom Entry Songs for Sangeet )

Groom Entry Songs For That First Impression (Newer)
And just in case you don't want to mix and match, find a complete playlist with the most dhamakedaar songs here !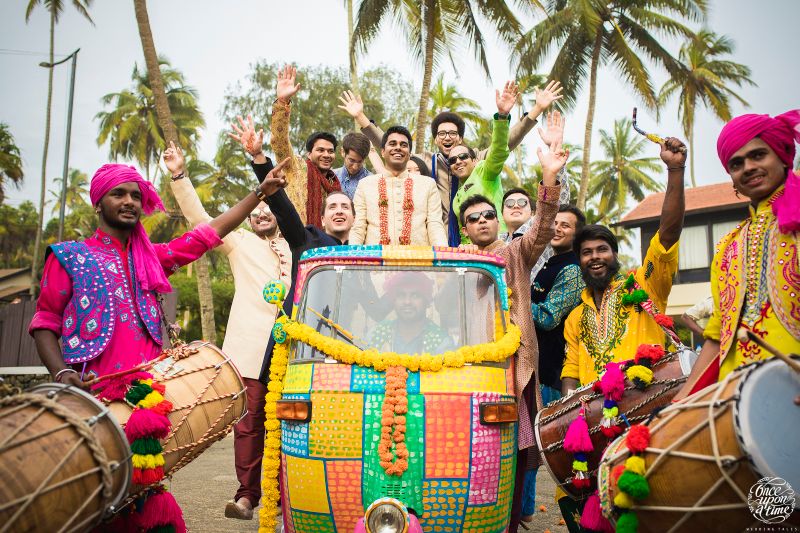 Image via Once Upon a Time-Wedding Tales★ 4.8
Groom Entry Songs for Wedding Day (Baraat Entry)
#1 Mangalyam from Saathiya
Thinking of a groom entry song that's more traditional and will give your wedding a dharmkik touch without making it sound tacky? Mangalyam is just what you need!
#2 Mundiya from Baghi 2
A list of groom songs and we don't include this one? That's not possible. Mundiyan is a remixed version of an age-old song that all of us have probably heard countless times, but this one is only better- with faster beats and better music!
#3 Soch Na Sake from Airlift
Slow and super romantic- this song will remind your partner of everything that you hold in your heart for her. No, we're not kidding. The soulful lyrics, coupled with Arijit Singh's romantic voice will definitely melt and win hearts- what more do you need?
#4 Azeemo Shaan Shehenshah from Jodhaa Akbar
Dham-da-dum-dum-dham! Well, this song will set the tone right from the first beats. If you're looking for a song that announces your arrival in the same way how they announce a palace-king's arrival in movies, then this one is a good choice!
#5 Jashne Bahara from Jodhaa Akbar
Thinking of something royal, something romantic? We suggest Jash-e-bahara- one of those few groom songs that can instantly set the ball rolling and announce your entry in true royal spirits!
#6 The Bahubali Track
Okay, it's super dramatic but then super dramatic grooms exist, don't they? Mark it on your list of wedding songs for groom!
#7 Badri Ki Dulhaniya Title Track
The quintessential groom entry song- no we're not kidding! It's fun, it's peppy, the beats are fast and playful- now what more can you ask for?
Oldies But Goodies (Groom Entry Songs for Sangeet )
#8 Balle Balle Soniya de Rang from Bride and Prejudice
Whether you want a dance battle between the girls side and the boys' or just need some good groom songs for entry, any list if incomplete without this one! Upbeat and playful, this truly keep the spirits of a fun wedding alive and how!
#9 Tenu Leke Main Jaawan from Salaam-E-Ishq
Looking for something that has lots of energy, fast beats and beats of the dhol? Even though a little old, Tenu Leke is the perfect choice for baraat songs for grooms!
#10 Banja Tu Meri Rani from Tumhari Sulu
This one will get you whistling and humming the song, trust us! Although a little slow, the lyrics and the beats are super catchy, not long before you'll find yourself humming it too!
#11 Subah Hone Na De from Desi Boyz
Super addictive from the very first go, this one is a true mood-up-lifter, and mood-setter! Desi munda getting married? This one totally deserves a spot on our list!
#12 Mujhse Shaadi Karogi Title Track
Well, isn't it all about asking your partner to marry you in the first place? Then why not just turn that into a song and say it out loud? Mujhse shadi karogi, the title track comes to your rescue- next addition to a groom entry song!
#13 Make Some Noise For Desi Boyz from Desi Boyz
Wondering how to make a dramatic entry with all through groomsmen in tow? Well, here's an option for you! Suggestion: break into a quick pre-set choreography in the middle of your way- now that's how you make sure nobody misses your grand entrance!
#14 Malhari from Bajirao Mastani
Ranveer Singh's energy, coupled with peppy beats and lots of masti- Malhari is another great option if you're planning to enter with your friends in tow! Be prepared for a lot of hooting on your way in!
#15 Bachna Ae Haseeno Title Track
Be the filmy Hero you had always wanted to be- now does it sound like something you had always wanted to do? Enter in style, and announce it in a better way with this peppy song. What say?
#16 Rum Whiskey from Vicky Donor
Upbeat, fast and peppy- Rum Whisky will make you want to randomly break into a jiggle. Who cares even if you do? It's your wedding afterall, make it as fun and grand as you wish!
#17 Gal Ban Gayi by Sukhbir
An age old number with a remixed beat, we'll not believe you if you told us you haven't danced on this number all your childhood! And when that IS the case, why not shake a leg at your own wedding too?
#18 Ainvayi Ainvayi from Band Baaja Baraat
Get your dancing shoes on, because Ainvayi Ainvayi will definitely force you to shake a leg or two. Such a fun number, plus Ranveer Singh's energy levels make this one of those baraat songs that you just shouldn't miss!
#19 Sadi Gali from Tanu Weds Manu
Whether you want to play this one on the speakers or have a live band perform this song for you, either way, Sadi Gali is a great baraat song. The fast, upbeat beats are just  the doze of energy you need!
#20 Mehndi Laga Ke Rakhna from DDLJ
How about going way back in time and pick Mehendi Laga Ke Rakhna from Dilwale Dulhaniya Le Jayenge? A classic- this song is probably as old as you and I are, but who cares when the song is so fitting?
#21 Saajan Ji Ghar Aaye from Kuch Kuch Hota Hai
One of those typical Bollywood baraat songs! Get all your brothers and sister together and make for a grand entrance- rest assured, this one is going to get all eyeballs on you!
#22 Tumse Milke Dilka Jo Haal from Main Hoon Na
You must have heard this song a 100 times, but listen to it once again and you'll find yourself taping your feet along. Those table beats will definitely get you grooving- don't believe us, listen to it yourself!
#23 Laung Da Lashkara from Patiala House
A typical Punjabi song for you and your partner- something that can instantly get your partner to join you on the stage? Hell yess! Nobody would ever imagine something like that- all the more reason to do it!
#24 Sapne Mein Milti Hai
Romantic at heart? Well, then we've got something for you too! Coupled with fast beats of the dhol, this one is an old song but will still fit perfectly!
#25 Oh Oh Jaane Jaana from Pyar Kiya Toh Darna Kya
Thinking of wedding songs for grooms and not thinking of this one? How is that even possible! We have all grown up to dancing to Oh Oh Janejana, so why not include it in your wedding too?
 Groom Entry Songs For That First Impression (Newer)
#26 Ik Vaari Aa from Raabta
A little different from the others in the list, Ik Vari Aa is unlike any other song that you will probably think of for your entrance. Smooth, free-flowing music with just the right lyrics.
#27 Coca Cola from Luka Chuppi
So much fun- yep, that's what we are reminded of when we think of this song. You may not like Coka Cola in the first go, but give it another try and you'll find yourself humming it- it's that infectious! Another addition to our list of baraat songs? We say yes!
#28 Main Tera Boyfriend from Raabta
Have you been dating your partner for a while and now planning to get married? Well, then here's something for you! Playful, fun and peppy, it's just what you need!
#29 Mai Dekhu Teri Photo from Luka Chuppi
The latest obsession of almost every millennial, Photo is the new-est addition to the list of wedding songs for grooms. The music is so soft and comforting, and the lyrics are exactly what must be going in your mind- they just fit perfectly!
#30 Manma Emotion Jaage from Dilwale
Giving words to your thoughts? Well, that's what this song is about! True to it's definition, this song will definitely fit perfectly if you're going for a love marriage!
#31 Dilli Waali Girlfriend from Yeh Jawaani Hai Diwani
Well, as a matter of fact, you ARE choosing to let go of every other girl in the world to be with your partner. So why not tease her a little with this a song? Dilli Wali Girlfriend is just what you need!
#32 The Humma Song from OK Jaanu
Zubin Nautiyal's voice is so soothing, and this one is proof! This version of Humma Humma has better beats and some new, added lyrics. You know what that means? A better song for you to pick for your entrance!
#33 Kar Gayi Chull from Kapoor & Sons
Wondering what could have made the original, Badshah's Chull better? Well, here's your answer! This remixed one from Kapoor and sons has been tweaked a little, with added lyrics and funky beats, that you might find it hard not to shake a leg or two!
#34 Wakhra Swag by Navy Inder feat. Baadshah
Who doesn't love a little Punjabi tadka? This one fits the bill just right! Although a little slow, the beats are so tempting that you wouldn't be able to resist this one.
#35 Sweety Tera Drama from Bareilly Ki Barfi
Playful- that's what this song is all about! If you're up for some fun, and don't mind teasing your partner a little, you can pick Sweety Tera Drama for a fun groom entry song!
#36 Chogada from Loveyatri
The beats of the dhol, and that fast tempo makes Chogada one of the best baraat songs of recent times. With a touch of Gujarati, but typical, peppy beats, this one will definitely make everyone get on their feat and join in on the fun!
#37 Gazab Ka Hai Din from Dil Junglee
Another old song that has been remixed. But, rest assured, it still holds the original's  essence intact. Slow, smooth and oh-so-lovely, this one will instantly bring a smile on your partner's face when they will see you entering on it!
#38 Dil Diyan Gallan from Tiger Zinda Hai
This slow romantic number in Atif Aslam's husky voice will definitely set the mood for your celebrations. Marrying someone you've known for a while? This one is just right for your entrance into the wedding (and their life)
#39 Laung Gawacha Remix by Nucleya
 A list of wedding songs for groom is incomplete without Laung Gwacha. Peppy, fast beat with a touch of electro is just what a millennial groom might need!
Now now, we know they say it's nothing but a lot of stress comes with being a groom too! While we are sure you can very well take care of all other aspects of it, we thought we could help ease out the burden just a tad bit by making sure you no longer have to worry about your entrance. Use this list as per your need, or just go on and make a playlist for your entry and more. We hope we helped!
ALSO READ: 50 Latest Hindi Wedding Songs For Sangeets in 2017 !
11 Kickass Sangeet Songs For The Friends Of The Groom! * Full-On Peppy Numbers