Peachy Pastel Wedding With Outfits Worth Checking Out
BY Sakshi | 17 May, 2023 | 1280 views | 6 min read
Now this one is gonna be loved by those who are lovers of pastels- there is nothing quite like a pastel wedding in the daytime! When it's as picture perfect as this one with a view to die for, then it just gets all the more beautiful. Real bride Juhi's wedding sure is inspirational, with some fab hairdos, decor, and of course, outfits! The wedding, which took place in Southern California is stunning to say the least- definitely one to pin if you want some pastel inspiration!
Meet Juhi and Neel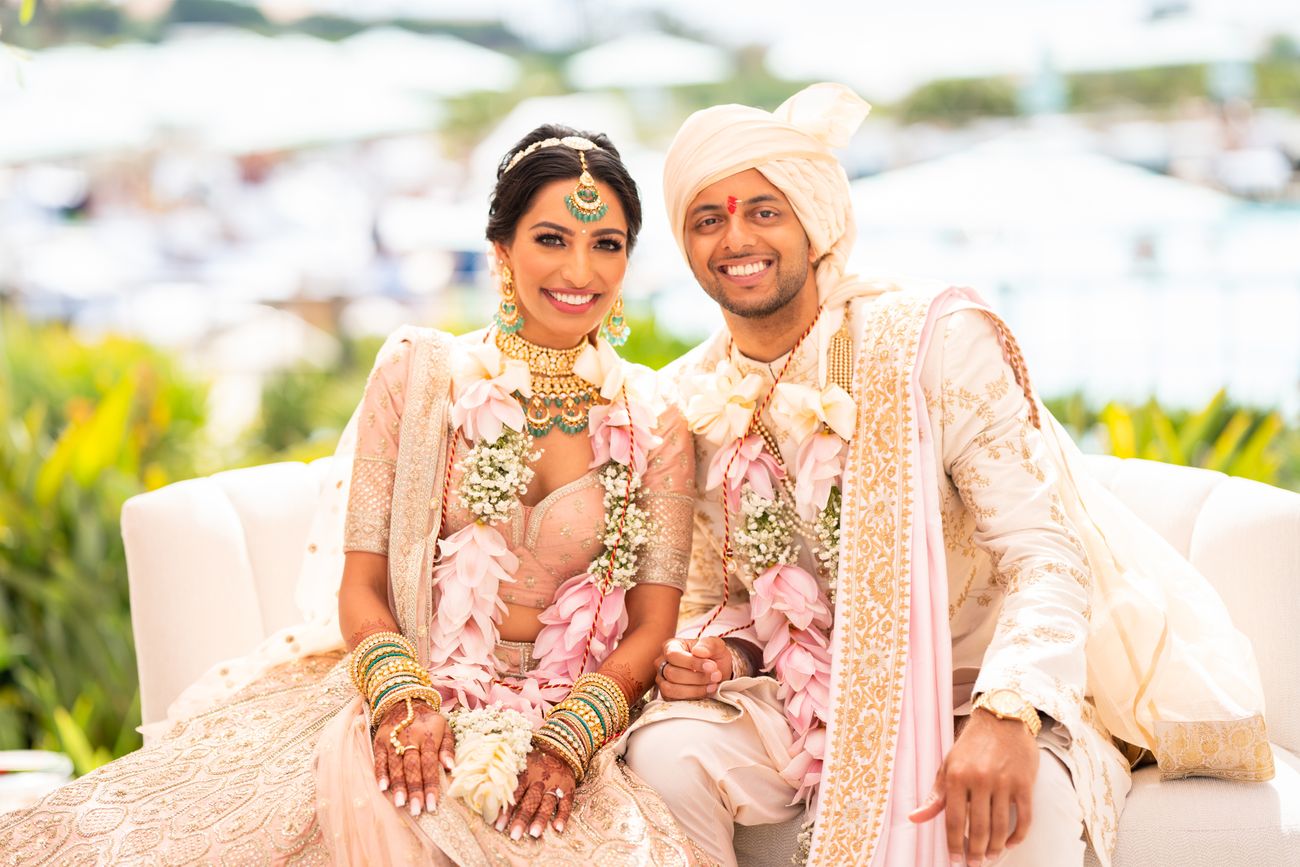 Neel and I met in undergraduate school through our schools Indian clubs. Neel was going to USC and was a few years older and I was going to UCI and was a freshman. We immediately clicked, had great conversations, and became friends. Over the years we remained friends until I was finally in dental school in LA. It was at that point Neel finally got the courage to ask me out. After our first date, we saw each other 3 more times in the same week. It was at that point we knew we had something special. Fast forward 5 years, and Neel proposes with all our family and friends around. So grateful that we met through school activities and remained friends. This journey has been nothing short of amazing.
Haldi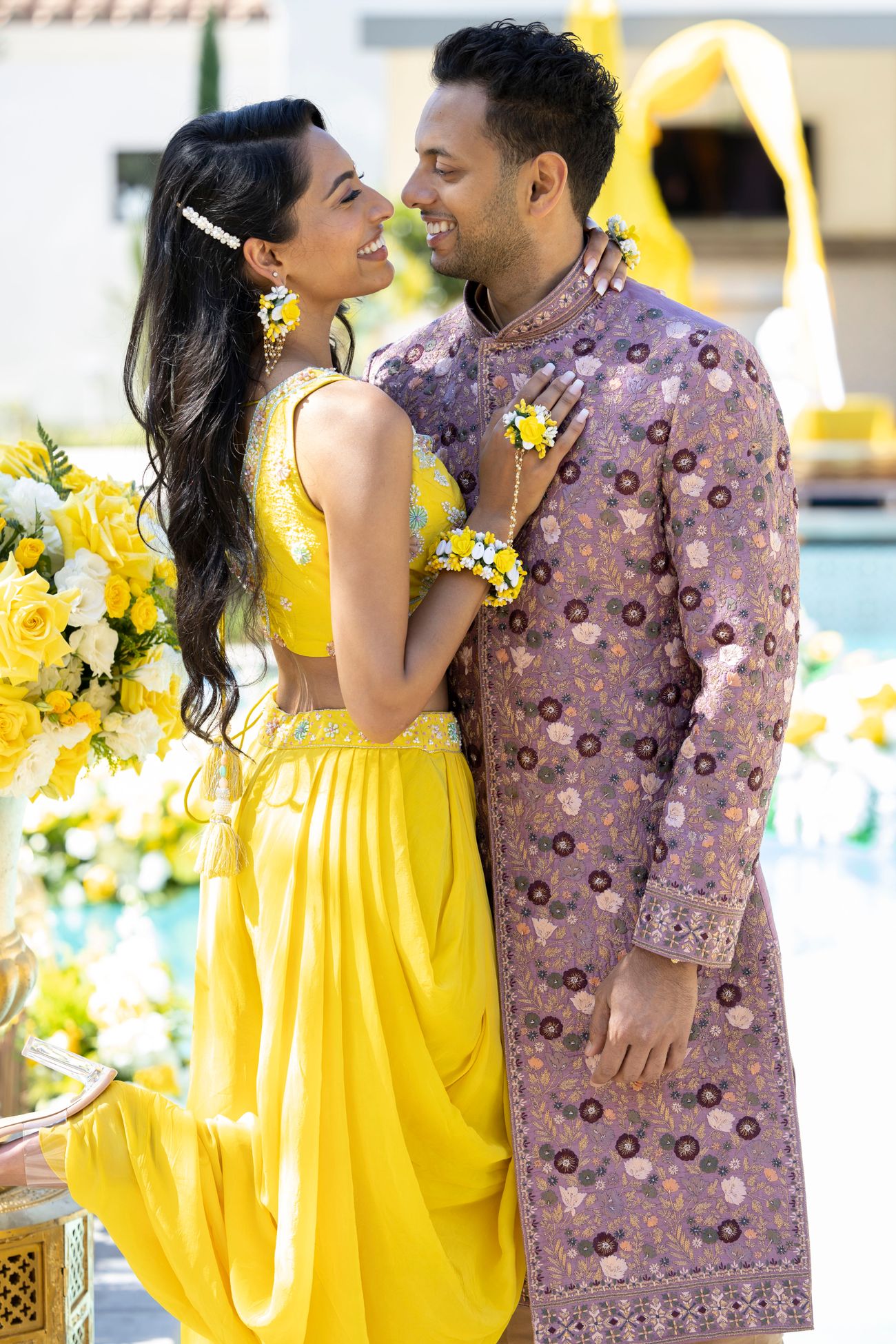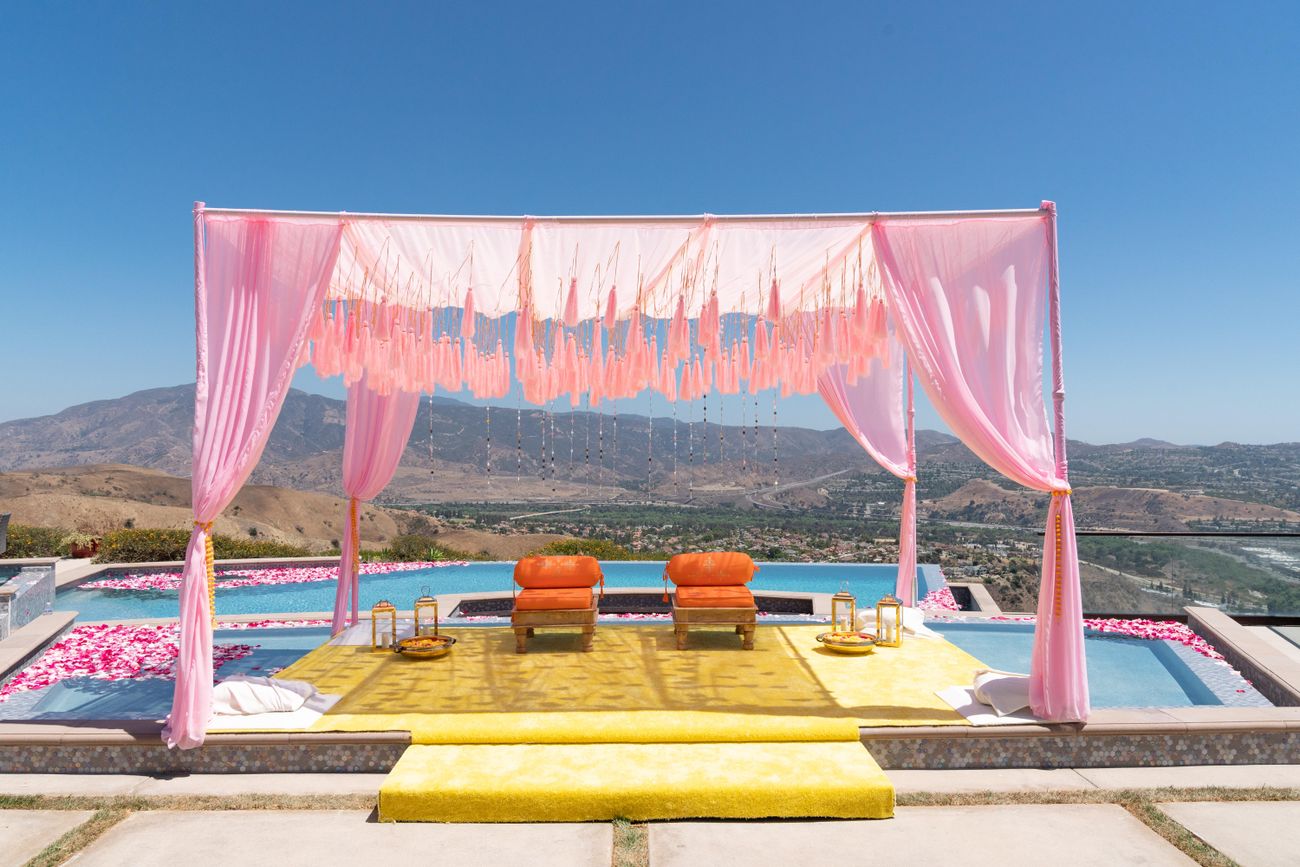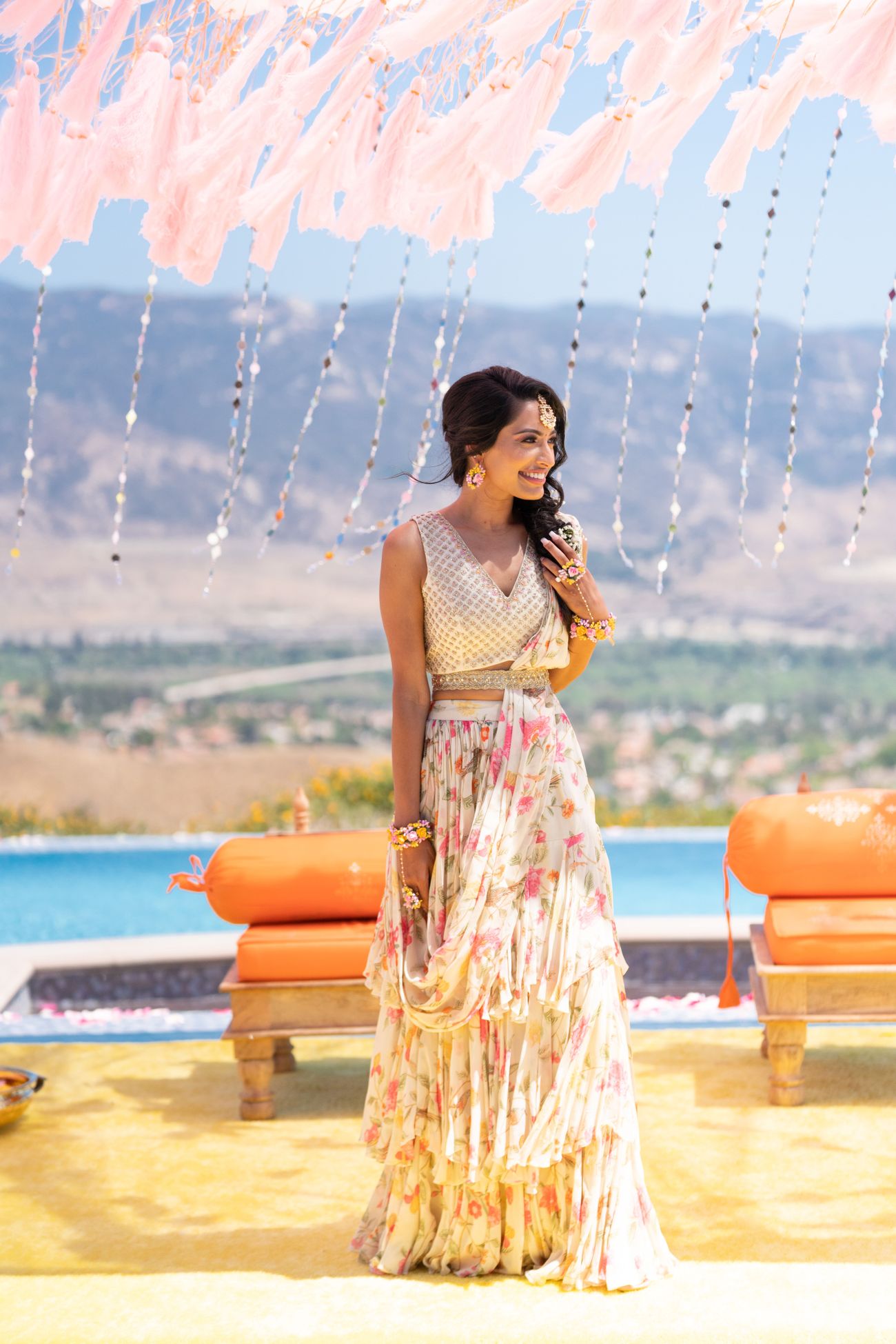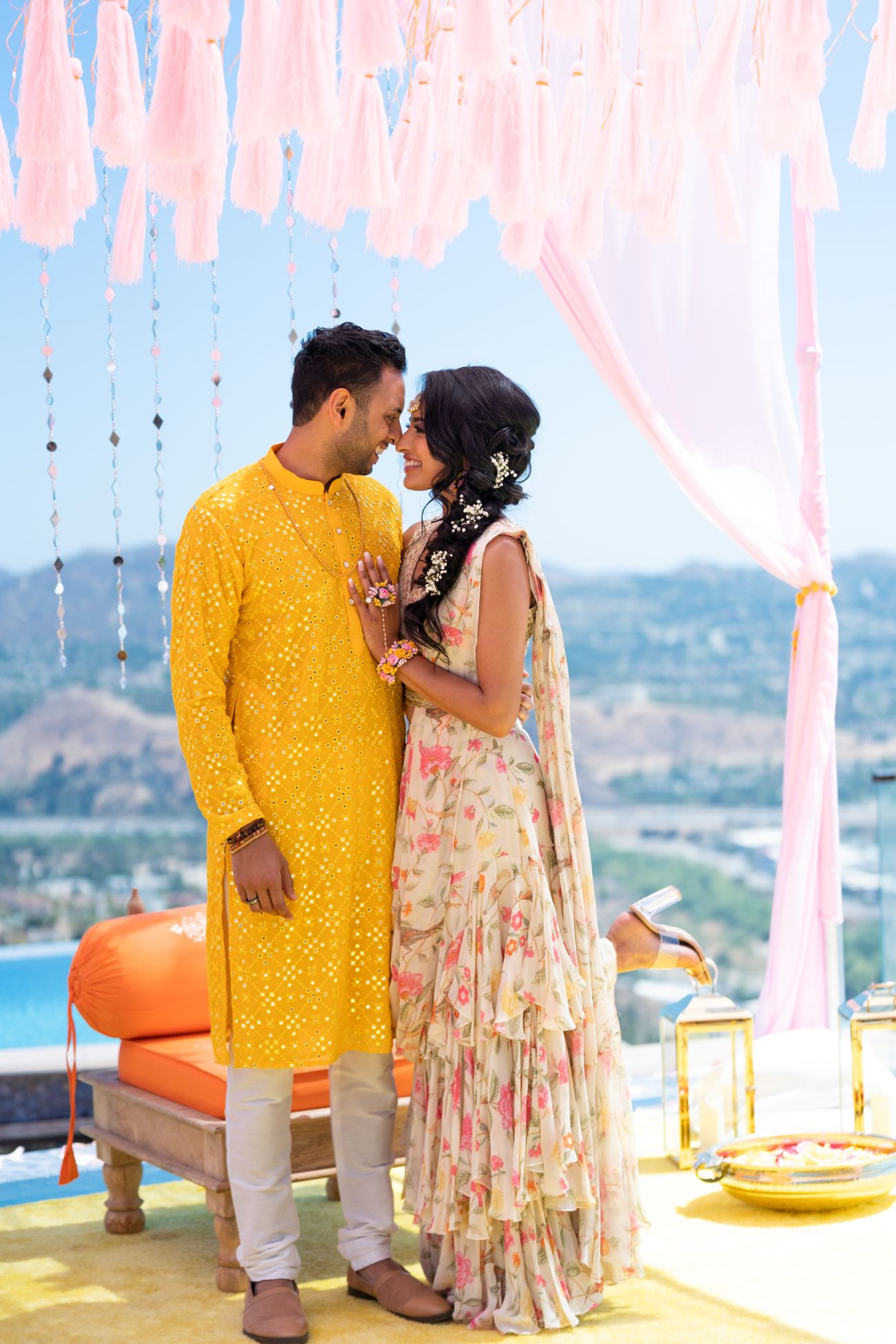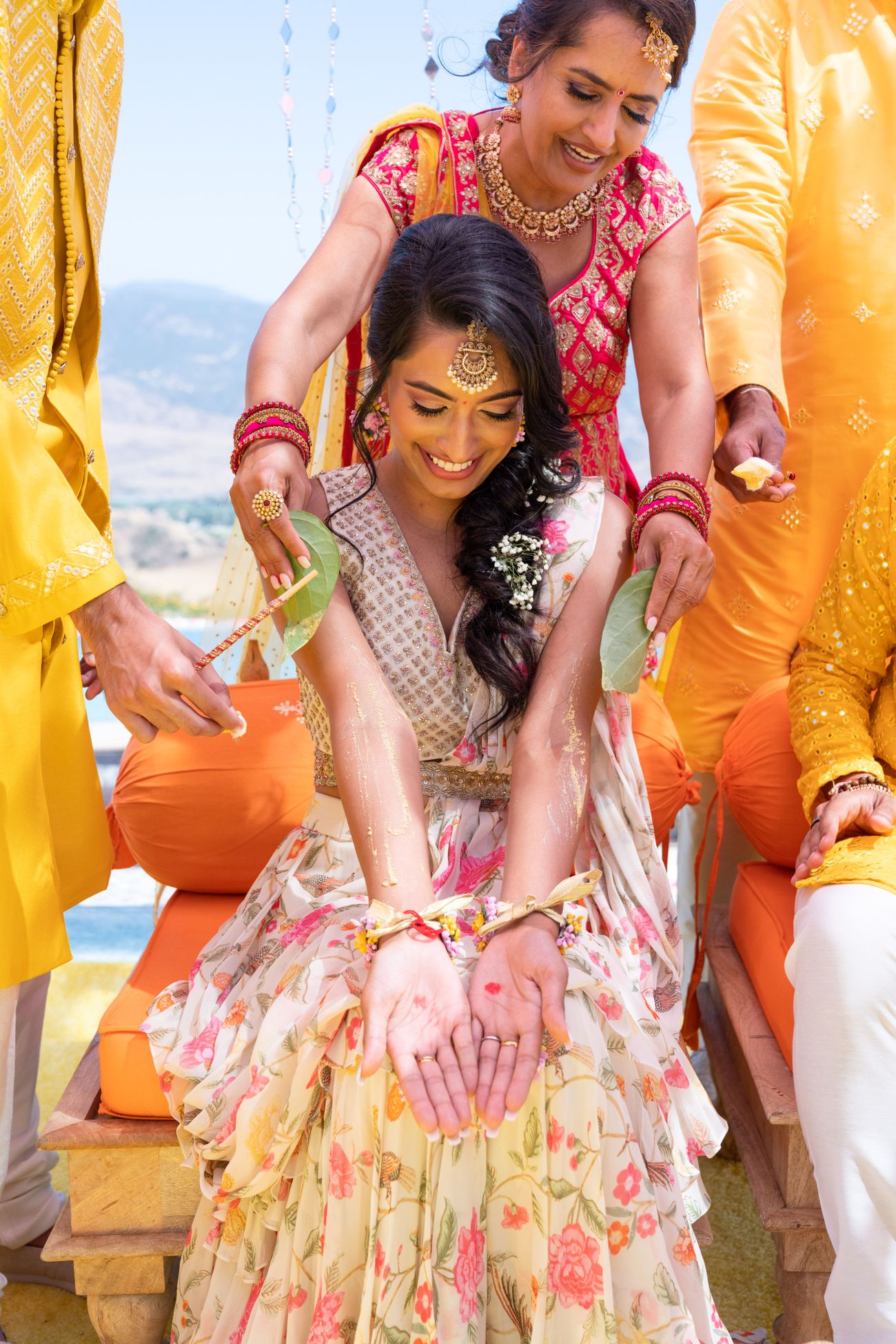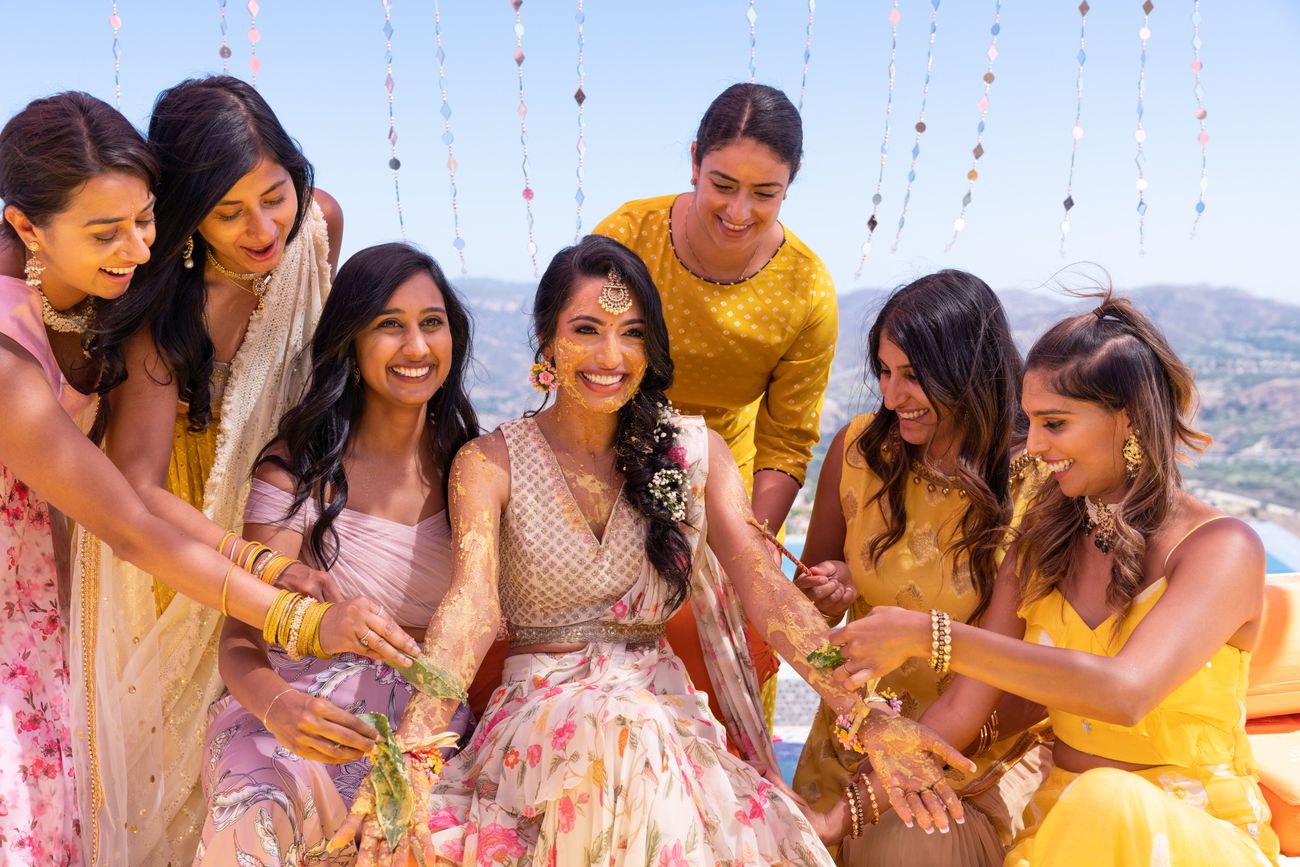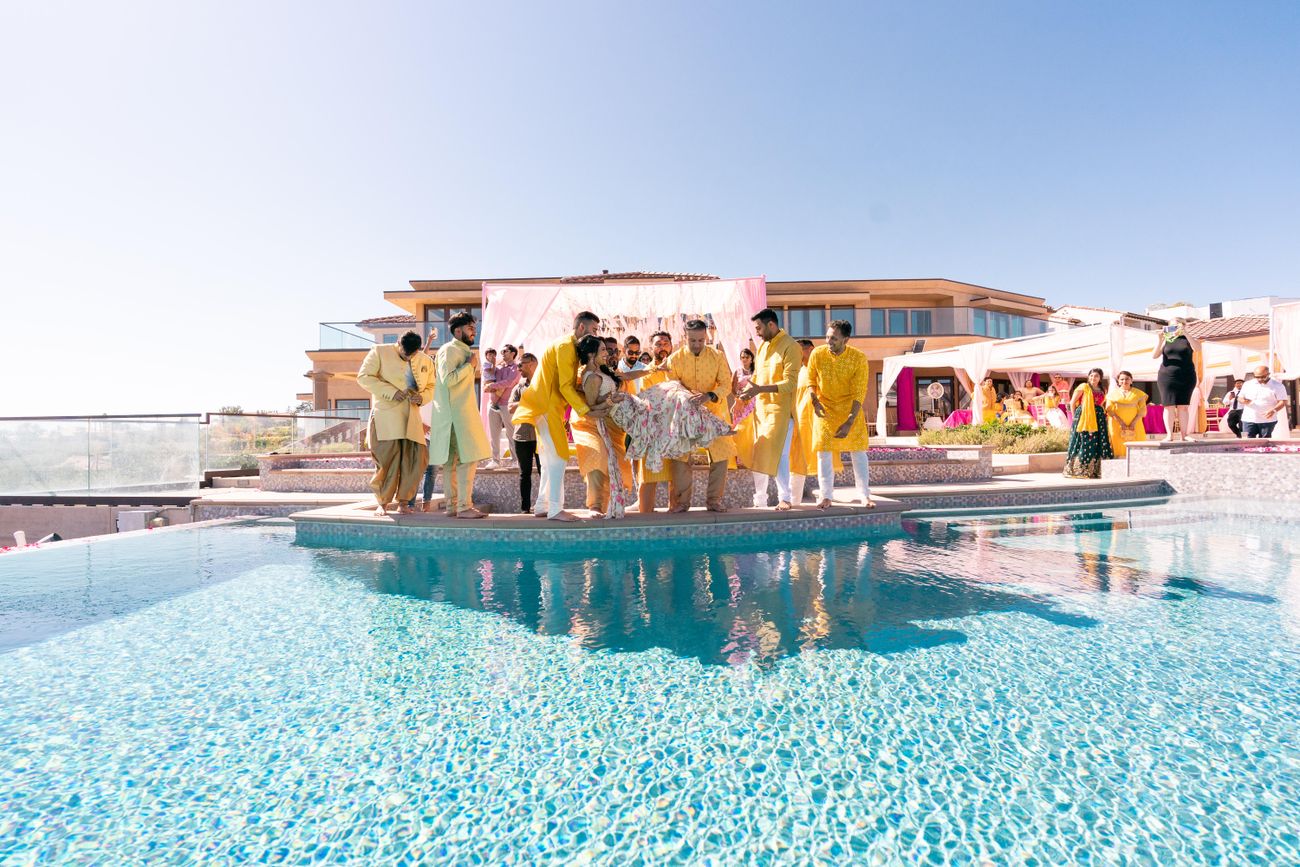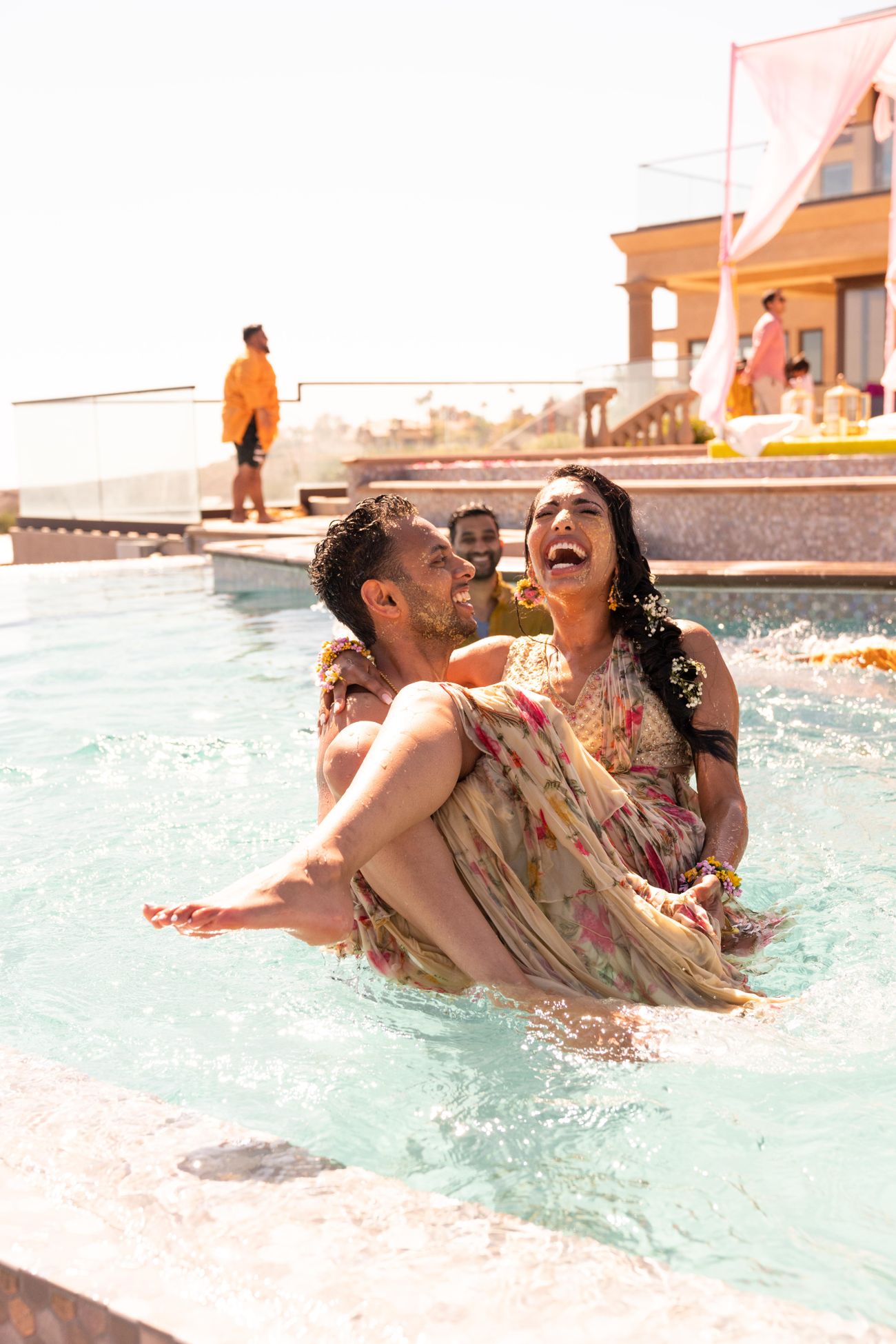 Sangeet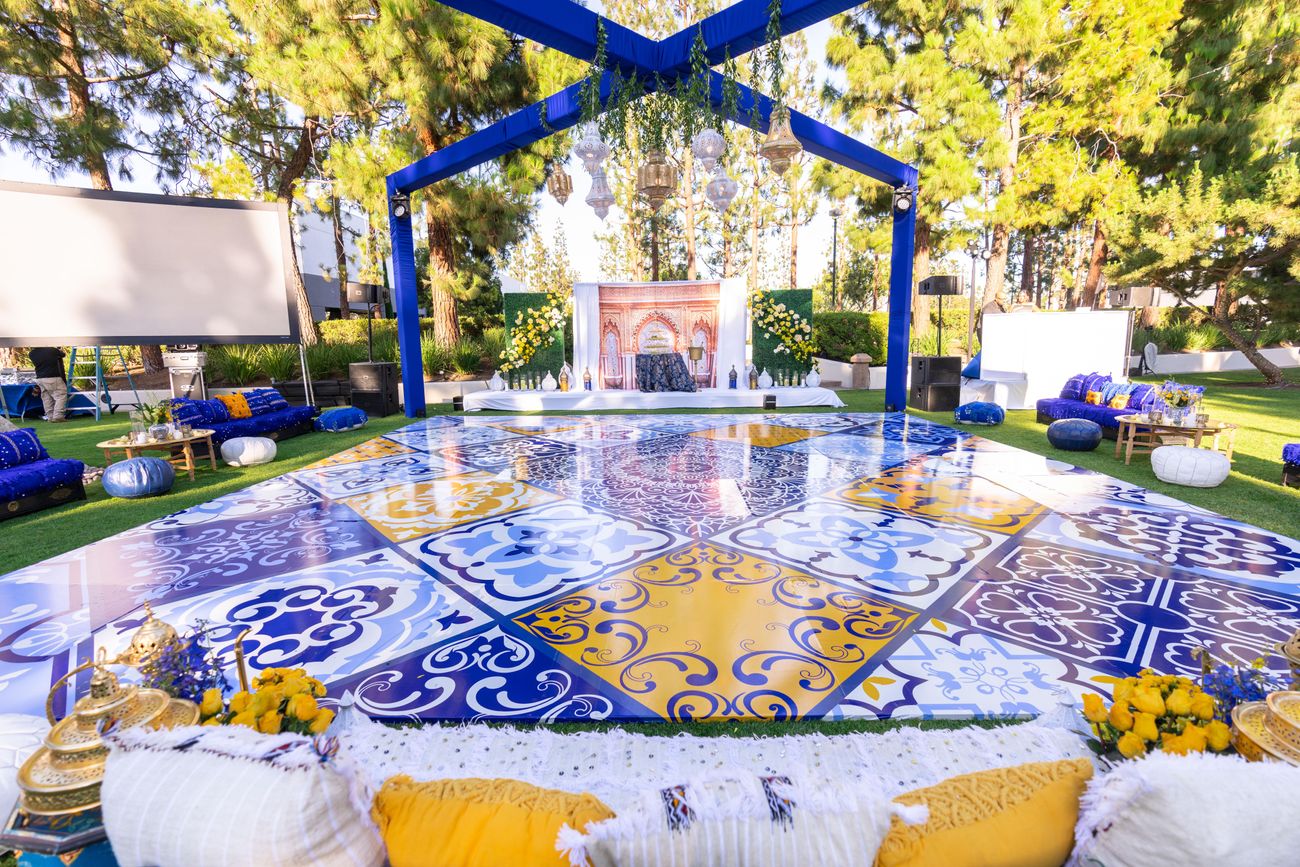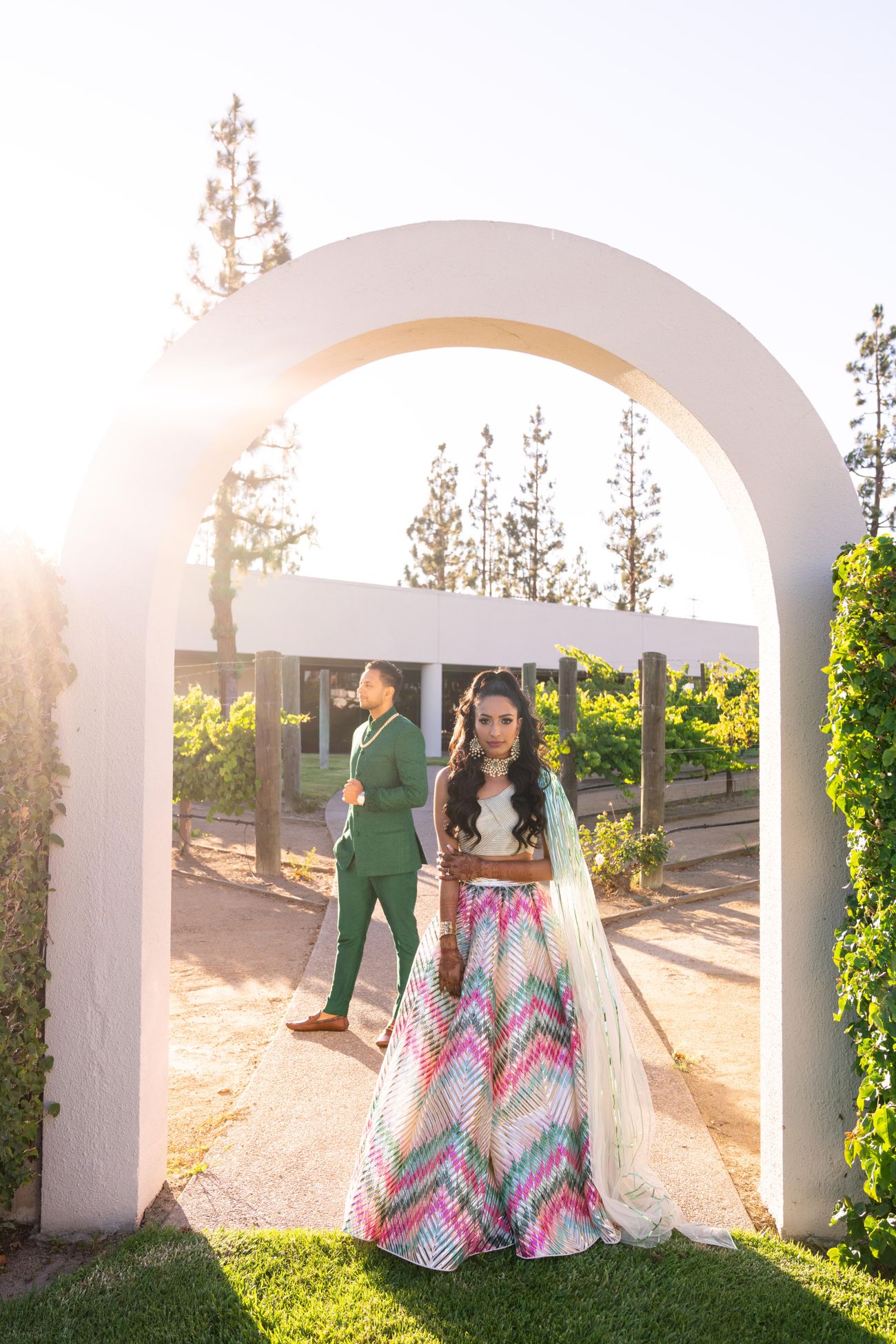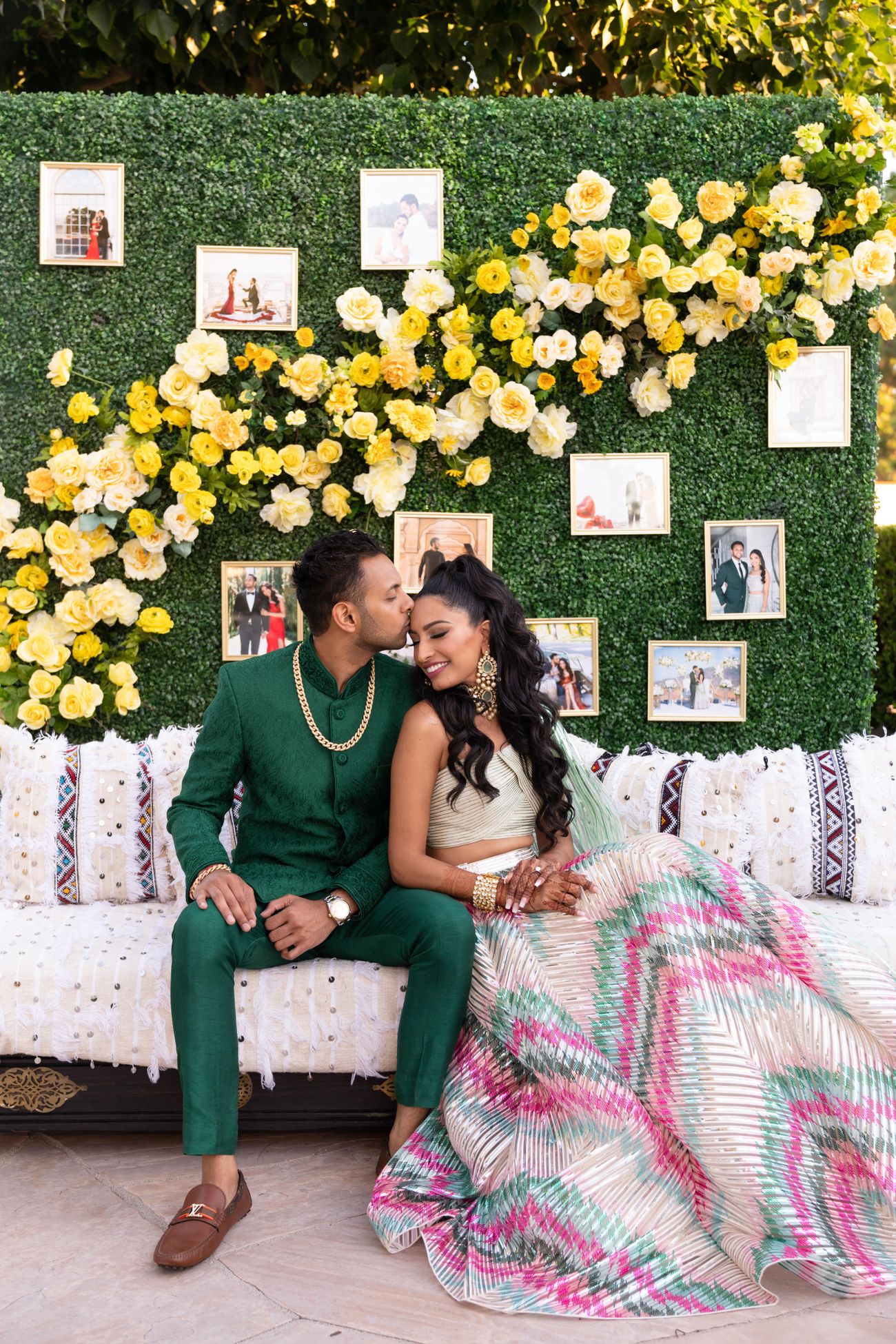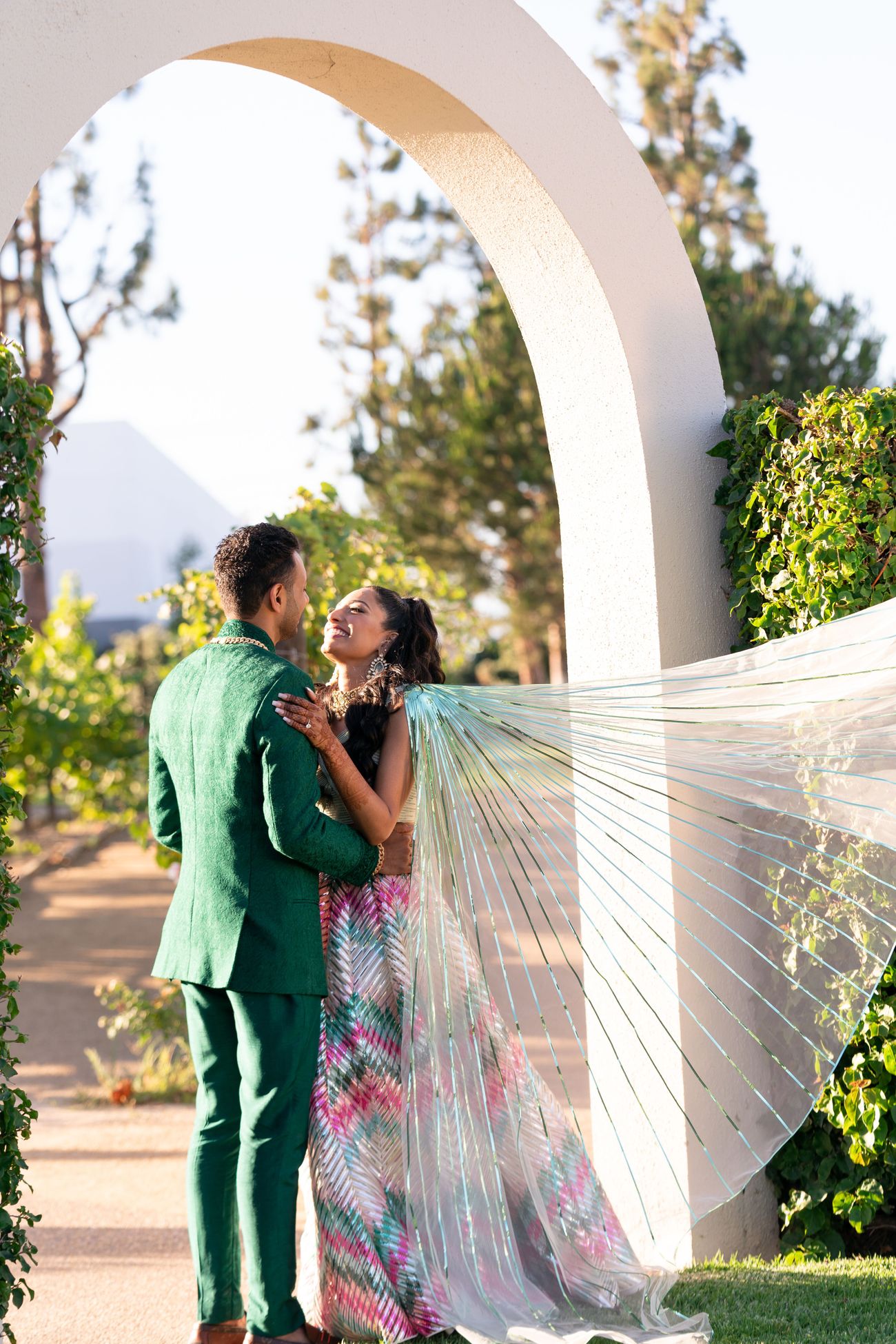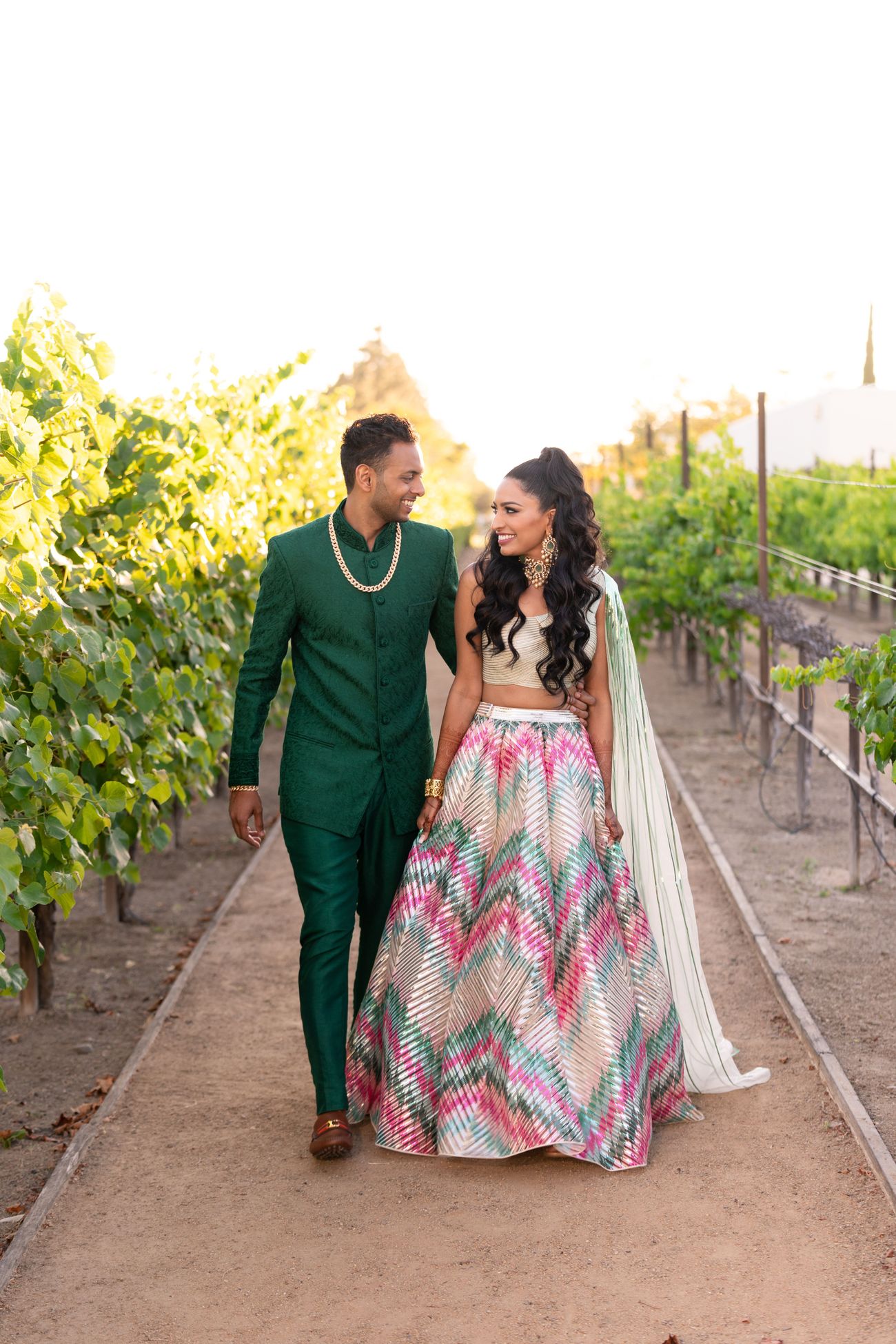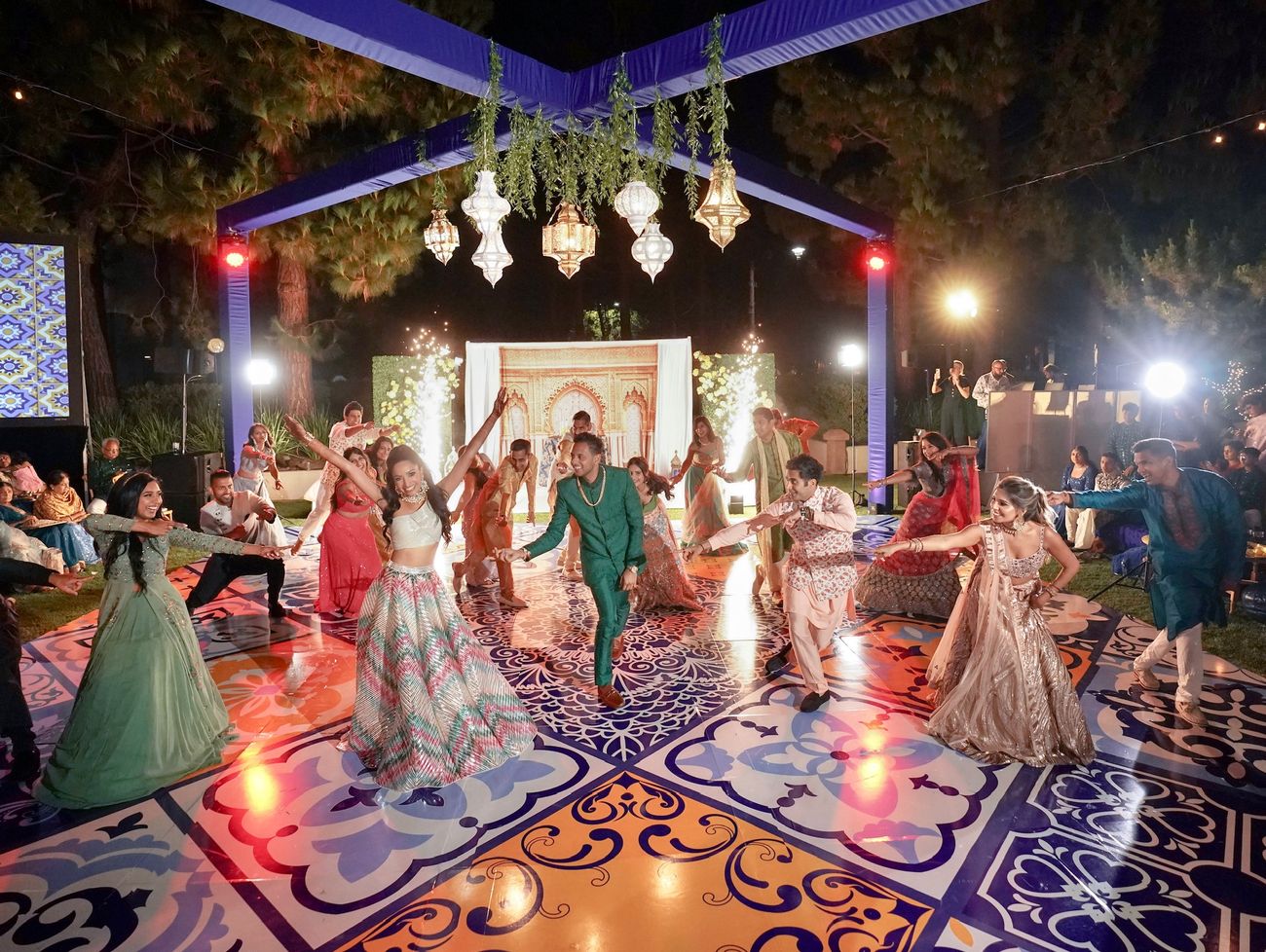 Wedding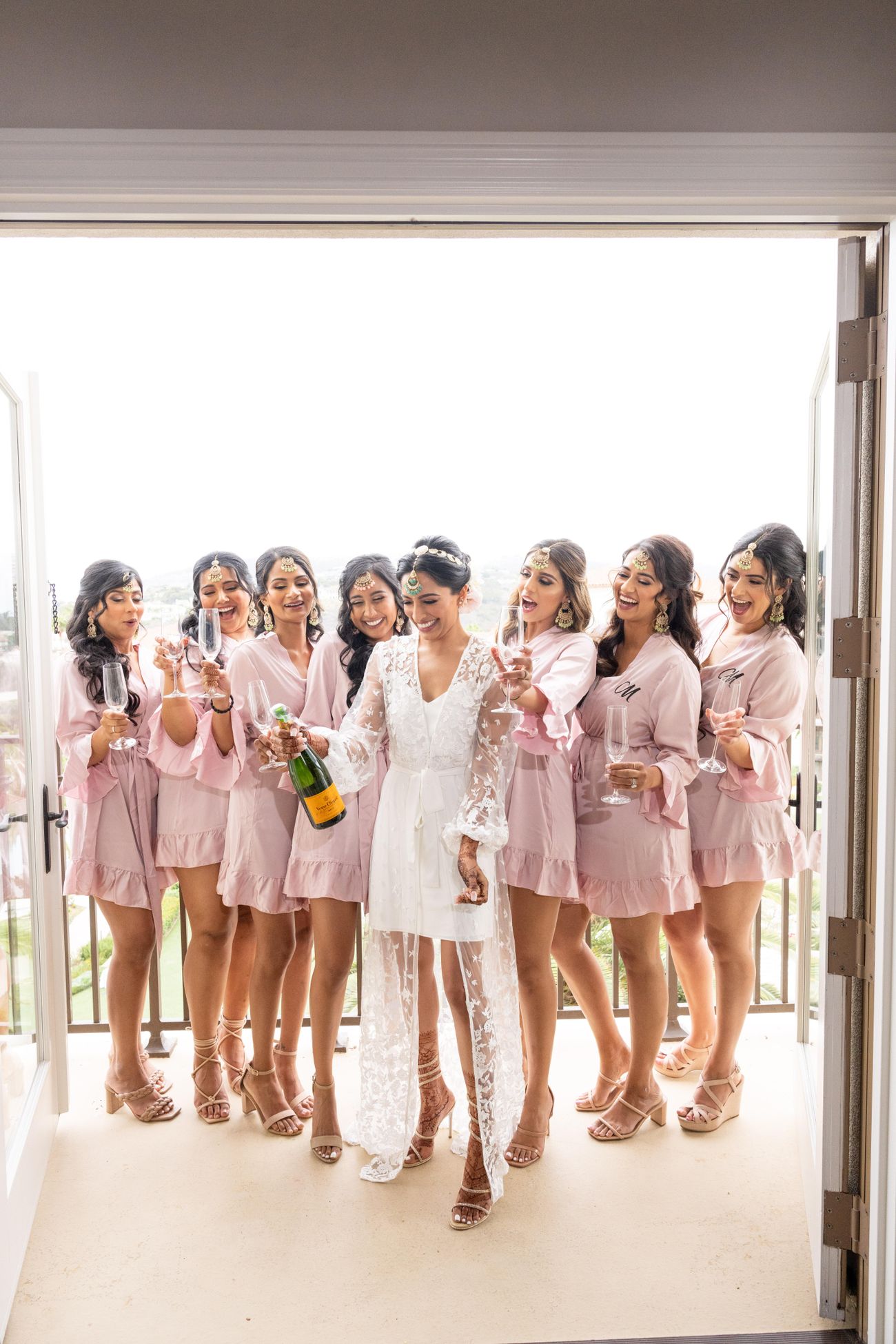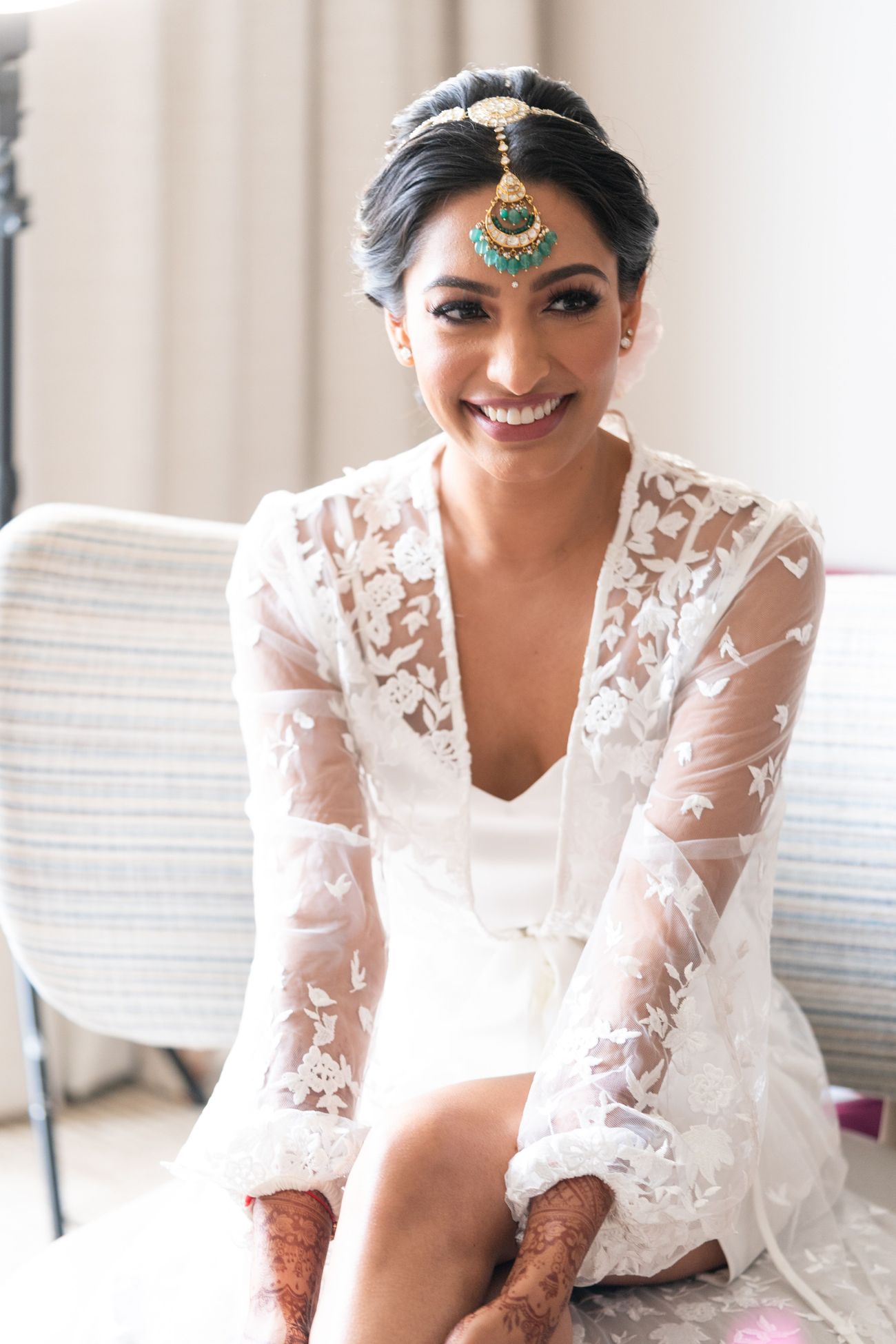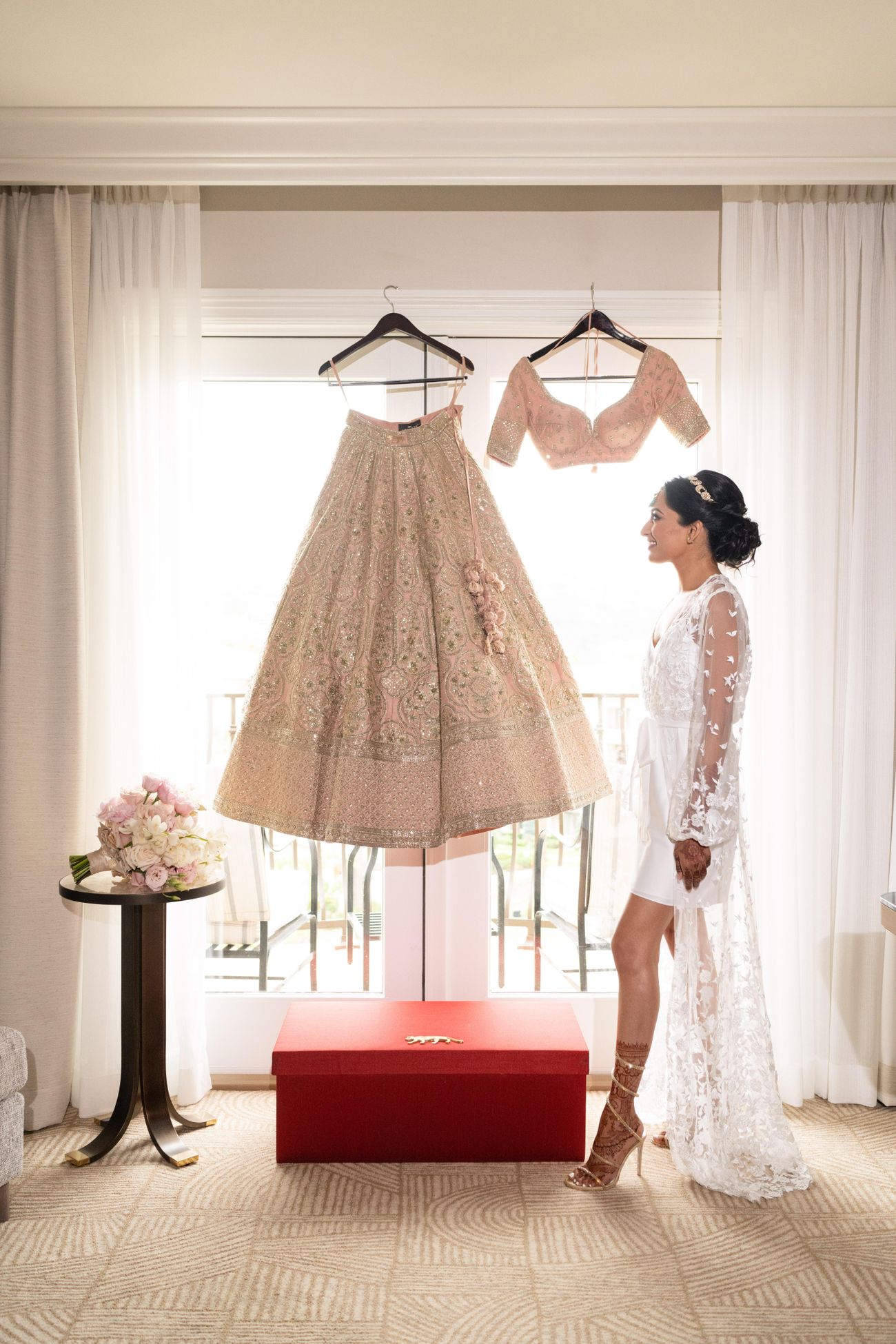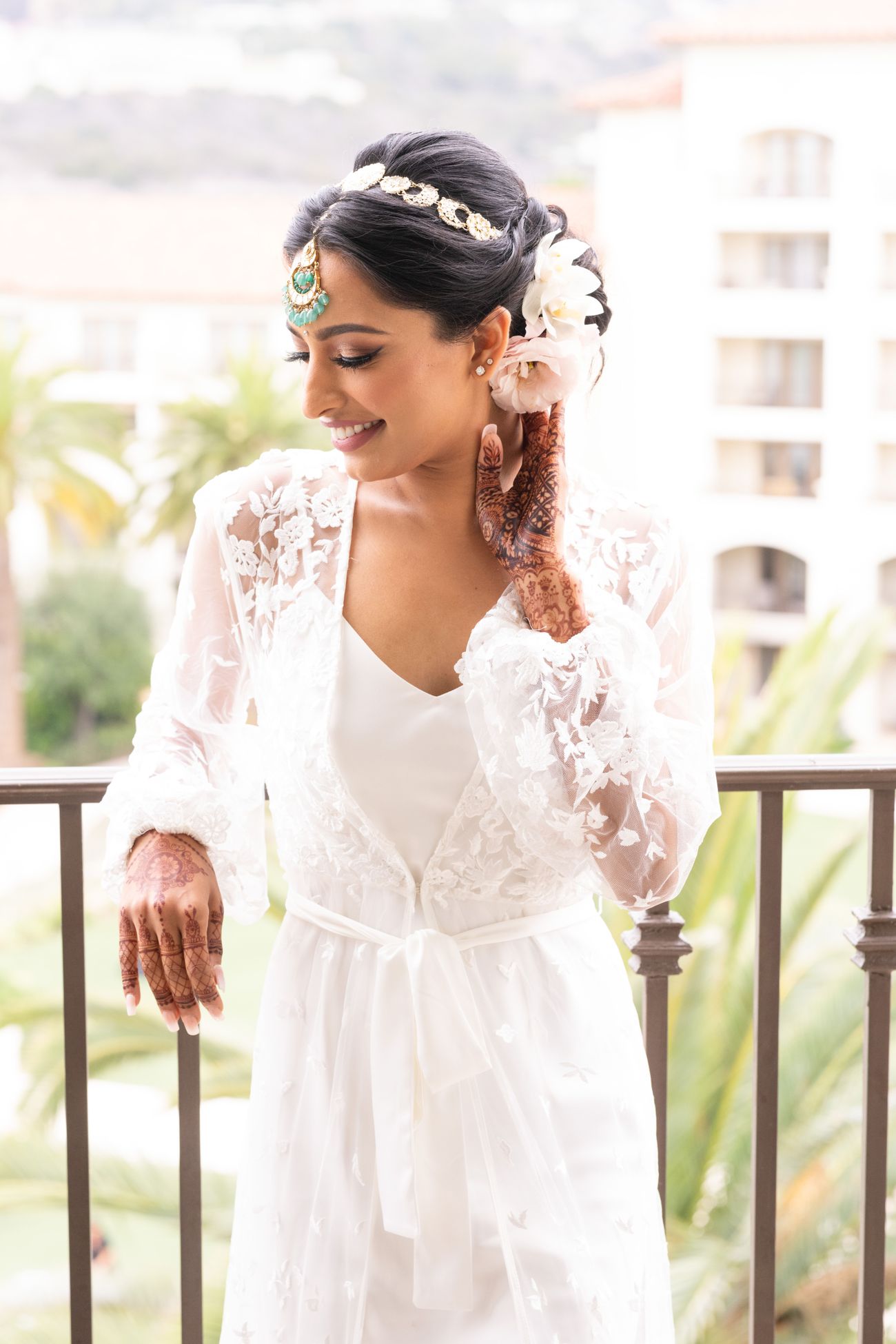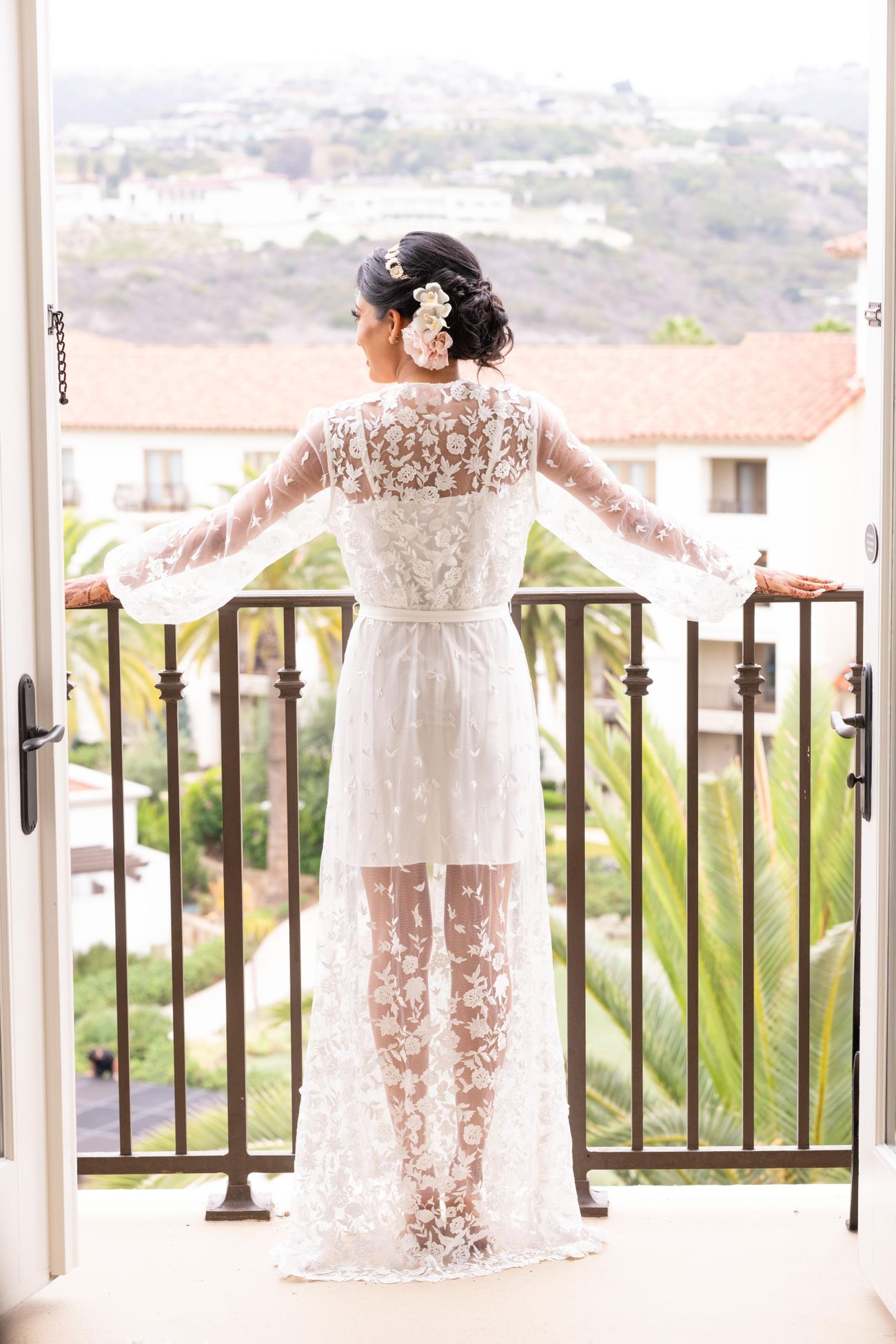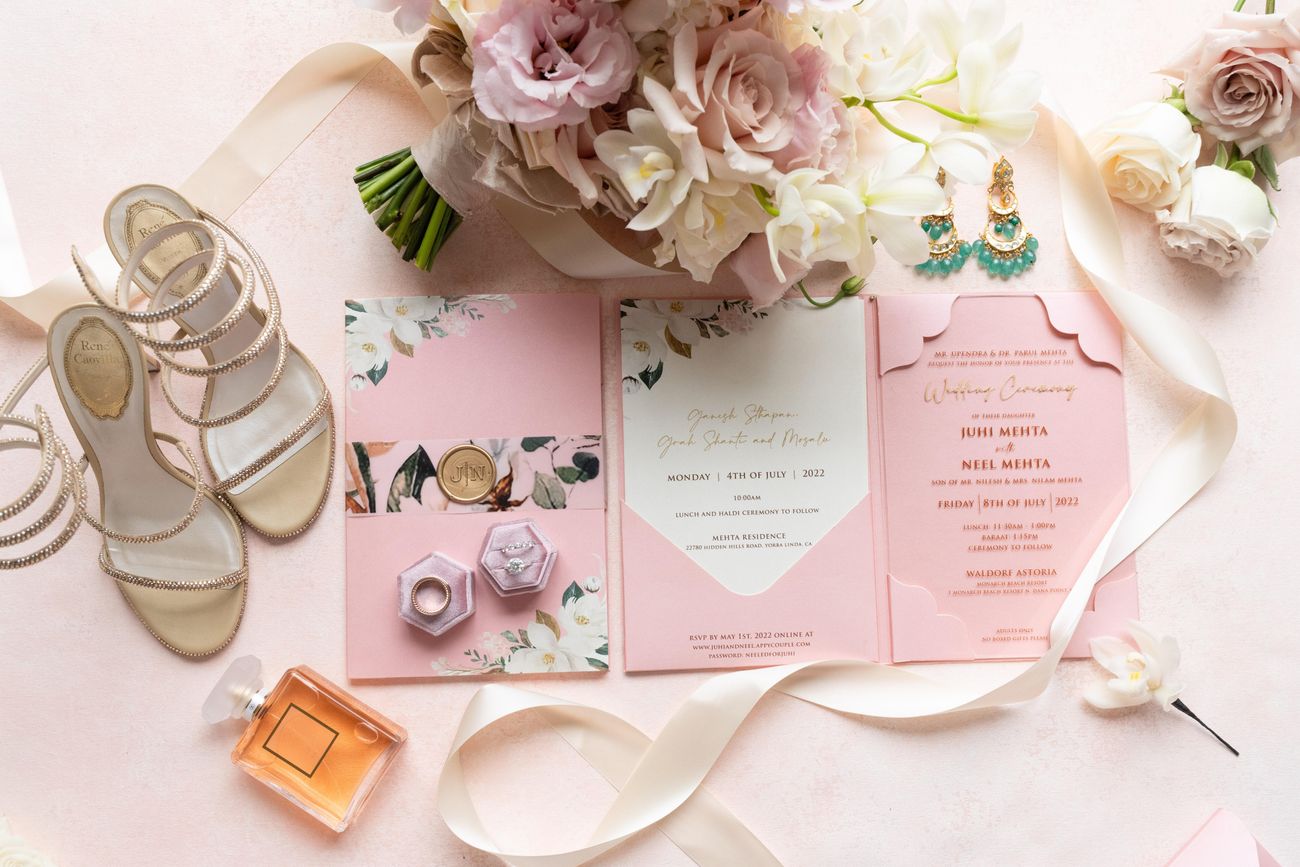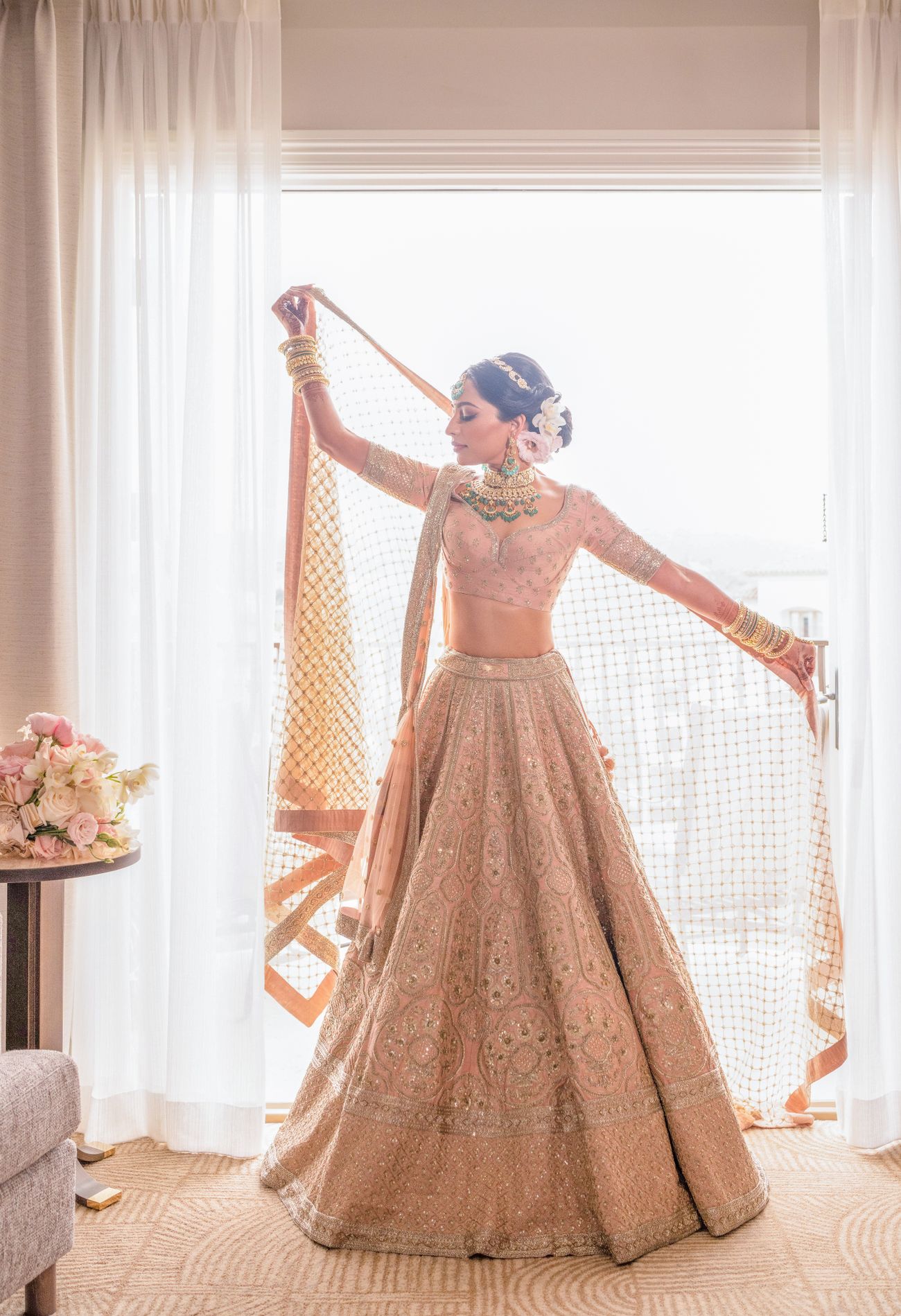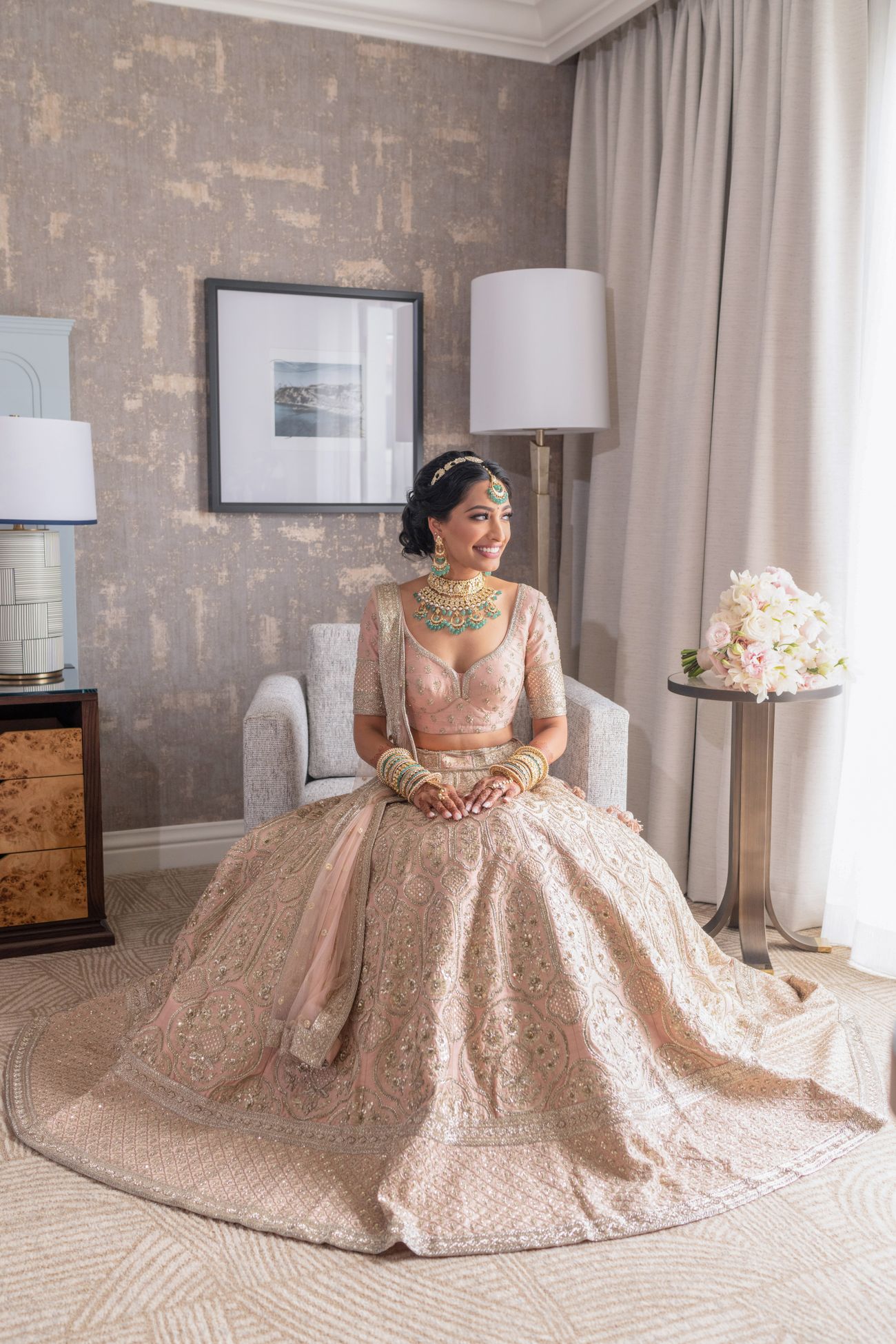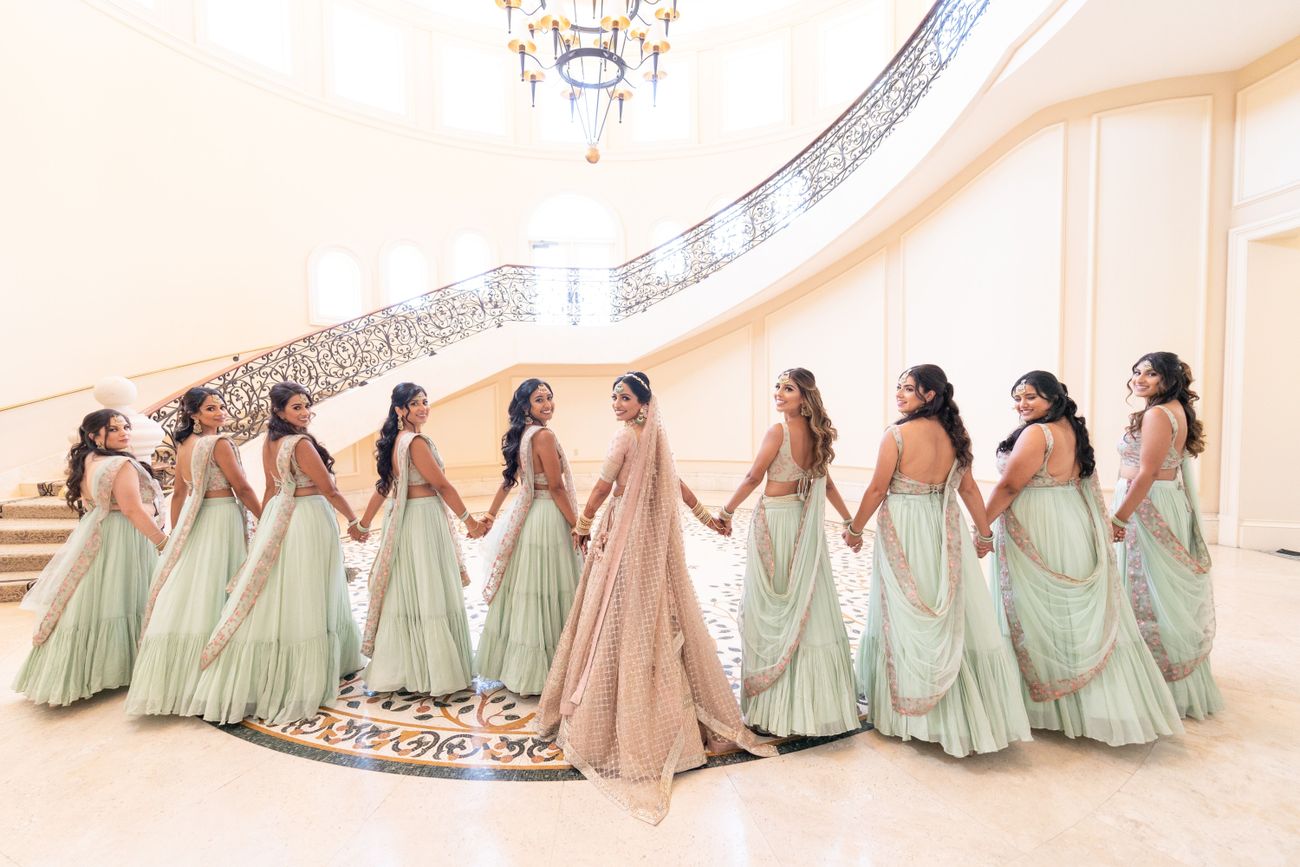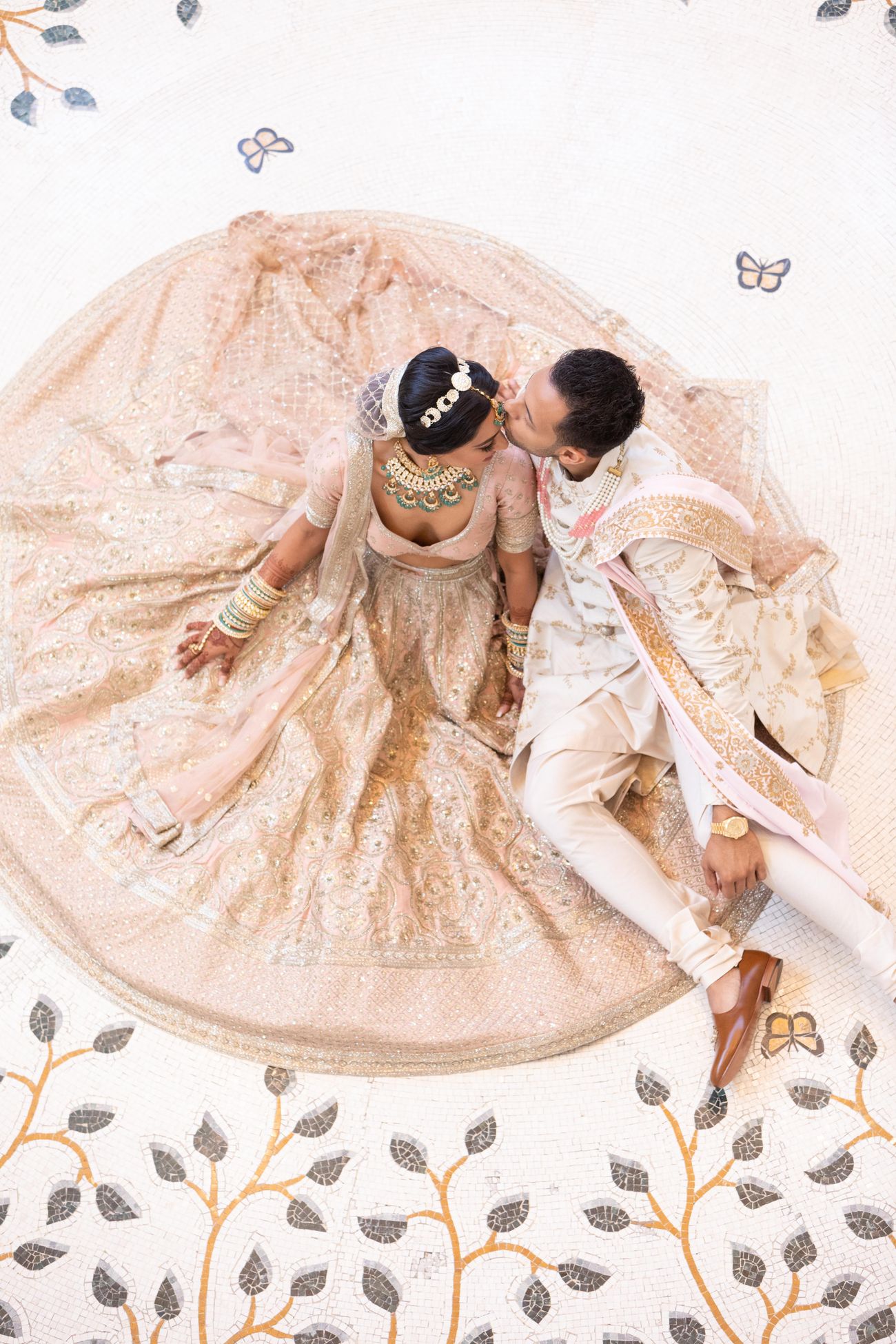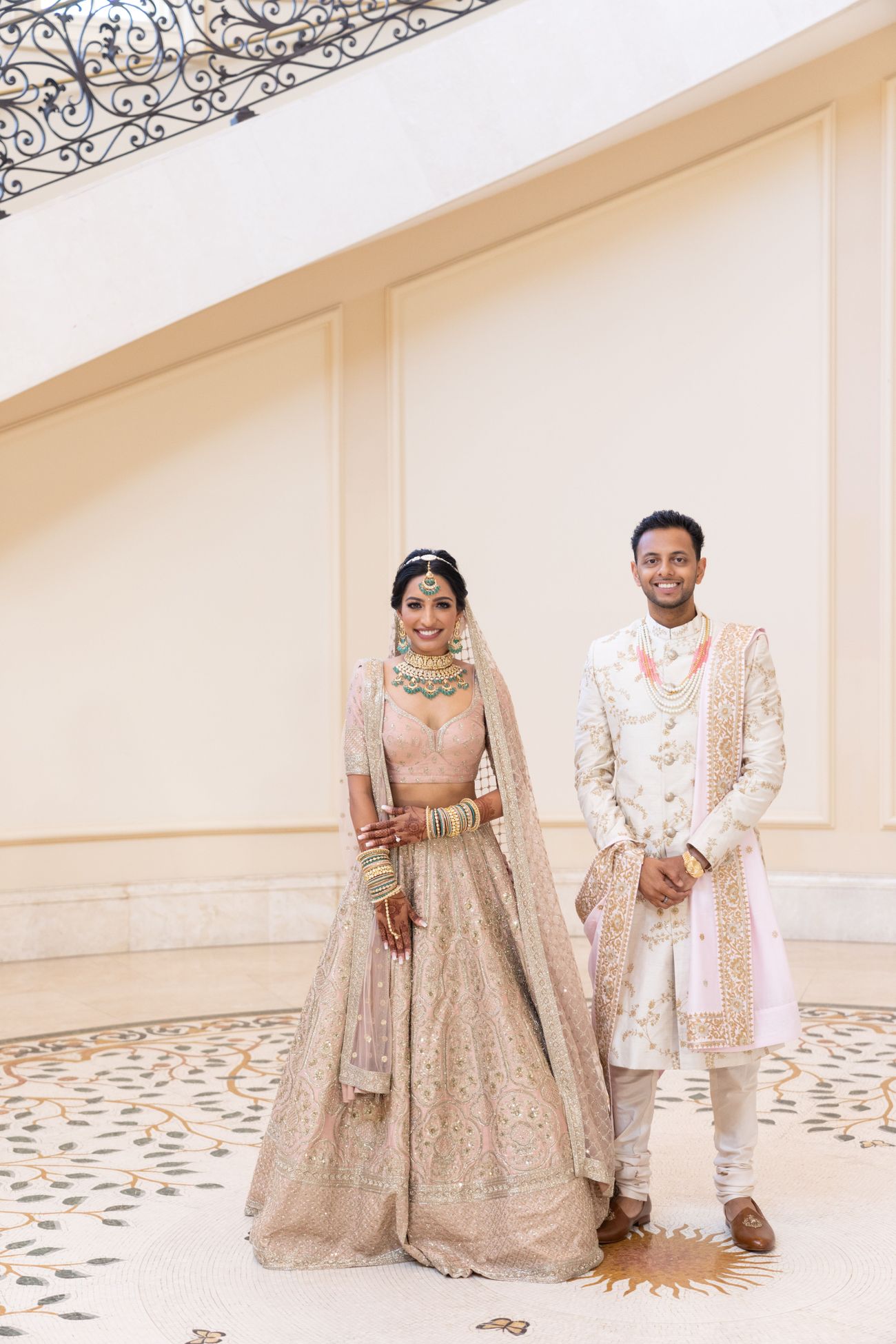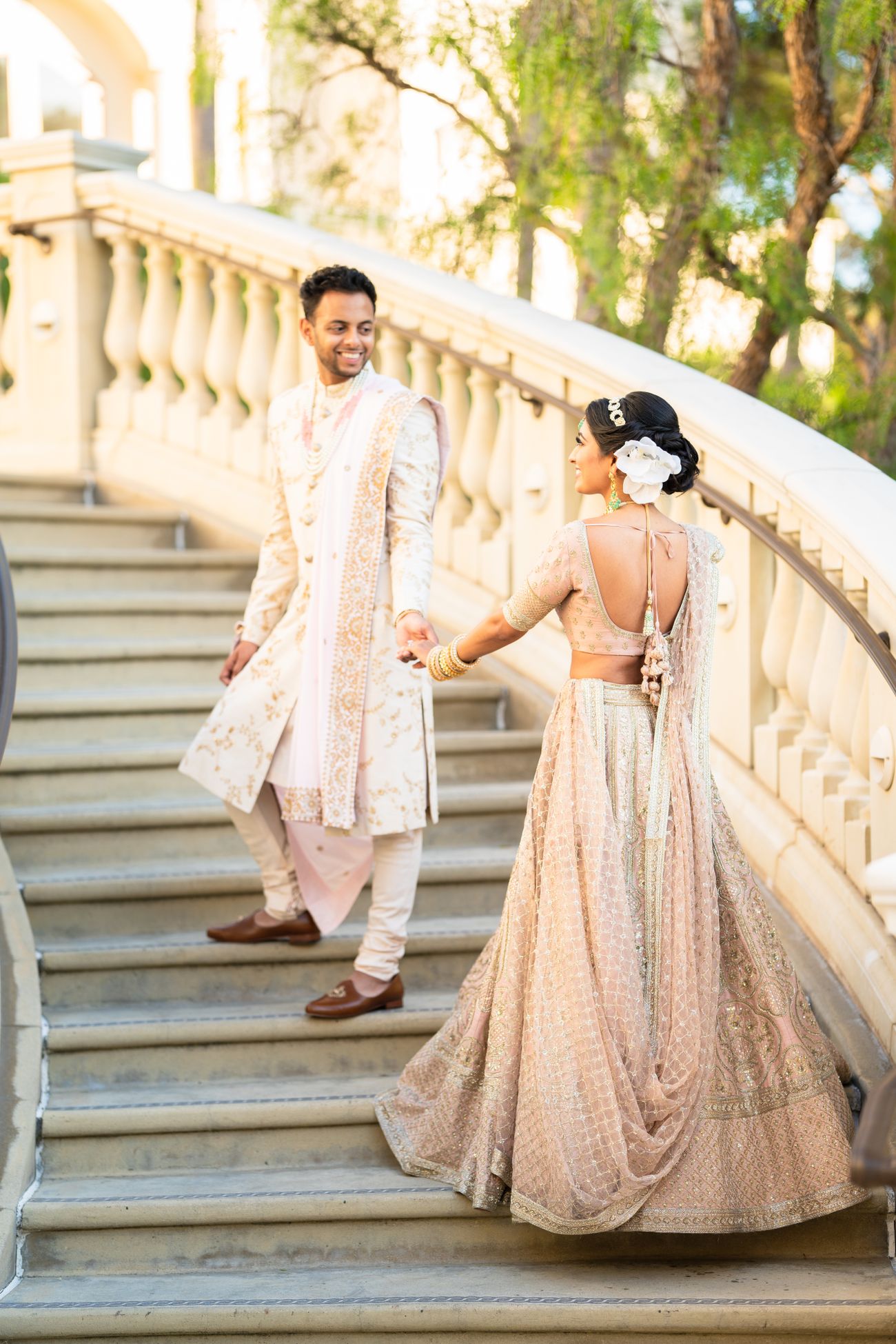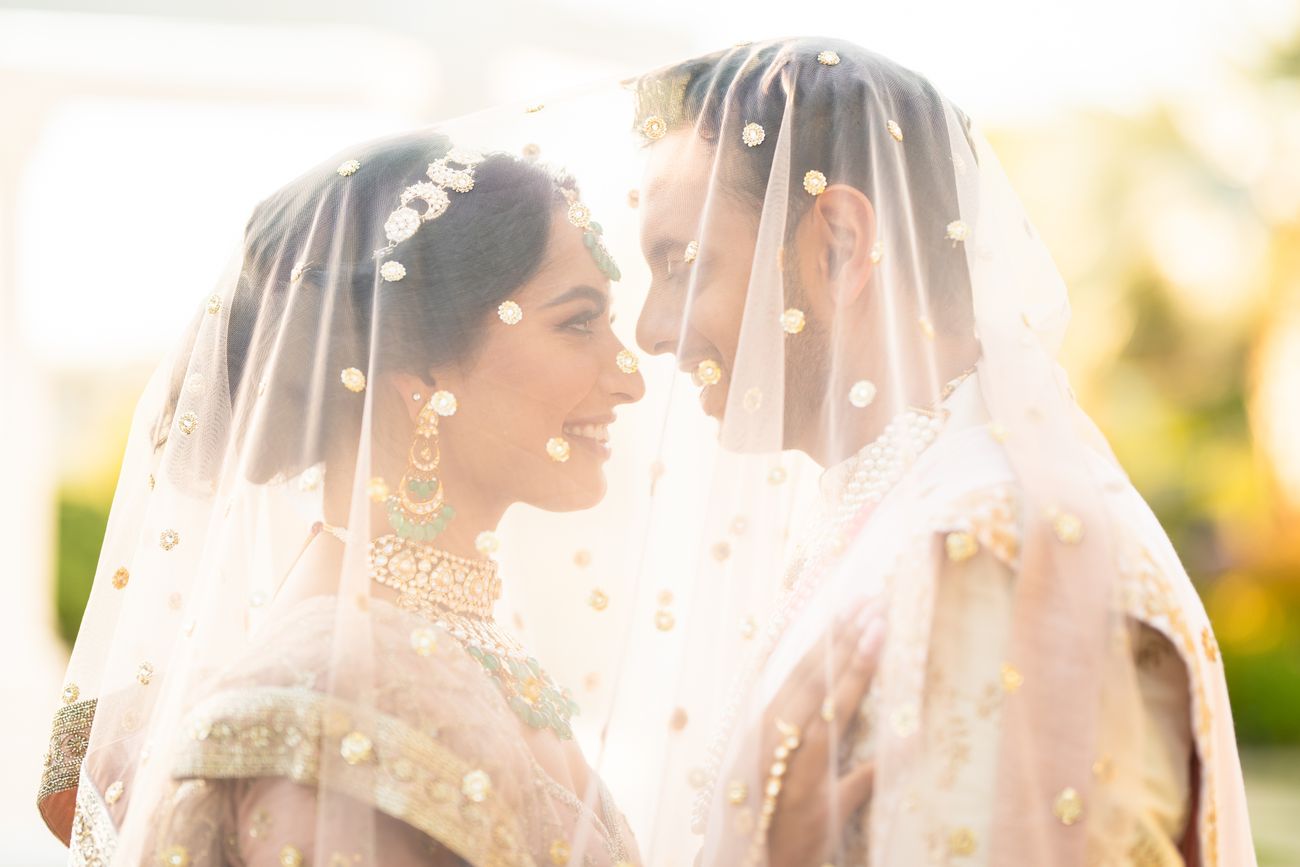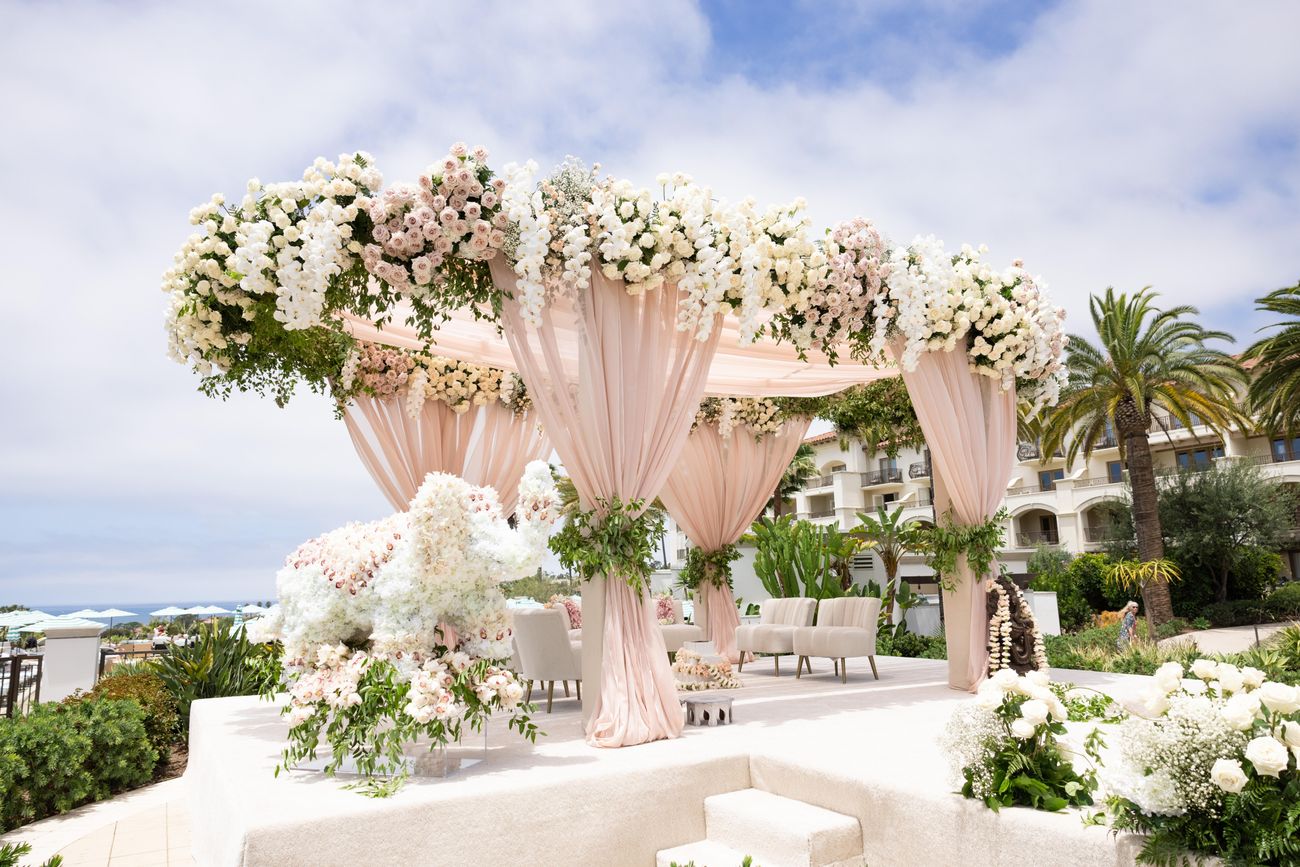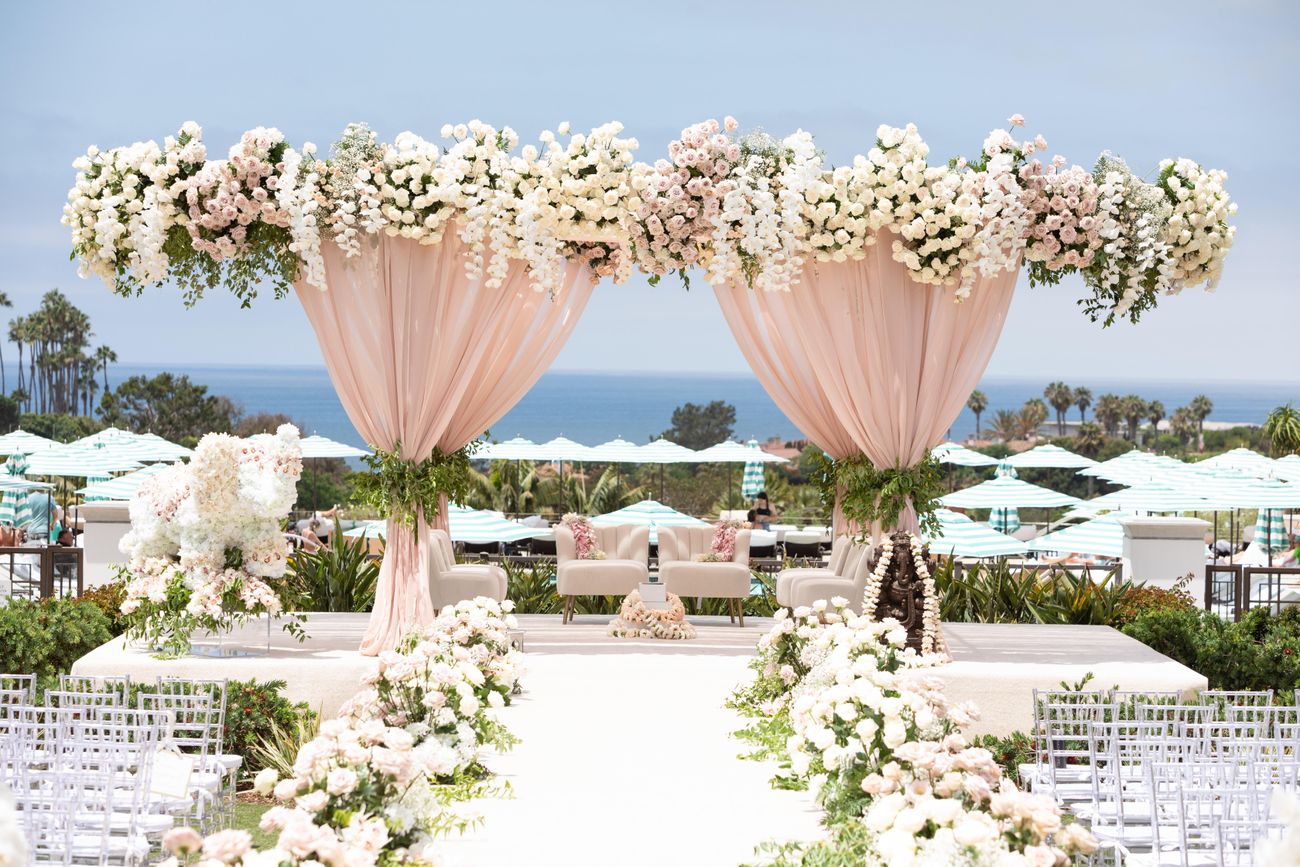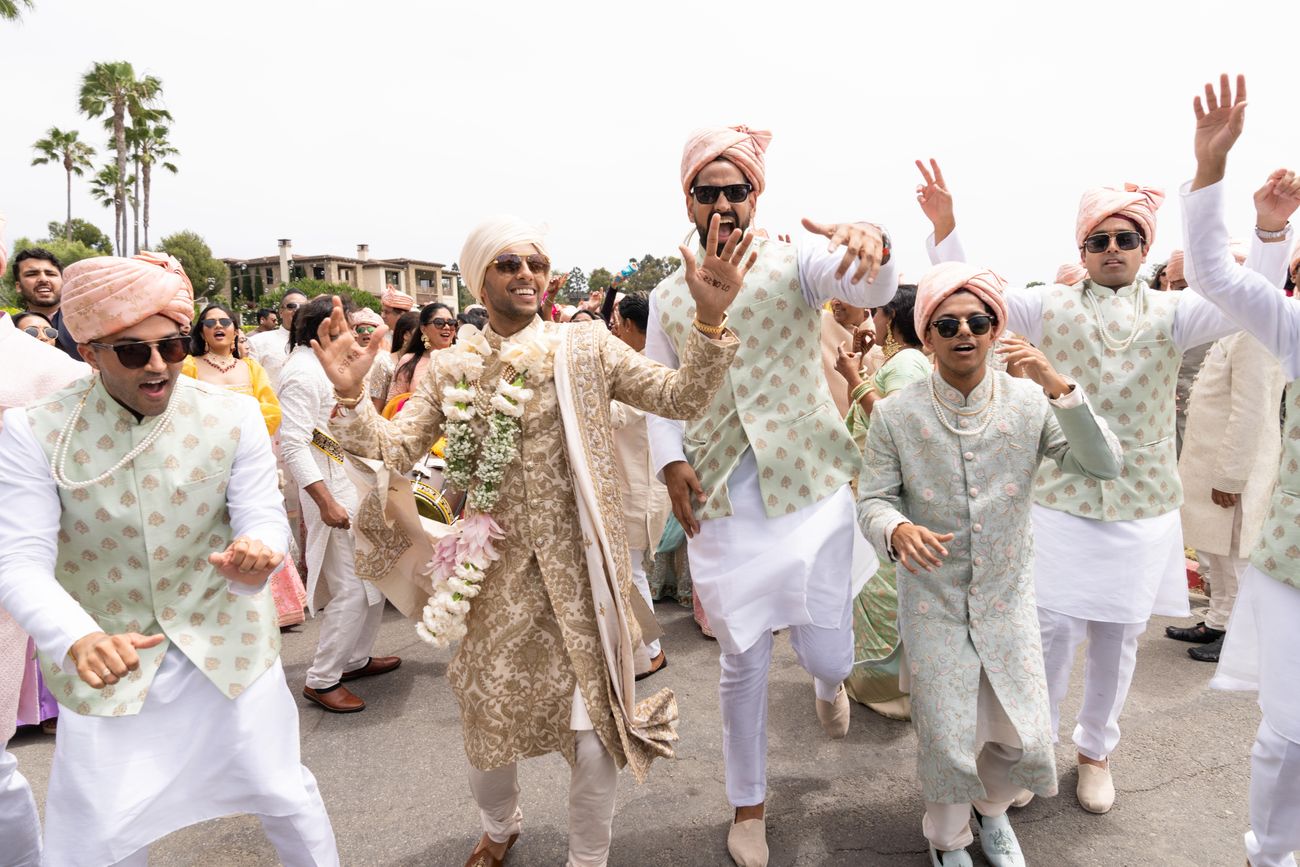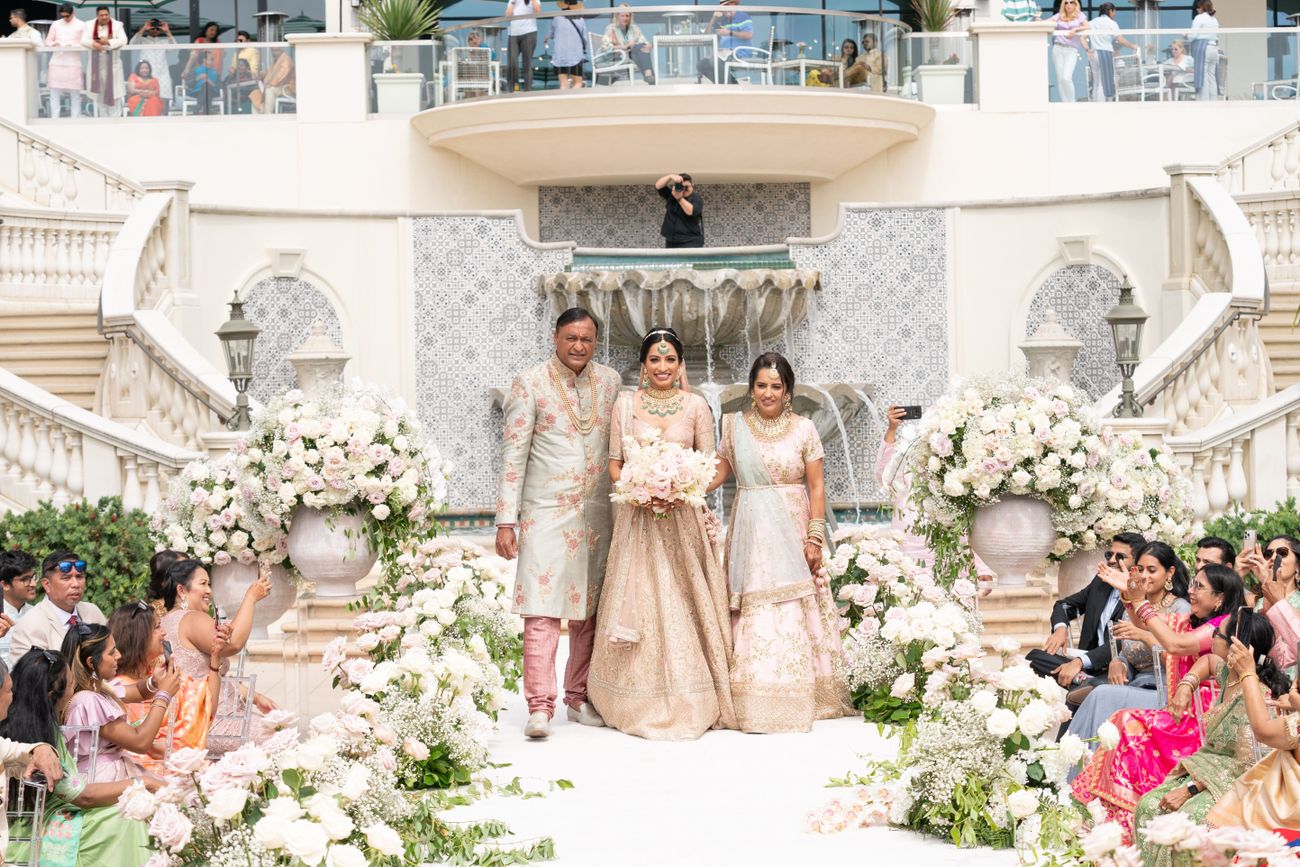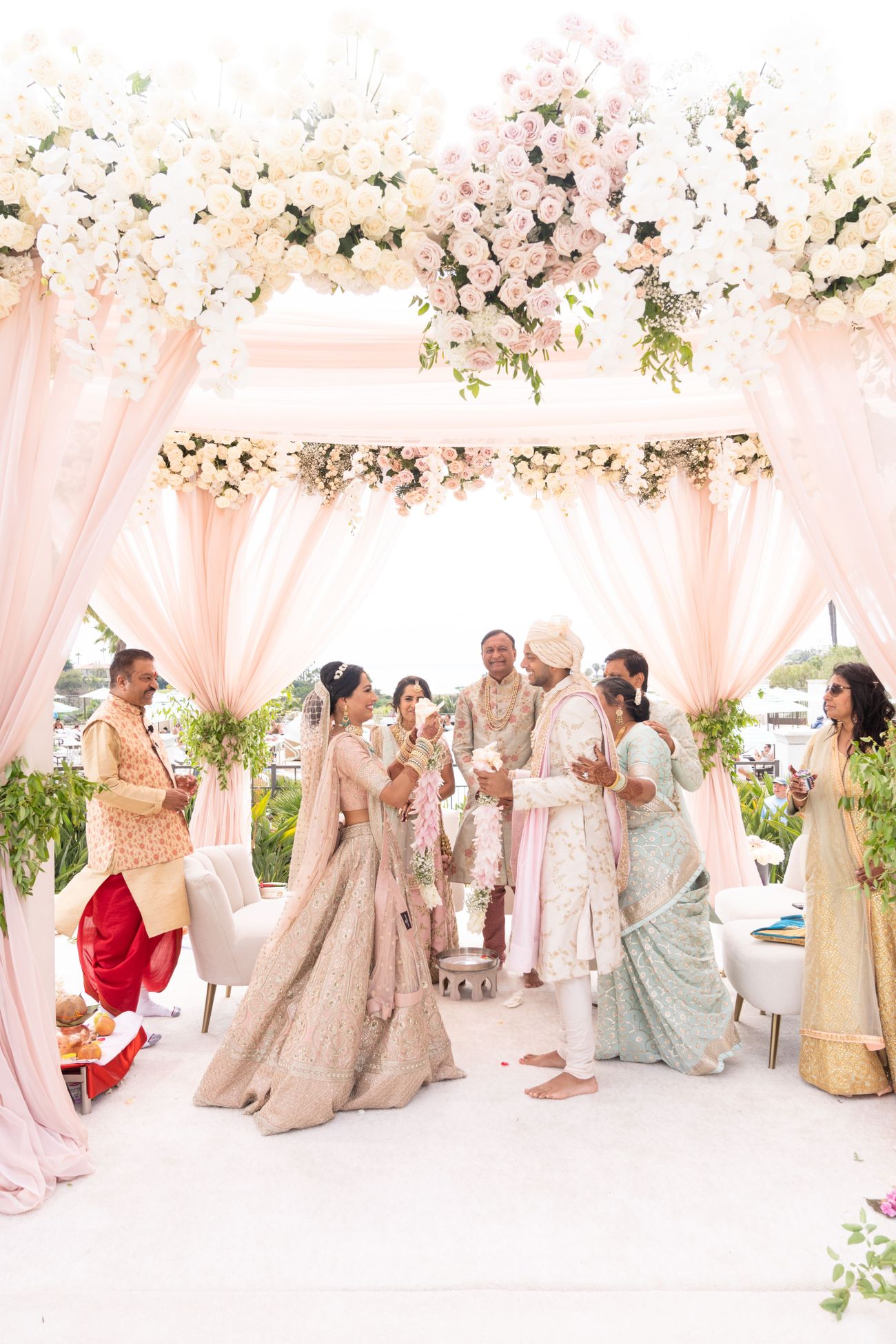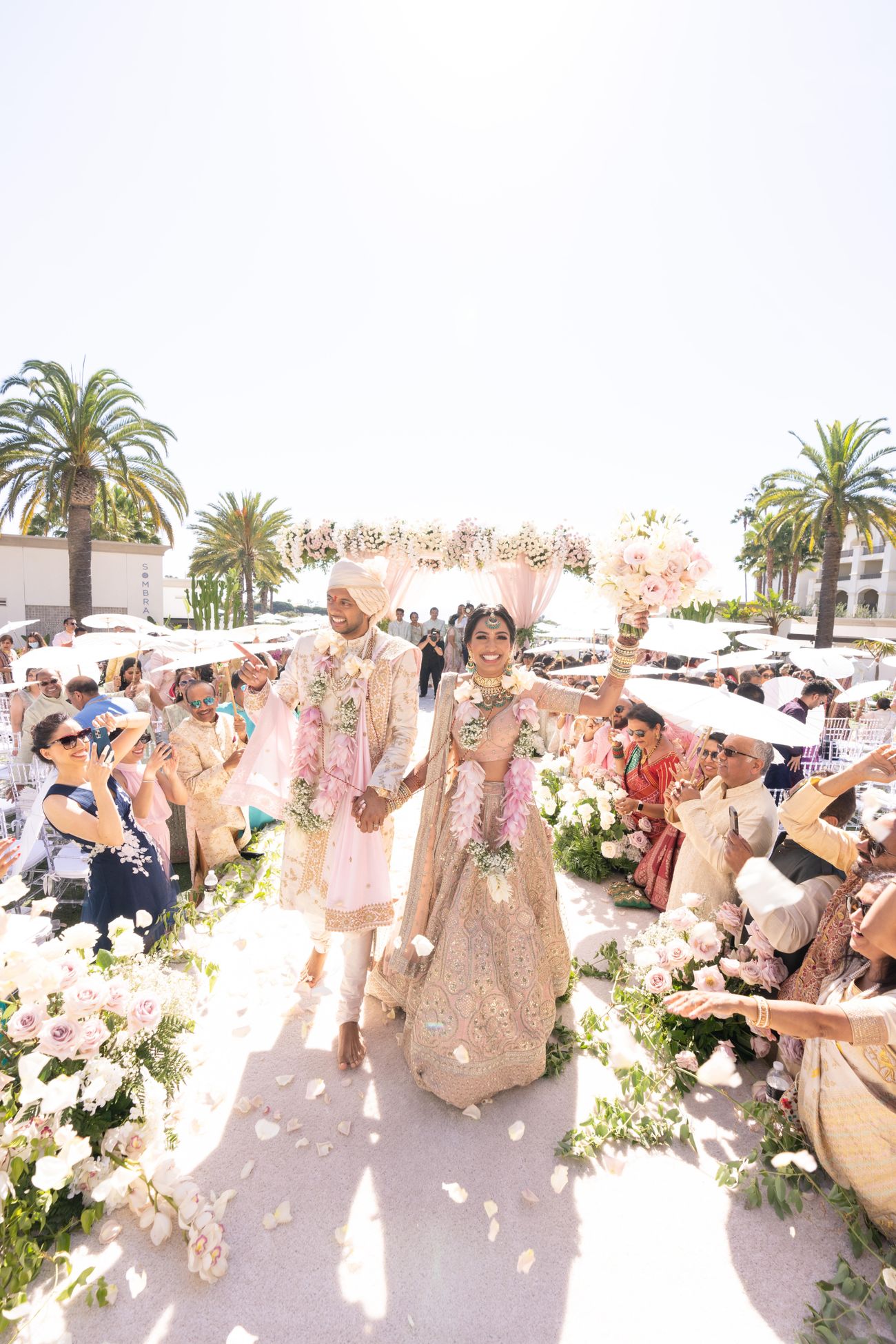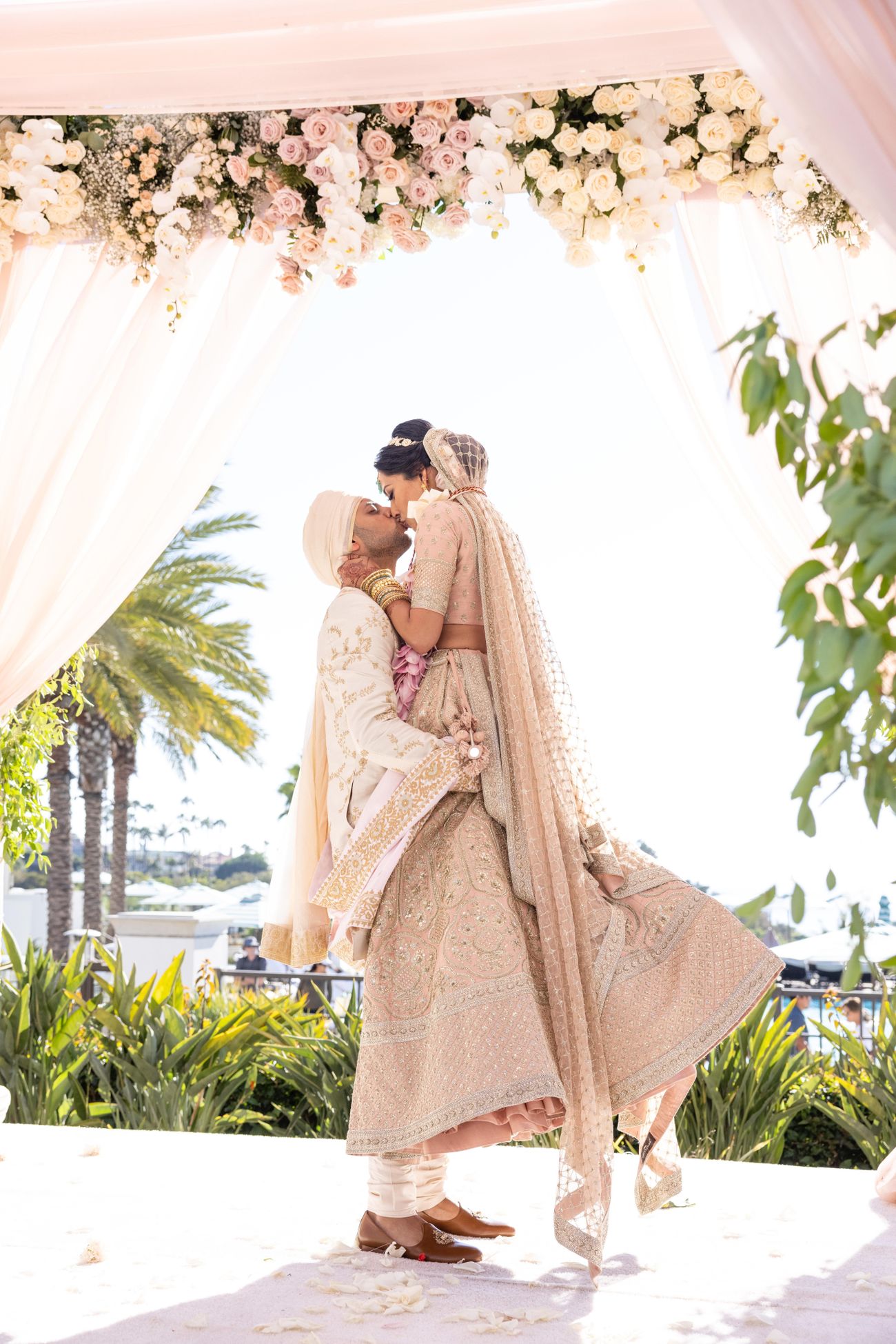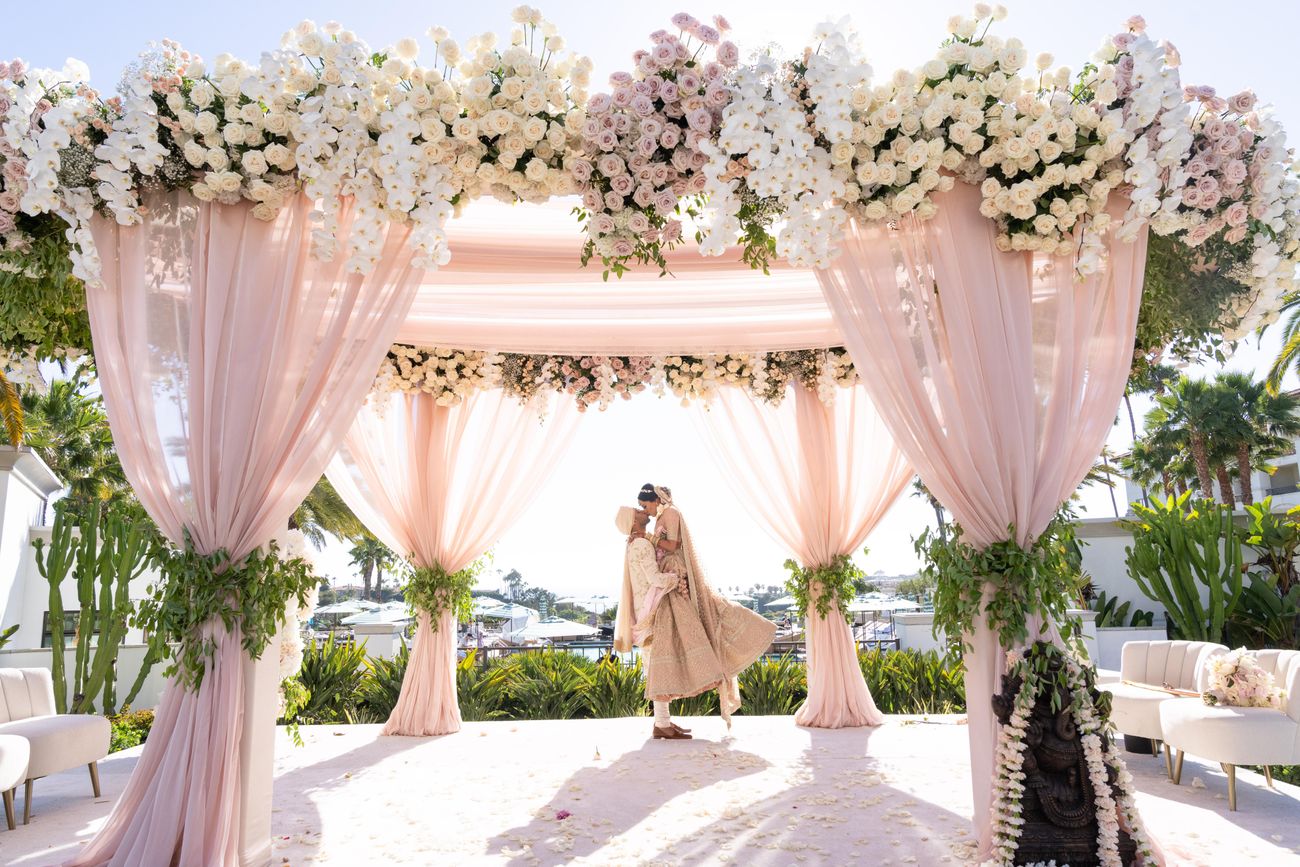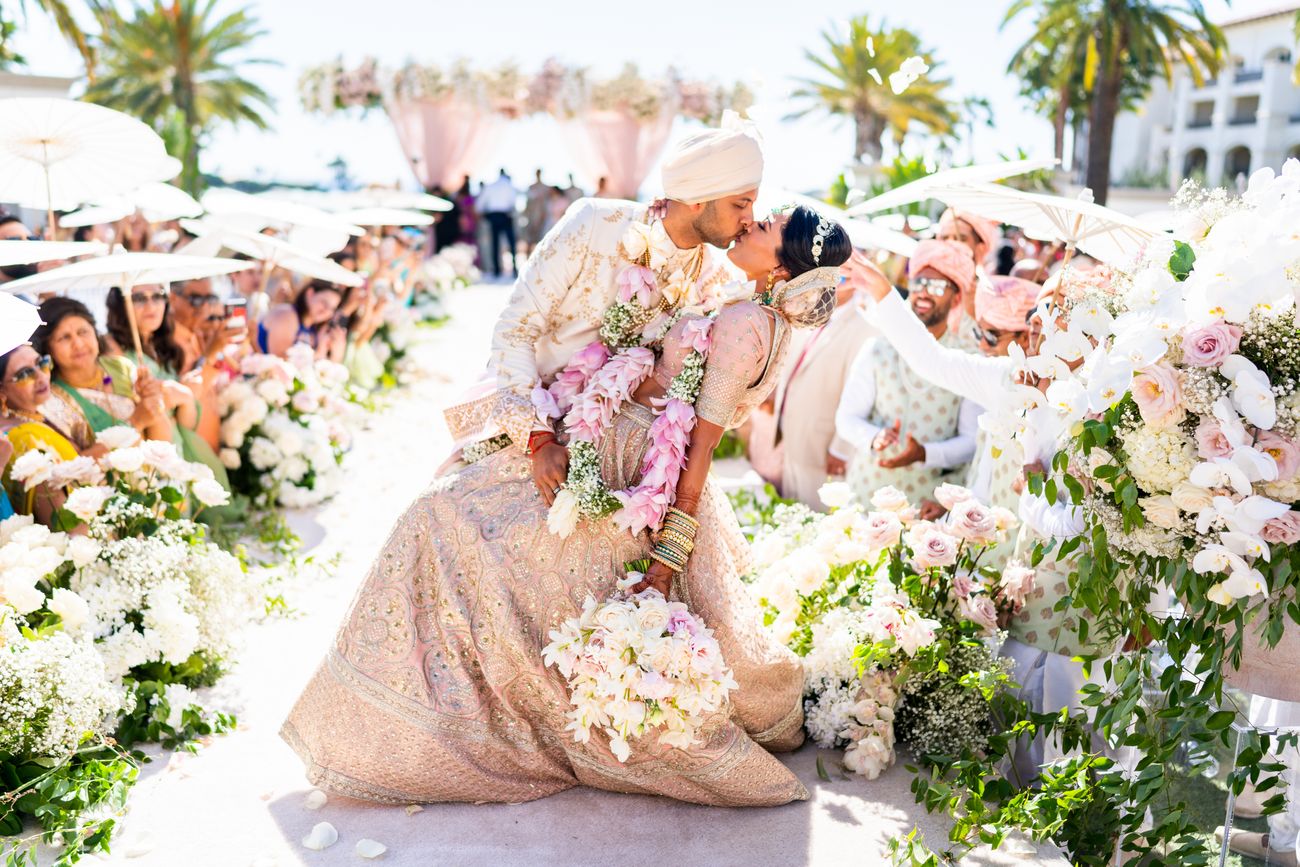 Reception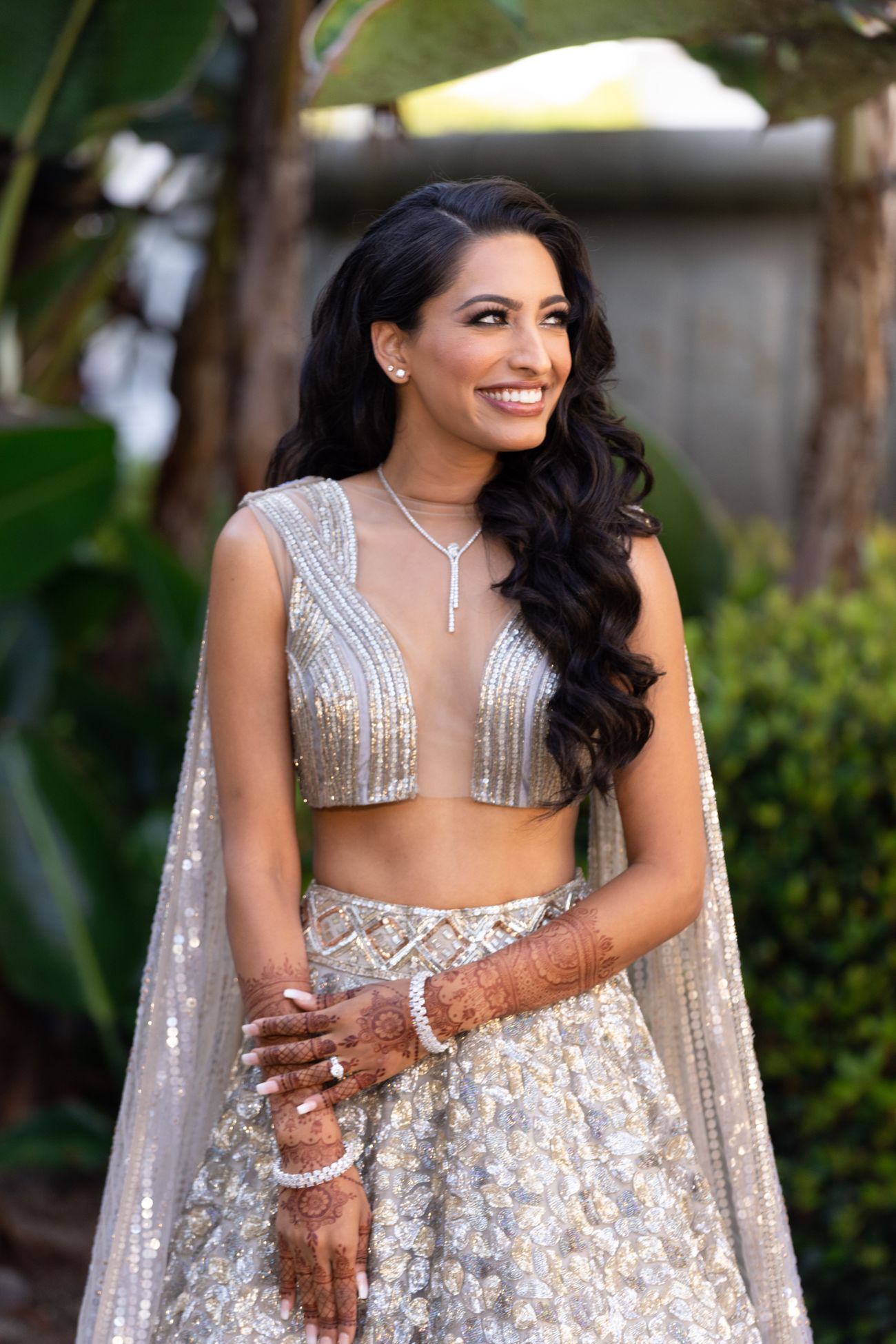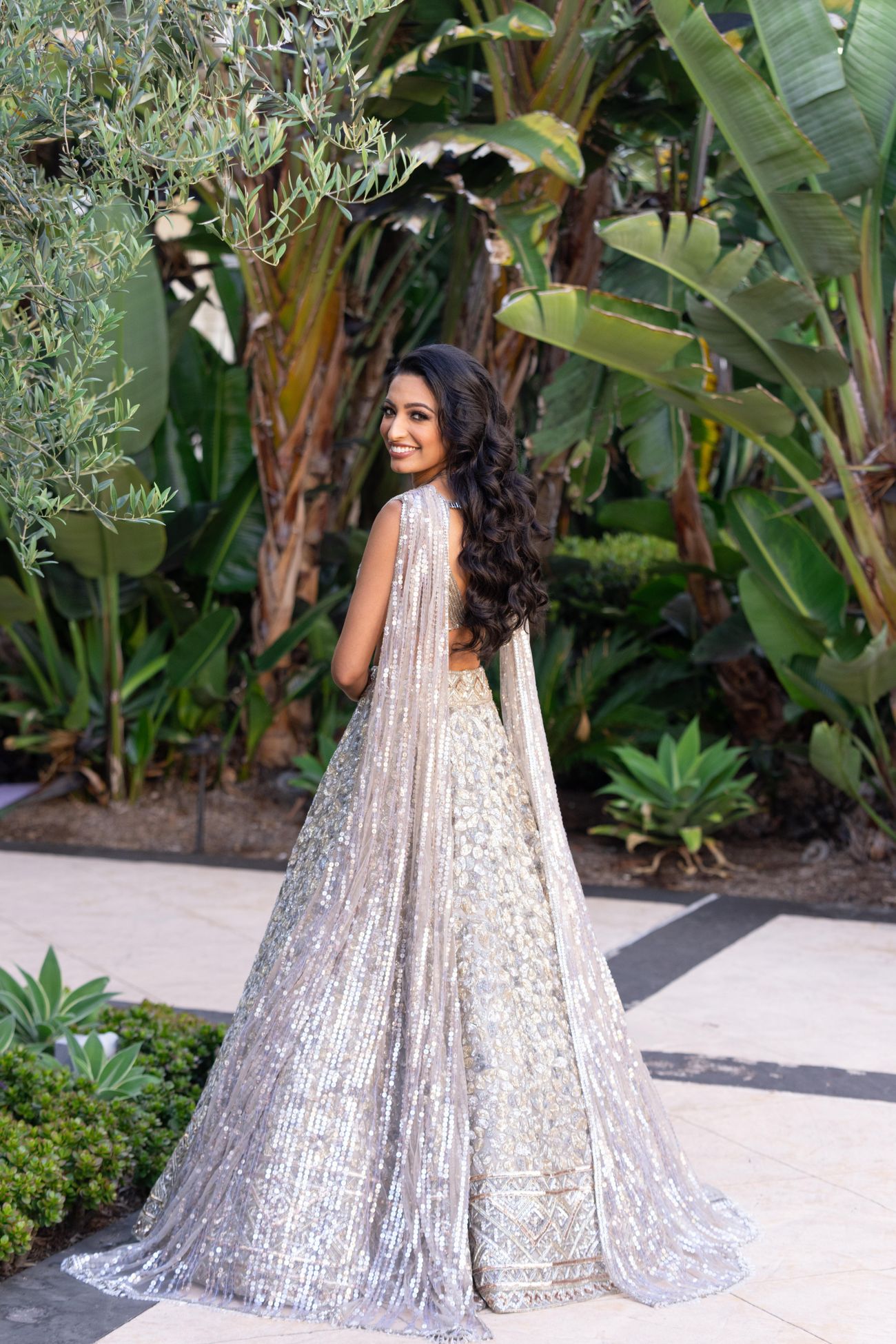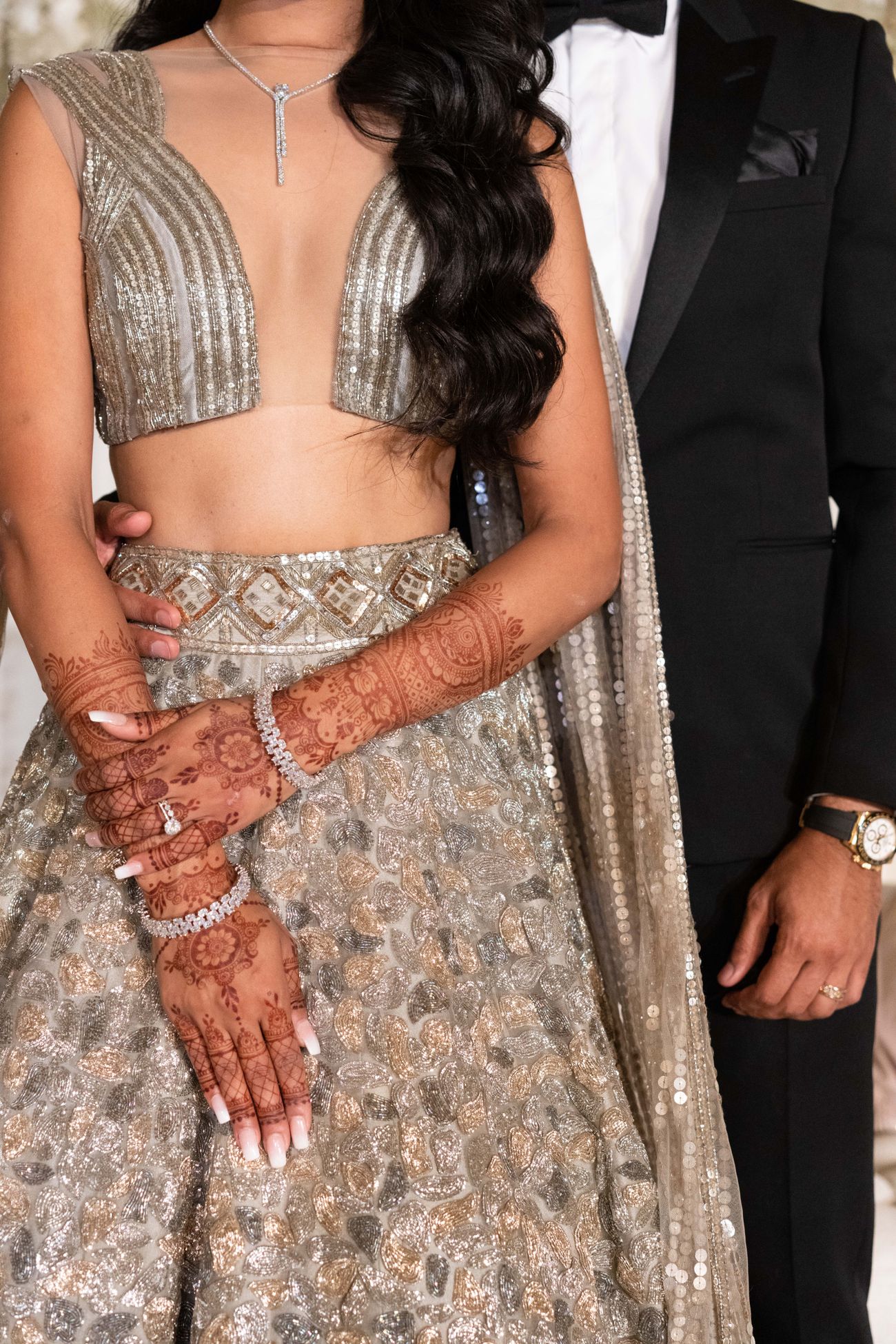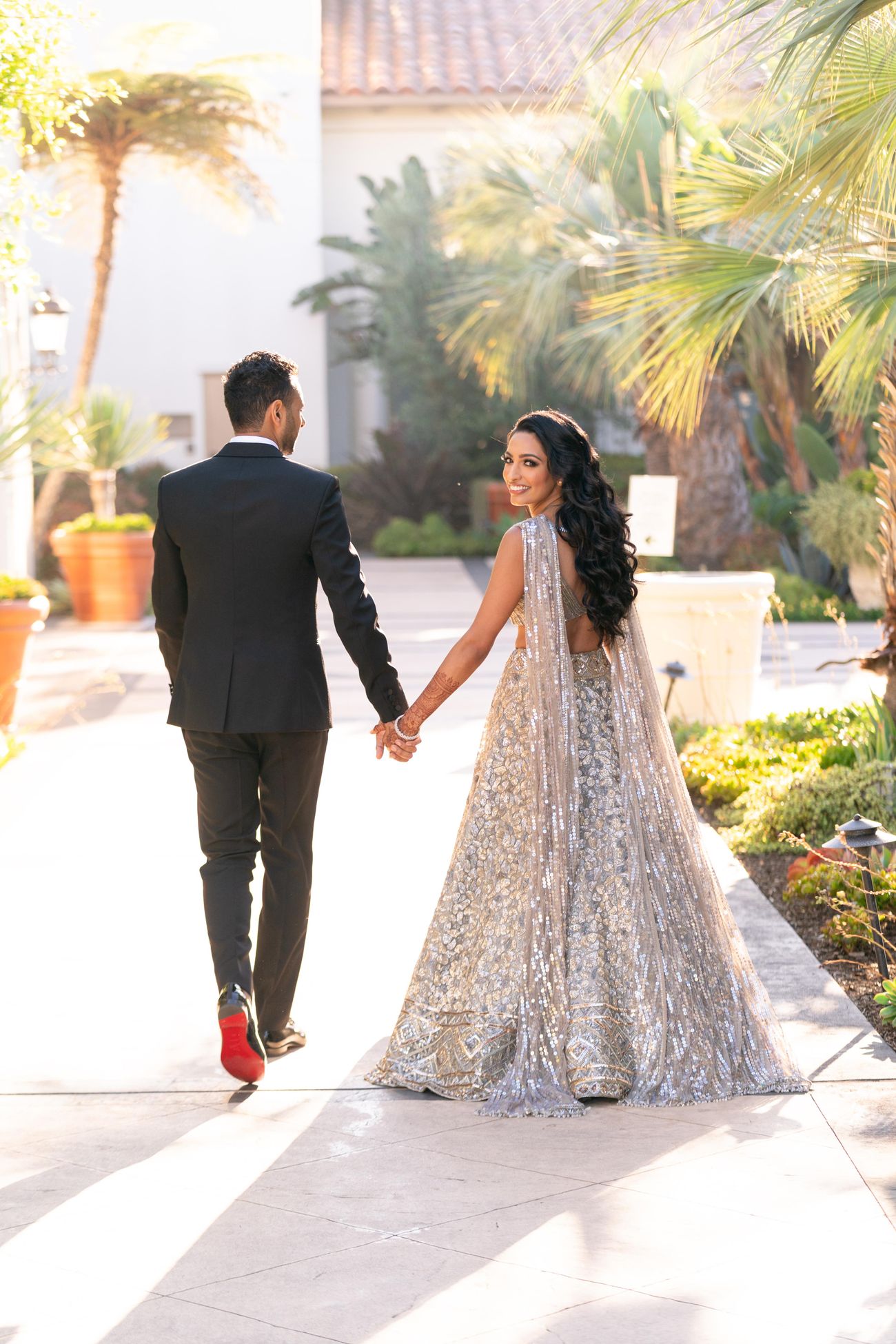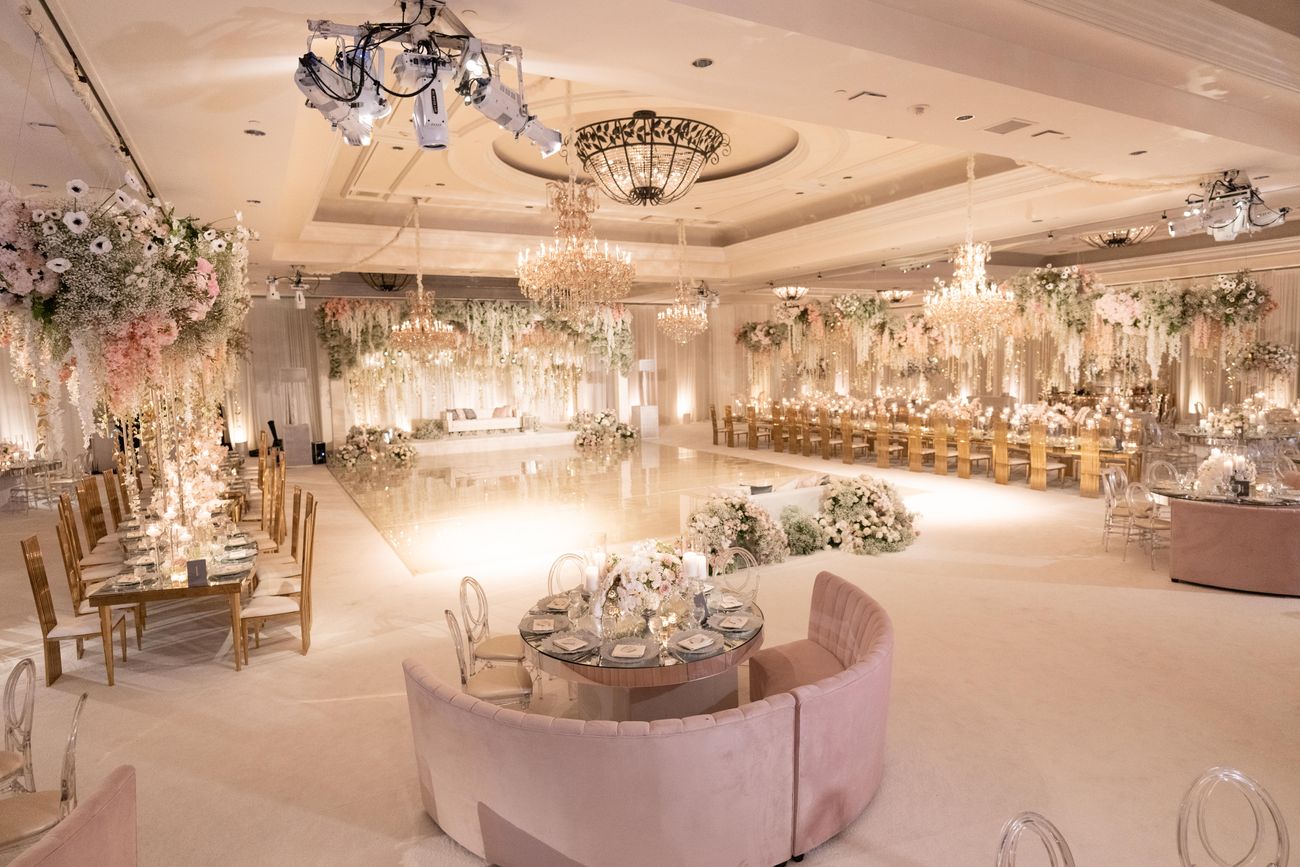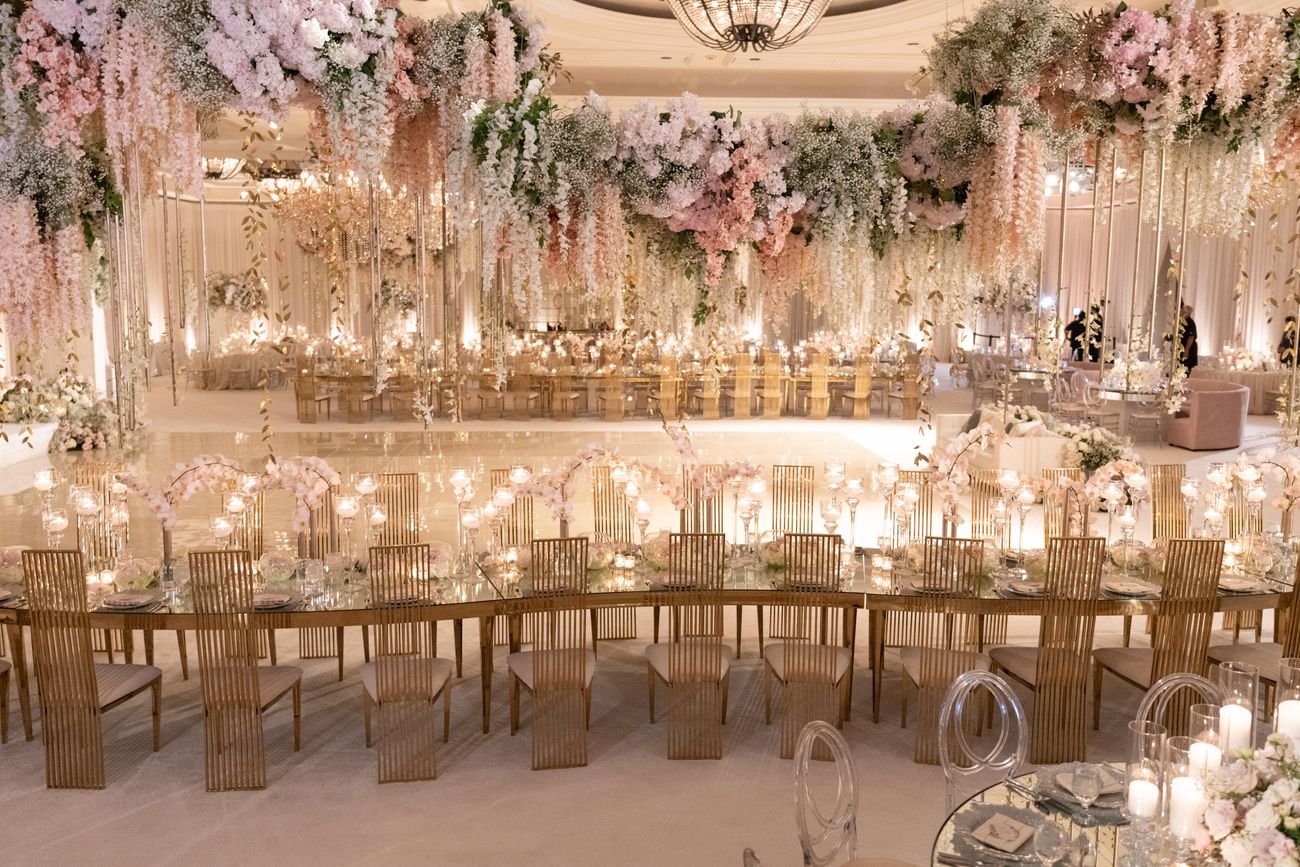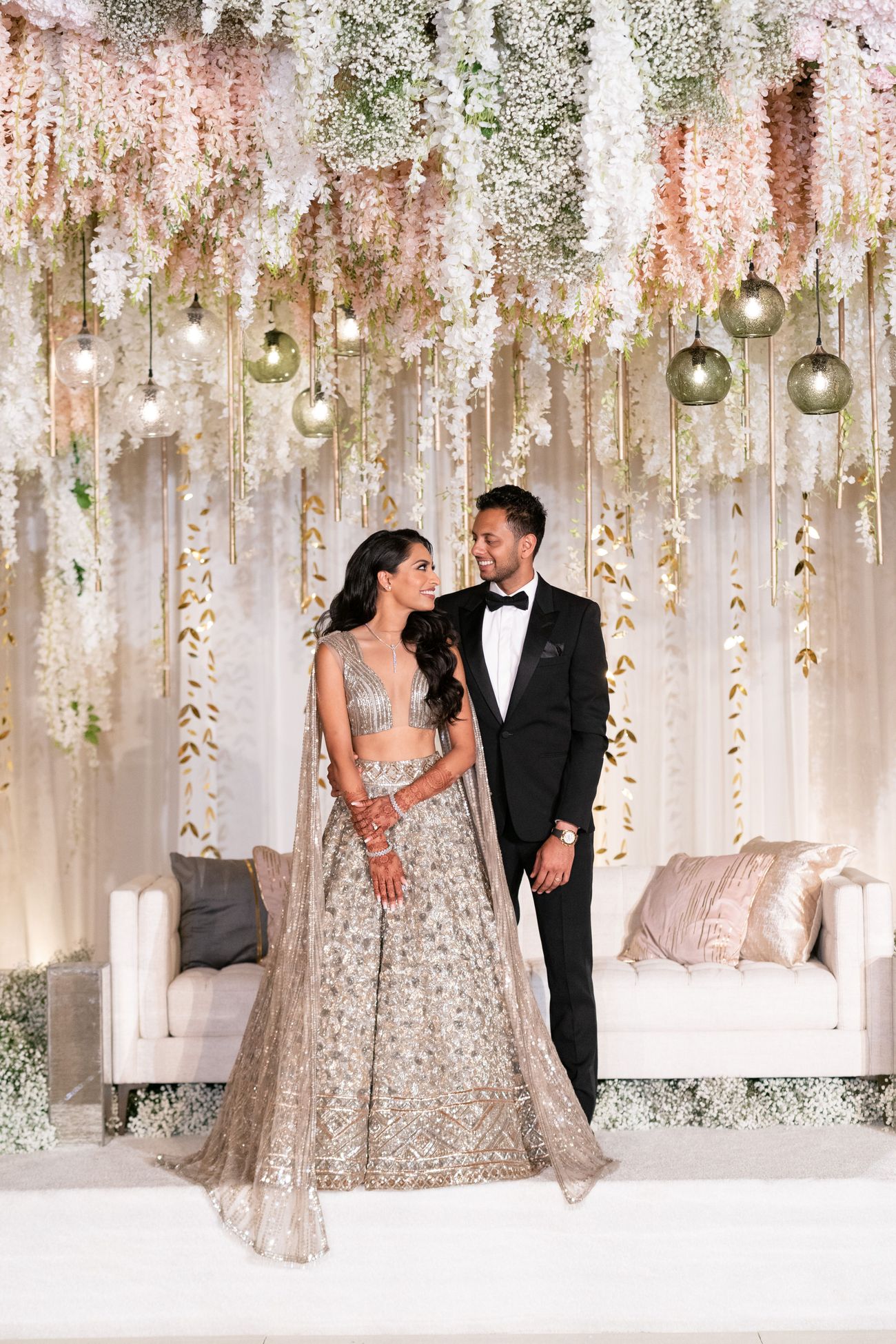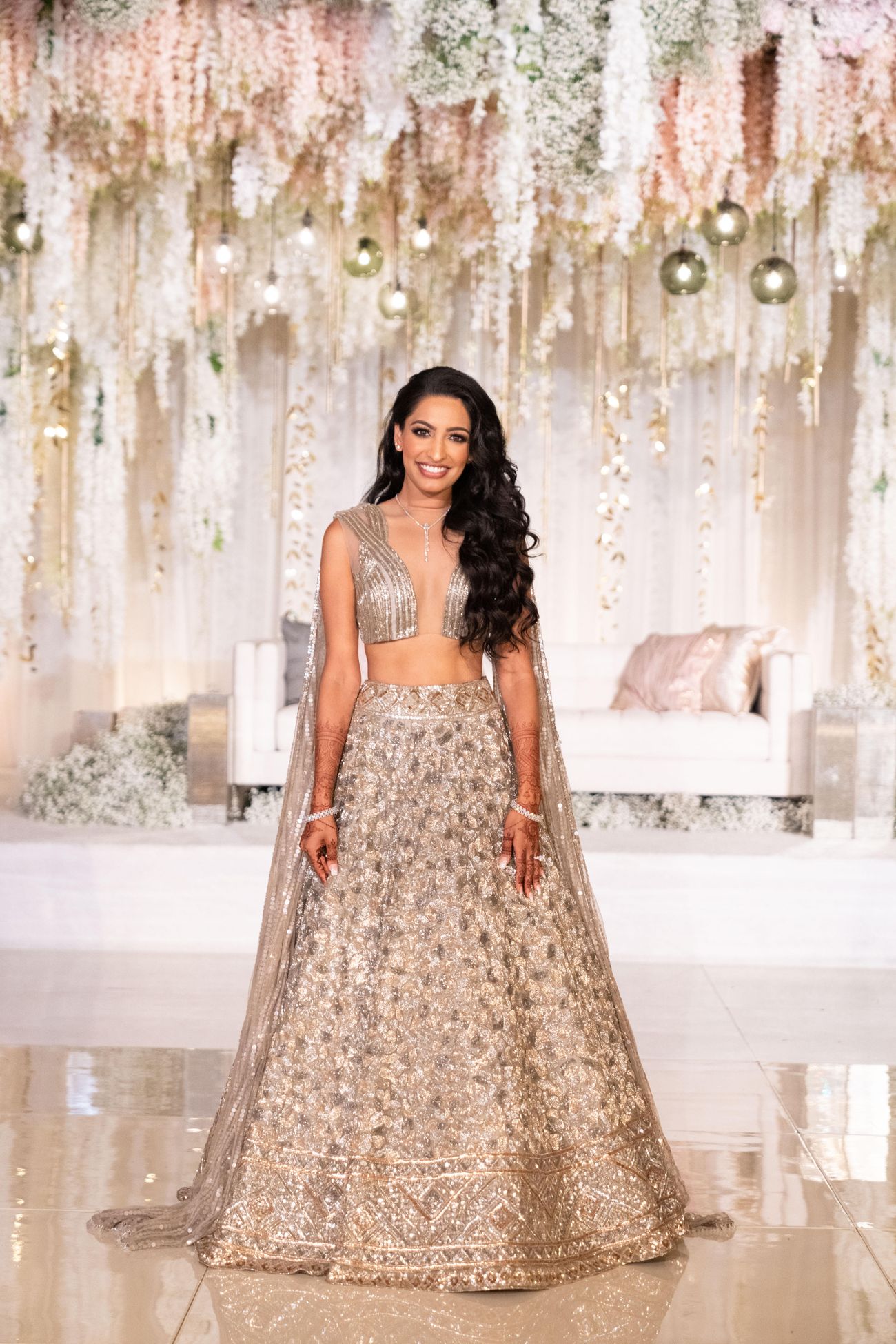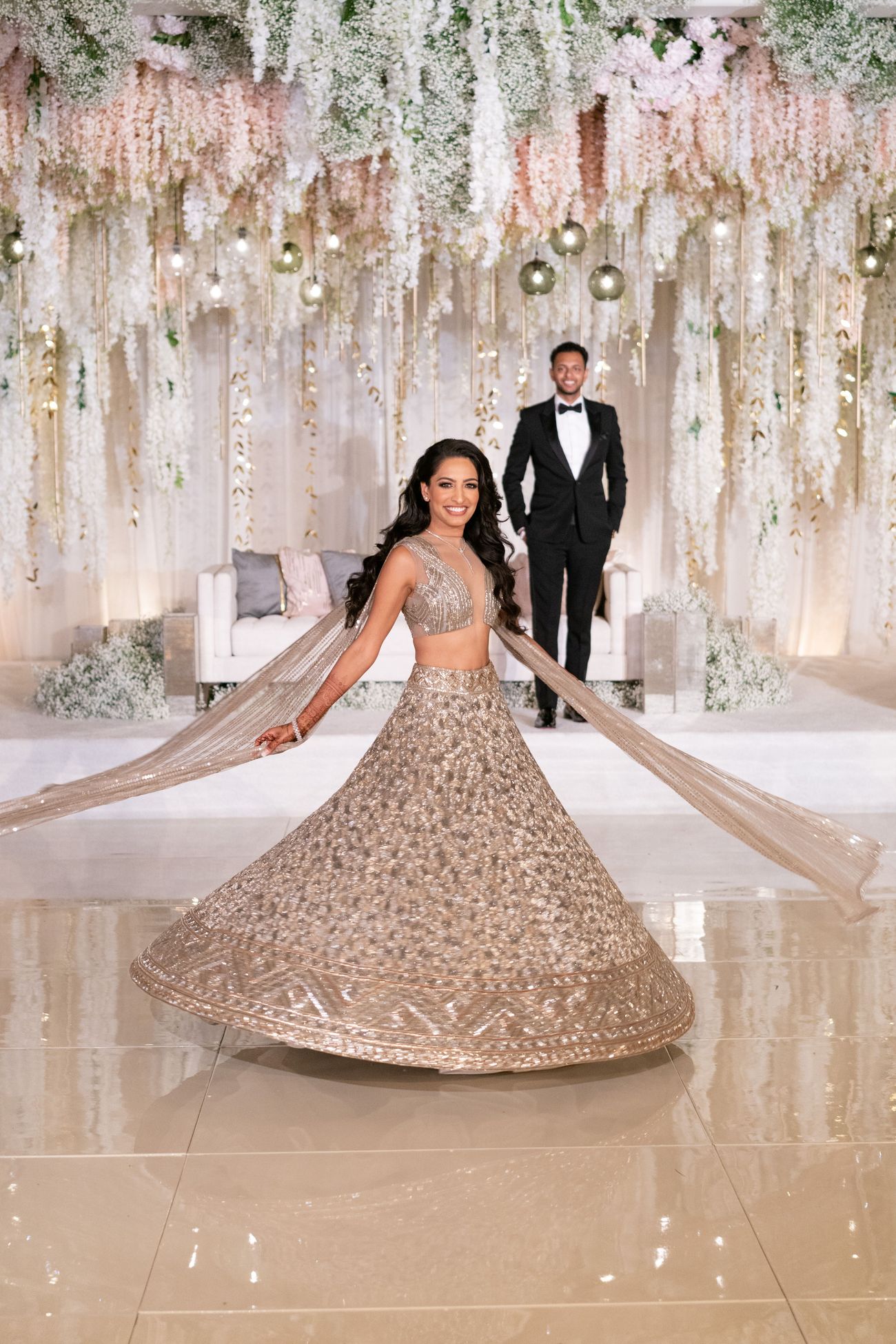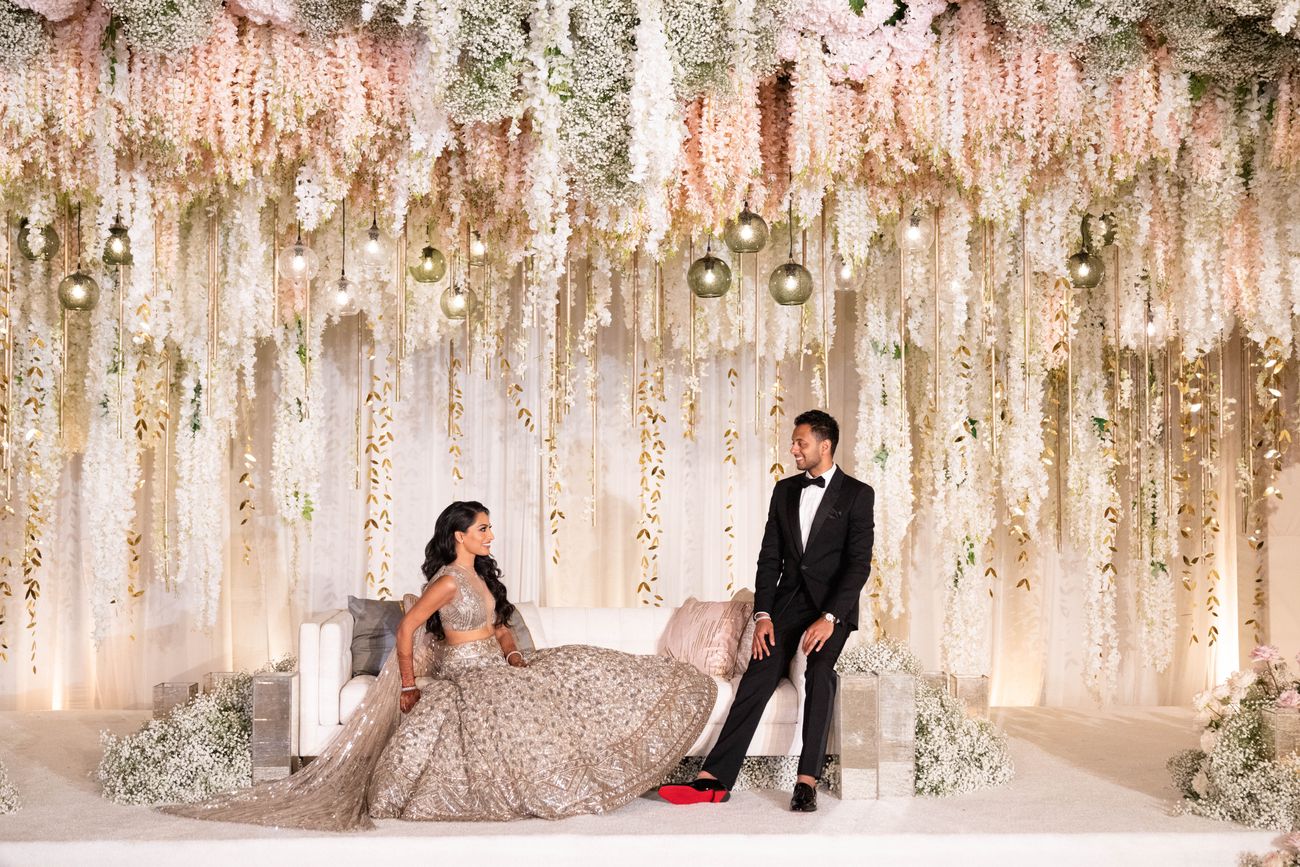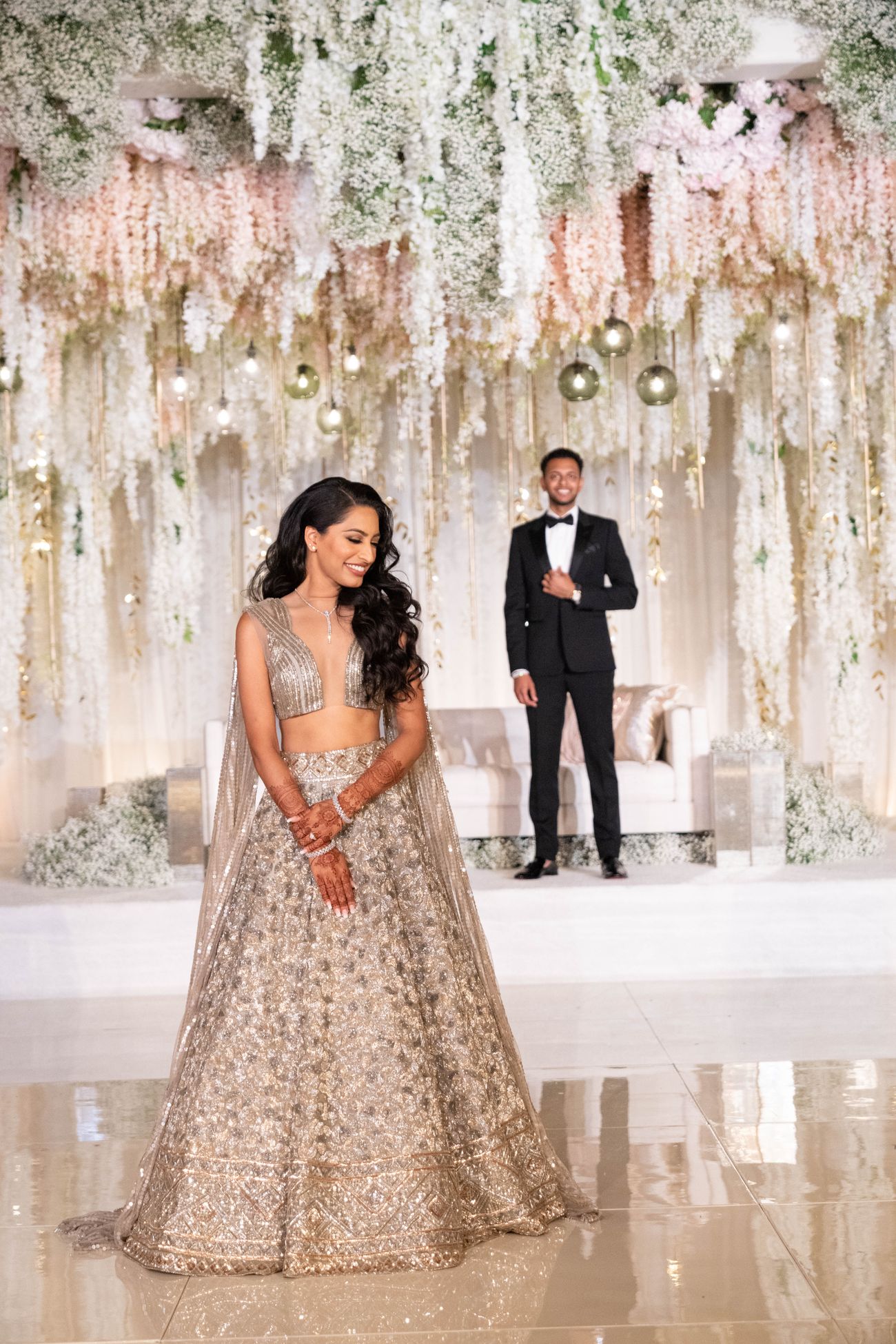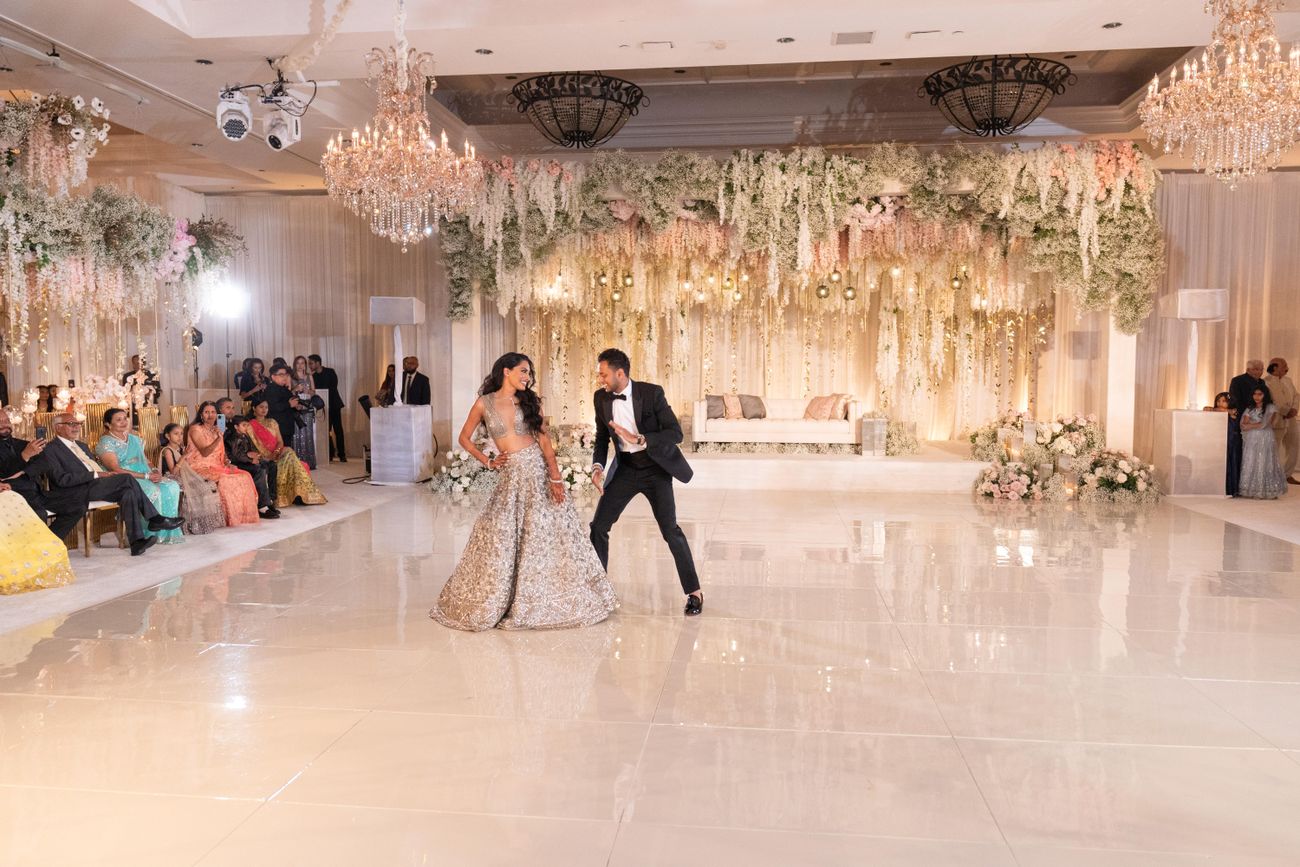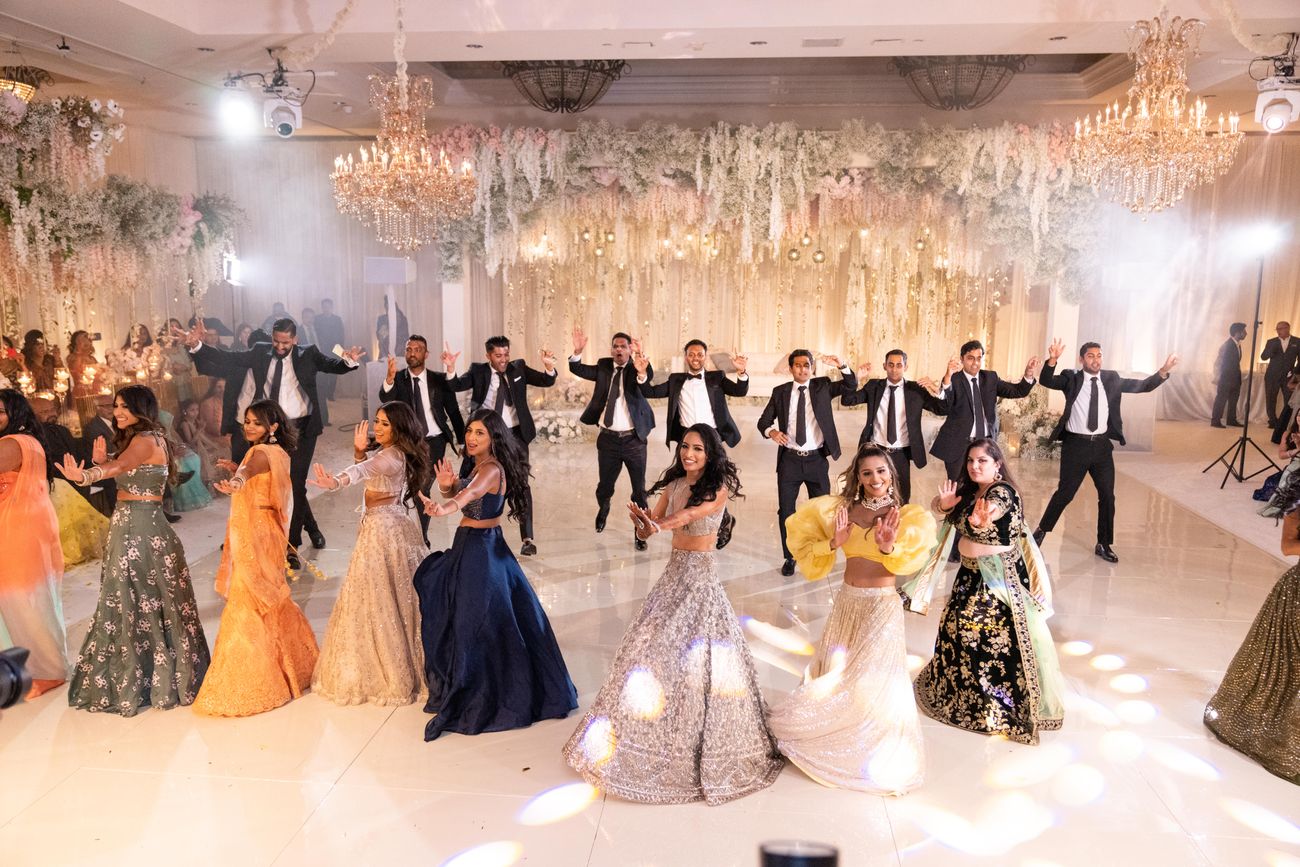 From The Bride:
Our wedding took place on July 8, 2022. Neel and I were so excited to plan this wedding. We are both the first kids from each of our families to get married so we knew we would be having a big wedding. Our vision for the wedding was to make each event memorable, personalized, and unique. However it was even more important for us to enjoy all the events we put so much work into planning. As far as décor, we wanted each event to be timeless and modern. We chose to use colors that matched with our attire but also photographed well. Neel and I are very social and love to travel and try new things. We tried to bring this aspect of our personality to life with our décor. Our main goal was to have an outdoor wedding with an ocean view. Living in southern California we wanted to make sure our guest got to experience the amazing weather and ocean views we love about California. Our wedding was outdoors at Waldorf Astoria Monarch Beach which has an amazing garden and golf area with a beautiful ocean view. We decided to do our wedding and reception separate days to allow us and our guests to enjoy the wedding but also have some downtime to explore the area. This made things easier for us as far as not having to rush, getting to take the pictures we wanted, and being able to enjoy the getting ready process. Our reception look was timeless and classy but with a bit of fun. We choose softer colors of cream and pink but with pops of grey. We hired dancers to help entertain as well as a violinist who would be playing to some classic Indian songs. We chose to have a large dance floor with a cascading floral backdrop.
About WedMeGood
The WedMeGood App was great for fashion and decor inspiration. The site shows past weddings and gives current brides unique ides they can incorporate into their own weddings. They also have checklists for tasks to accomplish and timelines of when they should be completed. WedMeGood helped me stay organized with my own planning such as wedding week outfits, jewellery, makeup looks, and timely fittings.
Vendor Reviews
Venue: Waldorf Astoria Monarch Beach Dana Point
Great venue with amazing ocean views. The hotel has large rooms great for families and a private beach for their guests.
Makeup & Hair: DolledupbyLulu
Lulu is such a talented hair and makeup artist. She will work with the brides vision but also input her own opinions to make the bride and her look unique. She knows how to work with all types of skin tones. Lulu and her team did the makeup for myself, my mom, and my entire bridal party. They were all friendly and on time. She did a great job easing my nerves and giving me the perfect soft glam look for the wedding.
Wedding Planning: Elegant Events
We worked with elegant events through the whole planning process. Since they have been in the southern California luxury wedding industry for 20 plus years all the planning was very organized. They were great at understanding our vision and finding the right vendors to make our vision come to life. Seema and Nutan auntie are so organized basically everything went flawlessly wedding day. They had detailed timelines for myself and the groom as well as the parents and bridal party. Seema was not only our wedding planner but also became our great friend. By having two team members they were able to delegate the tasks and make sure no detail was forgotten. All the guests were so amazed at the wedding and reception decor. Would highly recommend Elegant Events for any high end wedding. They are well organized and know how to handle larger weddings.
Decor: Eucharis Studio
Dodie was absolutely amazing. I was so particular on the colors and decor for the wedding and reception. Dodie is a artist at heart so for all the decor he made detailed mock up pictures and he even went a step further and did a real mock up with florals and table settings to ease our nerves. He went above and beyond for the wedding reception by adding extra florals and detailing. I could not say it enough- our reception was perfect. All the colors coordinated and so many guests were amazing at the overall esthetic. So thankful we trusted him because he brought our vision to life and also made sure our decor was unique and timeless.
Groomwear: Sabyasachi
Smita from the Mumbai store helped my husband pick out two sherwanis for the wedding. We couldnt choose between two Sabya designs so we got two. He ended up wearing one for the baraat and then changed into another for the wedding ceremony. She helped make sure the colors would match, the outfit fit, and that all of our order was received on time. She was always willing to help and facetime when we needed. Highly recommend her if you are purchasing from the Mumbai store.
Vendors: Photography: Duke Images; Venue: Waldorf Astoria Monarch Beach Dana Point; Makeup & Hair: DolledupbyLulu; Bridal Outfits: Sabyasachi, Manish Malhotra, Amit Aggarwal; Henna Artist: Henna by Tulsi; Groomwear: Sabyasachi; Wedding Planning: Elegant Events; Decor: Eucharis Studio