Sabyasachi Lehenga Price : So, How Much Does a Sabya Lehenga Really Cost?
BY Sakshi | 07 Jul, 2017 | 66581 views | 4 min read
I know, you see sooo many brides rocking a Sabyasachi lehenga on their wedding, and you're going to want to wear one too. But if we ask the prime reason why you're not going to wear one, prompt is going to be your reply- 'Do you know how much does a Sabyasachi lehenga cost?"
So we thought to address the elephant in the room and get to the point for all your curious souls out there.
Sabyasachi Lehenga Cost 101: All You Need To Know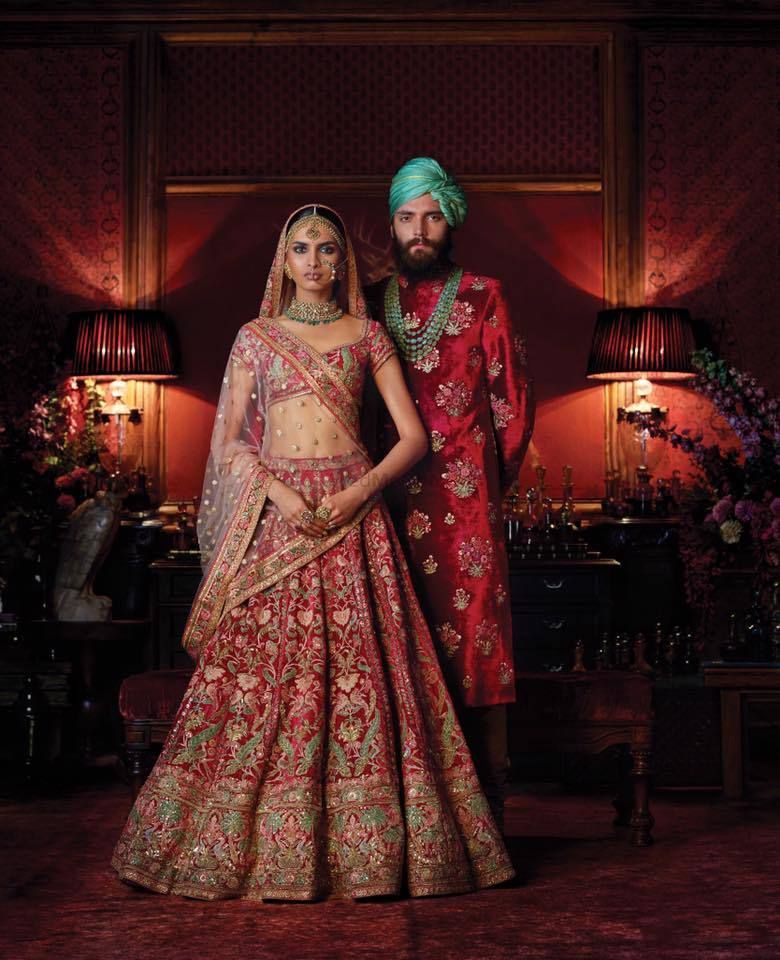 So, how much does an original Sabyasachi lehenga cost in 2019?
Getting straight to the point, a Sabyasachi lehenga cost anywhere between 1.2 to 6 lakhs. The starting price ranges between Rs 1- 3 lakhs, which are simpler lehengas, better suited for smaller functions like the Mehendi or the Sangeet.
If you are looking for a more 'bridal'  Sabyasachi lehenga cost can vary anywhere between Rs 3 to about 7-8 lakhs. These are stocked mostly in their flagship stores and in the multi-label stores like Aza and Ensemble. So yes, no bridal Sabyasachi lehenga cost will be less than about 3 lakh rupees. The heavier work you opt for, the more the rate goes up. There are also some couture pieces which go up to 25 lakhs.
Where to buy a Sabyasachi lehenga Online?
While there are numerous stores claiming to sell a Sabyasachi design but to buy an original Sabyasachi lehenga, these are the websites that you need to check out:
Looking To Inquire Sabyasachi Lehenga Price?
Out of the three brands named above, you will not be able to find Sabyasachi lehenga price on Pia Ka Ghar and The Grand Trunk websites.  You will have to contact them for price information. Instead, head over to Carma Online- your best bet to know everything- from Sabyasachi lehenga price to details of the fabric. Apart from online, you can also head on to any of these Sabyasachi flagship stores to enquire about Sabyasachi lehenga price and even shop your dream wedding lehenga:
Kolkata
SABYASACHI, P- 545 Lake Road, Kolkata- 700029
Bridal Store, 80/ 1 & 2 Topsia Road, Kolkata – 700046
New Delhi
Sabyasachi Couture, Kutub Serai No 6-8, One Style Mile, Kalka Das Marg, Mehrauli, Near Qutub Minar, New Delhi- 110030
Mumbai
Sabyasachi Couture Pvt. Ltd, Ador House, 6K Dubash Marg, Opp: Lion Gate, Kalaghoda, Mumbai- 400001
Hyderabad
Sabyasachi Hyderabad, Plot No. 14, Road No. 10, Banjara Hills, Hyderabad - 500034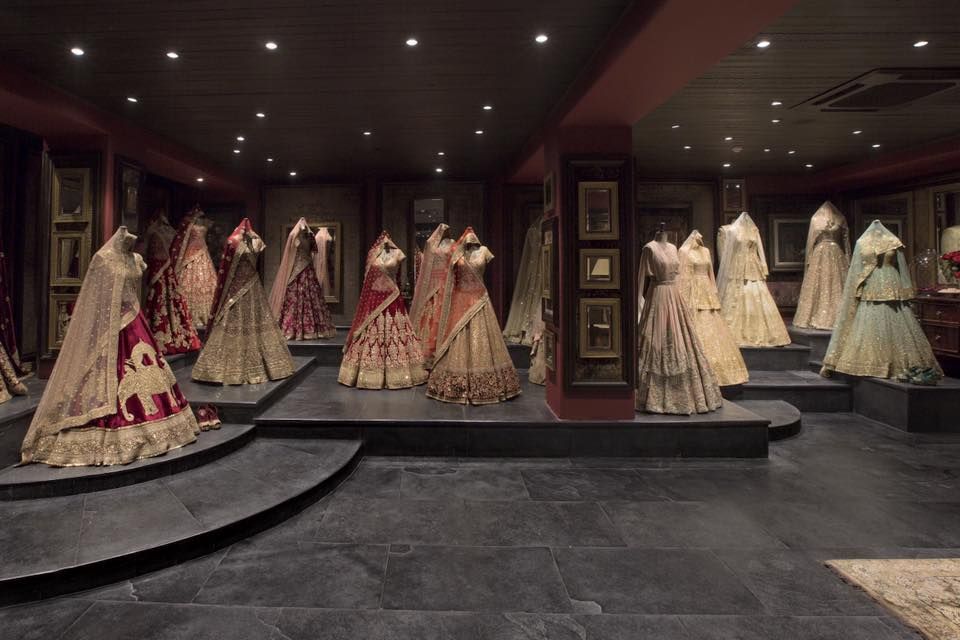 What is the waiting time for a Sabyasachi lehenga in 2019?
The waiting time for a Sabyasachi lehenga is usually 2 and a half months, right from start to finish. In case you plan to get your Sabyasachi bridal lehenga customised then you'll be needing alot more time than this. So make sure you plan accordingly!  The lehenga is curated as per your frame and size.
What about customised lehengas?
Customising a lehenga obviously costs more. But the reason you see so many brides sporting the same Sabya lehenga on their wedding is because getting Sabyasachi to customise a lehenga is not an easy task. Altering it to your size is obviously done, but getting the same lehenga in a different shade or with different work as per your choice usually doesn't happen. Requests can be made, but since Sabyasachi Mukherjee approves every customisation himself, it's rare to get it done.
Can you mix and match and make a lehenga?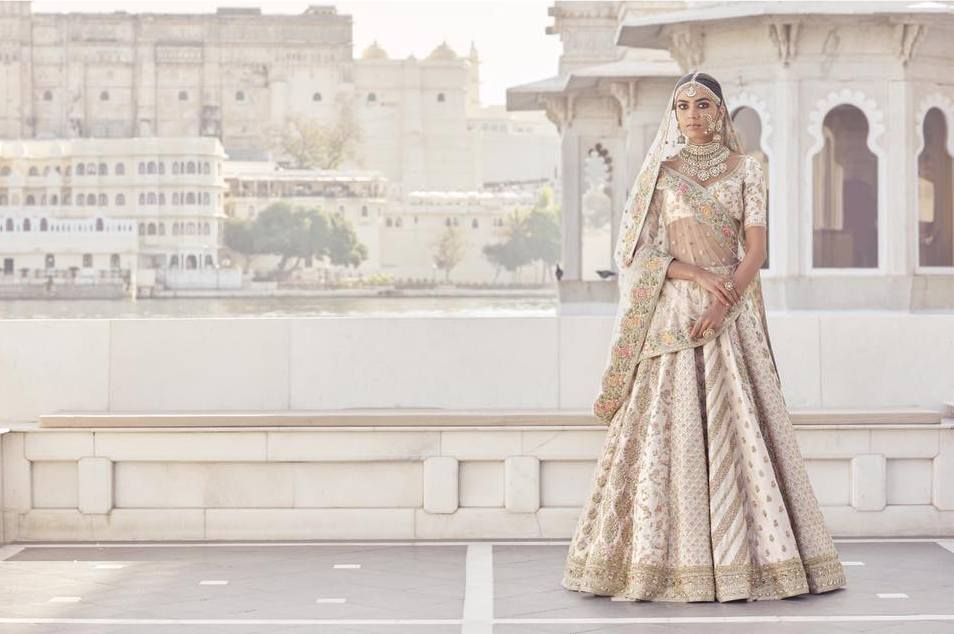 That's another no. You cannot mix and match the choli of one lehenga to the dupatta or skirt of another, unless and until you're buying three different lehengas. Sabyasachi lehengas are curated pieces, and there's no mixing and matching allowed.
Rent a Sabyasachi Lehenga in 2019
Well not every bride who dreams to wear a Sabyasachi lehenga has the budget to buy it. And when you can't buy it, you rent it. The designer lehengas are now available on rent and this is the perfect solution to save some money while you wear your dream Sabyasachi lehenga. There are many online and offline stores that rent out designer bridal lehengas. We have listed down a few for you to check out.
Now that you have a better idea about Sabyasachi lehenga price and more, does your dream lehenga seem more achievable now?
Also, check out the latest bridal wear trends for more ideas and inspiration!
Find vendors in your budget for all your wedding needs, Download the WedMeGood app now.