#WMGHowTo: Mehndi Decor At Home For An Intimate Wedding!
BY Sakshi | 24 Jul, 2021 | 4226 views | 7 min read
Having a small cute and intimate Mehendi at home? Then you can choose to keep decoration for mehndi relatively simple, but not plain! You can hire a decorator or planner to do up your space, or even DIY a few elements,  it always adds a personal touch and can save you some big bucks too. So, here are some amazing home mehndi decoration inspiration for your upcoming Mehendi which are easy, peasy, breezy and pretty! While there's a lot of ideas by professional planners, you can get some cool inspiration for low budget homemade simple mehndi decorations at home too. 
Here are all the ideas you'll get in this article:
Seating ideas and inspiration 
Backdrop and Photobooth Ideas
Centrepiece Ideas
Personalised Decor Elements Ideas
Quirky Decor Ideas
Seating Ideas and Inspiration
Mehndi seating has really caught up in recent times- the bridal seat or the couple seat looks really special, with or without a backdrop, and it does lend a special touch to the photos, especially when the ceremony is happening at home. If you're looking for seating decoration for mehndi, then here goes!
This gorgeous setting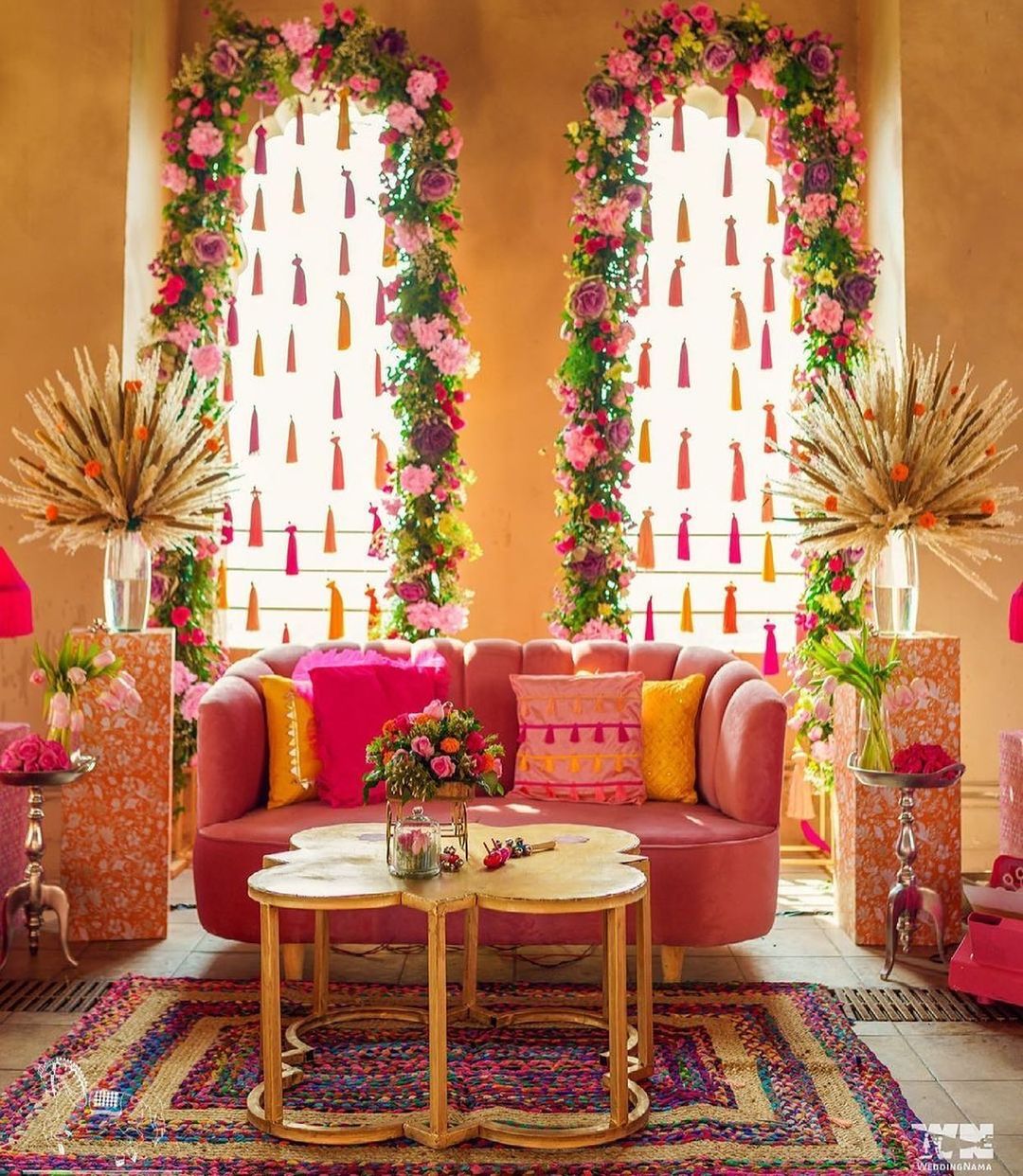 Image via WeddingNama★ 5 ; Decor by Aash Studio ★ 5
How pretty is this setting which can be done in your living room? Love how the windows are enhanced with the florals, the dry florals combined with the fresh ones, and the happy vibe it all lends!
Neon Signage and Florals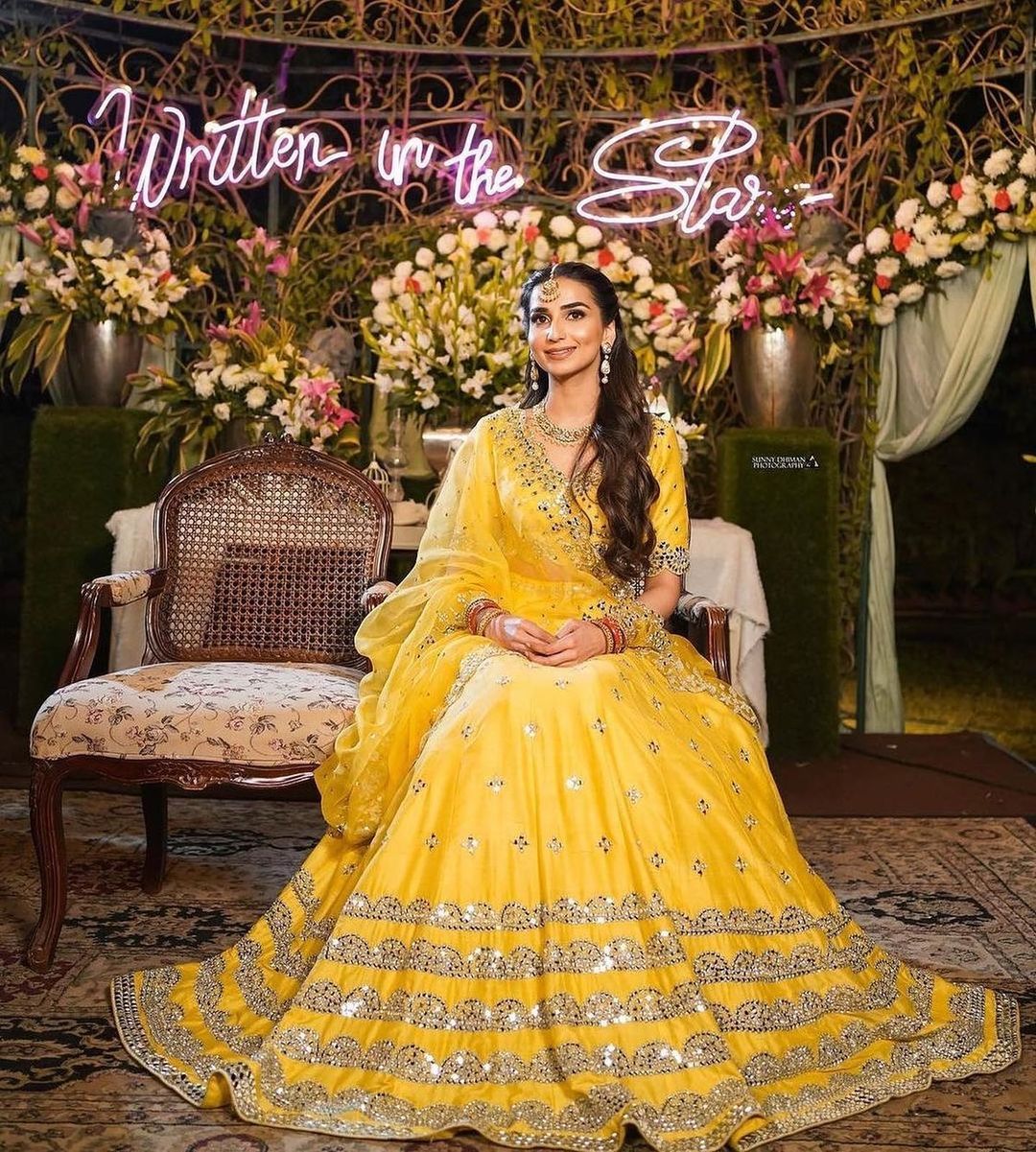 Image via Sunny Dhiman Photography★ 4.9
Love how the neon sign stands out against the pretty cane chair and the florals- just the right amount of pop to deck up a home ceremony!
Macrame cushions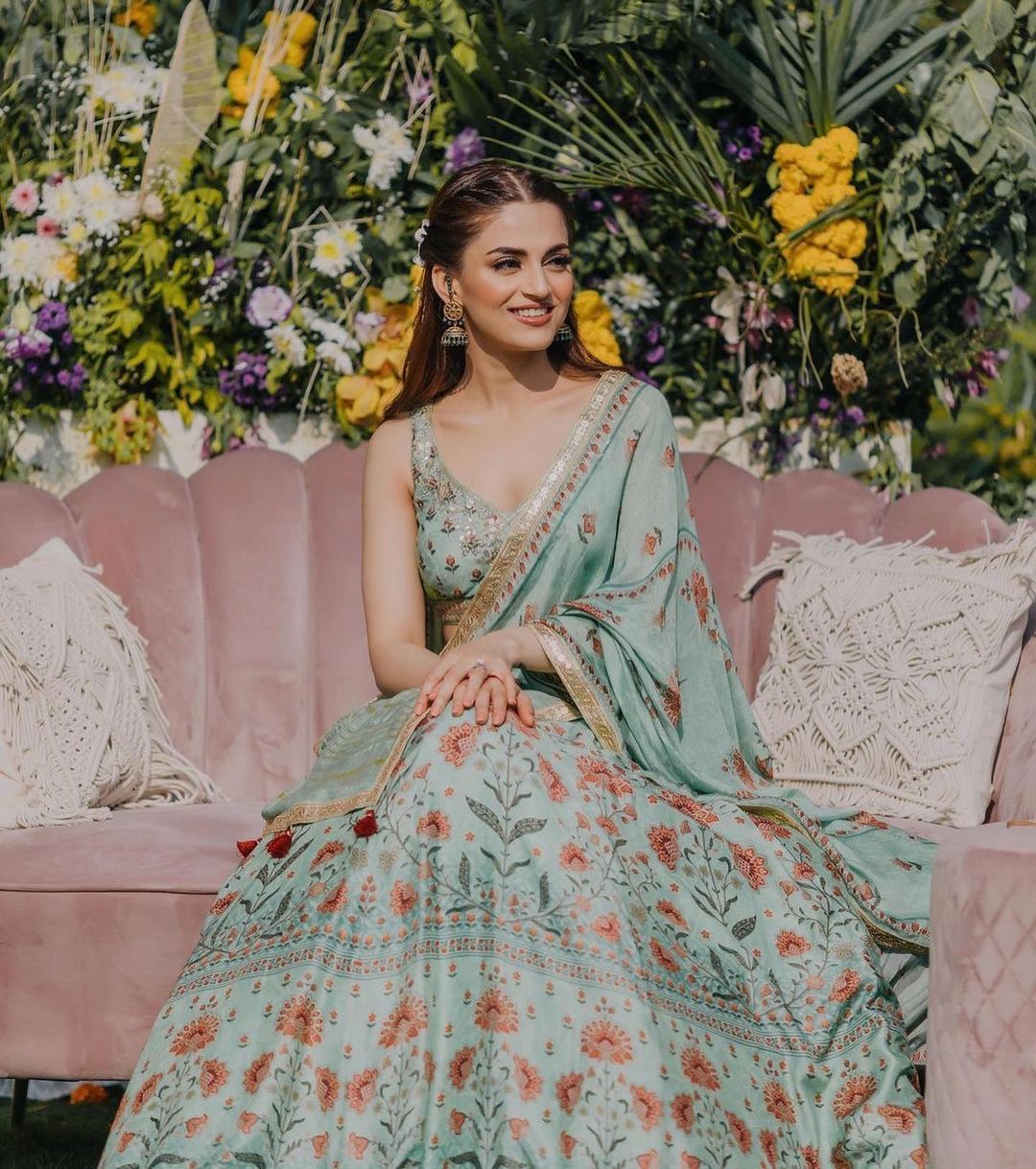 Image via Cupcake Productions★ 4.8
Love the Boho vibe those pretty cushion covers are lending- and velvet upholstery also adds a very luxe look to the bridal seating, and is super trending these days!
A riot of bright colours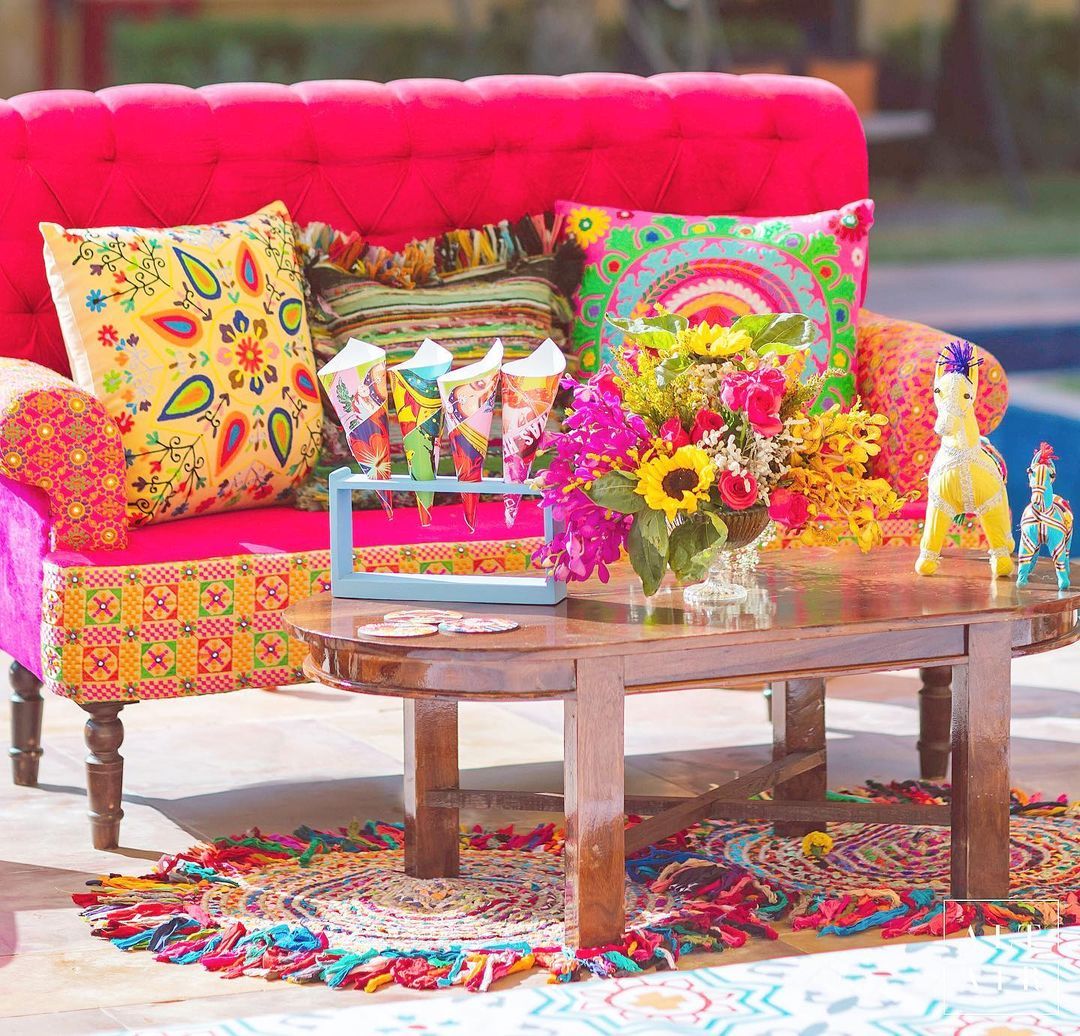 Image via Altair★ 5
How happy does this setting look? So many colours and we love how everything adds a pop to the bridal seating. Choose a bright sofa to mix and match with bright cushions, flowers and knick knacks on the table in front of you!
A decked up floral swing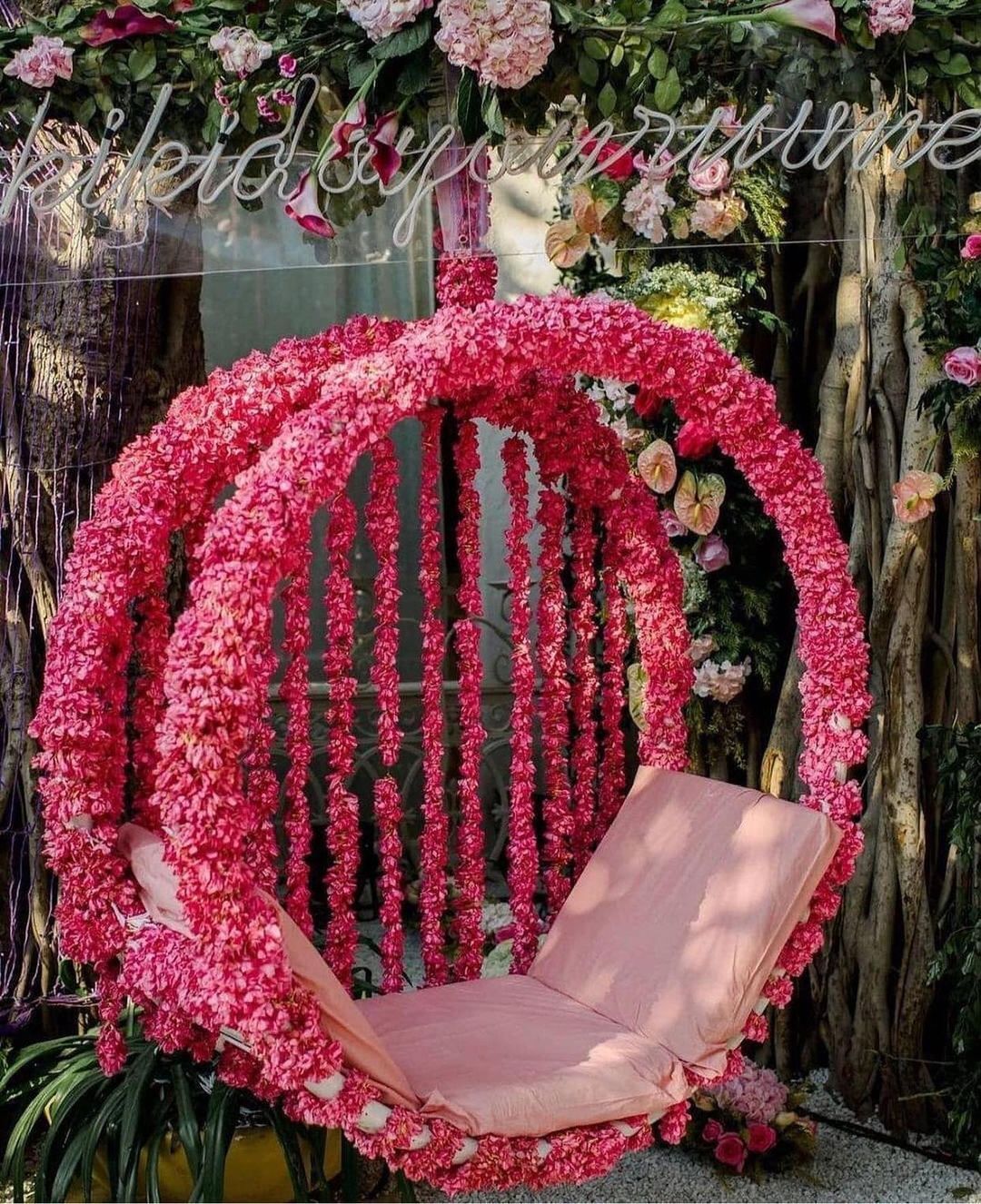 Image via Sam & Ekta - Sonder Frames★ 4.7
If you already have a swing at home, then get it decked up to make a gorgeous bridal seat for the mehndi at home. Looks special, and is pretty simple to pull off. 
A traditional swing looks pretty too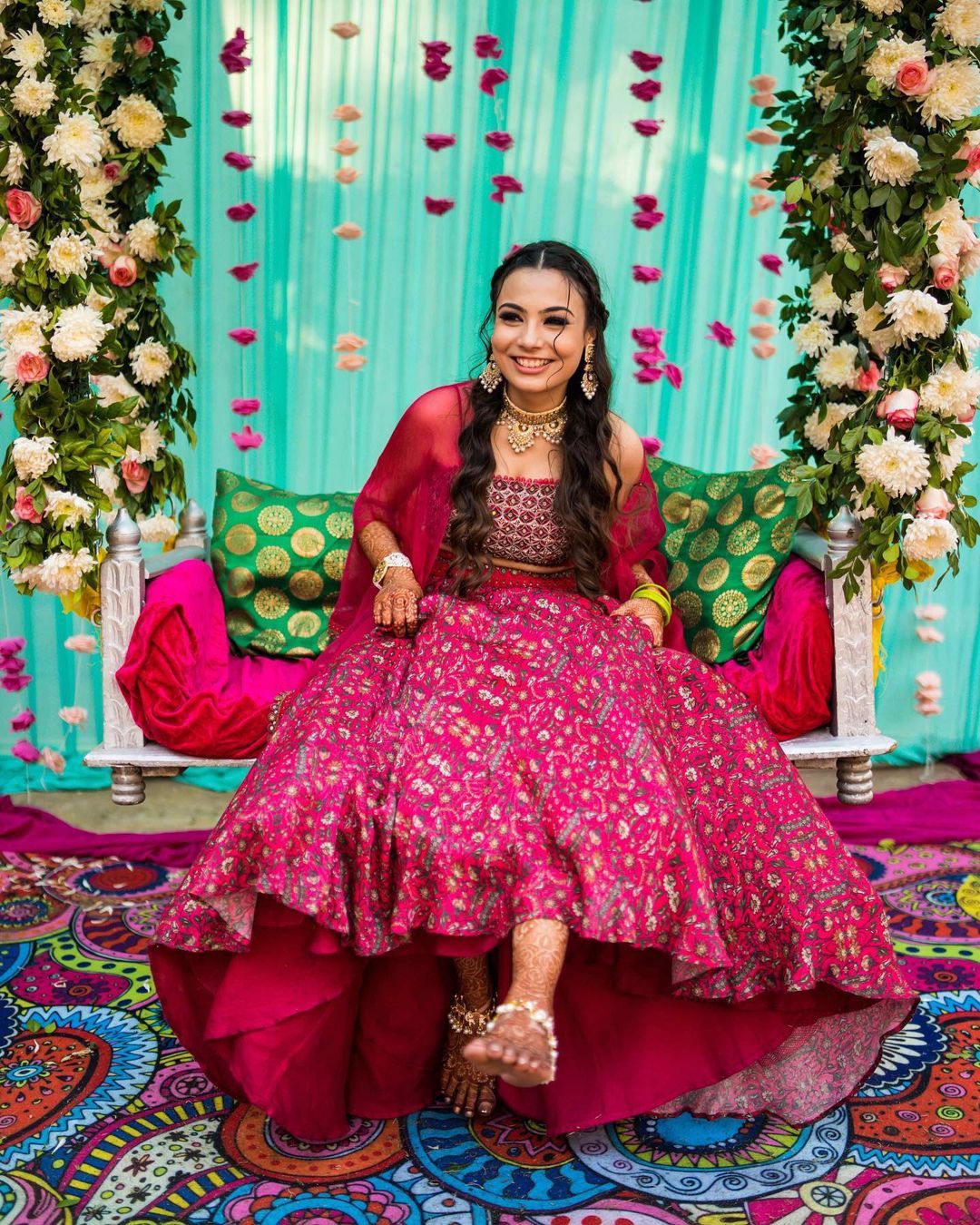 Image via Happyframes★ 4.9
Traditional swings look pretty too- when done up with the right florals, adding a pretty backdrop makes it even more lively!
Cane accents everywhere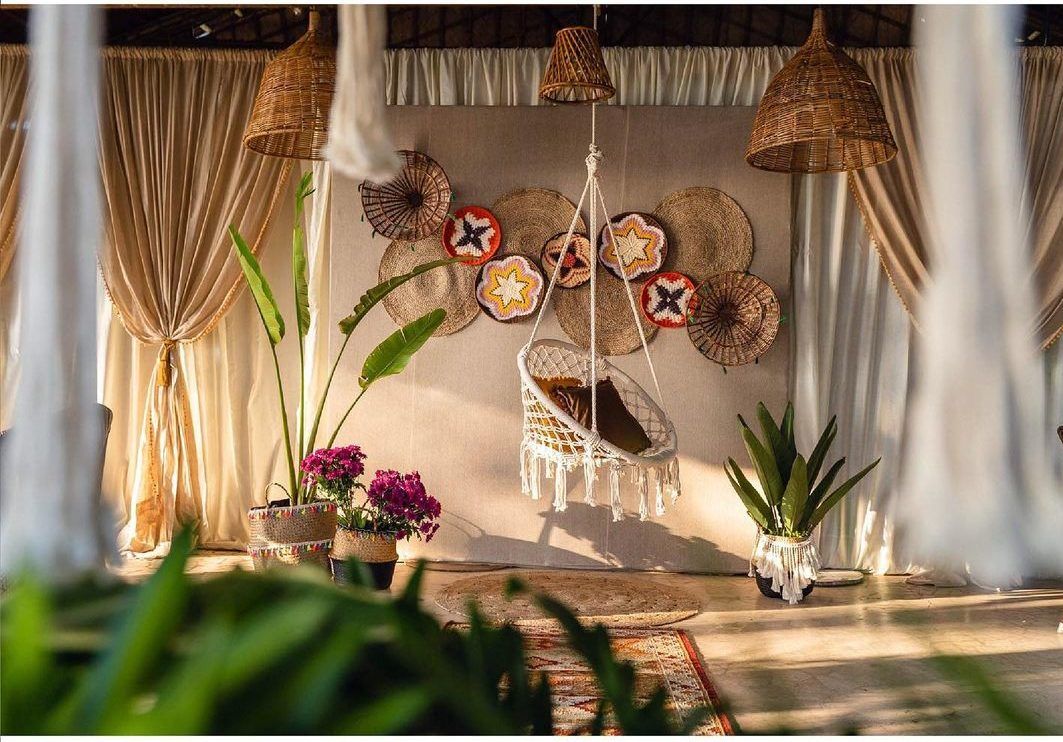 Image via The A-Cube Project★ 4.8
How chic does this setting look? Love the macrame swing and the cane baskets that have all been suspended!
Just one colour theme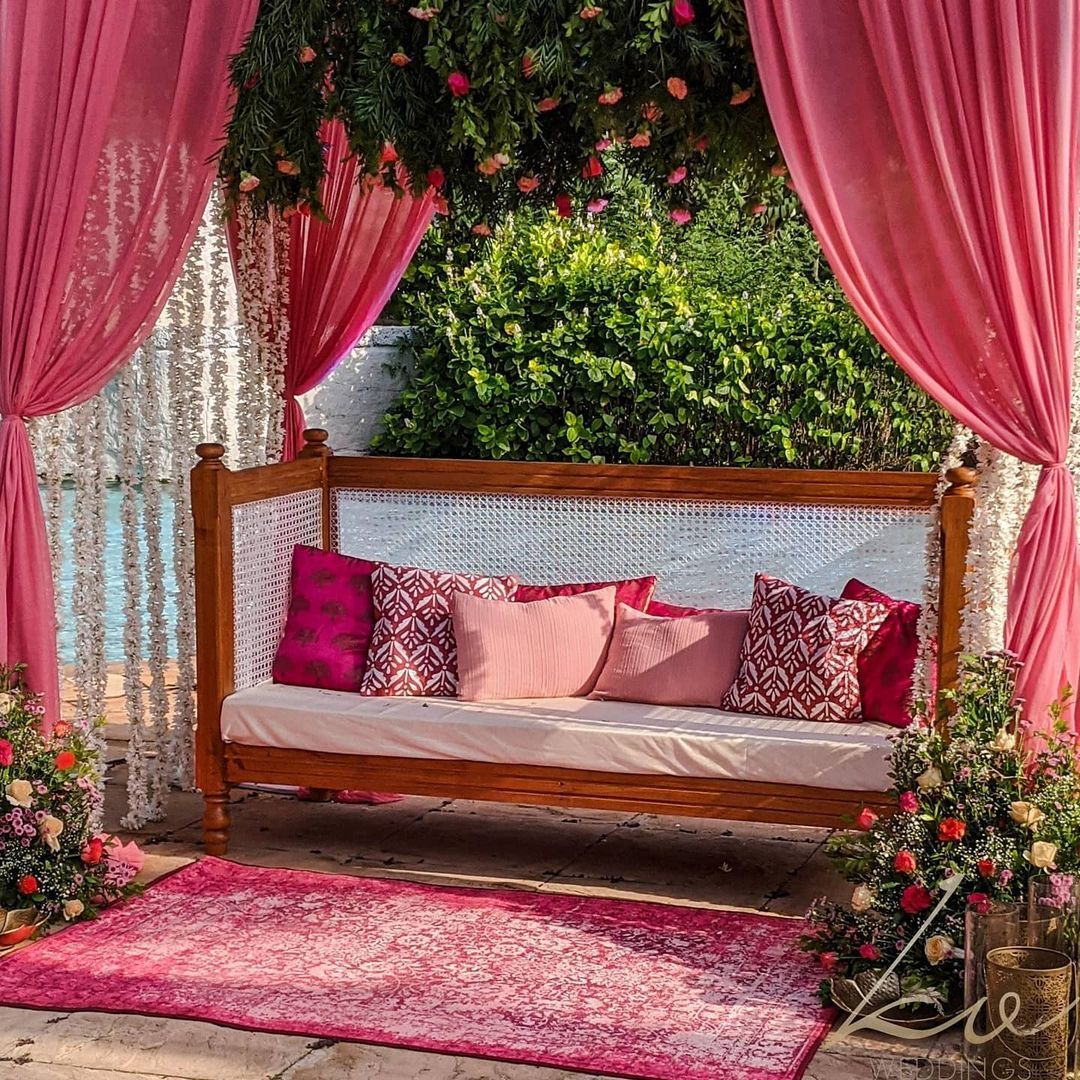 Image via KV Designs & Decor★ 4.8
Everything is pink here, but it all gels so well! Love how fresh it all looks. Take one colour and add elements of different hues in the same shade all over. 
Backdrop & Photobooth Ideas
When it comes to a backdrop for the mehendi, it can really work well for a multitude of things- make the bridal or couple seating prettier, add as a photobooth for the photos, or maybe even as a stage. Here are some pretty backdrop and photobooth ideas and inspiration for your home mehndi decoration.
Floral curtain & gota accents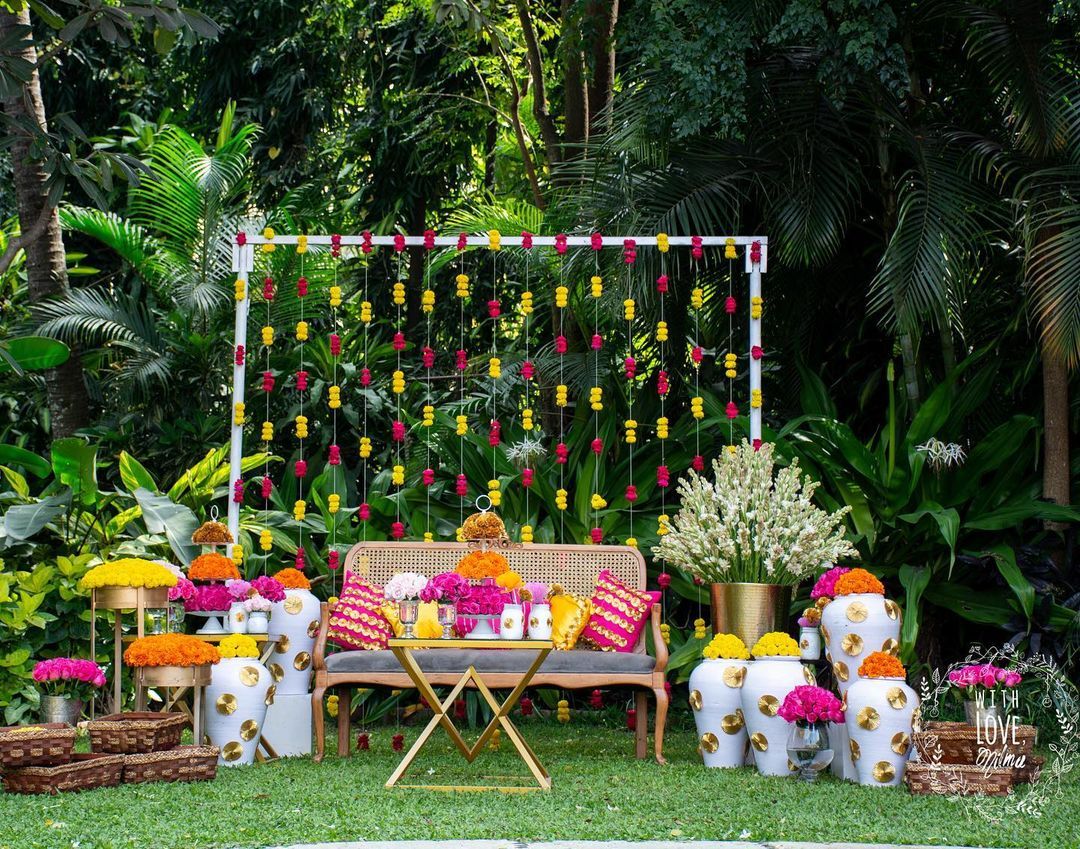 Image via With Love Nilma★ 5
A floral string curtain like that one behind looks so simple and classy! And don't miss the gota elements on everything!
Cane baskets with suspended florals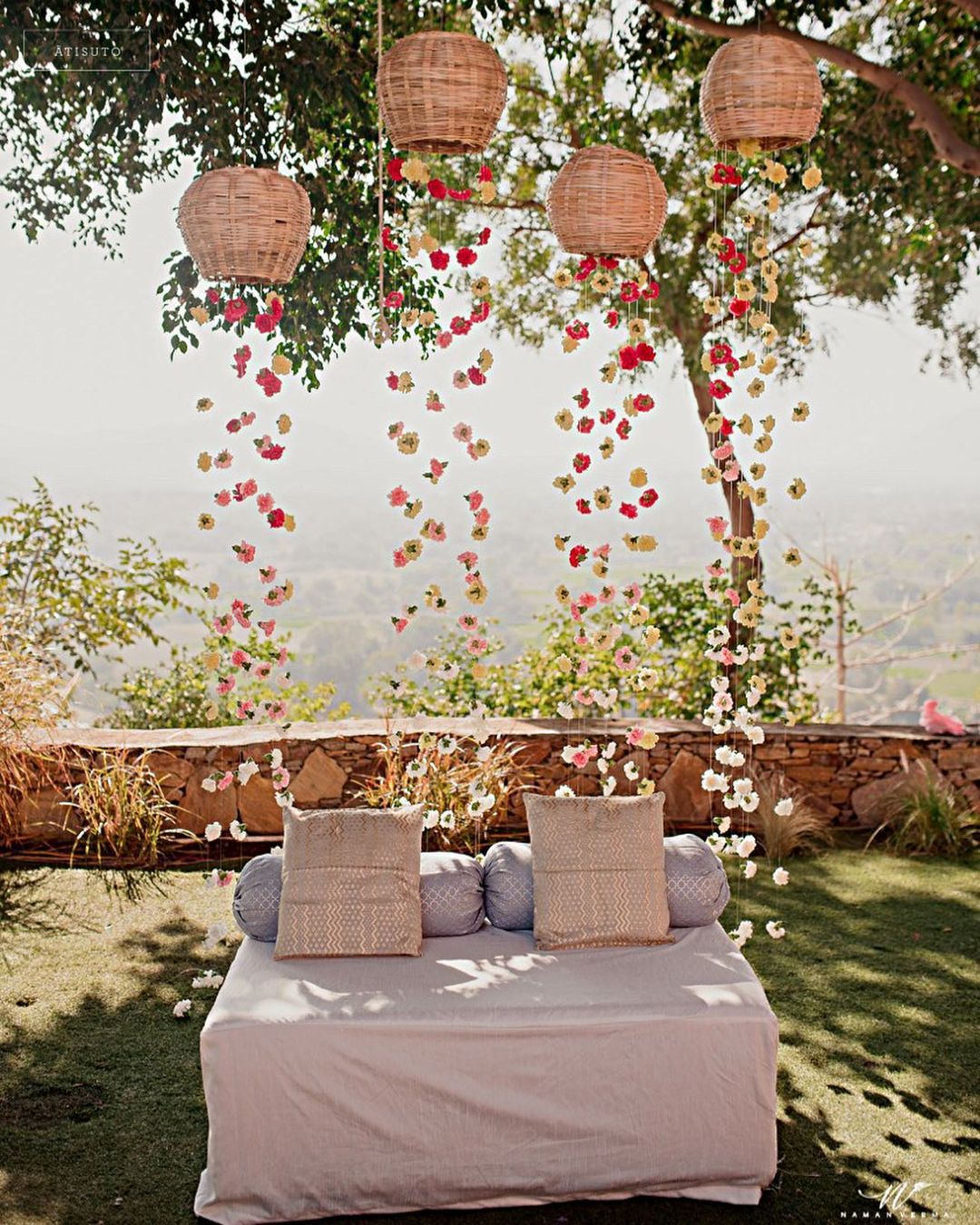 Image via Atisuto★ 4.6
Isn't that a fresh new idea? Love the simplicity of this one for a pretty garden mehendi!
Botanical Wall with florals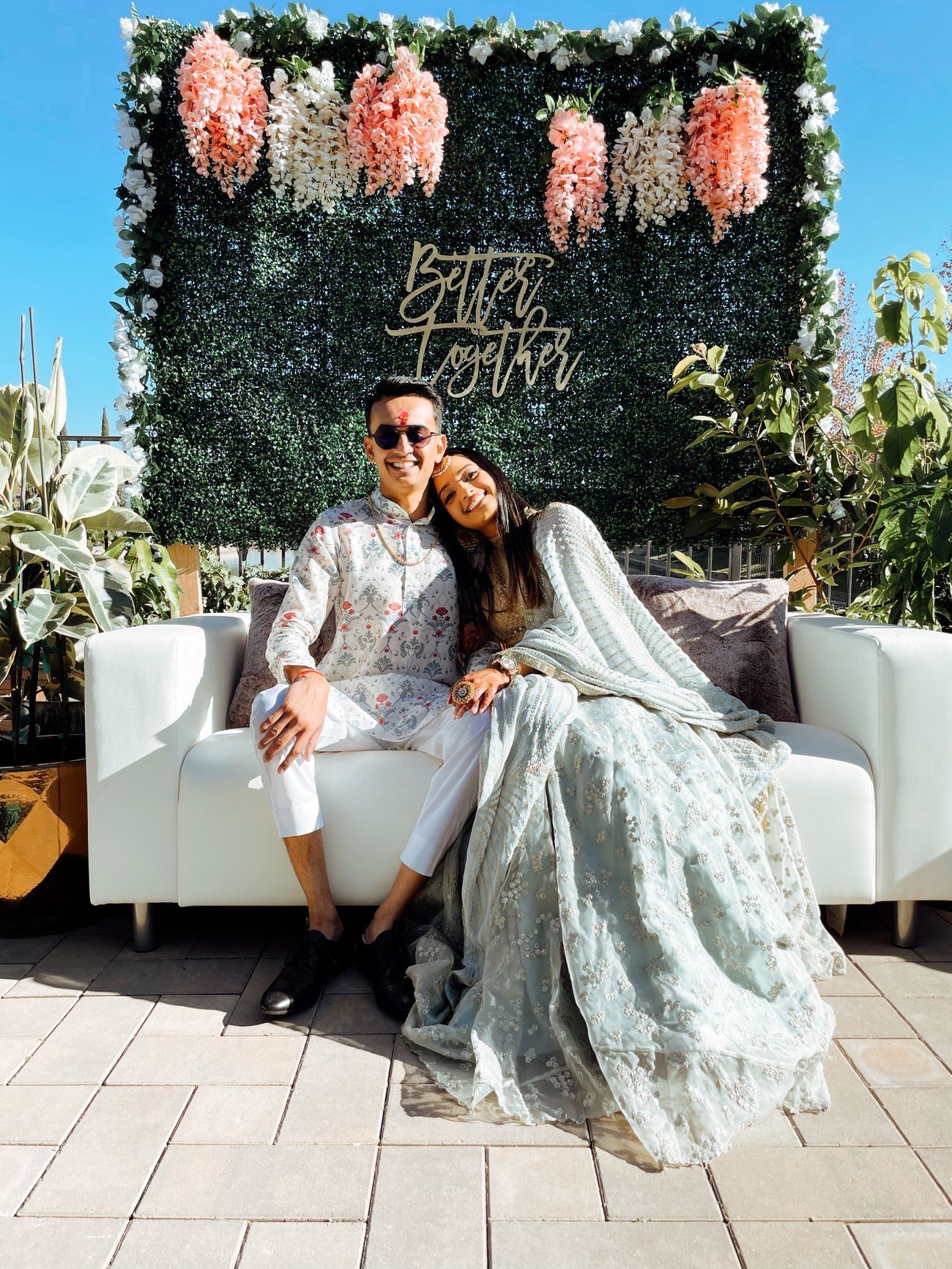 Image via Bhakti and Raunak
Readymade botanical sheets are available online, and you can do it up in a pretty way to make it pop!
Teepee cuteness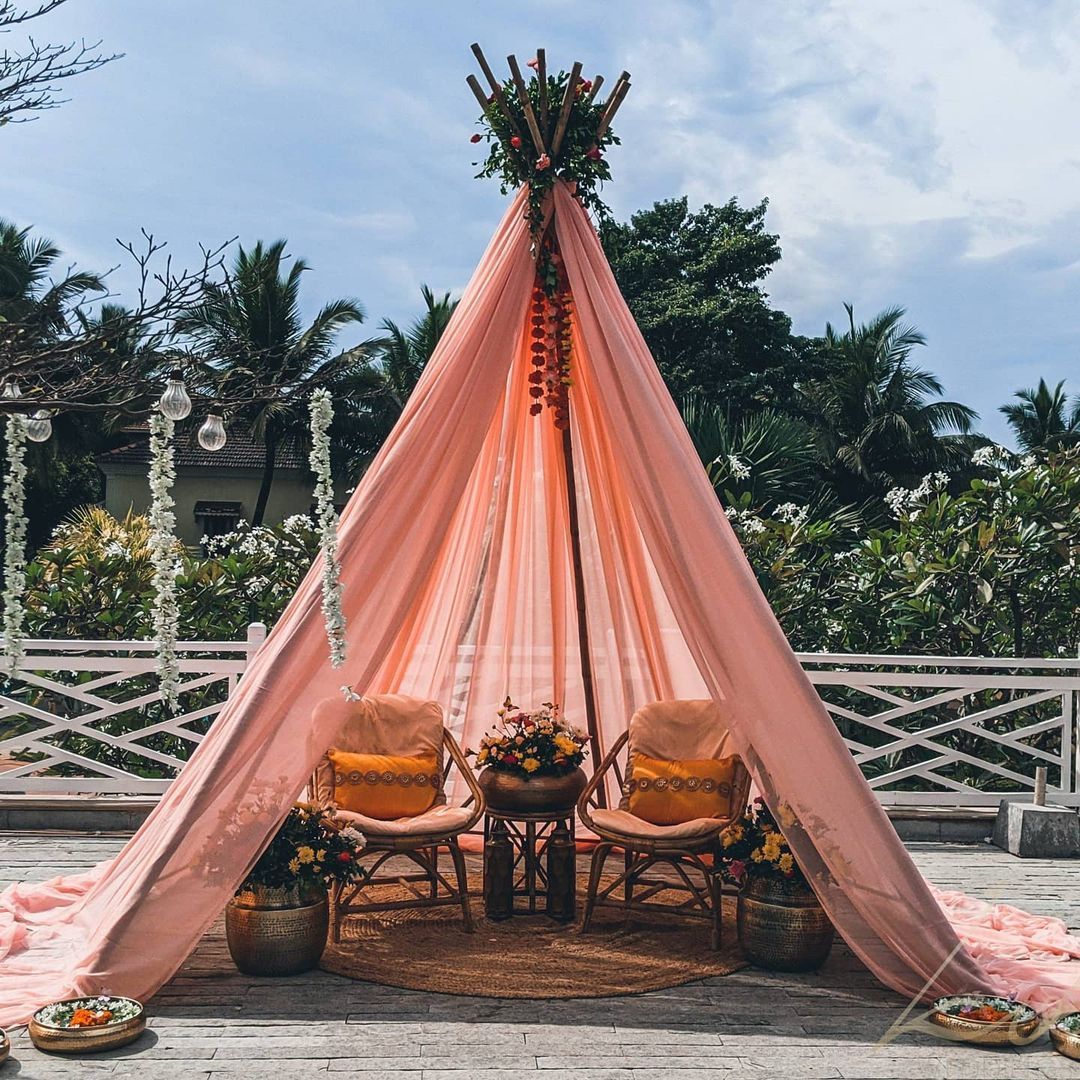 Image via KV Designs & Decor★ 4.8
Isn't that just adorable? You can try your hand at making a sturdy teepee or get your decorator to do it, and deck it up beautifully.
Just a tree with suspended decor and florals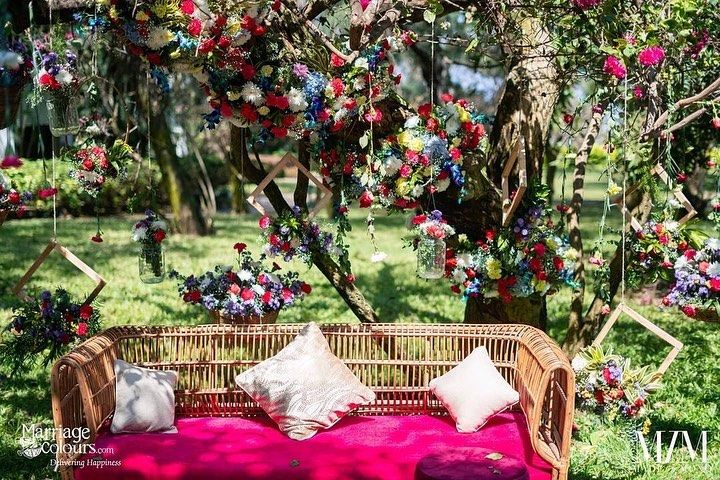 Image via Made in Mono★ 4.7 ; Decor by Marriage Colours★ 4.8
If you have a tree in your backyard, make use of it for your mehendi! Looks so nice, and there are so many things you can do for it.
Fabric strings and florals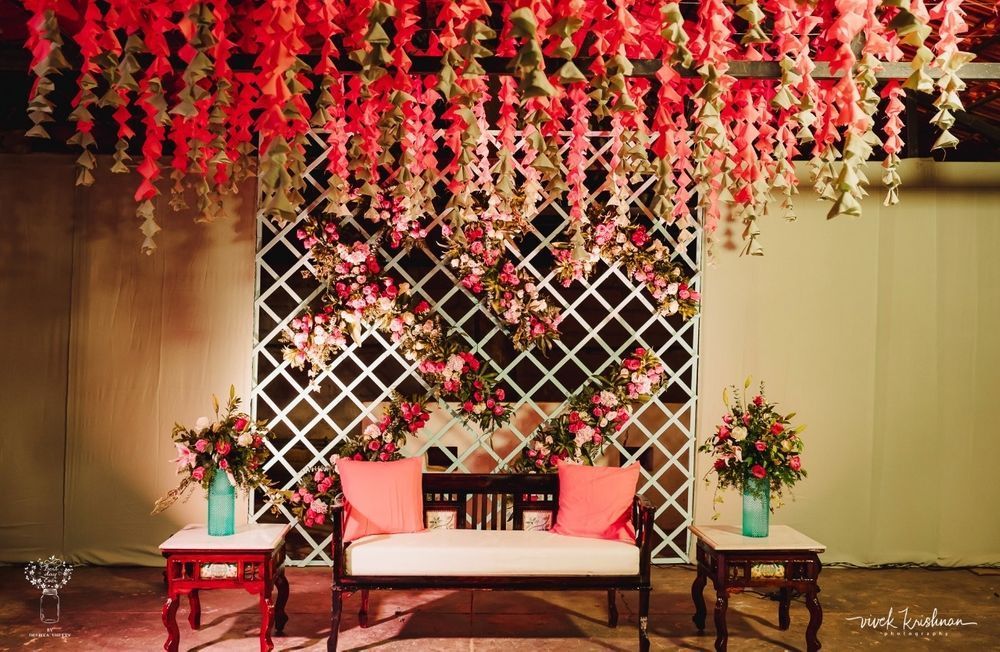 Image via Vivek Krishnan photography★ 4.9 ; Decor by Best Day Ever by Deepika Shetty★ 4.8
Matching florals all over, and pretty gota strings hung from the ceiling- so so pretty!
Floral strings and tassels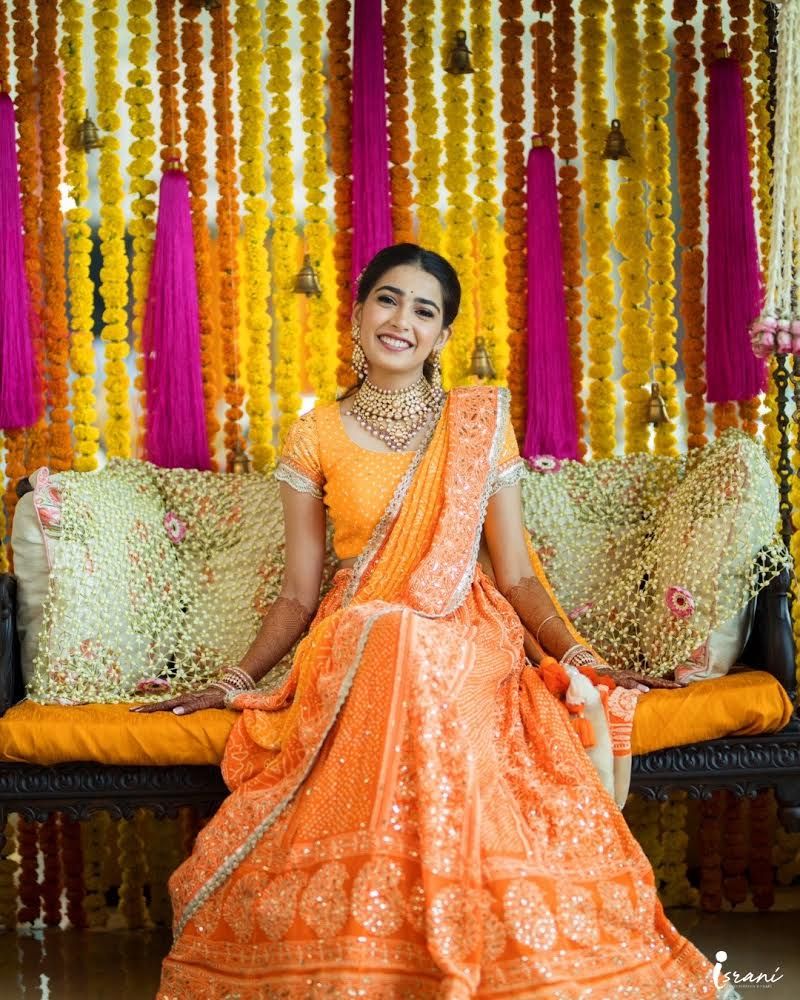 Image via Israni Photography★ 4.8
The giant tassels with the floral strings make the backdrop look simple, but so festive!
Baskets with florals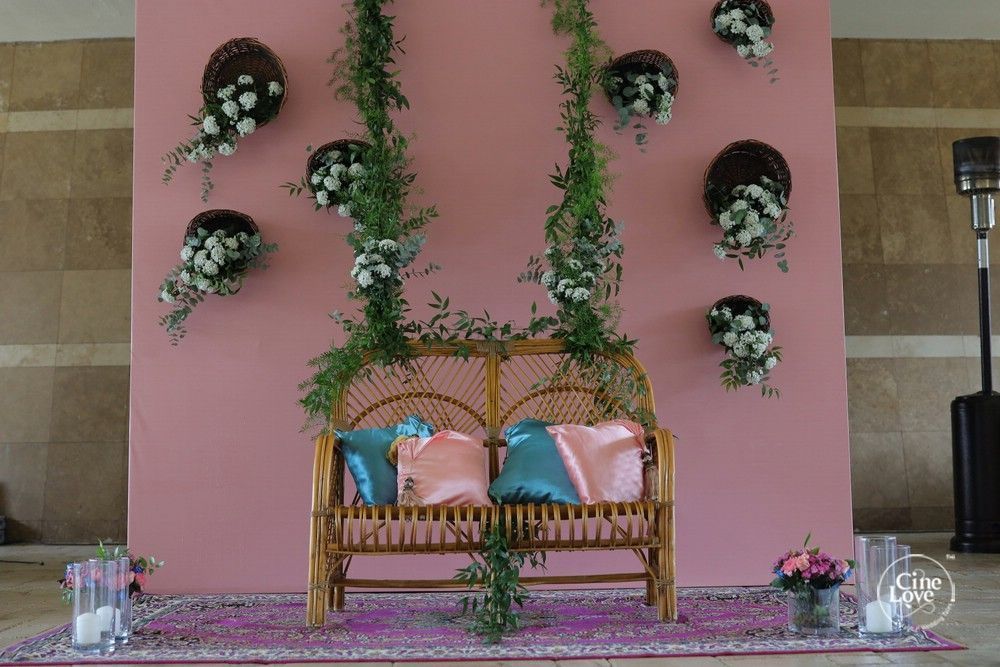 Image via Shivangi & Nishant
Such a brilliant idea, and makes the setting look simple, but so elegant!
Quirky Ideas
When it comes to mehndi home decoration, especially when you're on a budget, then there are simple but quirky elements which can add so much more to your overall decor and vibe! Here are some easy ideas!
Cushions that stand out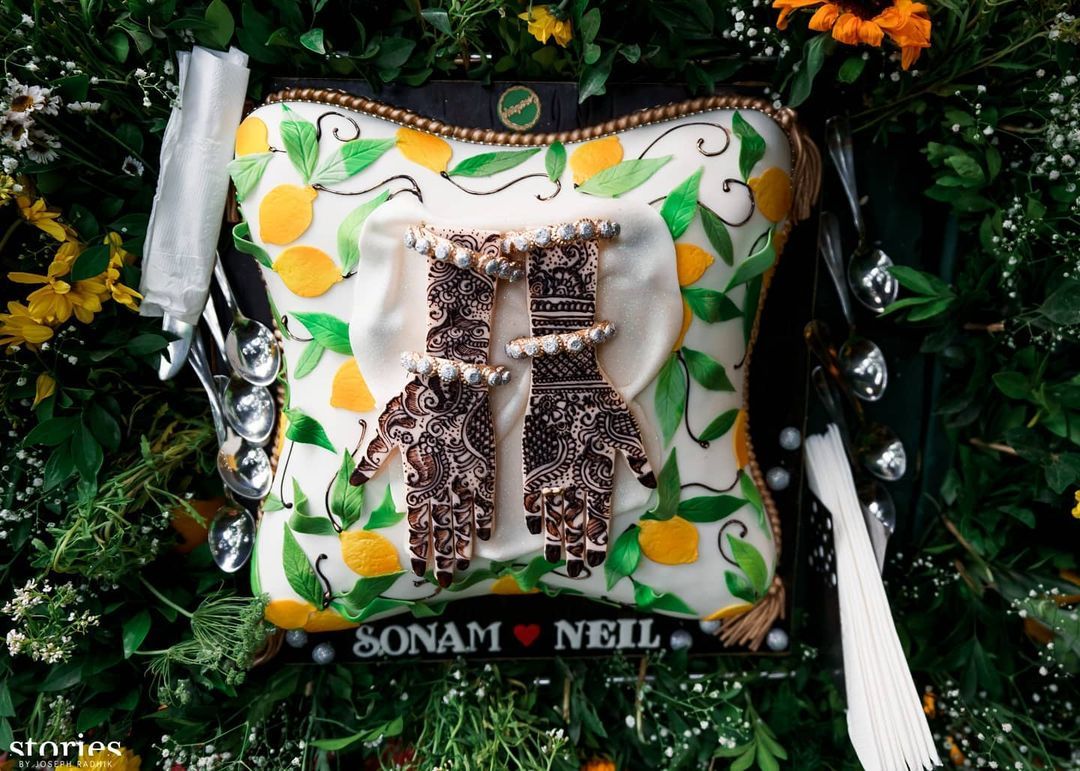 Image via fashioneiress; Decor by @devikanarainandcompany
Simpest trick in the book, which really becomes a highlight. 
Fruit bouquets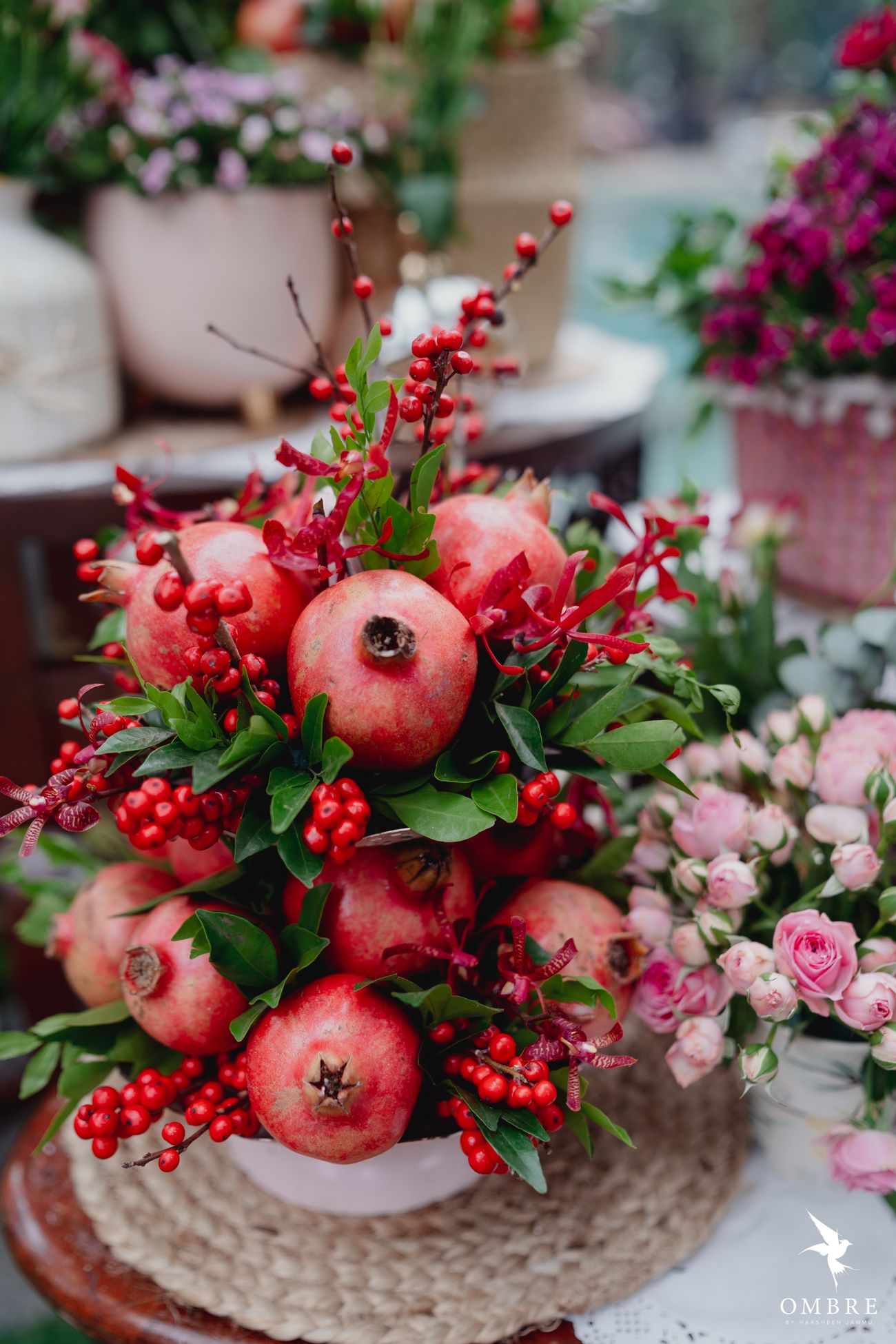 Image via Ombre by Harsheen Jammu★ 4.9 ; Decor by The A-Cube Project★ 5
Fruits in decor are really trending right now, and they are so easy to incorporate to add a freshness and quirk to the decor. So many things you can do with it!
Suspended Mehendi cones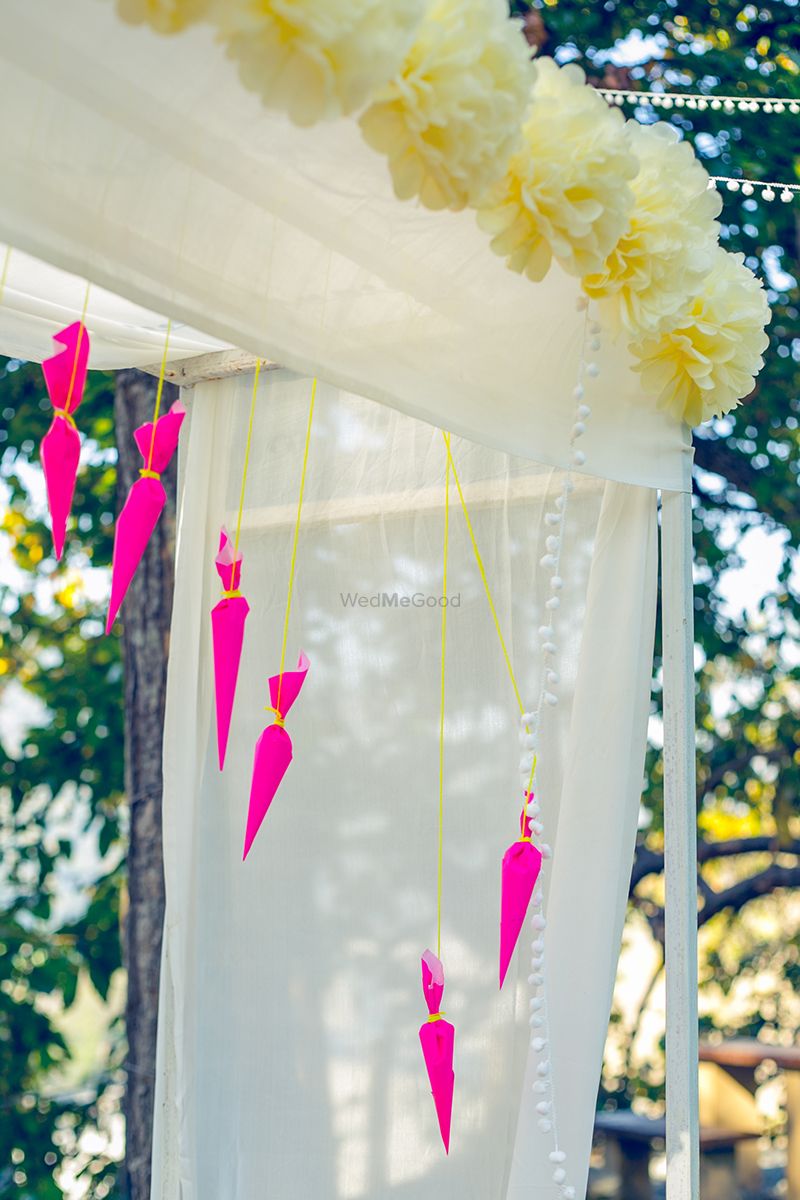 Image via Indian weddings by Katia
Such unique Mehendi decor element for a day mehendi !
Painted trunks for corner decor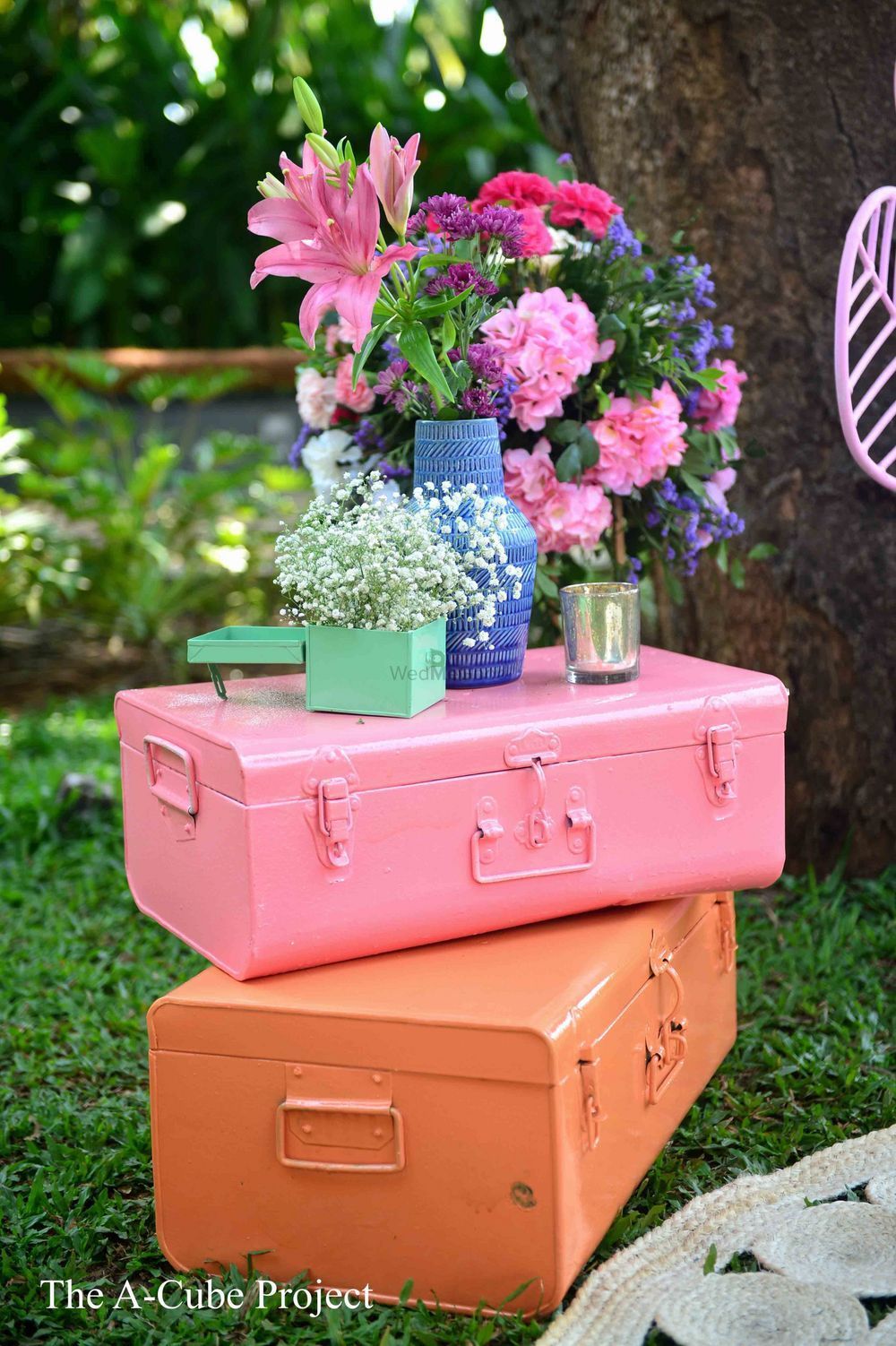 Image via The A-Cube Project★ 5
A cute little idea for corner decor, you could use tyres or crates instead as well!
Centrepiece Ideas
When it comes to centrepieces, then there's so much you can do- this is one element which is very easy to DIY for your home mehndi decoration. Here are some killer ideas!
Painted pineapples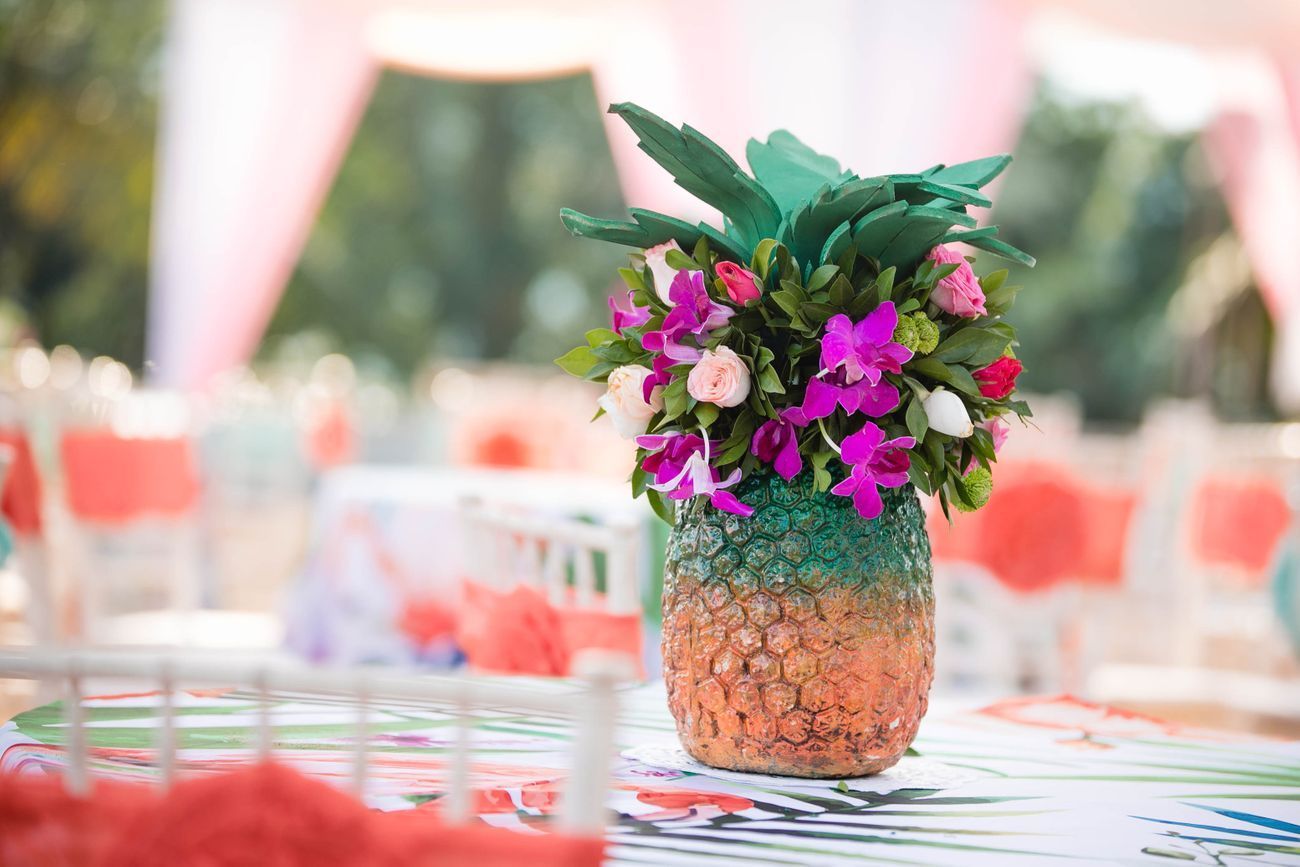 Image via Kinjal & Raj's wedding
Super cool, right? Spray paint them or even with metallic colours, and they look amazing.
Cane baskets & wooden toys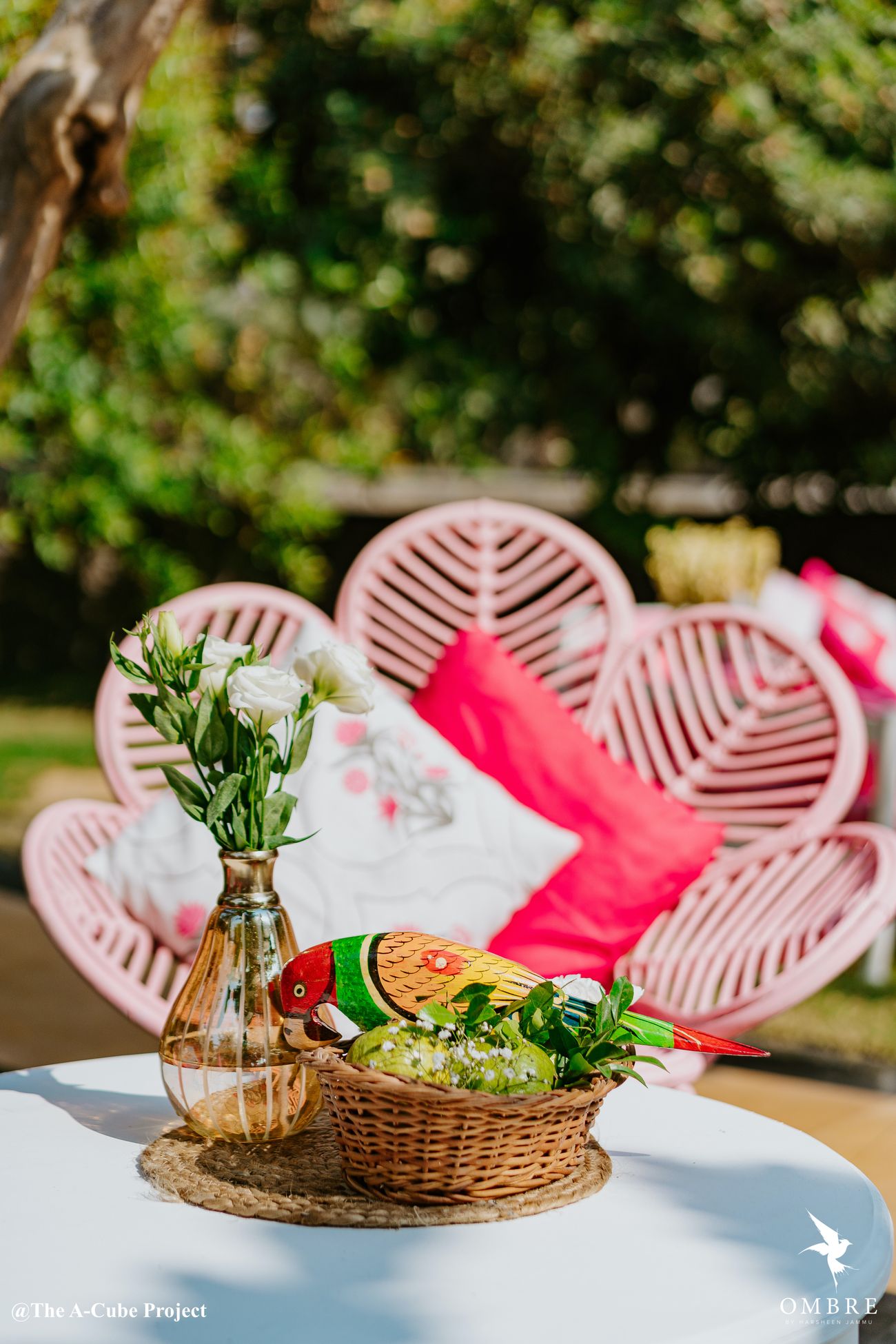 Image via Ombre by Harsheen Jammu★ 4.9 ; Decor by The A-Cube Project★ 5
Cane baskets look pretty in centrepieces and add a few florals and other elements to make them shine.
Fresh florals in ceramic bowls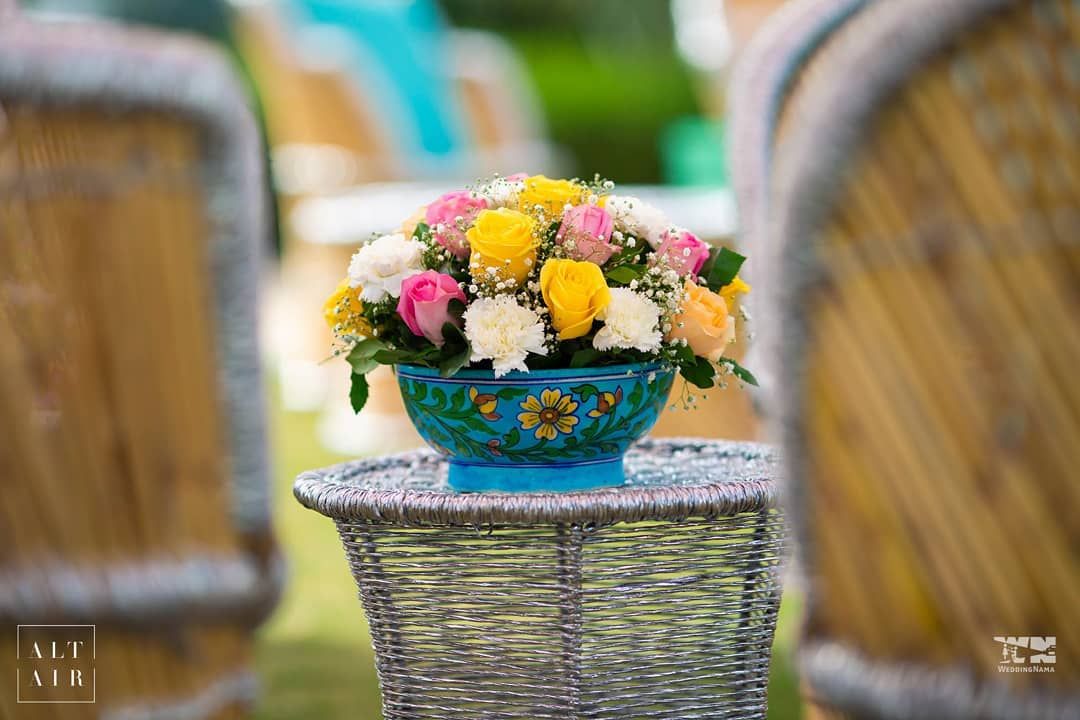 Image via Altair★ 5
So easy, and looks very very classy!
Terracotta Vases with florals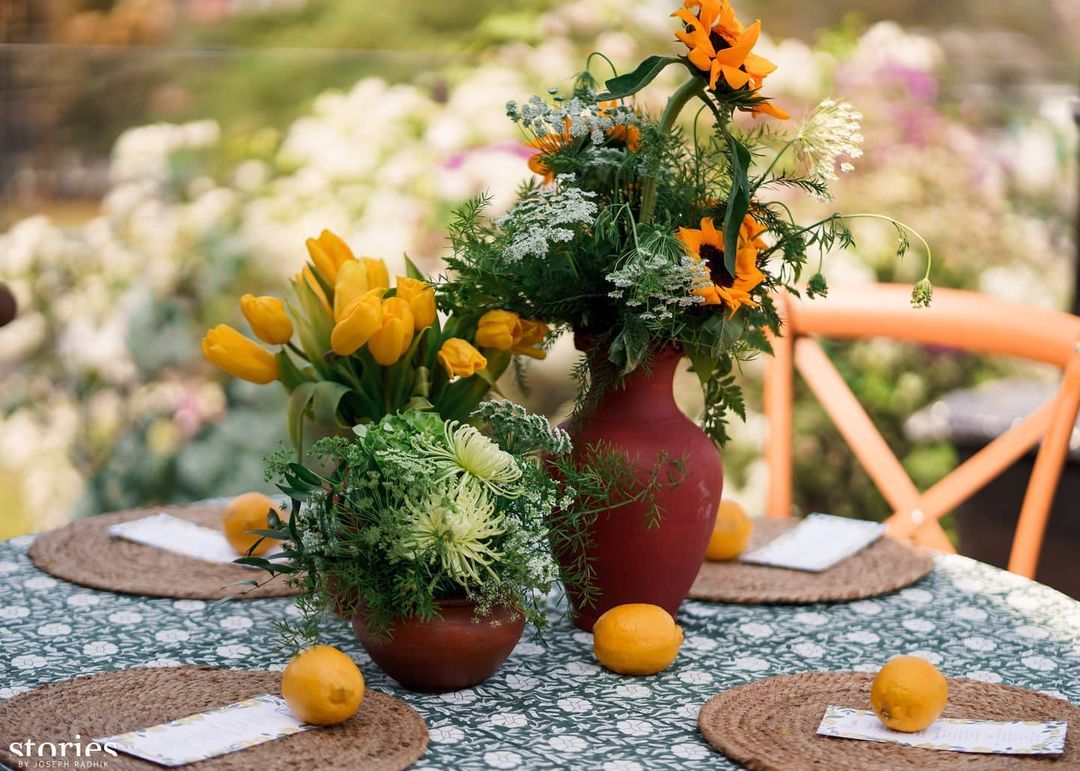 Image via fashioneiress; Decor by @devikanarainandcompany
Another new idea we spotted, which indeed does look very stunning! 
A floral thali with a pretty runner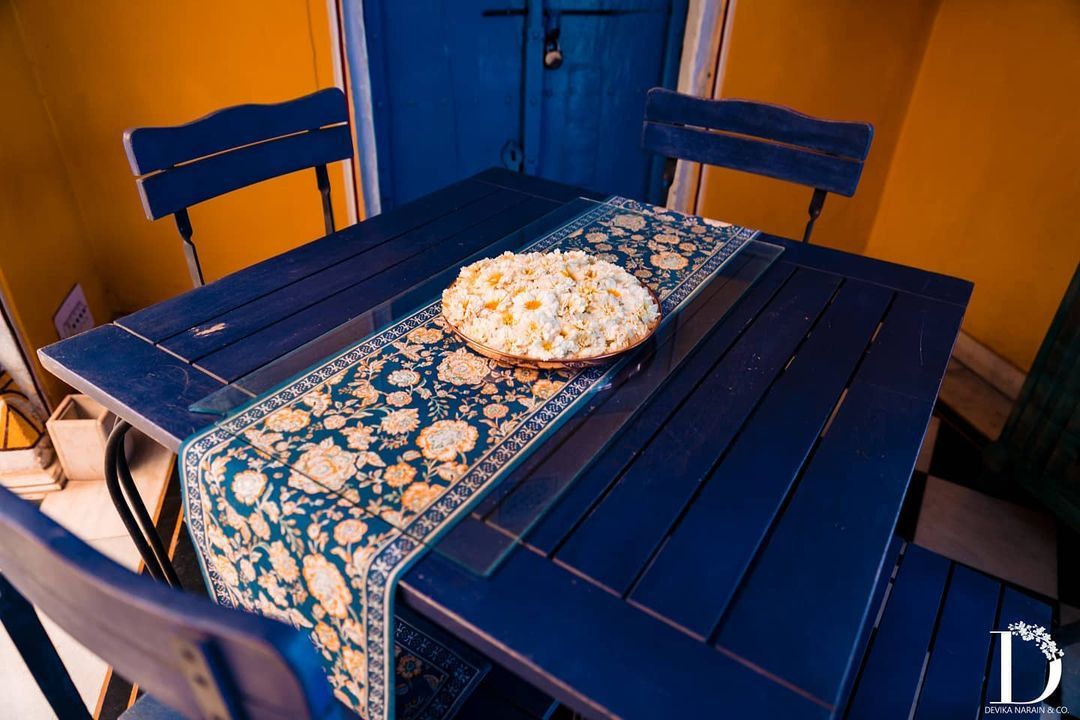 Image via @devikanarainandcompany
How nice and simple is this? Looks so elegant, and is perfect for a simple home affair. 
Something in a unique colour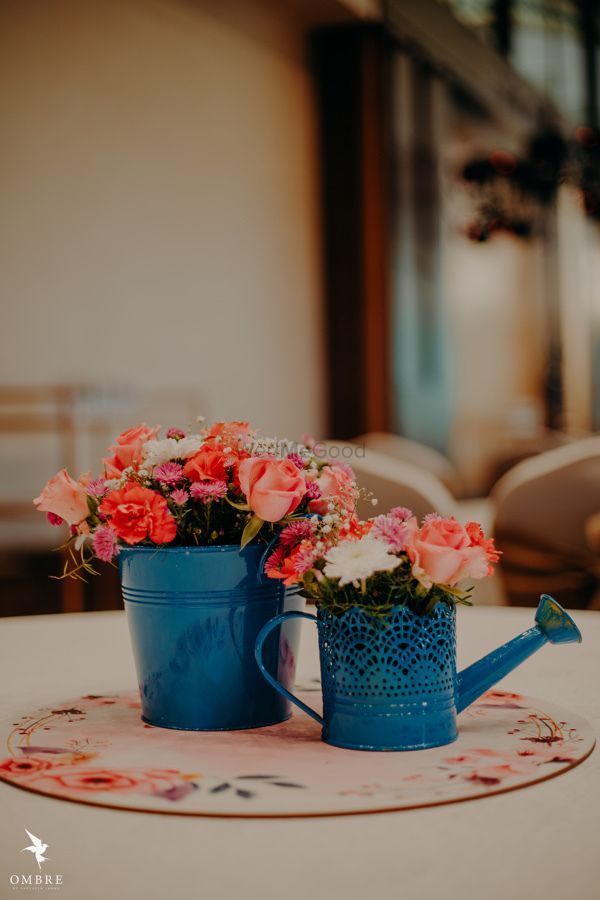 Image via Tosha Wedding Planners & Designers
Spray paint little containers or such kettles in a unique, eye catching colour, and put contrasting florals in them for gorgeous centrepieces! 
Pampas grass in vases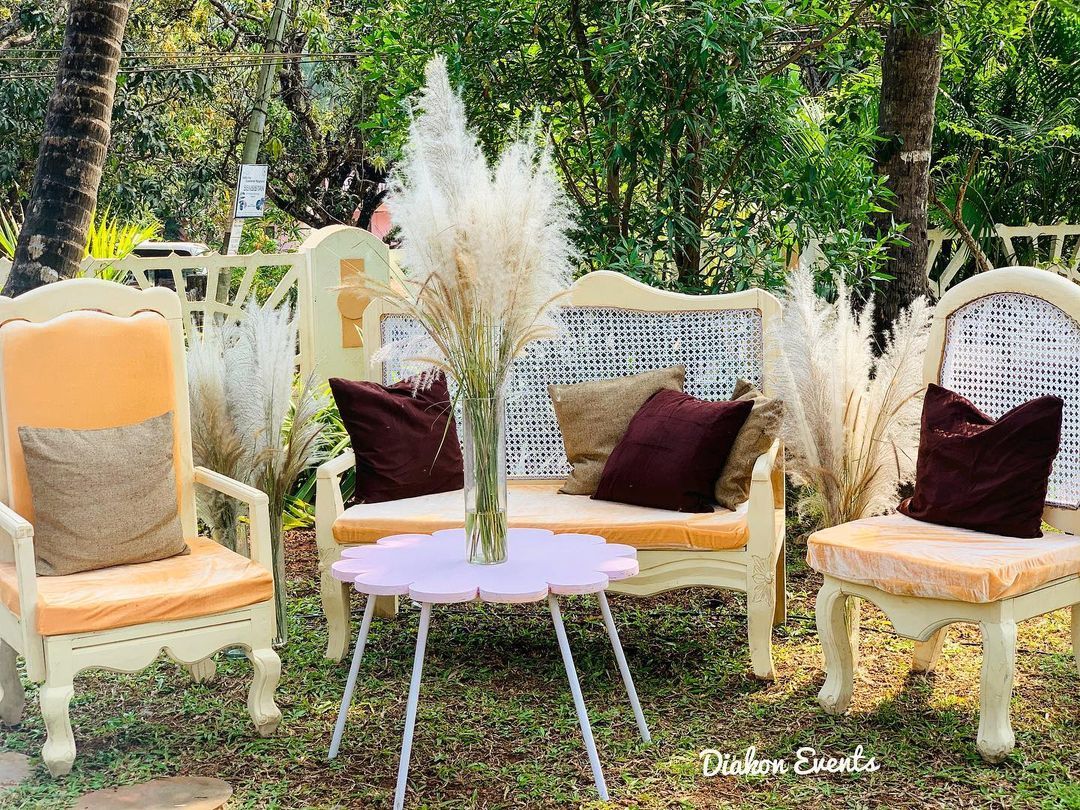 Image via Diakon Events★ 4.4
They make anything and everything look better! Put them in clear vases for added effect.
Personalised elements
Goes without saying, that when you're DIYing, this is something that only you can make extra special! Here are some ideas for you to take inspiration from!
A photo wall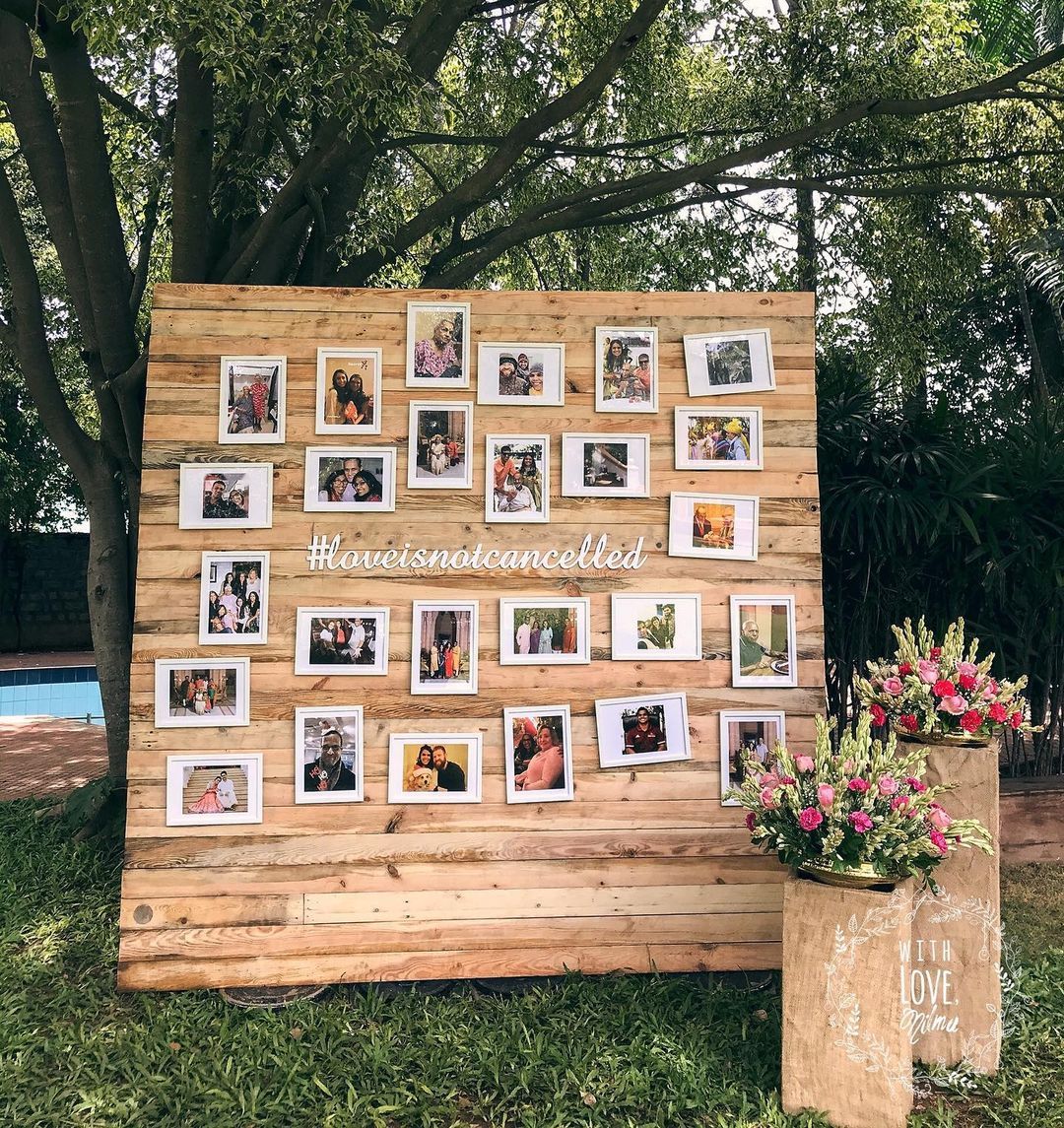 Image via With Love Nilma★ 5
How nostalgic is a photo wall, especially when it's an intimate affair?
A cute entrance like this one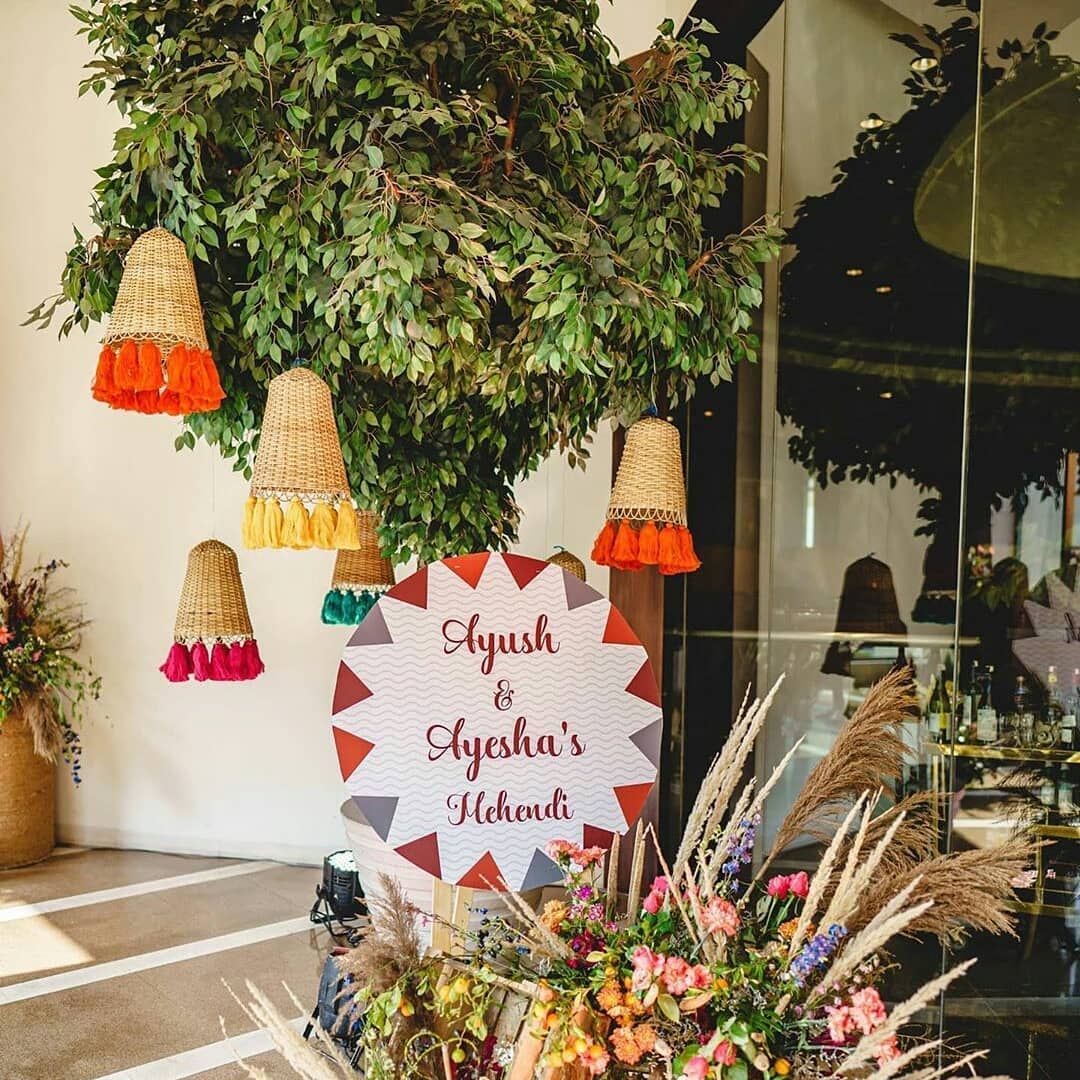 Image via Through the Barrel★ 4.6 ; Decor by Dreamzkraft★ 4.2
Adorable, right? Get a custom sign printed to add some warmth to the entrance and quirk to your decor!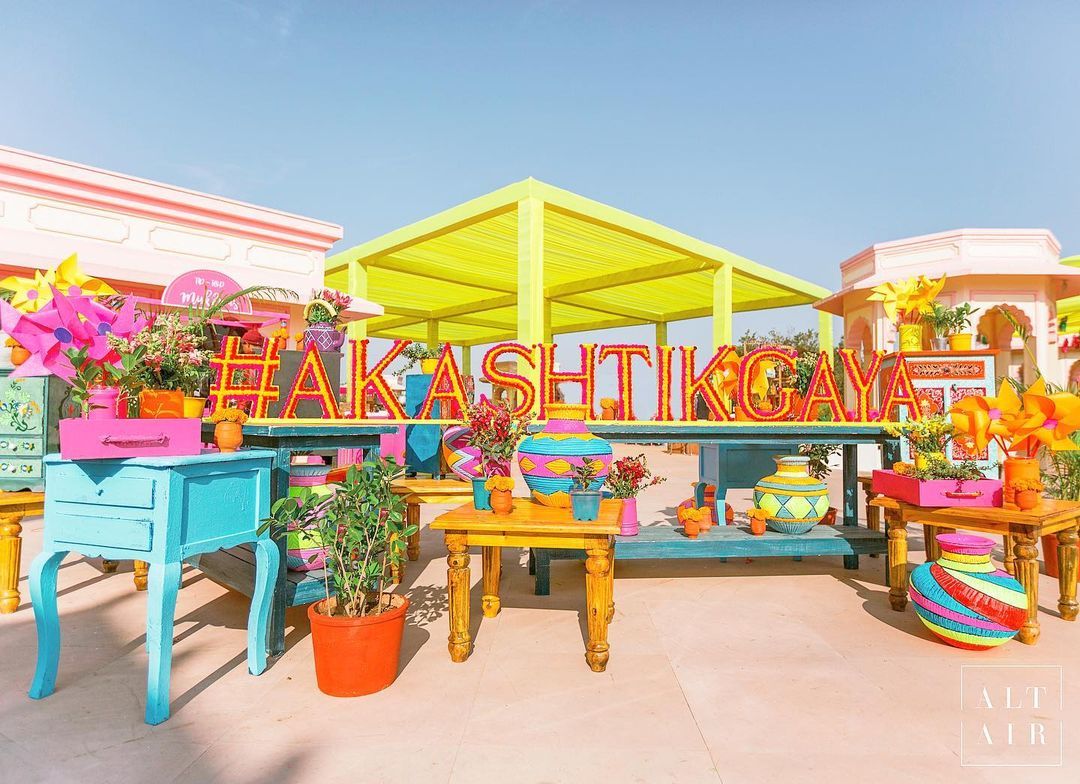 Image via Altair★ 5
Adding your hashtag in a giant setting is also a nice idea to add a personalised touch to the decor.
Name plates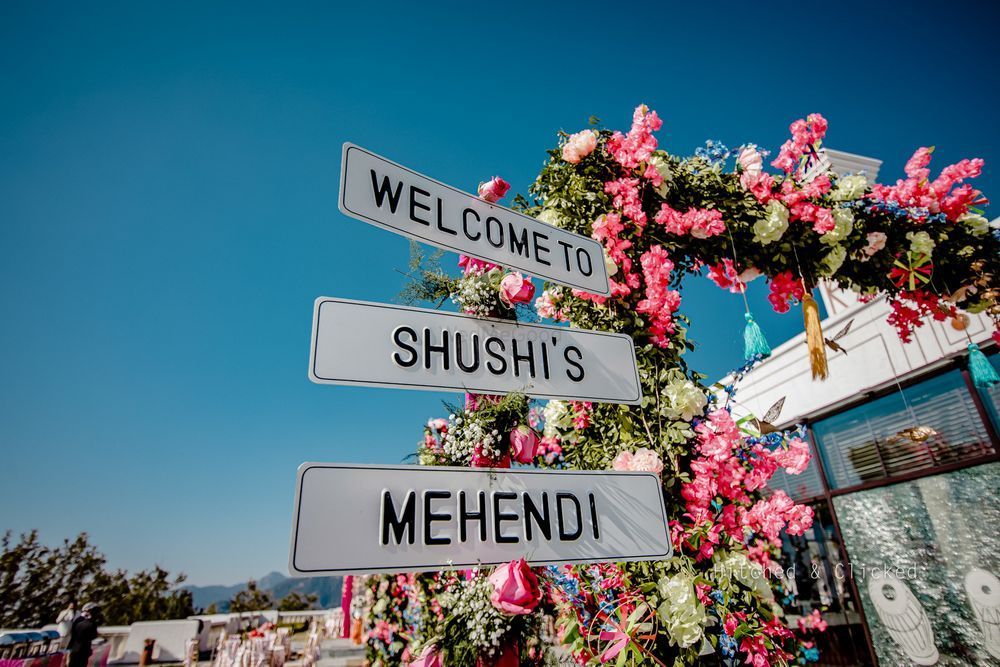 Image via Kabir Event★ 5
They loo fab, and make the entrance pop and how!
Hanging fabric monograms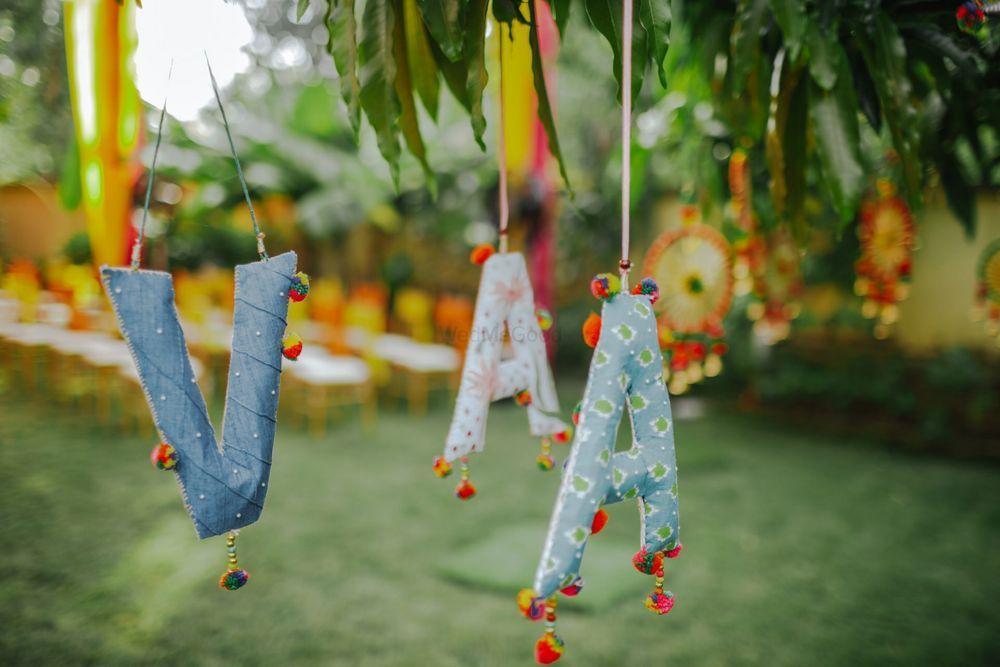 Image via Shreem Events★ 5
Such a cute and fresh idea! Pick monograms of your names online or DIY them yourself if you're gifted with the needle and thread!
Find vendors to plan your wedding on the go, Download the WedMeGood app now.