30+ Different Shades Of Pink We Spotted In Bridal Lehengas!
BY Garvita | 25 Jan, 2020 | 48121 views | 7 min read
No matter how many offbeat hues we spot on brides, the shades of pink will always rule the wedding charts! There's a surreal charm in scrolling through pictures of beautiful brides clad in breathtaking pink bridal lehengas. Whether it's an intricately embroidered one or a contemporary shimmery design, the brides are swearing by a plethora of styles, all centered around a pink color palette!
Little did we know that our WMG gallery would present us with 30 ethereal bridal lehengas in different shades of pink, for us to obsess over.
If your wedding date has been finalized, but you're still stuck on 'what hue to wear?', we bet you'll lock down one of the following pink color shades by the end of this post! So, make sure there's enough space on your device because you'll definitely be saving a dozen pink bridal lehenga images as you scroll through. Get set and read on!
Barbie Pink for the major princess vibes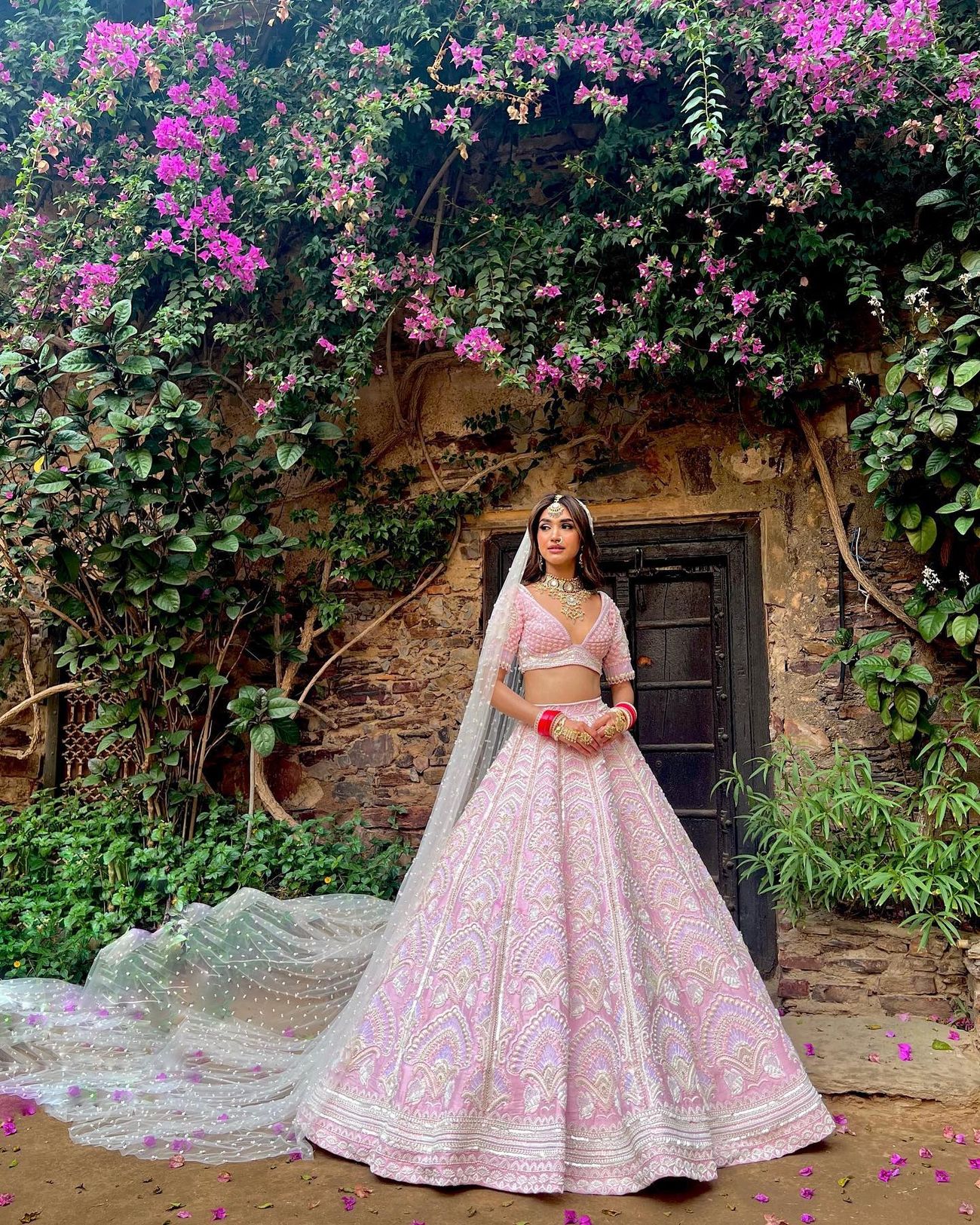 Image via Rianta's
So what if the Barbie craze has subdued? This pink lehenga is bound to leave you spellbound with its grace
Old Rose Pink lehenga for an old-world charm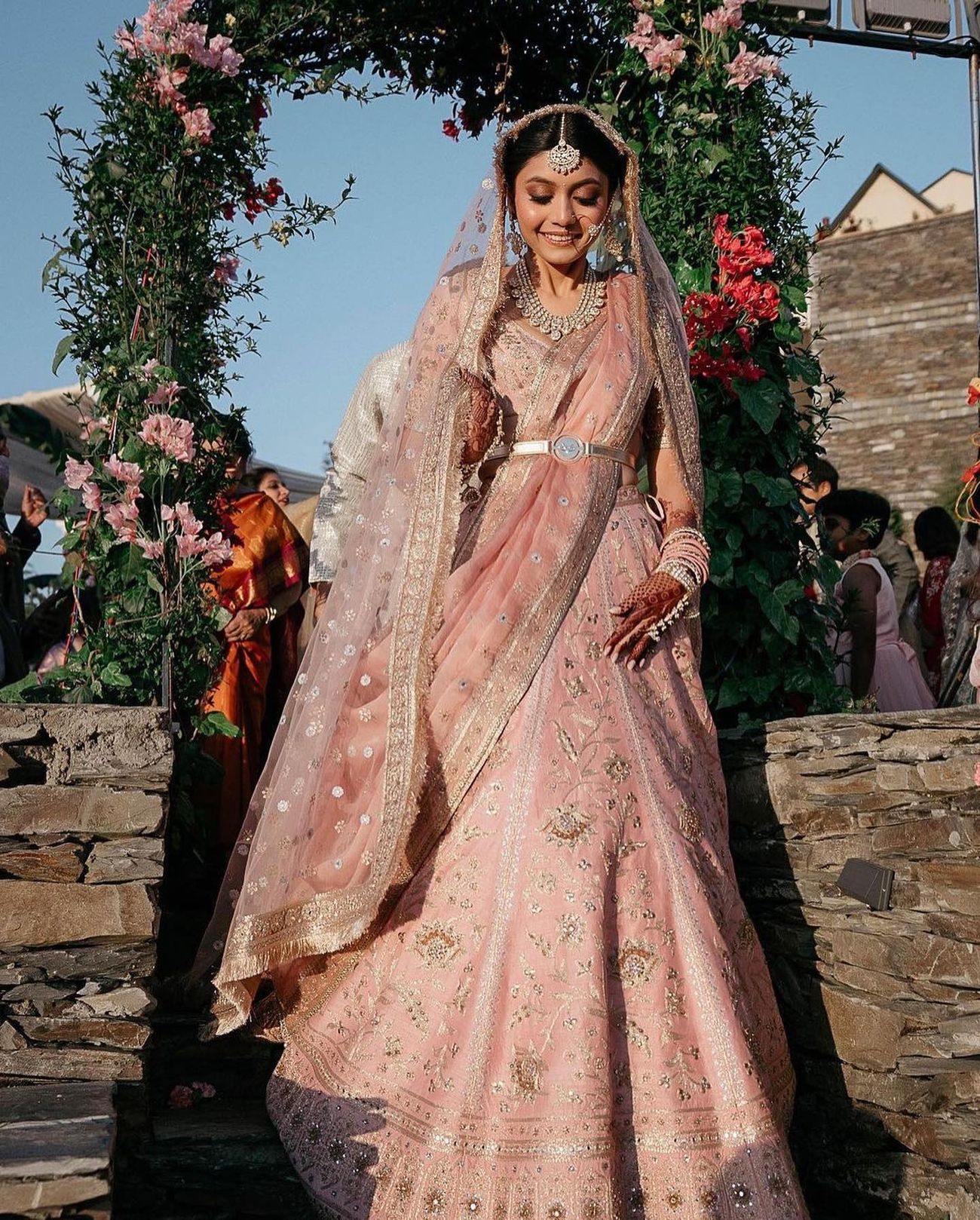 Image via DelhiVelvet - By Divishth Kakkar
Adorned in a beautifully detailed gold-embroidered Old Rose Pink lehenga, this bride was the center of attention on her wedding day. And let's not forget to mention the belt that added an extra touch of elegance to her bridal ensemble!
The Burnt Pink lehenga added an extra layer of magic to this Mehndi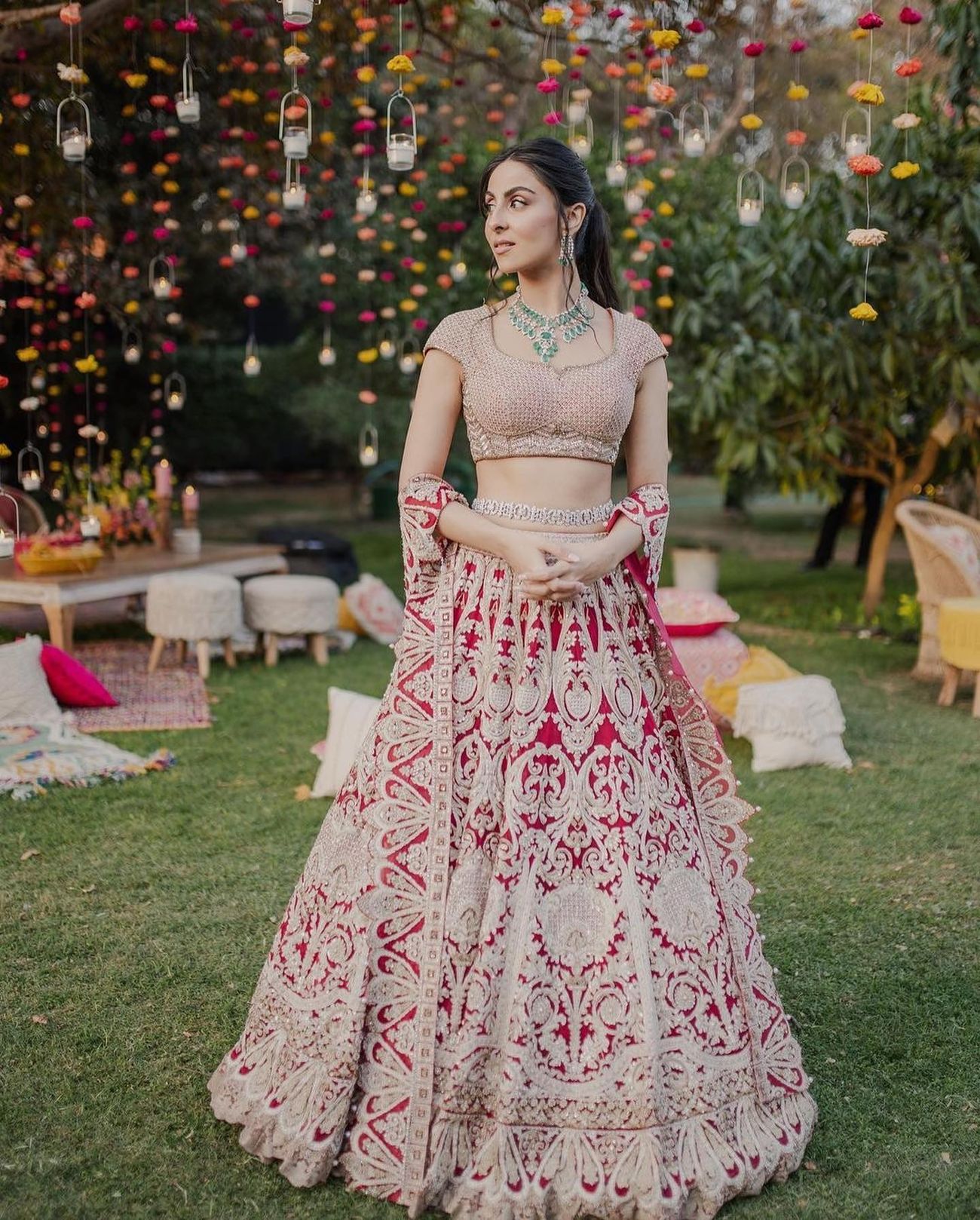 Image via Colorblind Production★ 5
Obsessed with this one! 
For those muted feels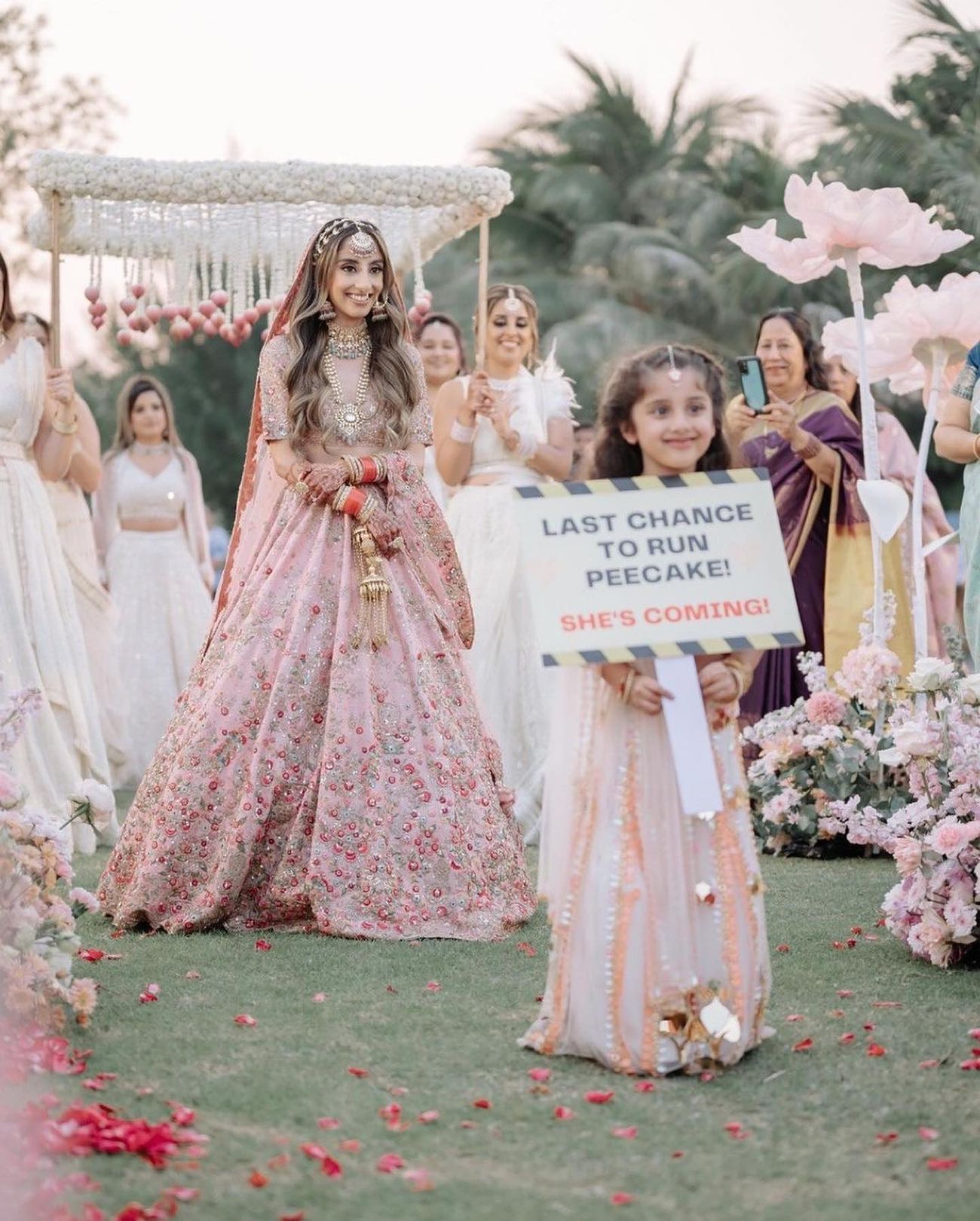 Image via Infinite Memories
We can't help but focus on the Pale Pink lehenga, as we instinctively zoom in and out to capture the intricacies!
Ever heard of Cold Turkey Pink?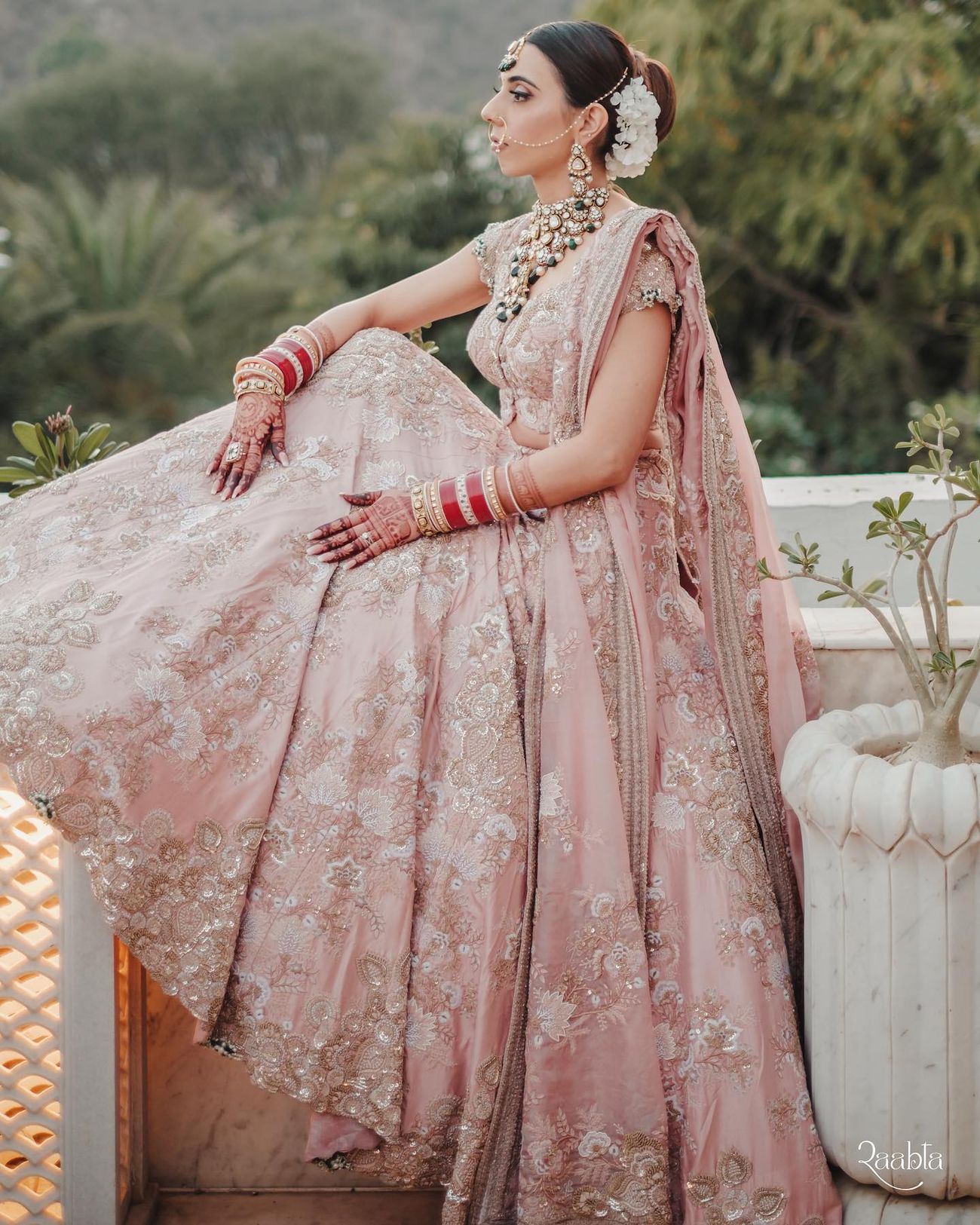 Image via raabta.studios
Undoubtedly, it's the hue that effortlessly turns heads and steals hearts in the blink of an eye!
You've got to pop this onto your Pinterest mood board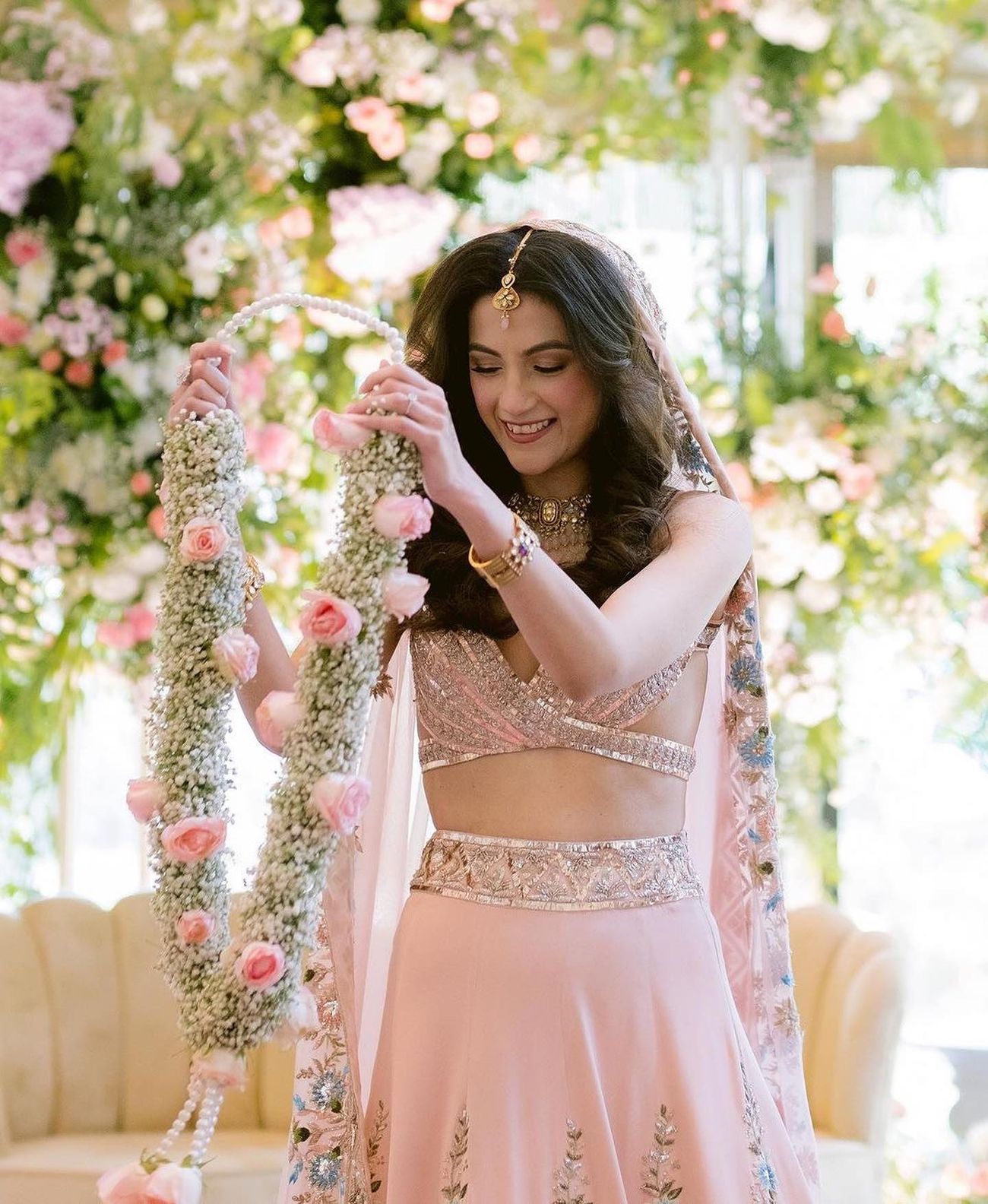 Image via Ombre by Harsheen Jammu
Love and laughter filled the air as the bride embraced the warmth of her Oyster Pink lehenga, mirroring the tender tones of the decor setup!
This bride's Hot Pink lehenga is truly love at first sight!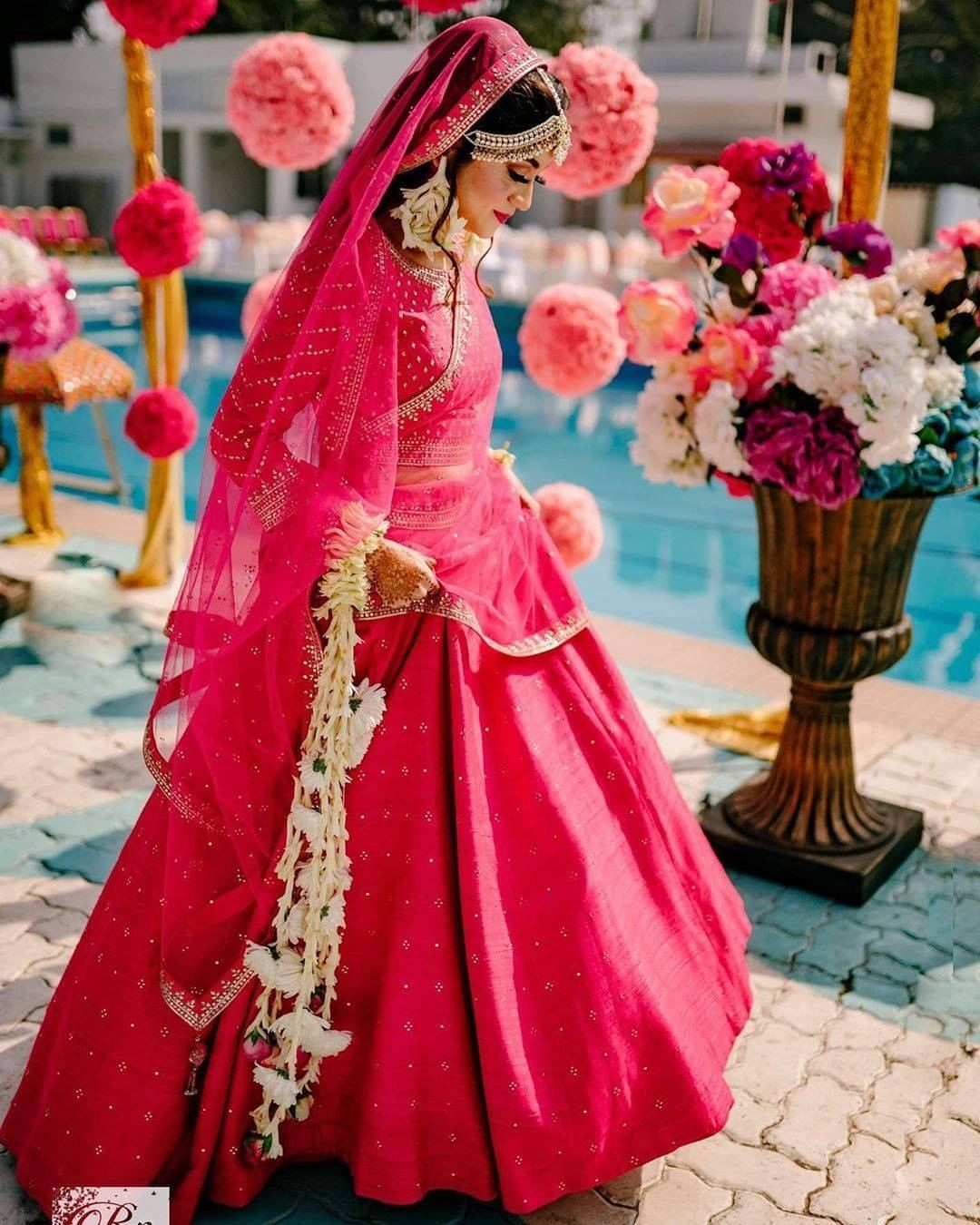 Image via @reminiscence_photography
We're completely swooned away by this hot pink lehenga, if you are someone who loves darker hues then this is definitely that 'one color' for you!
This Neon Pink lehenga was like a breath of fresh air, amongst a sea of pinks!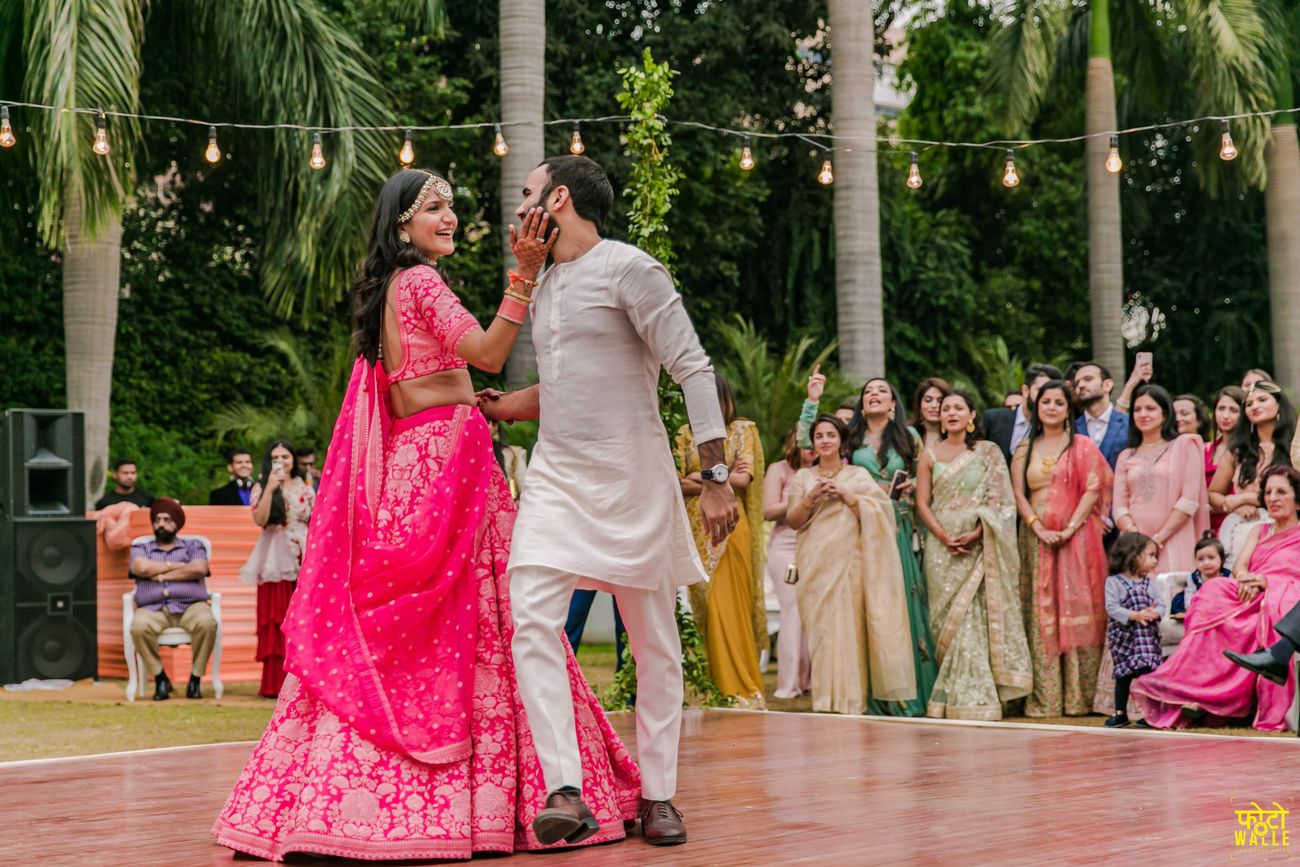 Image via Fotowalle - The Story Folks
Who says you cannot rock your big day in neon pink lehenga when you can simply slay in this shade. If you are a sucker for pink bridal lehenga and want to amp up your look, neon pink is for you!
While this one looks ethereal in a Pomegranate Pink bridal lehenga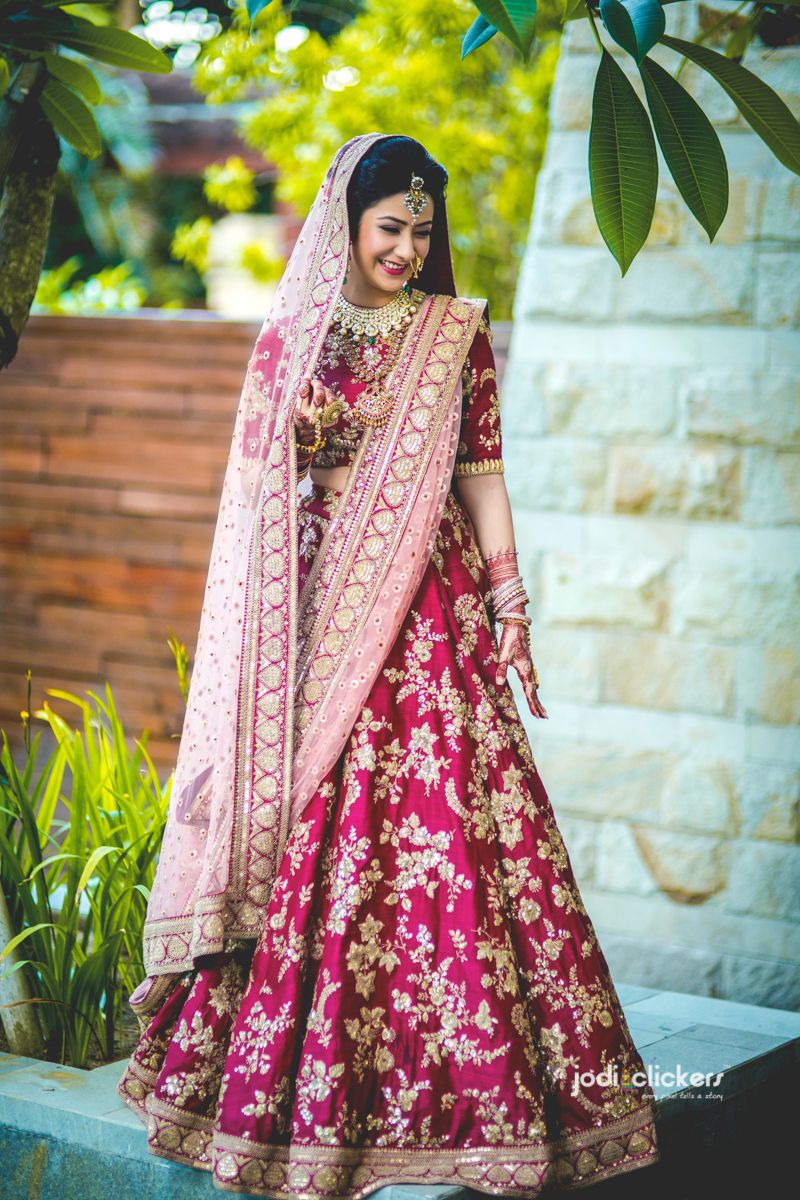 Image via Click My Dreams
Oh well, what to even say about traditional pink lehenga for the wedding! This remains evergreen for all the wedding seasons to come and you can always revamp it as well!
This Piggy Pink lehenga was effortlessly perfect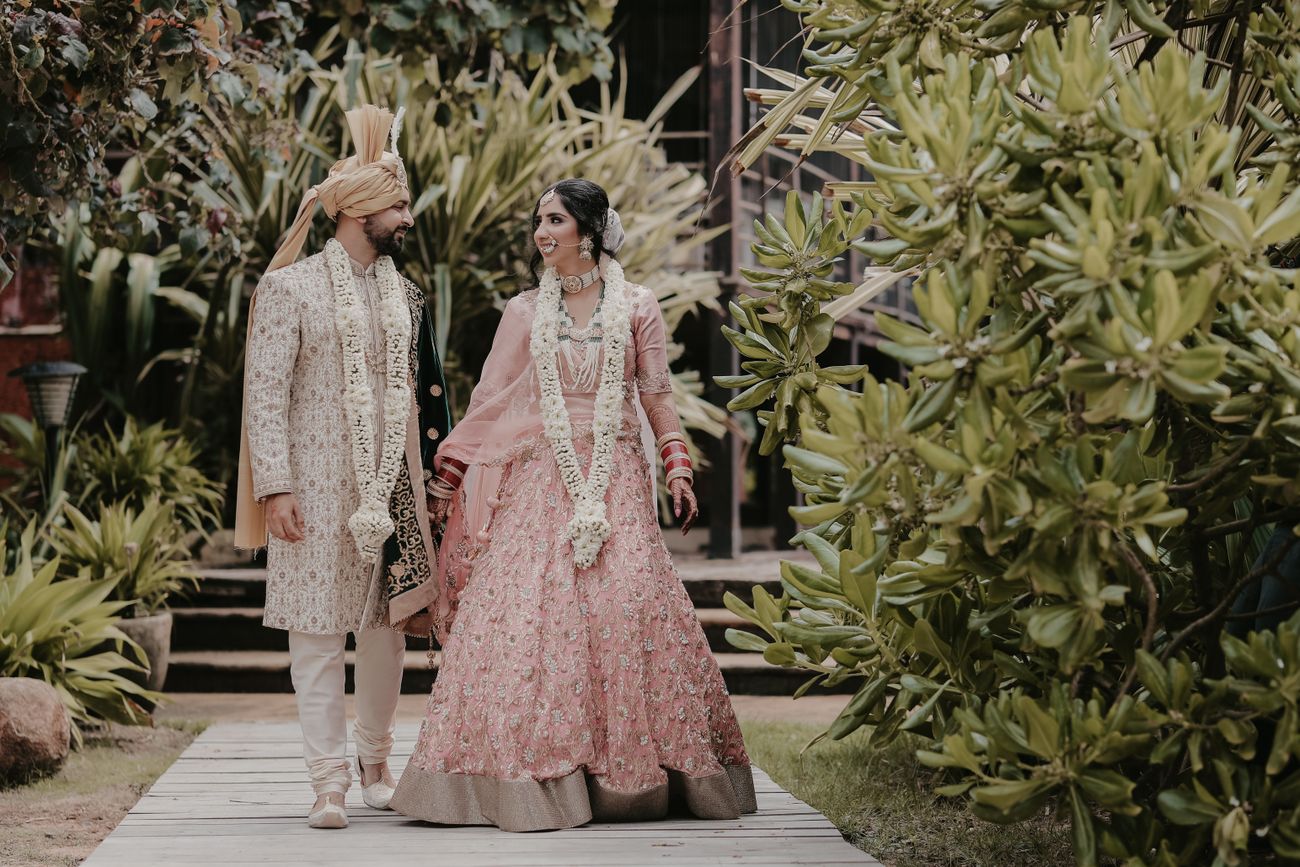 Image via Neha John Photography
Hands down to this pastel pink bridal lehenga! A total showstopper and deal-breaker for all the brides-to-be.
Want to wear a similar shade at your wedding? Then look at these light pink bridal lehenga designs along with prices for your wedding
And this one who is happily twirling around in her glimmering Bubblegum lehenga!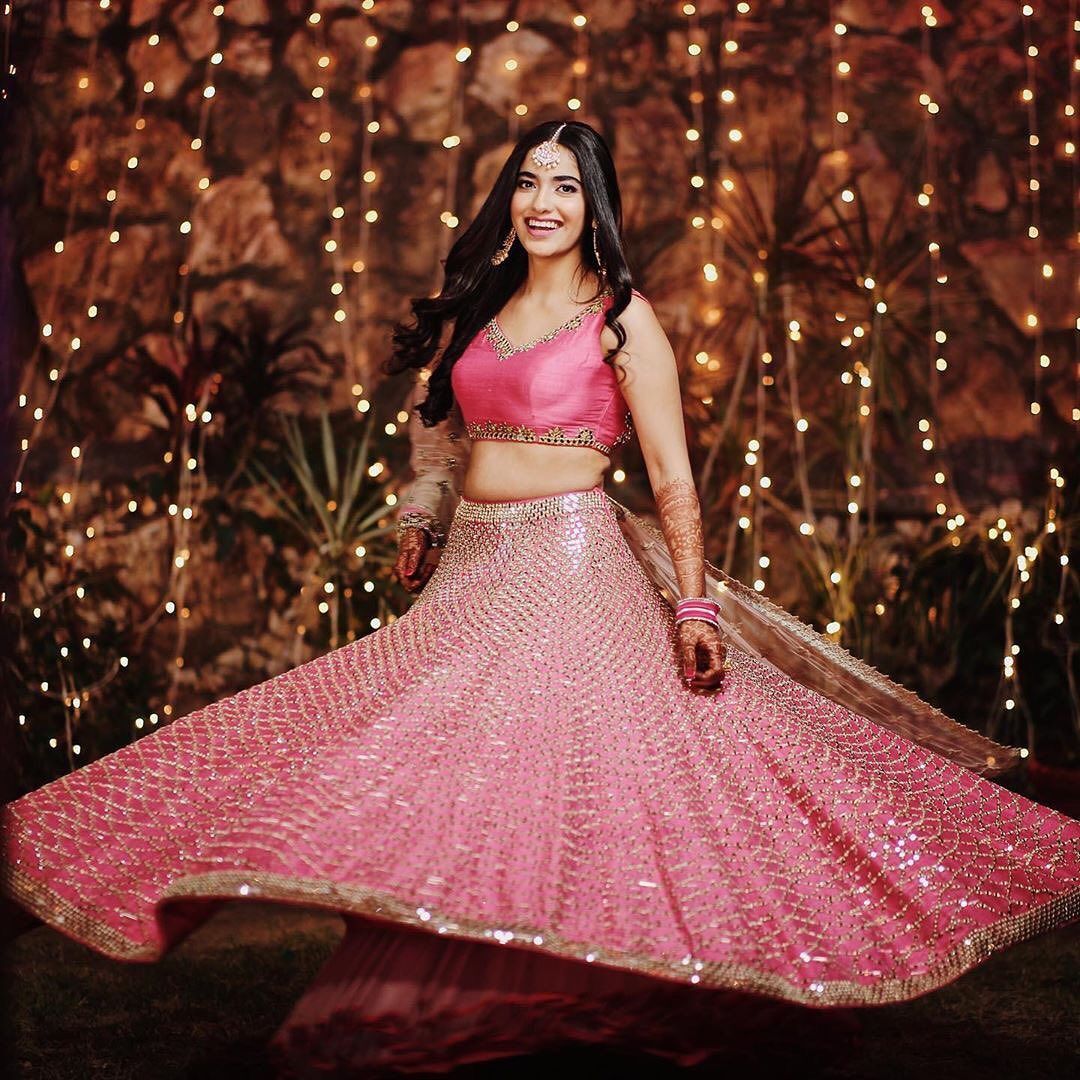 Image via @safarnamafilms 
This hue has both the shades of light pink or dark pink bridal lehenga and if you are someone who loves the best of both worlds then bubblegum pink wedding lehenga is a choice for you.
Simple yet striking Flamingo Pink bridal look is definitely bookmark-worthy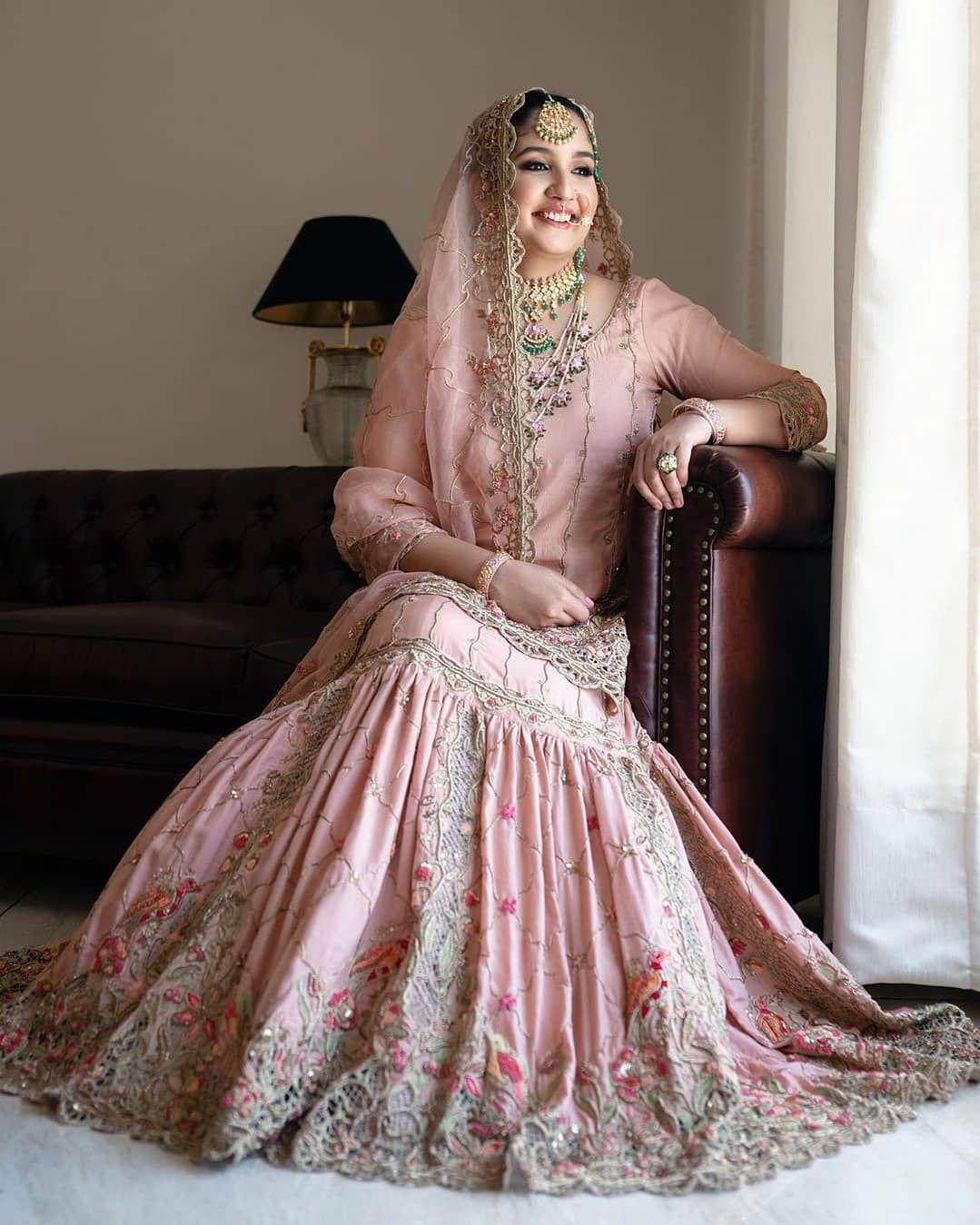 Image via @brahmsinghphotography ; Outfit via Plumtin
A Salmon Pink lehenga is absolutely perfect for a destination day wedding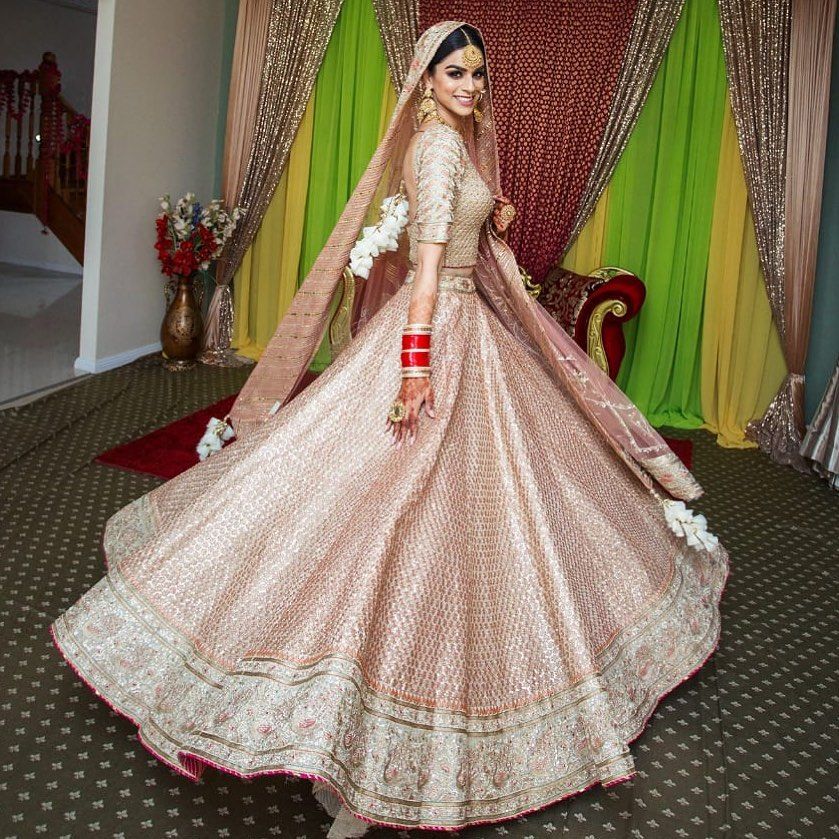 Image via @rimpleandharpreet
This range of pinkish-orange is absolutely gorgeous and we're just floored by it!
Exuding traditional vibes in an intricately detailed Magenta lehenga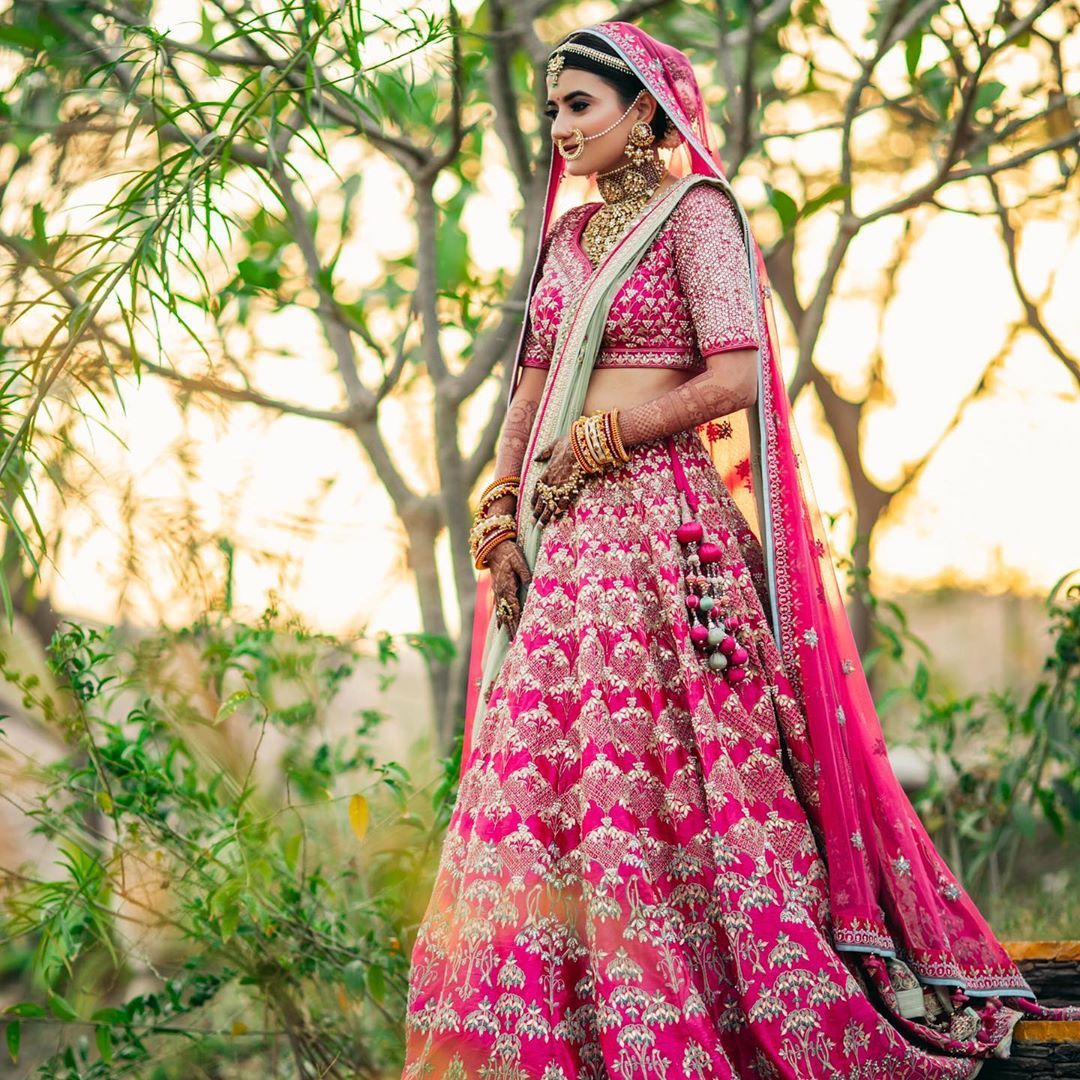 Image via anitadongre
How can someone even say no to a dark pink lehenga in this shade of magenta? Well, we are just loving it!
This bride's Blush Pink lehenga is such a pretty one!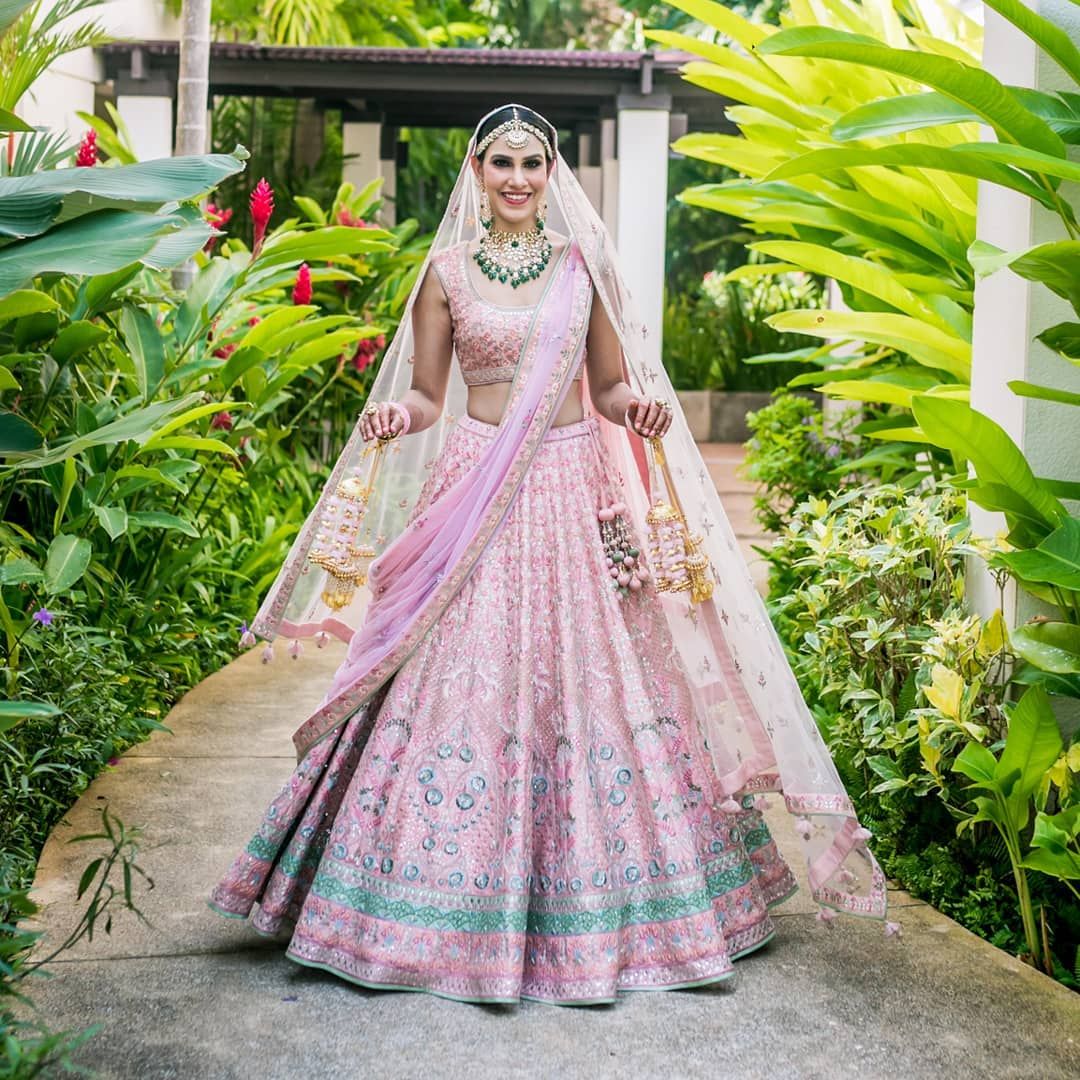 Image via anitadongre
A big YES to a blush pink lehenga! After all, a millennial bride loves pastel pink lehenga and blush pink is the perfect.
This one redefined elegance in a very light shade of pink - Baby Pink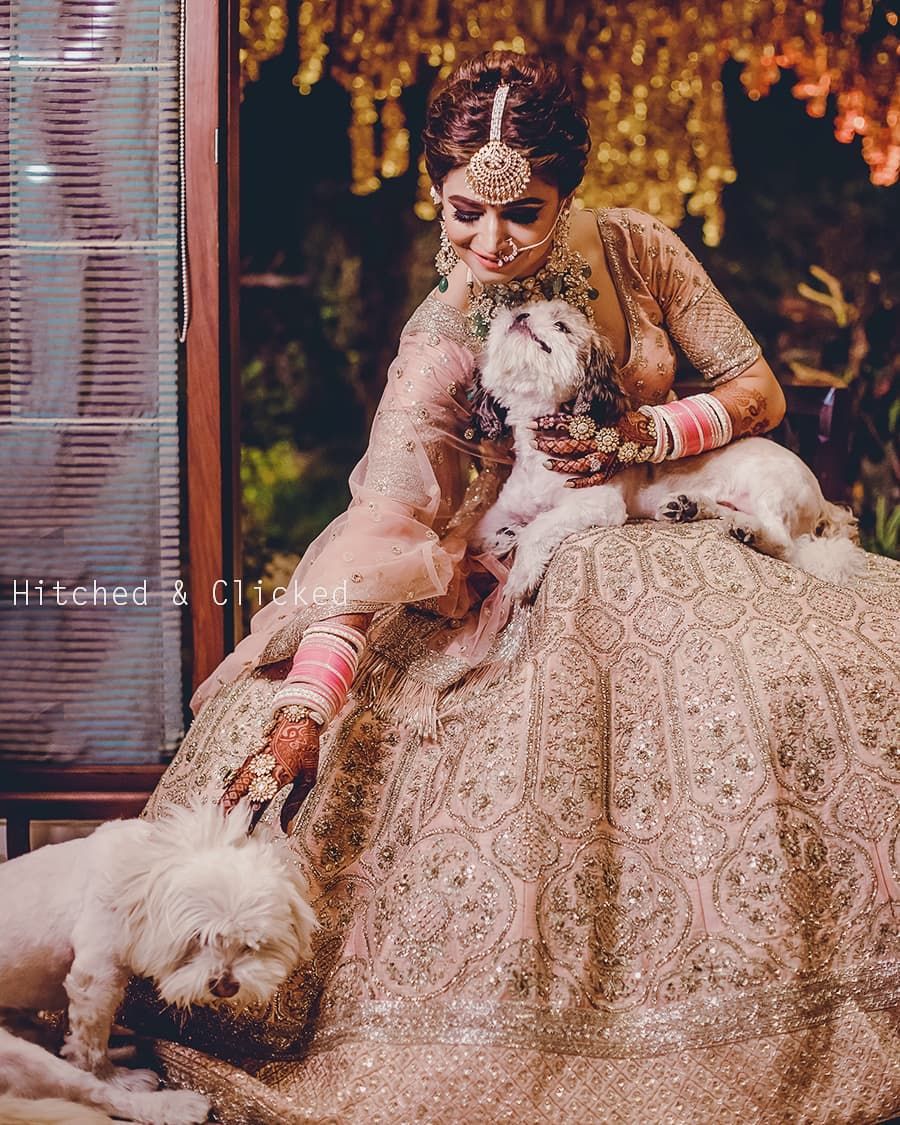 Image via hitchedandclicked
No matter how many shades of pink we get, the baby pink lehenga combination still remains the favorite for all!
This Shocking Pink Lehenga has our hearts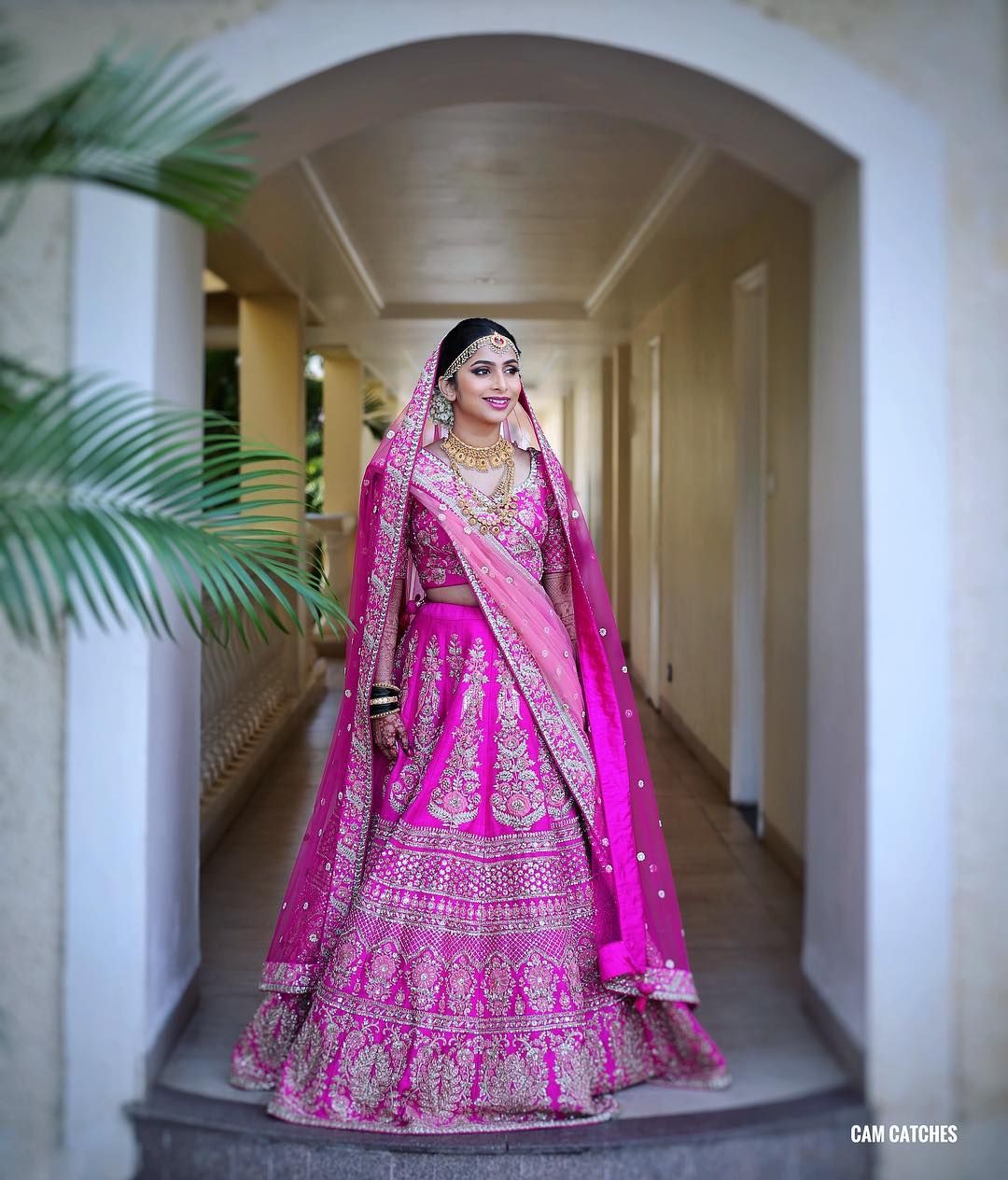 Image via camcatches
Are you looking at that hint of ombré?
Light Pink + Dark Pink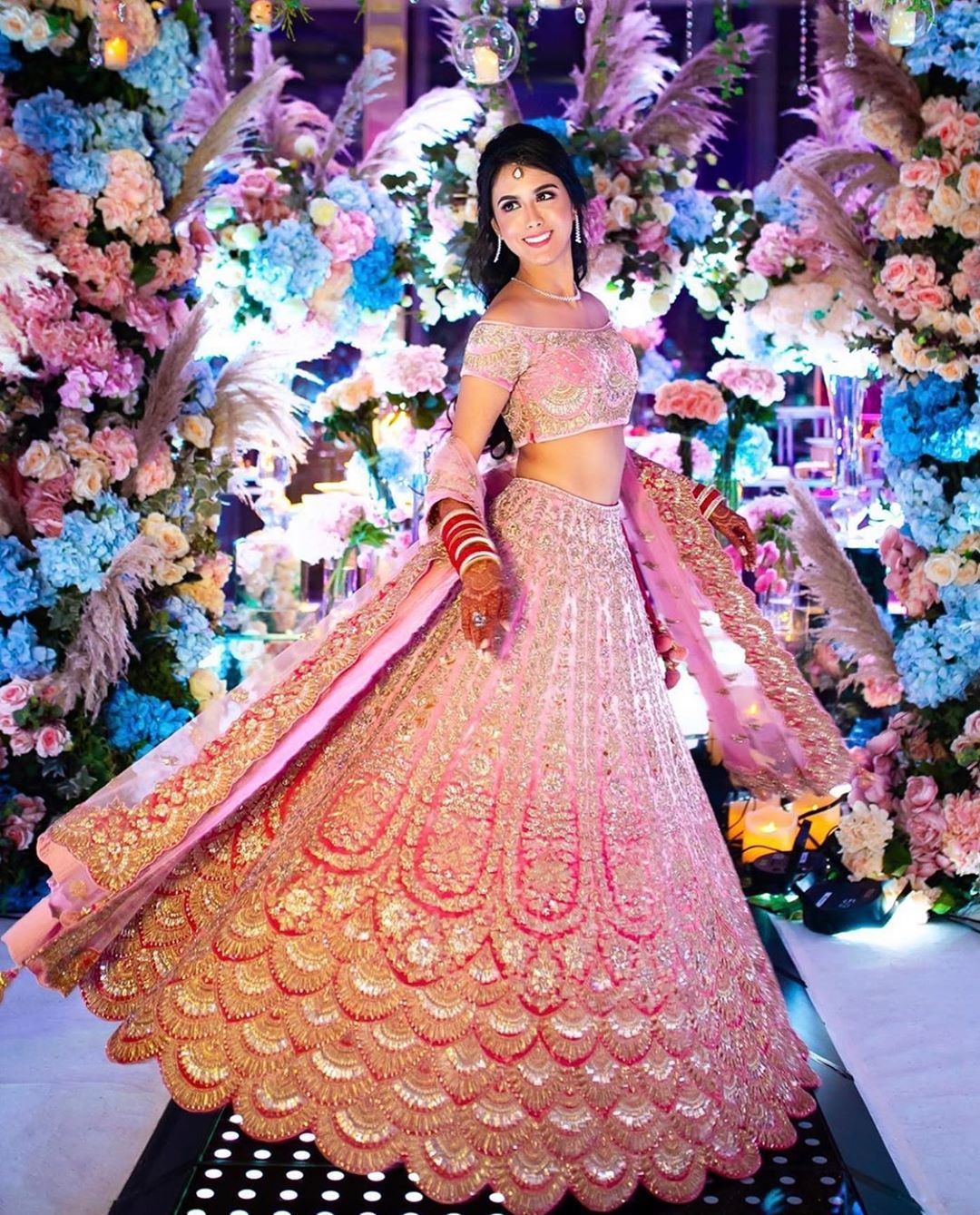 Image via @jdartsphotography
Adding two beautiful colors to your bridal lehenga is never a bad idea! You will def love this magic!
This Cherry Blossom Pink lehenga is so pretty & unique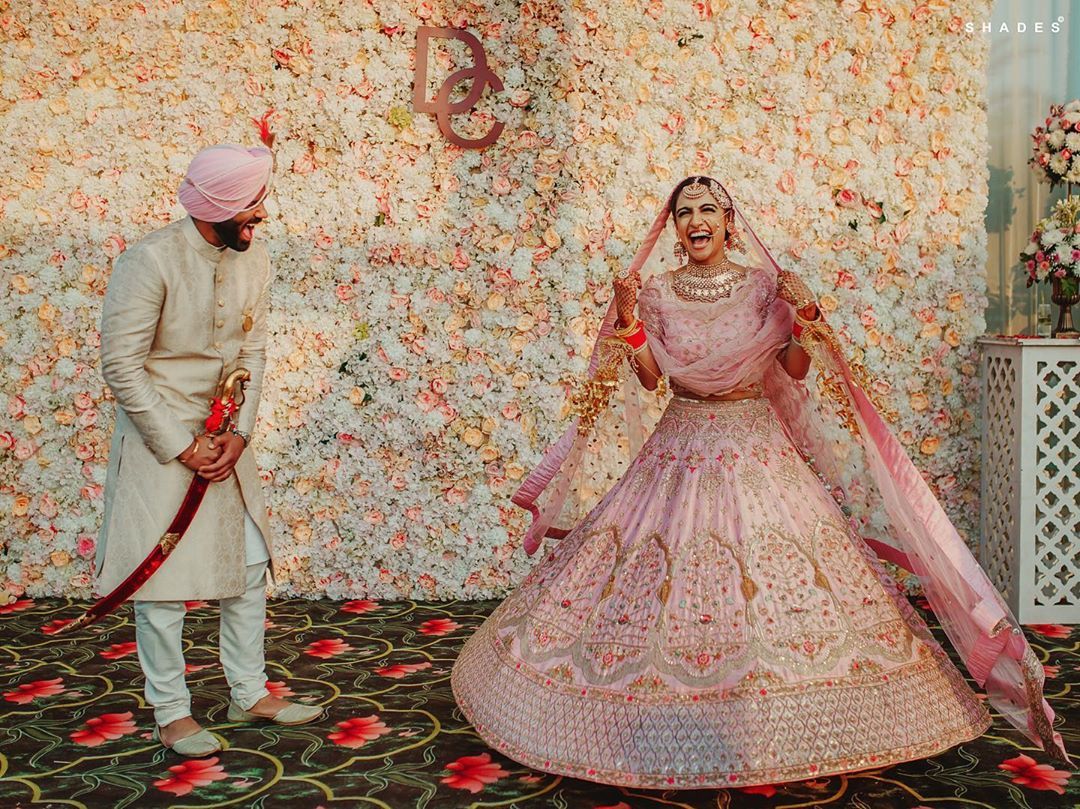 Image via shadesphotographyindia
Keep your uniqueness intact and keep your lehenga game on point with cherry blossom pink wedding lehenga.
This bride in a Carnation Pink lehenga looks totally on fleek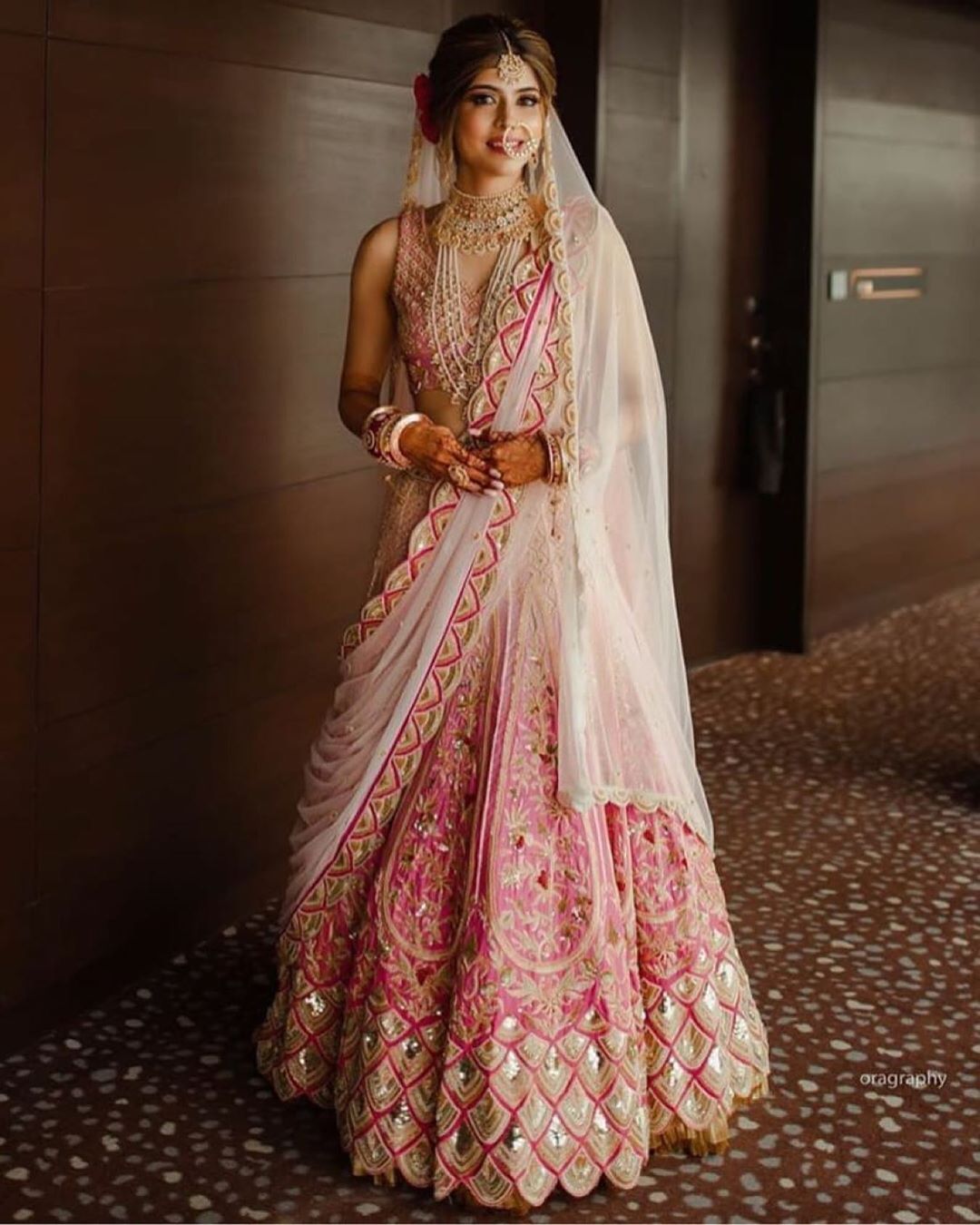 Image via @ritikahairstylist
Why just choose only carnation pink in flowers when you can wear a lehenga in that shade.
Guess who is crushing over this Lavender Pink lehenga?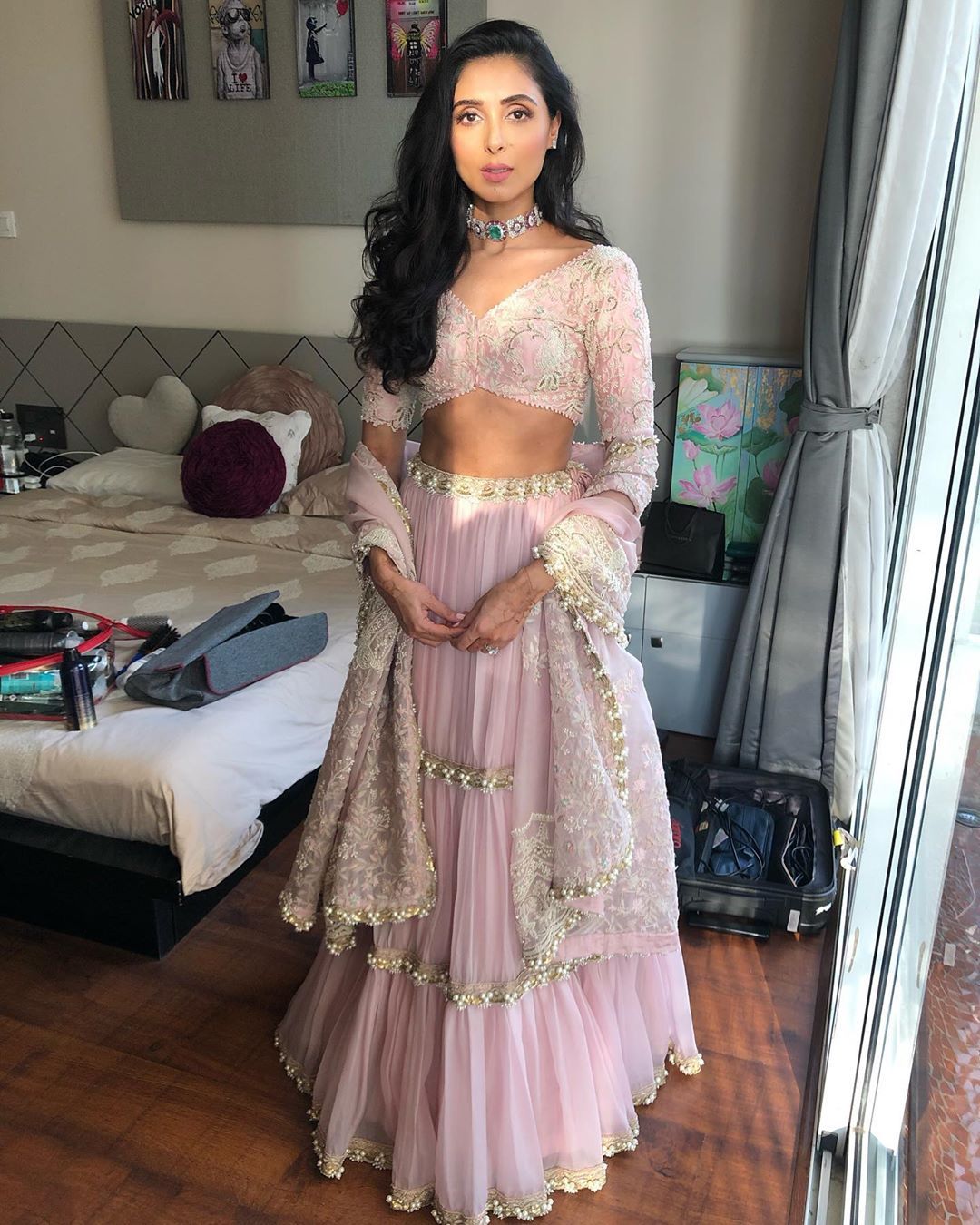 Image via namglow
Oh my, my, my, did someone just say bridal lehenga pink colour goals! Then hands down to this lavender pink lehenga for sure!
When in doubt, slay your bridal look in a Fuchsia lehenga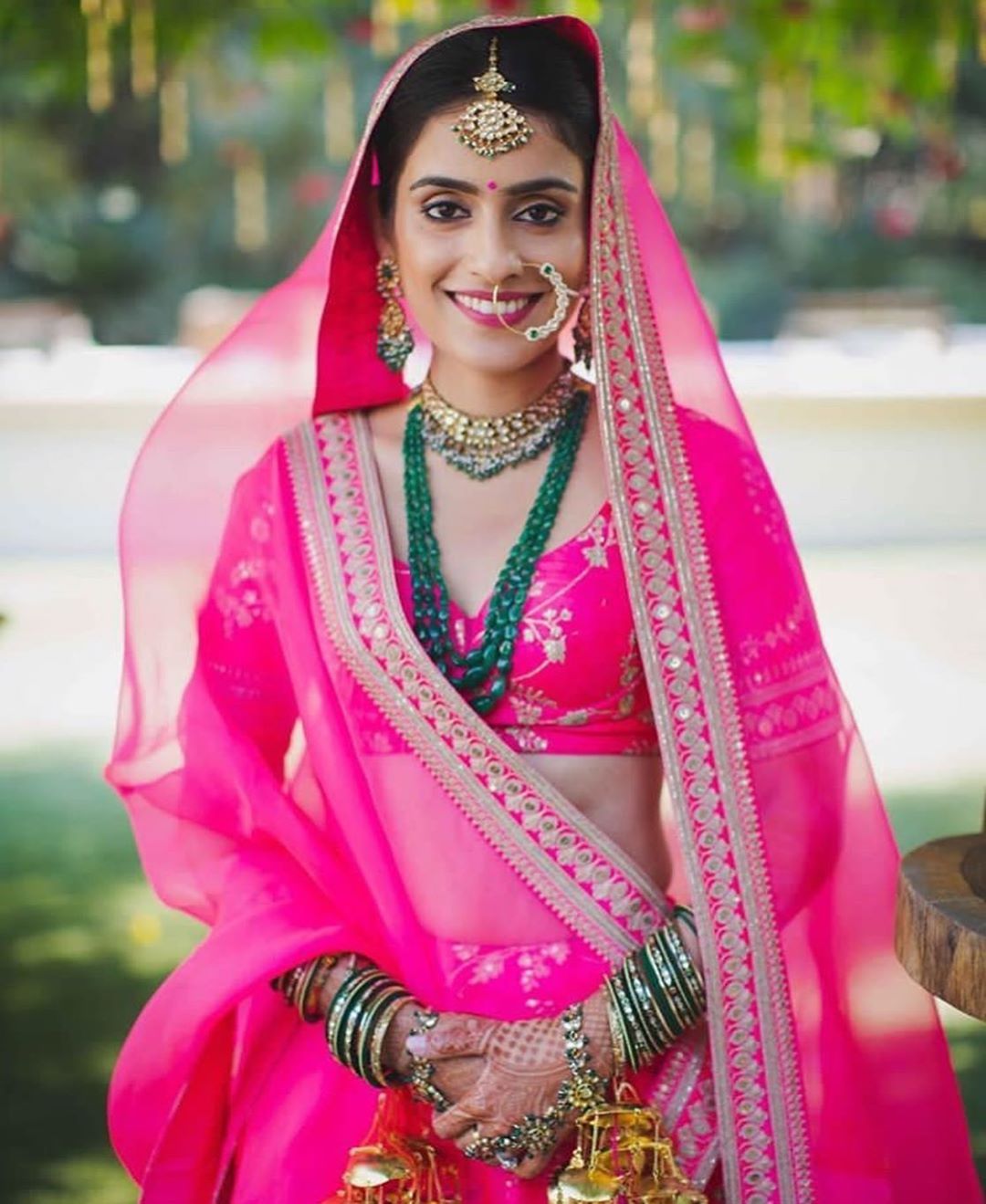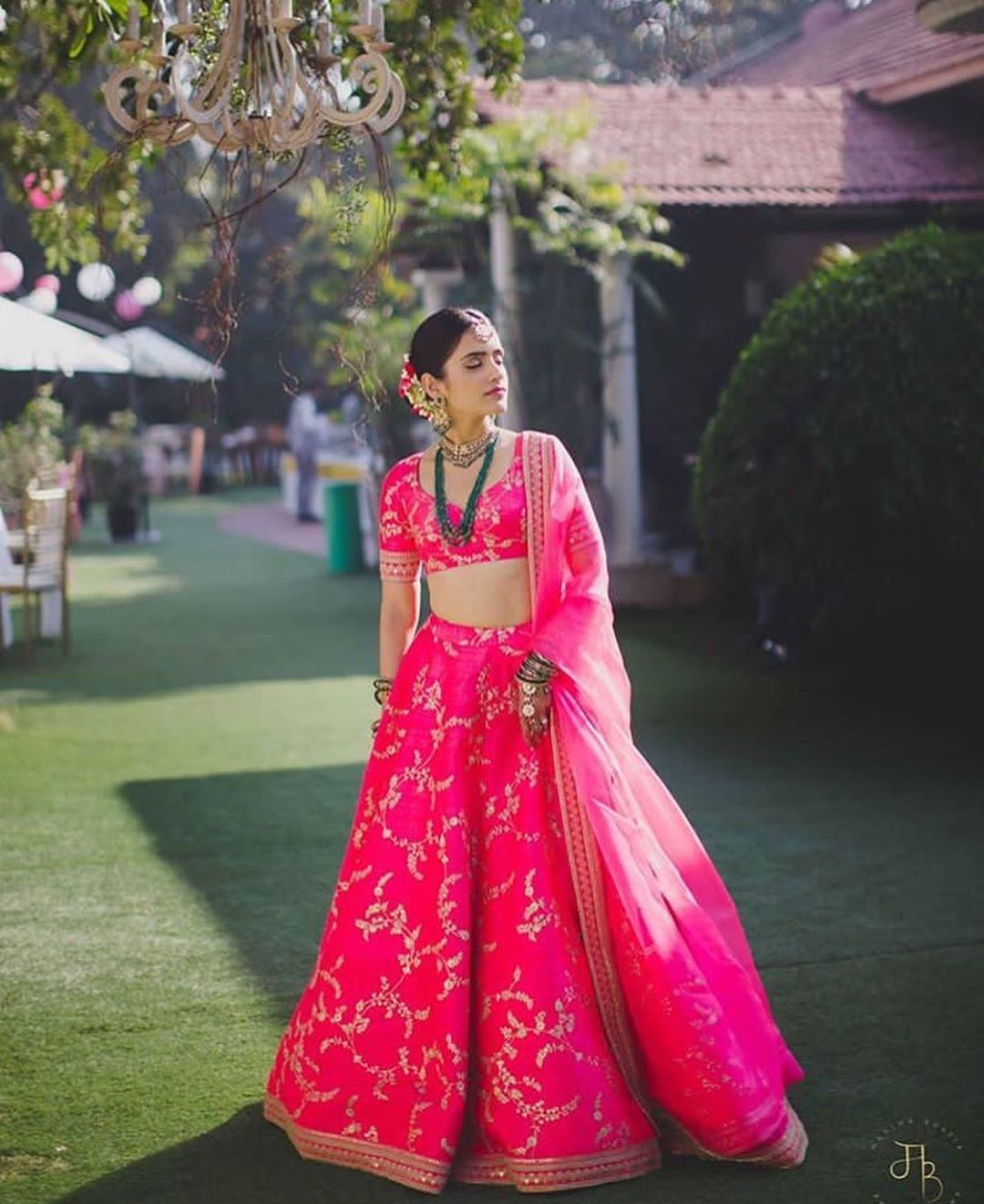 Image via @mahimabhatiaphotography
This perfect blend of tangerine and pink can do wonders and we are not saying it, we mean it.
After looking at this lehenga, do you also want to wear this hue at your wedding? Buy a bright pink lehenga here.
Looks like Pastel Pink is never going out of trend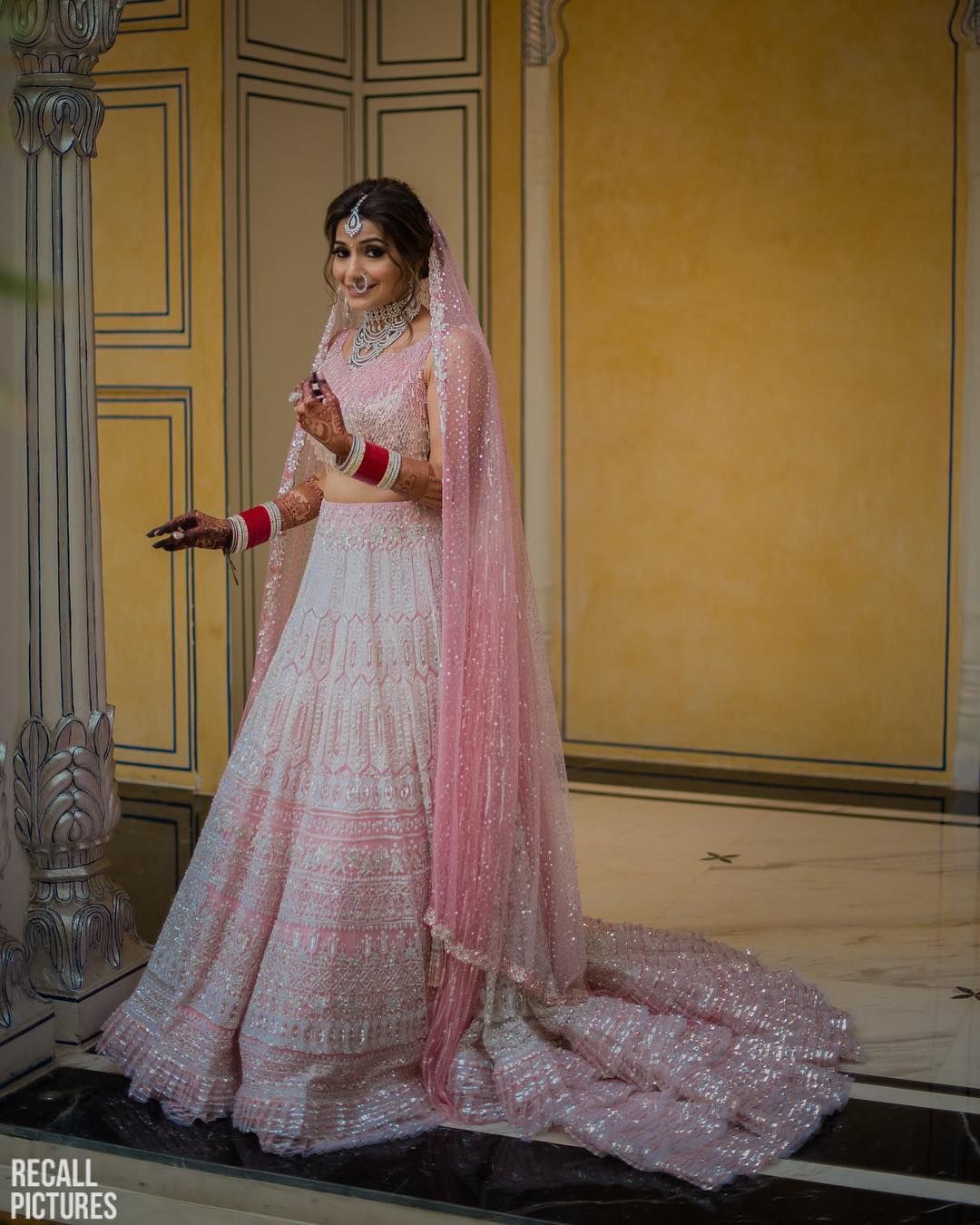 Image via @dollyouup_bys
How much pastel pink is enough pink? Because it doesn't seem to leave the trend anytime soon.
Keeping it simple in a Dark Pink lehenga!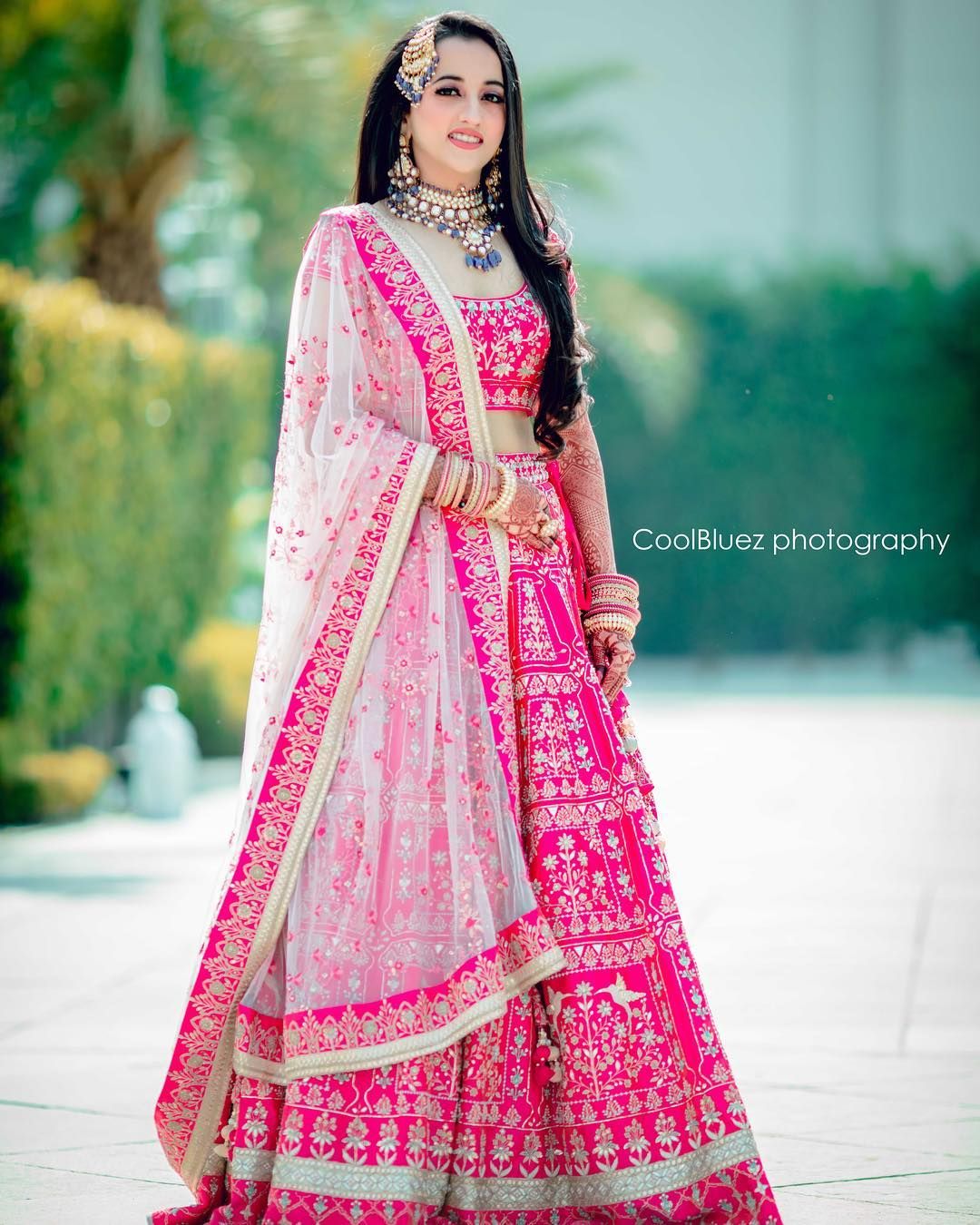 Image via coolbluezphotography
Dark pink bridal lehenga is one thing that can never go out of style but can for sure steal all the thunder!
We're swooning over this bride's Peachy PInk lehenga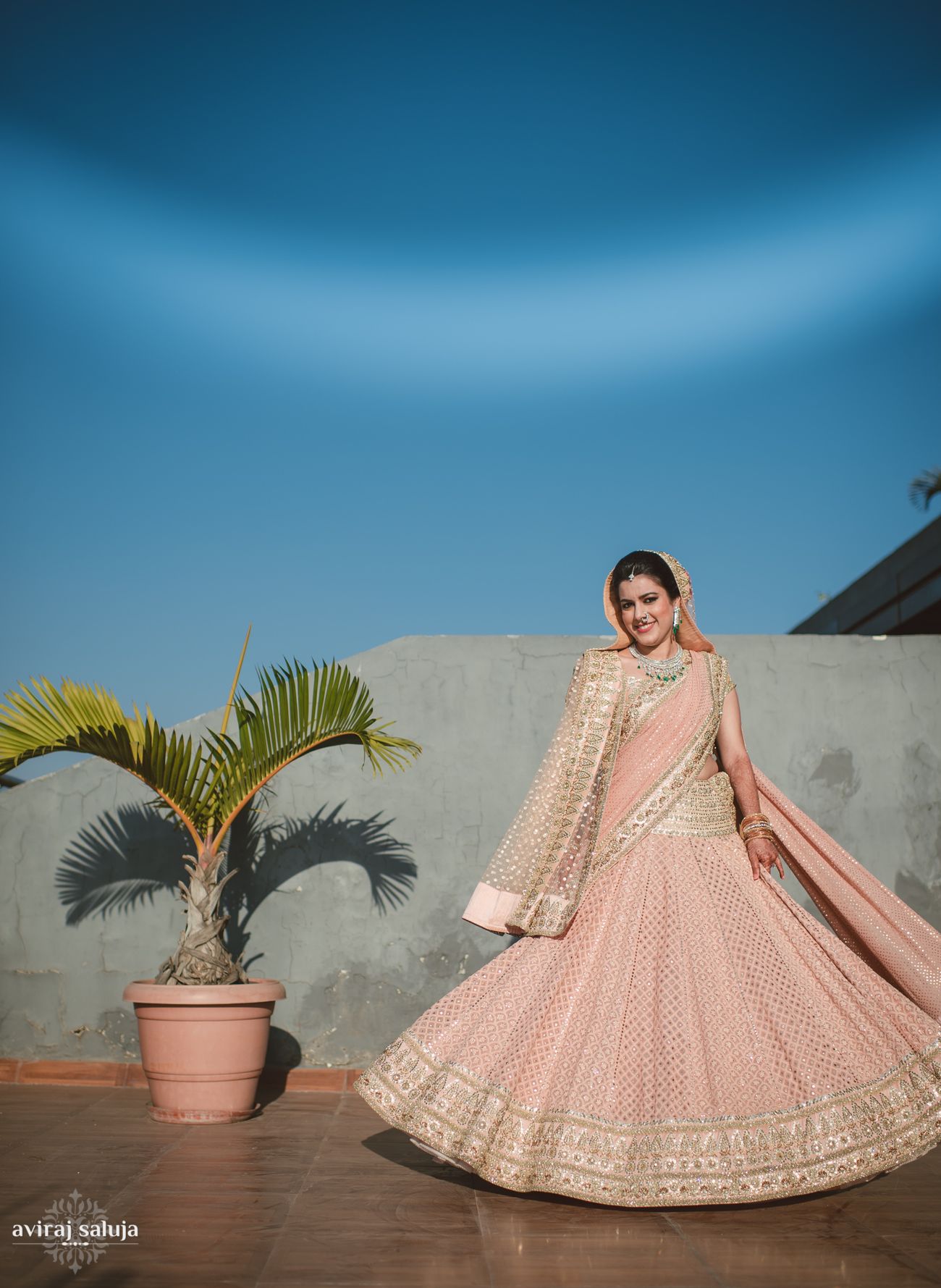 Image via The TABS India
Yes, we absolutely love how stunning peach pink can actually look in bridal lehengas!
This bride totally slayed the Raspberry Pink hue!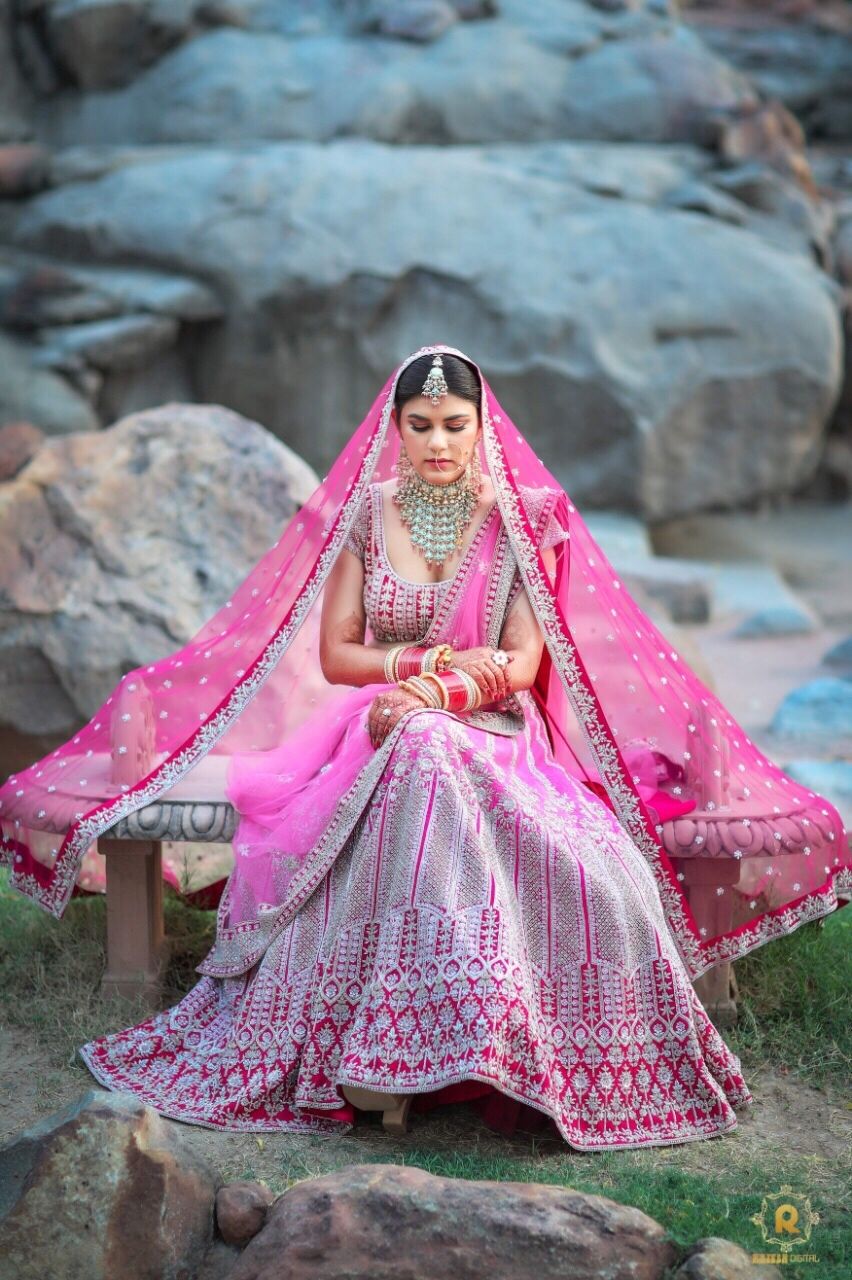 Image via Kashika Kapur
Who would've thought a color could be this yummy as well!
Rose Pink lehenga with a peach dupatta made a killer combination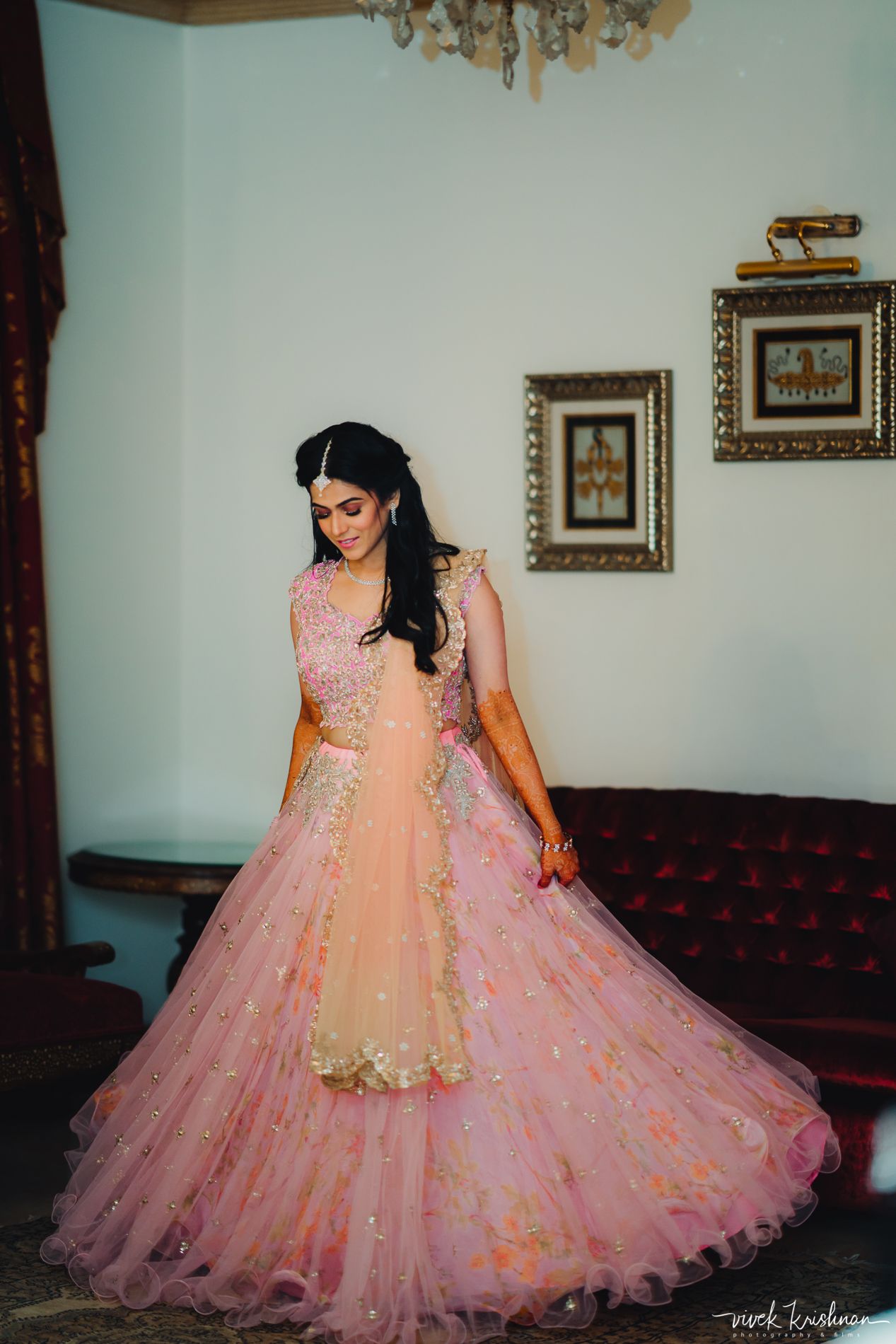 Image via Vivek Krishnan photography
This subtle rose pink lehenga is perfect for all sorts of wedding functions.
You cannot go wrong with a Crimson Pink bridal outfit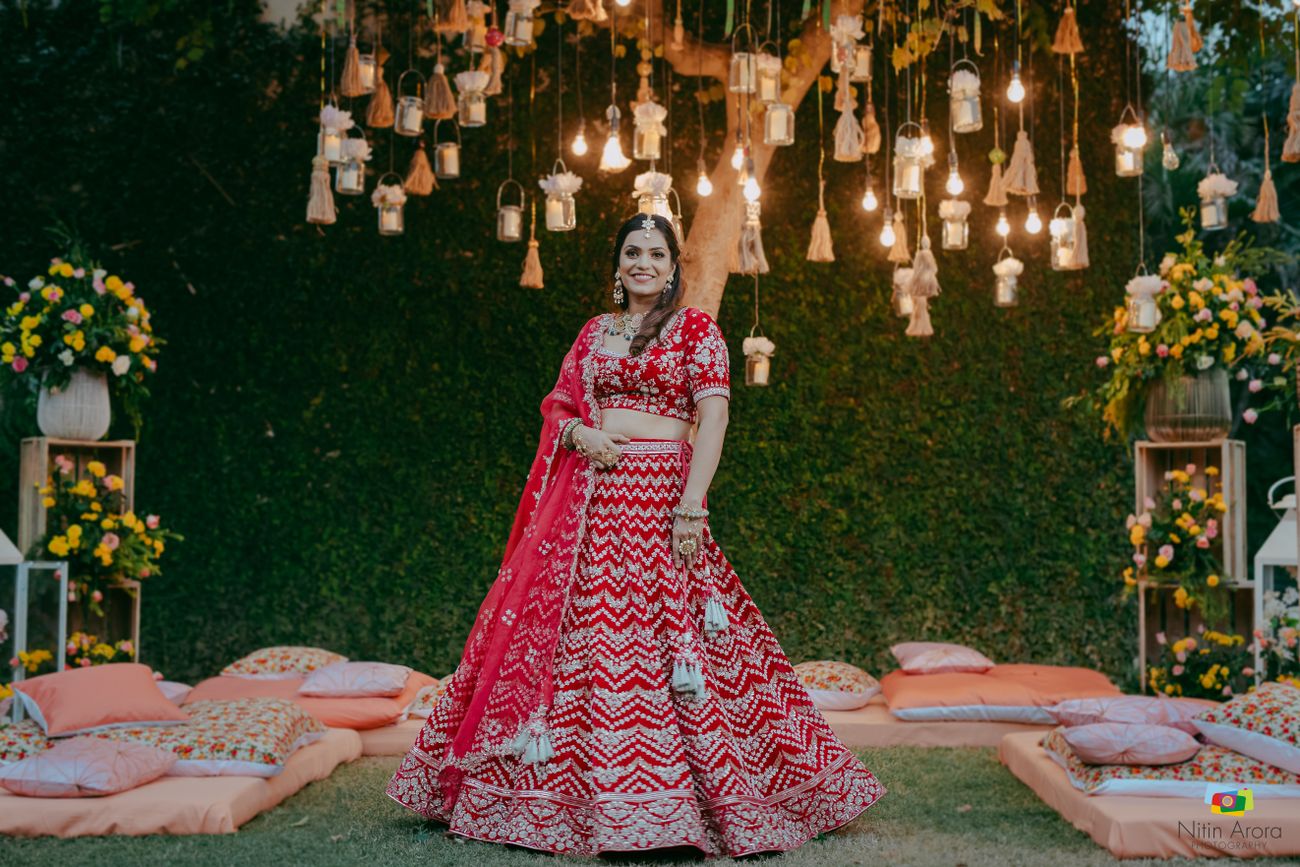 Image via Matsya by Utkarsh Ahuja
This is so true, crimson pink can make every bridal lehenga extra gorgeous!
Rani Pink for the win!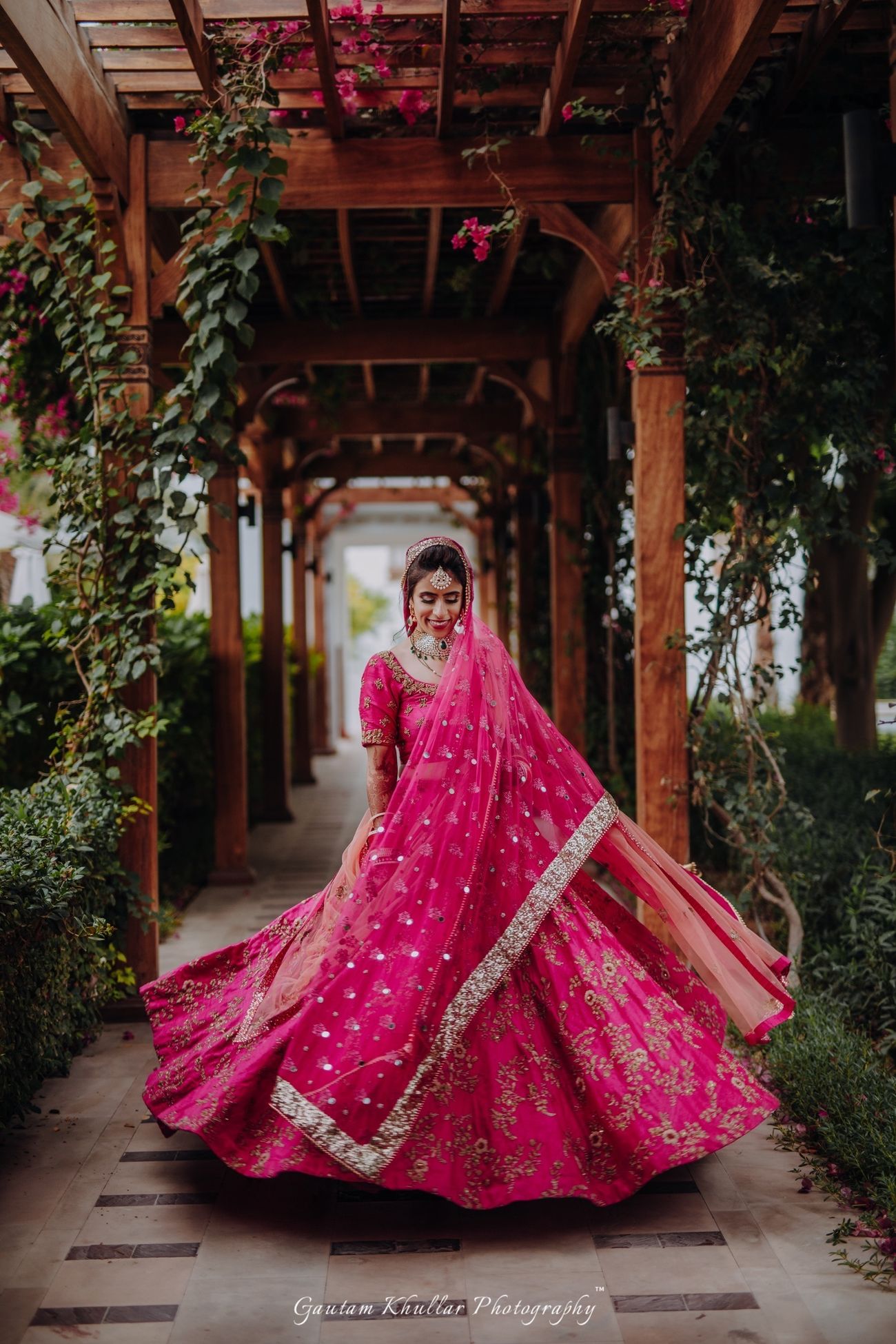 Image via Honii Sandhu
When in doubt, Rani Pink bridal lehenga is the way to go!
This bride broke the internet in an offbeat Watermelon Pink bridal wear
Image via Kompal & Rishabh
It is always a treat for the eyes to see brides bringing in new hues that not only trend but make us bookmark for sure!
And finally, what could be better than a millennial Dusty Pink!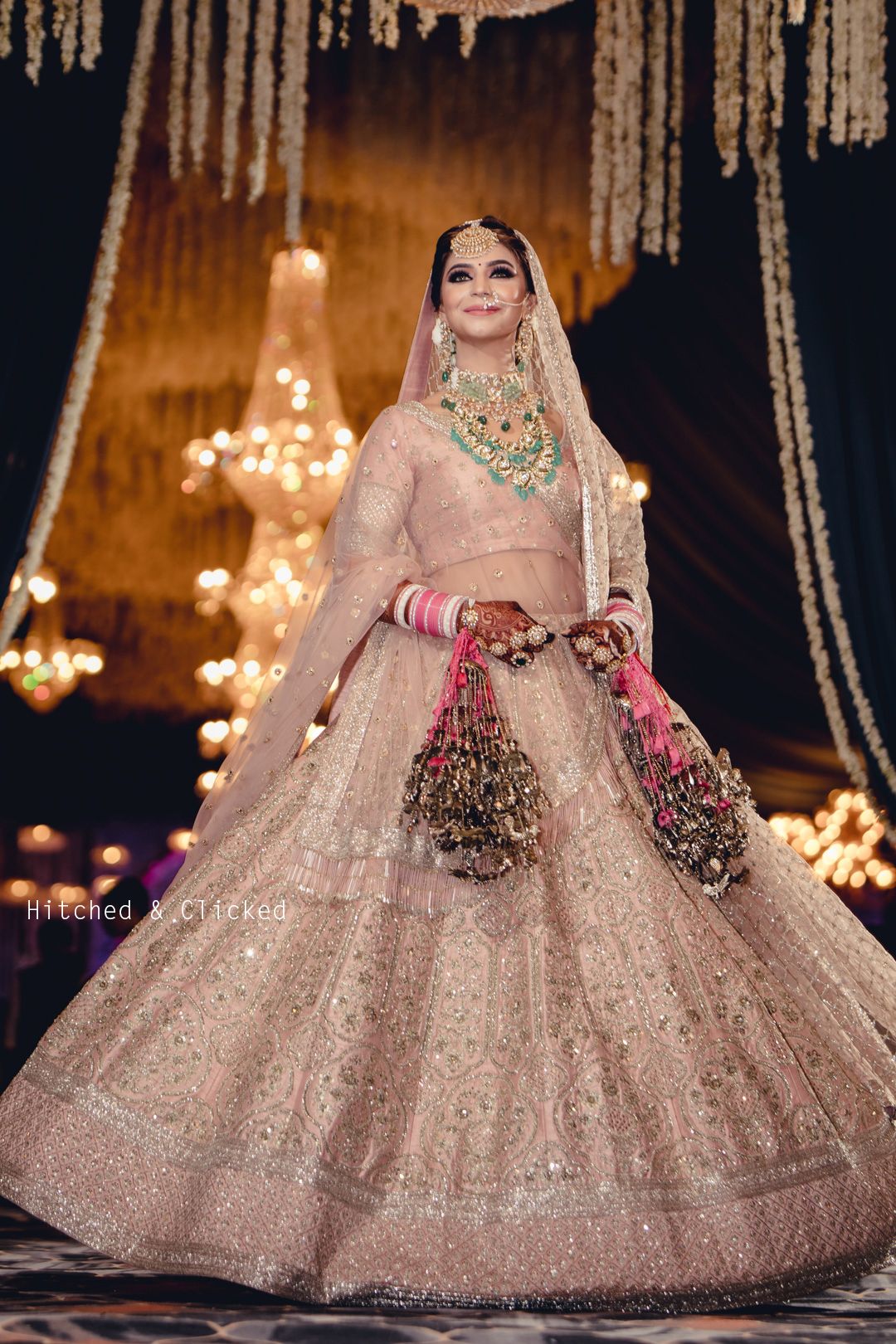 Image via hitchedandclicked
They say, to keep the best for the last and we did it! Dusty pink has created its own rage in the market and it wasn't even wrong doing so!
These different shades of pink have surely left us drooling! And trust us, picking a favorite bridal lehenga from among these pink color shades is nearly impossible. So, tell us, which pink lehenga do you favor for the bride: dark pink, hot pink, pastel pink, or light pink bridal lehenga?
ALSO READ - Shades Of Red For Bride To Rock This Wedding Season