Contrasting Jewellery Ideas To Pair & Wear With Your Red Lehenga!
BY Sakshi | 17 Dec, 2018 | 23401 views | 3 min read
So you want to be a traditional bride in a red lehenga, but really want your look to stand out in some way? Then mixing up your jewellery is a great idea! Contrasting your jewellery with your lehenga, or wearing something unique is a cool way to do that, and here are some Real Brides who pulled that off to perfection! So get inspired and try something new like these brides did! 
Diamonds and Emeralds are a sureshot winner!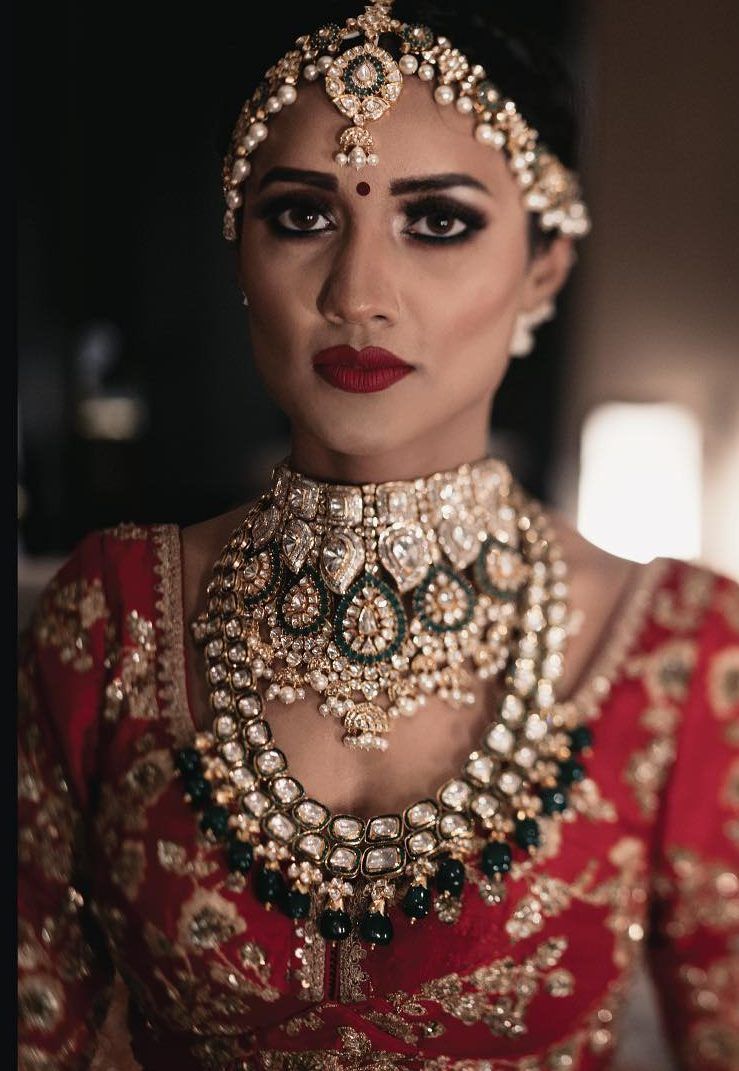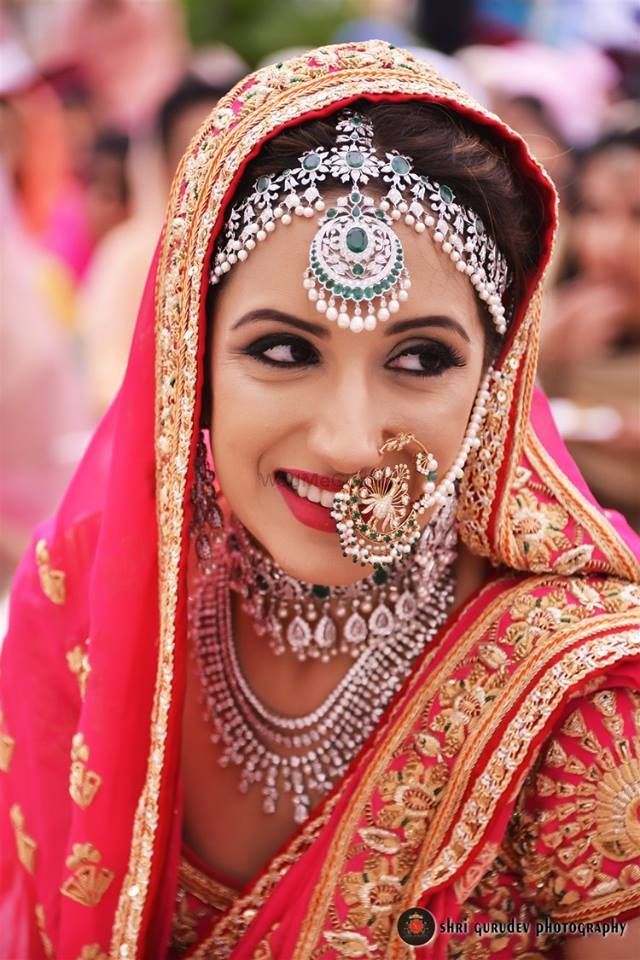 Image via Artfoto Studios★ 5  and Shri Gurudev Photographers★ 2.6  
How gorgeous does diamond and emerald jewellery look with red lehengas? We are the biggest fans of this look, and prefer it to an all-diamond look when it comes to pairing it with a red lehenga!
A lighter hue of green looks amazing!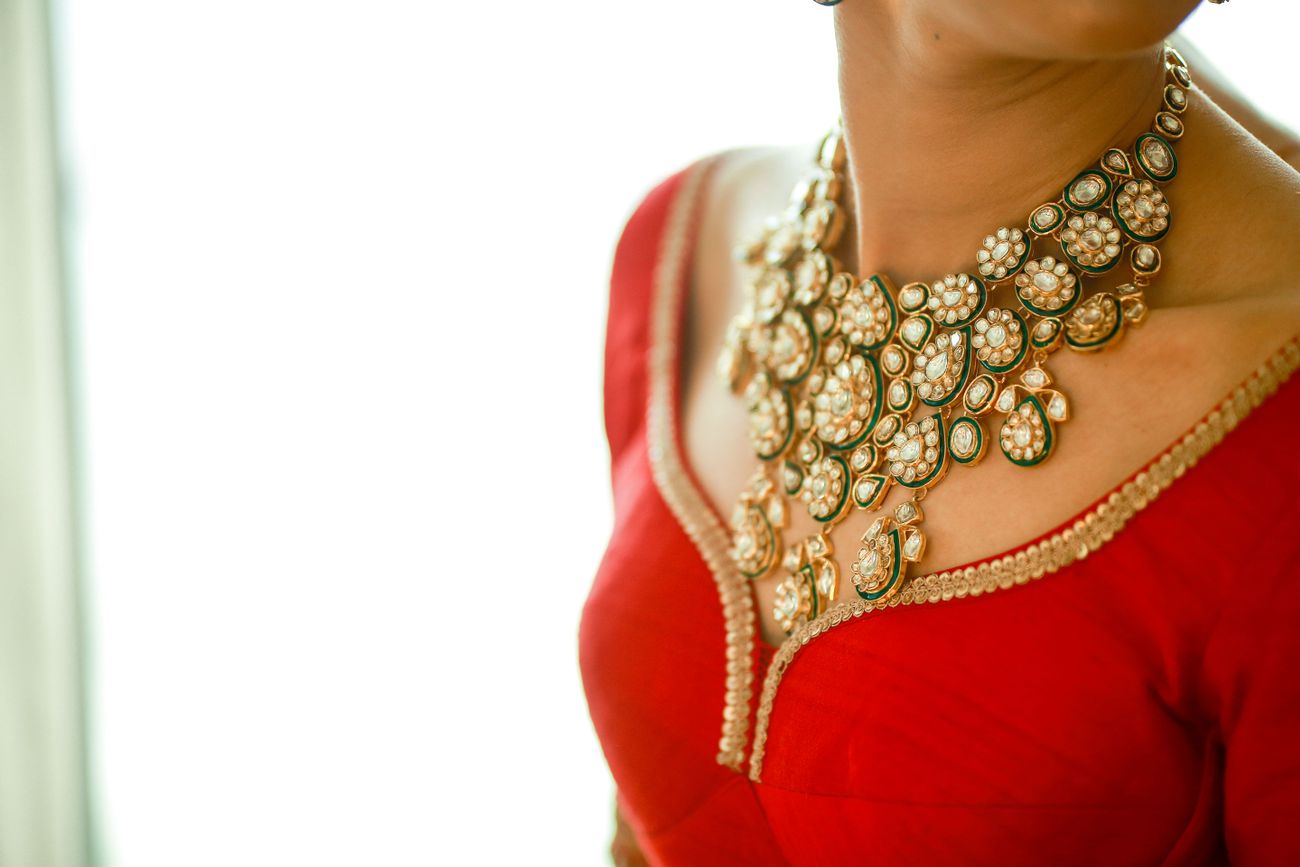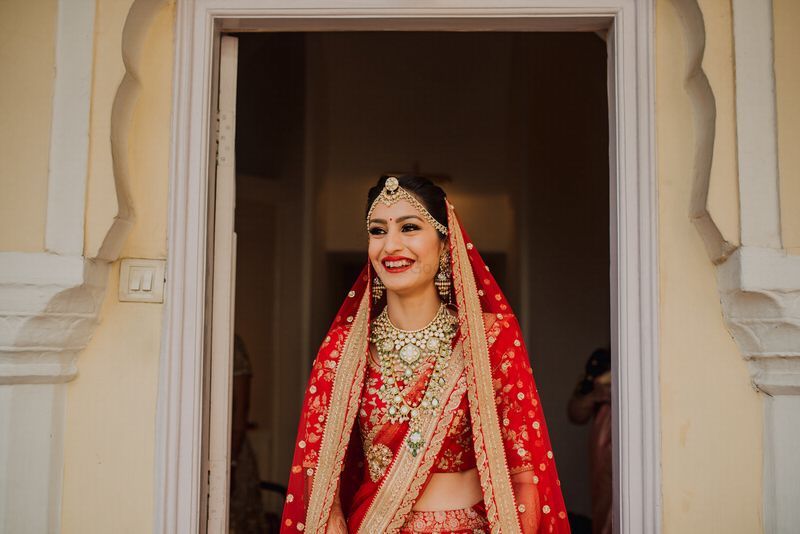 Image via Arshita and Sarthak (Sri Lanka) and Ambika and Athang (Jaipur)
Another great combination, and one that literally made us drool! This one works better for a day wedding with a red lehenga!
Deep green is a popular choice as well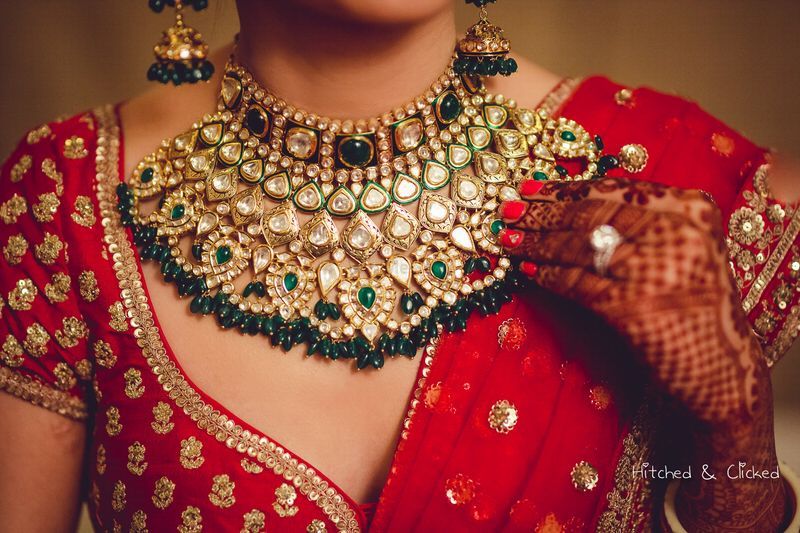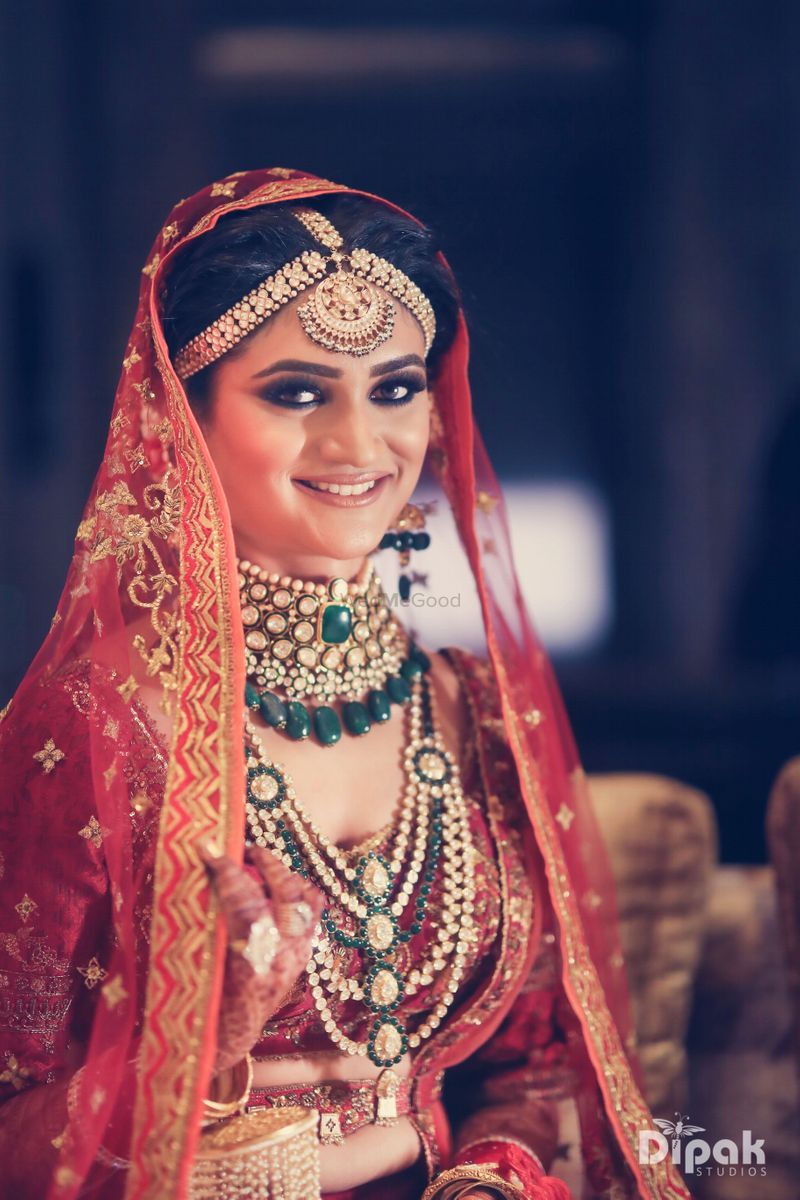 Image via Arshiya & Akshay (Delhi) and Chetna and Naitik (Chennai)
This one is perfect for a night wedding- a deeper hue of green contrasting against the red!
But it works even when tweaked like this!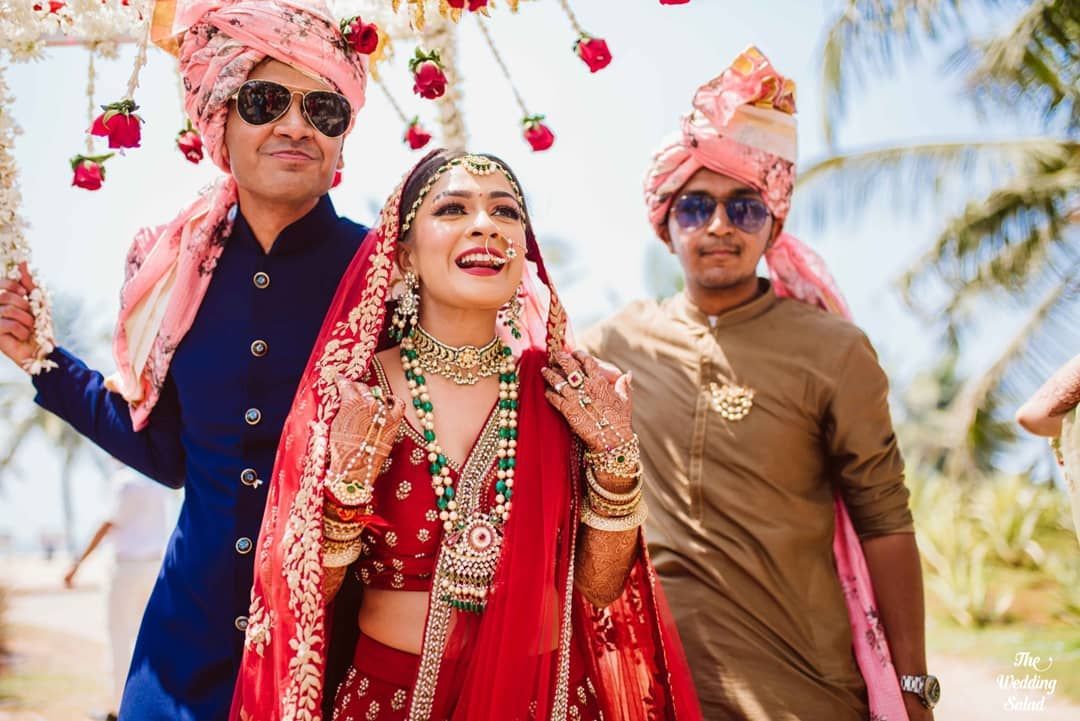 Image via The Wedding Salad
Another fresh and new combination, which we loved!
Diamonds and polki looks great of course!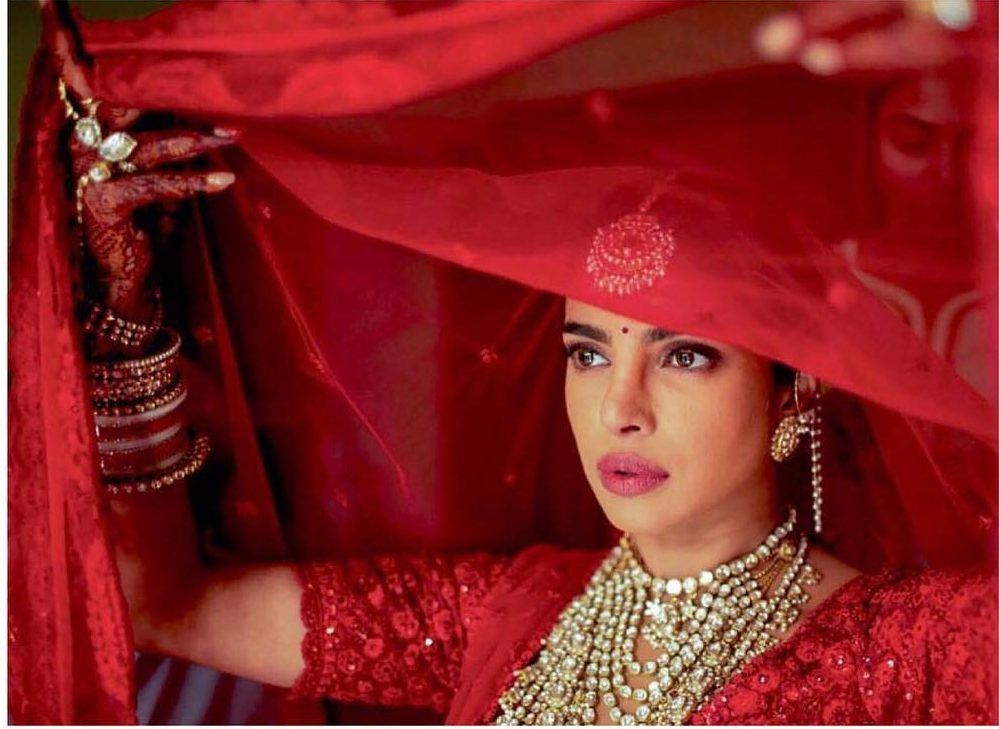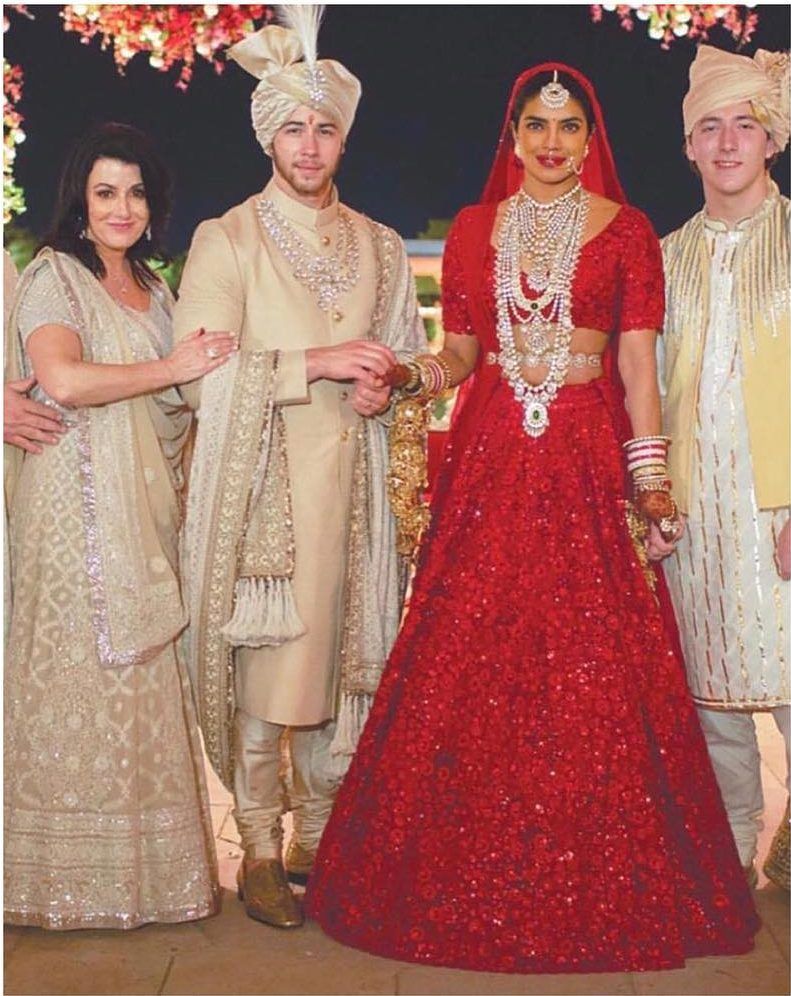 Who's not a fan of the all-diamond or polki look? Especially when it's that elaborate and grand!
Silver jewellery looks offbeat and edgy!
Image via Sanaa and Parth (Goa)
How nice and edgy does that look? Definitely makes the bride stand out in a cool way!
Pearls are always a safe choice- even better when paired with diamonds!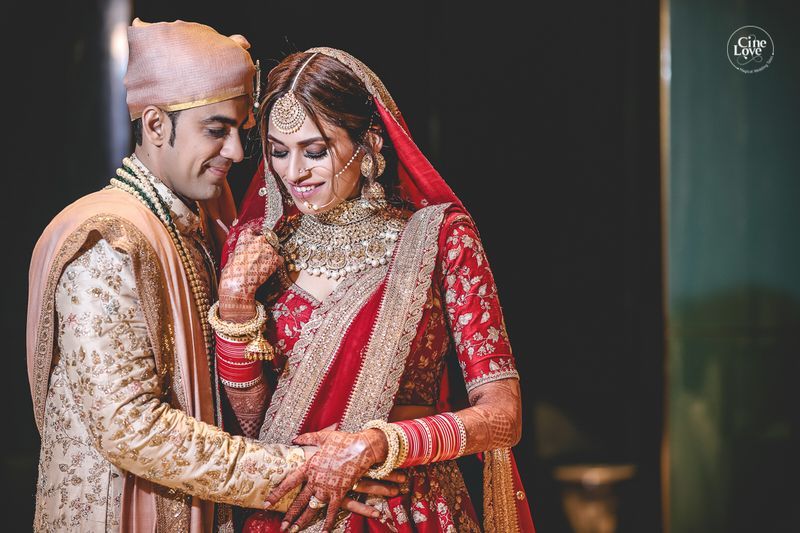 Image via Evolve Weddings India
Pearls look pretty too with a red lehenga- makes the white pop!
A pop of turquoise to make it pop!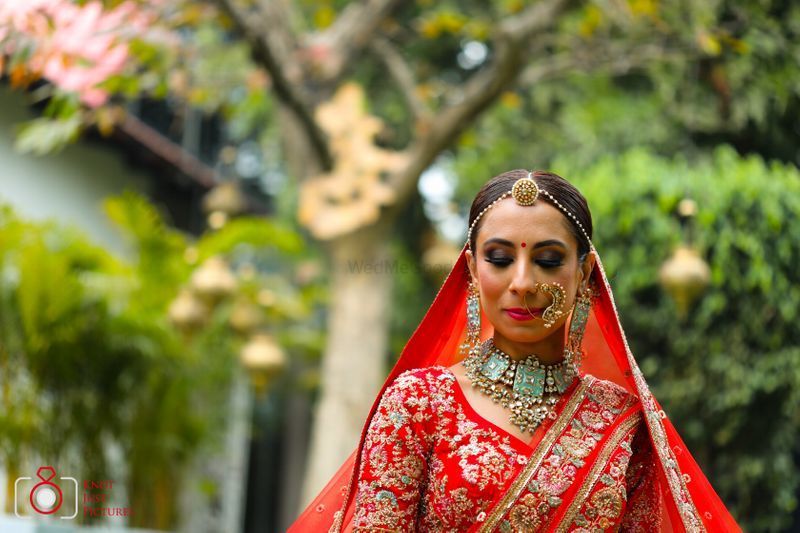 Image via Knot Just Pictures and Procolor 
This one is not something we've seen on too many brides, but it looks refreshing!
Grey looks amazing too!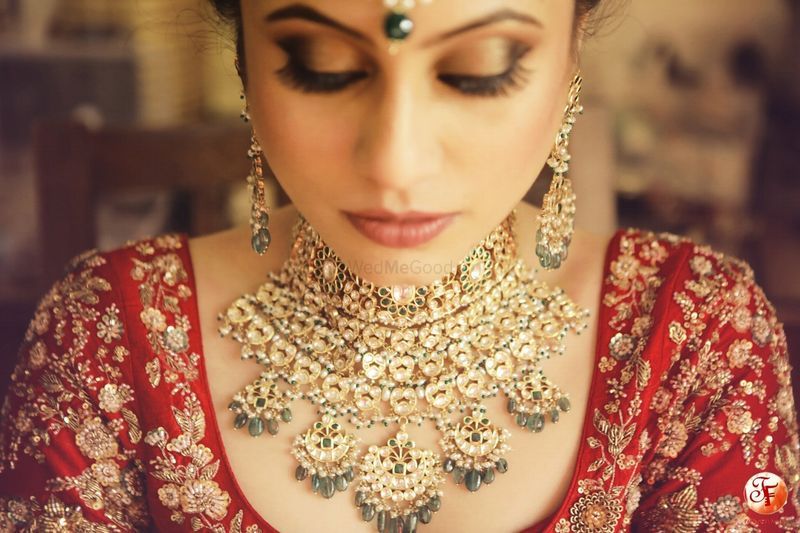 Image via Fantasy Filmer★ 4.8
When you want to keep it subdued and simple!
Something with a tint of purple perhaps?
Image via Purva and Shivam's Wedding
Another one we haven't seen too many brides rock!
Or a touch of blue maybe?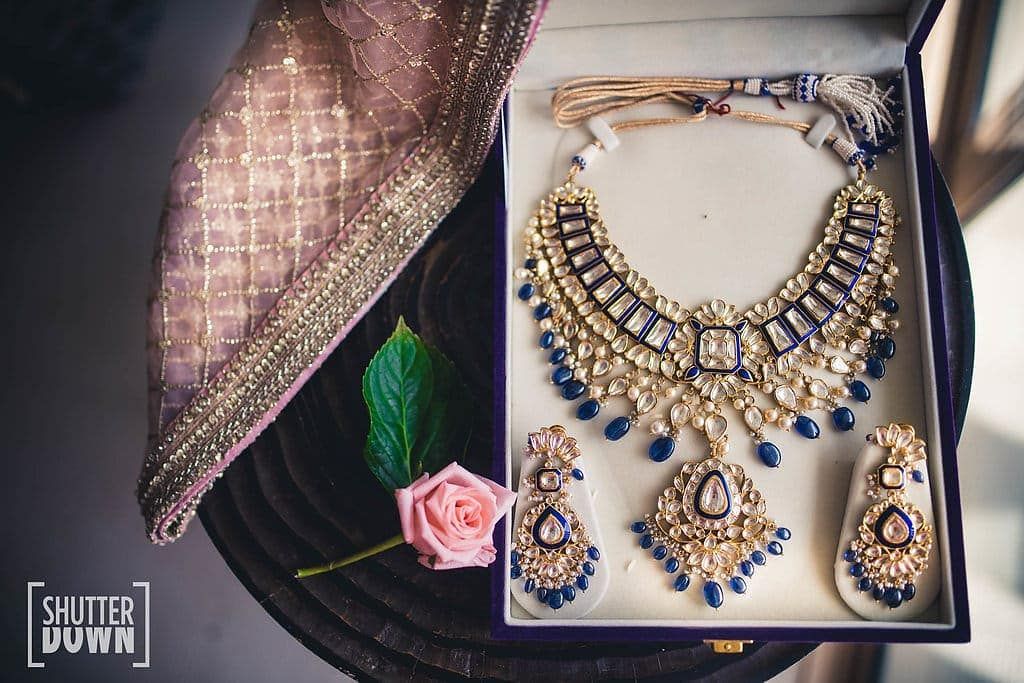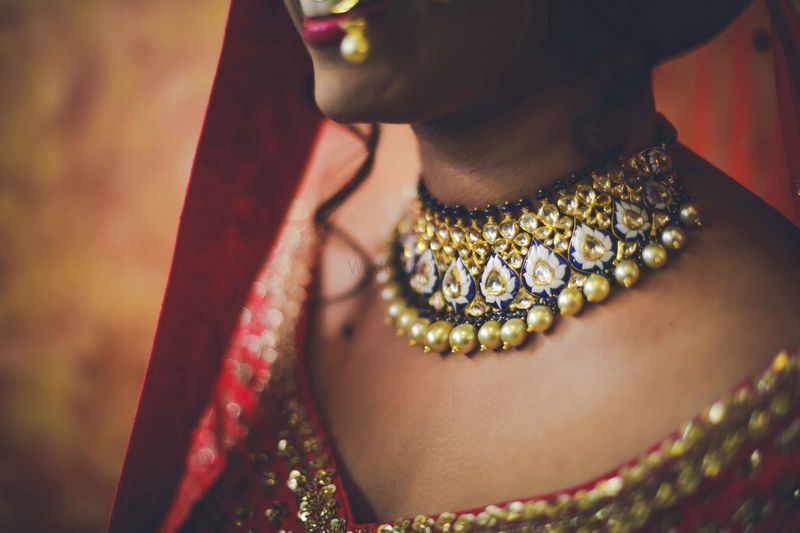 Image via Shutterdown - Lakshya Chawla★ 4.9  and Happyframes
This one is so unique too- blue also does go with red if you're looking for something other than dark green!
Dark pink looks fabulous too!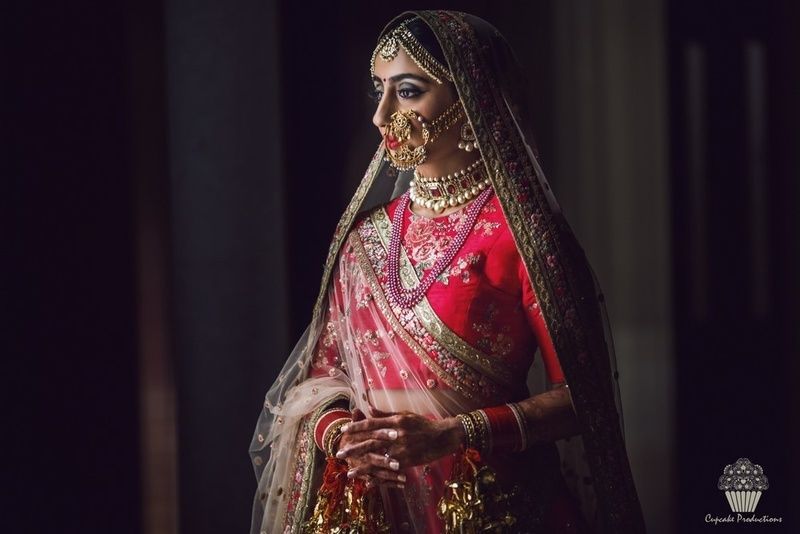 Image via Tejshree and Revanta's Wedding
Subtle, and adds a pop of contrast without making it stand out too much!
Something with just a teeny bit of red!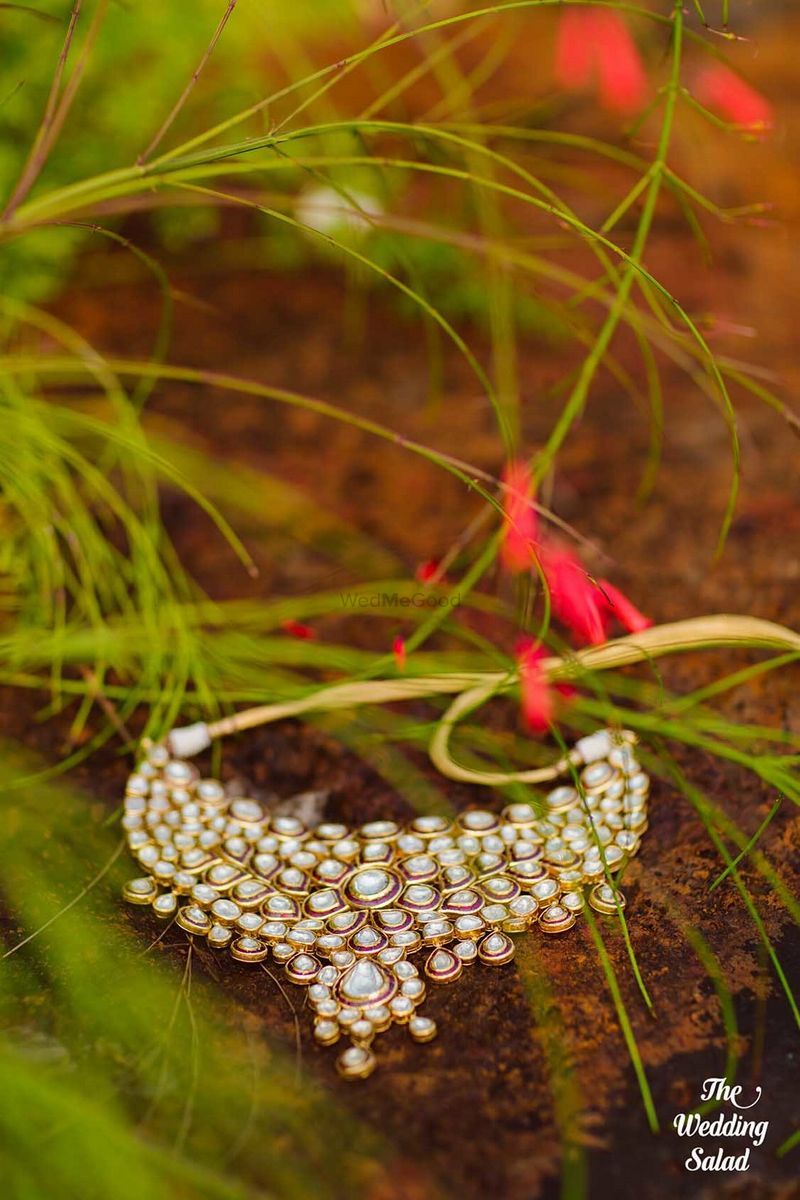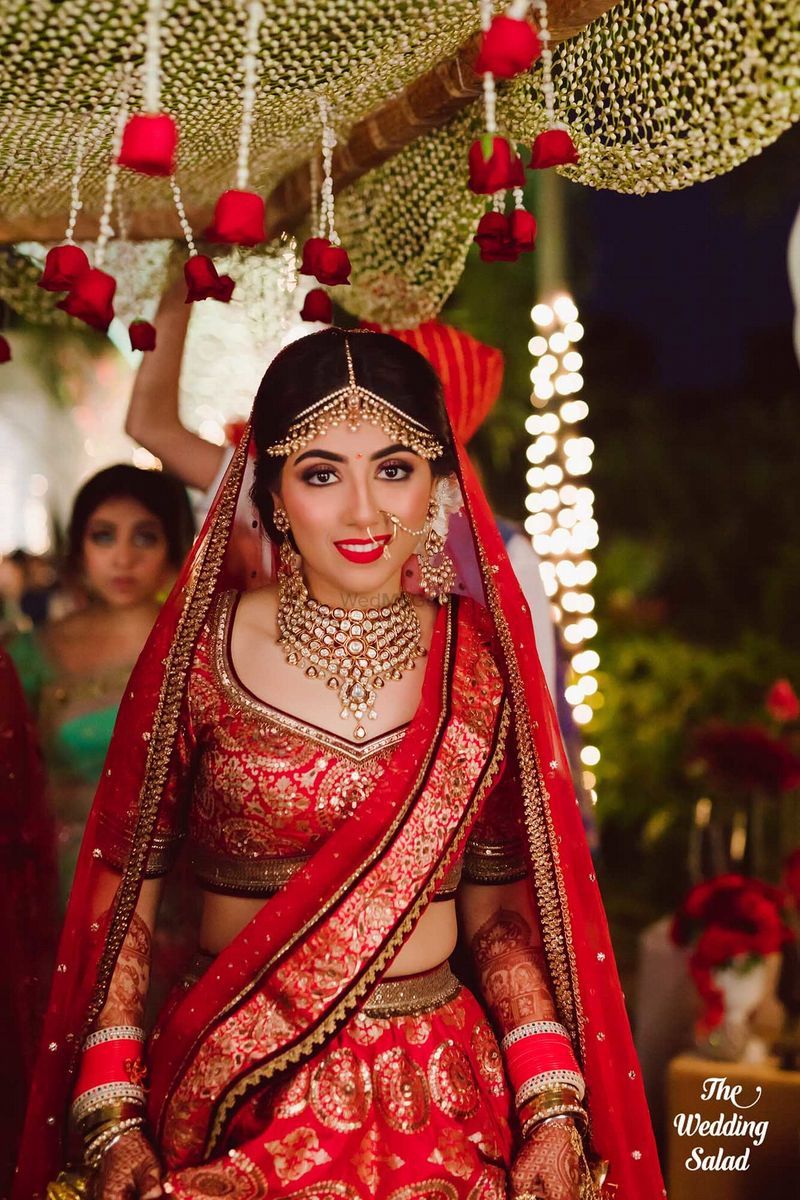 Image via The Wedding Salad
Another subtle way to add some colour to your jewellery and look without going OTT!
Red stones in a deeper hue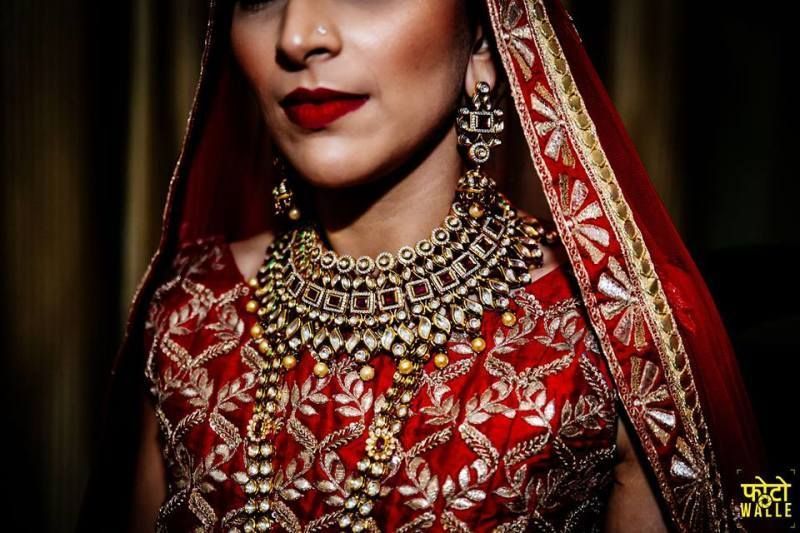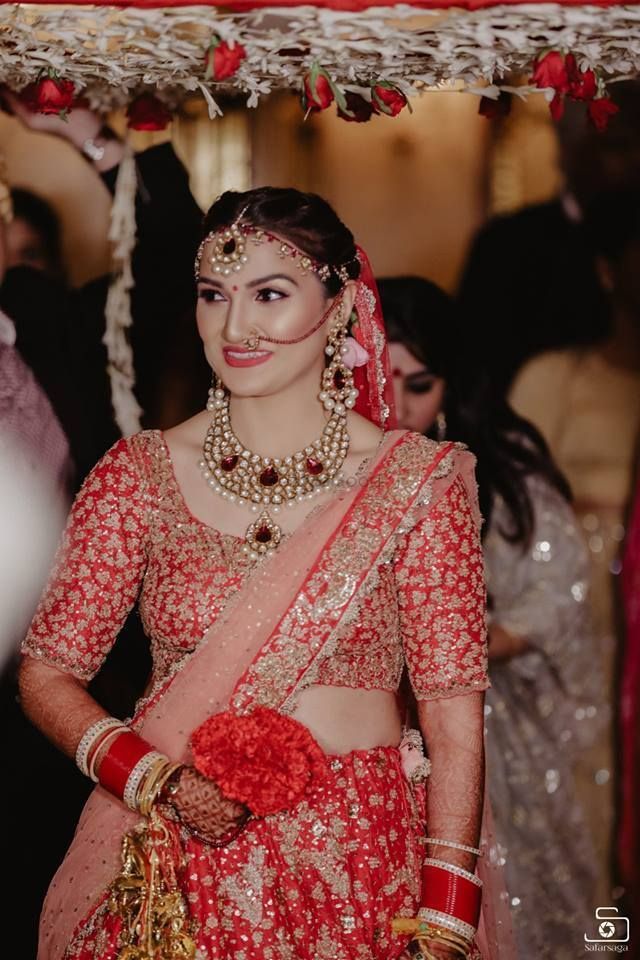 Image via Fotowalle - The Story Folks and Safarsaga Films★ 5
You might think they don't pop, but they do!
Or gold jewellery paired with a dark contrasting beaded necklace!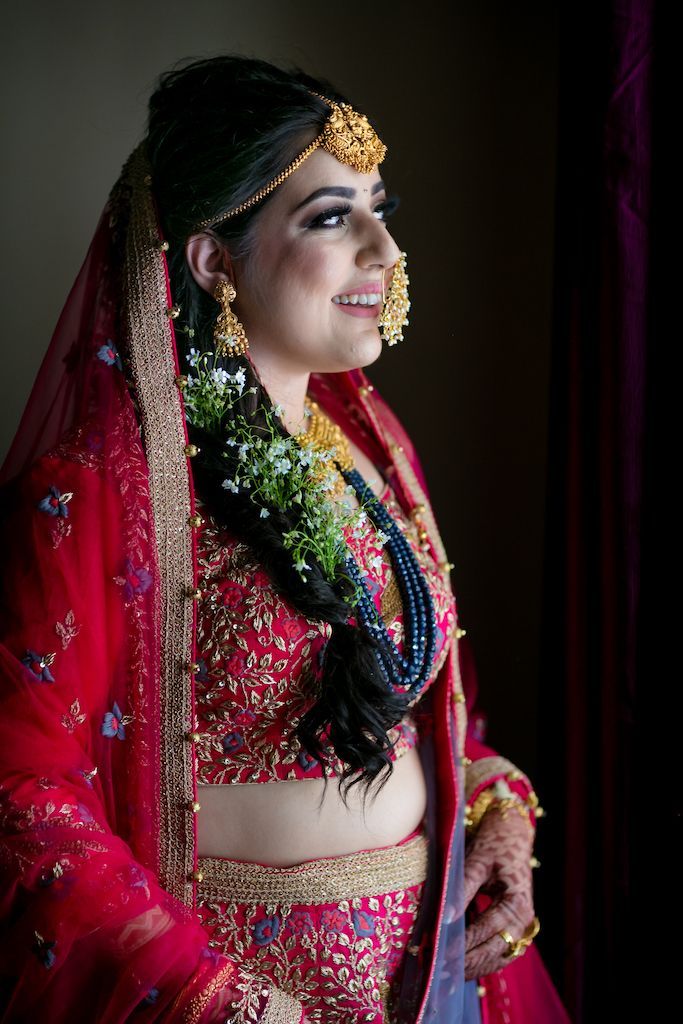 Image via Sid Wedding Photos★ 5
A much darker hue like grey or silver or even black- it works when paired with gold or lighter jewellery!
ALSO READ: The Most Innovative Ways to Match Your Jewellery and Lehenga!
10 Basic Rules for Colour Contrasting Jewellery to the Outfit!