The Most Innovative Ways to Match Your Jewellery and Lehenga!
BY Sakshi | 25 Jan, 2018 | 68428 views | 7 min read
We love how adventurous brides are getting with their lehengas and their bridal jewellery, and we've been getting to learn a thing or two from them too! Yup, brides have upped the game as far as their jewellery for lehenga is concerned, and here are some cool new ways to match them- whether it's contrasting or all match-matchy, these are some cool new ideas!
Contrasting Jewellery For Lehenga Ideas
Bright Contrasting Colours: Violet and Green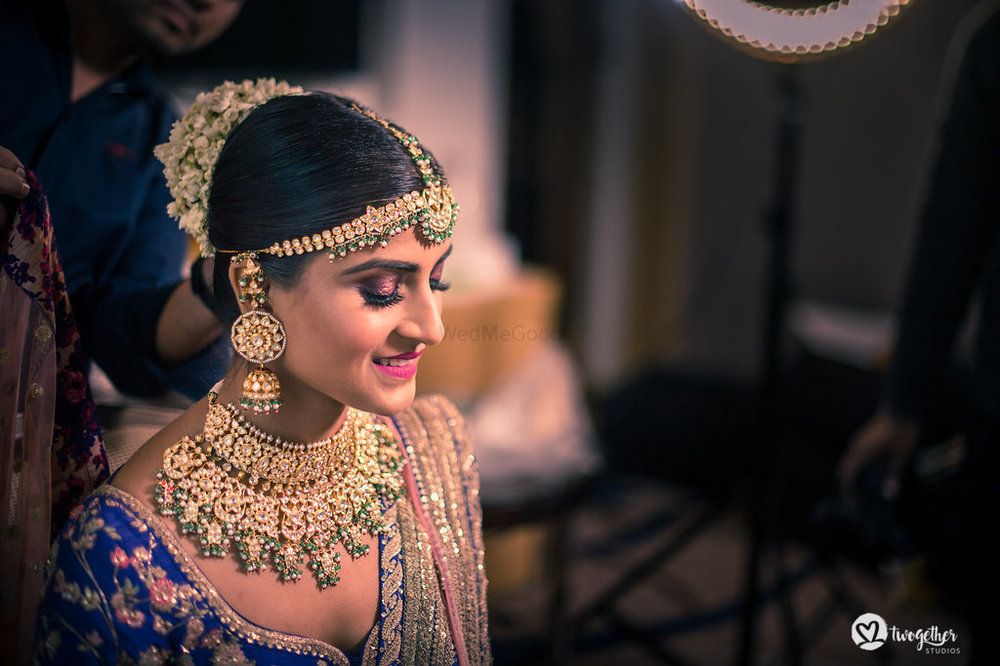 Image via Nandini and Ajay's Wedding
We love how Nandini picked up the beauty of her green and gold embroidery on her violet lehenga and matched her jewellery to it- both are contrasting colours, both seem to be polls apart, but they work so well! She surely gave us an idea what jewellery to wear with a lehenga.
Bright Contrasting Colours: Reddish Pink with a Pop of Blue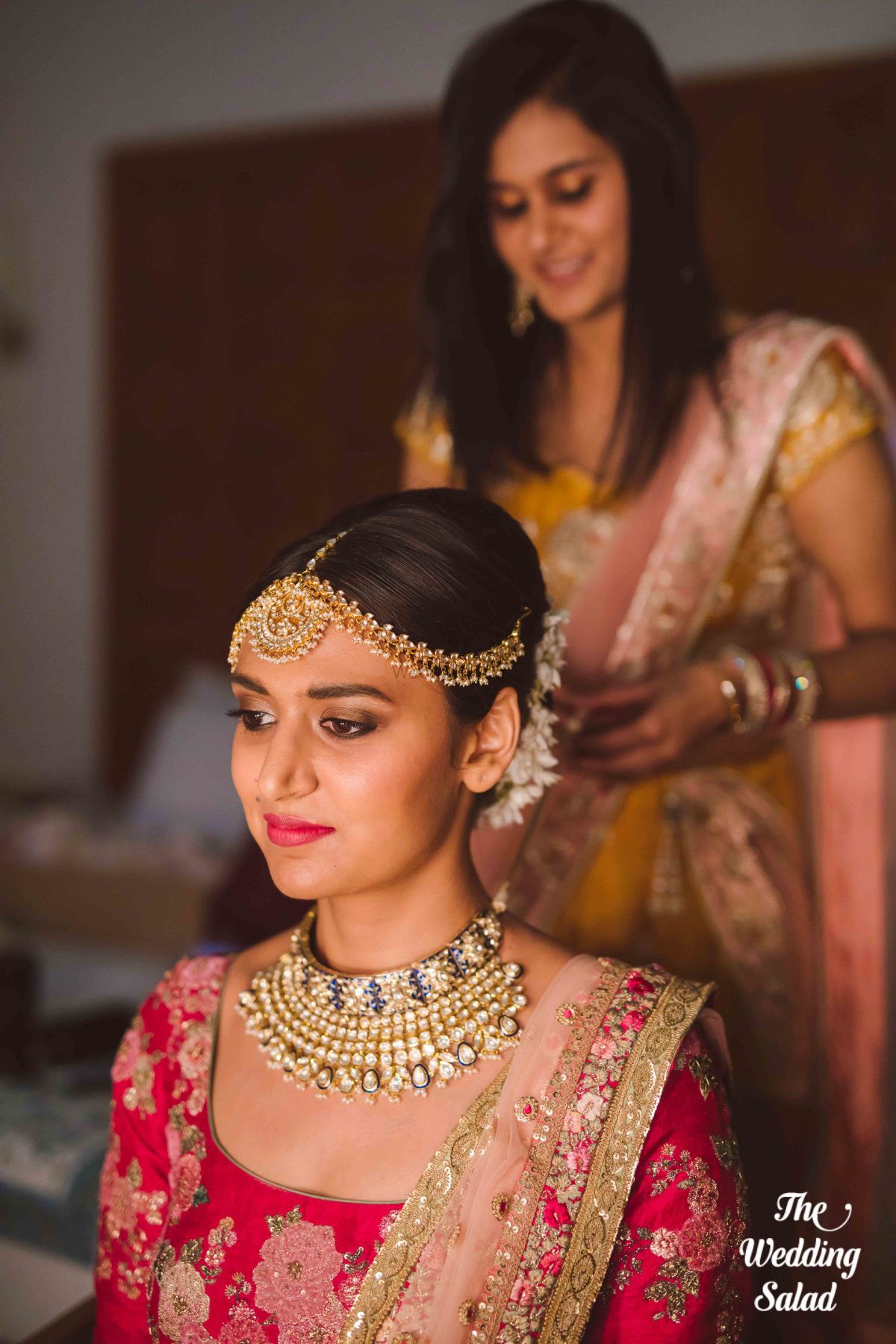 Image via Purva and Shivam's Wedding
Pop colours are so popular these days. Real Bride Purva had the most gorgeous necklace, which was a very unlikely one when paired with her strawberry pink lehenga- but they still worked! And for a good, contrasting pair of jewellery for a lehenga- simply wowie!
Bright Contrasting Colours: Saffron and Green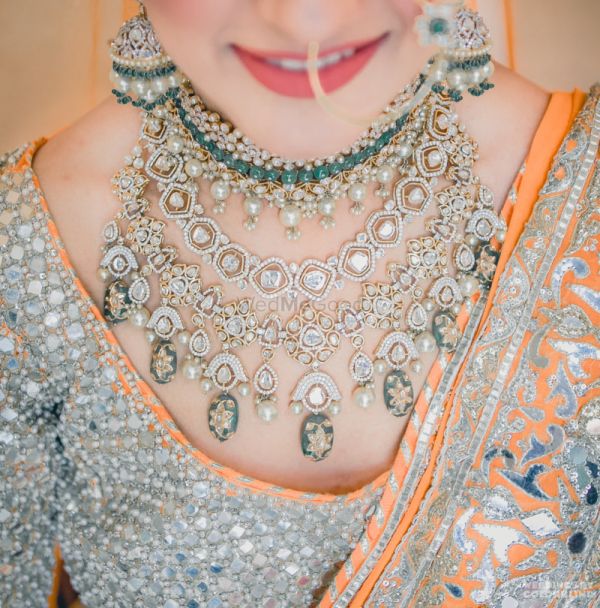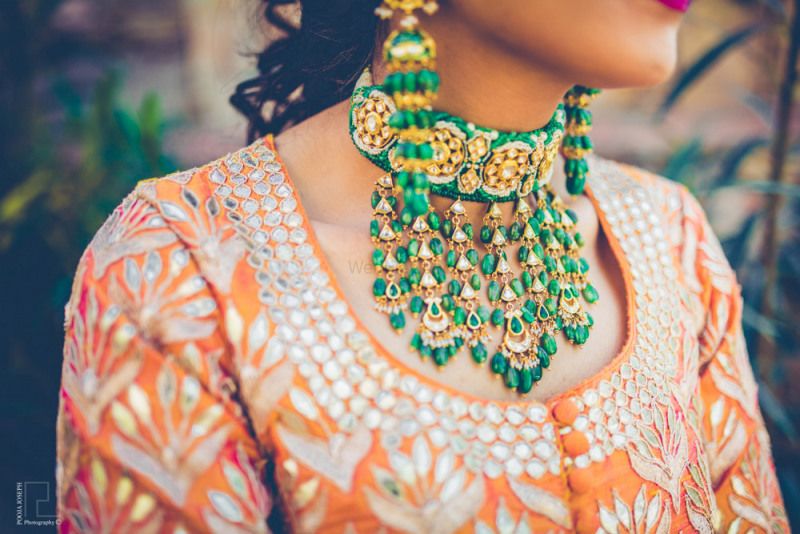 Image via Colorblind Production★ 5  and Nirali & Ribhu (Udaipur)
So in love with such a pair that is a mix of two bright colours giving us ideas as to what jewels to wear with your lehenga. Real Brides Meher and Nirali wore a very unlikely combination- saffron lehenga with green jewellery- but it still worked so well!
Bright Contrasting Colours: Pink with Red and Green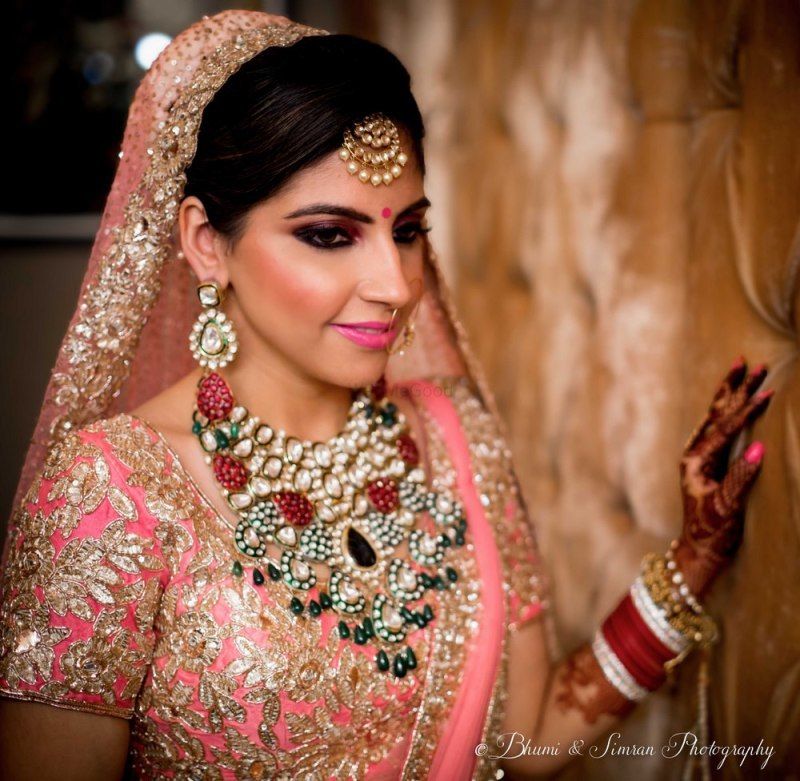 Image via Bhumi and Simran Photography★ 5
Doesn't it look bold? A jewel set holding such rich colours paired with a simple pastel lehenga. This Real Bride really upped her jewellery game by contrasting her lehenga with not just one, but two more colours in her jewellery, but it still works!
Contrasting Jewel tones: Maroon and Emerald Green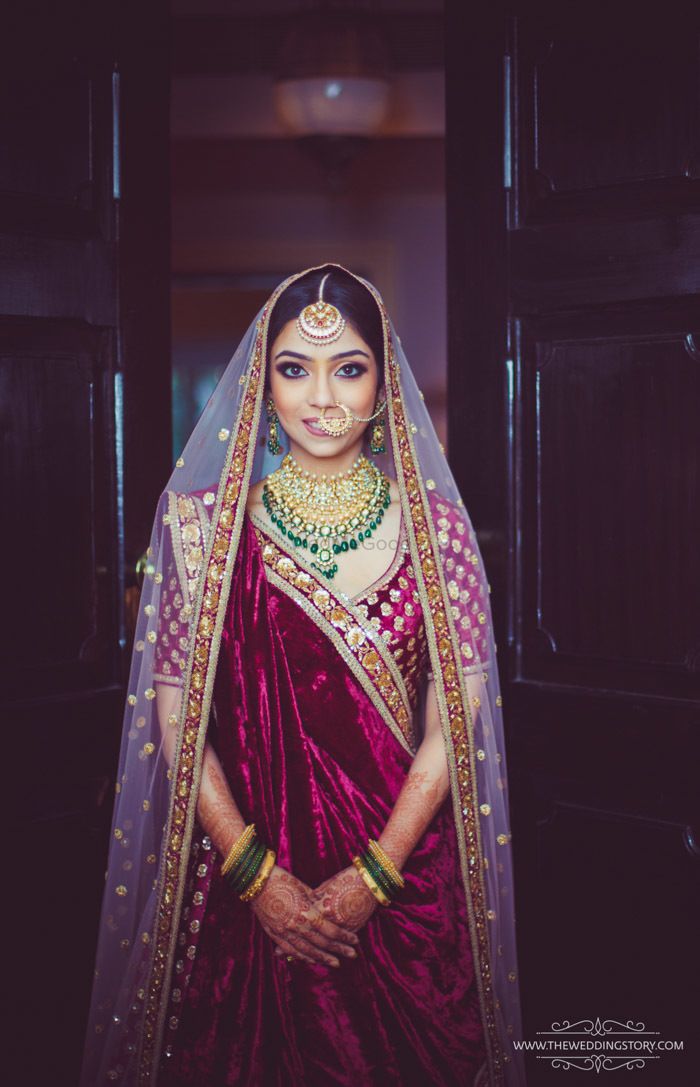 Image via Divya Vithika Wedding Planners
OMG are the letters that come out of your mouth after seeing this jewellery set with a lehenga. Simply outstanding and magnificent. Real Bride Kritika went all deep rich jewel tones- with her lehenga and her jewellery, which were both contrasting! Her lehenga was a deep maroon while her jewellery was emerald!
Contrasting Colours: Blue Stoned Jewellery With Golden Lehenga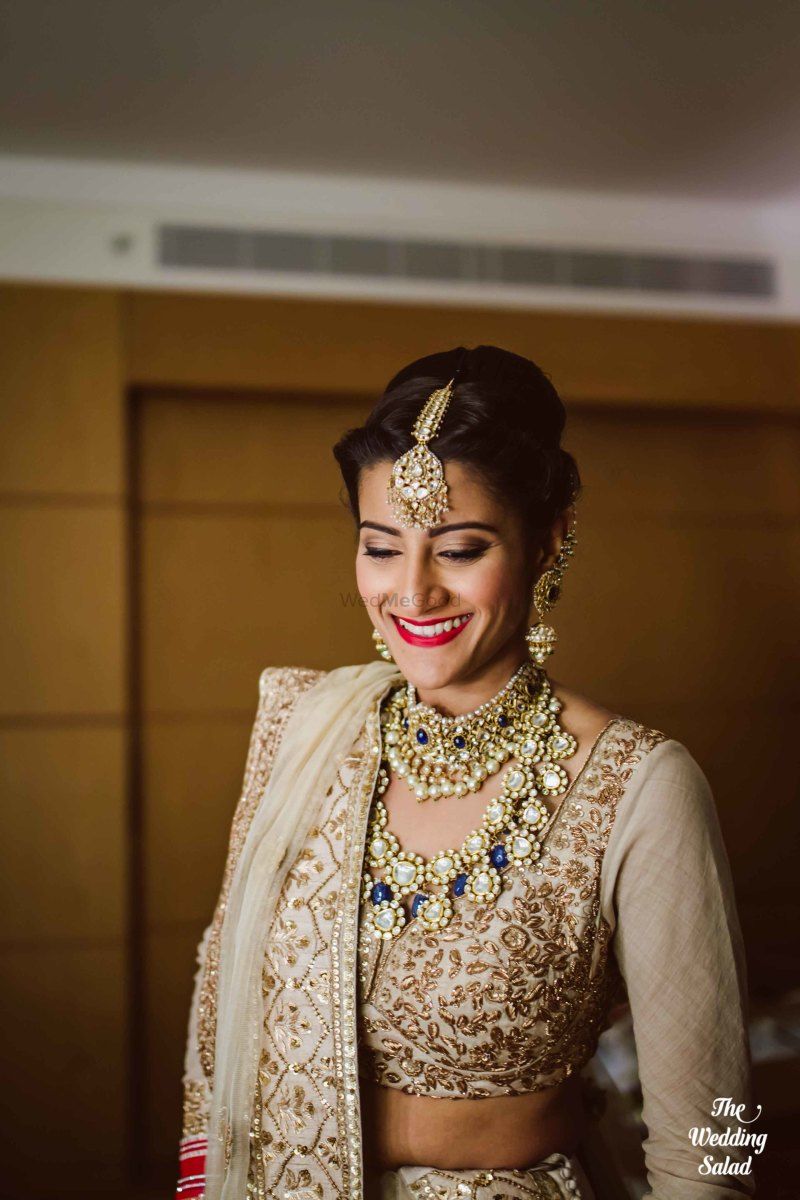 Image via Sasha & Samarth (Muscat)
Real Bride Sasha had some gorgeous polki jewellery- adding a tiny pop of blue to her otherwise beige and gold lehenga! These are colours that can be worn by anyone in this world and would still look stunning, though it is indeed common but can create a different look altogether. Who wouldn't want such matching jewellery with a lehenga?
Contrasting Colours: White with Pink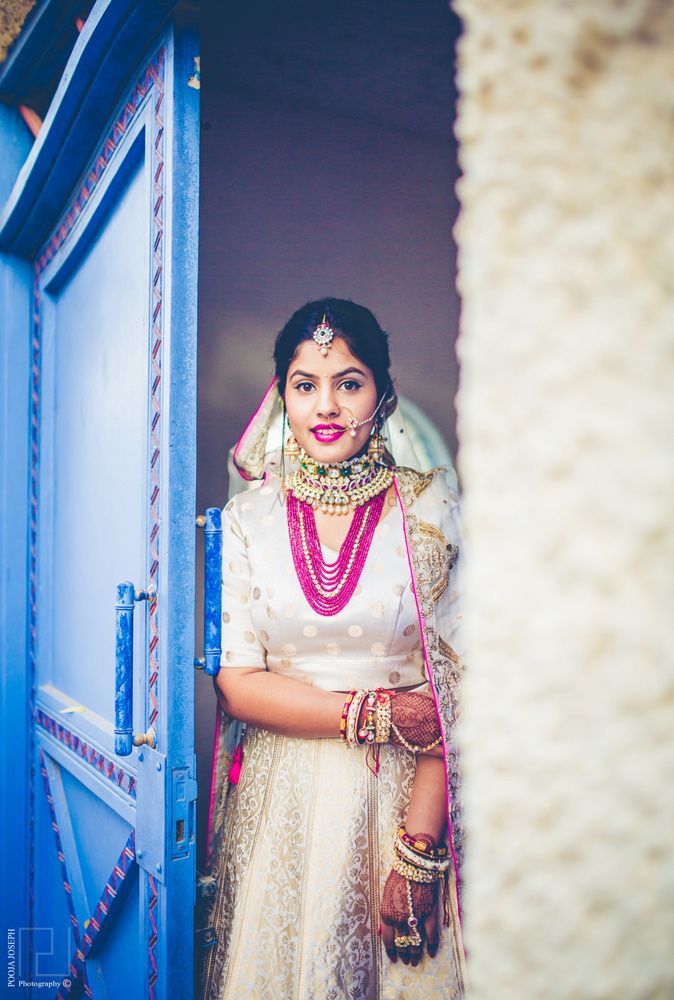 Image via Aashna & Uneesh (Baroda)
Still confused as how to choose jewellery with a lehenga? Real Bride Aashna really took a chance with her bridal look, and it worked so well! She paired her white and gold lehenga with contrasting pink jewellery and it looked gorgeous! How to mix pop with something so subtle? You've surely got your answer.
Contrasting Colours: Pastel Pink with Green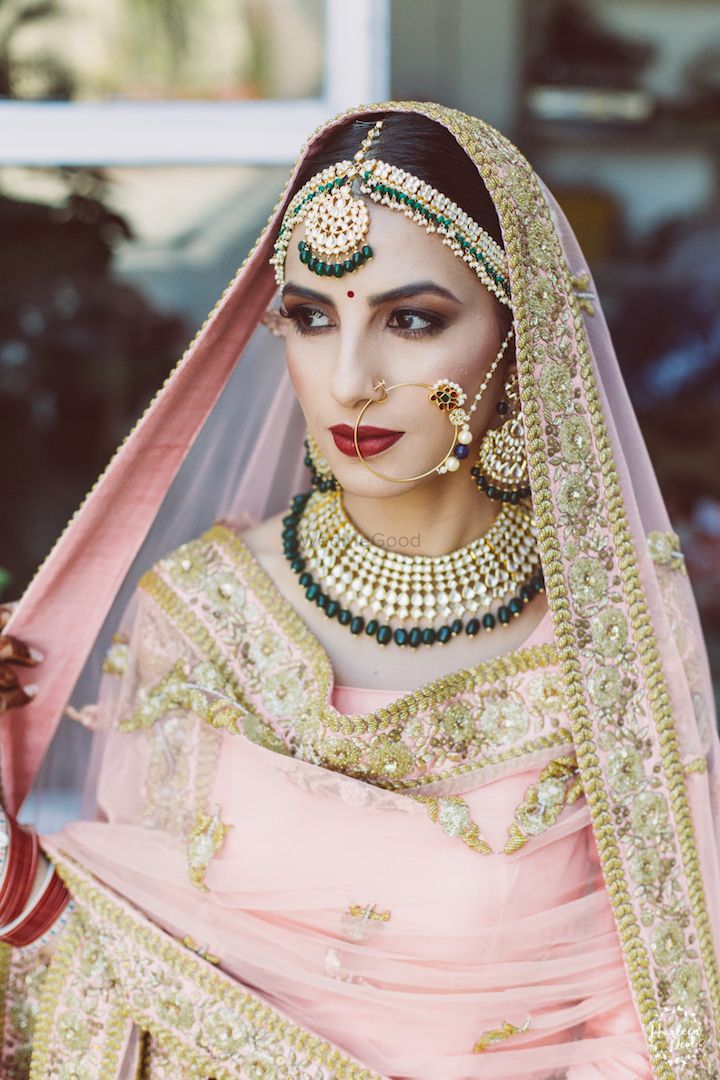 Image via Harleen Deol Photography
Real Bride Guneet had contrasting lehenga and jewellery- the green in the jewellery adding more depth and a pop of colour to her monotone outfit. She made a perfect style statement by choosing two pastel shades out of which one had obviously a darker tone and gave us a perfect idea for jewellery to be paired with a lehenga!
Contrasting Diamond and Emerald Jewellery with Red/ Maroon Lehenga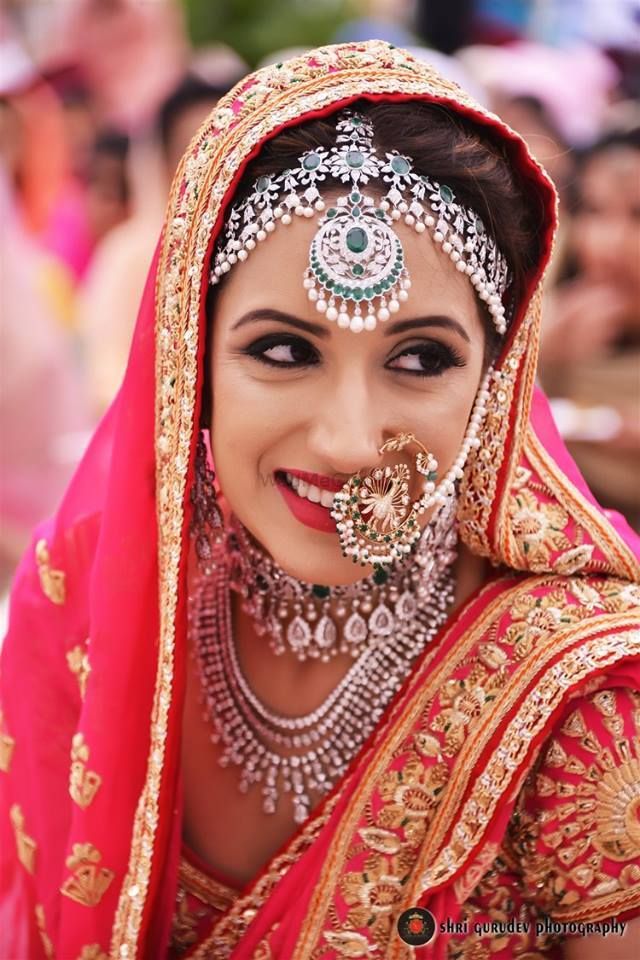 Image via Shri Gurudev Photographers
The jewellery and lehenga of these Real Brides have nothing in common, but they still go so well! That's the beauty of diamonds and emeralds- they are pretty versatile! This bride right here broke a simple norm and commonality of wearing golden shades of jewellery by pairing beautiful diamonds with a darker shade of lehenga. She went completely different from others and rocked every part of it.
Pearl Jewellery With Lehenga That Has More Than One Colour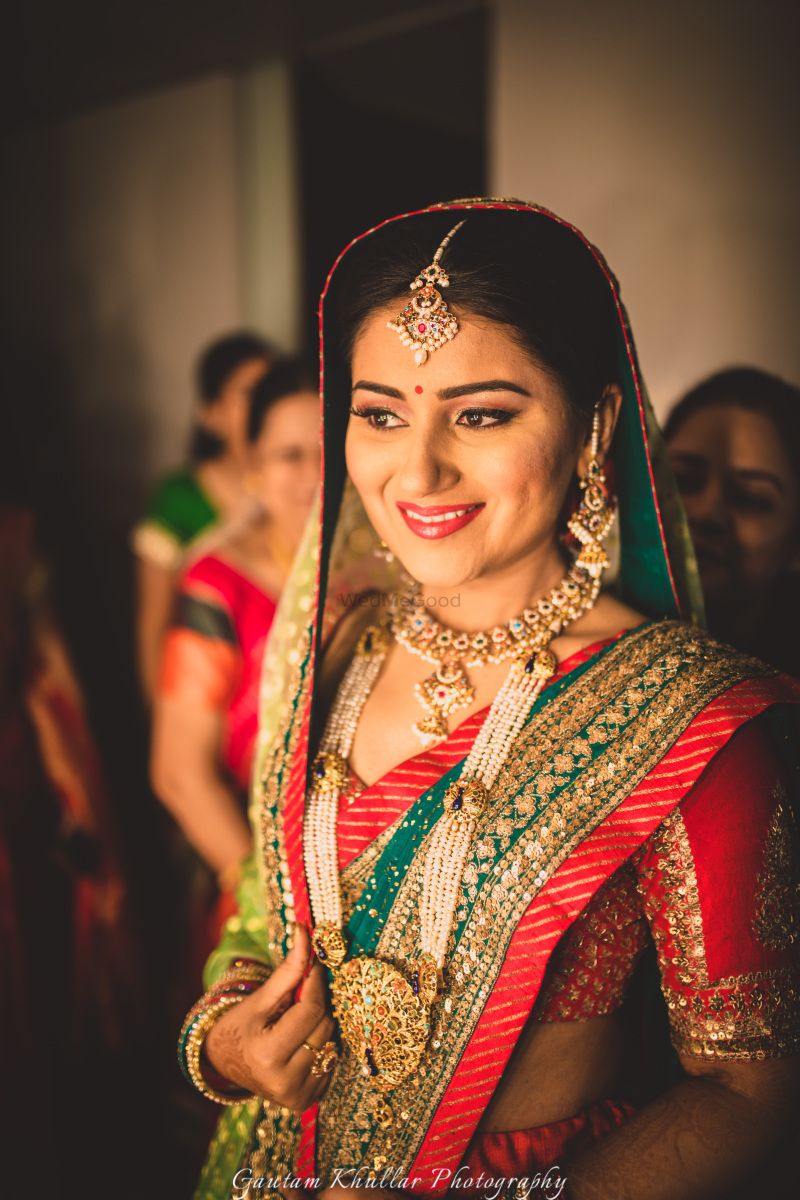 Image via Gautam Khullar Photography
Pearl Jewellery is a safe bet to go with a multicoloured lehenga- it stands out, pulls the whole look together and looks gorgeous! They sheer a sense of class and can be paired with any colour in this whole wide world. Another posh idea for a jewellery with a lehenga look.
Multicolour Jewellery with Simple Pearl Lehenga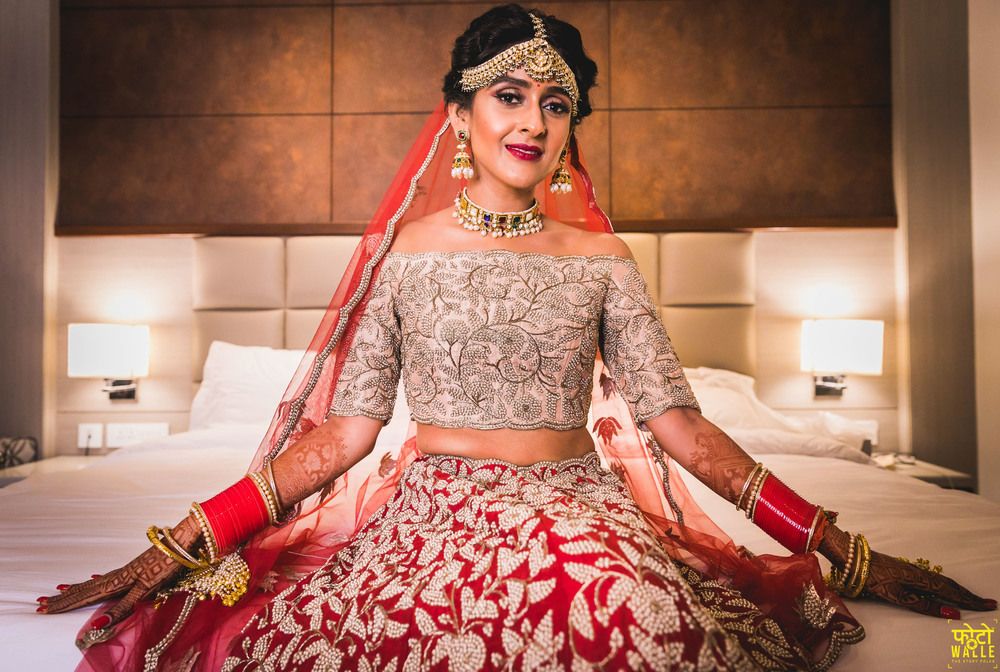 Image via Shreya and Nikhil's Wedding
A simple choker set with a maathapathi, a simple pair of jewellery for your lehenga. Real Bride Shreya's choker had a lot of colours and pearls, but her lehenga was a simple silver and red one with a lot of pearl work on it.
Matching Jewellery Ideas
Pastel Lehenga With Pastel-toned Jewellery- like this bride and her matching jewellery for pink lehenga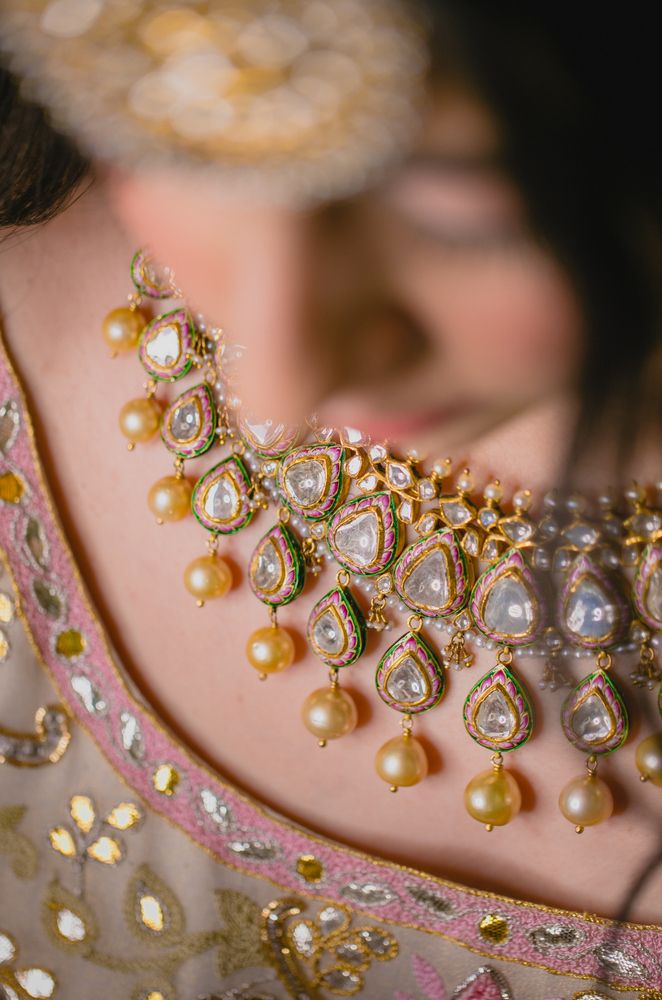 Image via Sahej & Prateik (Delhi)
Real Bride Sahej had her jewellery match her pastel lehenga- no pop of colour, just subtle prettiness! Unlike the contrasting pair of jewellery and lehenga that we have seen so far, this bride has combined all the pastel shades into one, be it her lehenga or jewellery.
Matching Exact Hues Of The Jewellery With Lehenga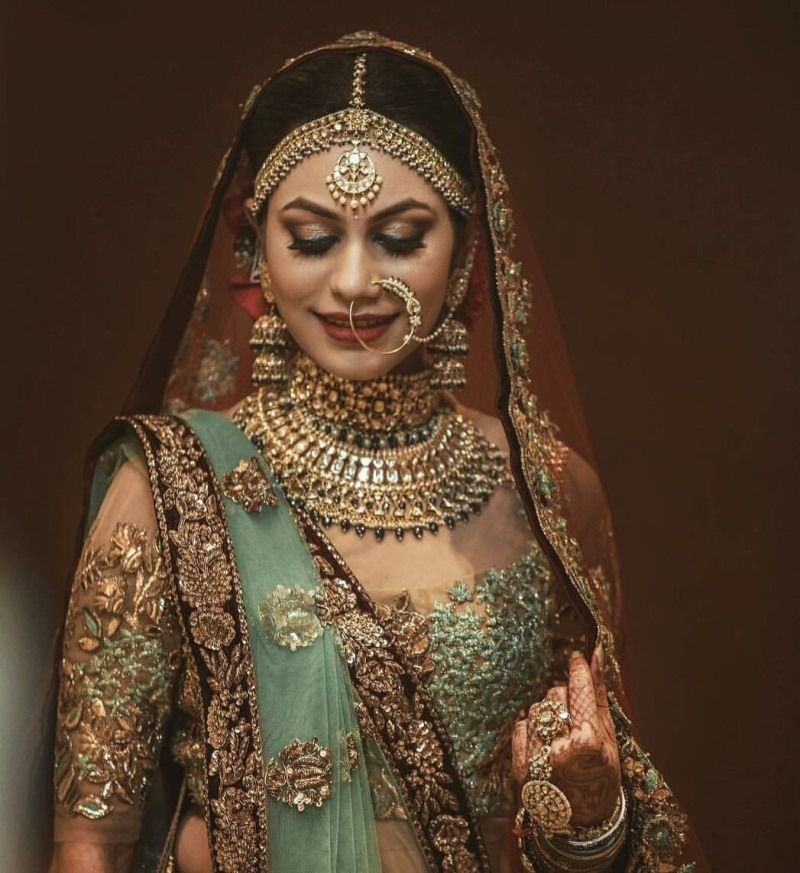 Image via Cupcake Productions
We have now come to the matching phase and this perfect accessory for your lehenga is an excellent idea. The exact same hue on the jewellery and the lehenga. No more nor less. Always works!
Matching Colours, Different Hues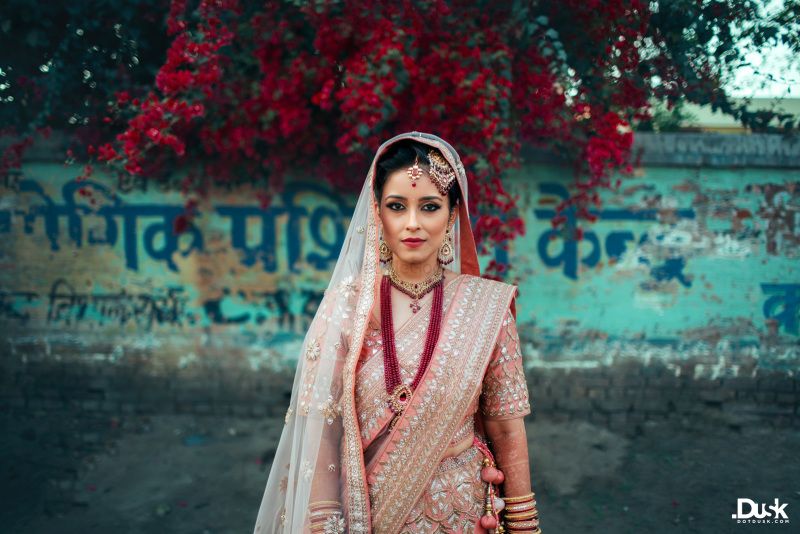 Image via DotDusk Studios
This Real Bride kept her jewellery in the same colour family, but the hues were different. The lehenga was a light pink while the jewellery of a darker more stark shade. If you don't want to mix different colours, you need not worry, in that case you can pick different hues of the same colour. This maroon set of jewellery for a lehenga has surely set some goals out there.
Matching Jewellery To Dupatta Border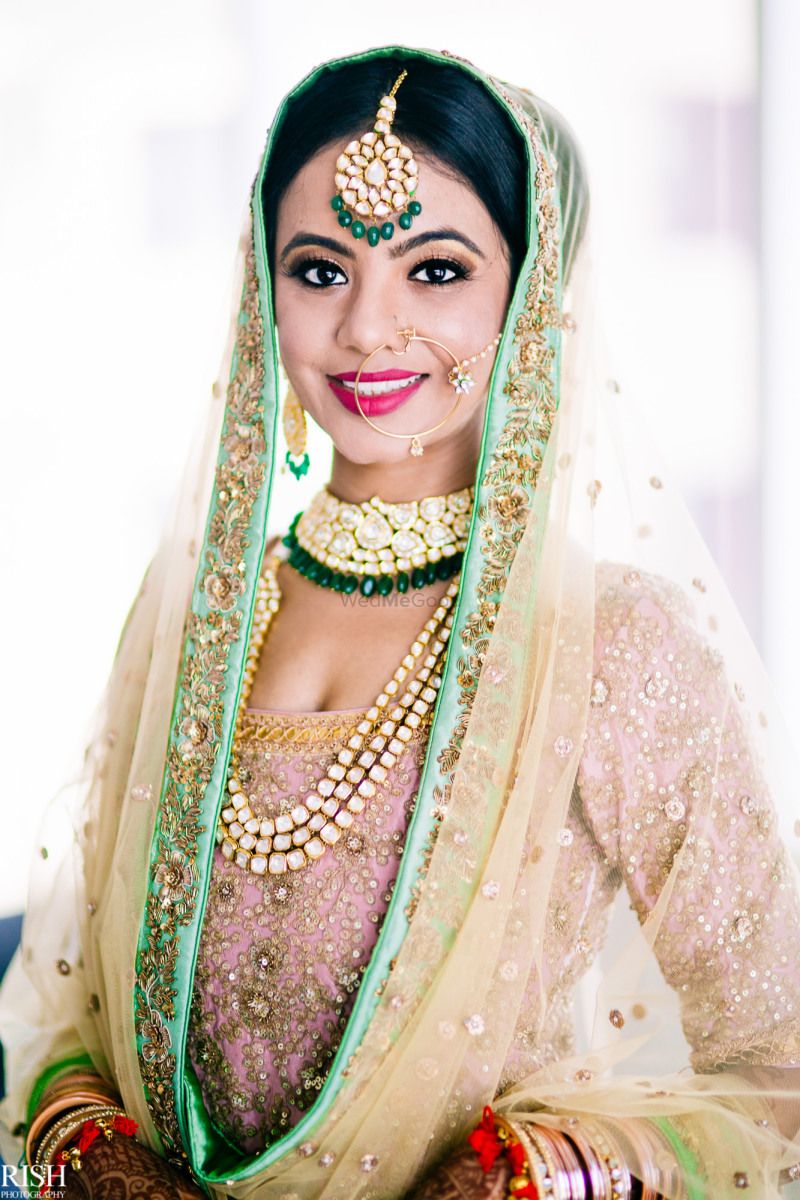 Image via Rish Photography
So this Real Bride matched her jewellery to her dupatta's border, which was a bright greenish-blue as opposed to the light pink. Another cool way to do it and add a much needed pop of colour! There is another idea for you to not mix a lot of colours together instead pick one of the two and match it with your jewellery.
Looking For Matching Jewellery For Maroon Lehenga? Pick Stones In Matching Color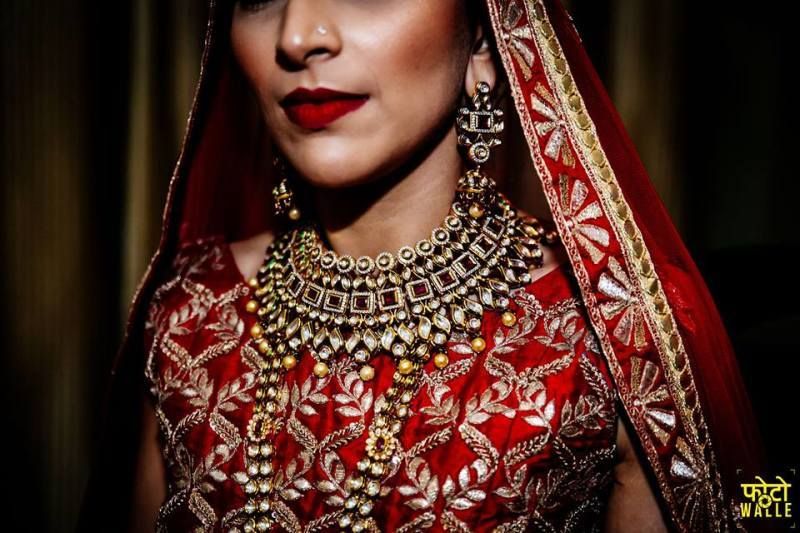 Image via Fotowalle - The Story Folks★ 4.9
Another way to do this is to match the colour of the stones to the lehenga- have a red lehenga? Get jewellery with rubies? Pink?  If you're not in a mood to wear all the same. Then pink sapphires might do the trick! Red was to be considered the colour for a wedding so why not add it a little and bring it back into the game?
Matching Every Colour In Lehenga And Jewellery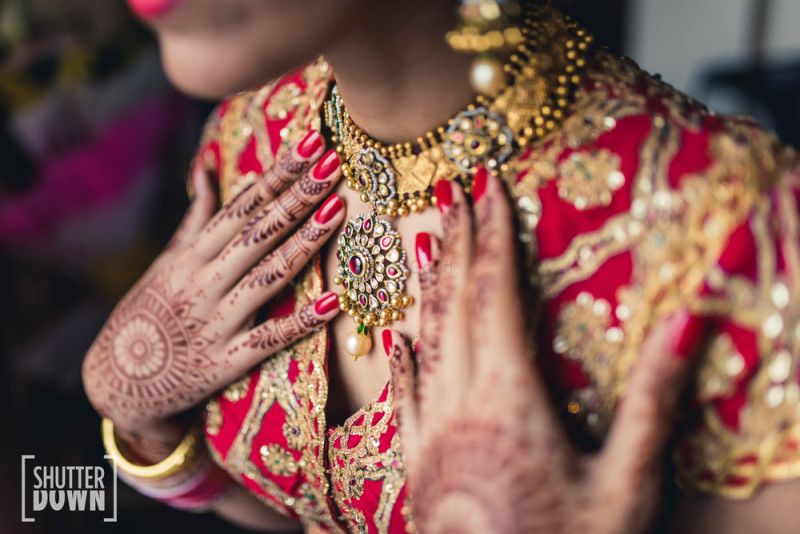 Image via Raghav and Roma's Wedding
The idea of matching can never be poles apart. Roma's red bridal lehenga had embroidery with gold and green too, and so did her jewellery- every single shade on the lehenga and jewellery was matched! Yet another beautiful set for lehenga jewellery!
Matching Jewellery To The Work On Lehenga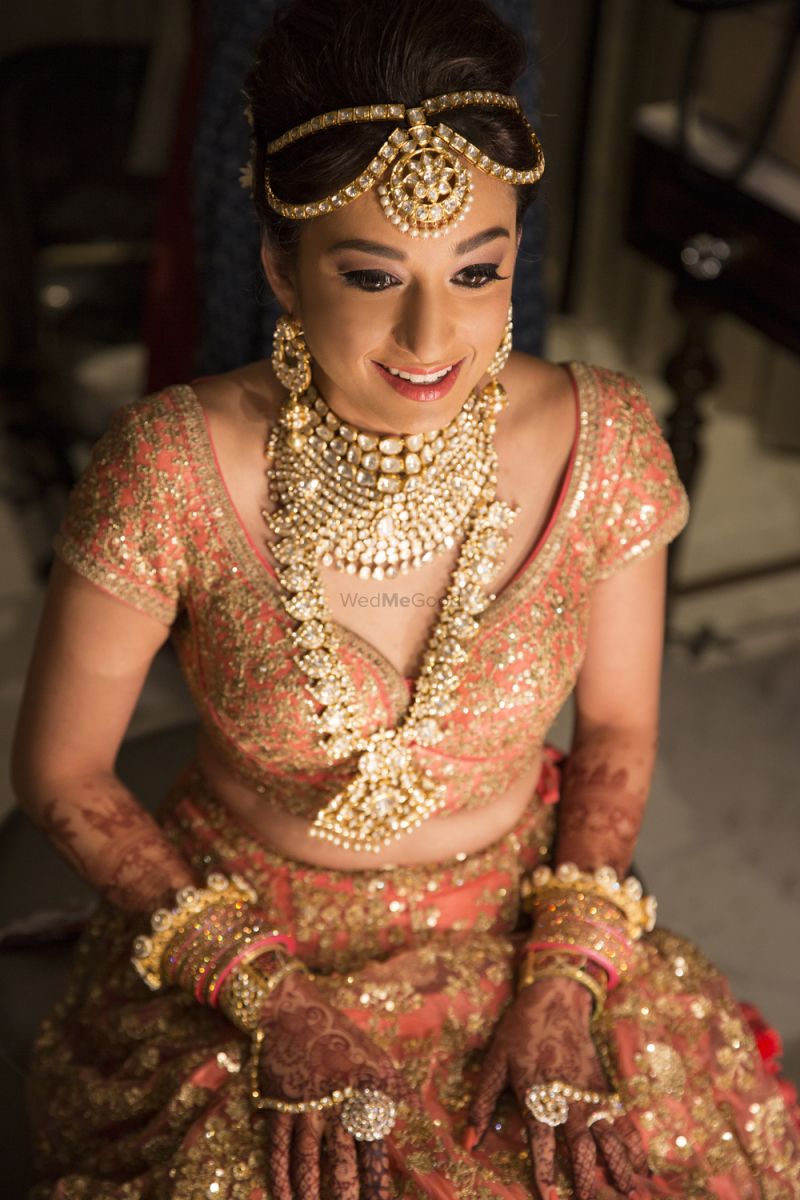 Image via Akansha and Prabhav's Wedding
She looks simple and subtle yet she covered all her dreams by fulfilling all her wants and dreams. Akansha's lehenga had a lot of gold zardozdi work- so she matched her statement jewellery to that- and she wore loads of layered necklaces instead of a big one. The longer rani haar adds so much more to the outfit! Little glitzy is it? Come onn!
Simple Piece That Takes Any Lehenga To Another Level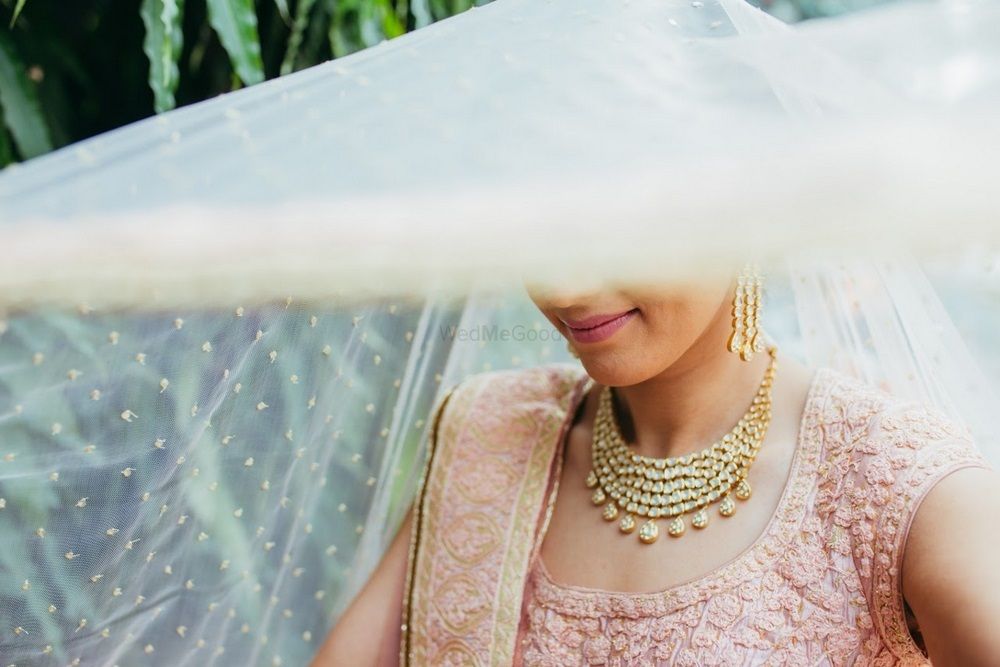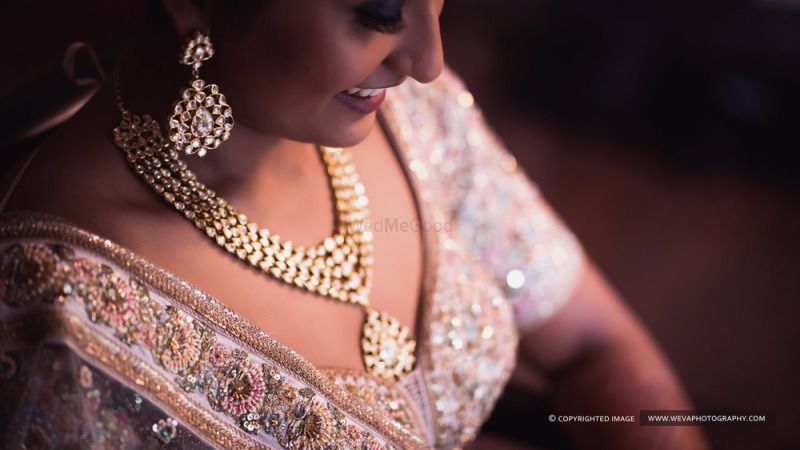 Pic via Photozaapki;Weva Photography
Oh so simple would be a mantra for some girls. A plain kundan neckpiece and earring set can really take any lehenga to glorious places. So opt for one in a unique shape! It is always evergreen and can be worn by anyone wearing a lehenga So opt for one in a unique shape!
This Simple Diamond Beauty That's So Unique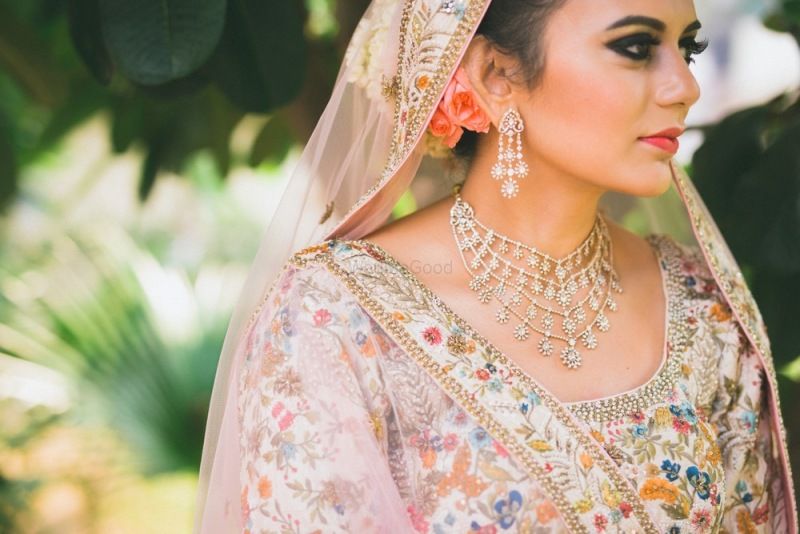 Delicate neckpieces go well with delicate embroideries - a match made in heaven! They show case a side of your personality as simple as it could get, this bride pulled off a beautiful floral lehenga with something plain and simple for it to be a jewellery set! Yet another vibrant pair for a jewellery set with a lehenga!
Wondering what jewellery to wear with lehenga of different colors? Well, not anymore! Whether you are looking for contrasting jewellery with golden lehenga or thinking of matching jewellery for maroon lehenga, there's something for every one in this list!
Safe to say matching jewellery with lehenga won't be an issue anymore?
ALSO READ: 10 Basic Rules for Colour Contrasting Jewellery to the Outfit!