Silver And Grey Sarees For Intimate Home Functions
BY Meenu | 28 Oct, 2020 | 31045 views | 3 min read
When we think traditional festivities we think sarees in traditional colors and with typical accents. Like a Kanjeevaram with gold zari. Colors like green, red are considered auspicious and are more popular. However, we usually give colours like silver and grey a miss because we don't think they could look bridal enough. Well, here we have a few gorgeous examples of how stunning these muted colours can look! Bookmark this if you're looking to create an offbeat bridal look on your wedding functions.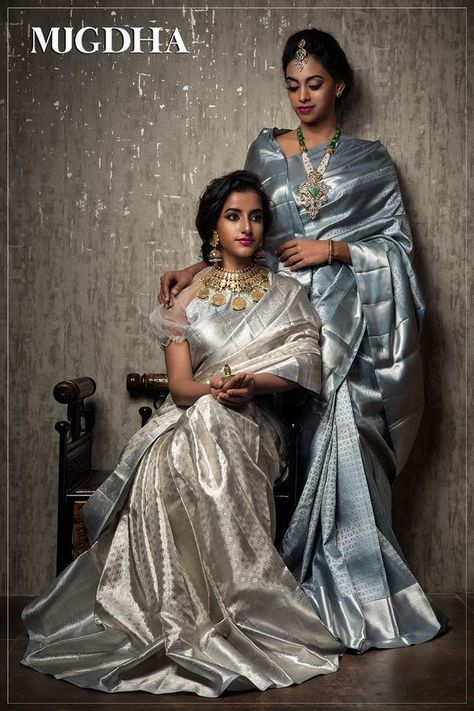 Image Via: Mugdha Art Studio
While gold is common silver color sarees create a different aura. Don't believe us? Check out how this bride wore this rich silver Kanjeevaram for her Muhurtham. With metallics in trend click here to see how more brides are rocking silver sarees for their wedding functions.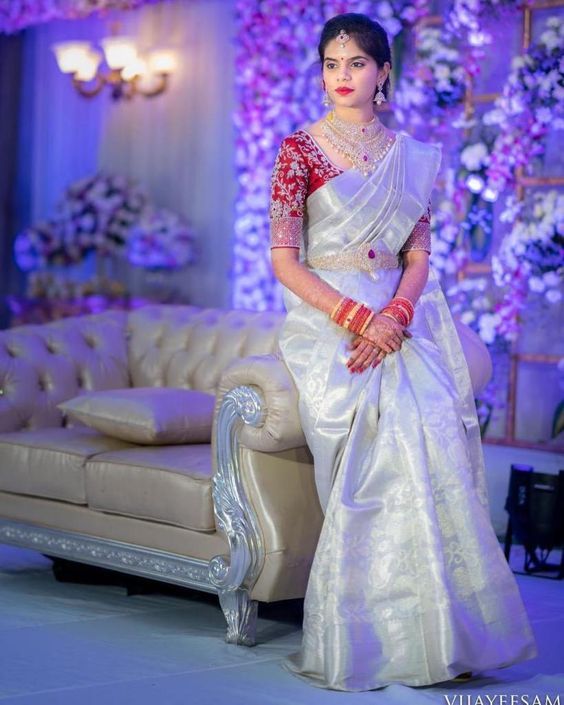 Image Via: Vijayeesam
Silver and grey are colors that can be paired with so many contrast options. One of our favorite choices is this rich blue shade that has been paired with the bluish silver tone saree. The heavy jewellery, the makeup all works so well and this can be a look that can be bookmarked for your wedding looks mood boards right away!!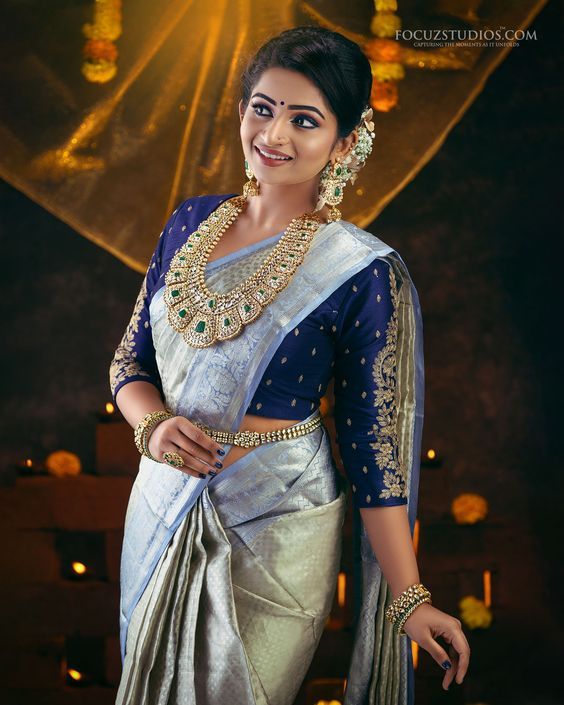 Image Via: Focuzstudios
Be it silver or a grey saree, the best thing is the multiple tones and shades that they have. Right from a steel grey to a subtle bluish silver each color has its own awe and is perfect for any traditional function.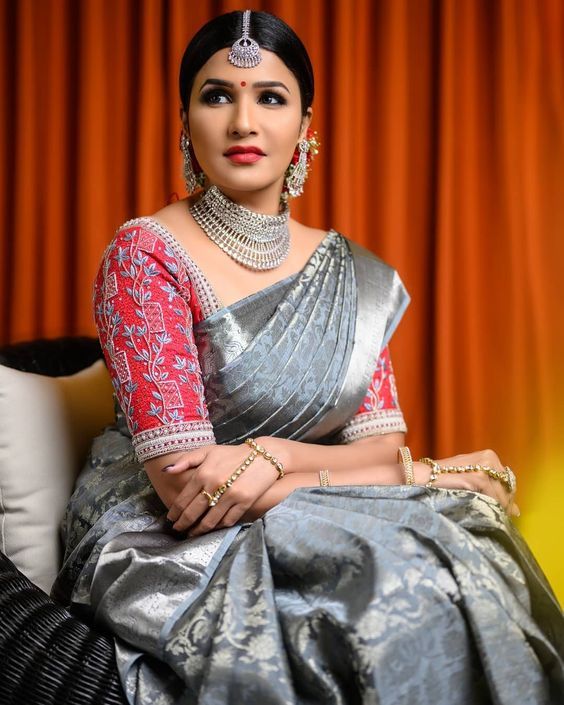 Image Via: Pinterest
If you are someone who loves to try out new colors, then this is the color for you. With you trying to make each look of your wedding events unique, silver or grey is just not for westerns but equally for sarees too, not just Kanjeevarams but linen, mangalgiri the options are endless!!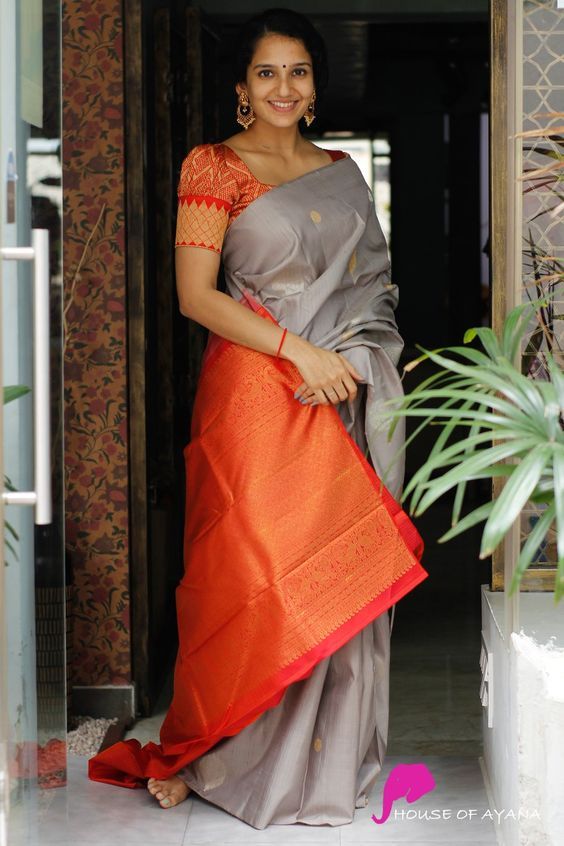 Image Via: House Of Ayana
Another of our fav combos is grey or silver with a rani pink or a slightly deeper magenta. Which color do you lean to girls??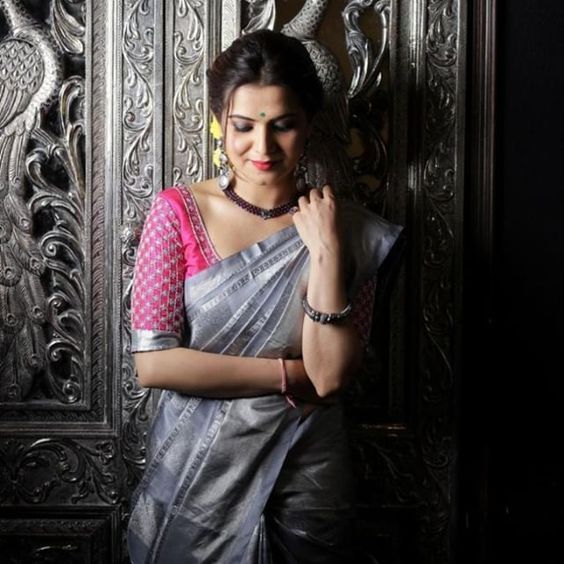 If you are thinking that you do not choose a grey or a silver color saree cuz it seems difficult to pair it with jewelry, well think again. There are some gorgeous silver sets you can pair up these beautiful sarees with. Also you can add a pop of color like this. We totally <3 this look.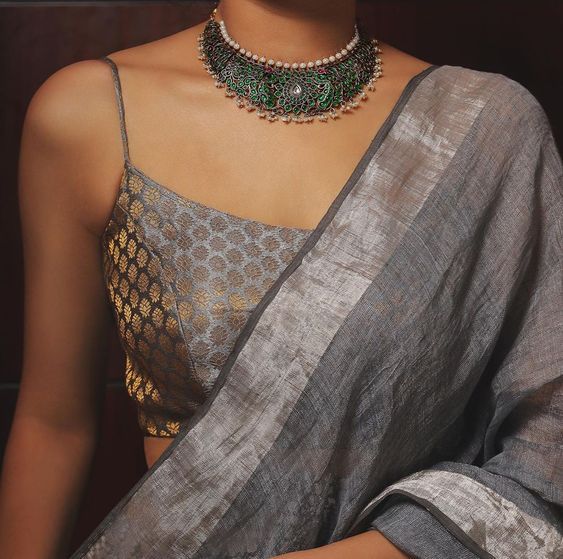 You wanna check out heavy jewelry, well there you go!! Is it not a keeper?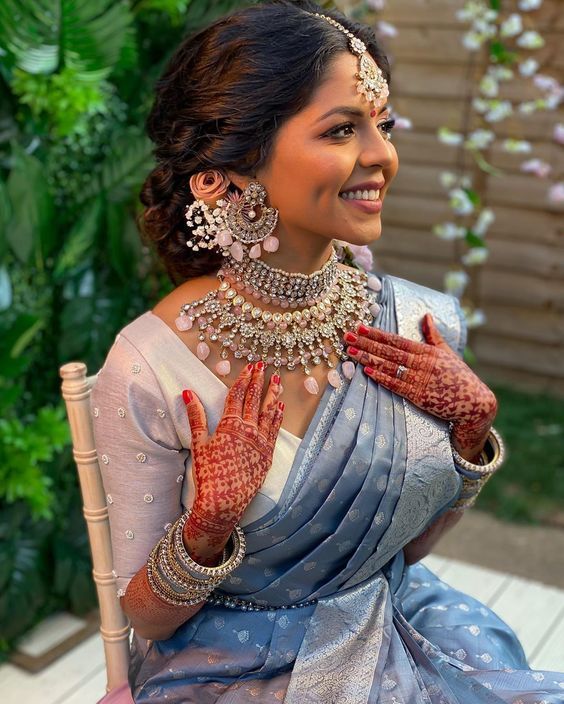 Image Via: Pinterest
Still want that subtle gold zari touch? How about a two tone saree you guys?? It looks simply stunning!!
Image Via: Ajio
So you dear brides to be, which function would you choose a metallic shade? You need more proof? Then click this to see how other brides are slaying the metallic trend in silver and grey!!