Floral Lehengas That We Gave Our Hearts To!
BY Soha | 09 Feb, 2019 | 16654 views | 5 min read
That should not be very hard to believe as we're certain you must have observed at least more than 2 girls wearing floral prints at any wedding you might have attended. Floral lehenga for wedding are unique, pretty as they come and also have such a princessy vibe to them. From dainty florals to beautiful vintage roses, we've spotted brides wearing them in all different types. Keeping reading to save the ones you love!
This gorgeous piece with dainty floral lehenga designs!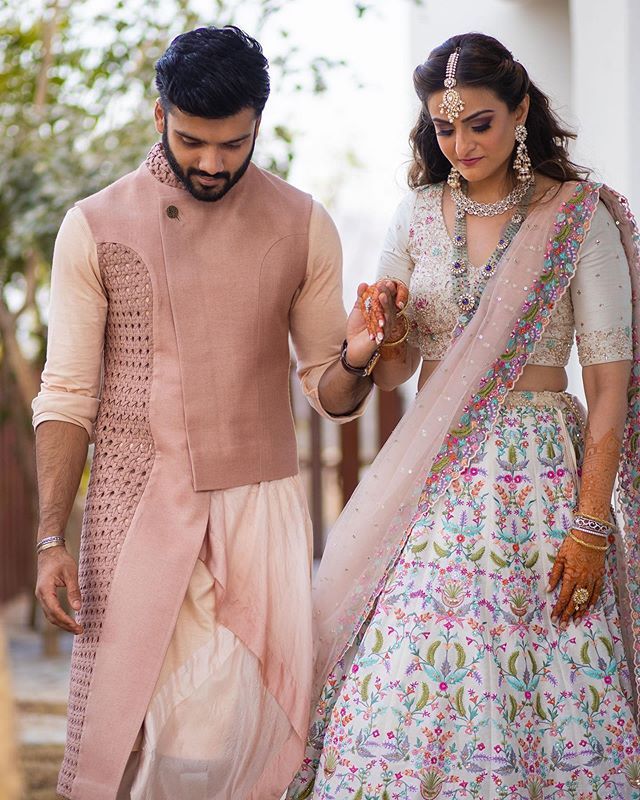 Image via Makeup by Jamini★ 5 , Shot by The Lightsmiths★ 5
This one is perfect for brides who are looking to wear white on their wedding with a hint of colour!
Loving this fun and bright green floral lehenga design!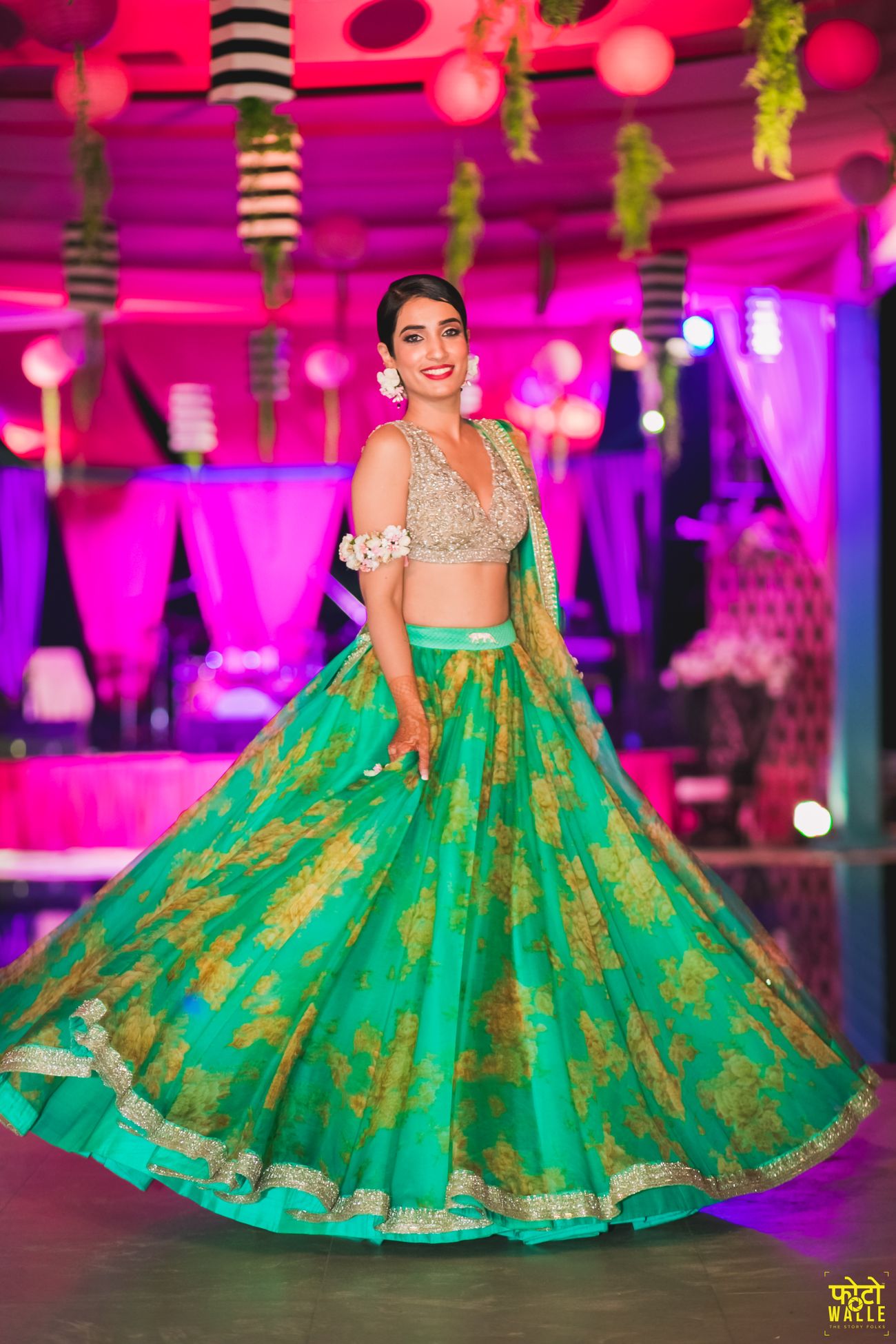 Image via Srishti and Ishaan's Real Wedding
Great for a mehendi or even a haldi, this floral lehenga design is one for the keeps!
Looking for inspiration for a white floral lehenga for the wedding day? Here's the perfect one!
Image via Sarvottema and Akash's Real Wedding
If you want to wear white on your wedding day without looking too washed off, this beautiful floral lehenga design is your cue!
How Stunning Is This Powder Blue Beauty?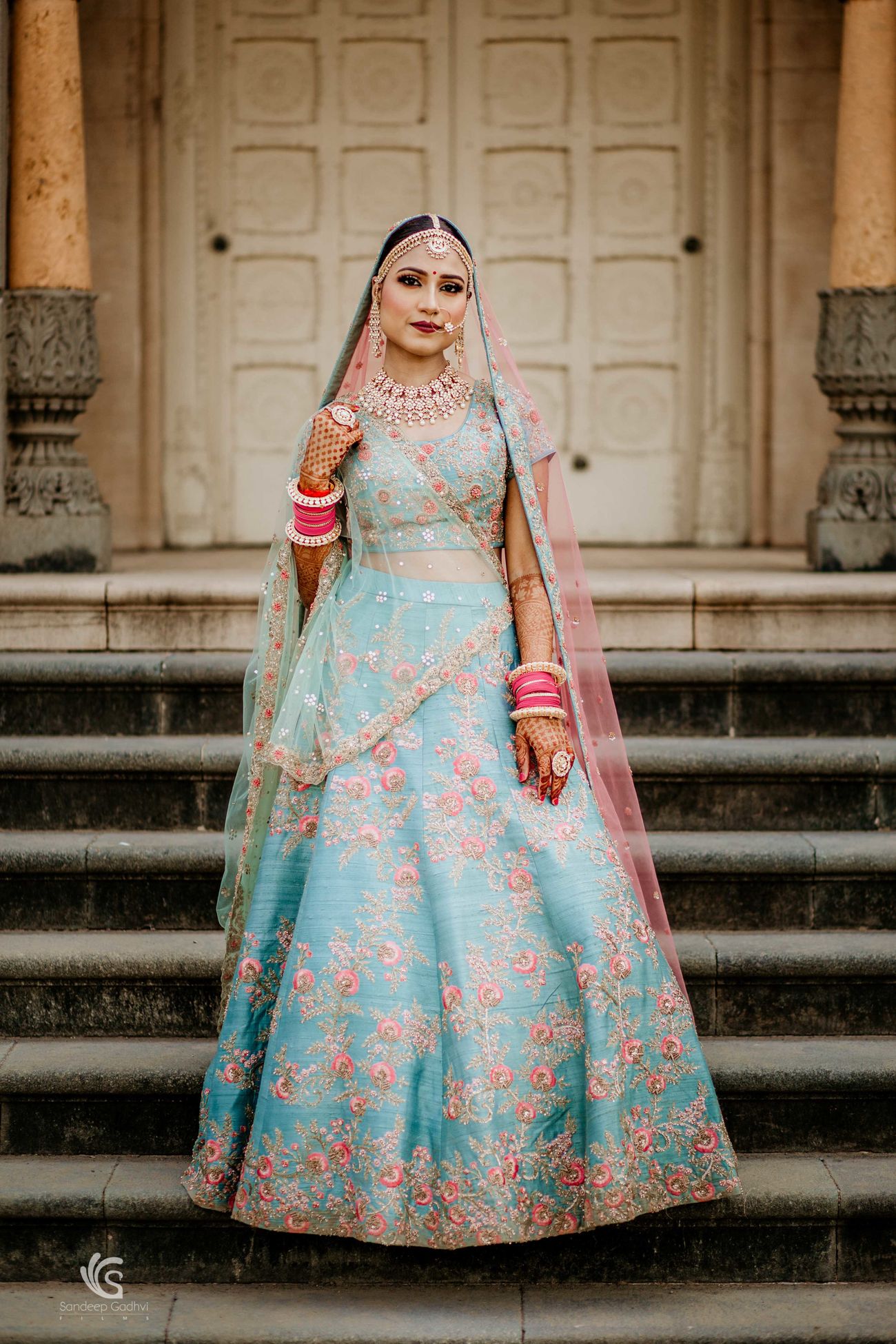 Image via Sandeep Gadhvi Photography★ 5
Want a different hue? This powder blue floral bridal lehenga is absolute goals!
This 3D Applique lehenga is so unique and exquisite!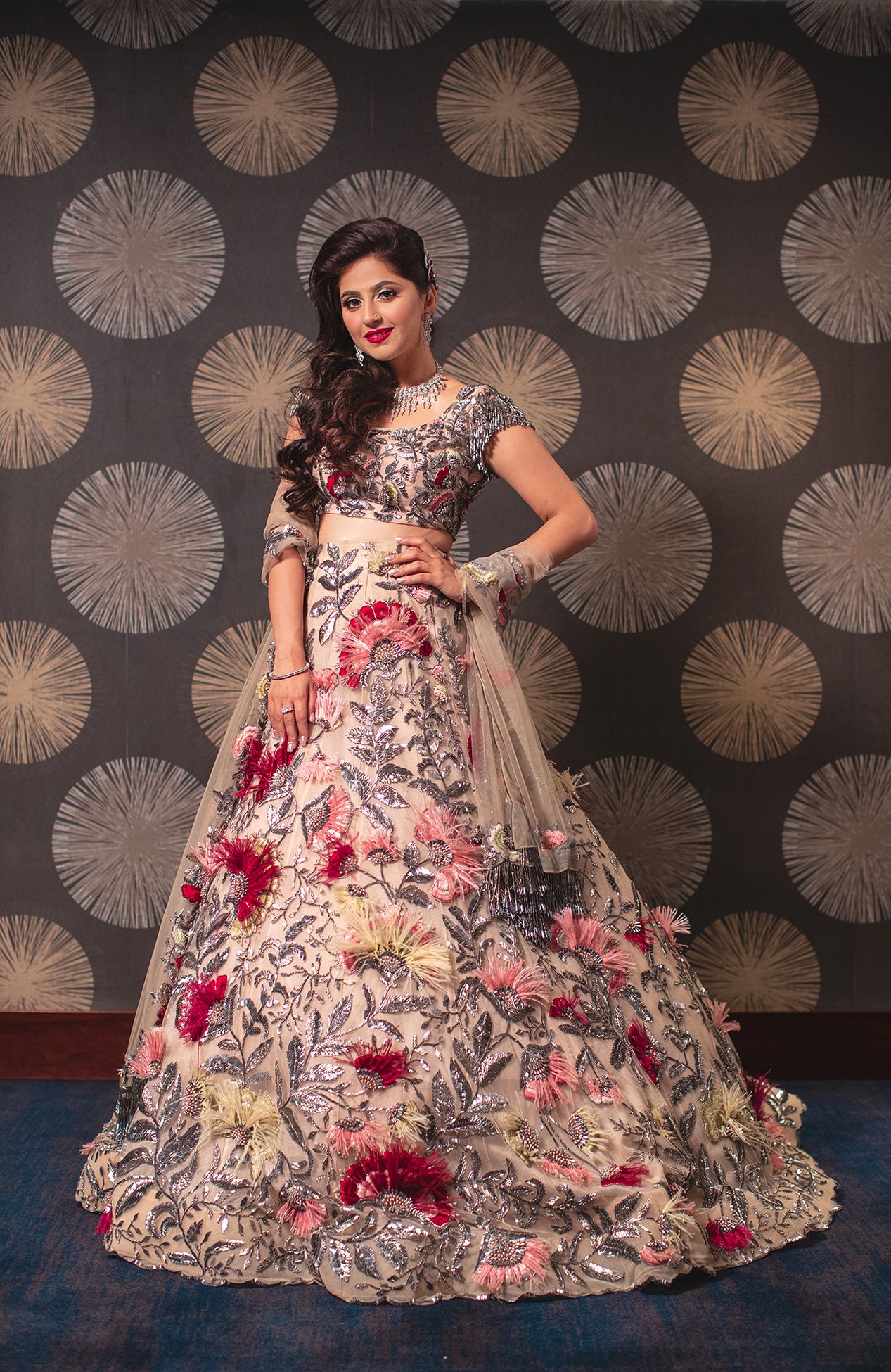 Image via CineLove Productions by Luxmi Digital Studio★ 4.8
Great for a sangeet night or even a reception, this 3D Applique floral design for lehenga is bomb!
Love pastels as much as we do? This sage green and lemon yellow lehenga is a winner!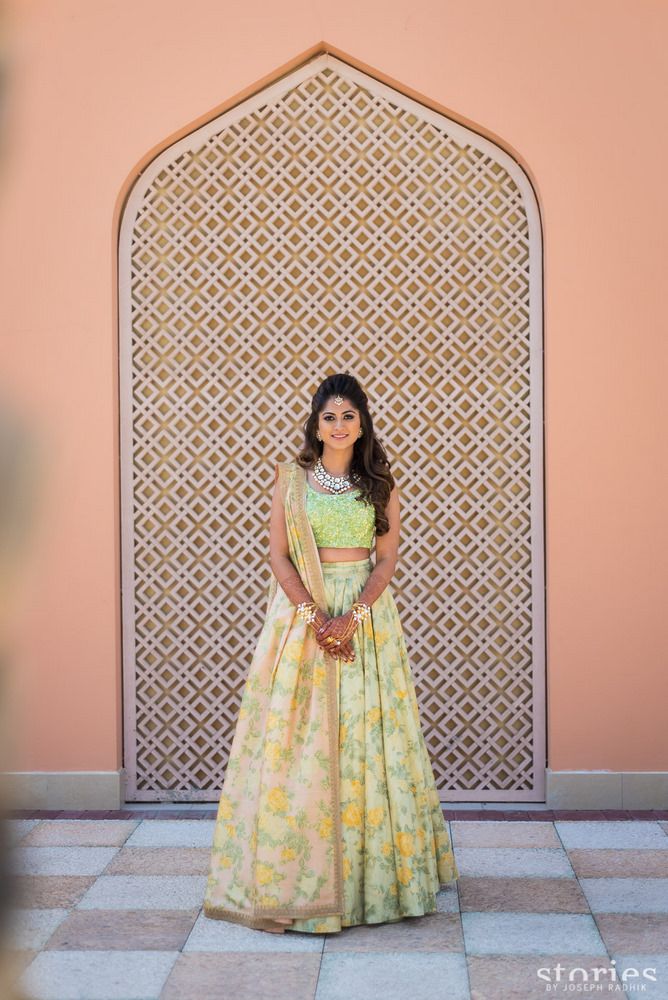 Image via Anusha and Dhrumil's Real Wedding
Simple yet so classy, it's a perfect floral lehenga for engagement or even a mehendi!
How can we not have a floral lehenga from the house of Sabyasachi on the list?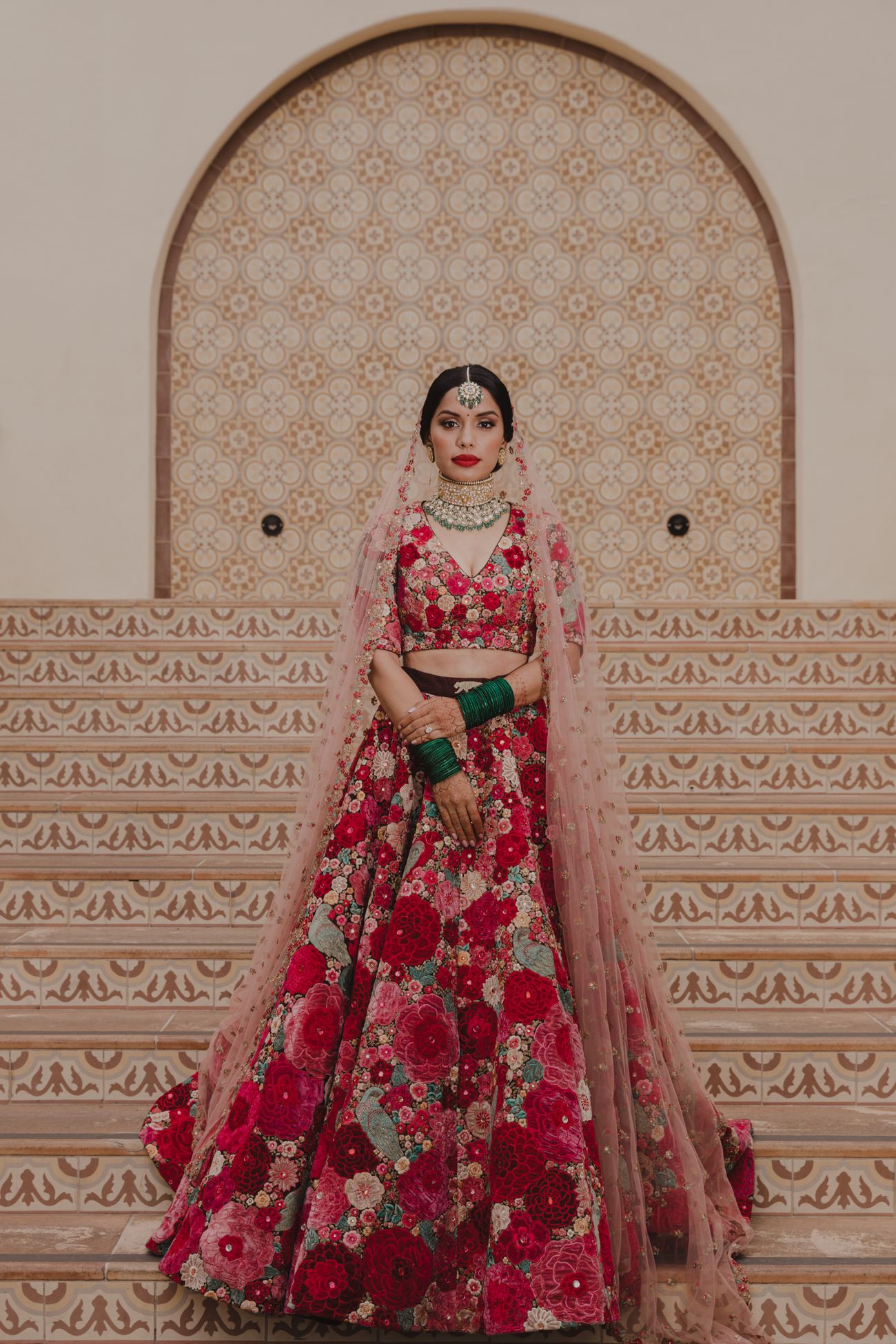 Image via Riya and Ankur's Real Wedding
This classic Dil Guldasta floral lehenga from Sabyasachi is a timeless piece!
Loving This Printed Blue & Pink Beauty!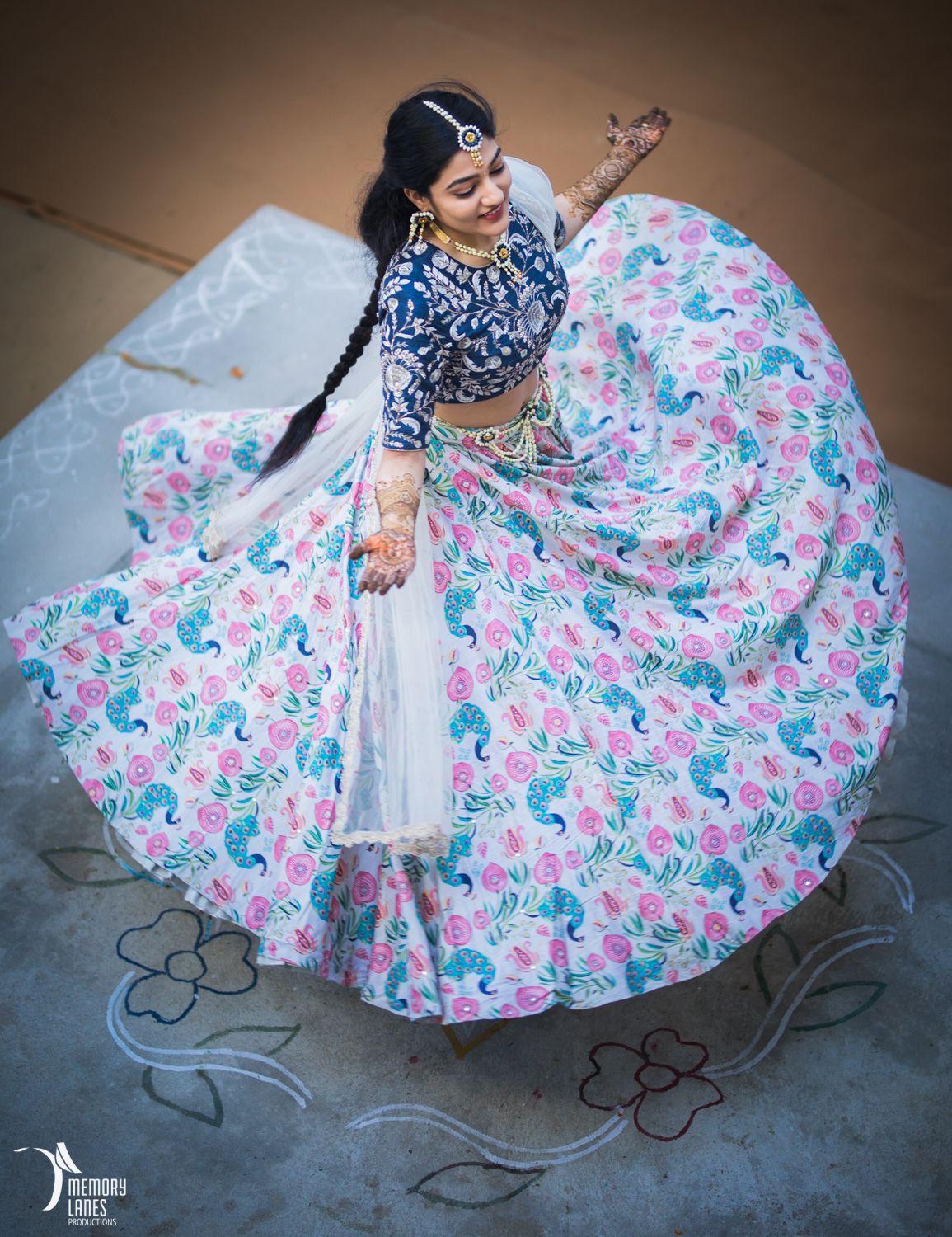 Image via Memory Lanes Productions (SumanChakri Photography)★ 5
If you are looking for a floral printed lehenga for your wedding, take inspiration from this beauty!
How beautiful is this ivory floral bridal lehenga with vintage roses?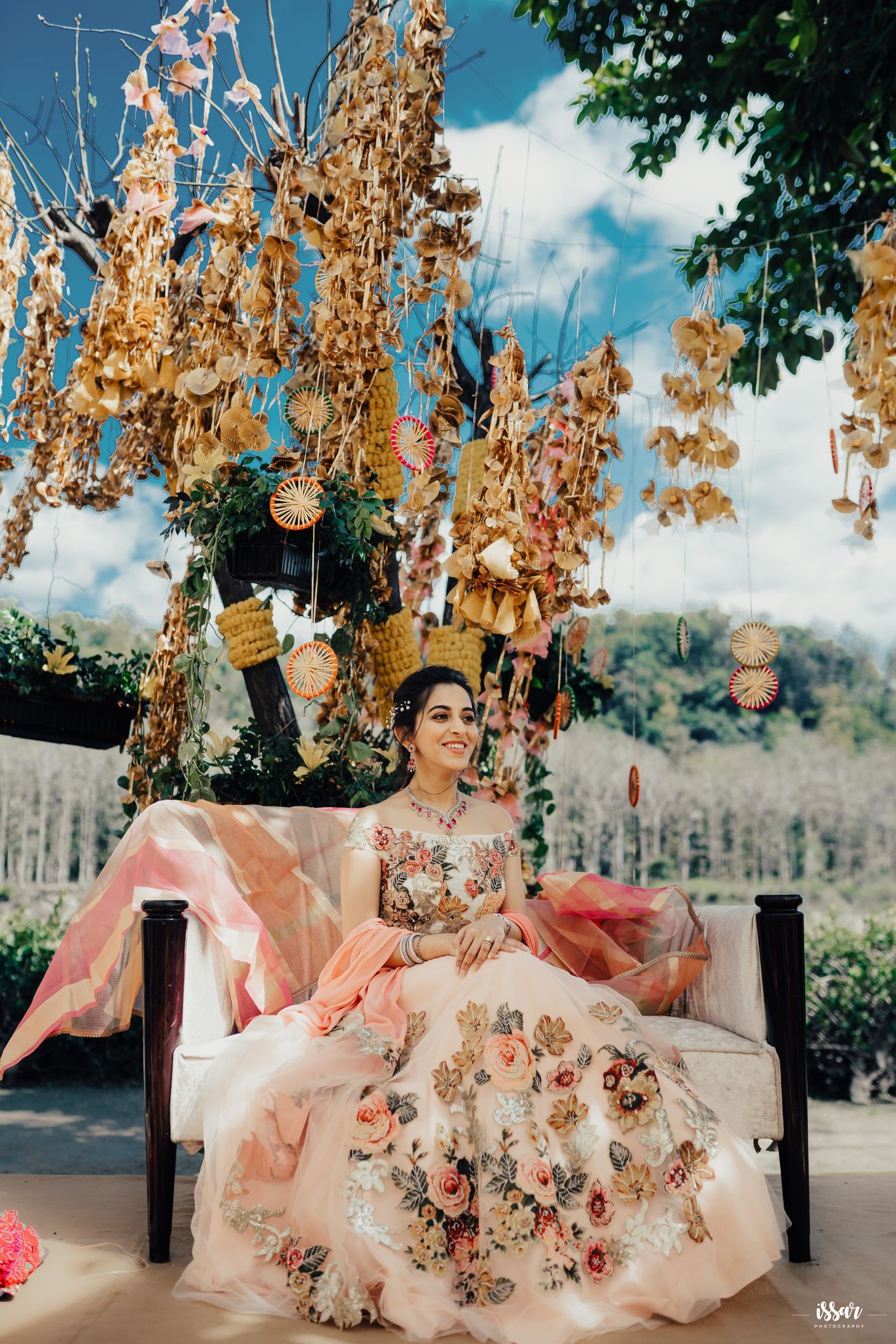 Image via Shashank Issar Photography★ 4.5
This beautiful floral lehenga design is beyond gorgeous!
Crushing on this Canary yellow floral lehenga with threadwork!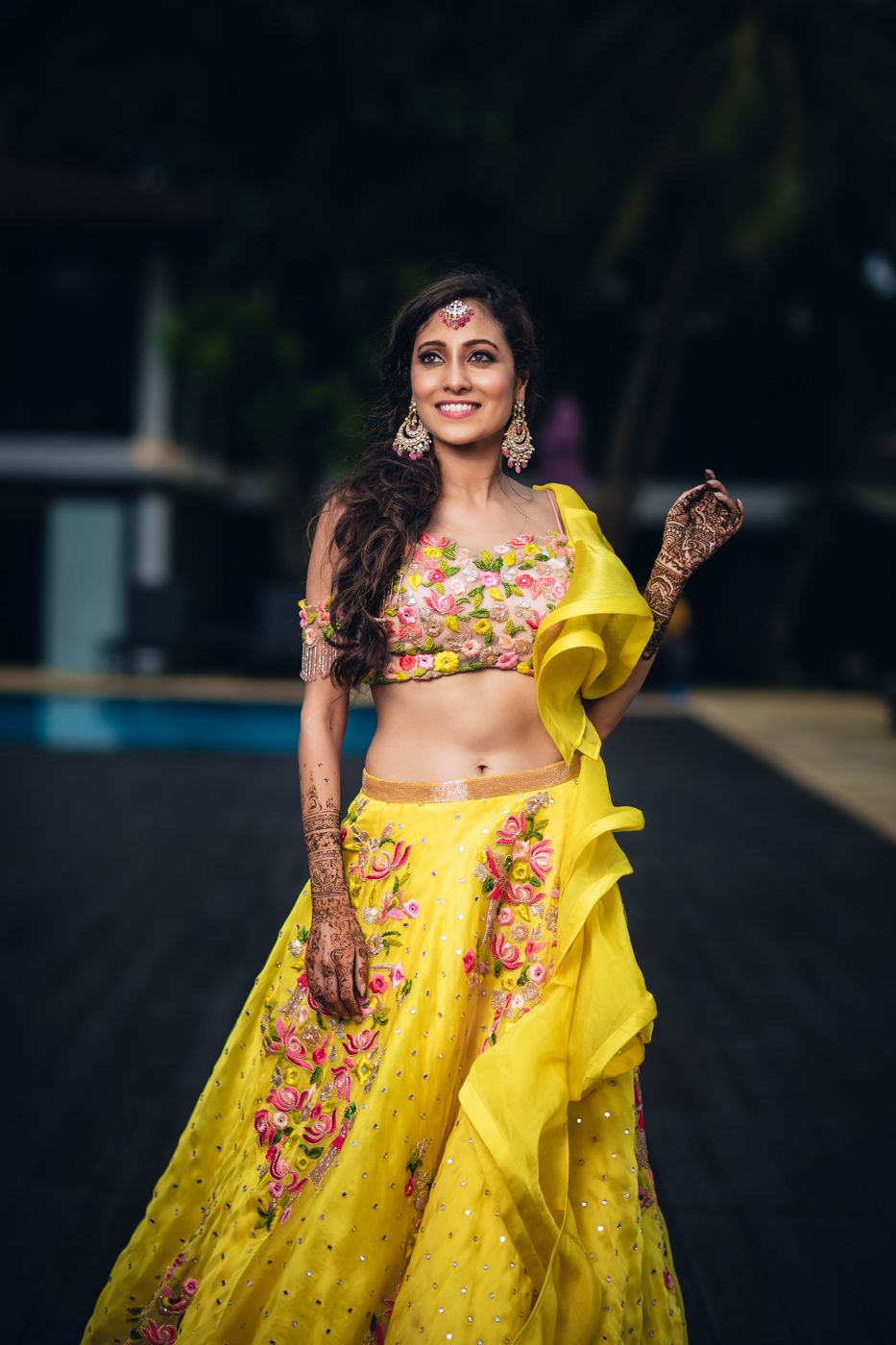 Image via LightBucket Productions★ 4.8
If you like bright and beautiful colours, you will fall in love with this beautiful yellow lehenga!
Big Bright Flowers On A Lehenga- Who Would Have Thought?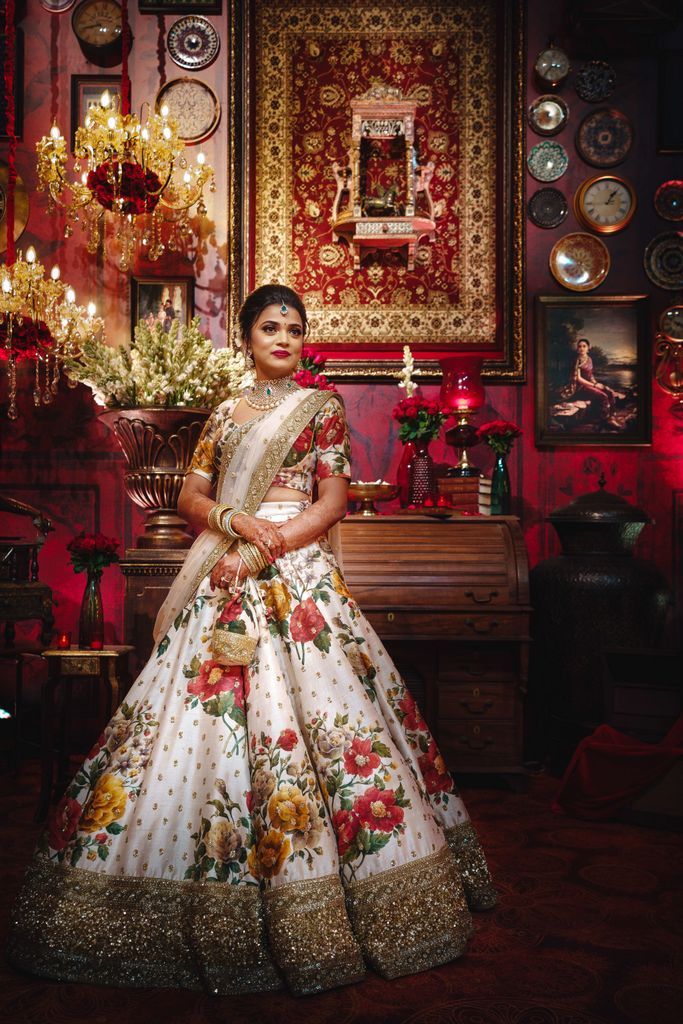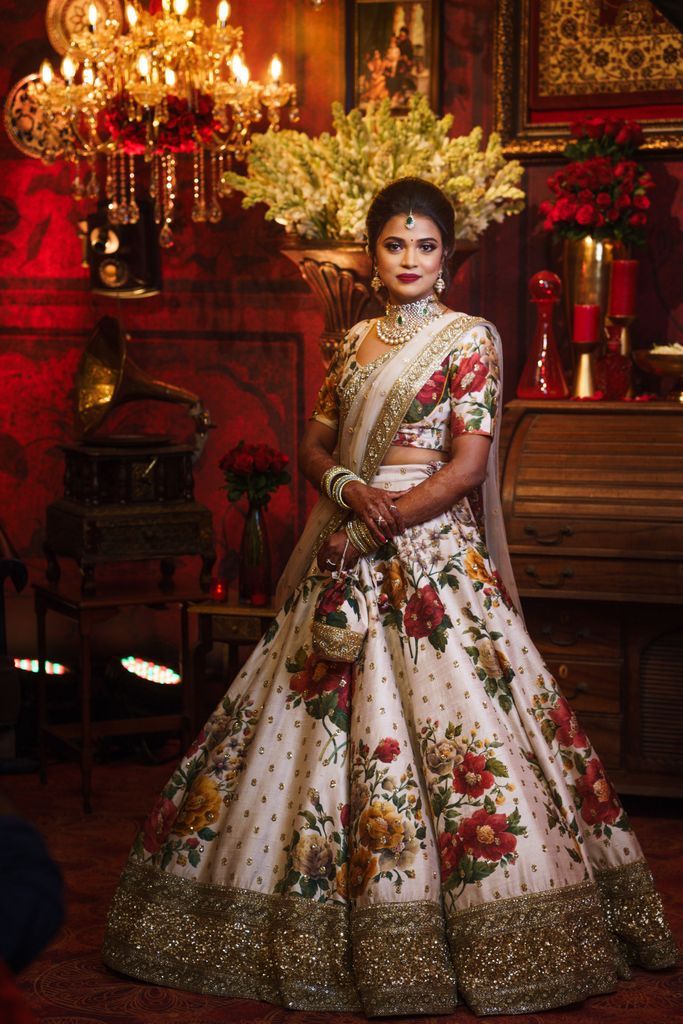 Flowers this big in multiple colors on a bridal lehenga- WHAT??? But one look at it and you'll think, it's not even half as bad as you might have imagined.
This One With Small Flowers All Over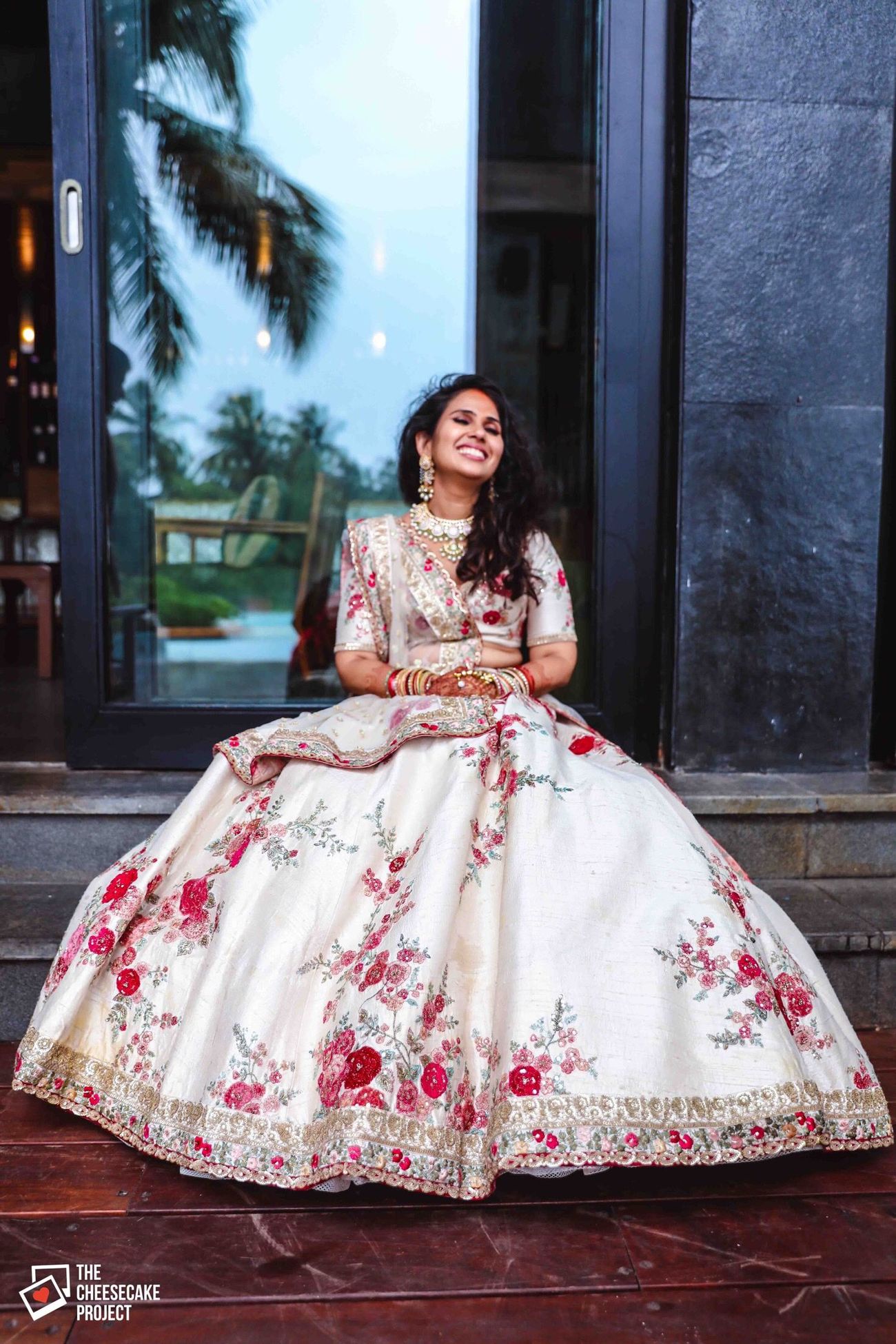 From Deepti & Deep's Real Wedding
The red and pink flowers create a refreshing contrast against the white fabric, which makes this lehenga look truly beautiful!
Or Something With A Floral Bunch?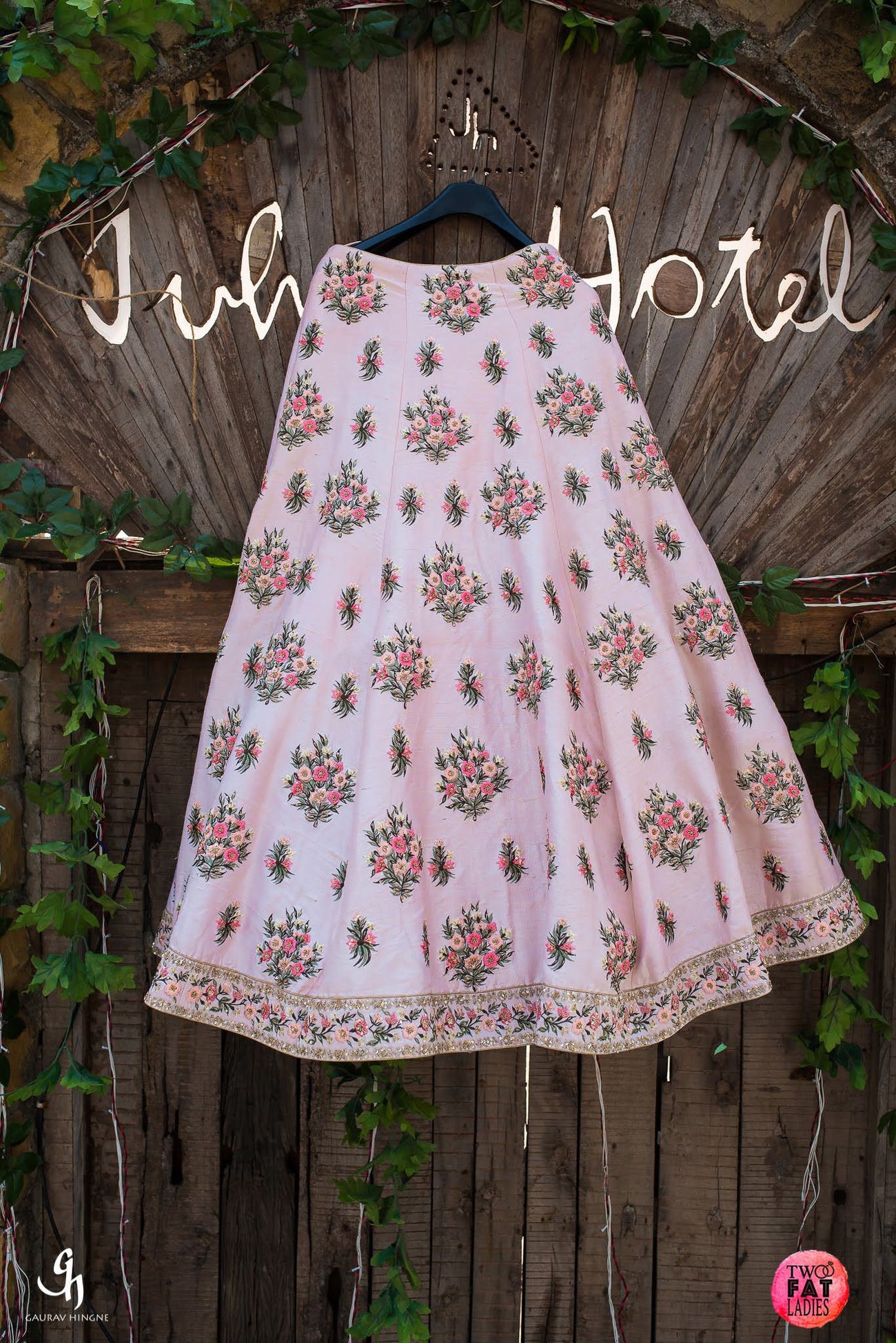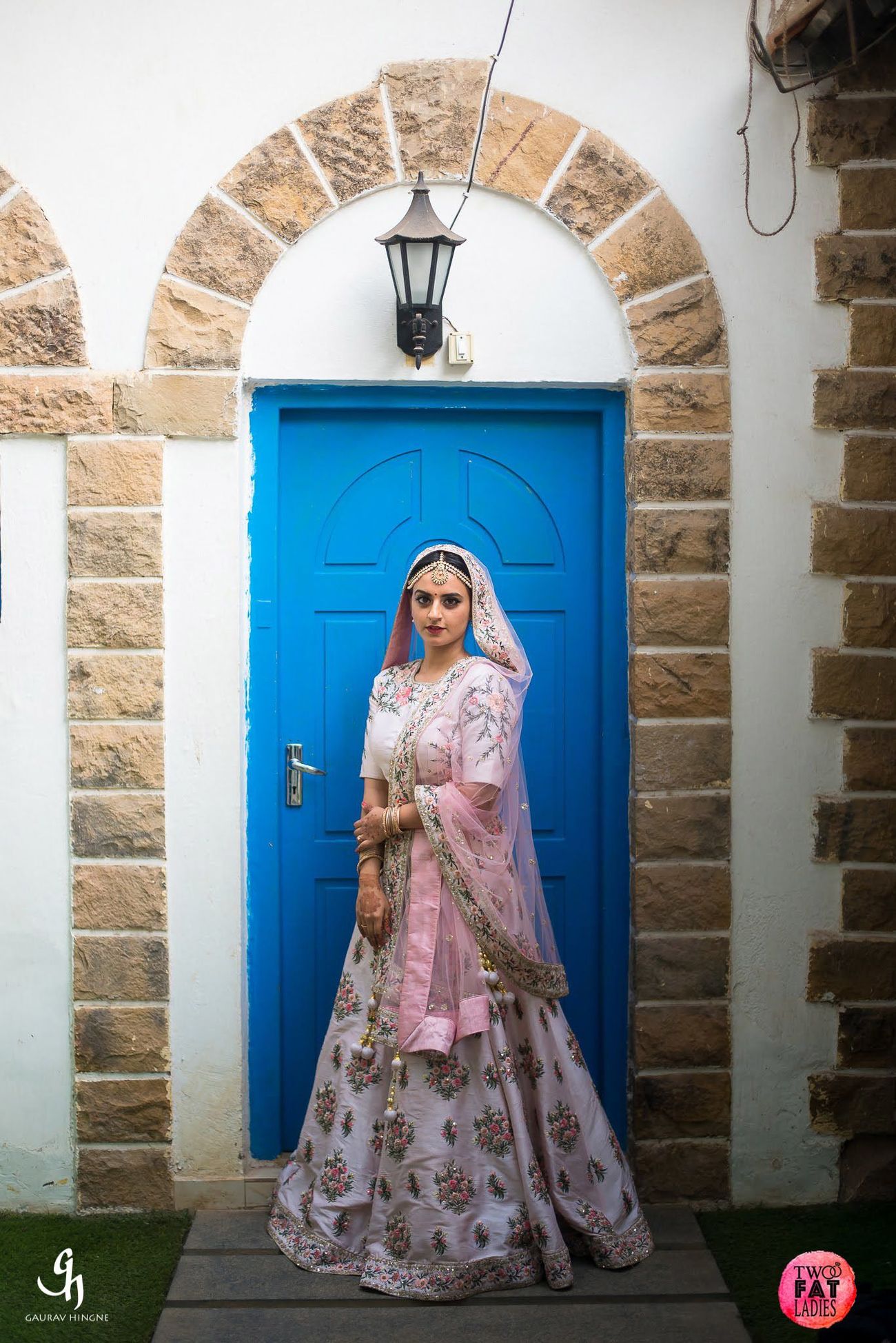 This bride got small bunches of flowers on her lehenga, along with a detailed floral border. And we think it's a clear winner!
This Bride Wore A Dusty Pink Lehenga With Rose Buds All On It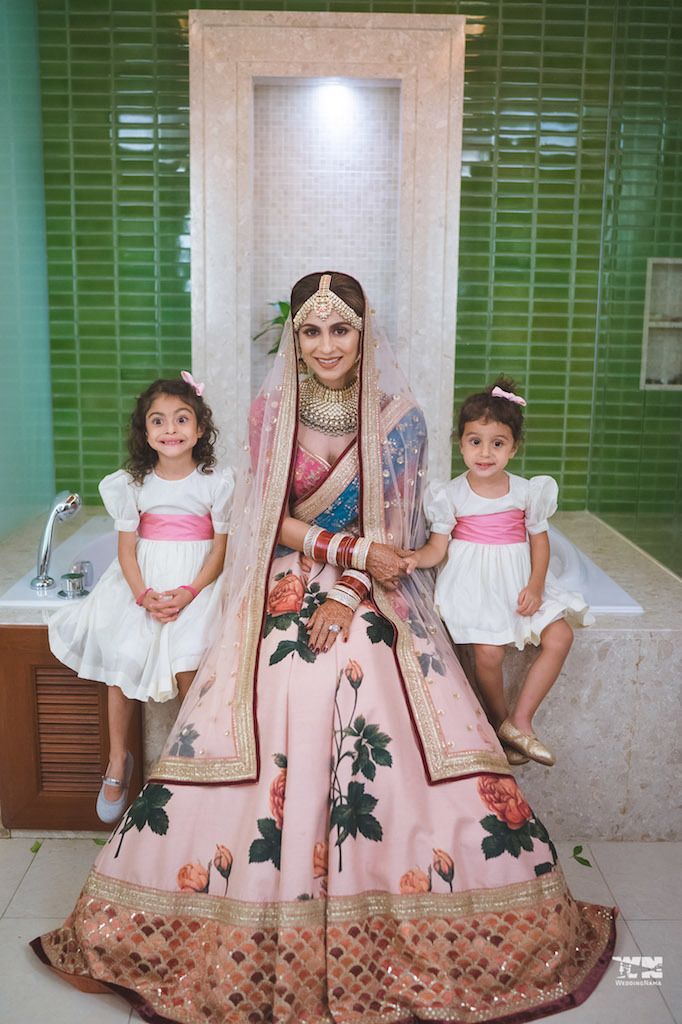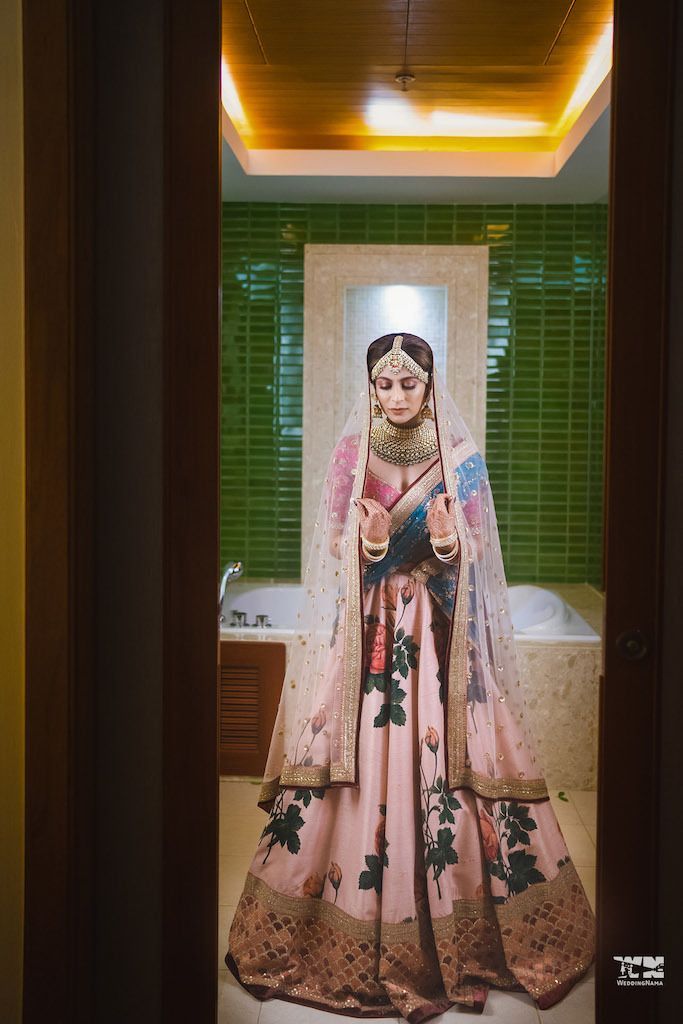 From Tejini & Aadit's Real Wedding
Usually big prints can end up looking gaudy but this one is far from that!
Something To Break The Monotony In Red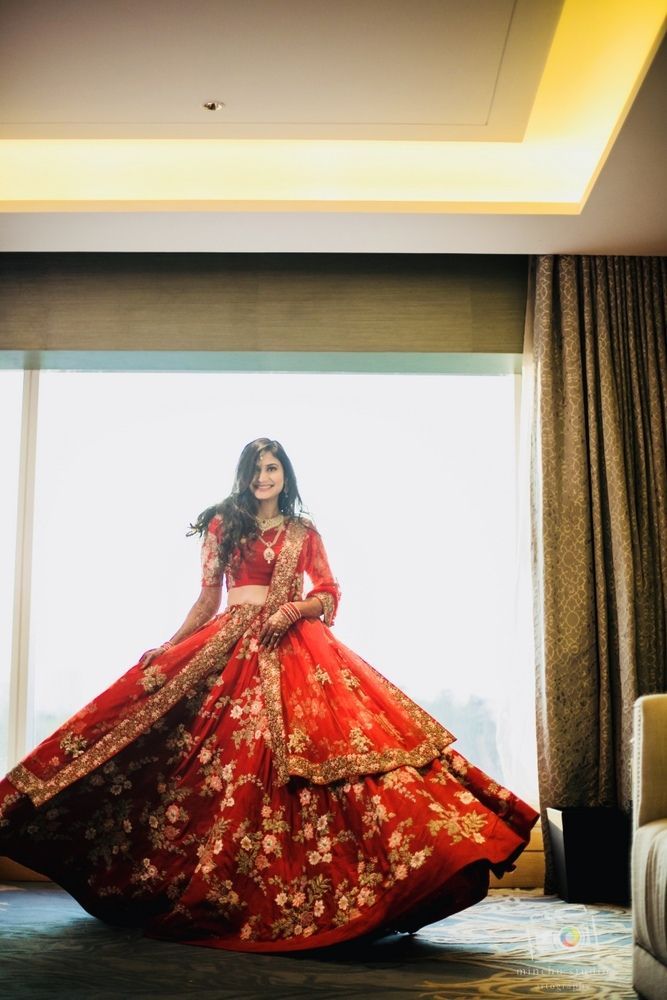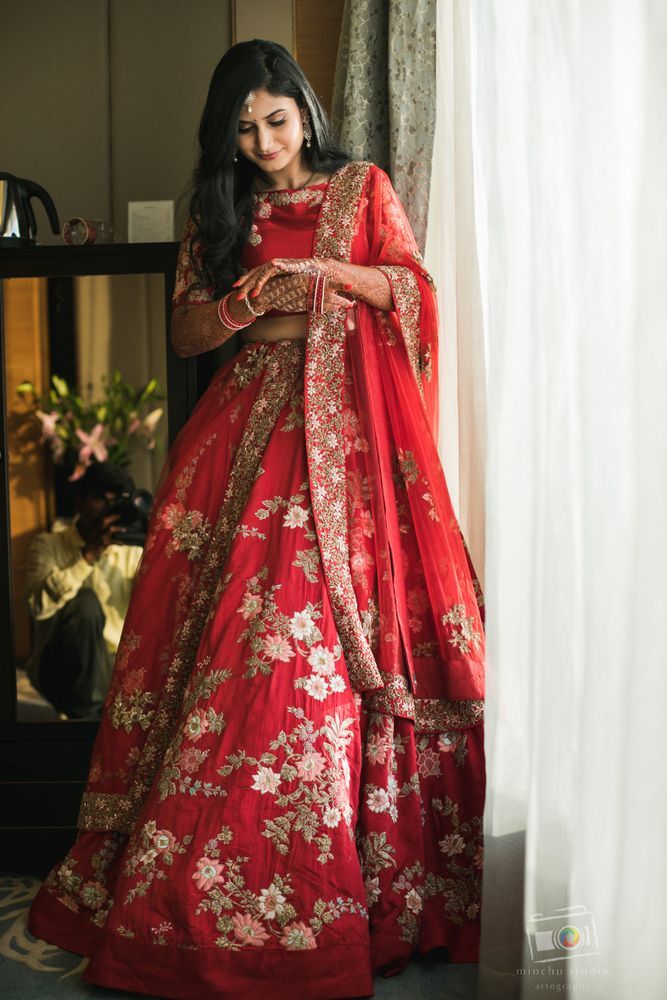 From Anusha & Hemanth's Real Wedding
Just when we thought floral lehengas could only be in a white base, we came across this bride in red who wore a floral lehenga for her reception! The freshness of the red looks absolutely gorgeous, what do you think?
This One With The Big And Small Flowers In Applique Work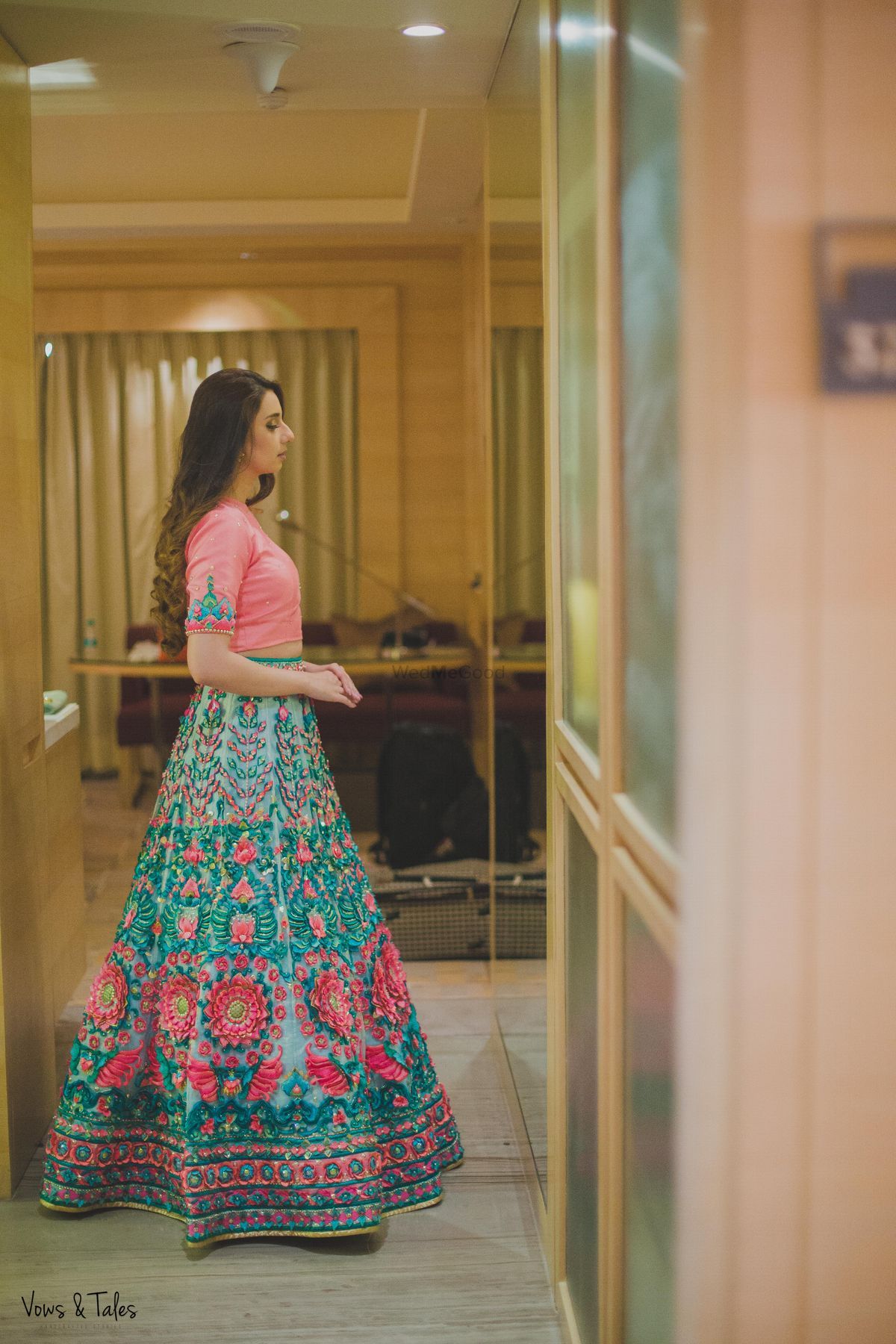 The pop of colors is what makes this one really stand out!
This Bride Paired Her Simple Lehenga With An Embroidered Blouse & Dupatta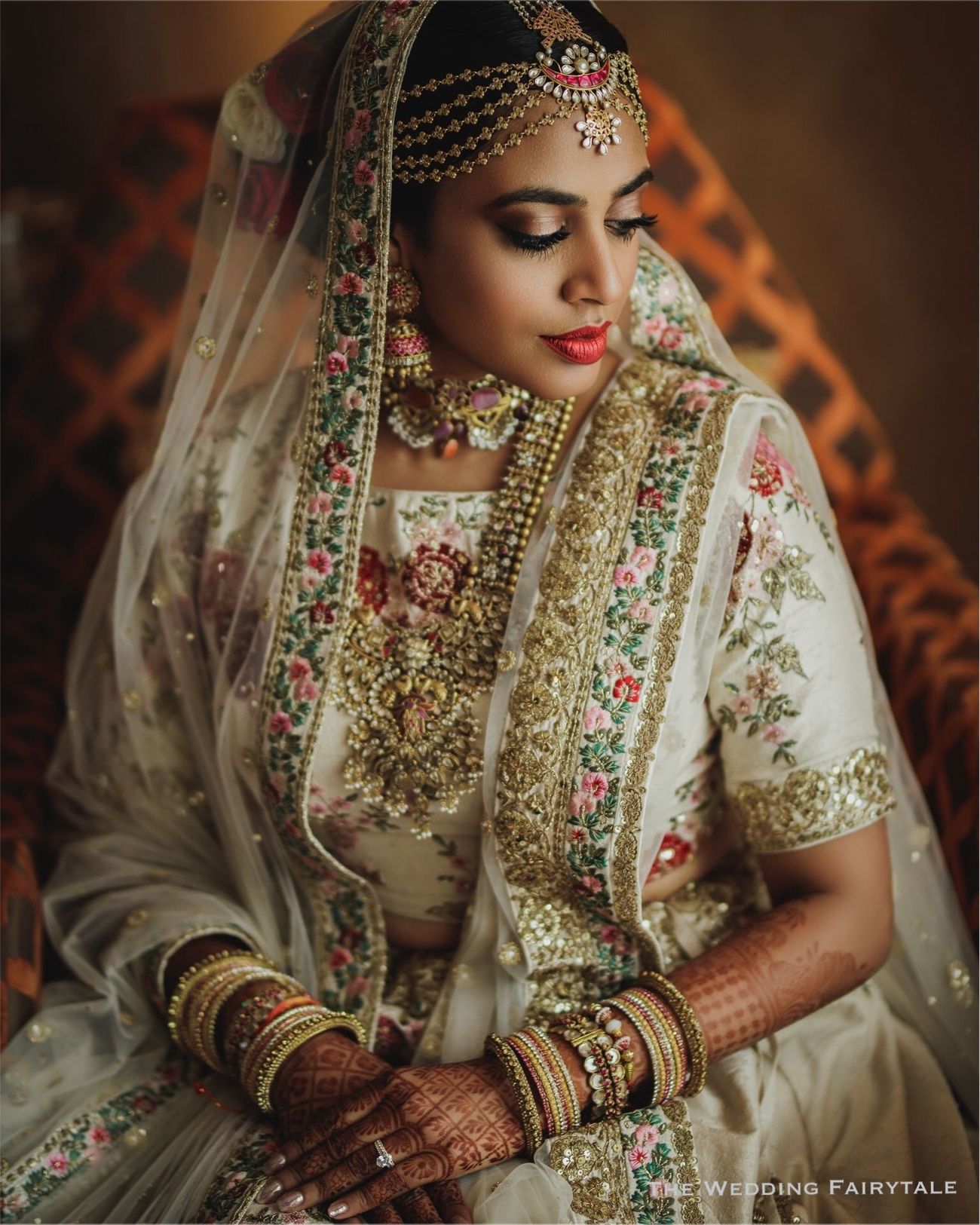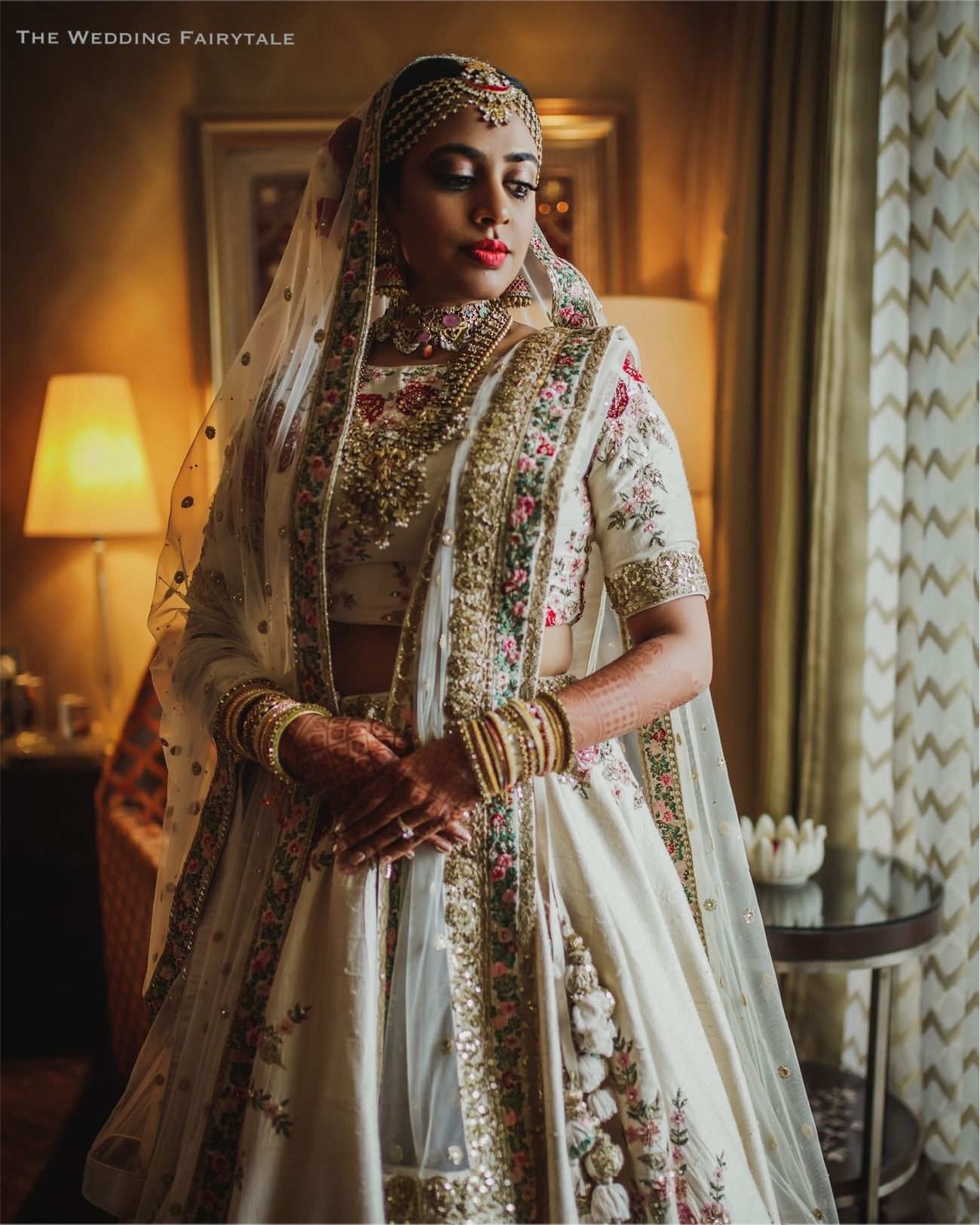 The intricate floral embroidery in colored threads on her blouse and dupatta are just perfect for a bride who pays attention to details.
A Plain Skirt With Tiny Block Printed Petals In A Contrasting Color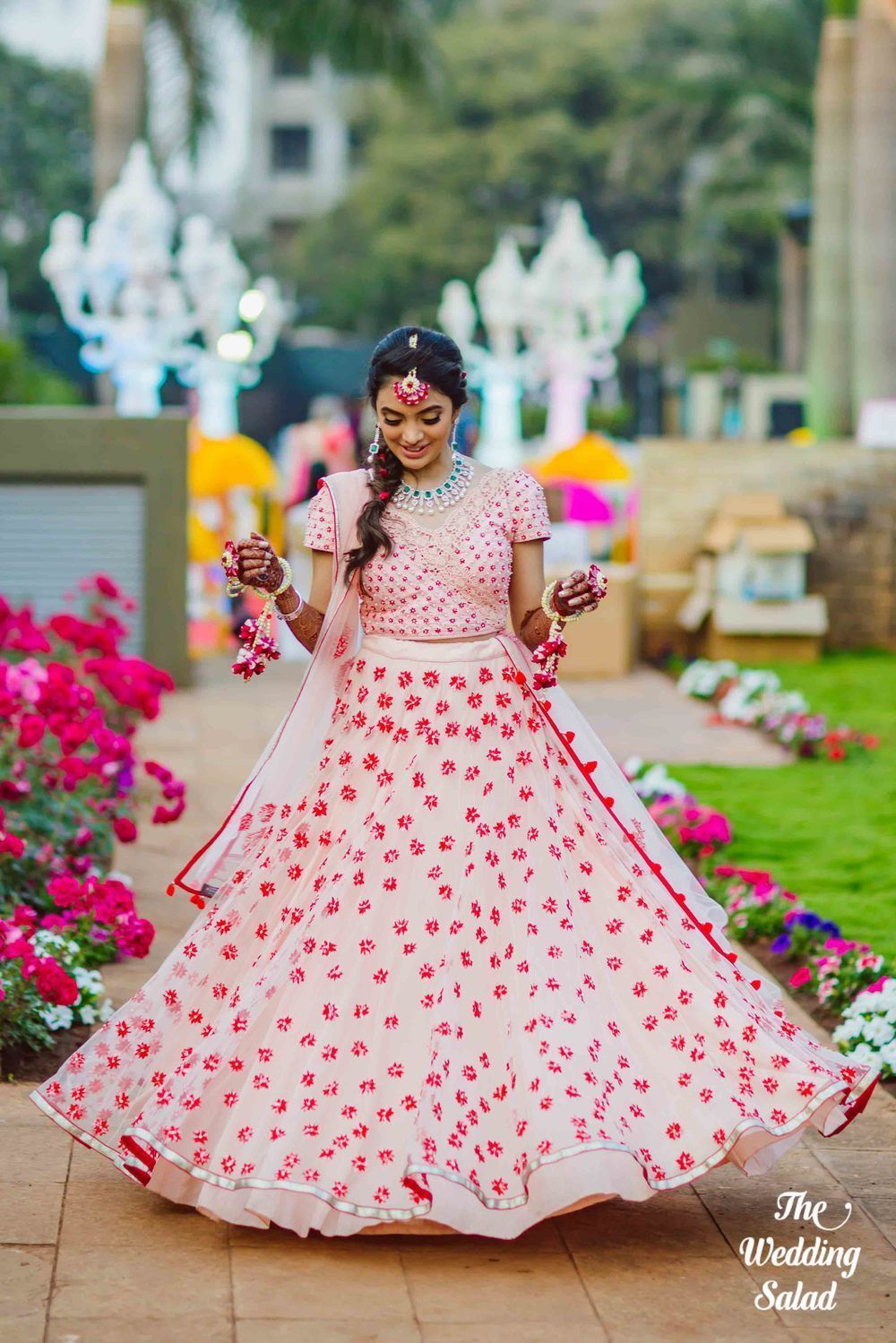 From Suraj & Supriya's Real Wedding
Refreshing pink lehena just perfect for a day mehendi function. Pair it up with a dainty set of hathphool and you have the perfect outfit ready!
This Bride Wore A Shimmer Blouse With Small Flowers All Over Her Skirt For Her Beach Wedding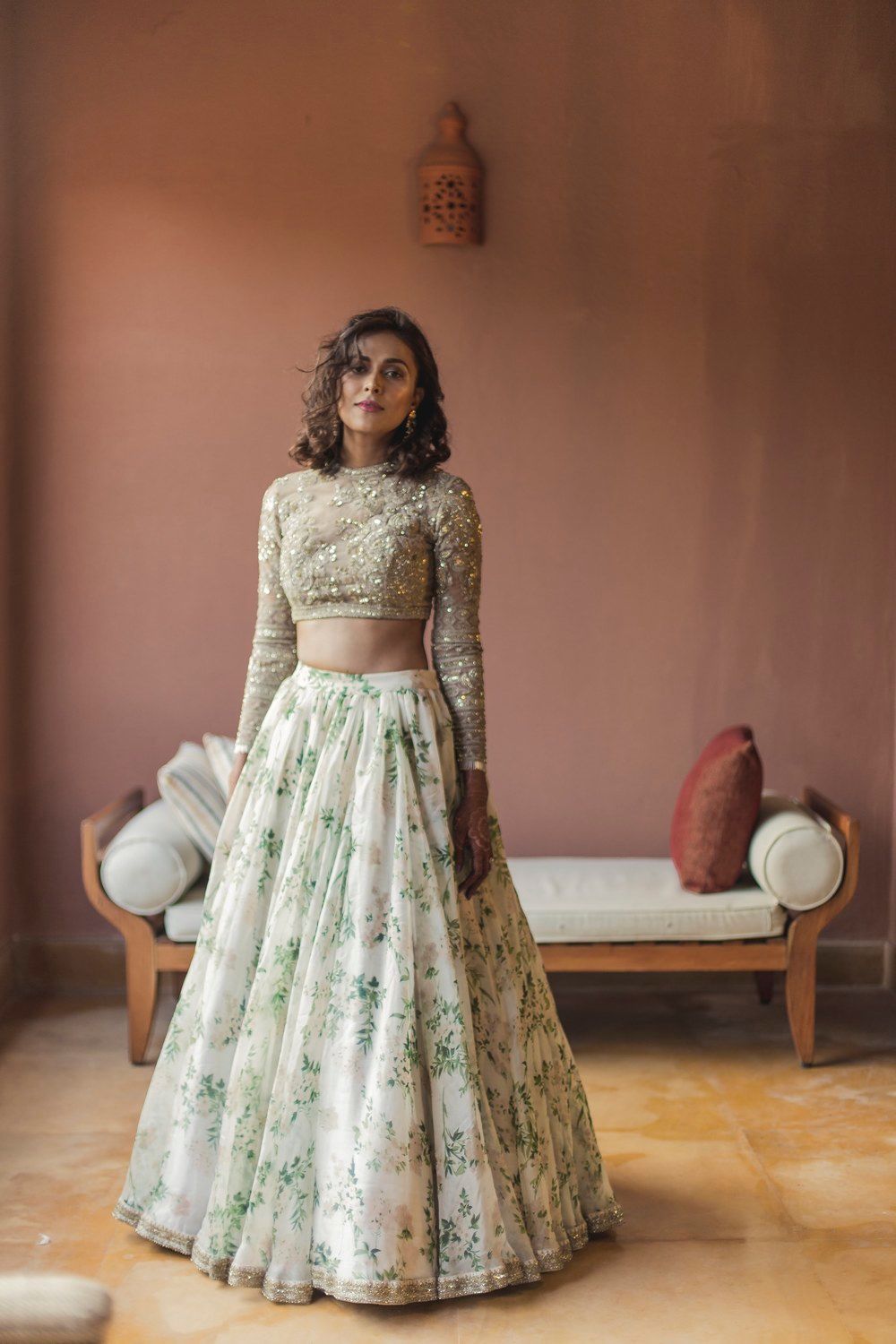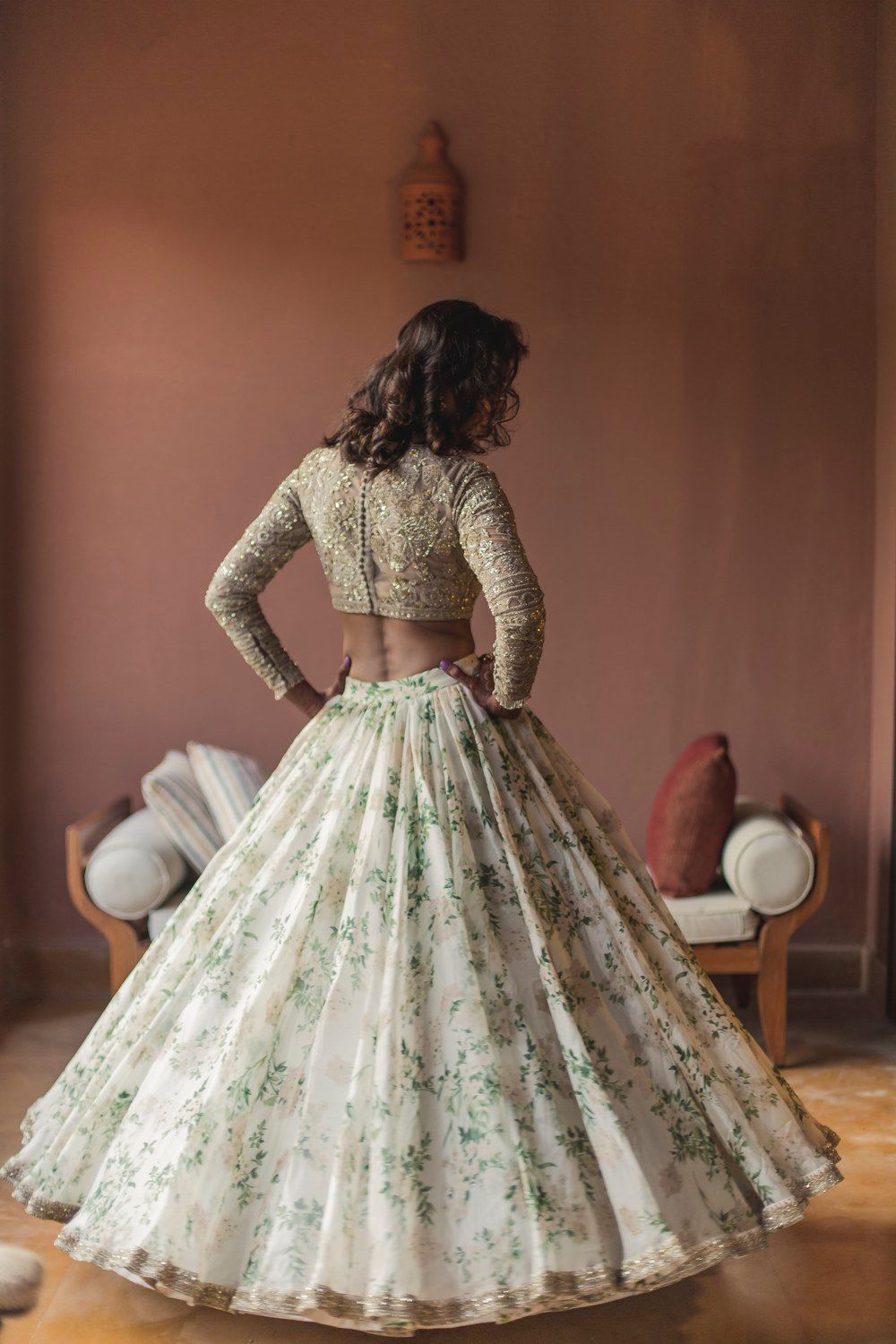 From Sanaa and Parth's Wedding
A fancy blouse and small booties to match the sun-and-sand vibe at the beach, how gorgeous is this outfit?
And This One Who Paired Flowers On Her Dupatta For The Minimalist Look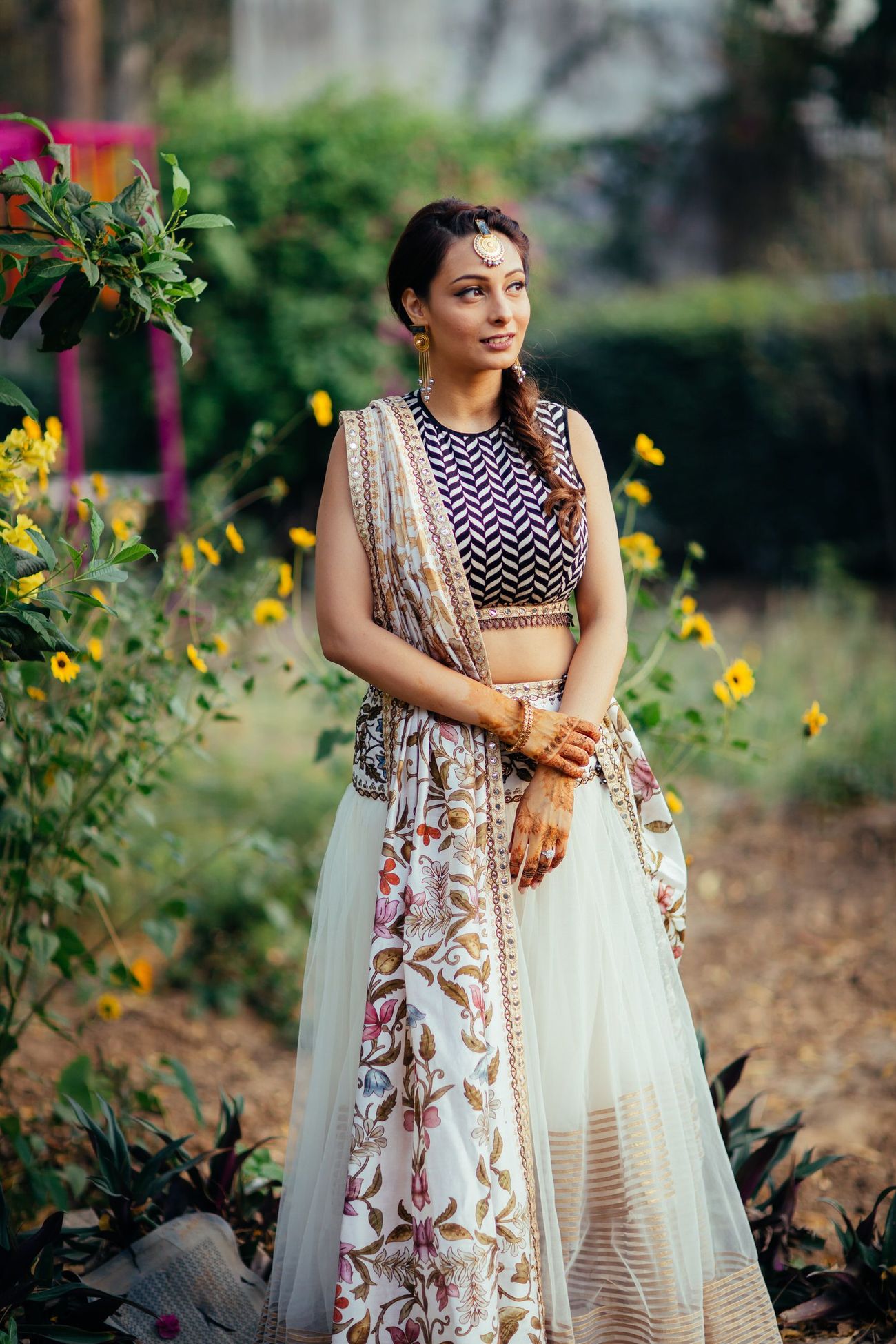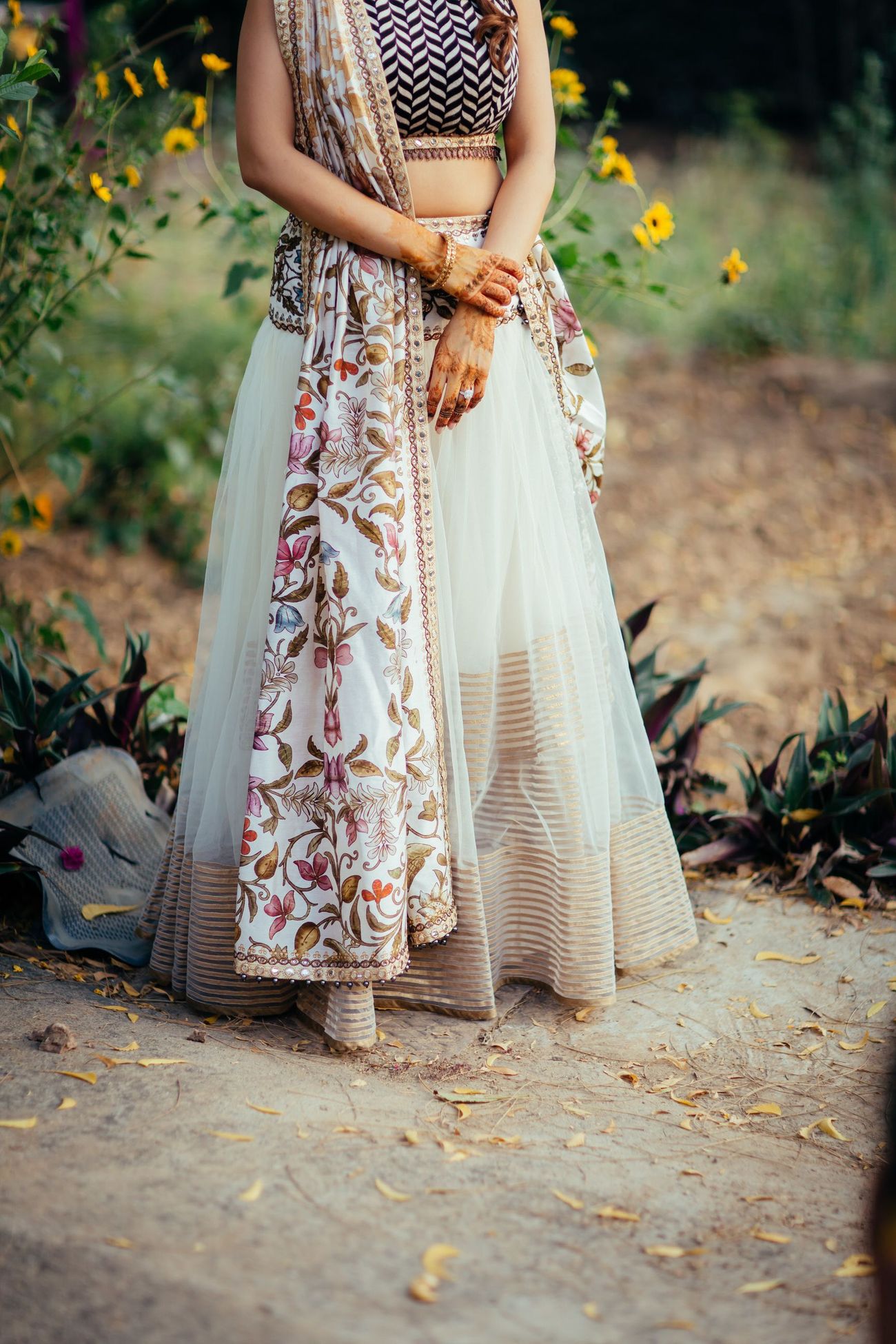 From Pracheta & Shrey's Real Wedding
This bride paired a plain net skirt with an aztec printed top for her mehendi. And completed her look with a floral dupatta. Did she look sharp and chic? Absolutely yes!
What to do think about the floral lehenga trend- yay or nay?
If you are a 2020-2021 bride-to-be and are looking at floral jewellery, here's the ultimate list where you can buy it from. Along with take a cue from these stunning floral umbrellas that you can use for your bridal entry!