Unique Indian Wedding Invitation Boxes that WOW !
BY The WMG Bride | 11 Jul, 2014 | 9427 views | 3 min read
While our
Invitation showcase
will give you more than enough inspiration to have your own fab invite, what about that
mithai ka dabba
to go with it (or if you have read our
wedding favor concepts post,
you would know ten other things to gift apart from mithai!) .  No jokes, the kind of creativity in wedding boxes we saw  is seriously blowing our mind people - here are some we picked out as fun ones!!!
 #1 The Pagdi Box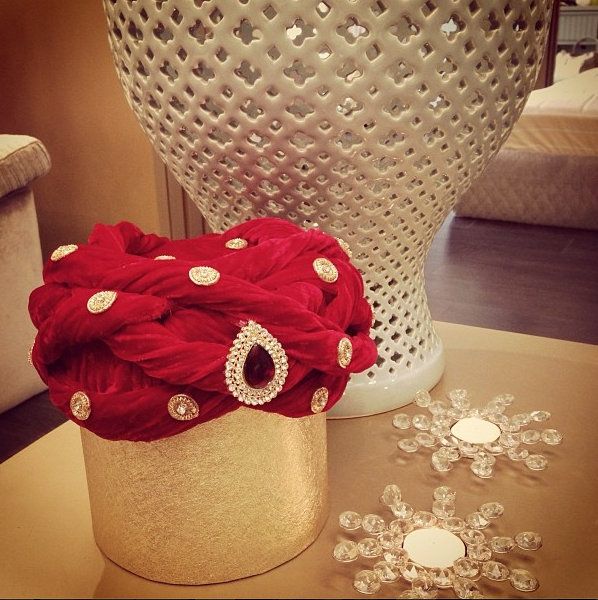 If you are the groom- how awesome would it be to give your favors / sweets in this pagdi shaped box!!! It is wayy cool, and such a conversation starter that people are sure to save it long after your wedding is gone. This one is made by
Smart Work Design Co
in Mumbai
 #2The Chantilly lace, Metallic box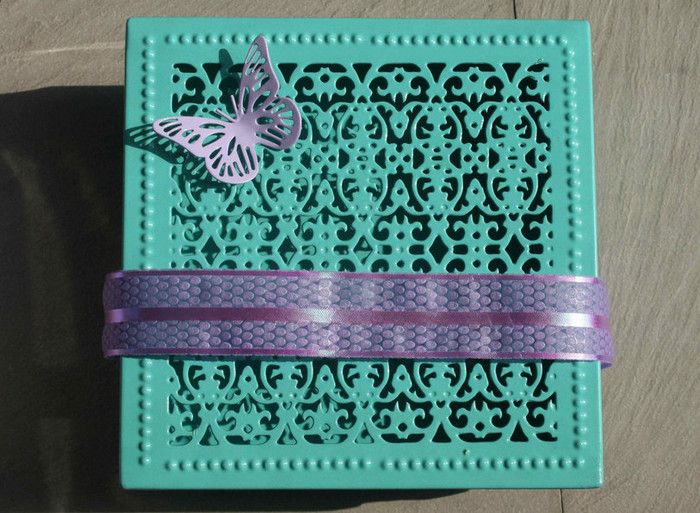 This absolutely beautiful, Chantilly lace inspired metallic box done by
Elan Home and garden
is the perfect box for the girls side ! The turquoise color with the butterfly- just screams spring/ summer wedding and its just so purrty, we would use it for jewellery afterwards!
  #3 The Palki Box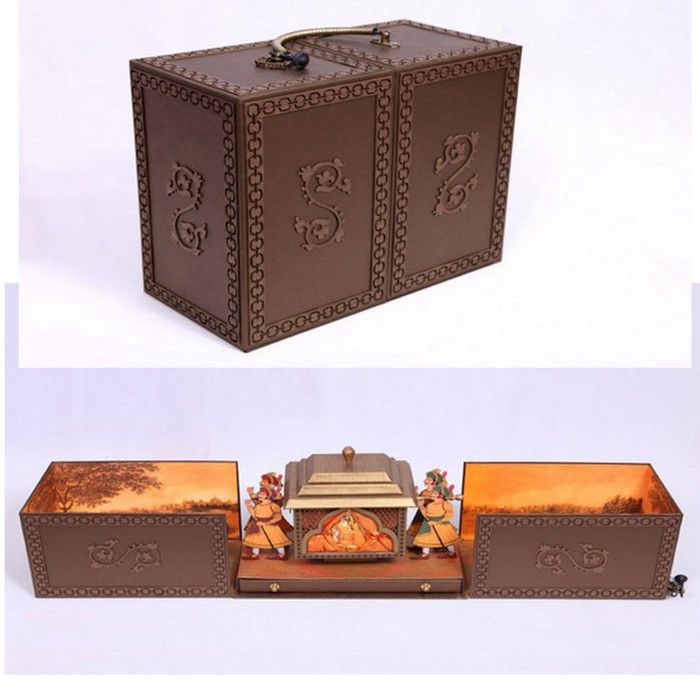 You can count on
Ravish Kapoor
to come up with cool concepts. This box opens up t show a palki. The Palki contains the sweets, and the drawer at the bottom contains the card. If you like to live life king size, this is the box for you!
 #4 The Exploding Box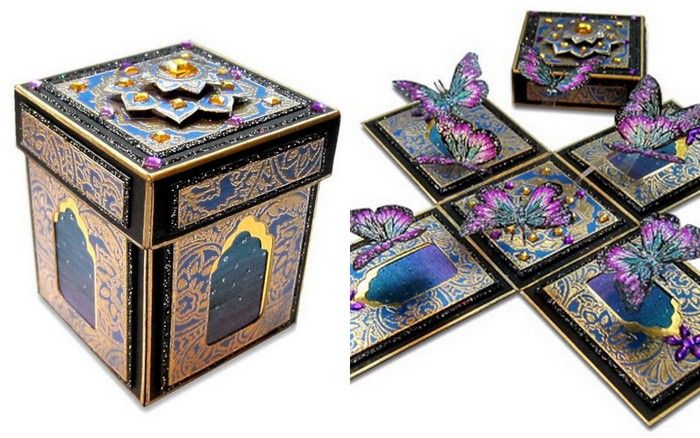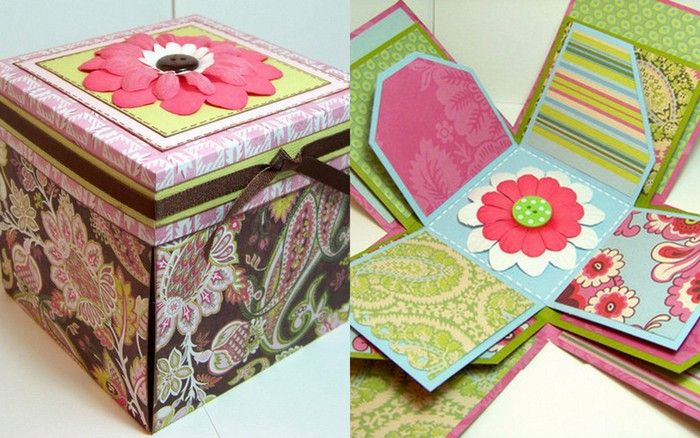 Exploding boxes are a huge concept abroad. These are essentially boxes which when opened, almost fall apart to reveal a center (usually has a cake or a small box containing sweets) and the sides can be used as your invitation leaflets . Its so cool- like something you would find at Hogwarts! . Read this about
how to make an exploding box
.
#5 Classic, Elegance by EDC
Spotted this box made by
Entertainment Design Company
on Kismets blog
-The Unreal Bride
. Love how the mithai is in cylindrical tins and stacked ontop of each other like macaroons. The card is held in place with a ribbon, and the drawer reveals the goodies!
#6 The birdcage box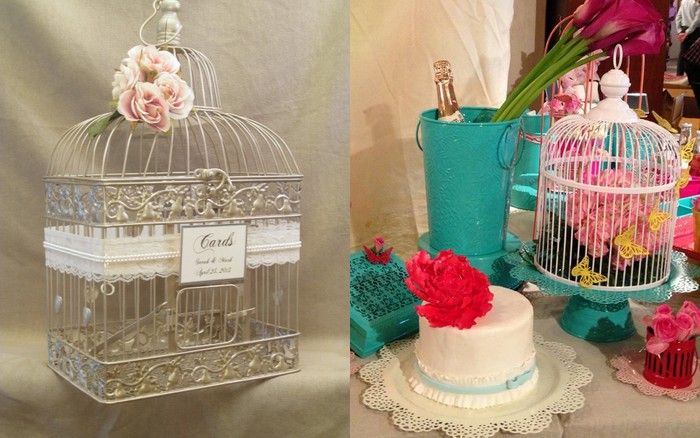 One of our favourite wedding gift box trends are the Pinjrah boxes- simple, easy and relatively cost effective. Just stash these with a pouch filled with chocolates and you have yourself a neat little invitation that people will definitely talk about! These are also made by
Elan
.
#7 Handpainted wooden boxes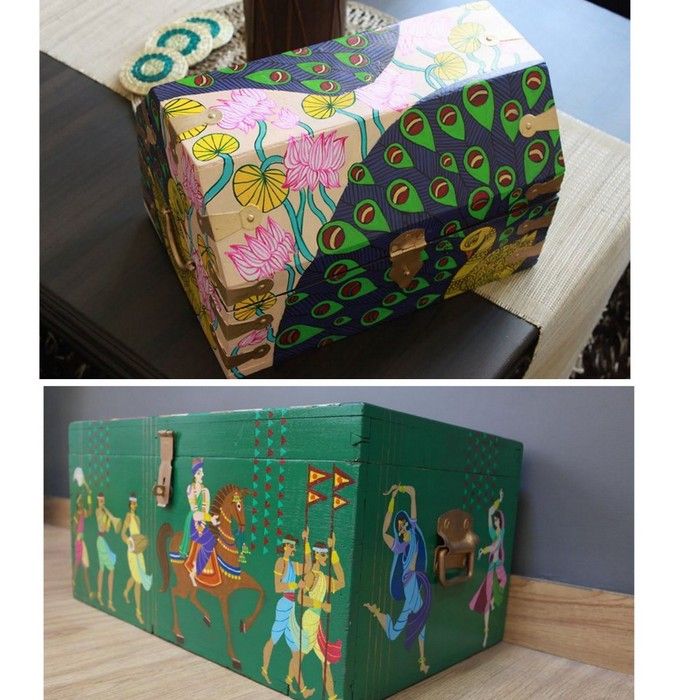 Handpainted , wooden boxes are
Turmeric Ink's
forte and these are quirky and fun to be used as trunks after the wedding is over!