30+ Bridal Naths For Every Kind Of Bride
BY Soha | 11 Jun, 2019 | 67028 views | 8 min read
Let us tell you a fun fact!
Naths were an important part of a bride's look during our grandparents' time. You're really lucky if you have ever had the opportunity to go through your grandparents' wedding pictures. Trust me, mine wore jewellery that I cannot even name now! 
Then, I saw my mother's wedding pictures and while most of the things remained the same, she didn't wear a nath at her wedding. Nor did my aunts, or their friends!
But thank God for our generation, bridal naths are back in trend and how! A nath not only adds character to your look, but also accentuates it like nothing else- a sure shot way to draw all attention to you and ensure that no eye ever leaves your side! Oh, how I wish I could wear one of those gorgeous pieces my grandma wore at her wedding and show you!
Well, if you too, drool over those large, chunky vintage naths like we do, but don't think you can sustain all that weight through the celebrations, then here's something especially for you! We made a list of different types of naths that you can probably choose from!
For your convenience, we divided this post into the following categories-
Minimal Naths
Oversized Naths
Vintage Naths
Motyanchi Nath or Guchhedar Nath Or The Marathi Nath
Unique Naths With Colored Stones
Floral Naths
Tiny Rings/ Ringlet Naths
Naths With Strings Or Latkan
Abstract Nath
Lightweight Naths
Whoosh, now that is one long list! If you don't know the difference between a Nizami nath versus a Guchhedaar nath, then there are only two ways to know. Either you let Sanjay Leela Bhansali explain with his movies, or well, let us do it for you! :P
So, here's looking at a nath style for every kind of bride! 
Minimal Naths
1. This One With Pearls And A String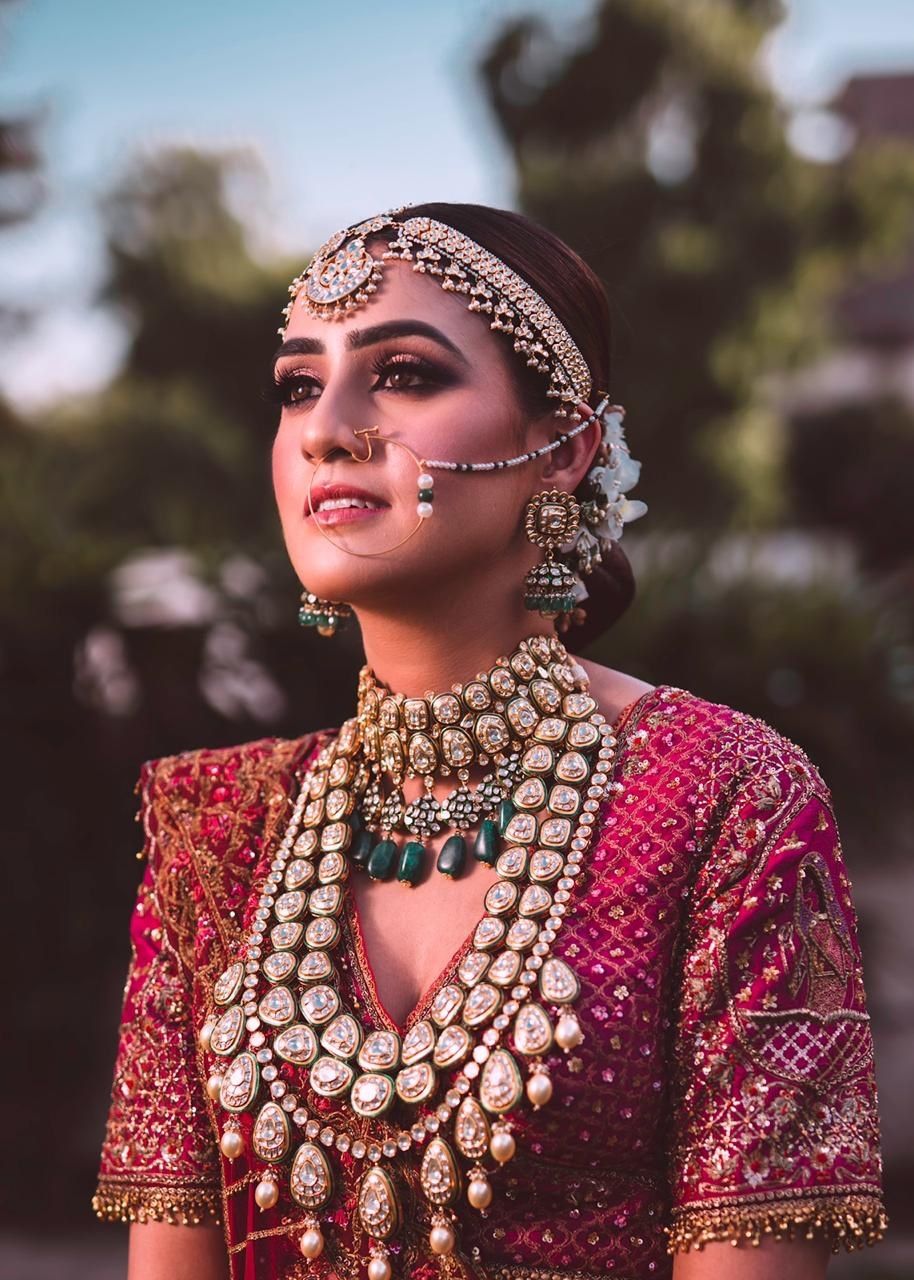 Image via Shahid Naar , Jewellery by Khurana Jewellery House
What is not to love about this bride's style who paired a minimal nath with her heavy jewellery? The balance between the light nath and heavy jewellery ensures neither of the two gets ignored! 
2. Or A Very Similar One That Anushka Wore!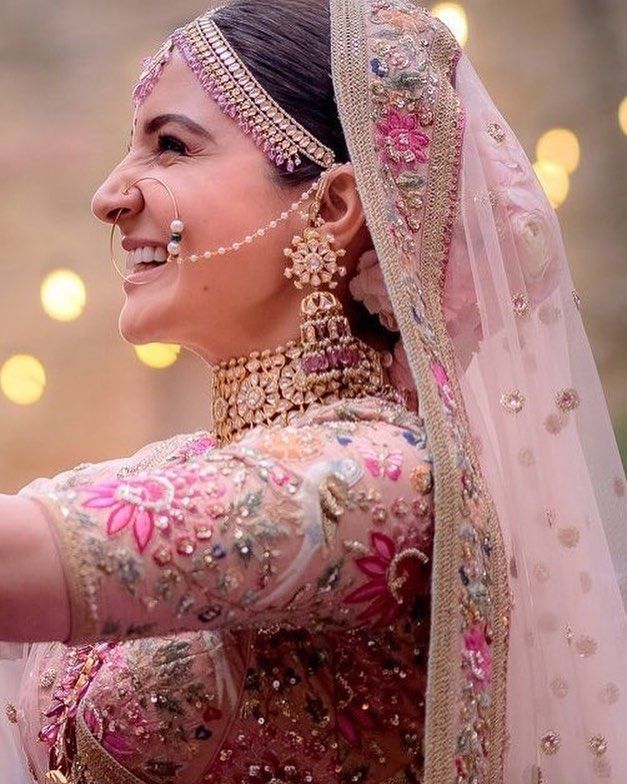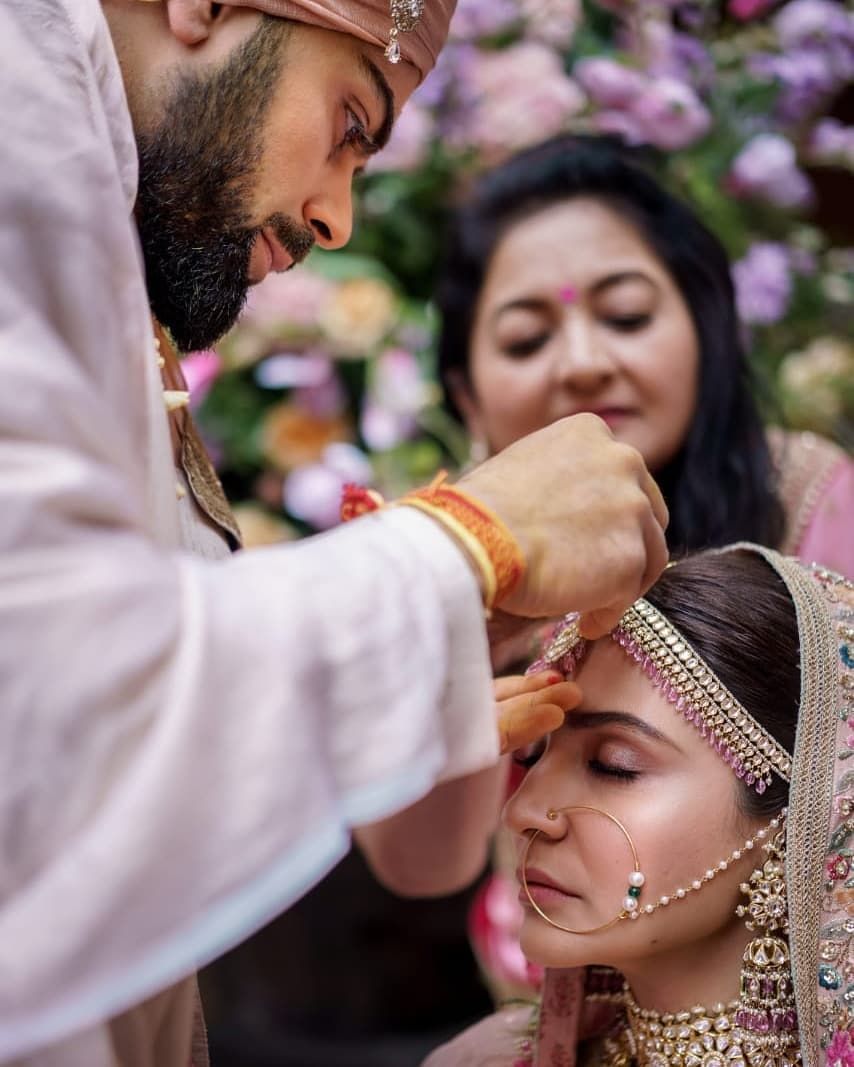 Now, who didn't like Anushka Sharma's jewellery? Lustworthy, truly! 
Oversized Naths
1. Match Your Nath To Your Jewellery Set Like This Bride Did!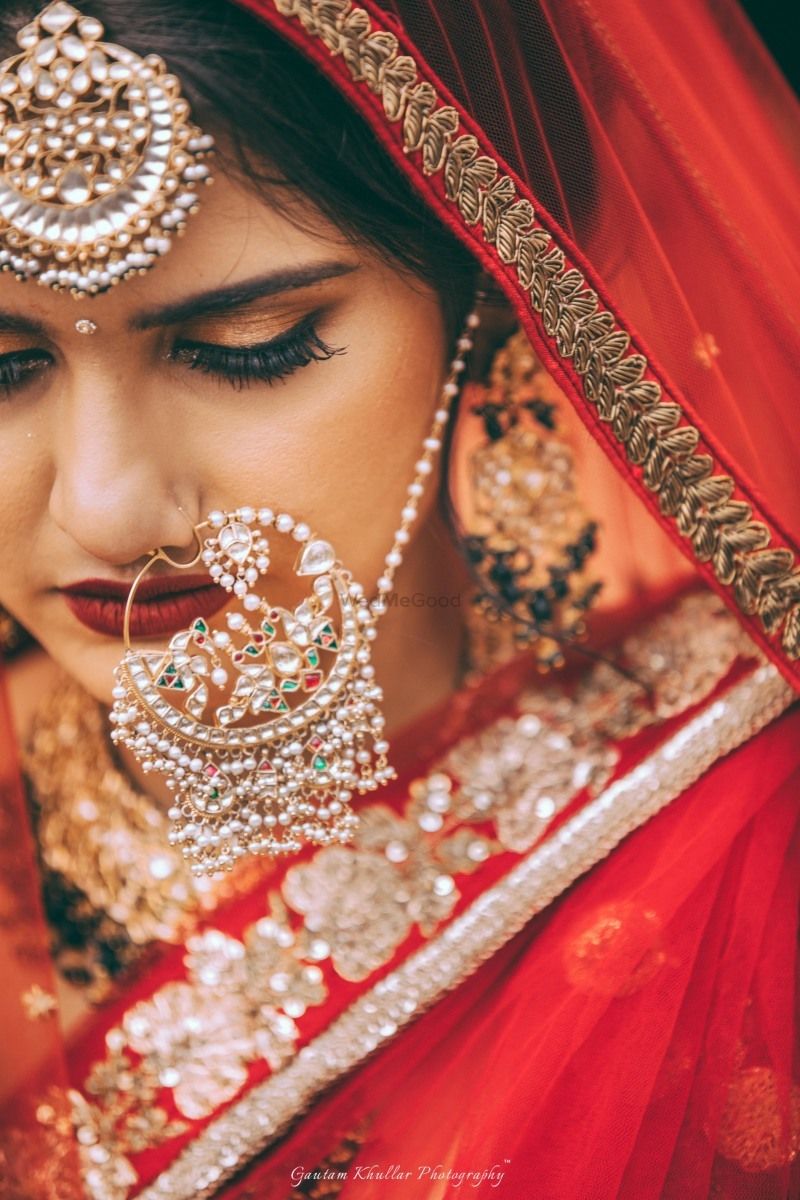 This bride matched the silver border in her outfit to her jewellery and ensured she didnt miss out the nath! The oversized nath adds so much character to her look! 
2. We Absolutely Love The Unique Shape Of This Bride's Nath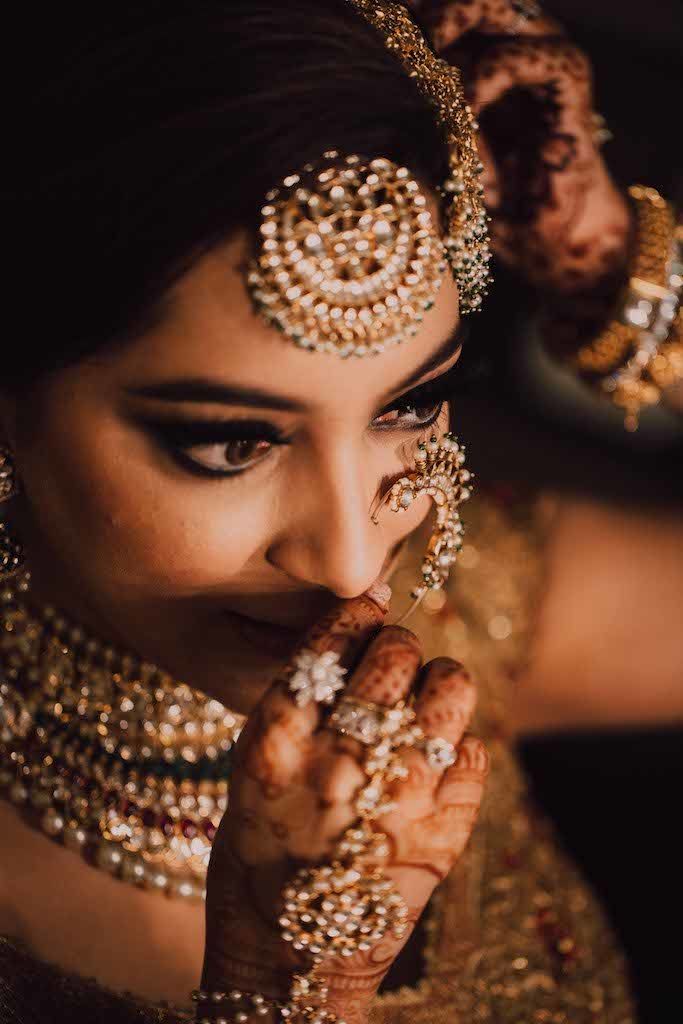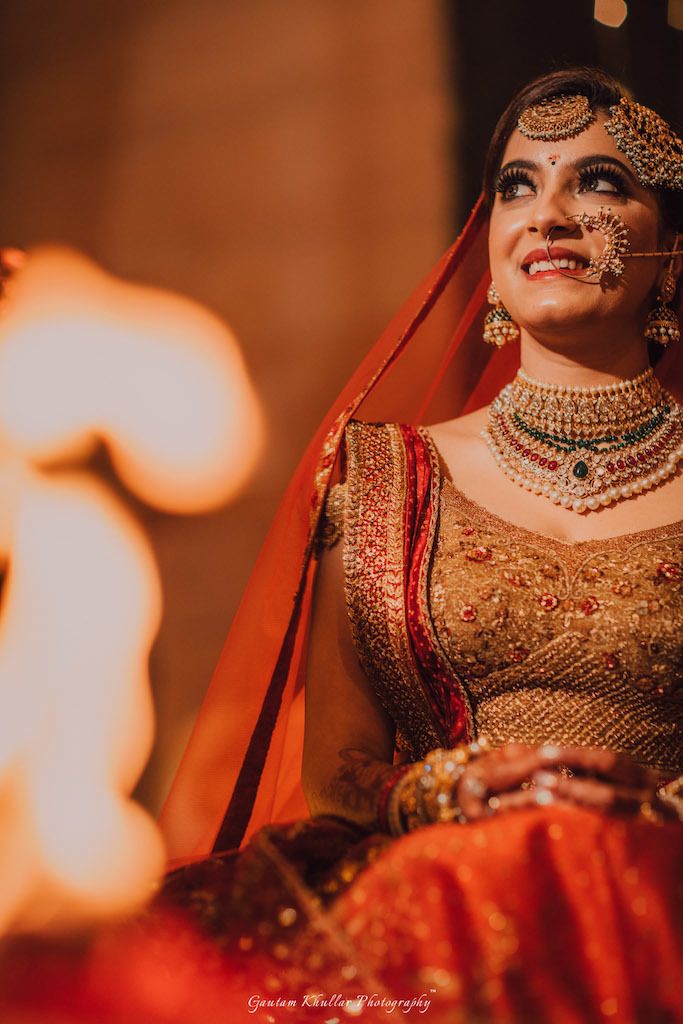 A half crescent with pearl wires, you can experiment with the shape and size of your nath as much as you want! 
3. This Bride Matched Her Nath To Her Polki Necklace!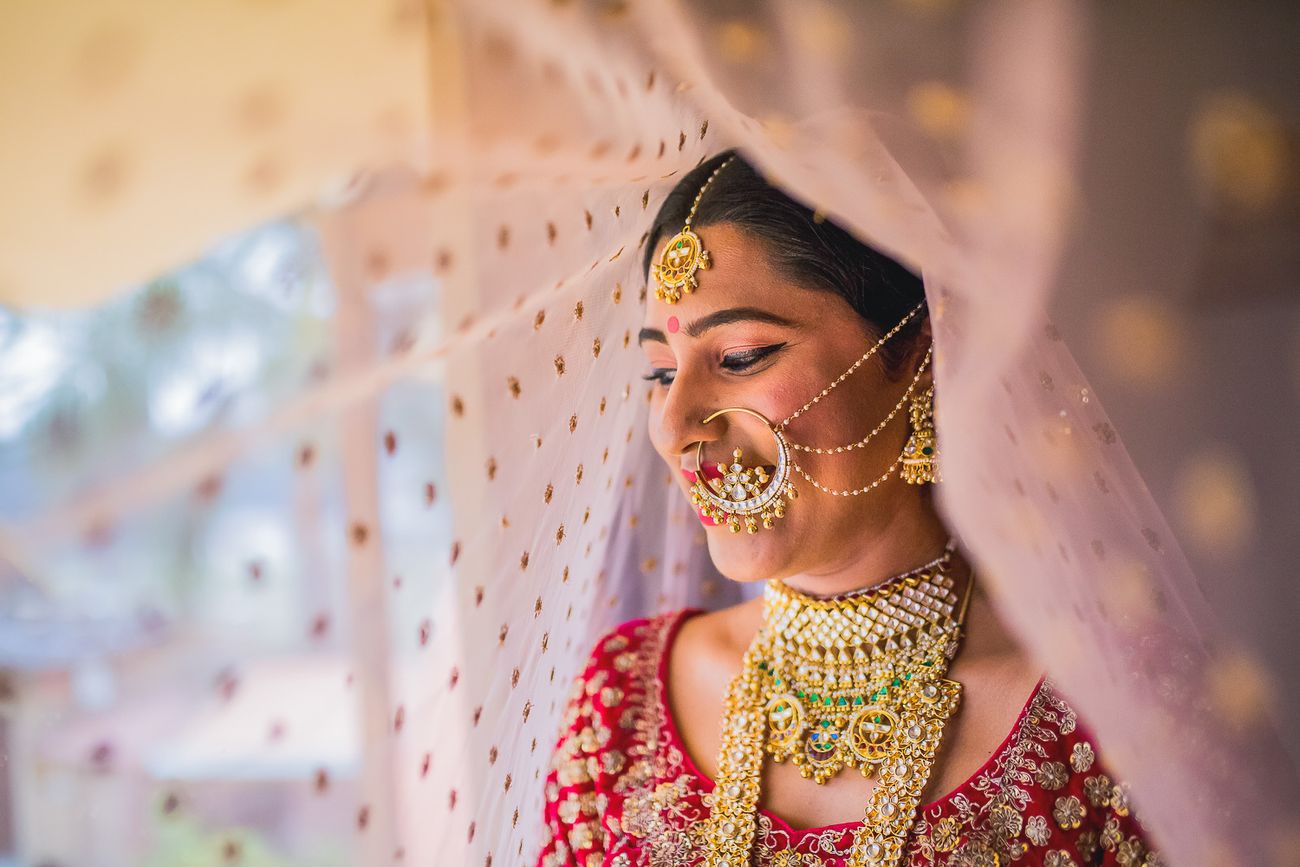 The trend is to wear a statement vintage nosering, which is oversized and dominates the entire face. You can even match your necklace like this bride did to make it look like one complete set! 
4. We Love How This Bride Chose An Oversized Nath In Silver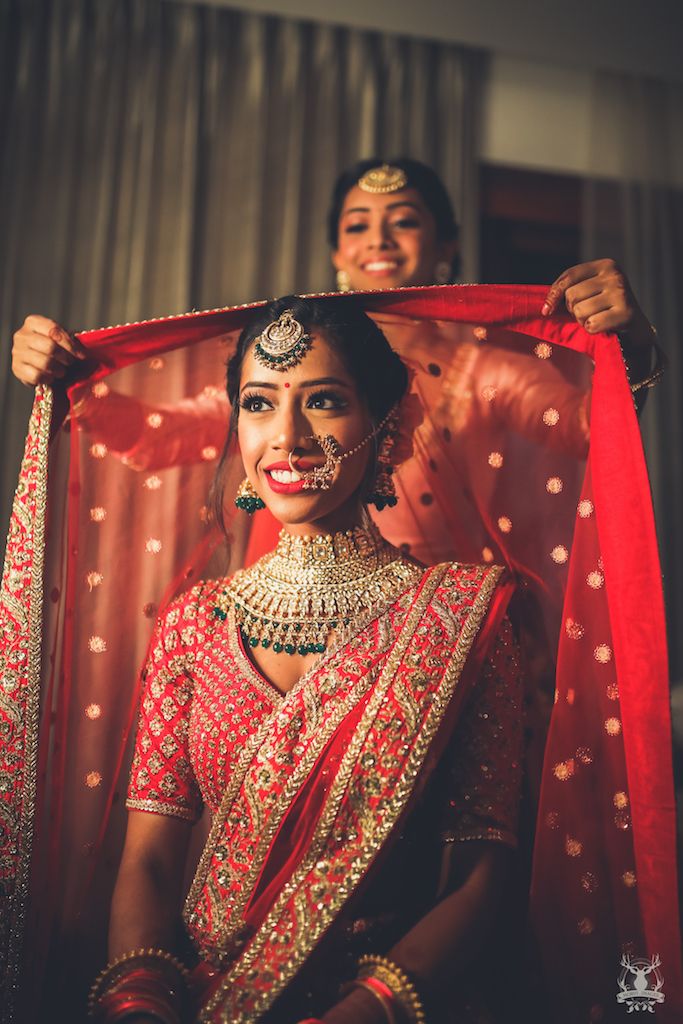 From Tuhina and Filip's wedding
If you think you do not have the perfect nose for a nosering or small nath, then an oversized nath is just what you need as it will shift all attention from the shape of your nose to the unique piece of jewellery! 
5. This Bride Designed Her Own Nath- Truly #Goals!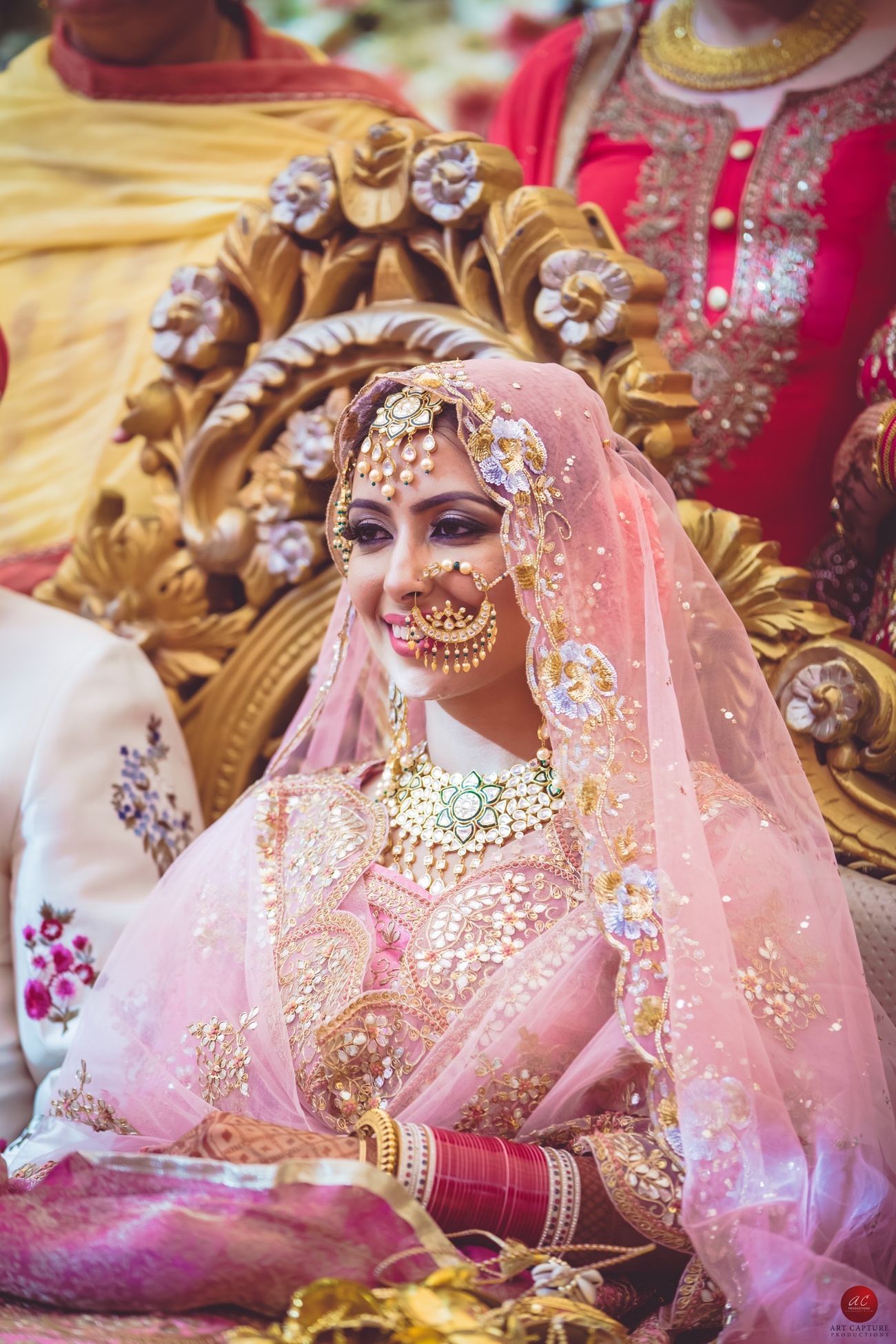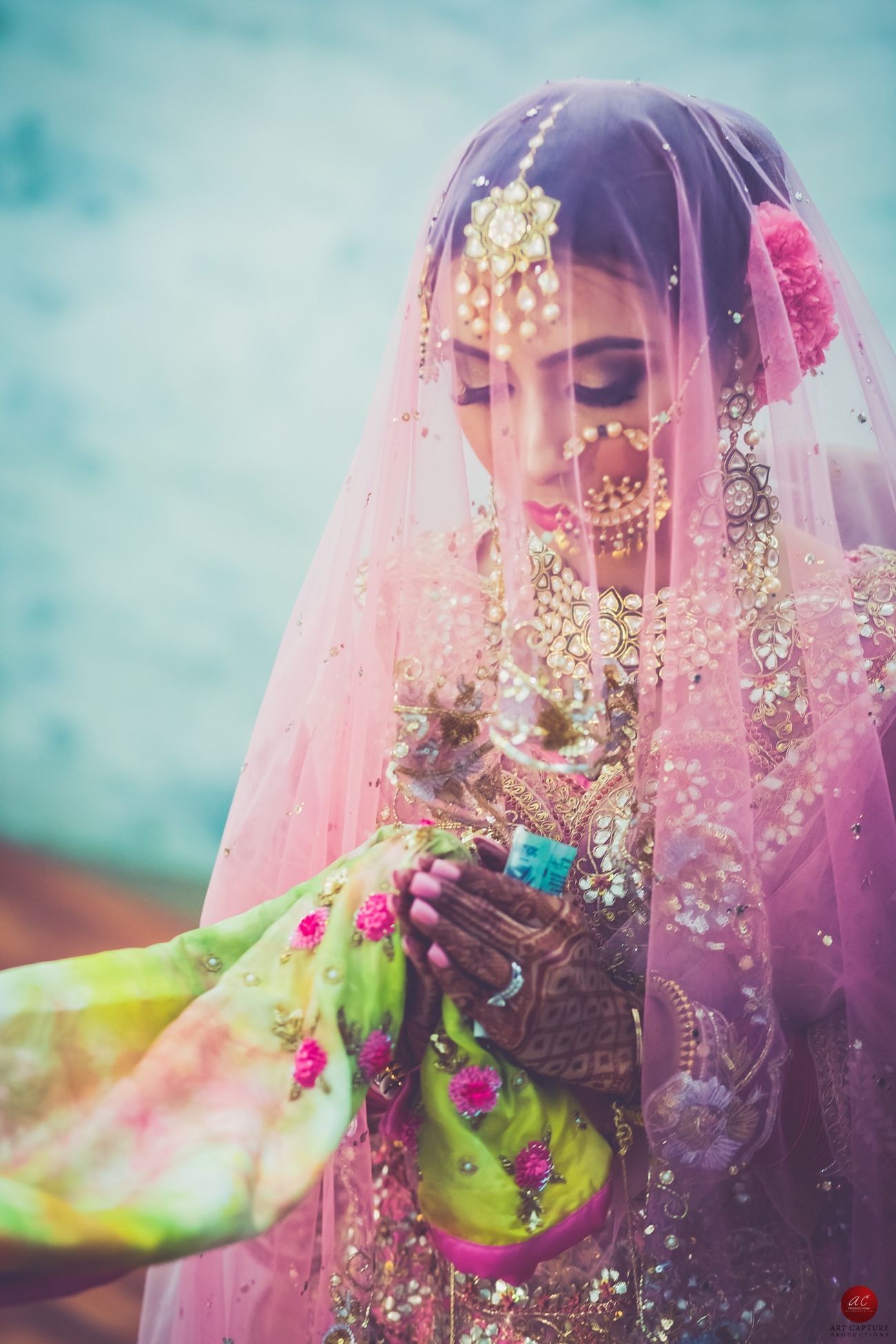 "We went to many jewellery stores & tried to find what I was looking for, but I didn't actually didn't like any piece or designs. They were not that convincing and the big branded jewellery stores all had the same design with minimal changes in them" shares Naaz.
6. Thoughts On This One That's A Cluster Of Pearls?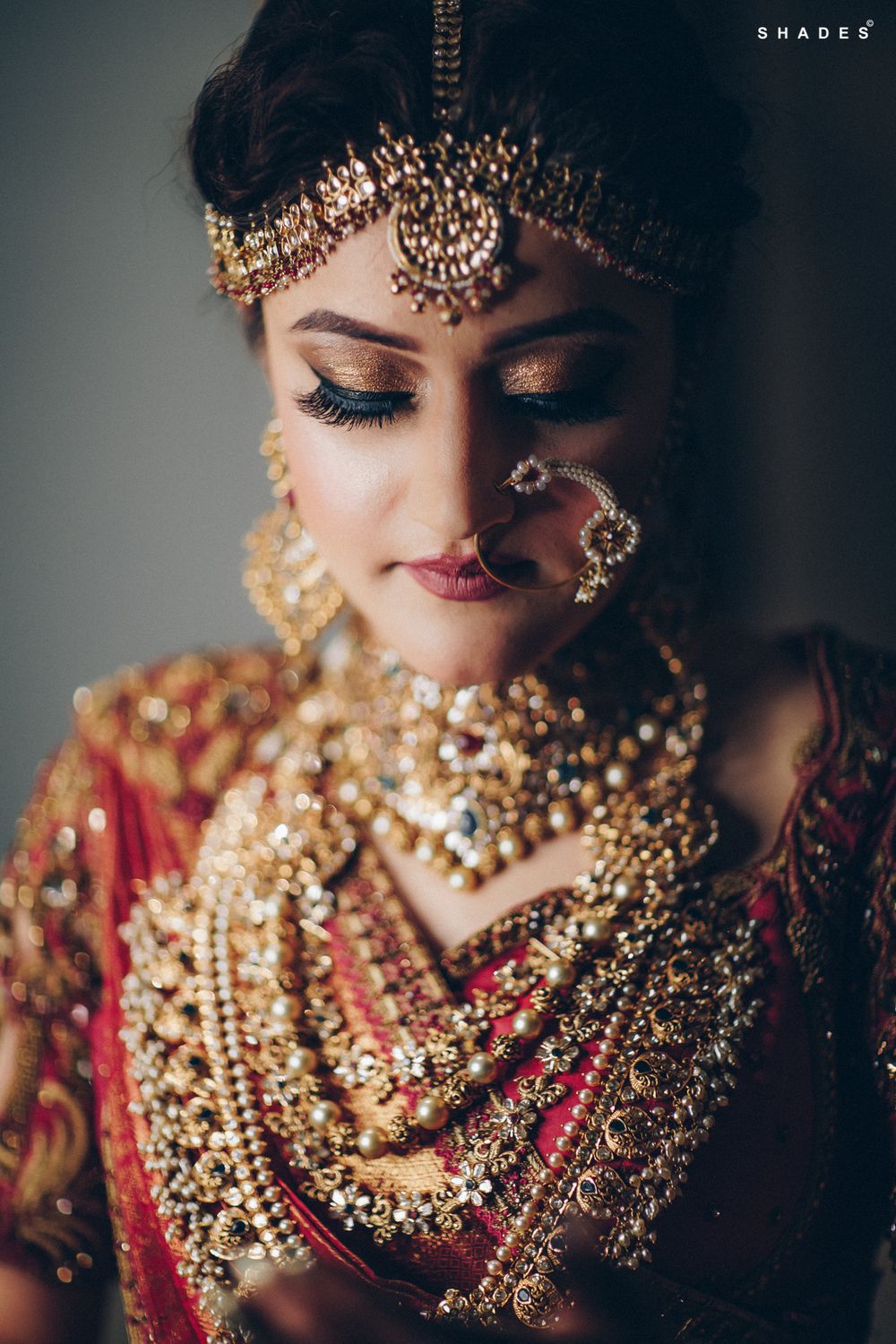 We love how this bride contrasted her pearl nath with the rest of the heavy gold temple jewellery- just the breath of fresh air that could have complimented her otherwise complete look! 
Vintage Naths
1. This Bride Wore A Nath She Inherited From Her Elders!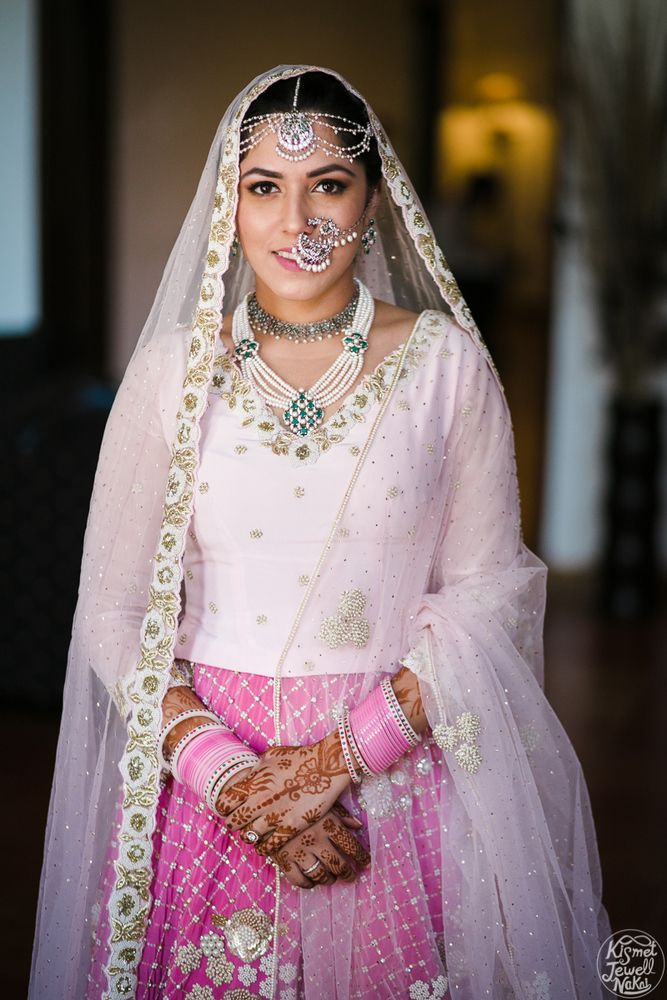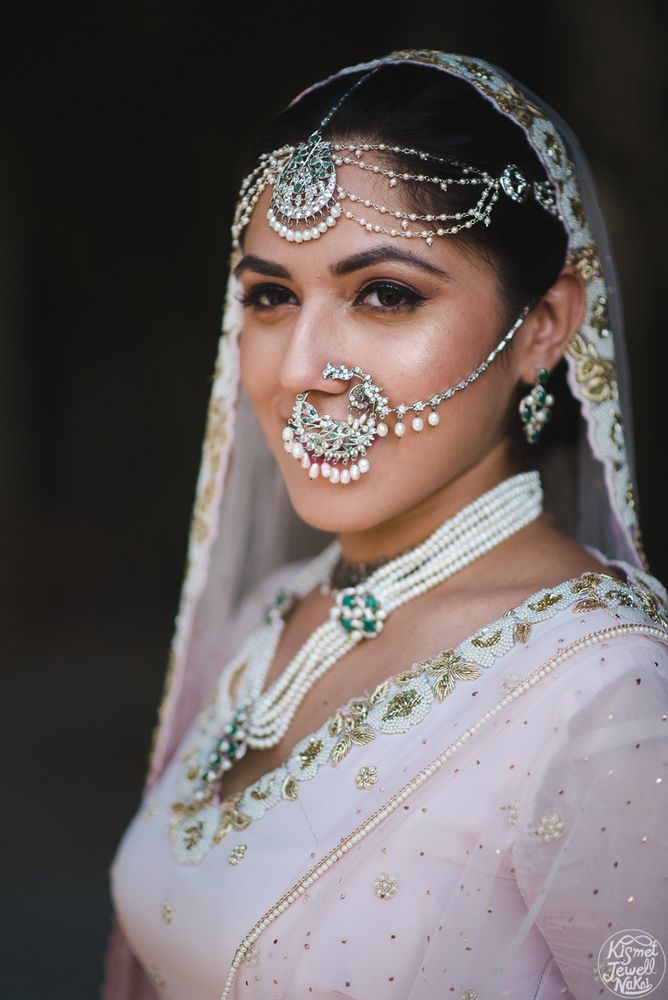 There's something so starkly stunning about heirloom jewellery- they aren't just bearers of a shared history but also made in such unique designs and settings. Now here's one for proof! 
2. And This One Who Truly Gave Us #JewelleryGoals!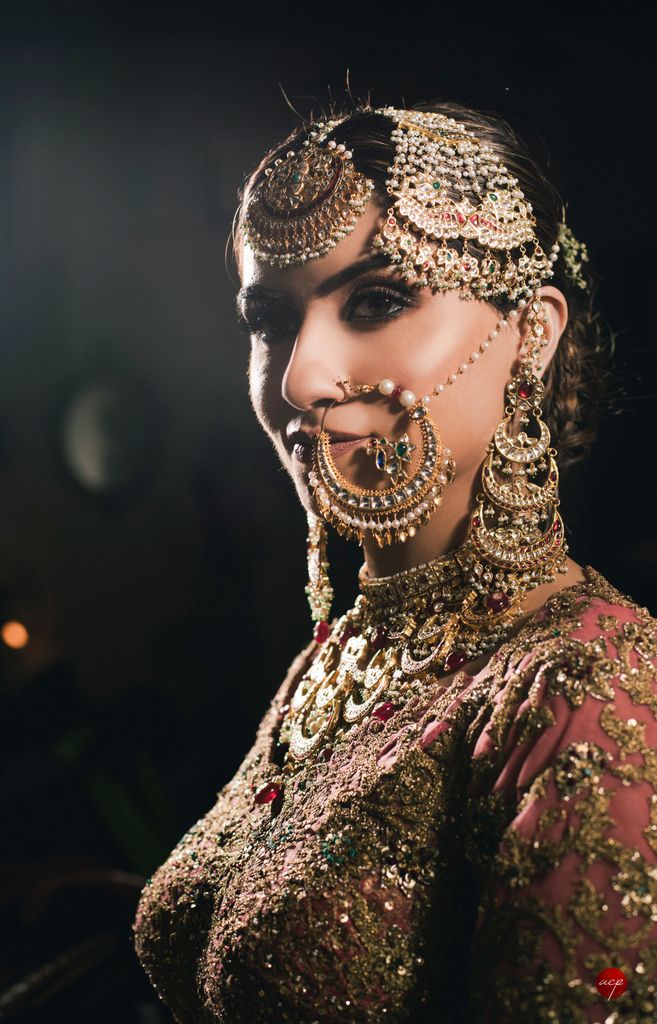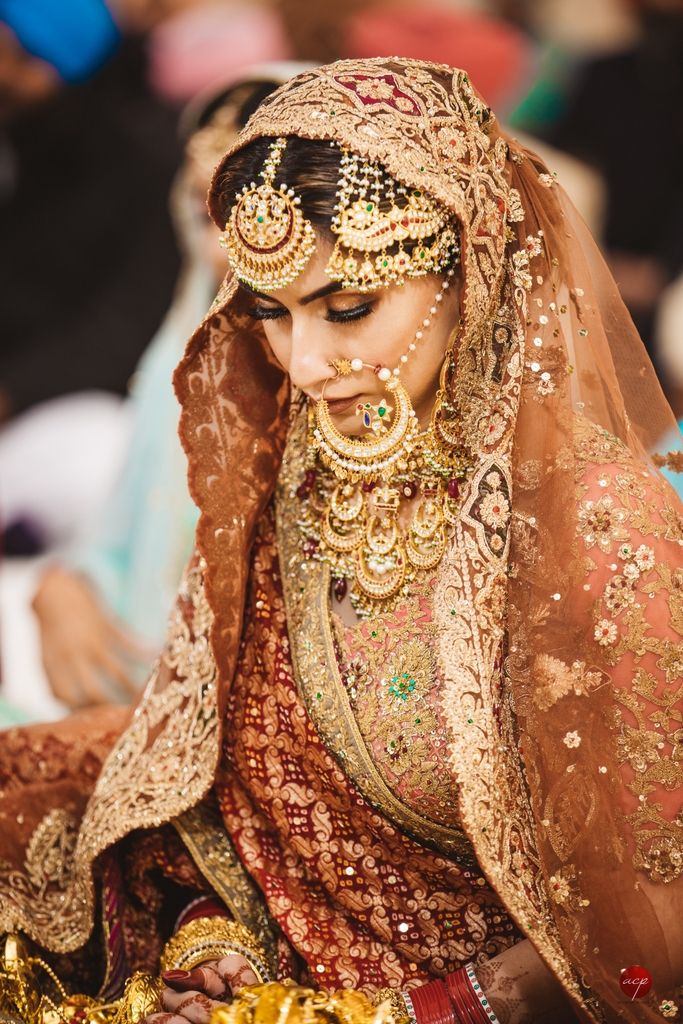 From Komal & Tanveer's wedding
After statement mathapattis and jhoomers, we are spotting more and more brides sporting oversized naths, and we love it!
3. This Bride's Silver Vintage Nath With Emerald Stones Was The Talking Point Of The Night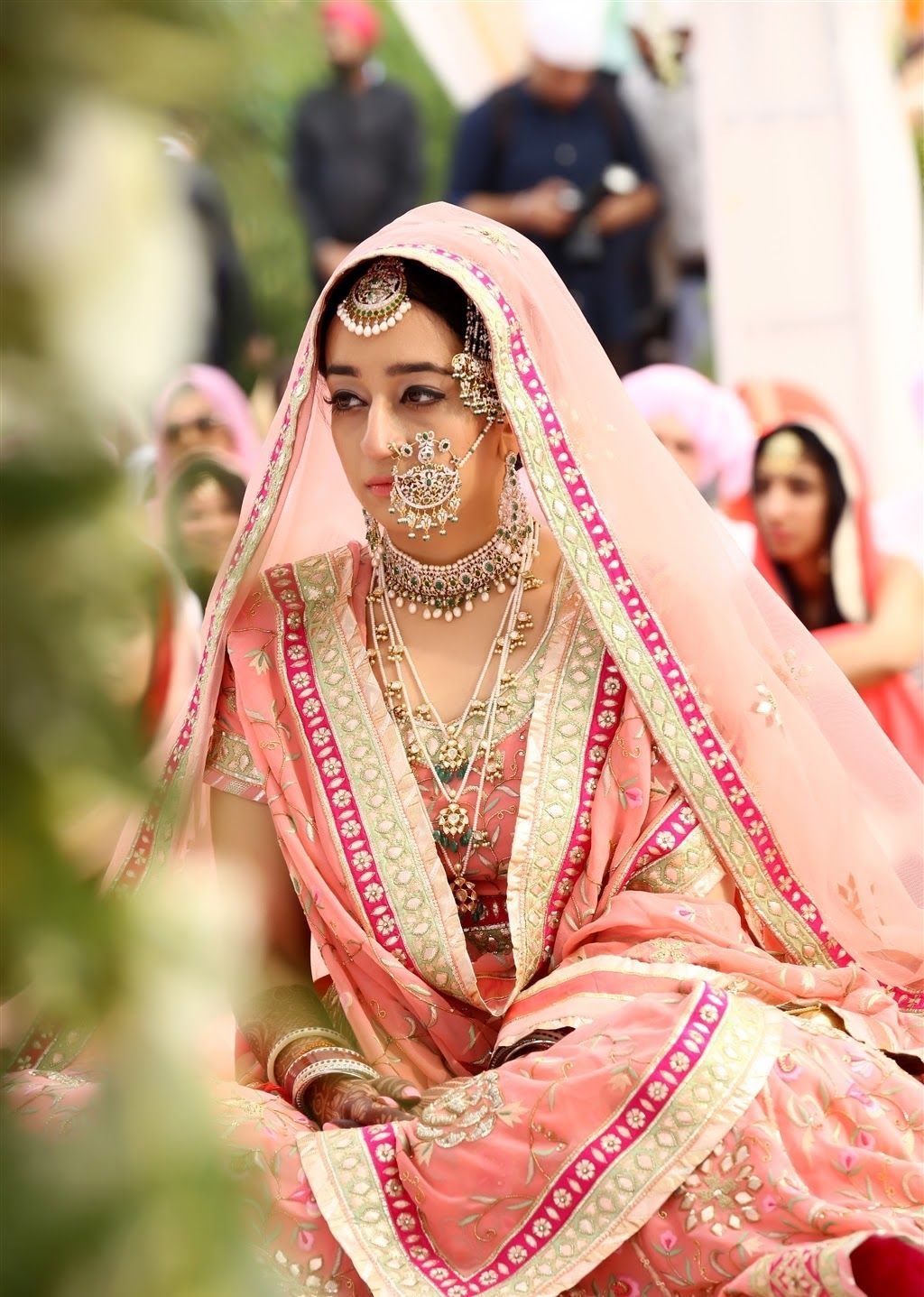 From Divjyot & Simran's wedding
"Donning my glorious lehenga and stunning pieces of jewelry, which did most of the talking, I felt every bit the ethereal princess," shares Divjyot! Rightly so!
4. This Bride's Mughal-Inspired Nath Is To Die For!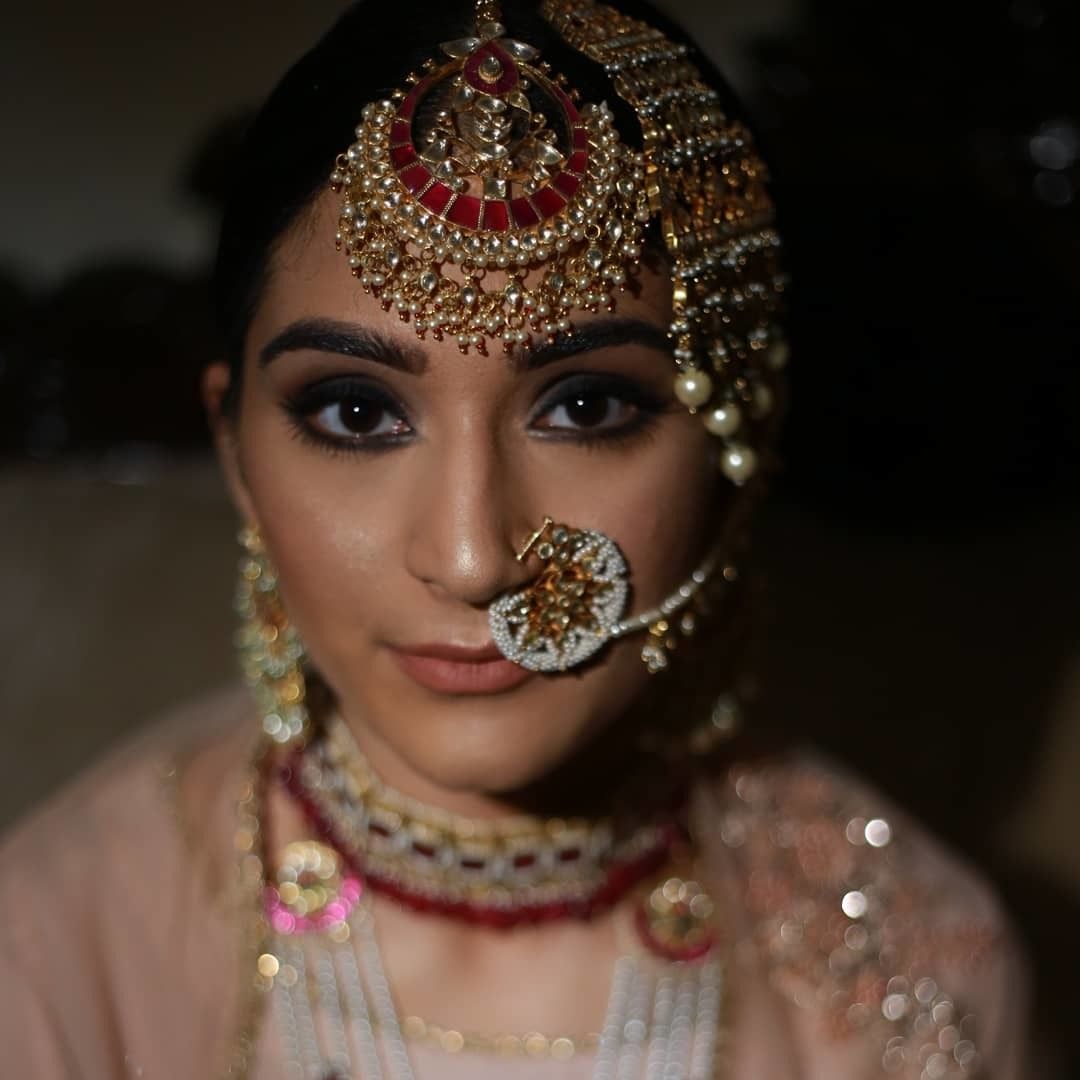 A truly unique shape, with pearls and an intricate jaal in the middle- what's not to like about this mughal-inspired nath? In case you're looking for more inspiration, you'll find tonnes in Sanjay Leela Bhansali's movie (ref Padmaavat!)
5. A Typical Awadhi Nath!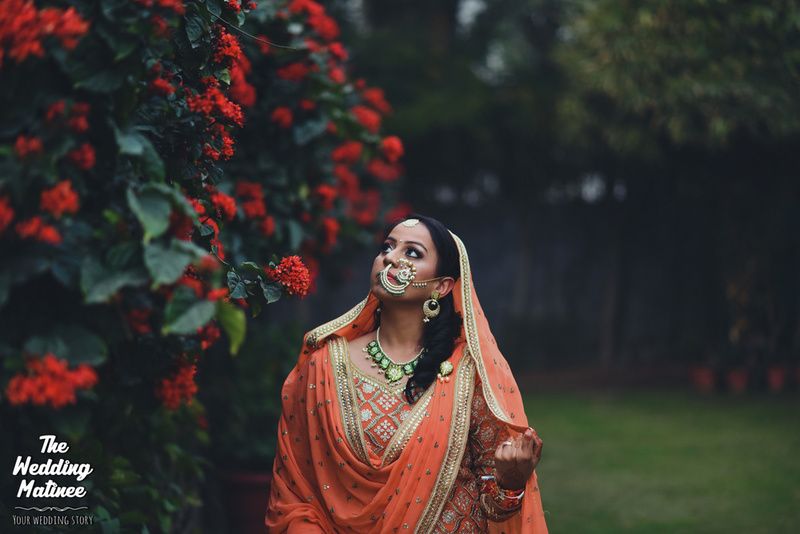 While there are so many factors that make this bride's nath a true crowd-puller, a big hoop with kundan work in the middle and pearl drops at the top, it's essentially the size of the nath that does the trick for us, along with that vintage charm! 
6. And How Can We Forget This One That Is A Blend Of Beauty & Royalty!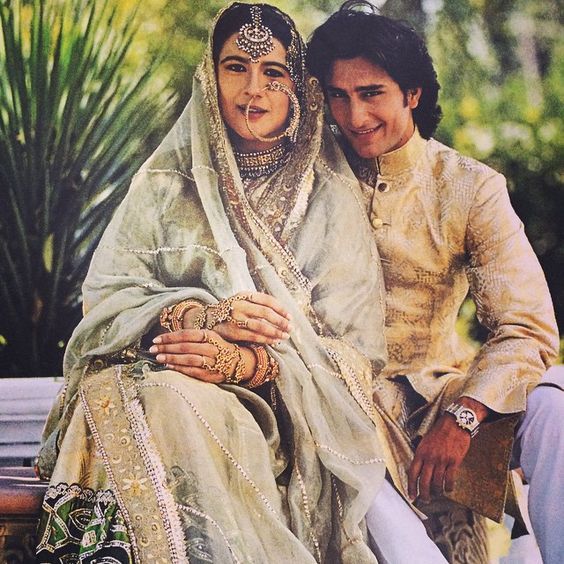 Now that's how you add the right Nizami touch to your bridal look- the first ever oversized vintage nath that drew our attention to this unique and beautiful piece of jewellery! 
Motyanchi Nath Or The Marathi Nath
1. What's Not To Love About This Bride's Typical Traditional Nath?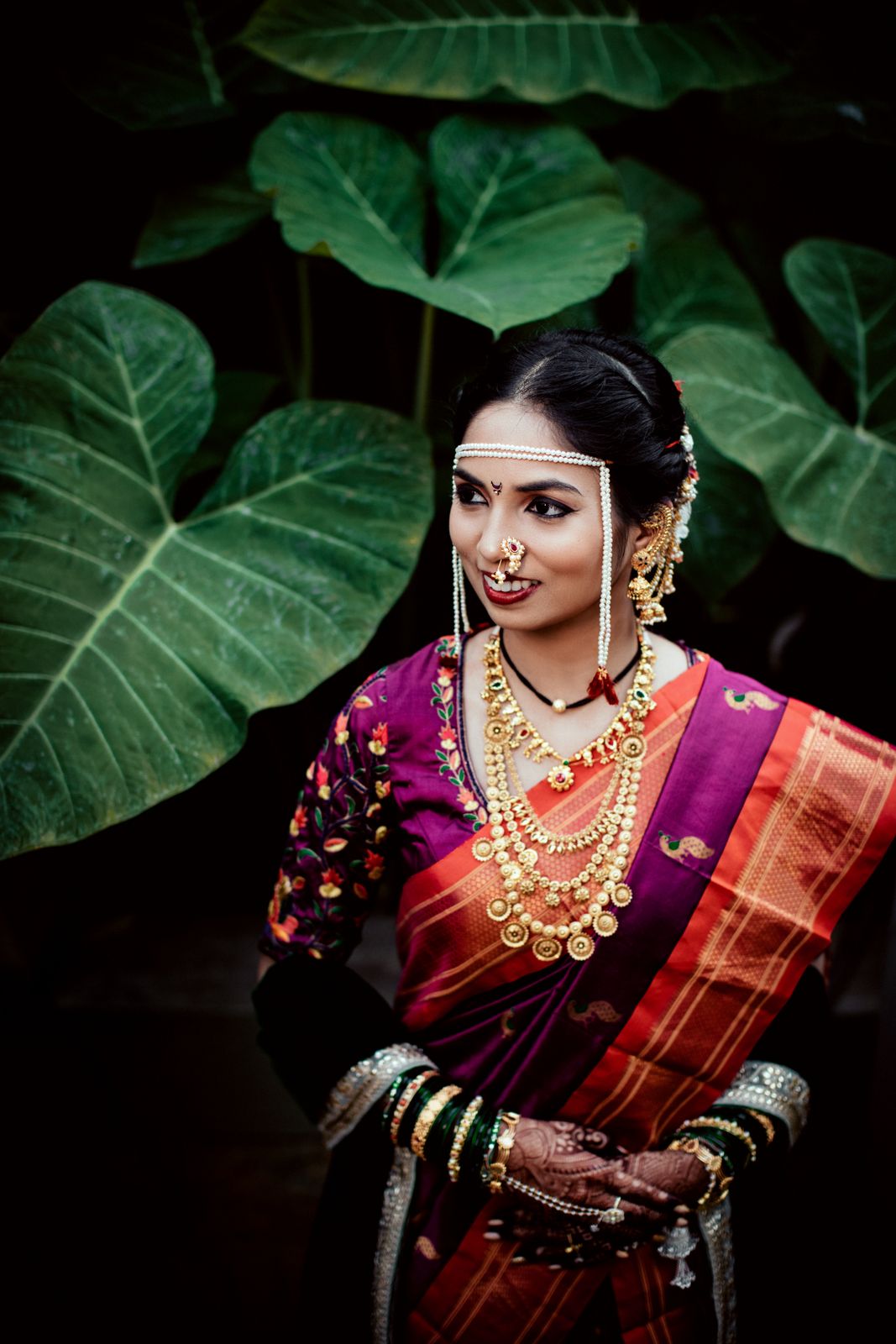 Guchhedar Nath are typical Maharashtrian nath that resemble a cashew nut in shape and features pearls and gemstones. 
2. Tradition With A Twist!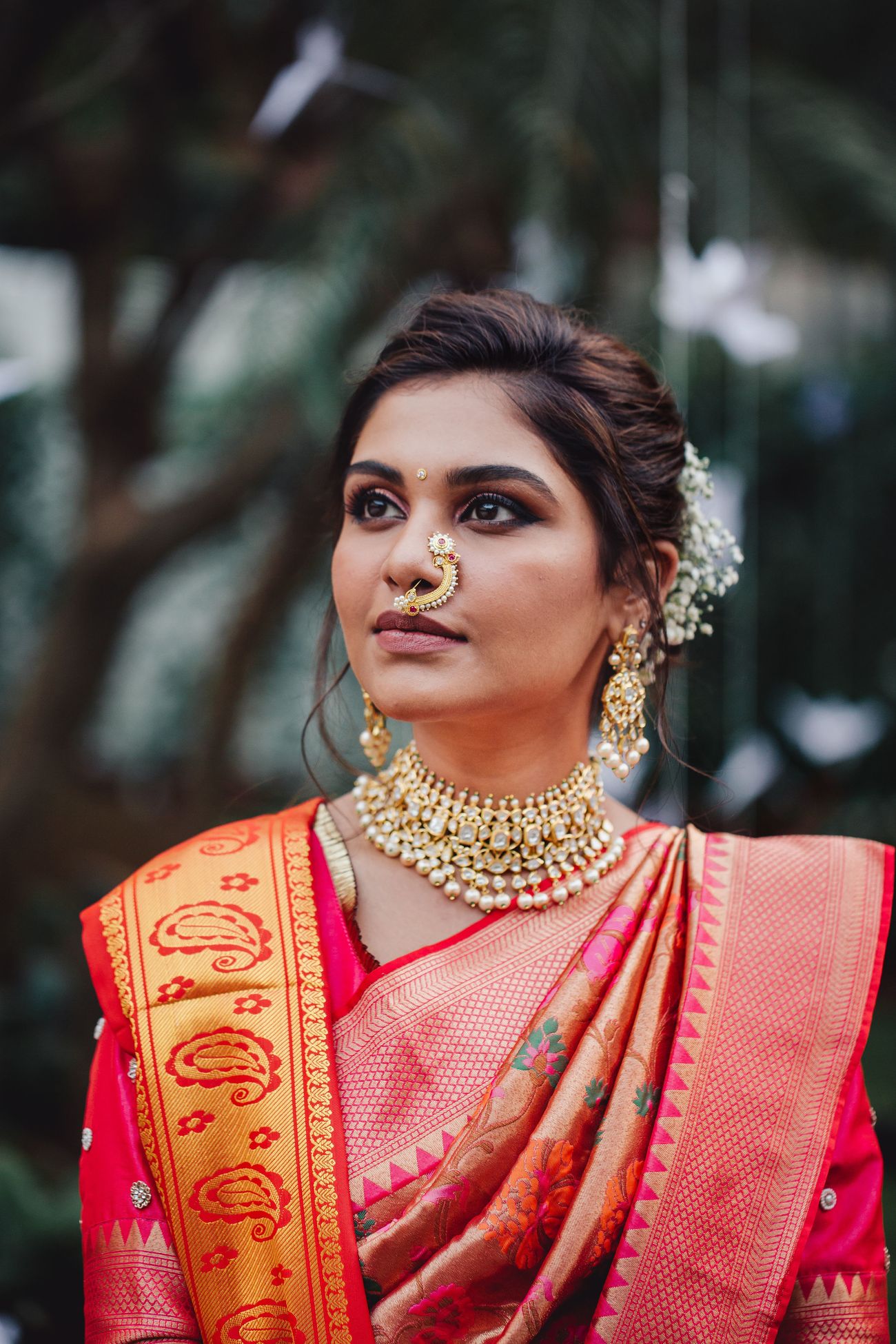 Nothing like your typical Marathi nath, this bride really played her jewellery cards right! The result is right before you- perfect for the brides who aren't looking for something traditional! 
Unique Naths With Colored Stones
1. You Can Pick A Nath With Colorful Stones That Match Your Outfit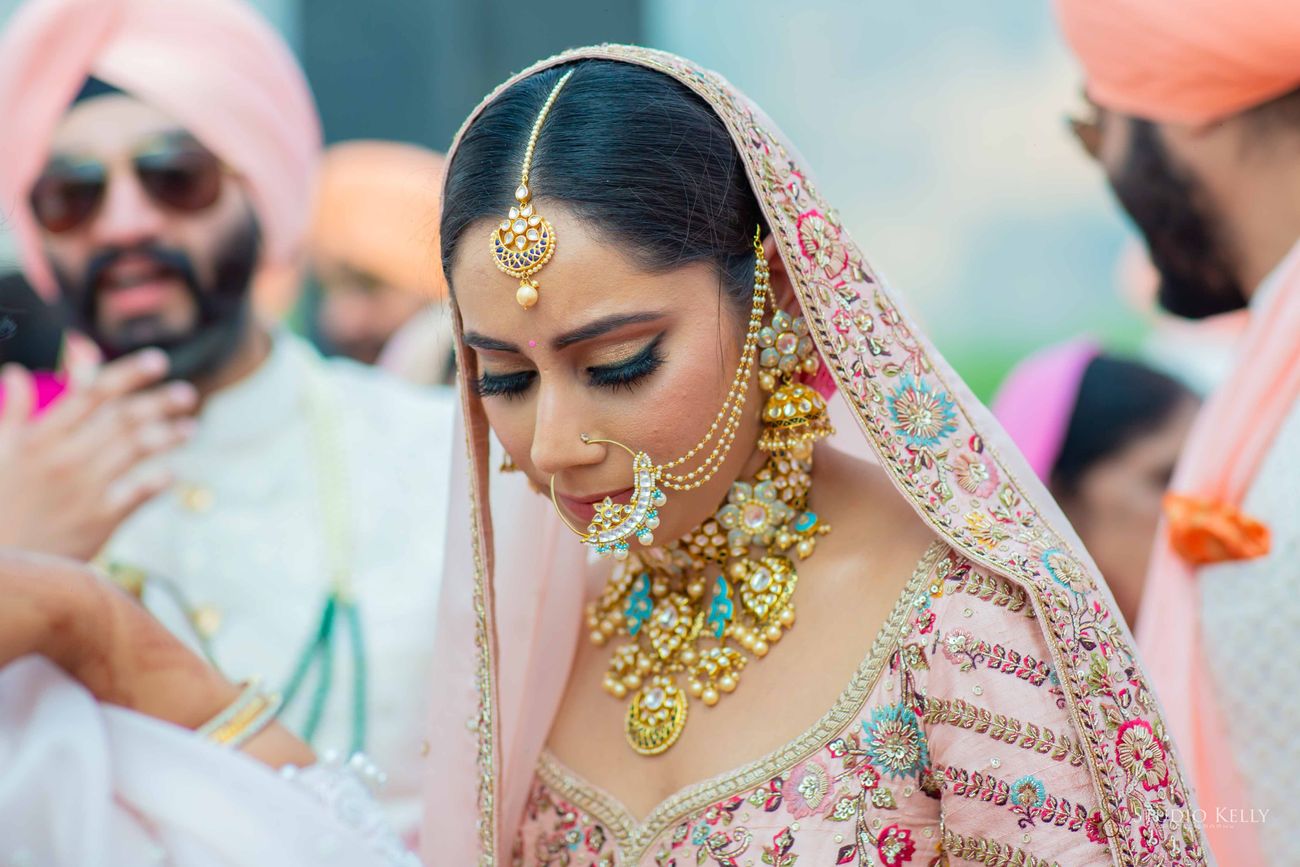 The turquoise in her jewellery picks off the tiny blue details on her blouse so effortlessly- gorgeous! Even you can play with colors by picking naths with unique stones! 
2. Who Doesn't Love Some Pop Of Color!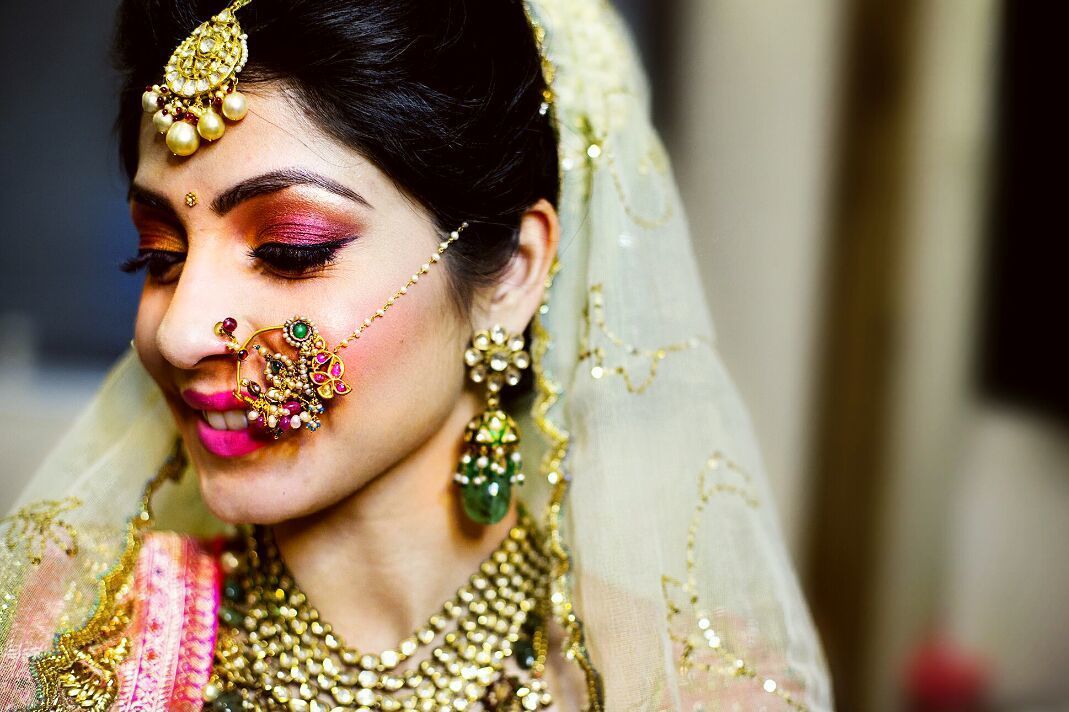 We love how this bride chose a nath that complimented the colors of her lehenga perfectly to complete her look! 
3. Dainty And Pretty In Silver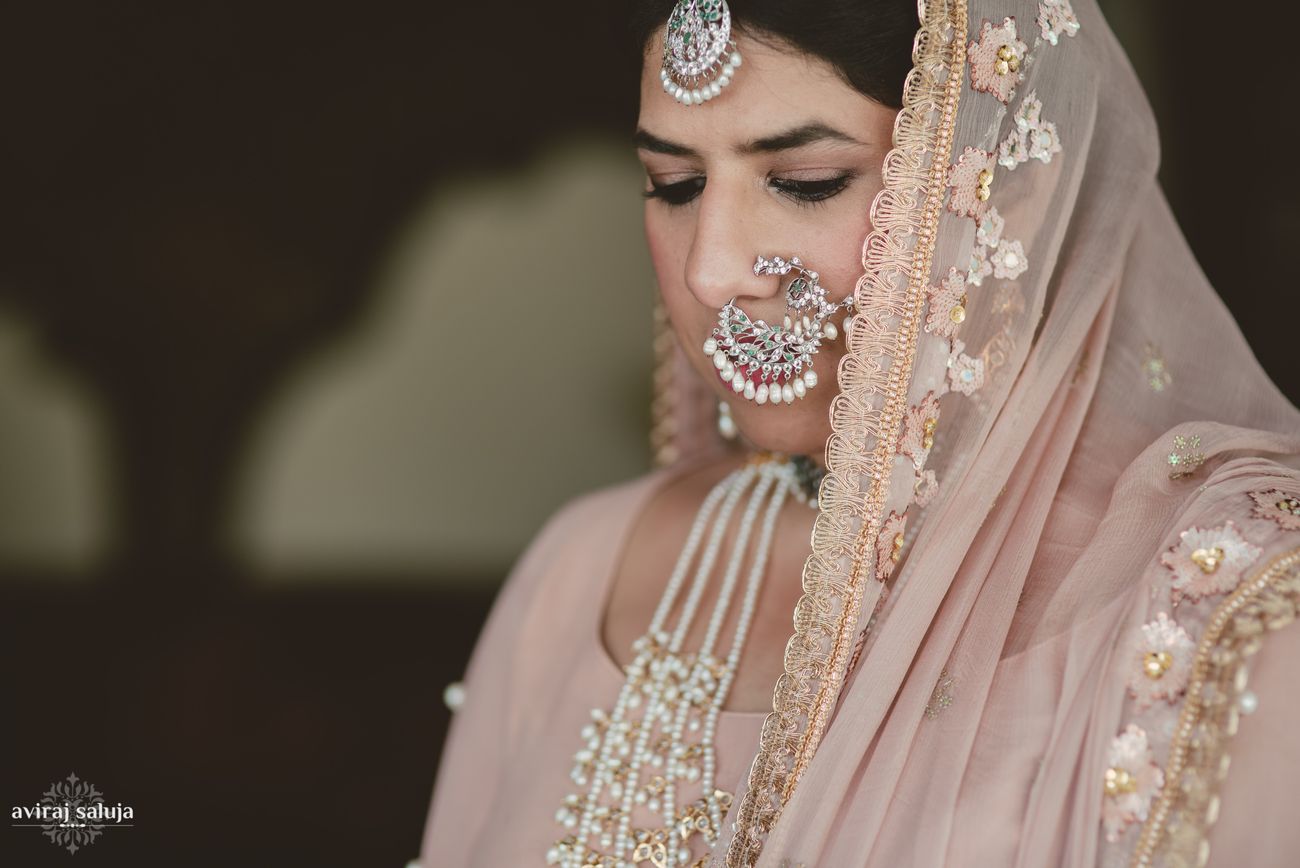 Shot by Aviraj Saluja Wedding and Lifestyle Photography
We haven't spotted a lot of brides sport a silver nath and this one just makes is wonder 'WHY NOT?" Don't miss noticing the tiny green stones in her silver- so subtly pretty! 
4. This Cluster Of Pearls With A Tinge Of Style!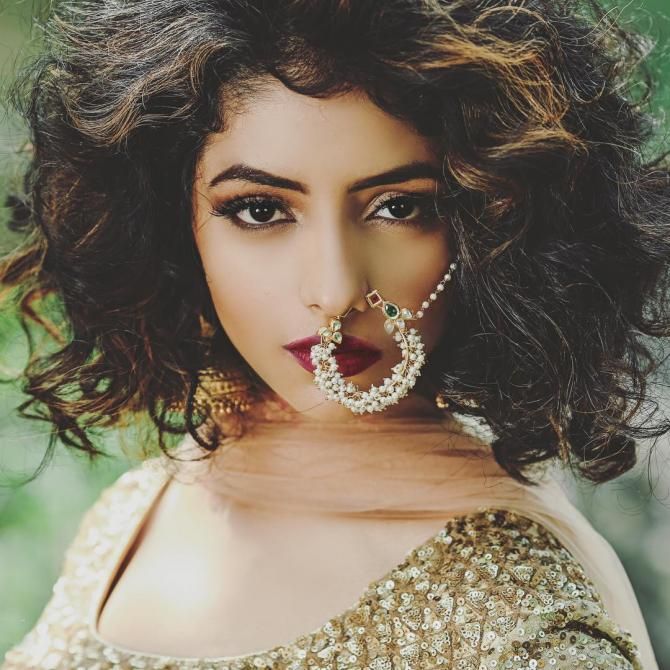 Looking for something different? We absolutely loved this one with a cluster of pearls. Pair it with a shimmer lehenga for your smaller functions for that X-factor!
Floral Naths
1. Match Your Floral Nath To Your Mangtikka/Earrings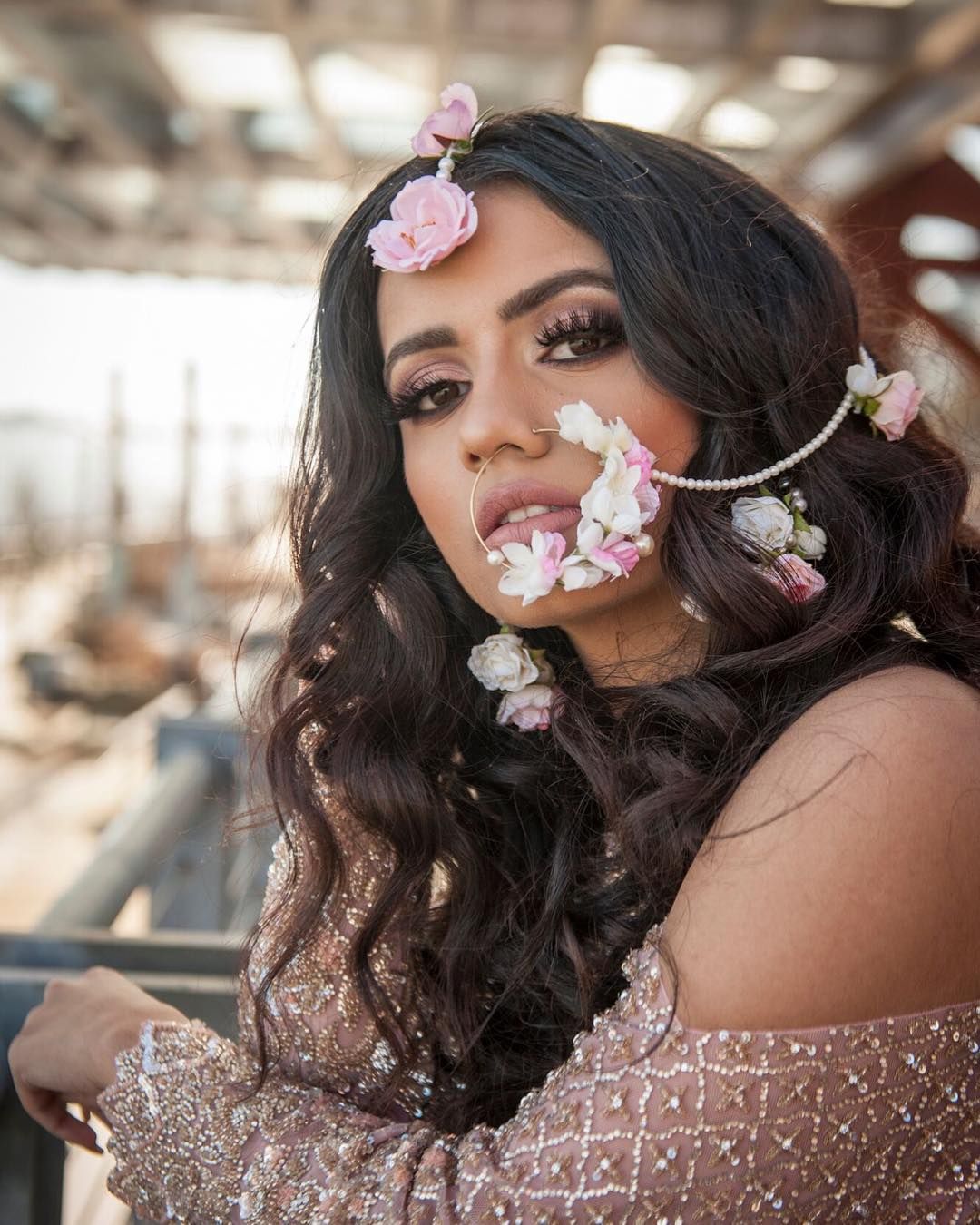 A monotone floral nath is not only unique but also weightless! And a sure-shot head turner! 
2. Babybreath Is Trending. So Why Not A Babybreath Nath?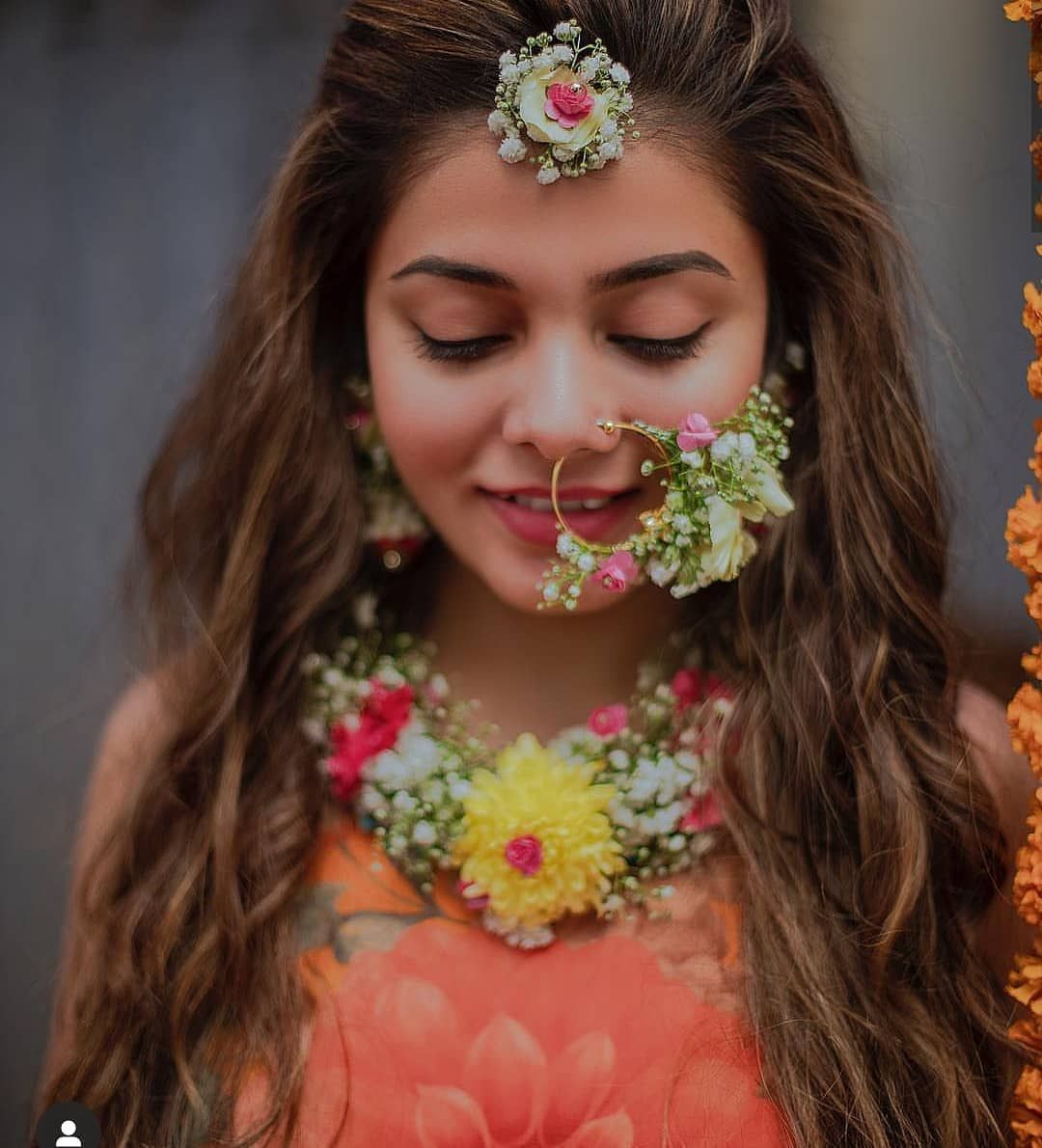 Babybreath is one of the hottest trends of 2019. So when we saw this babybreath floral nath, we couldn't help but share it with you guys!
3. A Nath Encrusted With Artificial Flower Buds Or Tassels?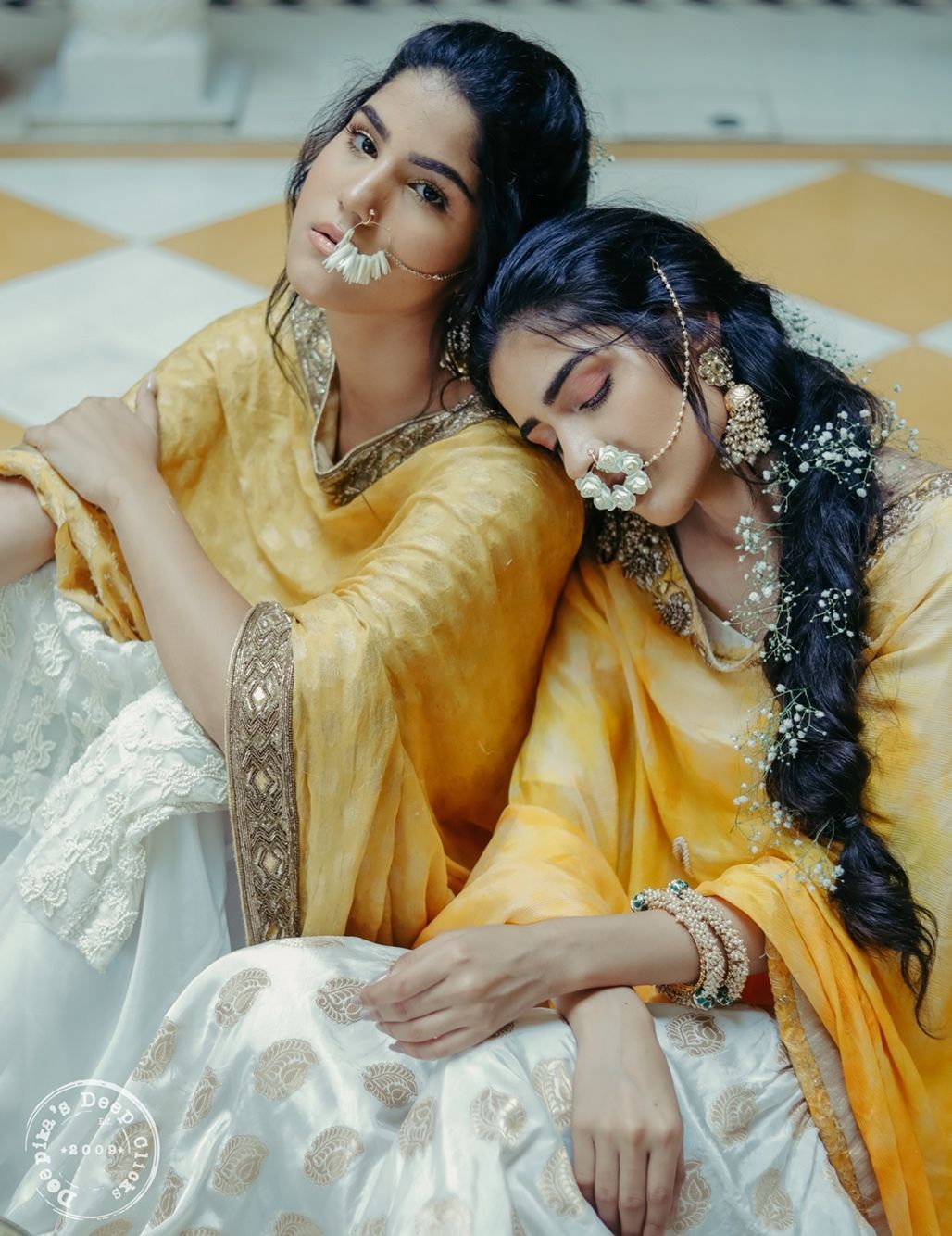 Now here's something perfect for the brides who want to move around and dance at their functions without having to worry about the flowers falling off! 
Tiny Rings/ Ringlet Naths
1. This Bride Paired Her Ringlet Nath With A Single Ghungroo!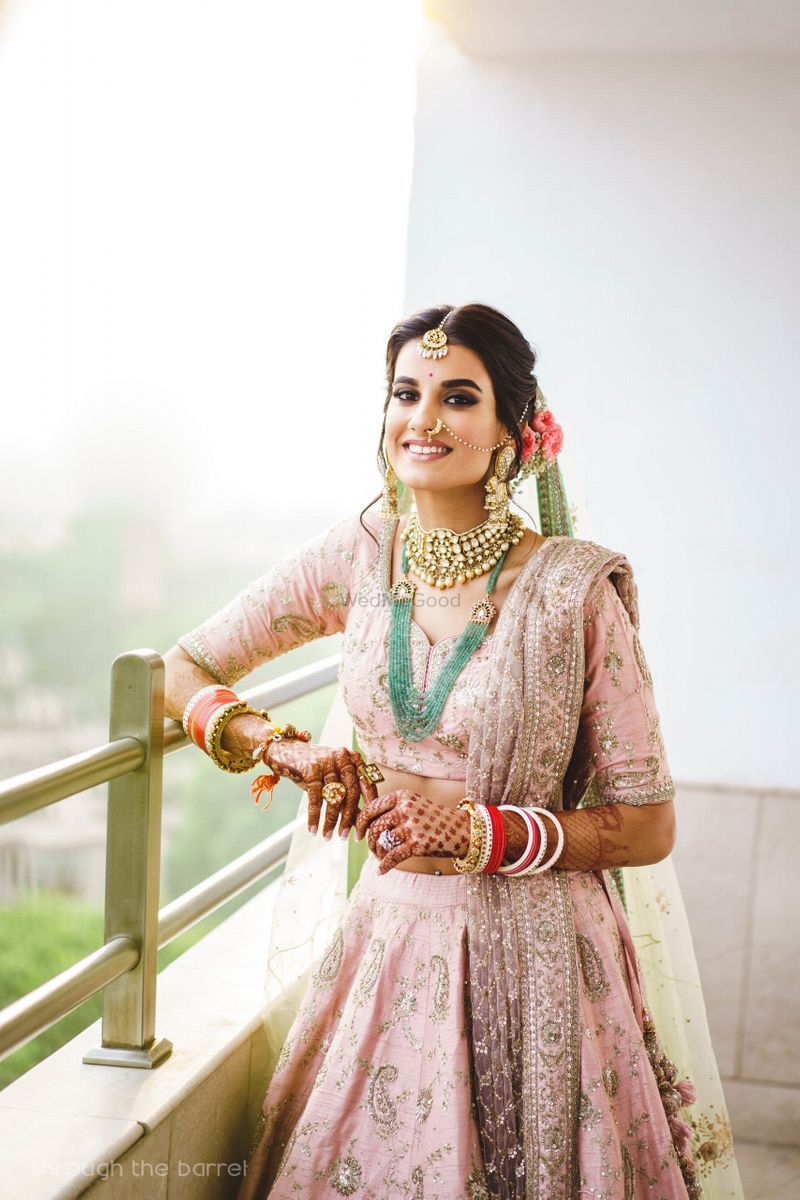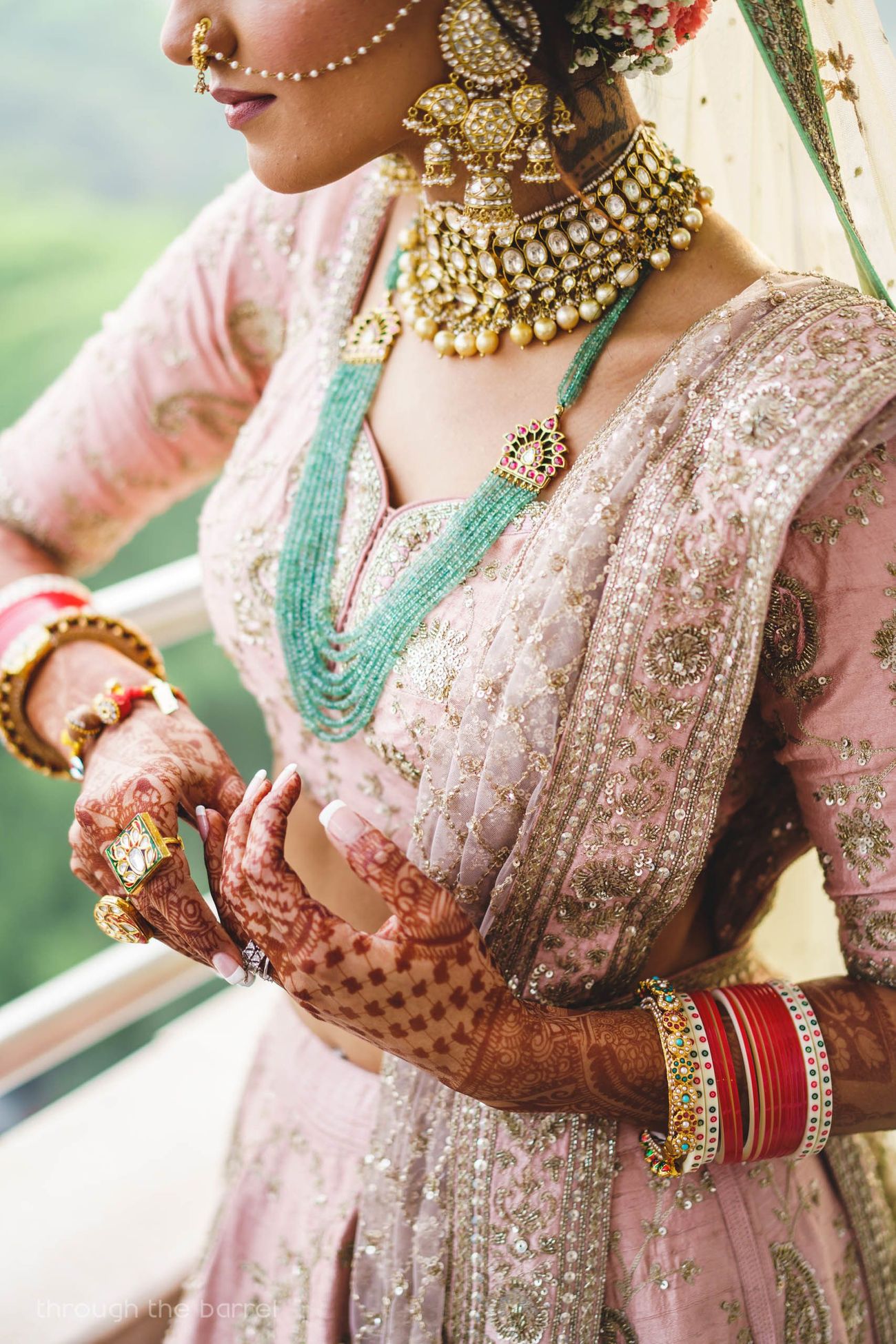 A small ring or a ringlet nath is just perfect for brides who want to accentuate their features without drawing all attention away! 
2. How About This Studded One?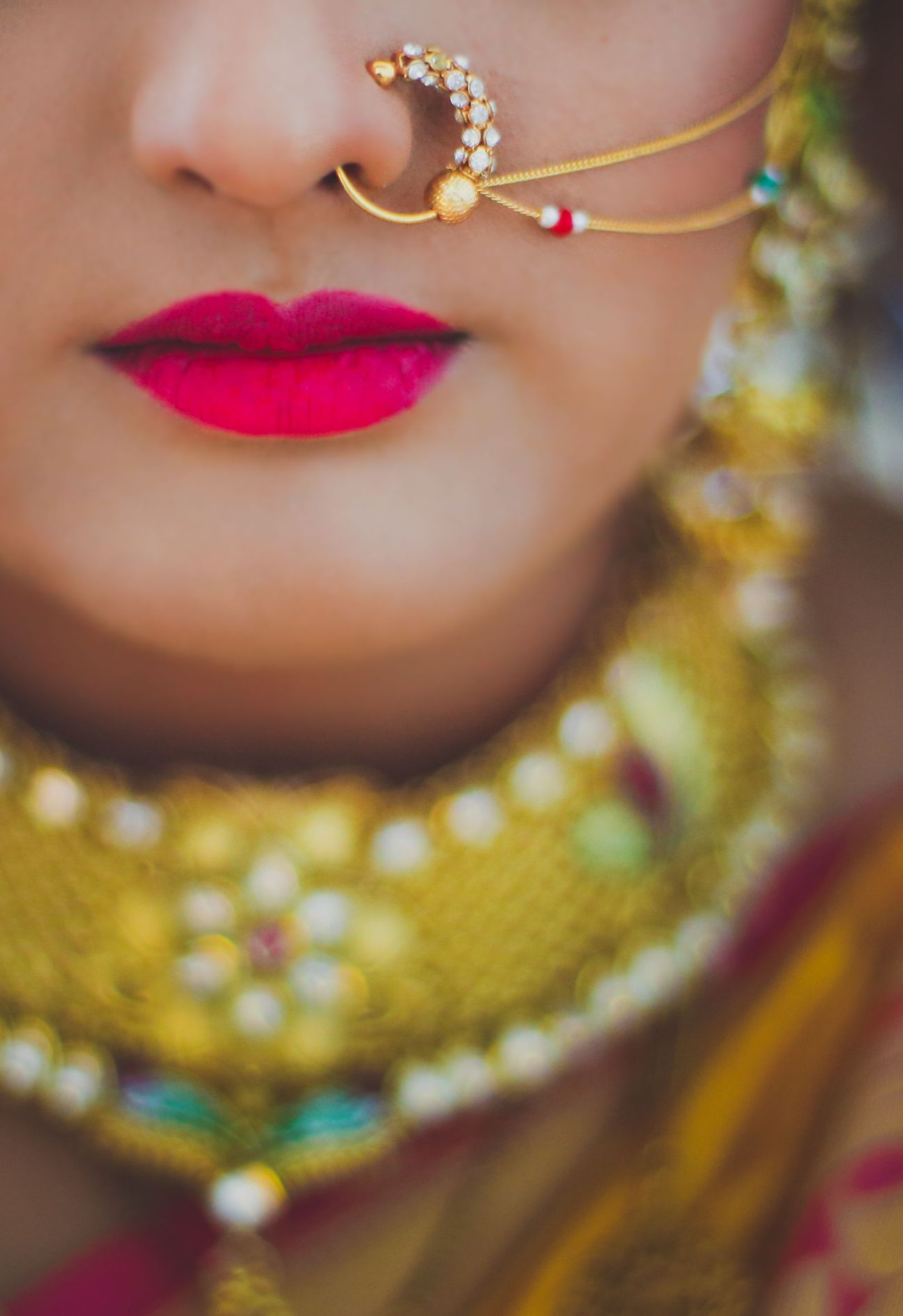 If you want to add a little drama to your look without going OTT, this ringlet nath is what you need! 
Naths With Strings Or Latkan
1. A Simple Floral Ring With Pearl Strings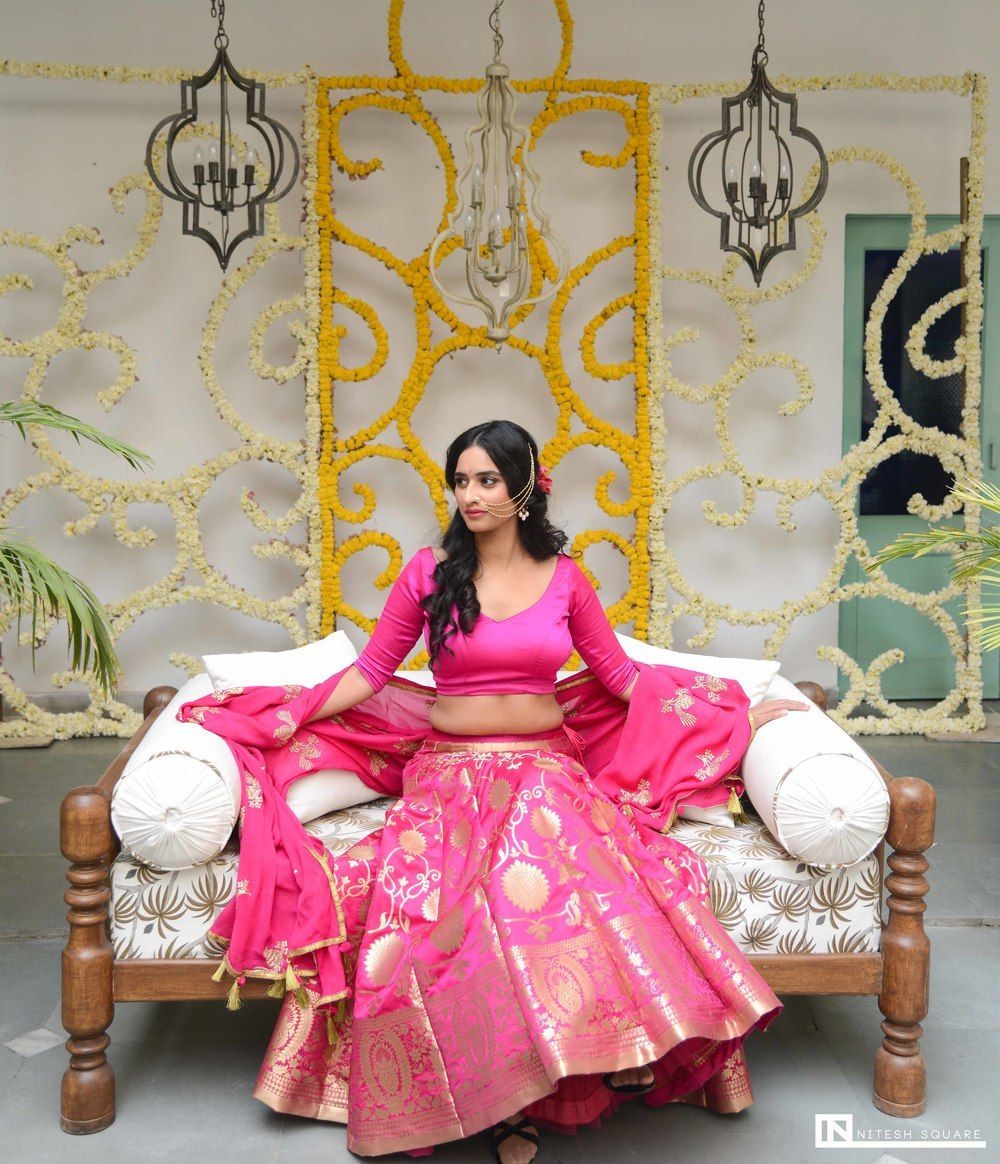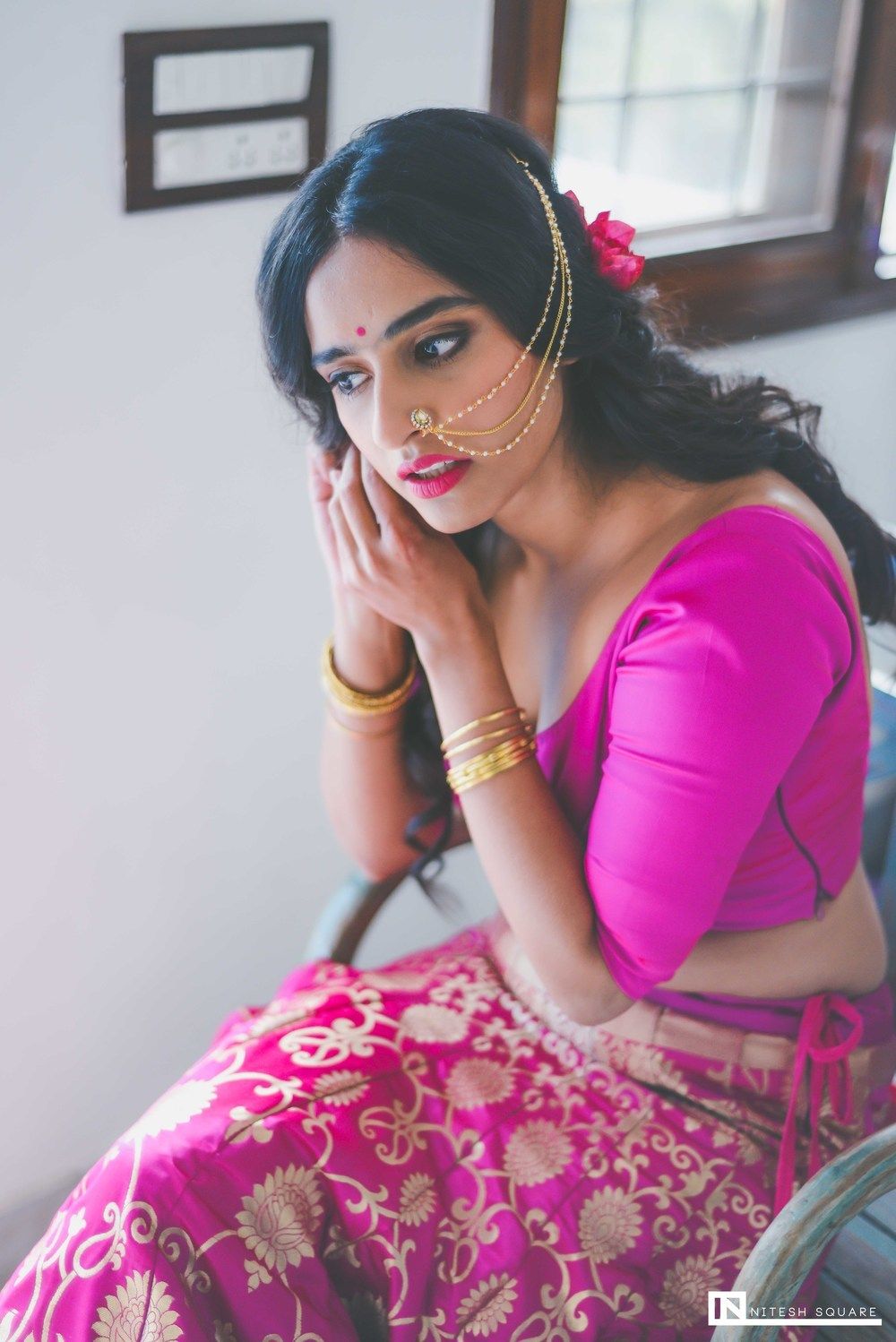 From Ananya & Siddharth's Engagement
We love how this bride wore just a statement multi-strand nosering to bring all attention to her outfit and give it that 90's touch!
2. Or This One That Has Tiny Droplets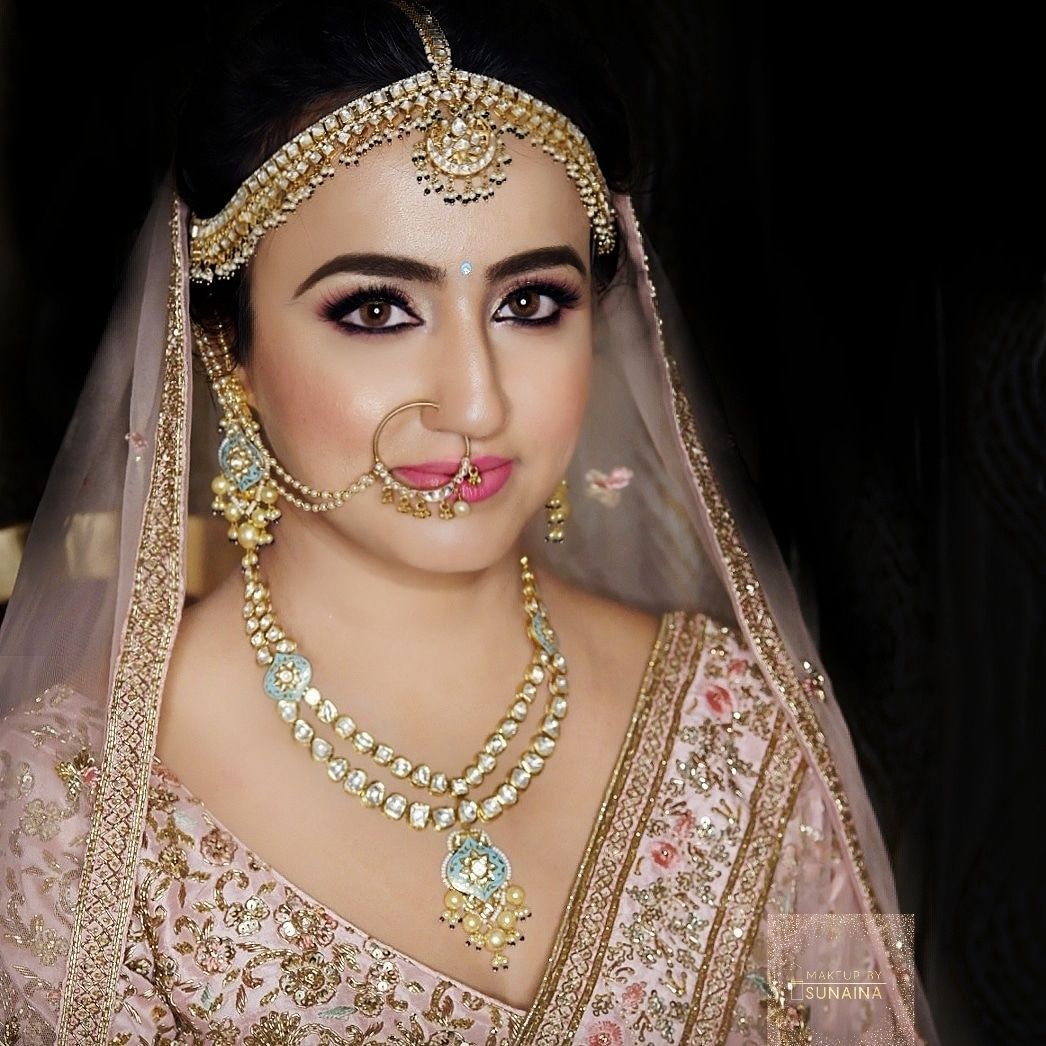 Pearly strings when paired with your nath will not only balance the weight of the nath, making it easier to wear it for the entire evening, but also amps up a simple nath! 
3. Something Truly Unique To Make You Stand Out From The Crowd!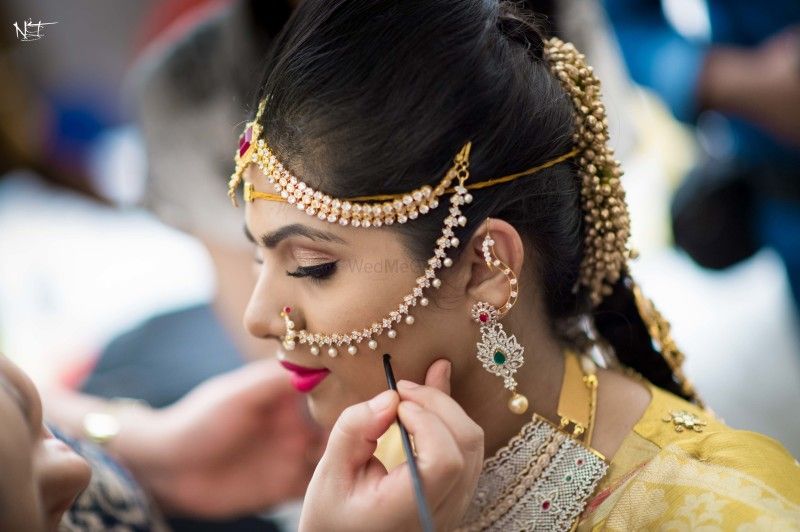 You can match your string to your jewellery so it gives a complete look! 
Abstract Nath
1. This One That Looks Like A Polki-Encrusted Fish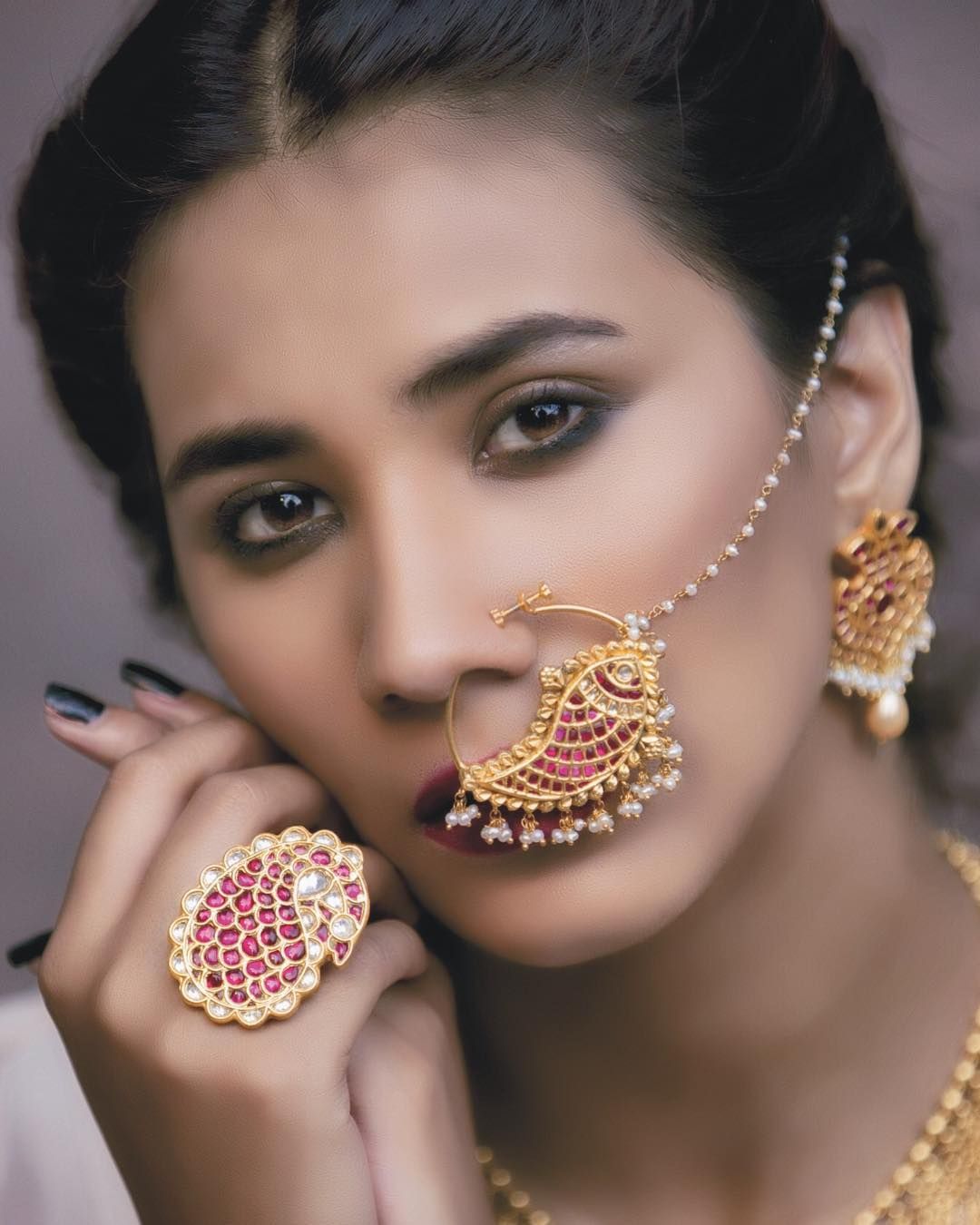 Via Raabel Statement Silver Jewellery
Don't want to take the traditional route, without compromising on a nath? Go for an abstract nath, with unique designs and poppin' colors!
Lightweight Naths
1. A Simple Lightweight Bangle For The Brides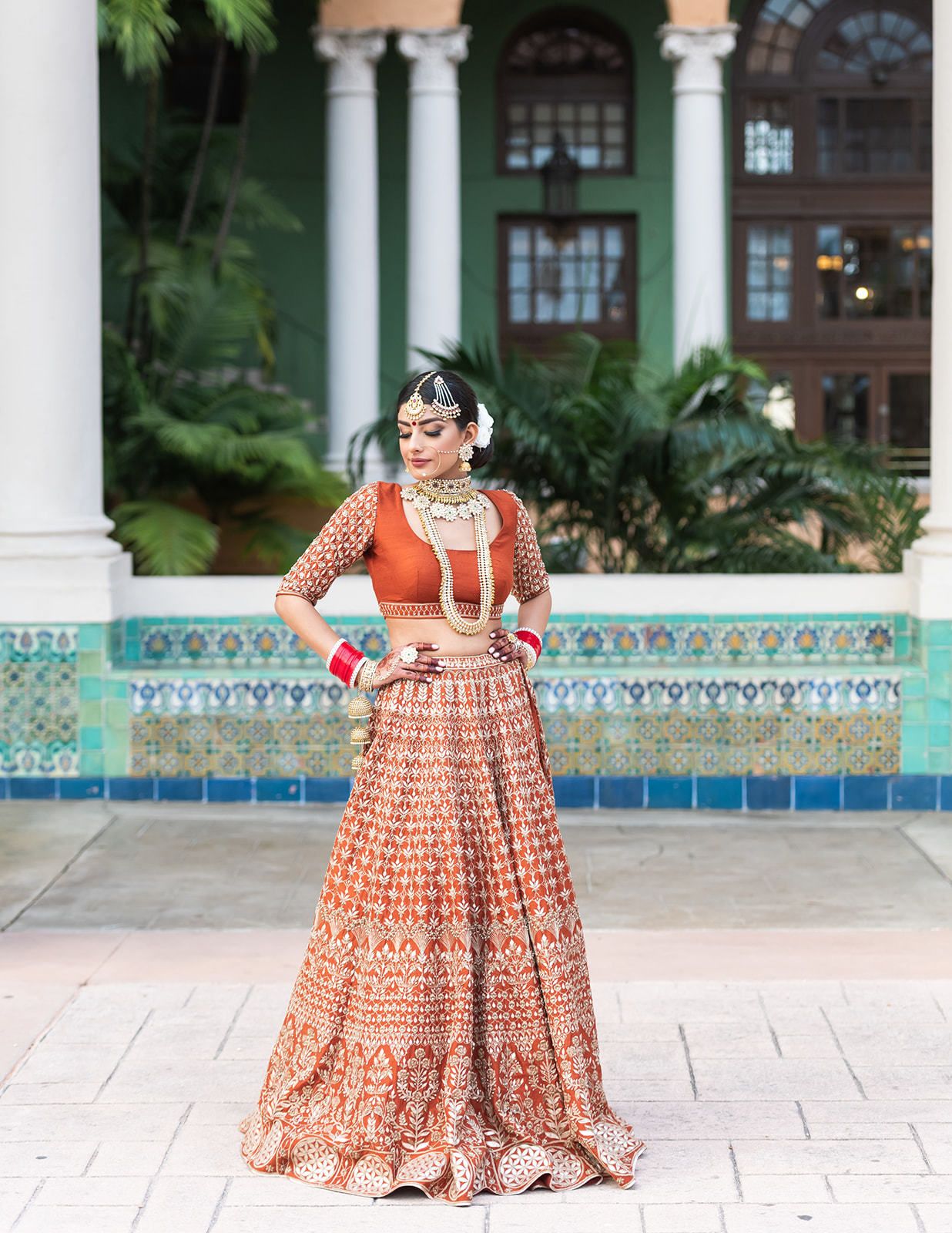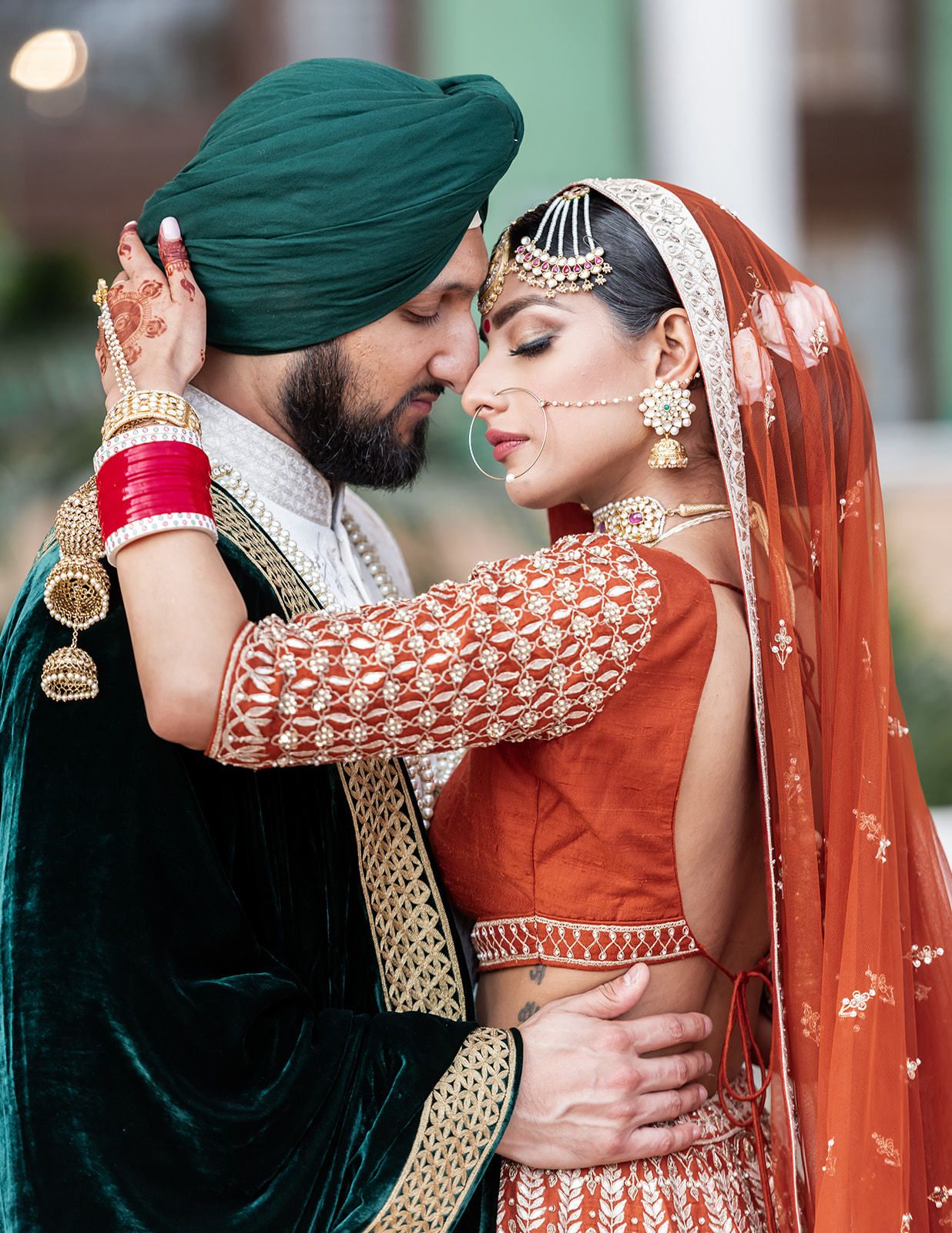 Don't think you can manage an entire night of celebrations with a heavy nath? Go for a lightweight nath, a simple bangle with no encrustations to complete your look! 
2. Experiment With Your Nath-Chain And Choose A Simple Hoop For The Nath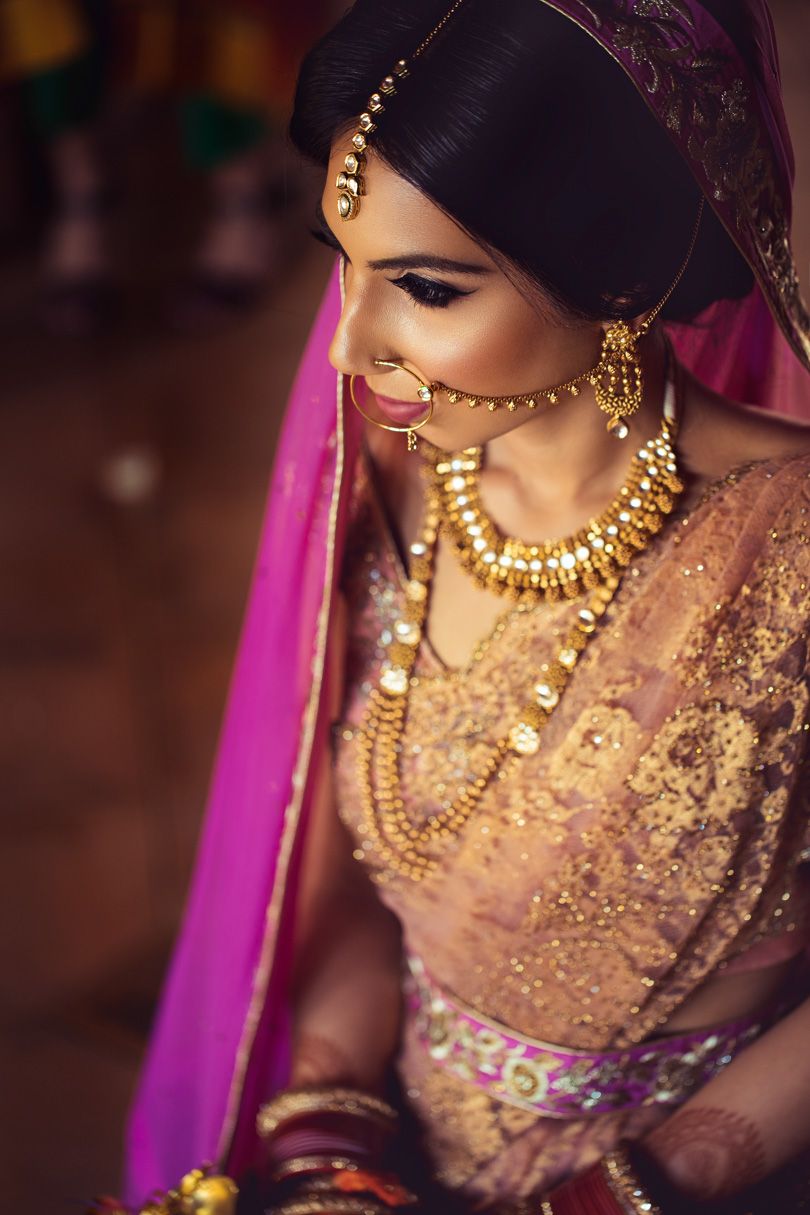 Rolling Canvas Presentations★ 5
Is a nath too much to take? Pick a simple hoop, and customize it with a beaded strand. You can experiment with the hoop size as per your convenience!
The bridal nath has made a dramatic comeback and nope, we have zero complaints! Whatever your style may be, there's something for everyone in this story! So, what's your pick? Let us know in the comments below!