Booking Your Mehendi Artist? Here's An Answer To Every Possible Question You Can Have!
BY Soha | 06 May, 2019 | 141 views | 5 min read
Now who doesn't love a beautiful mehendi design- the kind that really stands out! Whether it is in terms of fine design or it's dark maroon natural color, nothing matches the grace of a good mehendi! With the WedMeGood app, booking a bridal mehendi artist was never this easy! But, we're sure you must be having a few questions.  So here you go!
We made a list of a few questions you might need answers to-
What's The Latest Trend In The Industry- Trending Mehendi Designs?
In 2019, mehendi designs are all about style and uniqueness- there's so much that you can choose from! While brides still opt for traditional mehendi designs, now they tend to focus on the finer details. Raju Mehendi Artist GK★ 4.8  believes personalized or customized mehendi is the biggest mehendi trend of 2018-19! Whether you have a love story to design, or a series of events that have now led to you and your partner tying the knot, brides are leaving behind no opportunity to make their bridal mehendi as personalized as possible!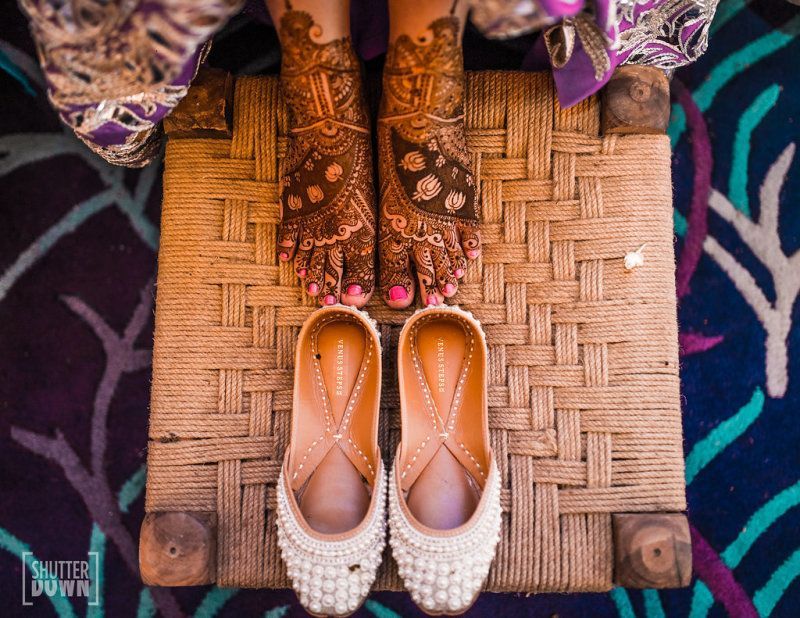 Mehendi by Raju Mehendi Artist GK★ 4.8
We are also seeing a lot of brides experiment with Portrait Mehendi Designs. Whether you get your own pictures drawn on your hands, or your parents', or even your dogs, they are all over Instagram!
Another trend we are noticing (personally, this one's my favorite) is that of Caricature Mehendi Designs. When we first came across this bride who got  Simpsons Characters in her mehendi , all we could say was- "WOW!". From Minions to Shinchan and even logo of the to-be-husband's favorite football team, brides are experimenting with a variety of themes in their mehendi designs! 
Apart from these, we also saw brides get their favorite food items drawn in their mehendi because DUH! It's about keeping your priorities right, isnt it? 
The team at Aksha Shah Mehendi Designer★ 4.8 believes skyline designs have been one of the biggest trends throughout 2018! Looking at these pictures, we know why! Don't they look stunning and so unique!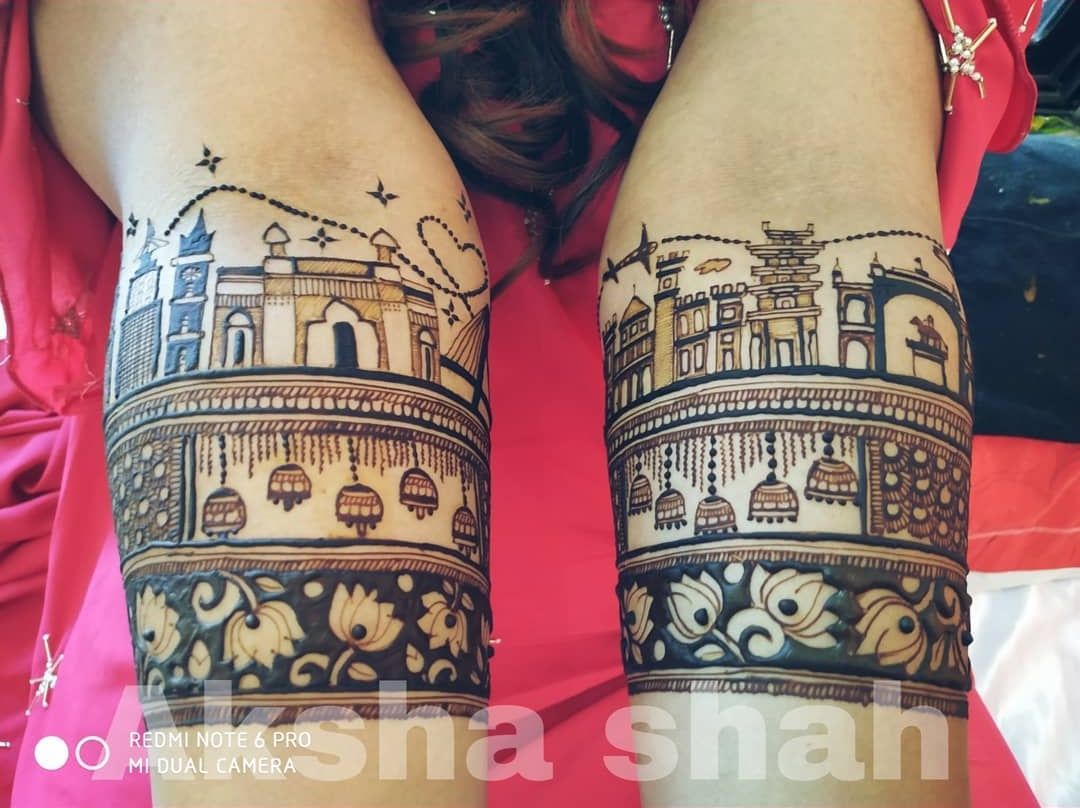 Aksha Shah Mehendi Designer★ 4.8
Just when you thought that it's, wait! We've got more! Shalini Mehendi Artist★ 4.6  believes minimal mehendi designs are fast catching up with more and more brides wanting to go for these fuss-free designs. Know a bride-to-be who's not the biggest fan of mehendi? Well this one's sure for them!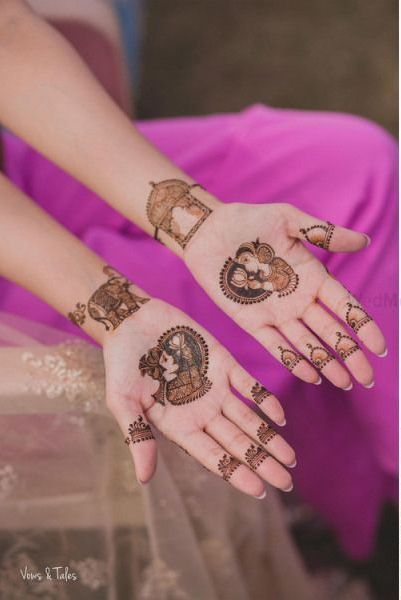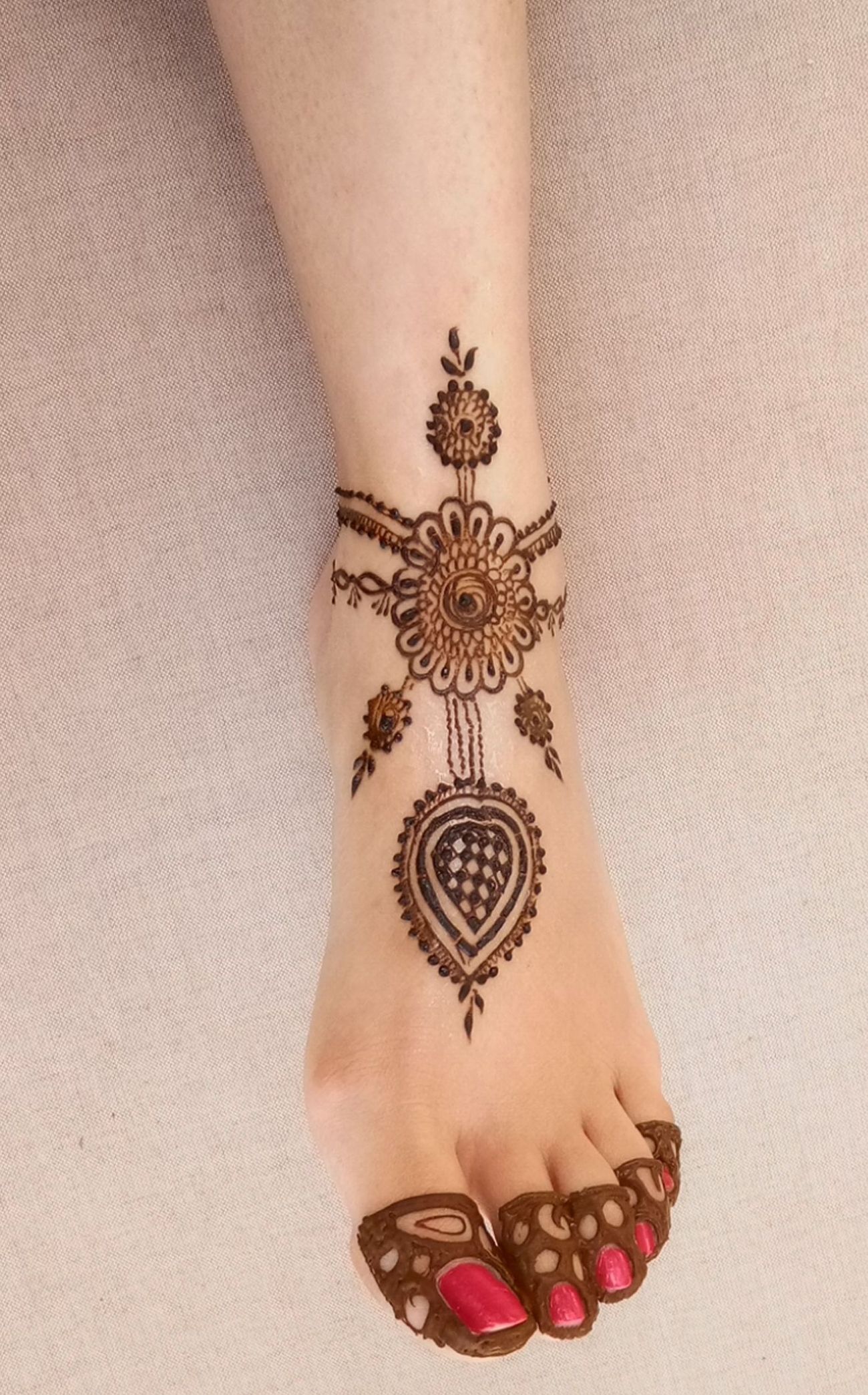 Left picture from Anupreet & Akshita's wedding ; Right mehendi by Shalini Mehendi Artist★ 4.6
We made a list of all the stunning bridal mehendi designs we spotted in 2018. Check them out here!
How Can You Customize Your Bridal Mehendi?
Every mehendi artist we spoke with agreed that bridal mehendi customization is never a problem! You can always sit with them ahead of your functions to discuss what all you can include in your design. 
Some mehendi artists like Raju Mehendi Artist GK★ 4.8  believe sharing a design with them 10 in advance helps the mehendi artists prepare for it with precision so it looks exactly like the original. They can then even share a rough draft with you once their team has practiced the design you wish to include! WOW, now that's some commitment!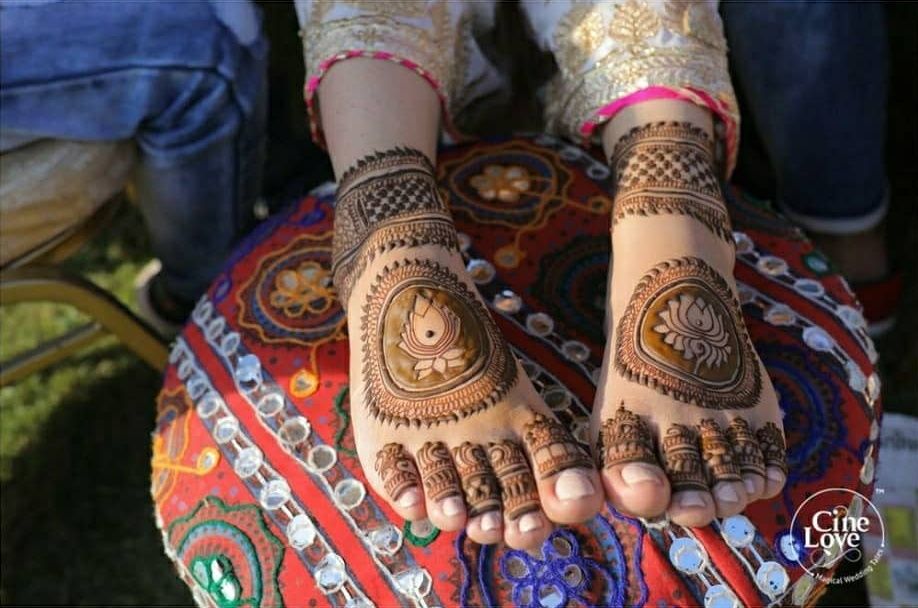 Mehendi by Raju Mehendi Artist GK★ 4.8
Does Mehendi Customization Cost Extra?
Yes. Since customized mehendi designs involve the artists to practice your chosen designs, they tend to cost a tad bit extra. Prices go up depending upon how intricate your chosen design is.
Can You Book The Same Mehendi Artist For Your Family As The Bride's?
Yes, why not! Mehendi artists ideally come in a team of 5 or more members who can cater to both the bride and her bridal party.  While you can be sure your bride will be getting complete attention when getting her mehendi done, even your friends and family will not be left behind. Aksha Shah Mehendi Designer★ 4.8  believes that's the USP of her team. While basic packages for their bridal party bookings start from Rs 200 per person, you can avail packages that range from Rs 250-300 per person that guarantee that every member of your bridal party gets a unique design, without any repetition!
PLEASE NOTE - this amount is for Mumbai brides only. 
Be Aware Of Extra Expenses You Might Have To Bear 
If you're having a destination wedding, and you aren't booking local vendors, be prepared to bear conveyance and accommodation expenses. 
How To Darken Bridal Mehendi? Quick Hacks & Tips!
While booking a good mehendi artist takes away a major chunk of your worries, which bride would not want to get a dark mehendi color for her wedding? To darken bridal mehendi overnight, you can mash a few cloves and roast them on a hot pan. Keep your hands over the roasted cloves and let the fumes seep in. And then, who doesn't know about the lemon-and-sugar syrup hack? But do you there are a bunch of more things you can do to darken your bridal mehendi? Read all about it here!