10 Accessory do and don'ts for the 2016 bride
BY The WMG Bride | 26 Jun, 2015 | 719 views | 5 min read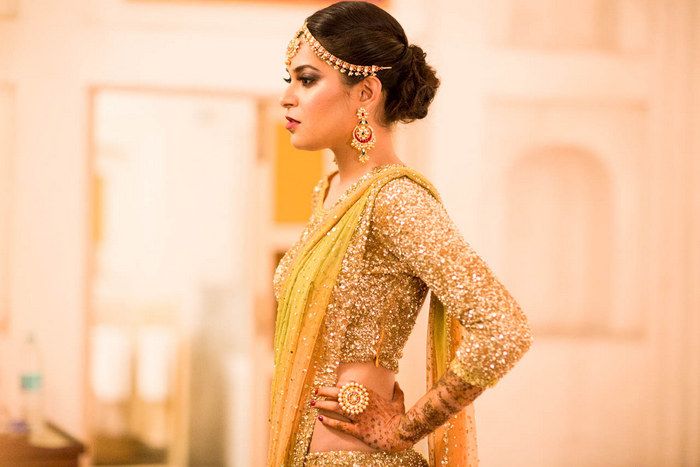 Photography by Tarun Chawla. From the wedding: Parnika and Akash
"But, I'm the bride!", I exclaimed to my mother at a jewellery store in Jaipur. "I should wear anything and everything and still look like a million bucks!". And, boy, was I wrong. When you're a borderline bridezilla, it's only natural for you to lose your mind over what to wear and what to avoid. With so many aunts "putting in their two cents", and friends discarding every single thing you try on, it's no less than a mayhem to get your look right for the D-day. Turns out, accessories are your best friend when it comes to amping up any outfit. After all, it's all about the details. So, before you go accessory shopping for your outfits, how about you look at the following dos and don'ts? Treat it as a checklist; they're basic rules that make sure your worries don't add up.
Do: Pick contrasting  colors 
Red can go astonishingly well with colours as loud as fuchsia or cobalt, provided you successfully tie your outfit together. Of late, we're looking at brides experimenting with florals, Swarowski crystals, chains, and what not. The trick, is to use them in light doses, and see to it that they don't look off. All in all, your accessories must give a certain "closure" to your look.
Don't: Go overboard
How much is too much, really? Some of us brides are suckers for all things shiny, even if we may risk ending up looking like a disco ball. Here's what I think: If you've chosen
Kundan
jewellery for your lehenga, don't wear any other style. Alternately, if you're wearing a diamond set, don't let anything else overpower it. Of course, less is NOT more for a bride. But hey, radiance is not an easy thing to achieve.
Do: Book a hair trial
So, here's a funny story: On the evening of my engagement, I hated my hairdo so much, that the moment I exited the salon, I undid my hair in the car, wailing and panicking on my way to the venue. I was already an hour late, and so, couldn't even afford to ask the stylist for a redo. #TrueStory. But, unlike mine, many beauty studios offer hair trials, and you could choose your preferred hair accessories. Don't wait for the last moment and put all your trust into the hairstylist.
Don't: blindly follow magazine trends
We do that, don't we? Despite warnings, we end up imagining ourselves in place of the model in the magazine. You know what? Don't. I've learnt, it's better to stick to your comfort zone and not get carried away. Your risk may or may not pay off, but one thing's for sure - you would never get to change that day in your life.
Do: Choose your lehenga first
It's going to be one of the most-talked-about things on your wedding! Everything else can wait. So, choose your lehenga first and then go about planning the rest of your look. Not the other way round.
Don't: Just focus on the frontal look
This is, perhaps, one of the most important wedding tips you will ever receive. We're often too obsessed with just our front angle, that we end up ignoring all others. You may have chosen a
dupatta
with a beautiful border, or a
choli
with gorgeous sleeve work, but don't forget to check them from all angles. That drape may look jaw-dropping when you look in the mirror, but get someone to run a 360-degree check on your ensemble.
Do: Add antiques to your jewellery
We all love a touch of the antique, don't we? Nothing's quite fascinating as wearing a necklace passed down through generations in your family. As much as possible, try including a thing or two from your mother's jewellery collection for your wedding. The emotional connect you'll experience on the day would be out of this world. Which brings us to the next point.
Don't: Get bogged down by family traditions
It's a totally different thing if you don't want to. Why wear something you don't even like on your wedding? Not all antique jewellery can keep up with today's bridal trends. So, it's best to discuss it with your mother, get it redesigned, or simply turn it down.
Do: wear tons of bracelets, bangles, and hath phool
This is where you can experiment as much as you want. As long as they don't weigh you down, you can wear as many hand accessories as you want. The more the merrier- they make for some fabulous photographs and can also make your look go from traditional to funky pretty quickly.
Don't: wear a watch. Under any circumstances. Avoid clutches too
Ever seen an Indian bride wearing a watch? I rest my case. With clutches too- there are so many things going on, the last thing you need is a clutch in your hand amidst the madness
Article by Veethi Telang