10 Interactive Bridal Shower Games For Your Guests To Enjoy!
BY Twinkle | 18 Sep, 2019 | 1840 views | 4 min read
You're soon to become a bride? Having those butterflies wandering in your stomach? This feeling is the best feeling, indeed!
Weddings are full of fun and enjoyment, right? Why just limit the enjoyment factor till your wedding? The pre-wedding phase can be as happening and memorable as your wedding. Having yourself surrounded with balloons, gauze decorations, female friends and family while unwrapping a pile of presents on your bridal shower is such a picture perfect moment.
So to make your bridal shower the best experience you ever had we have curated some bridal shower games for you that are sure to take your occasion to the next level of fun and excitement and give you some wonderful memories to cherish.
Have a look at these 10 interactive bridal shower games that everyone will love:
Predict the D-day outfit
This game is sure to add up more excitement among the guest for your dress. This game is all about making your guest guess what your wedding outfit look like. The one with the closest guess takes the prize home.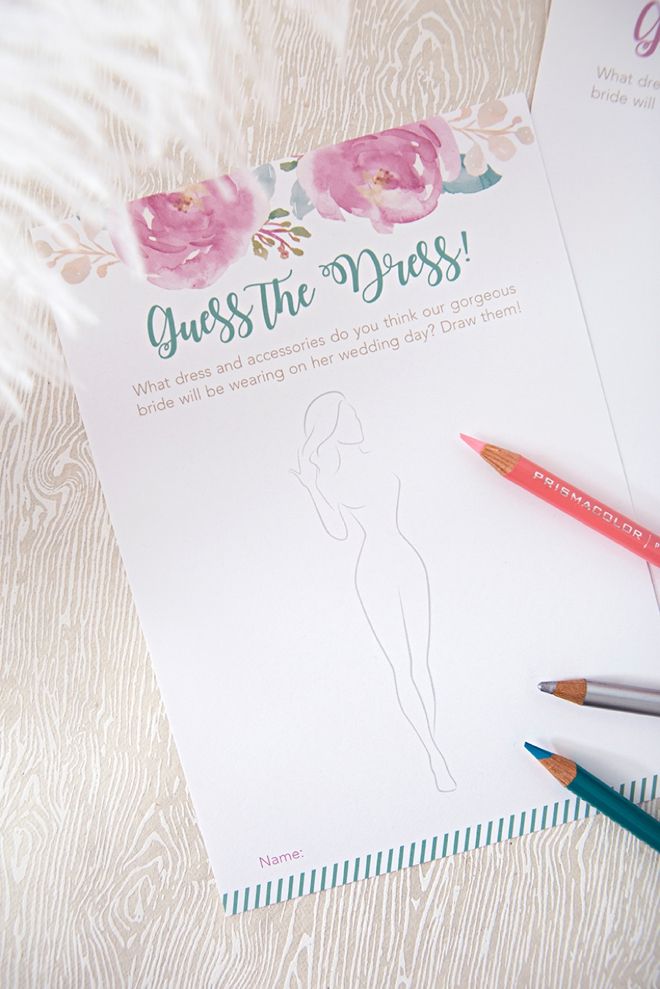 Image via Something Turquoise
Wedding pictionary
Wedding pictionary? Sounds a little different and off beat right? But who cares, bridal shower is meant to be memorable so it's time for you to have some fun. Before starting, fill a bowl with slips of paper which has various wedding-related terms written on them. The guests on both the teams have to make their team members guess the word by drawing pictures. The team with more number of correct guesses wins.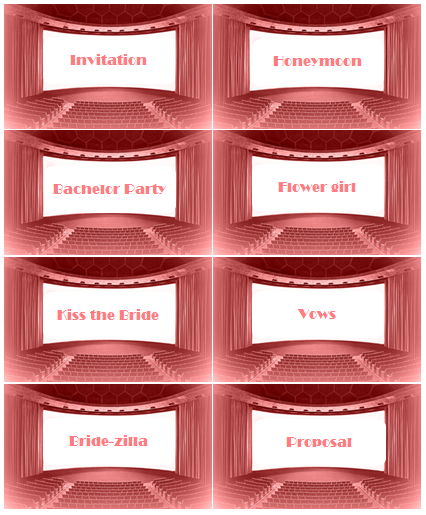 Image via Pinterest
The "Who Said It?" Game
This game is sure to make all the guests stand on their toe with excitement. Pick the most outlandish, craziest things that you and your husband-to-be have ever said or done and then have your guests guess which one of you said it. The person with maximum guesses definitely knows well and wins.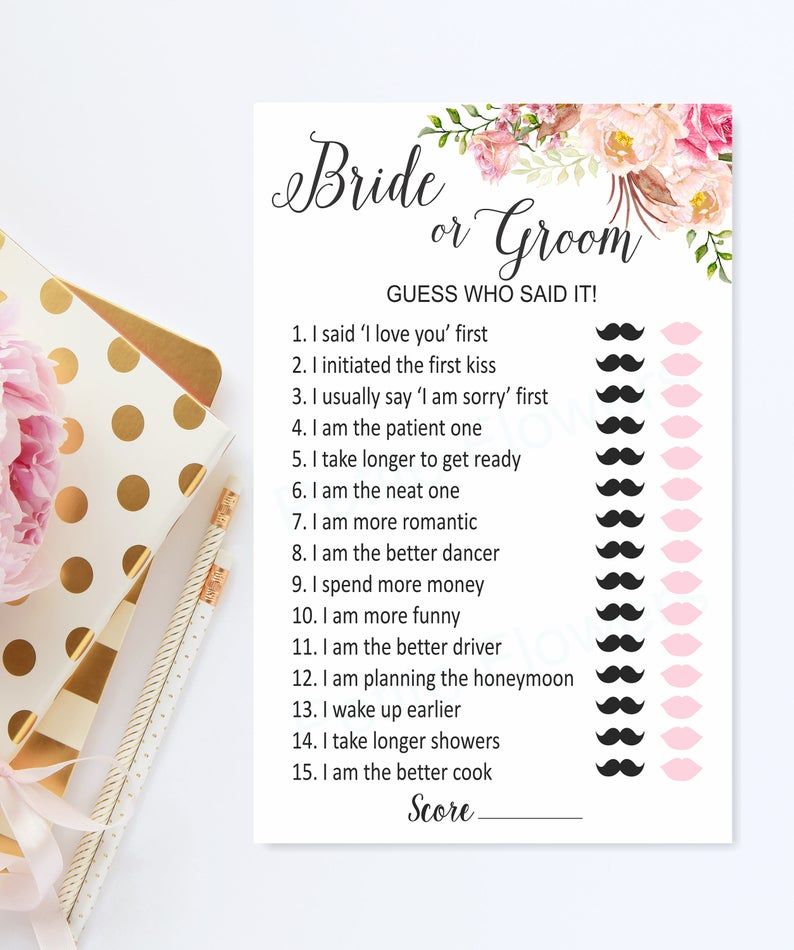 Image via Etsy
Guess it right
This game is sure to keep guests occupied as you open your gifts. Make your guests go, "Yeah, I was right!" by giving them bingo templates in which they will write their guesses. As you unwrap each present, your guests will mark off the correct one's and the first person to get a bingo wins!
Paper bride
This games is sure to make your guests catch their stomach and laugh. The guests have to divide themselves in teams and they have to construct a wedding dress using toilet paper. You as a bride gets the chance to pick the favorite look and that team wins.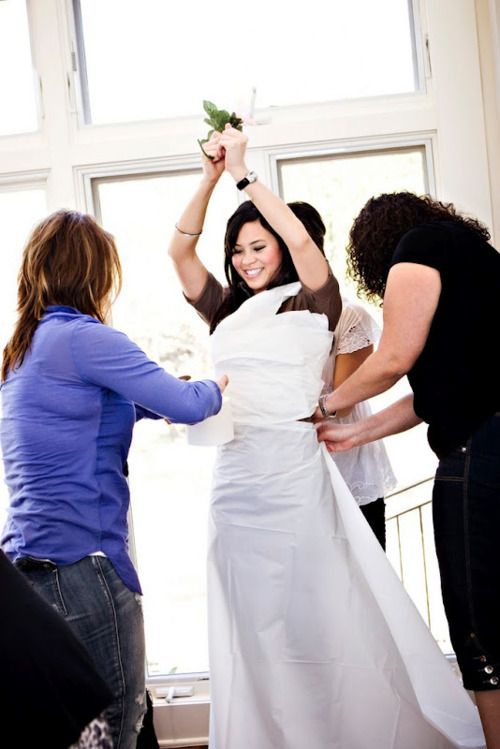 Image via Shaylenne
Wedding Word Scramble
Which words describe you and your wedding the most? Make a list of all those words and arrange them in a scrabble format. Whichever guest untangles the words fast wins!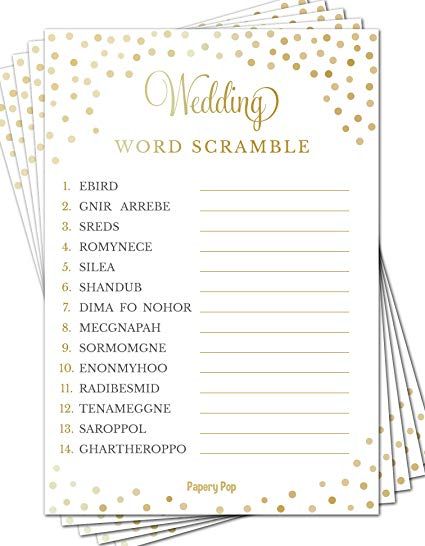 Image via Amazon
Who's That Couple?
Celebrity couples are the ones which are popular and admired by most of the people. So why not make your bridal shower more fun by making guests guess the names of those celebrity couples. Take printouts of the couples and ask guests to identify both people in the photo. Don't make it too easy— less obvious is always better.
Charades: Wedding Movies Edition
Acting skills are sure to be a benefit for this game. On chits write names of some wedding movies and the players from both teams have to act out titles to their own team members. The one guessing more right answer wins!
Put a ring on it
Make your guests have the best experience at your bridal shower by incorporating this game in your list. Bring some candy fruit rings in a bowl and give the players a stick which has to be held only with their mouth. First player to get 10 rings on their stick wins.
Are you 'mint' to be?
This game is played in different ways so the choice about which ingredient to take is yours. For instance, take a bowl filled with mints which has to be transferred by the player from the bowl to the jar at the other side by sucking the mints into a straw and keeping it in intact till they reach the jar.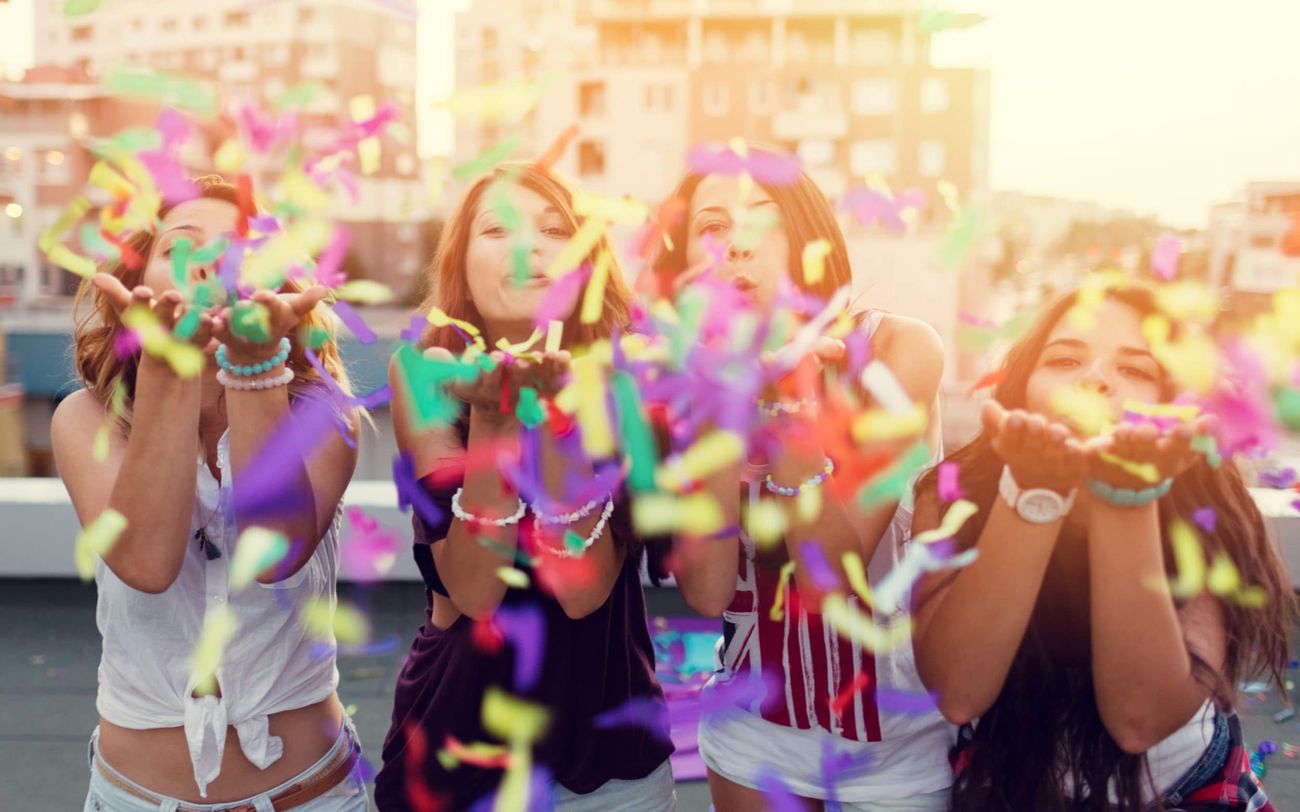 Image via The Telegraph
Feat image courtesy - Karan Shah Photography★ 4.8