12 Trends to Embrace From Lakme Fashion Week Fall-Winter 2015
BY The WMG Bride | 03 Sep, 2015 | 6007 views | 5 min read
Lakme Fashion Week has just concluded and boy, so many new trends have emerged out of the woodwork. From the return of Benarasi weaves to the sweet wispy saris that show off those fab fab blouses, there is definitely something for every bride to be . So we found you 10 amazingly cool trends to try - from lehengas to saris to new-age-y fashion and oh, cocktail dresses so you could fabulous at every wedding ( Yours + BFF's included).
1. Exaggerated Necklines: Manish Malhotra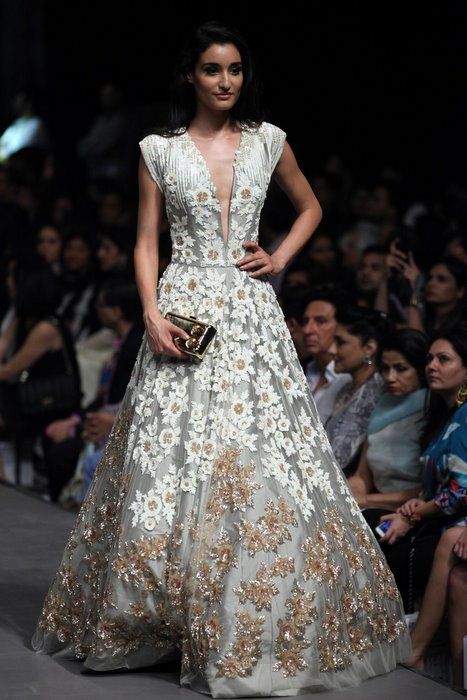 Cocktail gowns, those very princess-y gowns that can be worn as a lehenga -choli for weddings too. After all, they come with all those nice frills, big silhouettes and loads of embroideries. But of all the usual ideas, we loved Manish Malhotra's take on the exaggerated neckline - one that goes deep.
Tip: Wear it with a good bra so you can look classy, not trashy. And, oh, add a dupatta for effect!
2. Attached Cholis: Ridhi Mehra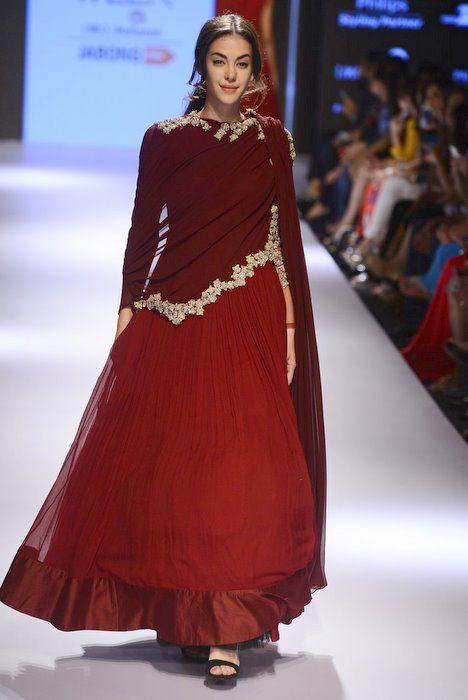 Why buy a dupatta separate with your lehenga-choli? Just attach it to your blouse and viola, you're done. Get creative, colour-block it, add more design elements and more embroidery to stand out.
Tip: Let the drape be light-weight and not heavy. Chiffons and georgettes make for great attachment drapes.
3. Boxy Blouses: Payal Singhal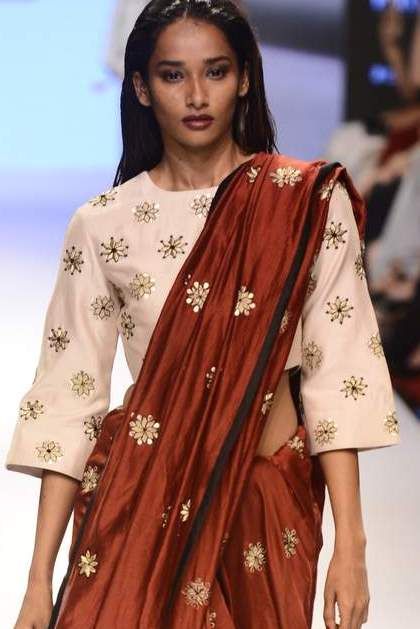 What happens when a boxy shirt meets a sari? It becomes a sari blouse with it's own avant-garde look and feel. It's so in and it's not for those afraid to try on new things.
Tip: Wear it with a heavy sari to give it a more futuristic look. Also, make sure it's more embellished than the sari to stand out.
4. Embroidered Blouses and Leggings Under The Sari: Ritu Kumar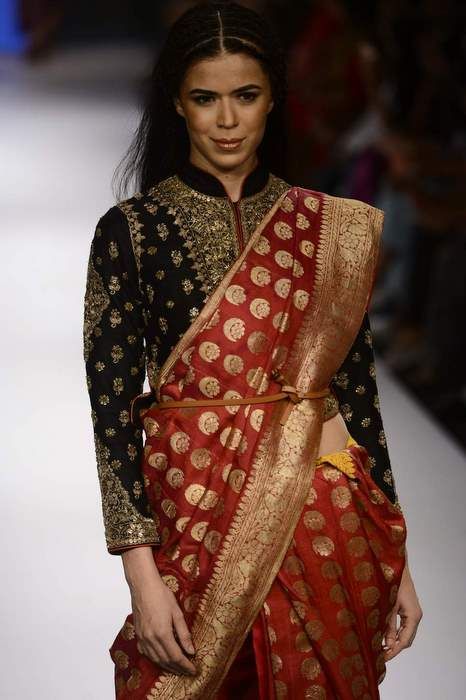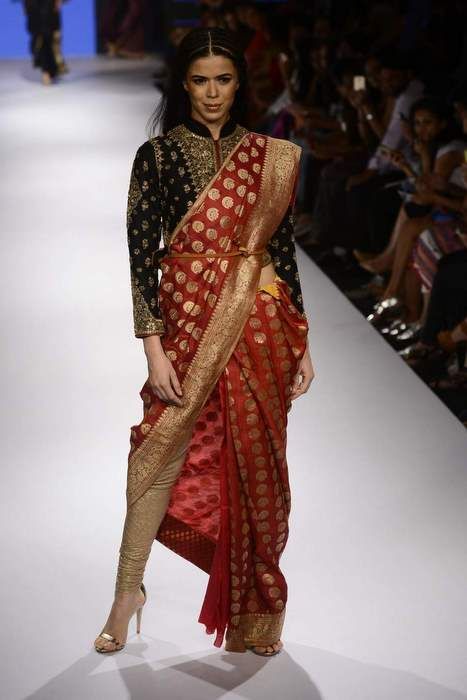 Leggings under a sari is an entirely new silhouette to try. Not that we are recco-ing it for a wedding but more for a mehendi or a classy reception or a pre-wedding party. It accentuates your figure very well and the long-sleeved embroidered blouses are all the rage now. They are bigger and bolder than the sari.
Tip: Colour-block the blouse with your sari and a gold or silver legging can also be customised to your sari by adding crystals or zardosi embroidery - whichever suits your bill.
5. Sheer Dhoti Sari  : Abu Jani Sandeep Khosla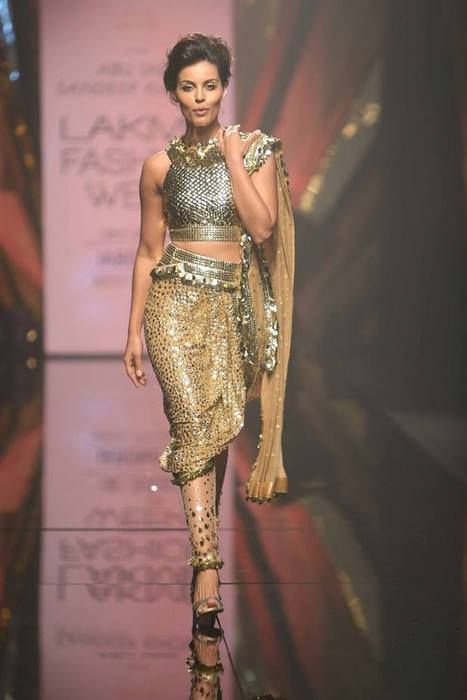 We have already established that leggings are in - but dhoti saris have made a comback. We already saw them in heaps last year at Tarun Tahiliani but this one seems to be more shimmery and more sheer. Plus, the pallu is already attached - almost like a cocktail dress.
Tip: Sheer leggings can be intimidating, try the ones with lots of embroidery to keep it more bridal.
6. Belted Saris: Nikhil Thampi
Obi belts are big this season and so are thin flimsy ones - naturally anything that really fits the waist like a kamarbandh. The point is that on a delicate sari like this, it makes perfect sense to cinch it. Another idea to make your sari a wedding dress...hmmm!
Tip: If you're skinny, choose an obi belt but if you're on the heavier side, look for a slim belt or even a chain belt!
7. Belted Jacket Blouses: Krishna Mehta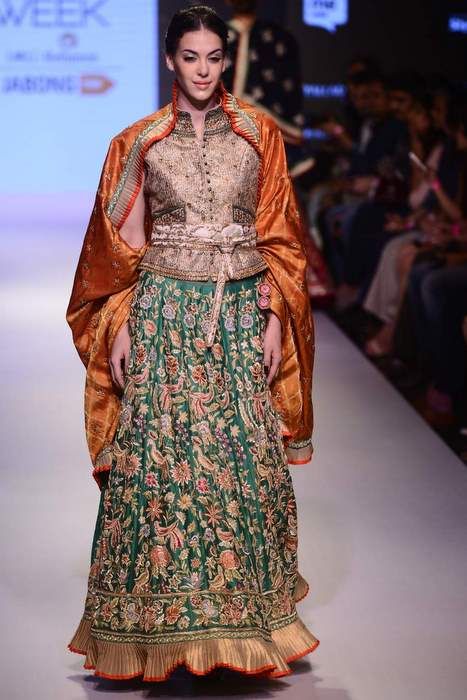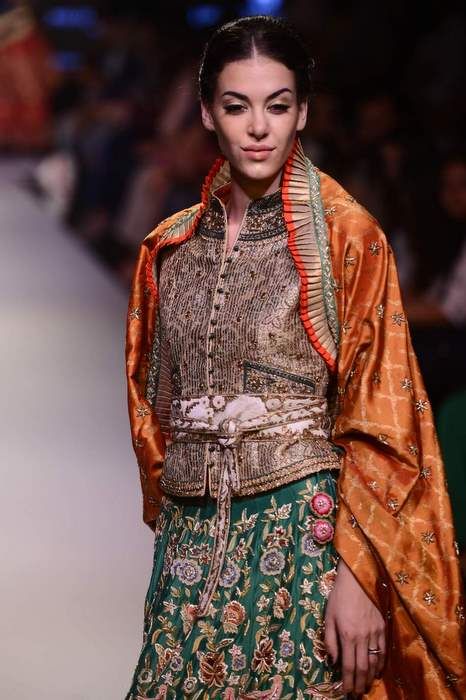 We've had all kinds of blouses to try lately, but a blouse that's also like a jacket and one that comes with a belt? not really, right? But all the same, it's a gorgeous idea. The belt adds volume and also acts as an extra embellishment while the jacket blouse can make any lehenga look elegant and classy.
Tip: If you're looking to stay subtle, look for a belt that is of the same fabric as the blouse. But we'll suggest you go bright, just once in a while!
8. Pallu & Dupatta: Swati & Sunaina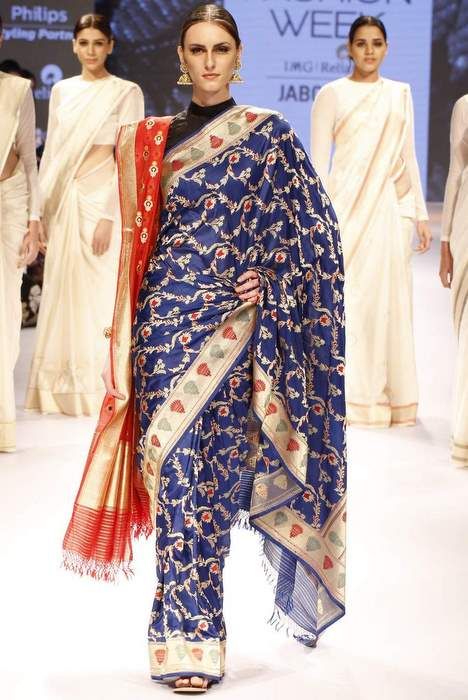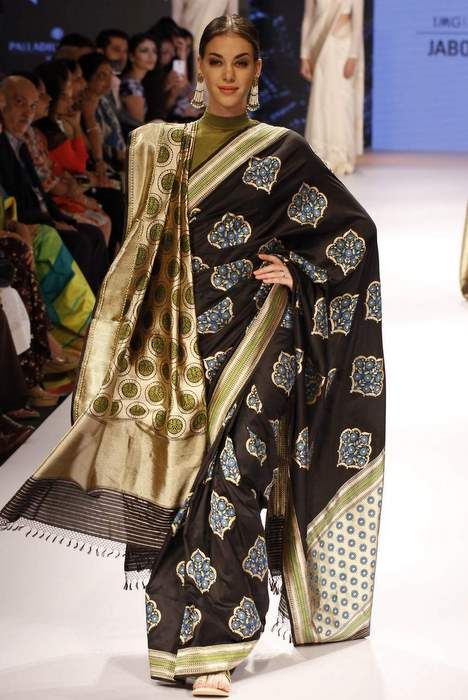 This one's reserved for the royalty - even for south-indian brides. The silk sari comes alive in all it's brightness when paired with a contrast dupatta of the same silk. It's no more the pallu that adds the balance of colour - it's another fabric altogether.
Tip: The dupatta or drape can also go over the head but it chose to stay non-trdaitional, so this could be a good look for someone looking to stay in the limelight without compromising too much on the look.
9. The New Royal Drape: Gaurang Shah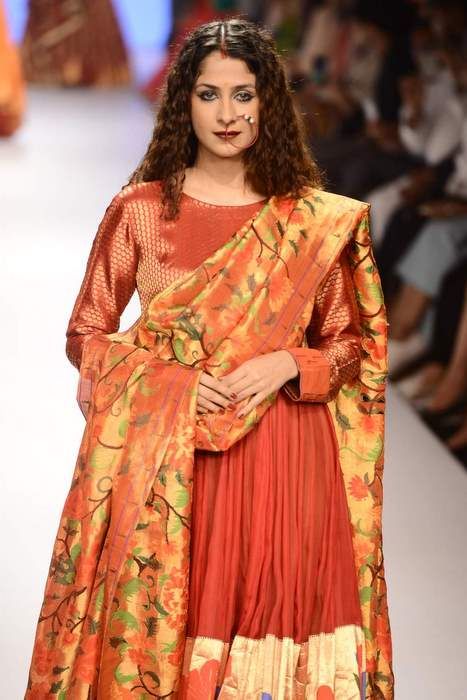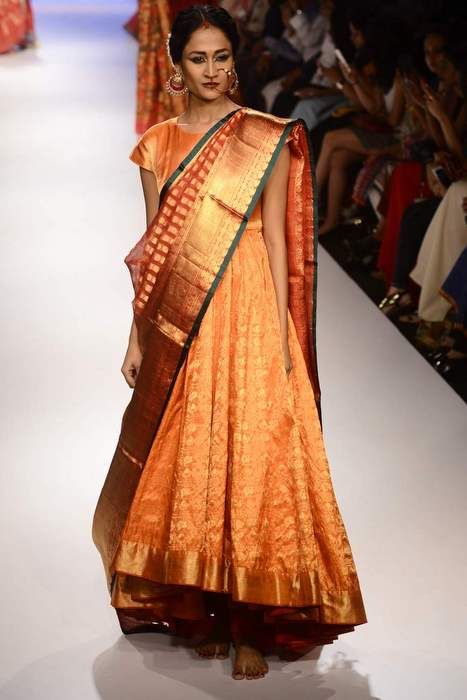 This one is as traditional as it can get, but we absolutely loved the large nosering and the patola silk. Even kanjeevarams got a new silhouette with a high-low sari drape - good stuff!
Tip: When your saris are super heavy, keep your blouse simple. We especially love the brocade blouses!
10. Fringe On Indian Clothes: Nikasha Tawadey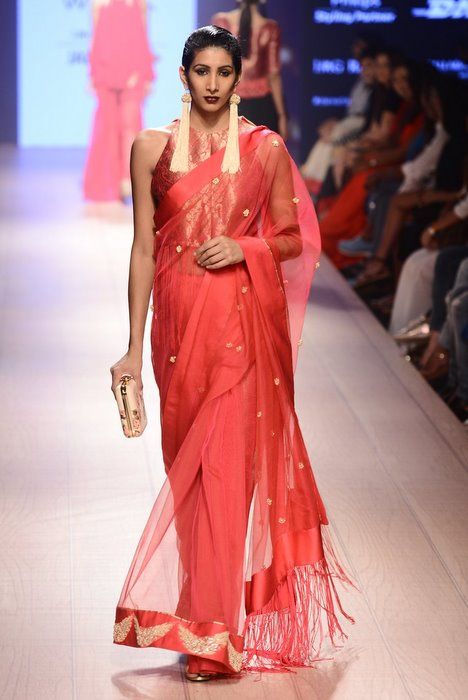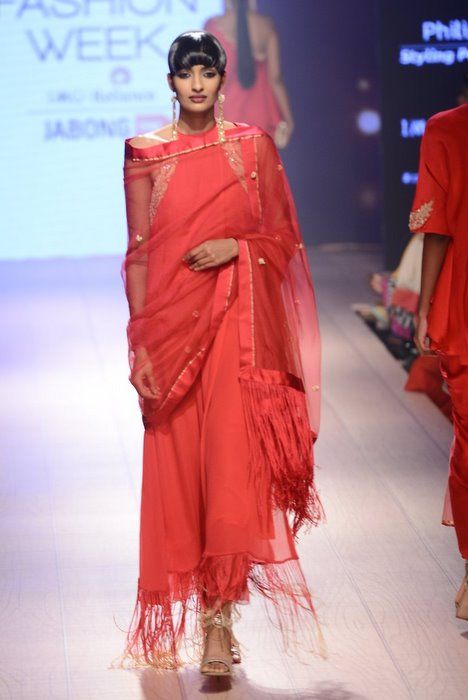 And you thought fringe was so last season, but apparently not. It has not gone away from the public eye, it has merely morphed into an amazing silhouette. Nikasha knows a thing or two on how to challenge traditional Indian clothes and there you have it - the new fringe sari.
Tip: Add a contrast fringe or just stay with a gold or a silver one for more drama.
11. Sheer Bikini Blouse: Anushree Reddy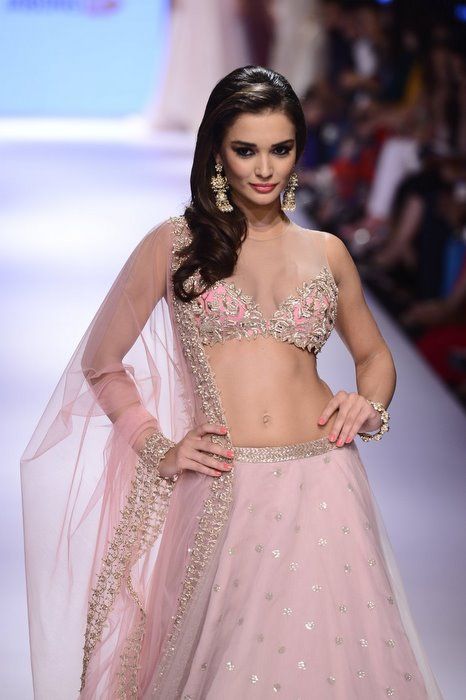 The blouse went everywhere this season - from high-necked wonders to sweet bikini straps but what we really loved was this really bold bikini sheer blouse - there but not quite there yet! Quite a stunner in pink as Anushree Reddy keeps her net lehengas coming.
Tip: If you're a bit shy, drape your dupatta across your neck and call it a day!
12. The Slit Lehenga: Arpita Mehta
Trust Malaika Arora Khan to be the perfect ambassador for slit lehengas - those never-ending legs of hers will make anything look gorgeous. The heavily-embellished lehenga comes with a bright-inner and a sexy slit - and the embroidered sheer attachment is an added bonus.
Tip: Work on your body first before you get a slit lehenga, you could alos alternatively add sheer fabric in the middle if you're a bit shy about going fully leggy.