10 Unexpected ways to use flowers at your wedding !
BY The WMG Bride | 06 Apr, 2015 | 15775 views | 2 min read
Everyone knows you can hang 'em from your mandap, and you can bunch them up inside table centerpieces.. but here are some super creative ways of using flowers at your wedding that are sure-fire conversation starters
1. Flower petals inside chai stands for a kitsch look
Photography: The Creative Lens from the album: Stunning day wedding in Delhi
These table centerpieces are unusual, fun and perfect for a kitsch mehendi. Not to mention, fun for the guests to play around with the petals with.
2. Floral Animals & objects
Photography: Varun Suresh from : Mahabalipuram wedding
Decor by Wedding design company
Transforming flowers into parrots, swans and even hats - these props are surefire conversation starters
3. Flower bouquets attached to chairs

Decor by Sajawat
Attaching floral bouquets or even just  a pouch of petals to each chair is an unexpected use of flowers you would otherwise see on table settings. Beautiful.
4. Flower umbrellas for the brides entrance
Isn't this a stunning way to enter the wedding? A gorgeous floral umbrella with you walking under it. Super elegant.
5. Cones with flower petals for guests to shower the couple
Album coming soon on WMG
We love the idea of keeping cones with flower petals and distributing them amongst your guests to shower on the couple to bless them.
6. Framed florals as stage backdrop (Saves cost too)
Framed florals are the hottest trend for 2015 weddings. They work great as backdrop of your stage (hang 5-6 frames bunched with flowers of different sizes). This is also a money-saving way of using flowers as the bunched up flowers make the stage look rich, but you use much lesser flowers as opposed to decorating them proper.
7. Flower strings - DIY photobooth backdrop
Simple, easy DIY hack for a photobooth backdrop.
8. Flowers in bottles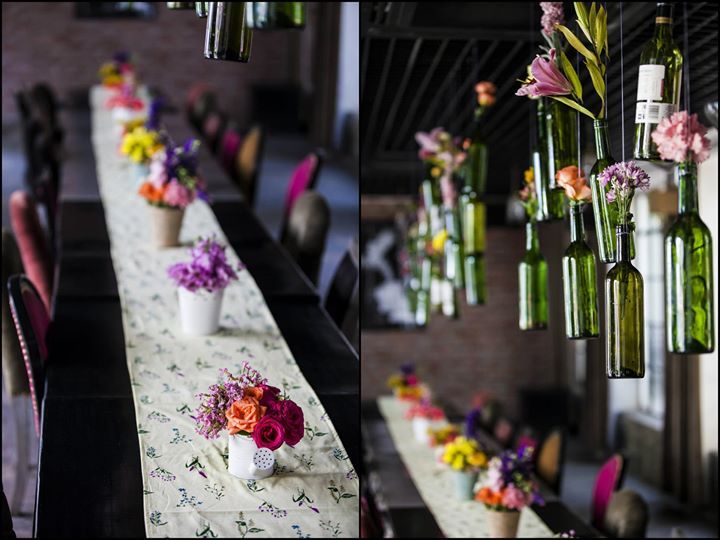 Photography: Mahima Bhatia / From the story: Engagement with creative DIY decor
9. In watering cans on wooden ladders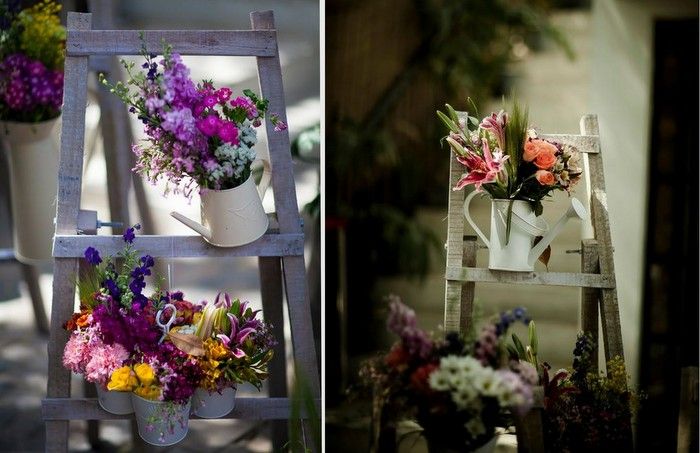 Photography: Mahima Bhatia / From the story: Engagement with creative DIY decor
10. Creating a flower wall
Decor by Abhinav Bhagat
Flower walls are beautiful talking pieces. You can use these as photobooth backdrop, you can use these as stage backdrops as well as just wall props scattered around the venue.