10 Unique Ideas We Got From #SonamKiShaadi!
BY Sakshi | 09 May, 2018 | 3269 views | 4 min read
Yes, we know you blame her wedding for taking over your Instagram feed, but it's easy for details to get lost in the mix and we thought it will be a cute little thing to put all the ideas we loved at Sonam Kapoor and Anand Ahuja's wedding in one place, so you can browse through them and realise how many sweet details went into the planning of her wedding- here are 10 cute things we loved about her wedding, which were fabulous!  
The bride's customised Jimmy Choo shoes and bags!
Image via Vogue
Sonam Kapoor opted for #JimmyChoo's made-to-order service to add 'A♡S' initials to all her bespoke solemates for her wedding. The UK-based luxury label was her brand of choice for all her wedding accessories. Her picks—all flats, no heels—include the red crystal-studded Lancer flats (for the wedding day), the true-to-form Cinderella Attila pointy toe flats, the three-strap Naia sandals and the open-toed Granger flats with a crystal buckle. She even got complementing clutch bags from the brand—a rose gold Cloud embellished clutch for the mehandi and a Cloud crystal and bead embroidered black box for the reception.
The cool clip-on jaimalas
These just removed the whole hassle of the aiming and jumping to get it right! The clip-on jaimalas are pretty cool we feel, and maybe a new trend for Indian weddings!
Sonam Kapoor's criss-cross floral braid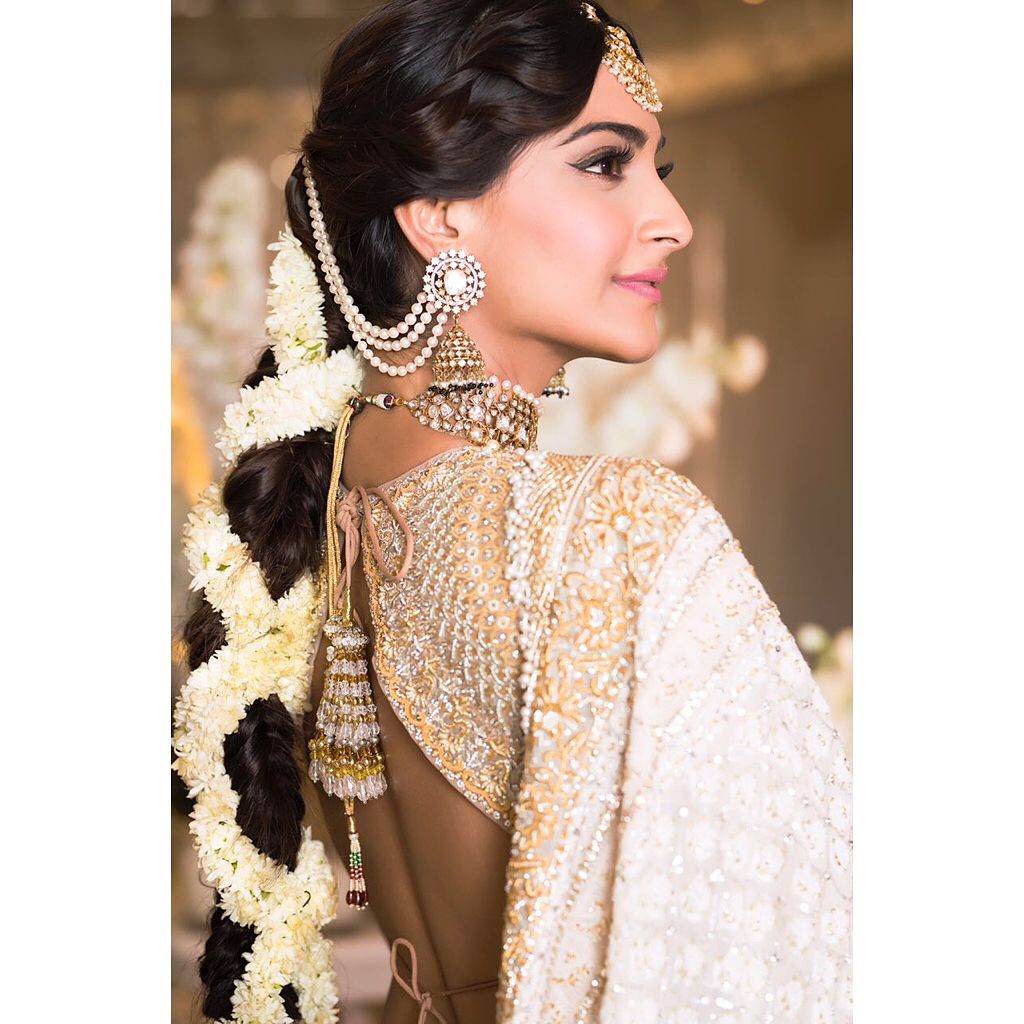 That's such a unique new hairstyle we spotted- love how the mogra criss-crosses her long braid- so pretty and bridal, and something new!
Her mehendi lehenga- drooling over those pastel panels!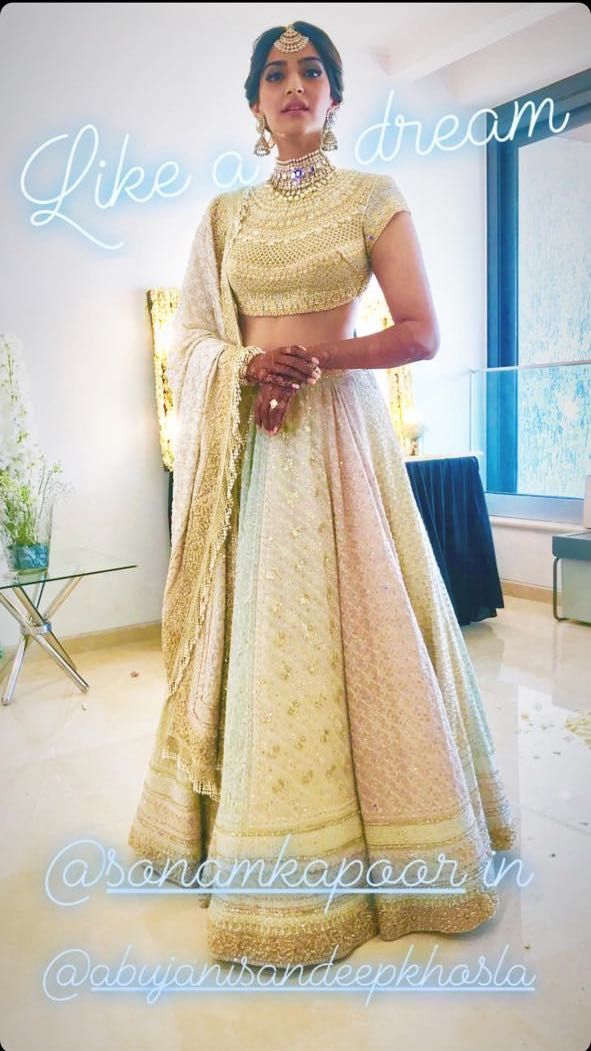 Her Mehendi lehenga was probably our fave out of all the bridal outfits she flaunted, and what a lot of us could not notice was that while it looked like an ivory and gold lehenga, it actually consisted of pastel panels which were gorgeous!
Sonam Kapoor's Jewellery- especially how she wore her mathapatti!
More than Sonam's outfits, we drooled over her jewellery, most of which was designed by her mother Sunita Kapoor. That bridal mathapatti of hers was quite a refreshing new way to wear one, and how gorgeous was that rani haar? Plus, the fact that she wore that Mehendi choker for the second time after Cannes really caught everyone's attention. 
The bridal kaleere- offbeat and unique!
Mrinalini Chandra Label designed her 'dancing peacock' bridal kaleere, which were quite simple but trendy!
The groom's accessories!
We loved how little details made the groom's look pop- right from the layered pearl and beaded necklace to those embellished buttons!
The fact that the groom and the sister of the bride flaunted athleisure with their wedding outfits!
I mean, they both sported sneakers, and did get a lot of people talking- it's a personal choice whether you like it or not, but you can't deny that it did make a statement!
The Watercolour backdrop to the pheras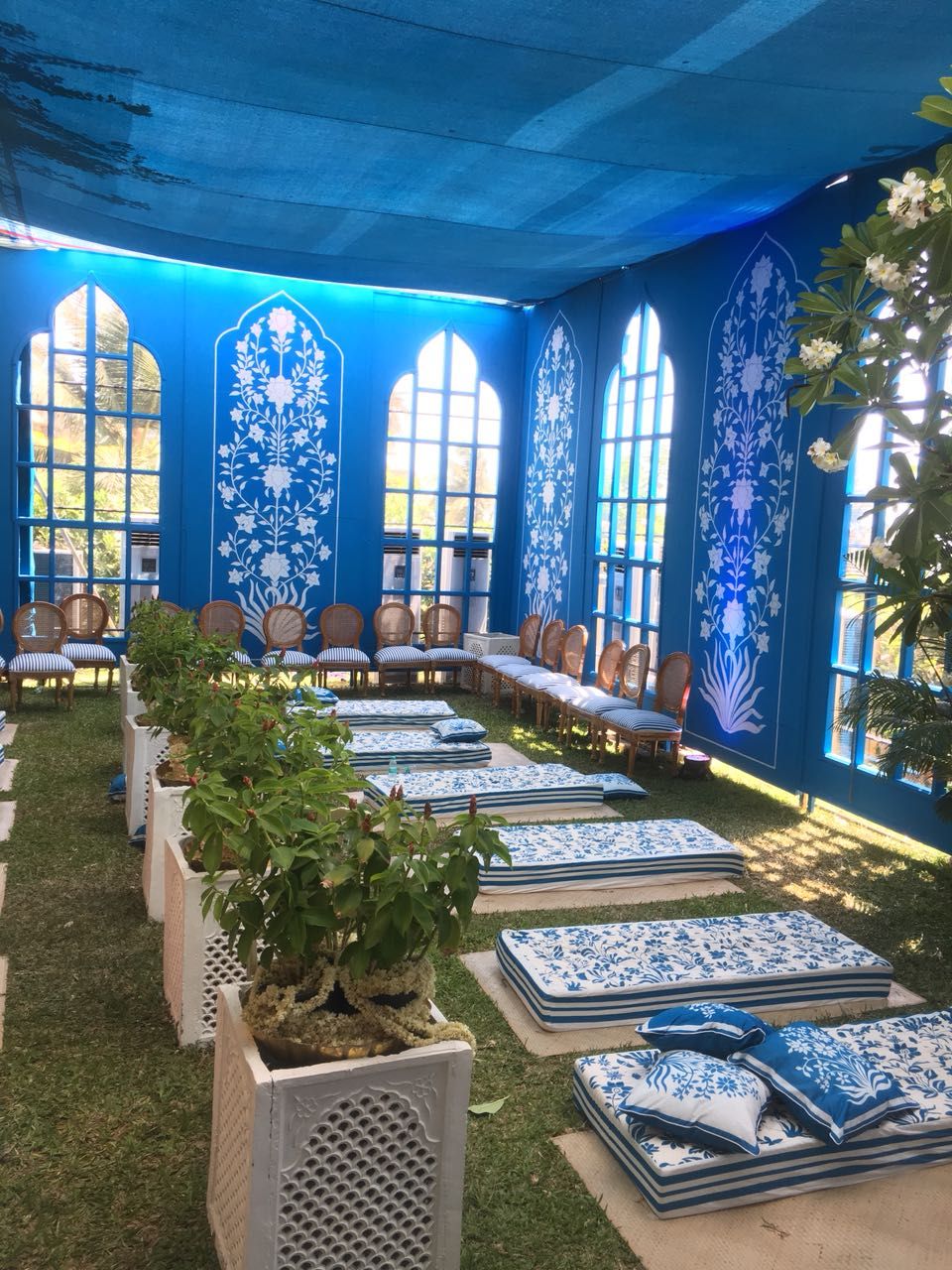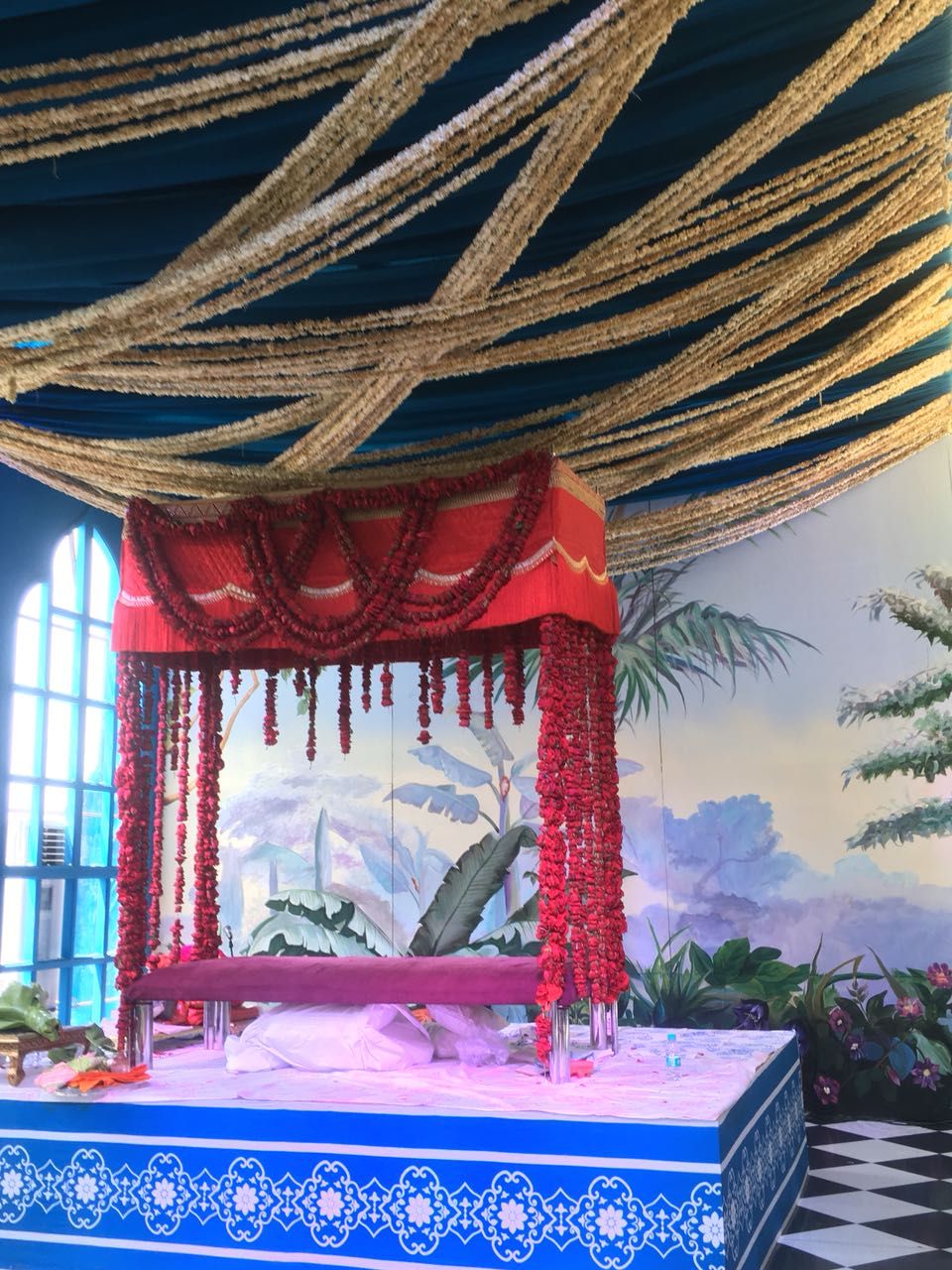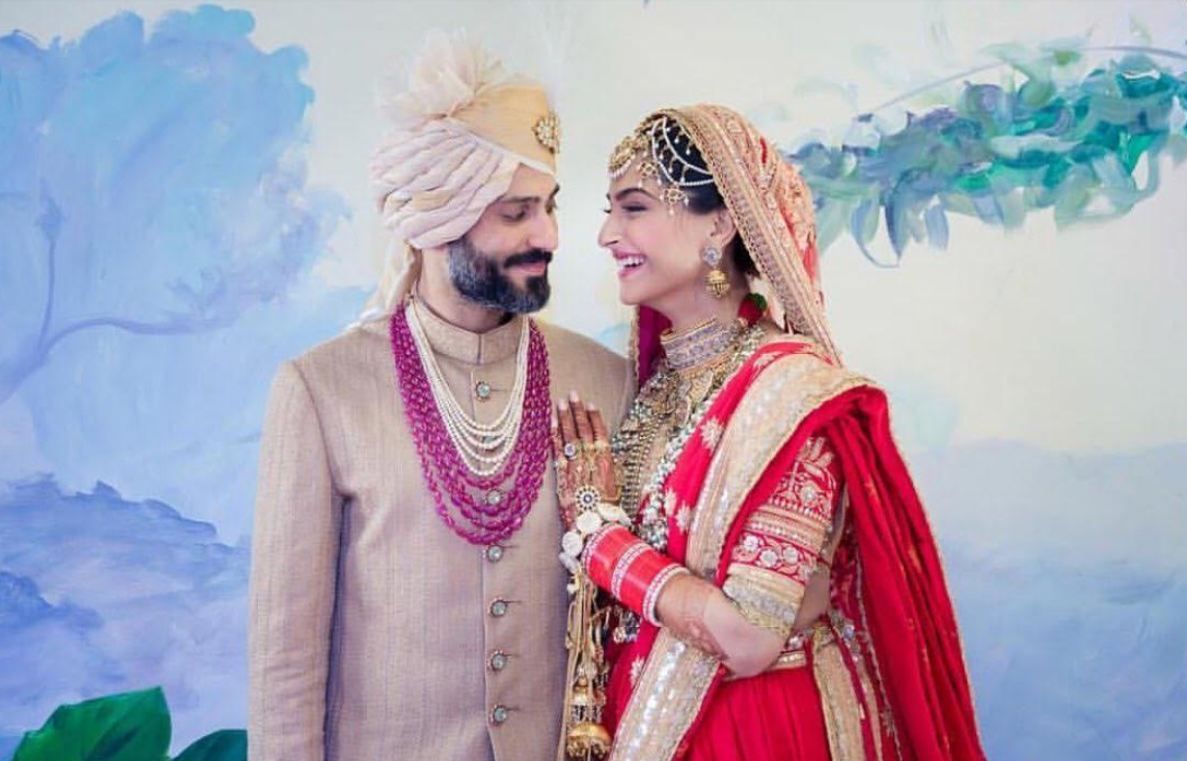 We've done a whole post on the gorgeous wedding decor at Sonam's wedding, which you can check out here. The decor by Rani Pink was quite unique, and had the feels of Bar Palladio in Jaipur! Also, she had a watercolor backdrop for her mandap, which doubled up a photo booth, and was quite a new idea we feel!
The fact that the decor not only looked but smelled good too!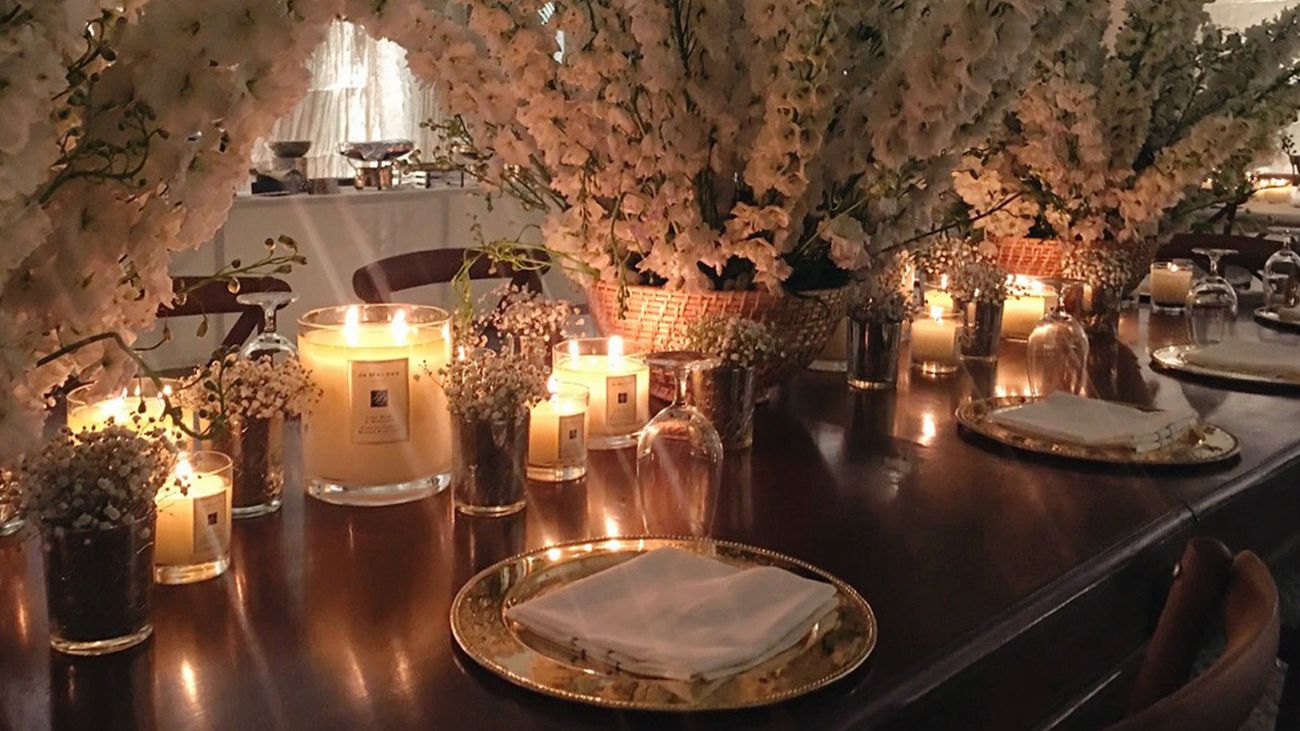 Image via Architectural Digest India
Jo Malone ensured Sonam Kapoor's wedding smelled good! The venue itself was scented with personalized scents by Jo Malone London. The Mehendi's white-themed décor was complemented with the freshness of ripe pears wrapped in English pear and freesia, lifted with peppery basil, aromatic white thyme and the zest of limes in luxury brand Jo Malone London's signature lime basil and mandarin. For the wedding, the scent of pink peonies laced with red apples, jasmine, rose and soft, sensual blush suede set the stage for the year's first big, fat Bollywood wedding.
ALSO READ: We Got The First Look At Sonam Kapoor's Mehendi And All The Details Are In! *Outfits & More
All The Glitz & The Glamour At Sonam Kapoor's Reception in Mumbai! *Who Wore What + All The Videos
All You Needed To Know About Sonam Kapoor & Anand Ahuja's Wedding! *Latest Details & Outfits Inside!