10 Ways To Photograph Your Lehenga For Posterity!
BY Latha Sunadh | 17 Jun, 2016 | 2428 views | 3 min read
It's probably the most special and precious dress you're ever gonna wear... and maybe the only time you're gonna wear it (Unless you read our amazing article on what to do with your lehenga after your wedding)! The wedding dress is very close to every bride's heart, and one way to always cherish that perfect dress and perfect moment is to click some memorable photos of it. Of course, there are going to be loads of pics of you wearing it, but make sure to get a shot or two dedicated solely to your lehenga as well! Hanging it on your closet door or wall and getting it clicked has now become passé. Here are some fresh new ideas to perfectly capture the beauty of the timeless outfit.
Outdoors on trees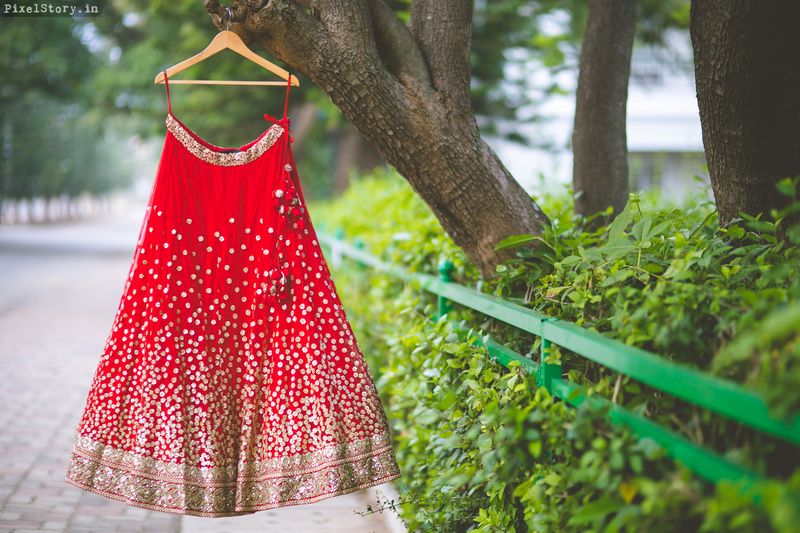 Hanging the lehenga on a hanger nailed to a tree is an innovative background makes for a super pretty picture! Lately we've seen a lot of gorg outdoors shots that just make the colours and work of the lehenga pop so much against the green and brown!
Surrounded by flowers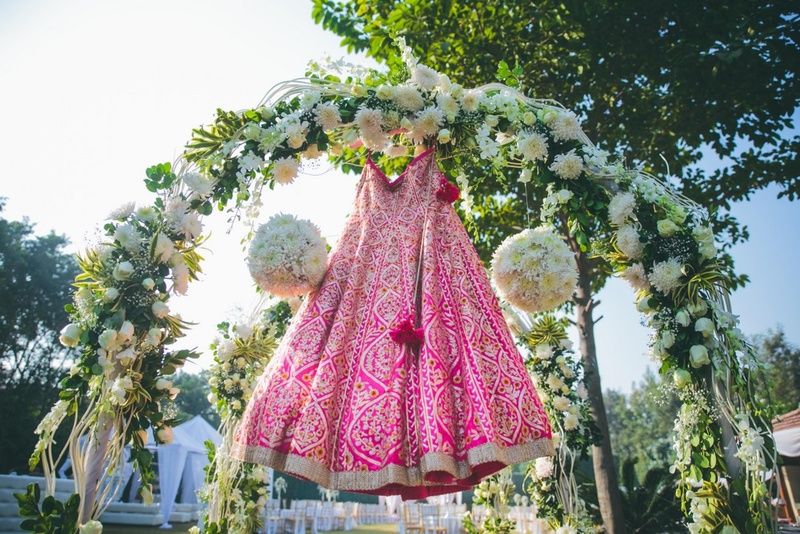 Photo Courtesy: Jessica & Ishank's Wedding 
This works well especially if you have floral patterns on the lehenga as it accentuates it. Place it under a pretty floral creeper or floral arrangement- makes for a very pretty picture!
On a cliff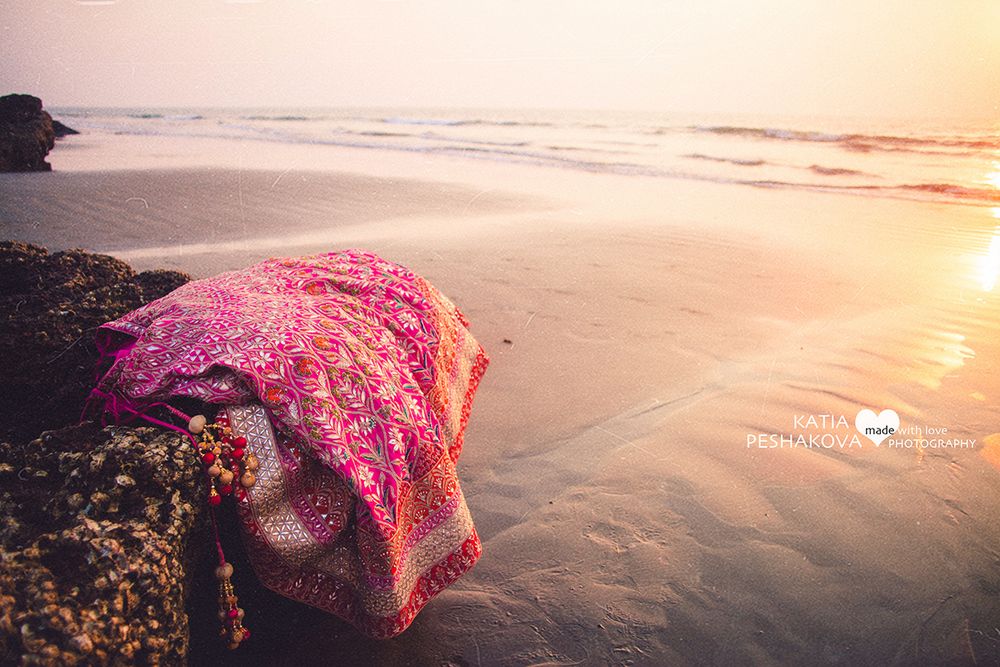 We admit, this one made us gasp a tiny bit because OMG what if it falls? But I guess that's the beauty of this photograph.
With fairy lights in the backdrop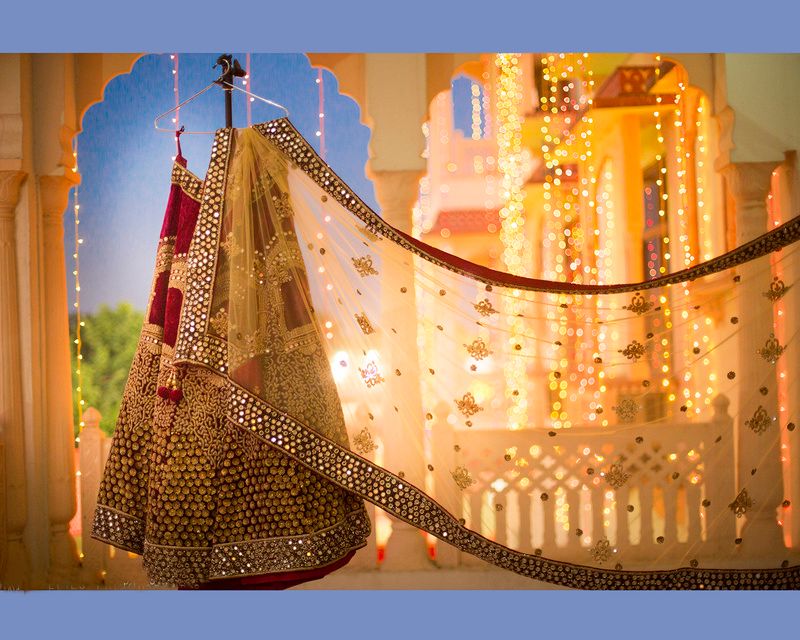 How amazing does this look? Might need a setup in advance as it's all gonna be super chaotic on the D-day, but worth all the effort!
In a vintage trunk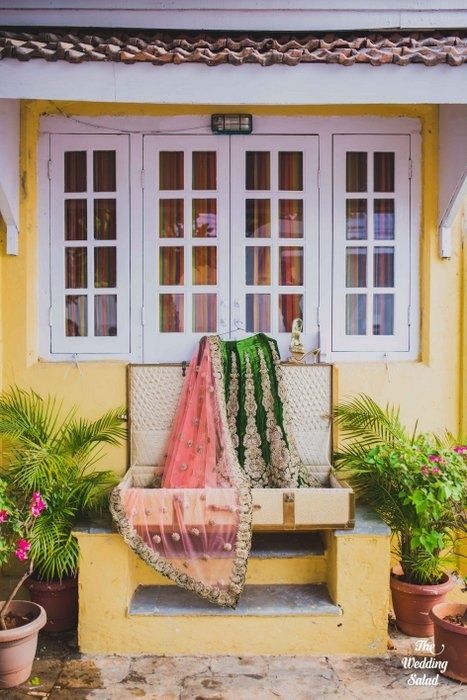 How innovative yet adorable is this? Use any vintage item from your mom and granny's place to shwocase your modern lehenga.
Playing peekaboo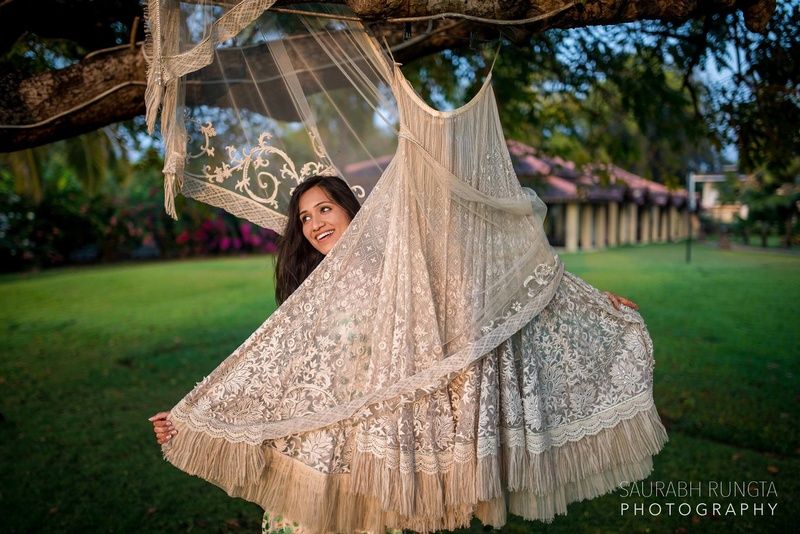 Saurabh Rungta Photography★ 3.7
How cute is this picture? Sit next to the lehenga in your jeans and this way you don't even have to do a touch-up on your face before the pic!
Sharing an intimate moment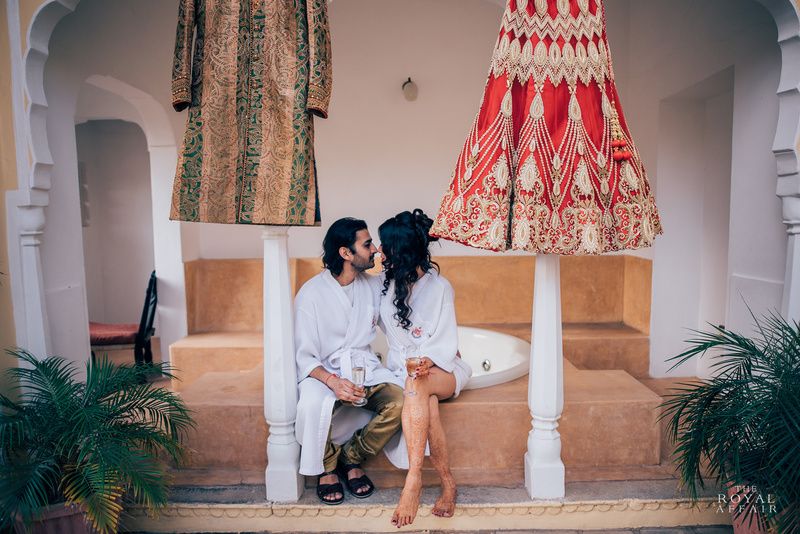 Picture Courtesy: The Royal Affair★ 5
Share an intimate moment before you get dressed - that's such a frame-able shot!
In a Rustic Set-up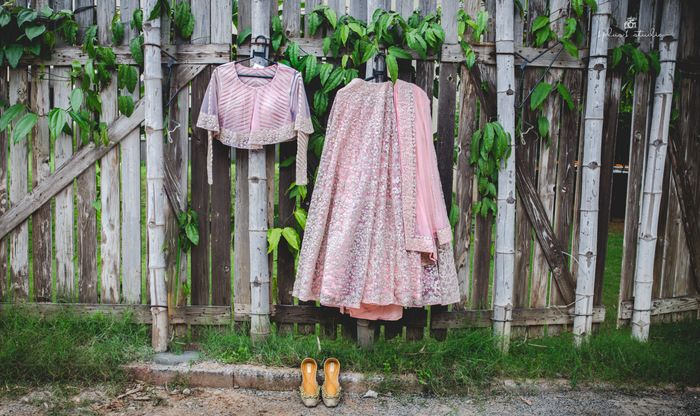 If you have such a spot where you stay or at the wedding venue, then it can make for an awesome location to shoot your lehenga!
Next to a dressing table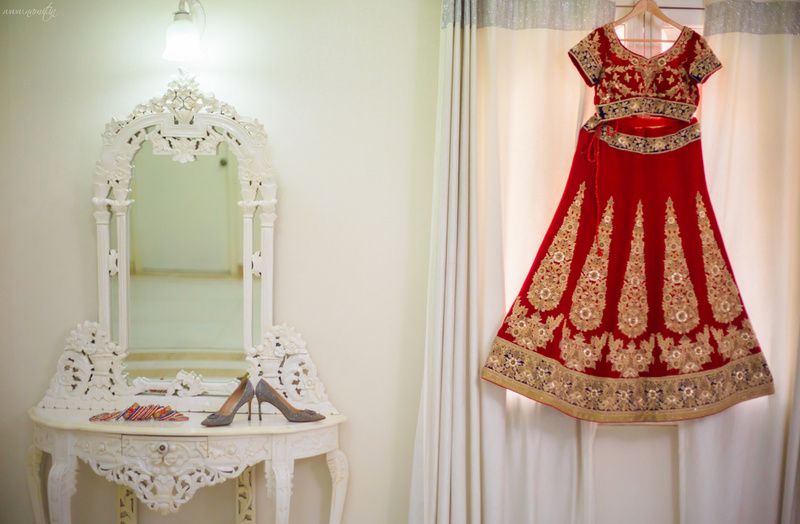 Picture Courtesy: Namit Narlawar Photography
A vintage mirror is a surefire way to showcase the vanity space of a bride and with a lehenga perched on top of it, gives it a neat bollywood touch!
On the hotel baggage cart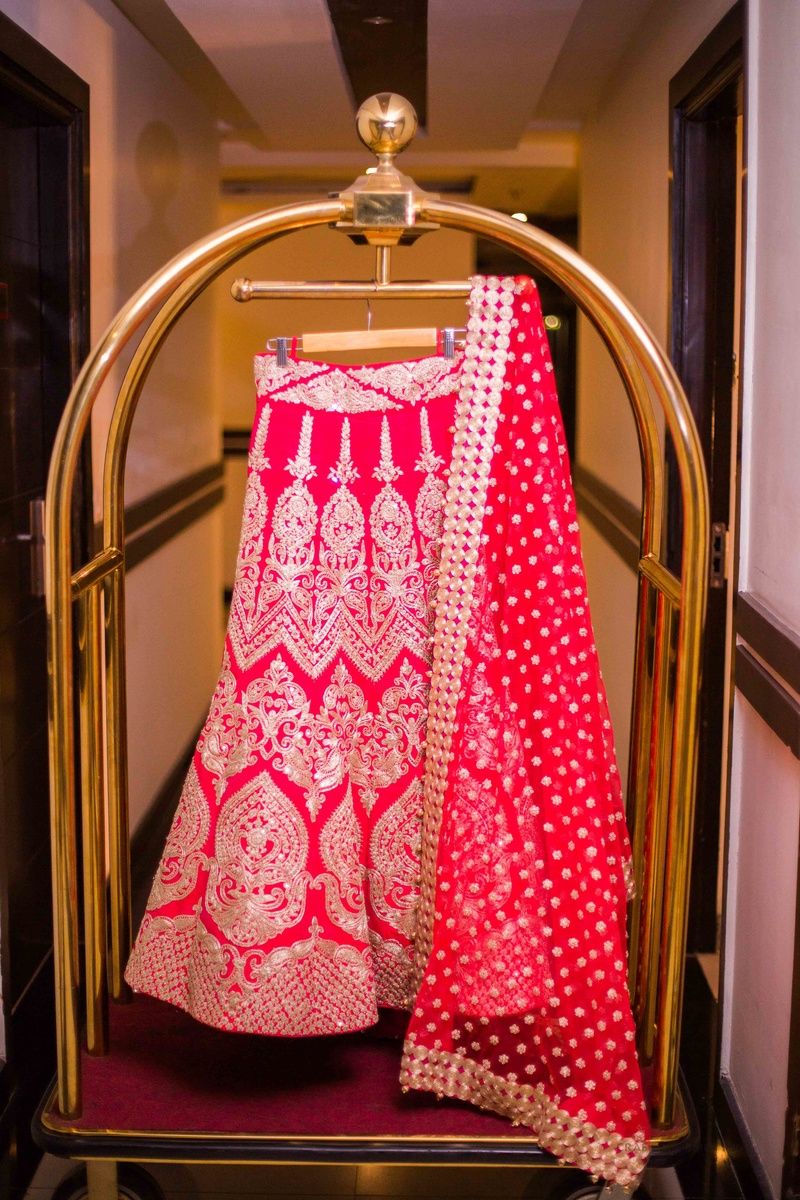 Poonam Shahs Professional Makeup & Hairstyling★ 4.9
Cute yet so effective! Doesn't require too much of a set up, and if you're having a hotel wedding, is a good way to remember that by!
With the chill bride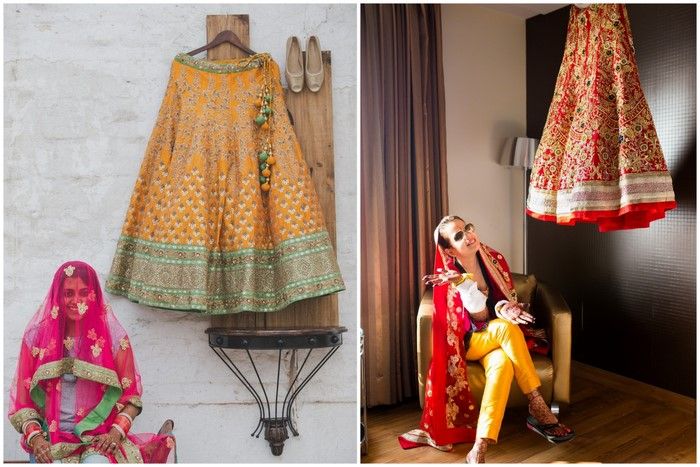 Photo Courtesy: Tarun Chawla Photography★ 4.8 ; Avnish Dhoundiyal Photography★ 5
A chilled bride picture is a must-have in our book and if you add a pair of sunnies and a fun expression, then you're in for a treat!
Against an interesting door or gate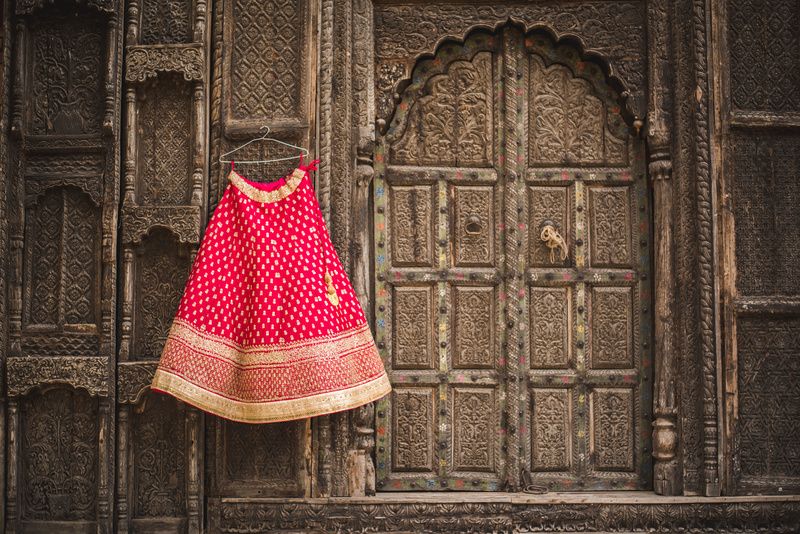 This is a must-have shot if you're having a fort or palace wedding. The door adds so much character to the picture! A traditional door or gate gives it an artistic feel.
Against the window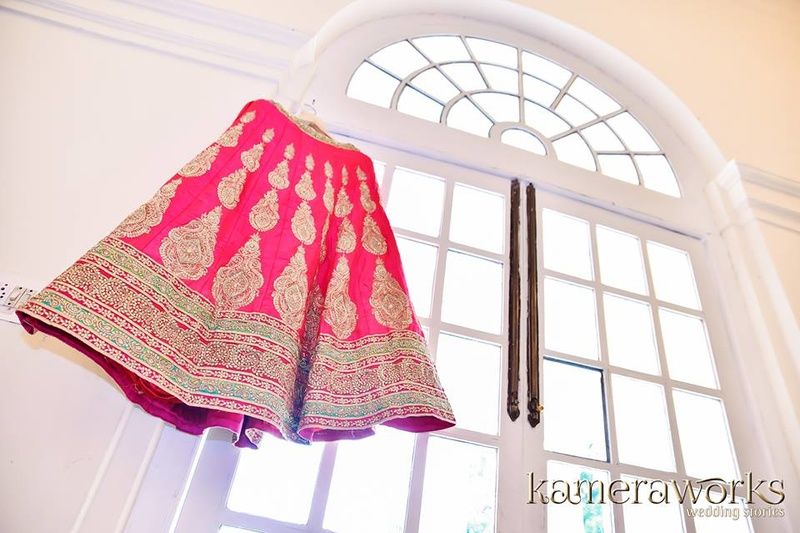 Kameraworks - Wedding Stories★ 4.7
A window in the bride's room is everything - as the light saunters into the room and falls on the lehenga, it makes for a pretty sight. More brownie points if it's a sheer lehenga.