12 Amazing New Things To Do To Your Lehenga That Will Make It Super Unique!
BY Sakshi | 16 Feb, 2017 | 6418 views | 4 min read
Every bride wants to be a unique one- we bet you do too! So rather than running around for a unique lehenga, you could also consider making a few tweaks here and there, as well as adding new things that can really make your outfit pop! Here are some additions that can totally transform a lehenga!
Embroider it with your love story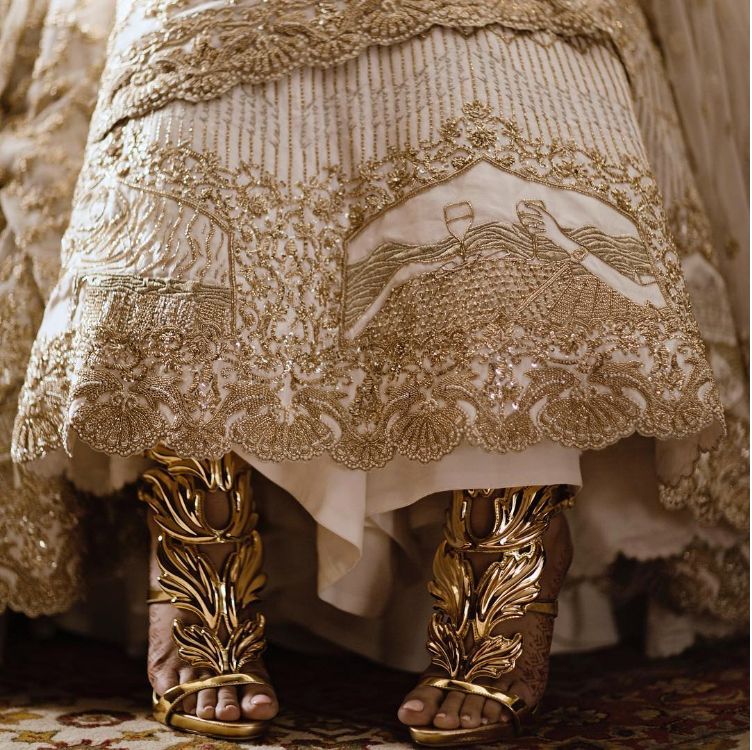 This gorgeous lehenga of Kresha Bajaj, had her love story involving the beach, wine and dolphins embroidered on it. See it here
Mix and Match your Dupatta, Blouse & Skirt
This bride got a blouse from Rohit Bal, a lehenga skirt from Ekaya and a dupatta which was a rich banarsi vintage fabric. The result- something so unique that we haven't seen it on anyone else.
Add an unexpected dupatta that stands out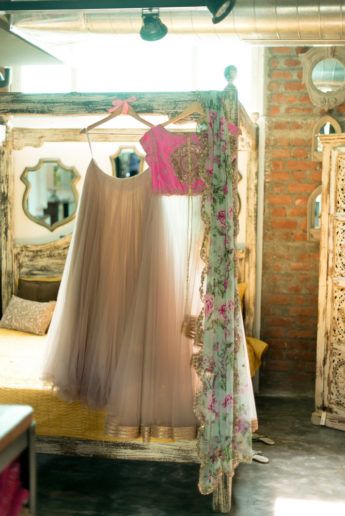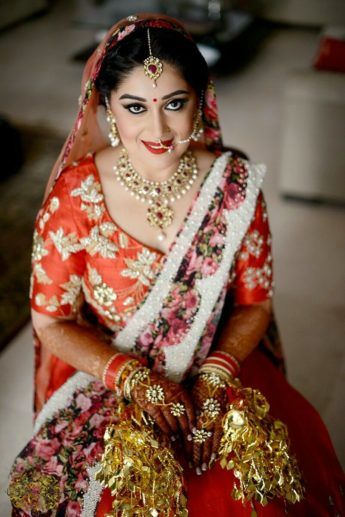 Image via Anushree Reddy★ 4.8 , Chandni Singh Bridal Makeup★ 4.7
Instead of the usually matchy-matchy one, get a printed or unique dupatta that looks mistmatched but still goes with your lehenga- it really makes the outfit pop! We even wrote about Vihal, a bride who chucked her usual Benarasi dupatta and made a sheer one with sequins for herself!
!
Fun tassels that really stand out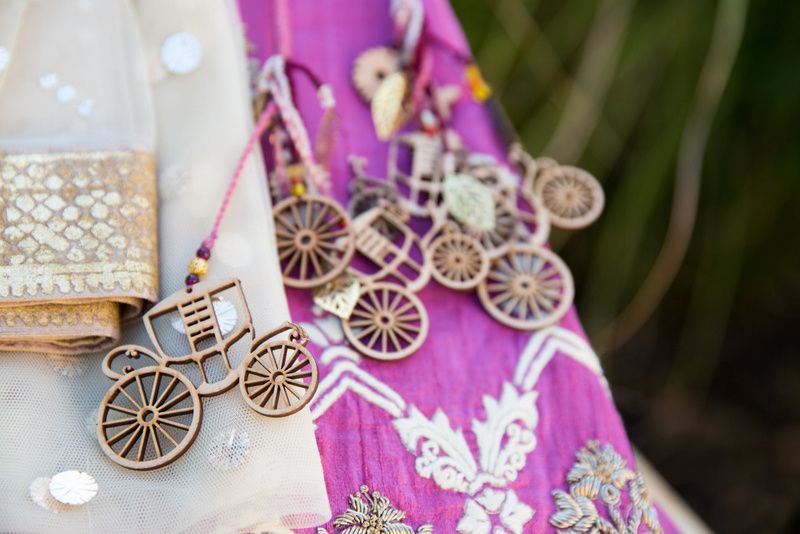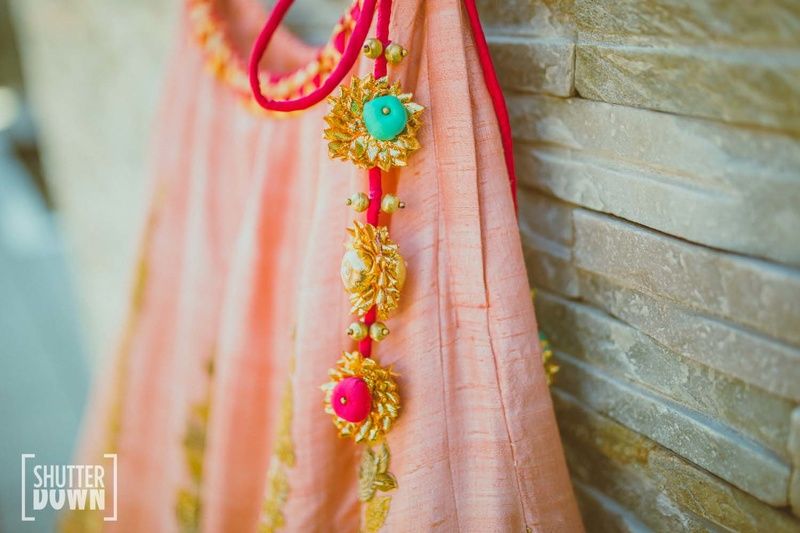 Image via Anju Modi★ 4.8 and Shutterdown - Lakshya Chawla★ 4.9
If you are a quirky bride, then how about you get your own customised tassels which mean something to you or are generally just fun and colourful?
A waistbelt or a leather belt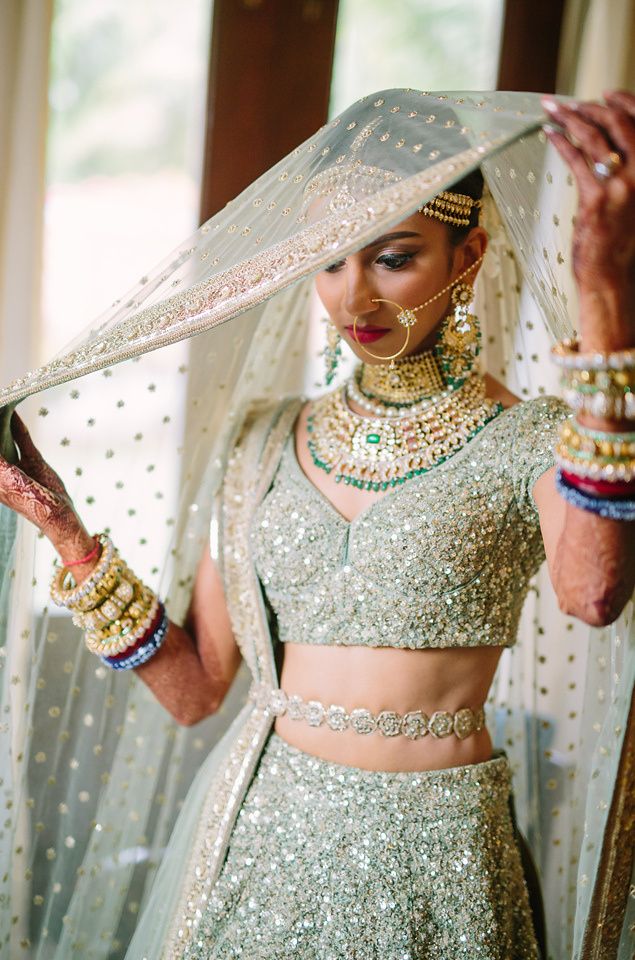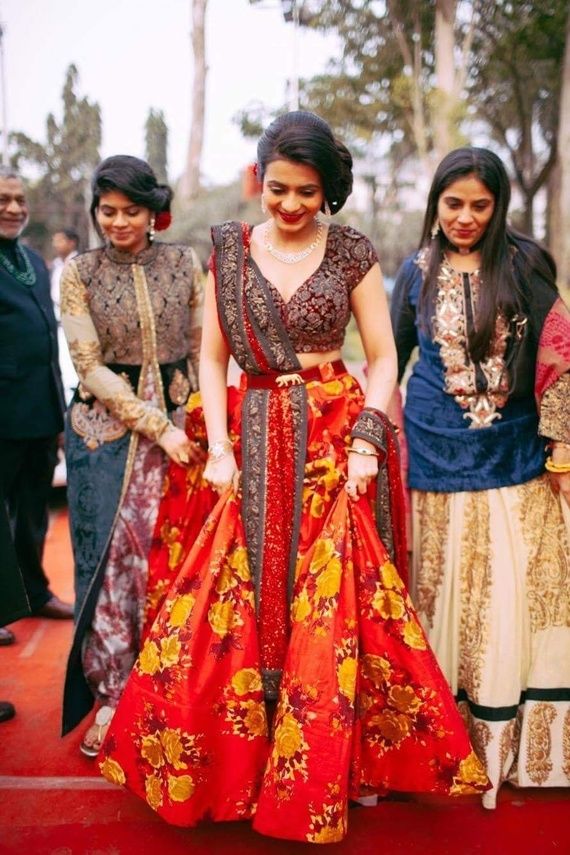 Image via Sabyasachi
A waistbelt is so in these days! Whether it is one that's inbuilt in the outfit, a gold one or even a leather belt- it really helps in putting the look together- especially if you have a waist to flaunt!
A brooch in an interesting way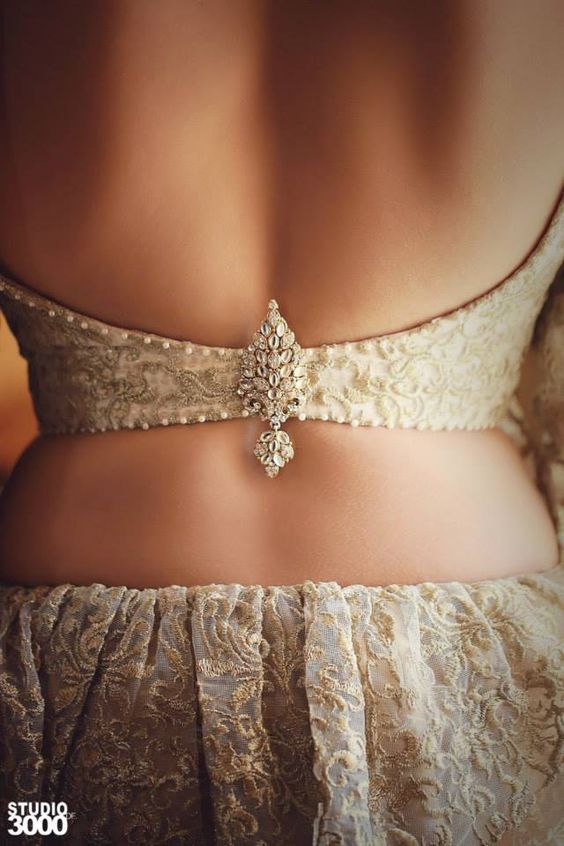 Image via Pinterest
A brooch doesn't necessarily have to be put on the same place- you can even get pretty creative with it! Pin it on the shoulder to hold the dupatta or even like this behind the blouse to hide those ugly hooks- looks super cute!
A new colour under the dupatta or lehenga border
Image via Going Bananas Photography★ 5  from Kunali Shrikant Wedding 
Yup, a lot of brides do not pay a lot of attention to the colour of the border INSIDE the dupatta- you know when you turn it around? Well, that's what's gonna add the contrast to your photos when your face is gonna get photographed, so it is super important! You could even add a contrast colour to the lehenga border below or change the colour of the can-can! Will look great when you get your shoes photographed!
A matching batua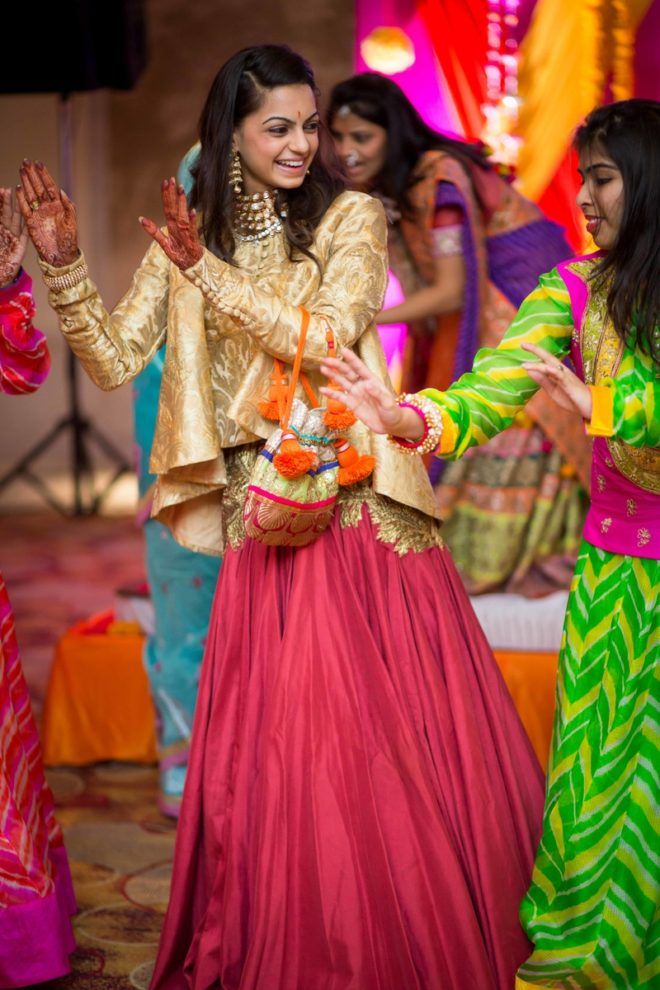 Image via The Wedding Crasher★ 4.8
Carry a fun or stylish batua with your lehenga on your arm which matches with it! It can add a lot to a plain lehenga!
A leather jacket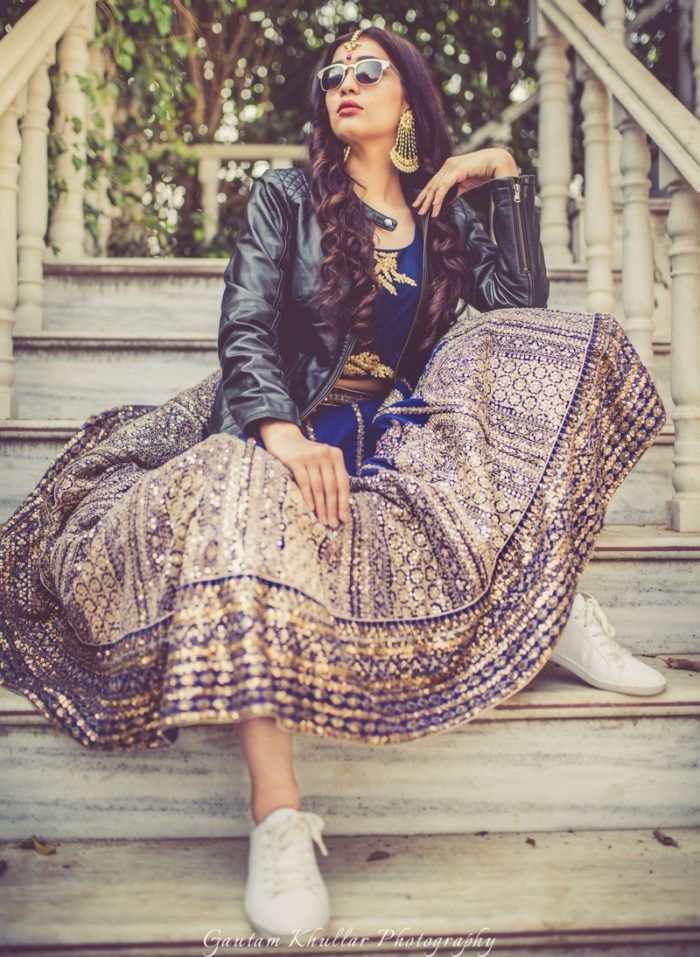 Image via Gautam Khullar Photography★ 4.8
Could you ever imagine a leather jacket could look so glam with a lehenga? If you can carry it off in style, then why not?
Add attached cape-sleeves instead of a dupatta
Picture: Weddingnama from Missstylefiesta's wedding
Masoom Minawala from Miss Style Fiesta did the most genious thing for her Sangeet- attached her dupatta to the blouse.
Add a bow as a tie
Lehenga by Anamika Khanna from Miss Style Fiesta's wedding
Love the unique bow tie with the pearl drops at the end.
A sheer jacket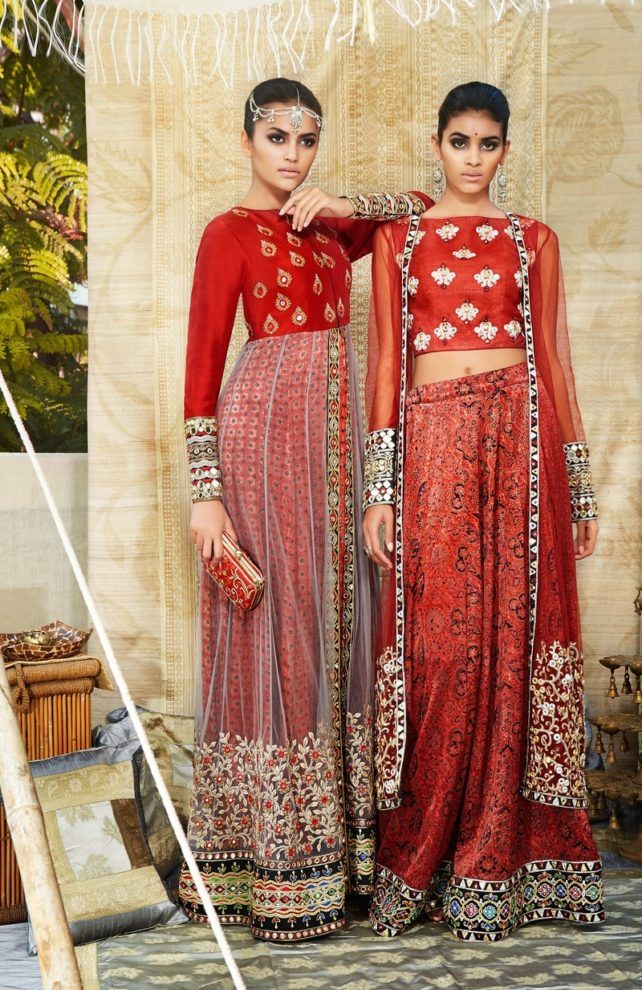 Image via Anjali Jani★ 5
If a leather jacket is too adventurous for you, then a sheer jacket can work well, especially if you're looking to cover up a bit! You can even take it and ditch the dupatta for a fusion look!
New style: Fringed Beading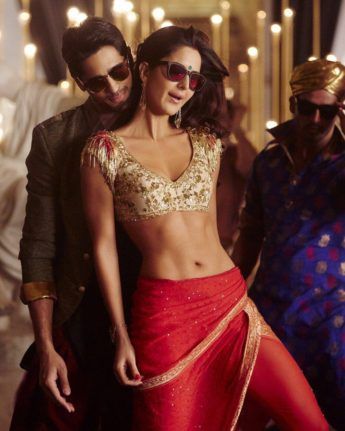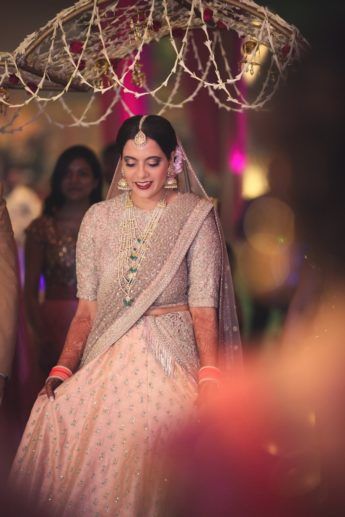 Well, if you saw Baar Baar Dekho or Payal Singhal's latest collection, you know fringe is big now. not just any fringe, the beaded kinds - the one we saw flip everytime Katrina did that Kaala Chashma step. So add that everywhere to add oomph - on the ends of your dupatta like our bride or on your blouse!
Add contrast can-can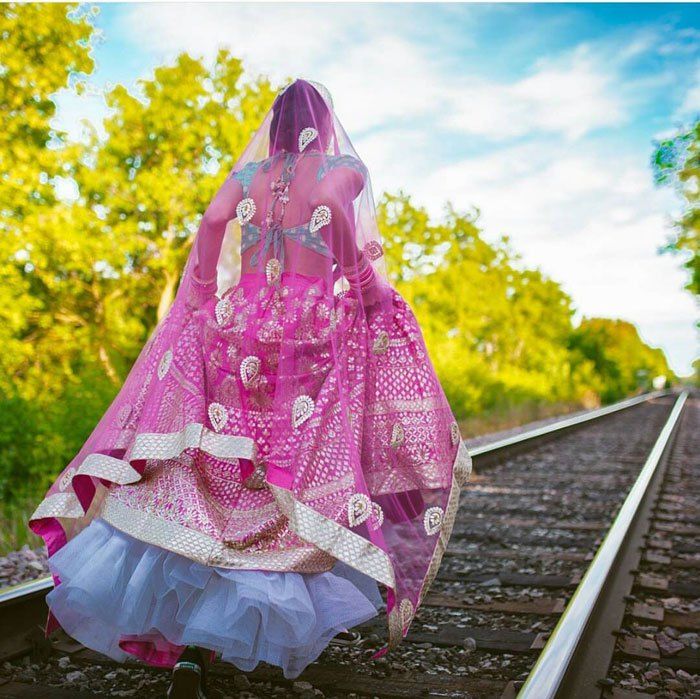 Pic via Indian Street Fashion
 Well can-can can do a lot to your outfit. Add a contrast colour to create more volume and more drama - we love!
So, ready to rock your unique lehenga?