15+ Unique Finger Mehndi Designs That You'll Absolutely Love
BY Garvita | 22 Jun, 2019 | 239153 views | 4 min read
Ever had a moment where your mehendi artist has put in absolutely zero efforts to create a unique finger mehendi design? Imagine your palm donned with gorgeous, intricate henna details but you pay no heed to your finger design because there's nothing creative out there. It's just repetitive and unappealing! Mehendi designs for fingers can be tricky and you definitely want them right!
While internet overflowing with stunning finger mehndi designs, our 'mehndi wale bhaiya' couldn't care less! So to help you sail through this, we have made a pool of finger mehndi designs for you to flaunt. Without a further ado, bookmark these images for oodles of inspiration and breathtaking feast for your eyes.
Those details are so on point!
Traditional yet trendy, this design is simple and perfect to bring magic to your fingers. It's minimalistic and can be rocked effortlessly, this mehendi finger design needs nothing to compliment, it's a beauty in itself .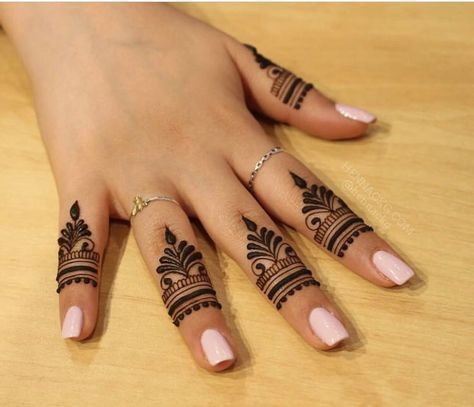 Image via hennackg
And this one doesn't even require any addition
For all those who like some rich, full henna fingers this one is perfect, It's bold, gives a fuller and a very traditional feel, giving you a touch of royalty!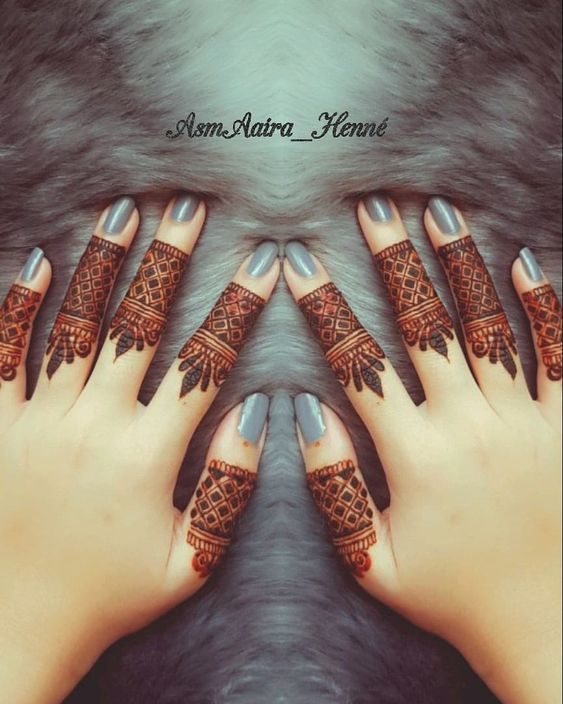 Image via asma_aaira_henne
For the foliage fans
Like being out of the box? This finger mehendi is all you need. These twisted turns of the floral mehendi design is very sophisticated and artistic, it gives you the modern edge you need, it is consistent and very calming to look at.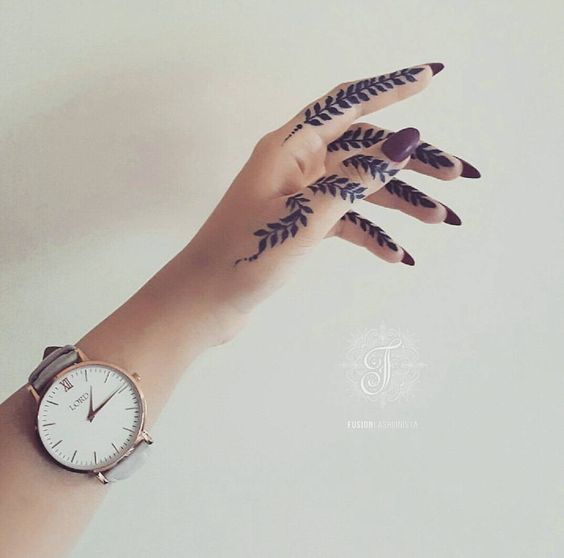 Image via fusionfashionista
This one's absolutely picture perfect
A very unique finger design, it has floral, dots and a variety of patterns giving you shades and some depth to your henna, this design can compliment both traditional and modern vibe you are looking for!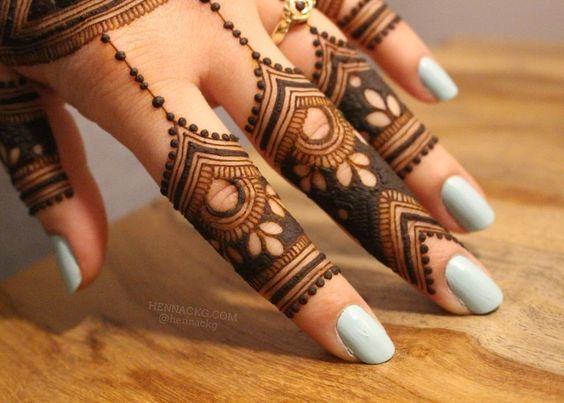 Image via hennackg
Strike a balance between traditional & modernity with this design
Distinct patterned lines and some floral motifs to top it off, this design has a balance, taking inspiration from the same you can go with a more minimal design. It is definitely a classic!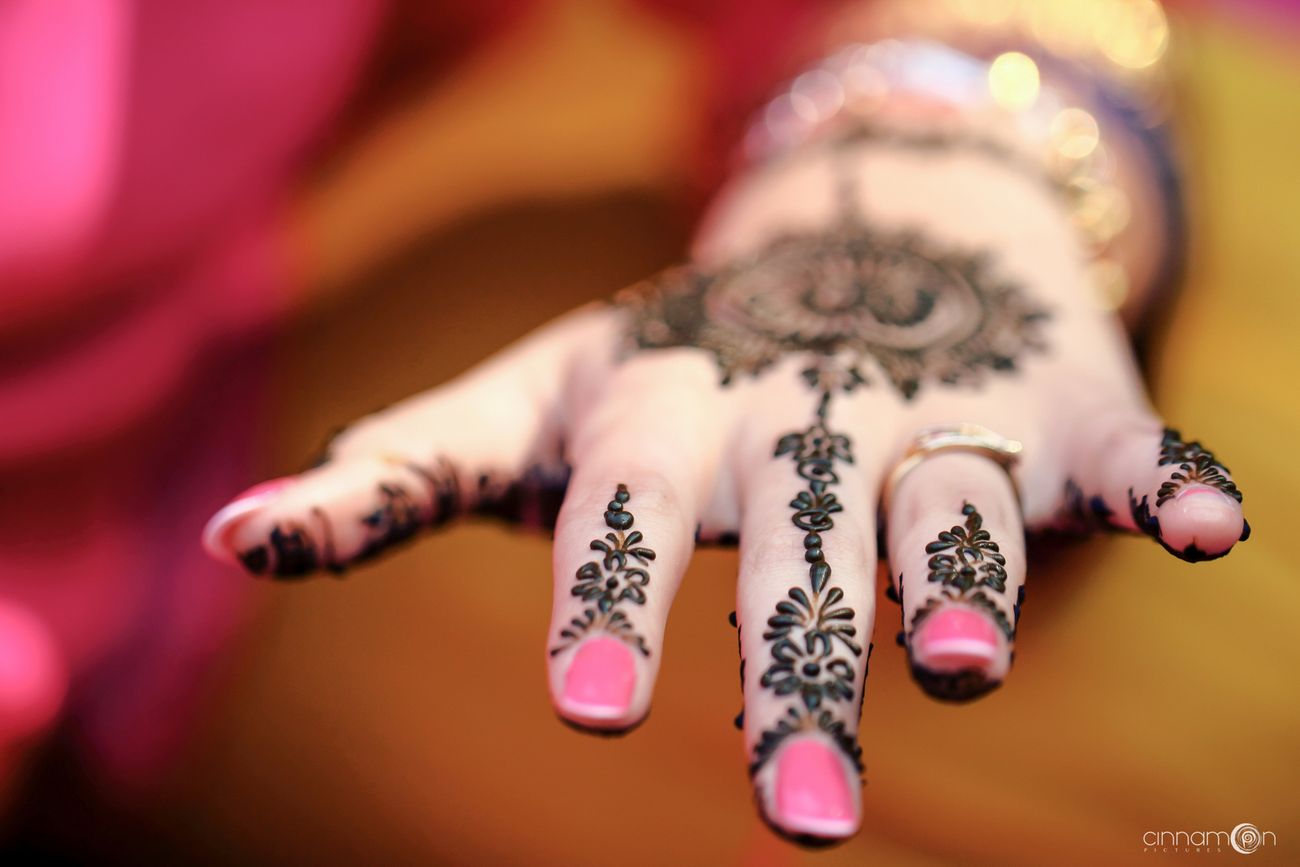 Image via Cinnamon Pictures★ 5
Jaal design is our favourite for obvious reasons!
The jaal mehendi designs are usually jewellery patterned and compliments the hands in its own way, it gives a sense of ancient palaces and the designs are interrelated to nature, architecture , kings and queens. It's sure a very elegant pick for you !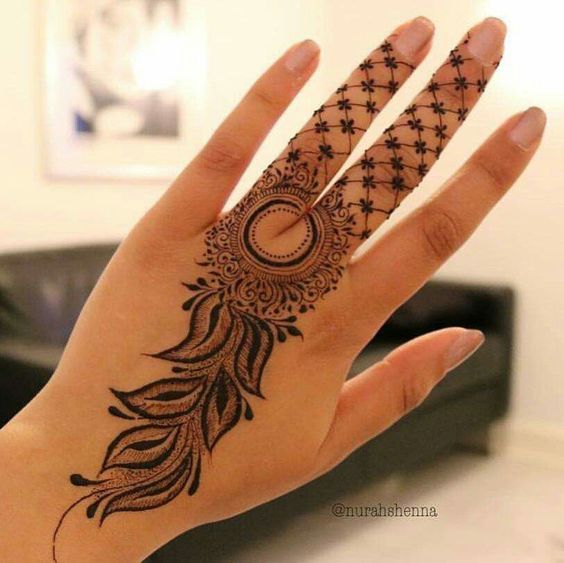 Image via nurahshenna
Love how the patterns on fingers is delicately done 
Subtle yet eye-catching, this design is a very unique one, very sophisticated and detailed, if you want to stand out and get your mehendi finger game up this should be the one.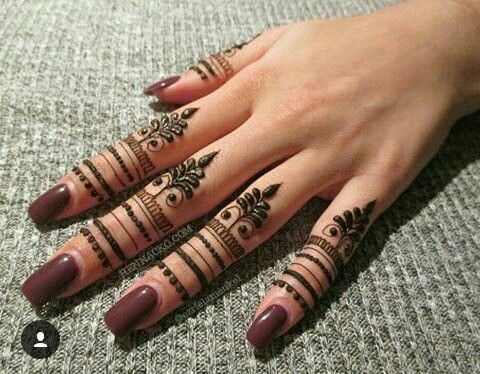 Image via Pinterest
Go minimal on the feet with this design
This mehendi finger design photo is definitely going to make it in your archives, with some distinct curves, if you are a bohemian design lover, this toe design is your go to!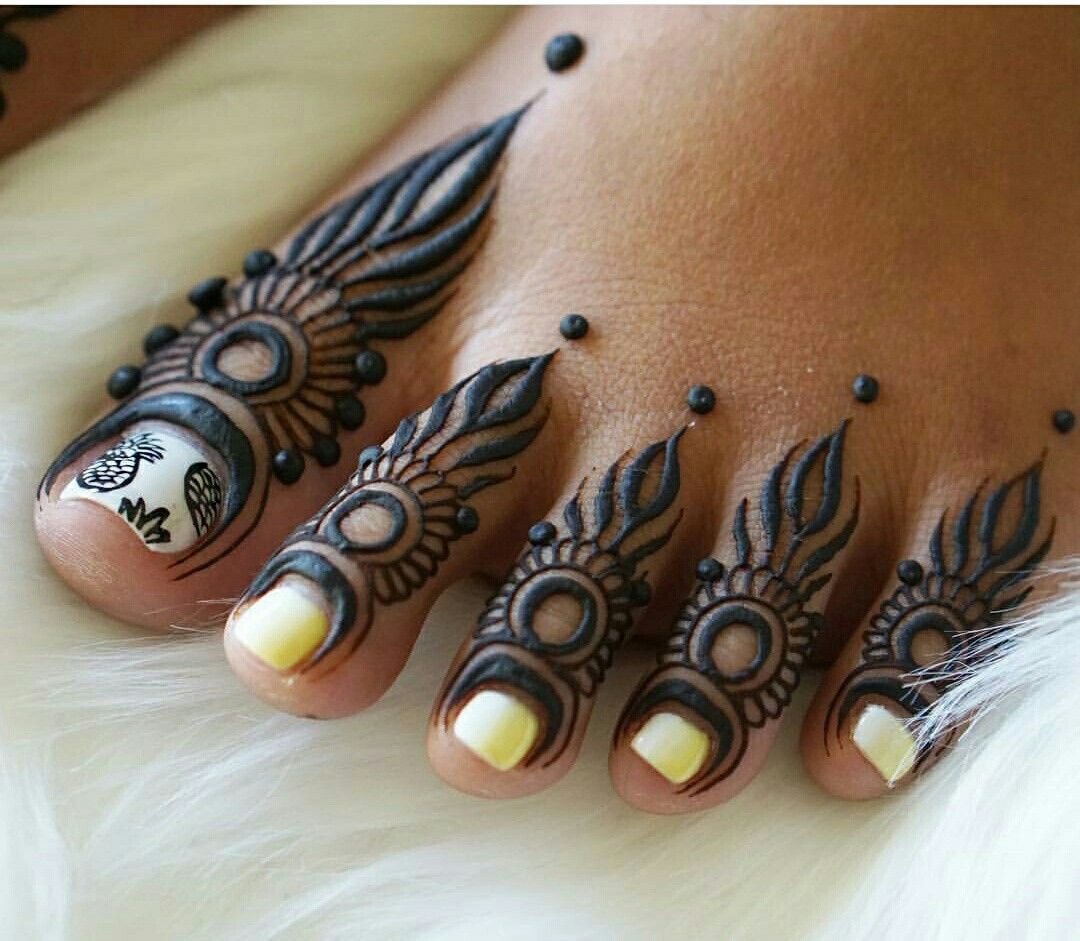 Image via Pinterest
And this intricate design is an epitome of elegance and sophistication
Are you a bride to be? This latest mehendi finger design is what you need, it's super intricate, and is going to enhance your toes under that lehenga, truly beautiful!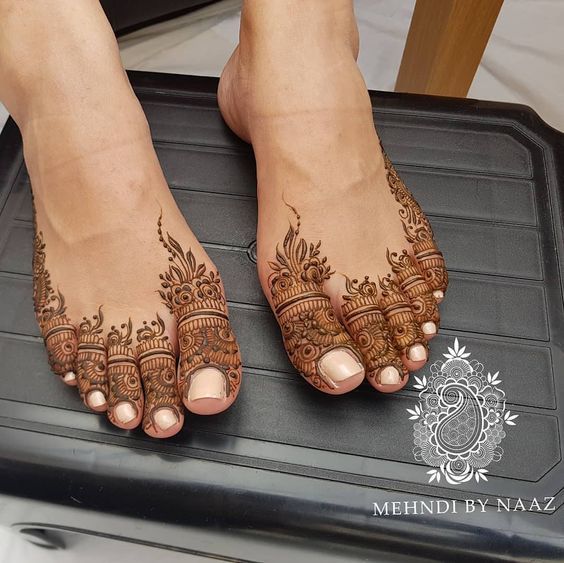 Image via mehndi_by_naaz
Minutely detailed and it looks great! Doesn't it?
Geometric Designs and some unseen patterns are seen in this finger mehendi, giving you the modern edge and the touch of creativeness you need.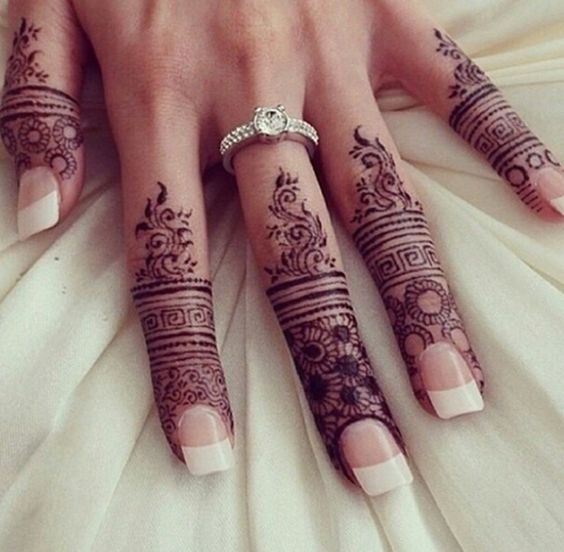 Image via Pinterest
Can't stop admiring this artsy design
Elegance in its truest form, this design is an epitome of creativity, it's super artsy and eye catching.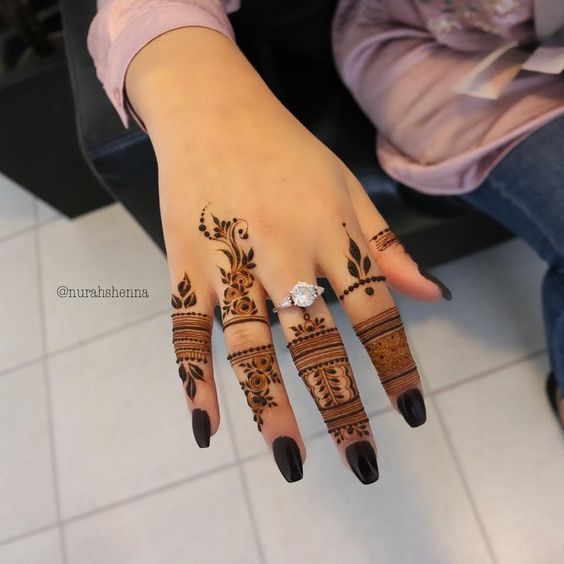 Image via nurahshenna
Oh well! Simply twirl it around
Super unique and bold, this design is definitely adored by all!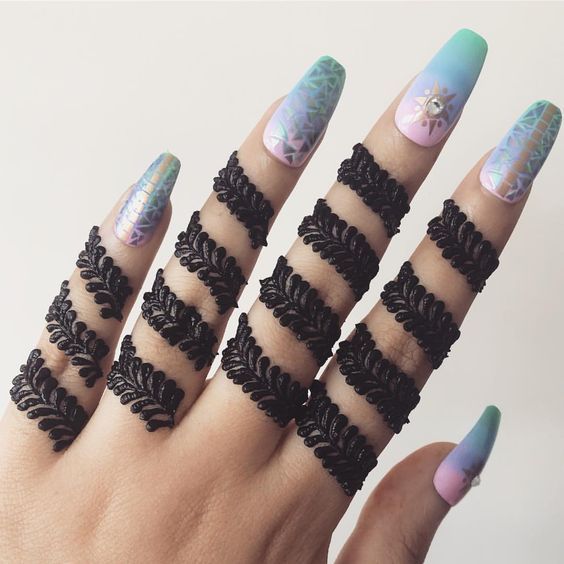 Image viamehndiartist_hira
This one is so unique and different
If you are someone who adores repetitive patterns save this elegant mehendi finger design photo !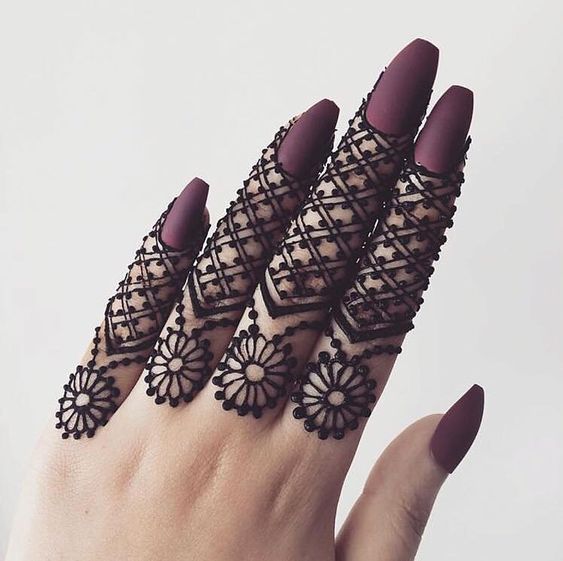 Image via mehndiartist_hira
A sight to sore eyes! Isn't it?
Want the taste of both Indian and Arabic designs? This minimal yet full mehendi finger design is the one you are looking for!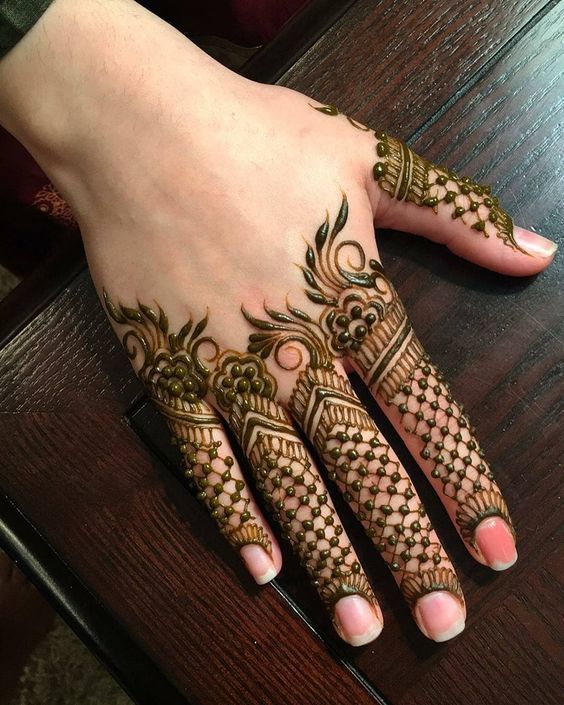 Image via hennabynayalesh
When you want a design less than minimal :D
Less is more, and this design is the exact definition to it. Sleek, classy and trendy all in one!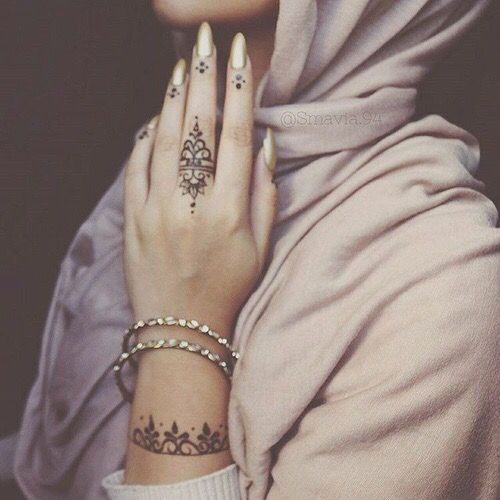 Image via Pinterest
Extremely easy pattern which is fresh and pretty
Very attractive and minimal, you definitely will make some heads turn with this one !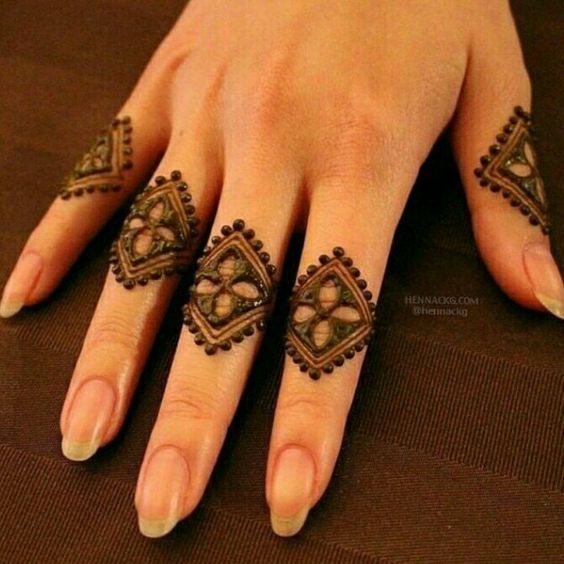 Image via Pinterest
This attractive design is to die for
Artsy and topped up with some floral motifs you really have to try your hands on it !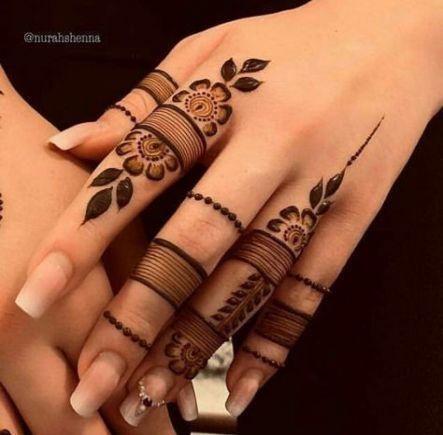 Image via Pinterest
Can't wait to have look at this design's stain
This one gives a feeling of luxury! Definitely a showstopper!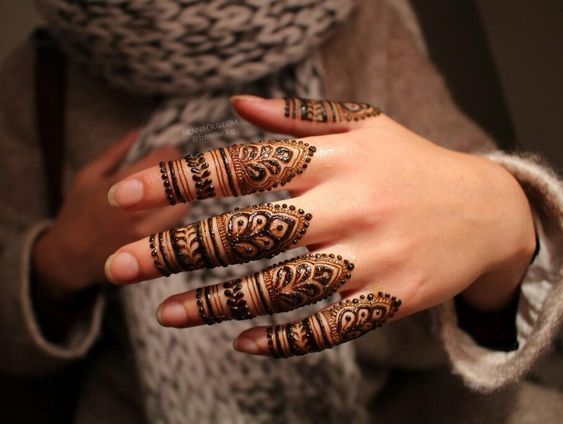 Image via hennackg
Well well well who thought that finger mehndi designs could be soo fresh and next level exceptional! It's time to stop settling with those average finger mehndi designs, and go ahead with something that you love! Also, don't forget to tell us which designs out of these got you hooked?