South Indian Bridal Makeup: 20+ Brides Who Totally Rocked This Look
BY Garvita | 23 May, 2019 | 47411 views | 8 min read
Don't we all just love makeup? Bleh! Is that even a question? Well, we are not talking about your daily wear makeup here, but the wedding makeup!! There's no denying the fact that bridal makeup gets us all really excited, and with South Indian Bridal look, along with their makeup artists, going a step ahead and experimenting with their looks, it is becoming difficult for us to choose the best amongst the rest. THEY ALL ARE SOOO GOOD AND EXCEPTIONAL! 
Going down south, we know how south Indian weddings are all minimal, intimate and classy! However, coming to the south Indian makeup look each and every element is a statement in itself. There is something remarkable about south Indian bridal makeup, for a matter of fact that despite so many maximal elements like the jewellery, silk saree et all, South Indian brides manage to nail any and every look. Keeping the same in mind we scouted some south Indian bridal makeup images and found major inspiration for you all. And trust me, you will fall in every bridal look as you will scroll down and find gorgeous South Indian makeup inspiration. So hold on your breathe and get started! Here are 20+ South Indian bridal makeup ideas that you're bound to love!
This south Indian bridal makeup with brown undertones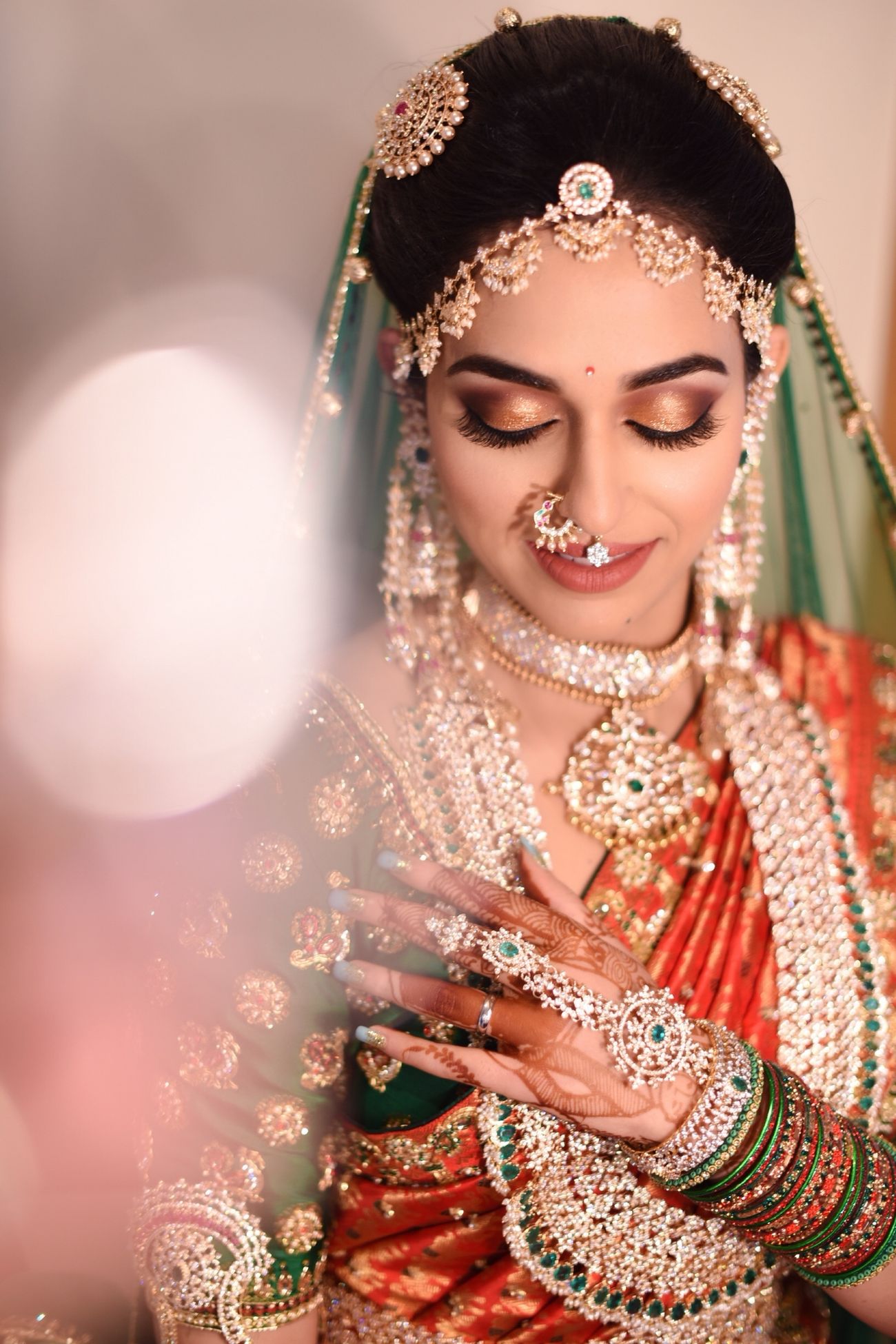 Image via Tamanna Rooz 
This south Indian bride looks stunning in her burnt orange + bottle green Kanjeevaram, and subdued the bling of her diamond jewellery with minimal makeup with a dash of sheen on the eyes. And oh, that gold in her eyes has completely caught our attention. South Indian makeup is known for its subtlety and here is the solid proof! That muted hue on the lips has elevated the complete look.
This bride who gave some major traditional South Indian makeup goals!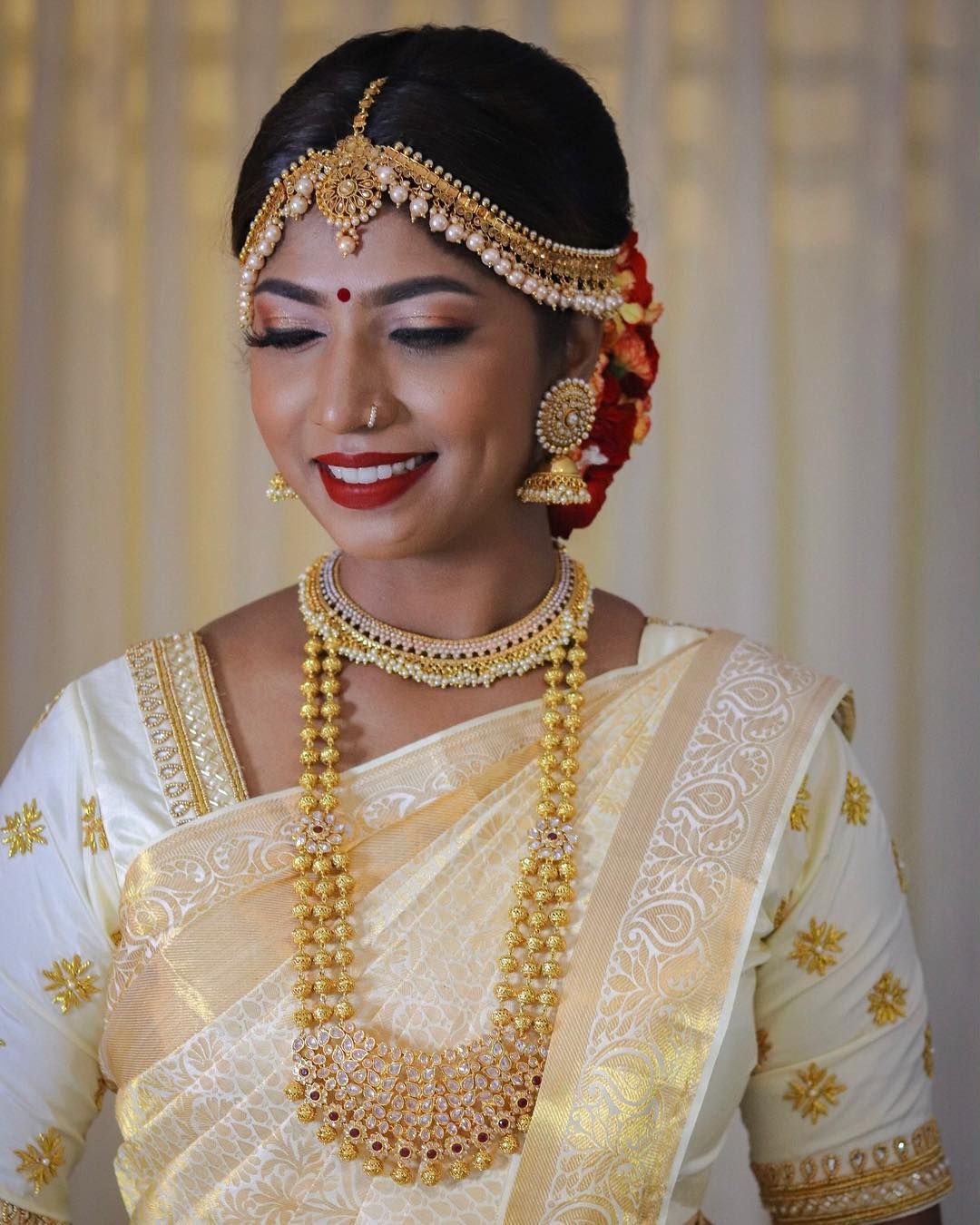 Image via @thestyles_bysha
This South Indian bride slayed the whole look with subtle eyeshadow and a sassy red lipstick with a traditional matha patti! As they say red lips can never go wrong and this is so true. It goes so well and this South Indian bridal look is speaking a million words! 
One with a pop of bright color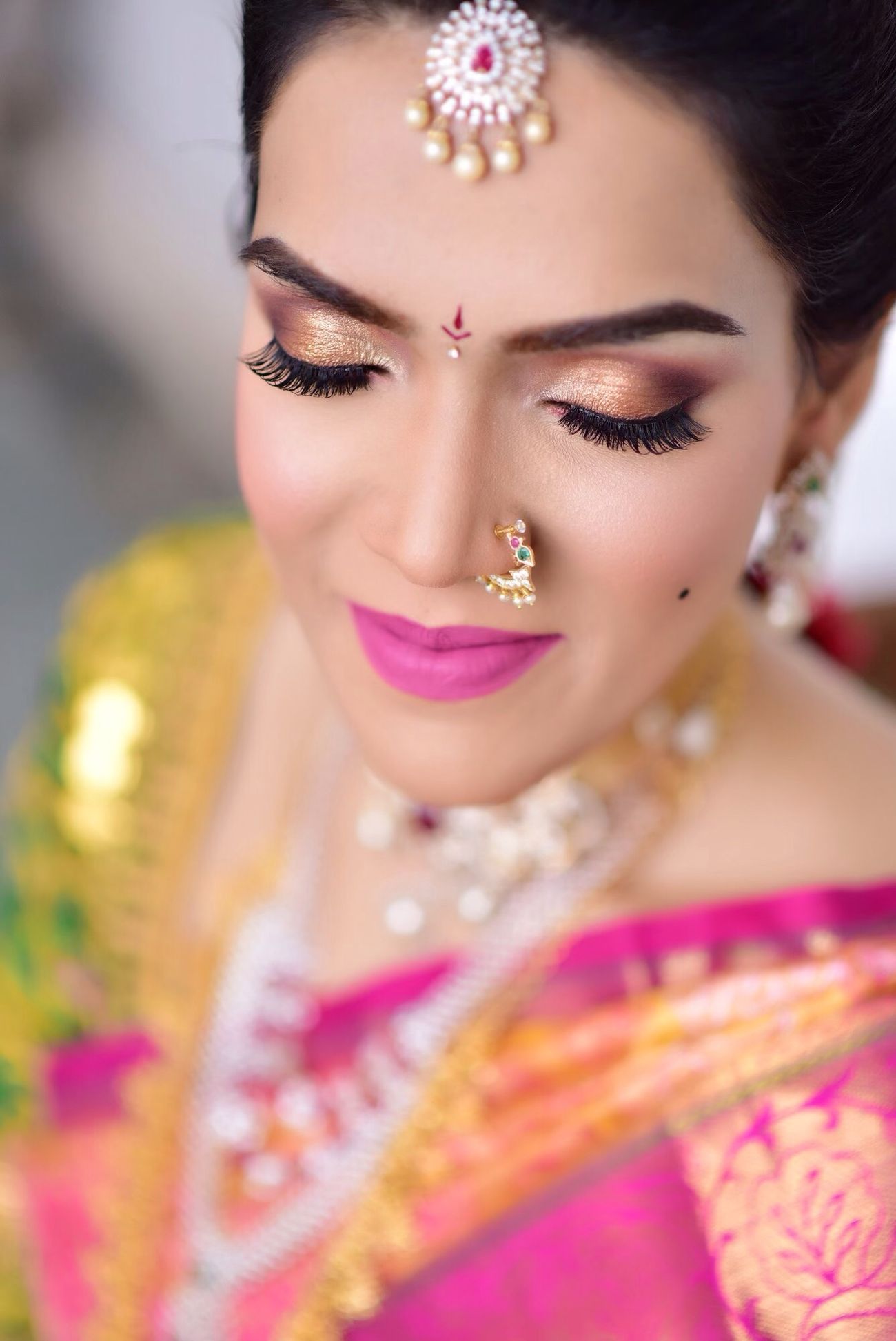 Image via Tamanna Rooz 
While her outfit already caught our attention, we'd say the highlight of the look is definitely the matching lipstick that compliments her attire. Hint of copper on the eyes was needed, to make it a perfect south Indian bridal makeup! <3
Go bold or go home!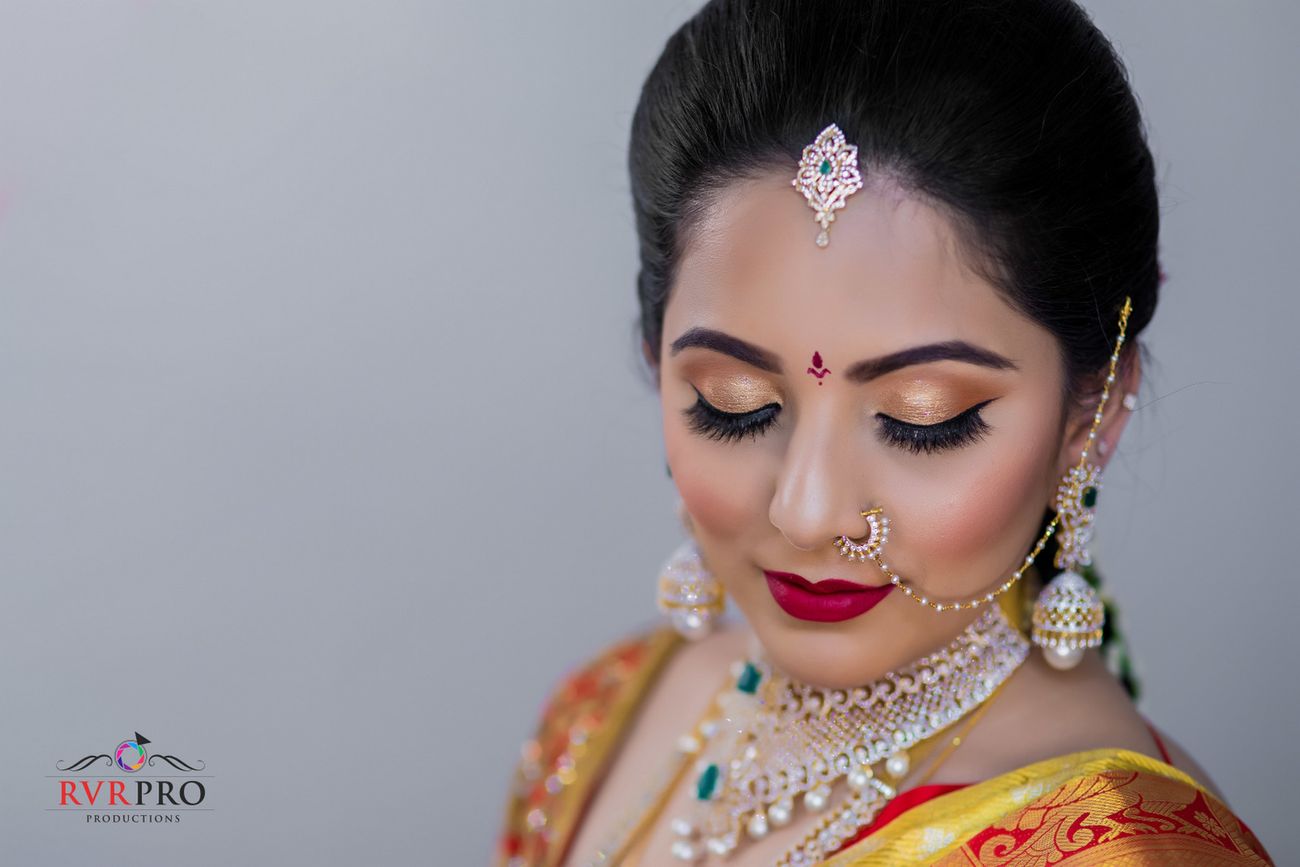 Image via Make-up by Afsha Rangila 
One can never go wrong with berry red and gold! Well, it's a classic combination after all. This south Indian bridal makeup is all about perfect contour, bold lips and sparkling eyeshadow. Can't help but fall in love!
Classic with an antique twist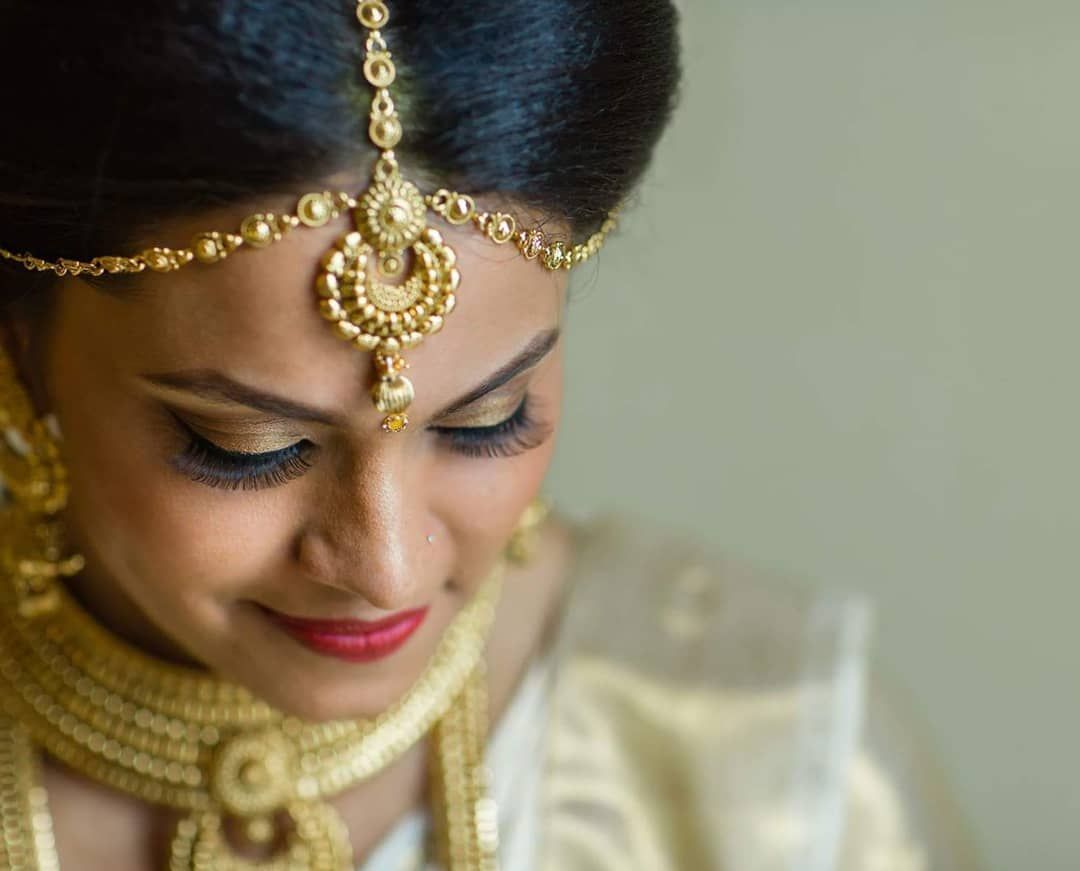 Image via @reka_muah
Everything about this bridal look screams minimalism! While she, too, opted for a classic combo of gold and red but instead it's an antique gold, balanced with a sombre shade of red.
A monotone south Indian bridal makeup? Hell yes!

Image via Makeup By Varalakshmi★ 4.9
The sassy orange smoky eyes definitely stole the show in this look! While the face has been given a matte finish, we love how the lips have also been kept orange to compliment her attire for a monotone vibe.
A red lipstick fixes everything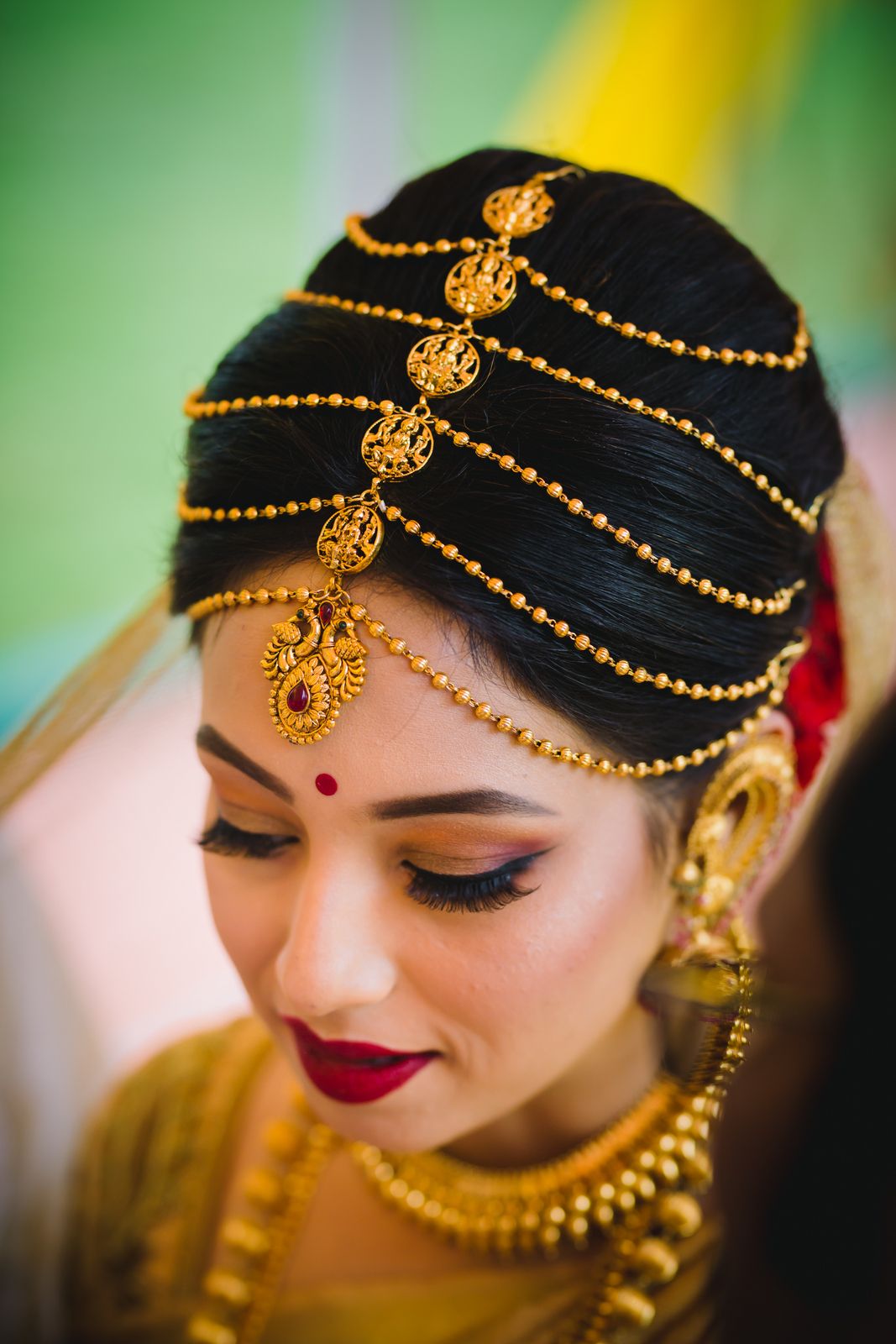 Image via Journeys By Vivek★ 4.8
This south Indian bride definitely created magic with her bridal look! Since the outfit was all gold, she was given a matte makeup to balance it out. The classic hairdo with red roses, make us want to call it '80s look'!
This bride color-blocked all the way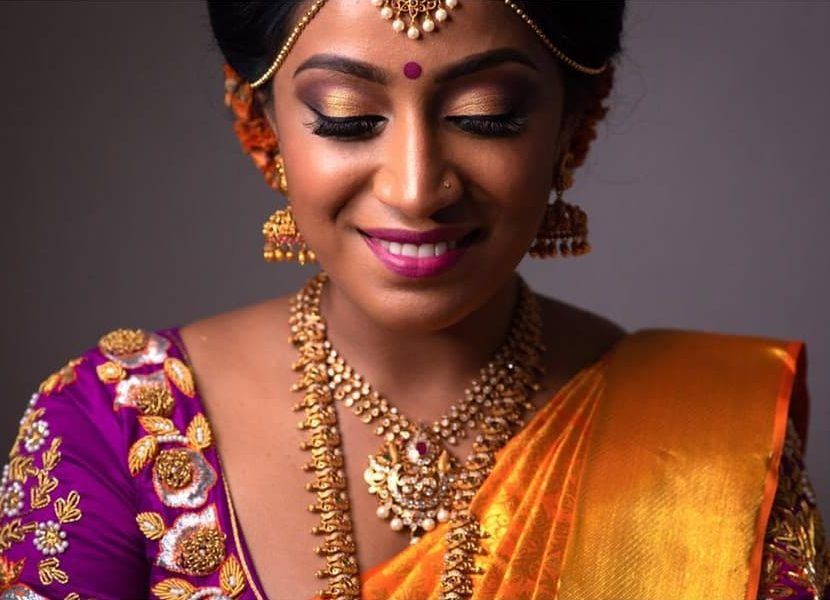 Image via @reka_muah
This south Indian bridal makeup is vibrant looking yet delicate all way long! The soft hued makeup matched her saree and truly complimented her whole look.
The Sunshine South Indian bride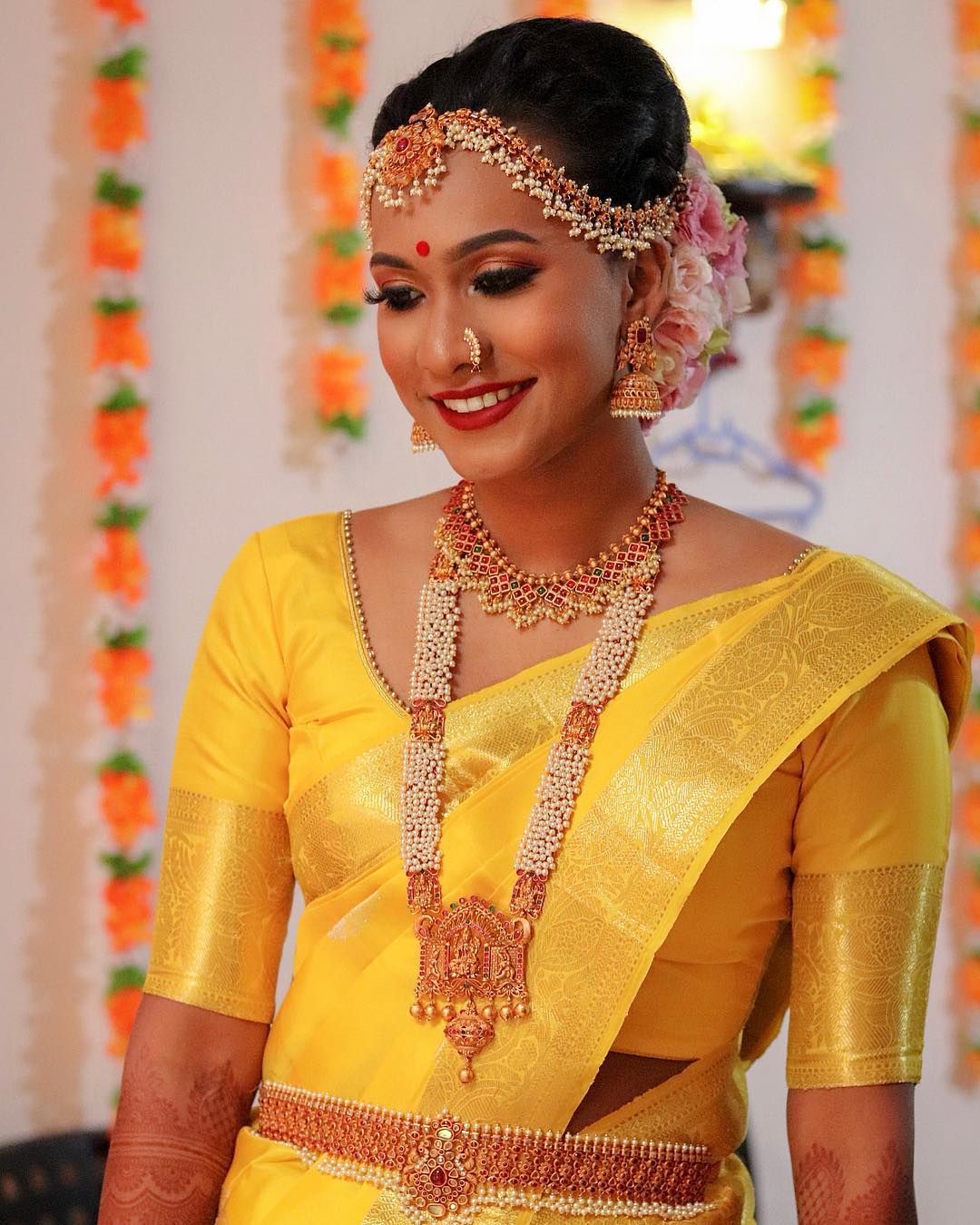 Image via @thestyles_bysha
Loved her traditional look in an offbeat Lime Yellow Silk saree. To know details about how to do south Indian bridal makeup, we got in touch with the MUA to understand how did she achieve this look - "For the makeup, we opted for strong red lips and a subtle rose gold for her beautiful eyes!"
Accentuated the attire with traditional jewellery, and this stunning south Indian bride was ready to shine!
A shimmery South Indian bridal makeup that has all our hearts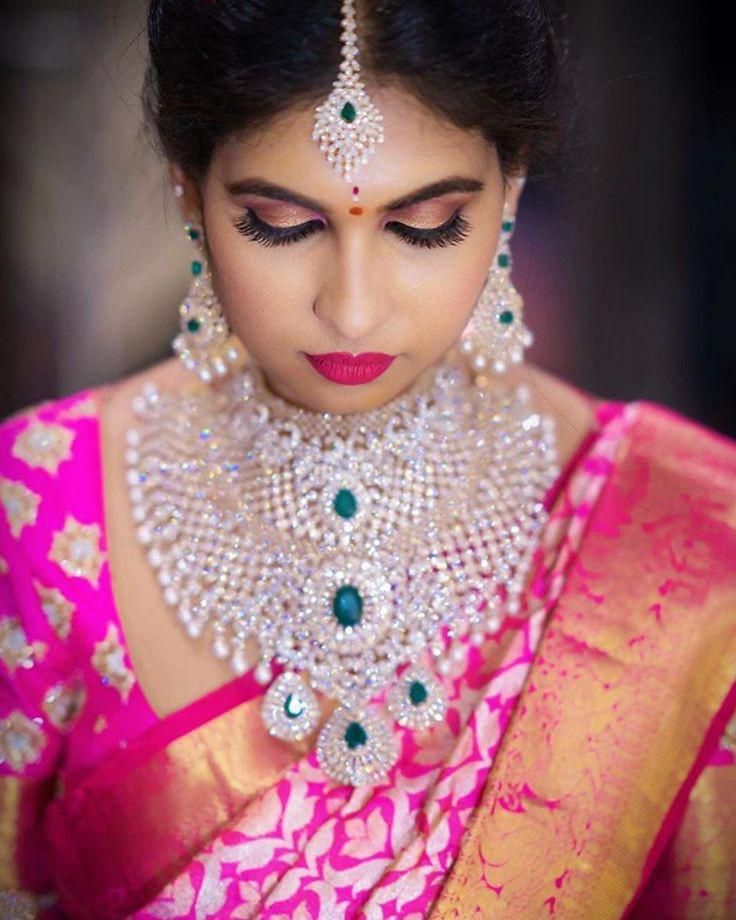 Image via Makeovers by Lavanya★ 5
This south Indian bride definitely tops our list of favourites, purely because it's simple yet shimmery at the same time! The Fuchsia lips adds a charm to this gorgeous look.
This one who gave 'fine like a wine' vibes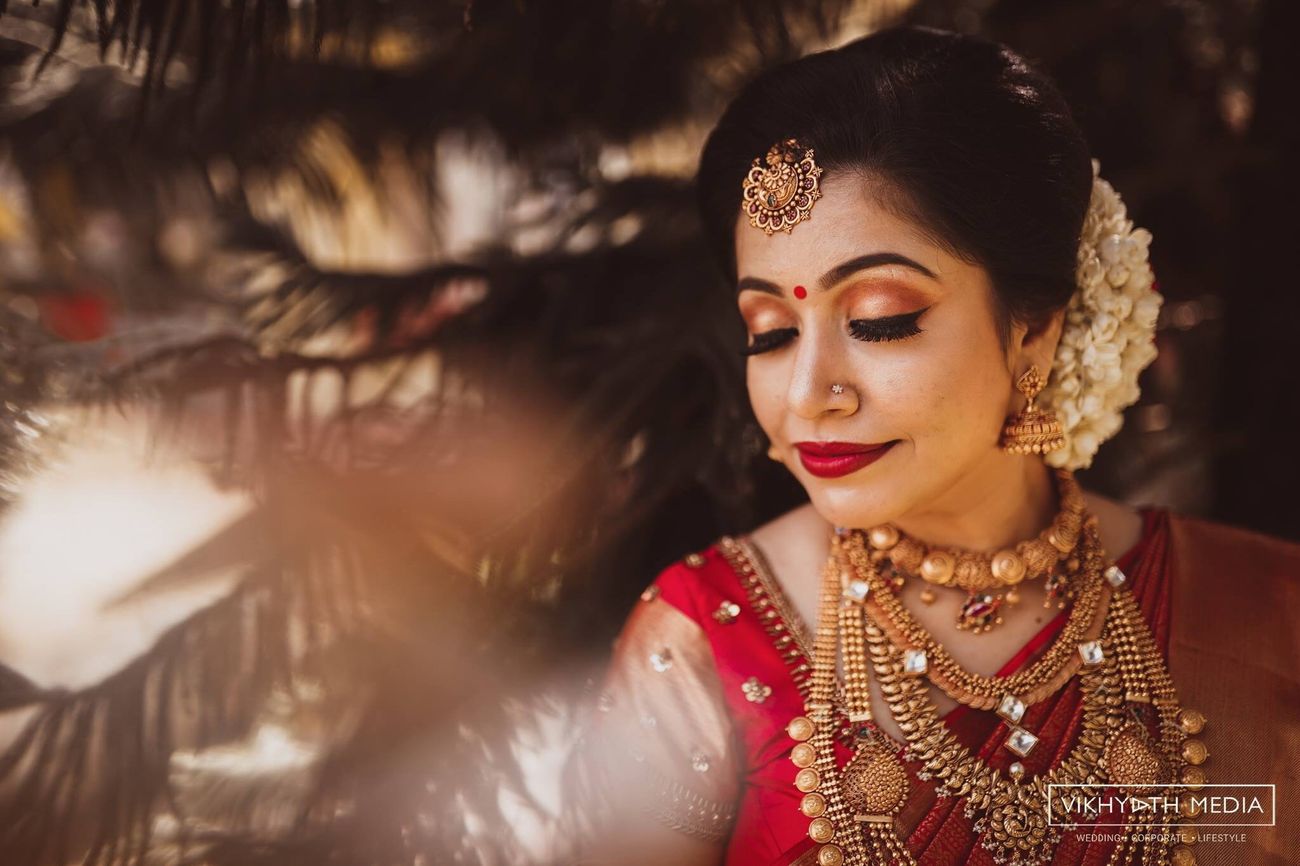 Image via VikhyathMedia★ 4.9
Loved how this south Indian bride got wine red lips done and accentuated her eyes with a hint of deep rosy pink and gold with a winged liner! Her hairdo was an elegant bun wrapped around with traditional mogra string.
Oh dayum! Look at those glossy eyes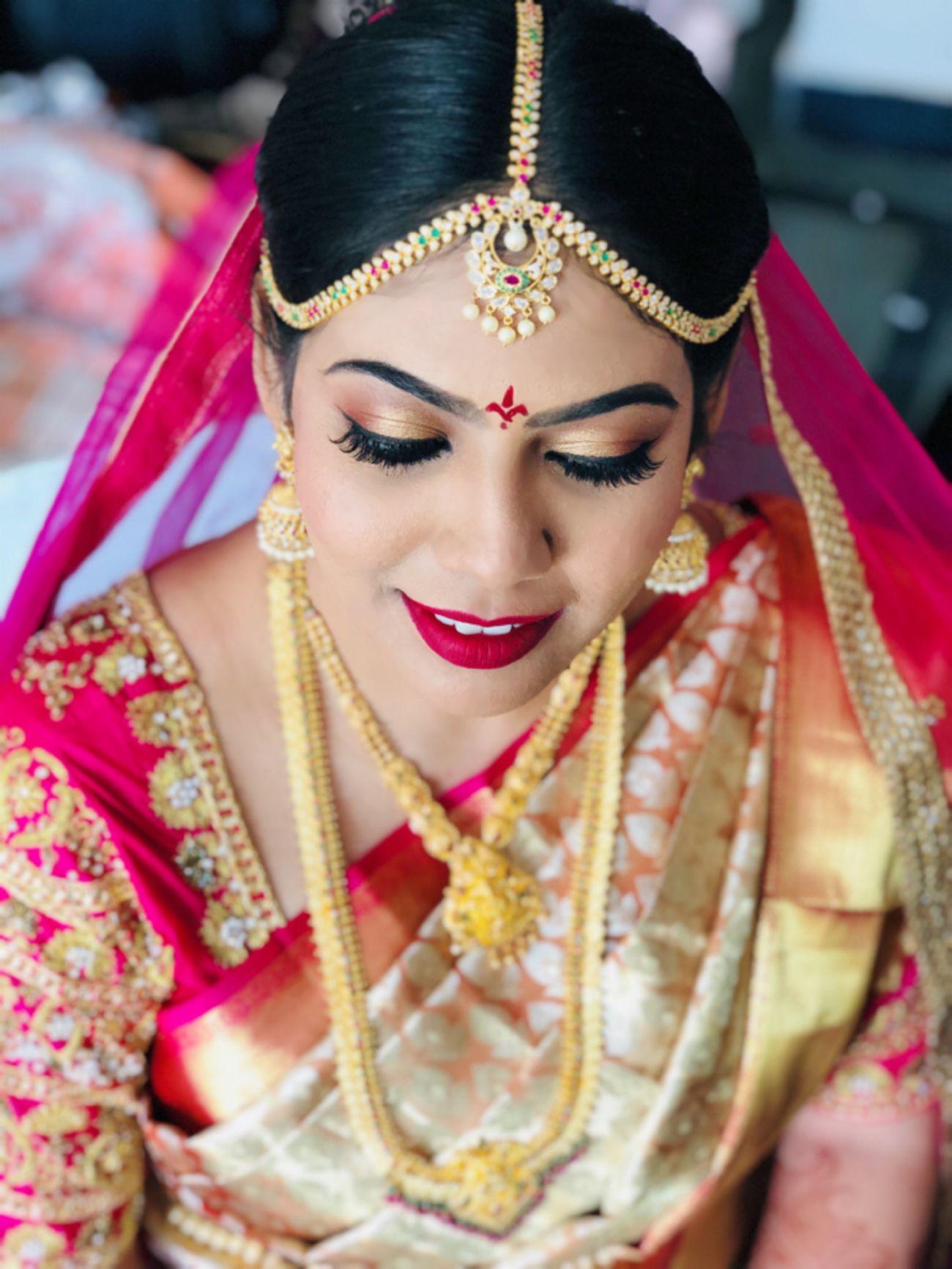 Image via Ronan Mili Makeup Artist★ 4.8
The south Indian bridal makeup is all about subtle yet attractive glossy eye makeup ! This Indian bride totally rocked this look. Can't get our eyes off that intricately detailed bindi, my my!
The one with dramatic, bold eyes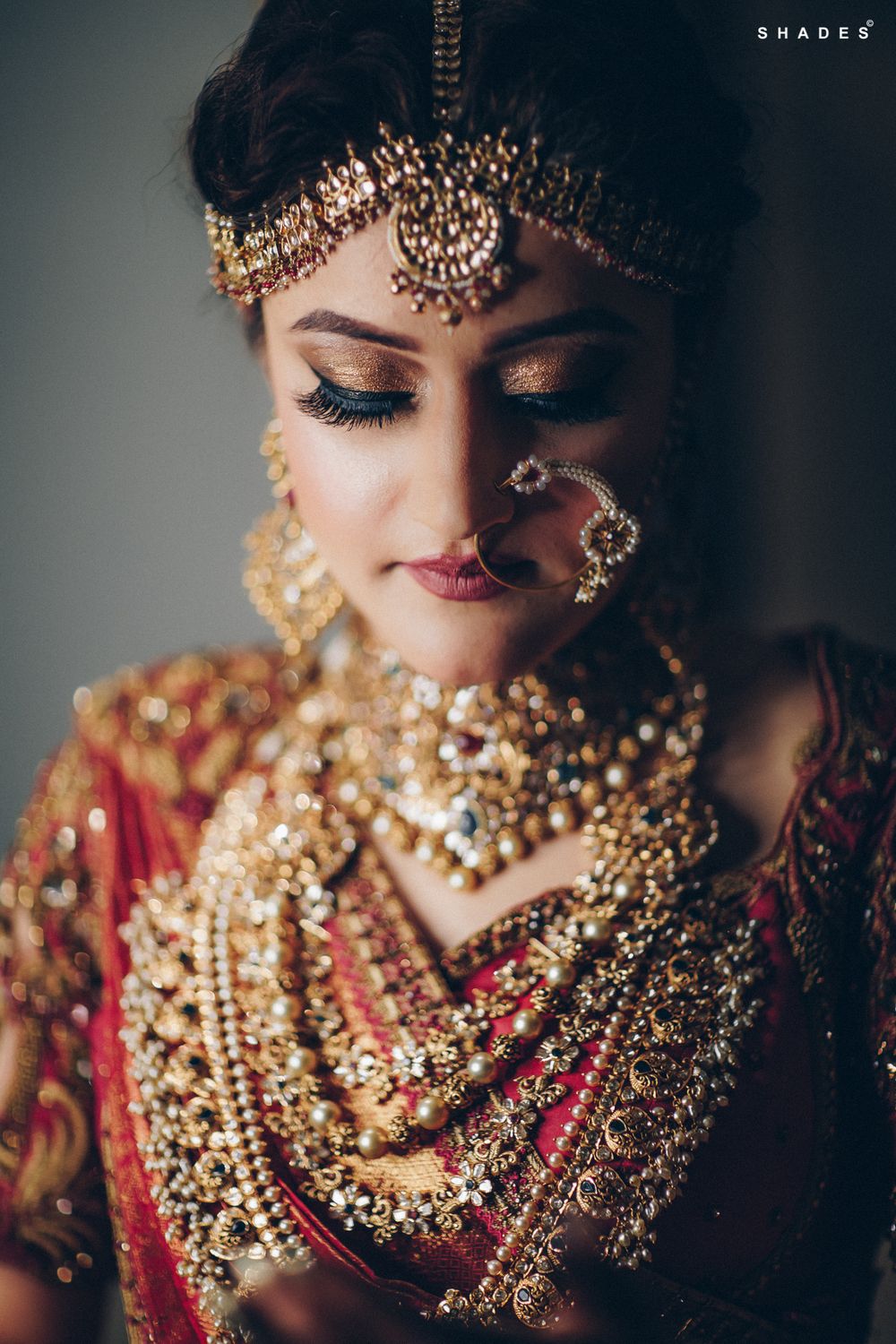 Image via Shades Photography★ 4.3
The bride created a dramatic look with bronze eye shadow, over the top eyelashes and brown lips! The chunky jewellery makes it even more eccentric and striking.
When it's a 'no make-up' makeup look!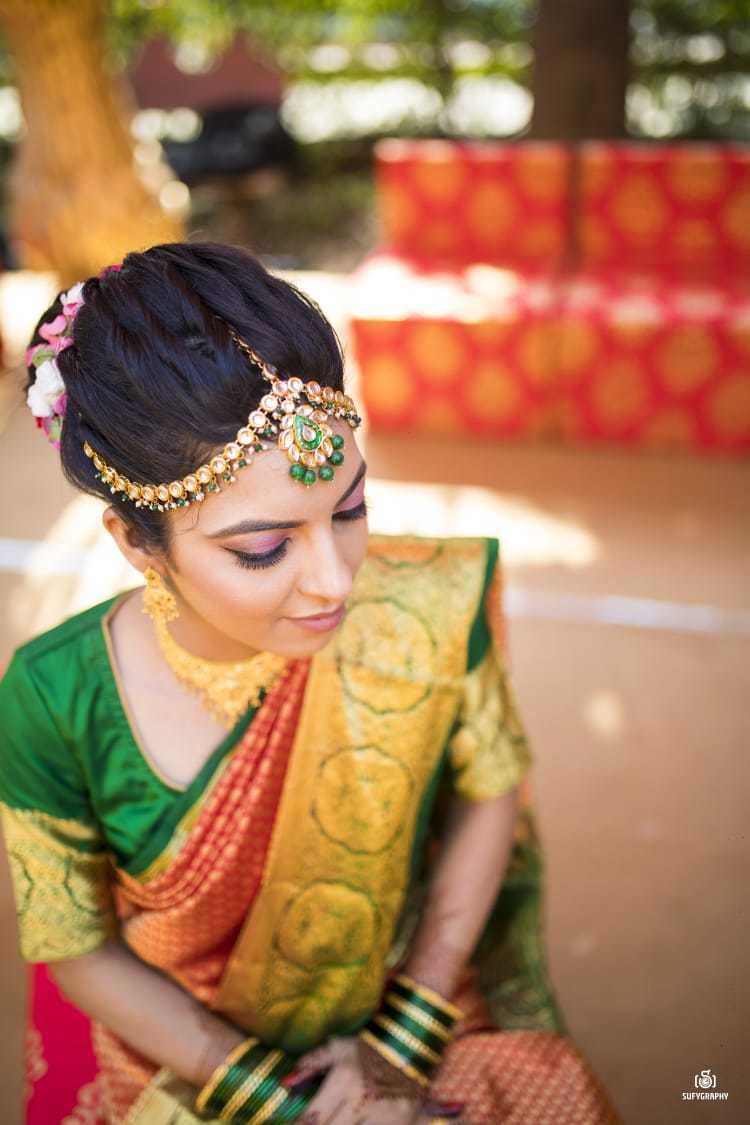 Image via Vaani Pandit Makeovers★ 5
This south Indian bride sported a natural look with kohl, that brought out her stunning eyes! The peachy nude added the right amount of grace to her look.
Soft brown and gold eye makeup for the win!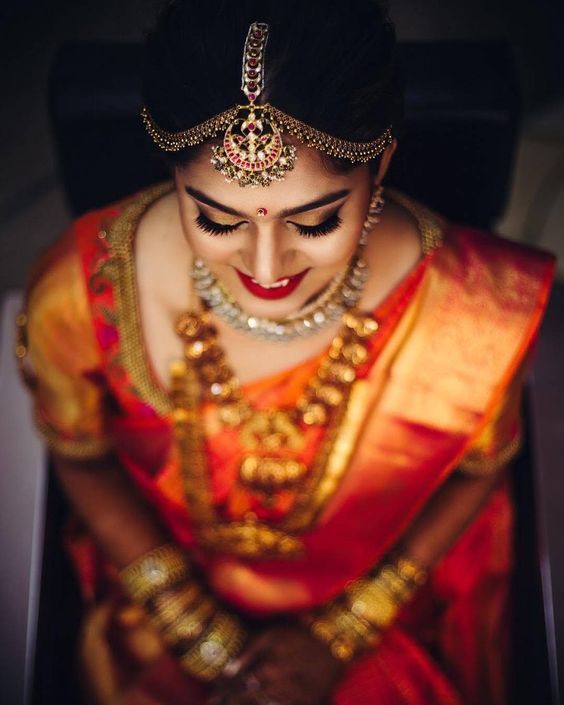 Image via Pinterest
This is such a gorgeous look specially when done with a traditional bridal hued Kanjeevaram saree! The temple jewellery makes this one look offbeat and pretty.
This bride took pink lips to a next level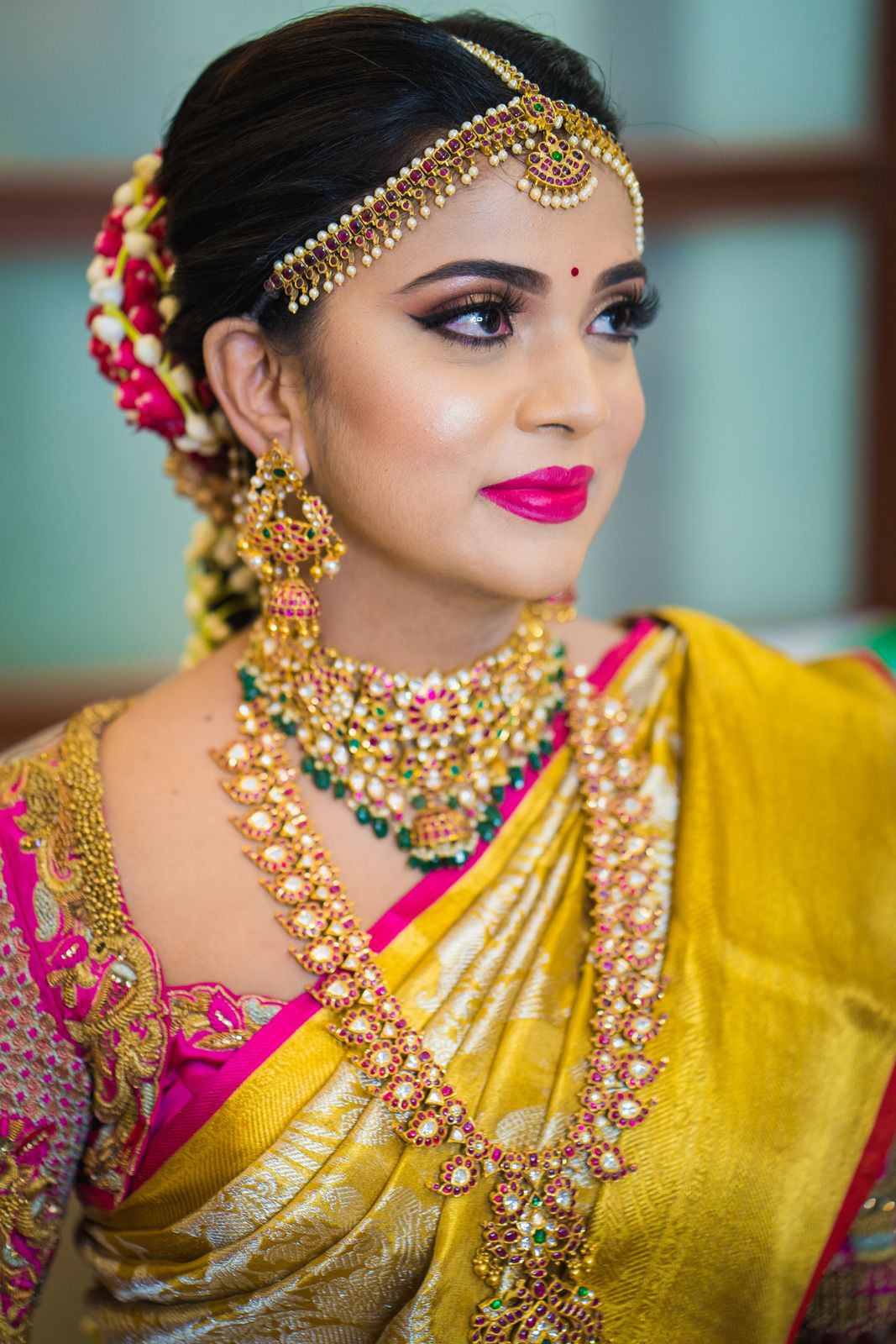 Image via Studio A★ 4.8
Pretty in pink, isn't she? This beautiful south Indian bride is a stunner in pink and gold! The highlight on the cheeks is unmissable and perfect to the T. Such magnificence, much wow!
When a dewy and lustrous makeup look is the best bet

Image via Pinterest
Since her outfit was tilted towards the louder side, she wore simple makeup to accentuate her features! The blush pink lipstick took this look up one notch.
This south Indian bridal look was effortlessly fierce!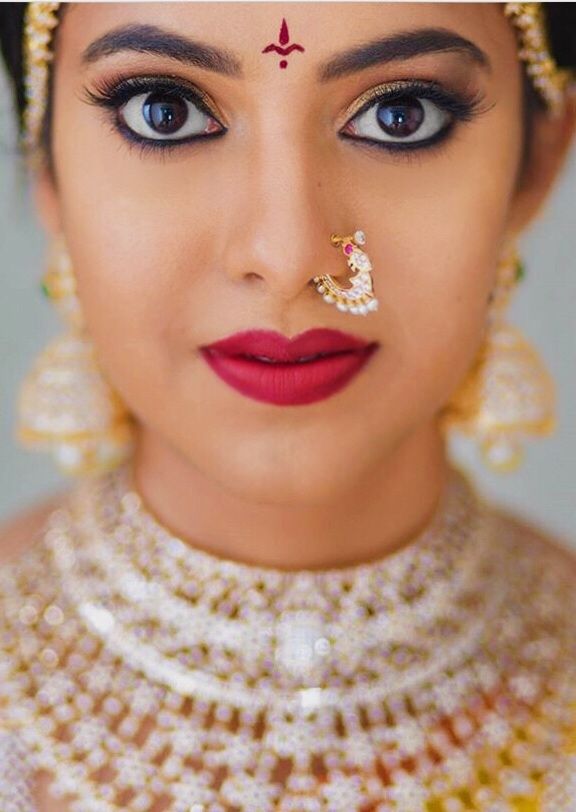 Image via Siro Make-up Studio - by Edward and Zing★ 4.8
This look is simple yet strong, as the beautifully smokey eyes makes the look both elegant but bold at the same time! You should definitely screenshot this one.
This bride looked like a queen of minimalism on her big day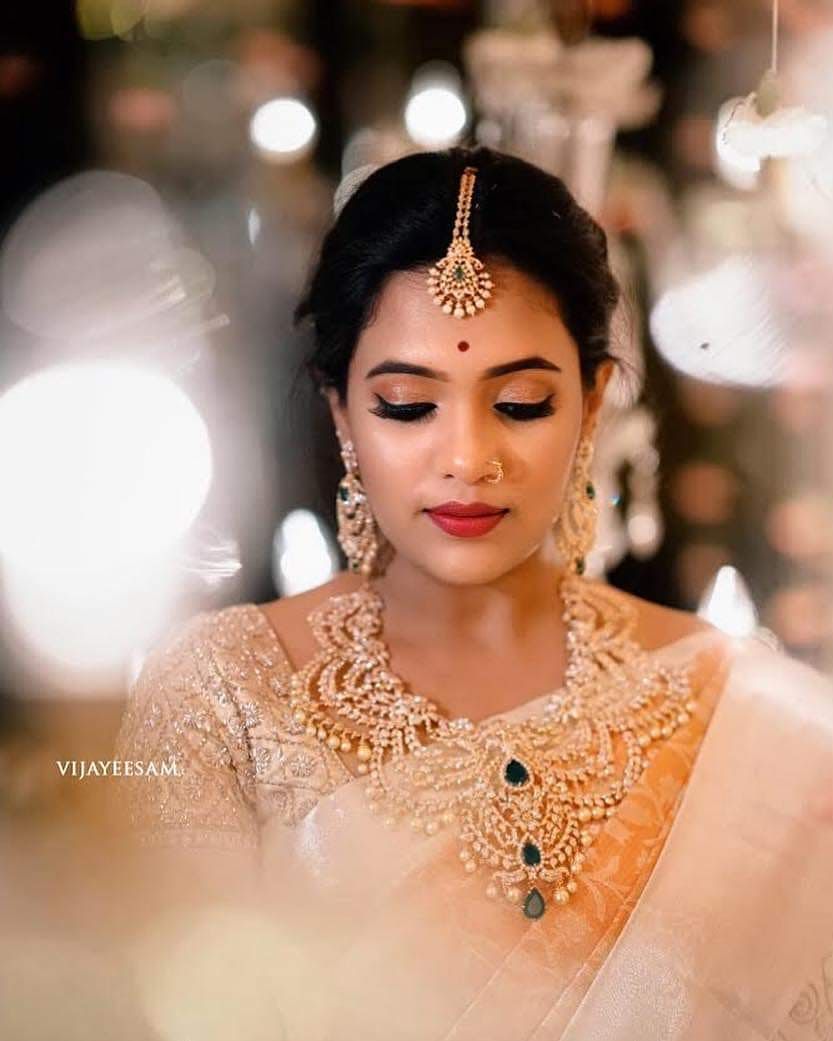 Image via @manasamakeup
Loved the way how elegant her whole look turned out to be! Classy and timeless. The main attraction of this south Indian bridal look was her exquisite jewellery! Can easily say it's one of our favourite south Indian bridal makeup images.
Too gorgeous to leave one mesmerised!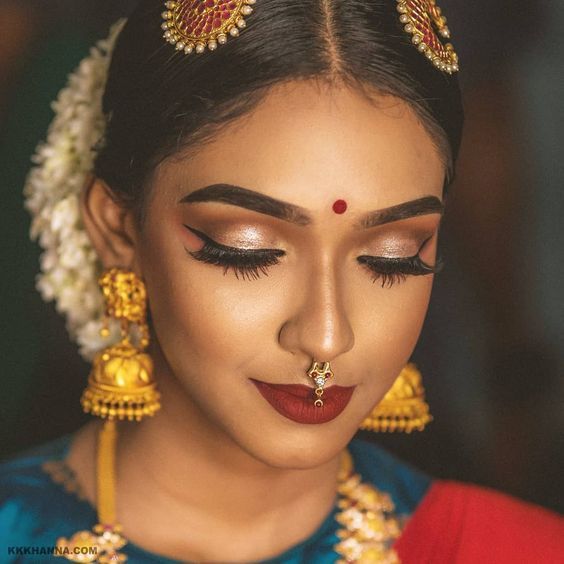 Image via Pinterest
The makeup really enhanced her sharp features, and the lightweight jewellery let the makeup be the highlight of her look. 10/10 for that bit of shimmer that gave the skin an illusion of a dewy glow! Flawless, to say the least!
This south Indian bridal makeup is OTT, and we're loving it!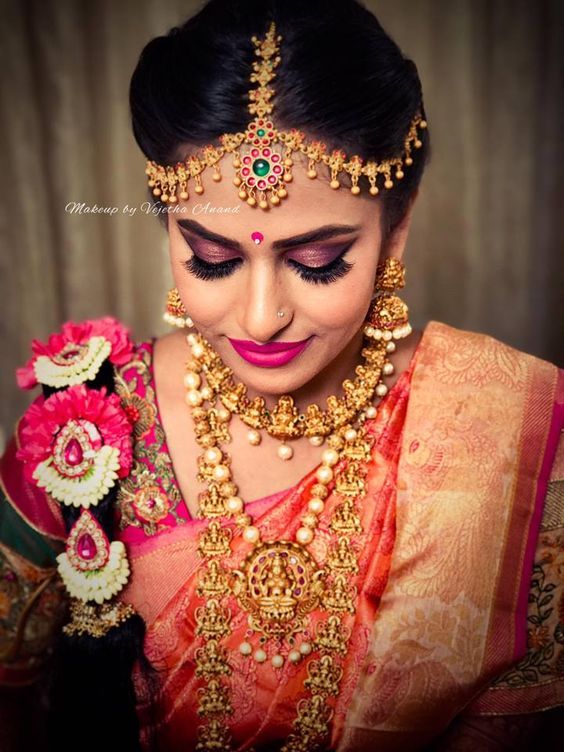 Image via Pinterest
For a  south Indian bride, everything from the outfit to hairdo is a statement in itself, and hence, we see brides playing very safe when it comes to makeup! However, this bride took a plunge and went extremely extraaa with her eye makeup and we couldn't help but laud her for this. Try only if you have the confidence to pull it off!
Smokey Eyes can Never Lie!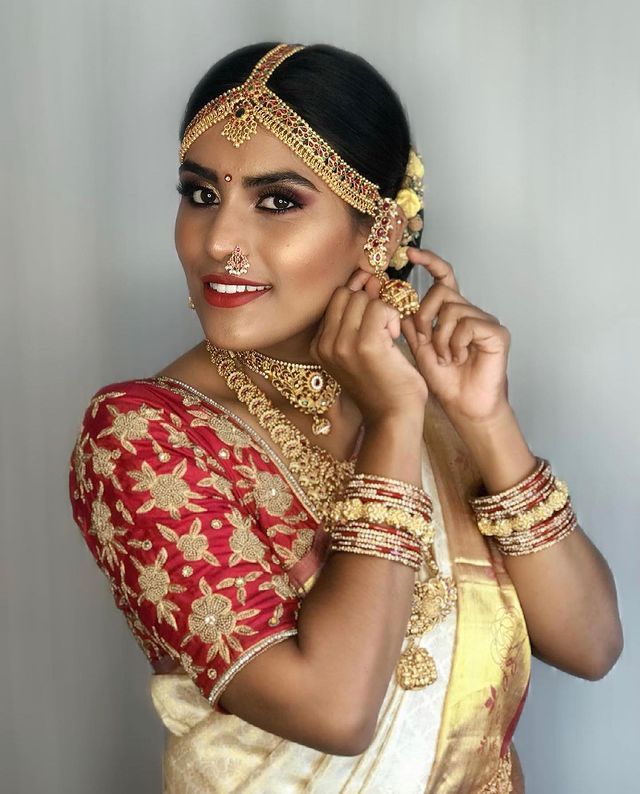 Image Via Instagram
We're loving the ombre smokey eyes and how it is complimenting the gold jewellery. Isn't this South Indian bridal makeup just perfect?
Soft Makeup + Pastel Hues = Perf Combo!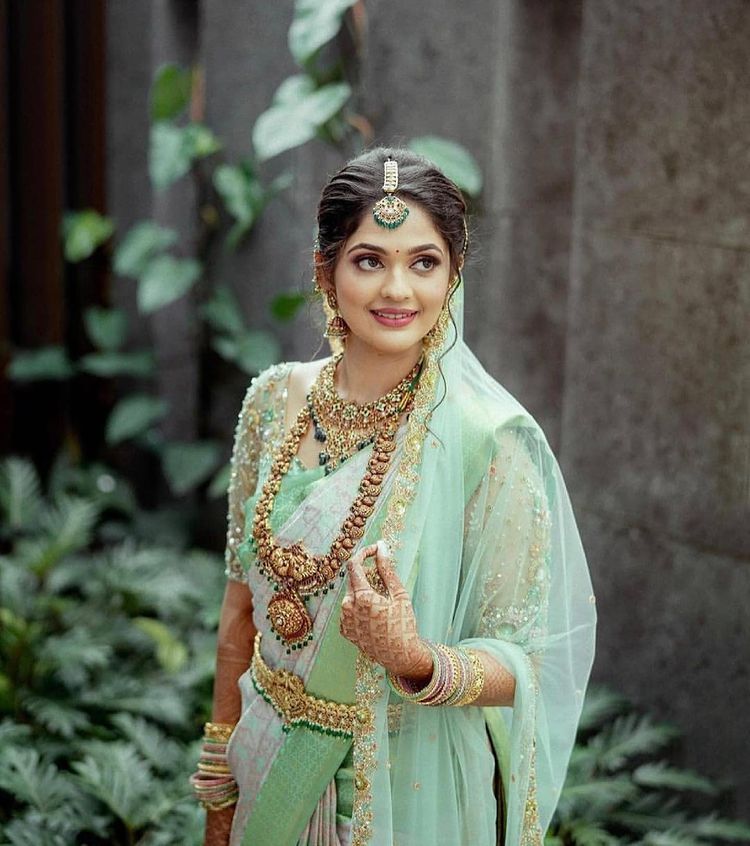 Image Via Instagram
We are already in love with the hue of this outfit and on top of it this soft makeup has leveled up the South Indian bridal look!
Pink Eyes for the Soul!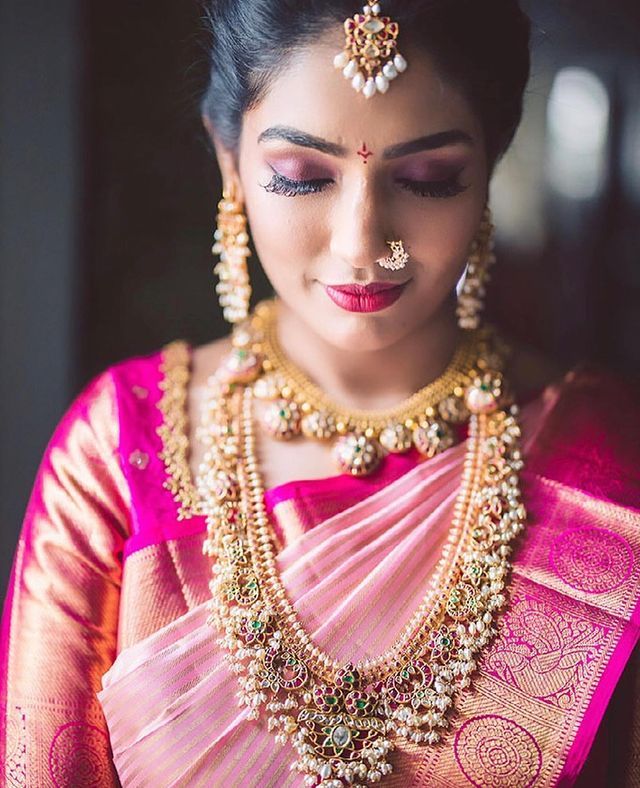 Image Via Vijayasurugula
This bride is rocking this south Indian makeup look in this gorgeous pink hues! We are loving every bit of this look, right from her pink eyes to deep pink lips! 
Subtle Indian Bridal Look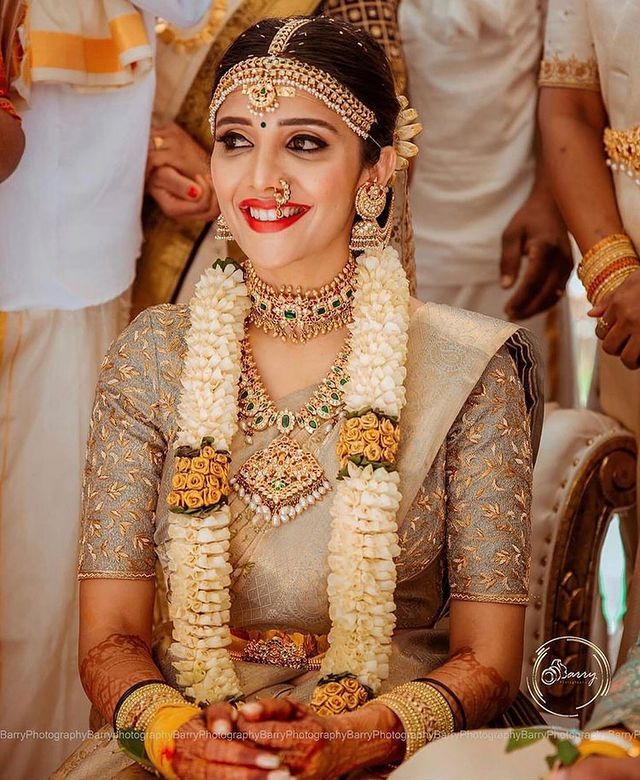 Image Via Milana Nagaraj
Oh my my, this bride is giving us major inspiration. Keeping every element subtle but the red magic in her lips has elevated her South Indian bridal look!
Happy Brides and Gorgeous Makeup!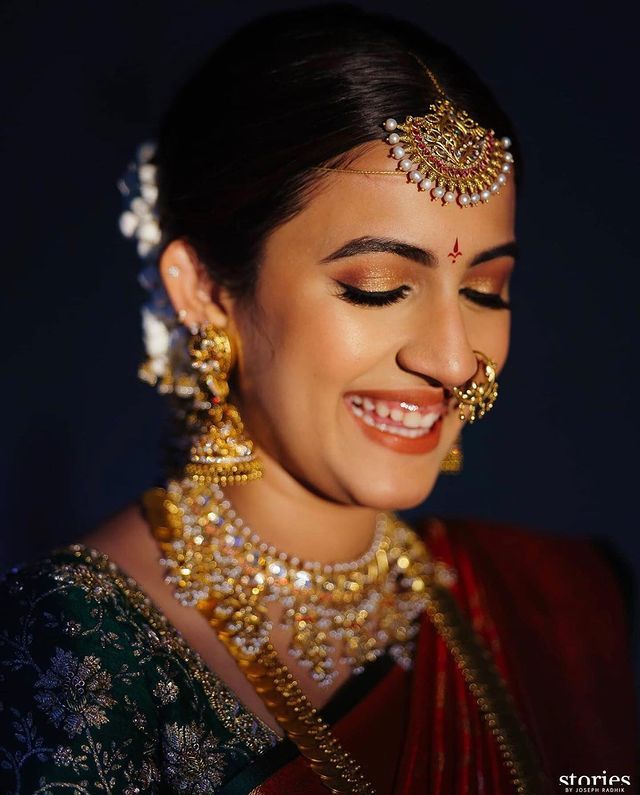 Image Via Instagram
This soft glam look with gold eyes and bronze lips has won our heart!  
Oh darn! These south Indian bridal makeup images totally left us awestruck. 
If you stayed till the end, then we're sure that you loved all the looks! But any favorites that you'd want to share? By now you must have got a gist of how to do south Indian bridal makeup, by keeping the outfit and jewellery in mind, while for the actual work, we'd suggest you leave that for the makeup artist to decide!!