30+ Engagement Hairstyles For Brides-To-Be!
BY Sakshi | 26 Mar, 2019 | 86535 views | 10 min read
The Engagement look is usually different from the Mehendi or Bridal look. Think daintier, less quirky and basically, a more classic style. Whether you are a bride who loves something minimal and classic, or someone who loves over the top and dramatic looks, there is engagement hairstyle inspiration we have for every kind of bride. That is why, we have divided the hairstyles for engagement into certain categories- you can pick something which suits your style more. Plus, another thing to keep in mind would be the kind of outfit you're choosing to wear- there are hairstyles that look better with lehengas, and those that look good with gowns, and then there are some, which look good with any kind of outfit. So here are over 30 ideas for you to browse and pick from. We have divided them into 6 different types of engagement or pre wedding function hairdos. You can scroll through all of it below or use the guide below:
Minimal And Fuss Free
These are easy peasy hairstyles which not only look simple and minimal, but are also fuss-free, meaning, easy to carry off and for your MUA or hairstylist to work on. From tied buns to open curls, you can pick something depending on your hair, face structure, and outfit type.
1. High top knot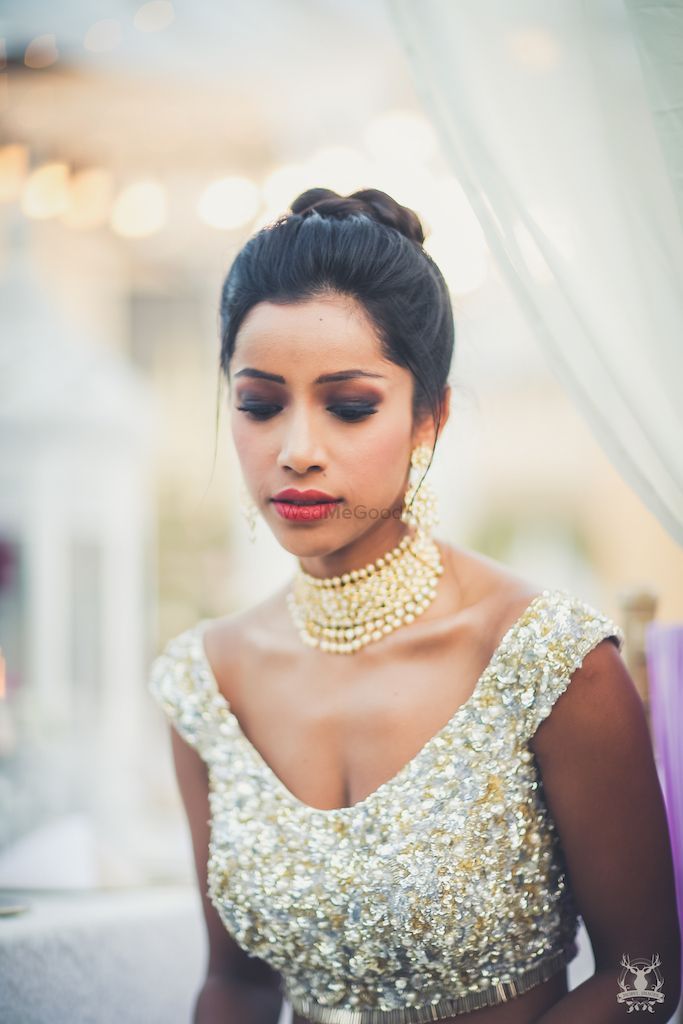 Image via Tuhina and Filip
Adds this glam look to the bride, and we wonder why more brides don't pick this! Clean and structured, it's also the kind of bun you don't really have to worry about much once its made. This engagement hairstyle can elevate your look completely. This easy breezy hairstyle has all the power to make you look absolutely stunning.
2. Simple and glam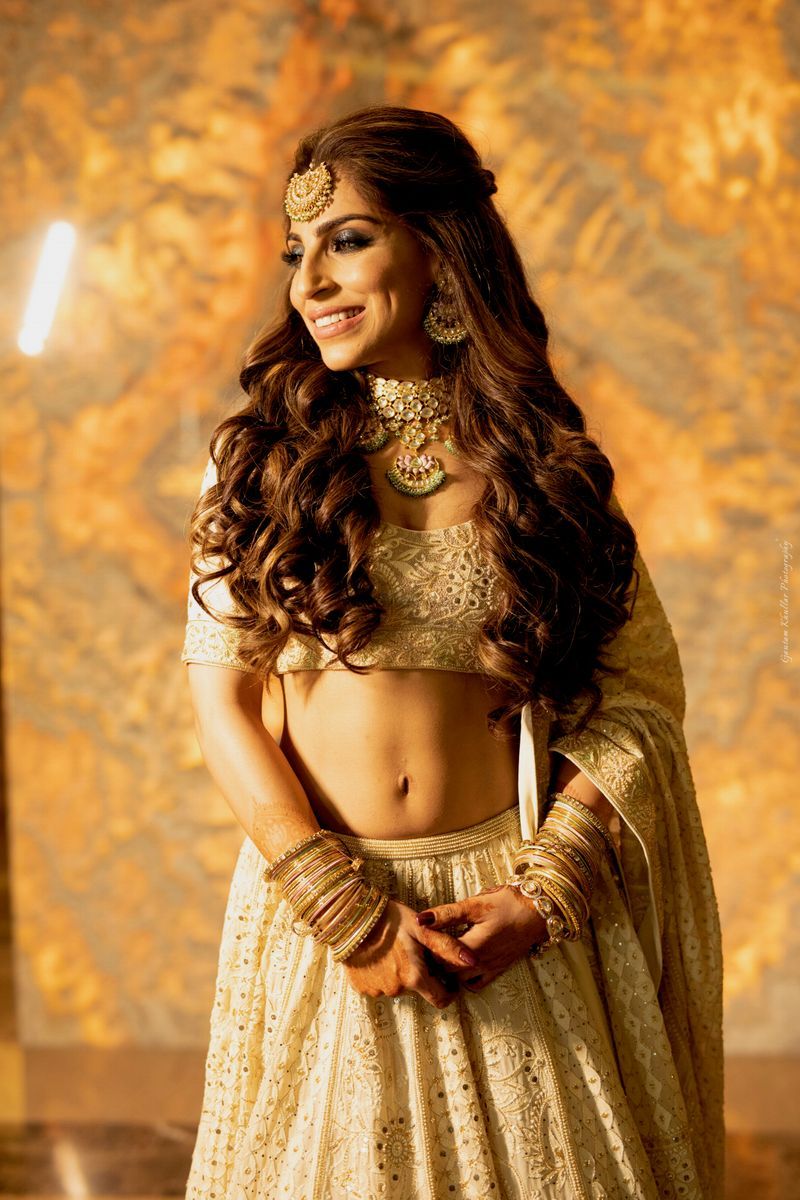 Image via Sukriti & Arjun
As they say, soft curls can change the whole look,  love this effortlessly stylish hairstyle for a bride for any of her pre wedding looks- quite glam. If you don't have such thick hair naturally, then you can always get extensions that match.
3. Simple low ponytail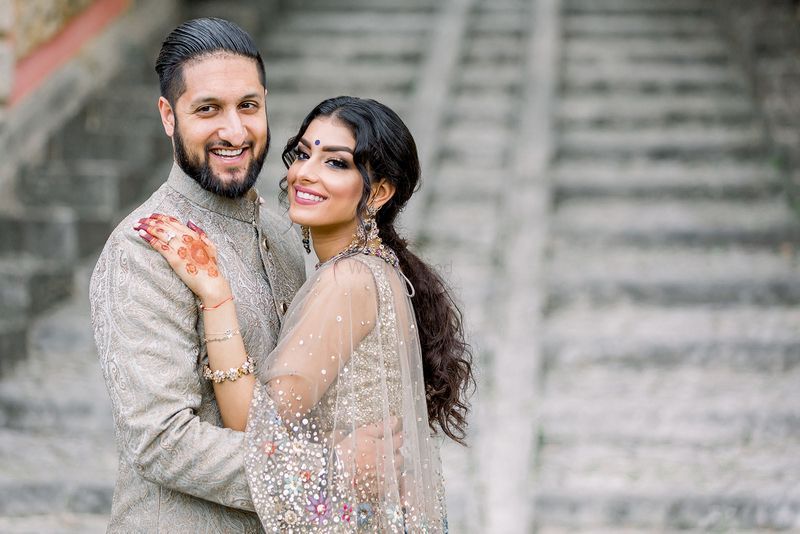 Image via Seema & Sanjam
A low ponytail is something new we've been seeing on brides off late, and it's such a nice and simple hairdo to consider! This bride had a little loose curls and wore her hair in its natural texture to make it look natural and fun. This bridal hairstyle is as simple as it gets but just looks gorgeous!
4. Ponytail with volume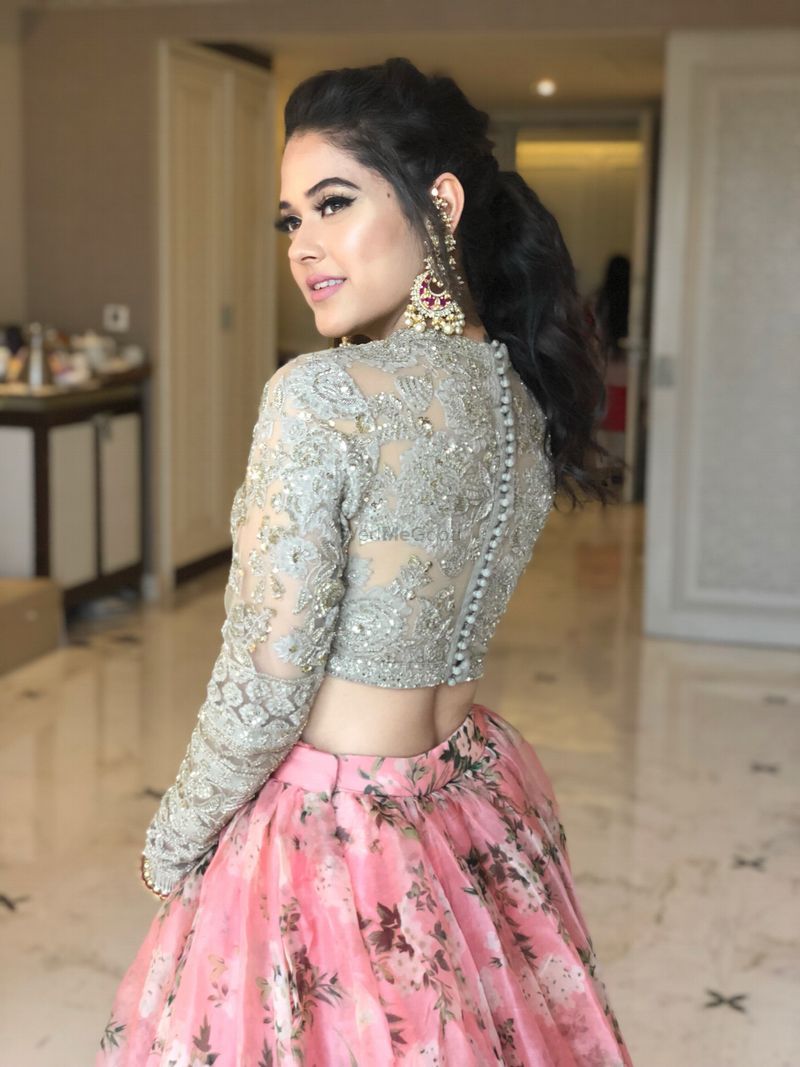 Image via Doll You Up By S
This one is a slightly higher ponytail with volume on top also, which looks fun and playful while looking extremely stylish. And if you are too planning to wear a bridal blouse with intricate design then having a ponytail is the perfect way to go. Go on girl, flaunt your blouse with your hair!
5. Low bun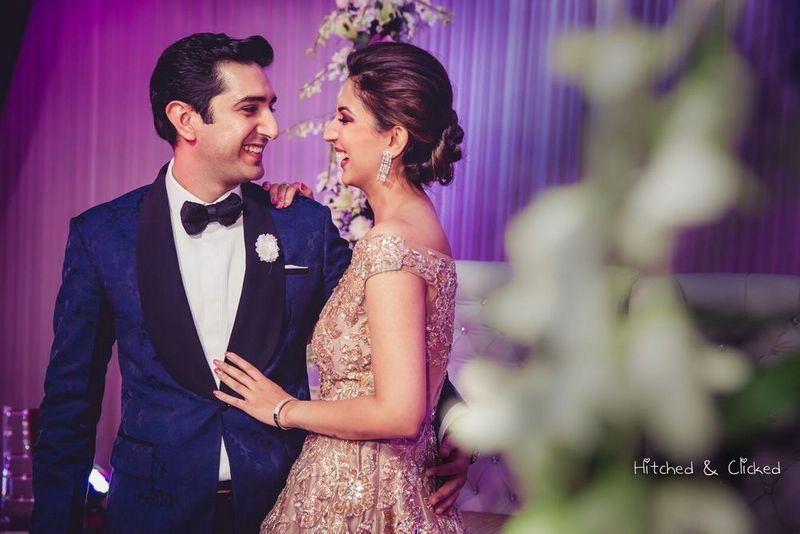 Image via Ridhima & Karan
A simple clean low bun which is a classic style that could never go out of fashion. After all, you wish to cherish your memories for life so how about having beautiful clicks in a bridal bun!
Modern And Chic
Modern brides love modern styles, and we sure do too. We come across brides who love to experiment with their engagement hairstyles, and here are some modern ones which we came across which are super chic and stylish as well. From buns to ponytails and even those involving accessories, here are some fun ones for you to consider for your engagement hairstyle.
1. Low messy bun with hair accessory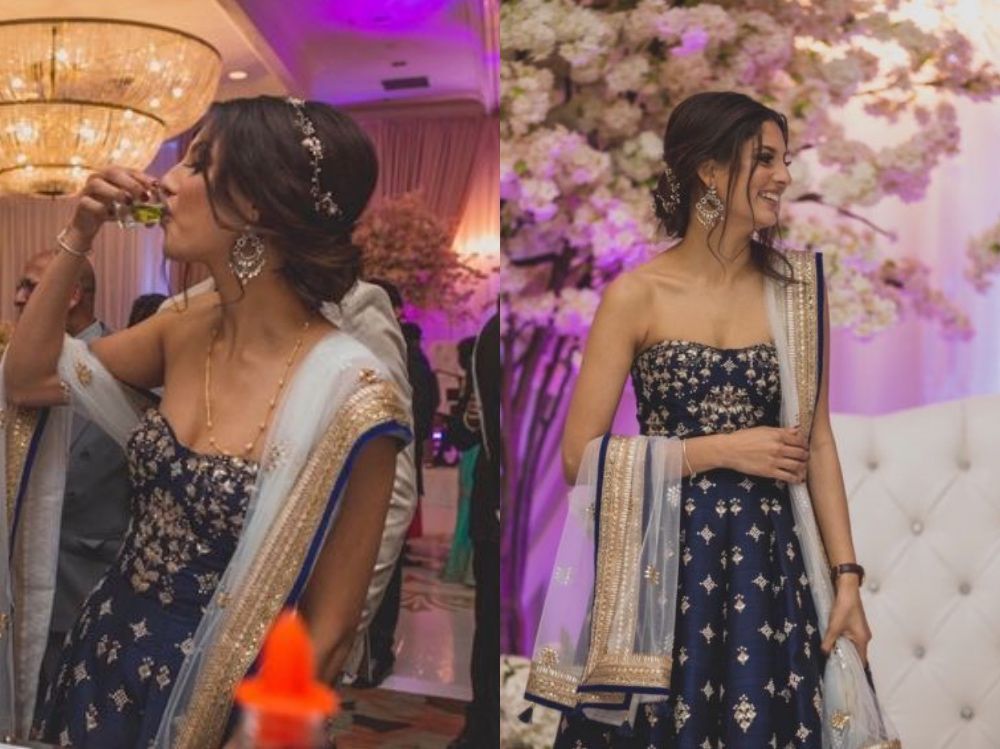 Image via Sakshi and Sandeep
How fun is this bun? Love how the accessory cascades from one side to being lower on the bun on the other side, and the extra loose hair left on one side as compared to the other- asymmetric, messy and so modern!
2. Low ponytail or braid with thick flicks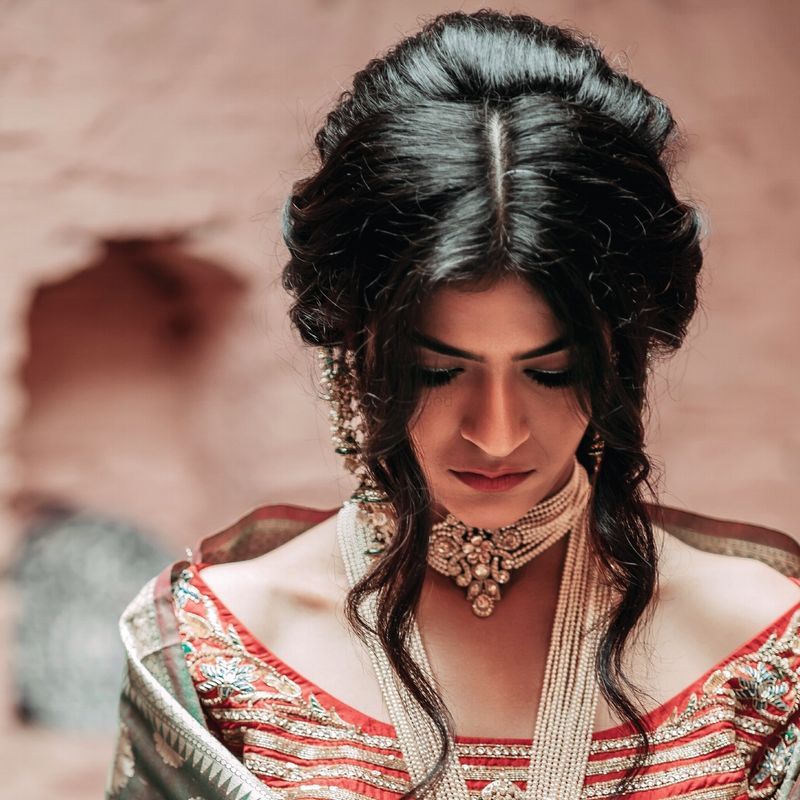 Image via Purab Paschim by Ankit Khullar★ 5
You can pair such a hairstyle with a low ponytail or a braid behind- it's a great idea for brides who don't like tight hairstyles or updos and love something which makes more of a statement. This bridal hairstyle is not bulky and accentuates the whole look. 
3. Loose bun with curls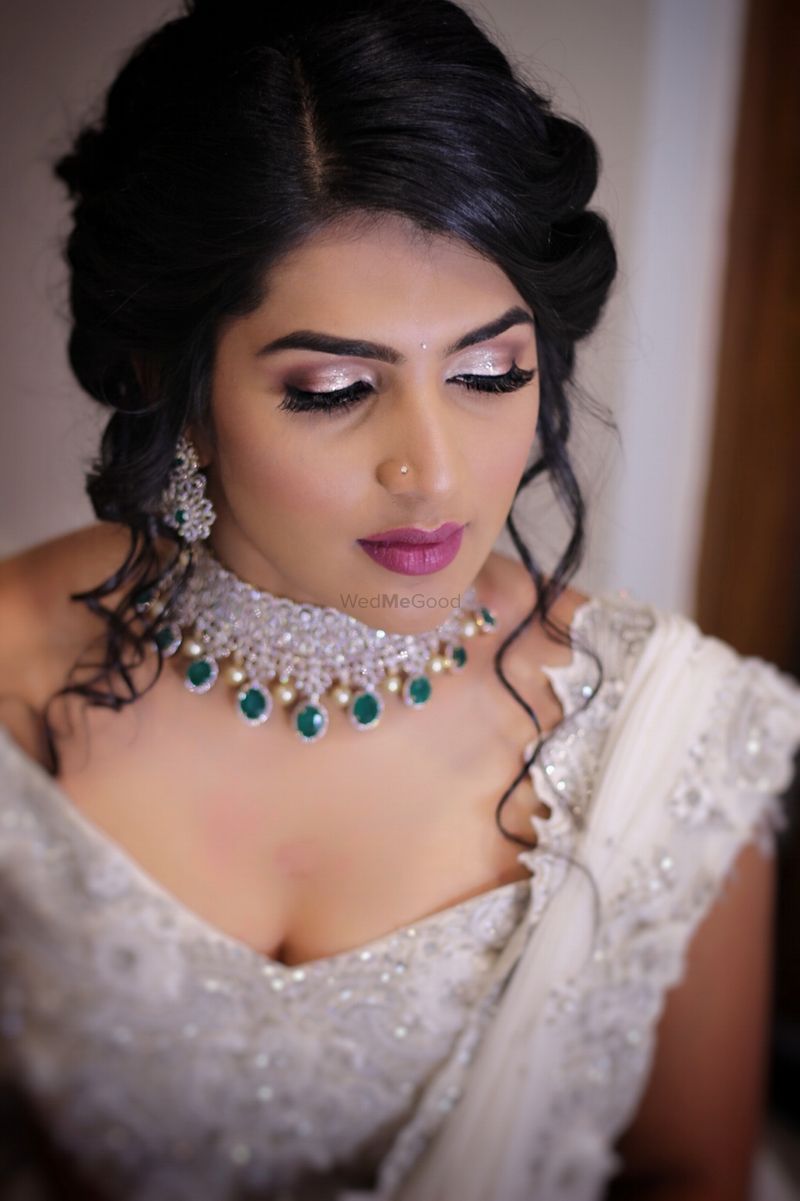 Image via Make-up by Afsha Rangila★ 4.9
This is another modern and chic look we love- the bun is simple with a few loose curls left around the face, which frame it and make the look extreme glam. As we said, soft curls can do all the magic and so does low bun and how about combining both? Magical combination, isn't it?  
4. Twisted front bun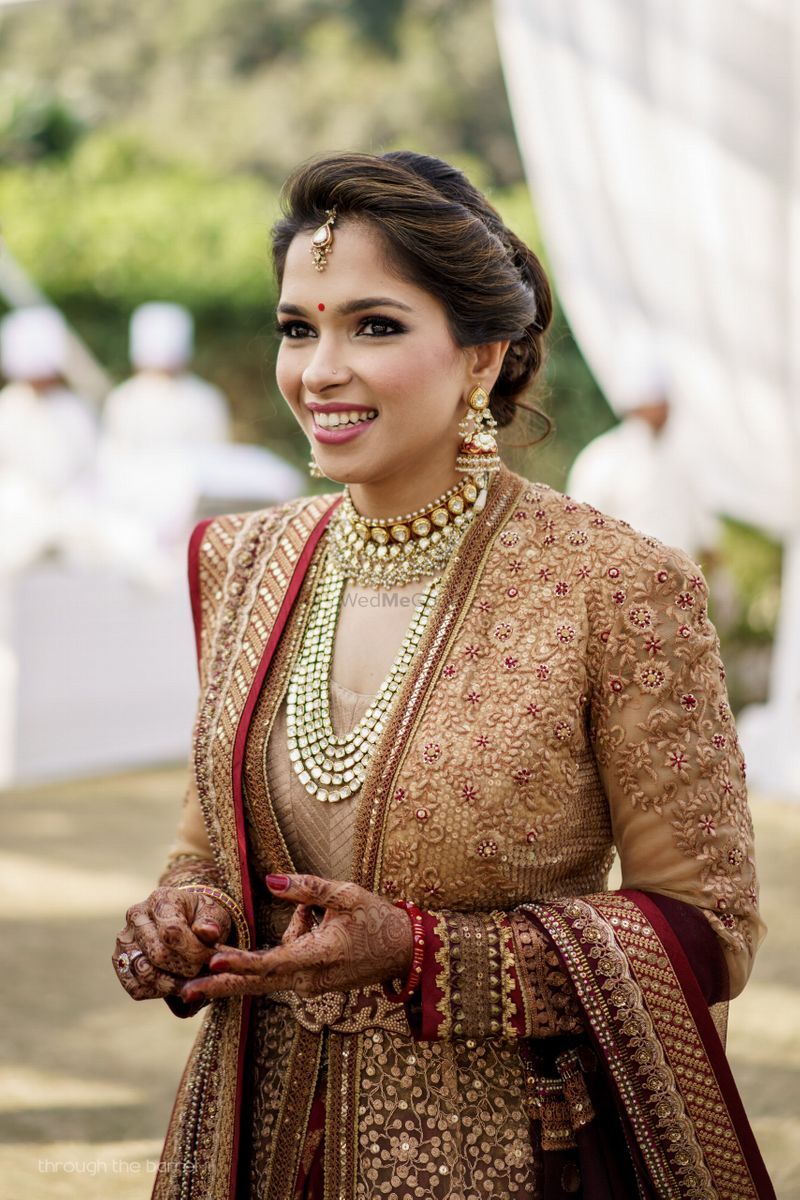 Image via Through the Barrel★ 4.6
A front that's twisted and then a simple bun or chignon behind is another twist on the classic which looks nice and modern. If you are going for an OTT bridal wear then this simple hairstyle can balance out your look!
5. Messy curly bun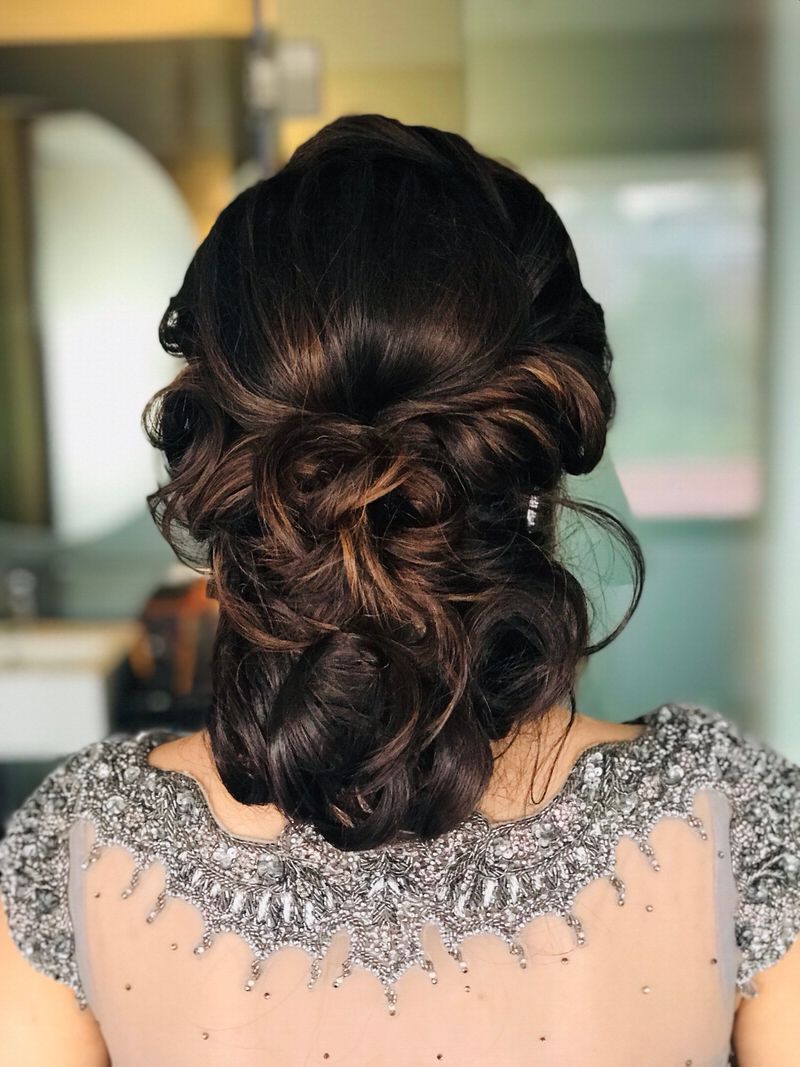 Image via Harmeet Ghuman Makeup & Hairstylist★ 5
This one has curls and waves all coming and culminating at the back. If you have colored hair and want to flaunt their texture, then this hairstyle is for you! 
Open Hair Ideas
1. Sideswept hair with loose curls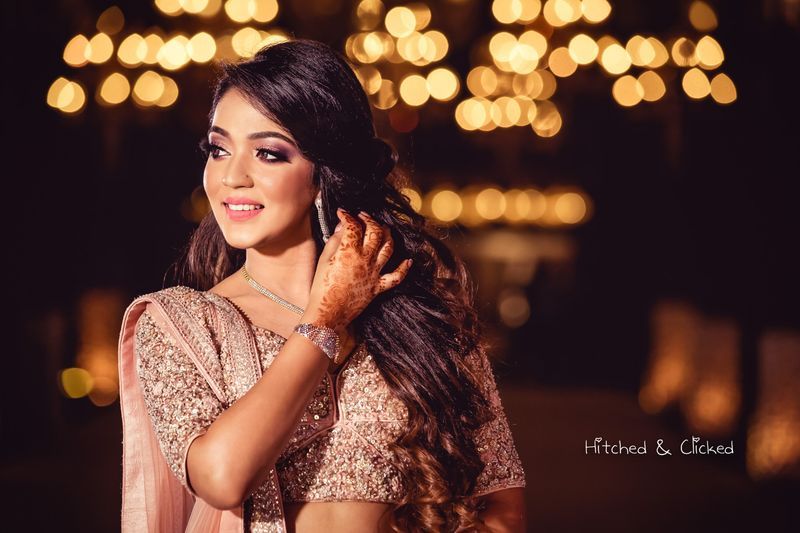 Image via Hitched and Clicked
This one is easy, but looks super pretty- a little tie back and keeping the hair in the front only on one side. You can even add a small accessory if you wish to add a little spark to your simple engagement hairstyle!
2. Crown braid and accessory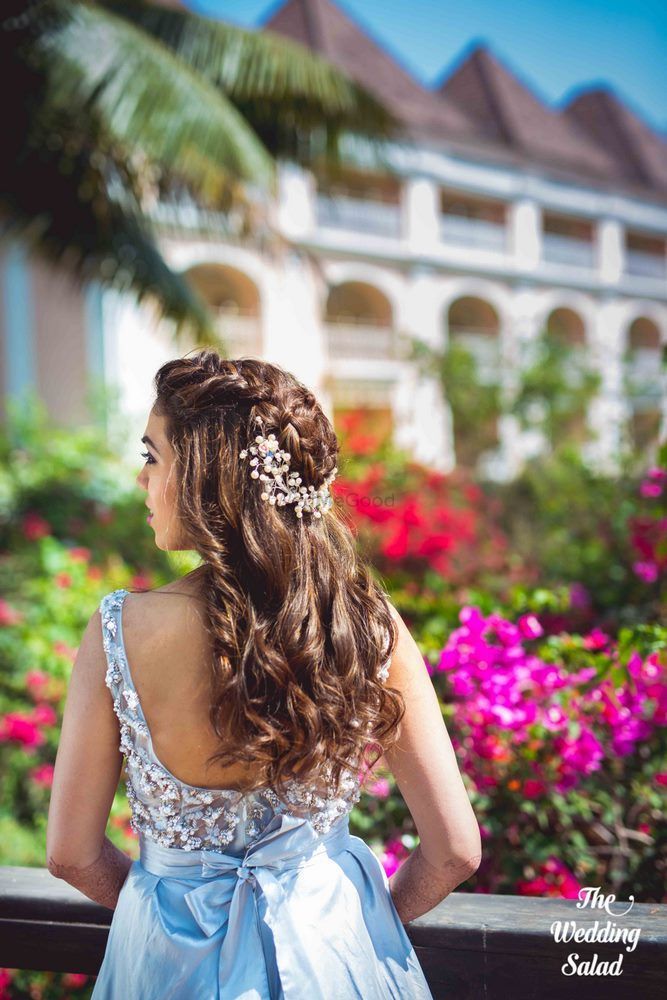 Image via Nikita & Parth
A pretty hair accessory that really up your engagement hairstyle, and this one looks amazing! You could even use fresh flowers or baby's breath. Don't hesitate to give your soft / loose curls a little extra with an accessory. 
3. Voluminous wavy hair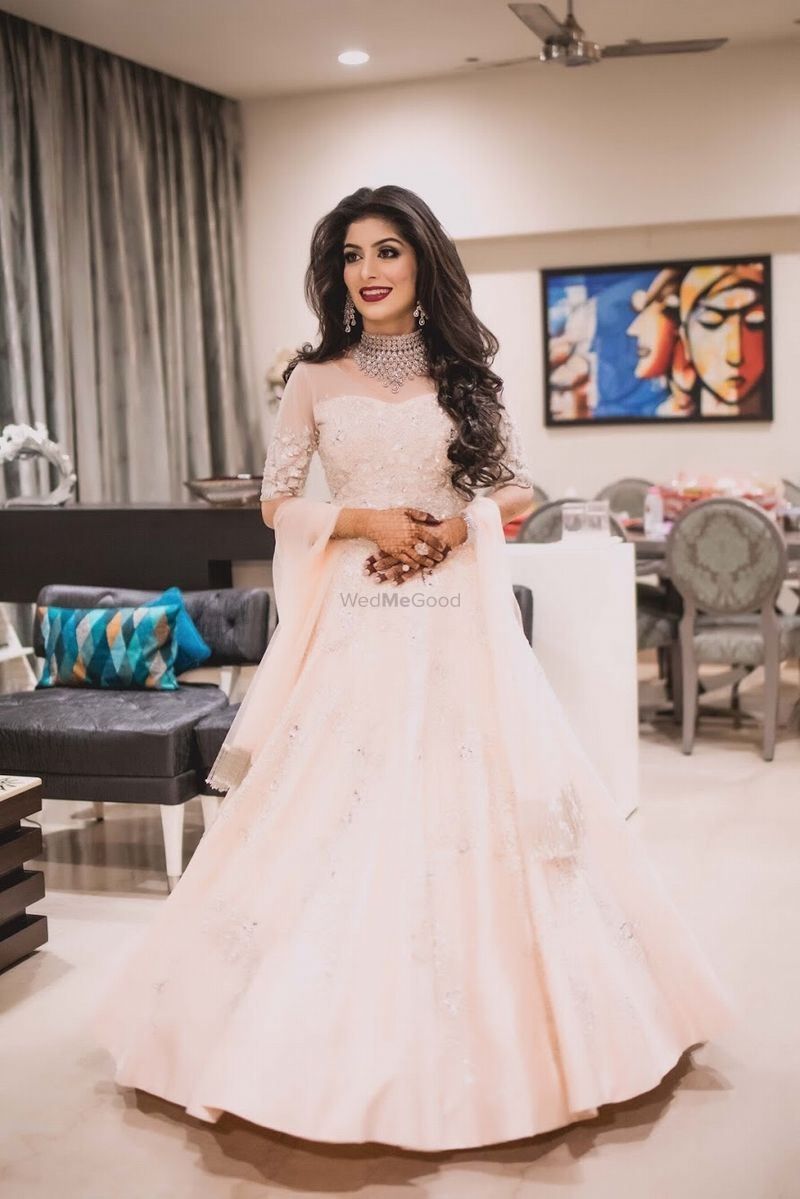 Image via Shahid's Makeover
If you have beautiful hair, flaunt it with a lot of volume! This one looks amazing with gowns as well as a lehenga and is a style you really cannot go wrong with.
4. Braided half tie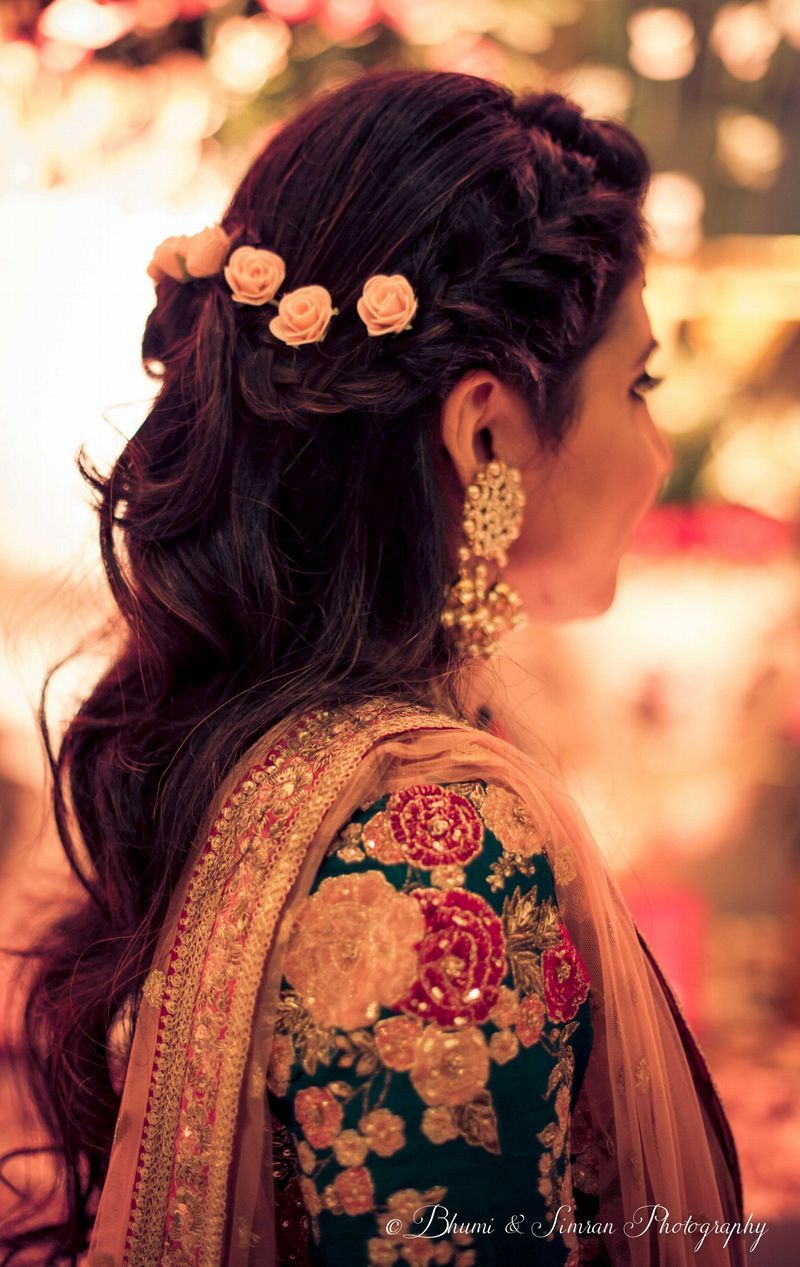 Image via Sanam & Suhel
Another simple style with those tiny roses and a braided crown- keeping it clean and elegant.
5. Centre-parted braided crown and hair at the back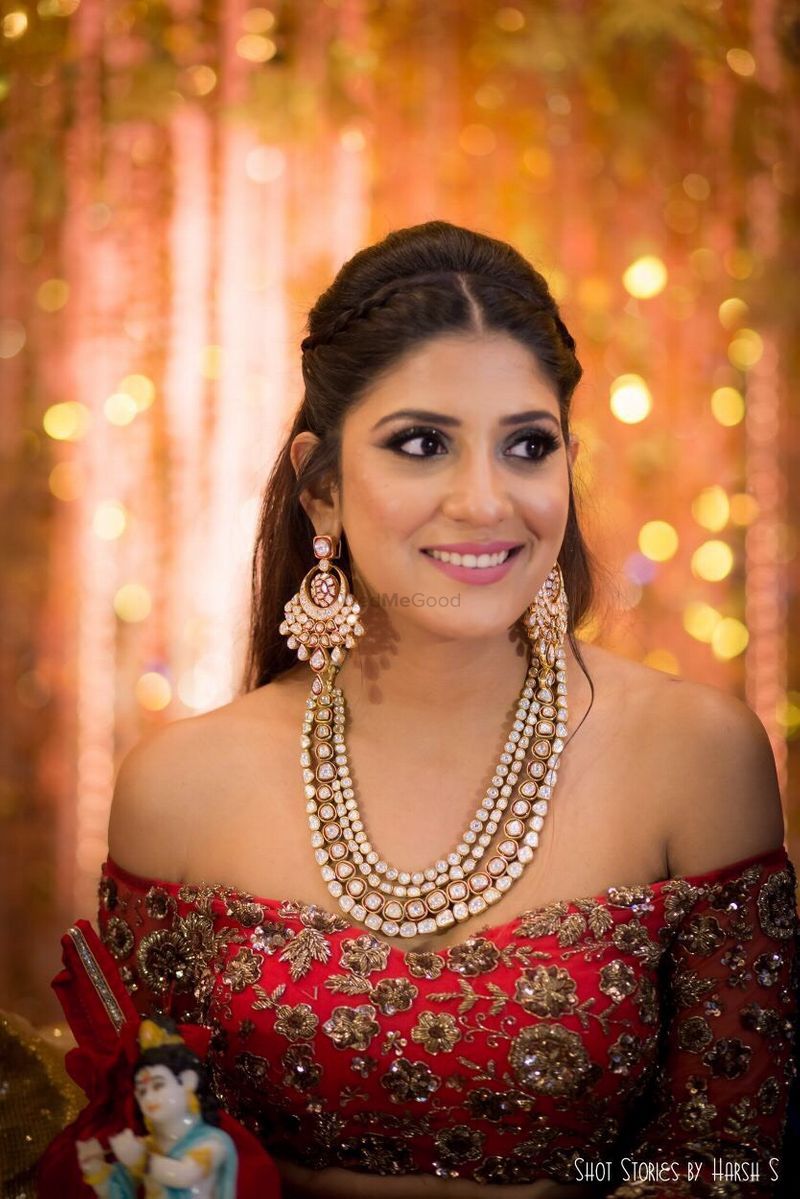 Image via Makeup by Anurita Chandrappa★ 4.9
This one looks more like slicked back hair and might be a little too 'flat' for some faces, but if you can carry it off, looks quite stylish.
Floral Hairdo Ideas
Who said flowers in the hair are only for the Mehendi or the Bridal bun? You can rock flowers in your hair on your engagement too, but the trick is to keep the floral lesser and not OTT, like you would probably on the Mehendi. So here are some styles which we really think fit the bill for an engagement hairstyle.
1. Casual bun with florals on the side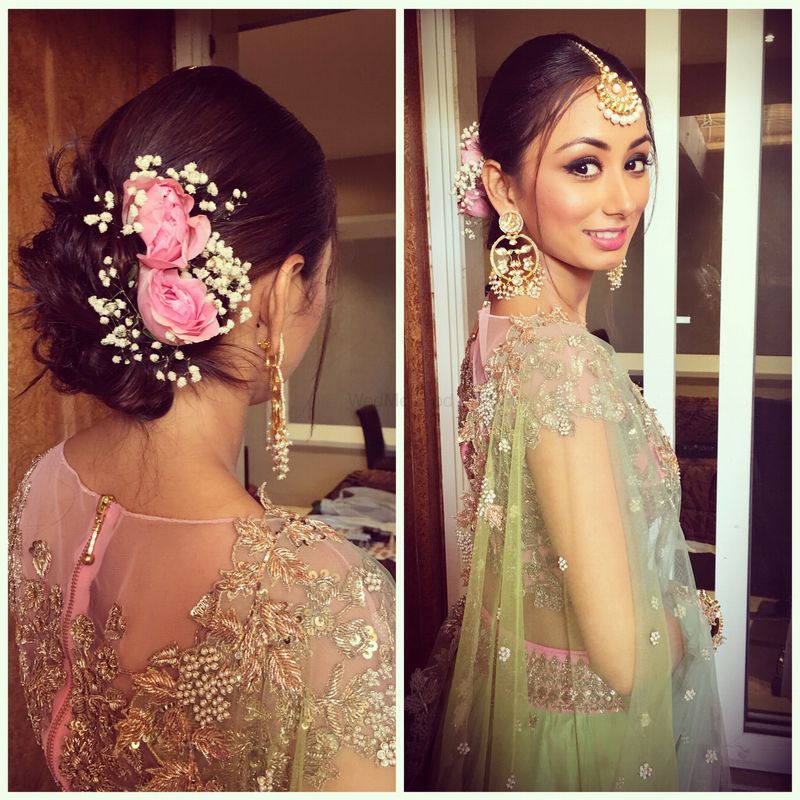 Image via Farzana Jussawalla★ 4.9
This one is pretty, but there's something about it that sets it apart from a mehendi or a bridal bun. Adding 1-2 roses with some baby's breath can never be extra, rather be perfect for your elegant look!
2. Messy fishtail braid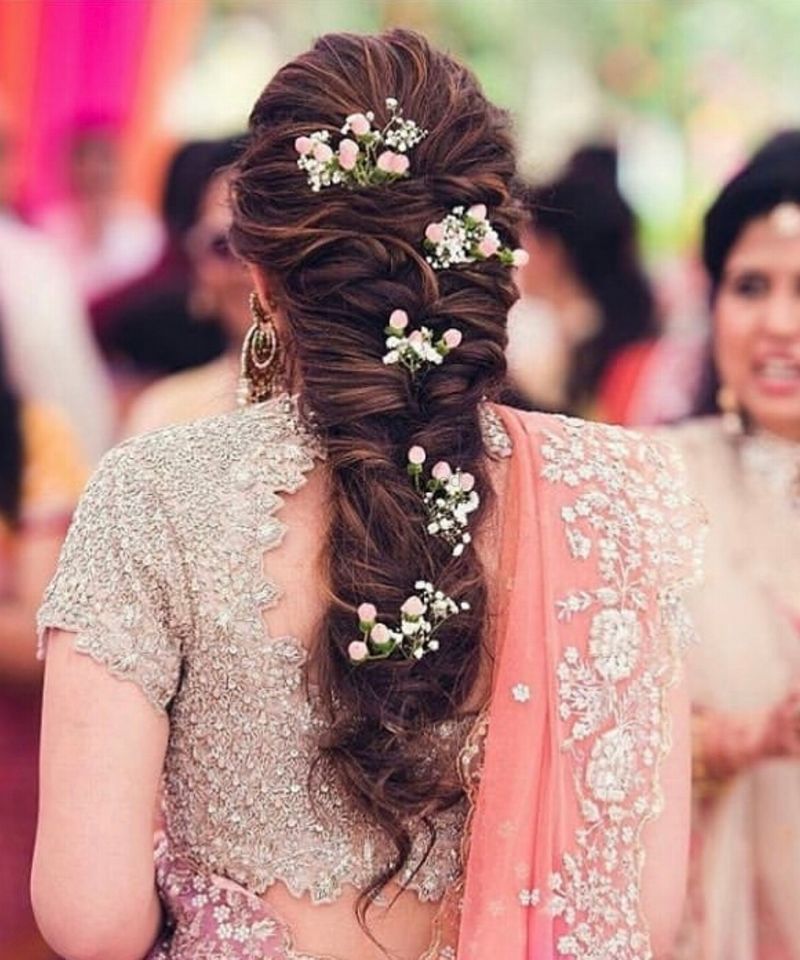 Image via Charu Patel's Professional Makeup★ 4.8
Fishtail braids with florals are popular on the Mehendi, but when doing them for the engagement, it works better when the braid is behind and not a side one. Let your messy fishtail do the talking!
3. Waterfall braid with flowers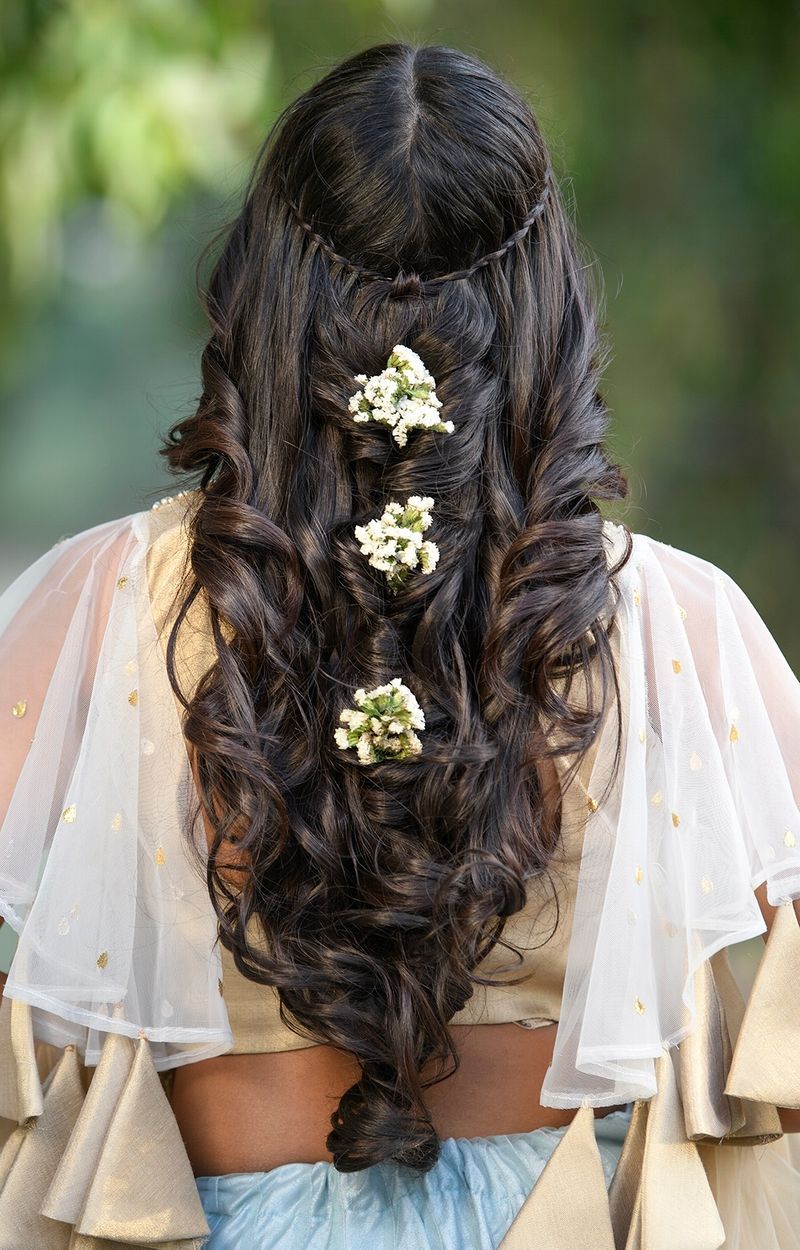 Image via The Unique Blend★ 4.7
Another one- this time with a waterfall braid around the crown and then a messy one with florals behind. It is a hairstyle with intricate patterns and this looks very trendy and stylish. 
4. Open curls with baby's breath bunches
Image via Jyotsna and Palash
Something simple that you just cannot go wrong with on the engagement. And you could pick whatever florals you want, matching or contrasting with your outfit shade.
5. Messy wavy half tie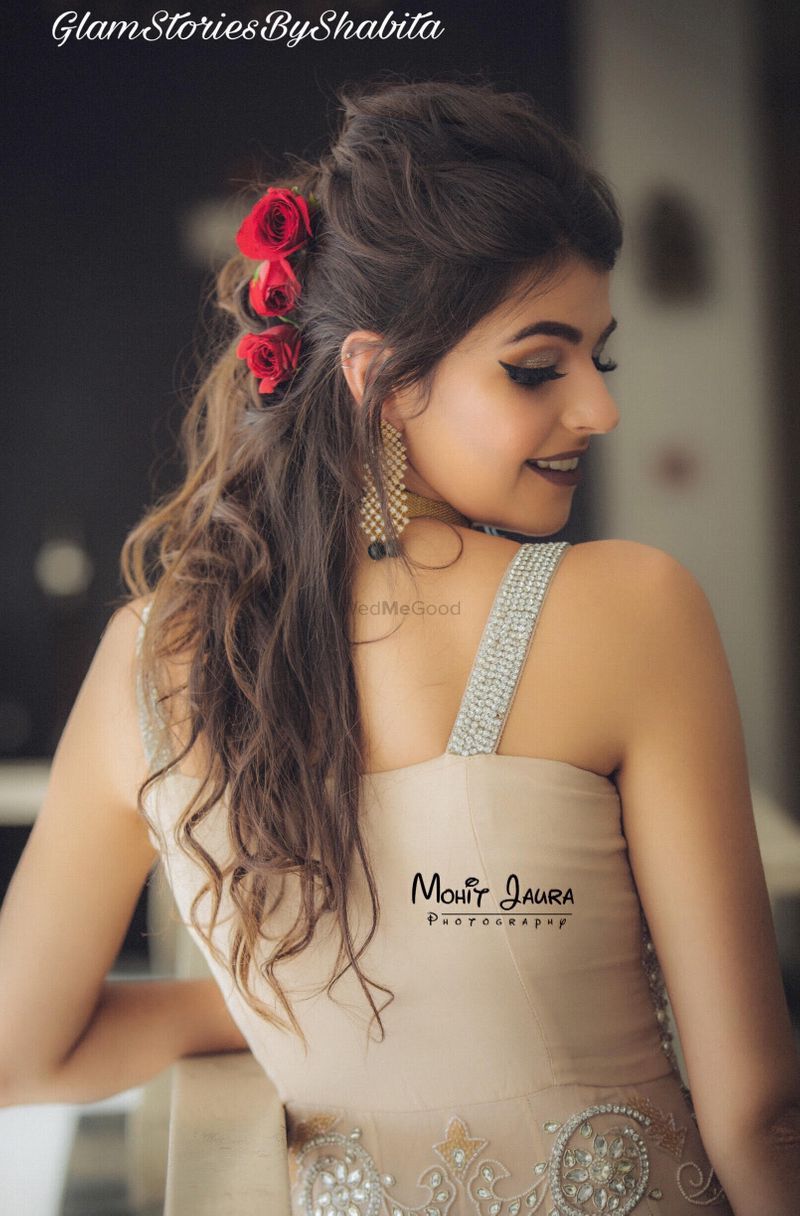 Image via Glam Stories By Shabita★ 4.9
This one is a lot more casual and relaxed, and again, you can keep the florals matching or contrasting with your engagement outfit. And just see how you slay on your engagement!
Traditional With A Twist
These are hairstyles for engagement which have a slightly traditional look and feel, and are great hairstyles on sarees, lehengas or any other Indian outfit that you might choose to wear on your engagement.
1. Neat centre-parted bun with gajra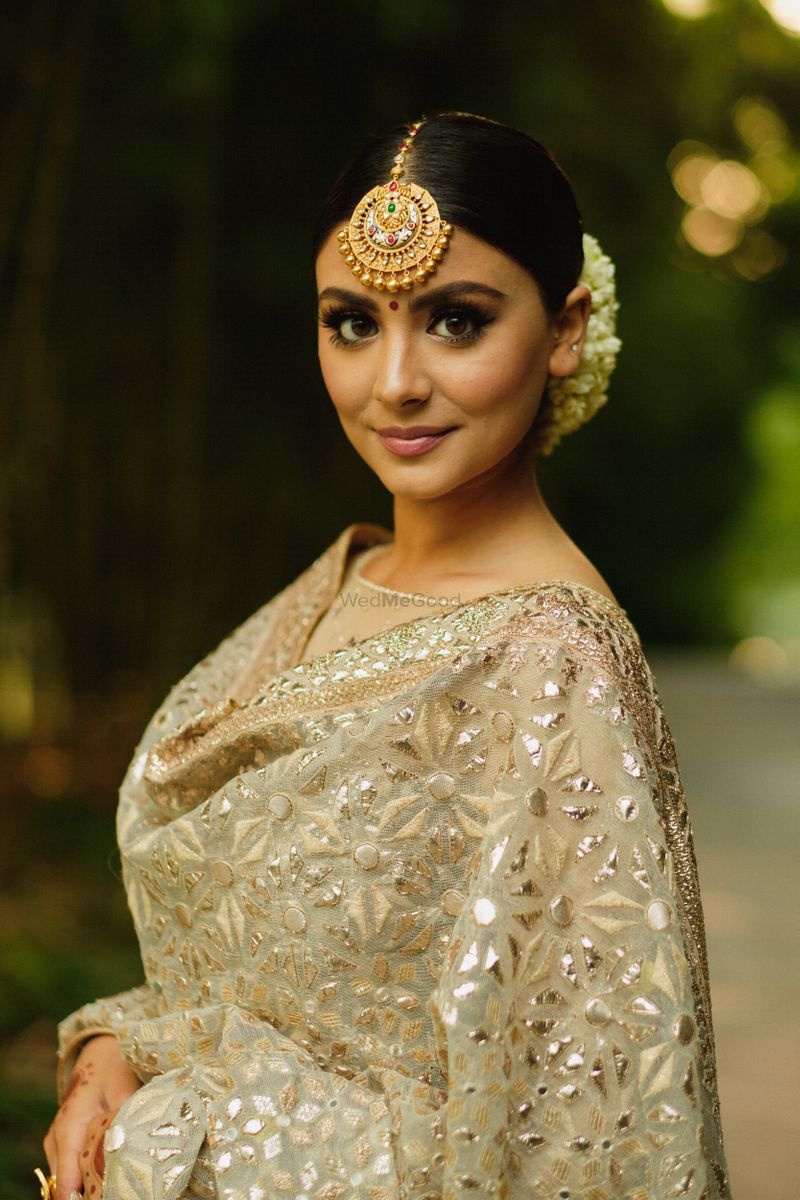 Image via Shania & Arvind
This one is so simple, but looks amazing when teamed with a maangtikka and a gajra- traditional, but still do engagement-worthy.
2. Half updo with gajra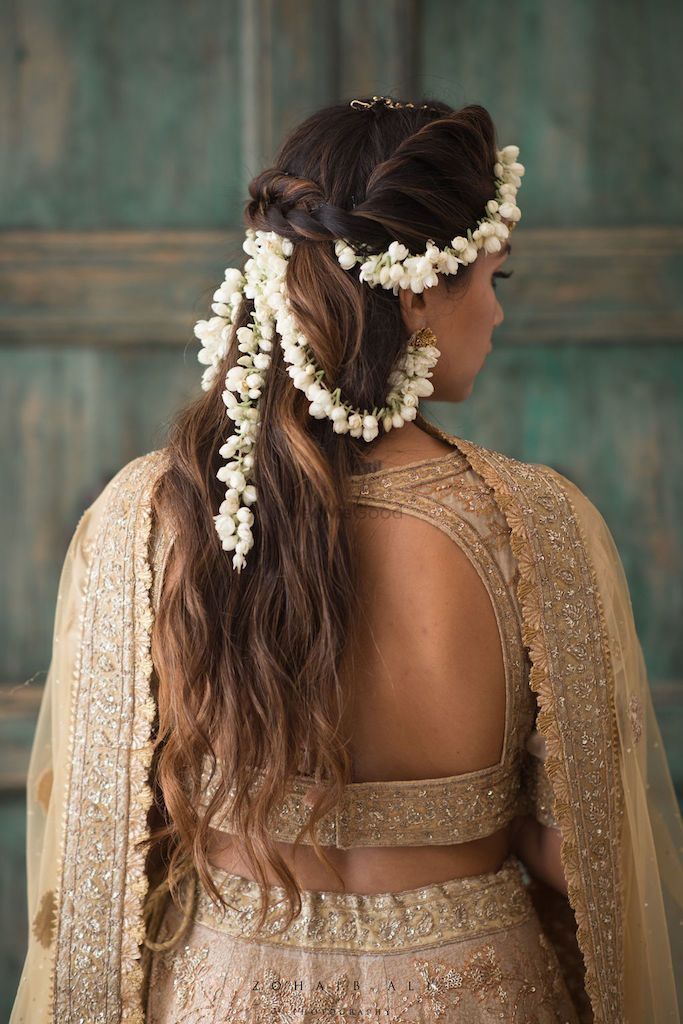 Image via Oleg & Diipa
This one might be slightly over the top for some brides, but a statement look nonetheless and a unique one with the gajra.
3. Twisted braided with gajra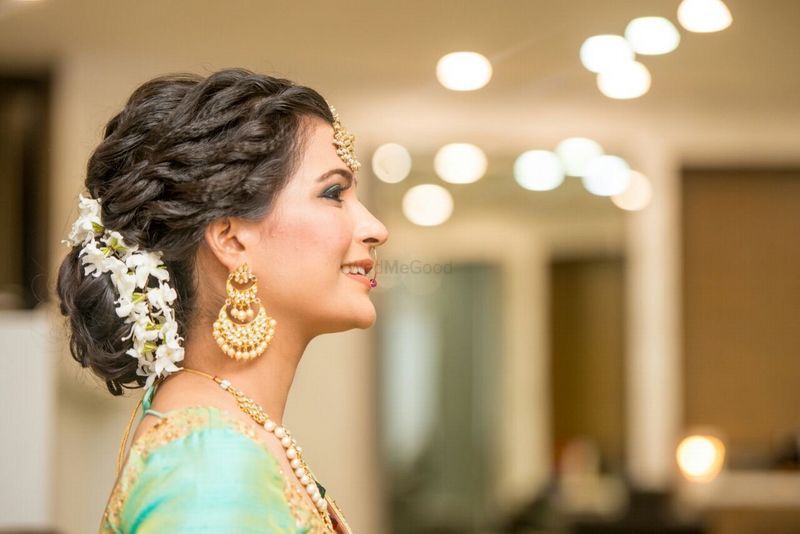 Image via Shape & Shine Salon★ 5
A bun which really catches your eye with the twists and the braids! It's a great option for brides choosing to wear a saree on their engagement.
4. Bun with roses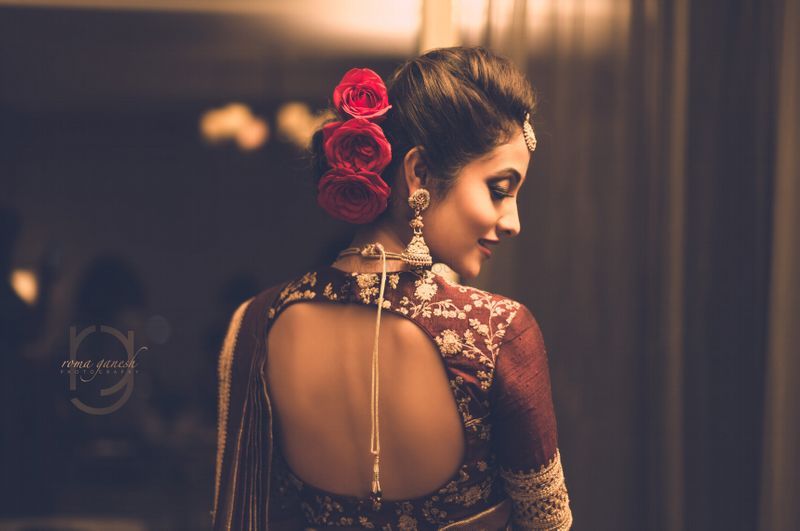 Image via Roma Ganesh Photography
This is another classic style, and a great one to pair with sarees. Instead of a gajra, get roses placed on the side of the bun.
5. Front braids with gajra bun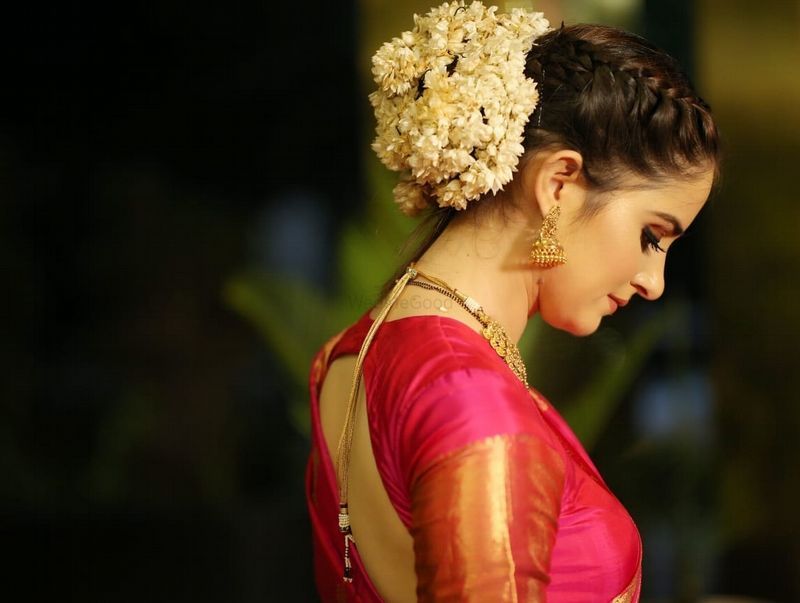 Image via Makeup Delights by Khushi★ 5
The front is braided and the bun is full of mogra flowers- perfect for pairing with sarees or for South Indian brides.
Elaborate And Stylish
These are hairstyles for engagement which make a statement, and look a bit complicated but still very pretty. From buns to braids, here are some which bridal engagement looks which stand out thanks to the hairdos, which are simply lovely, and some, a little over the top, but in a good way.
1. Messy statement bun with accessory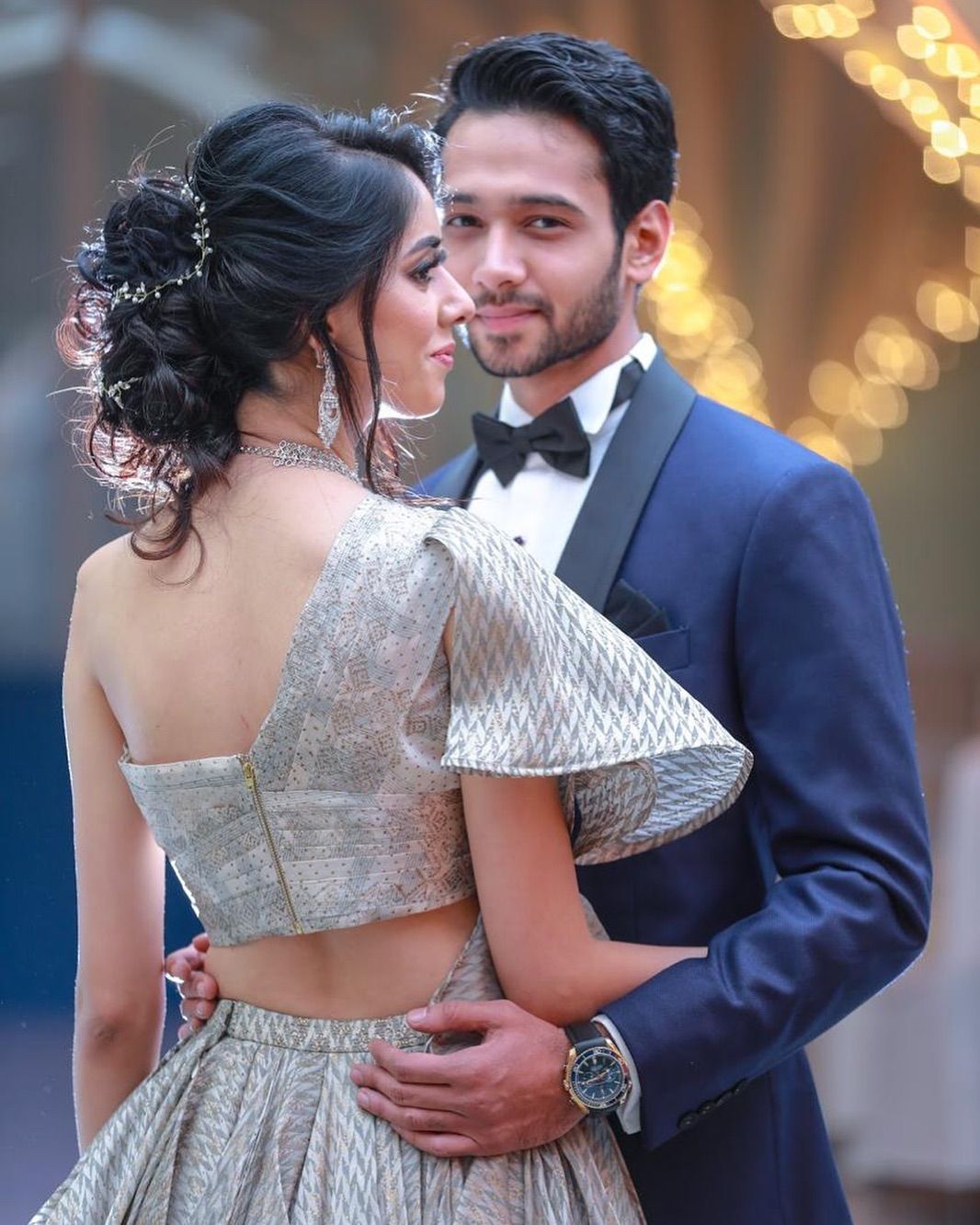 Image via Ritika Kadam★ 5
This one looks so glam and unique- with the messy bun, the cascading accessory and the loose hair left on the sides.
2. Whimsical half-up half-down style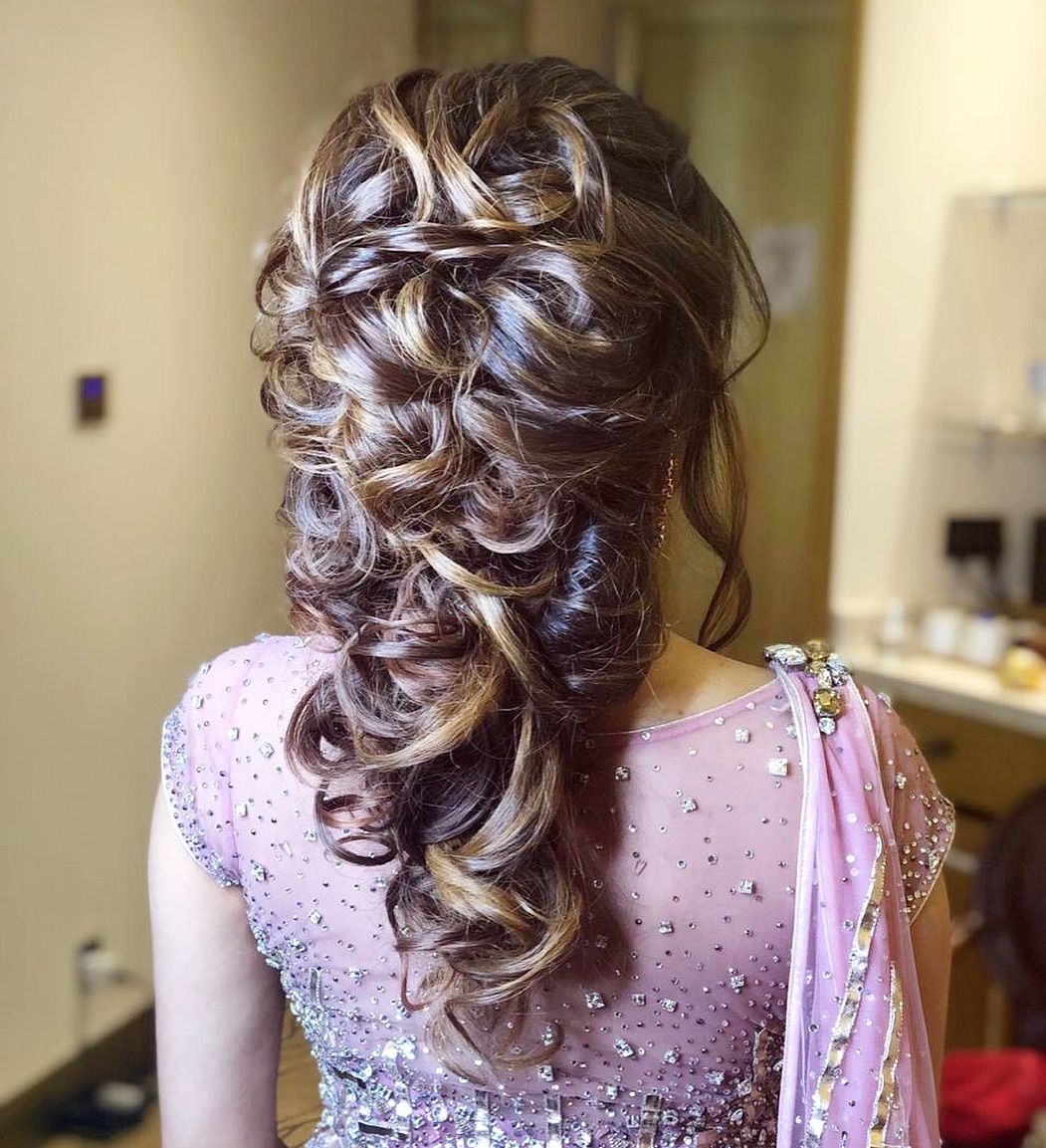 Image via Ritika Kadam★ 5
This is also a nice one to try with a lehenga or a gown- a whimsical, romantic hairstyle with curls and braids and a lot of texture.
3.Wavy bun with accessory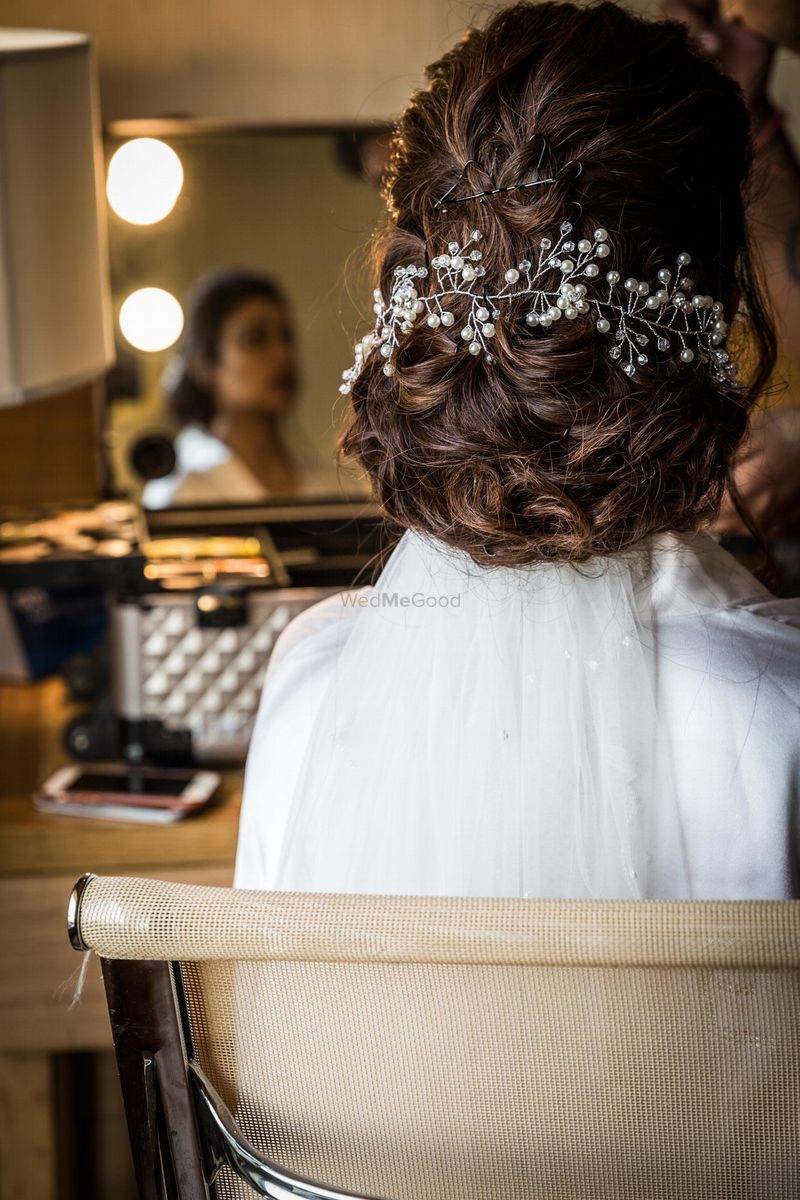 Image via Wedding Photo Diary By Prateek Sharma★ 5
A flat wavy bun with a dainty accessory going all along the bun- a great option with gowns.
4. High bun with ringlets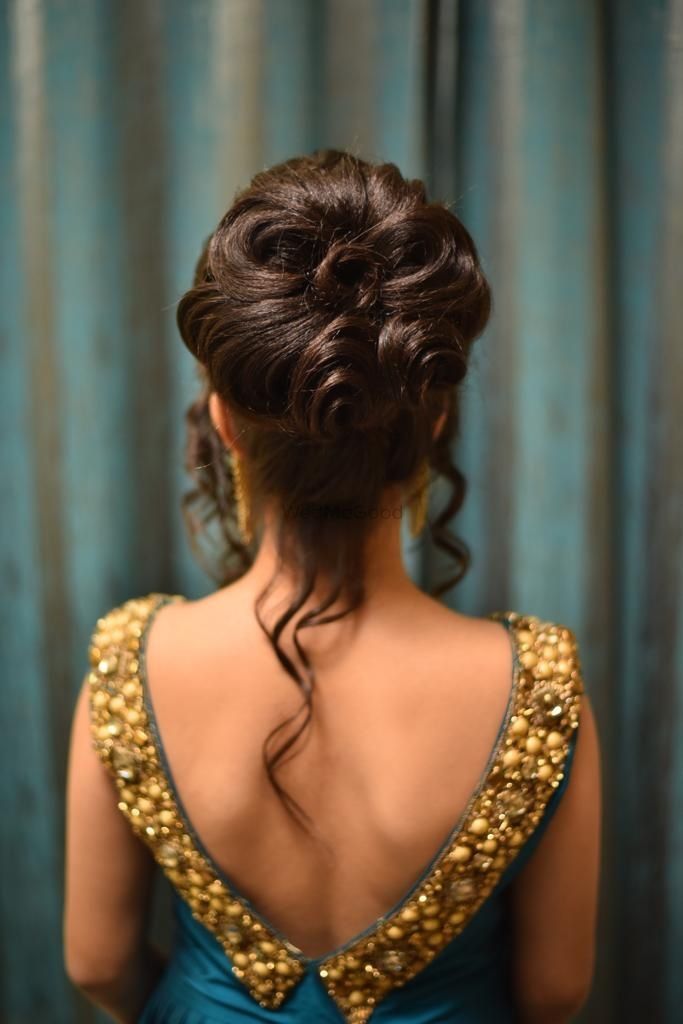 Image via Make Me Up by Karishma★ 4.9
For brides looking for volume on top to elongate their faces, this one looks pretty and is perfect to pair with an evening gown.
5.Wavy retro bun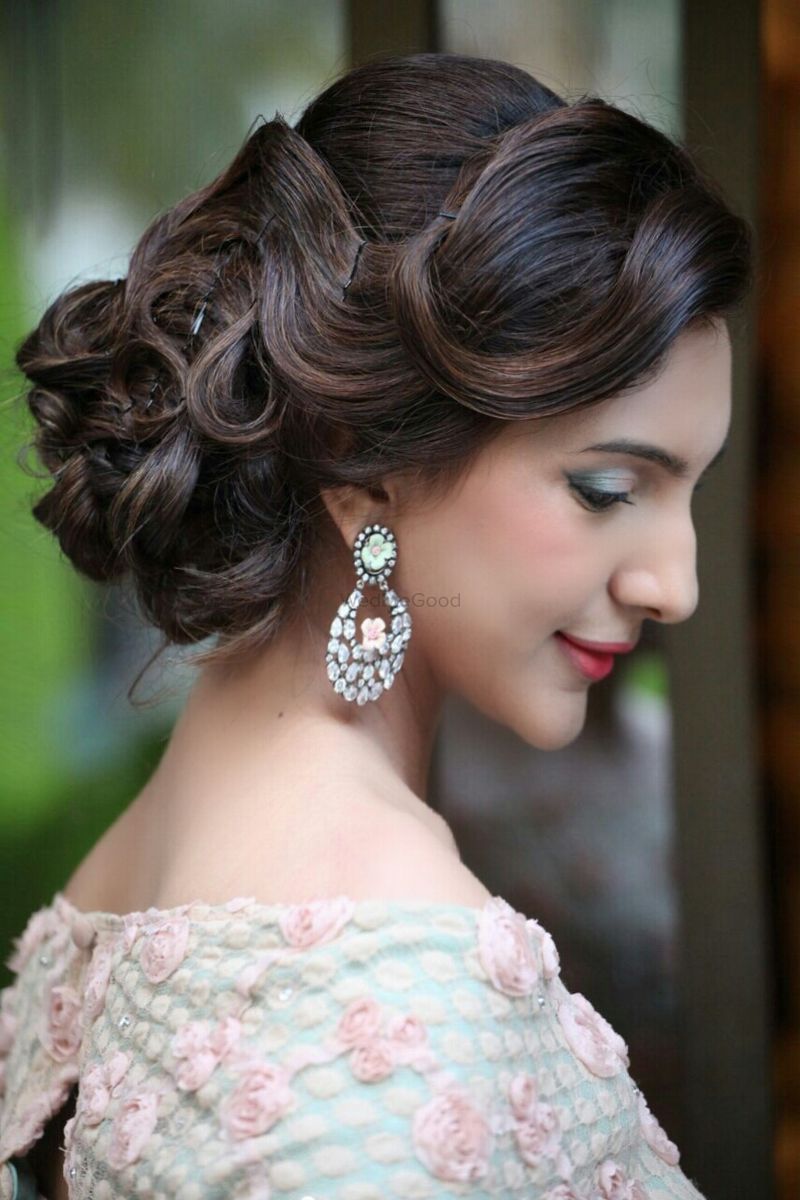 Image via Afreens Hair & Makeup★ 5
A structured bun that's part retro and part modern, this one can really work well on some face types.
6. Curly side bun with pearls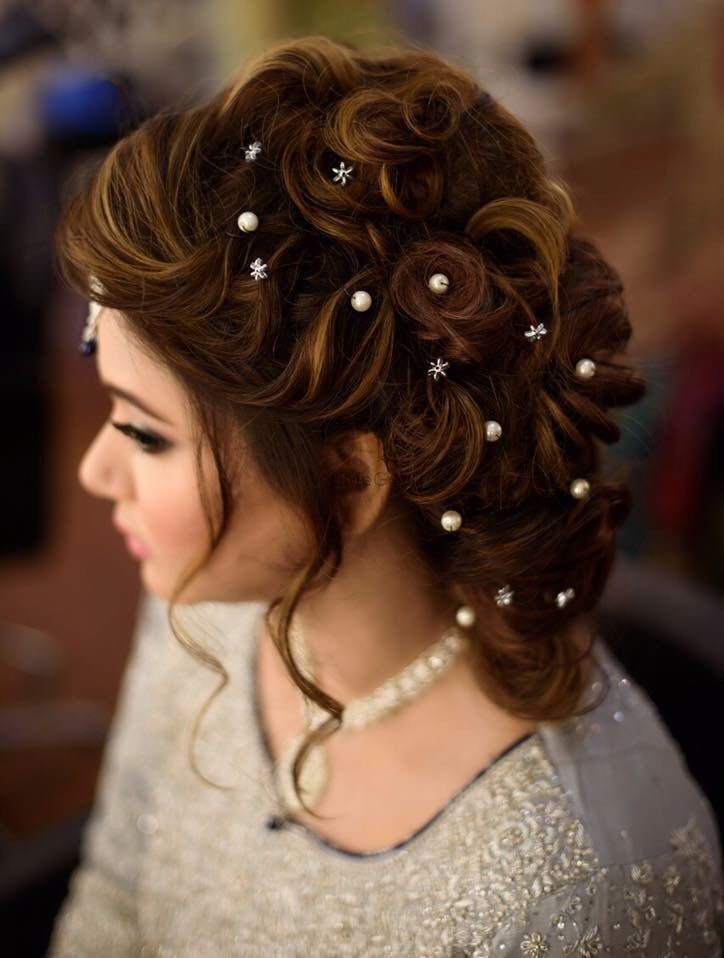 Image via Kajol R Paswwan★ 4.9
Side buns look amazing, and tiny pearls in the bun make it shine even more.
Now that's quite some list isn't it? We're sure that you must have shortlisted your favourite by now, so go ahead, and jazz up your engagement bridal look with one of these hairdos! Infact, what's great is that you can book WMG's family makeup service to book a makeup artist for engagement bridal makeup and hairstyles if you are in Delhi, Mumbai, Jaipur, Udaipur, Bangalore or Goa! 
Looking for Mehendi hairstyles instead? Then check out this post! Also, here are some perfect hairstyles based on your face shape!
For 1000+ other hairstyles head to our photo gallery : Hairstyles Photo Gallery