40+ Offbeat South Indian Bridal Looks We Spotted Off Lately
BY Garvita | 30 Sep, 2022 | 242462 views | 13 min read
Don't you think South Indian weddings are really fascinating? From South Indian brides beautifully decked up in a kanjeevaram to extravagant decor whilst being an intimate gathering, each and every element makes you fall in love! The sheer elegance and charm of a bride in a saree are unmatched. And with modern brides open to experimentation, one can easily create an unconventional look by playing with the accessories here and there.
Right from the offbeat hues, statement jewels, and breathtaking hairstyles — the south Indian brides are always giving us the best kinda goals. Scroll down and have a look. You're bound to get mesmerized!
The Brides Who Added The Magic Of Minimalism
We have seen a lot of millennial brides taking the minimal route! Their bridal looks are all about dainty jewelry pieces, flawless makeup, and an elegant Kanjeevaram saree teamed with a simple hairstyle. In fact, their alluring wedding looks are exactly what minimalist bridal dreams are made of!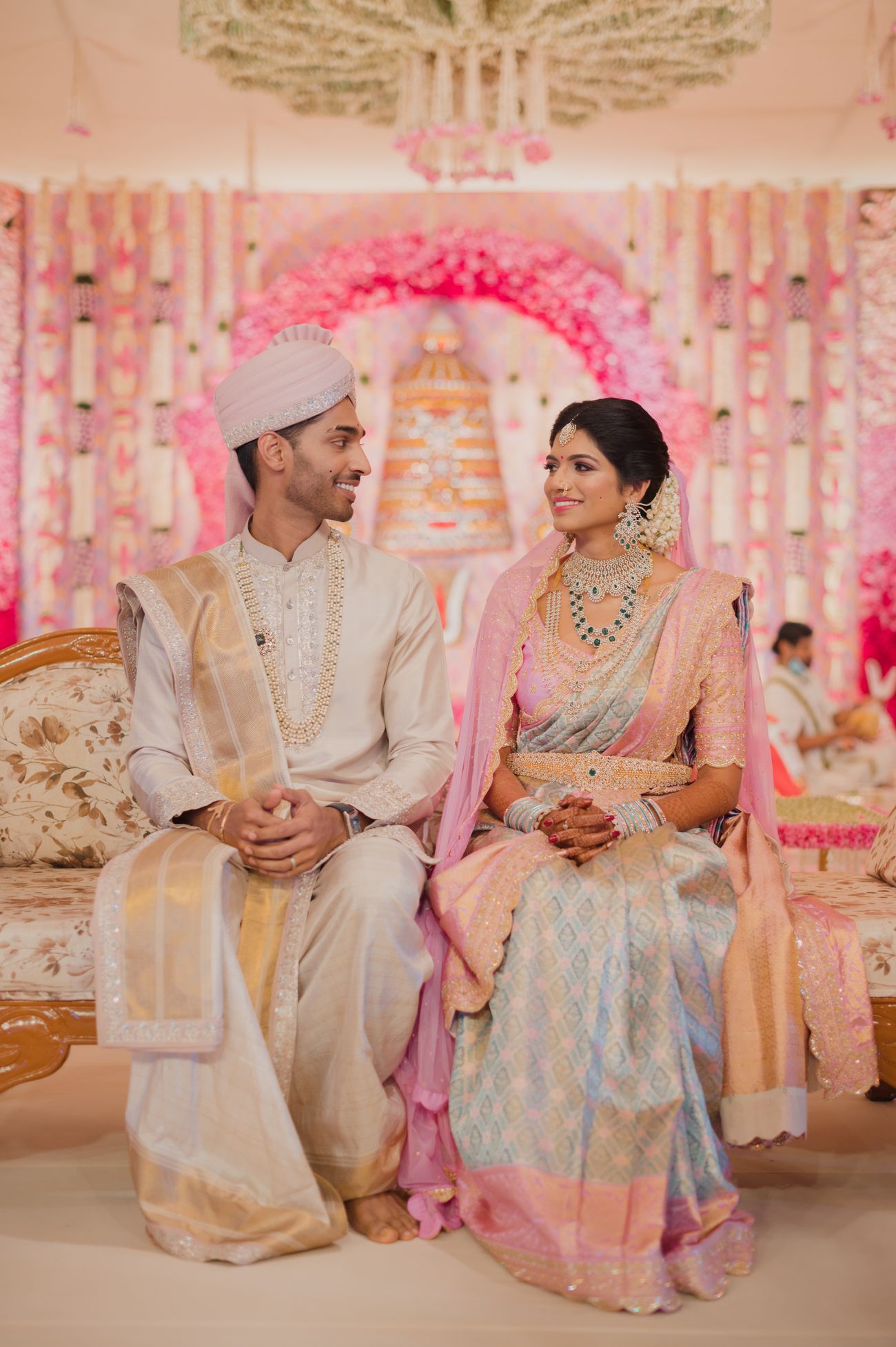 Image via Manvitha and Vishwak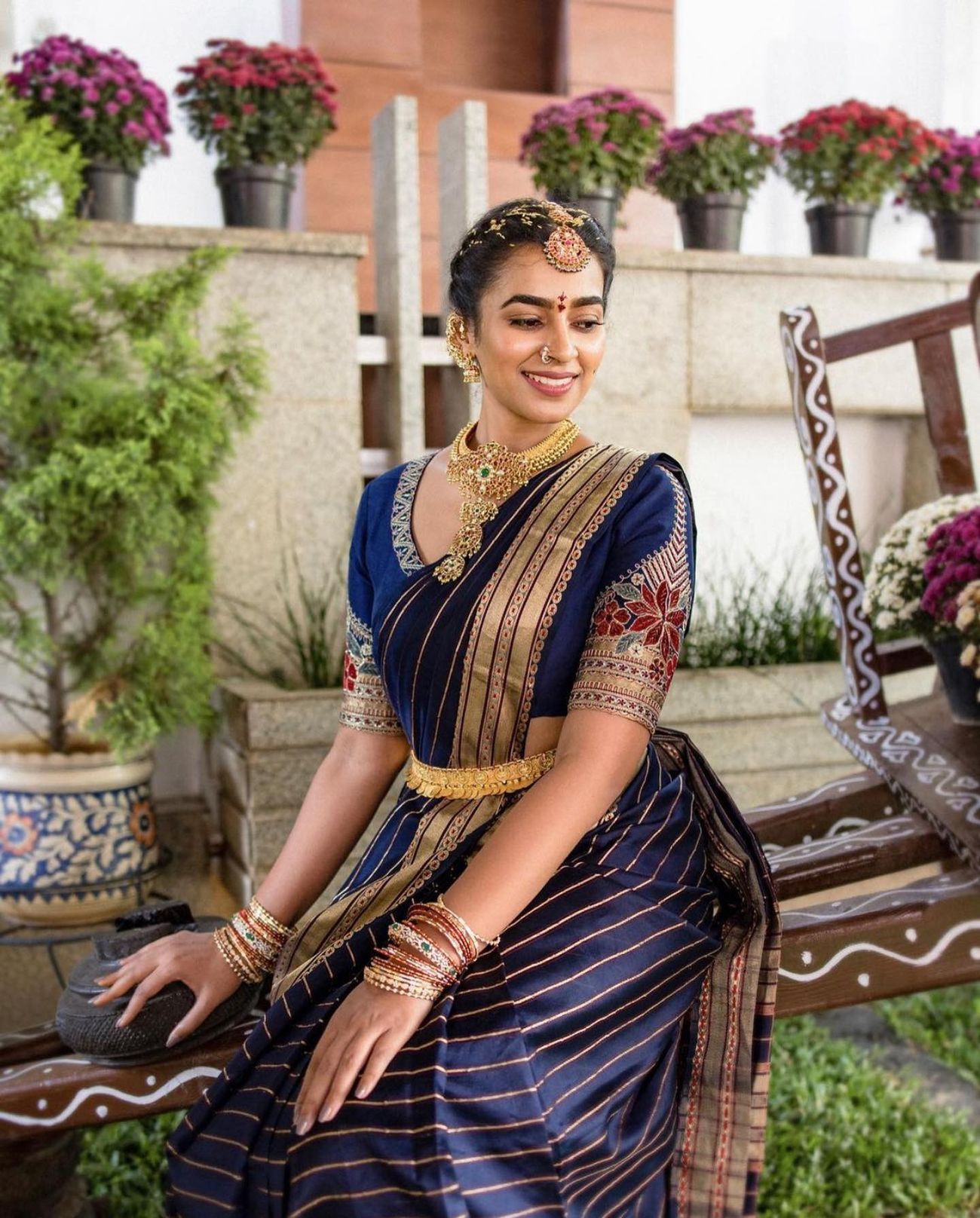 Image via @taj.studio
A fresh ensemble that leaves you swooning! This bride teamed up a pretty navy blue saree with classic gold jewels and looked like a dream, to say the least. Simple makeup and hairstyle added to the simplicity.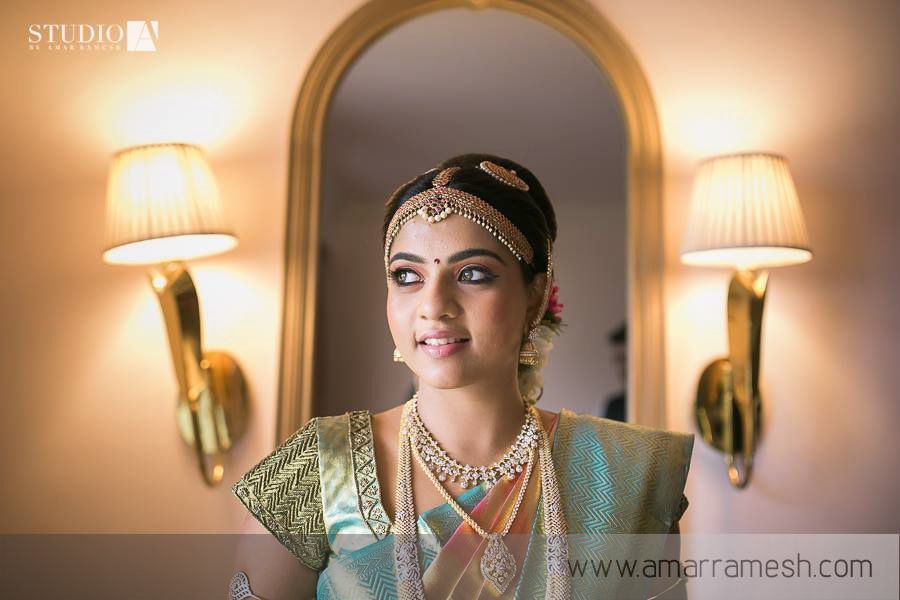 Image via Studio A 
To keep her look minimal, this bride chose a pastel-hued saree and paired it with sleek diamond wedding jewelry. While these are two totally different shades, they contrasted super well! Also, can't help but praise her kohl-rimmed eyes with clear gloss on the lips.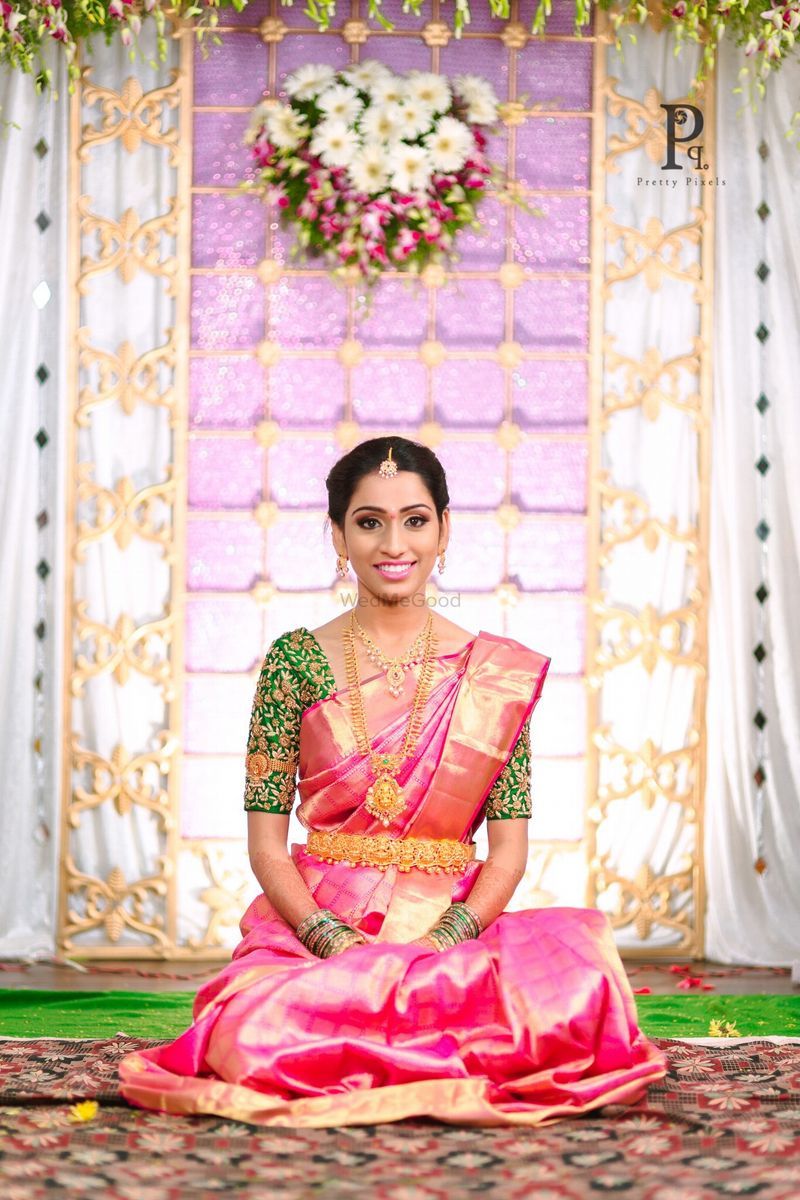 Image via Artistry by Sohini 
Kudos to this bride for keeping it minimal, despite being clad in a vivid-hued south Indian bridal saree. This bride is giving us major traditional goals here! Those green bangles added pop to her ensemble, while the light jewellery subdued it as a whole. Noticed the soft glam?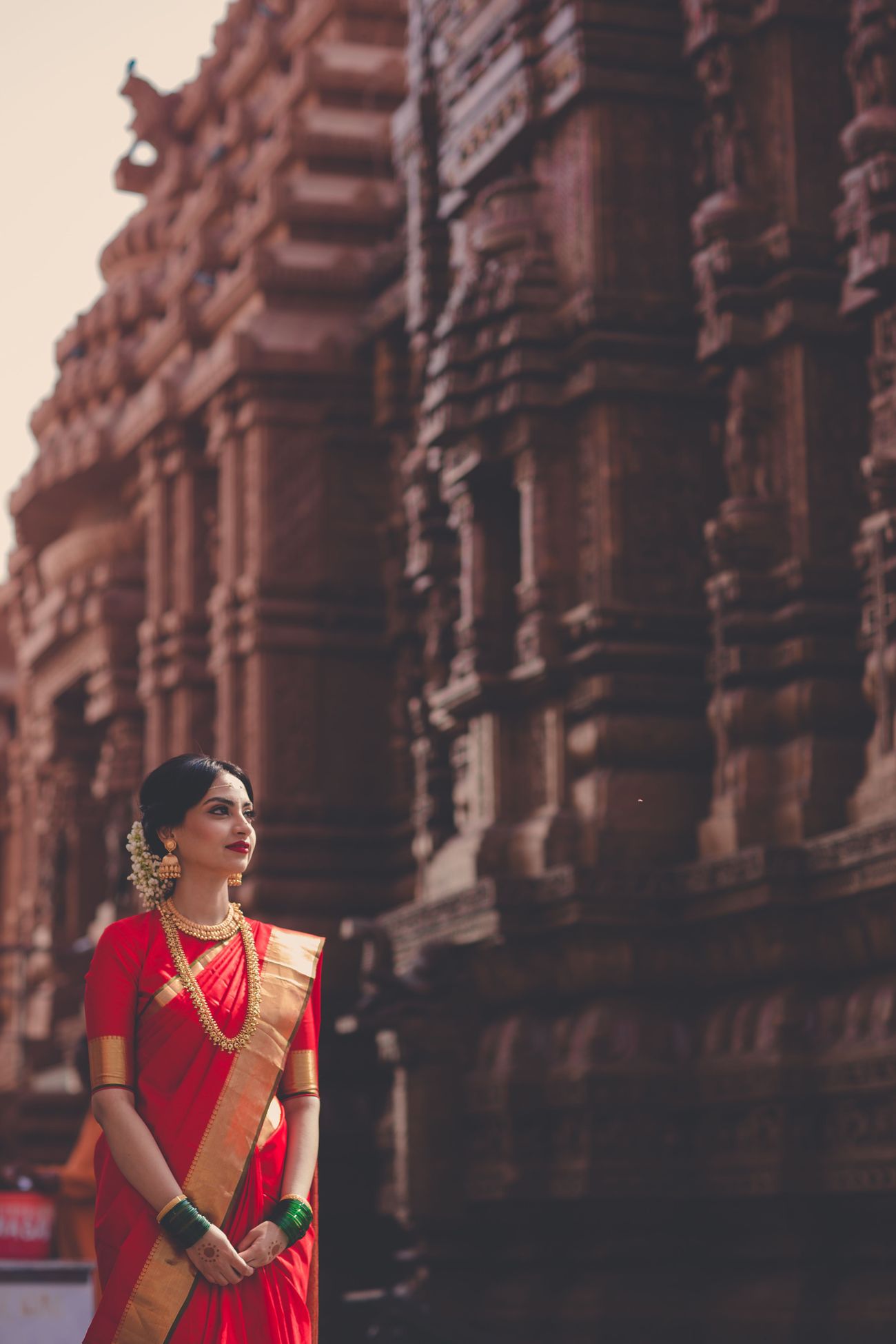 Image via A Story by Dharma Teja 
This south Indian bride skipped the extra by giving her hair accessories a miss. A simple hairstyle and a pop of red on the lips to complement her attire were the drills to keep it minimal.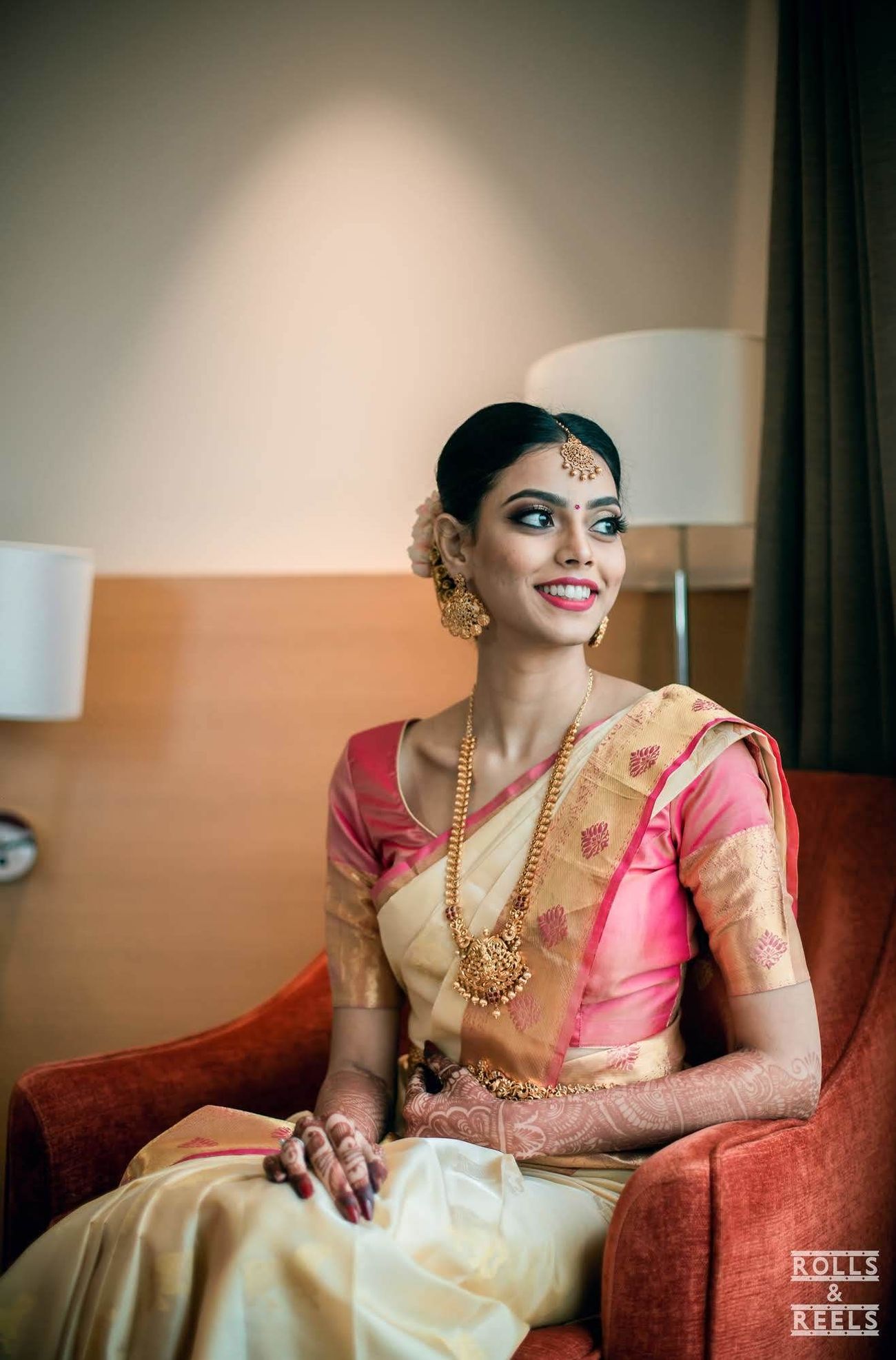 Image via Rolls & Reels
While a white south Indian bridal saree is sufficient to keep your look simple, this bride went a step further and avoided going overboard with the makeup. She chose the perfect combination of ivory and pink and looked absolutely beautiful. In addition to that, was the simple blouse design without the embroidery. It was the styling that left us swooning!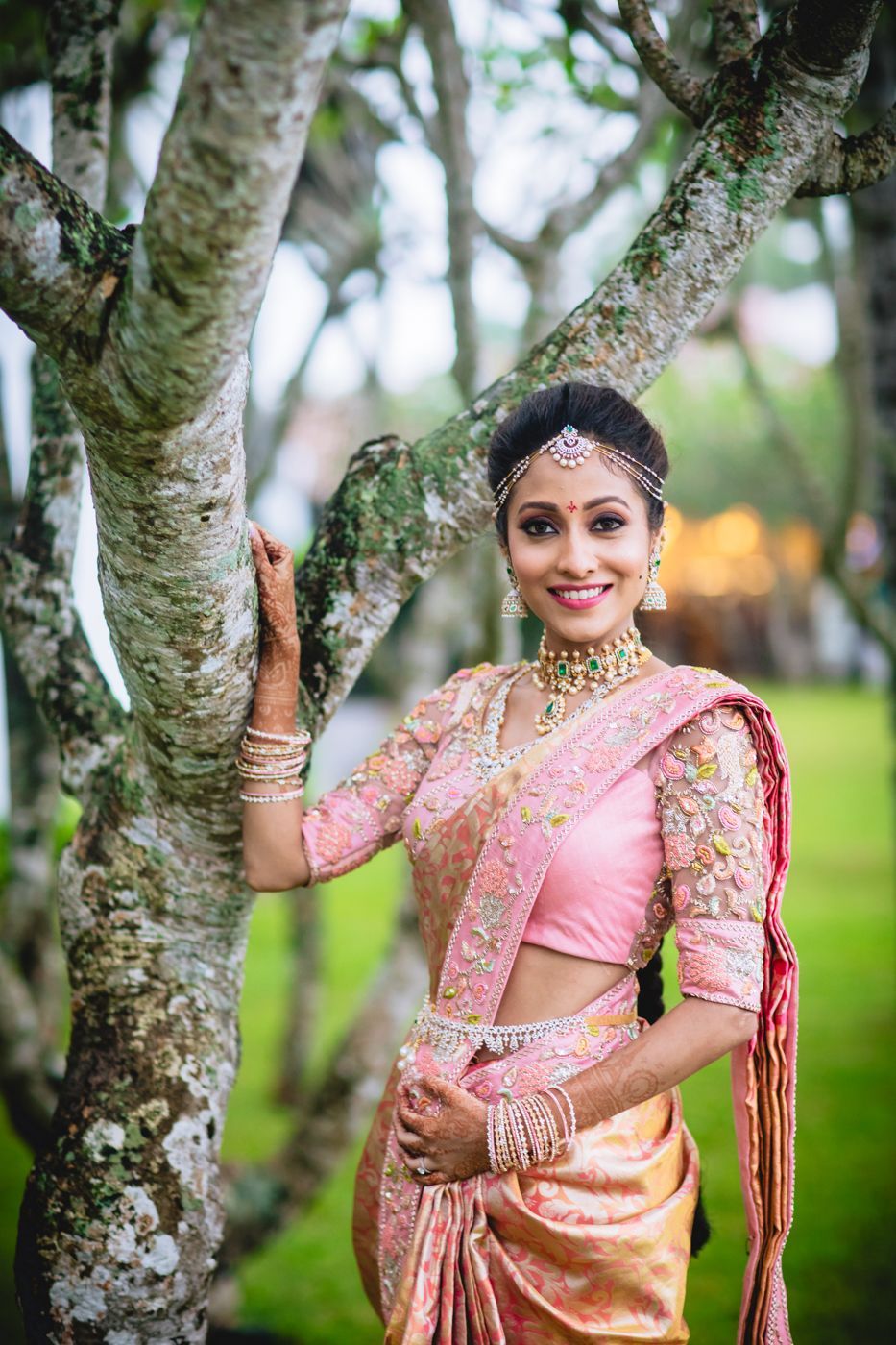 Image via LightBucket Productions 
And when you have no idea about how to create a minimal look, simply wear light or pastel-hued outfit. Instead of going for the usual Kanjeevaram saree this bride gave embroidery an upper hand and looked gorgeous in this south Indian bridal look. 
The Brides For Whom It's All About OTT
Don't want to go mainstream? Go extra! Love how brides fuse extravagant elements to the wedding looks and create a 'never seen before' attire. Don't forget to add a pinch of sass to it.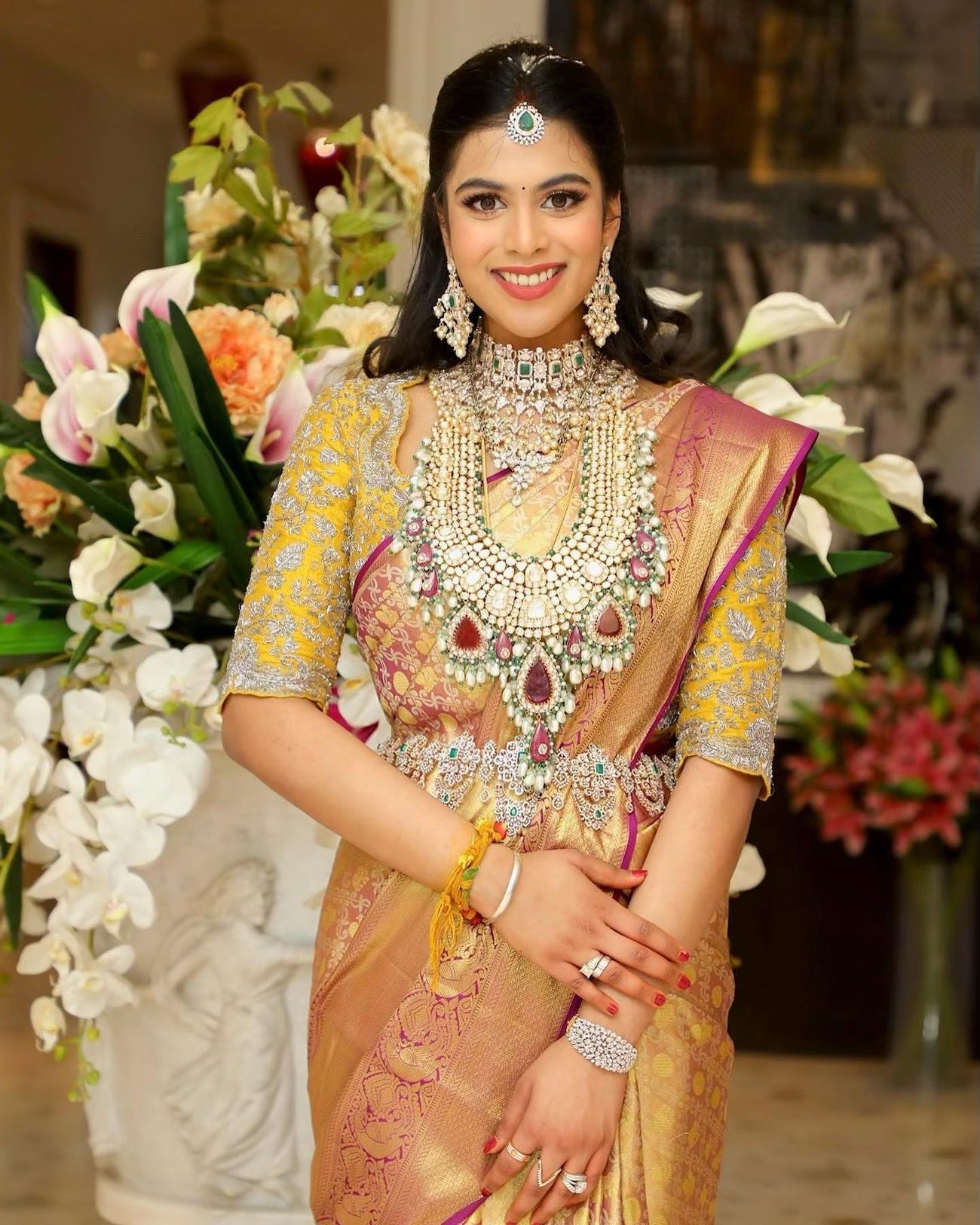 Image via @ronan_mili
Calling out all maximalist brides. Those extravagant jewels instantly lifted this bride's ensemble. Loved how she balanced the 'extra' vibe by letting her hair loose!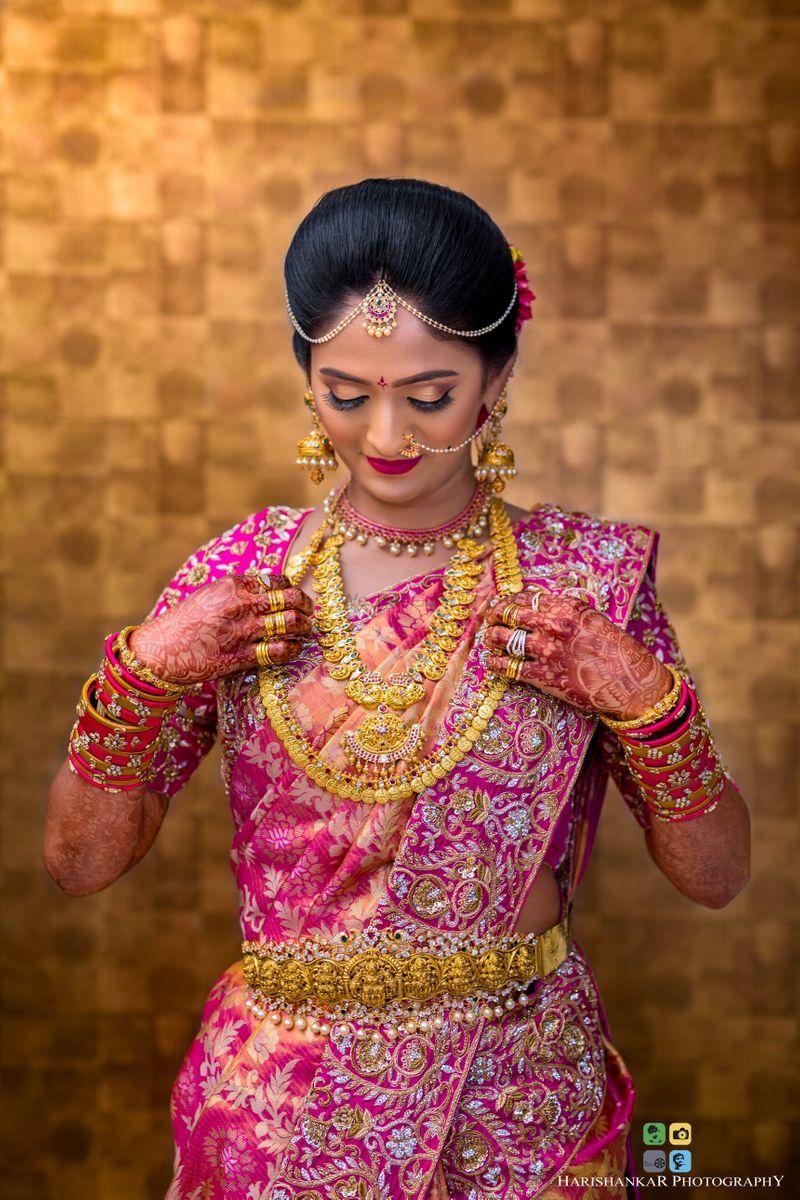 Image via Make-up by Afsha Rangila
Love how this bride didn't deter from adding so many over-the-top elements to her bridal look. Like this bride here whose saree and jewellery are extremely popping, she is still managing to give out all the south Indian vibes through her look. Be it the heavily embroidered south Indian bridal saree and blouse, with intricately detailed south Indian temple jewellery and bold makeup, she surely nailed it with ease!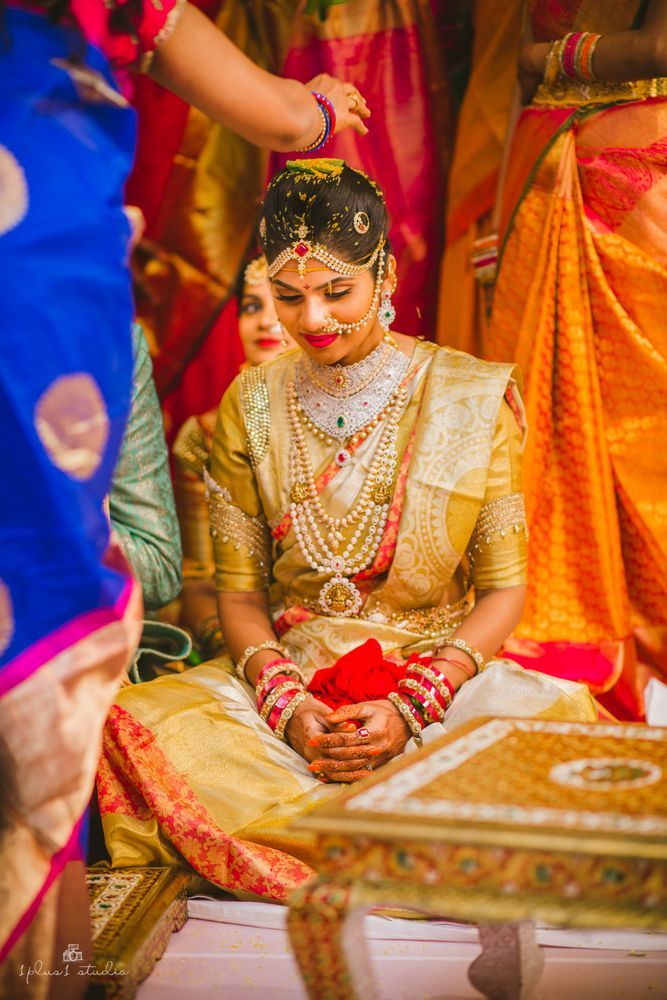 Image via 1plus1 Studio
We often think that gold and diamond cannot be pulled off together. She chose the brightest of colours and simply made an amazing south Indian bride. But this south Indian bride surely defied that notion by pairing a gold Kanjeevaram saree with a chunky diamond choker set!! *slow applause*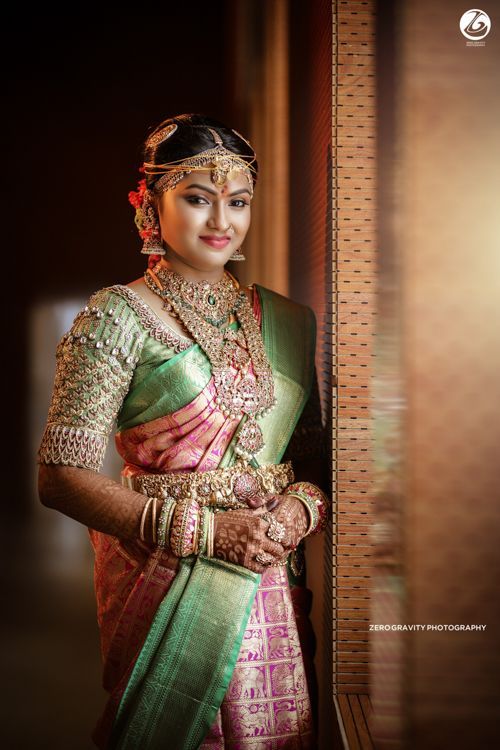 Image via Zero Gravity Photography
Despite being OTT with her jewellery, this bride toned it down by wearing a pastel-hued saree. Something that one would never imagine to be a pair. Her bold move has absolutely made her one of the best south Indian bridal looks. Win-win for sure!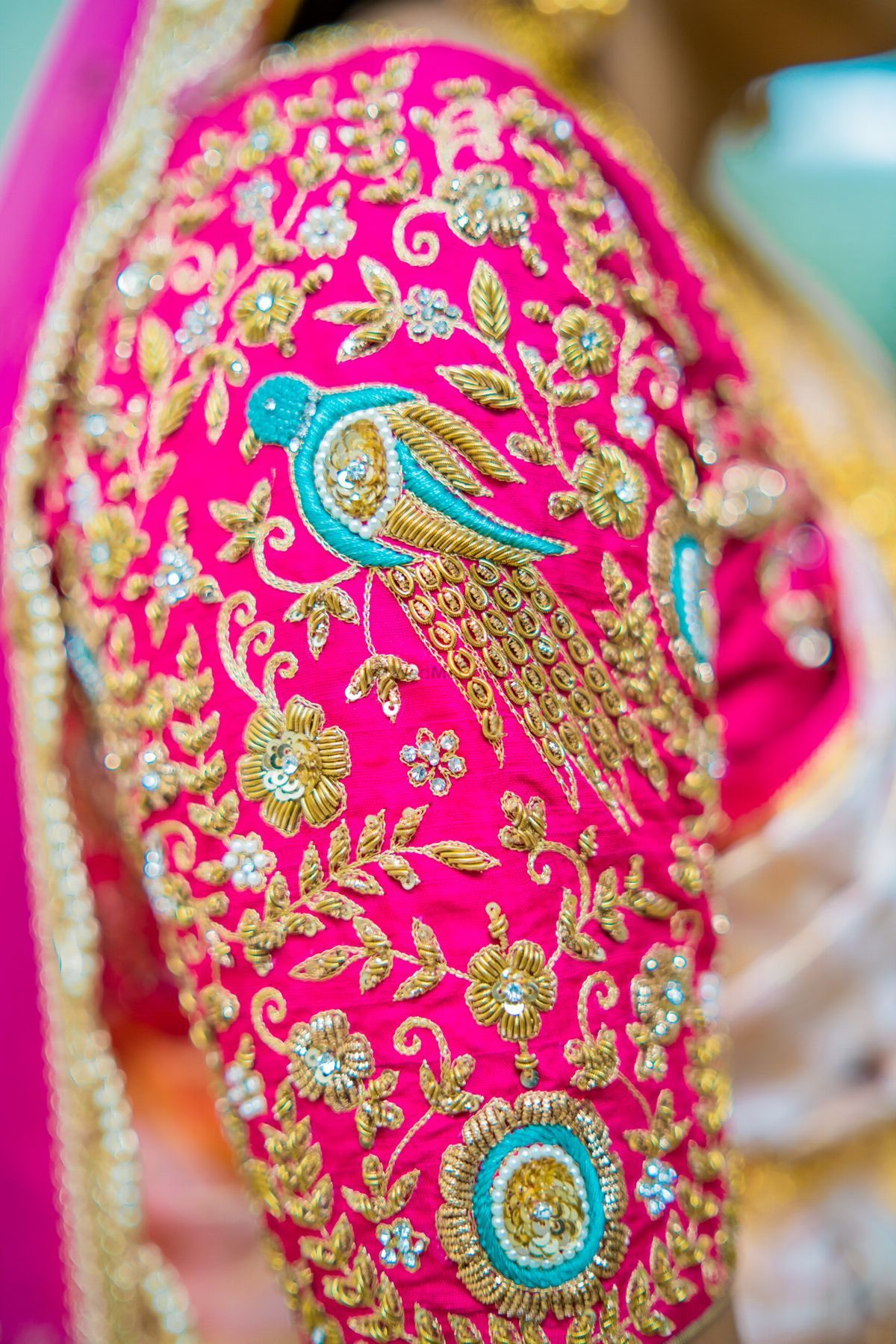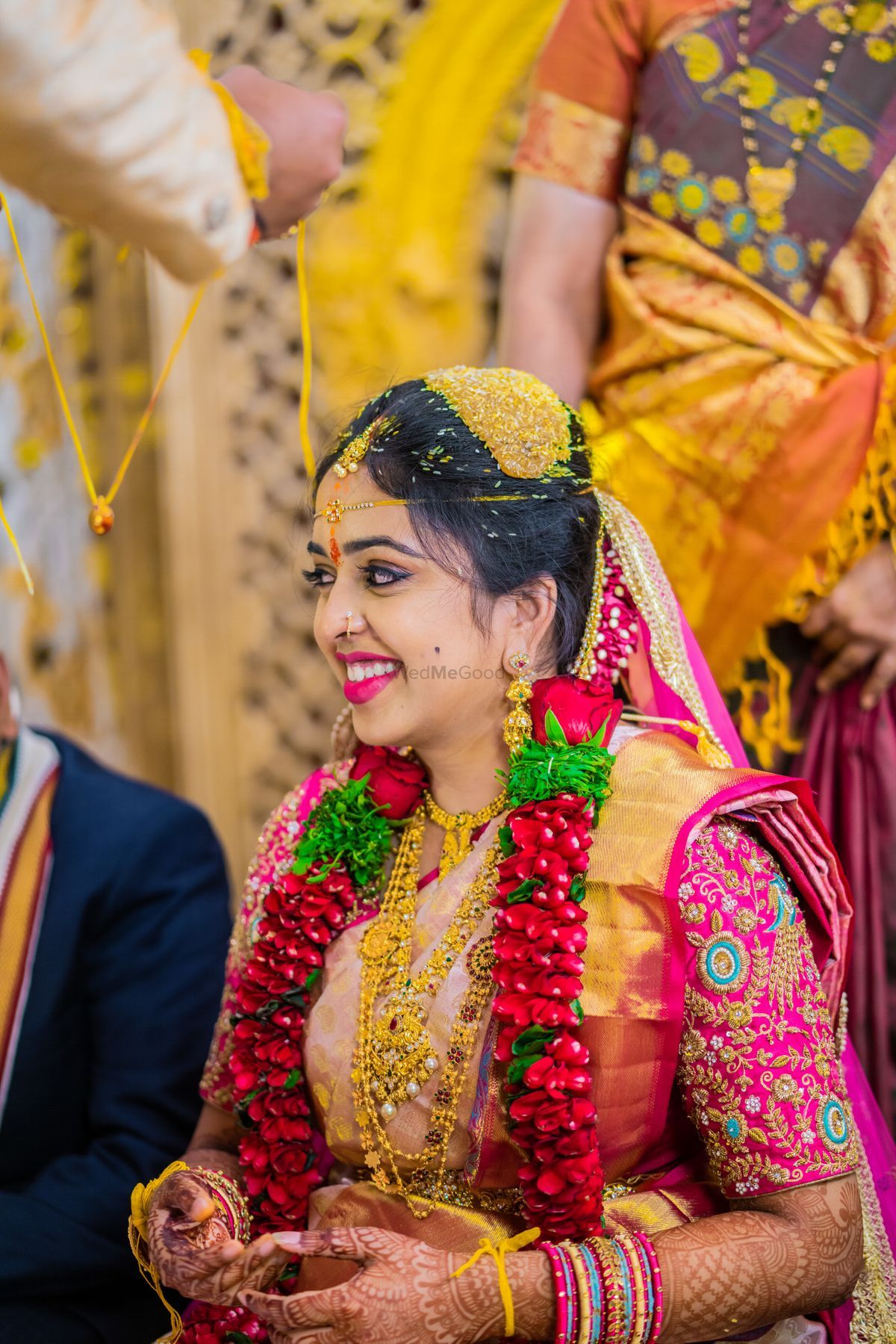 Image via Prabhu Yendamuri Photography
This bride paired a classic Kanjeevaram saree with a heavily embroidered blouse for a super decked-up look. A multicoloured blouse? Hell Yeahh! This bride combined all the coloured into one with a typical gold-coloured border cuz why not and looked perfectly perfect! We love the extra vibe!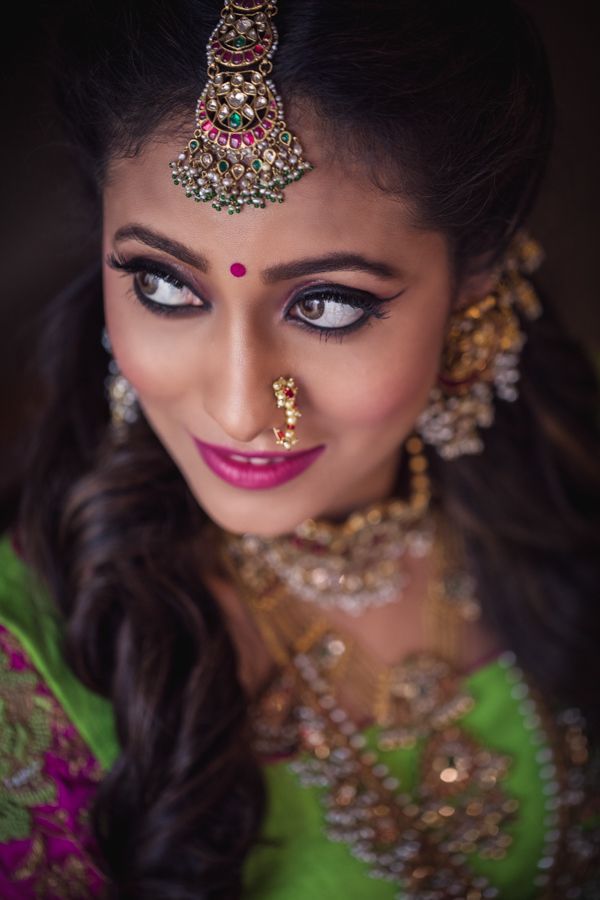 Image via LightBucket Productions 
Elegance comes with class and this bride just managed to prove it. Dazzling makeup can be a nightmare for some brides, but this bride looks no less than a stunner with the OTT winged liner and dark lips for her wedding look! Her winged liner and nath left us awestruck.
The Brides Who Wanted To Sparkle In Gold
No matter how modern the brides of today become when it comes to south Indian weddings gold can never go out of trend. It's timeless and classic! Weddings seem legit incomplete with this precious metal or color! Have a look at our south Indian brides sparkling in gold.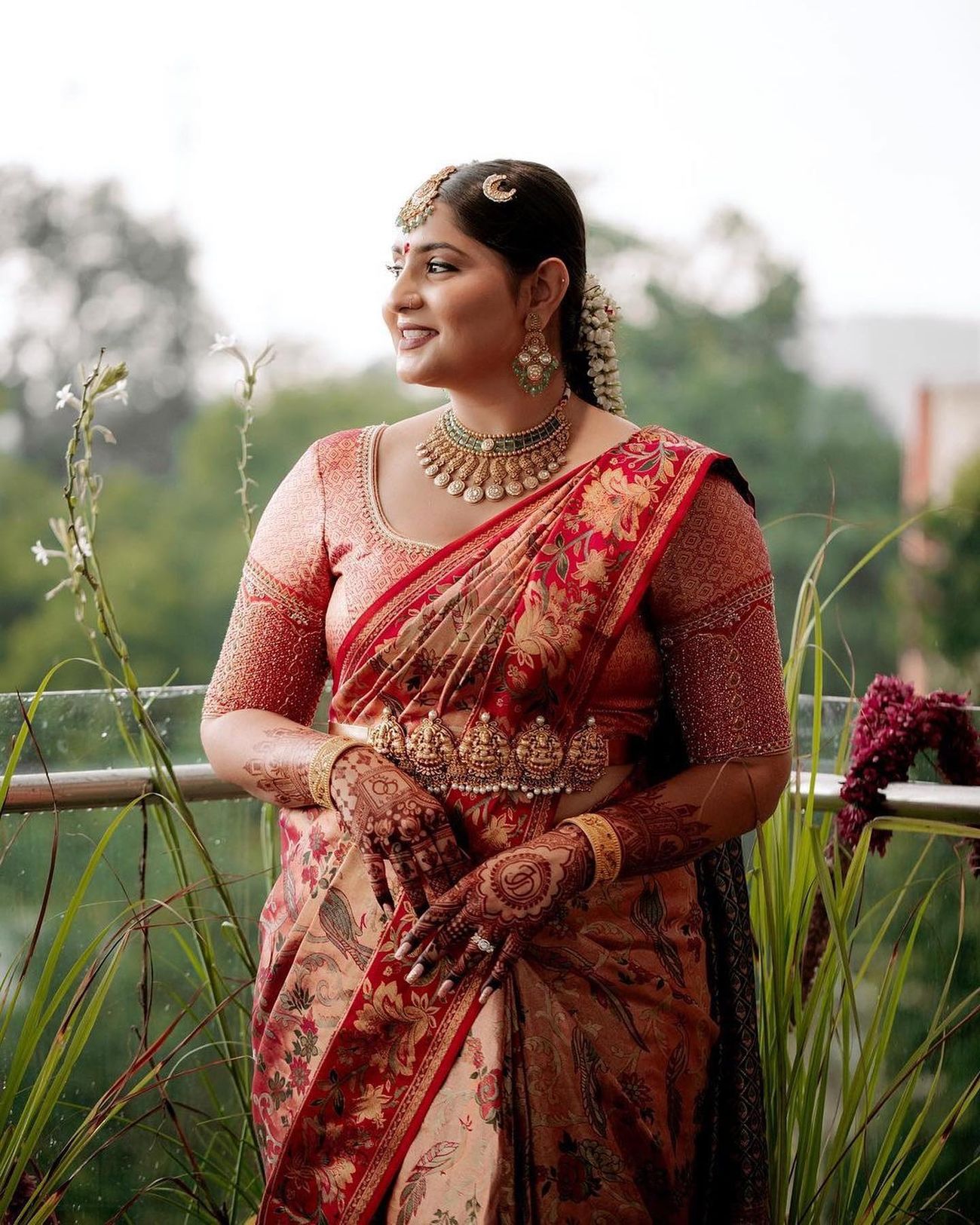 Image via @ff.films_
Right from the gold temple jewellery pieces to the kanjeevaram with a metallic sheen, this bride's glimmering style had us in awe. That's one saree that exudes an offbeat essence and hasn't been done to death! So, if you're planning to dip in gold but also want to keep it unique, take cues from this one.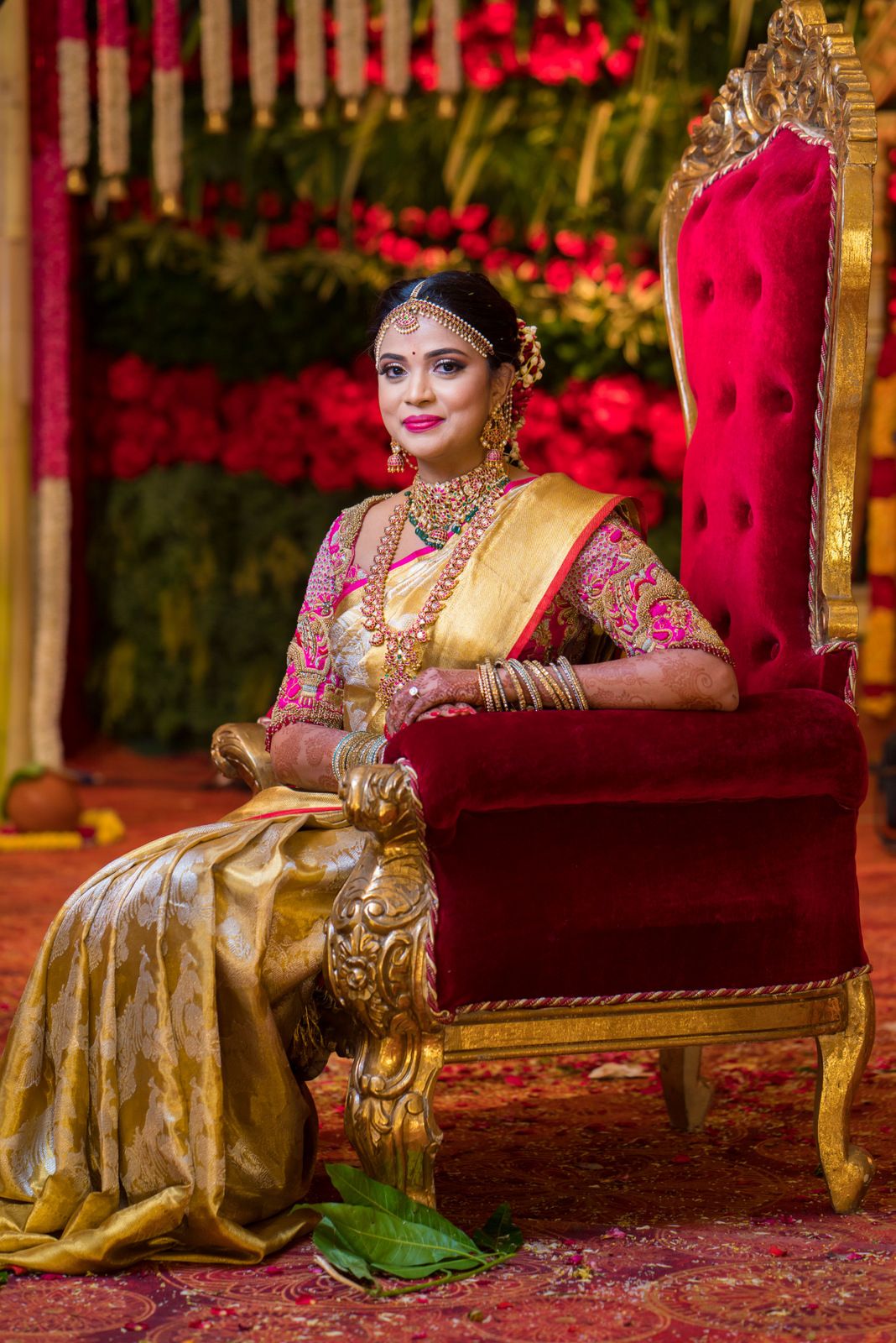 Image via Make-up by Afsha Rangila
That gold Kanjeevaram is so beautiful that it surely melted our hearts. She's expressing grace with her outfit and looks and turning out to be yet another best south Indian bridal look. A perfect example of absolute gorgeousness.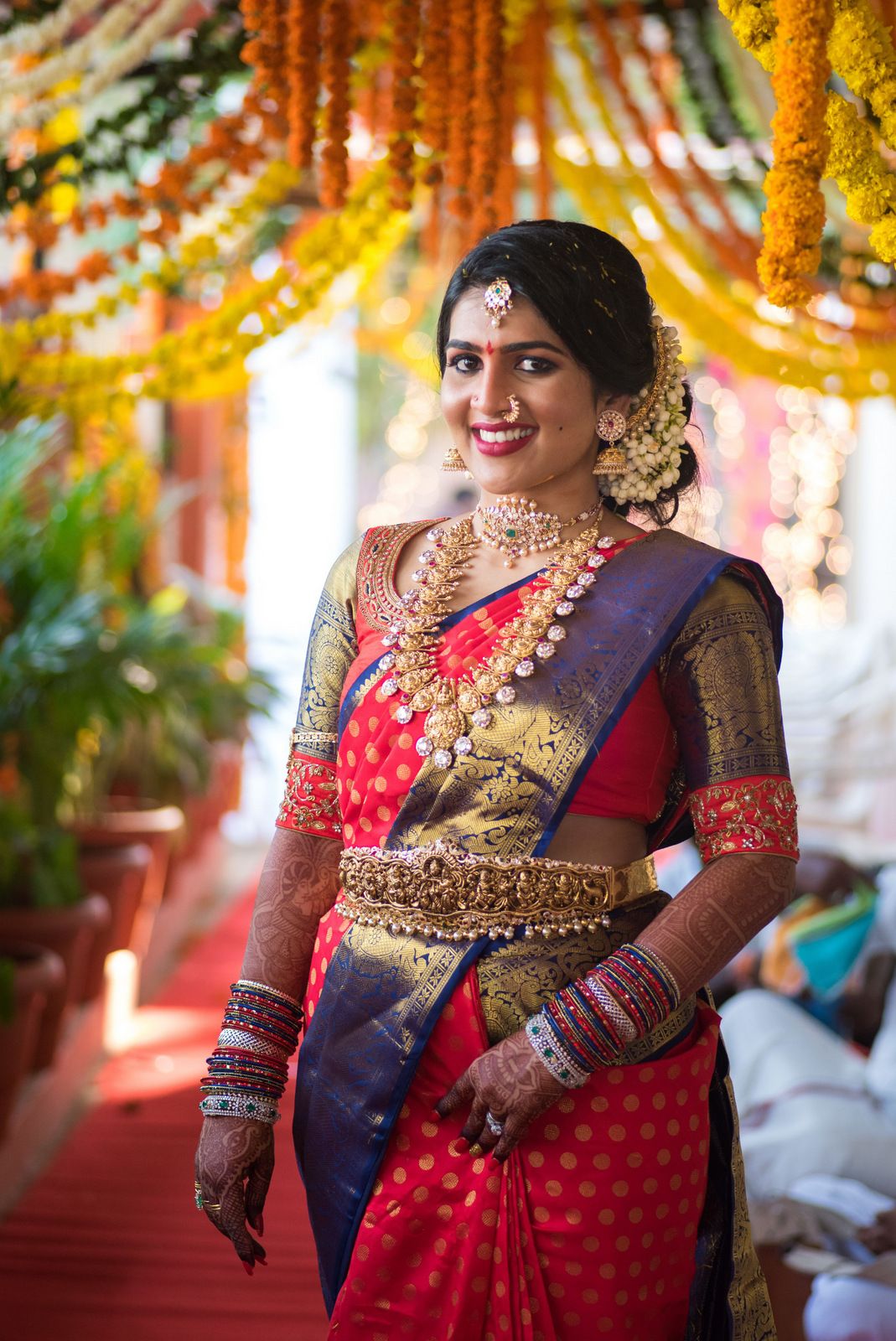 Image via Make-up by Afsha Rangila 
Woah! This bride wore a vibrant Orange saree with chunky gold jewellery. Totally loved it! The contrasting pair of orange and blue would never be imagined in such a look. This bride managed to pull off something so different yet she looks stunning. Also, not to miss how instead of a jada she sported a big bun (again embellished with gold accessories) on her special day. Ladies, without a doubt, you're here to spot some of the best south Indian wedding sarees.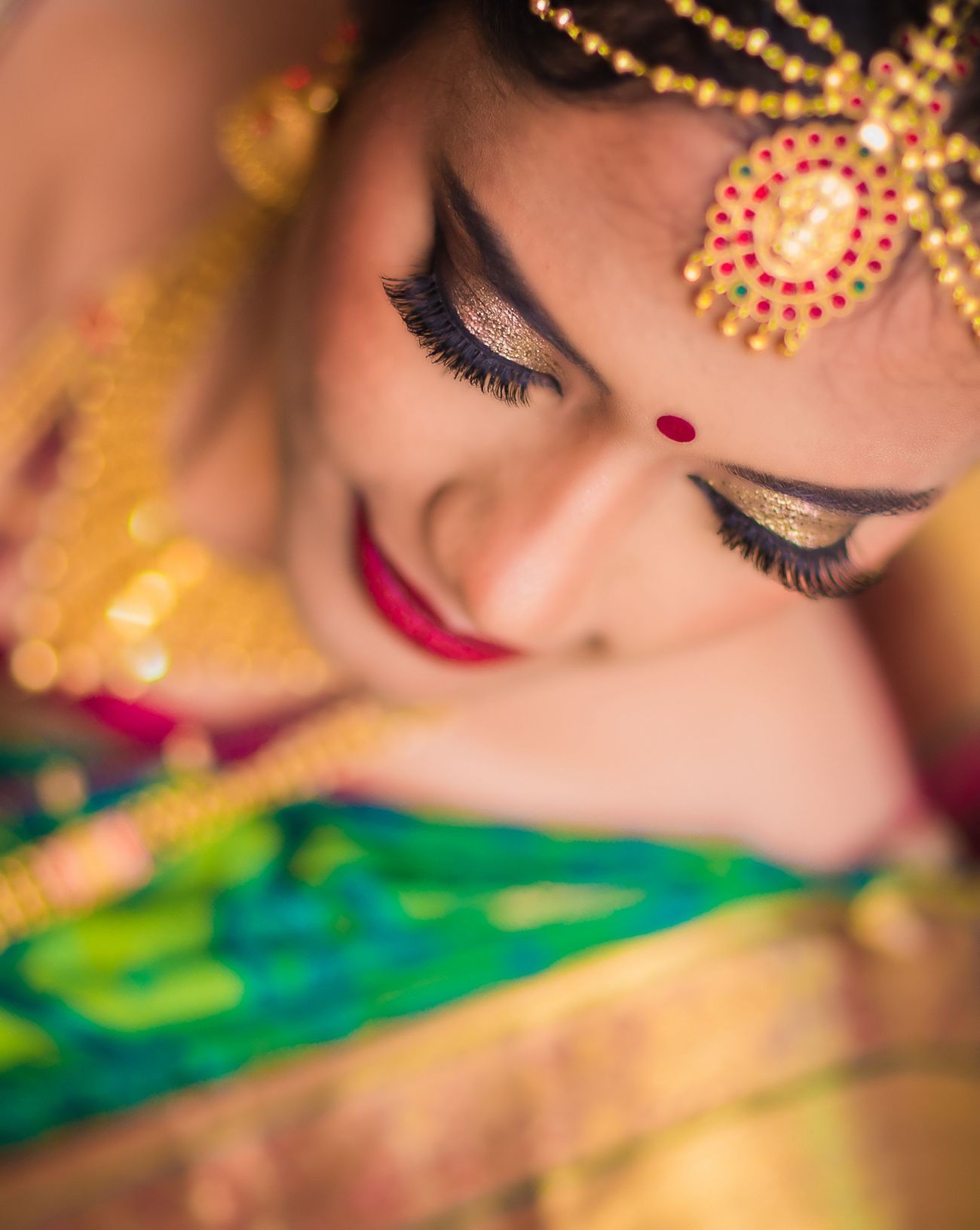 Image via R Nathan Photography
Instead of going all out with gold jewellery or attire, this bride chose to be unconventional by opting for glittering gold eye makeup. Her peacock-hued saree looks simply mesmerising. Don't know about you guys, but we think this is the simplest and classiest way of adding gold to your bridal look.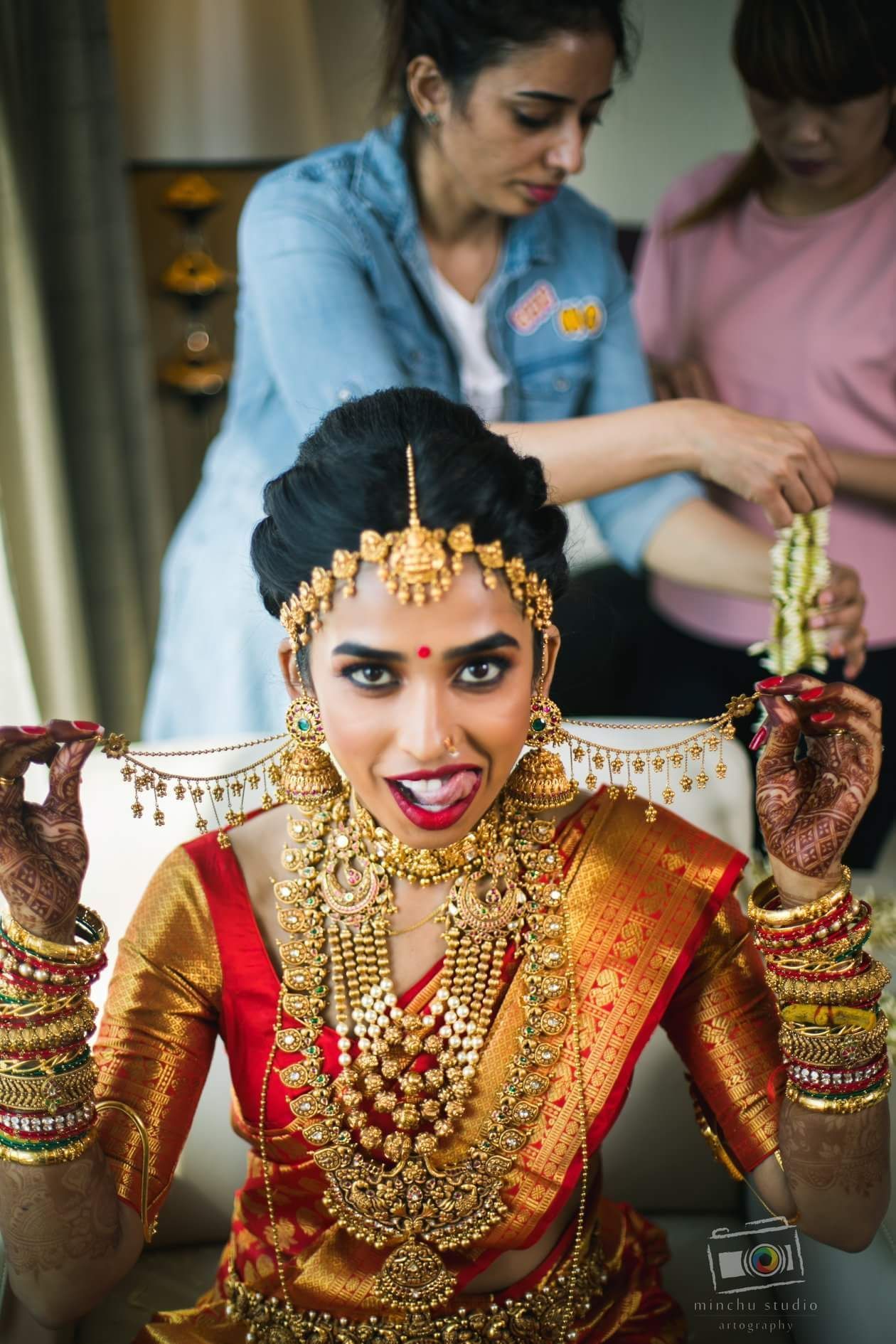 Image via GlossNGlass
Whoever said a bride shouldn't wear too much gold jewellery didn't meet this sassy bride! She's all gold and blingy matching with red looking almost like a Sabyasachi south Indian Bride. Isn't she nailing all that gold jewellery?! Screaming lustre, to say it in a polite way. Haha!!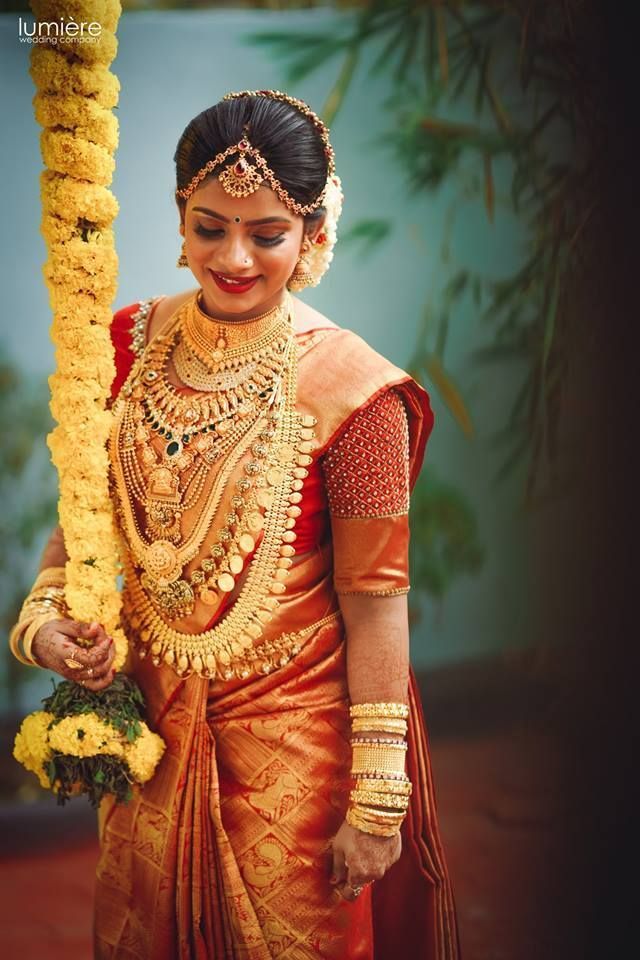 Image via Booking My Events 
And you thought that the previous bride wore too much gold? Well, how about this. :D Ethnicity at its best!
The Brides Who Who Couldn't Do Without Diamonds
We have noticed a lot of brides completely ditching temple jewellery for pristine diamonds! Diamonds actually accentuate your outfit, instead of overpowering it. Also, it ends up giving you a unique bridal look. How you may ask? Well, how about letting these photos do the talking!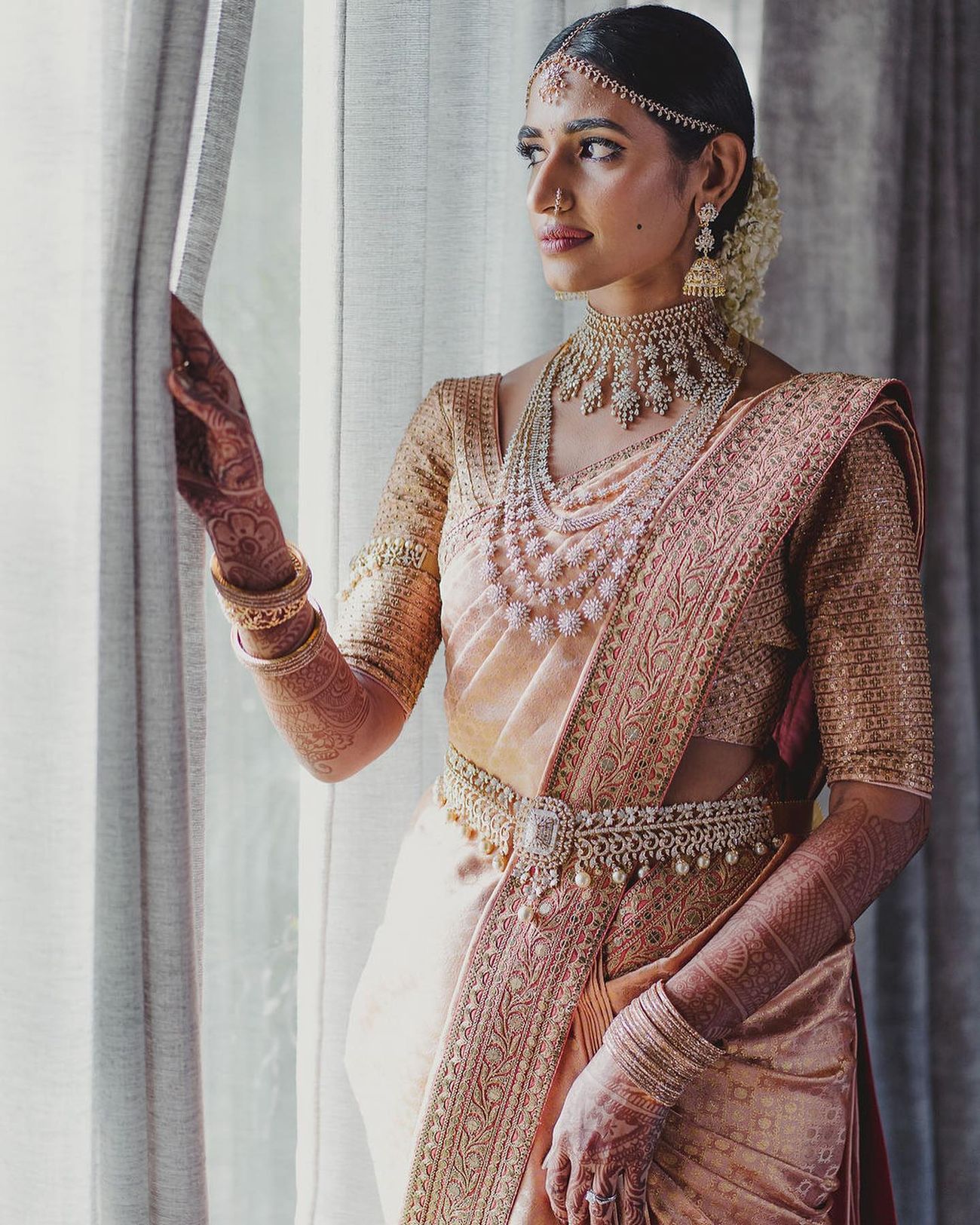 Image via Reelsandframes
Everything about this look spells elegance. The combination of pastel hues and scintillating diamonds has been our forever favourite! Here's proof that layering diamond jewels are a fail-safe pick for a contemporary bridal look.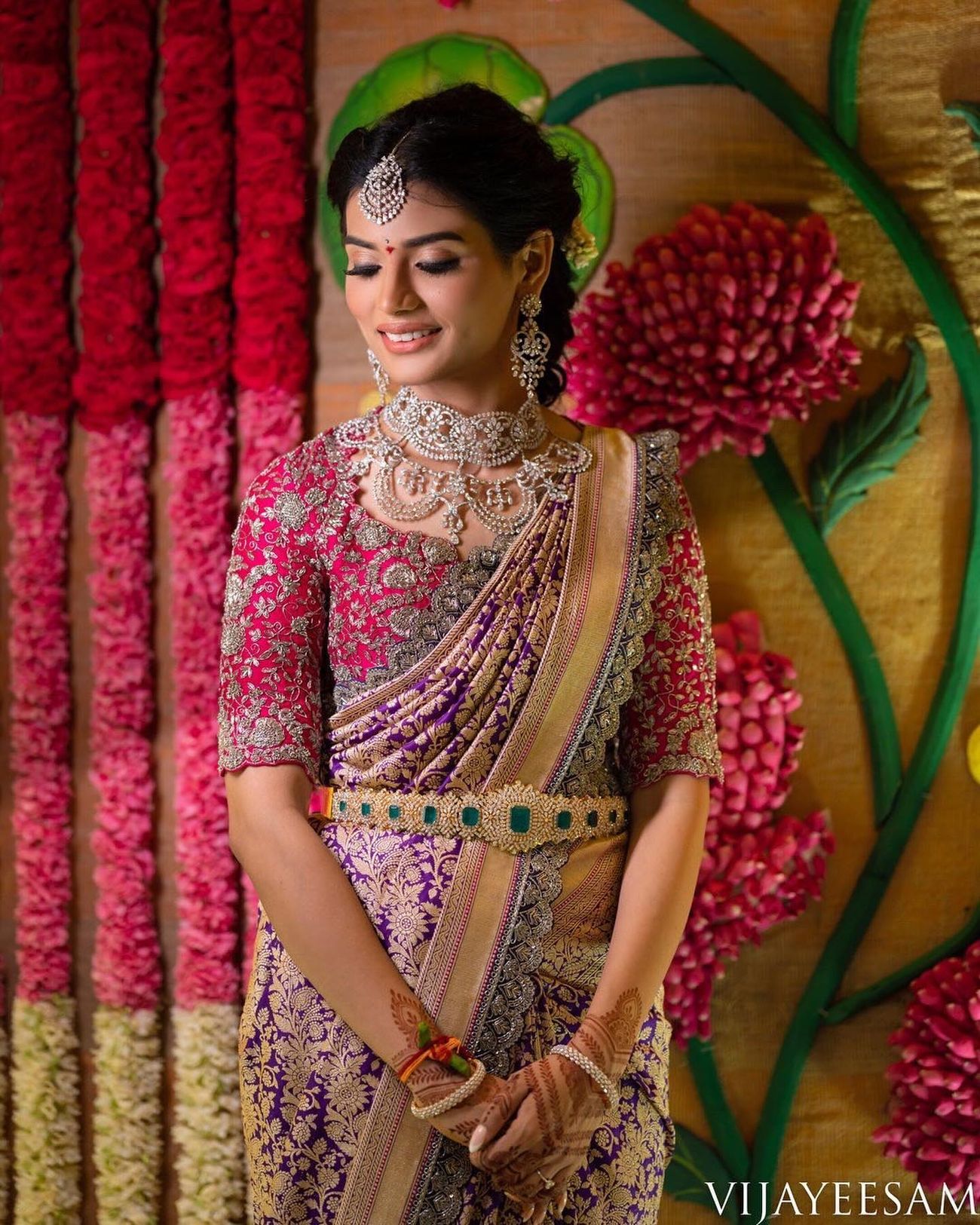 Image via Eesam & Co.
Trust us when we say, you have to experiment with pristine diamond jewels.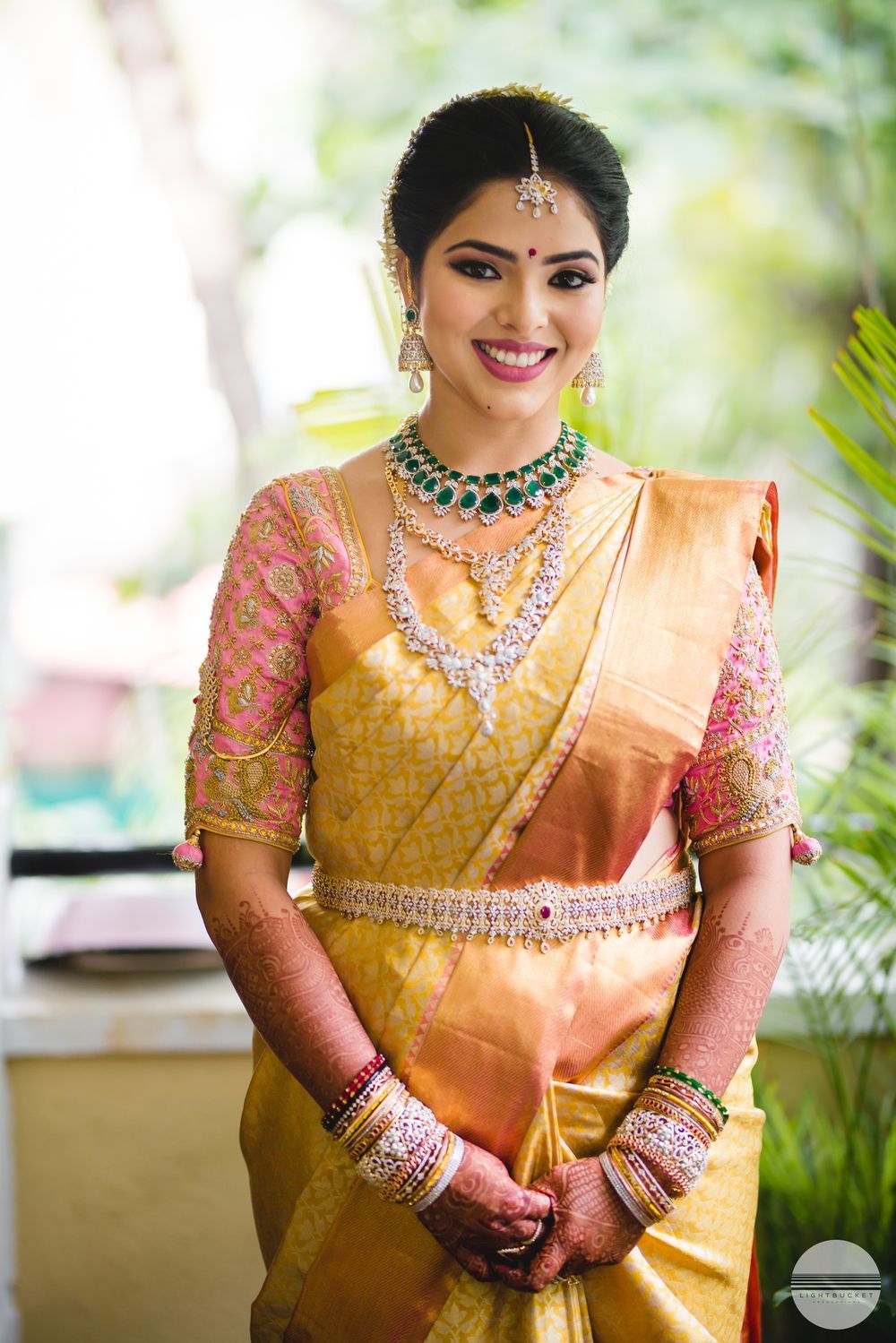 Image via Khyati & Tushar
For those who wish to wear a gold saree, but feel styling it with gold jewellery would be extra. How about taking a cue from this stunning bride?! Loving the contrast created by those emerald and diamond necklaces. She looks enchanting and happy bringing a smile to all our faces with her south Indian look.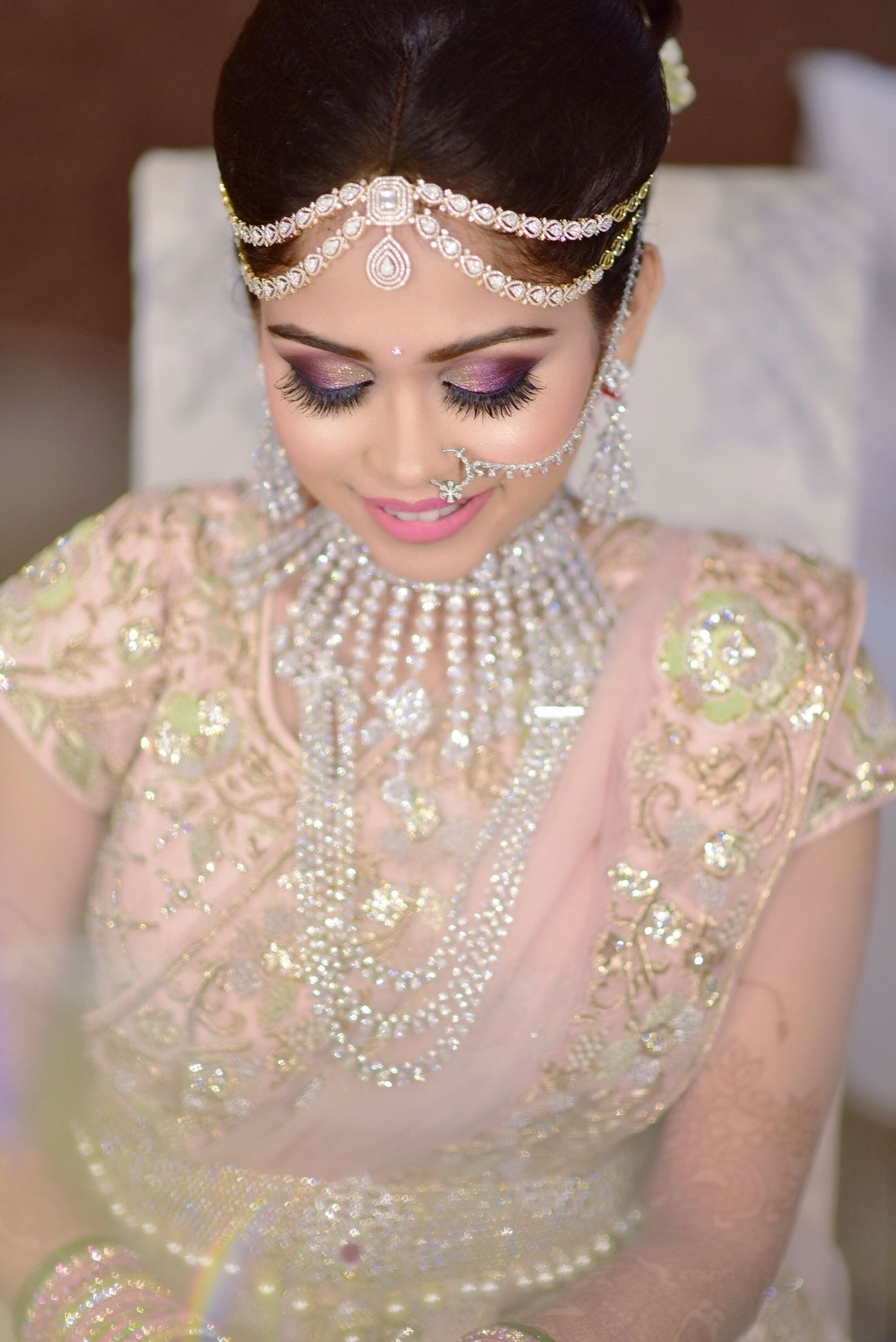 Image via Tamanna Rooz 
This bride easily proved how pastels look gorgeous with diamonds! She went all blingy with simply no fear and transformed into this effectively different south Indian bride with a saree filled with stonework. And don't forget to notice how effortlessly she carried that bold eye makeup with an otherwise muted (yet dazzling) attire!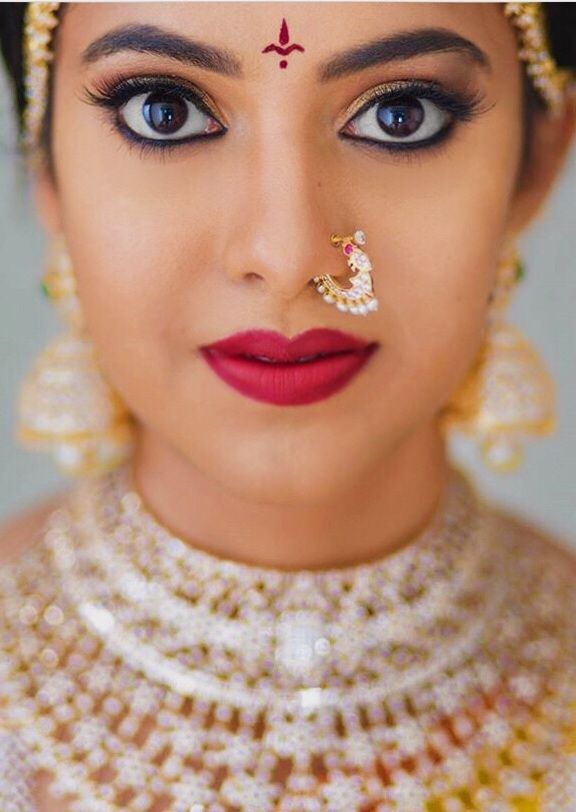 Image via Tamanna Rooz 
We've been crushing on this nose ring ever since we saw it! Her sharp features make this look even more flawless than ever. Looks so pretty with the ruby red lip shade.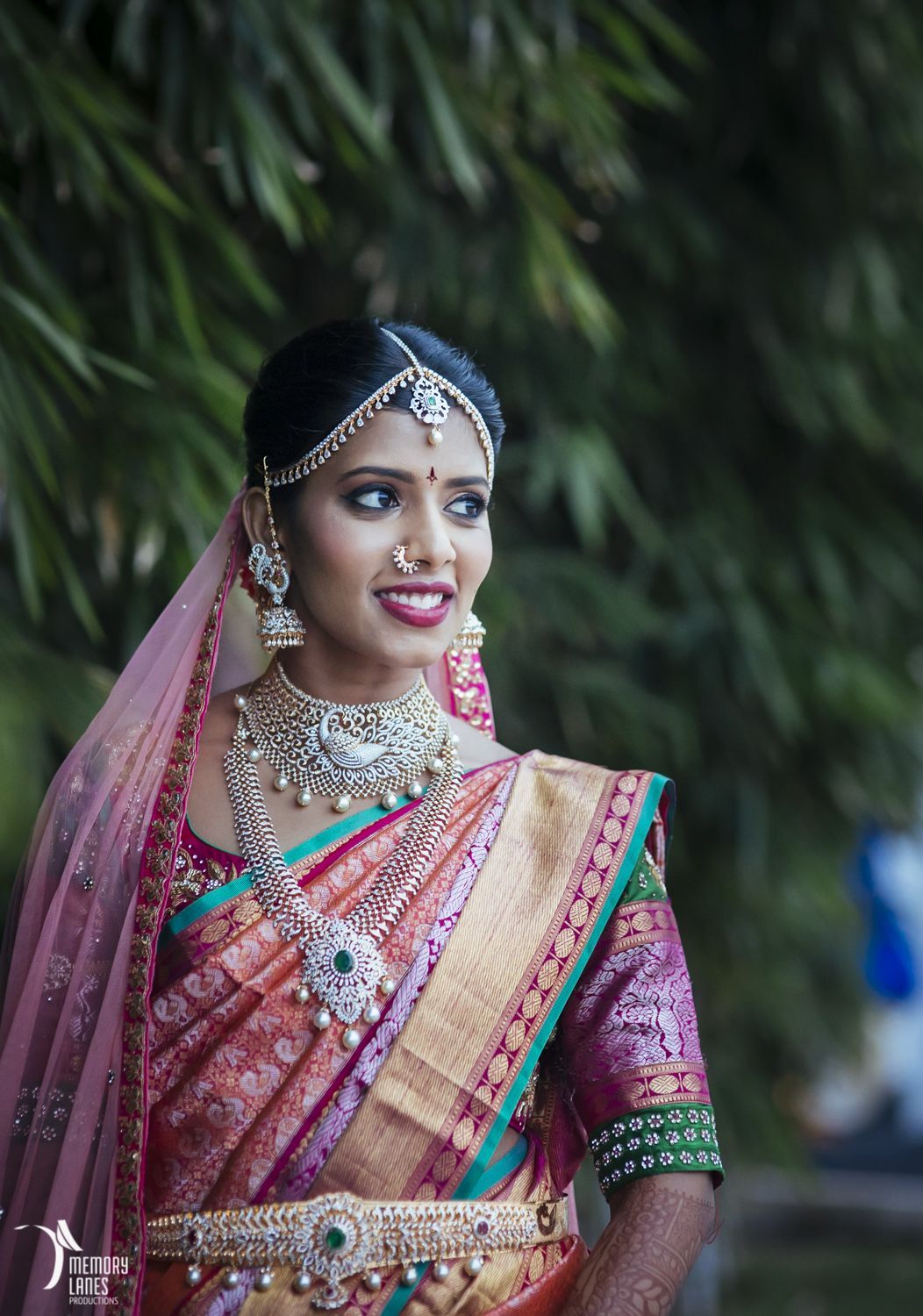 Image via Memory Lanes Productions (SumanChakri Photography) 
This bride wore different shades of pink in her attire and styled exquisite diamond jewellery pieces. A mix of beautiful subtle colours and sheer beauty of this silk saree makes this bride look impeccable. And let's just not forget that dupatta comes under the veil as they say. This one's definitely our favourite!!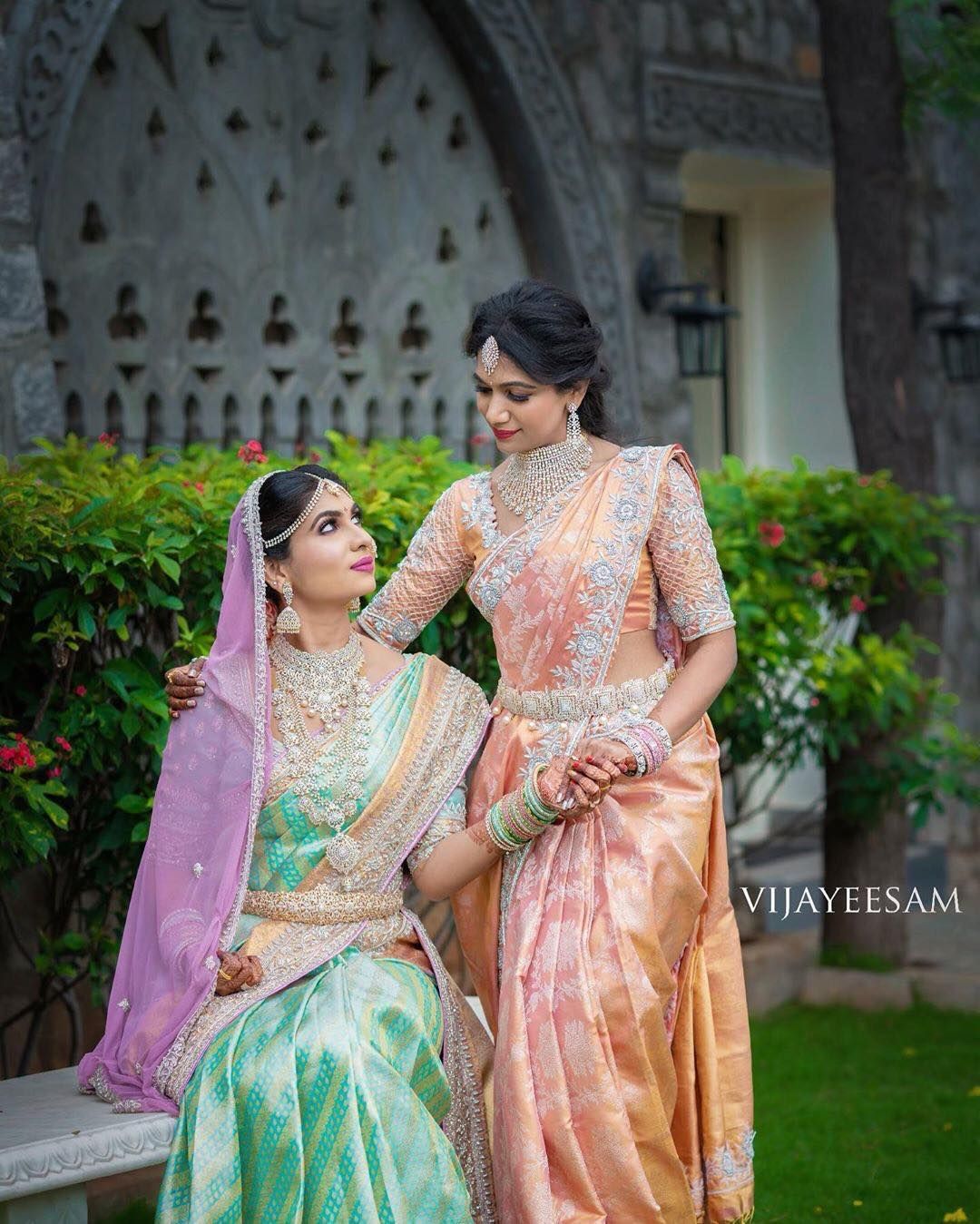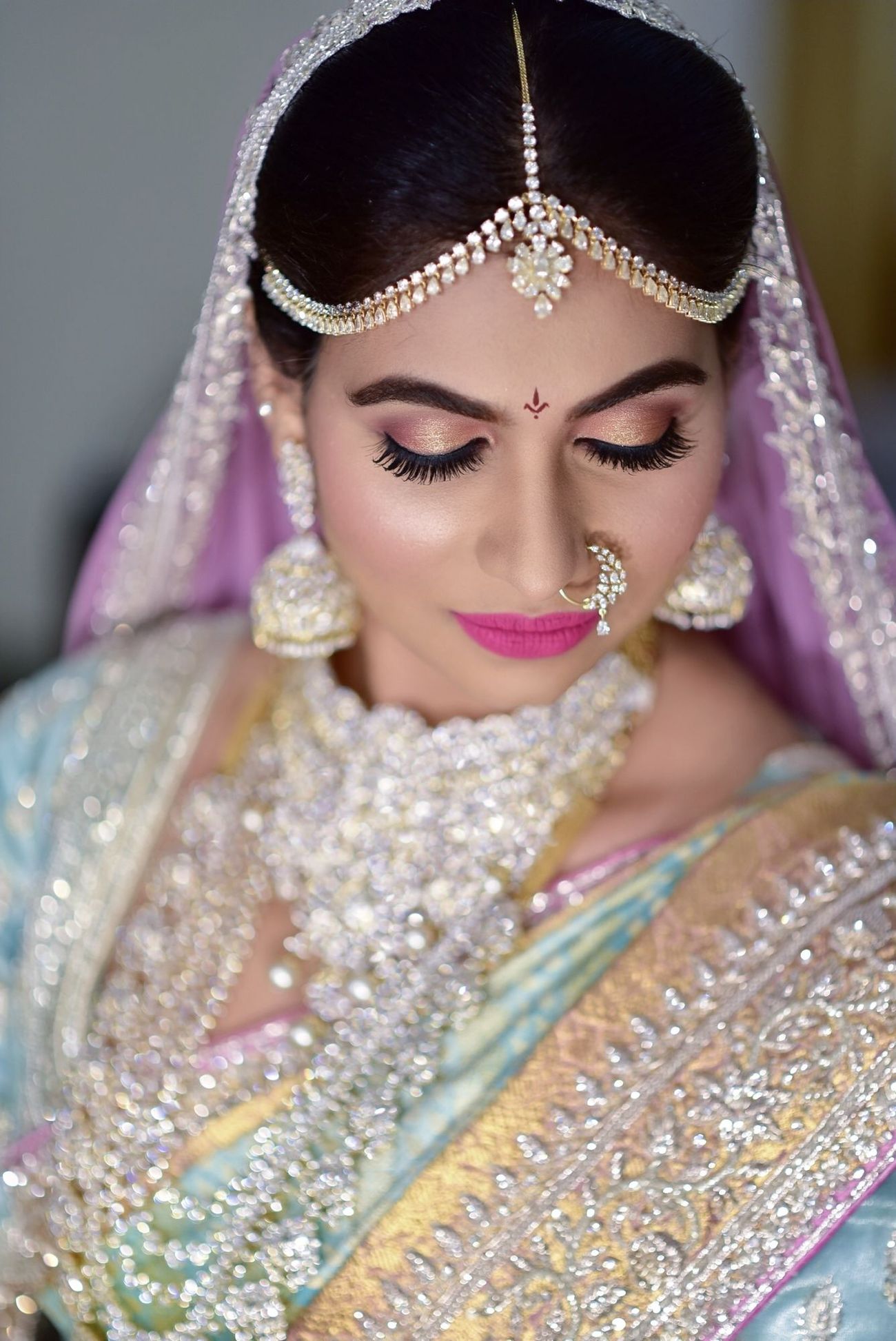 Image via Tamanna Rooz 
It's really hard to pick one stunning element from this beautiful bride. Her pastel saree has this diamond-like (basically silver thread word giving that illusion) embroidery which looks even more alluring with that heavy diamond set. A sense of modernity and style statement this bride has showcased. Simply wow!
The Brides Who Kept Their Hair Game Strong
South Indian weddings without stunning hairstyles are incomplete. Bridal hairstyles for south Indian brides are unique and immensely beguiling. Often leaving us to wonder, how much effort goes behind creating those detailed hairstyles be it a bun, a jada or more!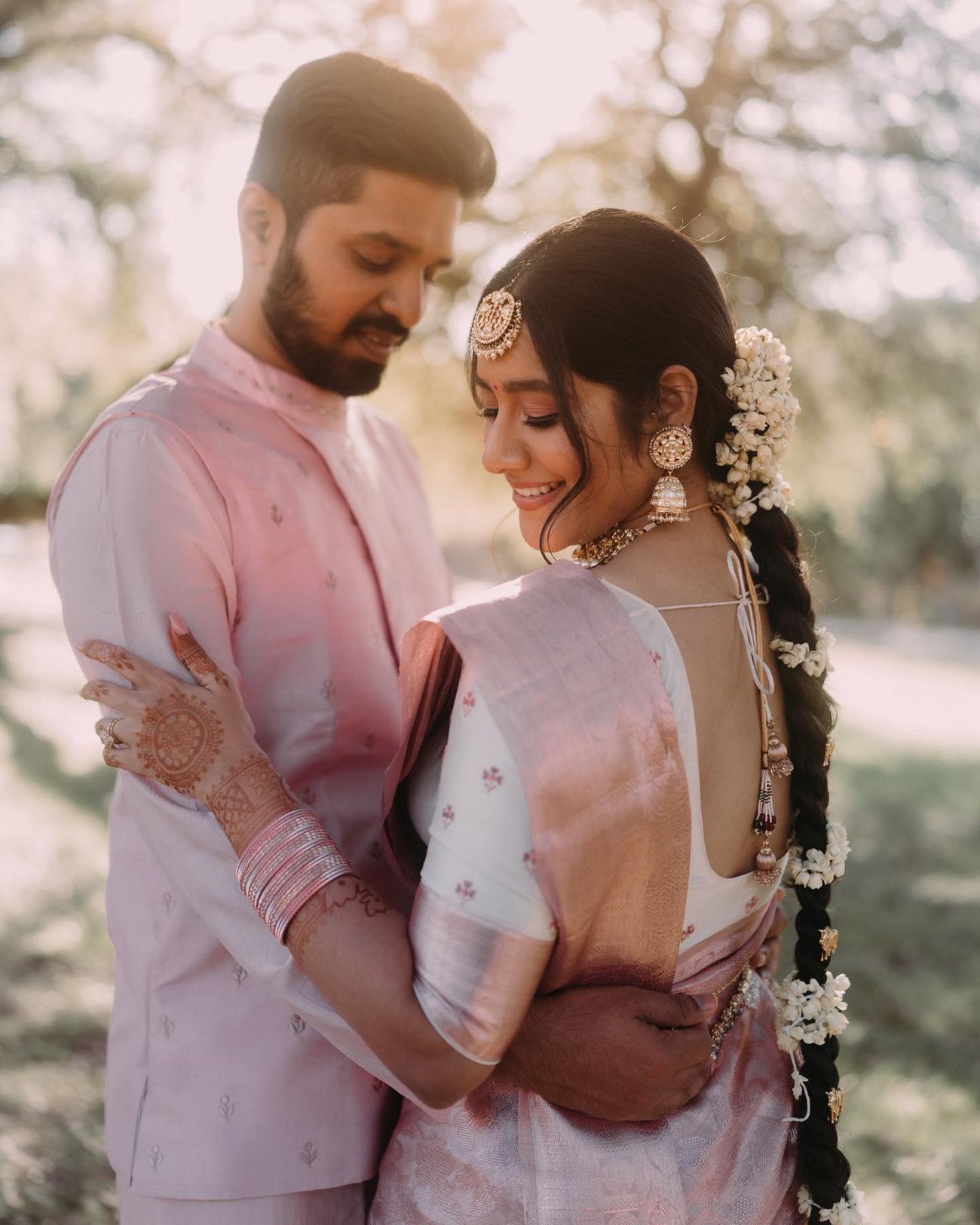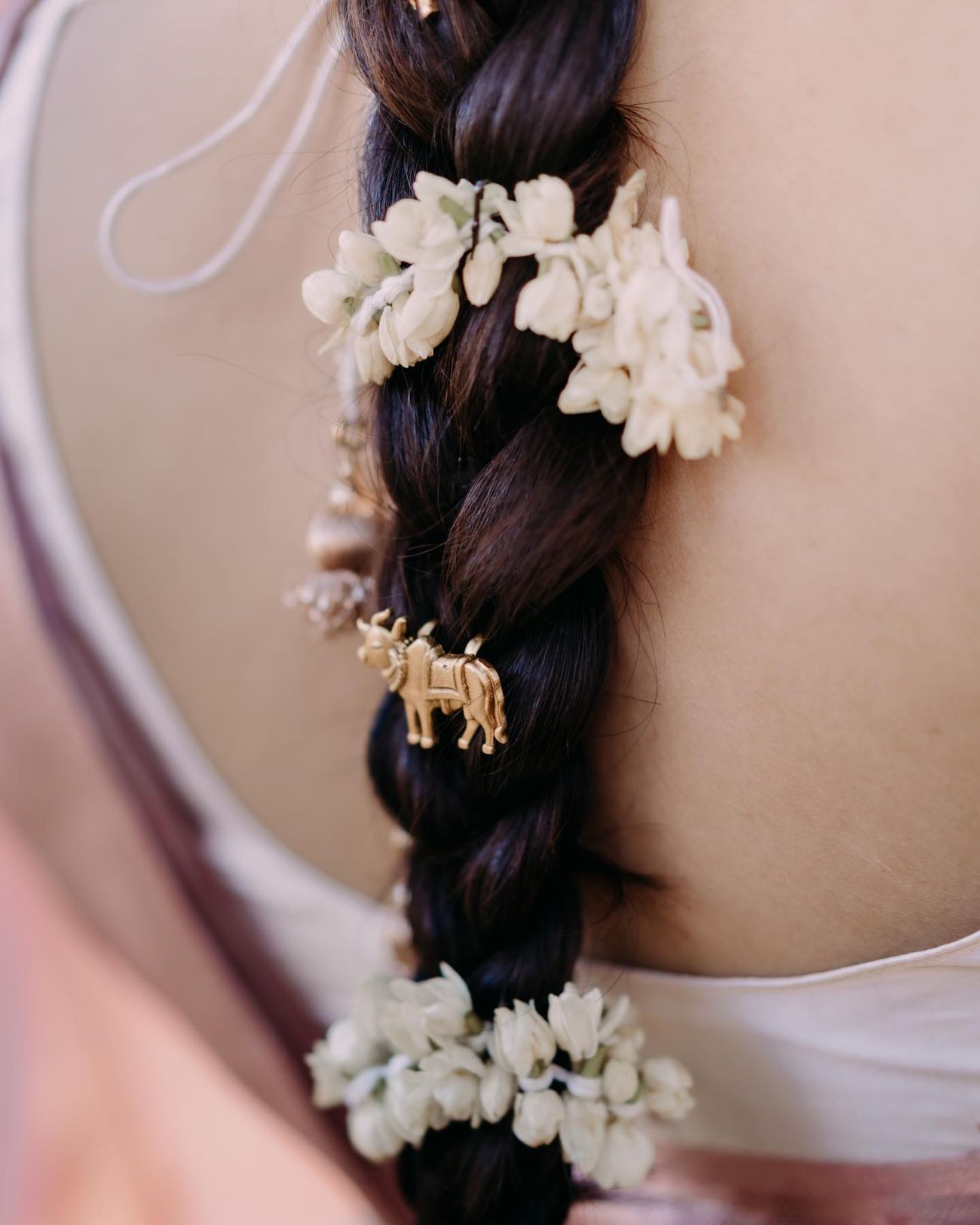 Image via @satanssj
Poolajada but keep it trendy! This bride added quirky hair pins to her braid and created a never-seen-before look. We bet you wouldn't be able to scroll past this one.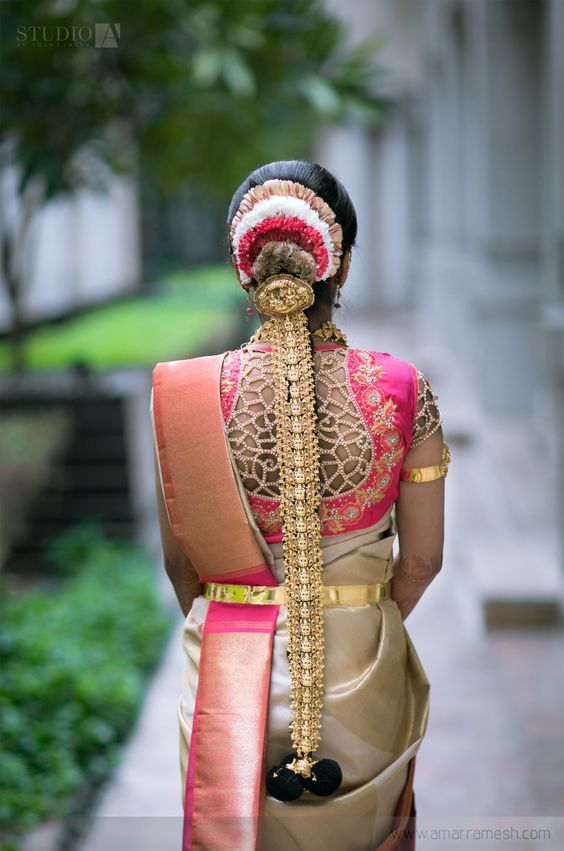 Image via Studio A 
Can we take a minute and appreciated this stunning gold jada!! That exquisite, intricately detailed gold accessory surely amped up a basic braid. Awestruck as they say, the jada is something we can't seem to take our eyes off and makes this bride look as south Indian as ever!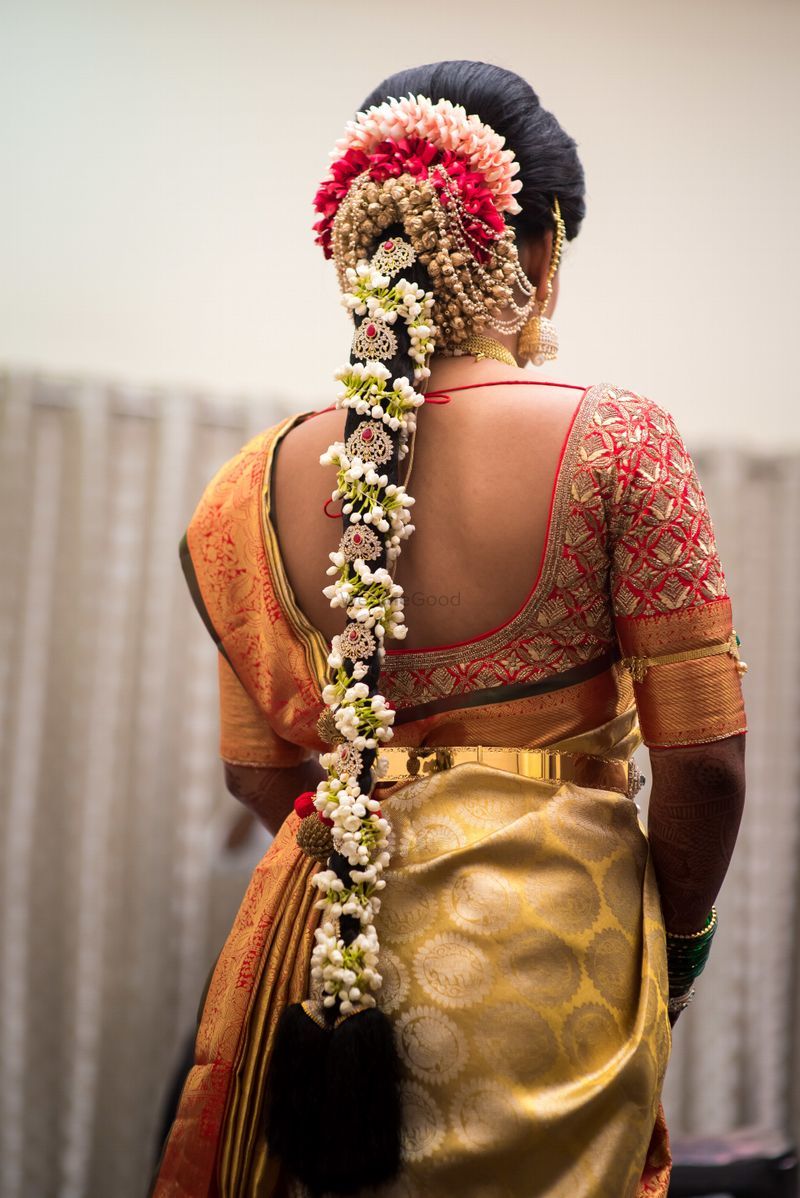 Image via Make-up by Afsha Rangila
This bride beautifully exhibits a perfect amalgamation of fresh flowers in shades of pink and white with Jada coins. Also, you cannot miss those red stone additions on the coins, to complement the blouse!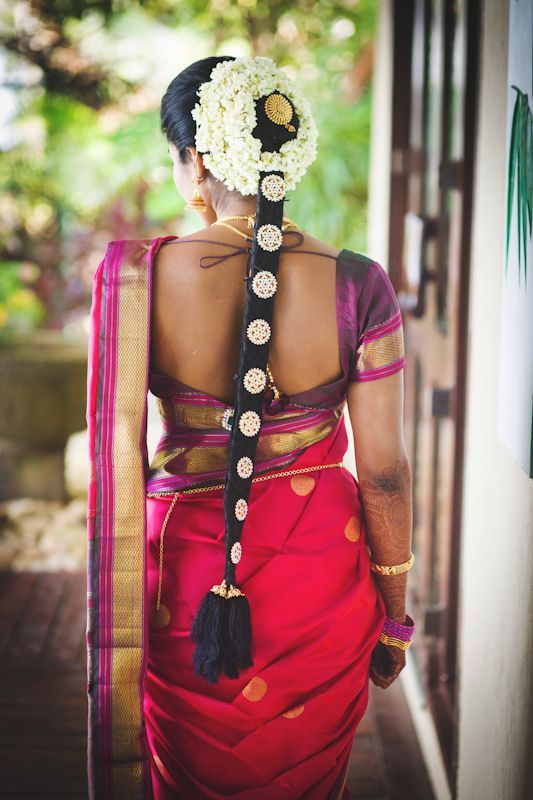 Image via Genda Phool Studios
How about this all-white Jada? Amazing, isn't it?! Love how this bride has heavily accessorised her bun with gajra paired with minimal Billas (coins) on the braid!! The intricate details of this braided jada are simply fascinating.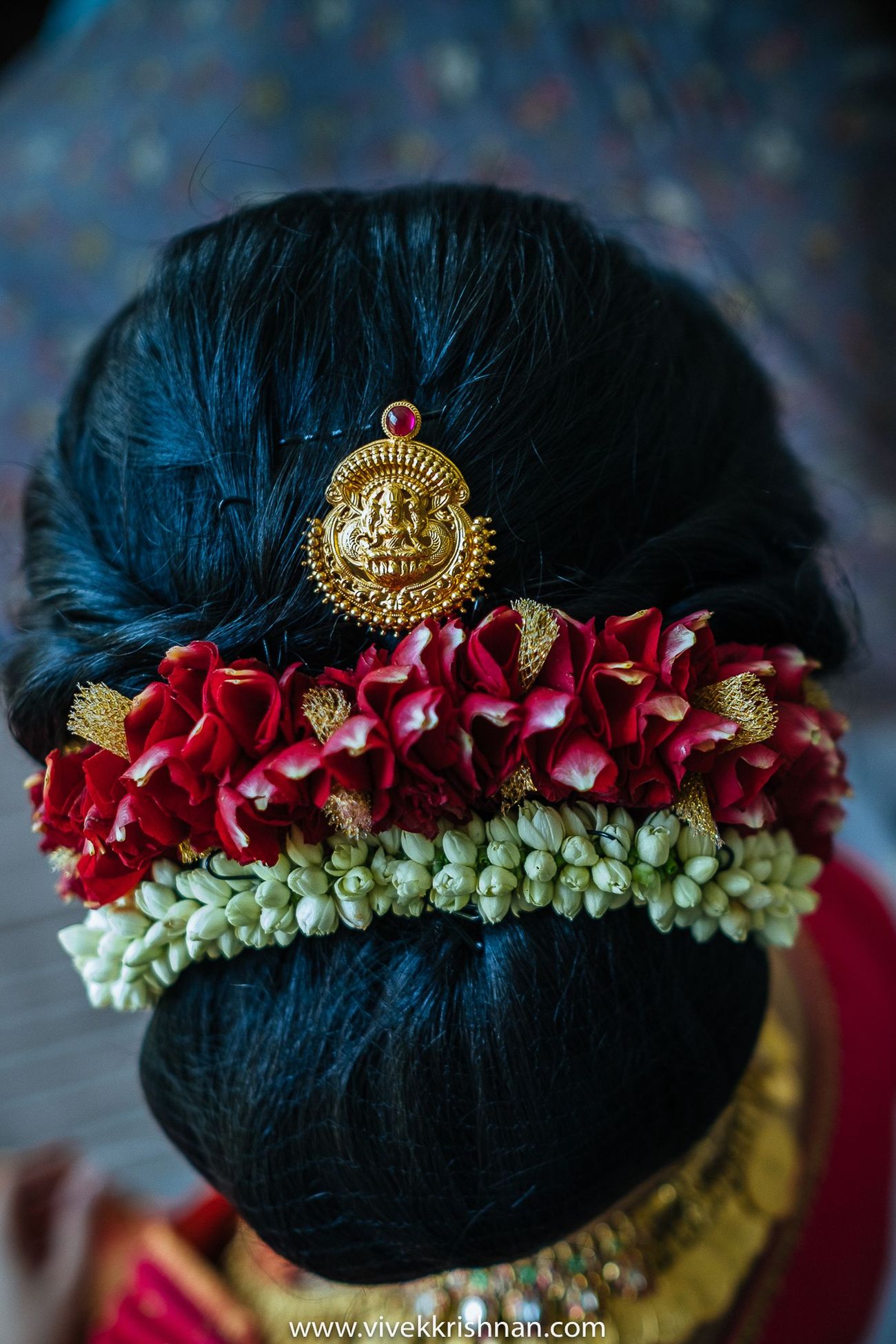 Image via Vivek Krishnan photography 
Instead of going with a mainstream jada , this bride opted for an oversized bun instead. And adorned it with just one billa (coin) and a gajra made of roses and mogra.  A classic yet subtle look in case you don't want to go over with your hair. A perfect example of a modern bride keeping it simple.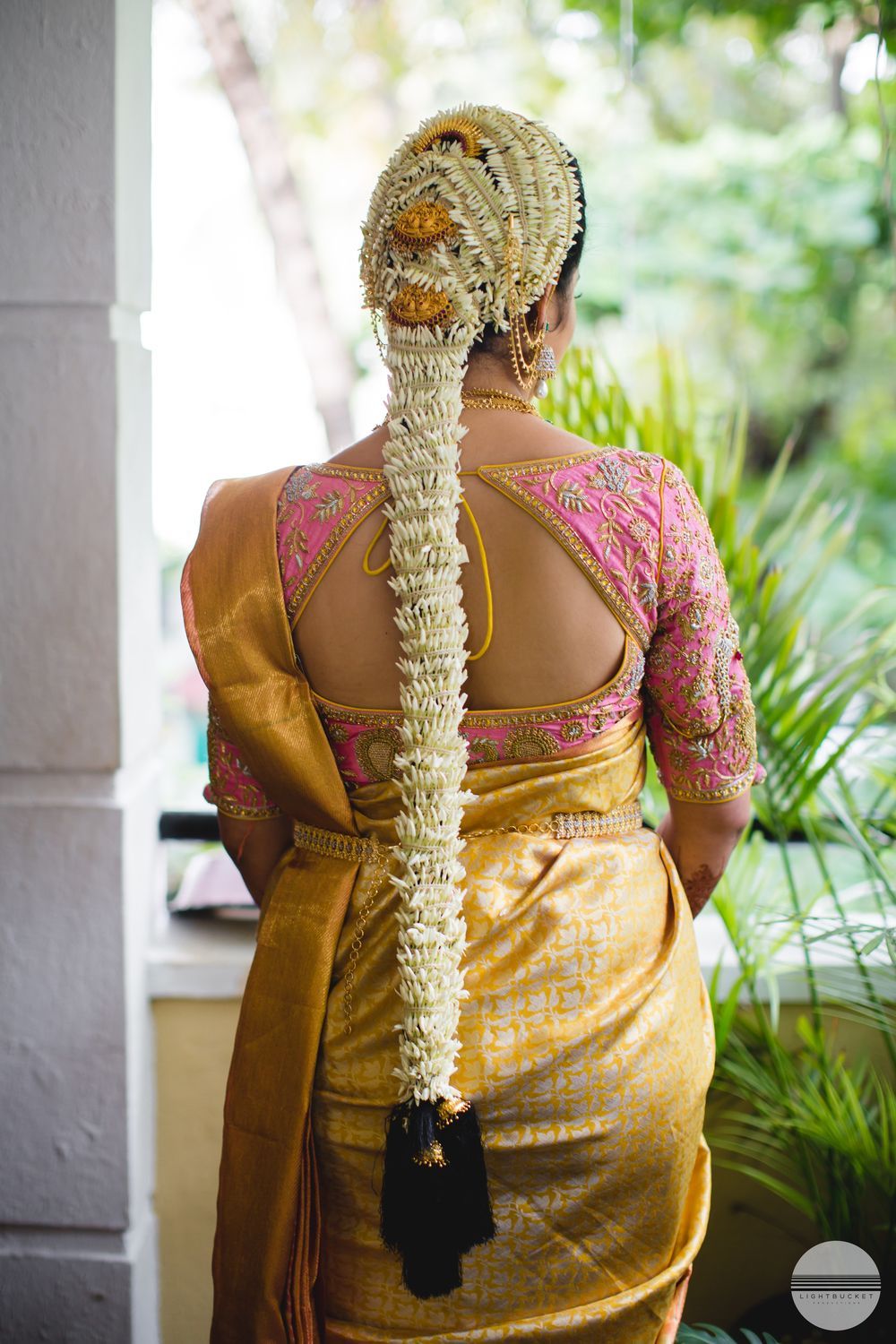 Image via Khyati & Tushar
Love how this bride didn't settle with a minimal jada for her bridal hairstyle. She adorned a bunch of jasmine flowers as veni, swirling it till the tip of the braid. Also, don't miss the embellished bun!
The Brides Who Kept Their Makeup Subtle
We love when brides play it light with their makeup. Like, who thought brides would move past the heavy Traditional south Indian bridal makeup one day and look their natural, stunning self on their big day. This trend became a rage in north India and now, this storm has also hit the south Indian brides.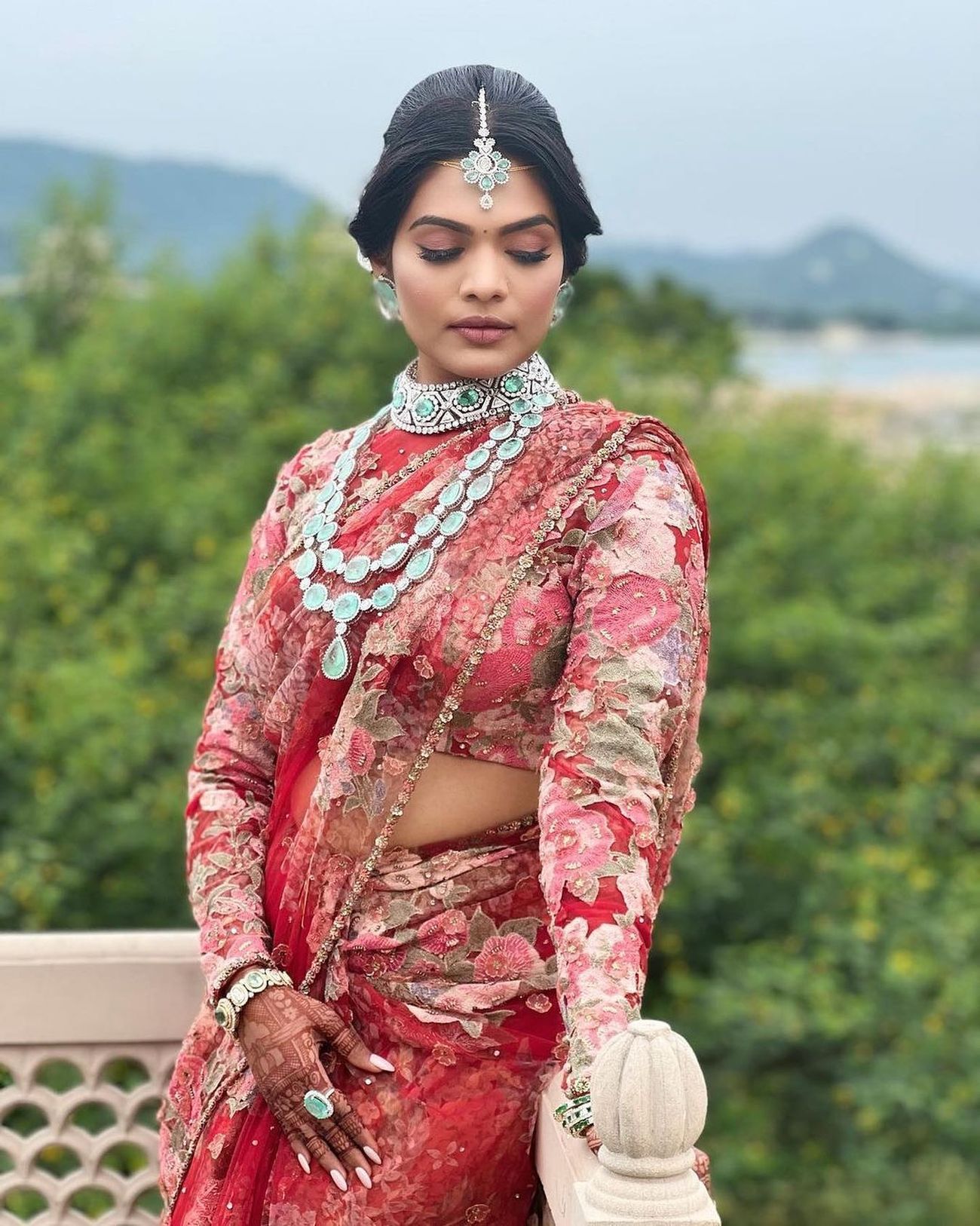 Image via Namrata Soni ★ 5
While this south Indian bride explored a fresh ensemble style, she chose to subdue the look with soft, neutral glam. It beautifully complemented those statement jewels and eventually exuded that 'elegant bride' aesthetic.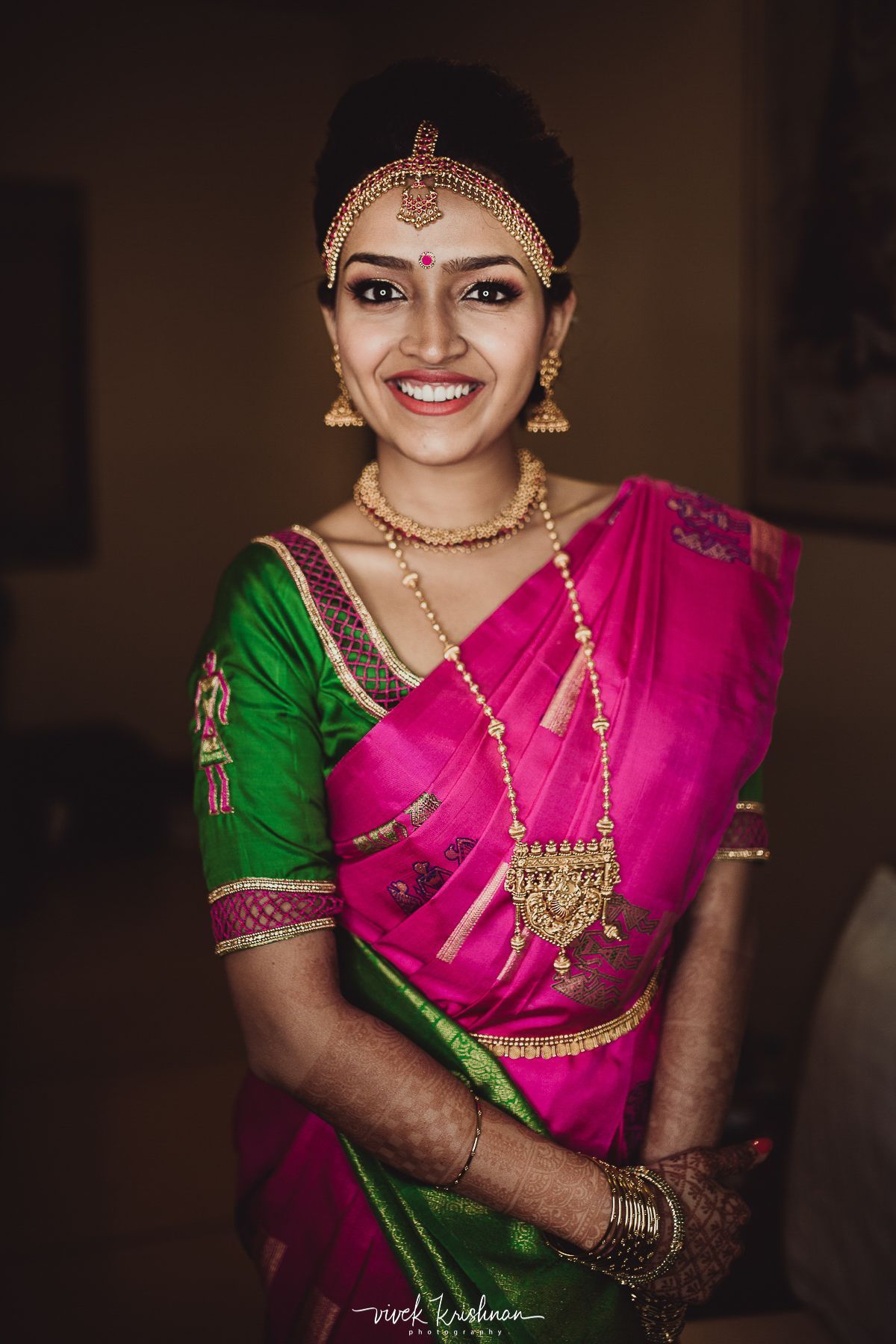 Image via Vivek Krishnan photography 
This bride in a vivid saree with no makeup is definitely a winner for us in this category. Isn't she looking drop-dead gorgeous? Her simplicity is winning all our hearts!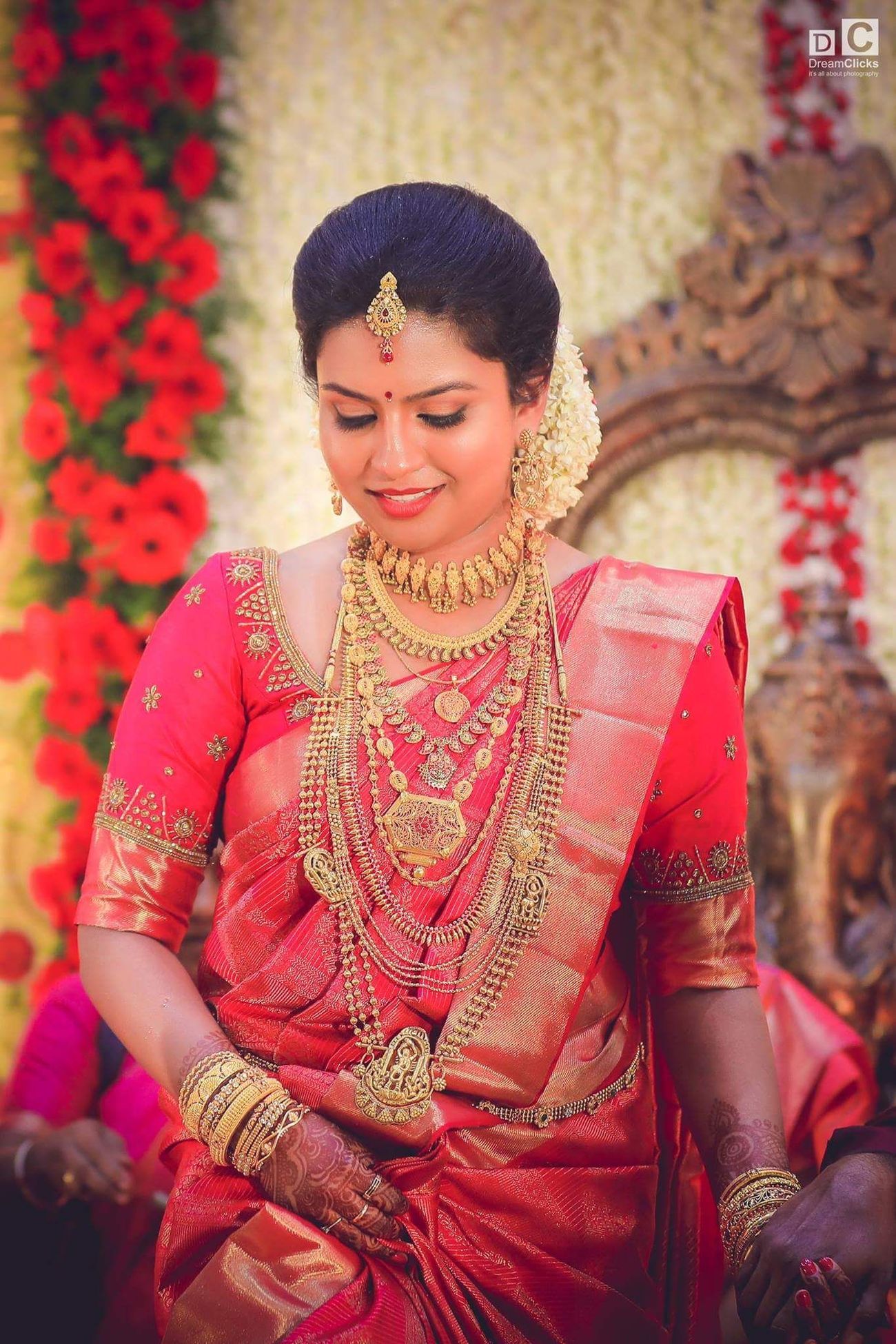 Image via Dreamclicks 
What struck us about this look was her bright saree and extra jewellery effortlessly complementing her light wedding makeup! Loved it.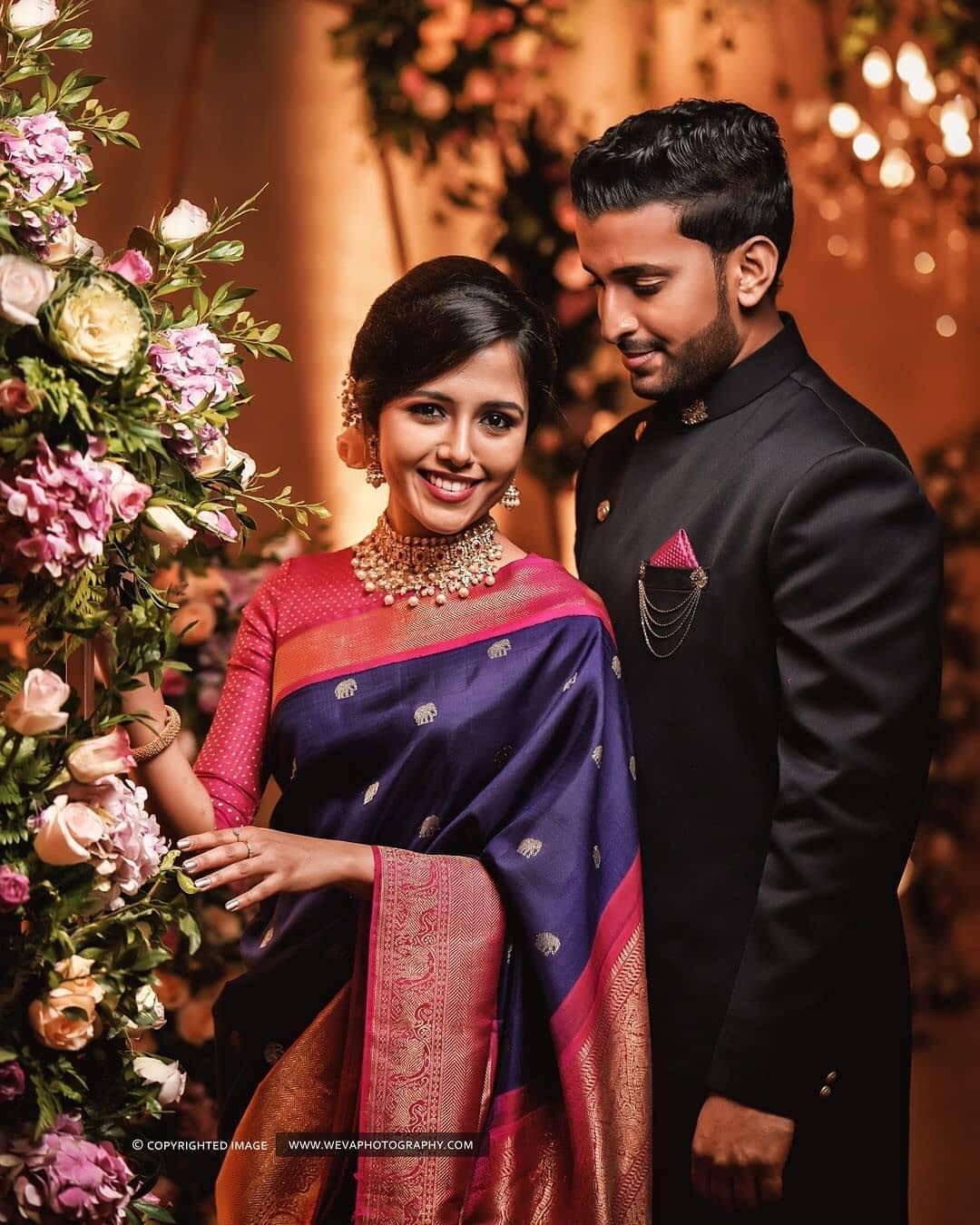 Image via @wevaphotography
This bride literally broke the internet with her minimal wedding look! And we cannot complain about it. Her smile is her A natural glow is all that you need. She looks as classy, and flawless as she could look creating another style statement and making it to one of the best south Indian brides for sure!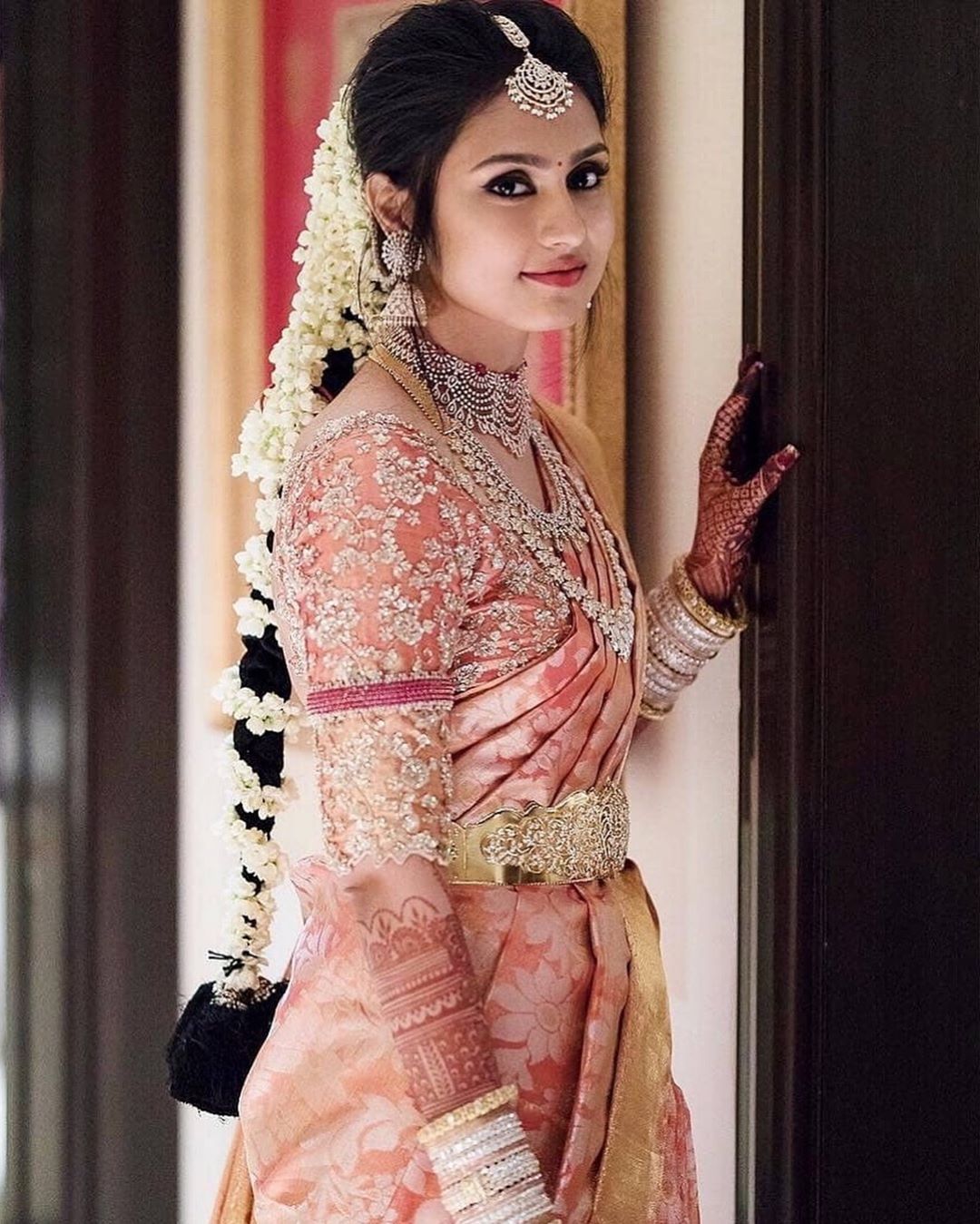 Image via @onefinedaypictures
This bride went ahead with just kohl on her eyes and an overall dewy look! Definitely worth taking cues.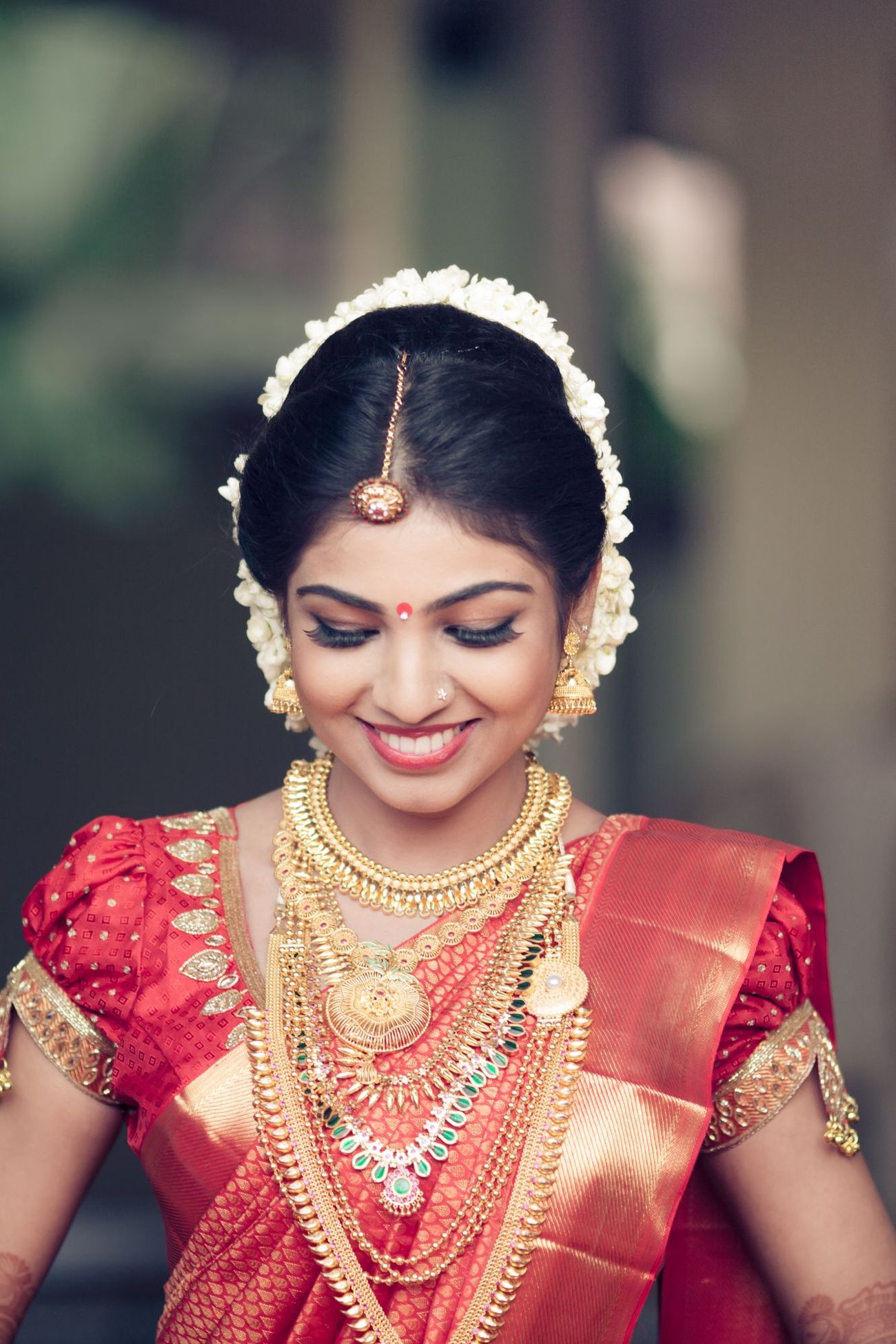 Image via Jackson James Photography
Okay, brides-to-be, this is how you nail a minimal makeup look with a similar hue as your attire! Keep it classy, as they say!!
The Brides Who Slayed With A Veil
Veils are the most enchanting addition to a bridal look. But one has to ensure that they don't weigh you down! So we suggest you keep it light. Take inspiration from these pretty brides, in case you are confused.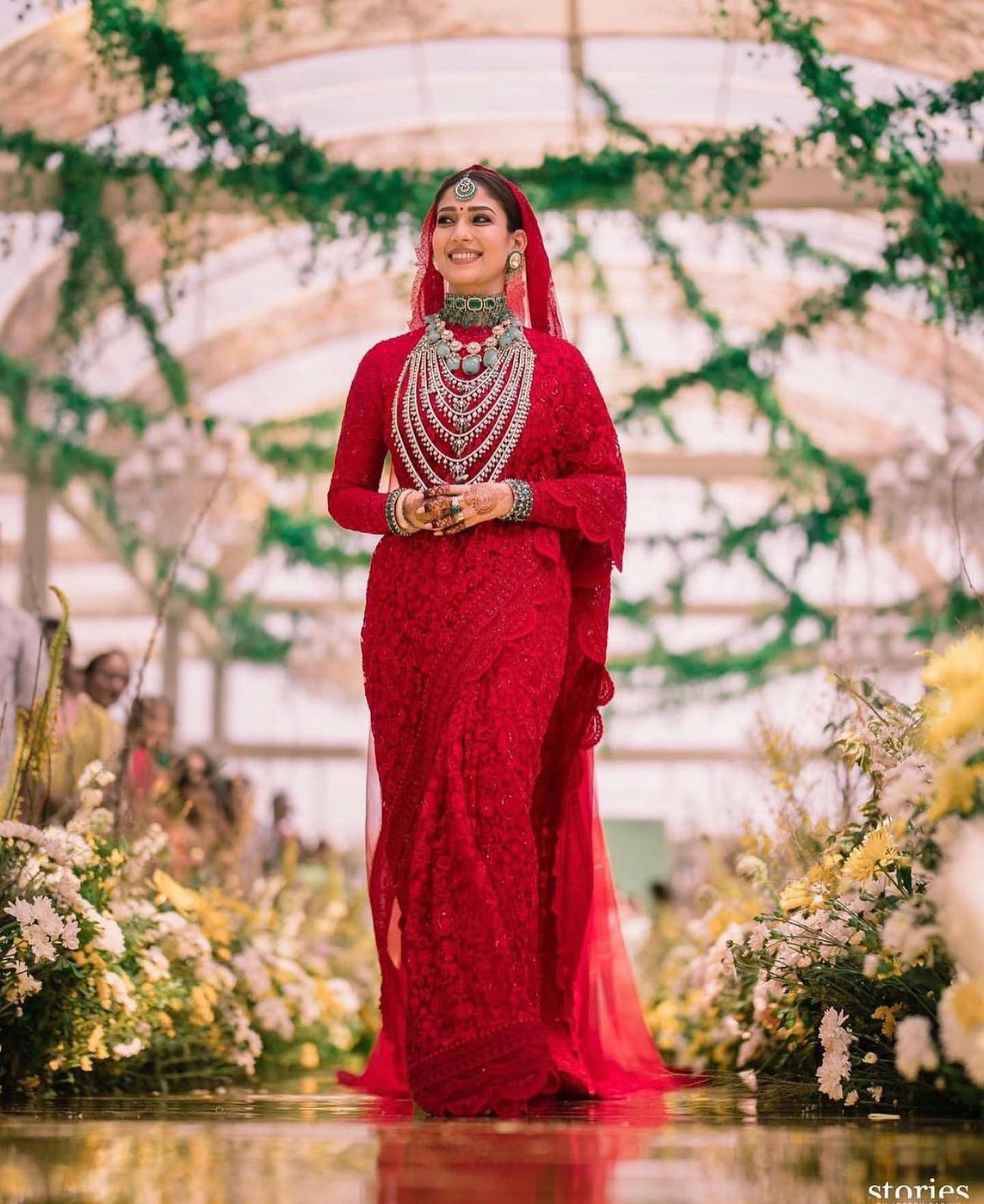 Image via Stories by Joseph Radhik
When your fav celeb bride nailed the veil trend! Nayanthara looked all pretty in a monotone wedding ensemble paired with emerald jewellery pieces and accentuated her modern south Indian bride style with a trailing veil. Like? LOVE!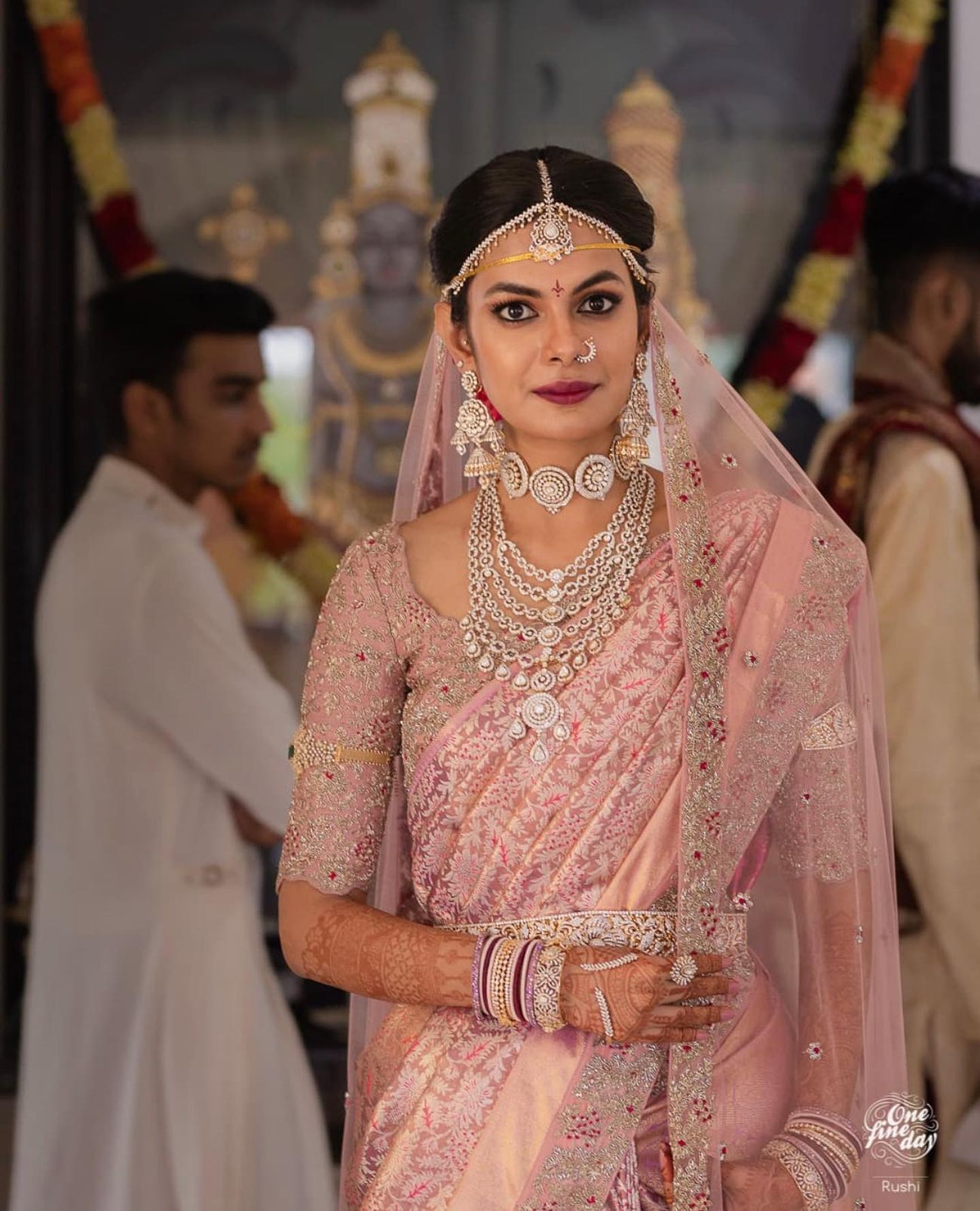 Image via One Fine Day
Pretty in pink! This bride chose a pastel palette for her Muhuratham and styled it with a lightweight veil with dainty embellishment. Honestly, we can't get enough of this one.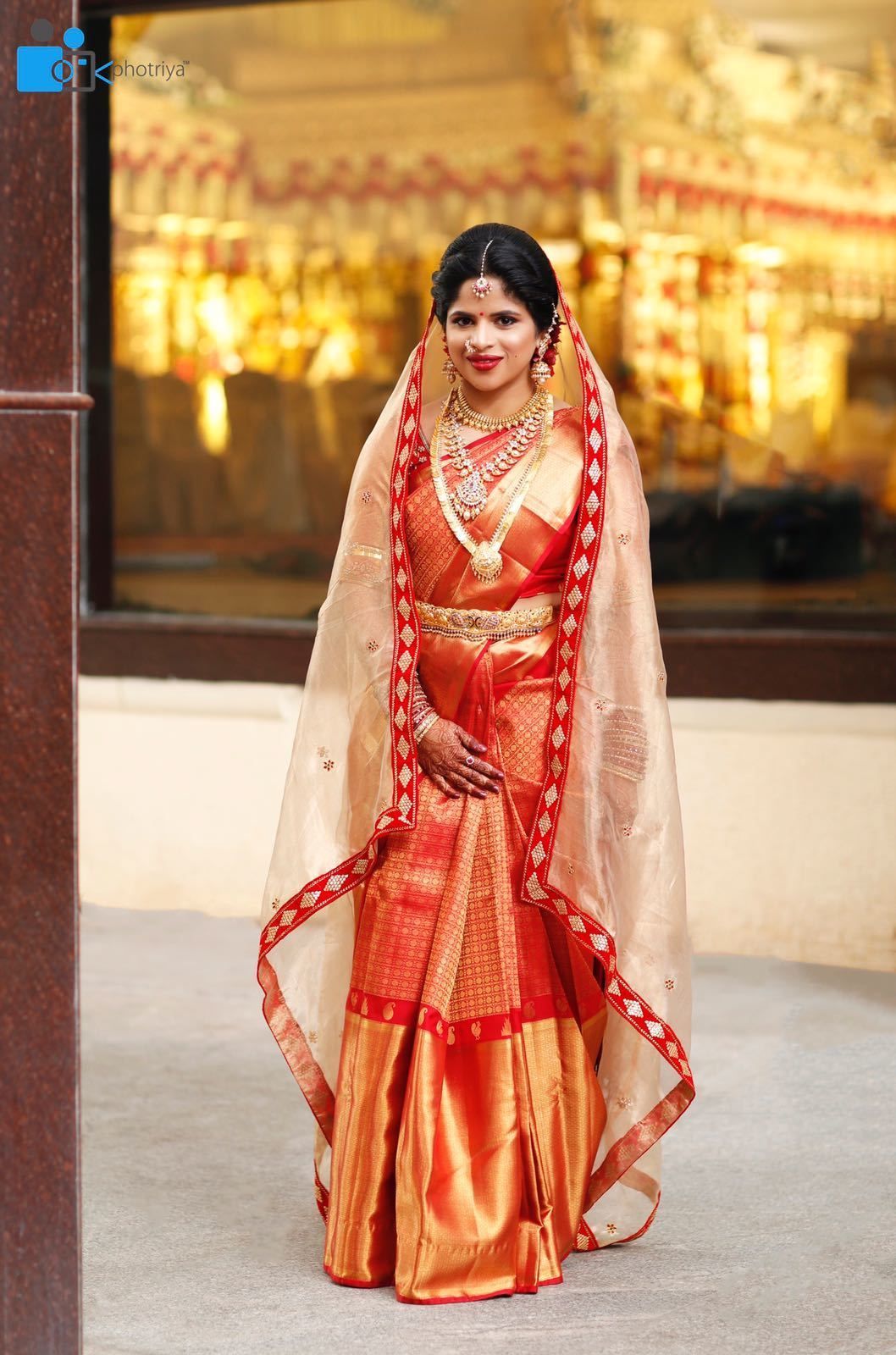 Image via Make-up by Afsha Rangila 
This bride wore a dull gold veil with a bright red Kanjeevaram! Loving the sleep red border added to that dupatta to complement to attire.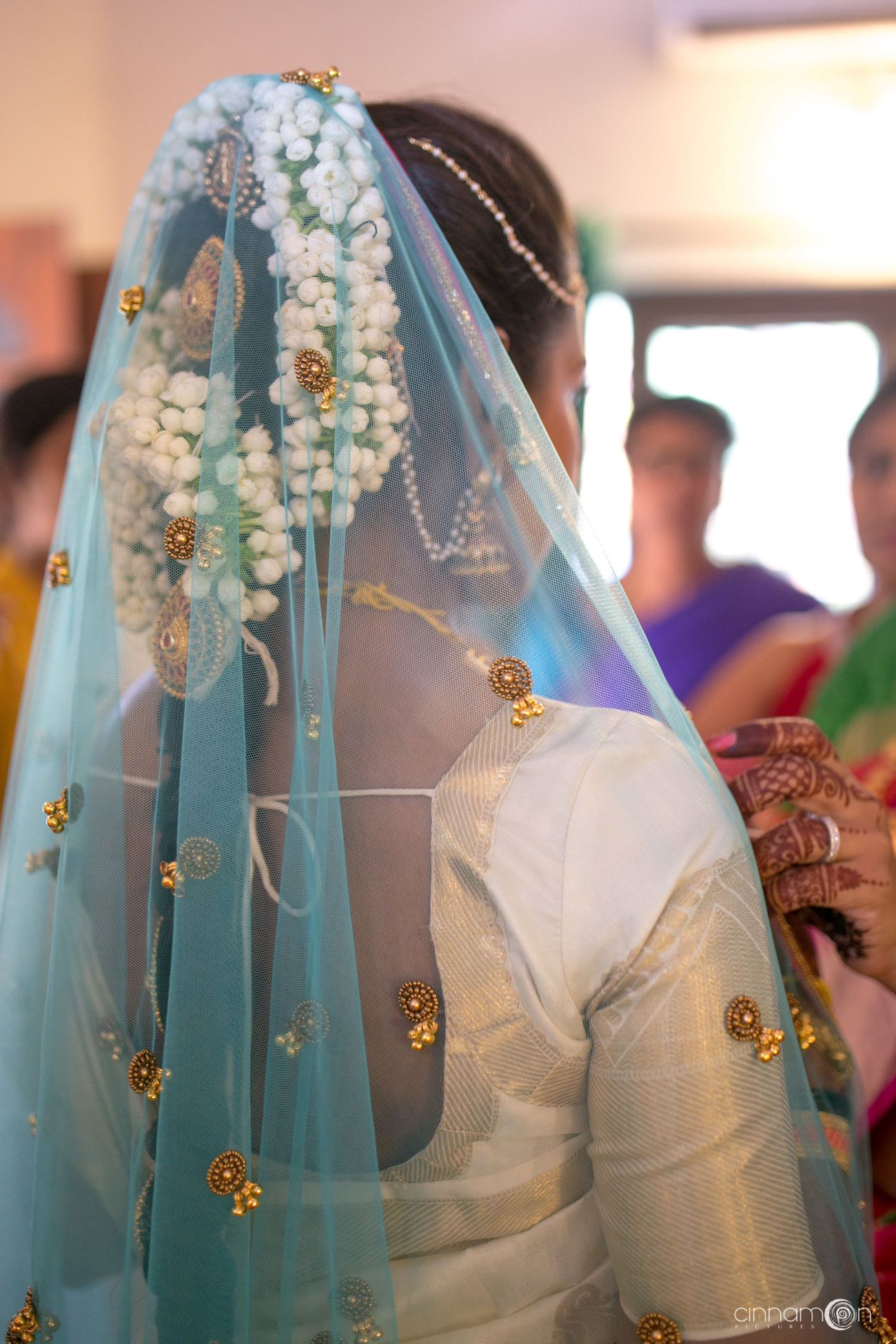 Image via Cinnamon Pictures 
This bride paired a modern-hued, Aqua dupatta (veil) with her white wedding saree! The net fabric will surely keep her comfortable throughout the celebrations.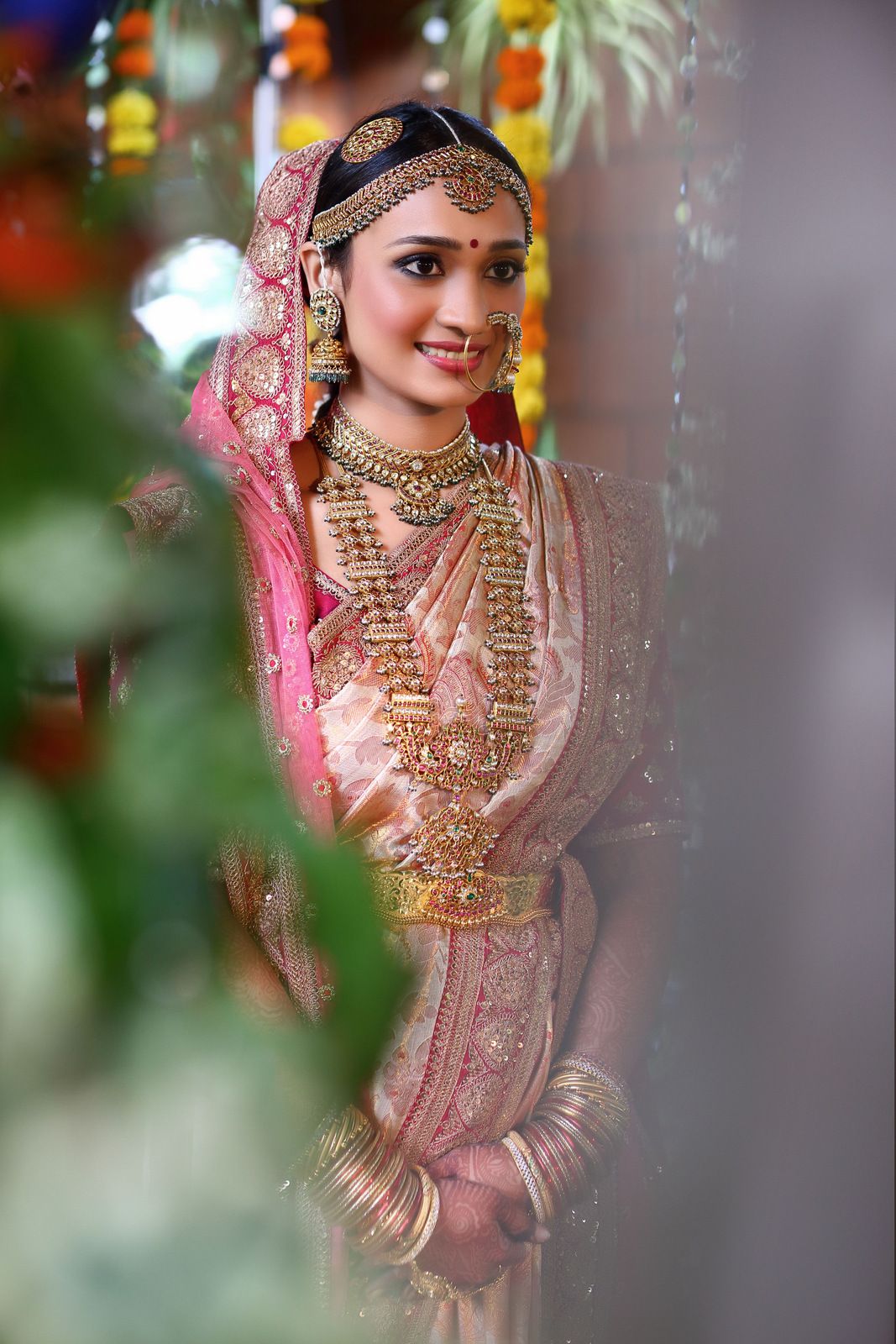 Image via Wedding Chronicles India
This Sabyasachi south Indian bride dared to sport a heavily embellished veil to match her saree. However, she looks extremely classy in those yummy shades of pink. Her jewellery perfectly complimented her whole outfit making her look attractive as ever.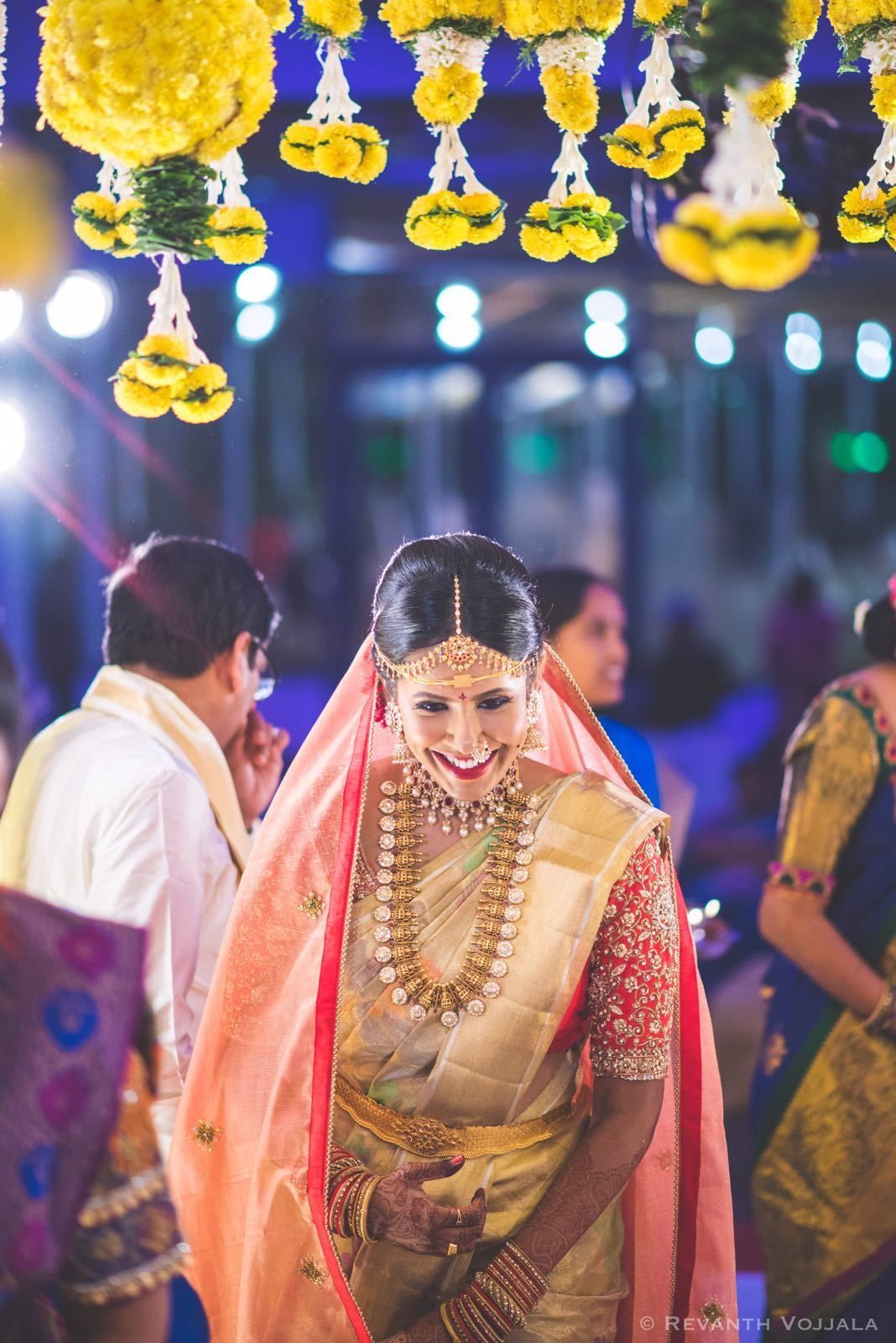 Image via Make-up by Afsha Rangila 
It's the other way round with this bride, she wore a white Kanjeevaram with a pop of red with her veil. When you don't wish to keep it simple throughout. Bookmark, right away!!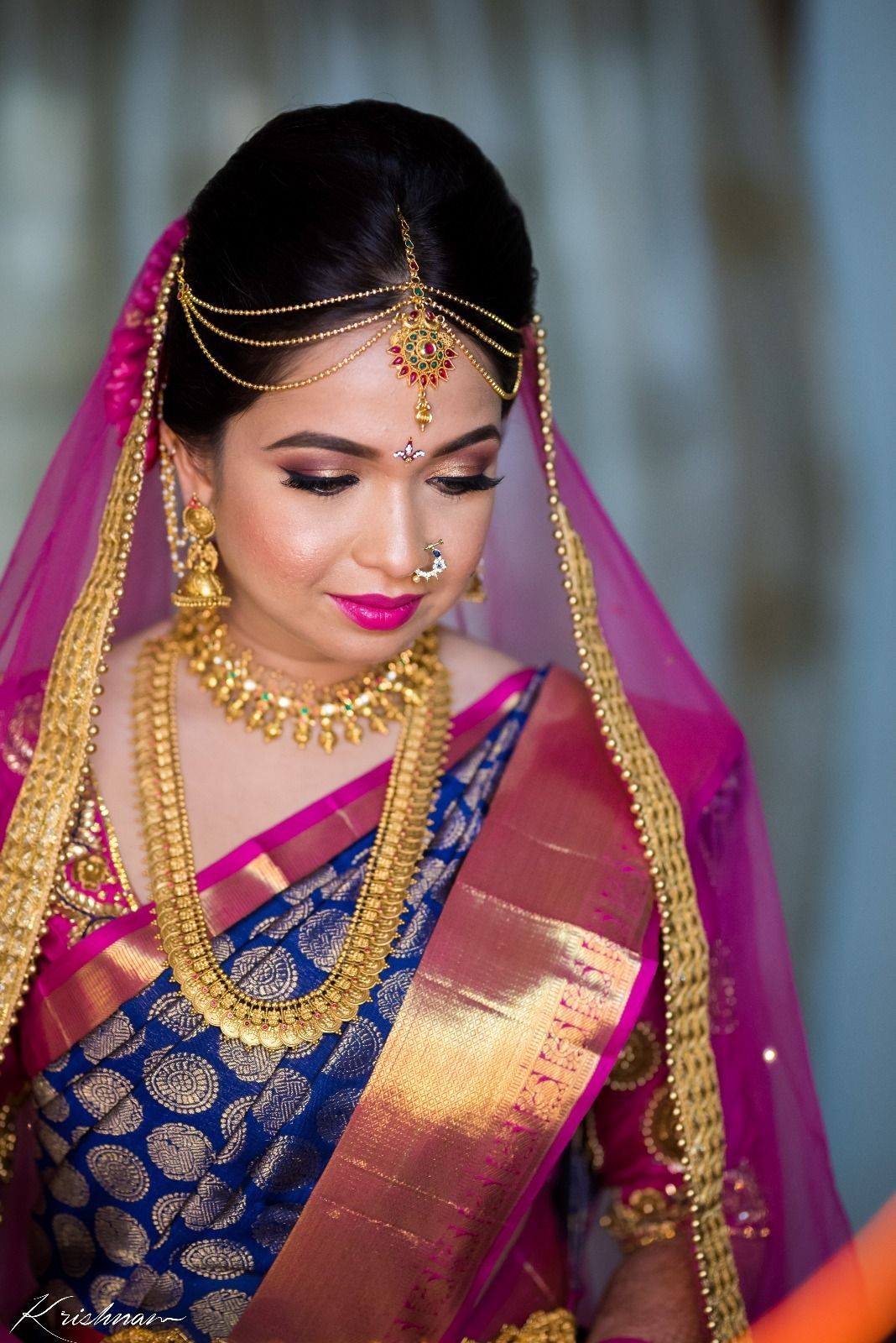 Image via Afsha Rangila
So much vividness in one frame! And royal blue saree with a magenta veil makes this bridal look so charismatic. Such bold colours are adding to our list of favourites. The idea of a veil can be called for a thumbs up as we can see in the above examples, totally suiting the south Indian bridal look. Literally, awestruck!!
 Now that you have seen our favourite south Indian brides who rocked the south indian look then why don't you just have a look at 20+ amazing temple jewellery designs that we spotted on WMG brides?