35+ Traditional Mehendi Designs For Every Type Of Bride!
BY Anupriya | 08 Jun, 2021 | 152405 views | 9 min read
Traditional mehendi designs for the nouveau brides? Guess, you're in for a treat because our galleries are equipped with the best of the best mehendi designs for you to explore. But first things first, let's understand what exactly a traditional mehendi design is! Unlike its novel counterpart, a traditional mehendi design majorly comprises popular henna patterns & art of the years gone by, but with an upbeat twist to it. It demands you to go big on paisleys, peacocks, jaals, florals and mandalas to name a few. However, a little freshness never hurts.
Nowadays, Mehendi artists are juxtaposing couples' love tales & portraits with the classic thick & thin strokes with utmost finesse, and trust us when we say that the end results look every bit traditional. While the techniques and trends have definitely witnessed a massive shift, bridal mehendi designs are still as traditional as they are intricate. You'll find a tasteful display of lotus motifs, roses, elephants & more elements playing hide and seek amidst the usual black and white canvas of 'em henna strokes and white spaces. And to give you a glimpse of just that, we've curated this mini-gallery of some of the finest traditional mehndi designs. Fasten your seat belts because we're gonna walk you through some steady swirls, dotted lines, concentric circles and a little bit of all!
We have bifurcated these traditional mehendi designs into the following categories:
Traditional Gol Tikka Mehendi Designs
Traditional Front Hand Mehendi Designs
Traditional Back Hand Mehendi Designs
Traditional Feet Mehendi Designs
Traditional Gol Tikka Mehndi Designs
Starting our list with this special mehendi design that dates back to the times when our mothers got married. Brides used to clad their hands with a dainty henna chakra in the centre with some dotted patterns here and there. Recollected the design? Now scroll down to check out some of the prettiest versions of it:
Simply Stunning!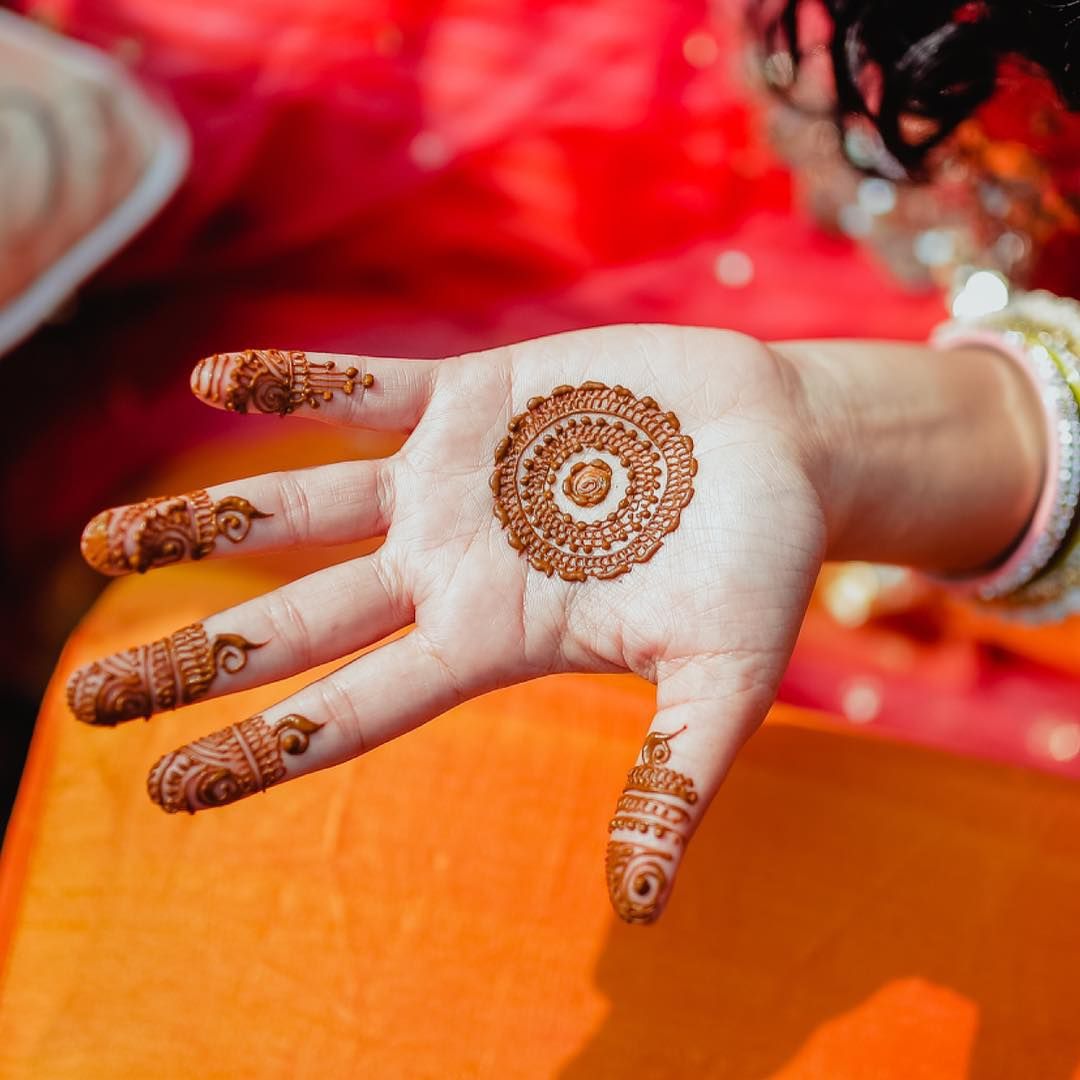 Image via Colorblind Production★ 5
What's not to love about this aesthetic fusion of concentric circles, dainty dots and partly decorated fingers! It's just the traditional henna design you need to add to your list of favorites.
Mandala magic!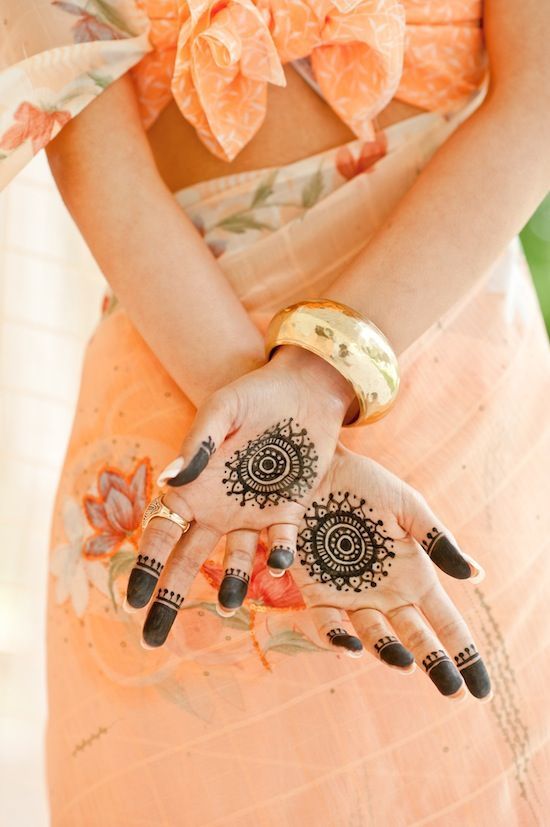 Image via Pinterest
Mehendi design so traditional that you would say yes to it in one go! PS. Zoom in to take a closer look at those perfectly designed mandalas.
Minimal yet elegant!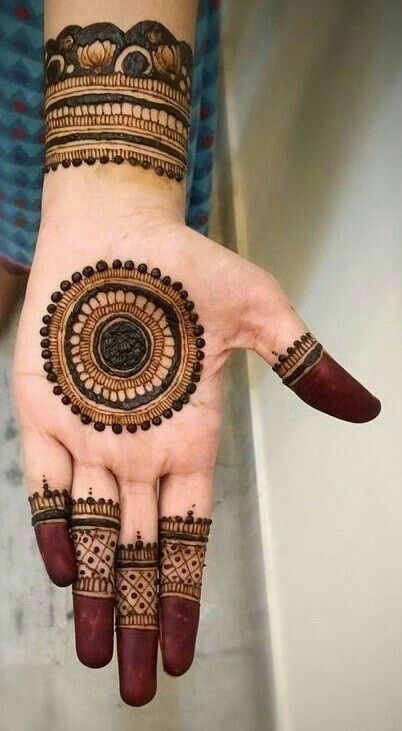 Image via Pinterest
If minimalism runs in your blood, we've found the perfect mehendi design for your to pull off on your big day. It's simple, it's pretty and it's just the one you need to show to your mehendi artist.
For the love of checkered details!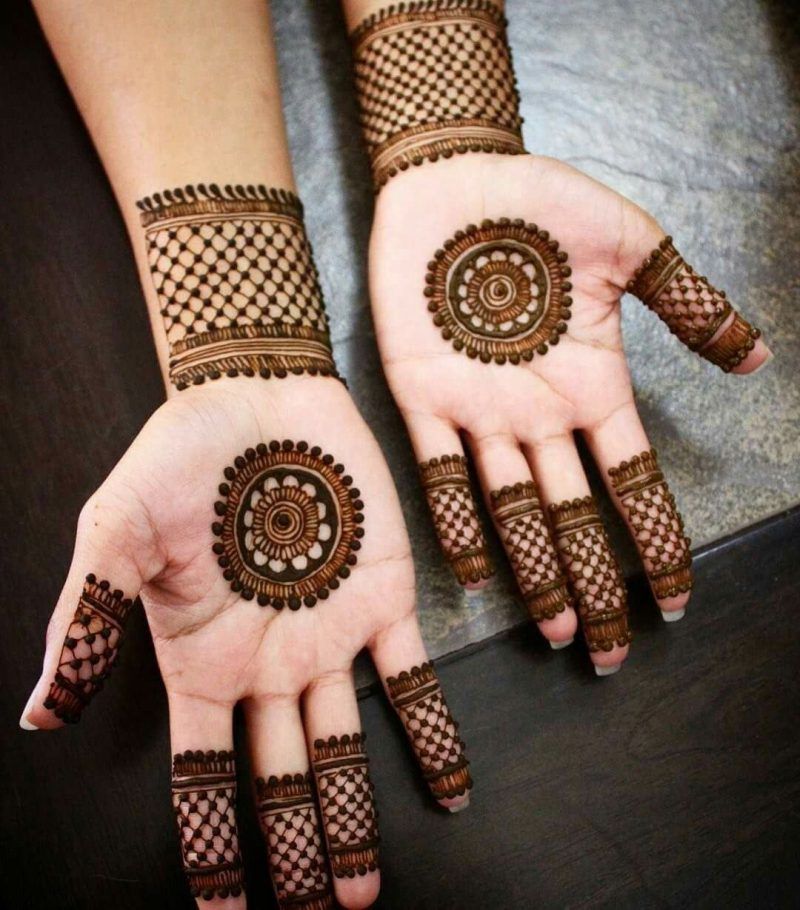 Image via Pinterest
Nothing is more convincing than a fail-safe combo of checkered patterns and mandalas, and this one right here has our heart!
Simplicity at its best!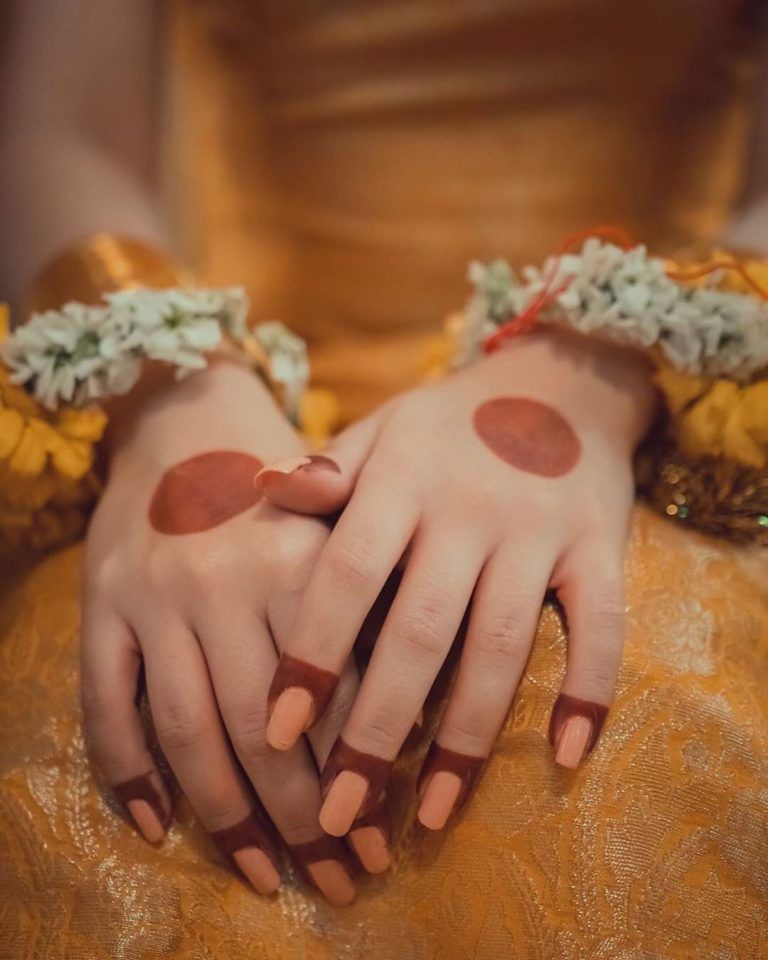 Image via @thesologirl
Talk about easy traditional mehndi designs, and this one tops our list. It's just the kind of understated a 2021 bride would love if she swears by the "Less is more" mantra.
Fine Details!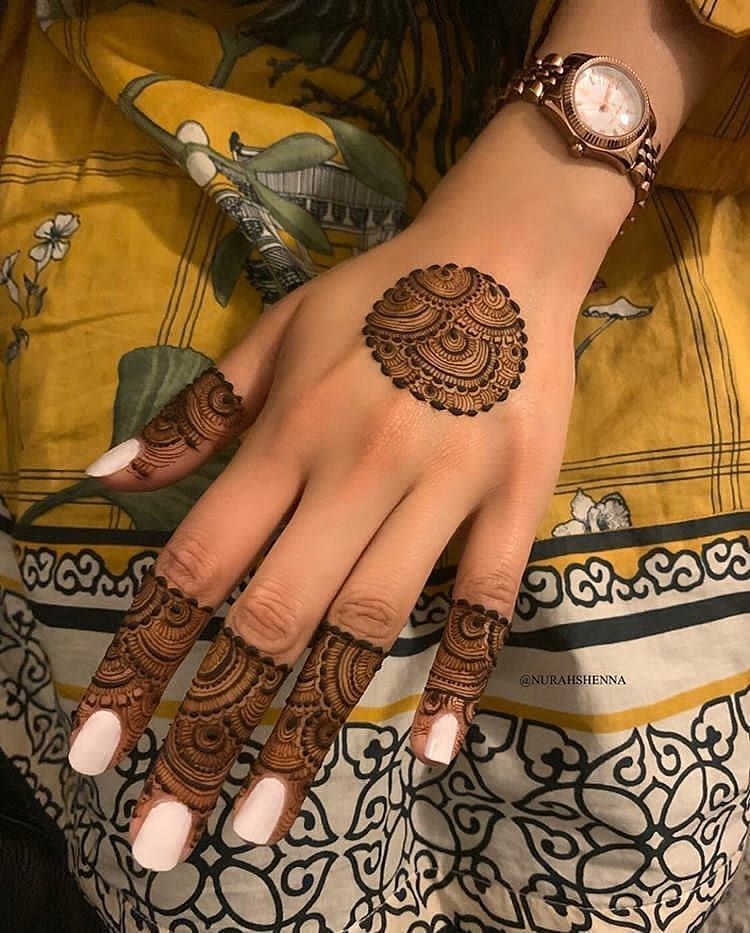 Image via Nurah's Henna
Scallops and dotted patterns took the centre stage in this pretty back hand mehendi design and we're in love with the outcome!
Traditional Front Hand Mehndi Designs
Treading towards some elaborate front hand mehendi designs! Down here you'll find a striking mix of portraits, personalised touches and all things traditional. Dive straight in and make the most out of it!
A bhangra couple for your brial henna? Hell,yes!
Image via Ashima Gambhir
Can't help but obsess over those dancing figurines that pop out so well amidst the swirling patterns. Also, not to ignore the other couple figurines that beautifully depict a date setup.
Eye-pleasing is the word!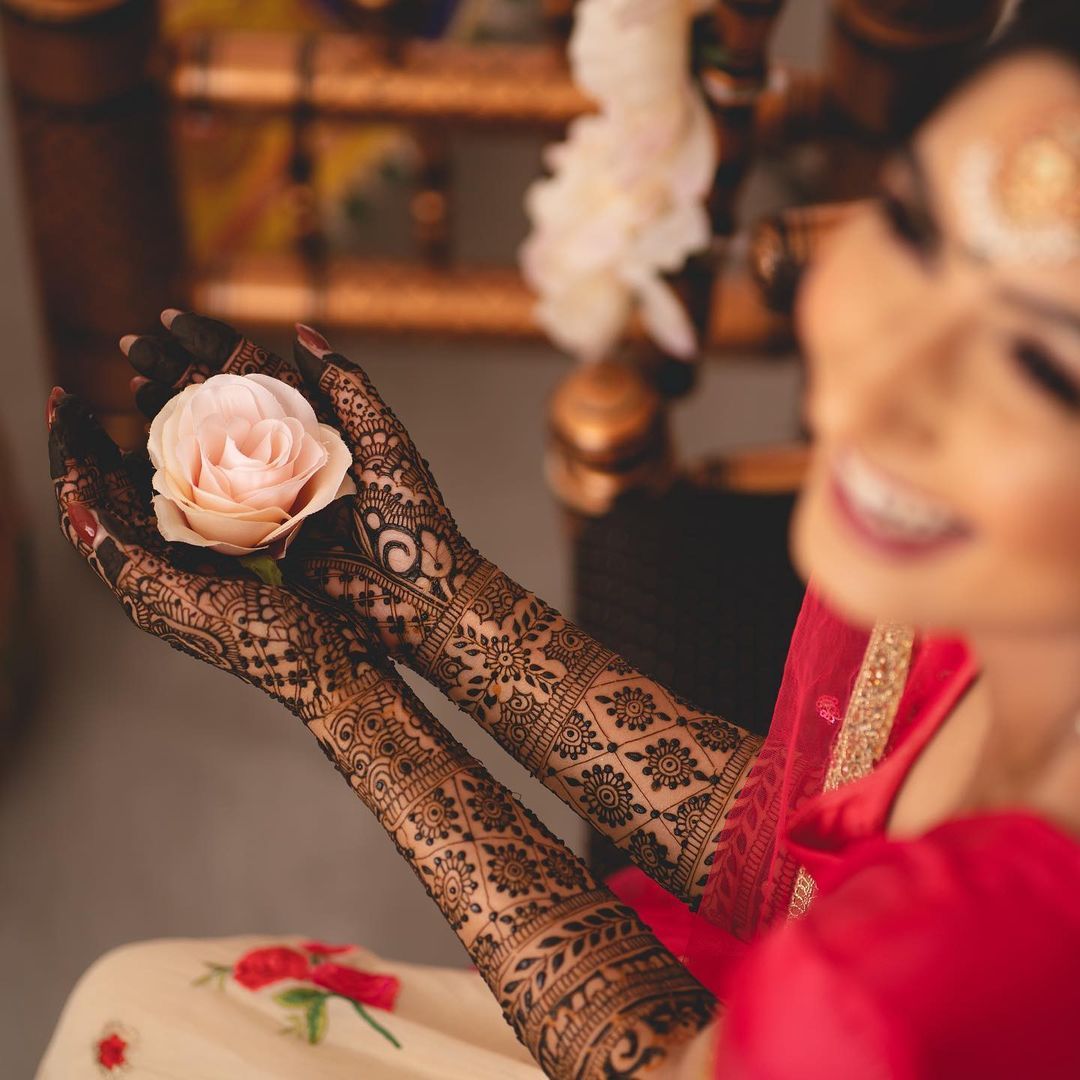 Image via KSWAY FILMS
A mehendi design that not only looks traditional but also symmetrical. Also, this bride is here to show you how to get your mehendi shots right.
Mesmerised and how!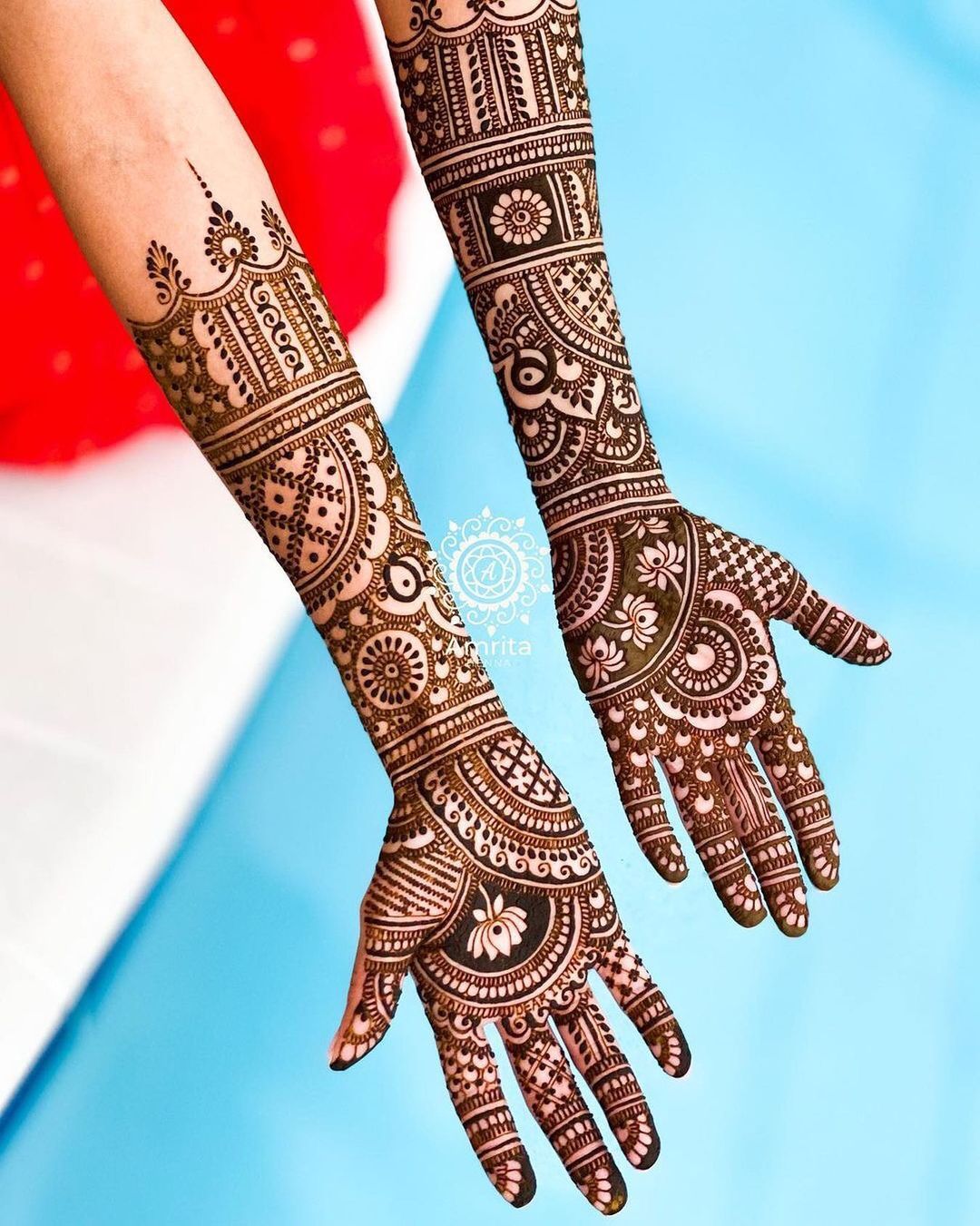 Image via @amritahenna
Get 'em eyes glued to your henna laiden hands with this full hand mehendi design. We can spot a couple of lotus motifs, irresistible jaal patterns and some beautiful florals in this design.
Some more portraits!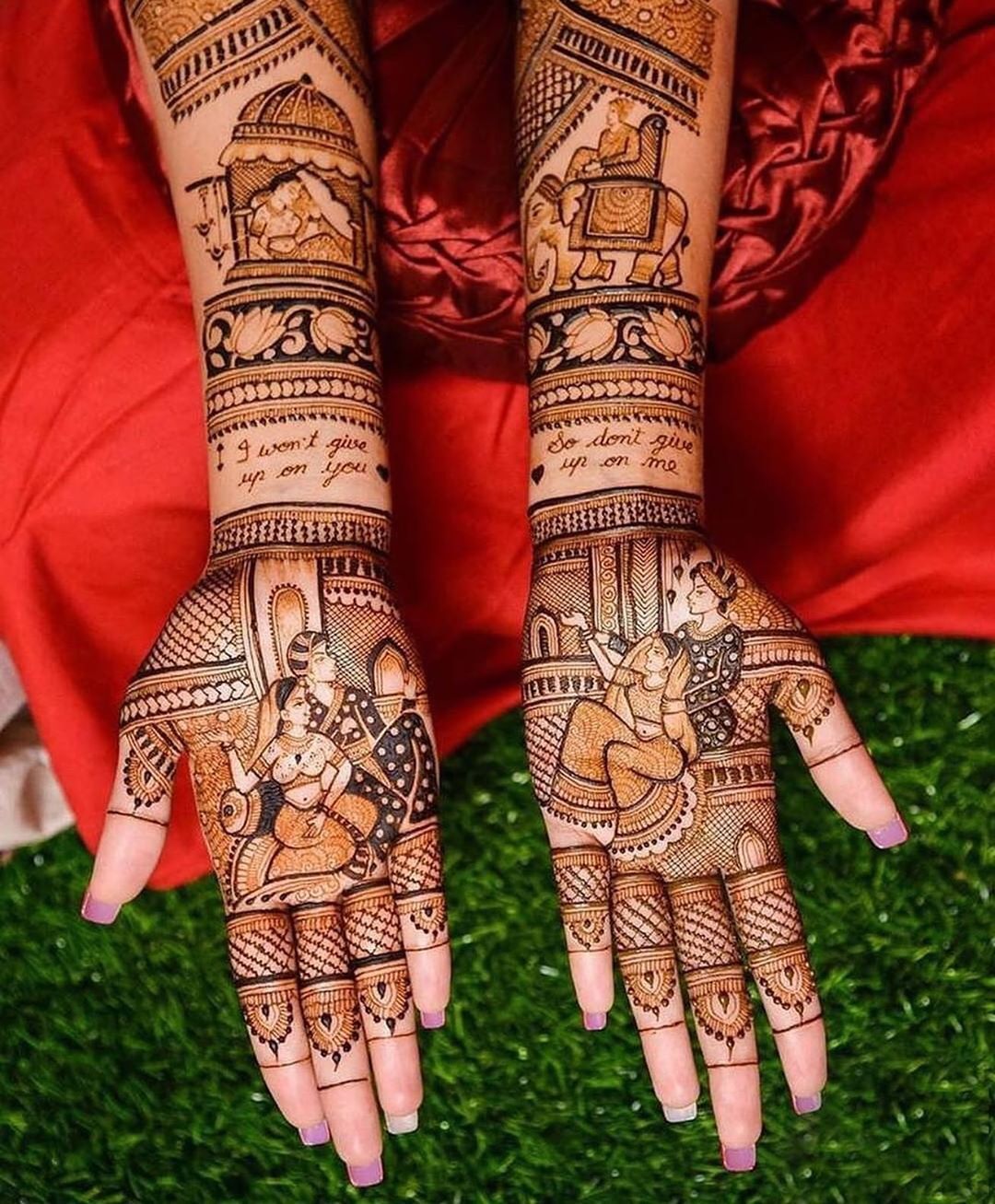 Image via Raju Mehandi Artist
It cannot get any more traditional than this. There are portraits of a bride and groom making stellar entries on their big day perfectly woven with all the regular gorgeousness. PS. Did you take note of that sweet quote on her wrists? It's like the cherry on top.
Now this one's hypnotic!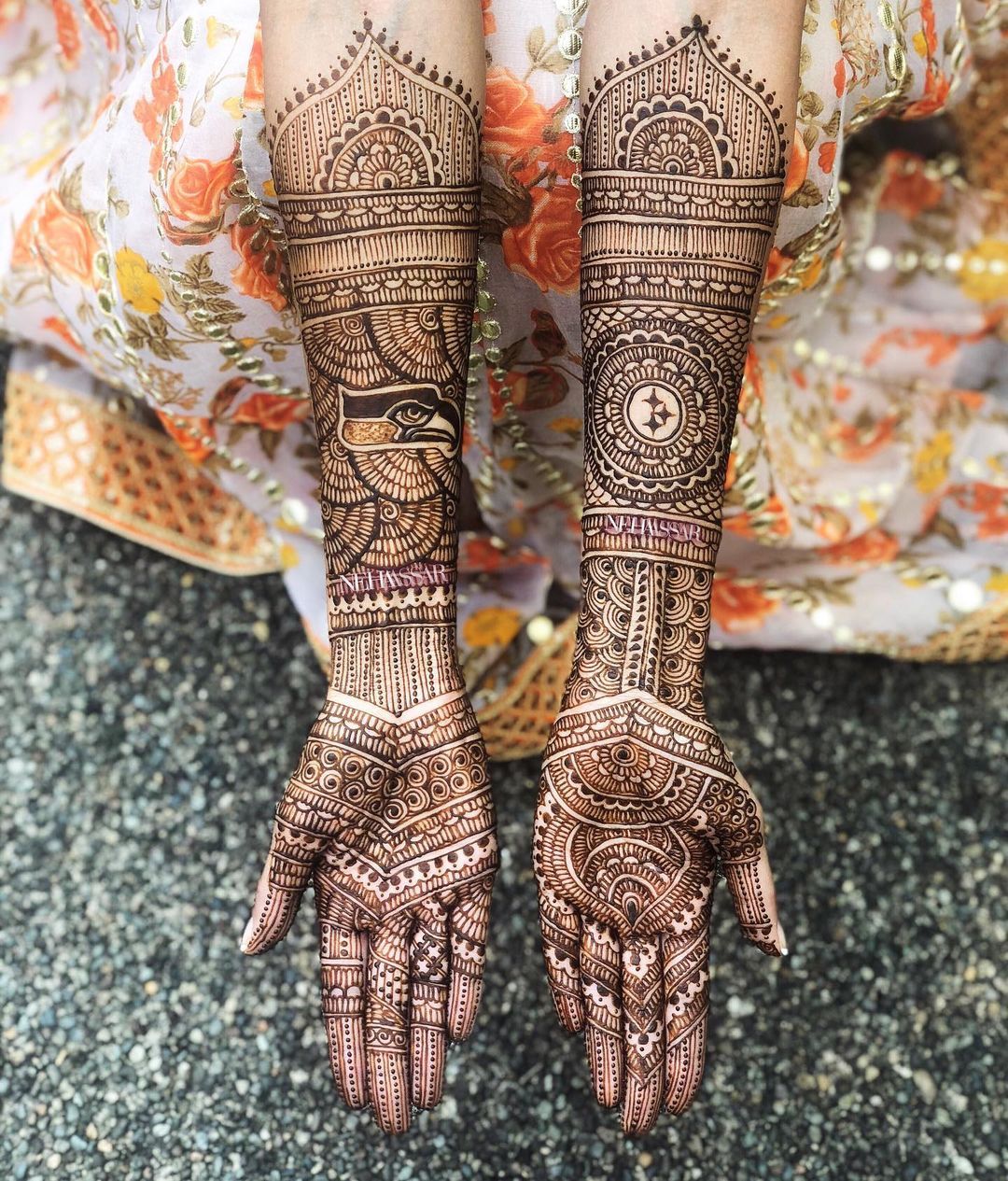 Image via @nehaassar
Who else wants to let their traditional mehendi design to do all the talking? Take cues from this bride who picked such a fine mehendi design for her big day.
Say yes to including bridal entry portraits to your mehendi!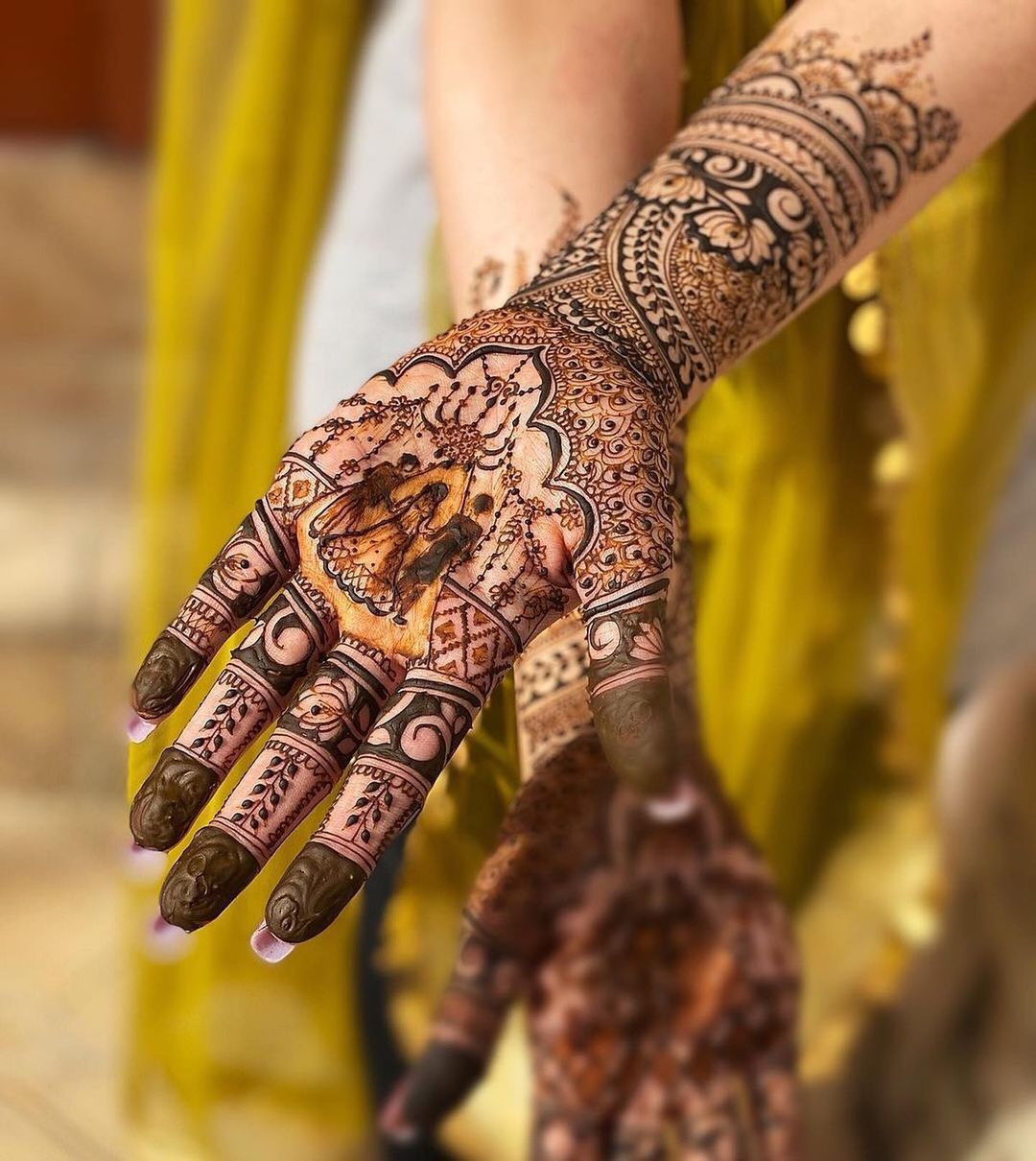 Image via @sarashenna
One look at this impressive bridal mehendi design and you wouldn't be able to contain yourself from zooming into that bridal entry portrait that is rightfully placed in the centre.
A band-style mehendi design for the win!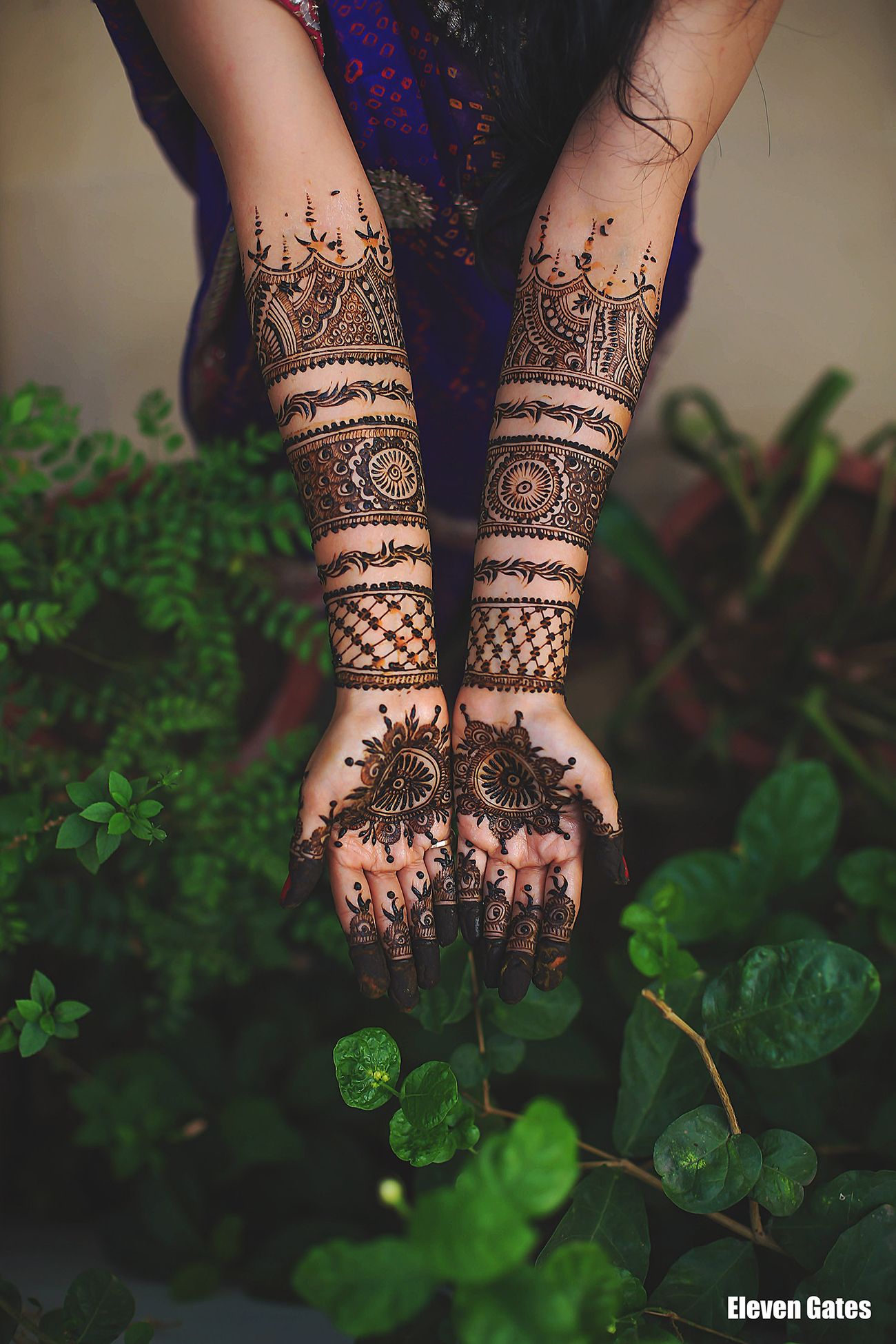 Image via Eleven Gates★ 5
Look nowheres else and seal the deal with a neo-traditional band-style mehendi design that looks as gorgeous as this one!
Details, details and details!
Image via Arjun Mehandi Artist★ 4.7
Sometimes all you need is a bunch of florals inter-mixed with paisleys, peacock motifs and leafy patterns to do the magic!
Perfectly embellished henna!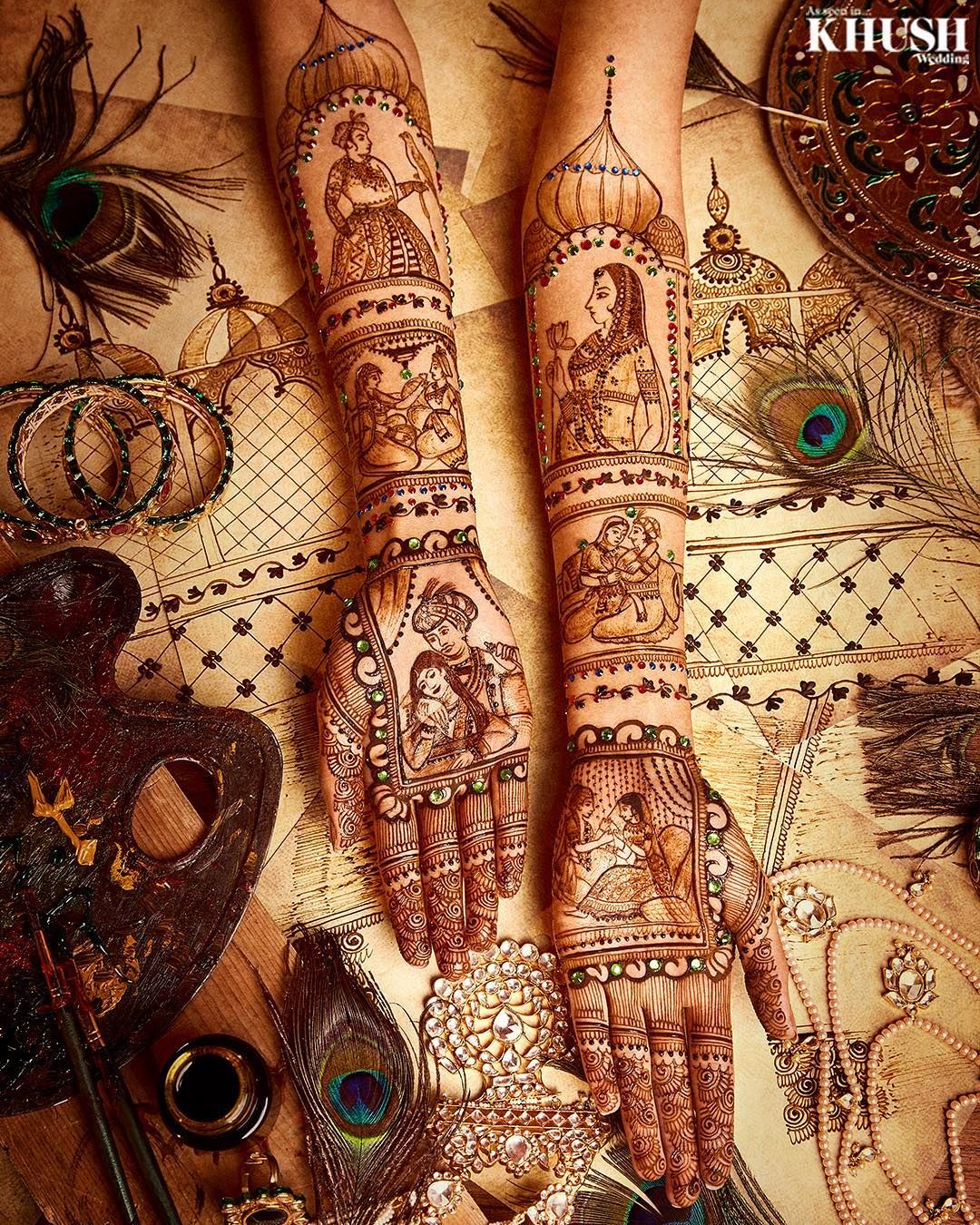 Image  via @khushmag
Head over heels in love with this traditional mehendi design that includes pretty portraits of mahrajas and maharanis.
Traditional with a hint of contemporary touches!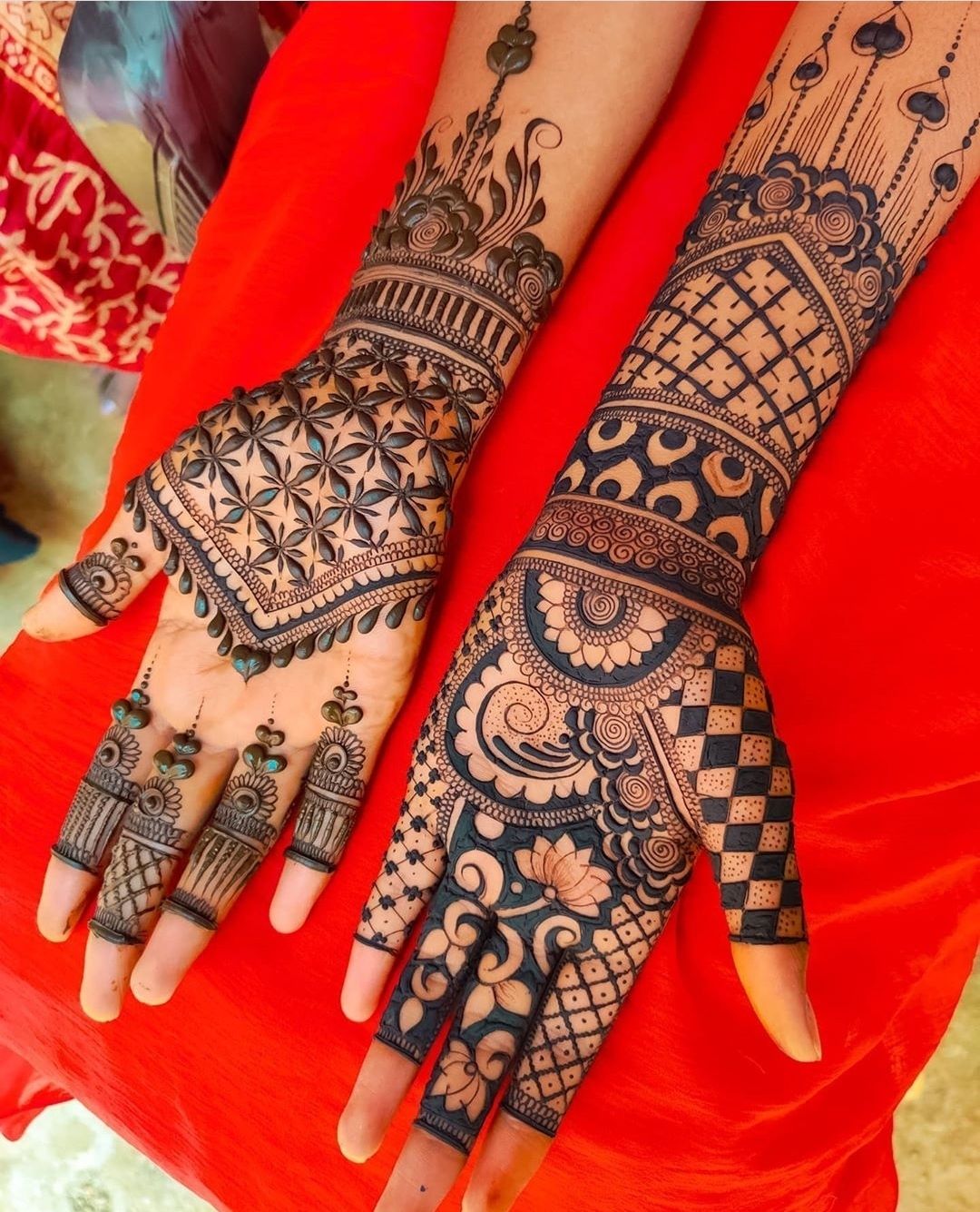 Image via Arun Mehandi Artist
Don't want to take the usual route with your traditional mehendi design? Then this mehendi design is meant for you! Screenshot before you head to the next one.
Swan-ing over this one!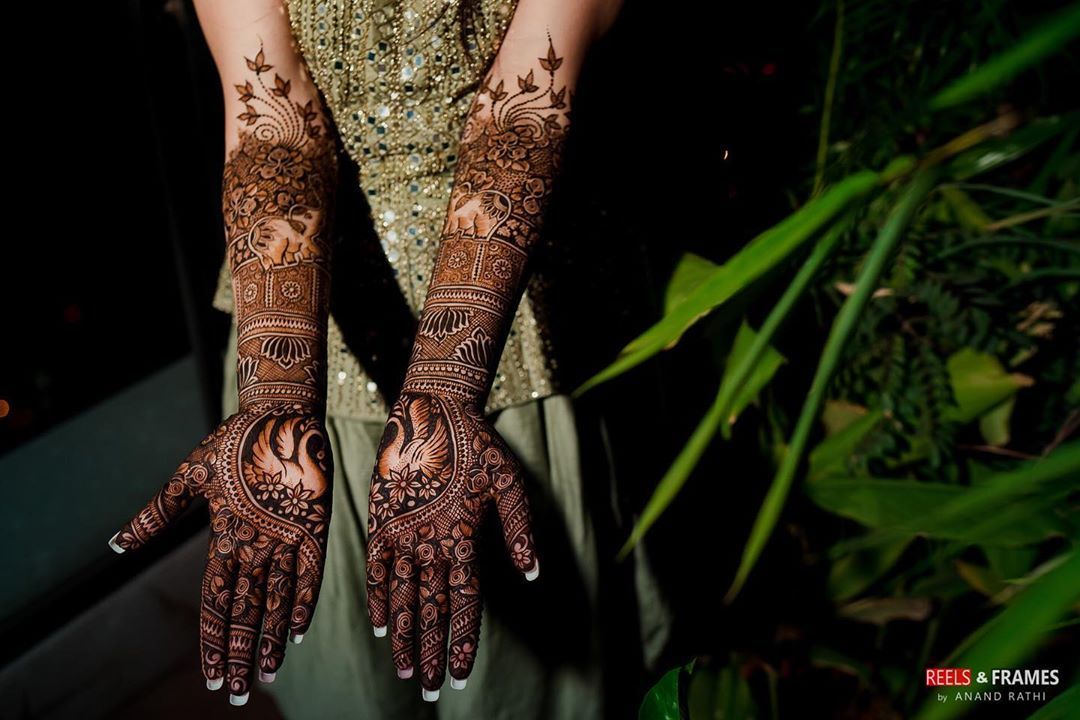 Image via Reels & Frames Photography 
What's more intriguing than including swans in your traditional full hand mehendi design? We're totally digging this mehendi idea and so would you!
Traditional Back Hand Mehndi Designs
The back of your hand is the most exposed, and often the cynosure of all eyes. Which is why the mehendi design you pick for it should be nothing short of phenomenal. So we're here to make your decision a tad easier with these scene-stealing traditional back hand mehendi designs. Get, set, scroll & bookmark your favs!
All things pretty!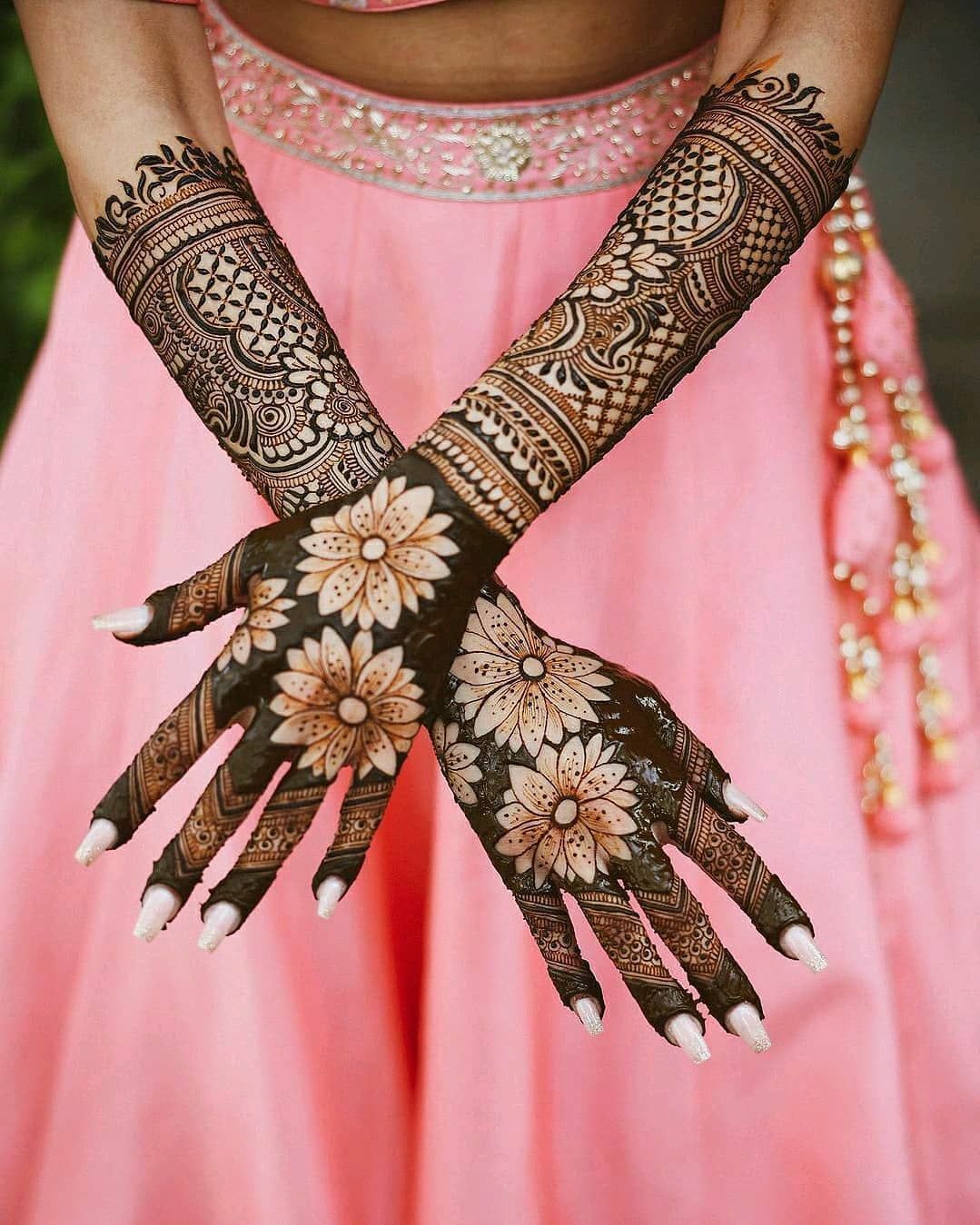 Image via @reetukg ⠀
We cannot not include this mesmerising mehendi design boasting of huge daisies. It is easily one of our most favorite traditional full hand mehendi design.
Mandalas never go out of style!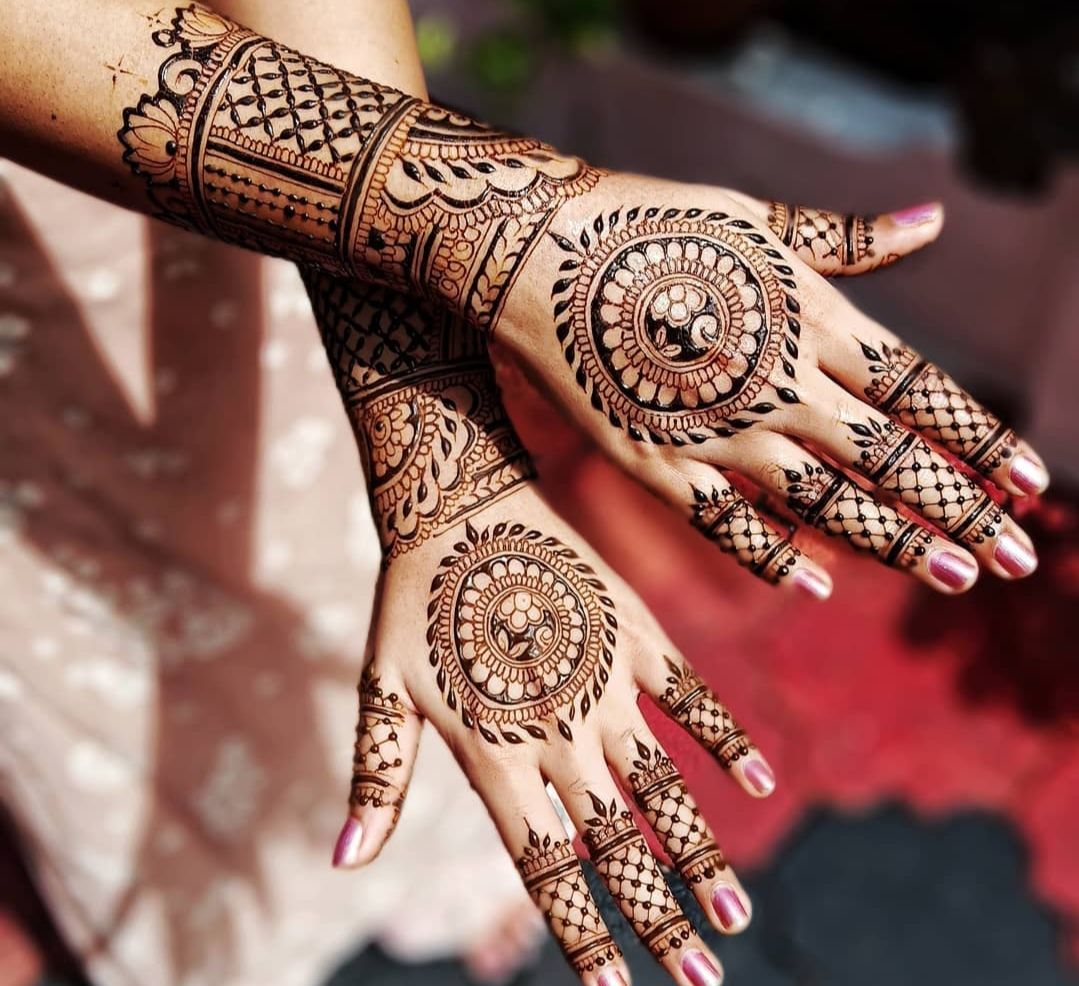 Image via Mehendi by Zuha
And when they look as clean a these, you do not have to try any other mehendi design! Save this right away.
For the love of full hand mehendi designs!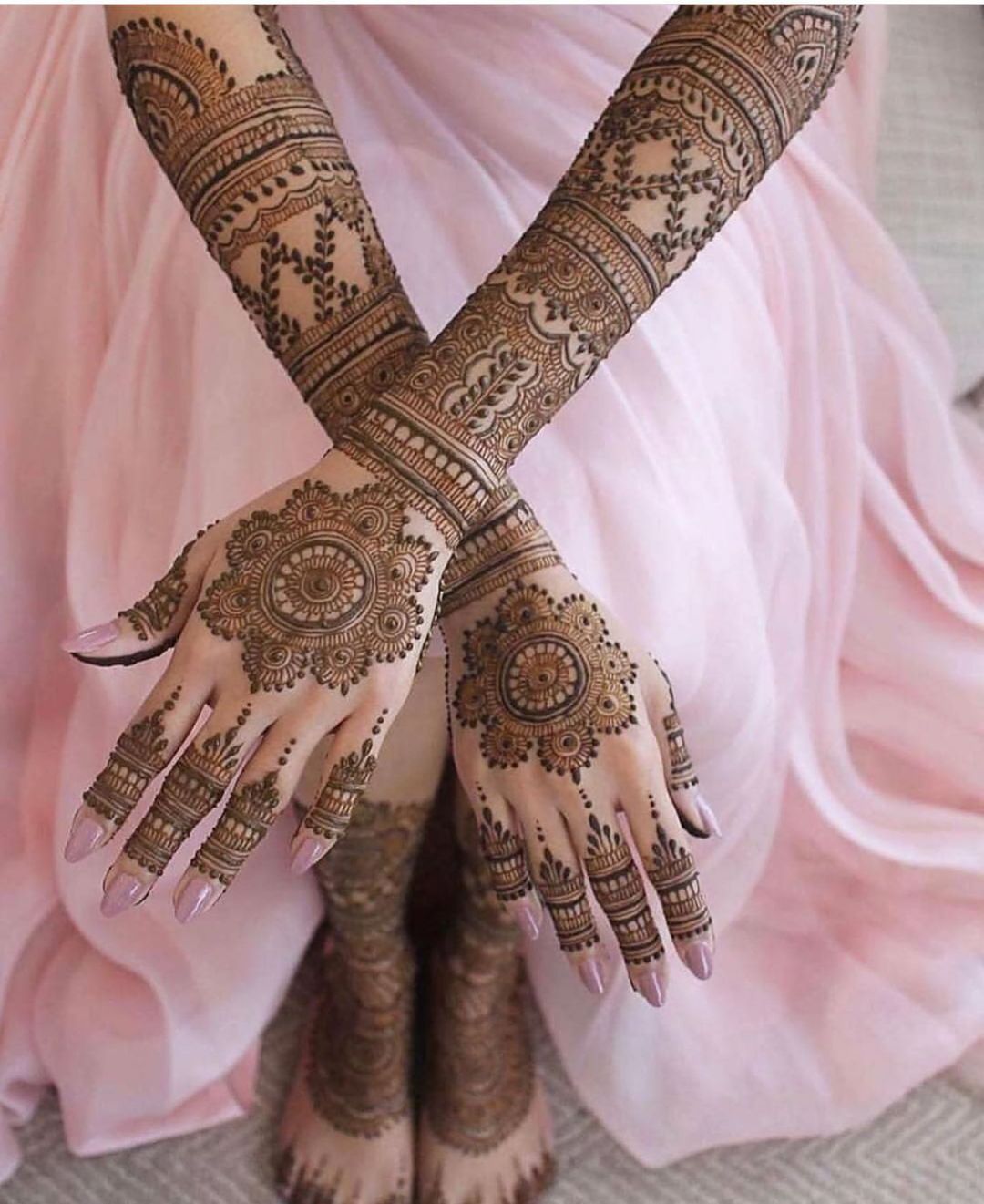 Image via @hennabypayal
Gotta give full marks to this full hand mehendi design for the intricacy! The details are to die for.
Understated elegance!
Image via Henna by Divya
Dainty florals and diamond motifs for the back of your hand? We totally root for it!
Something for our OTT brides!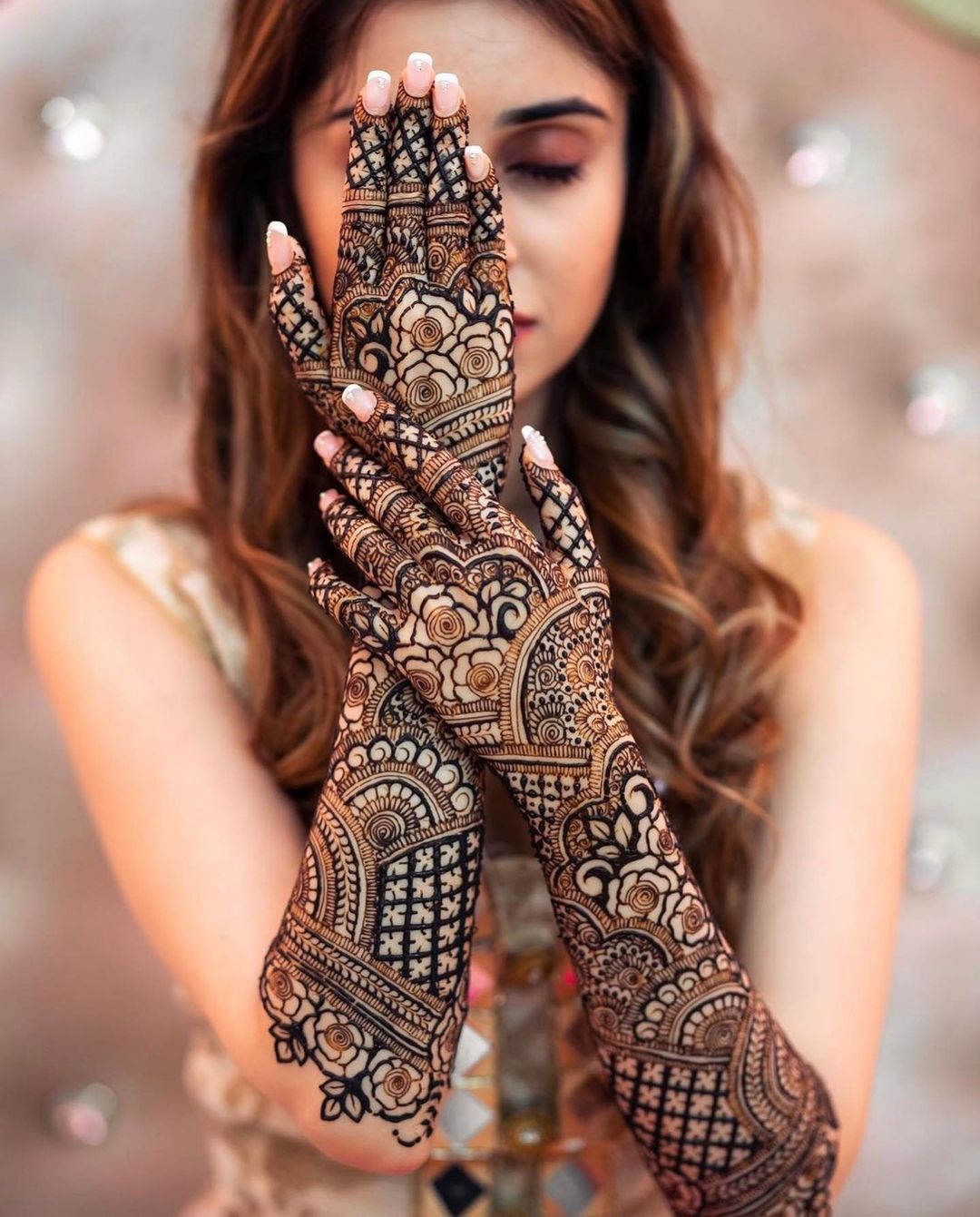 Image via @jdartsphotography
If you're one of those brides who wants her mehendi design to be just as flaunt-worthy as her lehenga, you gotta add this one to your list!
Not your ordinary back hand mehendi design!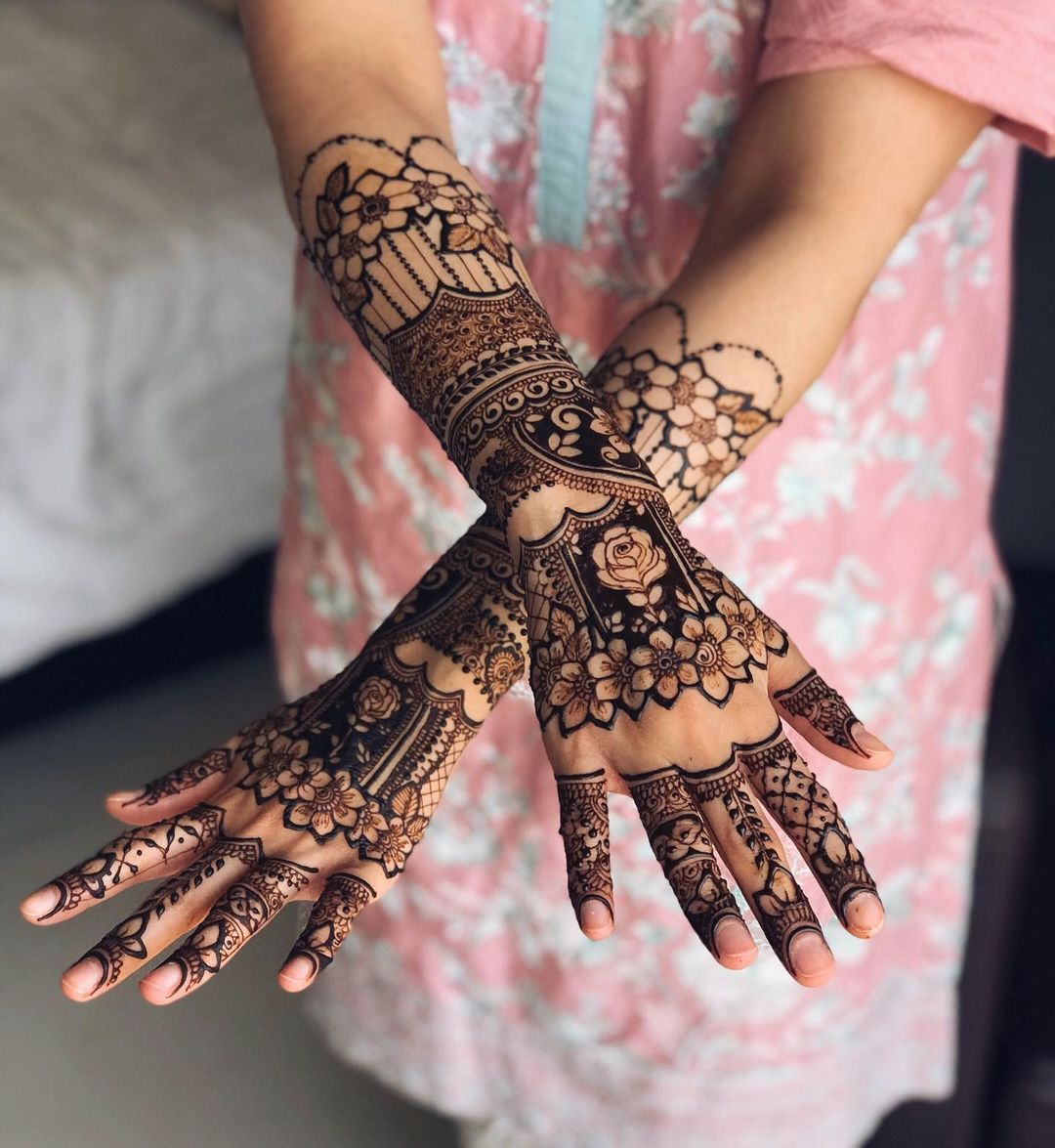 Image via @sarashenna
Can't help but ogle at those floral details and jaali patterns outlining the back of her hands!
Obsessed with those pitch red stains!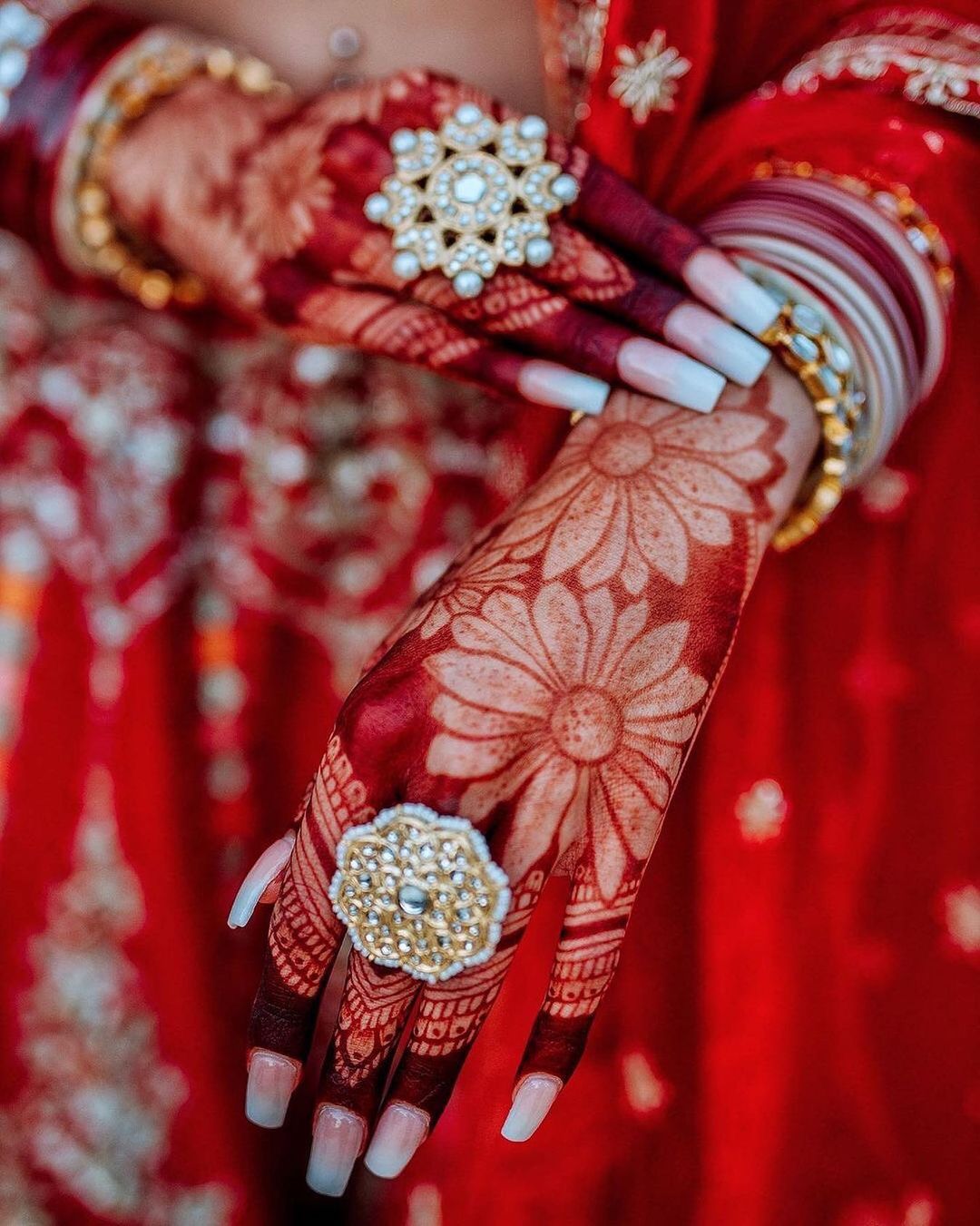 Image via @toral1
Current fixation: This unique back hand mehendi design boasting of artsy daisies.
A dash of sparkle helps!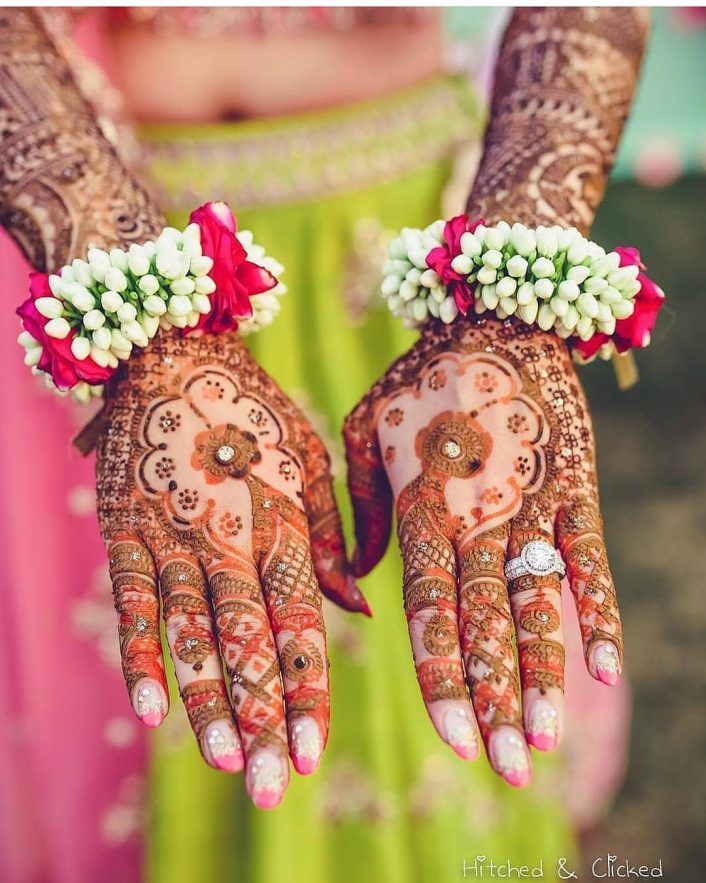 Image via Hitched and Clicked★ 4.7
Ever seen a mehendi design decorated with a dash of bling? Here's one you'd instantly approve of for your big day!
Every Bit Stunning!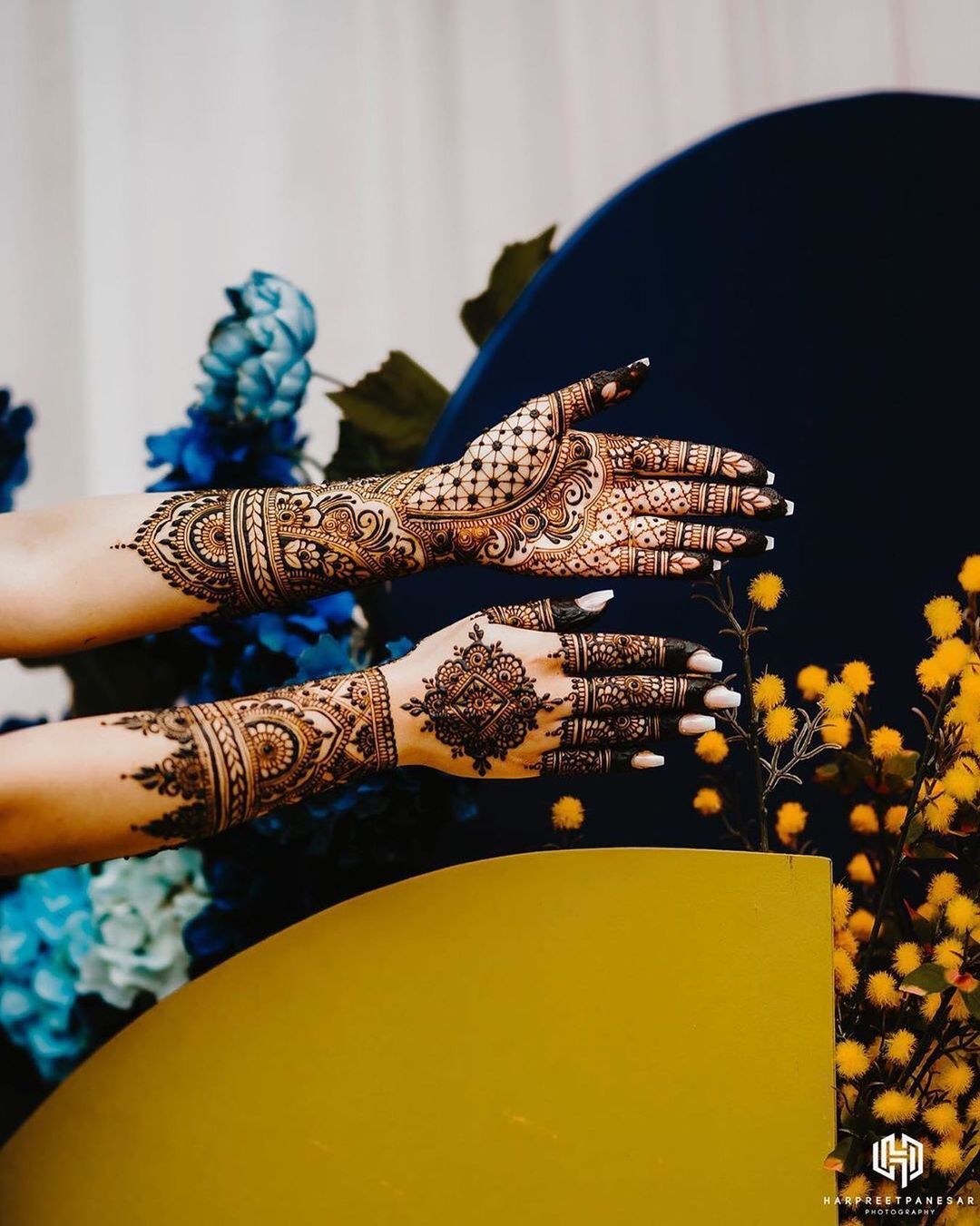 Image via Harpreet Panesar Photography
The perfect mehendi design doesn't exi… Woah, what a beautiful mehendi design!
For the minimalist bride!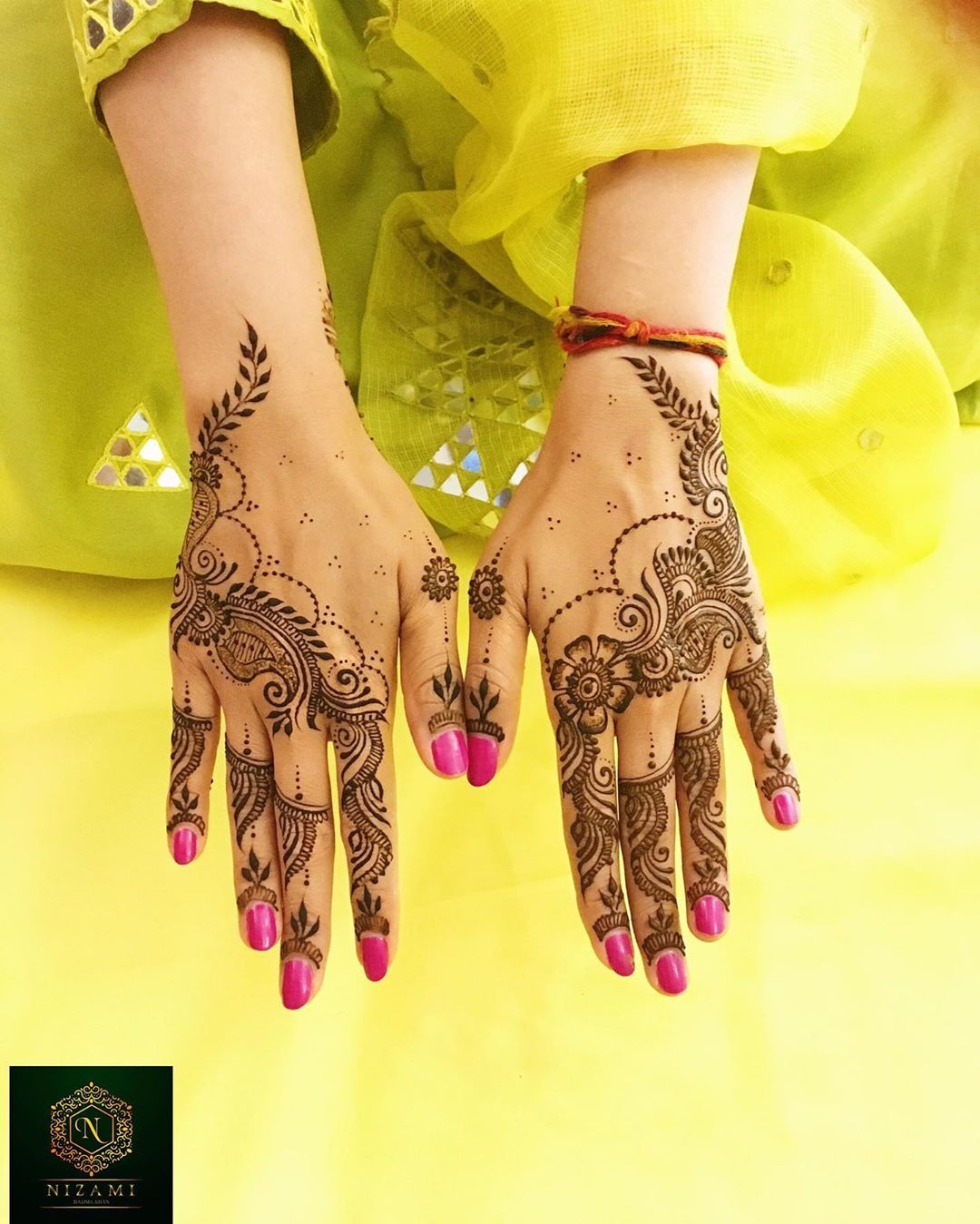 Image via Nizami Mehendi Arts★ 4.8
Are you a sucker for bel mehendi designs? Then here's one mehendi design that would resonate with your tastes and preferences!
Traditional Feet Mehndi Designs
Often left upon the mehendi artist to decide, your feet mehendi design should be as pretty as your front hand mehendi design. And to make sure you give it keen attention, we have enlisted a bunch of traditional feet mehendi designs right here. Scroll down and make a pick.
Let lotus motifs takeover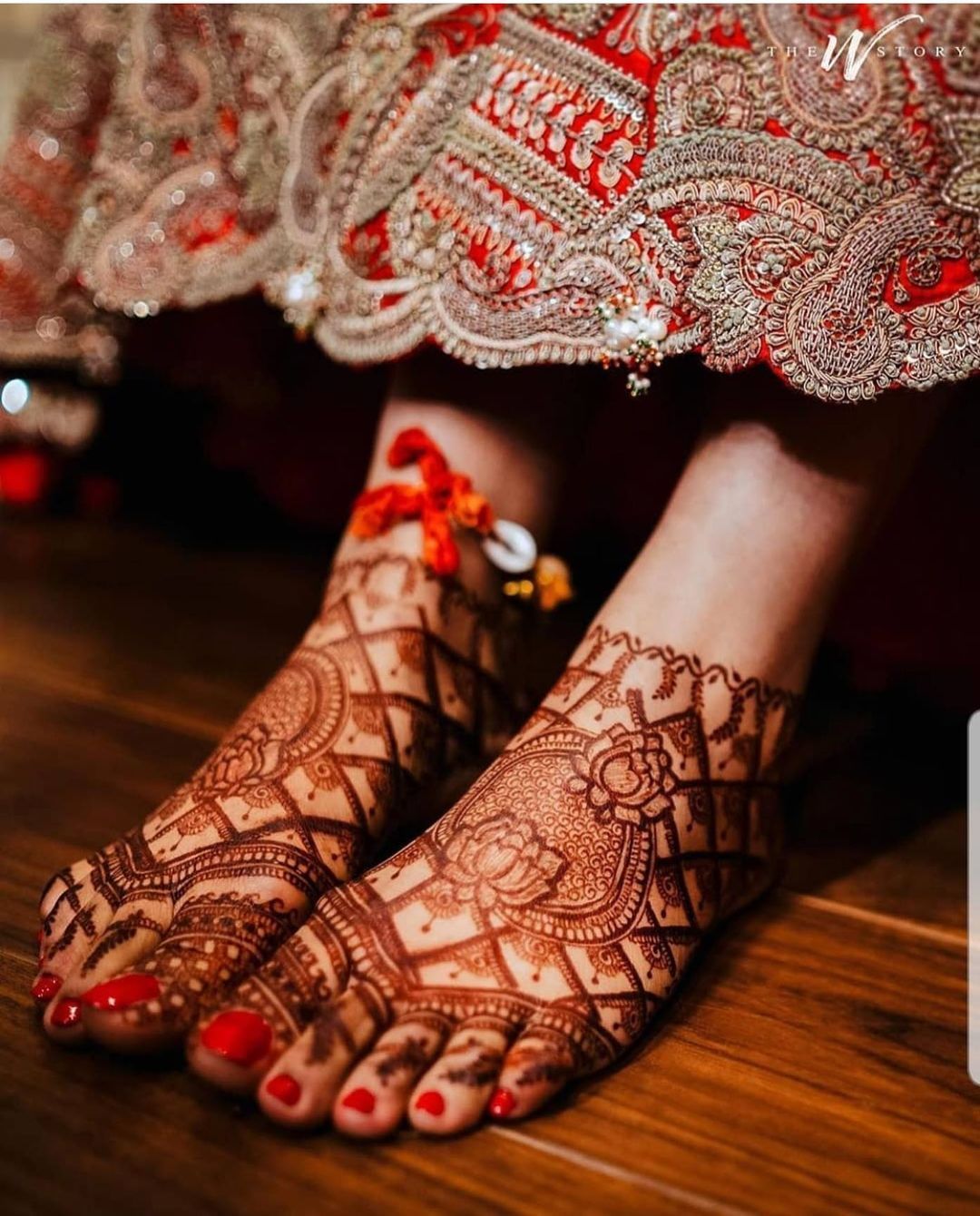 Image via The Wedding Story★ 4.1
Get your feet mehendi game on fleek with this impressive mehendi design that features striking lotus motifs in the center, adjoined with jaali patterns and some winning scalloped details.
One that screams traditional!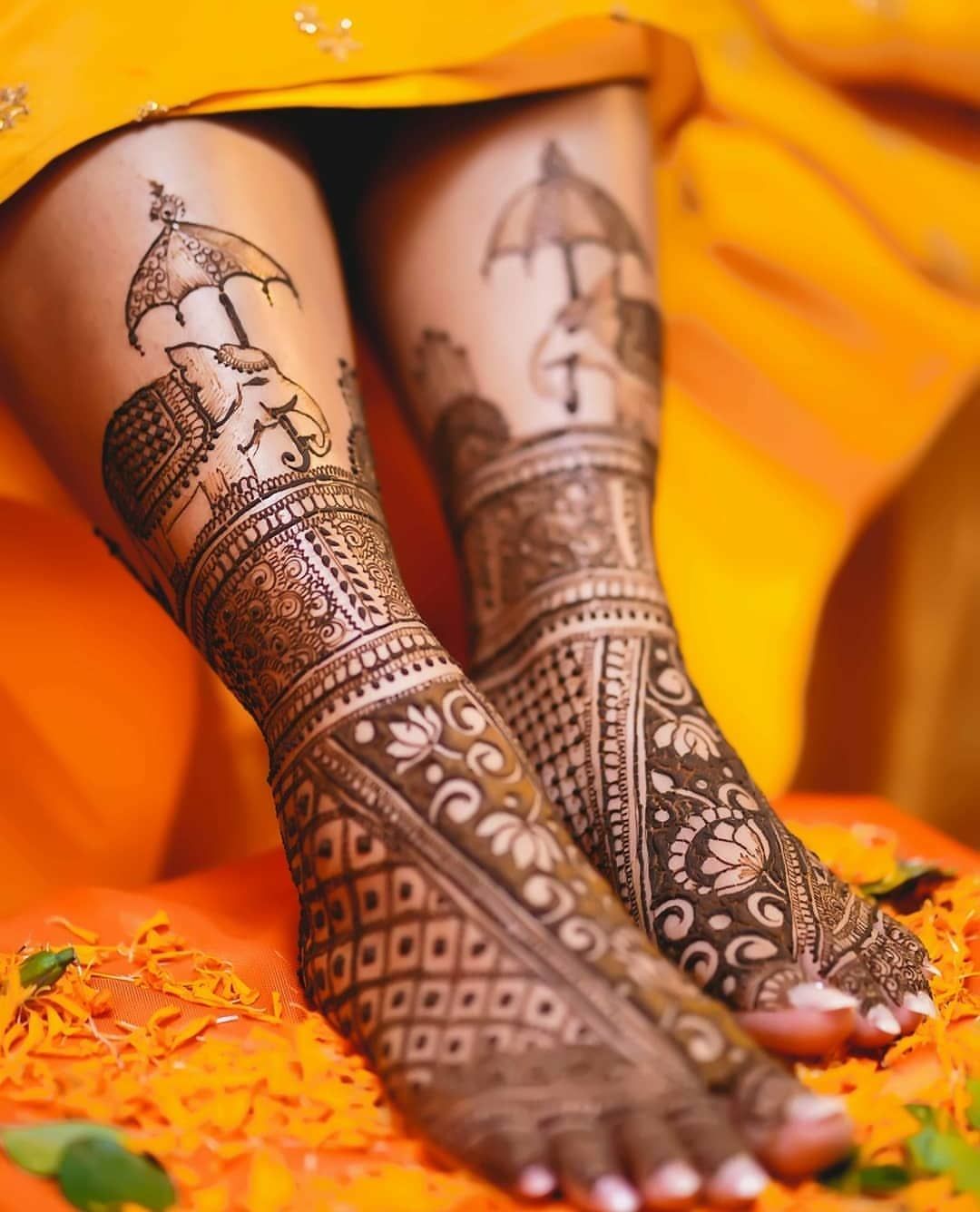 Image via Subodh Bajpai Photography
From elephants to lotus, this bride included all sorts of conventional elements into her feet mehendi design.
For the love of simplistic details!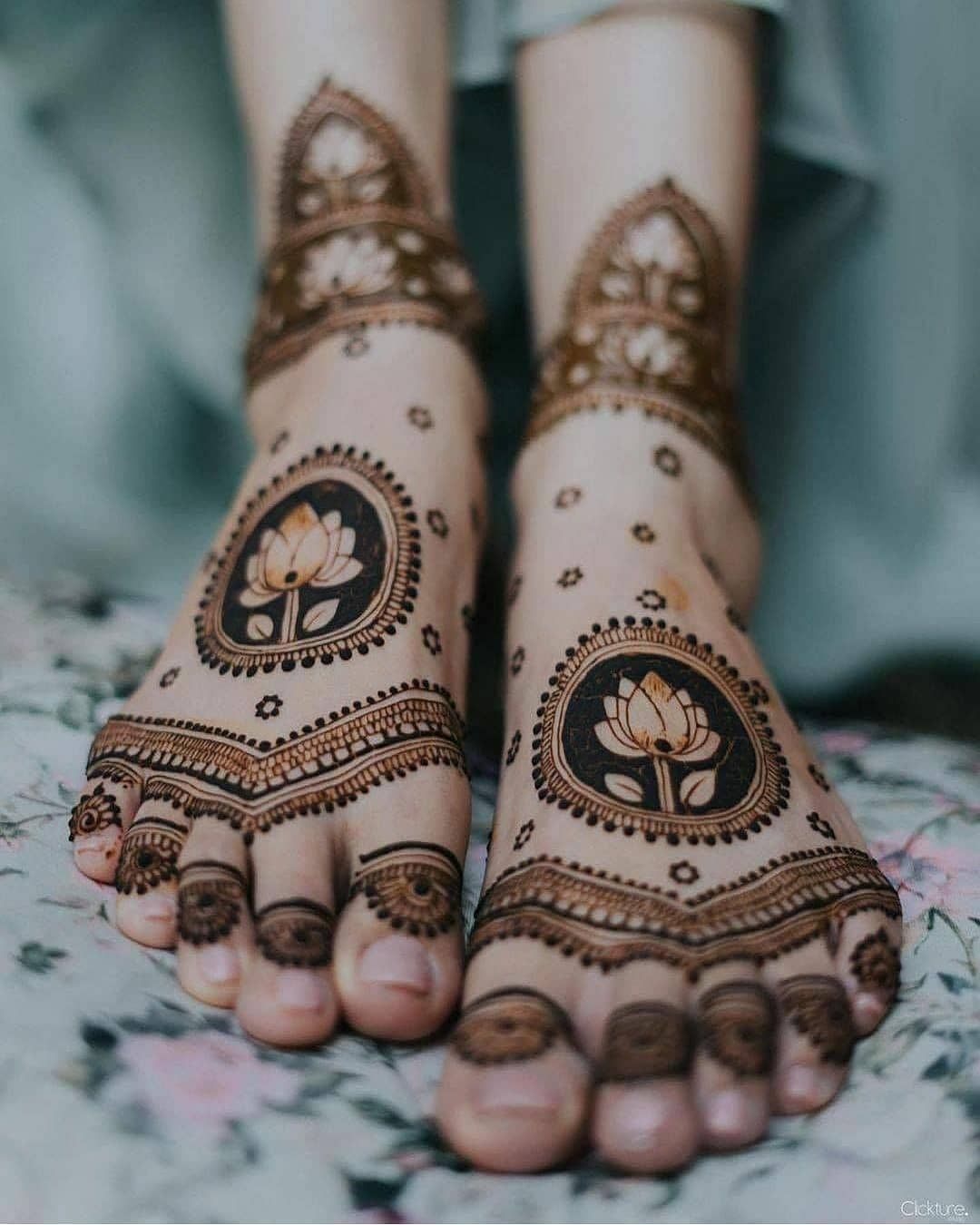 Image via Clickture Studio
Mandalas for your feet? Well, it is a great idea. One look at this minimally beautiful mehendi design and you would immediately hit the save button!
Digging this eye-pleasing peacock design!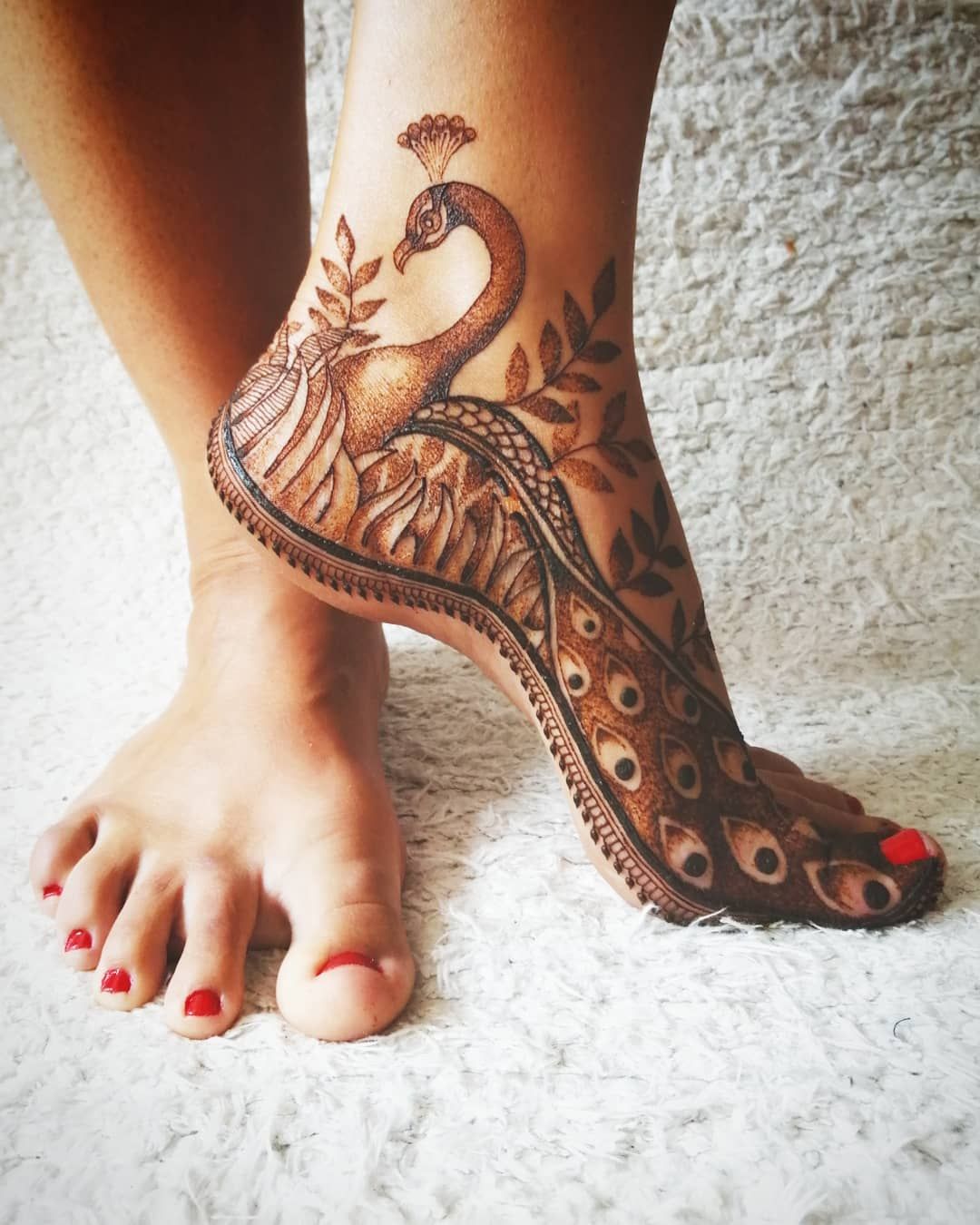 Image via @gyongyver.mehndi
Presenting: A never-seen-before feet mehendi design that is too pretty to give a miss!
All things classic!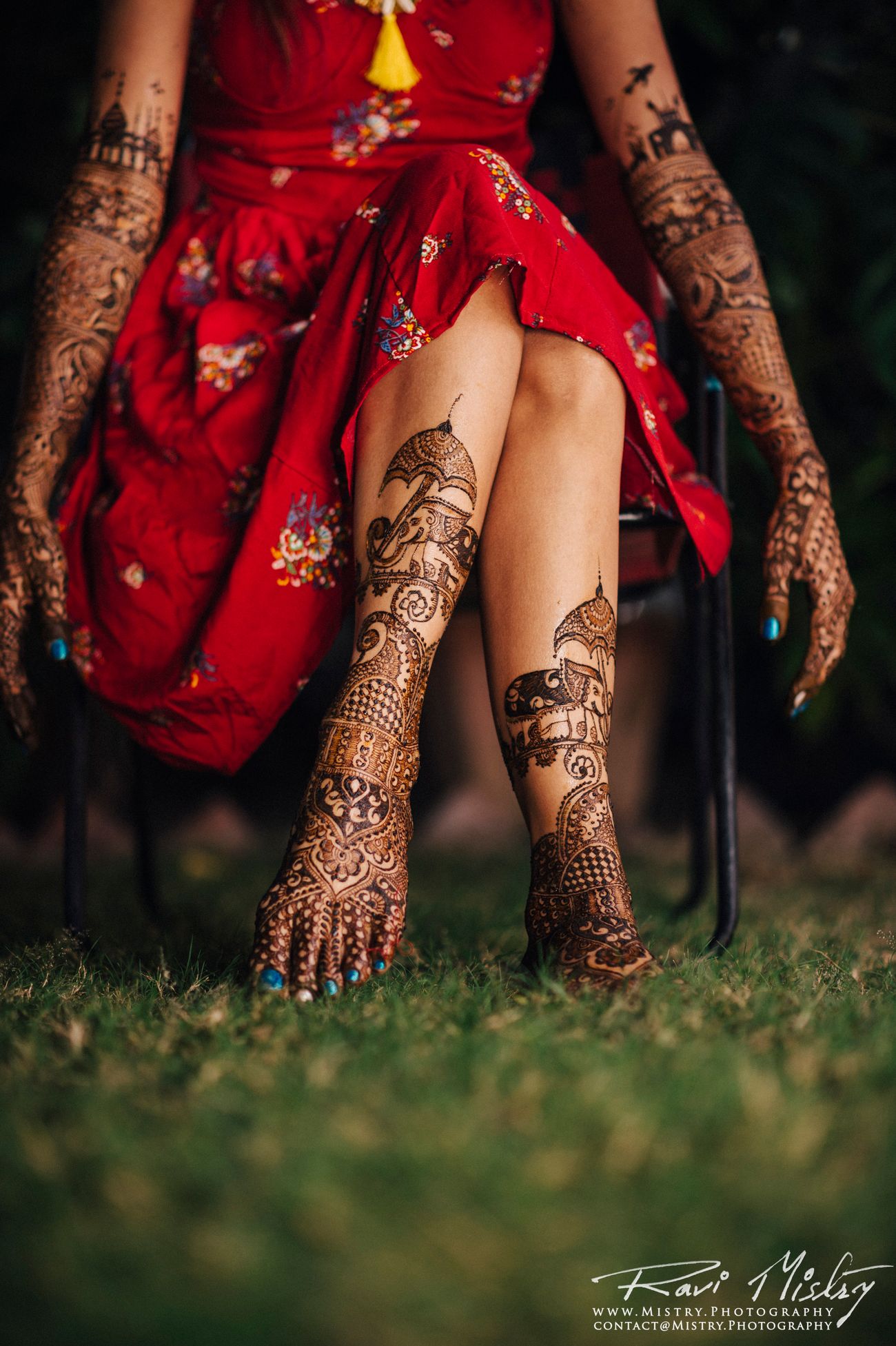 Image via Ravi Mistry
There's nothing better than an elaborate feet mehendi design to set the tone of your traditional bridal look!
Elephant motif galore!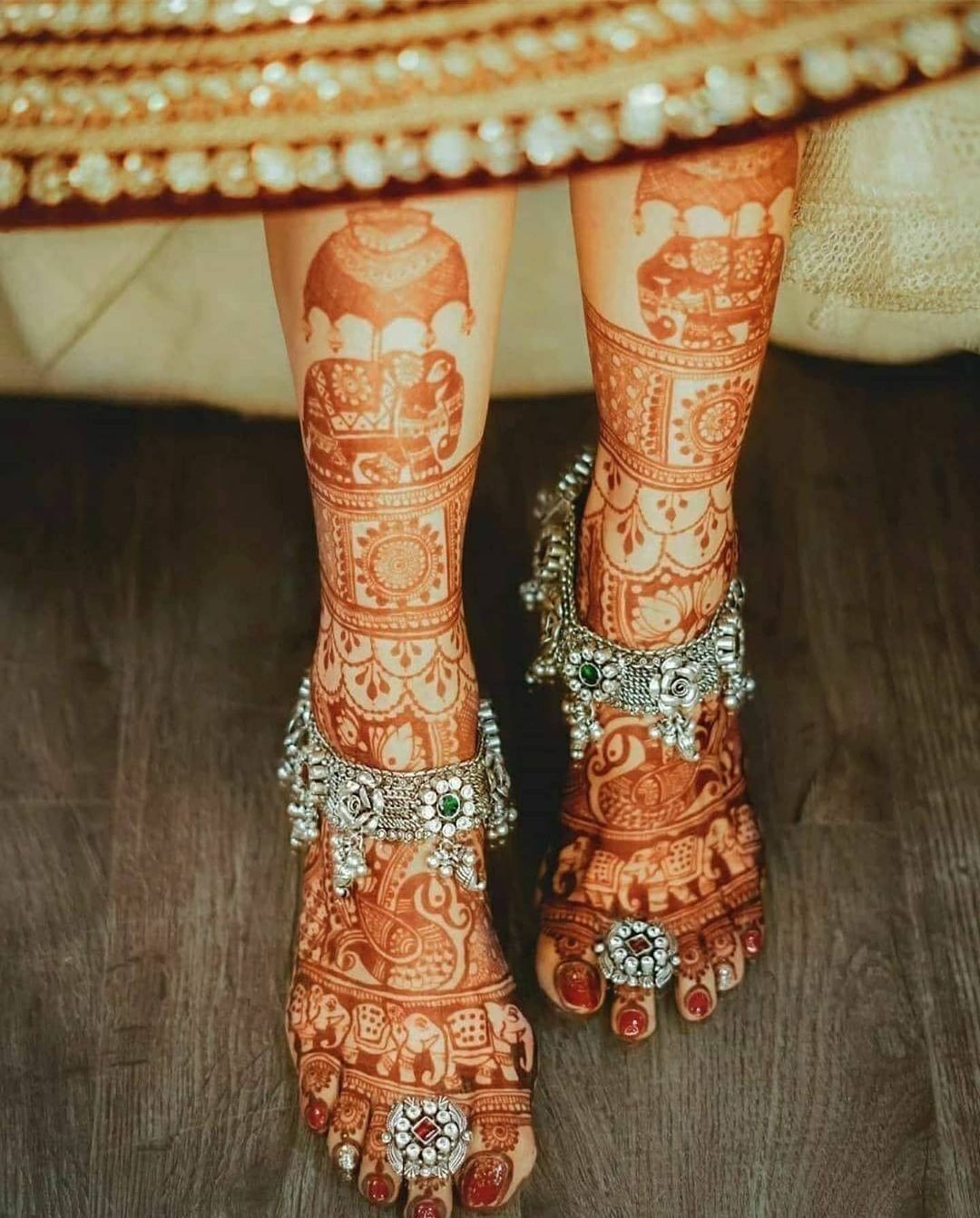 Image via @jayshreebridalmehandi
When it comes to your feet mehendi design, some elephant motifs coupled with regular swirls, swans, paisleys and dotted patterns never go out of fashion!
A complete scene-stealer!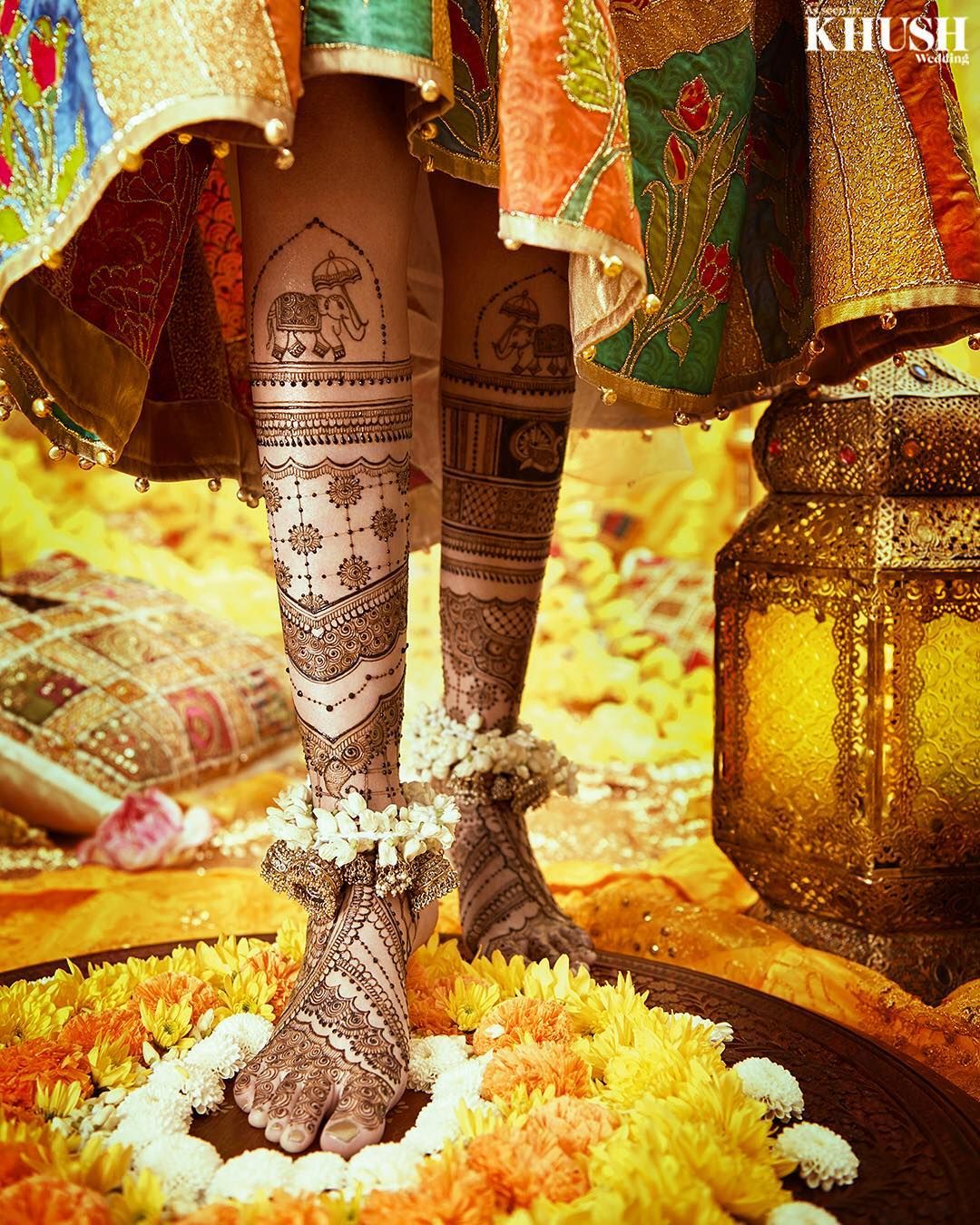 Image via @khushmag
Short lehengas and a feet mehendi design this pretty is sure to make you the cynosure of all eyes on your mehendi!
Calling out all the minimalist brides!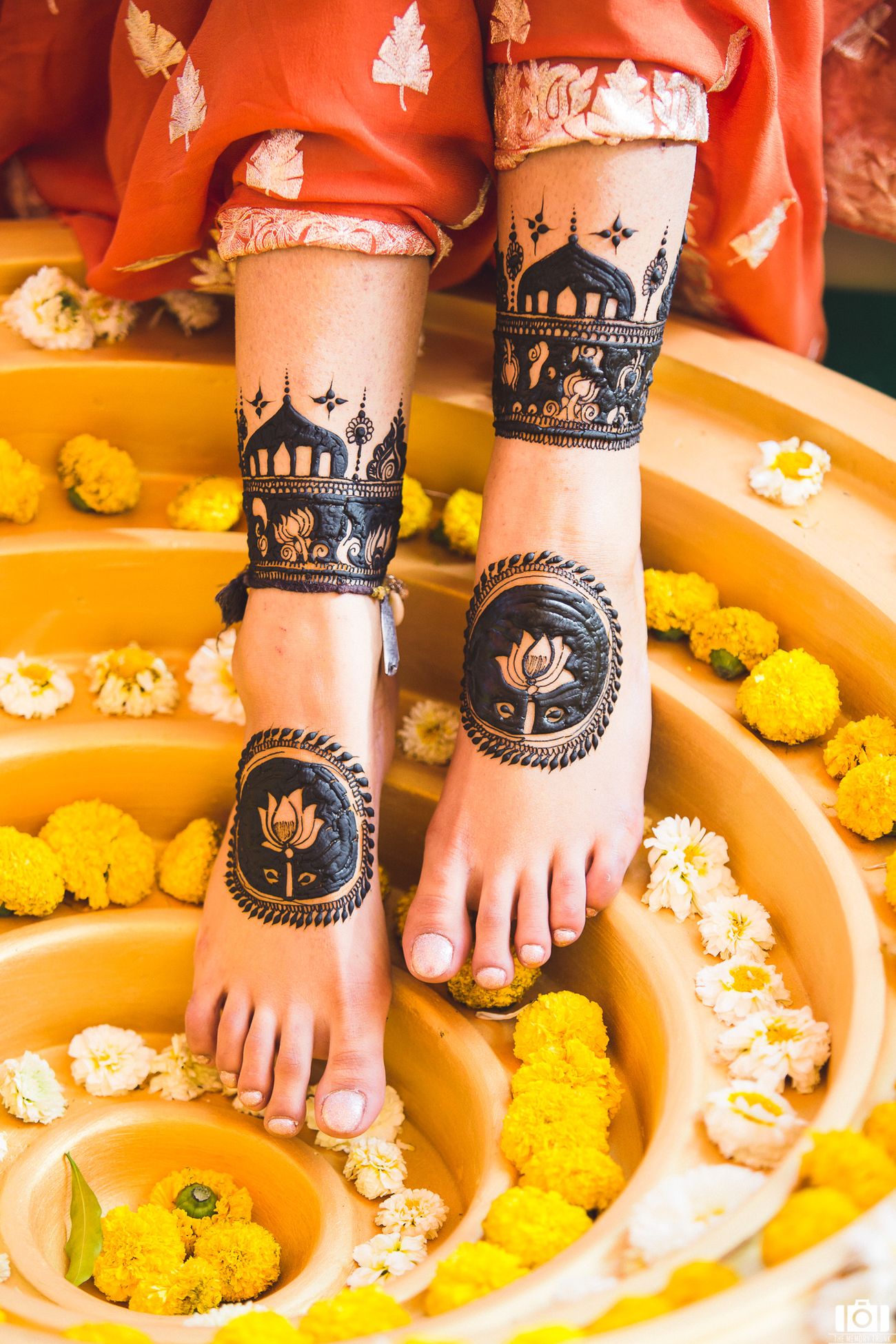 Image via The Memory Trunk
We swoon for a traditional feet mehendi design, especially when there are lotus motifs, ancient tomb-like structures and other pretty details involved.
Love at first sight!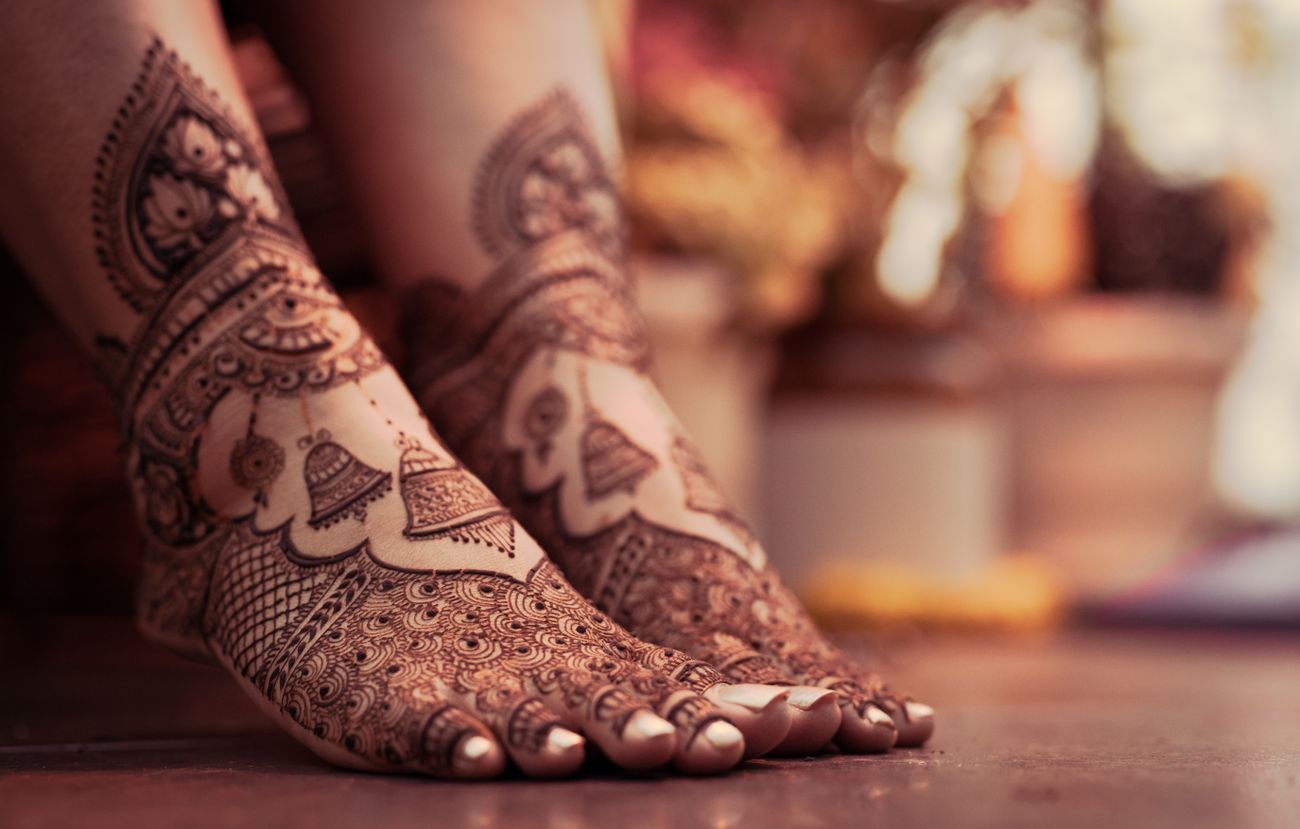 Image via Weddings By 42 FPS
If loving this unique bell mehendi design is wrong, we don't want to be right!
Half feet mehendi design!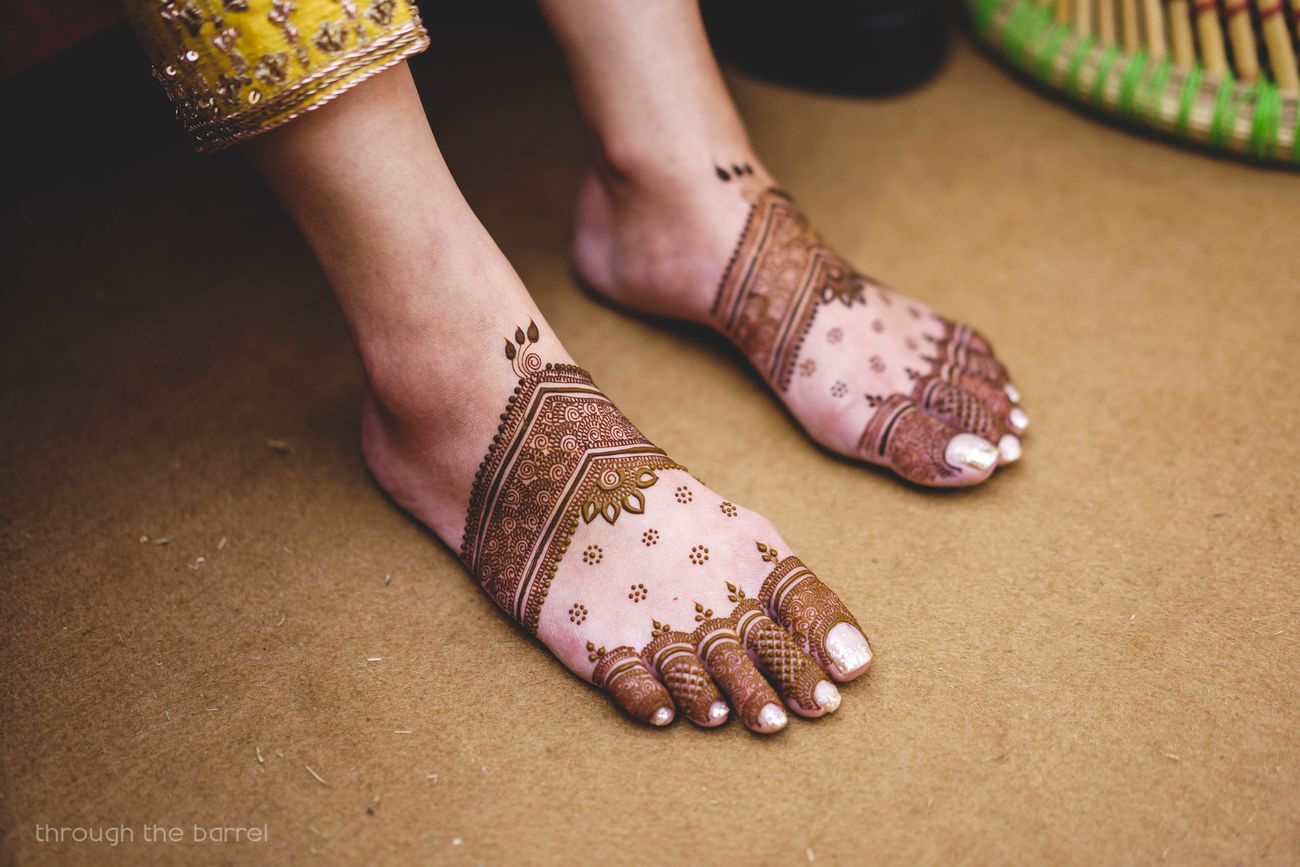 Image via Aashna and Archit's Real Wedding
Can't decide whether to go for a minimal feet mehendi design or an OTT one? Ditch both and check out this half feet mehendi design that looks oh-so-beautiful!
Another minimal feet mehendi design!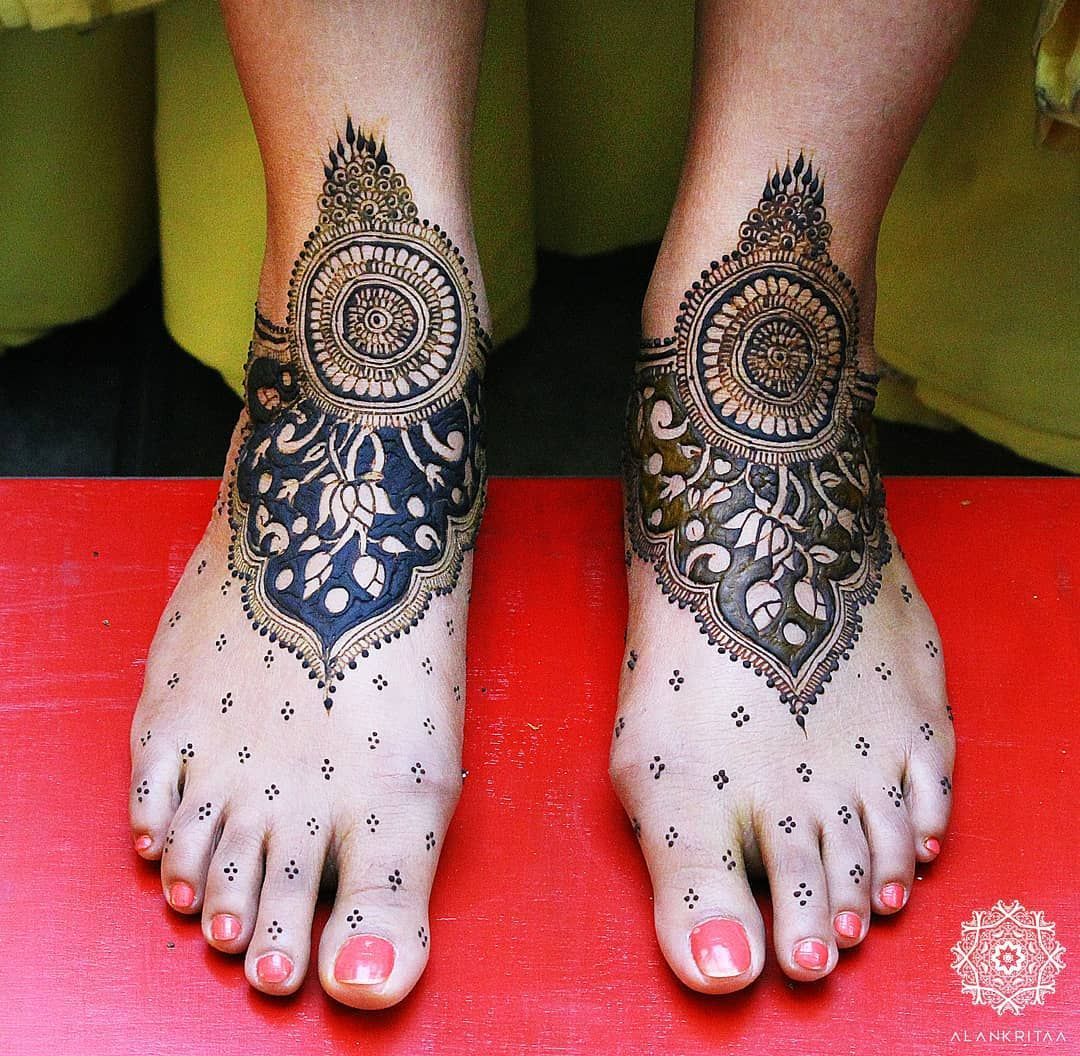 Image via Alankritaa
Wrapping up our list with this intriguing feet mehendi design that resembles the lacey patterns of footwear.
That's all folks! With this we come to an end to the list. From some over-the-top patterns, to some really dainty ones, we have included them all for you to pick from. Save your favs and don't forget to show it to your mehendi artist that you can hire with the WMG App.