5 Really Interesting Photo Backdrop Ideas For The Bride Who Wants Something New!
BY The WMG Bride | 05 Mar, 2016 | 1254 views | 2 min read
Props are oh-so-fun and big bold backdrops have been done already. In any case, if you're a bride who likes to keep it minimalistic and a little western, not too much jazz and not too much kitsch, then these five interesting photo backgrounds are soooooooo up your alley. Fresh up and fabulous, girls! It's all about the new and the in.
Fern Installations
It is about keeping it really delicate but rustic if you ask us. So ferns put in inventively with a neat backdrop can really create a fun atmosphere. Use some flowers if you want - hydrangeas, garden-variety bougainvilleas and daisies that can be used sparingly and a wrought iron message that can double up as a backdrop to shoot against.
Wallpaper Murals
Picture Courtesy: Doyle New York 
Wallpaper is so retro and avant garde at the same time. Print or get one made according to your liking. Say a bunch of Indian wallpapers in block prints or even fun cute florals and heritage pictures.
Flower Markets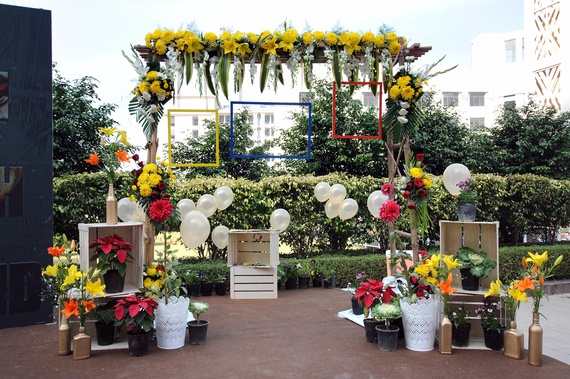 This one is super cute only because there is an added benefit. Creating a floral market kinda situation can actually be very pretty and guests can then choose their favourite blooms to take home.
Festoon Lighting
Picture Courtesy:Huffinton Post
Fairy lights against a wall - with nothing for company. So minimalistic and so sweet, I tell you. You can add a few candles or a lamp but mostly lots of fairy lights! Gives the illusion of suspended stars.
Vintage Armchairs
Enter armchair that is so so old and with it comes other minimal decor - a lamp maybe or a wall that is worn out and a few flowers for company. Such a thoughtful but sweet space for the guests to interact.