A Breathtaking Pakistani Wedding with a regal charm !
BY The WMG Bride | 19 Sep, 2014 | 3685 views | 7 min read
Pakistani weddings always have our office in a tizzy, with the girls at
Wedmegood
swooning at the  flowy , gorgeously embroidered shararas , the monochrome color palettes and the effortless elegance they seem to encapsulate ! But when you have a venue as stunning as this, that too  captured by the talented Mir Anwar, then our Friday mornings just get a whole new level of gorgeous. Milk and cookies after dinner, gold dusted macaroons and a blush and gold color palette- we think we just found the Pakistani wedding of our dreams.
Meet Zaineb
She recounts "One weekend, a few of my friends asked me if I'd like to join them on a trip to the Big Apple, to which I agreed. A good friend of mine resided in New York at that time , so I took that opportunity to meet up with him, and he just so happened to bring along his handsome friend  which I didn't know at that time, would be a life changing event for me! I still remember that evening vividly, I caught a glimpse of him behind the glass doors, before he walked in to join us. I felt nauseous, butterflies, never had I felt that way before. We exchanged a few smitten glances, and if anyone can define love at first sight – that was it. That moment was it."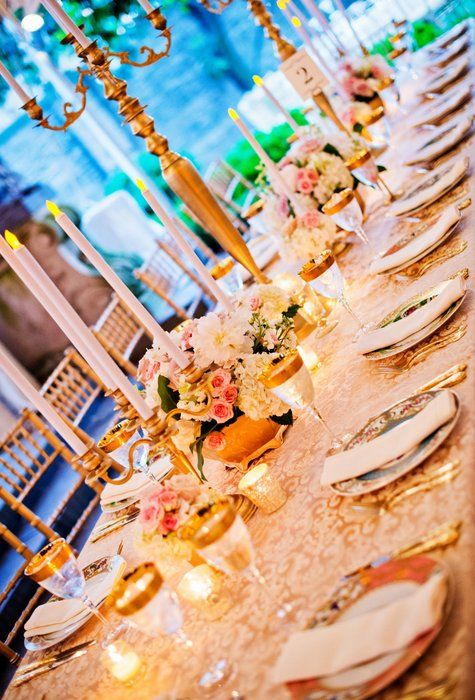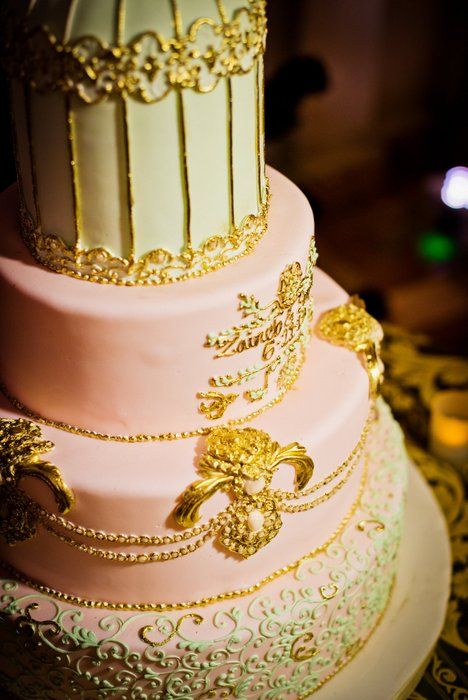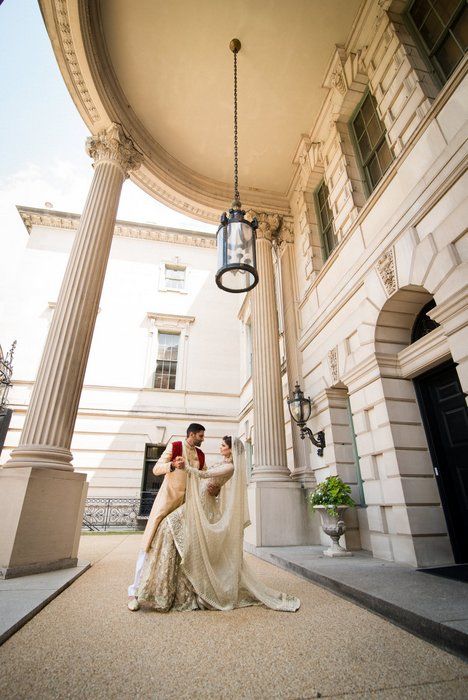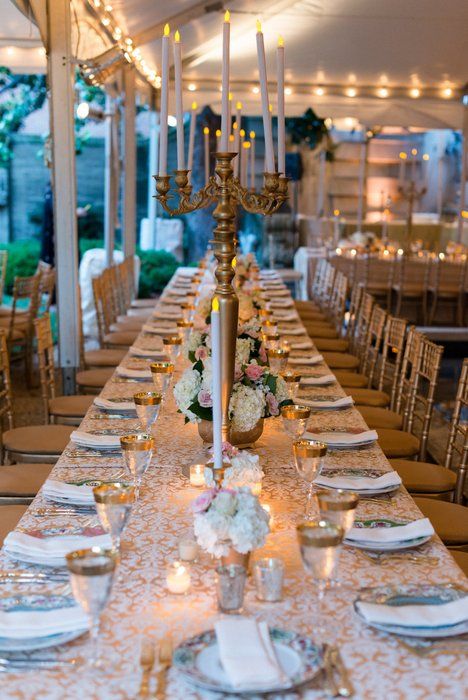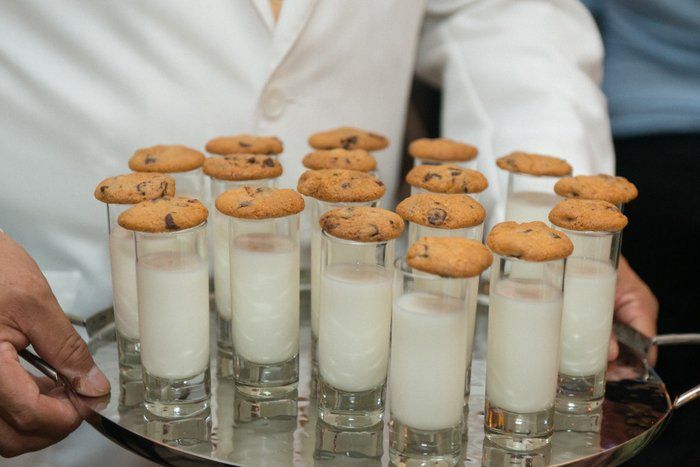 Milk and cookies in shot glasses what a fabulous idea!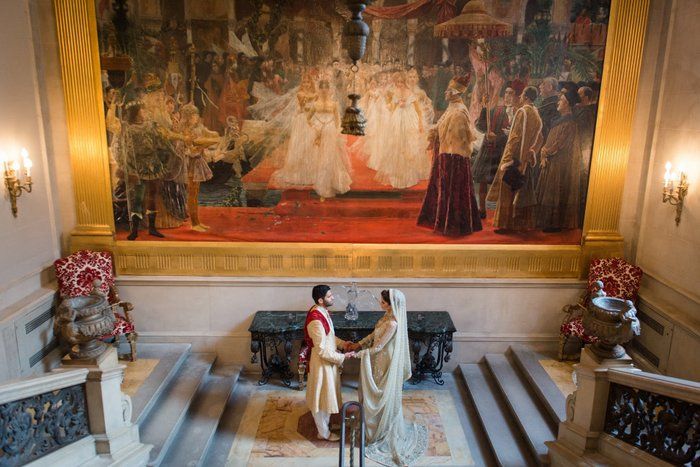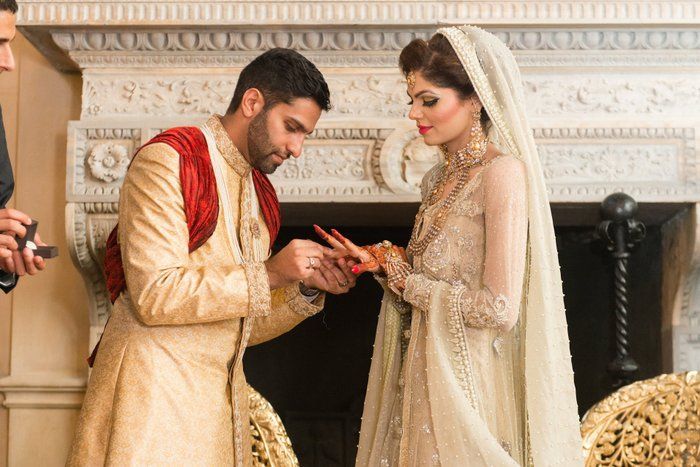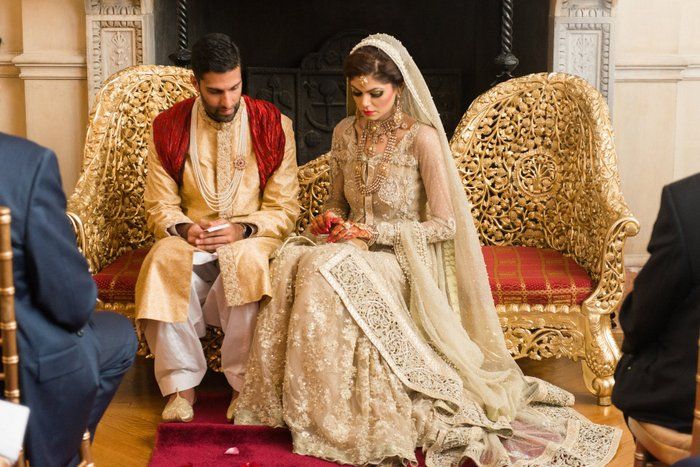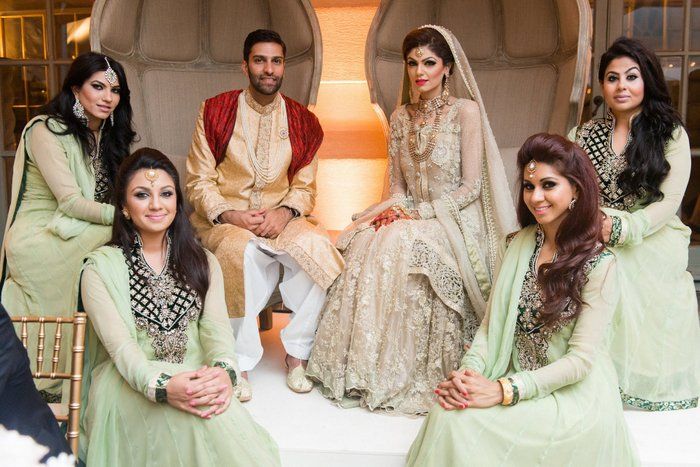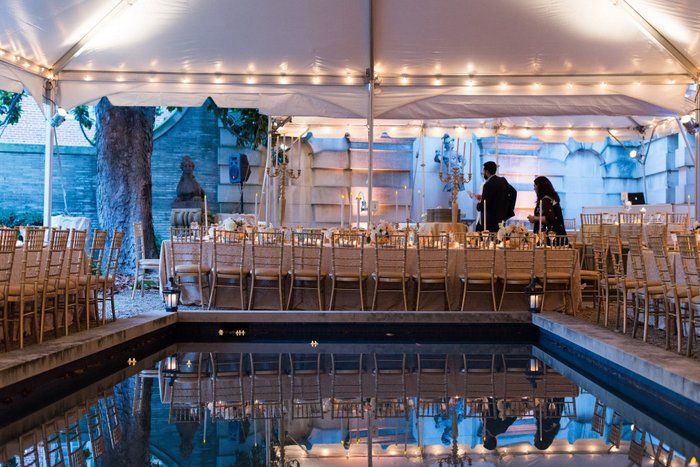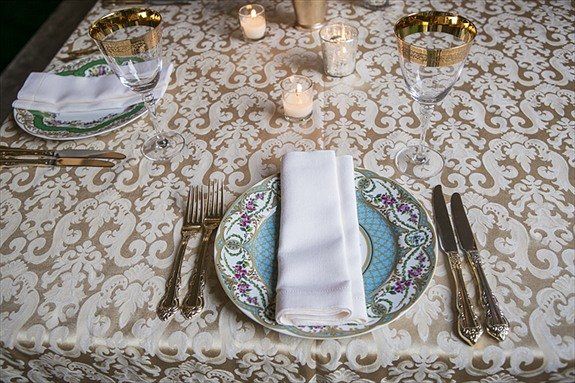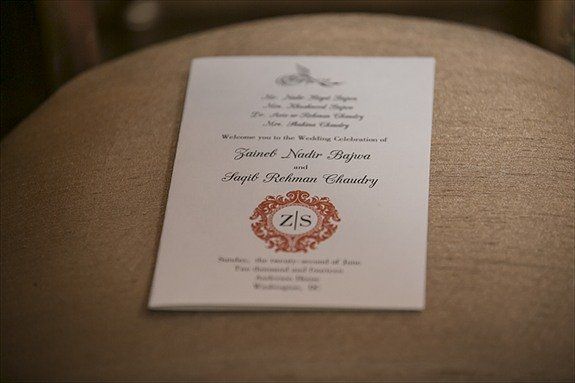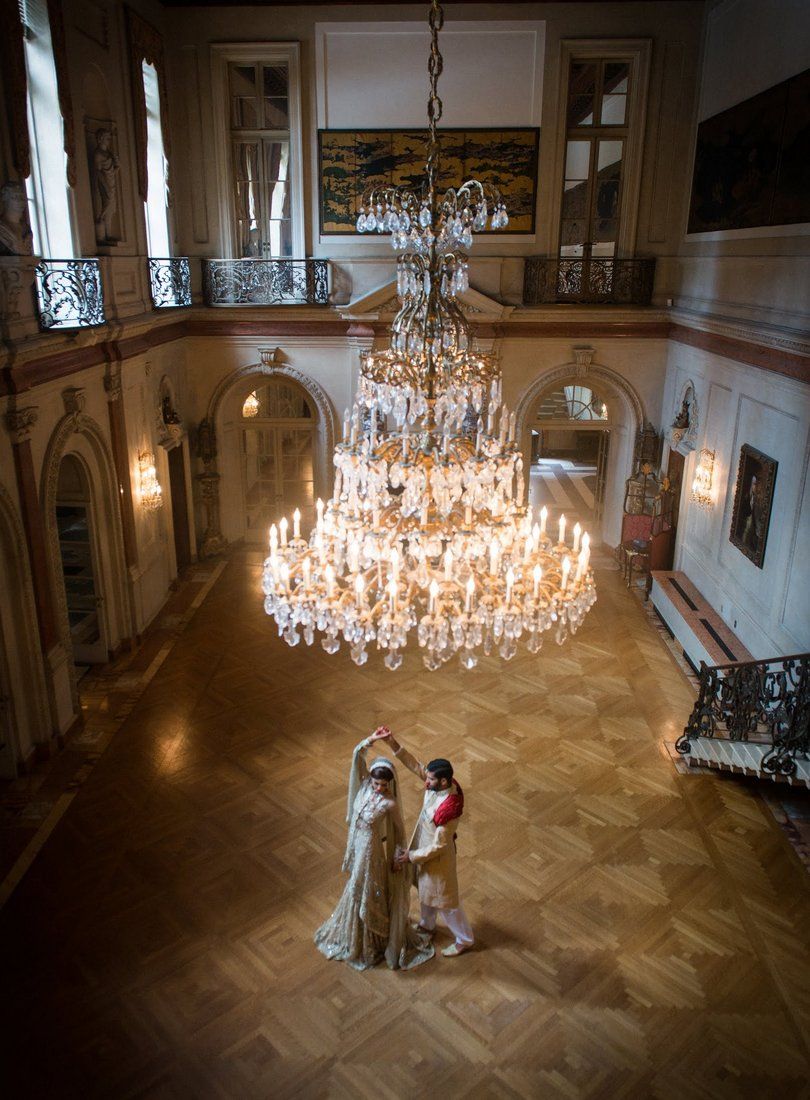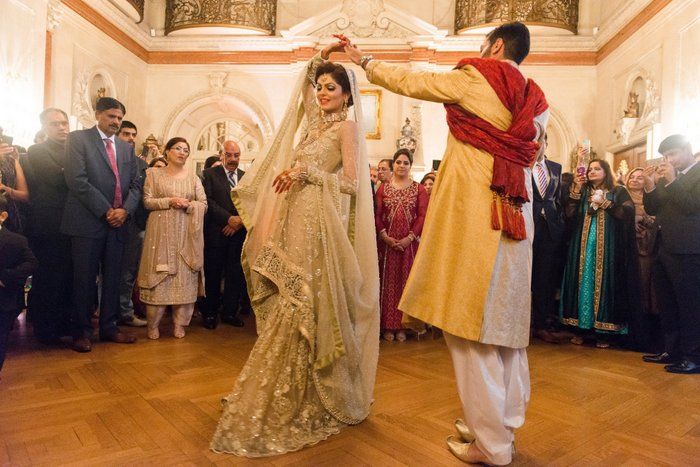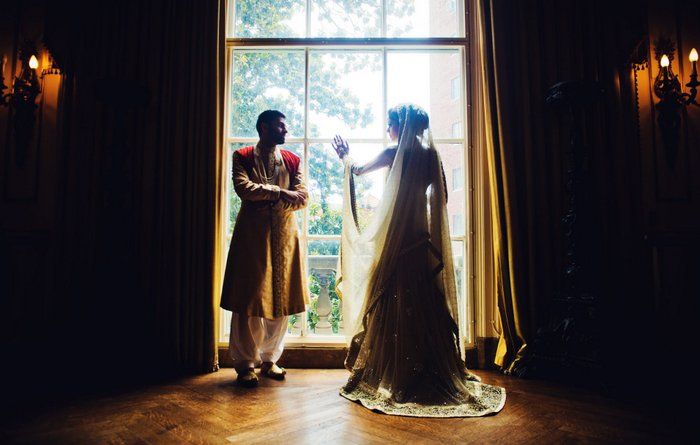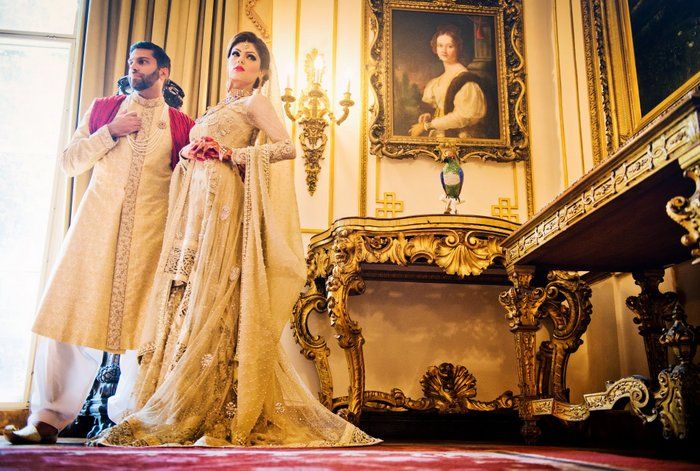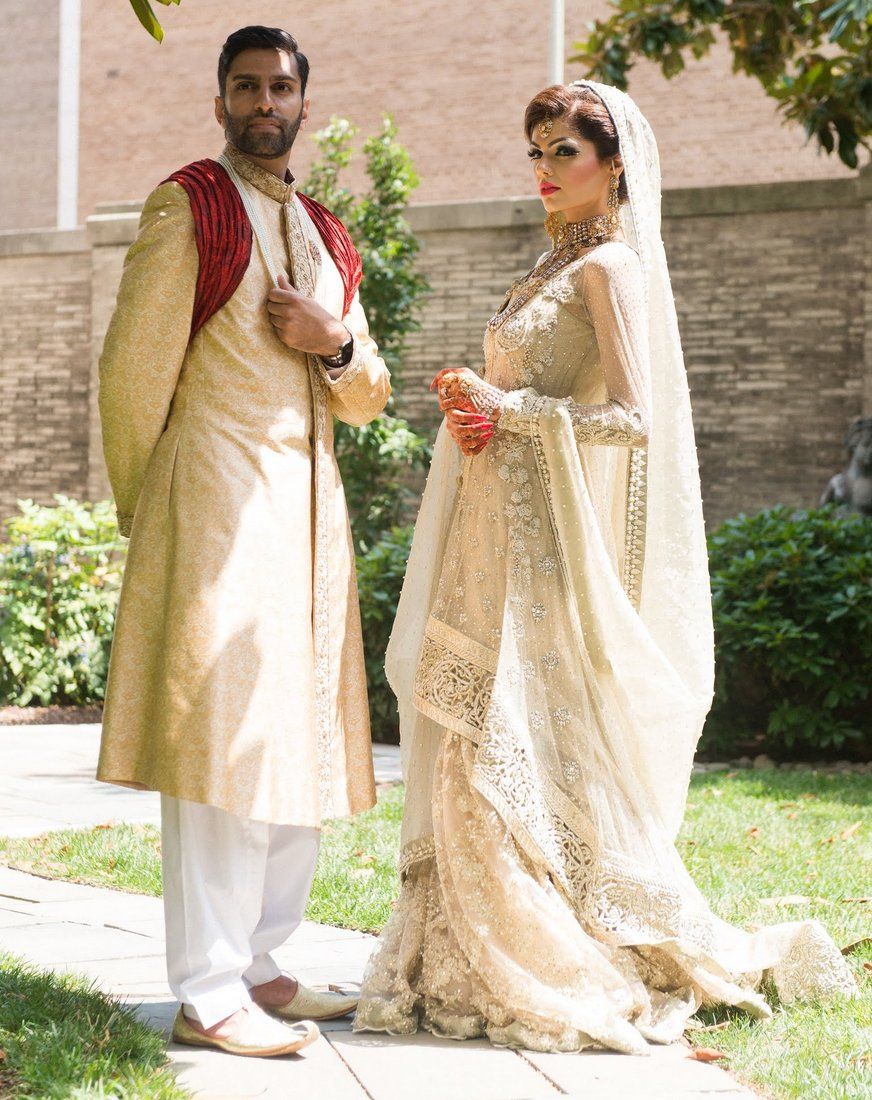 That stunning cream Elan bridal sharara is breathtaking!
From the bride: Our venue was the Historic Anderson House, in Washington DC which is a French Palace converted into a museum and I like to believe DC's best kept secret until our wedding ! My friends don't believe me when I tell them that, the Anderson House was the first and only wedding venue we looked at. From our first trip there, I knew that this was it.It was regal- like a painting. All the different rooms, the high ceilings, the gold gilding, the French doors and the chandeliers. The venue was huge, yet so very intimate.
The garden area was tented, and we had gold candelabras and lush pink pastel flowers to adorn the tables. The place settings were French, in pastel colors, accompanied by gold silverware and gold brimmed goblets. There was not one element that wasn't thought out, or served a purpose. The table covers and table napkins were hand selected.. After an exquisite Pakistani cuisine was served, a beautiful dessert table was lined up. Along with mini desserts such as gold dusted French macaroons, mini crème brule, hot Pakistani jalebis (Punjabi style!), and tons more, we also had waiters passing around milk and cookies, in shot glasses. That was my husband's request, one day, he just looked at me and said… "I want milk and cookies to be passed at our wedding…" and that is what we did! Who says you can't have a little fun? The guests were in awe, imagine a waiter coming to you, in a foreign accent, asking you "would you like some milk and cookies, madam?" I would die! How cute! Haha.
Our cake was also nothing short of a dream wedding cake, using the same colors as the table scapes. My theme for the cake was a birdcage, with delicate gold work. We went to numerous taste testing's, and nothing really sparked our interest the way the Fancy Cakes by Leslie, in Maryland did! The most decadent, delicious cakes, ever!  Our photographer was Mir Salem Anwar, whom we flew in for two days from Texas, to cover the entirety of the shenanigans, from the Mehendi to the Wedding. We were so pleased with our results, and believe me when I tell you that me and my husband are probably the most critical people when it comes to wedding photography! Look at it this way, your wedding will pass you by in less than 24 hours, those photos are what you have left, for the rest of your life! Wedding photoghraphers are the most important element in your wedding. If you want to pinch costs, do it elsewhere, too many times I've seen a gorgeous wedding, that was not photographed in all its glory. It literally makes me mad! If you are looking to cut a few corners, skip the token guest favors (let's be honest, unless you're sending your guests home with a new car or a puppy, no one cares about a pen with your faces on it)
Being Pakistani, there was an immense amount of
pressure to wear a traditional red outfit.
From my elders in the family, to my own mother, everyone pressured me to look for something red. In my heart, I knew that red, was just not the color for me; as beautiful as a red lehenga looks on a bride – I feel like at some level they end up all looking similar. I made a
trip with my mother to Lahore, Pakistan
. Our 10 day trip brought on immense pressure for me, trust me when I say this, it was not as fun as one would imagine. Being an outsider to a new city made it extremely difficult to find our way around. If I knew anything, I knew that
I loved lace and I loved champagne gold
! 8 days, and 30+ designers later, I still had no outfit. I tried on lehenga after lehenga, and everyone around me tried to convince me into feeling something, that I never felt in any of them. I soon realized that just because something is designer or from a top label, or costly, does not mean that you will love it. I found a lot of designers to be very uninspiring. That night  I looked at my list, and realized I had ONE designer left, Elan. I had heard so much about Khadijah Shah and her bridal collection, Elan. The next morning, I was outside Elan before they even opened, without any bridal appointment and after a minor stand-off with the security guard and having a total bridezilla moment of explaining how I had a flight t catch in 48 hours and my wedding depended on him opening the doors, he relented. This was the first gown I saw, hanging so elegantly, in a dark side of the showroom, was the Elan Sultanate Collection show stopper from their last runway show. The gown took my breath away. Regal, fit for a queen, something out of a fantasy. A true piece of art.
The crystals, the lace, the corset style, the champagne gold color. The pearls.
I felt like I had died and gone to heaven. It was apparent that
no one does Ethereal, like Elan does!
Without further adieu, I tried it on. I hadn't even gotten into it properly, and screamed out for my mother to come inside the fitting! She saw me and was quiet. I saw her getting teary eyed. This was my bridal gown. This was the gown I was going to marry the love of my life in. No, it was not red, but for me, it had every aspect of what I had imagined.
---
Venues
:
Anderson House Washington DC
 | 
 Invitations:
Unknown
|  
Makeup
: Done by a friend |
   Brides Lehenga from
Elan bridals Pakistan
|
Grooms outfit:
Kapurthala House   (Where Jinnah got his suits done from) 
|
Photography
:
Mir Anwar
  and
Naureen Bokhari
|
Cake:
Fancy Cakes by leslie
[handbook] Getting hitched in India? Don't forget to check out our
WMG Handbook
for the best wedding vendors