A Contemporary Bangalore Wedding With Stunning Floral Decor & A Bride In Pink Kanjeevaram
BY Aakanksha | 03 Jun, 2019 | 6284 views | 6 min read
It's not that easy to pull of a non-traditional wedding, specially when it's a love marriage! However, Shloka & Jayesh manage to have a beautiful & contemporary wedding while still retaining some traditional aspects. The decor was totally on point, from the owls in the Mehendi to the beautiful white floral strings at the shaadi mandap. They had different themes for each of their functions and kept it unique and fun at the same time. Taarini Weddings★ 4.9 played a big role in bringing this concept to life and giving Shloka exactly what she wanted for her wedding. Also, the one thing we just can't help but point to is how perfectly coordinated, and complimenting the couple, were the bridesmaids' and groomsmens' outfits. The entire bride & groom squad rocked it and it was nothing short of cool! House On The Clouds★ 5 caught all their moments, lovable as well as candid, in a stunning manner possible!  
Meet Shloka & Jayesh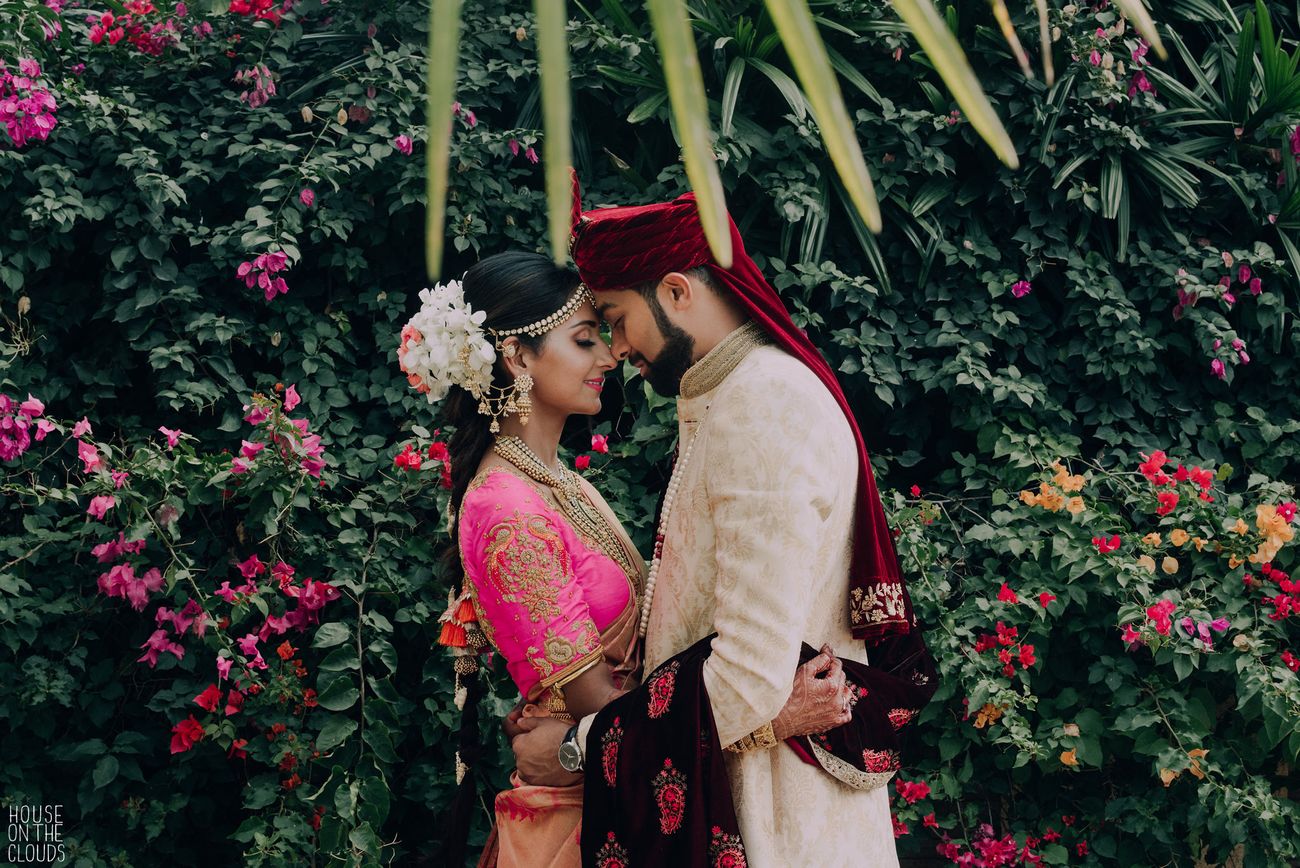 Shloka and Jayesh's love story is as modern as it gets, "Like many millennials, Jay and I met through a dating app, specifically Hinge. That being said, I do think destiny and luck also played a huge factor. At the time of the fateful connection, we were both at a point of taking a hiatus from online dating. I had just finished celebrating my 28th birthday and was getting bored of having the same conversations over and over again. Jay had similar feelings on having gone on many dates and not really finding a connection and wanted to take a break to focus on work. So thankful that we held on long enough to find each other :)" 
The Mehendi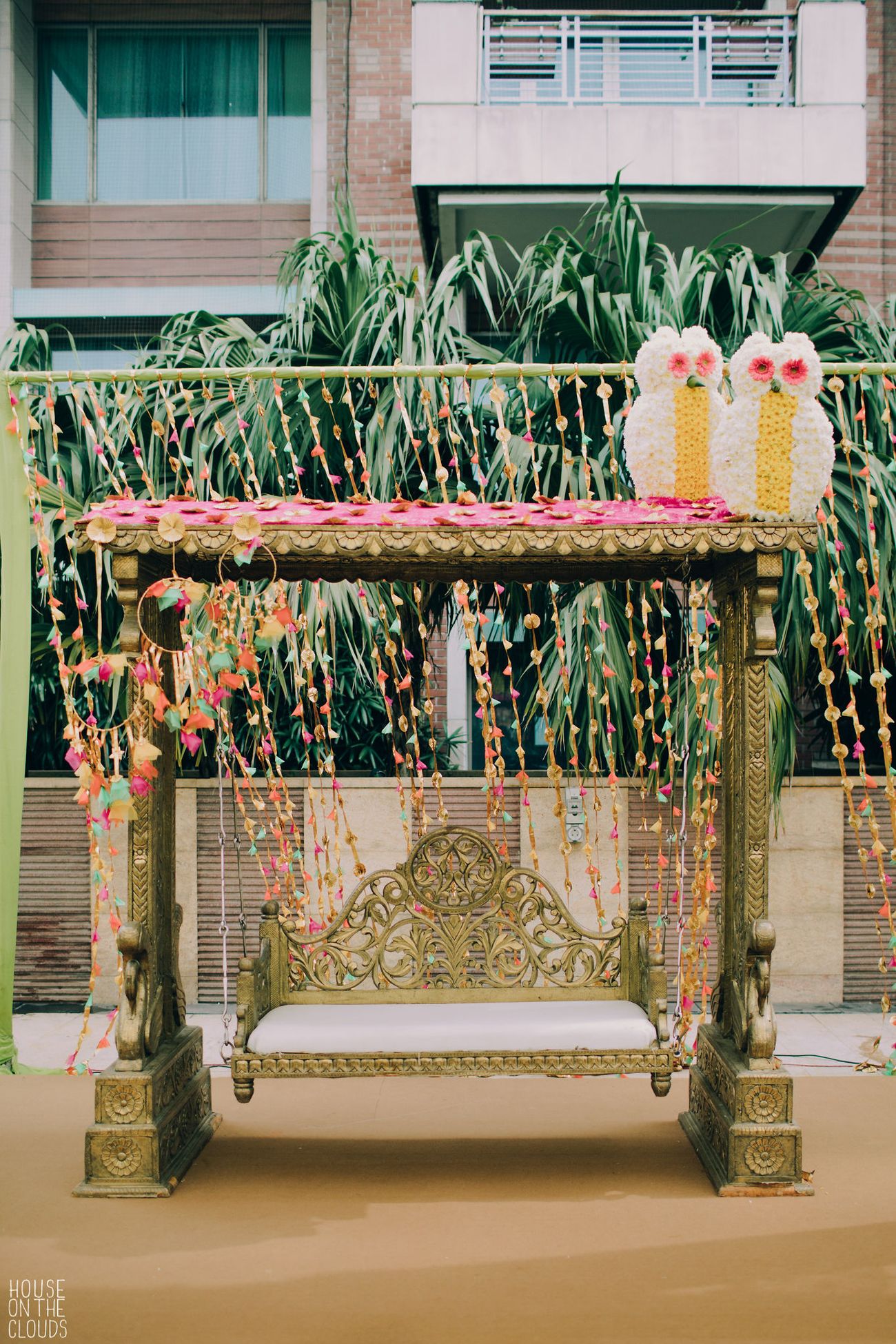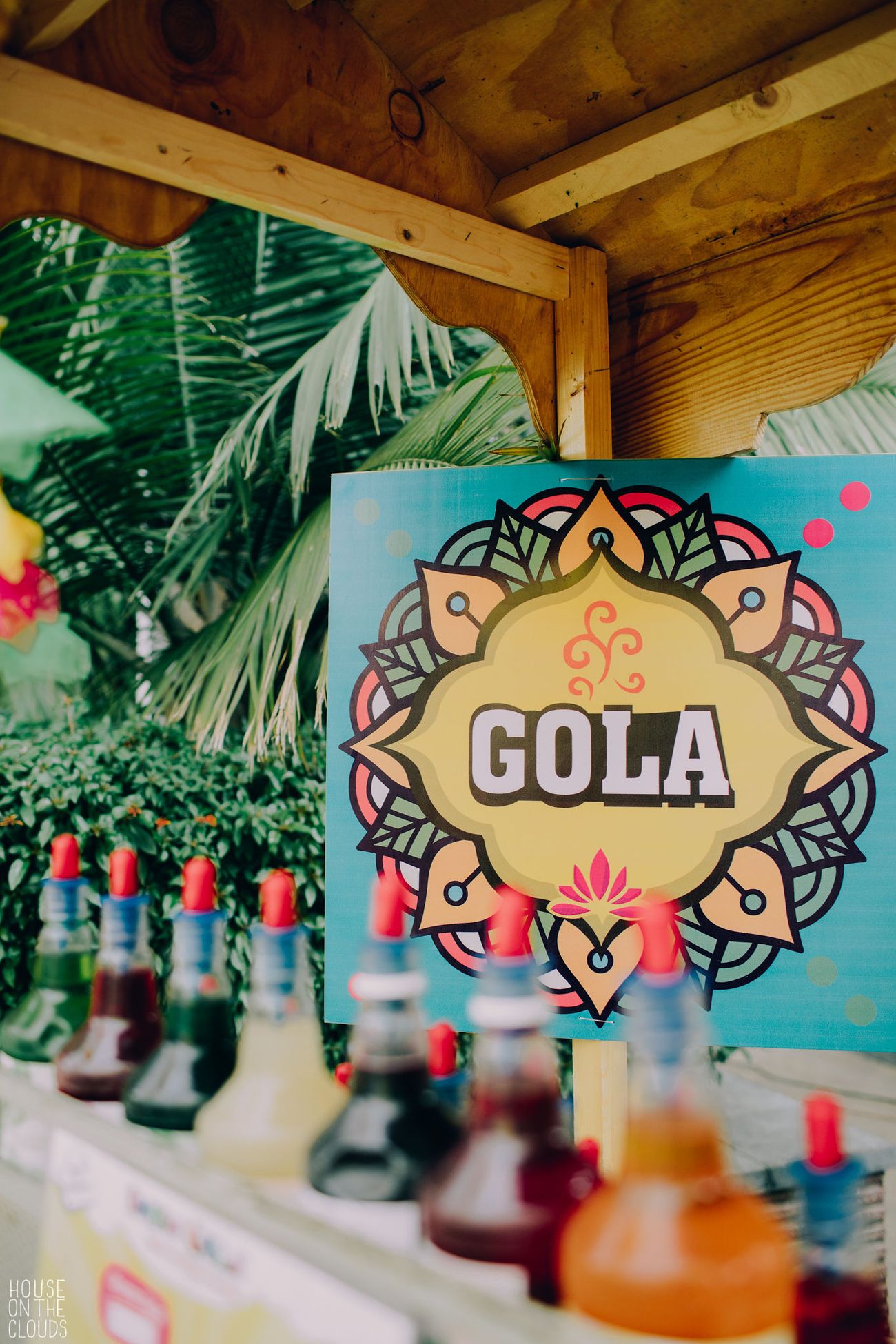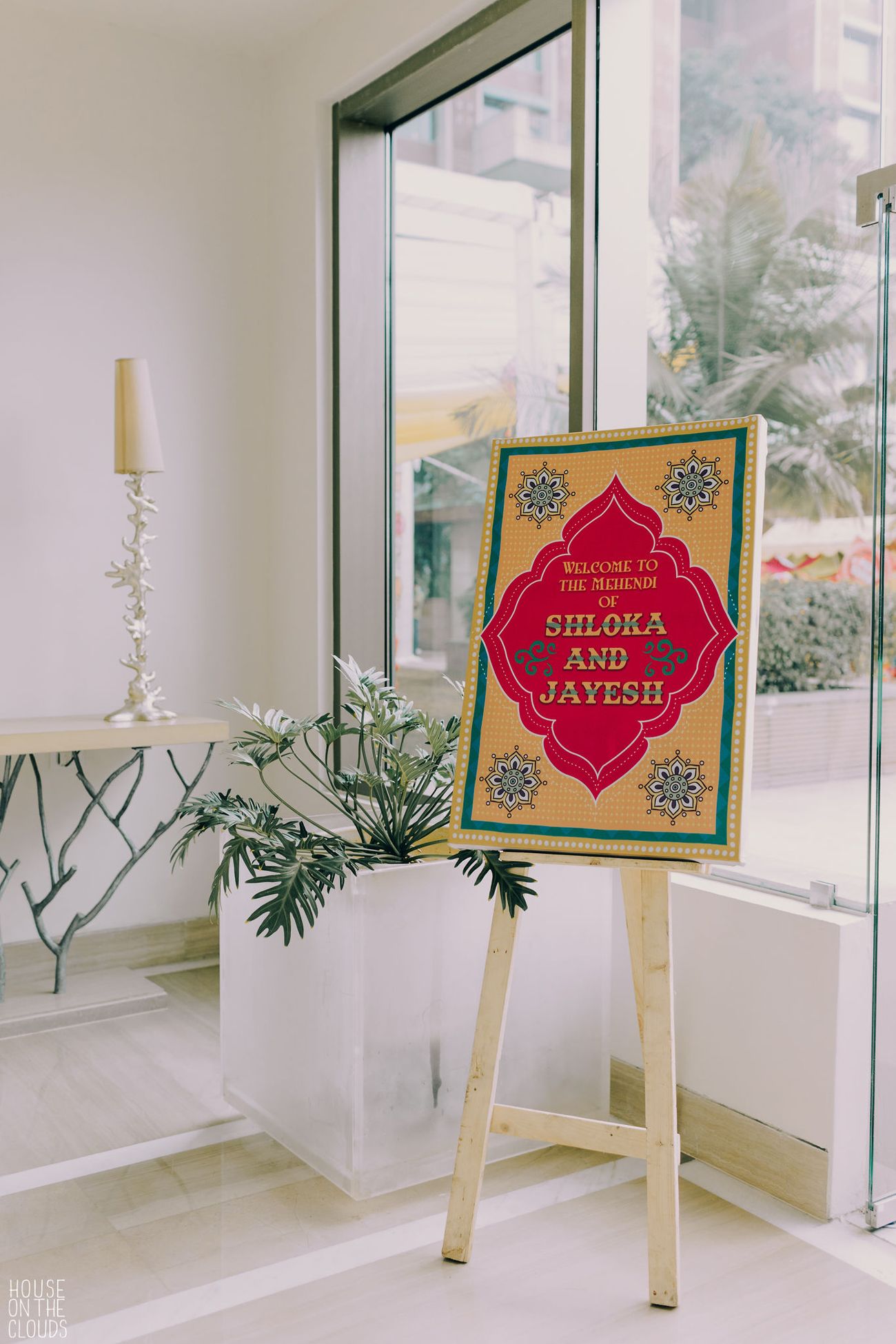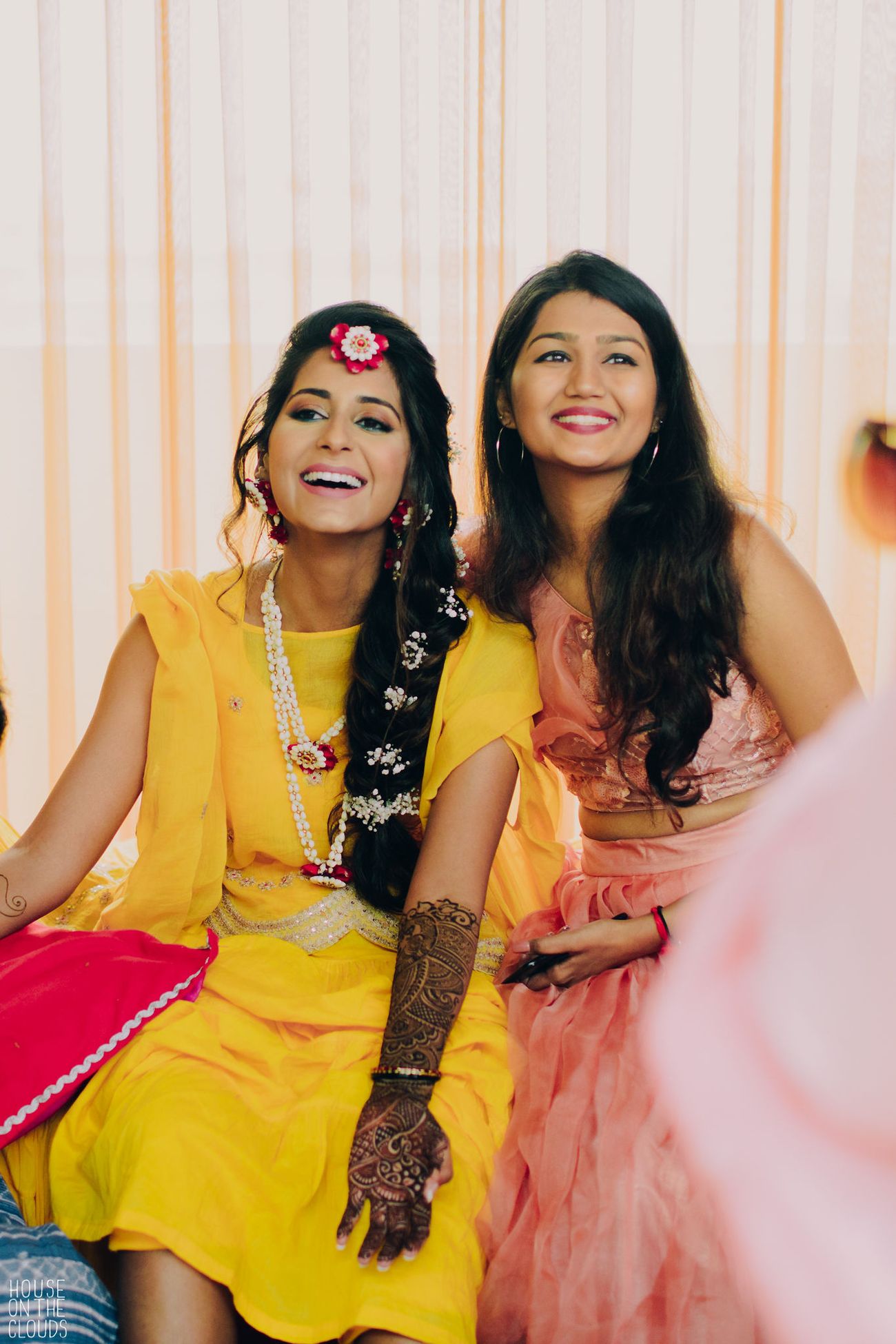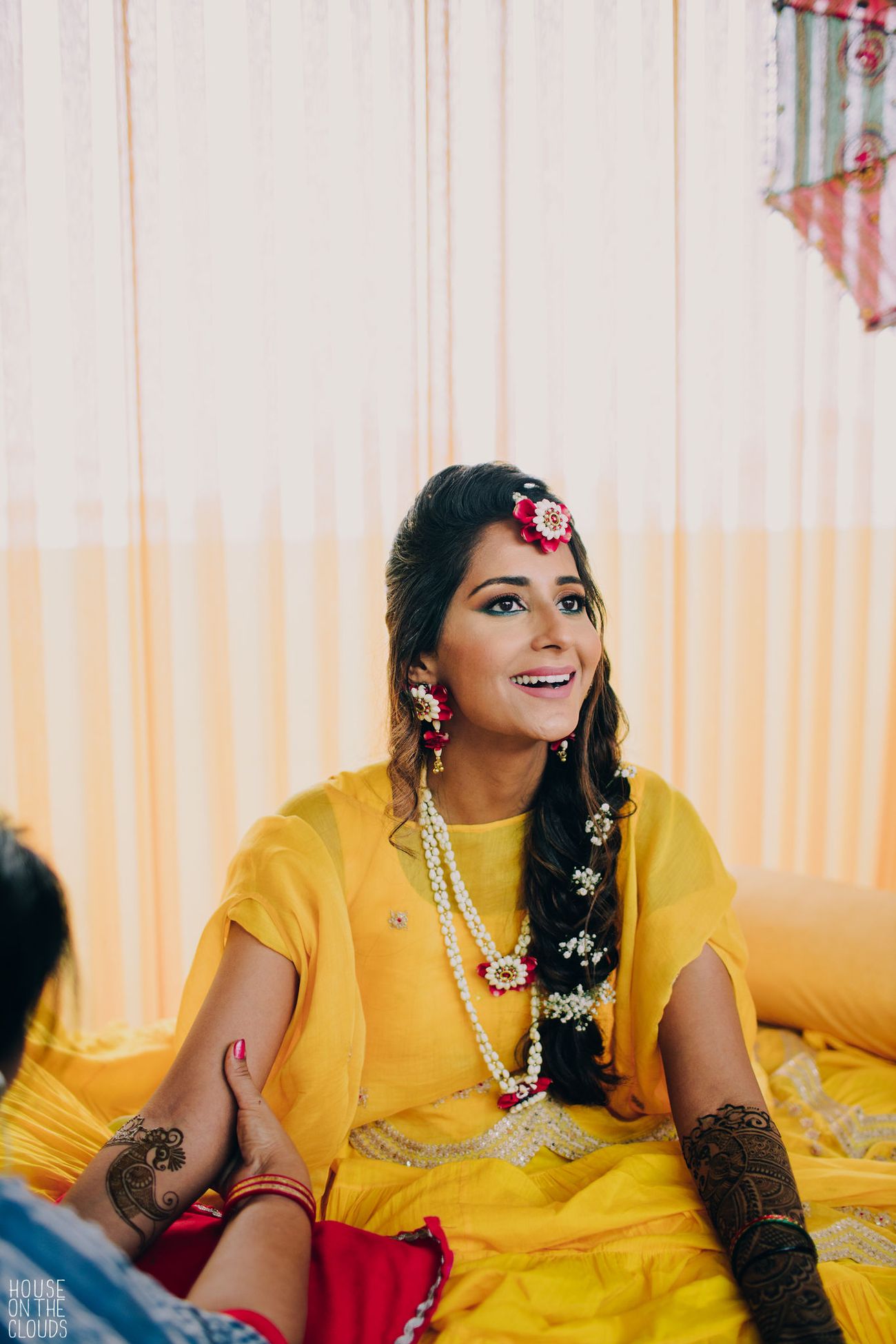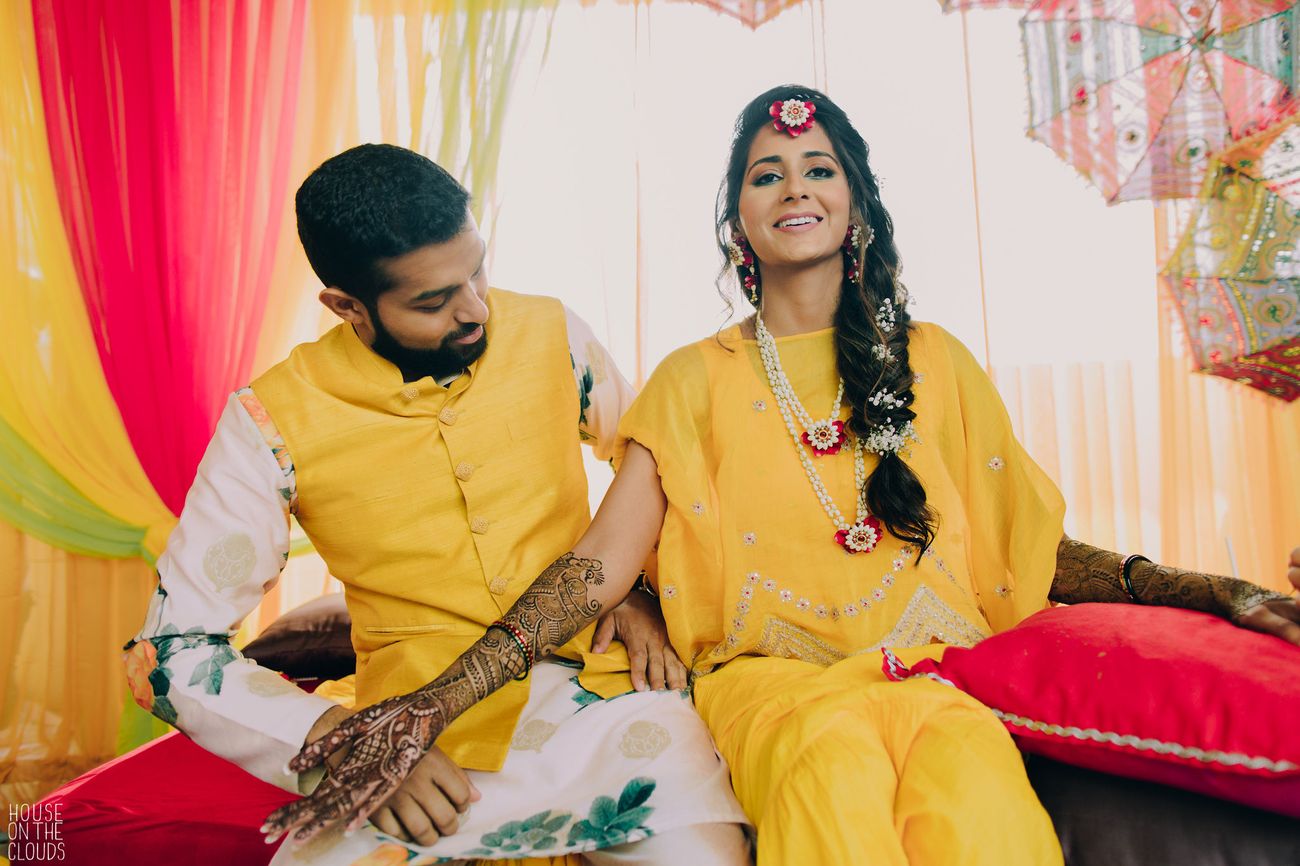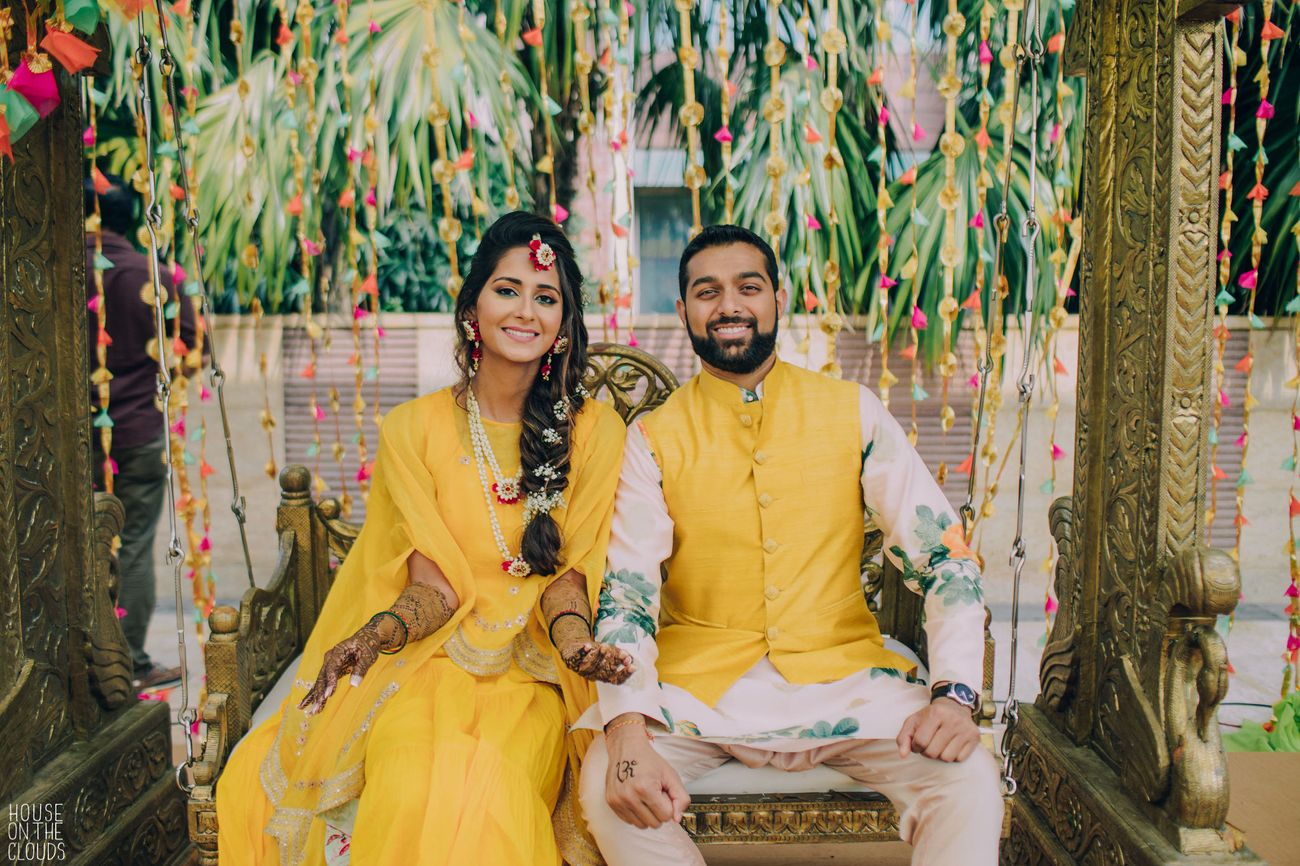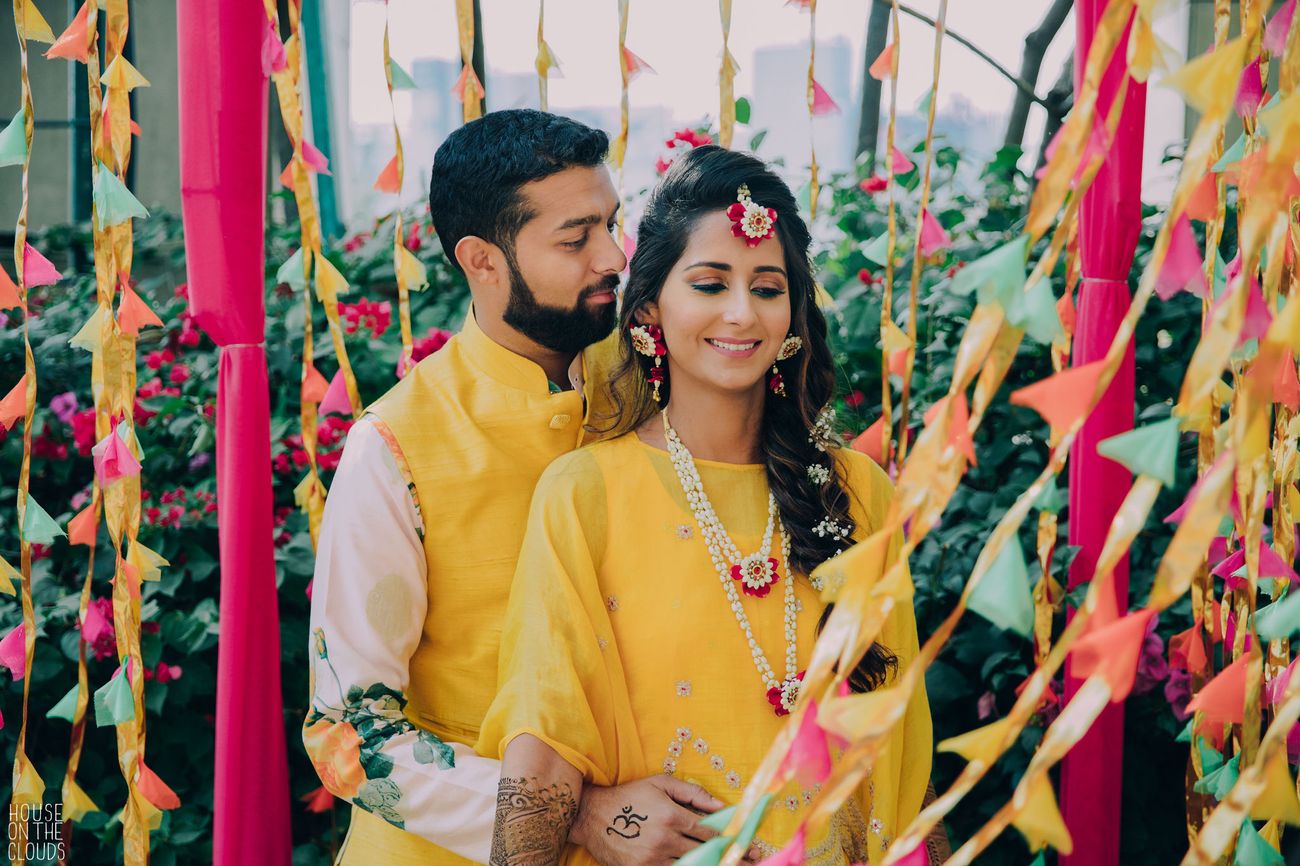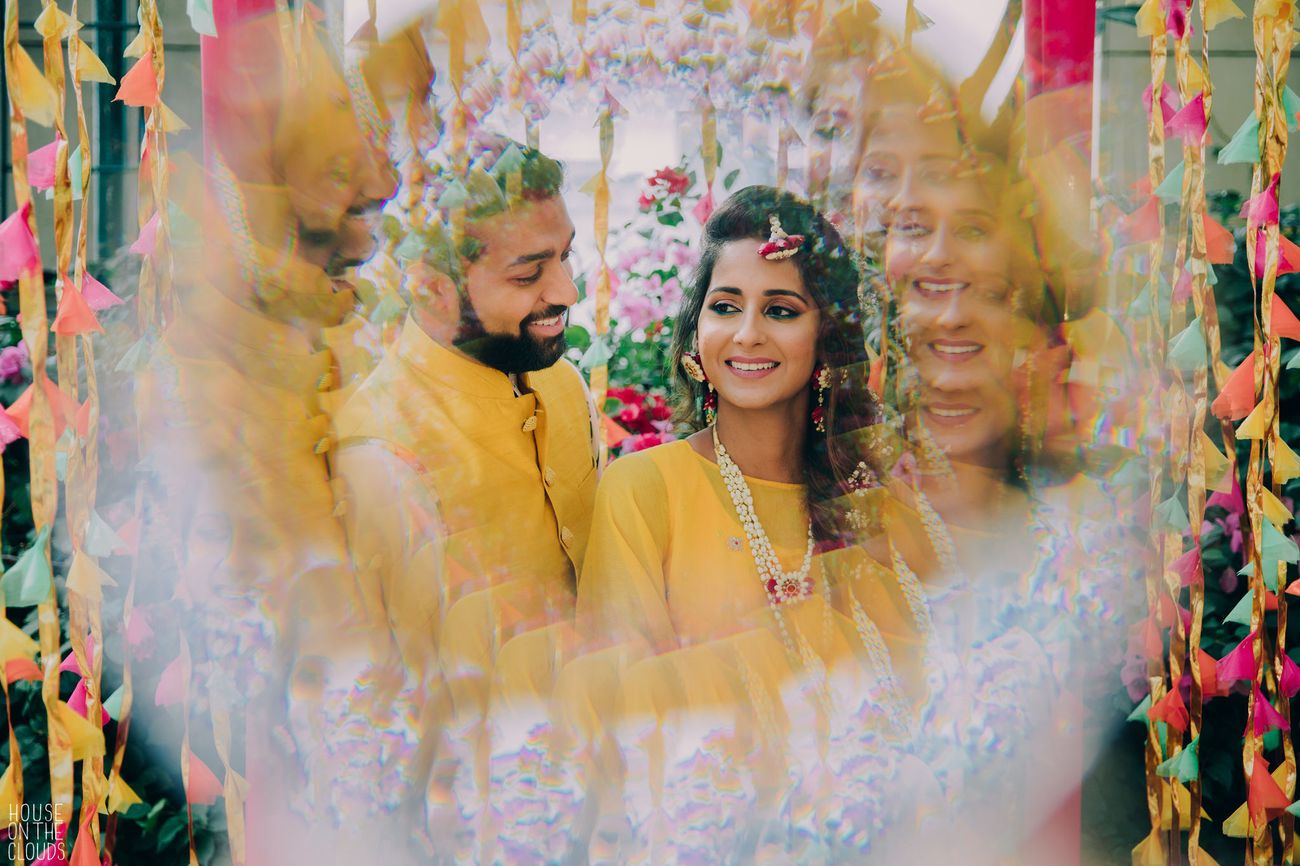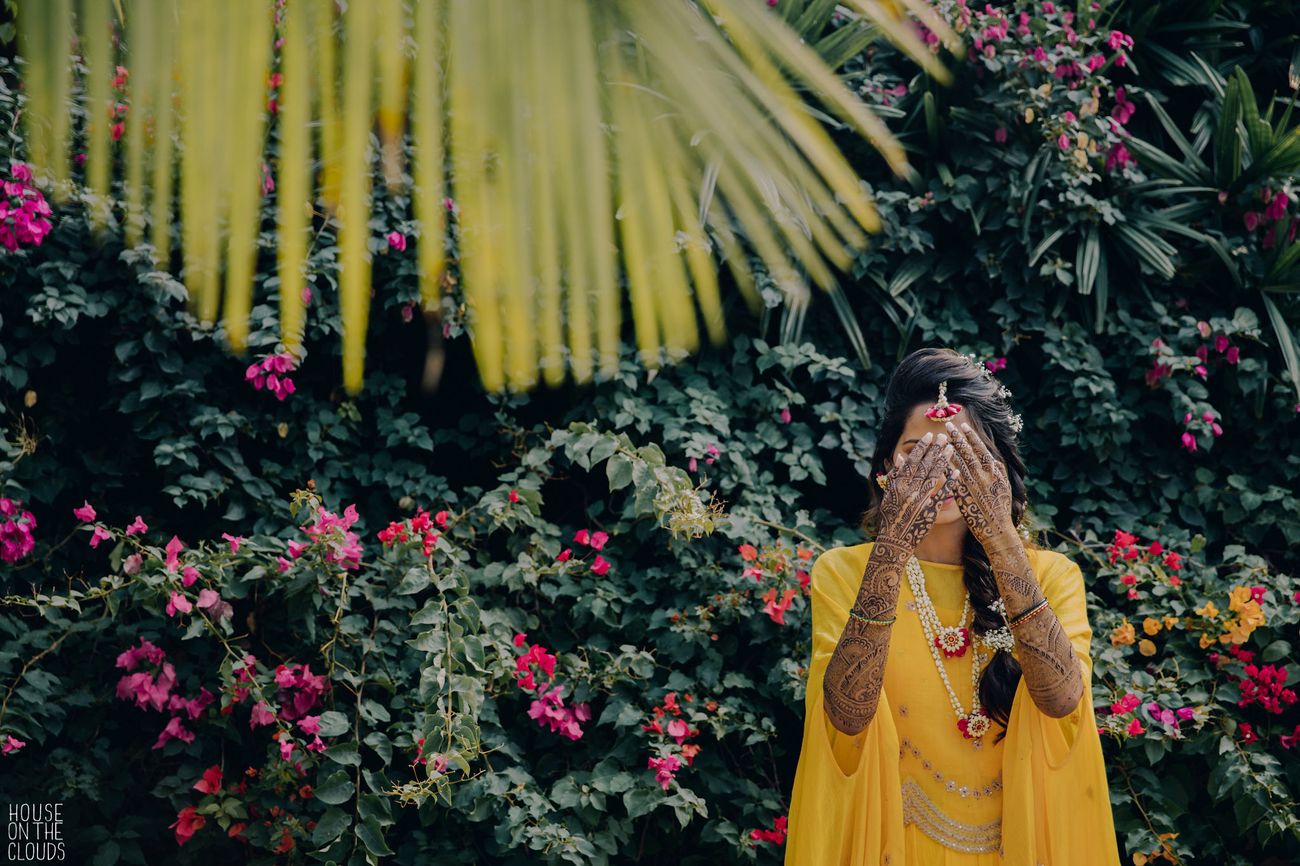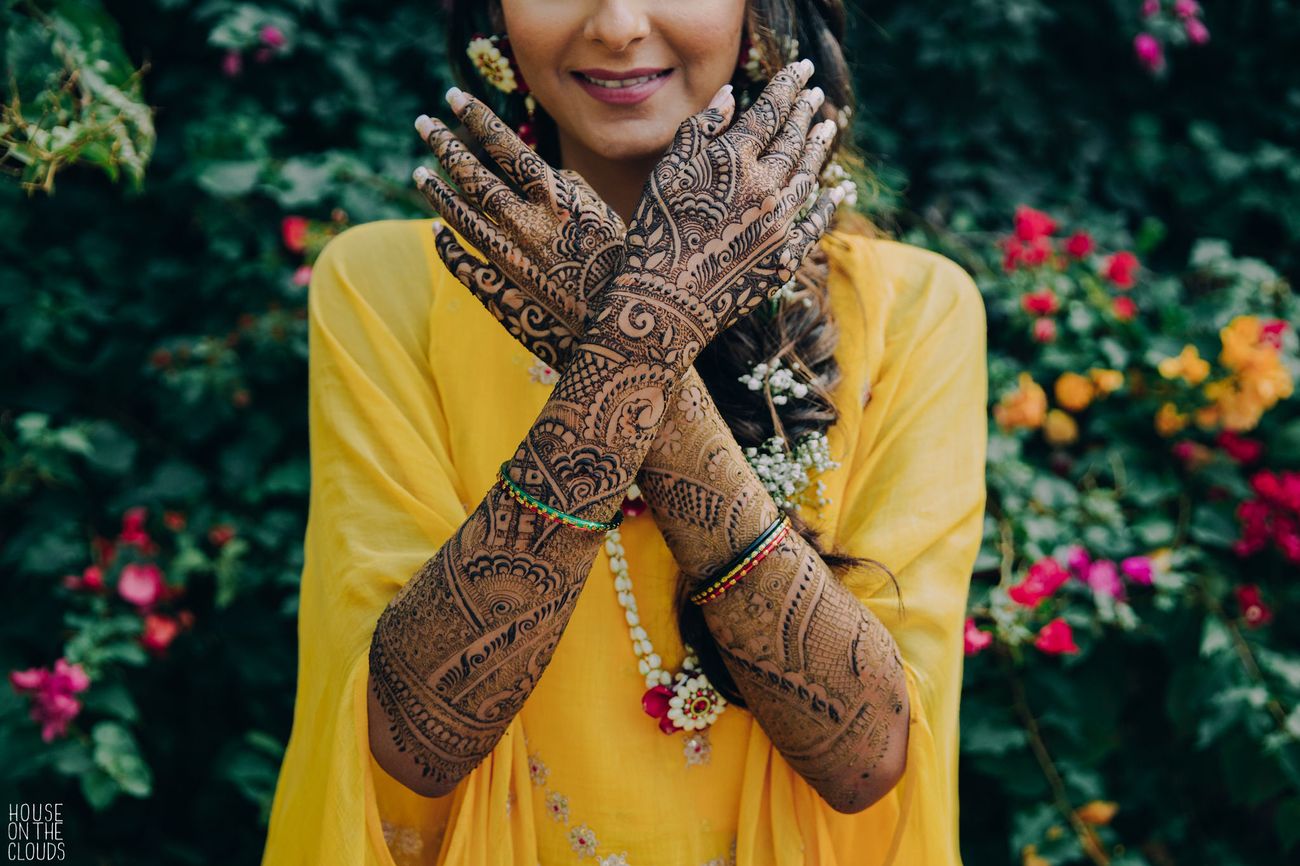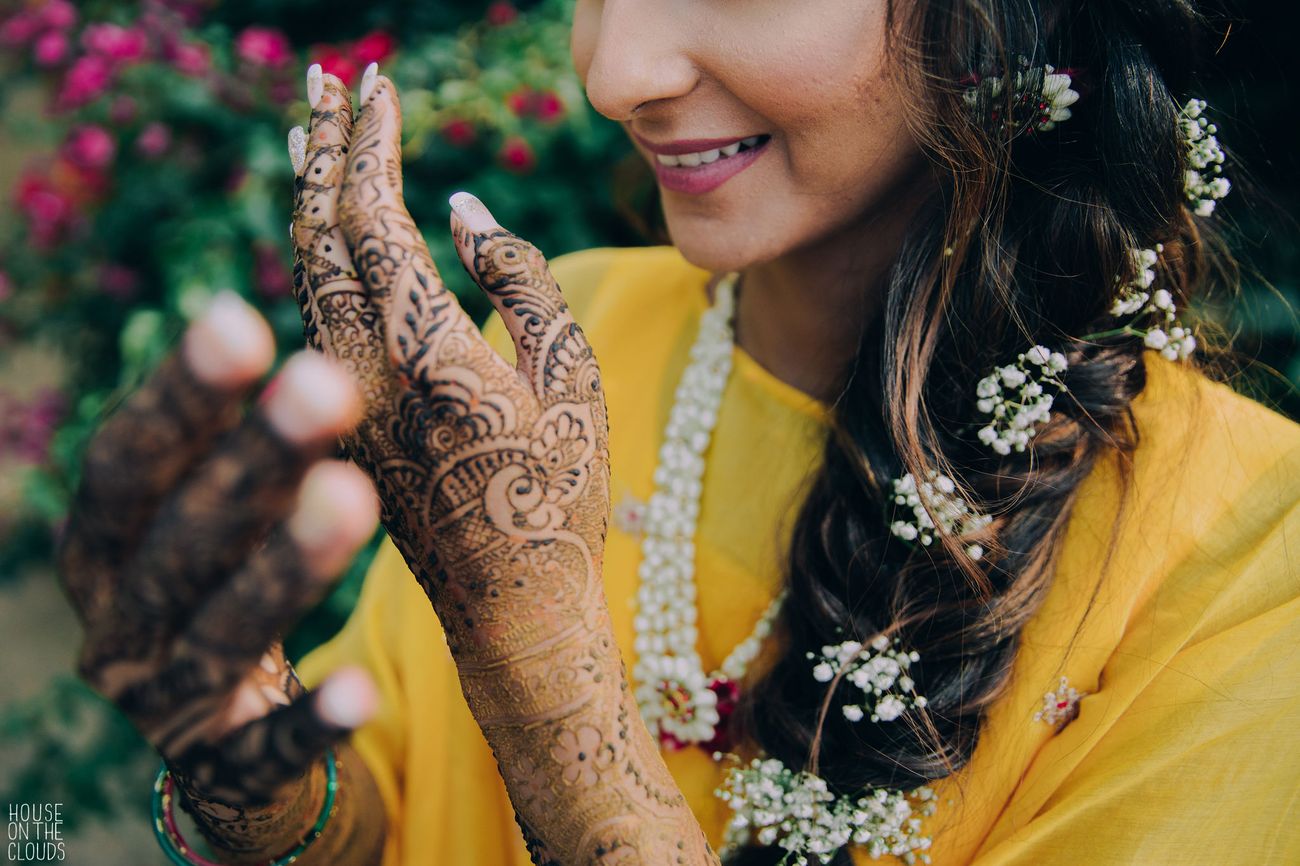 The Sangeet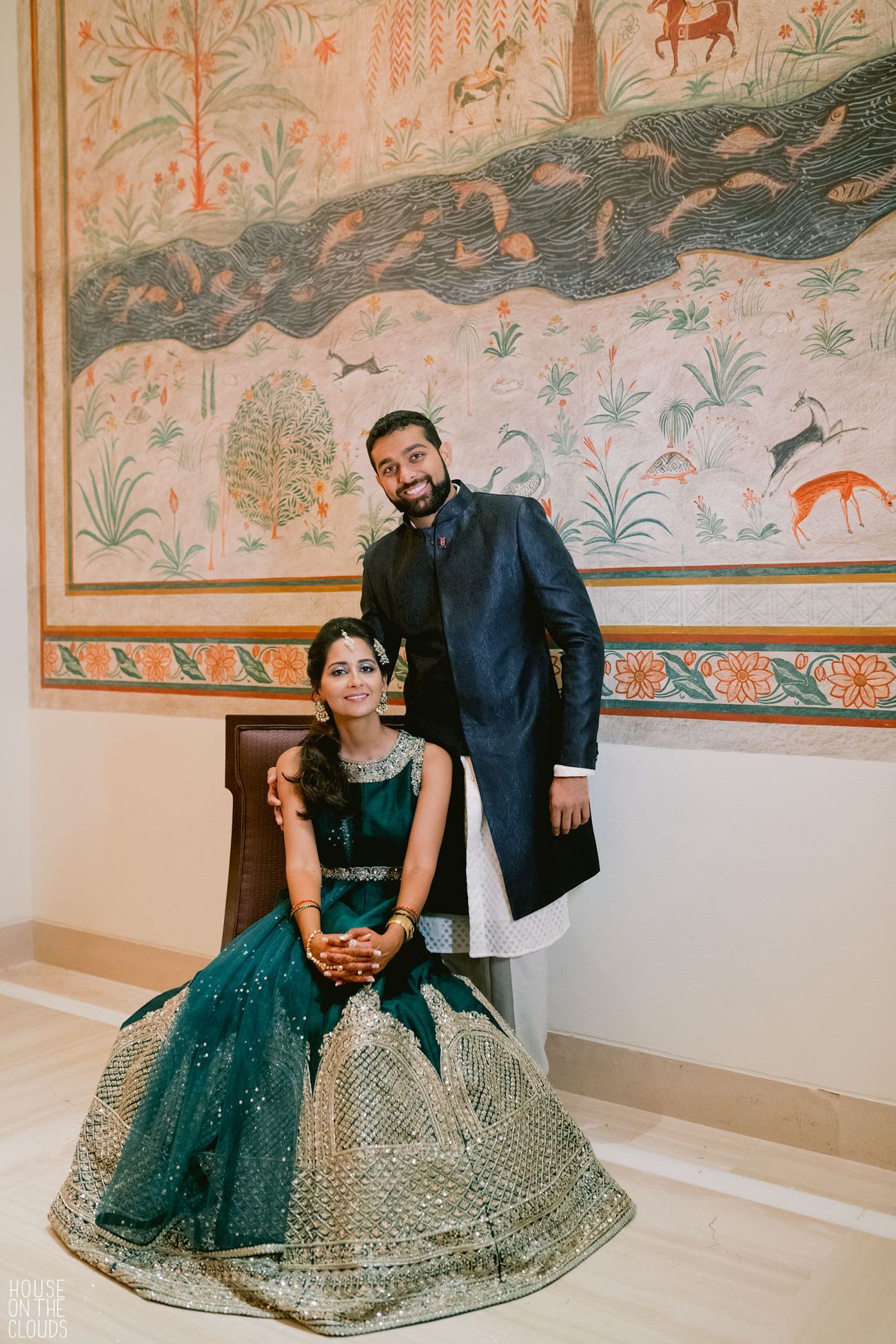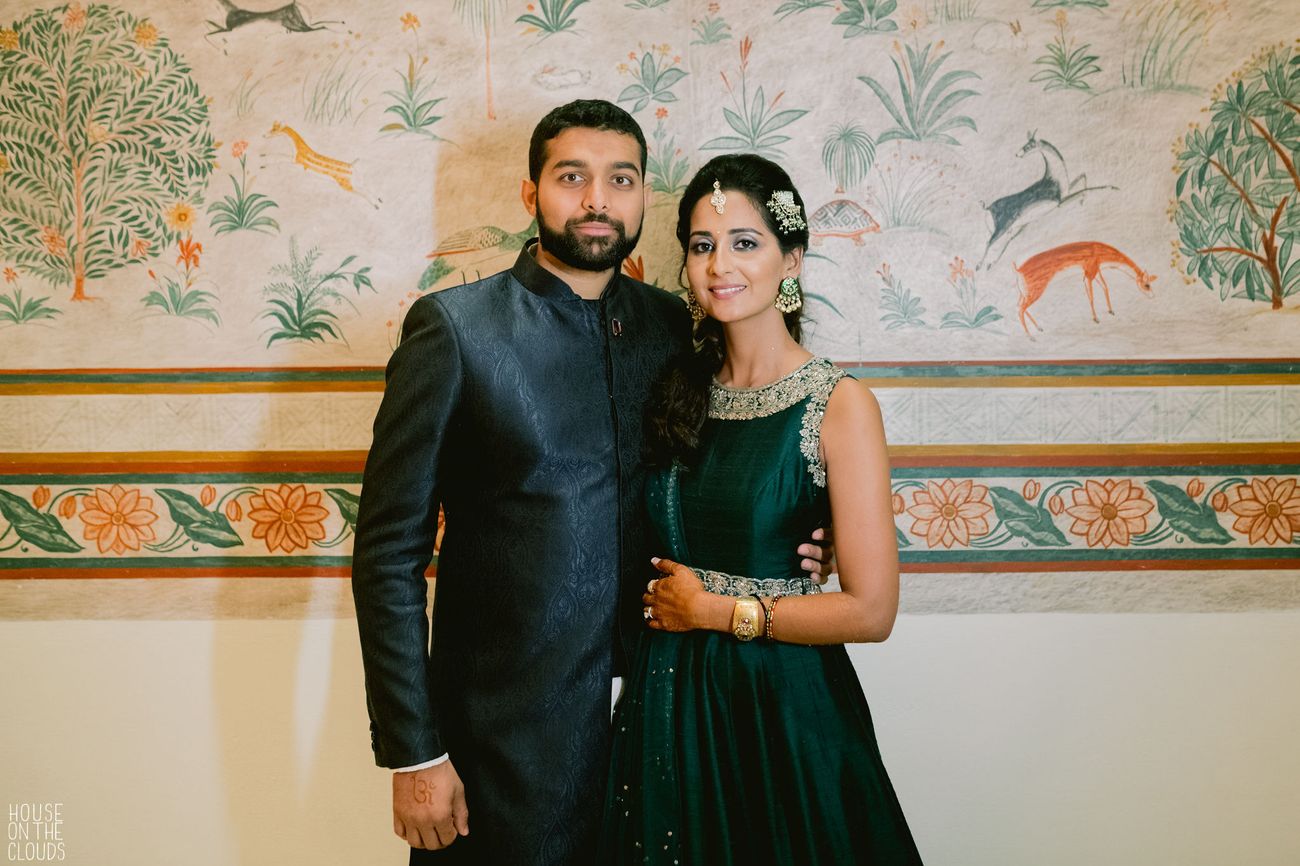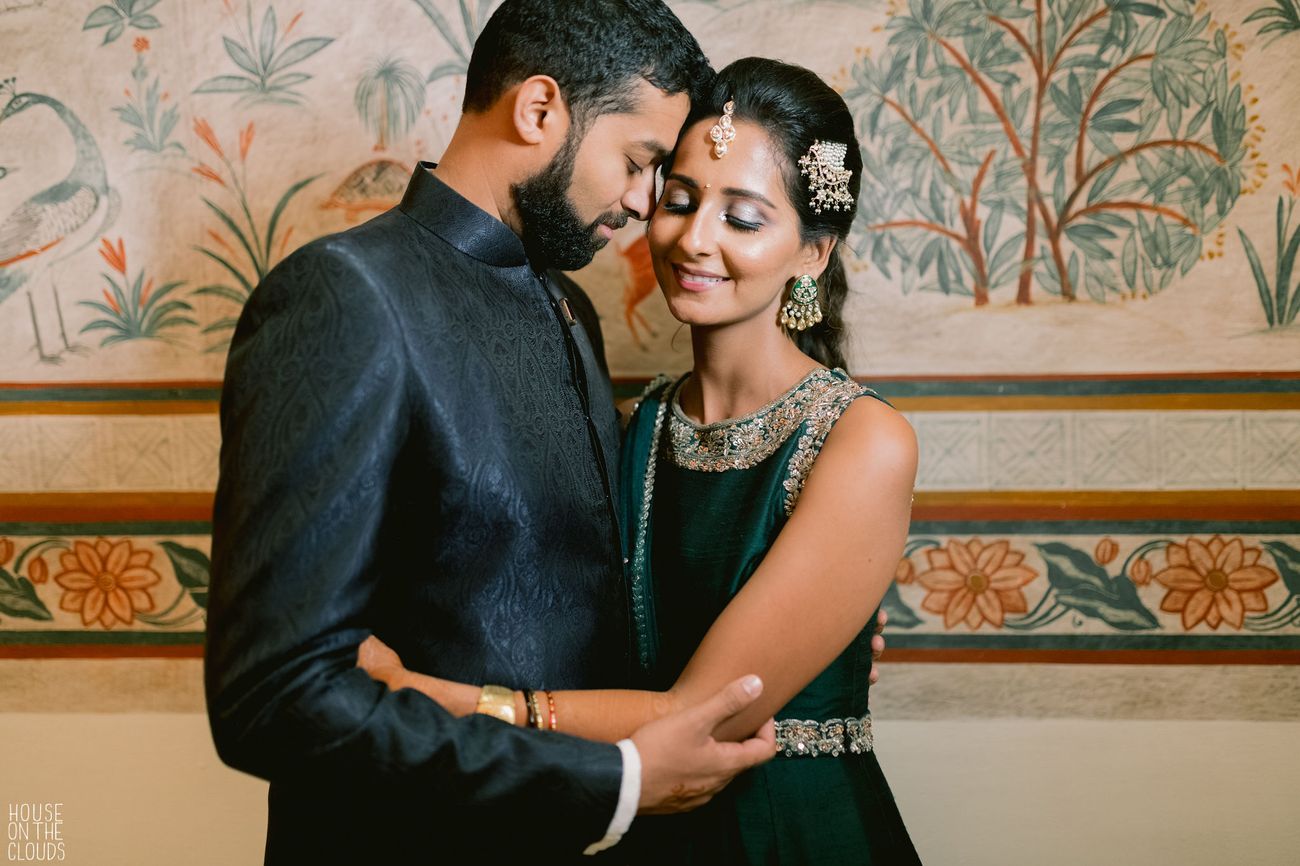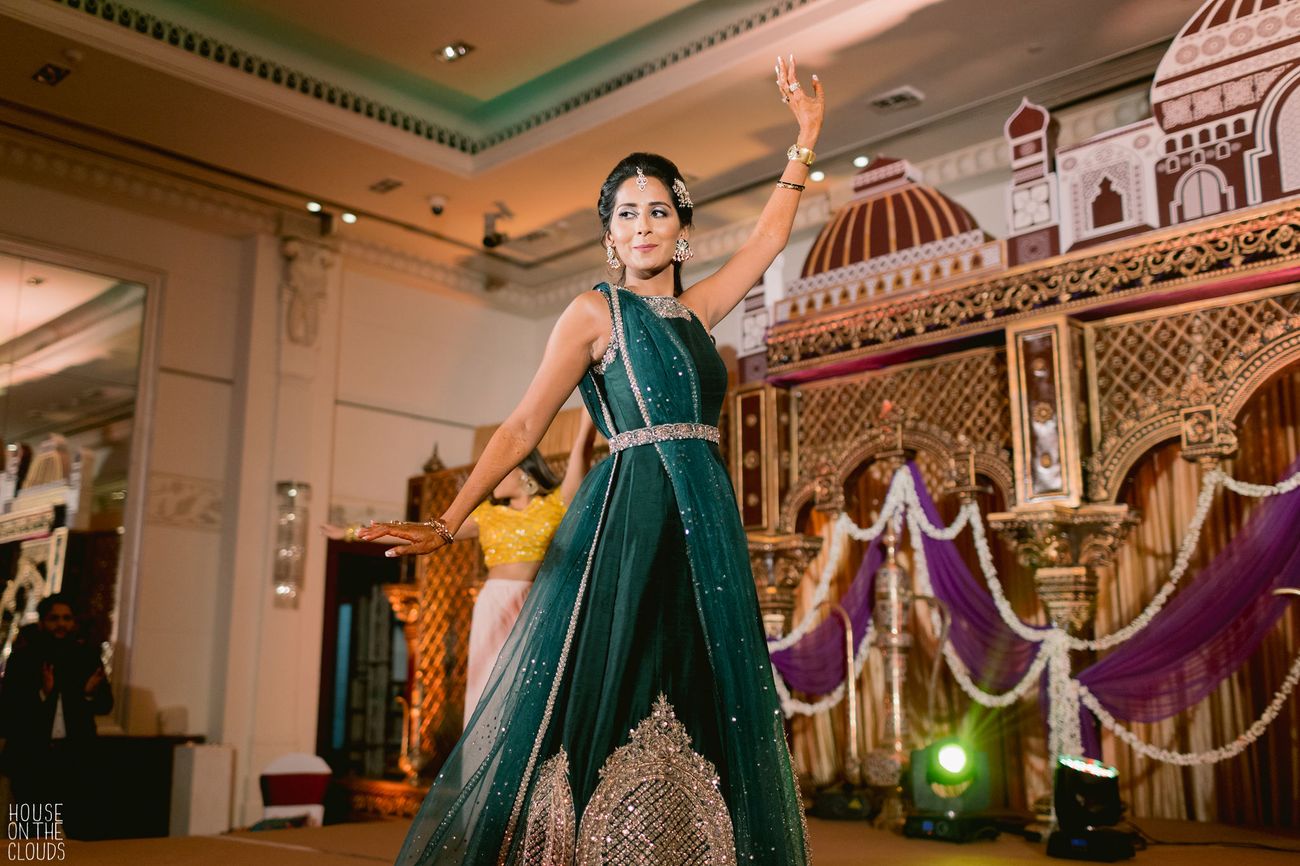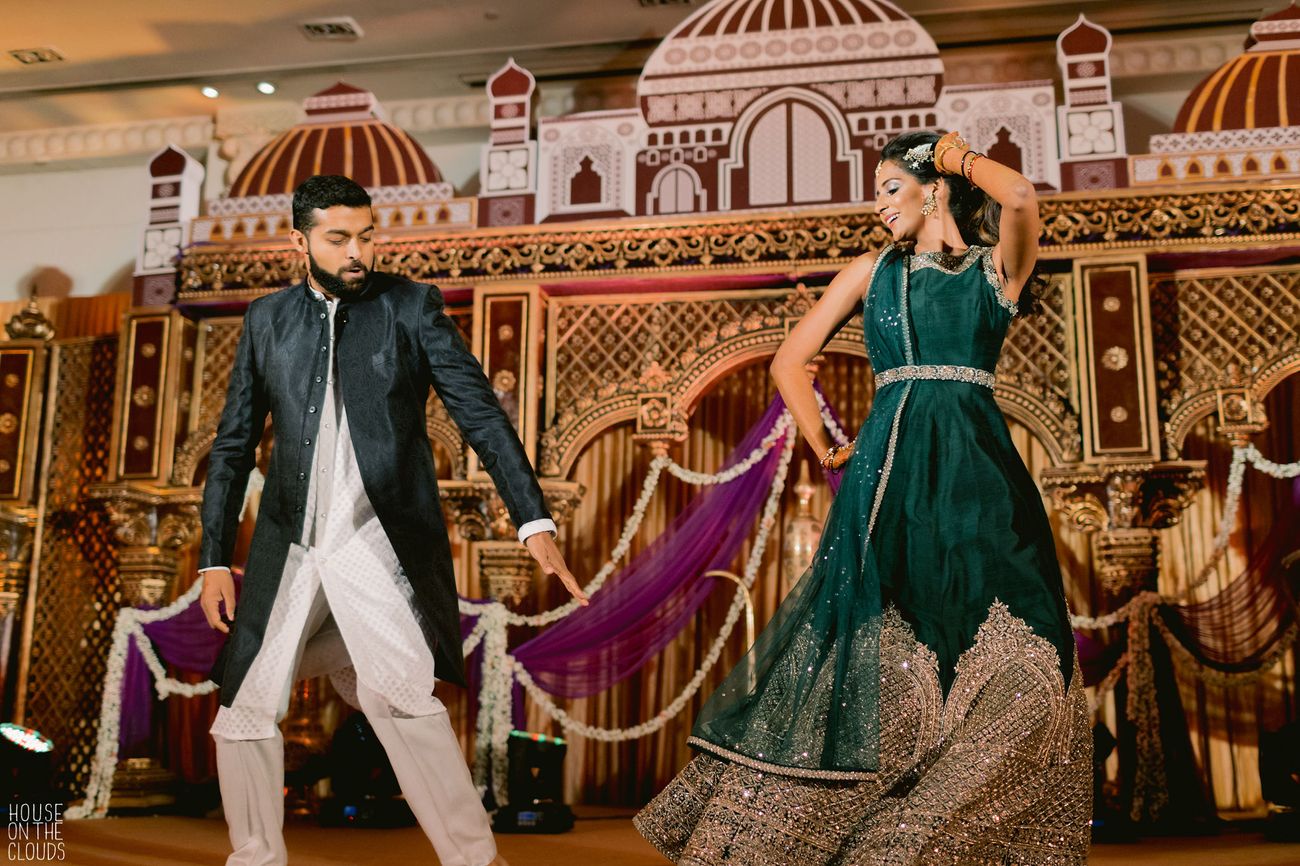 The Wedding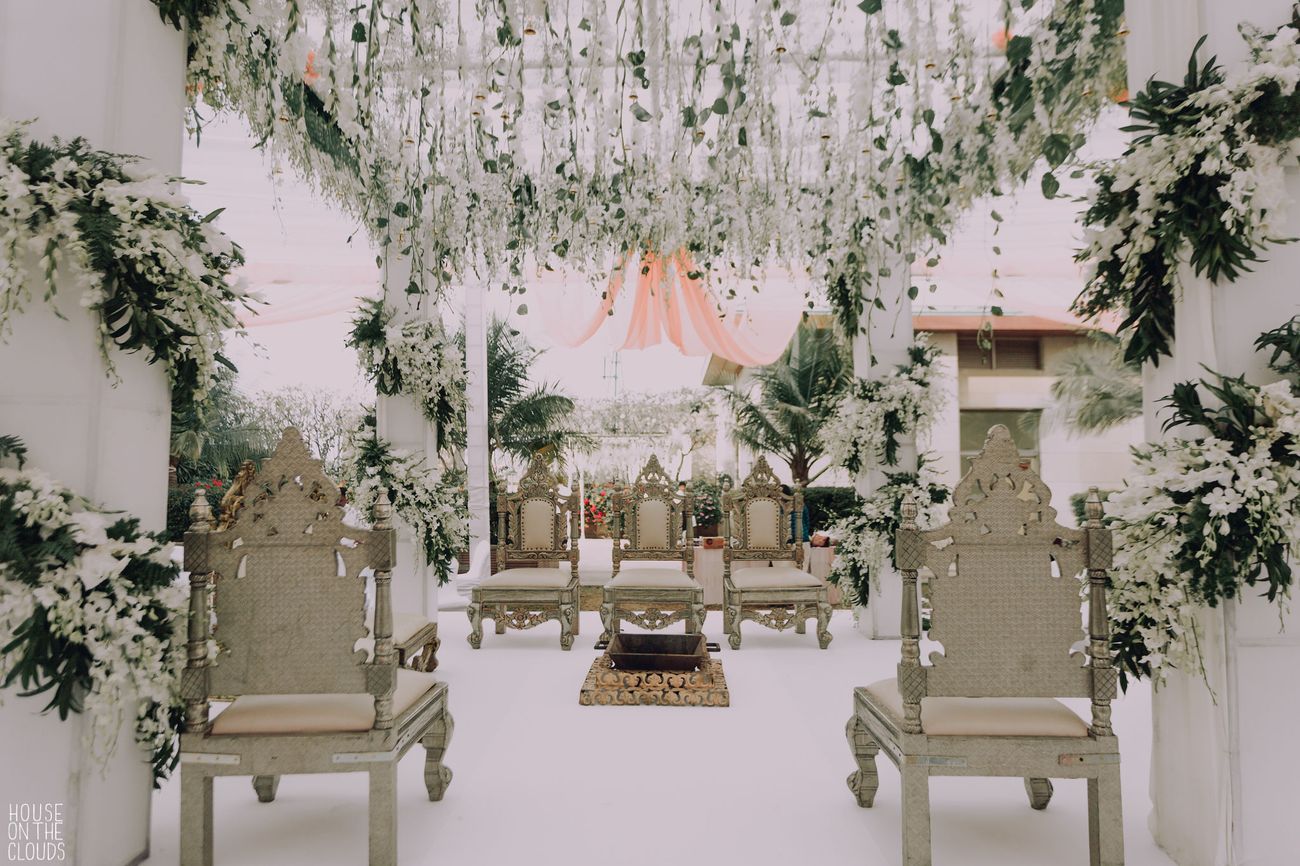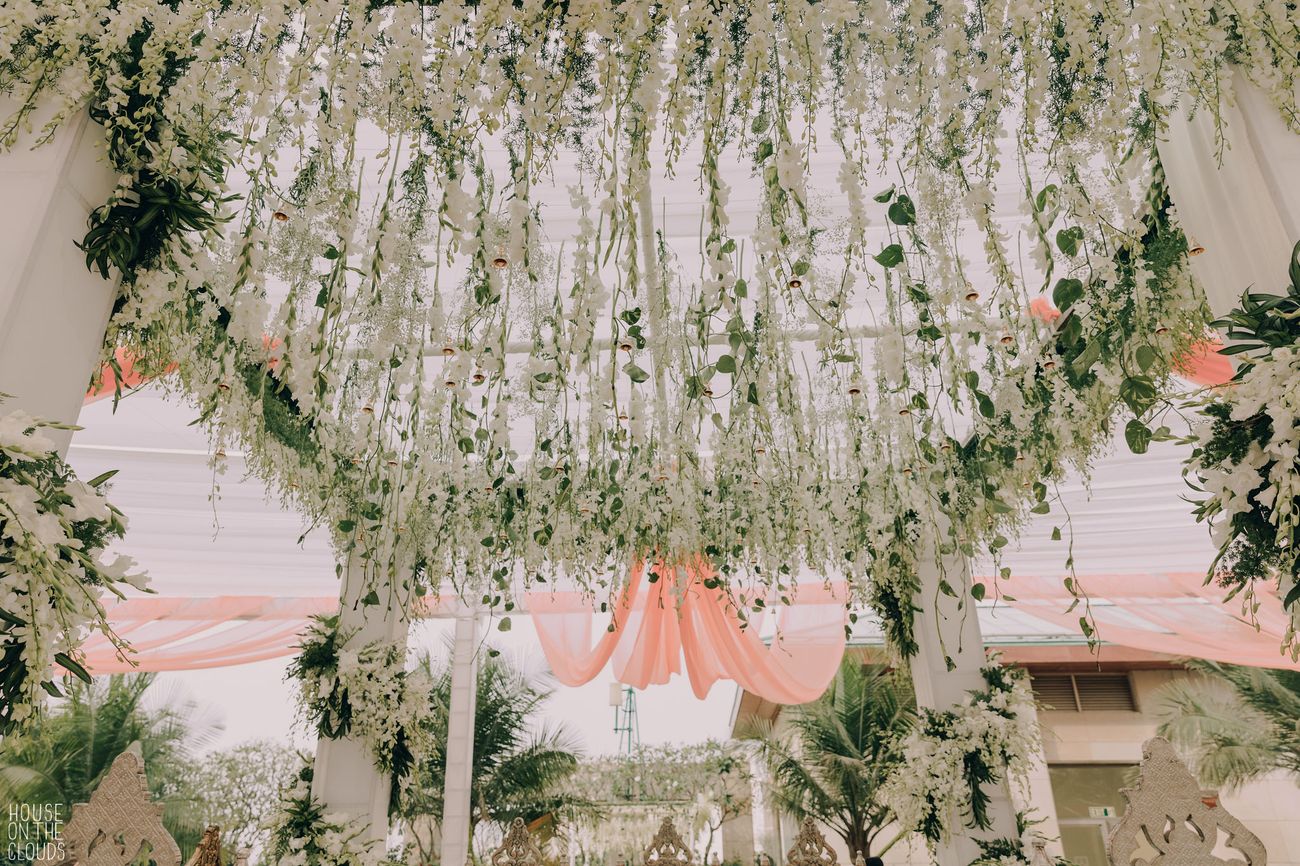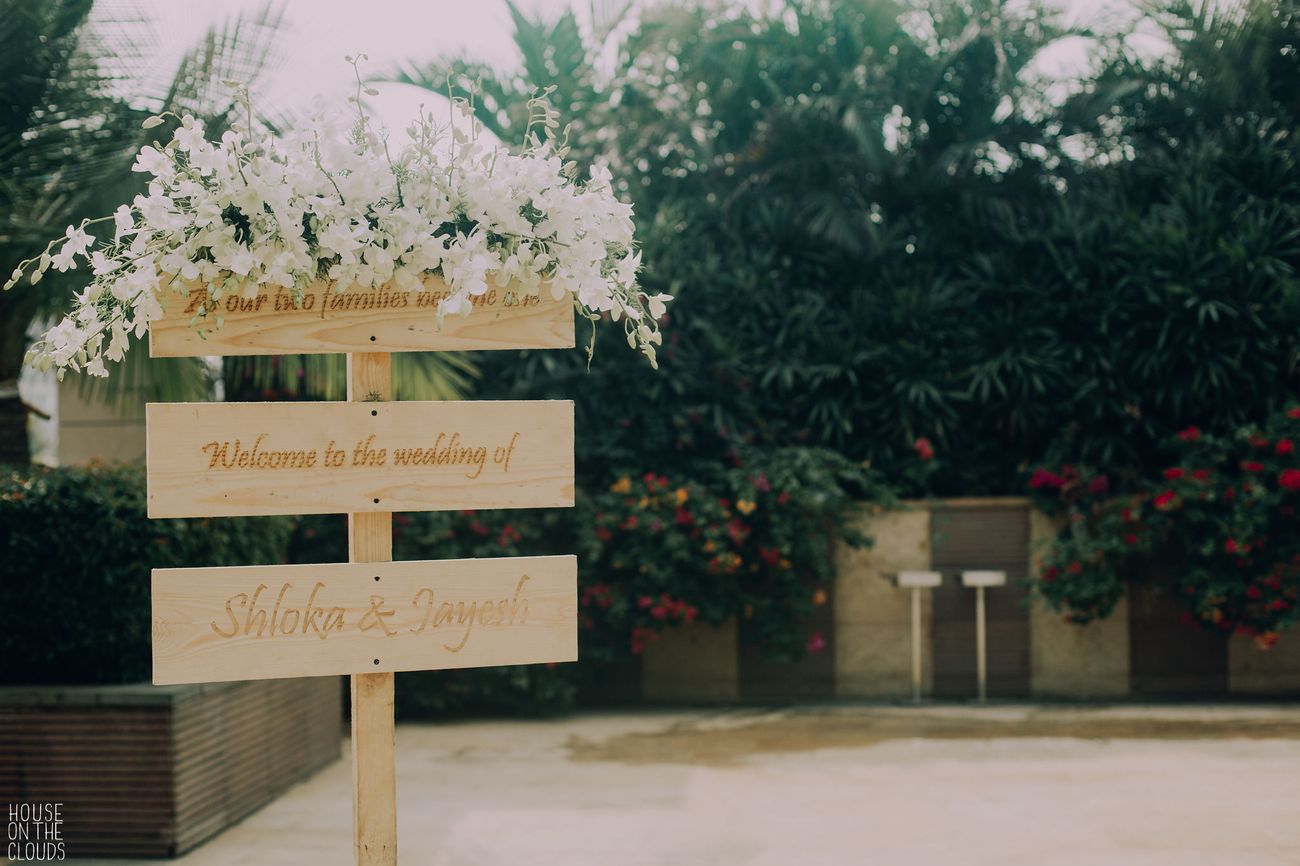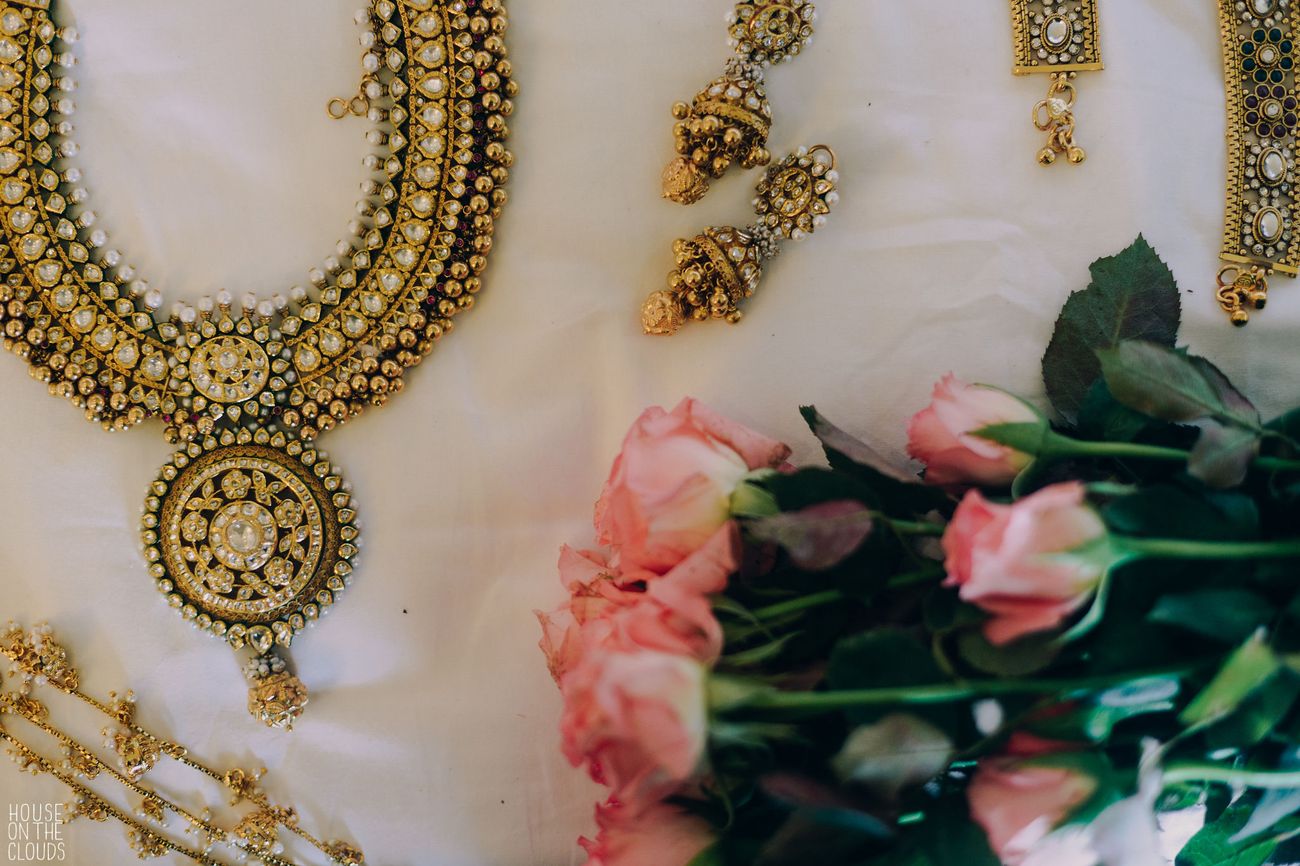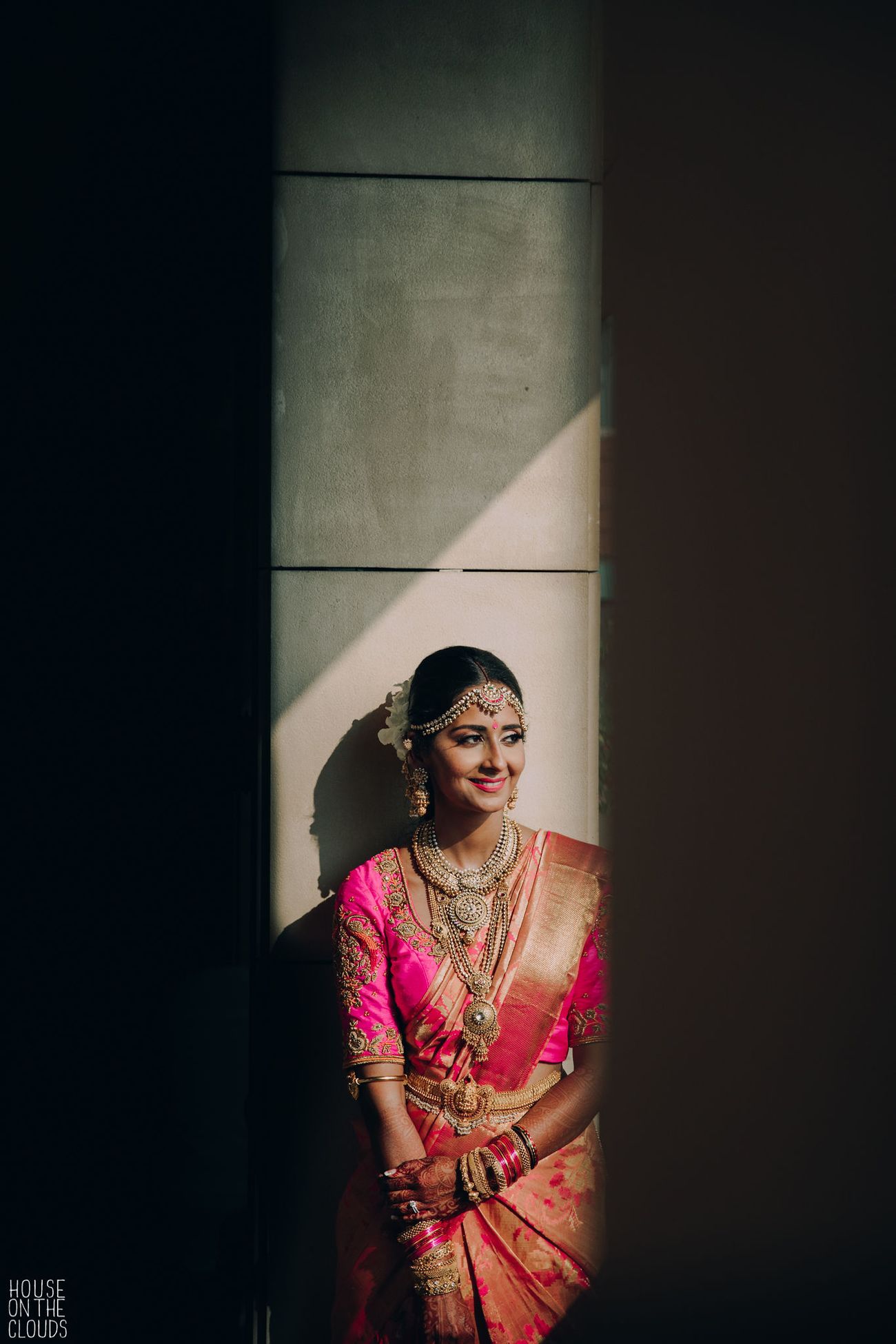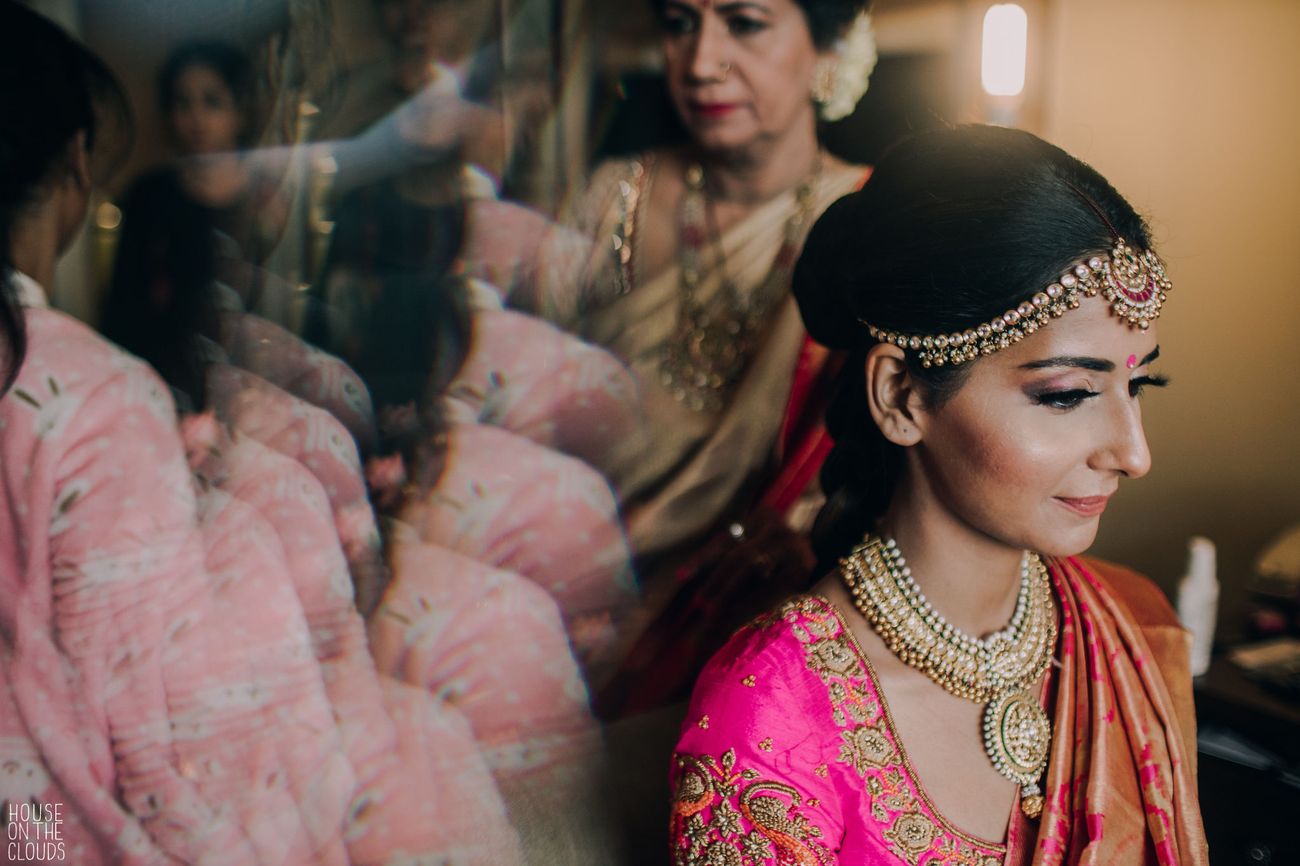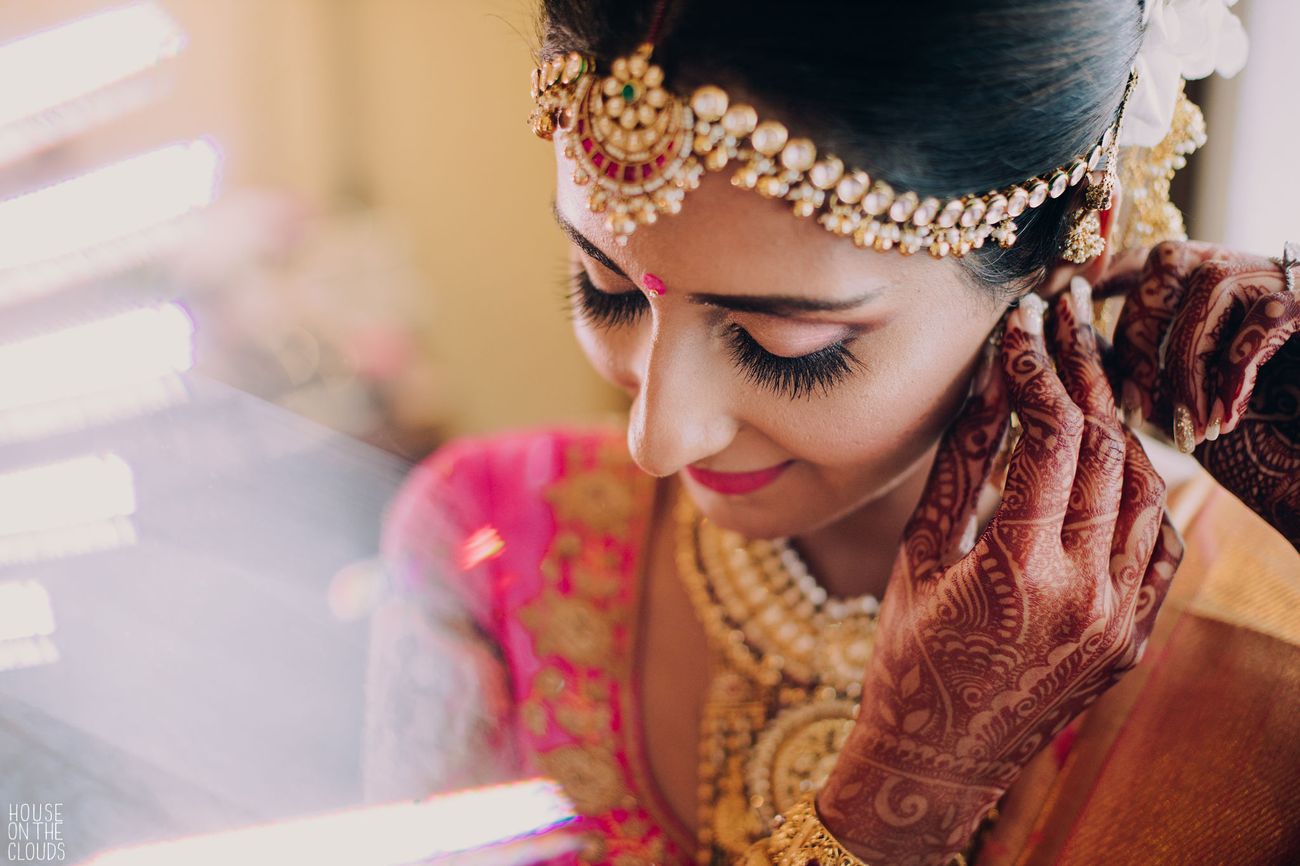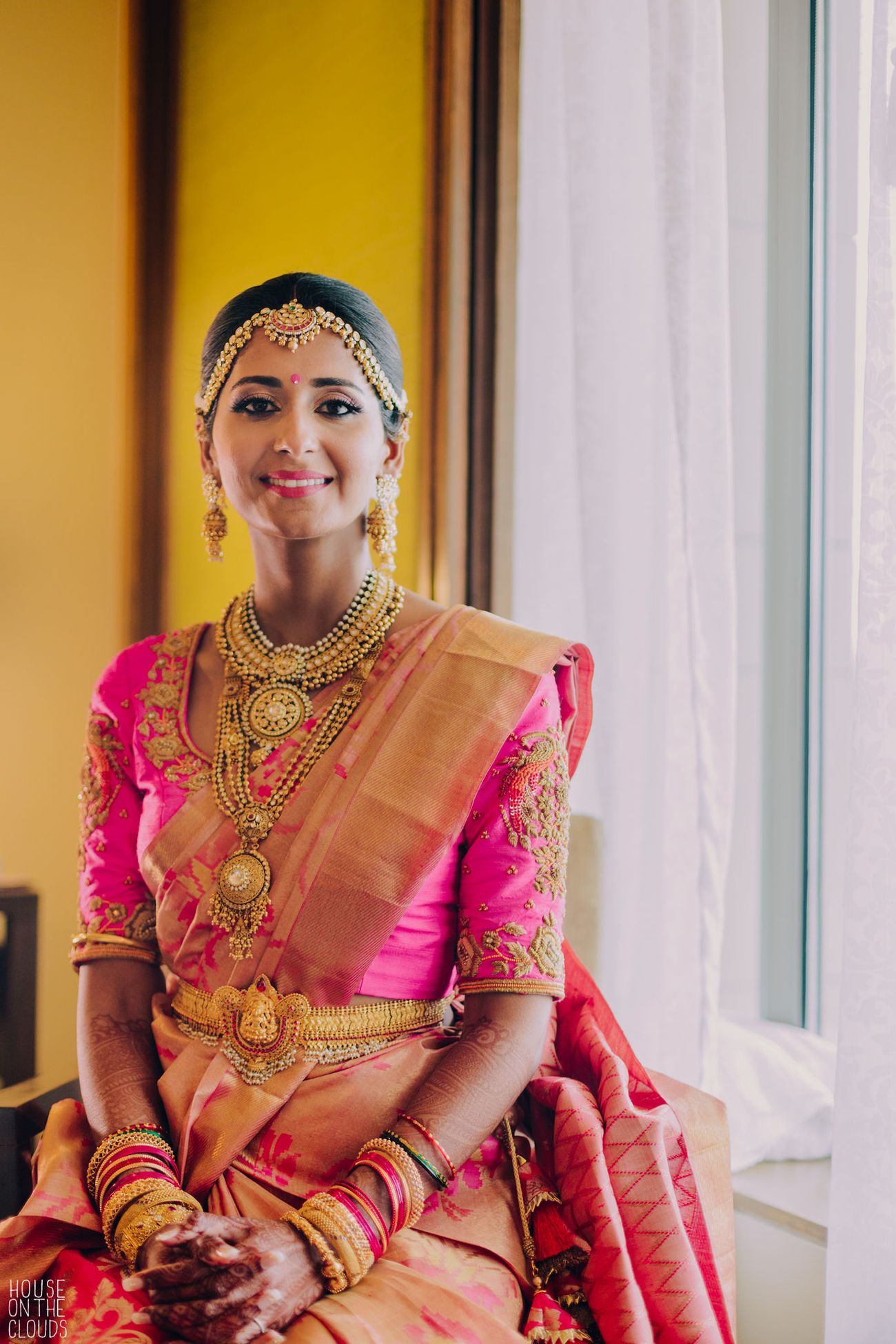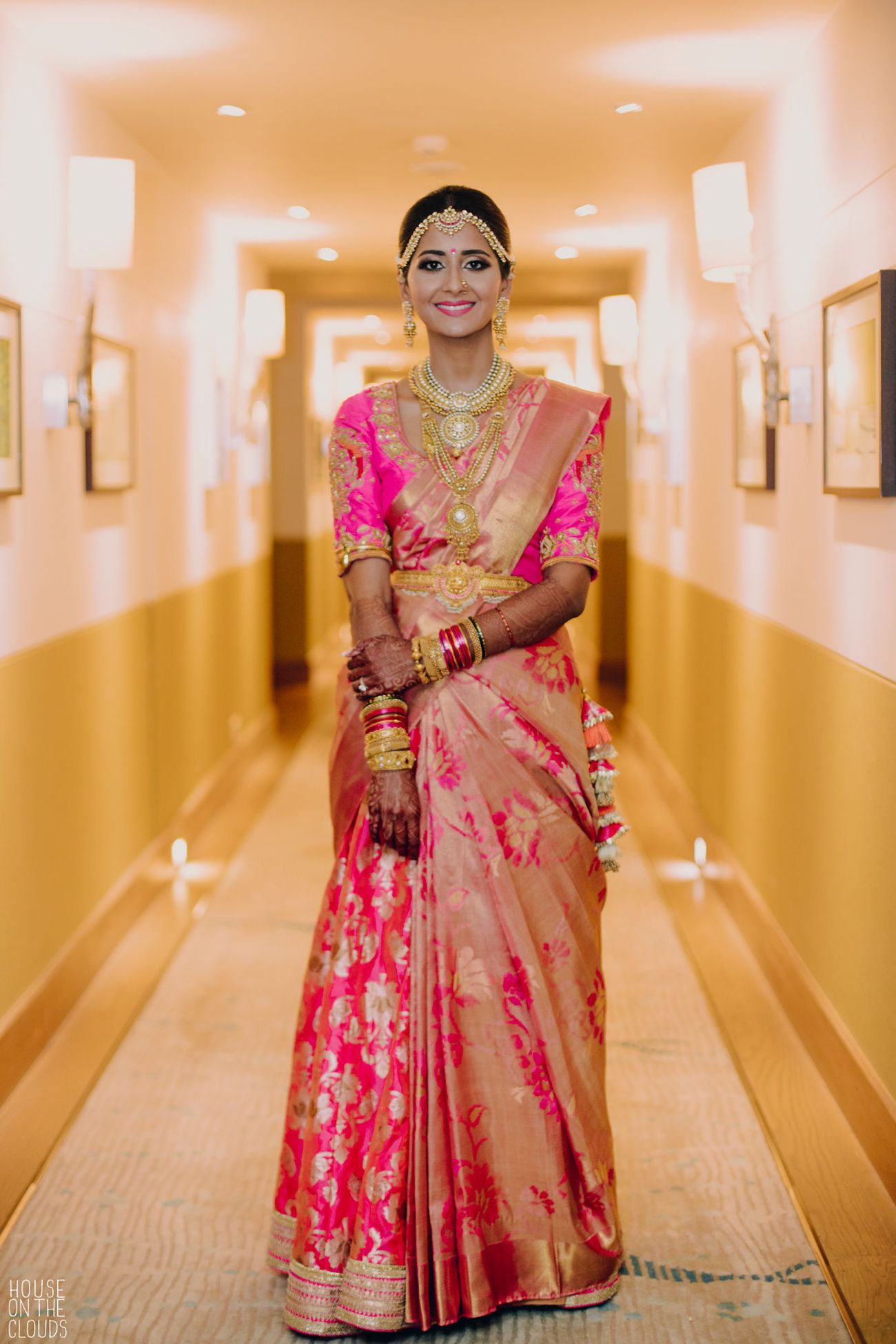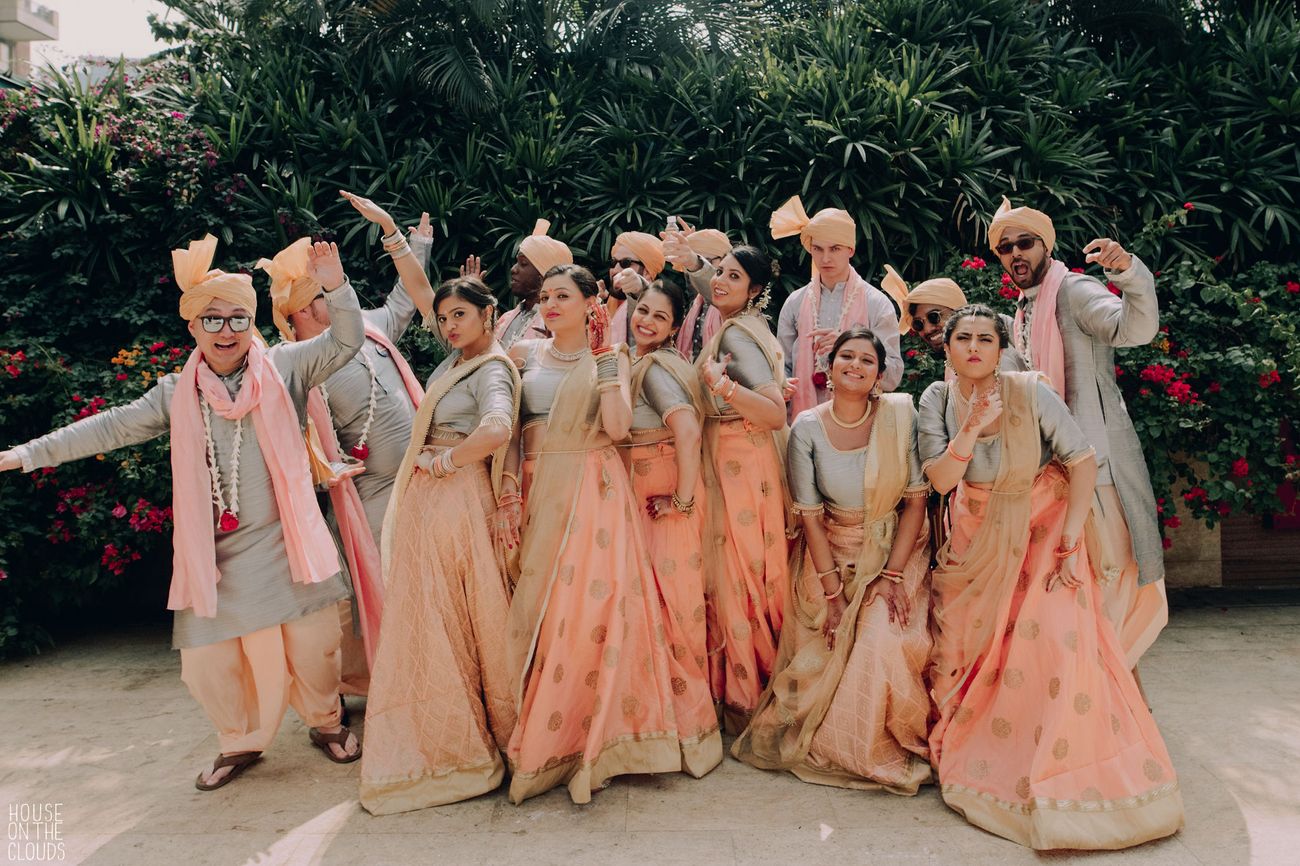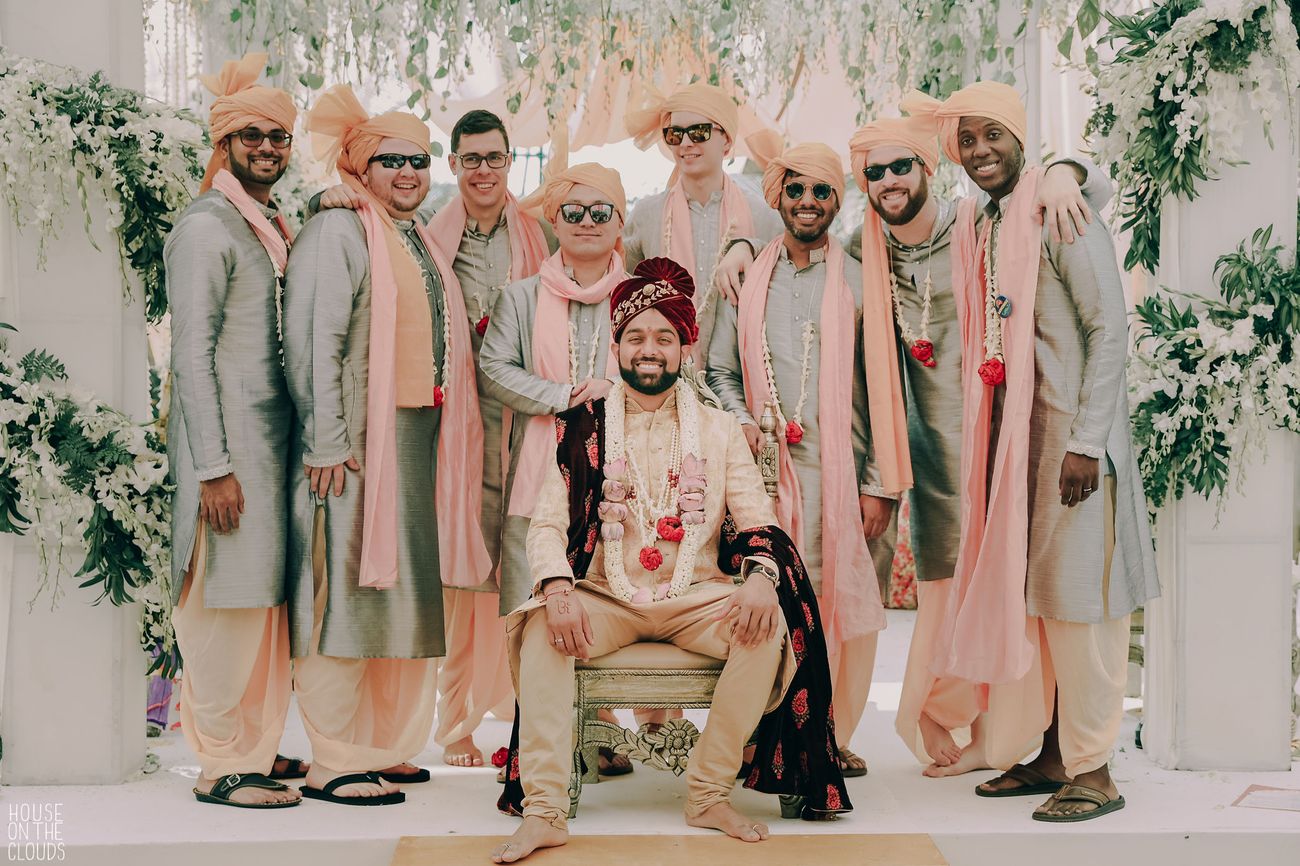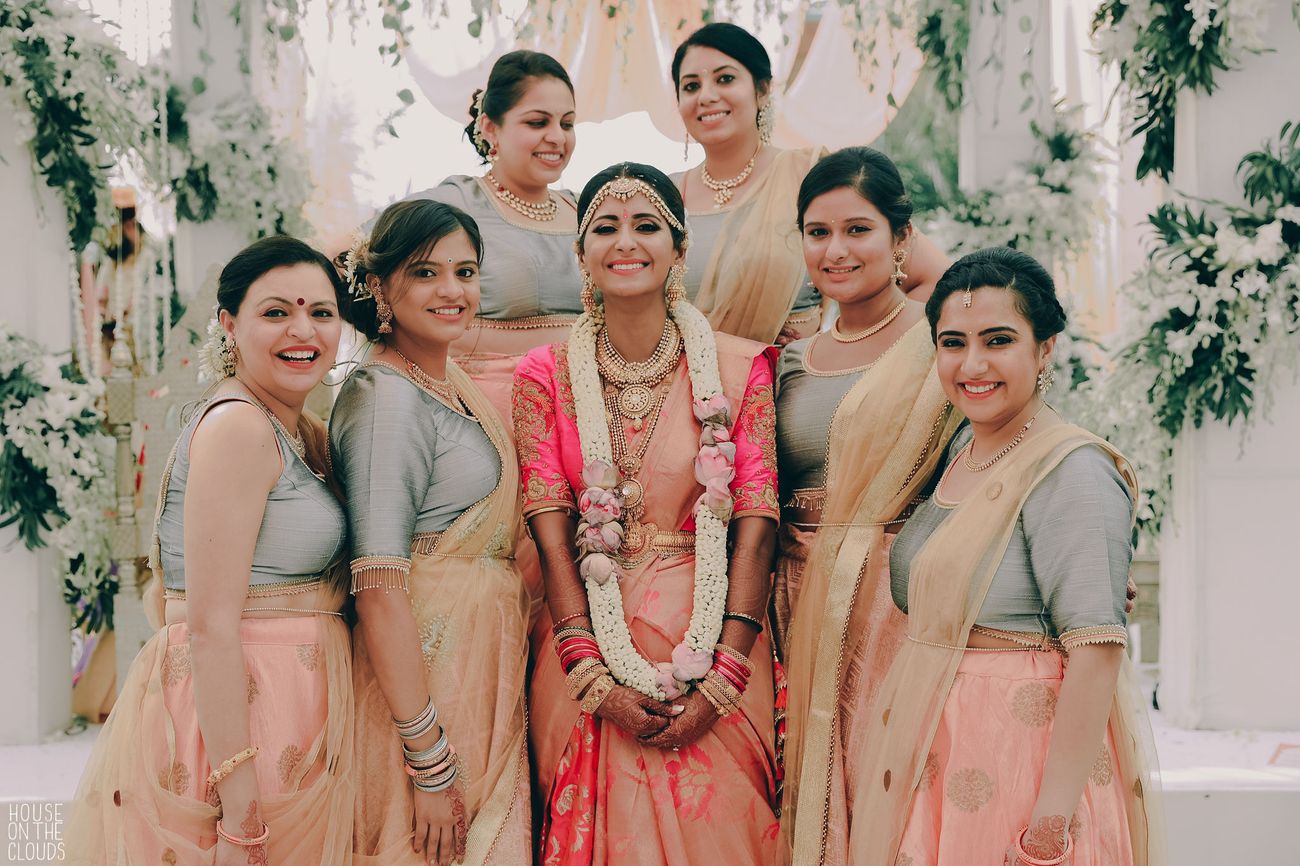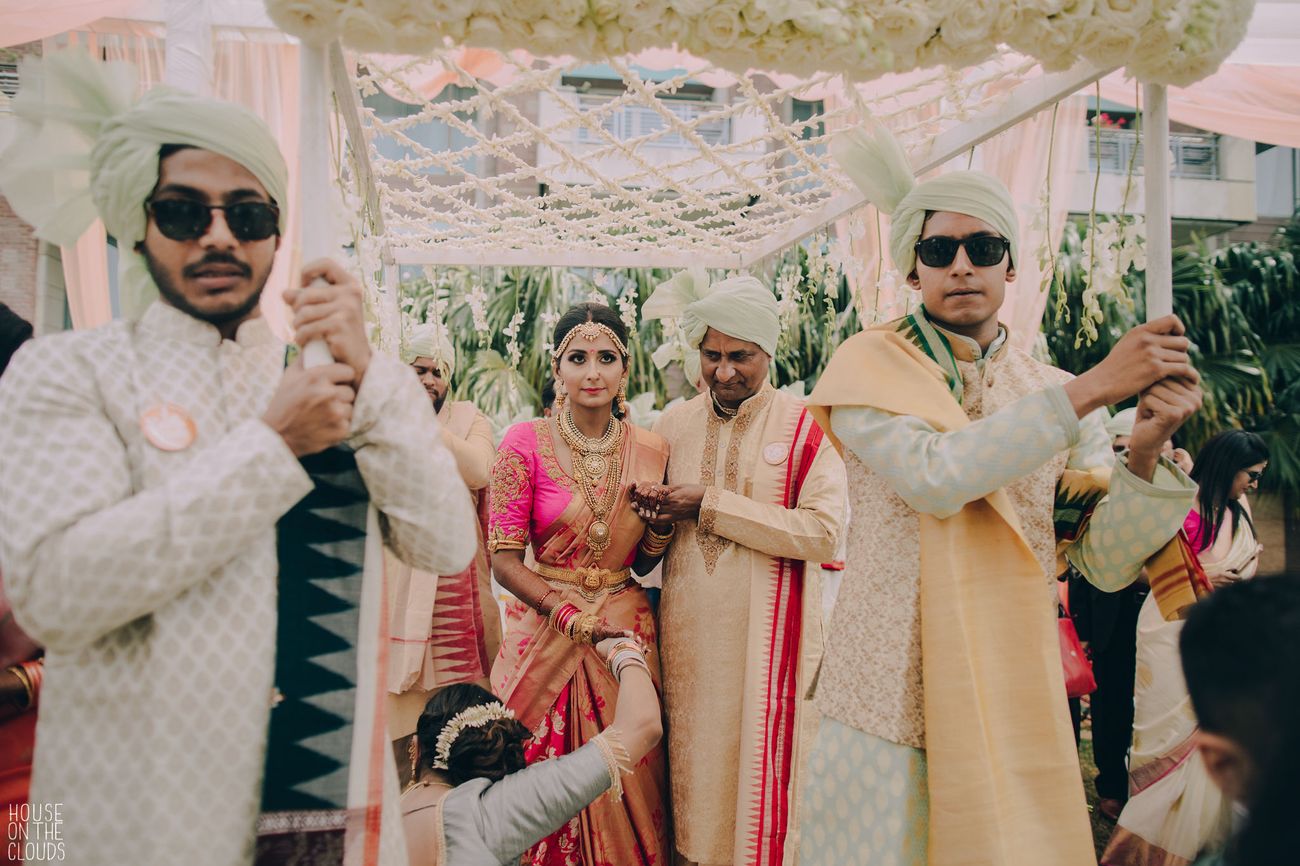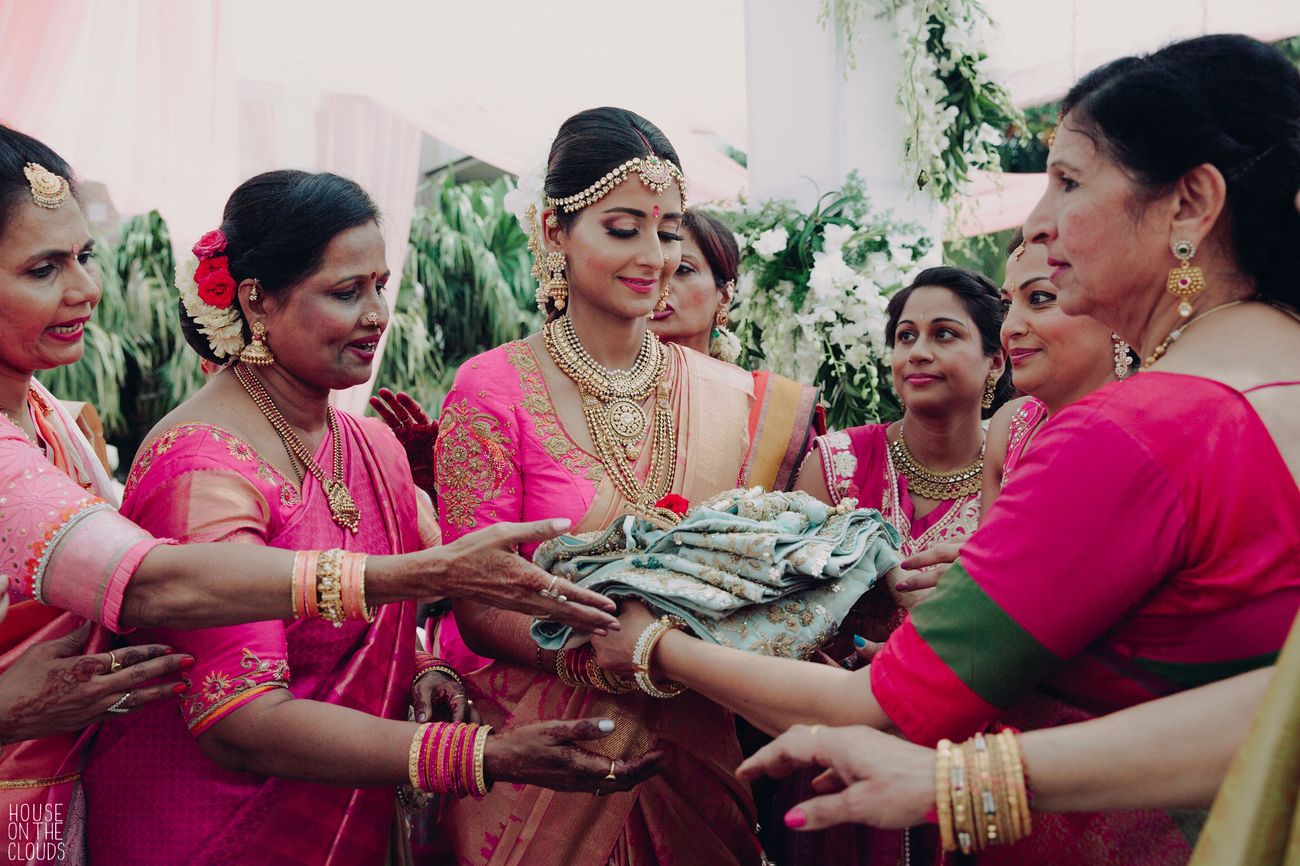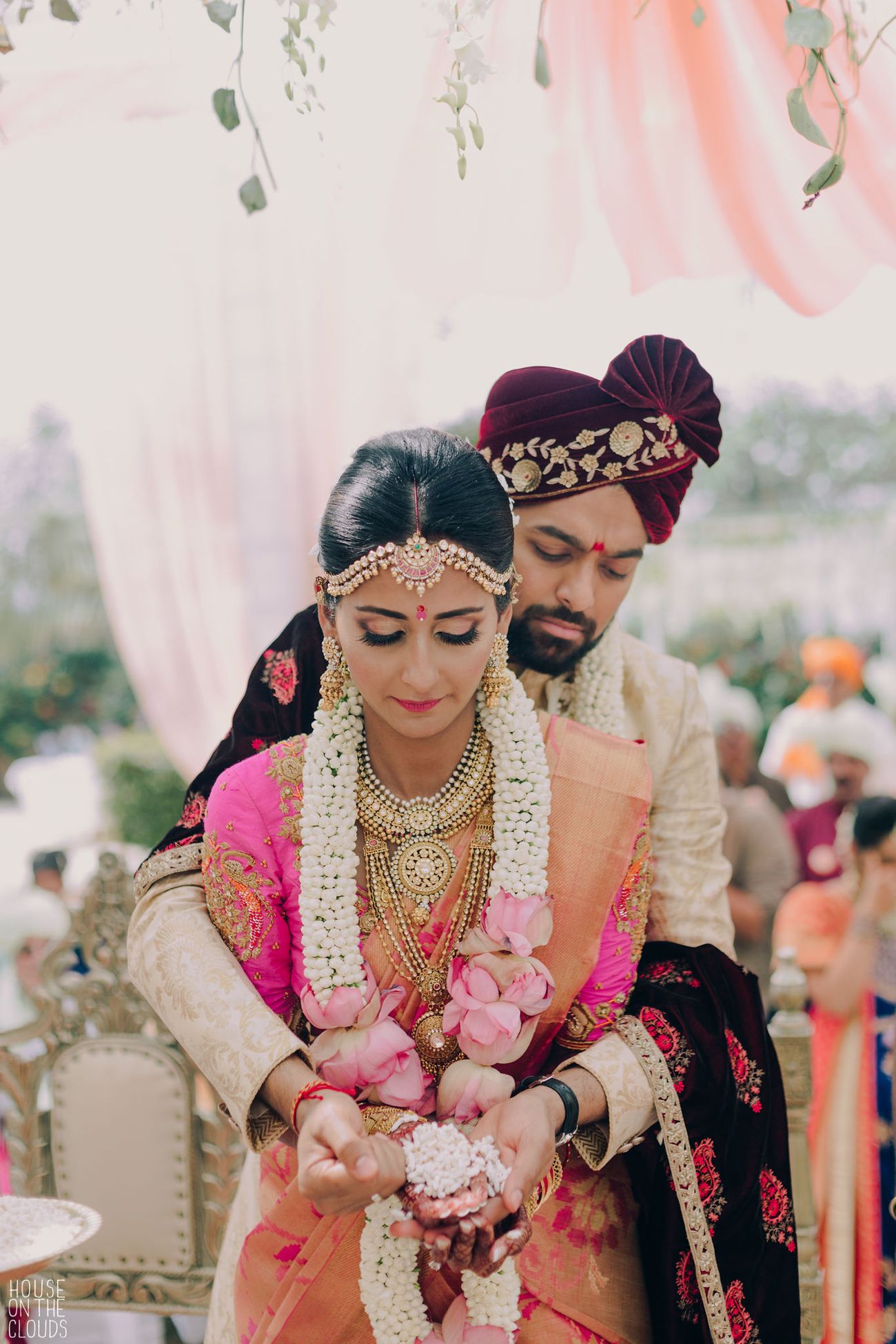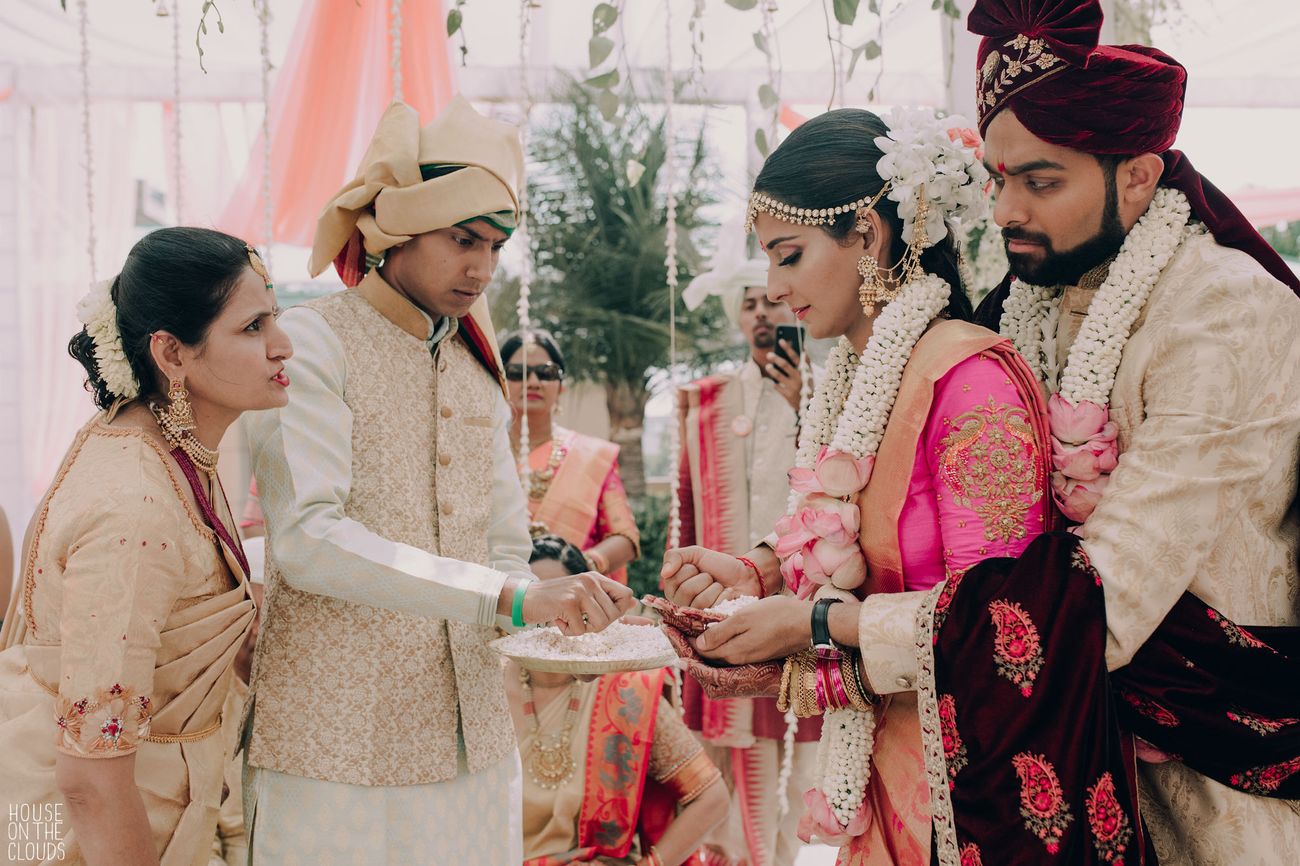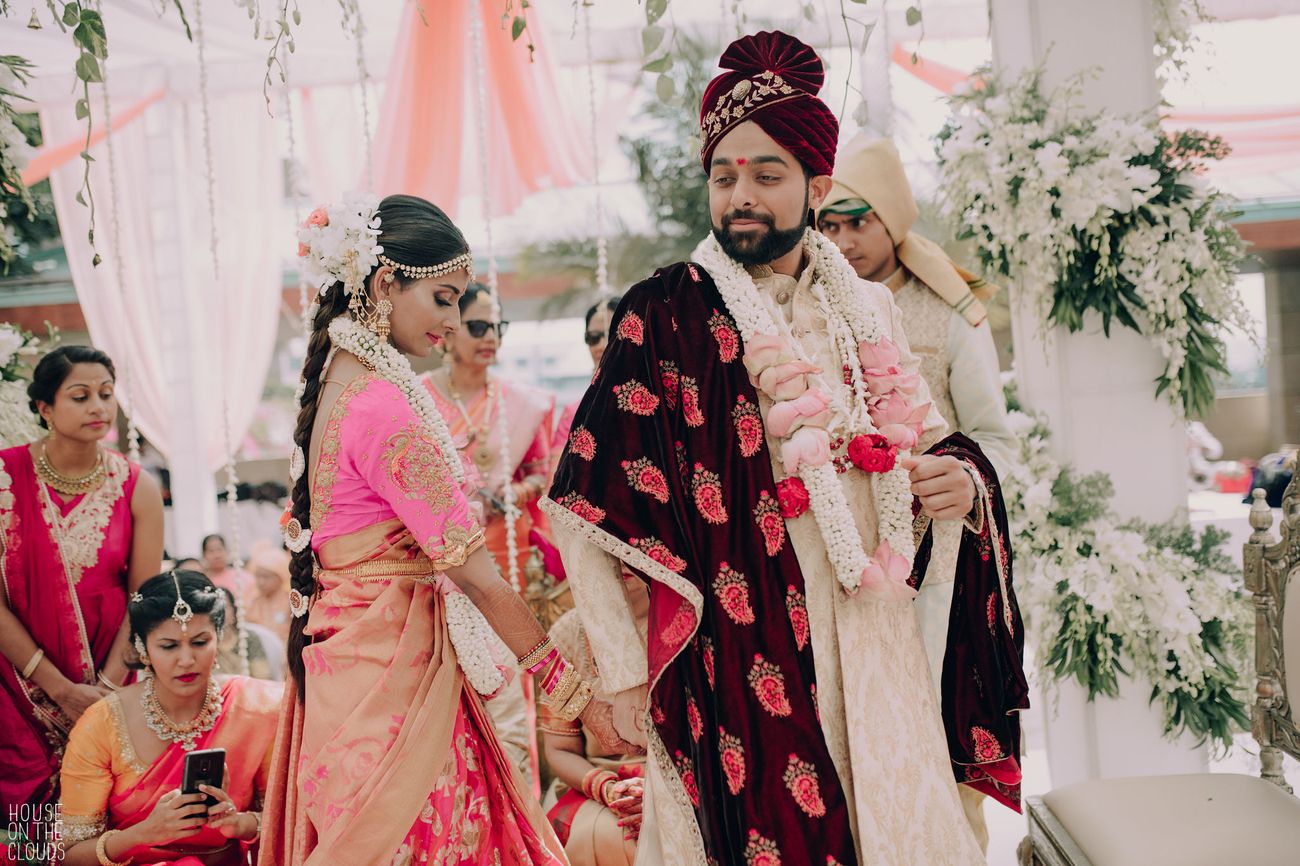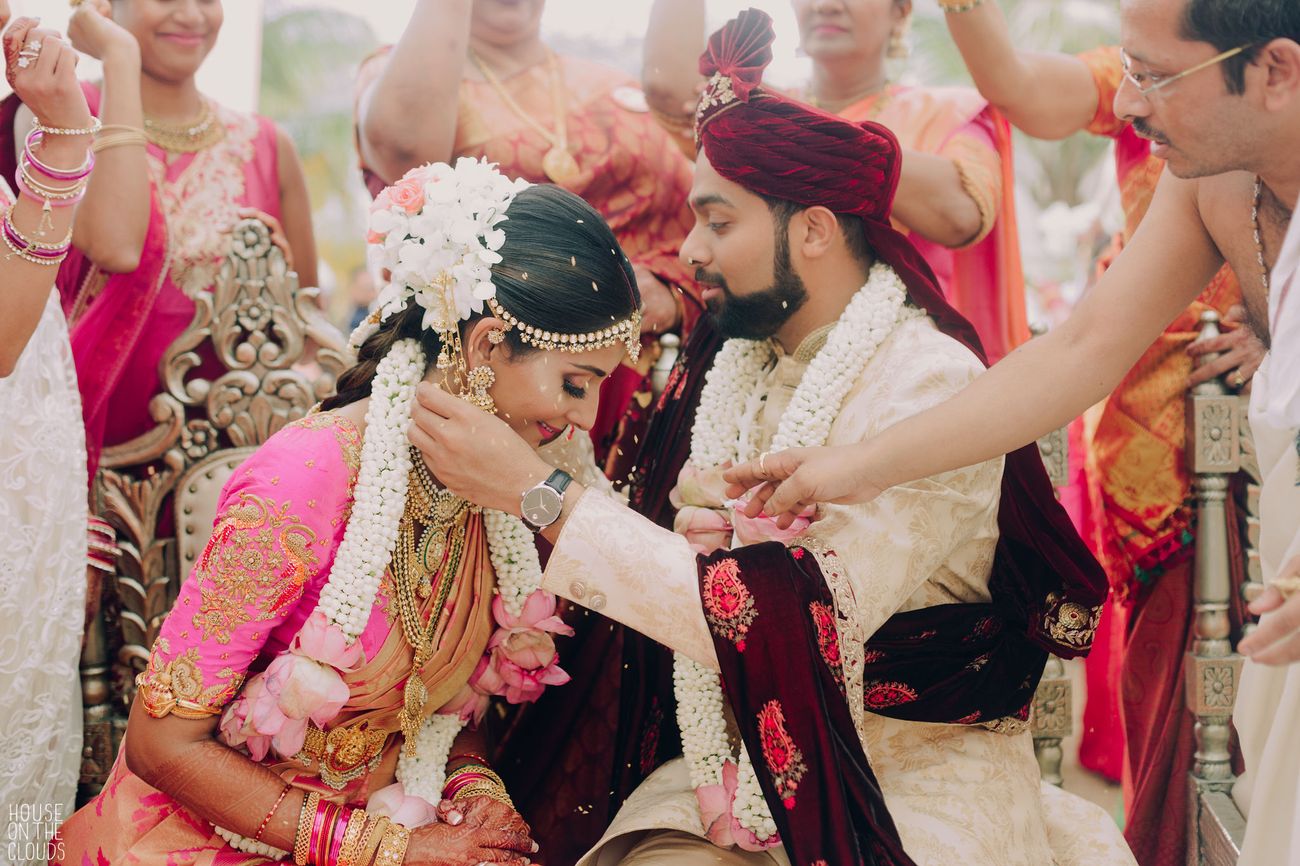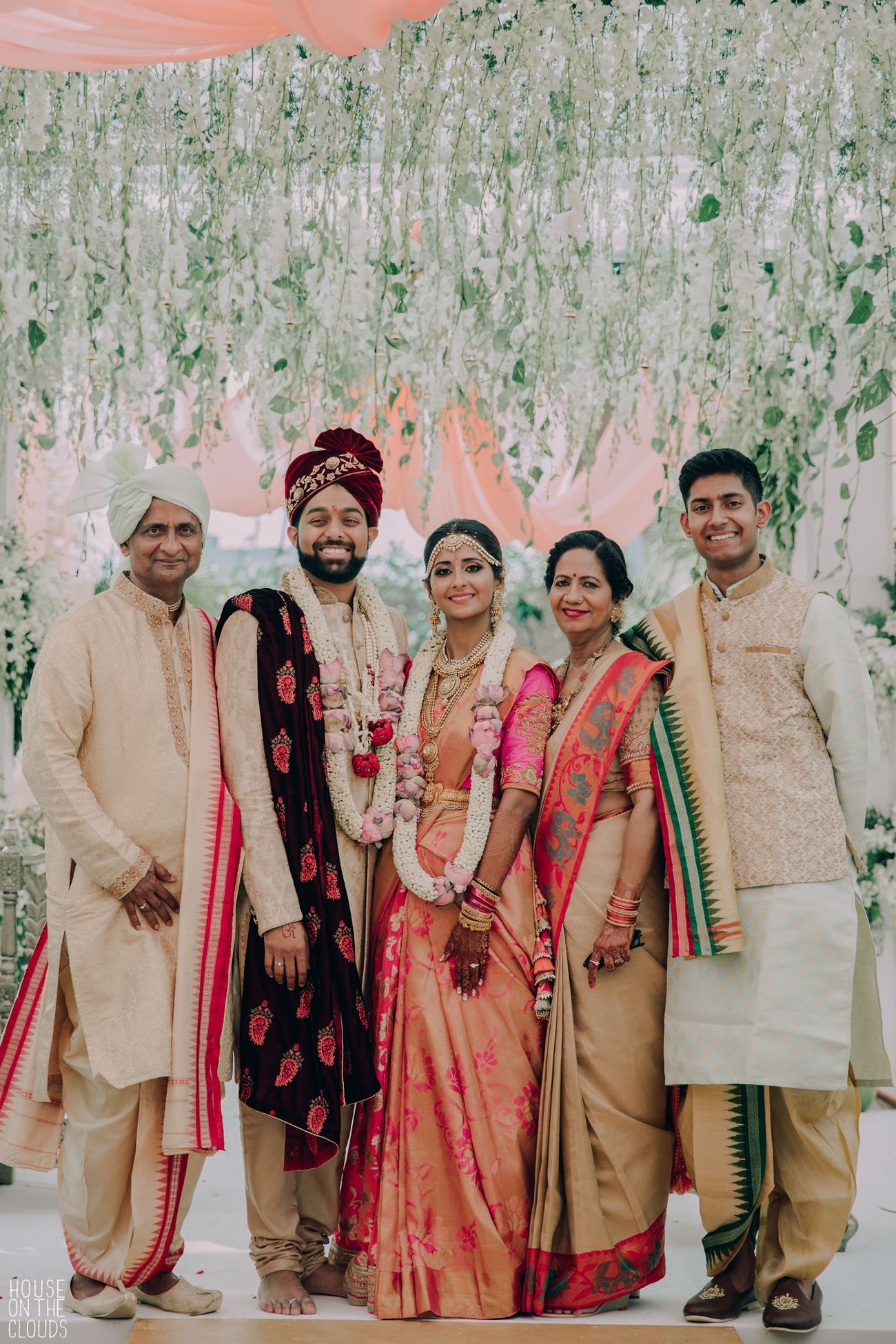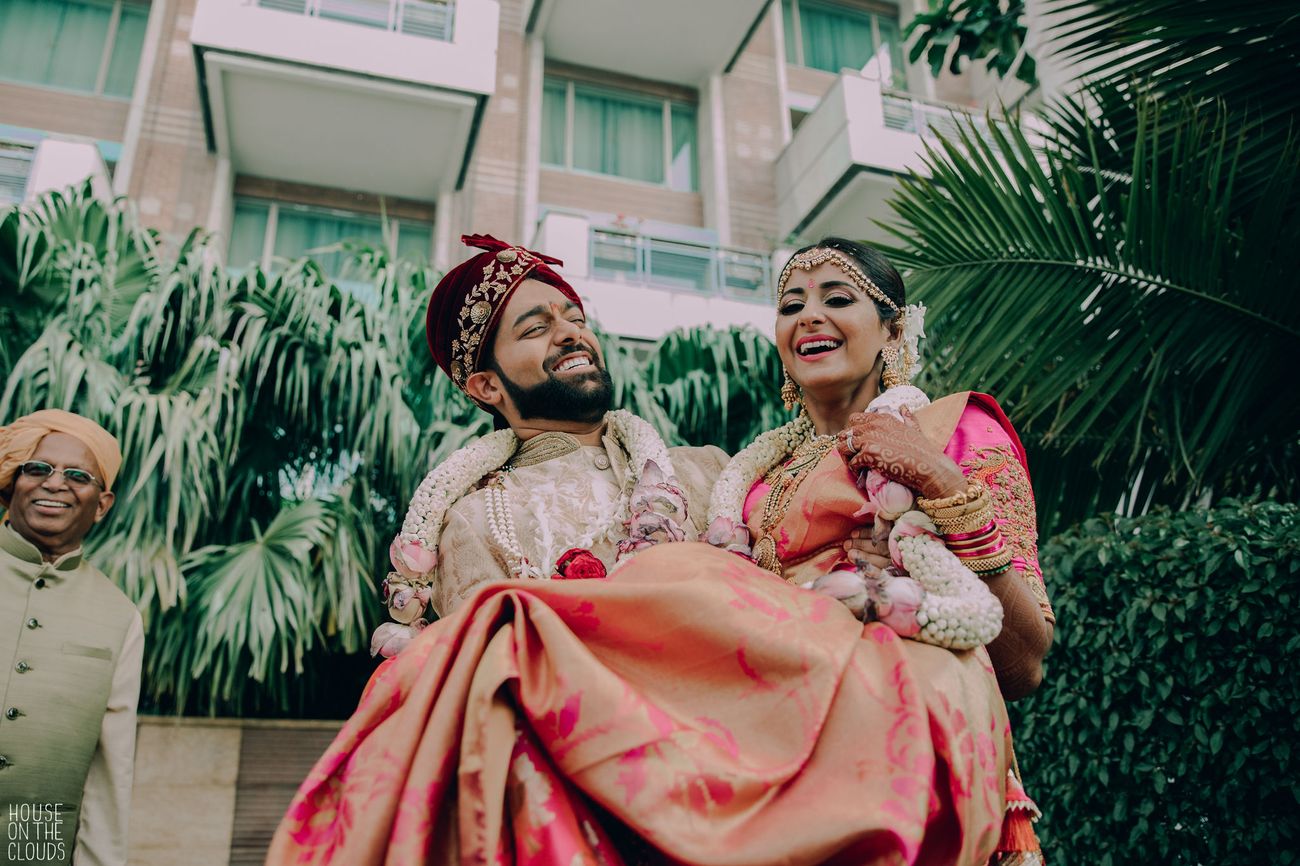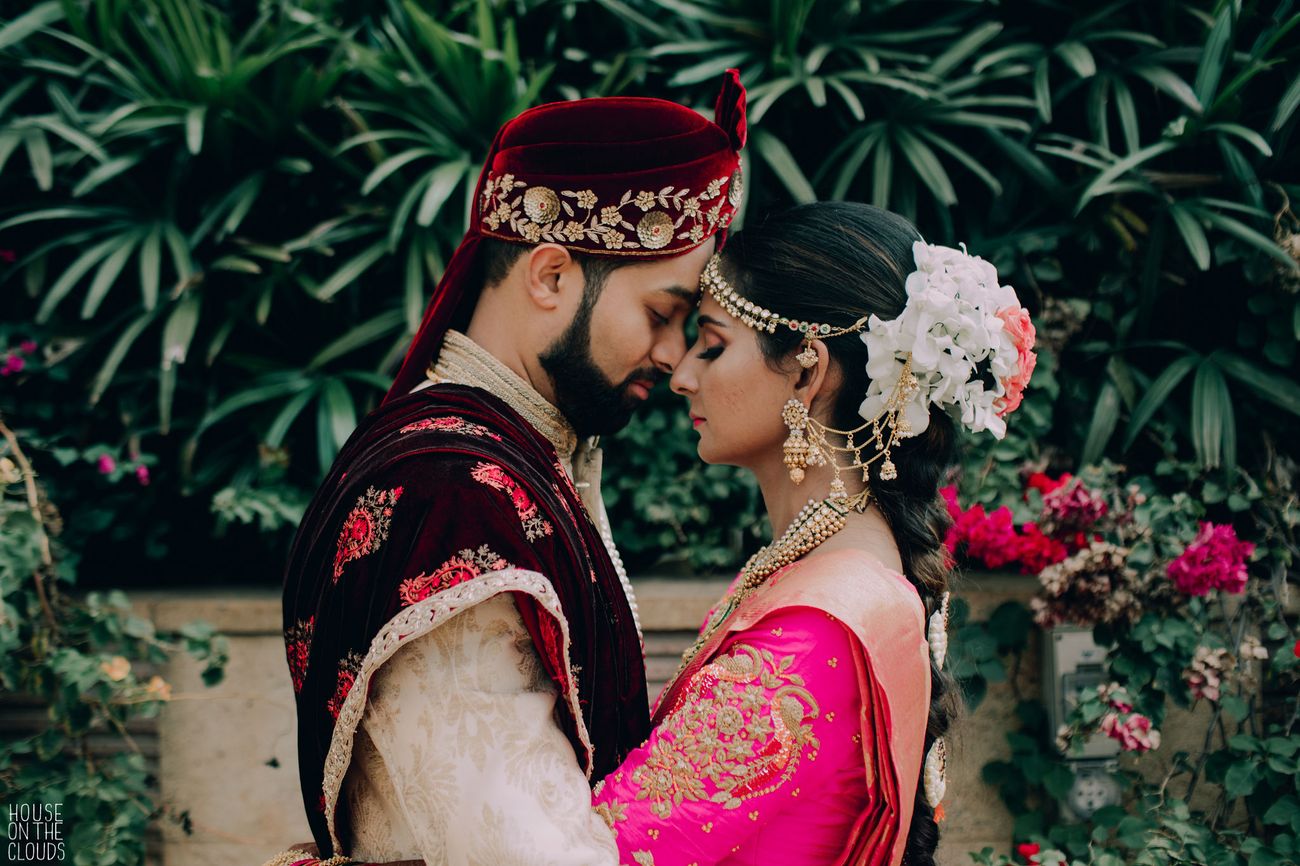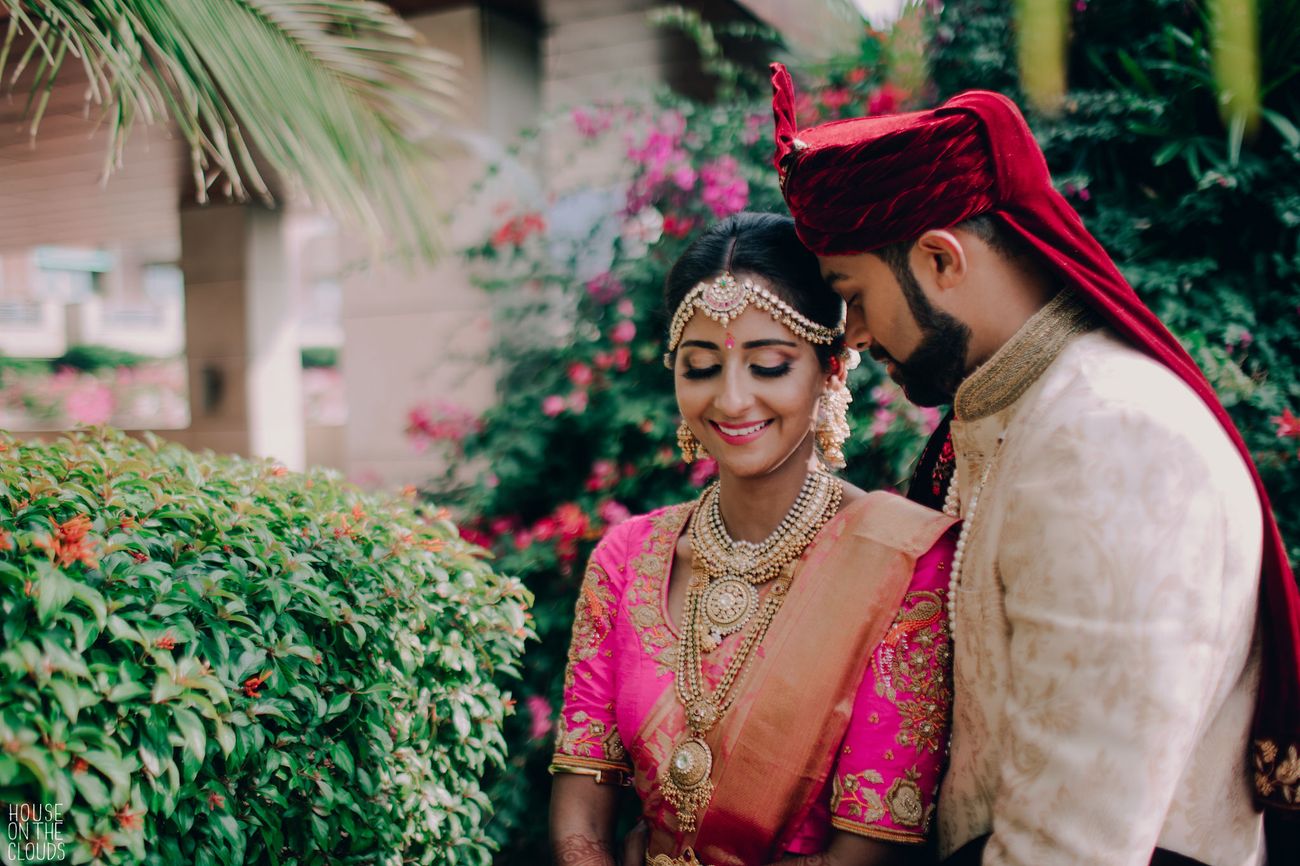 From The Bride: 
Although the planning process was a lifetime (yes, I am one of those girls who has been mentally planning my wedding since watching DDLJ), with the help of some talented folks in the wedding business, we really brought to life a fun-filled, emotional, and non-traditional wedding in Bengaluru. Instead of having a theme through all the wedding events (very impressive if you're able to do this), I attempted to carry through a theme for each ceremony which added an element of surprise. My mehendi was set up like a modern carnival/mela, my sangeet had a moroccan/arabian feel, the wedding had rustic and floral elements, and my reception carried a romantic, forest-y atmosphere.
Vendor Reviews: 
Our venue was ITC Gardenia and I have to say, just like Jay and my relationship, it was truly fate that made this gorgeous and hospitable hotel our hosts. When I walked into ITC Gardenia, I was literally transported from to a beautiful airy garden. From the open layout of their lobby, to the mouth-watering food (hats off to Chef Papa Rao), ITC impressed us and every single one of our guests. Their staff and leadership went above and beyond in accommodating us and while we did hit a few hiccups and hurdles, they did everything to make sure we left wanting to return. With picturesque interiors, welcoming staff, and luxurious accomodations, ITC really made the wedding a memorable one for our familes and friends.
My makeup for all events was done by The PowderPuff Girl (Mumbai) & through her recommendation my hair and styling was done by Sunita hairstylist (Mumbai). Rishika Shetty, owner of The PowderPuff Girl, is an extremely talented makeup artist and one who understands her bride's needs while also enhancing their best features. I knew I made the right choice with The PowderPuff Girl with all the compliments I received and specifically on certain details of each look. I therefore also knew I was in great hands with Sunita of Sunita hairstylist. I only spoke to Sunita a couple of times before the wedding and had sent a few pictures of what I was looking for and it turned out to be all I needed! Her talent is her ability to individualize each hair-style for her bride instead of copying the look completely. For styling, I was really grateful that she made some of my heavier garments easy to carry throughout the events.
After much online searching and looking through millions of videos and pictures, I found House on the Clouds through WedMeGood. Their unique, cool, and modern style is exactly what I wanted to capture our wedding story. We had so much fun working with them from the pre-wedding shoot and through all the wedding events. So far we have come upon some epic and emotional photos and their videography of our sangeet was exactly what we wanted! I cannot wait for our wedding trailer!!
Our decor and event planning team was Taarini Weddings. Without Taarini, my wedding would not have been as beautiful and unforgettable as it was for us or our guests. I cannot stress how much we relied on them before and during the events, especially since we were planning for 8 months from the other side of the world. Every couple wants their wedding to be the only priority of their planners and that's what Taarini offers. Soumya, Abhilash, and their dedicated team supported our every need, offered valuable suggestions/recommendations, and accommodated numerous last minute requests and changes with a smile on their faces. Their execution of the events and decor was exactly what I asked for and they eased so much of the stress in the planning process for us.
Mehendi, Sangeet, & Reception outfits were all from Bharti's at White Solitaire (Mumbai). In my opinion, this store is literally a hidden gem. Until I walked into their charming store, I was having a really tough time finding anything I remotely liked. They have a very eclectic collection and customize outfits to fit your budget without compromising quality. Each Bharti's piece I wore is so special to me!
Mehendi, Sangeet, and Reception were custom and Kora by Nilesh Mitesh for wedding sherwani. 
Parekh Cards (Mumbai) took care of our wedding invites on both sides for guests in India and US. All of their options were not only beautiful but also reasonably priced. They were quick with our orders and it was so easy to place orders online and work with them through the proofing. I loved my wedding invite so much that I made sure that some elements were captured within our wedding (decor and welcome letter/event list in guest hampers).
Vendors: Venue: ITC Gardenia, Bangalore; Makeup Artists: The PowderPuff Girl; Hairstylists: Sunita Hairstylist; Photographer: House On The Clouds★ 5 ; Wedding Decor & Planning: Taarini Weddings★ 4.9 ; Bridal Outfits: Bhartis at White Solitaire★ 5 (Mehendi, Sangeet & Reception); Groom's Outfits: Kora by Nilesh Mitesh★ 5 (Wedding); Wedding Invites: Parekh Cards★ 5
Planning a wedding? WedMeGood is your one stop solution to finding Bangalore wedding venues, caterers, photographers and much more for your celebration.