A Dubai Bachelorette Is Possible: Here Are Things To Do There!
BY Sakshi | 02 Apr, 2021 | 1156 views | 4 min read
Everyone is right now either heading to Goa or the Maldives- whether to party or chill or celebrate their honeymoon! But, if you're looking for a place for your bachelorette party, then Dubai is perfect for it right now. The UAE is allowing tourists with open arms as long as they are COVID negative, and there are sooo many activities you can do with your bride tribe that will ensure you have a fun, activity packed vacation, which honestly, is a much-needed respite for everyone.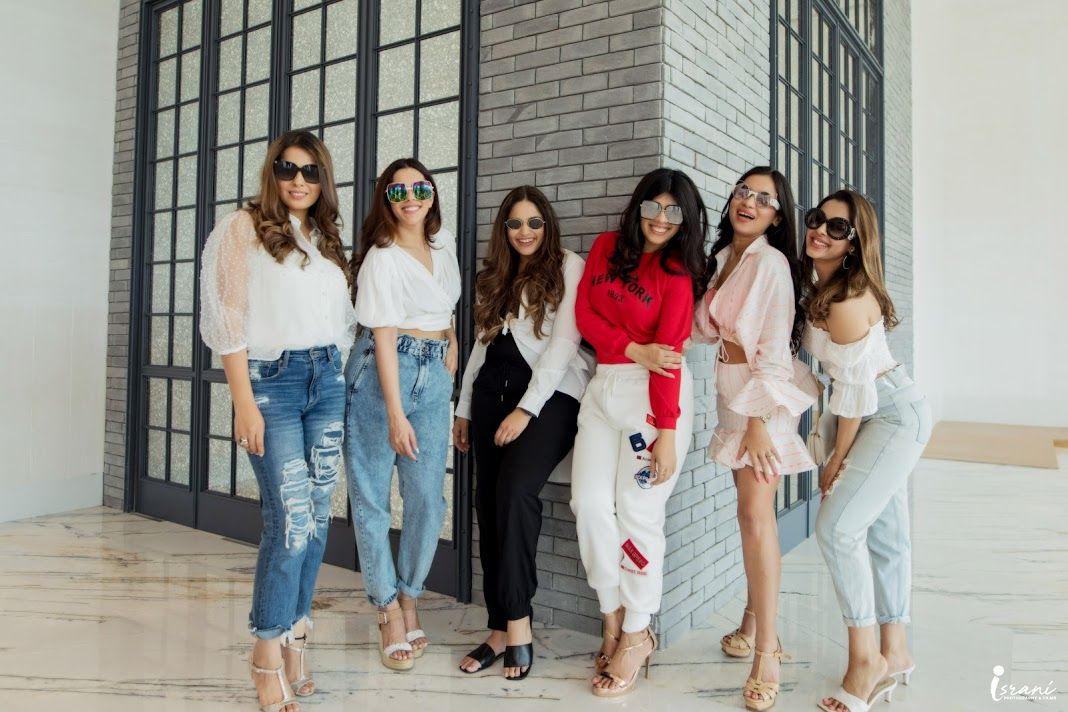 Image via Israni Photography★ 4.8
Party the night away like a celebrity!
Dubai has nightclubs like no other place has! People come dressed in their best and finest, and with views to die for, makes for a pretty amazing scene! Clubs like Armani/Privé, in the luxurious Armani Hotel in Burj Khalifa is a premiere nightclub set in one of the world's very tallest buildings. White Club is awesome too, as is Cirque Le Sior and Billionaire Mansion- some of the most happening places in Dubai right now!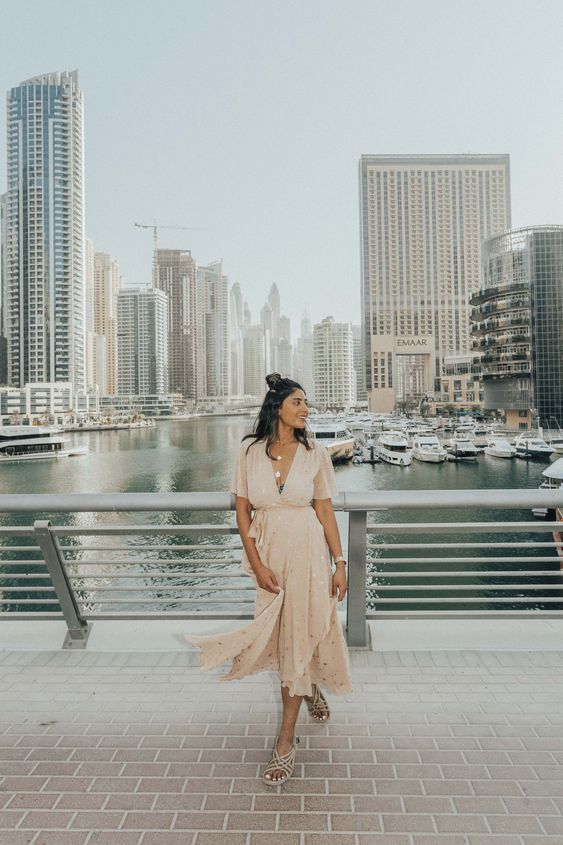 Image via Icing & Glitter
Party in your own rented villa
Now this is something we highly recommend if you really wish to experience Dubai at your own leisure and in luxury. You can have your very own private pool and you can literally party like no one's watching!
Or your own private yacht
This is another amazing idea you can go for, at least on one of the nights you're in town, and of course if your budget allows you! Get a taste of the celeb life in your own private yacht with your girls with lots of champagne, jacuzzis, amazing food and music. Go all out and celebrate in style, and what better way to socially distance as well?
Dine at a trending restaurant 
Dubai has so many fine dining options, and restaurants that truly deserve and are totally Insta-worthy. Zeta is an amazing destination lounge, with a view of the Burj Khalifa, which is a nice option. We also recommend Alici, which is inspired by Italy and the Amalfi Coast. There are so many other hotspots which are a must-visit.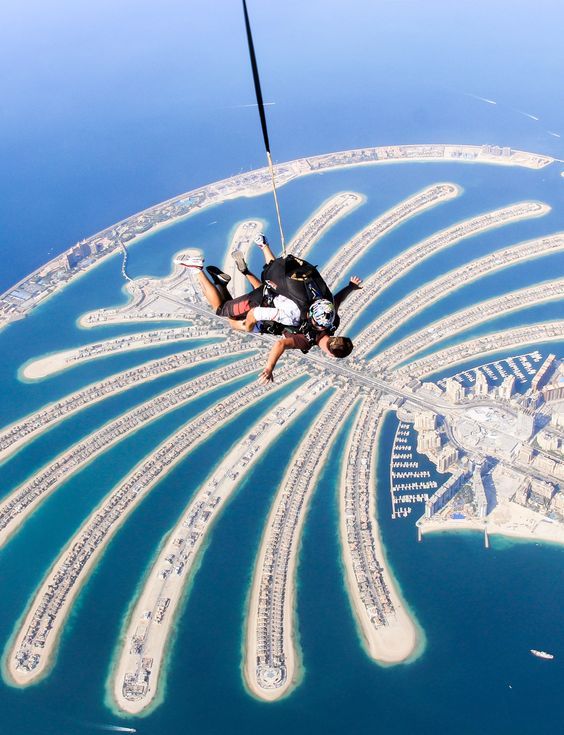 Image via Pinterest
Skydiving- Outdoors or Indoors!
Skydiving is thrilling and definitely not for the faint hearted! And what's great is that Dubai has options for outdoor as well as indoor skydiving. Whether you choose to witness the stunning city beneath you or choose to to experience the sensation of freefalling through space in a controlled environment, the choice is yours.
Scuba Diving
Yes, you can scuba dive in Dubai too on the Jumeriah Beach. They have a rich marine life and coral reefs and even a few shipwrecks to explore. You could take a scuba diving course or go for a free dive if you're already certified.
Hot Air Ballooning 
If you want something a little more slow paced yet adventurous to do with your squad, then hot air ballooning is an option. You can be 3000 feet in the air, enjoying panoramic views of the sea and the sand from that height. Plus, what's great is that you can also arrange a gourmet meal up there!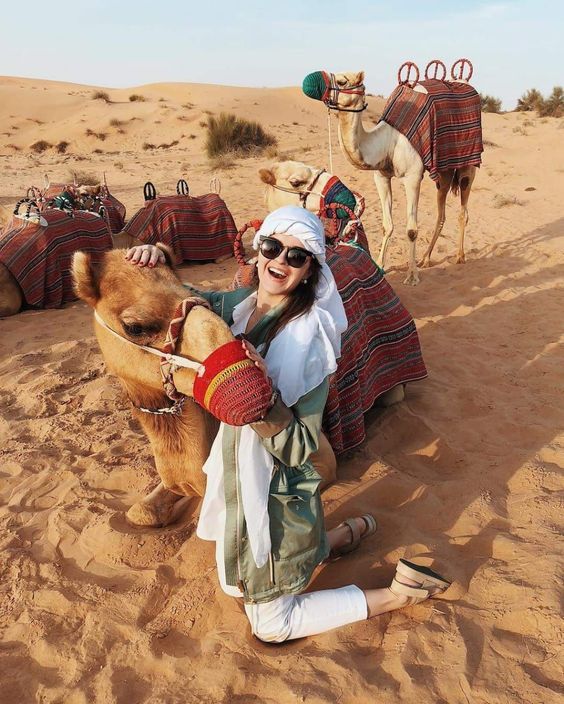 Image via Pinterest
Overnight Desert Safari
This is an overnight activity and one of the most fun things to do in Dubai. Try dune bashing, take a ride on camels, eat some amazing local delicacies, witness beautiful belly dancers and camp the night- all in the middle of the desert. Now isn't that the experience of a lifetime?
Sandboarding and Flyboarding
Now this is an experience you cannot have at a lot of places! Sandboarding is such an exciting thing to do- It brings quite a thrill! Flyboarding is another option for water lovers- strapped onto a jetpack-like device, you will feel as if you are flying over water when powerful streams of water shoot you in the air!
Helicopter City Tour
Dubai is a gorgeous city- with the sun, sea and sand, and not to forget, tallll skyscrapers. Enjoy the spectacular views of this mesmerizing city by arranging a helicopter tour for your girls. There's nothing quite like disconnecting for 20 mins and seeing vistas of the pretty city from up in the air.
ALSO READ: Bachelorette Diaries: Desert, Dreams & Dancing in Dubai !