A fresh Delhi wedding with a bit of funk !
BY The WMG Bride | 22 Oct, 2014 | 890 views | 4 min read
When a bride is also a stylist, you can be rest assured that there are going to be more than a few offbeat elements on her wedding. Apart from that funky Amrapali jhoomer she is sporting, there are more than a few of those here: Speeches at the Mehendi (love that!), crazy headgear, outfits that are simple yet classic, an Invitation with one of the most unique wordings we have seen topped off by a wedding film to remember! Shot by
Aditya Mendiratta
, filmed by
Amour wedding films
- this wedding in Delhi has got a clean, fresh, funky vibe to it that we absolutely LOVE.
Meet Nikita and Karan
Nikita says "Karan and I met around 10 years back when we were in class 12. It wasn't really Love at first sight, or maybe it was . We saw each other and something just clicked". Their love story is told best by the wedding video linked below!
The Mehendi cum Sangeet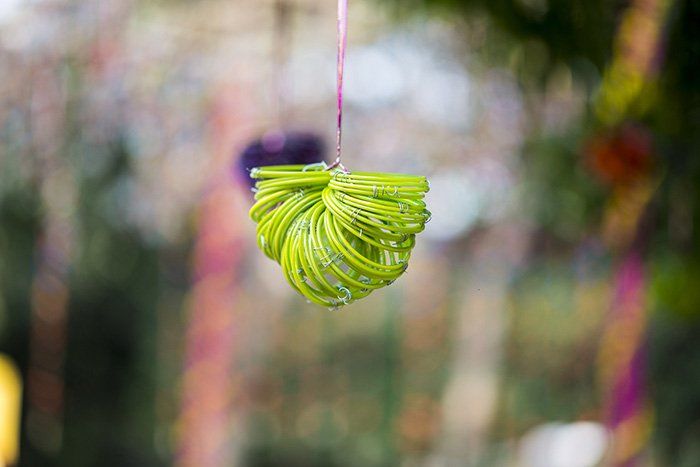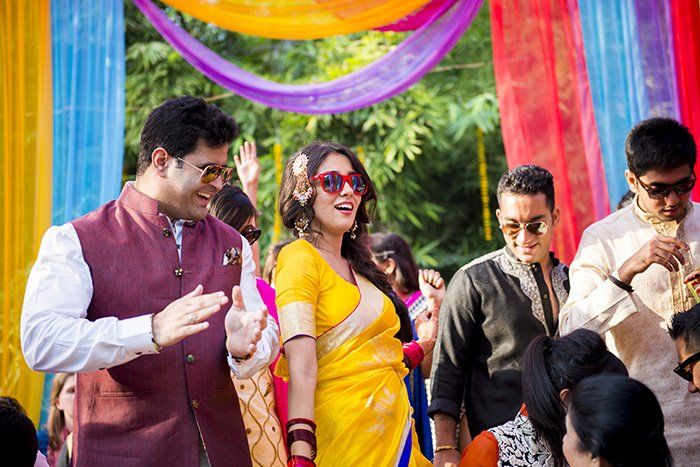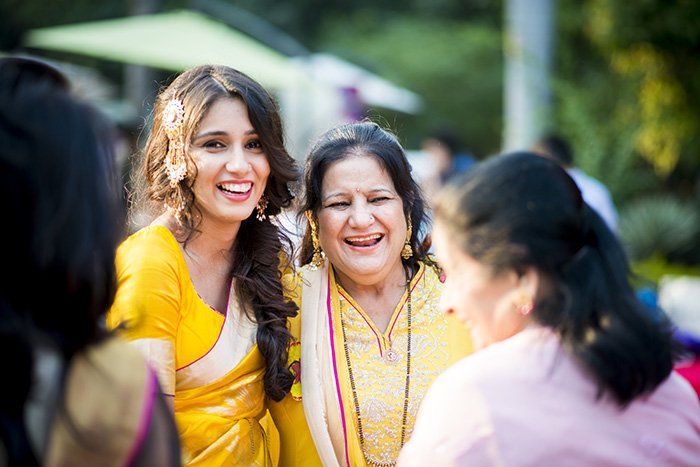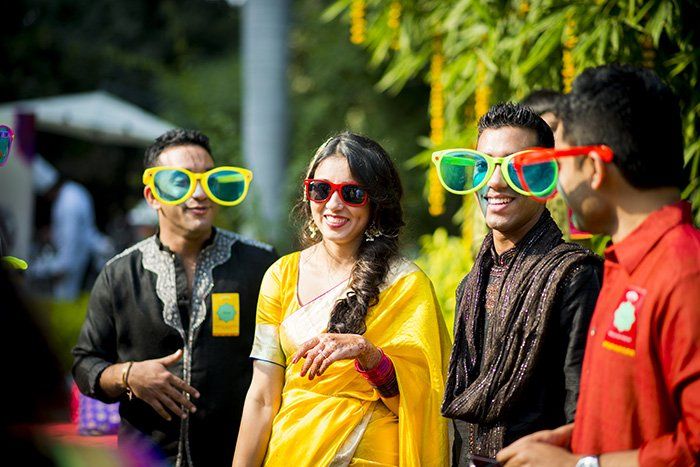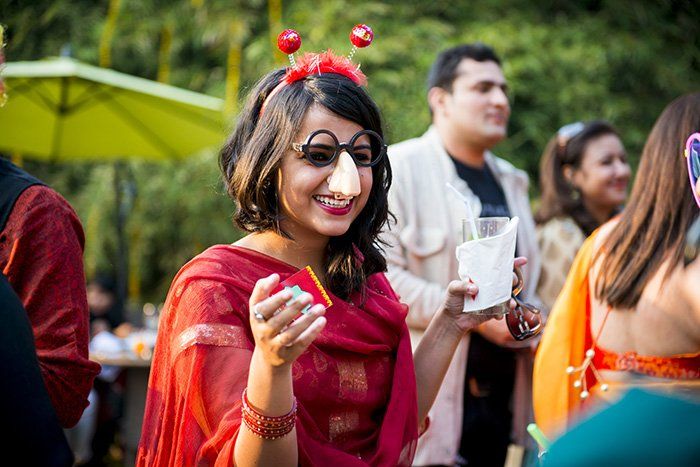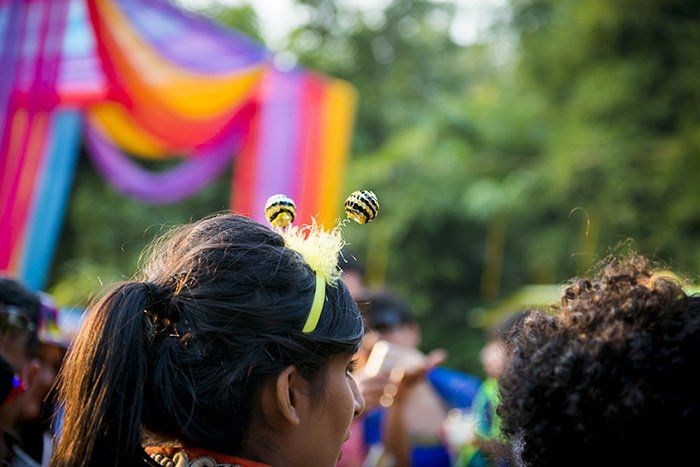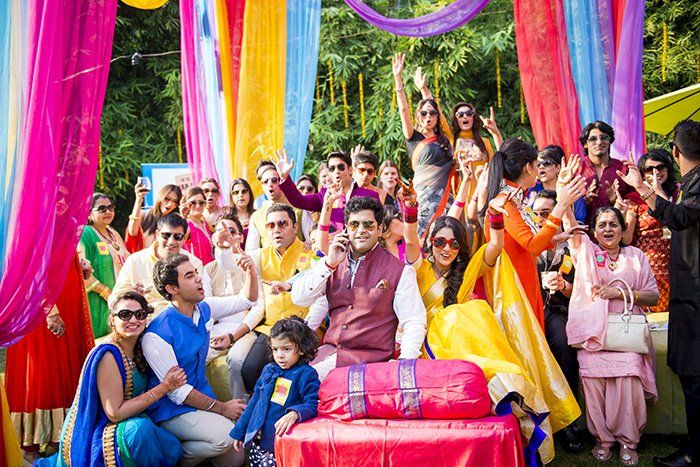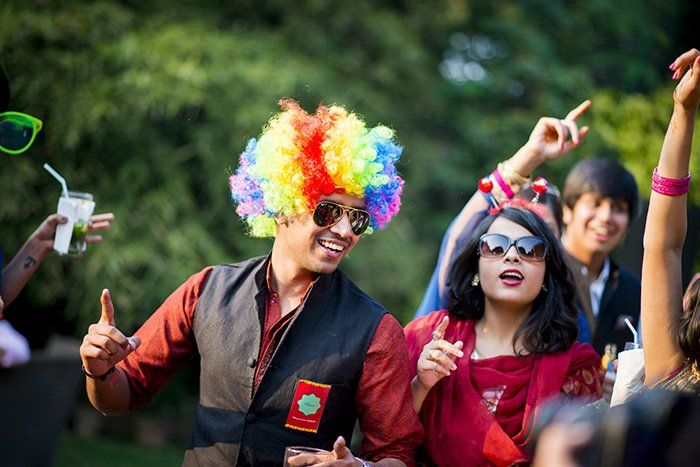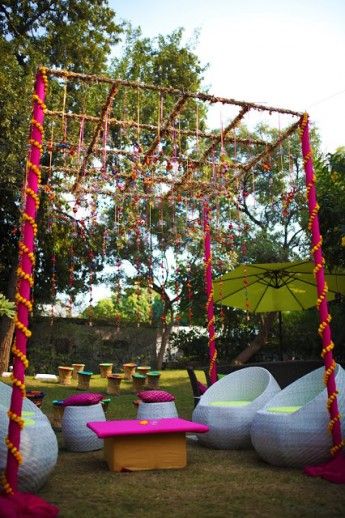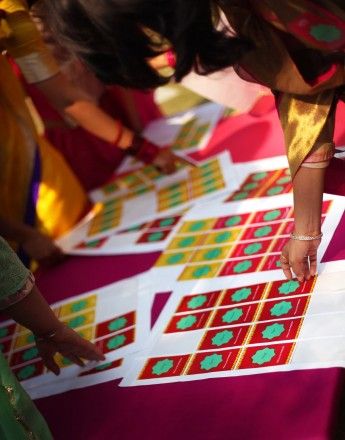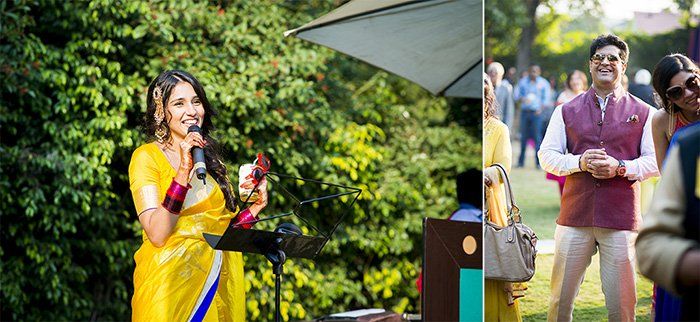 A simple yellow saree, hot pink bangles and funky accessories. Yes please. And how cool is the idea of having speeches? The pieces of colored paper in the photo above are name tag stickers for guests to wear.
The wedding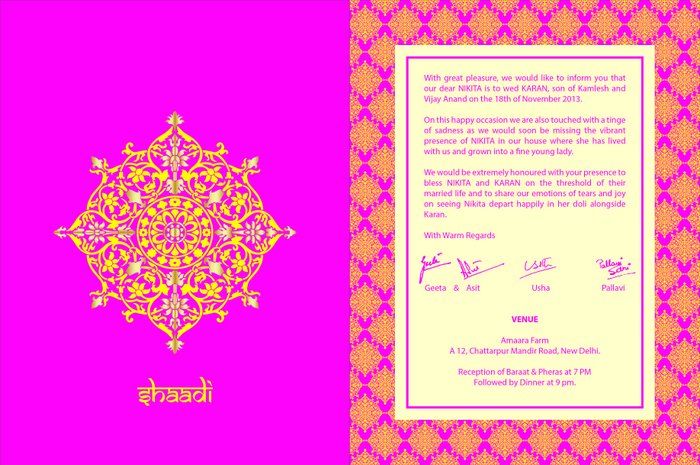 Such beautiful wordings on that card- almost like a letter- why don't more of us personalise wedding cards like this?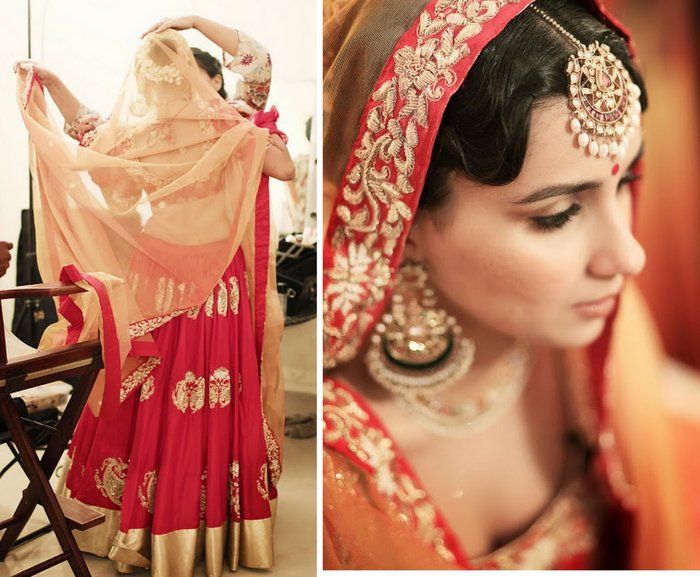 The two photos above are by Ishita Singh Photography.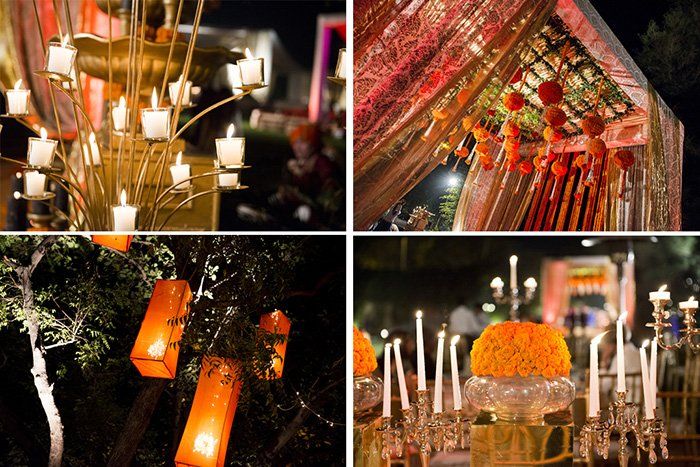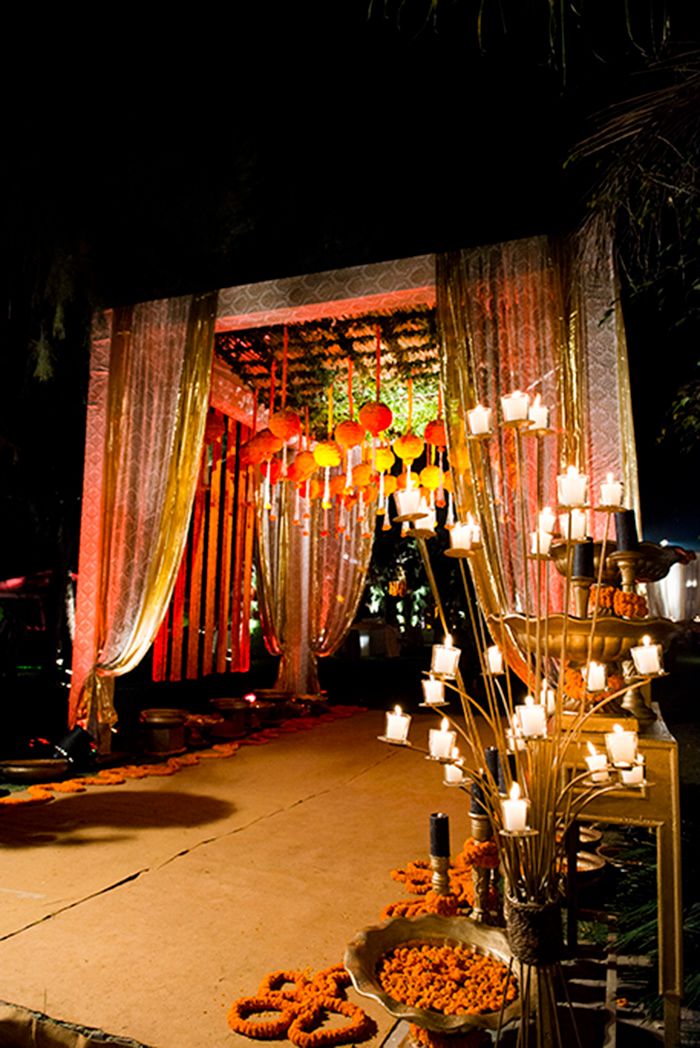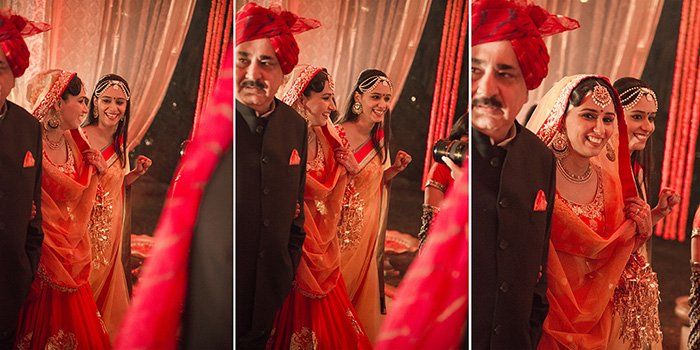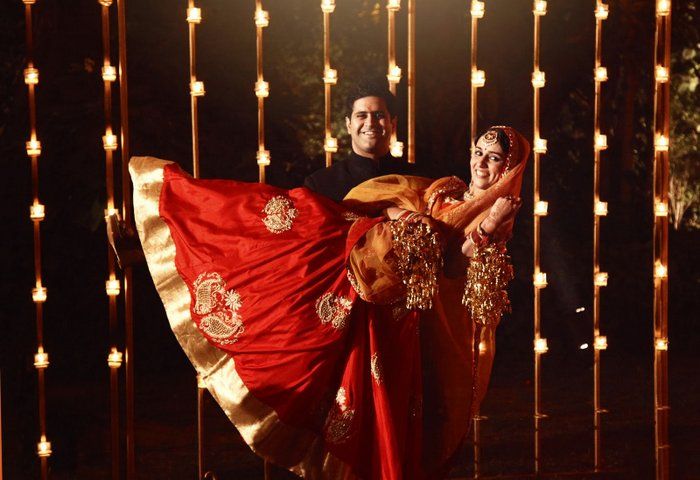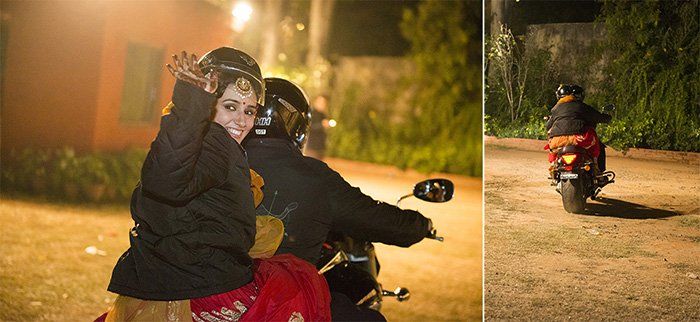 WEDDING VIDEO: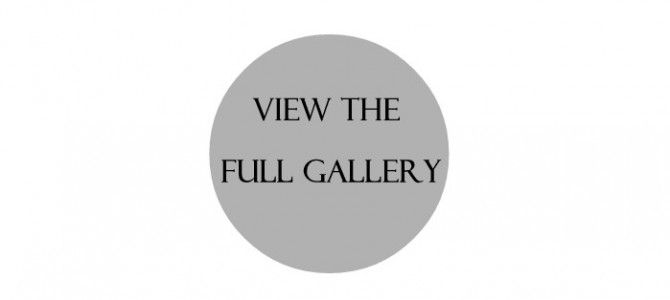 From the  bride
: When I look back at my wedding,  I realise I was on a bit of a roll :p. From
designing my own wedding cards
, to packing each
box of cake (
which we gave along with the cards), to getting
pocket squares made for all the men in my family
and potlis for the women, to deciding on the menu and designing my own wedding outfit. I pretty much had a hand in all (phew). I always wanted atleast one day function and  the mehendi was the prefect one. From the decor to the outfits everything came together perfectly. The icing on the cake was
the speech my dad, sister and best friend gave
. It was beautiful My style is a
bit of funk mixed with a mash of Indian
. Once the wedding was decided, one thing I was sure about is that I will not wear those typical heavy, embroidery and embellishment laden outfits.  Since I am a fashion stylist and have styled many Indian/wedding themed looks; I was pretty clear about what my look would be. So  I chose to keep the outfits simple yet vibrant so that the colours stand out and the focus is more on my face.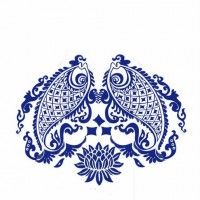 Above: The motif Nikita chose for her lehenga. She designed her own lehenga
After scouting every store, boutique and designer, I came to the conclusion that simplicity can something times be the hardest to find. So i decided to design my own outfits.  I always knew I wanted an animal motif along with a lotus  so after some deliberation I came up with two fishes facing each other which also resembled an an 'Ambi' and looked wedding appropriate but still had that quirk factor. I chose to go with a single big dupatta which I draped over my head and around my shoulders. By keeping the dupatta light, the focus was on my jewellery and the rest of my outfit.
My uncle and aunt gave me my dream wedding. They did the decor (vendor details at the bottom) and each function turned out exactly the way I had envisioned it. Kitsch and funky for the mehendi, and beautiful and whimsical for the wedding The photographers-both Ishita and Aditya were fantastic. The captured each and every moment and the pictures looked AMAZING. And the wedding film was out of this world. Amour first made a 3 minute preview for us which was a movie in itself. After seeing that we couldn't wait for the actual full length one. Needless to say it totally lived upto our expectations.