A Gorgeous Chandigarh Wedding With A Bride In Pastel Pink!
BY Aakanksha | 05 Aug, 2019 | 29567 views | 8 min read
Pastel themes, a gorgeous pink lehenga, and flowery decor in perfect coordination, this wedding was nothing less than #dreamweddinggoals! Chanu & Digvijay found love in the air and decided to tie the knot on the ground. Chanu wore customised outfits at all her functions, and we loved each and every one of it. From the emroidered zardozi deep maroon jacket on the cocktail, to the multicolored lehenga she wore for her mehendi, every look was as beautiful as the other. Shades Photography★ 4.3 captured the couple's most candid moments in a loving manner and the following pictures are a perfect proof! 
Meet Chanu & Digvijay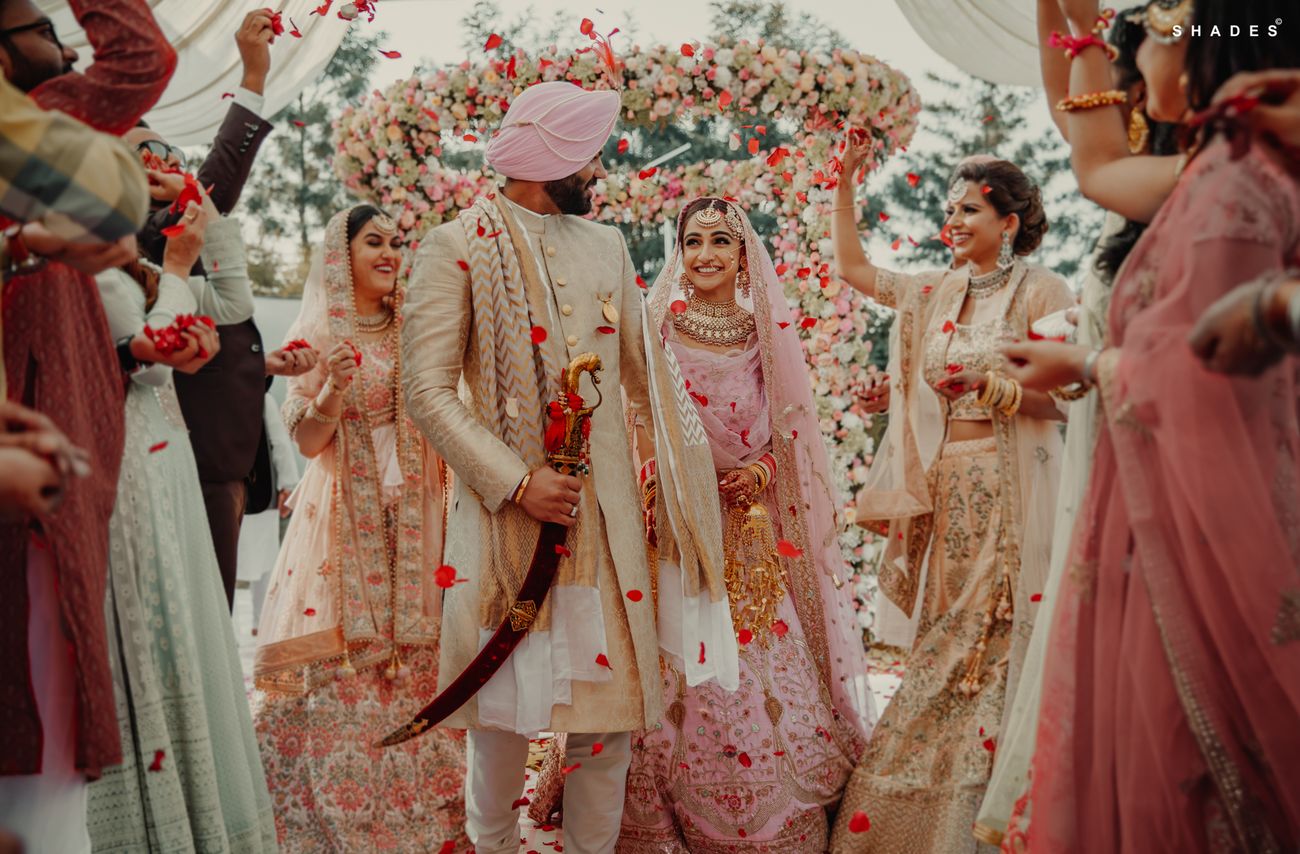 Chanu tells us their flying love story, "We met in Raipur in my Flying school. Digvijay's father was my flying instructor and his family had come to celebrate New Year's Eve with us students. Even though both our fathers were in the Indian Air Force but we never bumped into each other in any AF stations. Maybe, it was written in out destiny to meet in Raipur for the first time. I along with my colleague had gone to Airport to receive Digvijay's Mother and with her we see Tall Dark Handsome Boy. Alas, turns out he is my instructor's son. And turns out I was the only student who had lot of time in hand and was the chosen one to receive the First Lady and the son (unspoken about) from the Airport. Aahh some  conspiracy from the Universe. In this brief moment of conspiracy and introduction, Digvijay and I experienced (as cliche as it may sound) the moment of "Love at First Sight and since then there has never been a dull moment in 10 years. I think it's true when they say "opposites attract". In our case this quote is soo apt. We are like yin yang !!" 
The Cocktail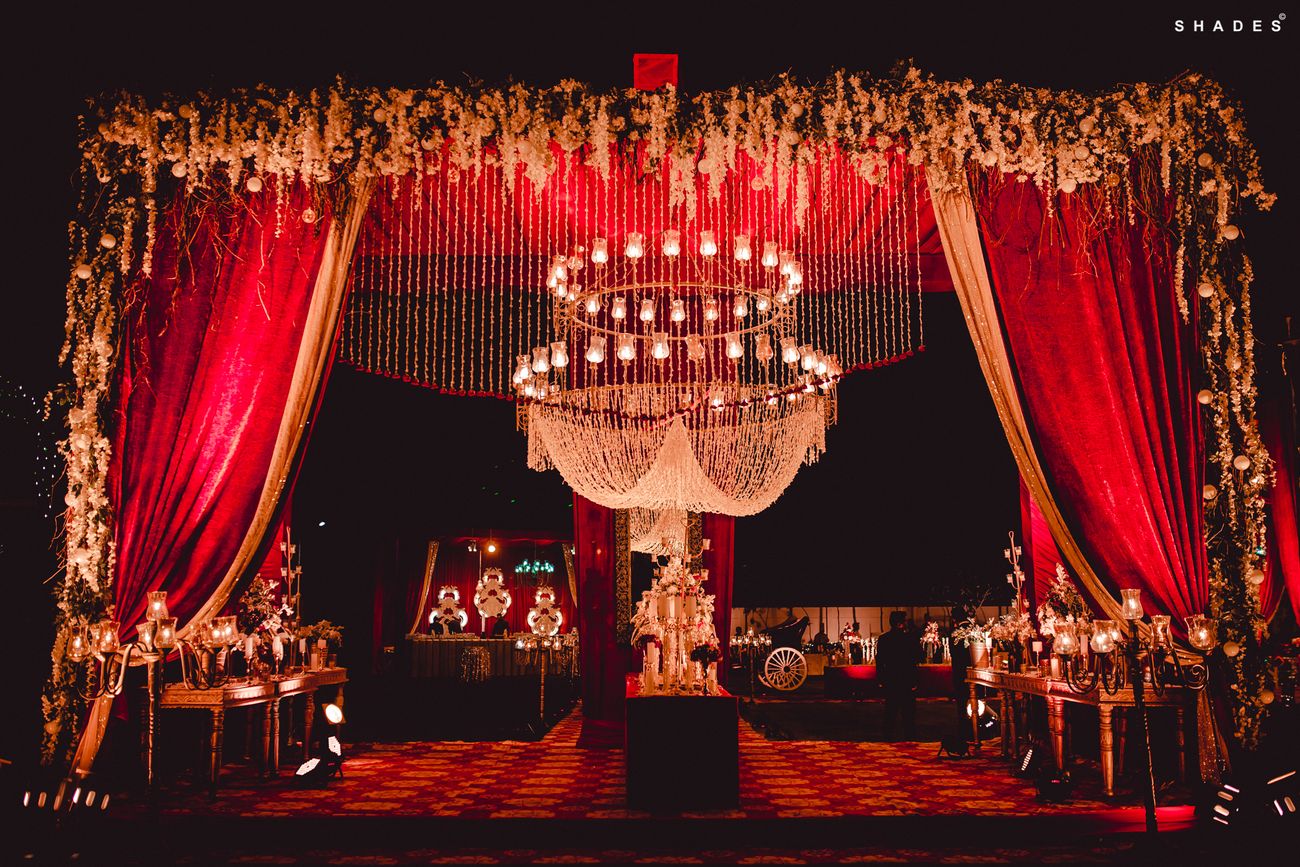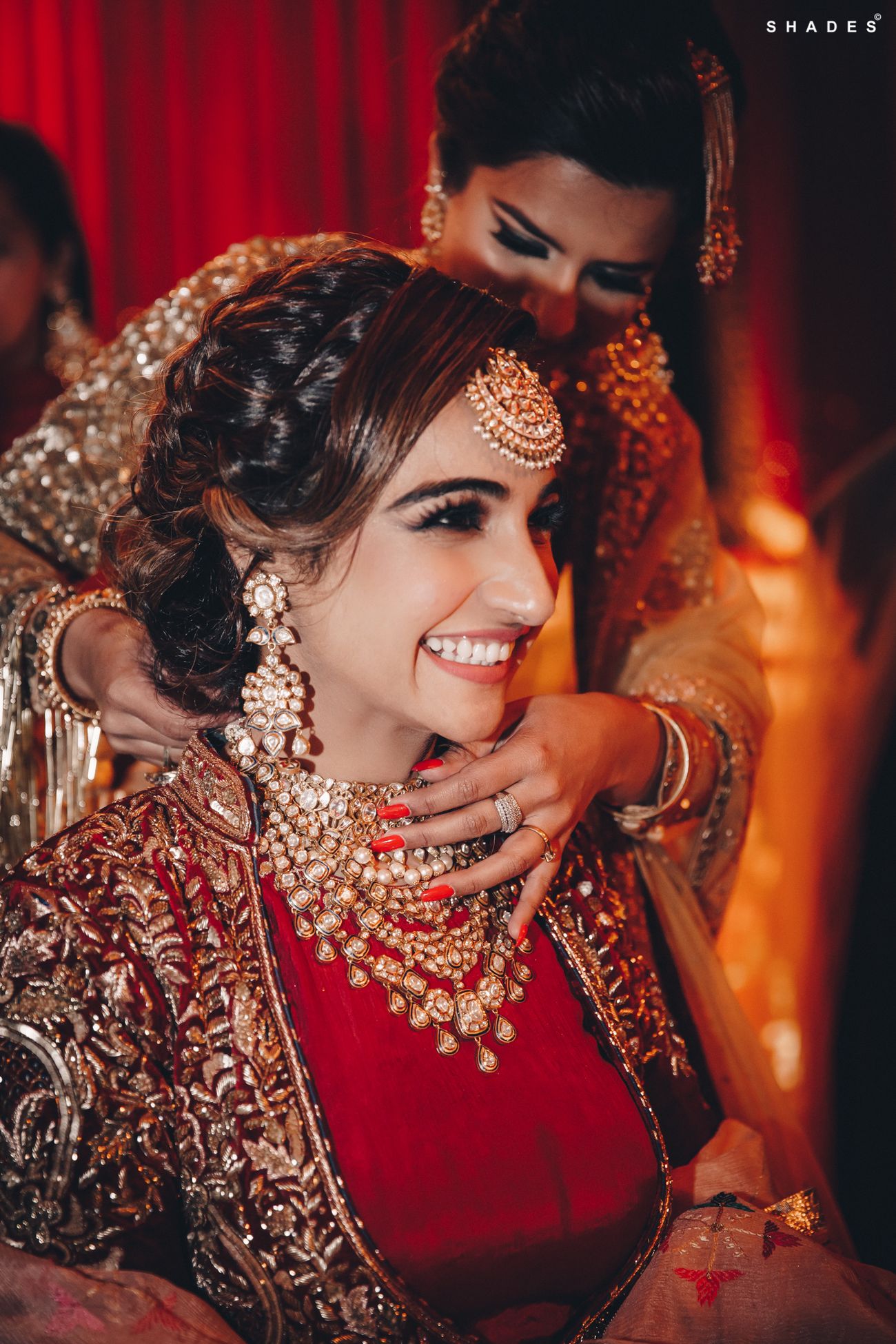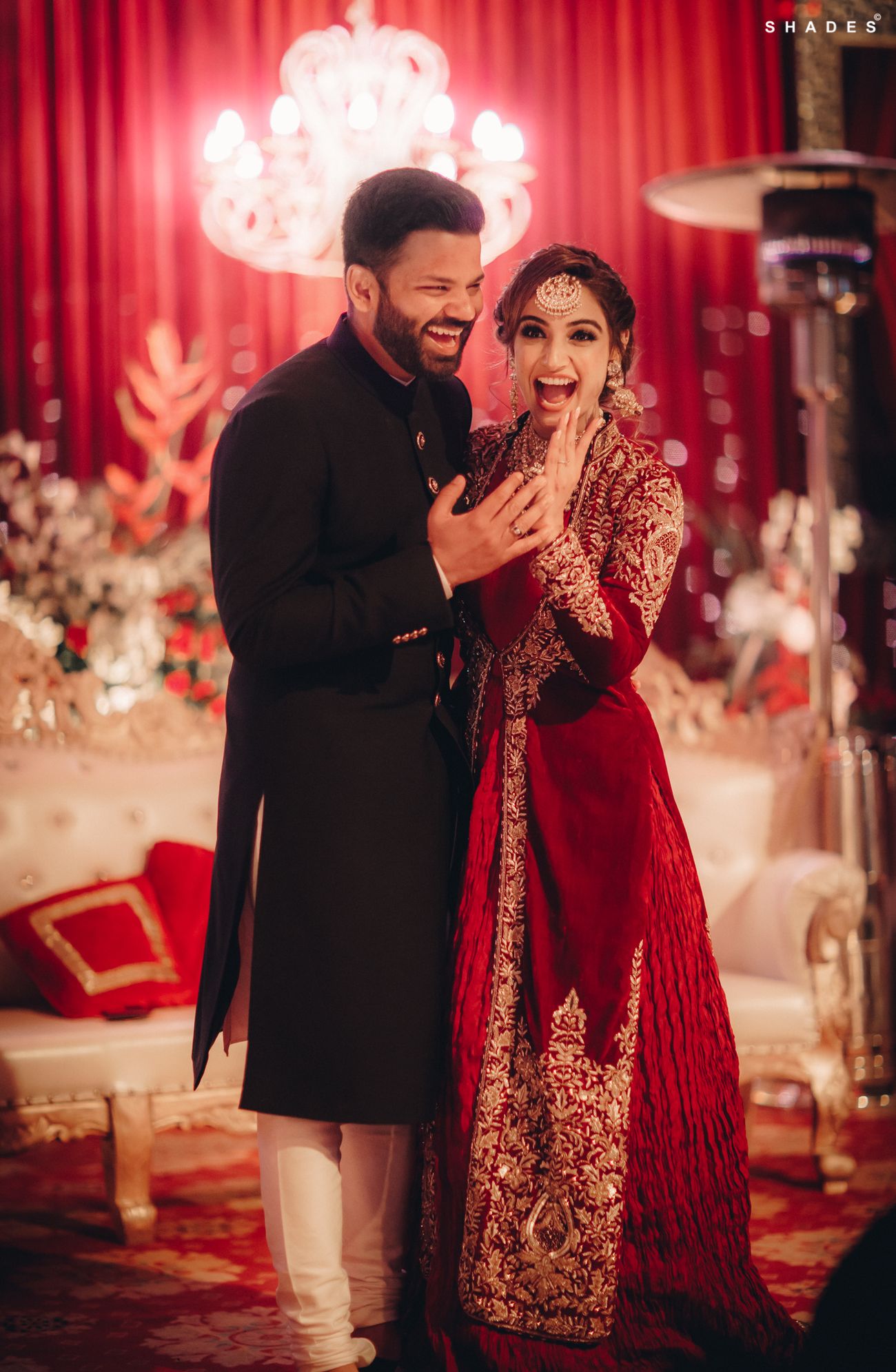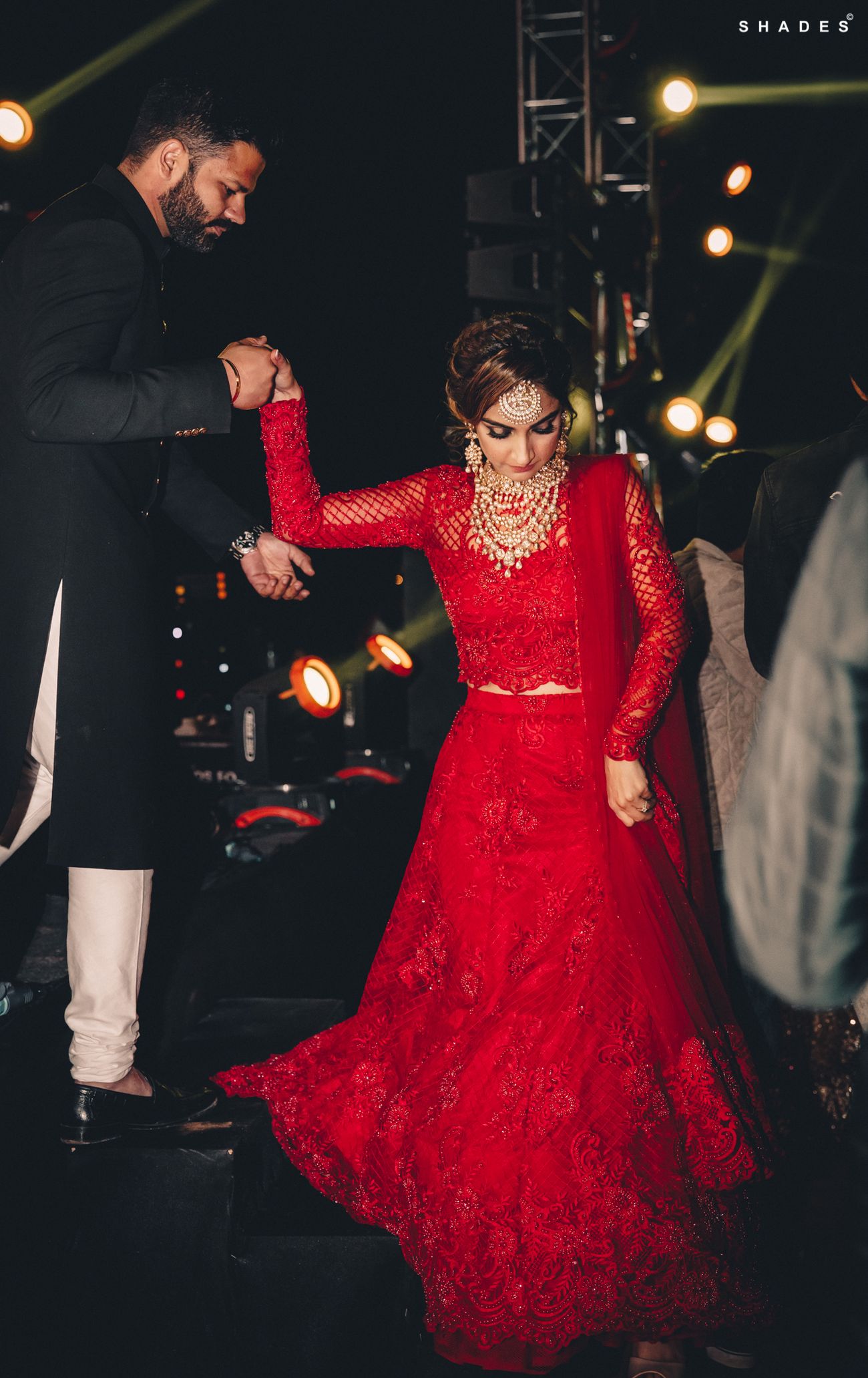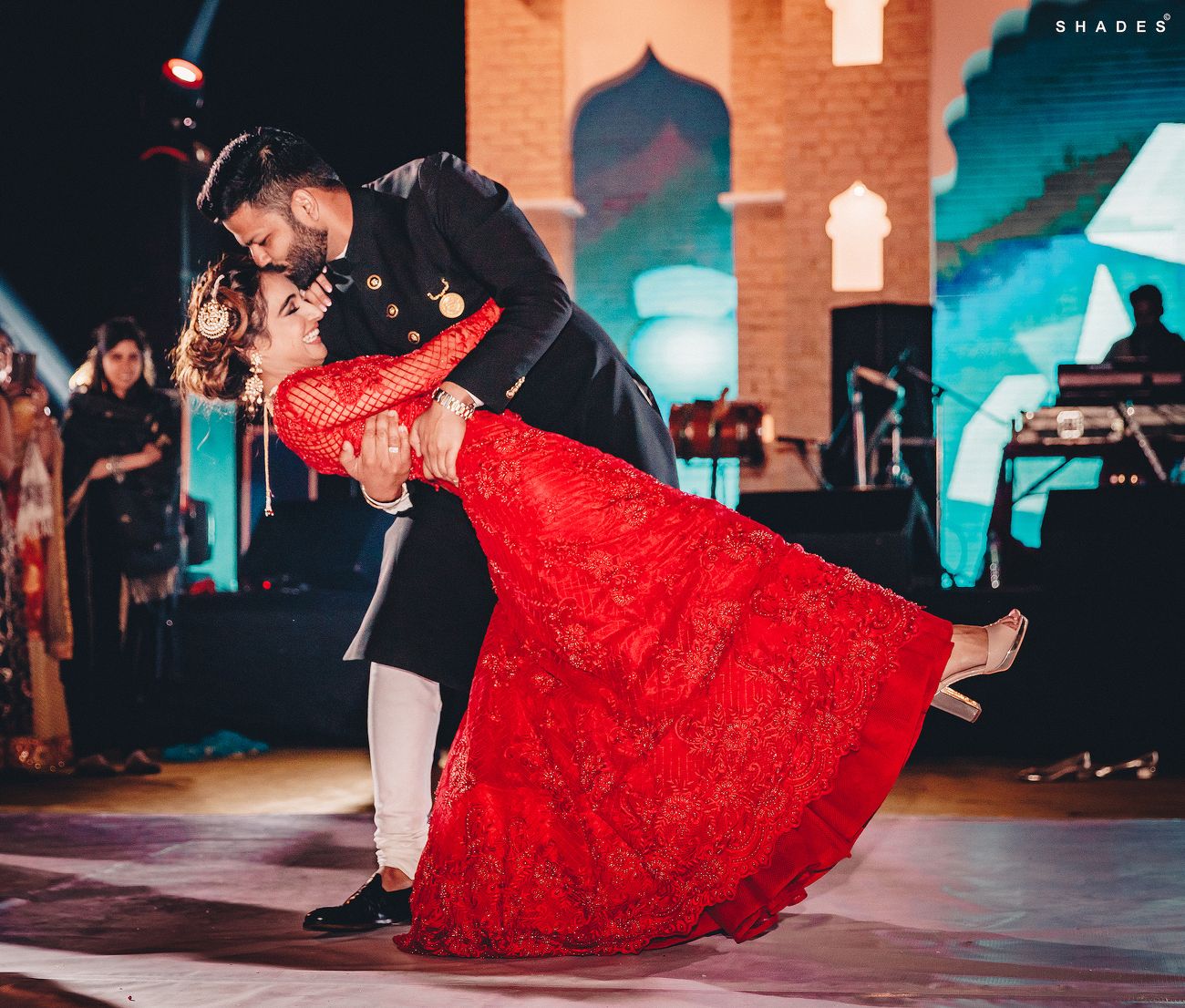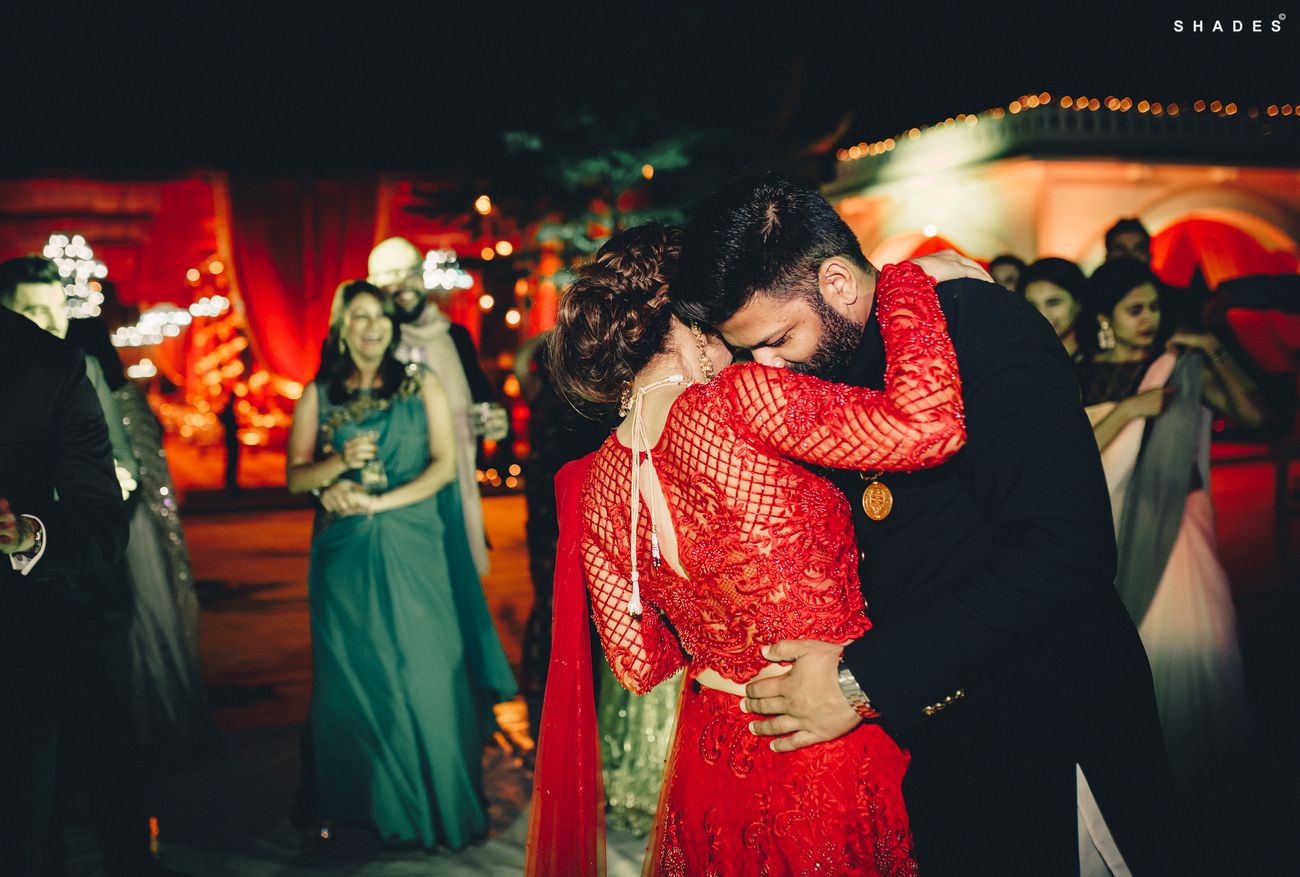 The Mehendi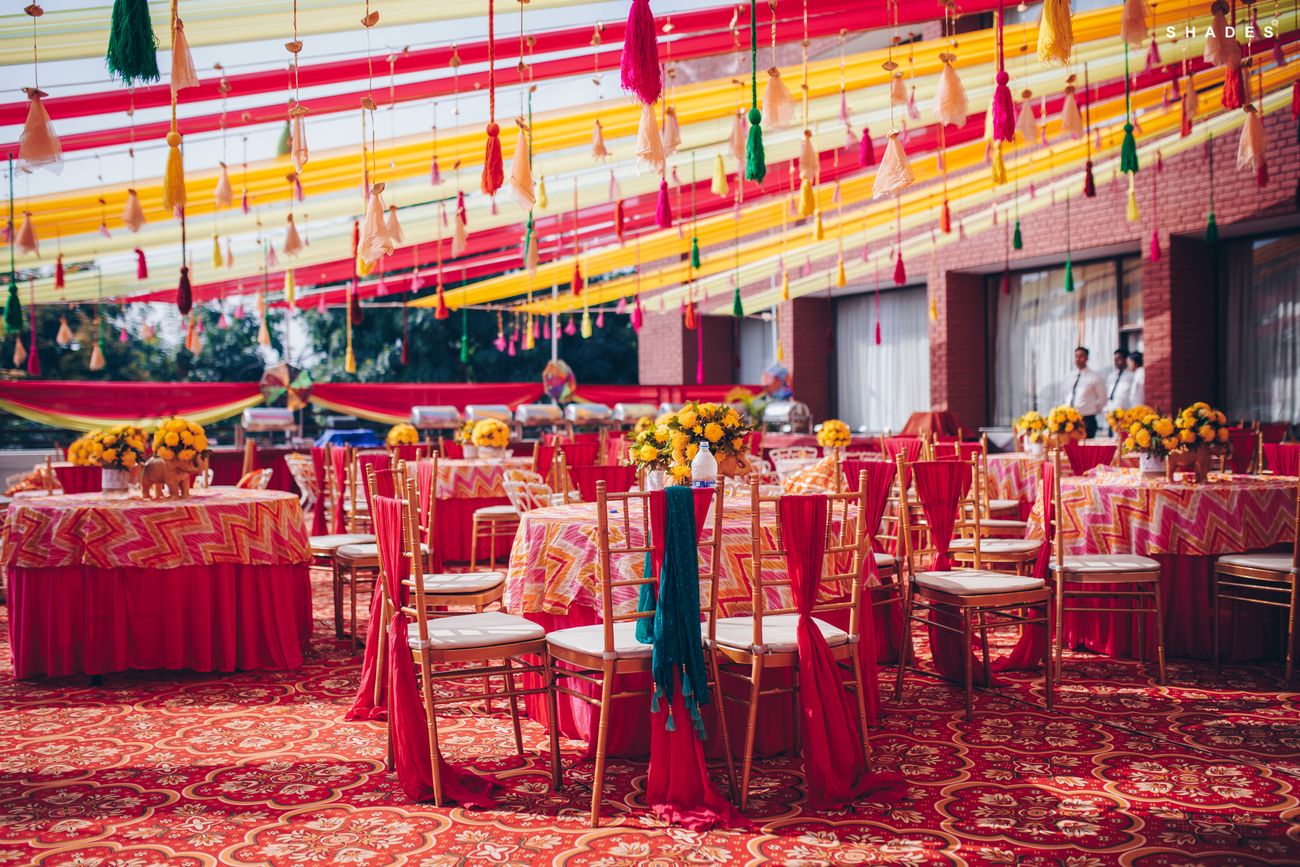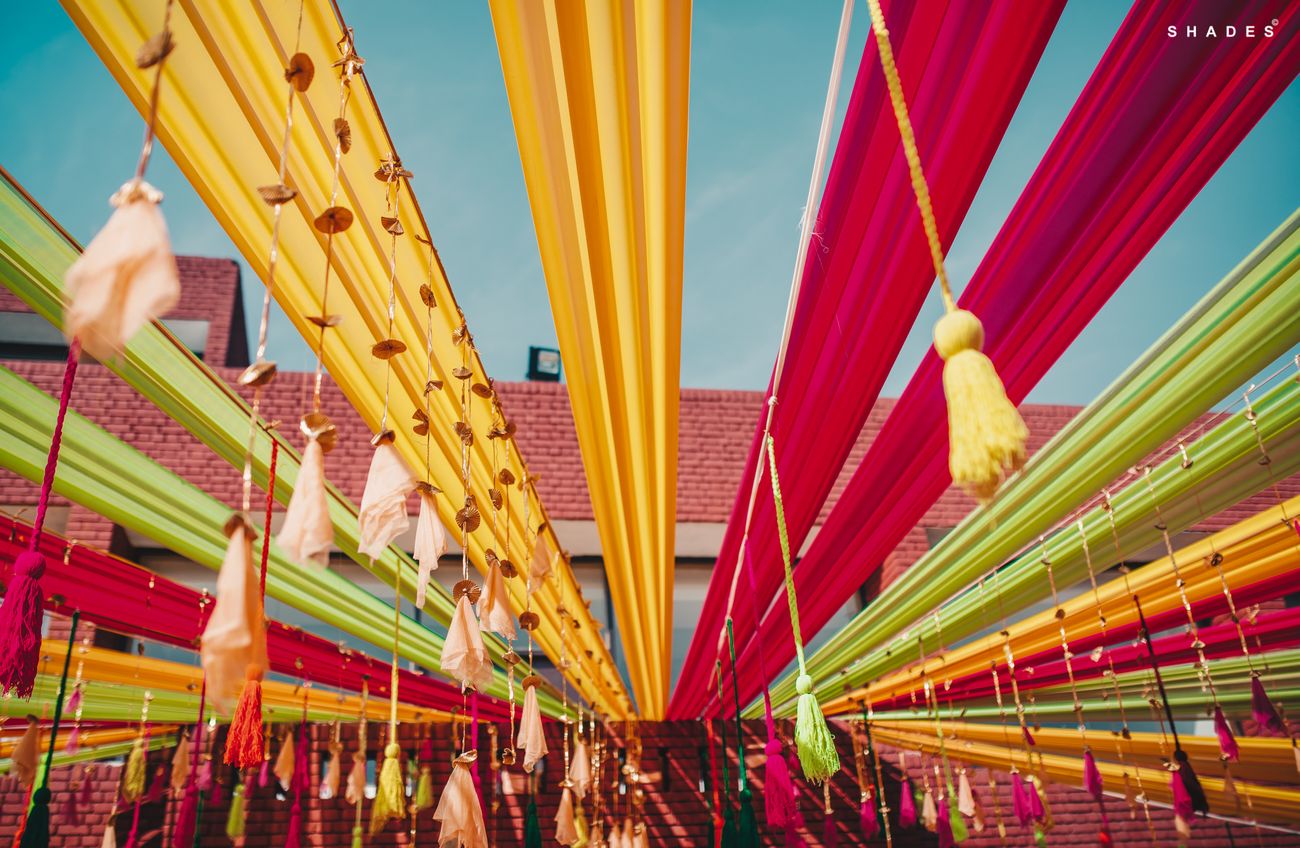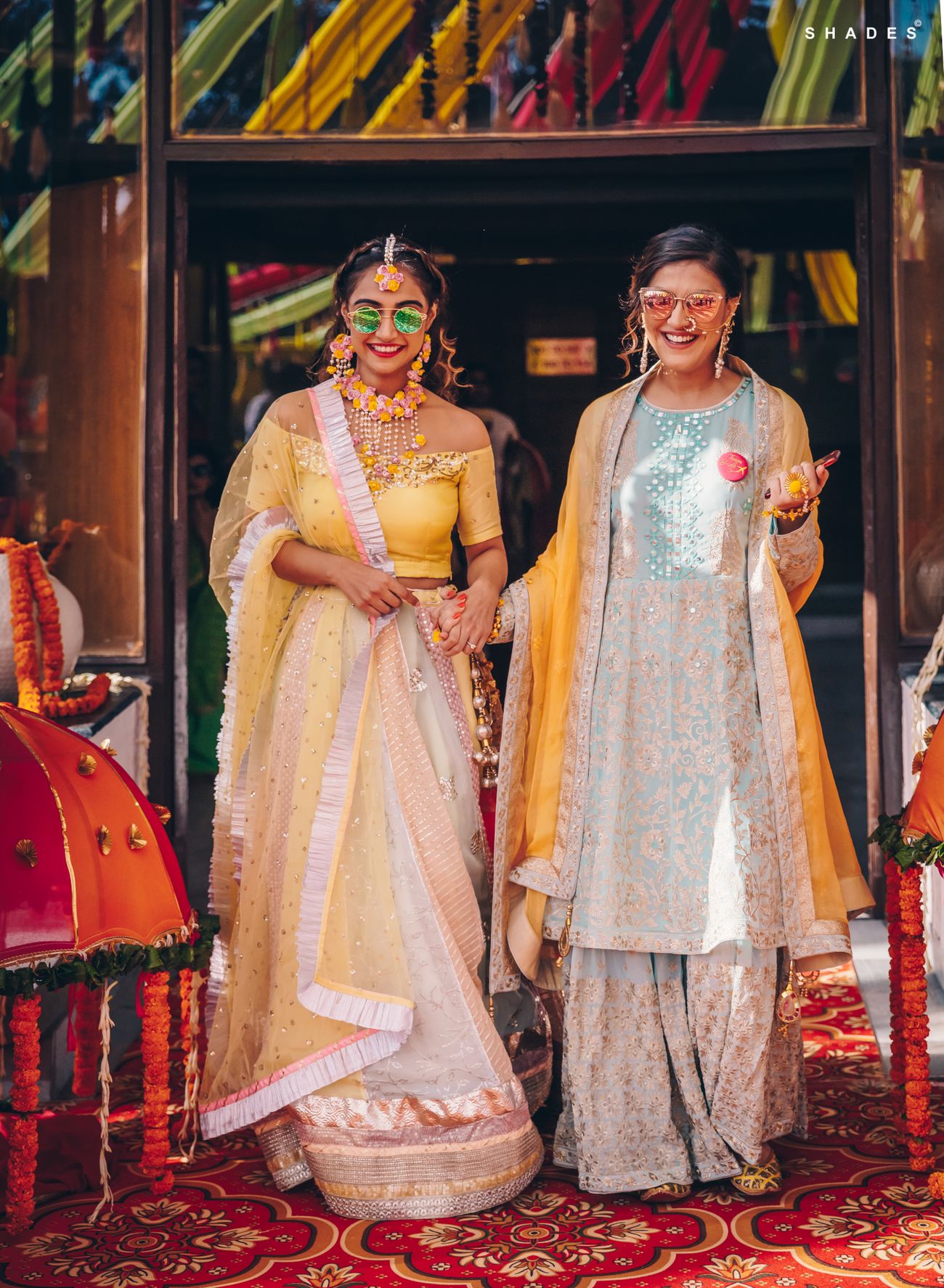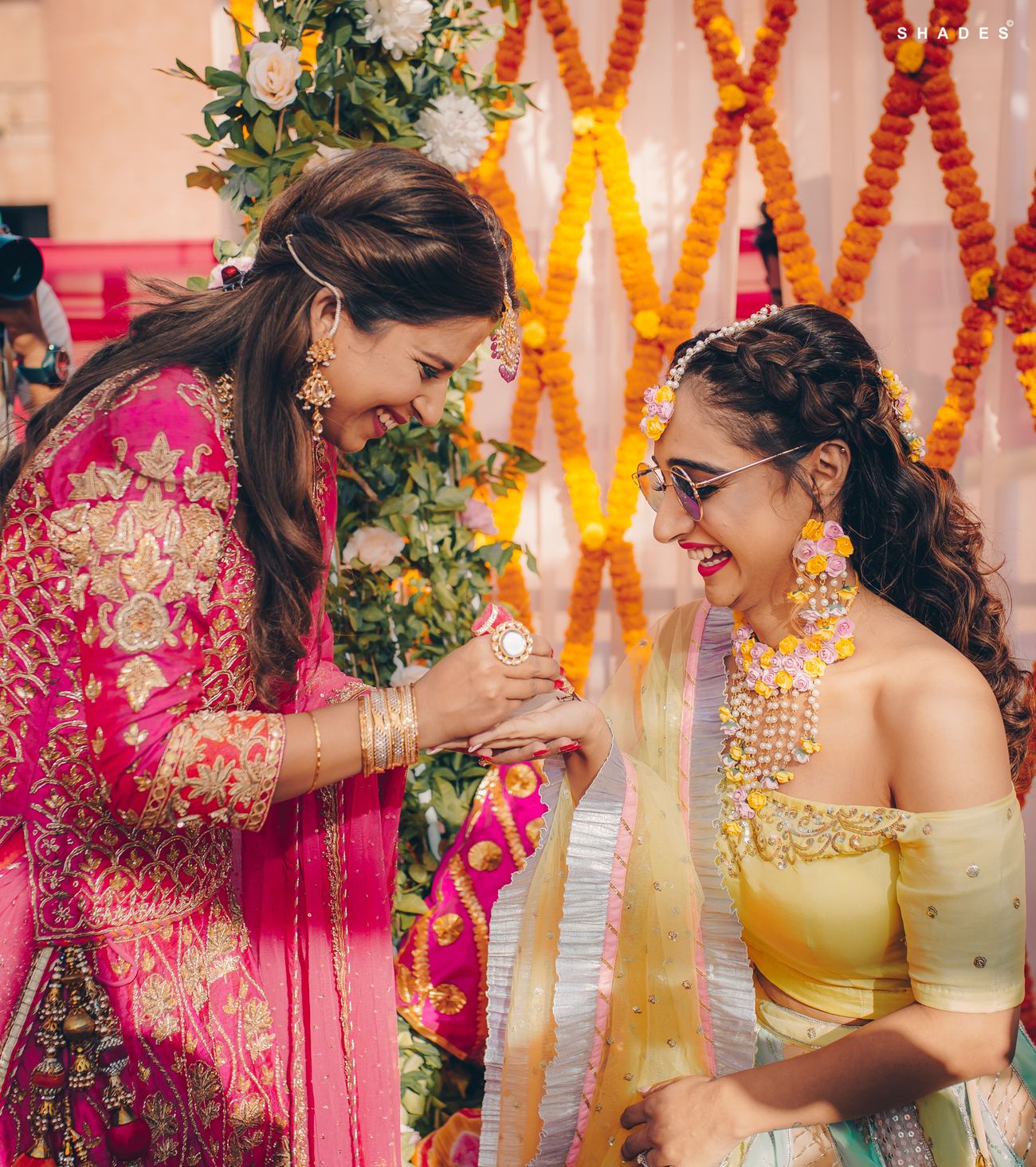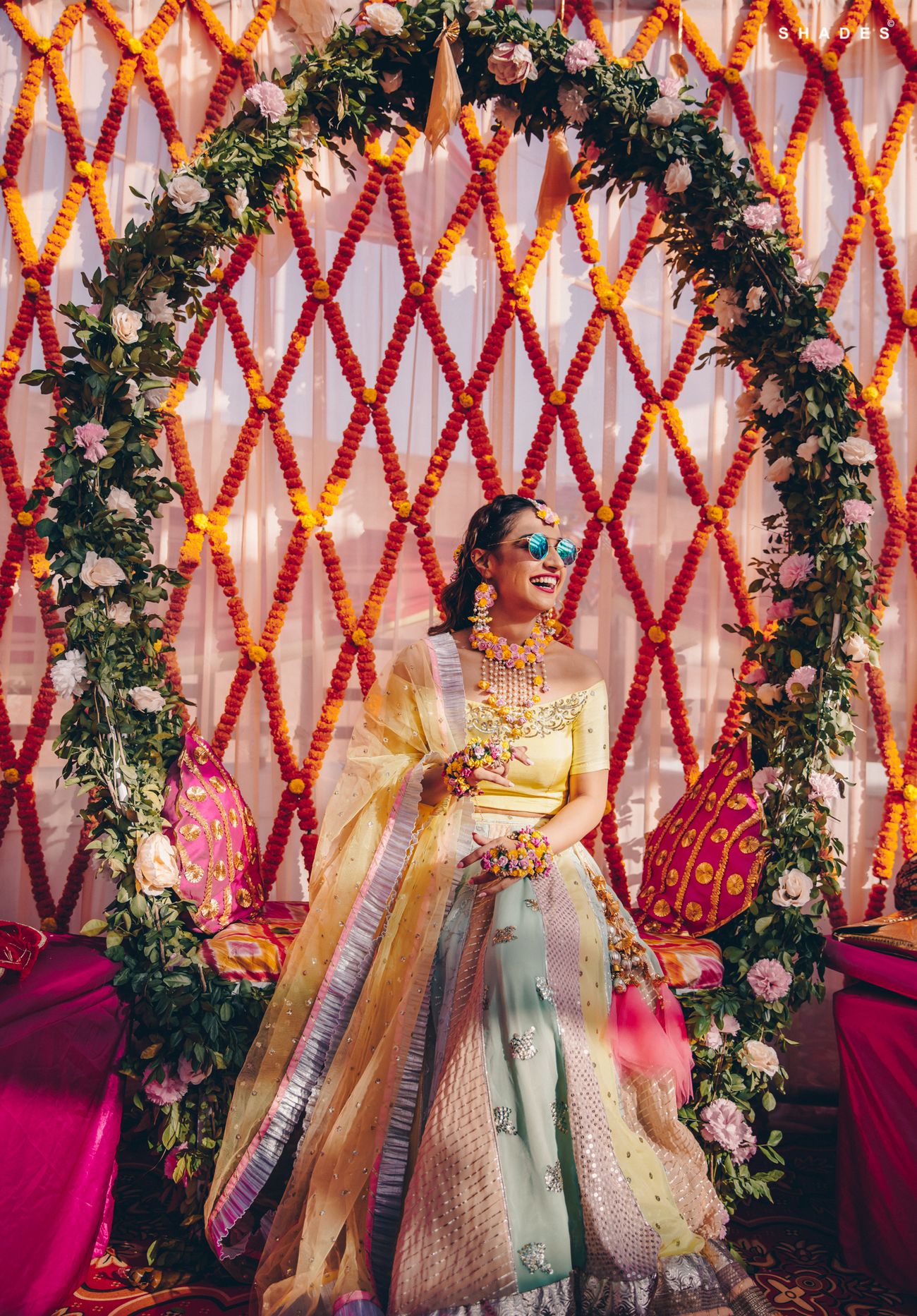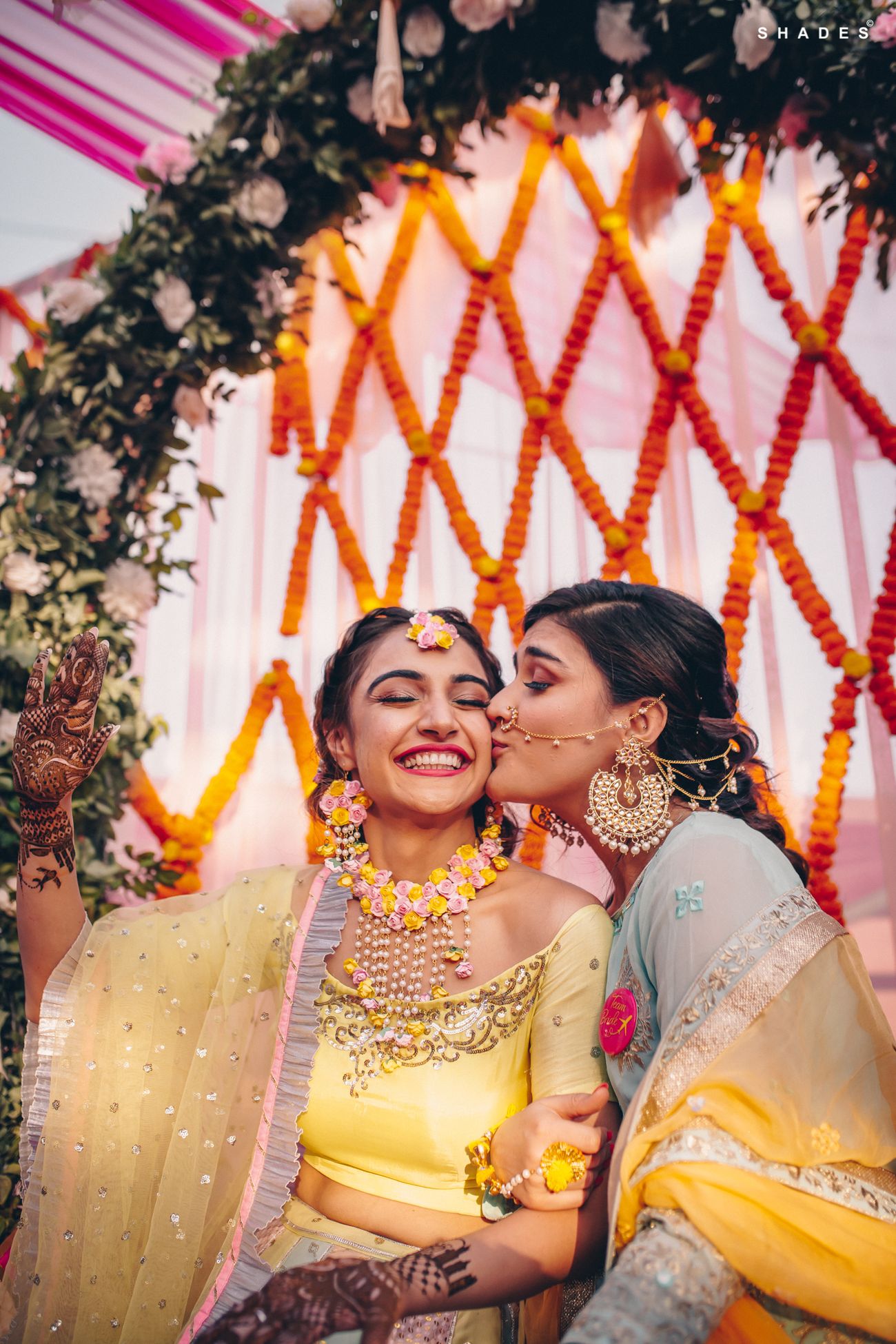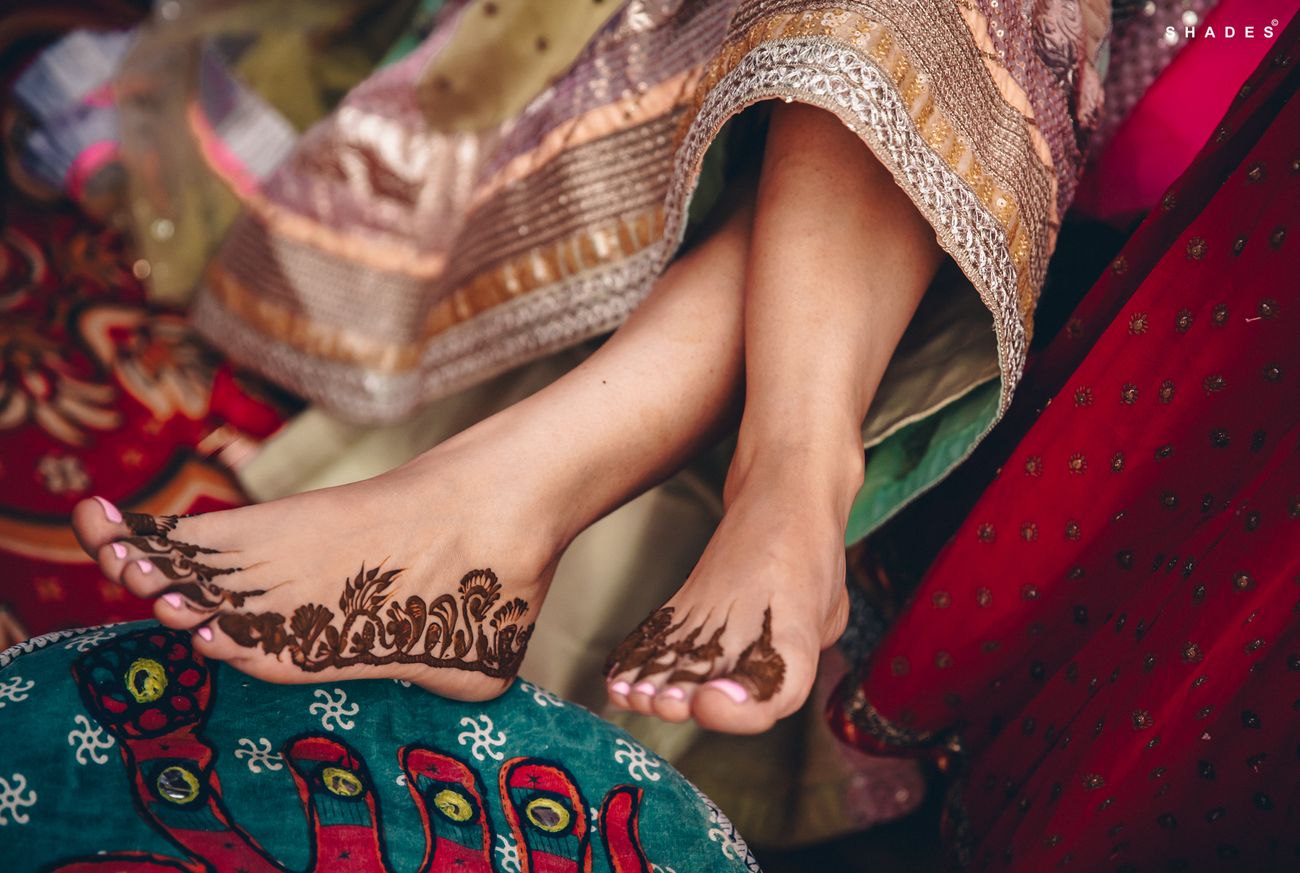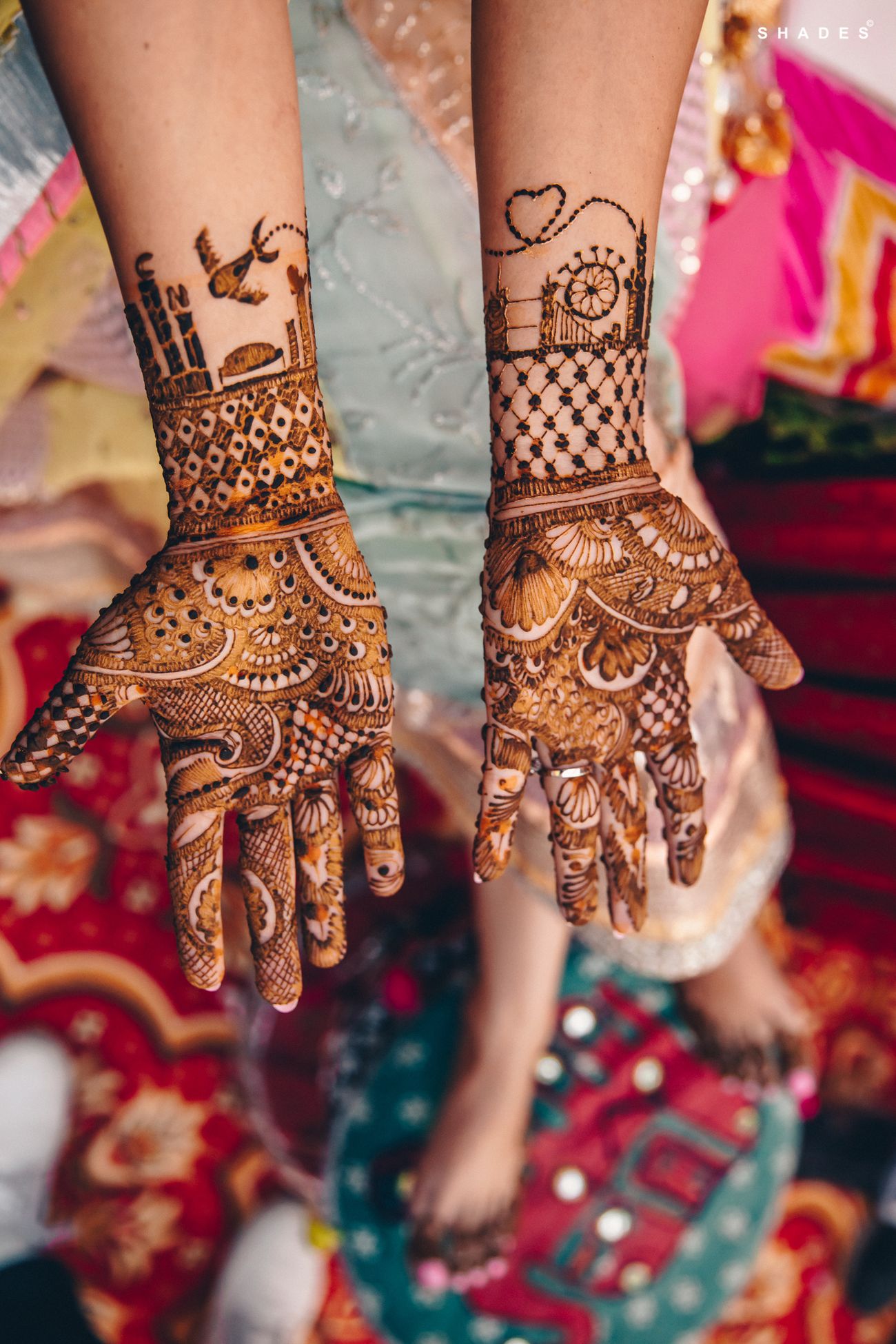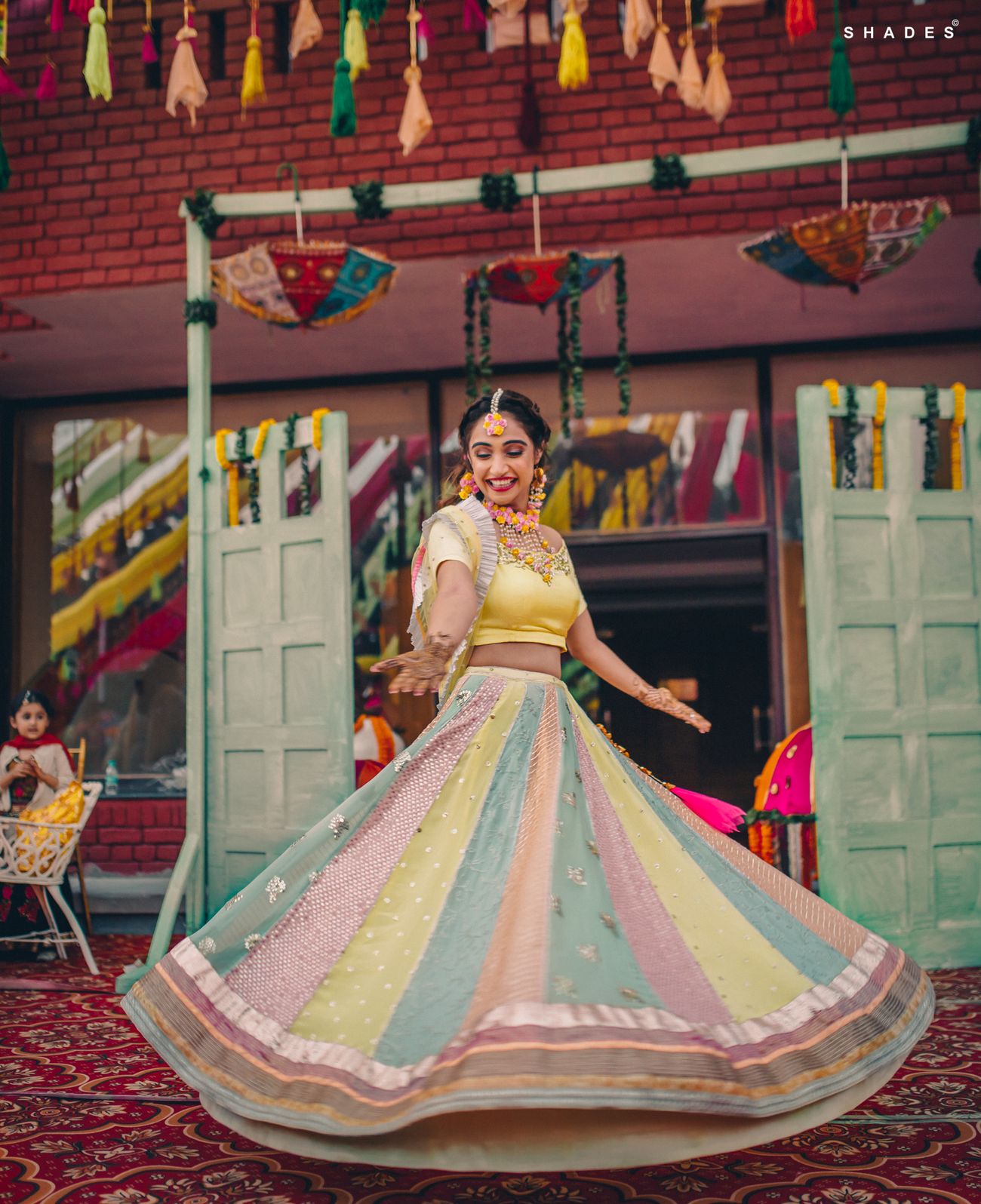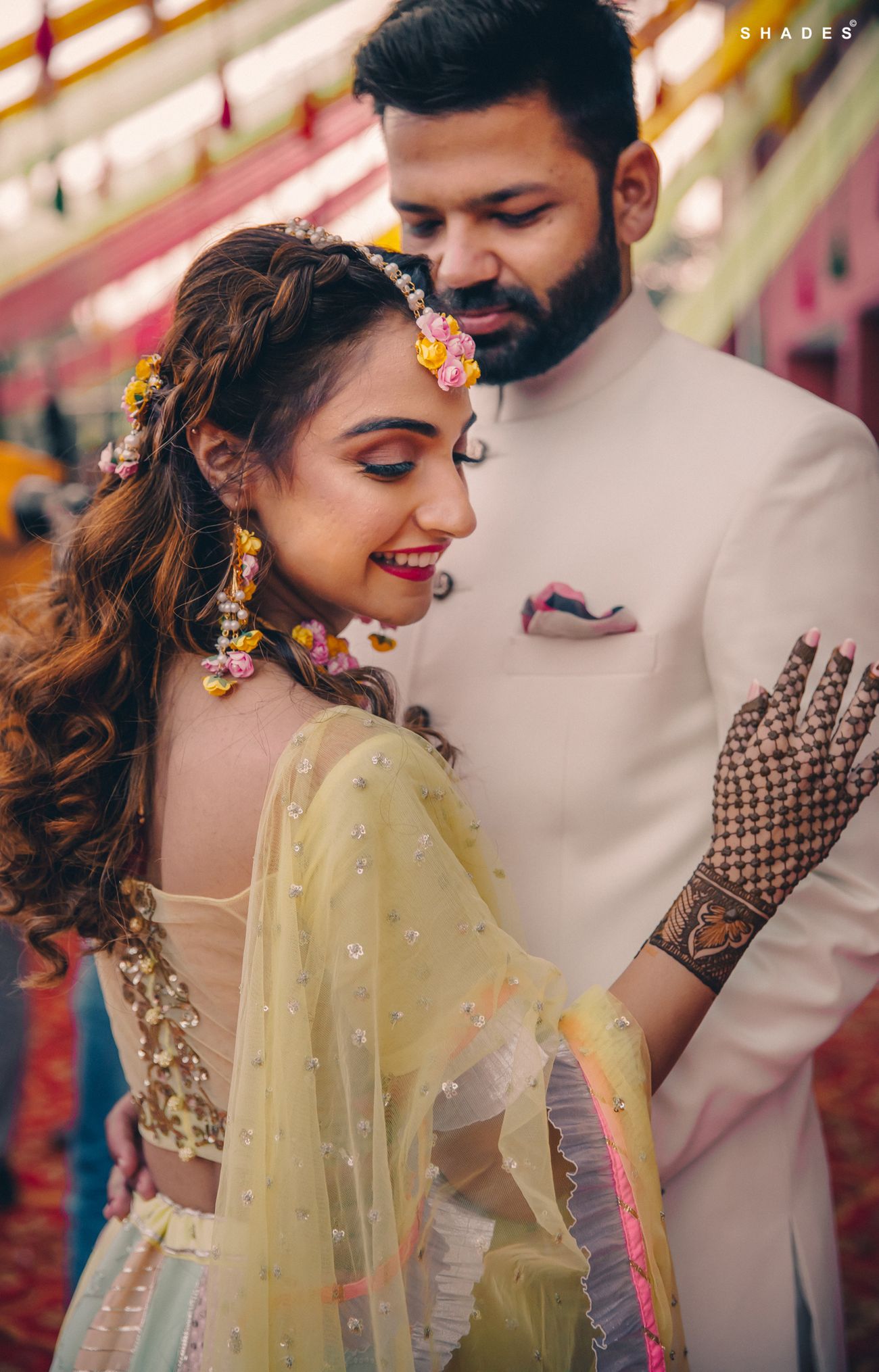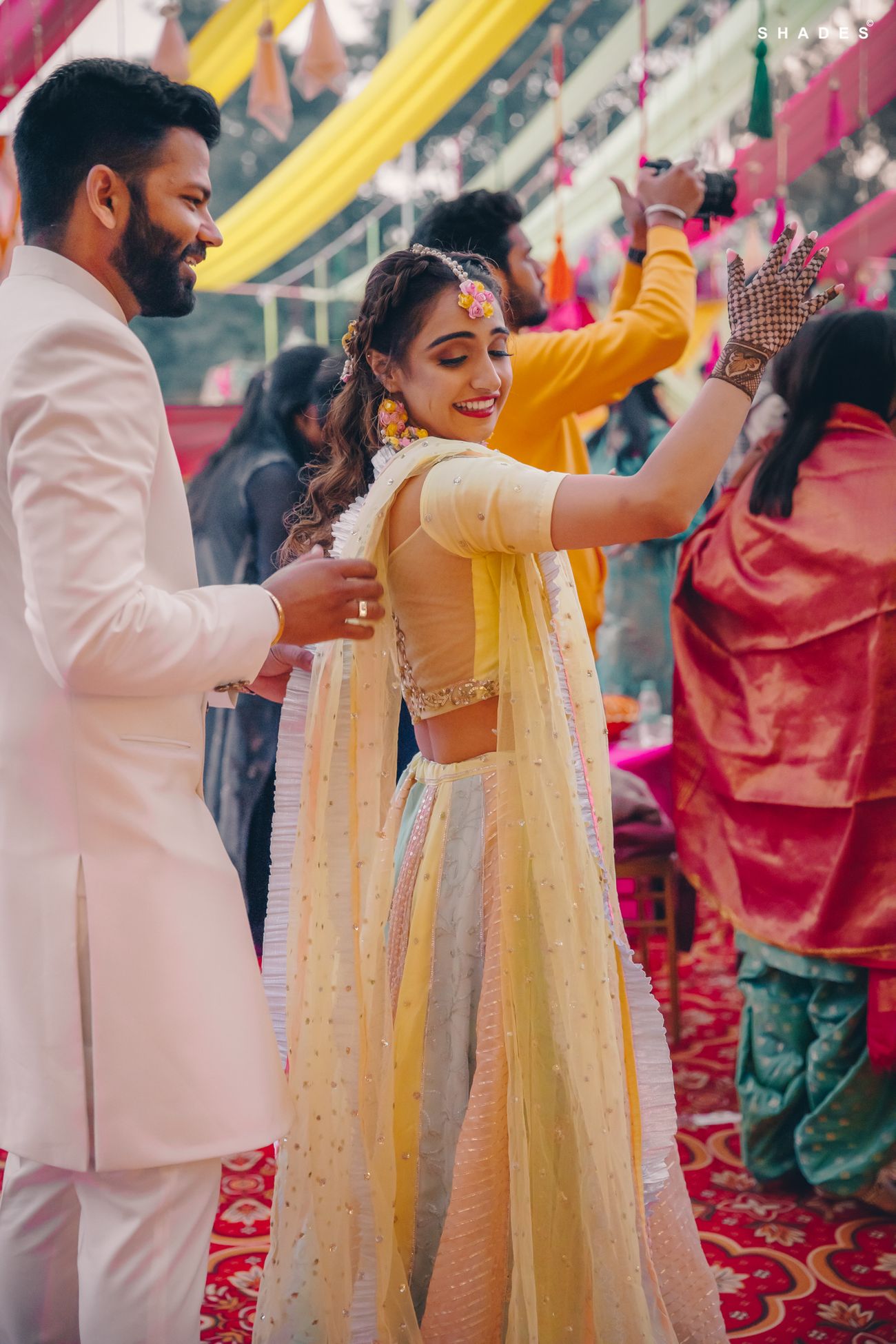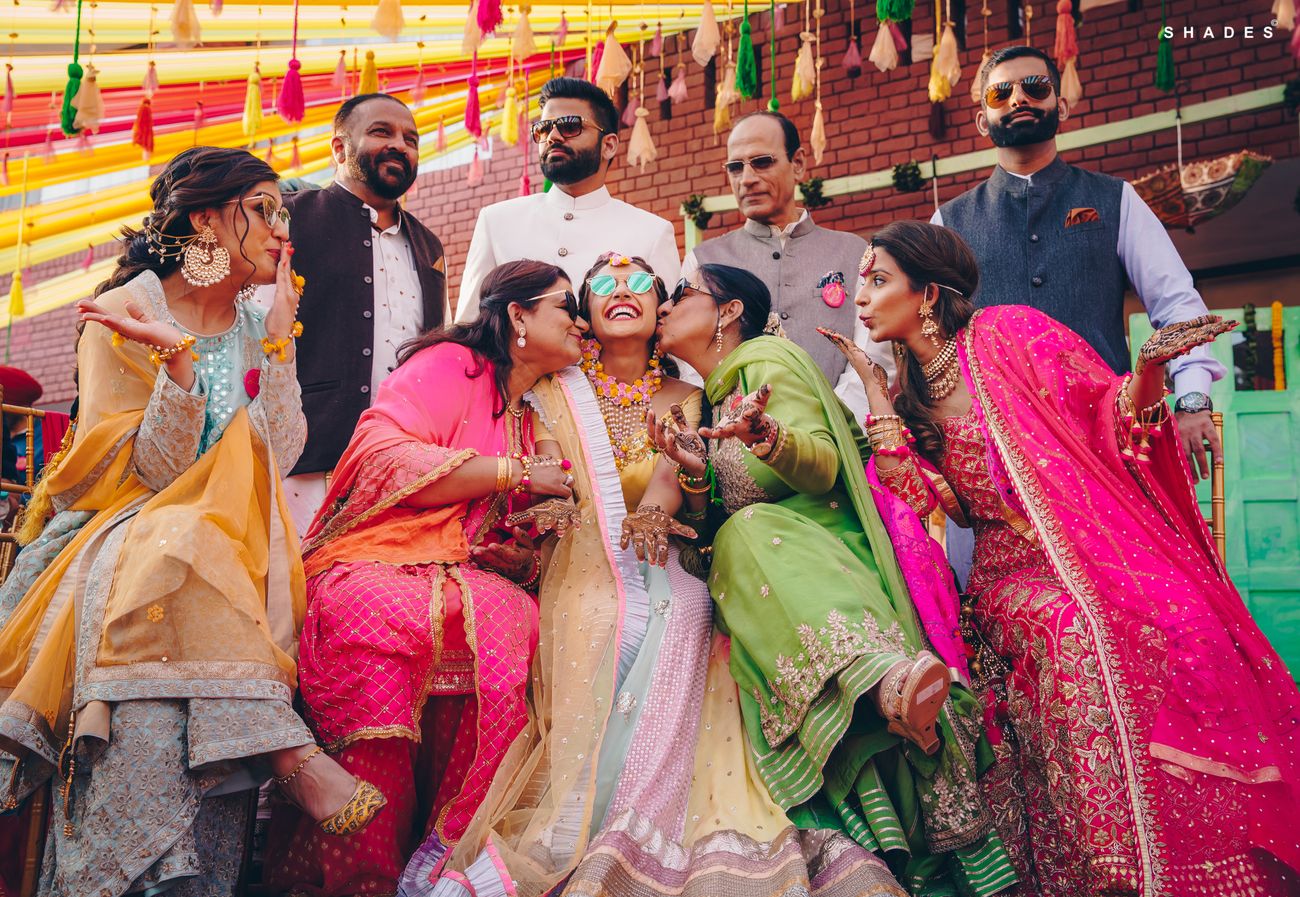 The Wedding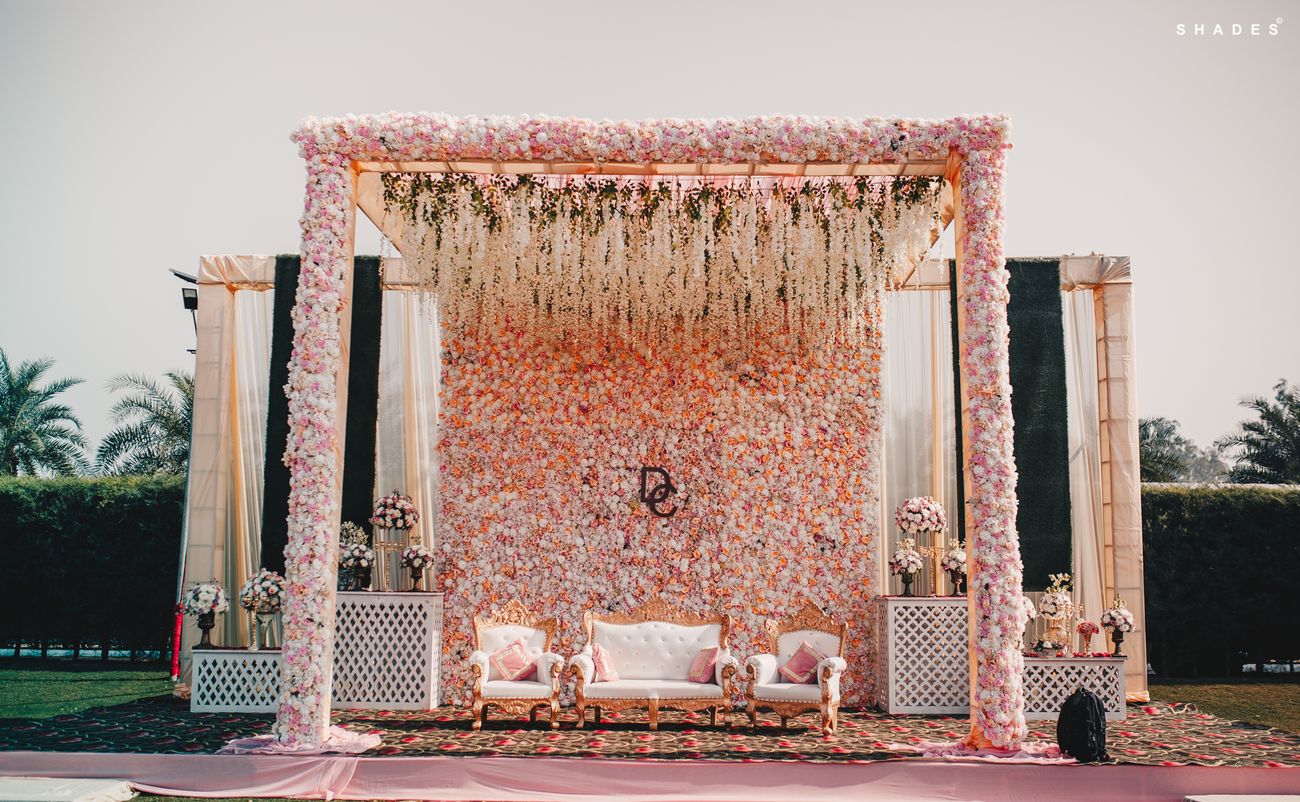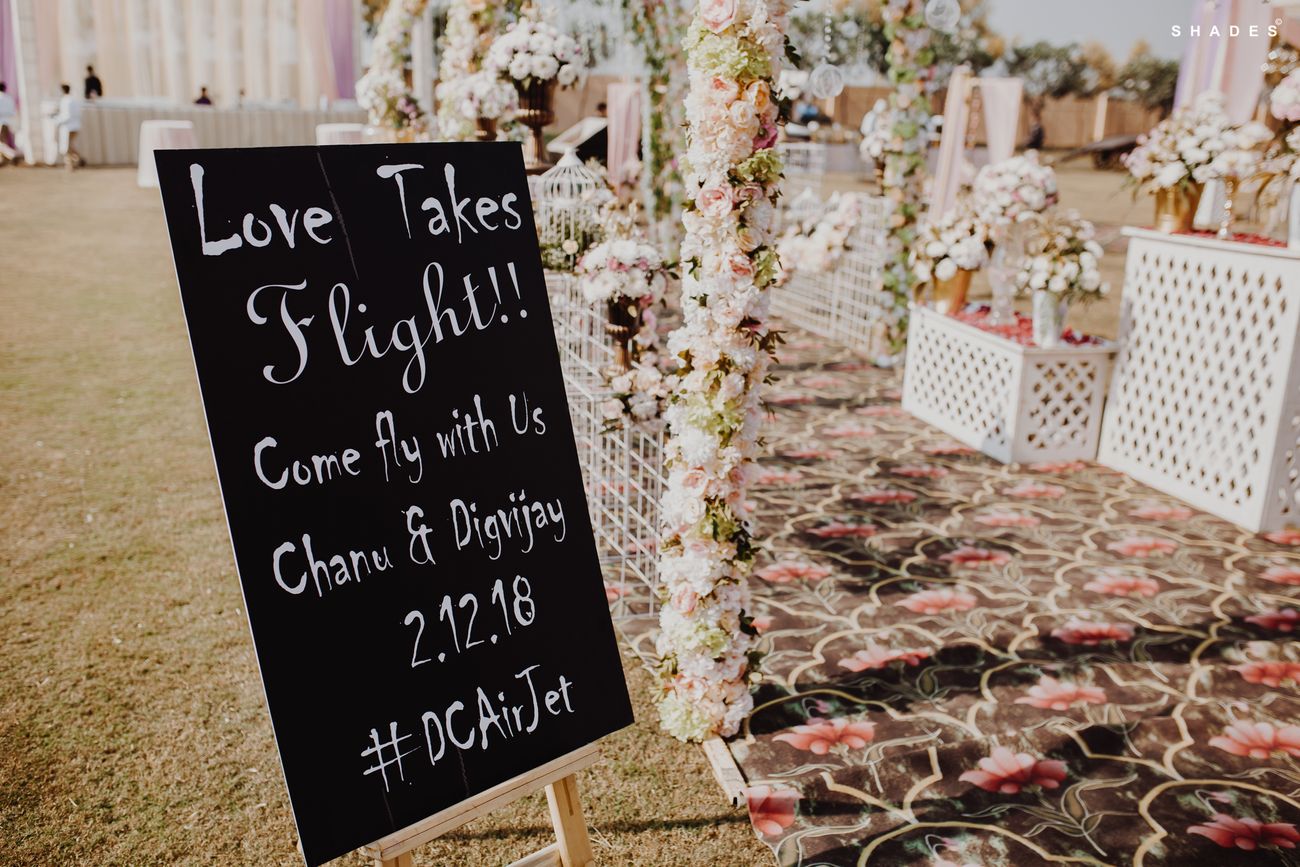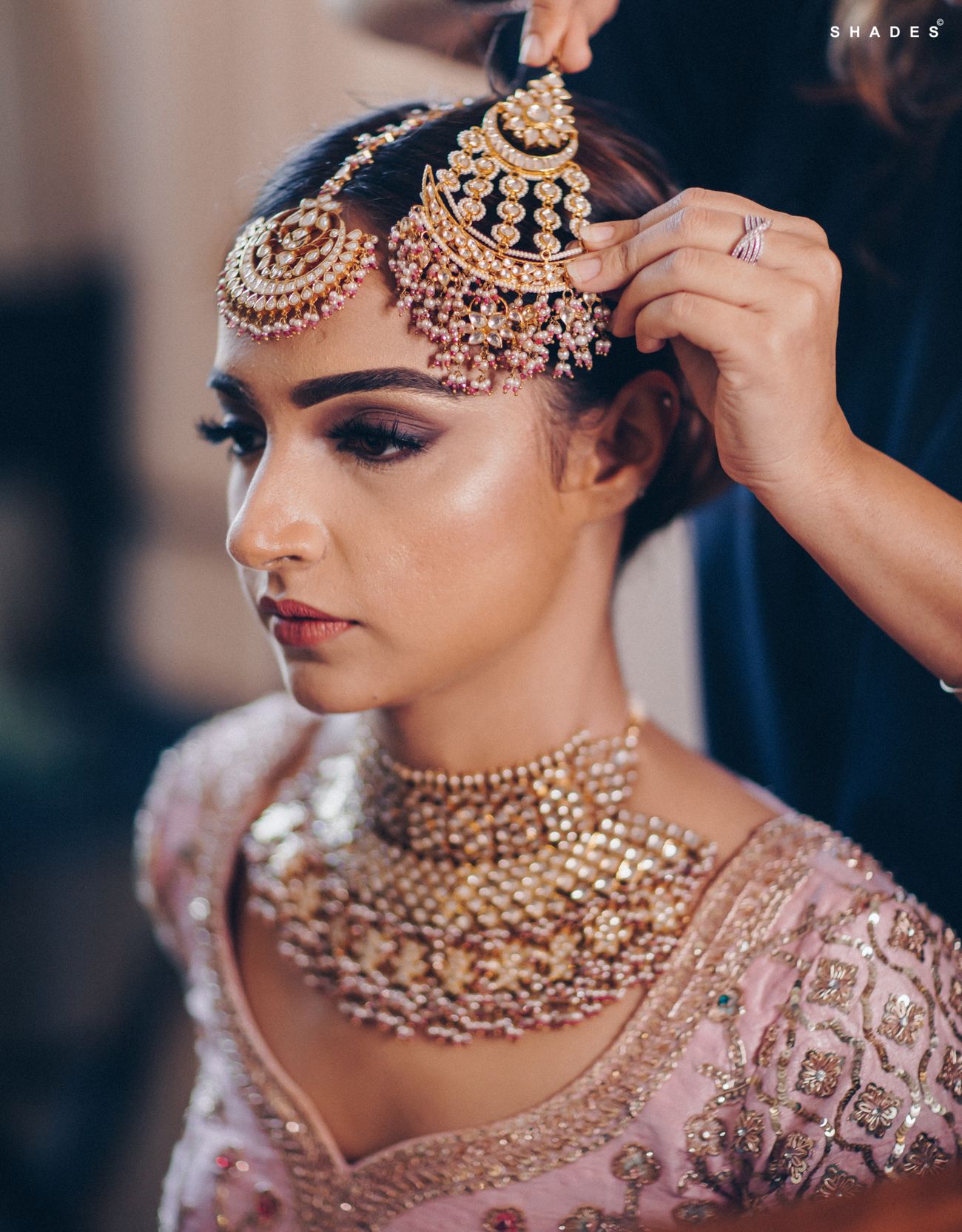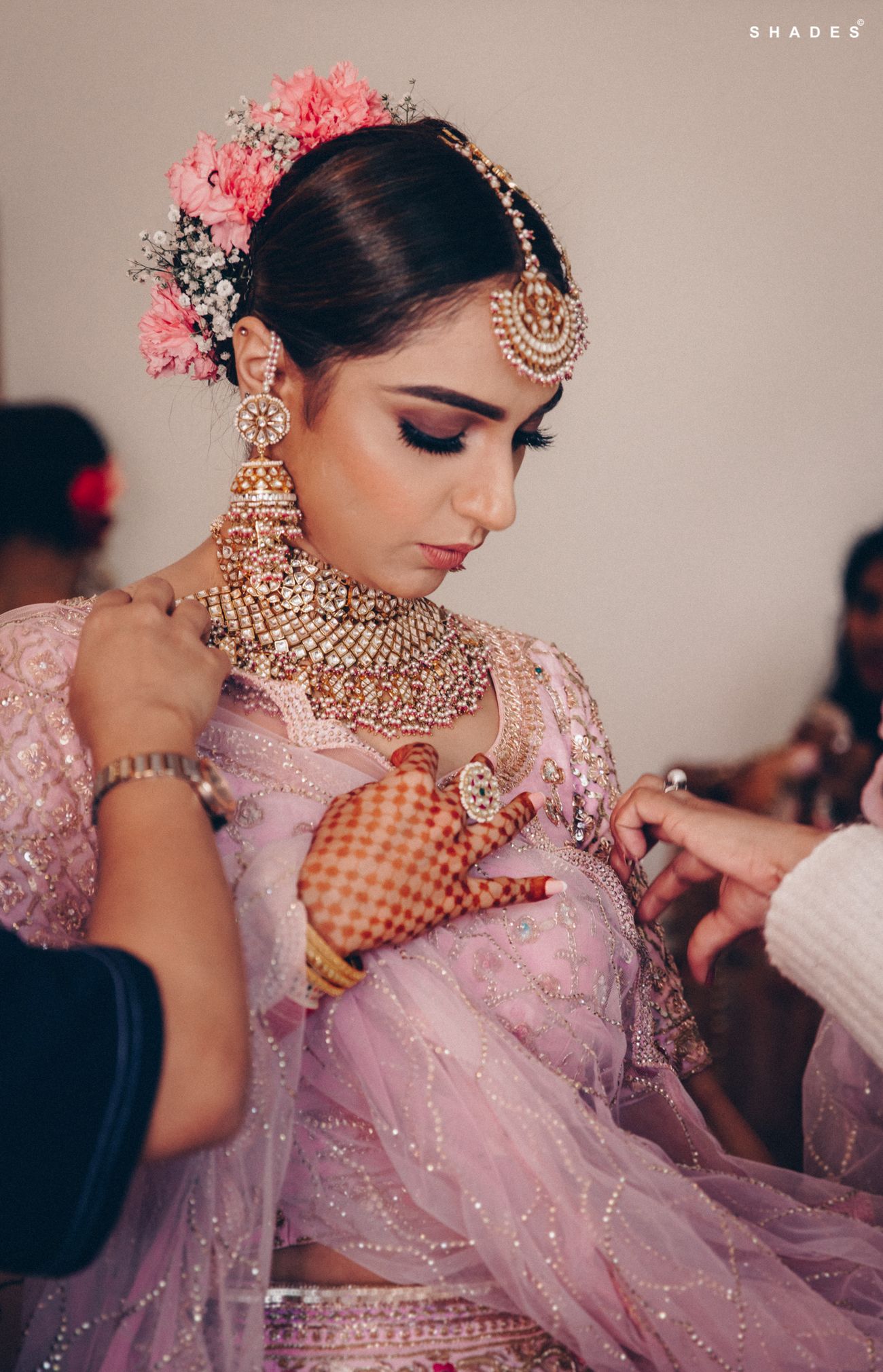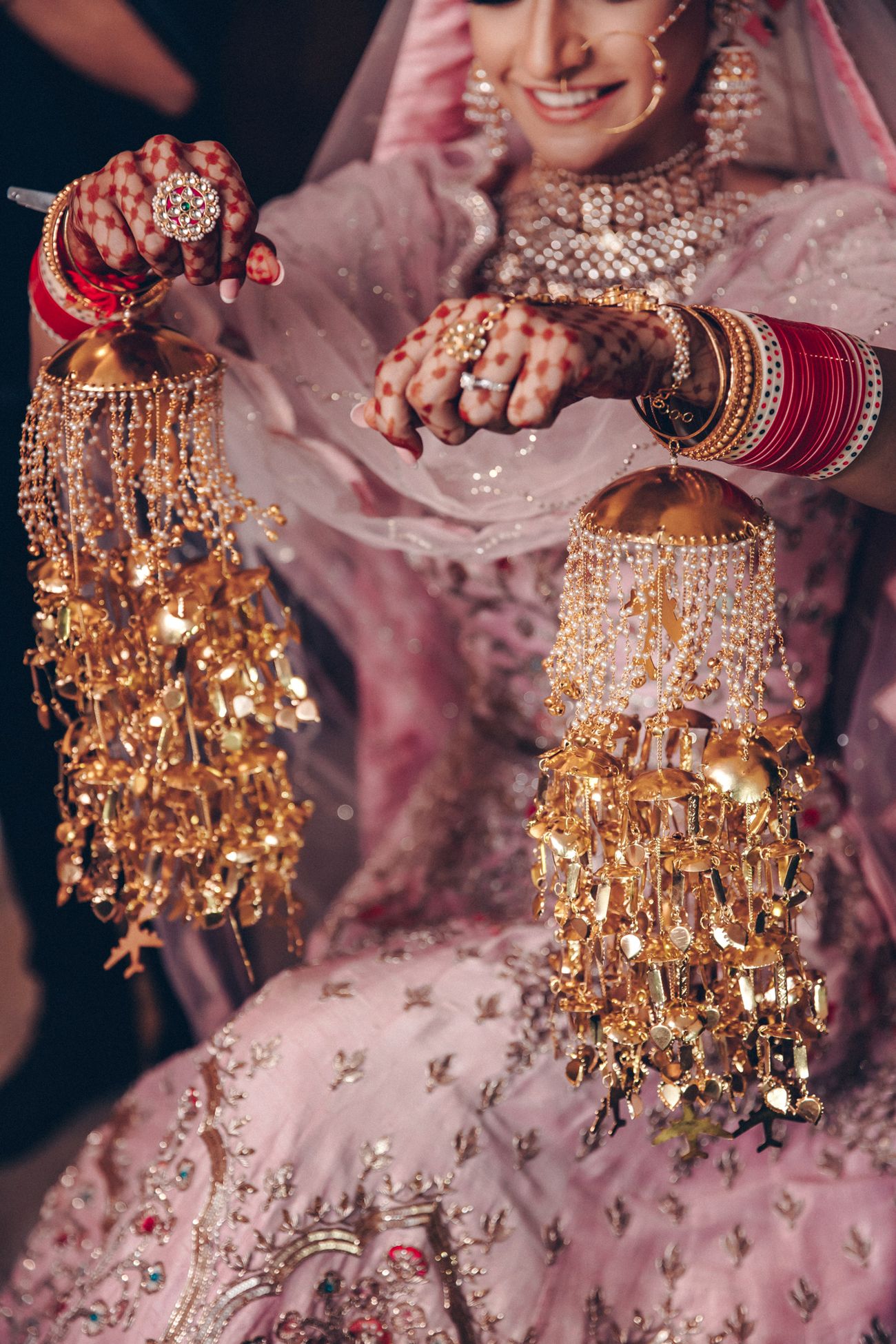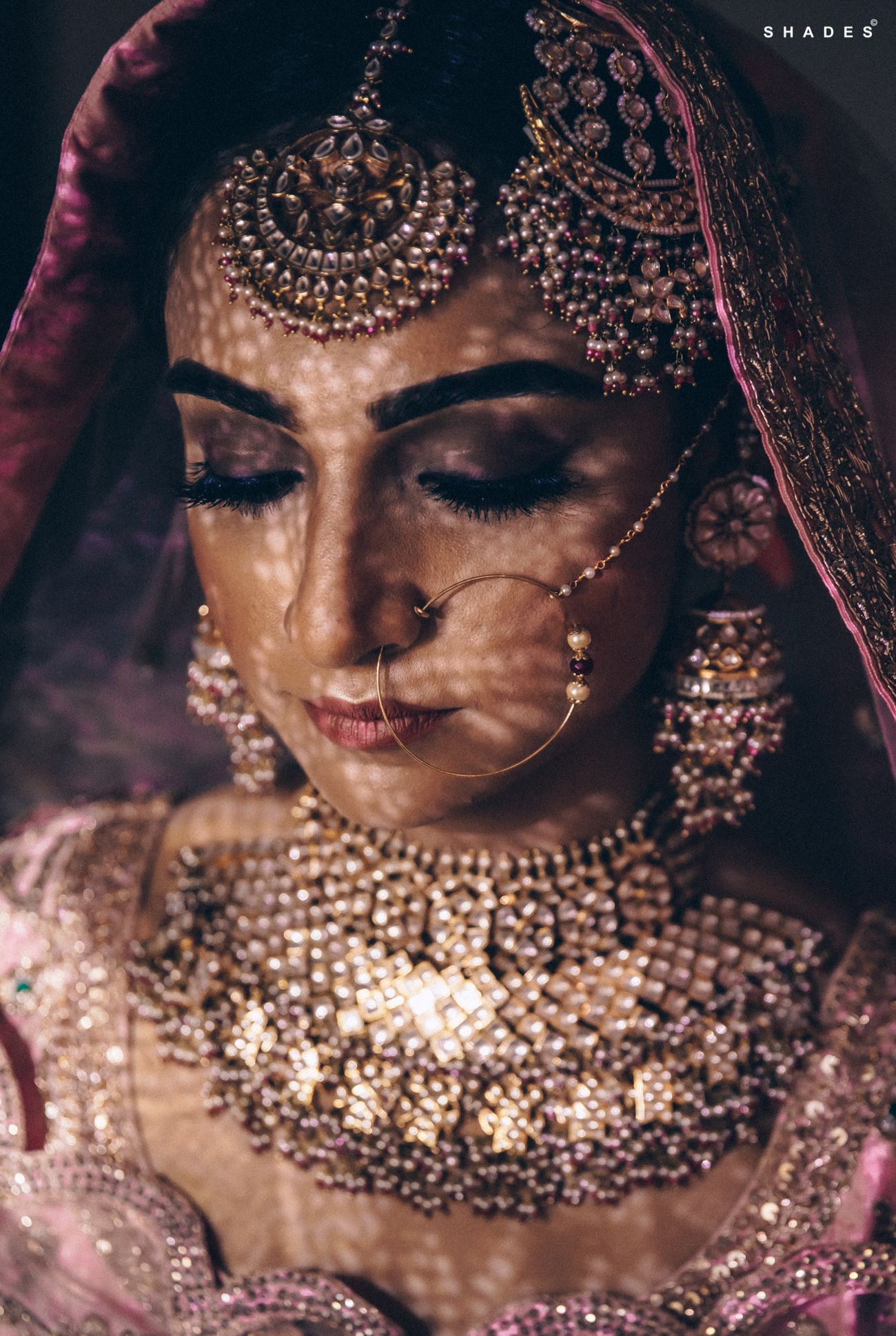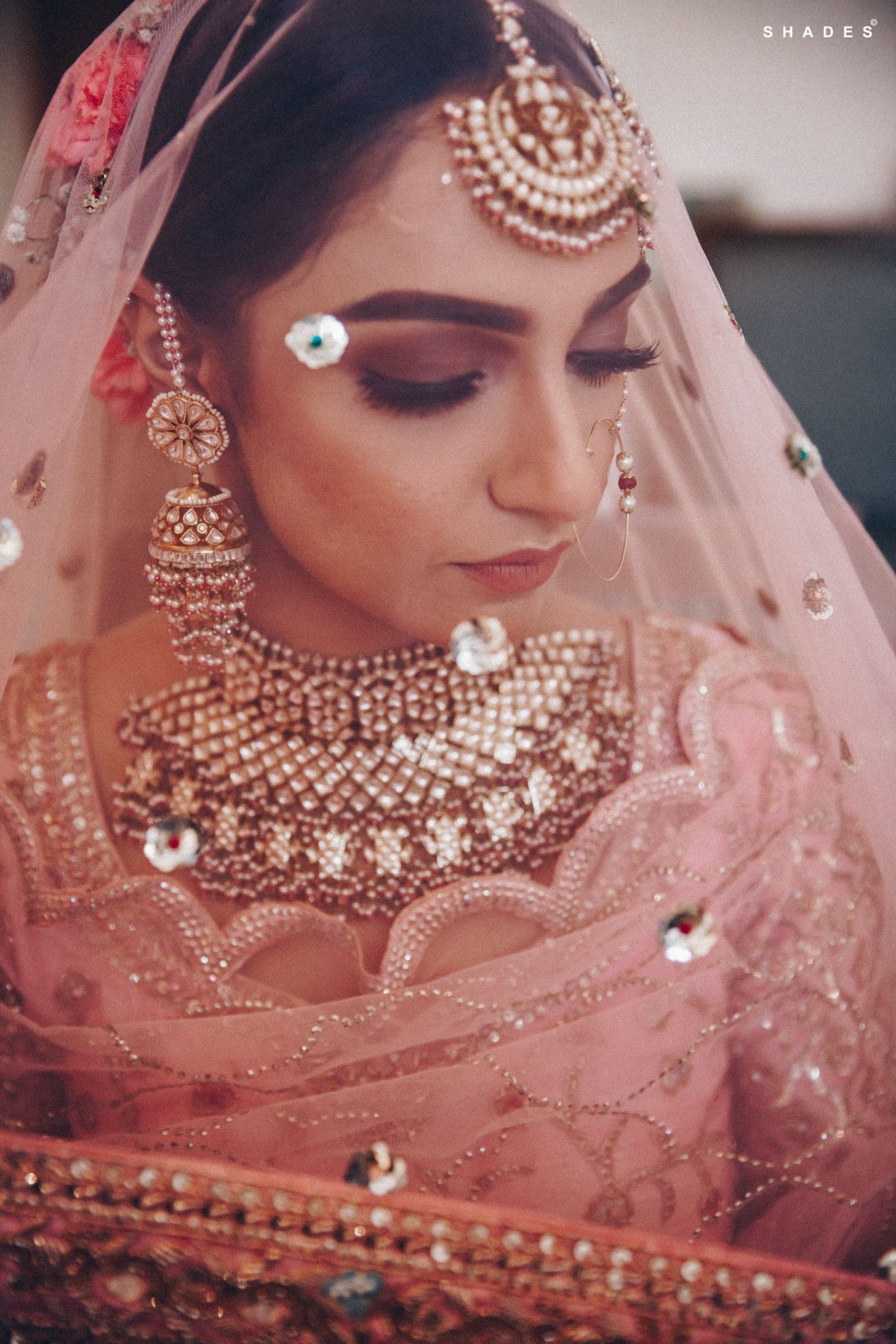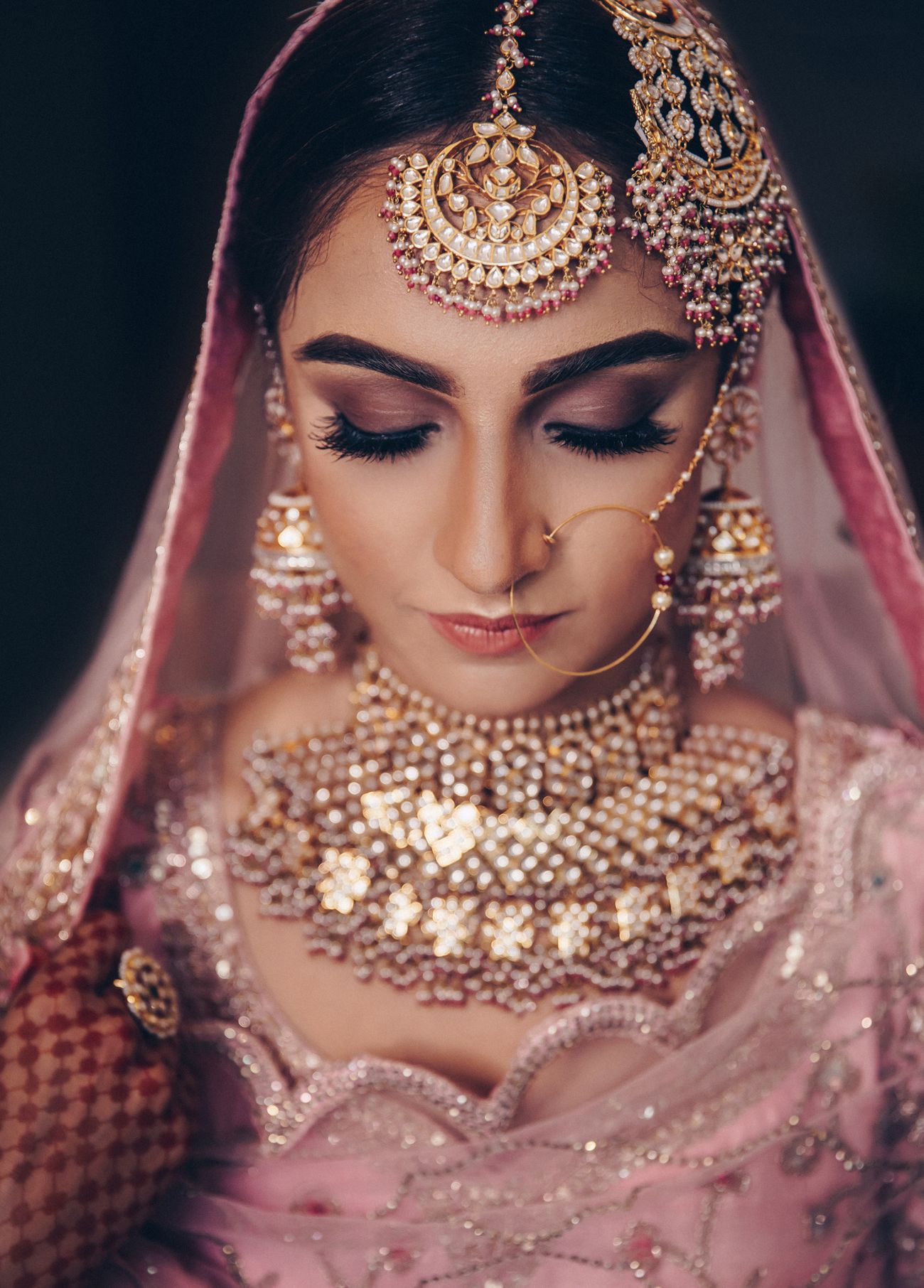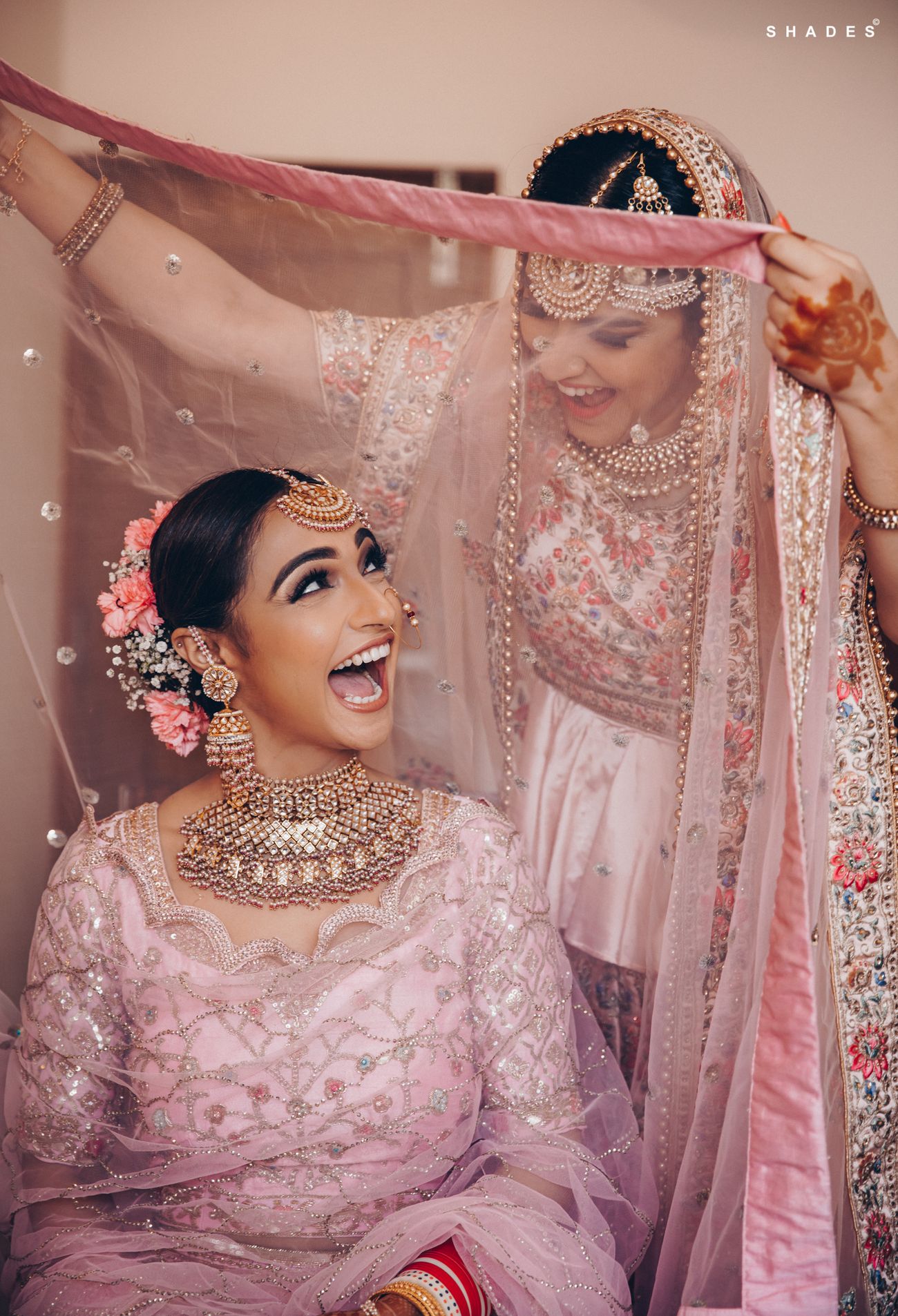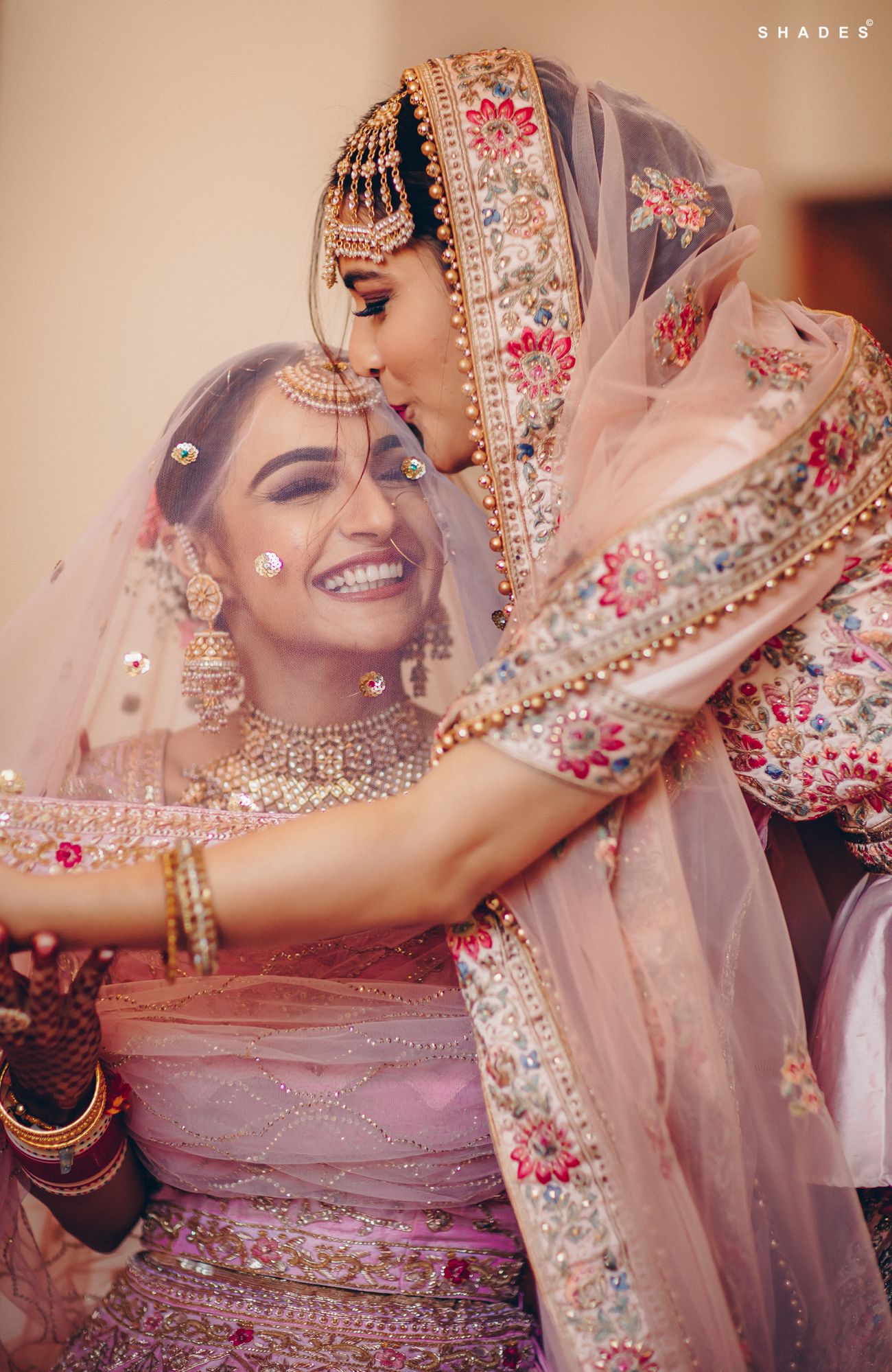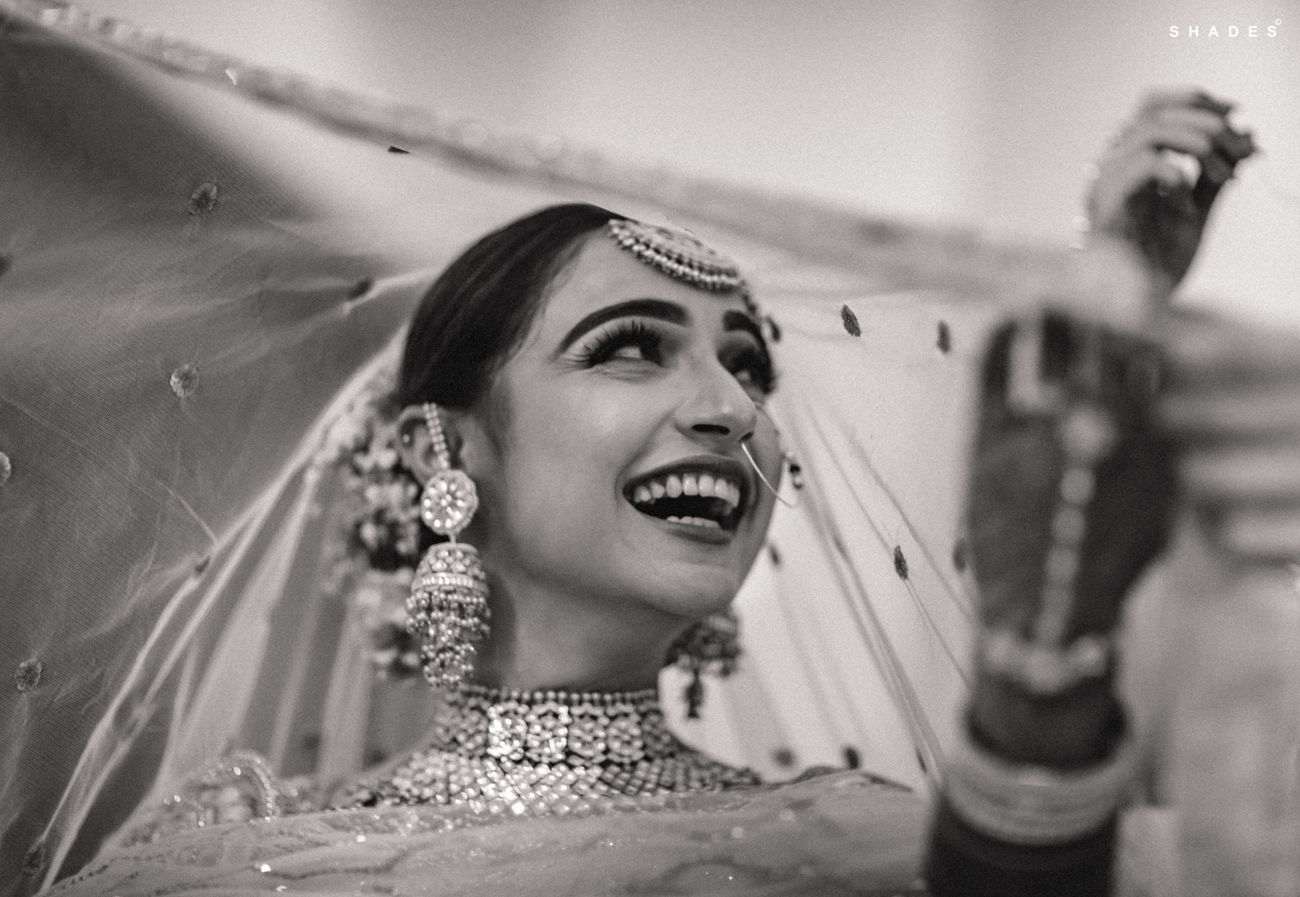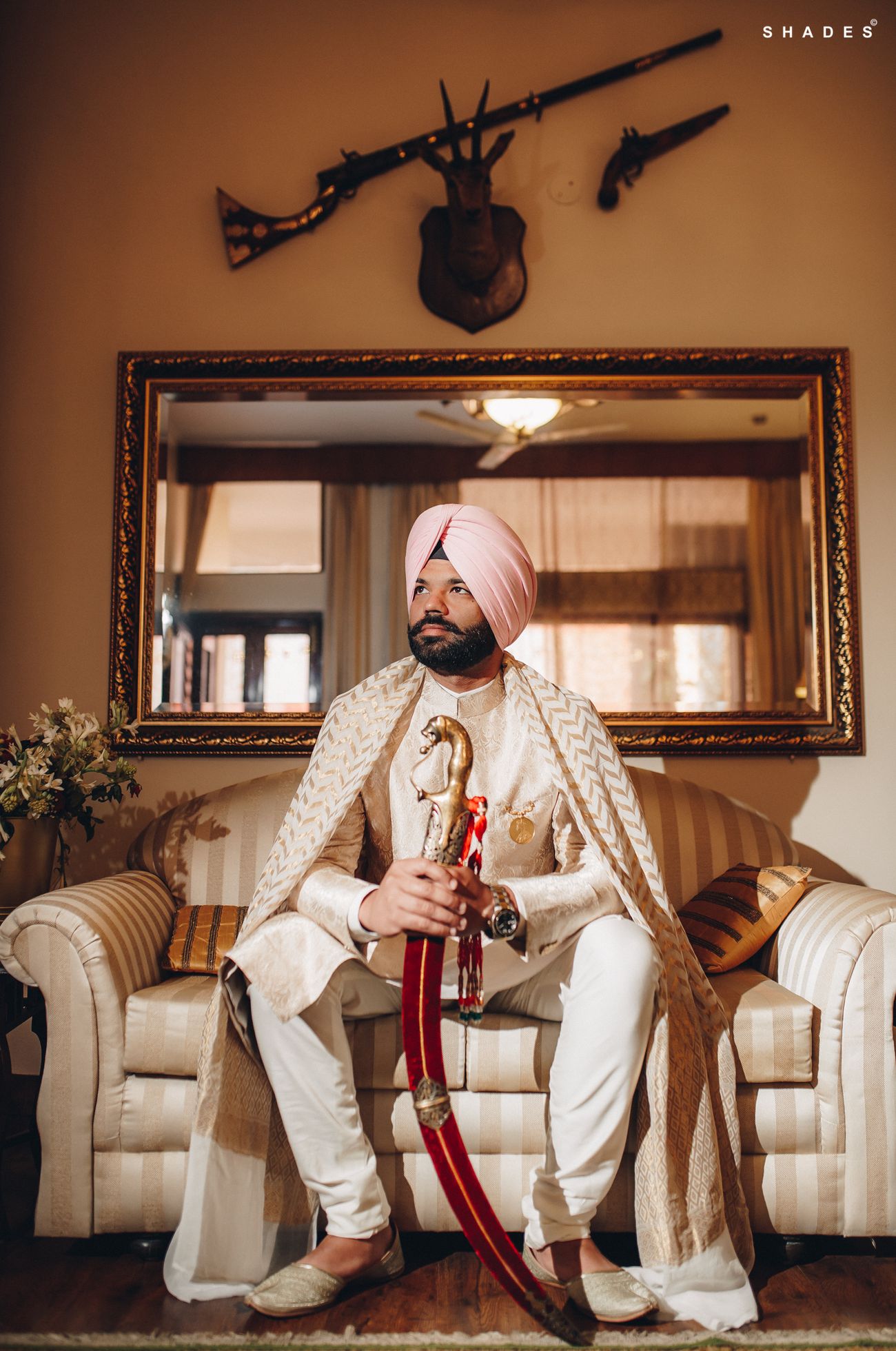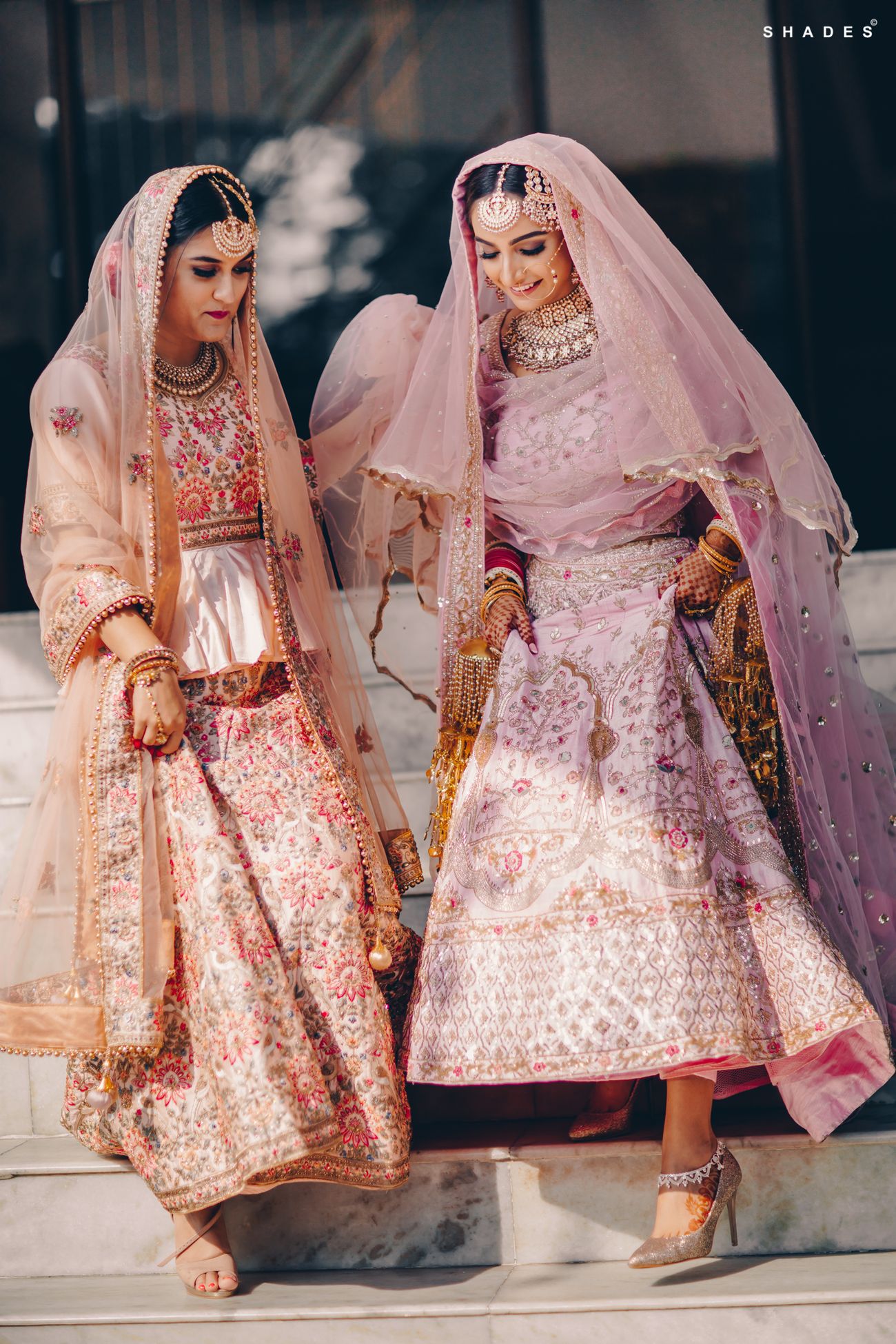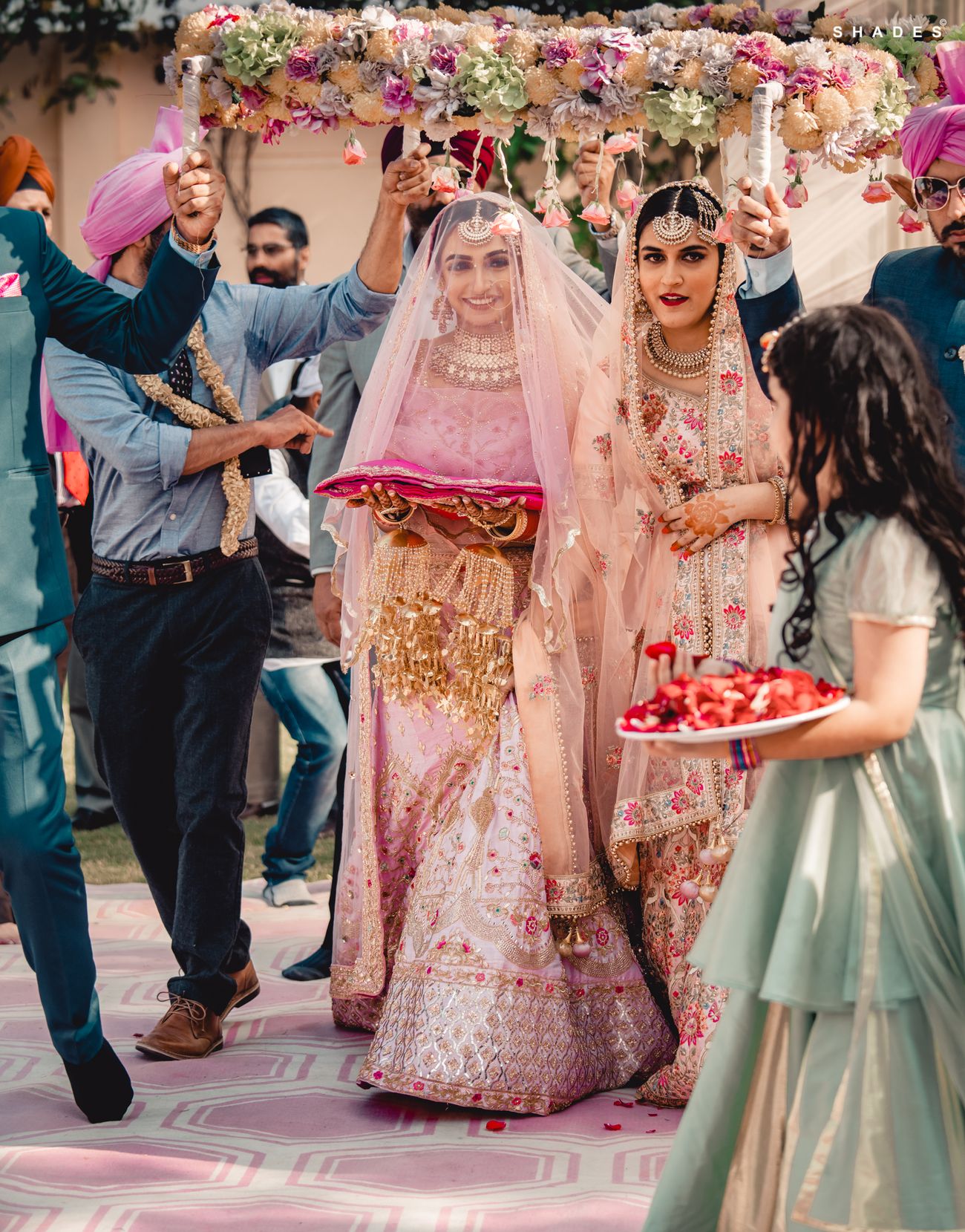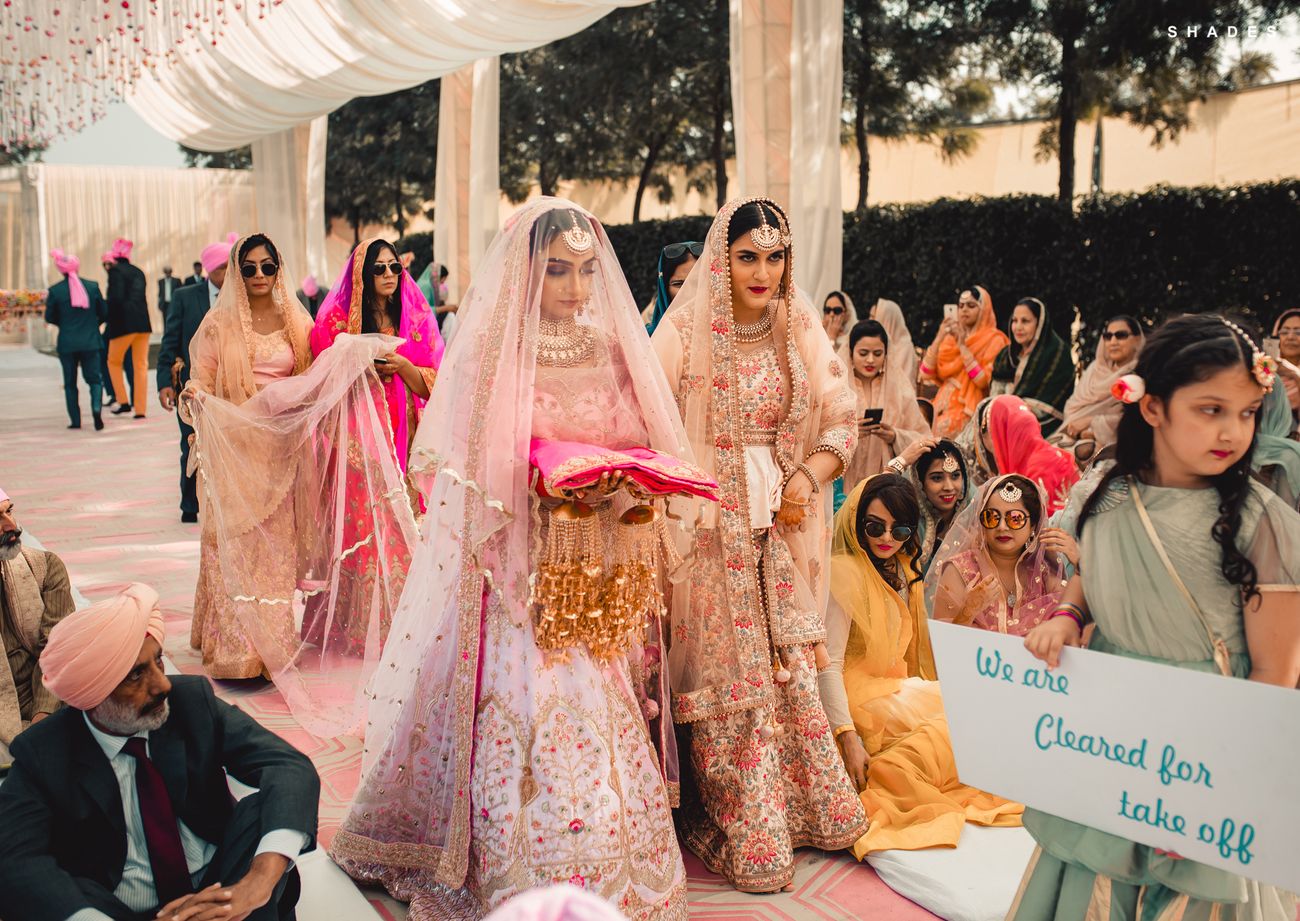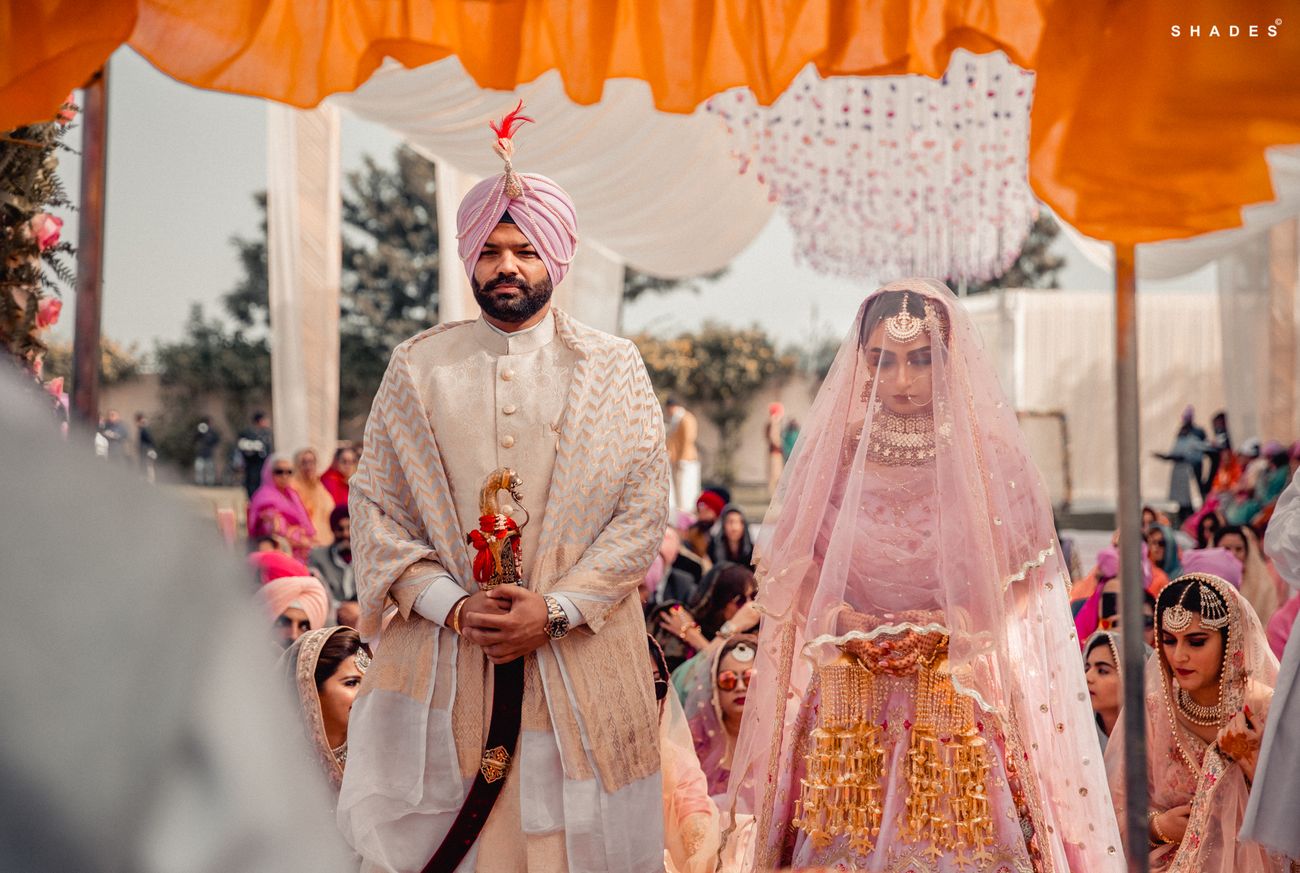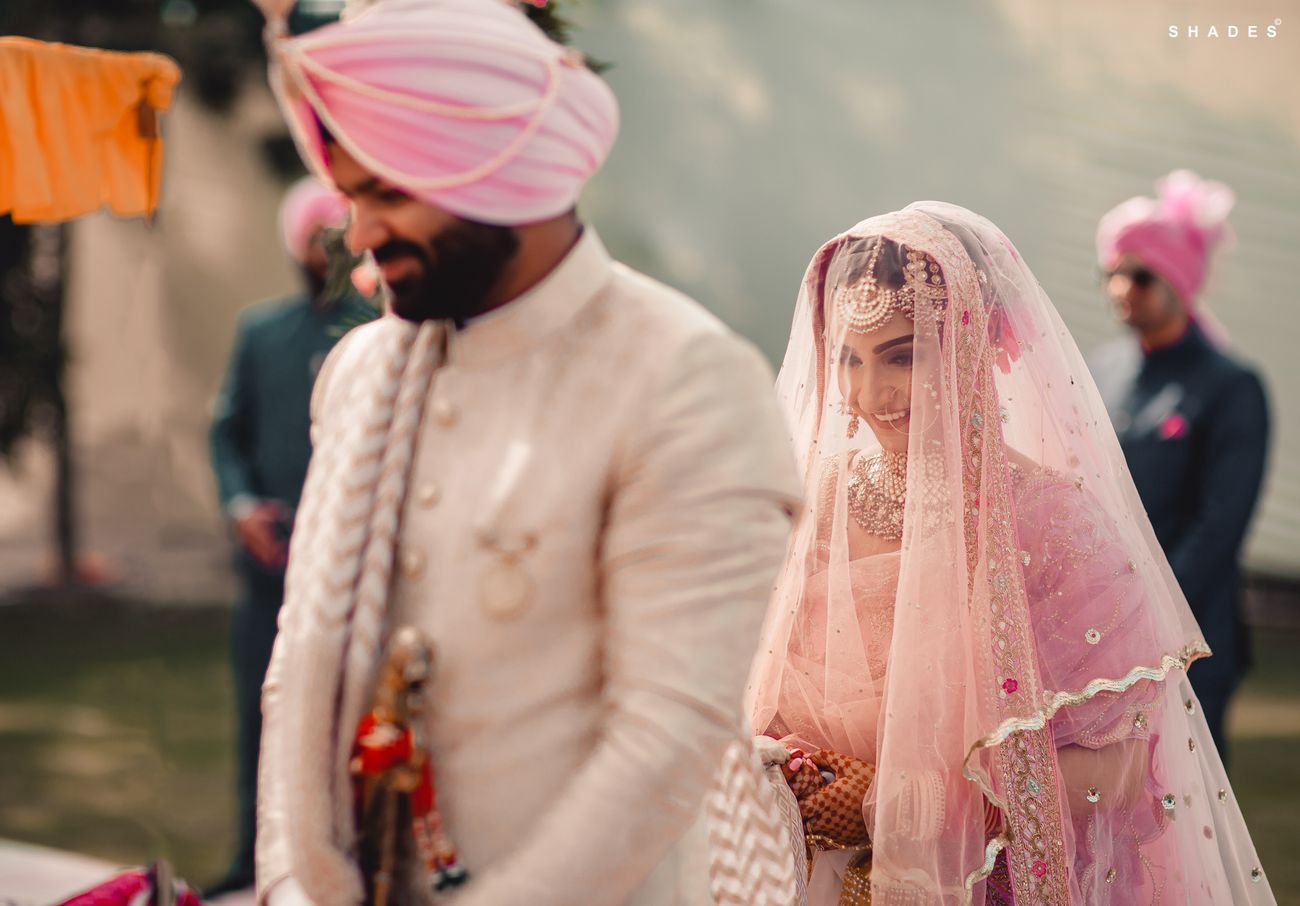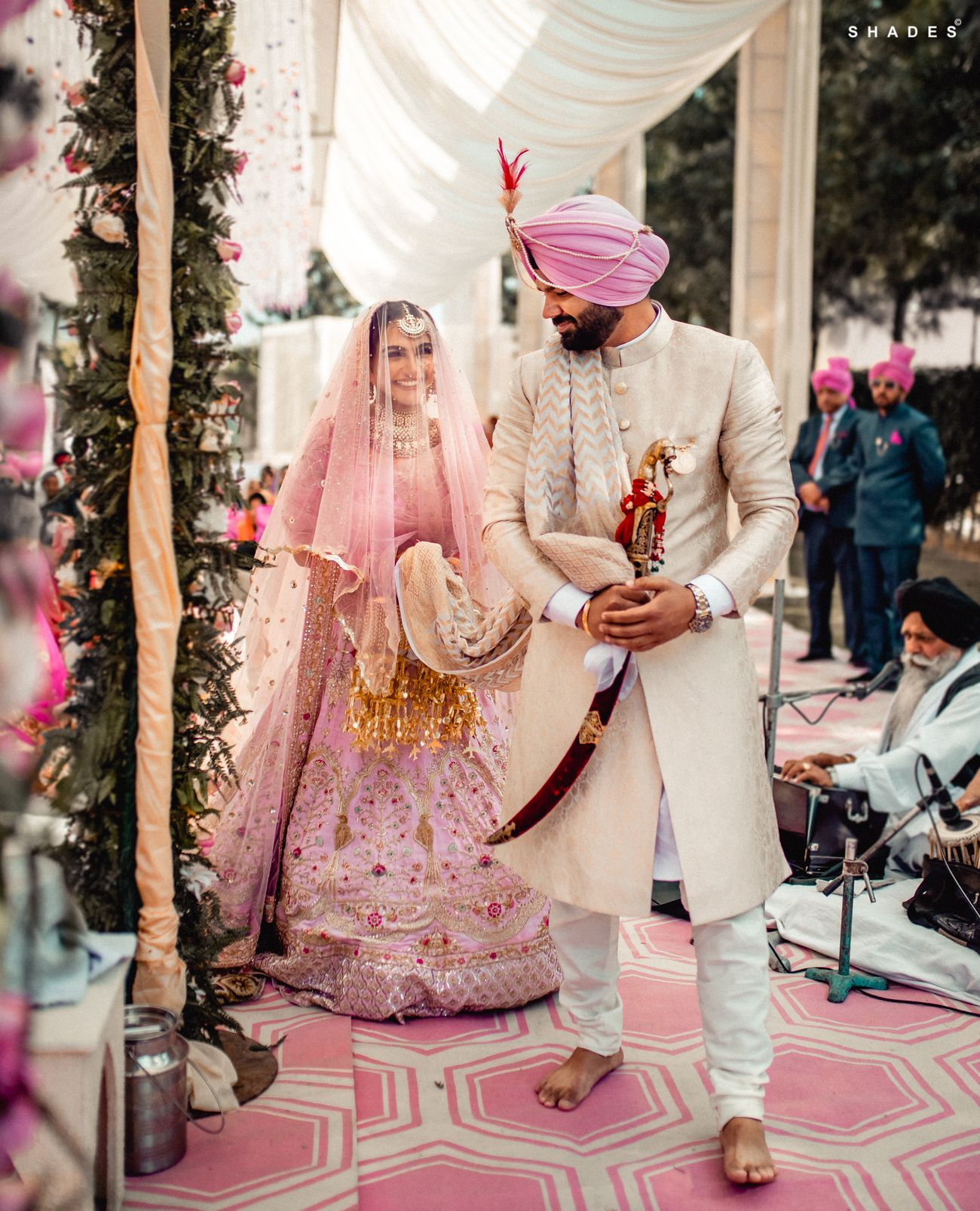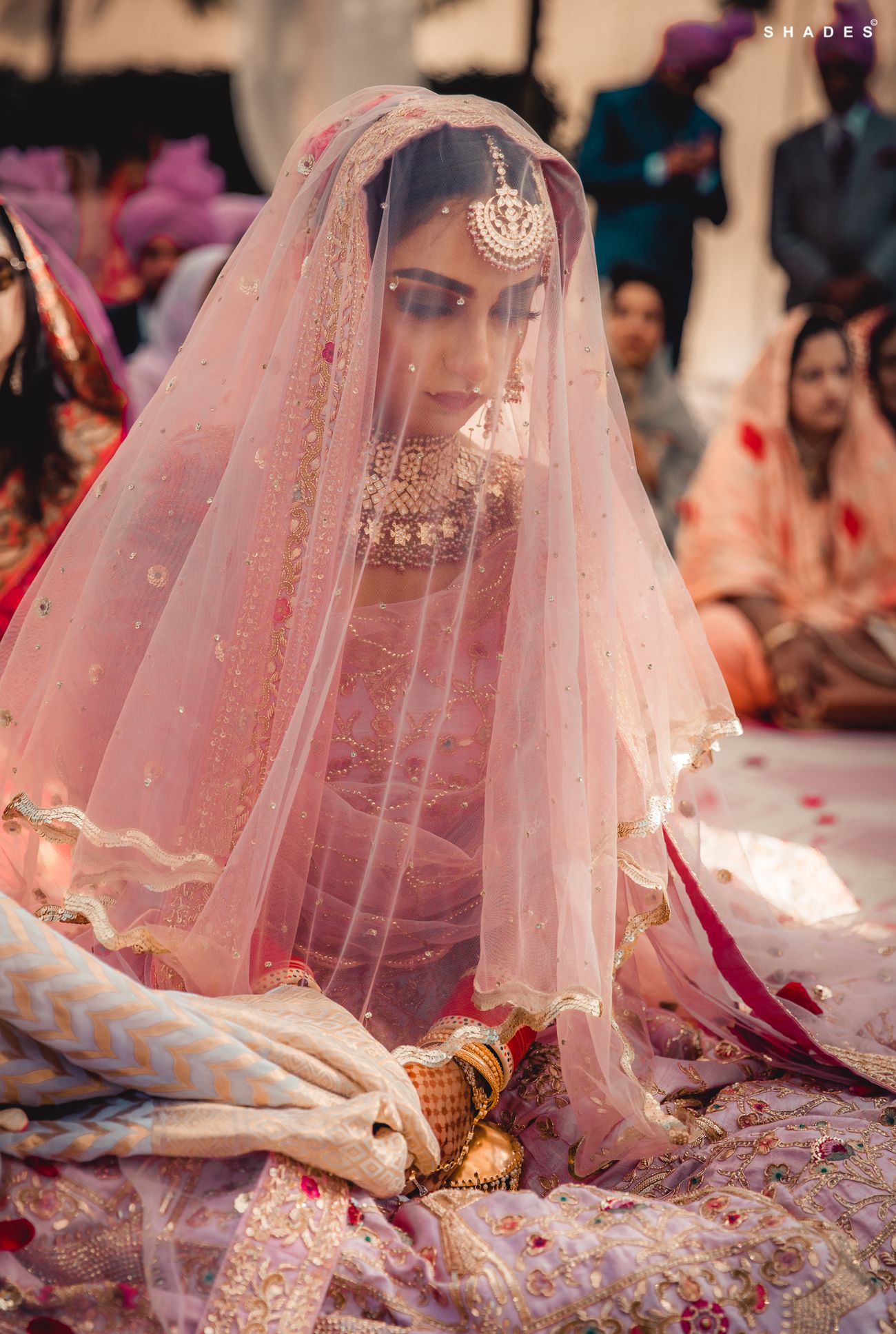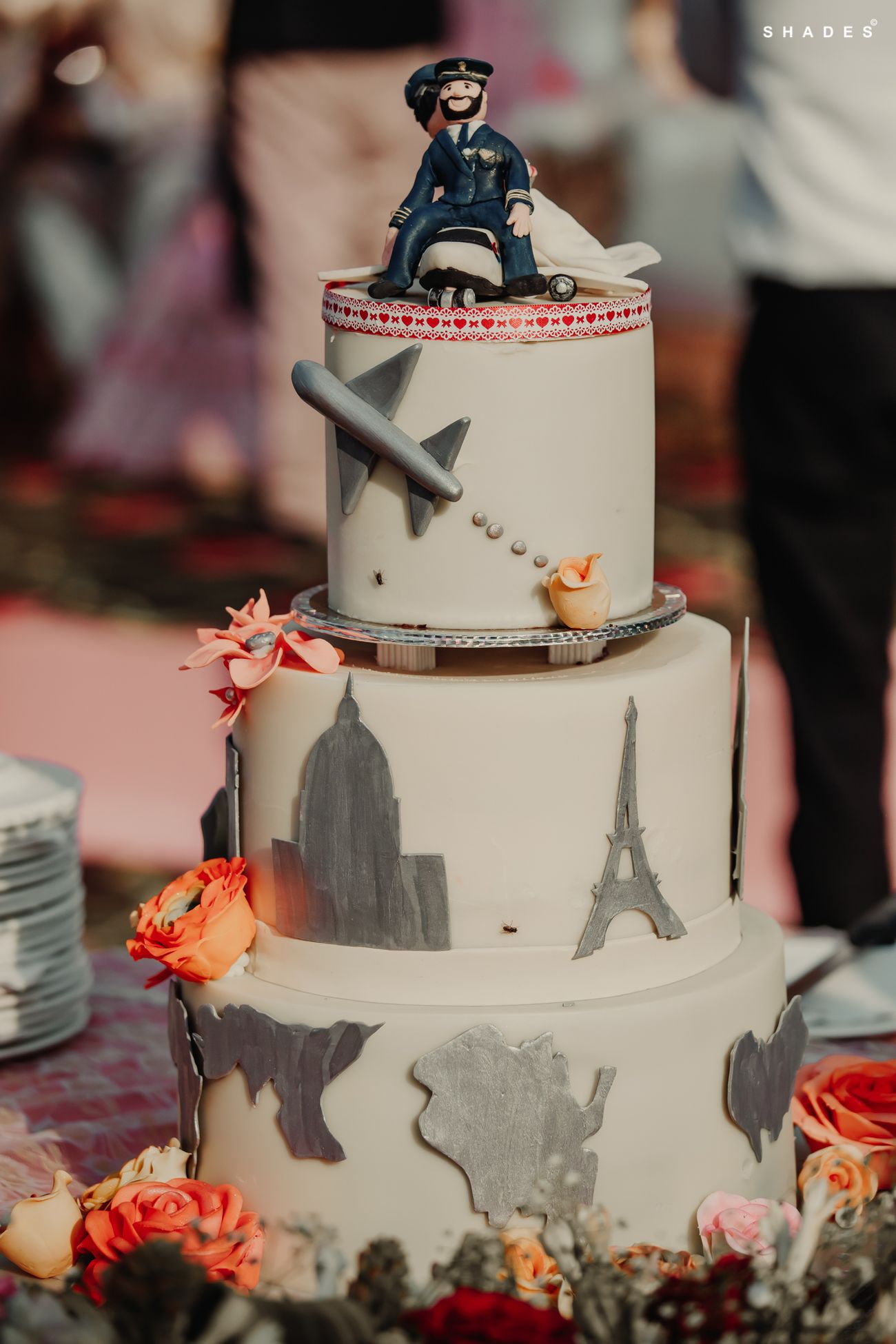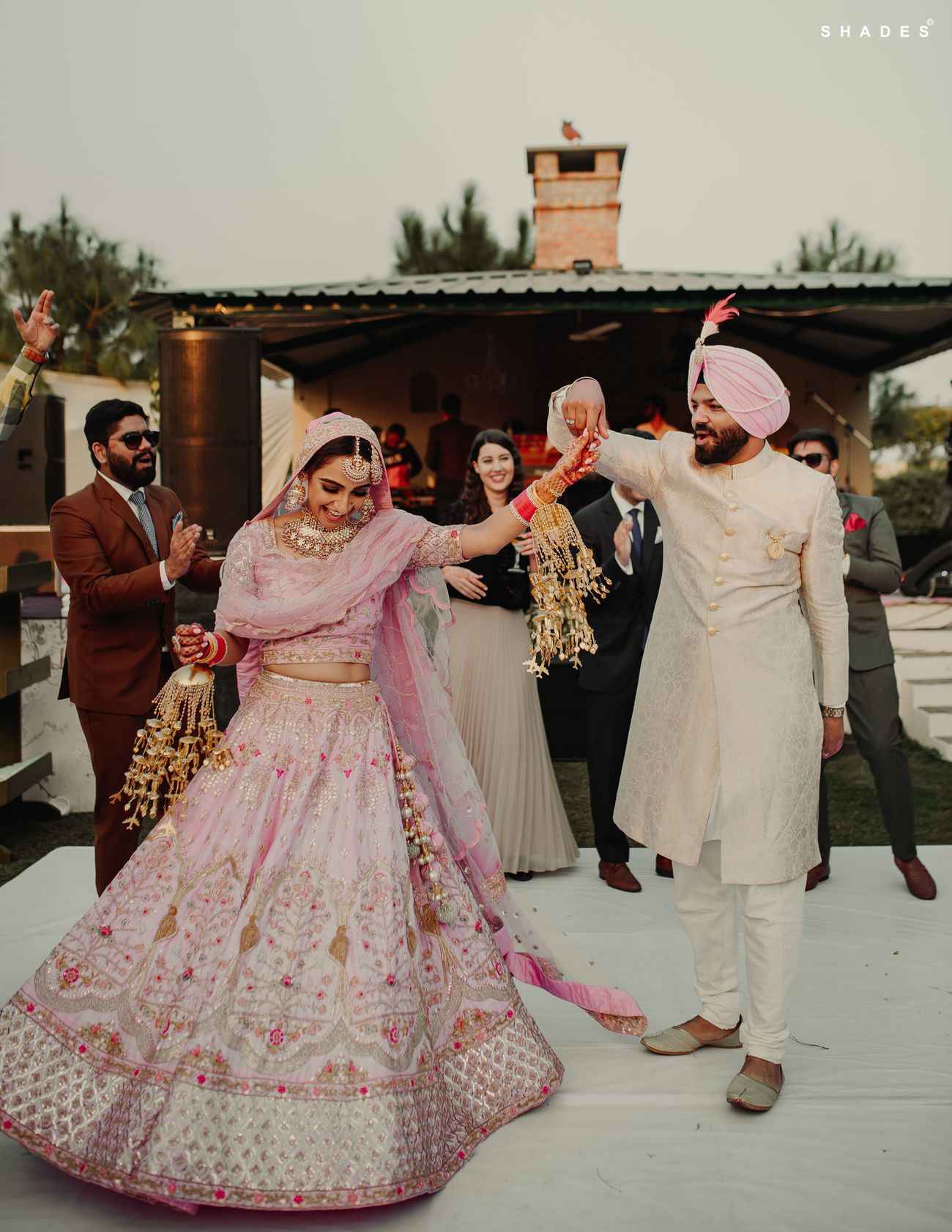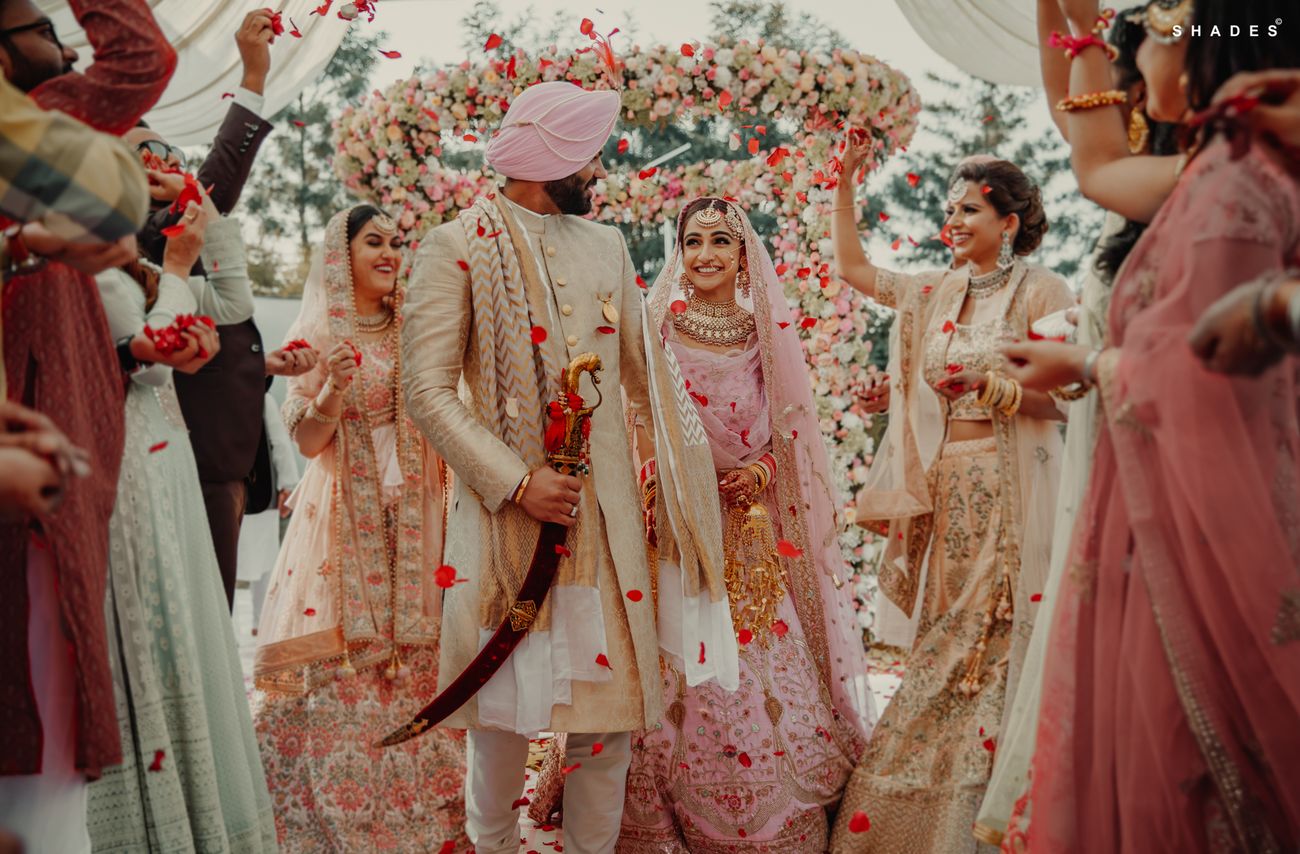 From The Bride:
The only vision I had was to have fun and enjoy the wedding. I wanted to break the stereotype thinking of a bride as a bridezilla. Never believed in it and tried not to be one. I wanted everyone to have a blast like it's a big party with no stress. And we all indeed enjoyed to the fullest.
The bridal outfit was my dream outfit beautifully handcrafted using the finest threads and fabrics . The Label specialises in customised lehengas where they create the entire outfit from scratch according to the bride's choice . The blush pink lehenga was the perfect blend of modern and traditional style embellished with zardozi, dabka, resham and sippi.
This masterpiece, crafted with care and meticulous attention to detail , is aptly called the 'Vrindavan' lehenga with ornate floral patterns alongwith zardozi embroidered birds. Since it was custom made for me , it took the artisans four months to create this modern heirloom. I felt like a PRINCESS on my wedding day.
Digvijay wore custom outfits by Panjab Bespoke with active participation in helping the designer to perfection. He opted for a classic ivory benarasi sherwani accentuated with the groom's precious family heirloom (a 22k gold medal presented to the groom's great grandfather by King George Vth and Queen Mary of Great Britain at the famous Delhi Durbar of 1911 for excellence in sword fighting and sports). As a proud Sikh, he opted or a traditional patiala shahi turban with a polki diamond kalgi and carried an intricately carved gold sword with a tiger head hilt custom made in the Mewar region specially for the occasion.  The cocktail outfit was a timeless black sherwani accessorised with custom made buttons .
Vendor Reviews: 
I would really like to add that everybody who worked hard to make our wedding a fairytale one, each one of them ( All the vendors & People ) are the Best of the Best and I Highly recommend them all. They all are perfectionists and love their job and because of that I didn't have to worry about anything. In aviation language, Autopilot was on and we didn't have to worry about nothing and the Results were beyond our expectations. I was not only HAPPY but GLAD to have them for my wedding. Much Gratitude.
All my outfits were custom made by Nimrat Mander Sekhon Label. For the cocktail I opted for two outfits, a zardozi jacket with crushed silk anarkali in deep maroon for the engagement followed by a lightweight lehenga to dance the night away. My mehendi outfit was a panelled sorbet lehenga with unicorn colours and pretty latkan details (also featured in WedMeGood!). The bridal outfit was my dream outfit beautifully handcrafted using the finest threads and fabrics.  
Nimrat not only understood what I wanted but made my outfit to absolute perfection. I couldn't have asked for more .. I had tears in my eyes when I saw my wedding outfit. It was beyond excellence.
I HIGHLY RECOMMEND HER for all the BRIDAL OUTFITS & trousseau. She is a Perfectionist, Highly Creative, Hard Working & Full of Talent. She gets into details, patiently understands what the bride wants and doesn't compromise in delivering the Master Pieces( what I call her outfits) at all. Absolutely Love her Work.
Aanchal & Tanvi did my Cocktail & Mehendi look. They were BRILLIANT. They were so accommodating, friendly and such perfectionists. They never fussed about changing looks if required. We went for Smokey gorgeous look for the Cocktail & quirky coloutful look for Mehendi. Both looks were equally amazing. I loved it so much; they indeed make me feel like a princess.
Tripti Malhotra did my wedding look. She was AMAZING. I couldn't believe I could look like that. She flawlessly moved her magic brush and made me look like a Princess. I wanted a subtle dewy makeup look for my day wedding and she exxactly did that with perfection. Loved it completely. She is polite, friendly and accommodating.
Komal Parewa, my hairstylist was a part of Aanchal and Tanvi's team and did my Cocktail & Mehendi looks. She was quick and fabulous at her job. We went for messy bun for Cocktail and gorgeous curls for Mehendi. Both the looks were outstanding and complimenting my overall look. 
Raabta by Rahul did my customised Jewellery in gold & Kaleere with Aircrafts. They did an OUTSTANDING Job. I loved it!!! Rahul and his team are so CREATIVE and perfectionists. My wedding jewellery and kaleere were like a dream. EXQUISITE is the word for it.
Mayfair Farms, our venue for the wedding, my Husband's family farm, is a perfect combination of rustic and modern. It has a beautiful landscape with vintage vibe. They have build up this farm with lot of taste and creativity and it is MAGNIFICENT. This is why it was the perfect place for our wedding. It is definitely a special memory added to our journey to have wedded at the family farm. 
Colors Wedding Decor by Amir did an OUTSTANDING job. Everything was just perfect. Cocktail was a combination of Red & Gold with candles and chandeliers while Mehendi was a colourful soiree with decor accentuated with the beautiful marigold. Wedding decor was right out of a fairytale land. Perfect combination of pastels with the beautiful flowers. Floral chandeliers, floral umbrellas and quirky photo booths, all was exquisite. They gave our wedding functions a fairytale touch. 
Ashwin & Jhalak from Shades Photography handled our still photos while the videography was done by their team. They are sweet, enthusiastic, passionate, warm hearted and humble people. We had so much fun shooting with them, it was like a picnic. They know how to get real authentic side of the couple out. The perfect combination of creativity and professionalism. We loved the pictures as they did a marvelous job. Beautiful will be an understatement. Even their videography team is excellent, they did a great job with our video, perfect capture of whole functions and the vibe. 
Vendors: Venue: The Mayfair Farms; Makeup Artists: Tanvvi Aanchal Makeovers★ 5 (Cocktail & Mehendi), Tripti Malhotra★ 4.9 (Wedding); Photographer:Shades Photography★ 4.3 ; Wedding Decor:Colors Wedding Decor★ 5 ; Bridal Outfits: Nimrat Mander Sekhon Closet★ 5 ; Groom's Outfits: Panjab Bespoke★ 4.8 ; Wedding Cards:Taj Printers★ 3.5 (Groom's Side);Jalebi Art Invitations★ 4.9 (Bride's Side); Mehendi Artist:Shailendra Mehndi Arts★ 3.5 ; Catering:Ambrozia Caterings★ 5 Ambrozia Caterings★ 5 ; Jewellery and Kaleere: Ra Abta By Rahul★ 4.8 ; Wedding Cake: Cookie Marwaha, Chandigarh; Wedding Cake Toppers: Planet Of Bakes