A Gorgeous & Intimate Delhi Wedding With No Pheras And A Whole Lotta Fun!
BY Aakanksha | 23 Apr, 2019 | 8018 views | 10 min read
No pheras you ask? Yes! No pheras or pandits were involved in this wedding. When this couple decided to tie the knot, they went for a simple court marriage, with their families present. They signed the papers and were legally wed. What followed was intimate functions and a whole lot of fun. They had an elegant cocktail, a fun mehendi and a gorgeous day reception. Aashna looked absolutely stunning in her reception lehenga, and the green dupatta she took with it was the just the right amount of pop needed! Through the Barrel★ 4.5 captured their loving moments in a stunning manner while Amaara Farms was the picture-perfect backdrop for their celebrations. 
Meet Aashna & Archit
Aashna tells us how they met and how they fell in love, "Archit was my cousin's classmate, and we met socially. Though we knew each other since 2010, we only got to know each other much later, realising how similar we were. Well that's how we started dating." 
The Court Marriage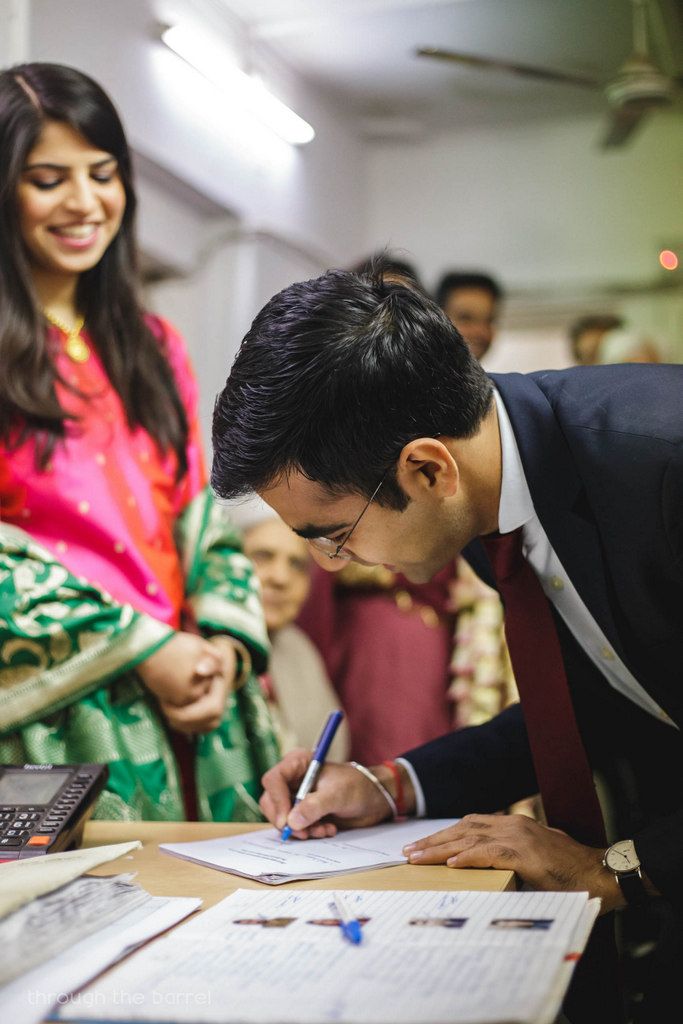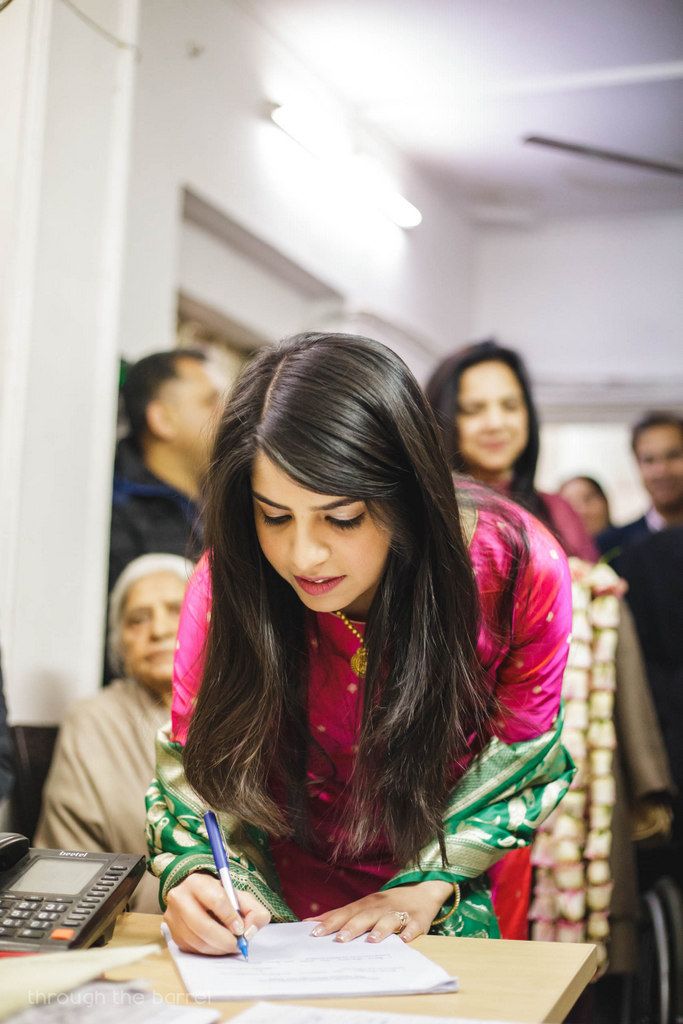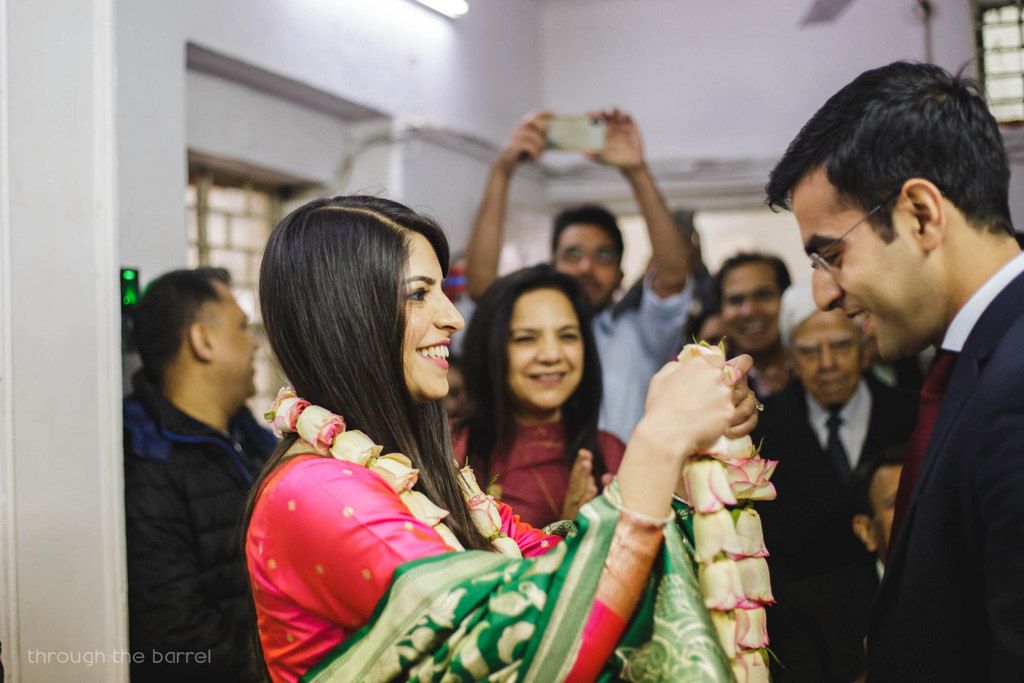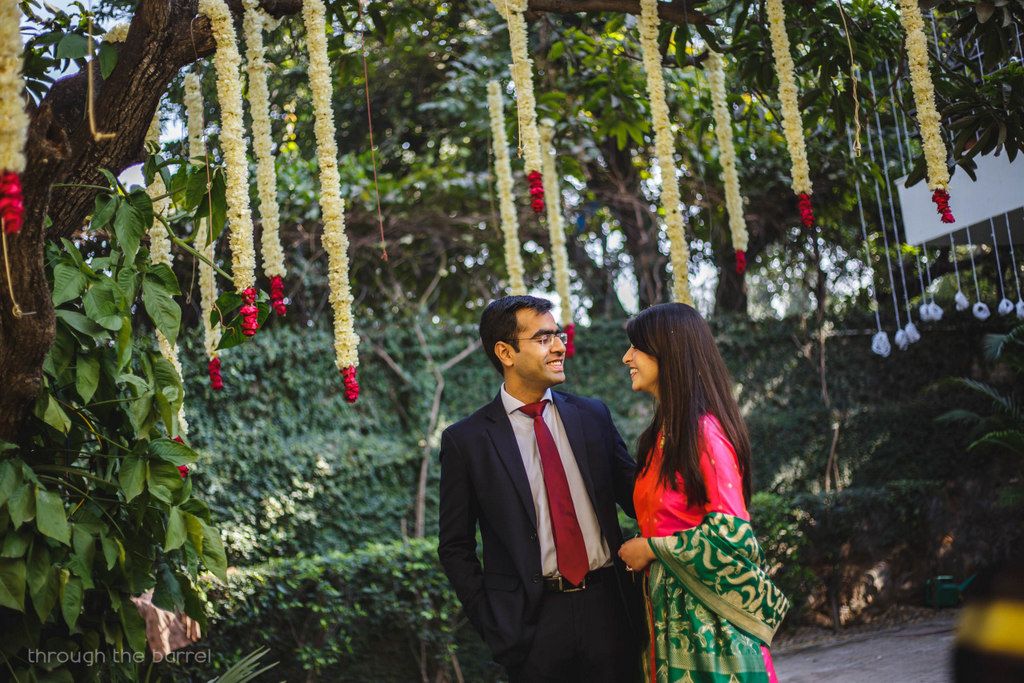 The Cocktail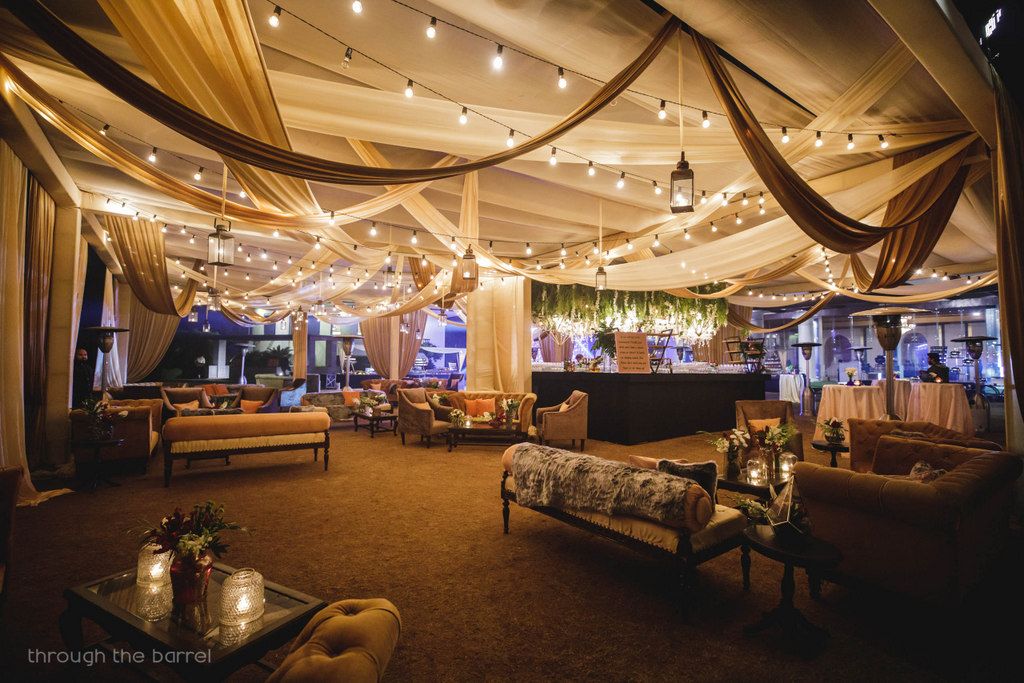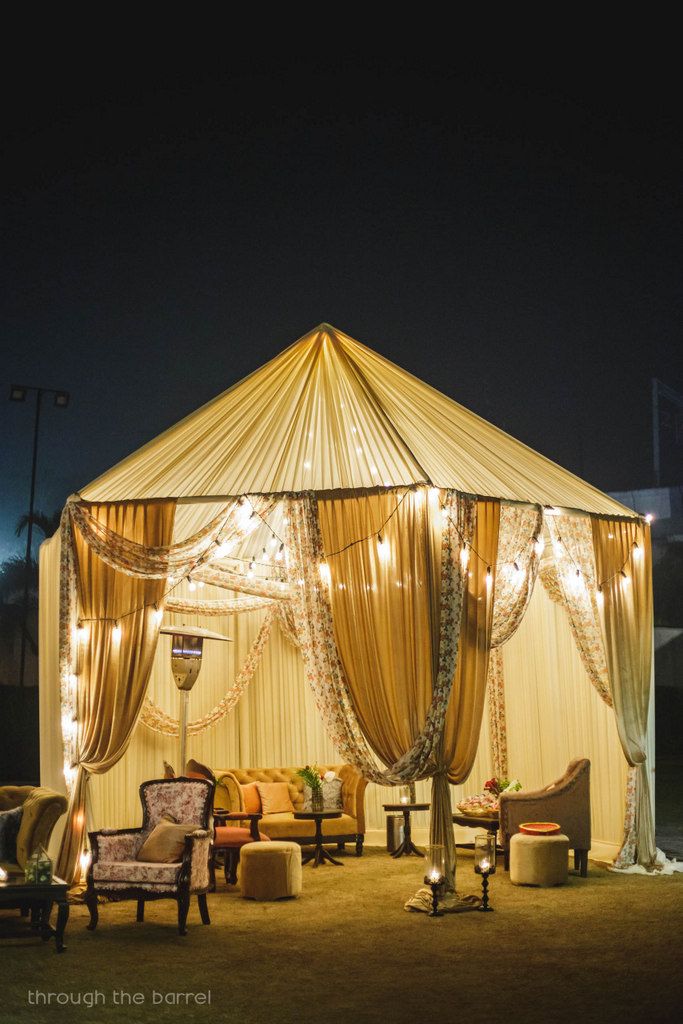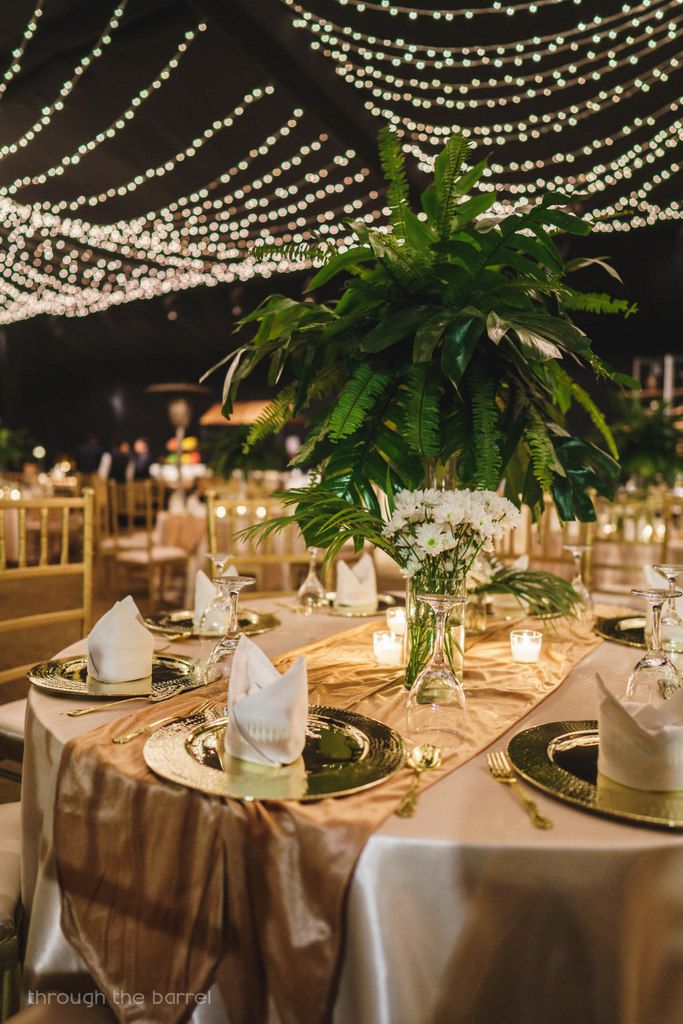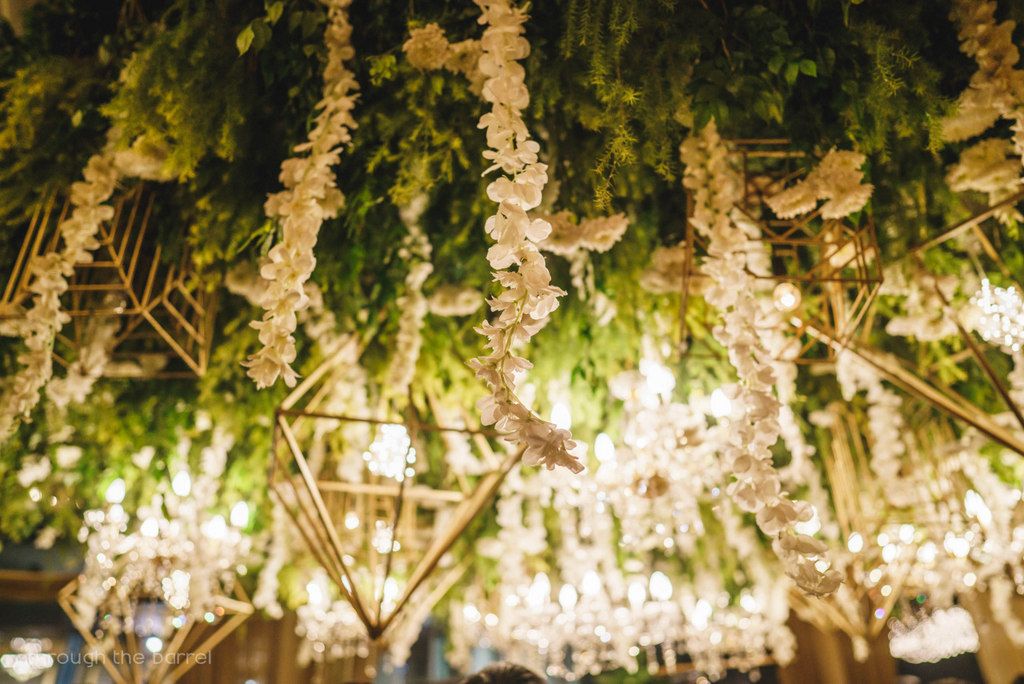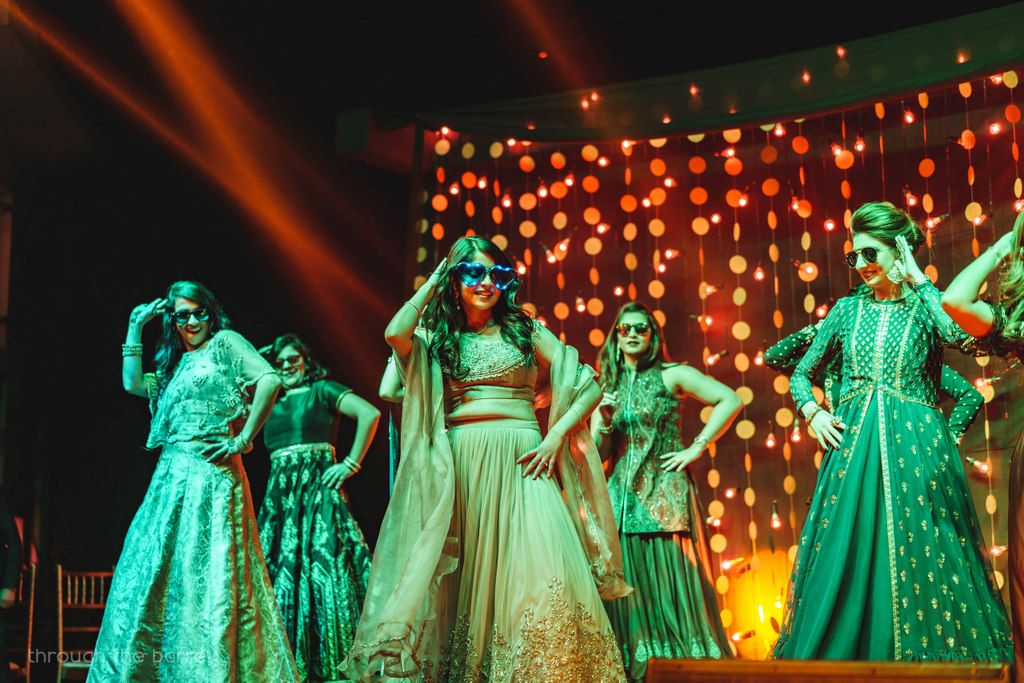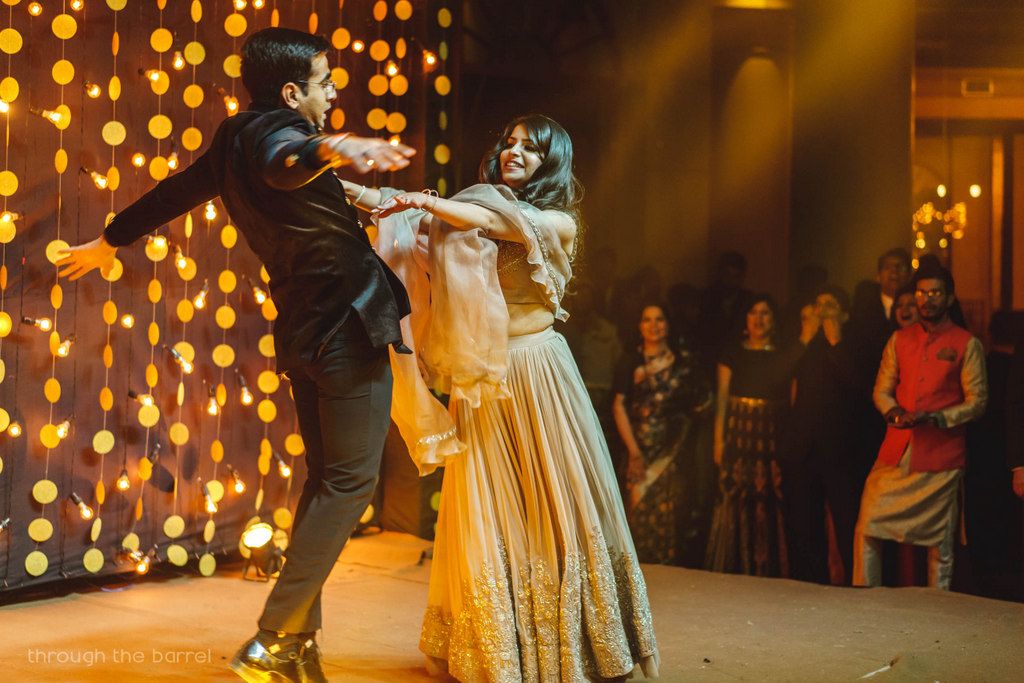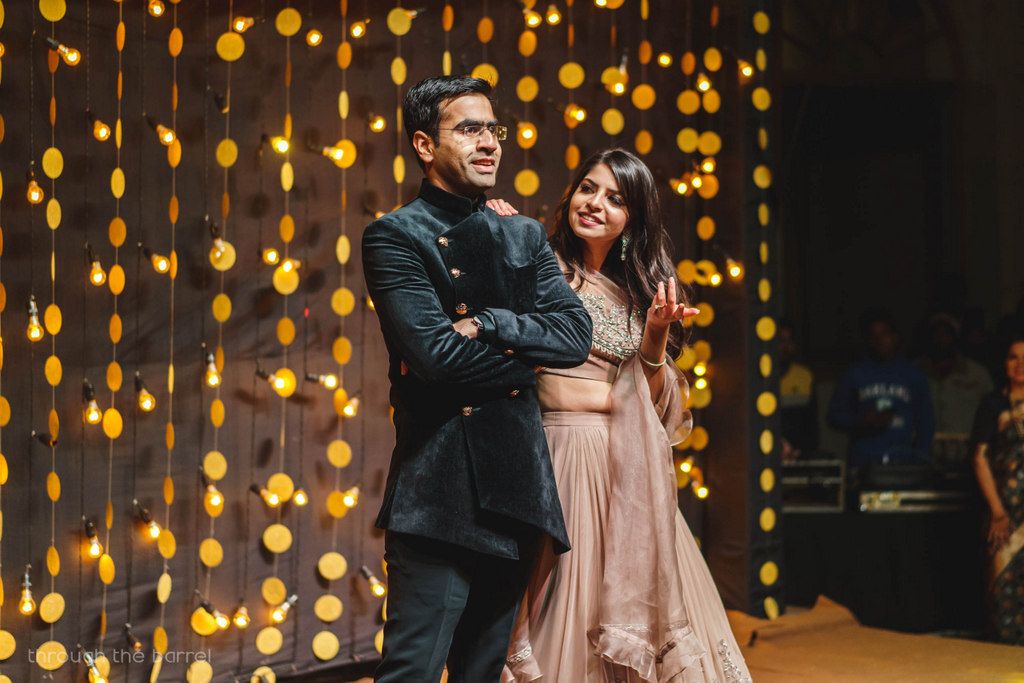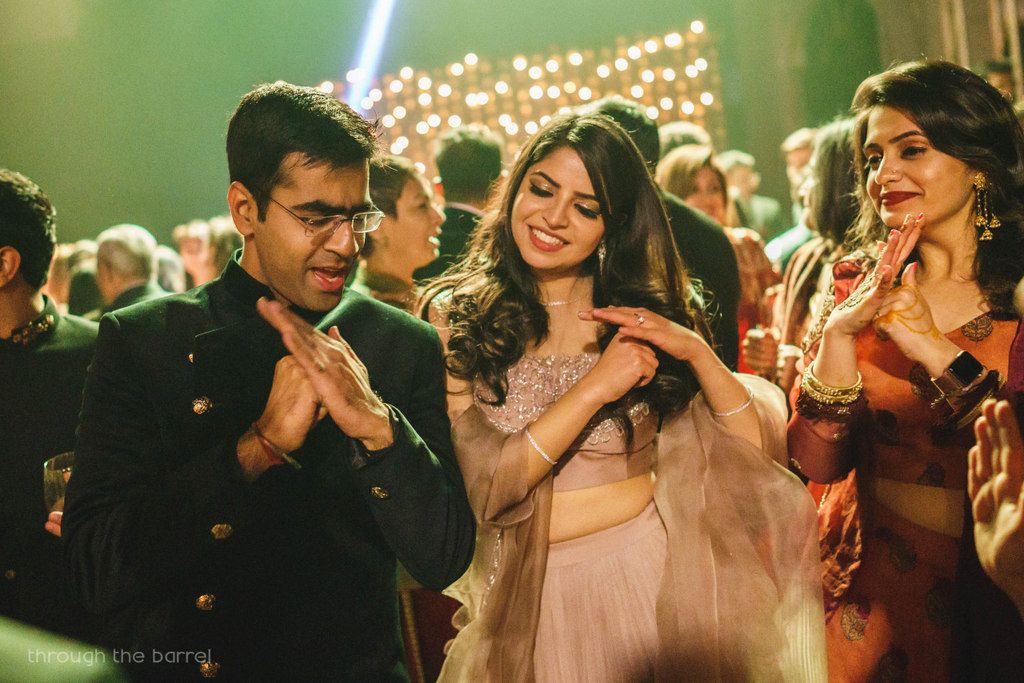 The Mehendi & Choora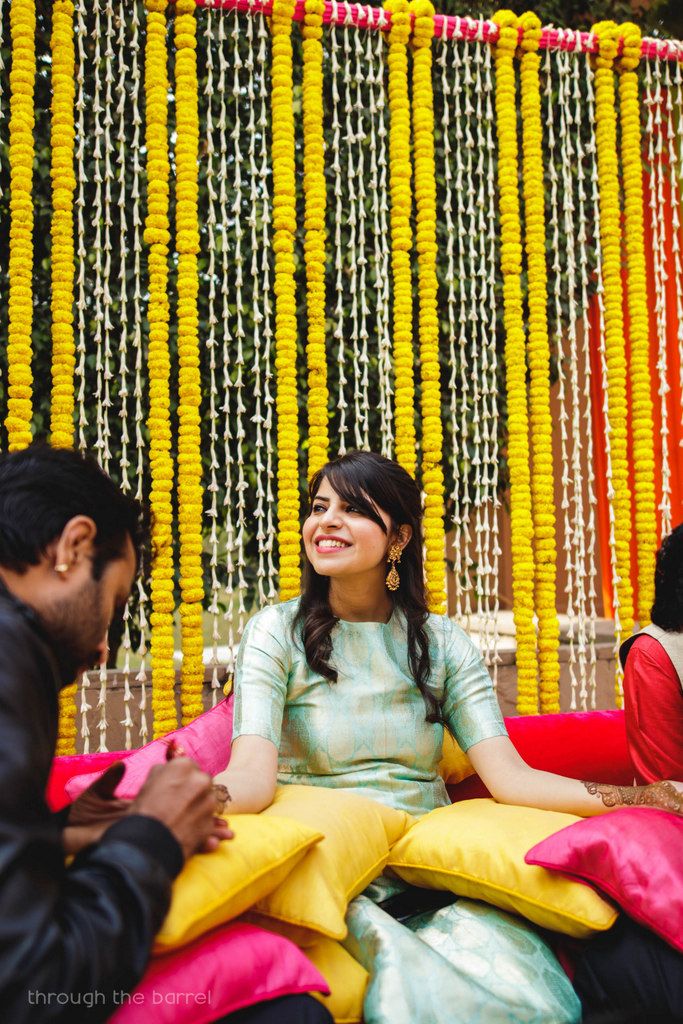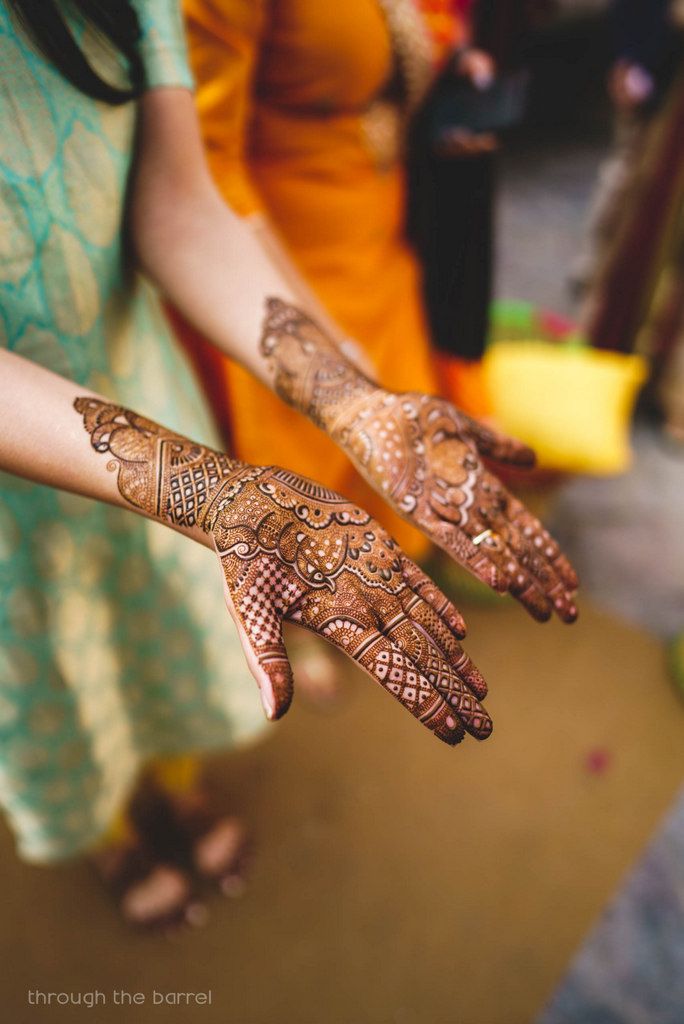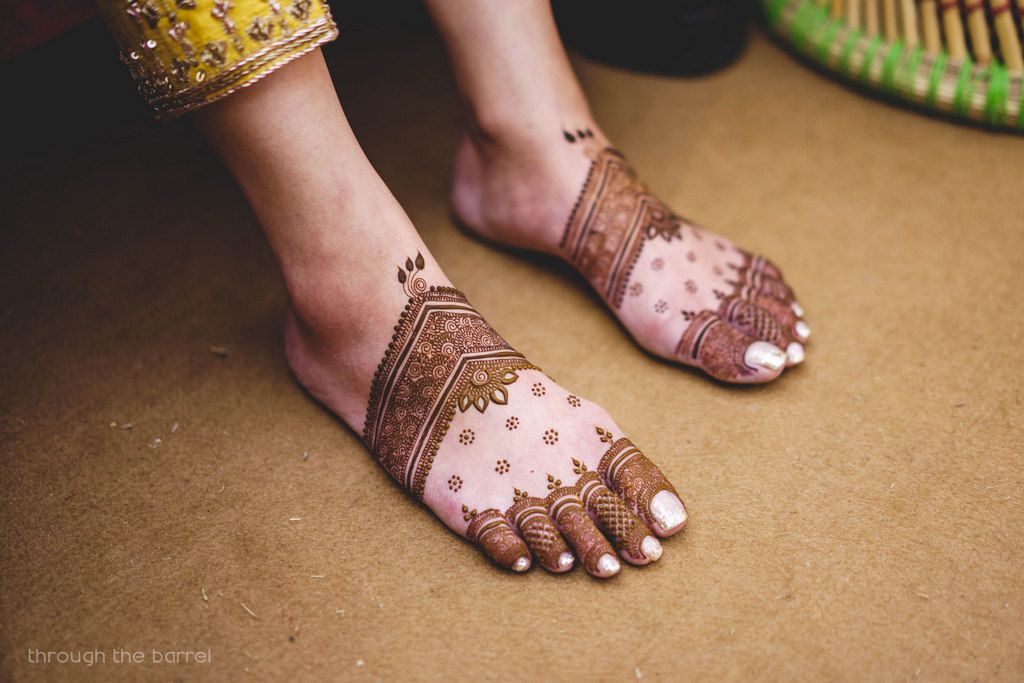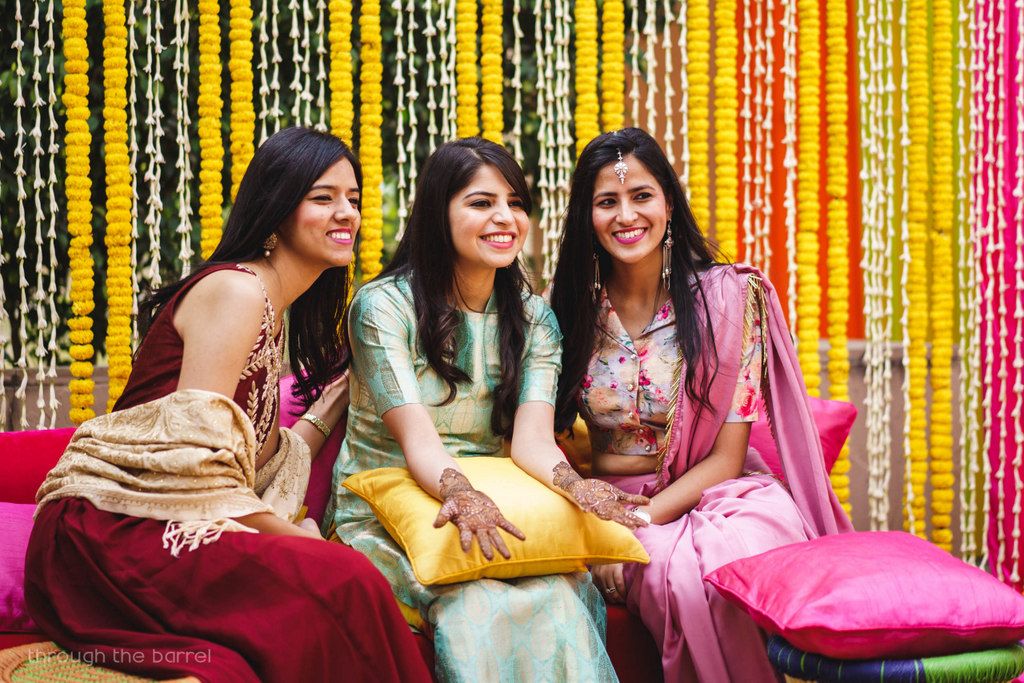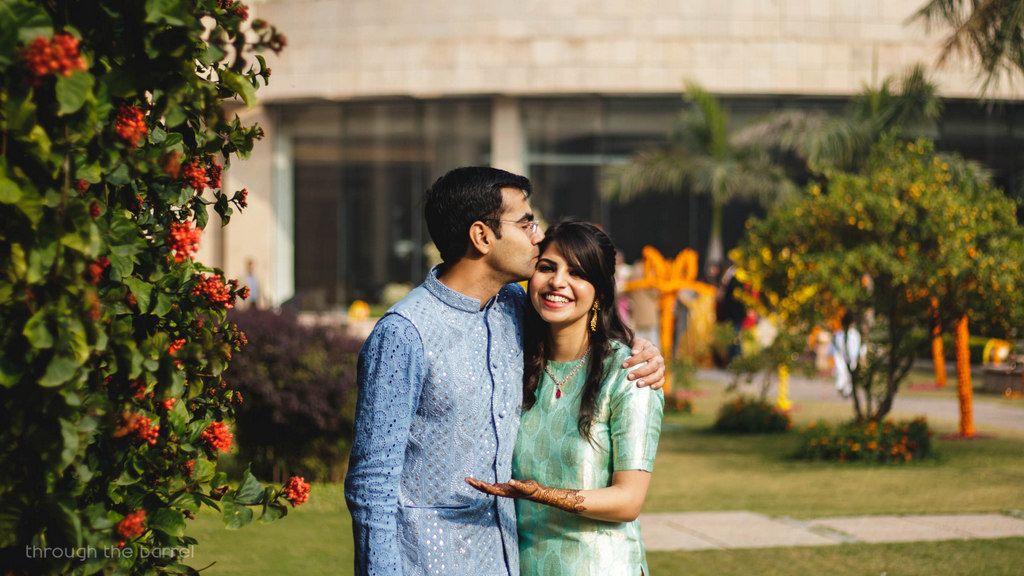 The Wedding Reception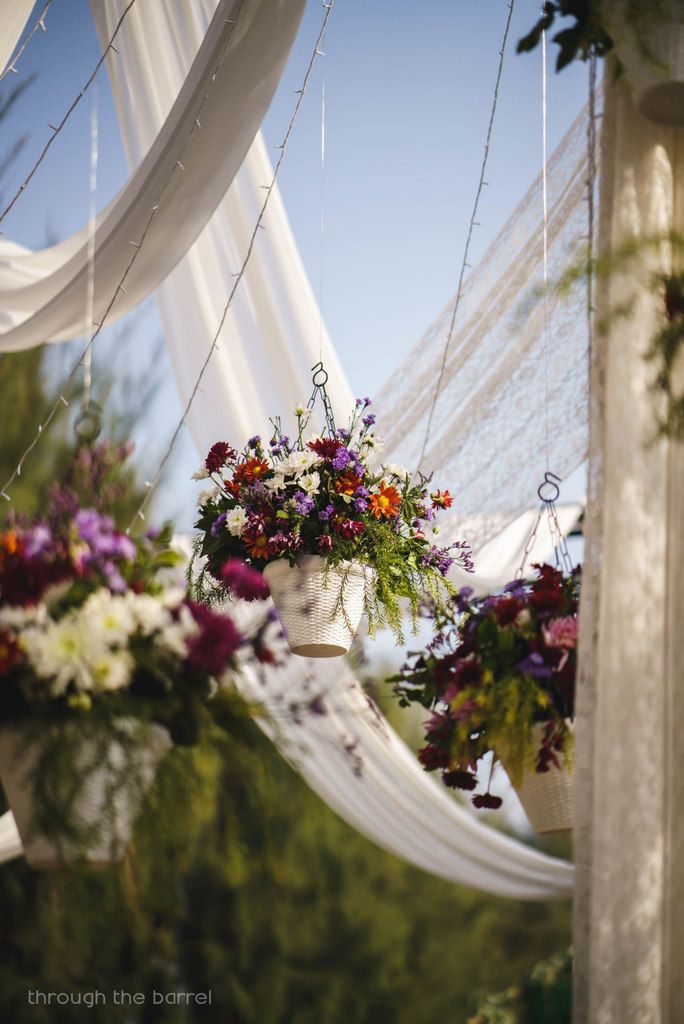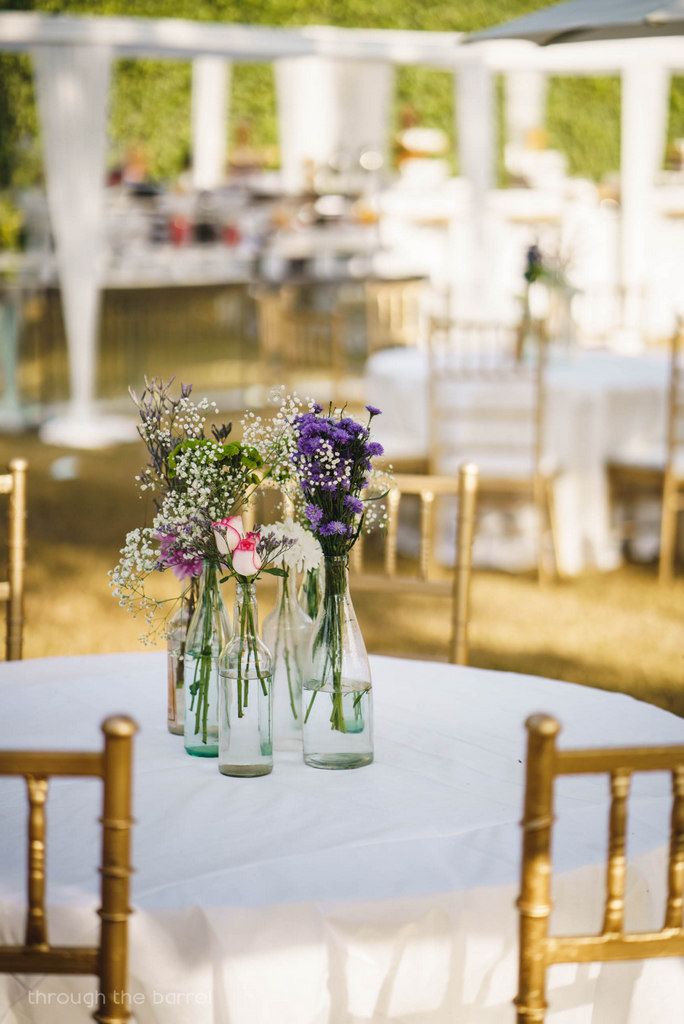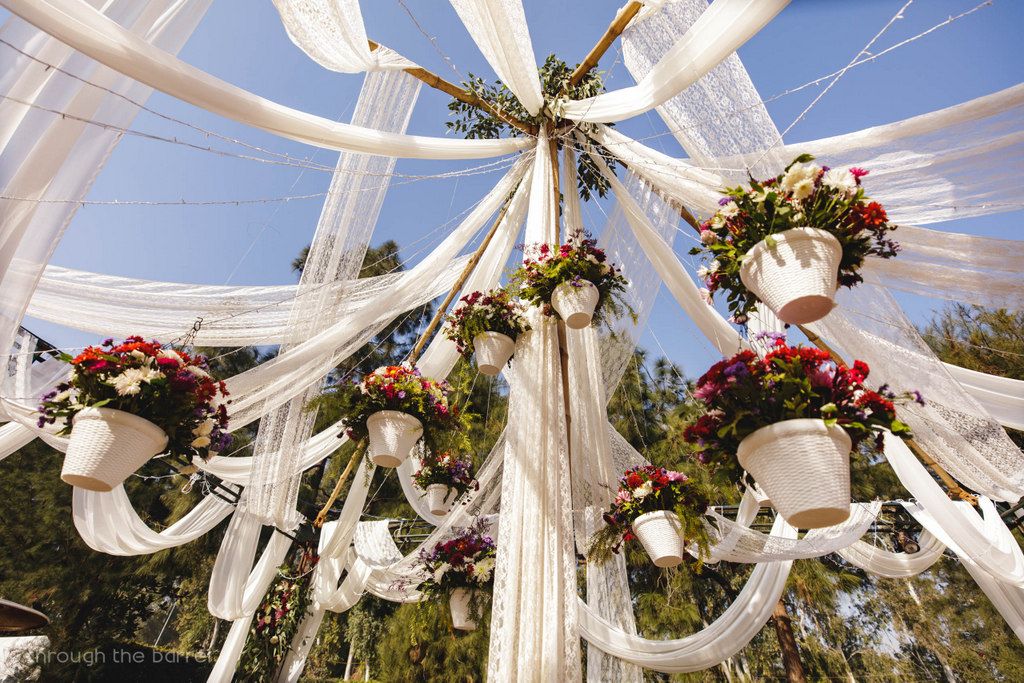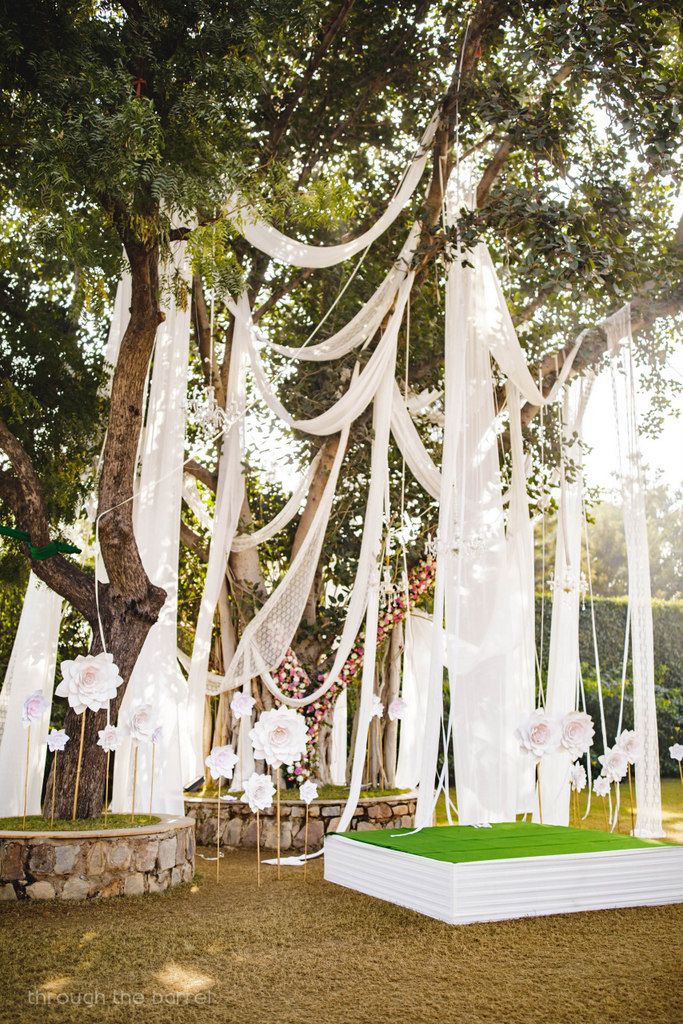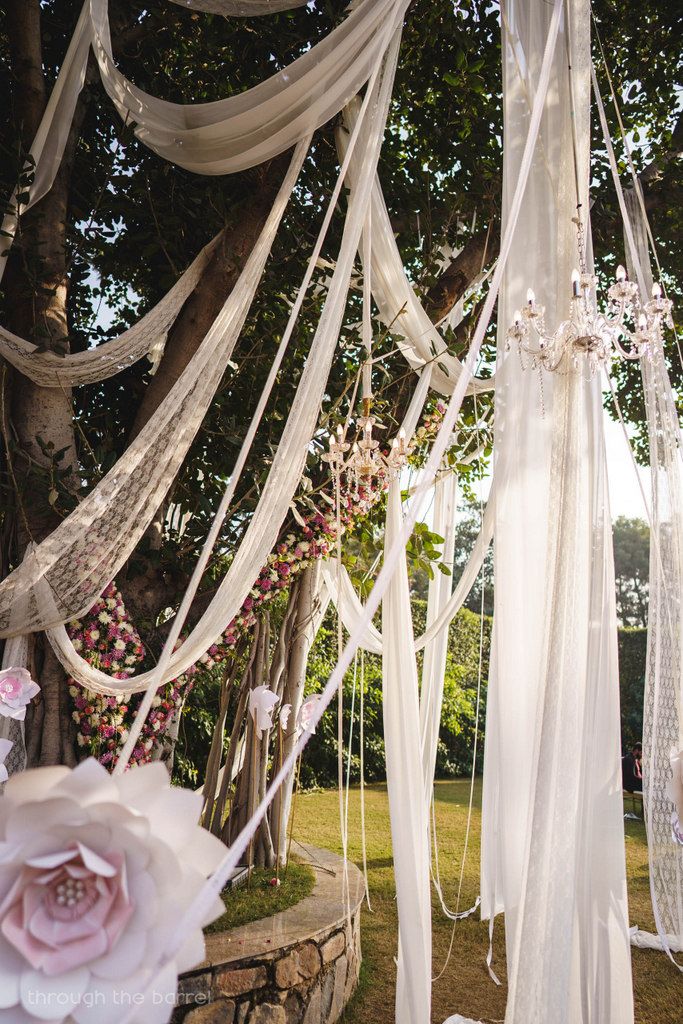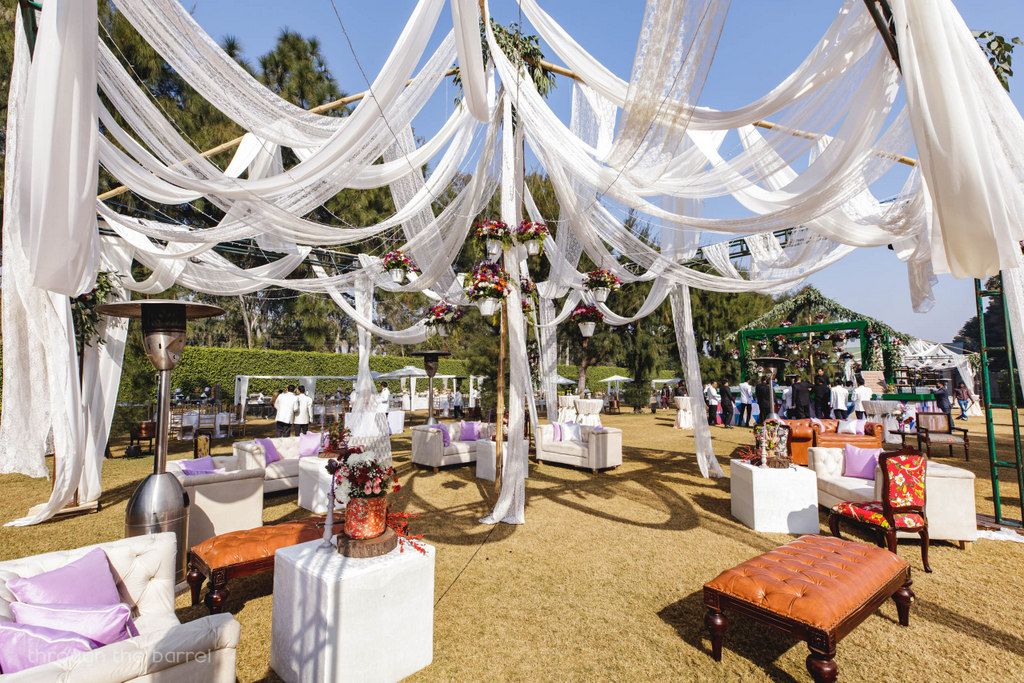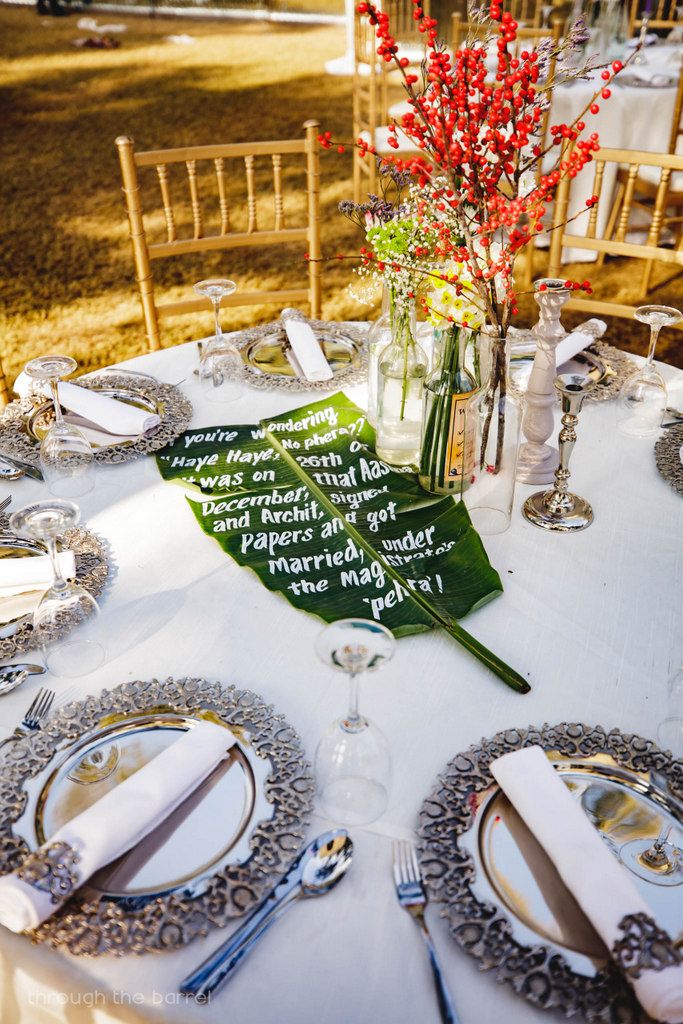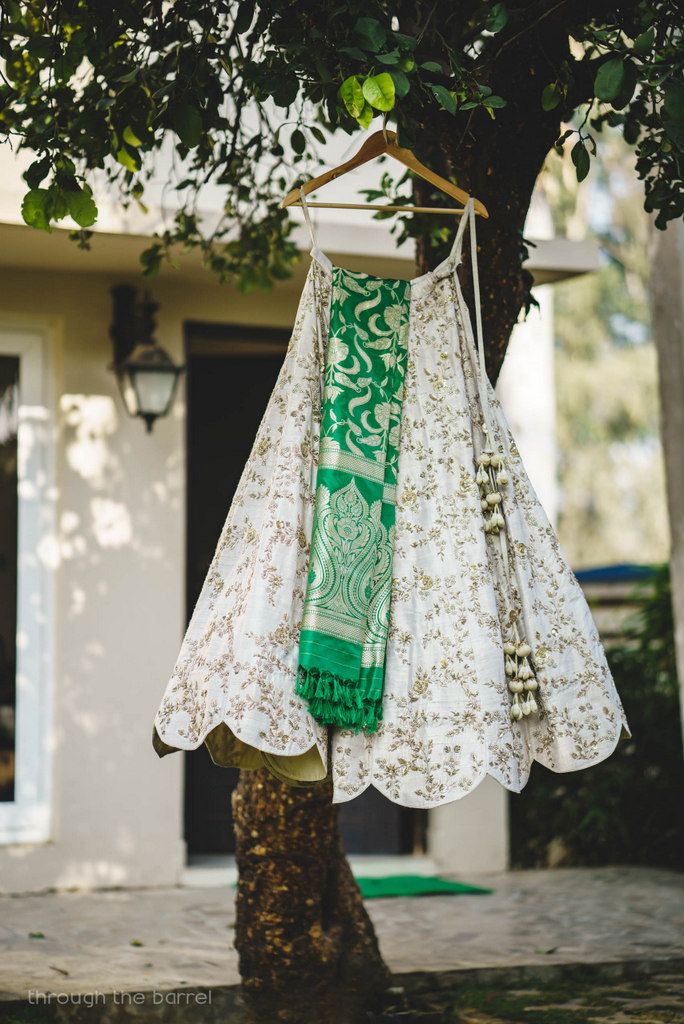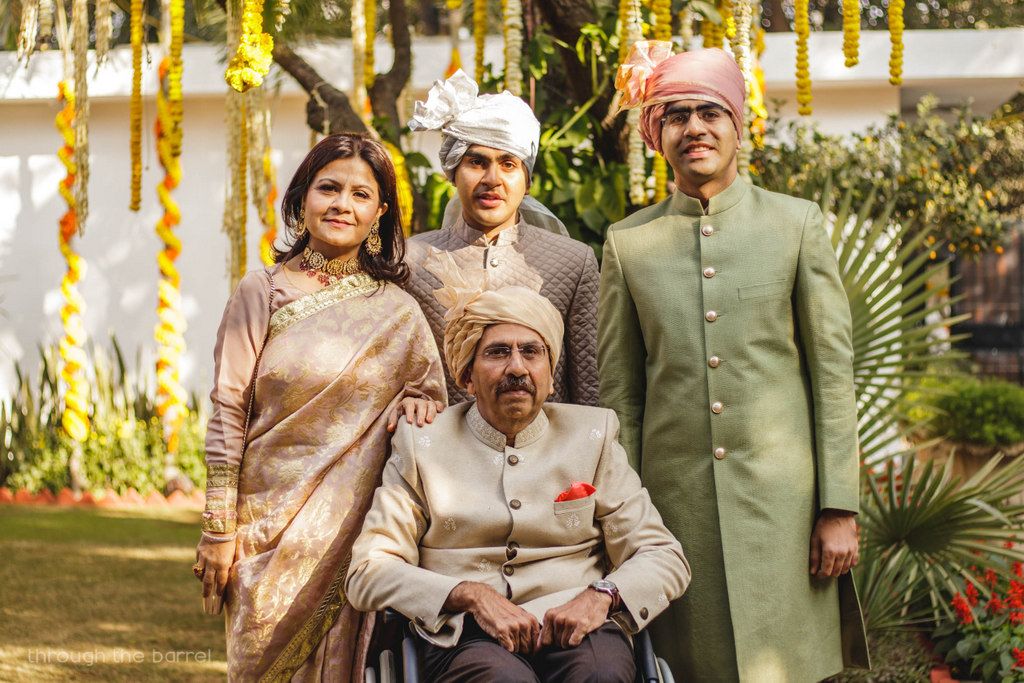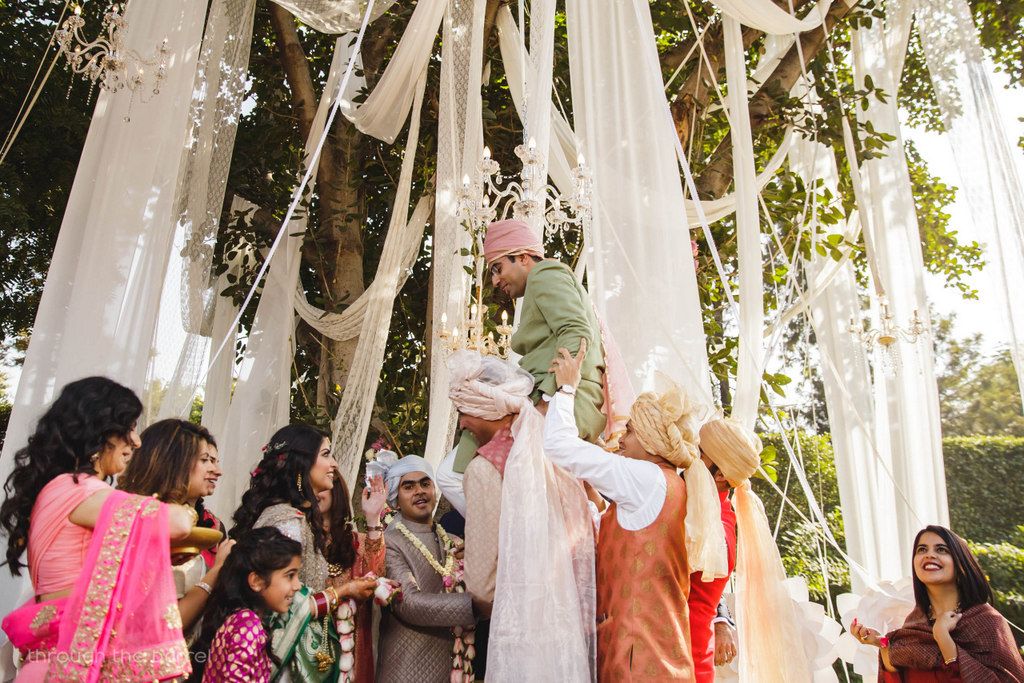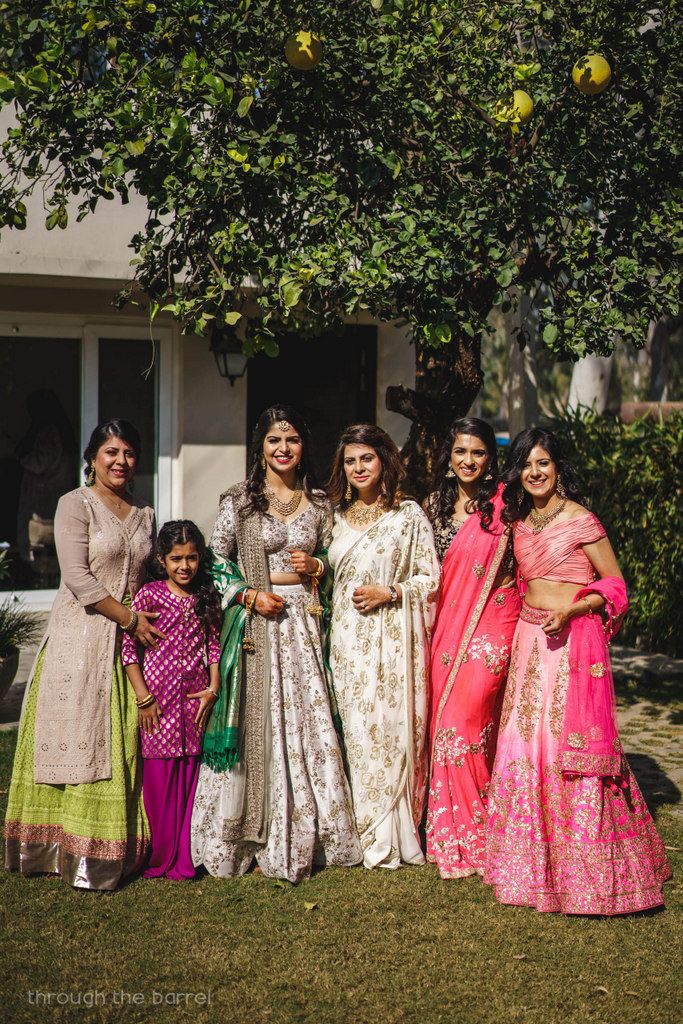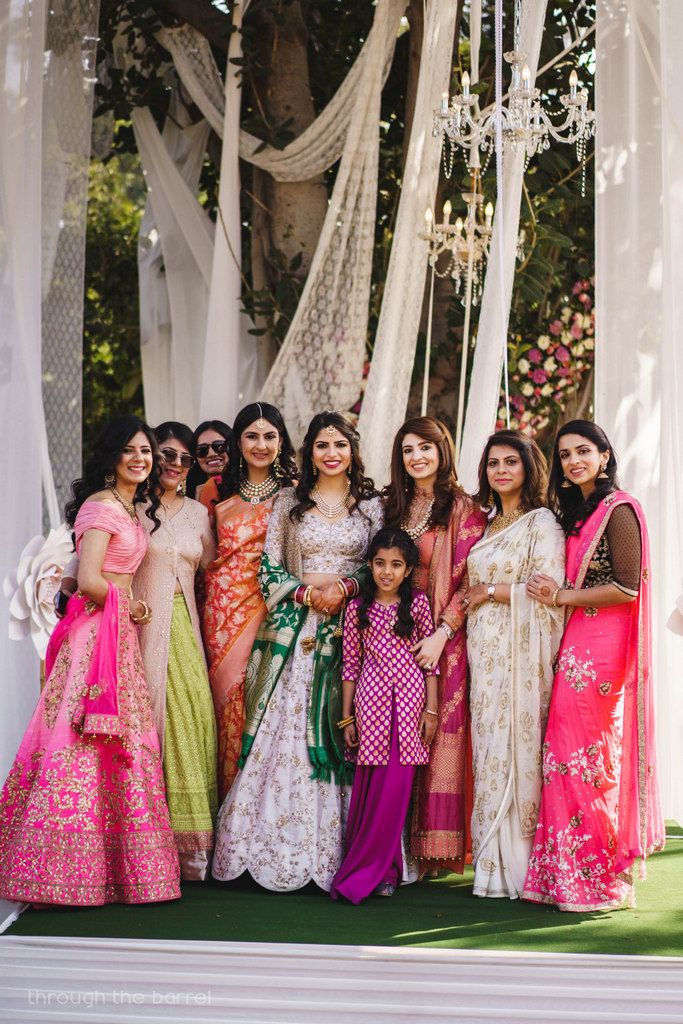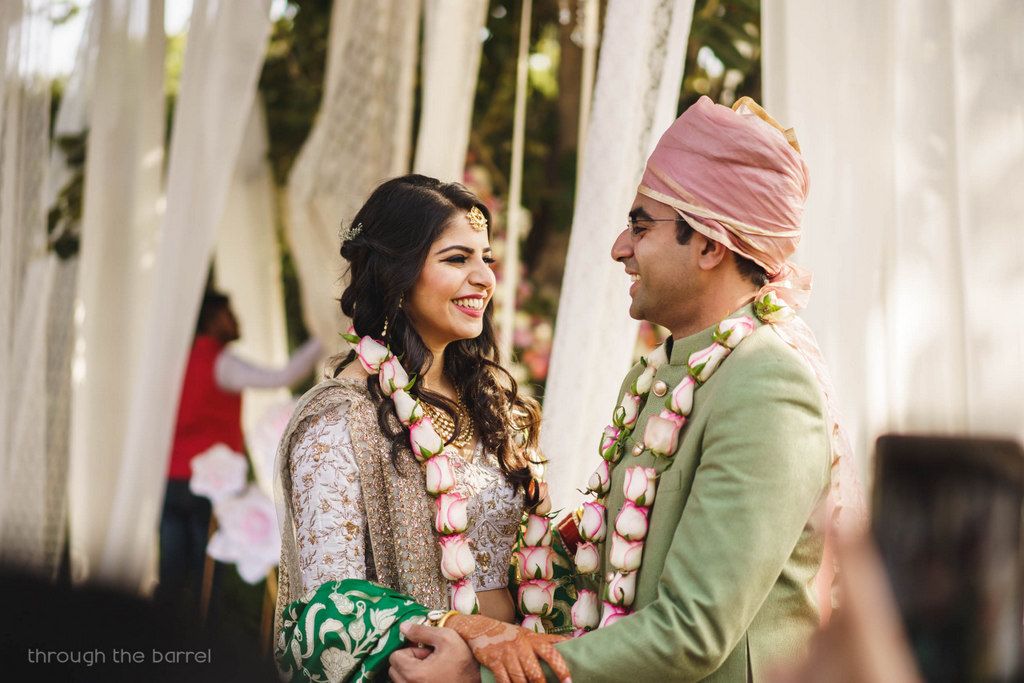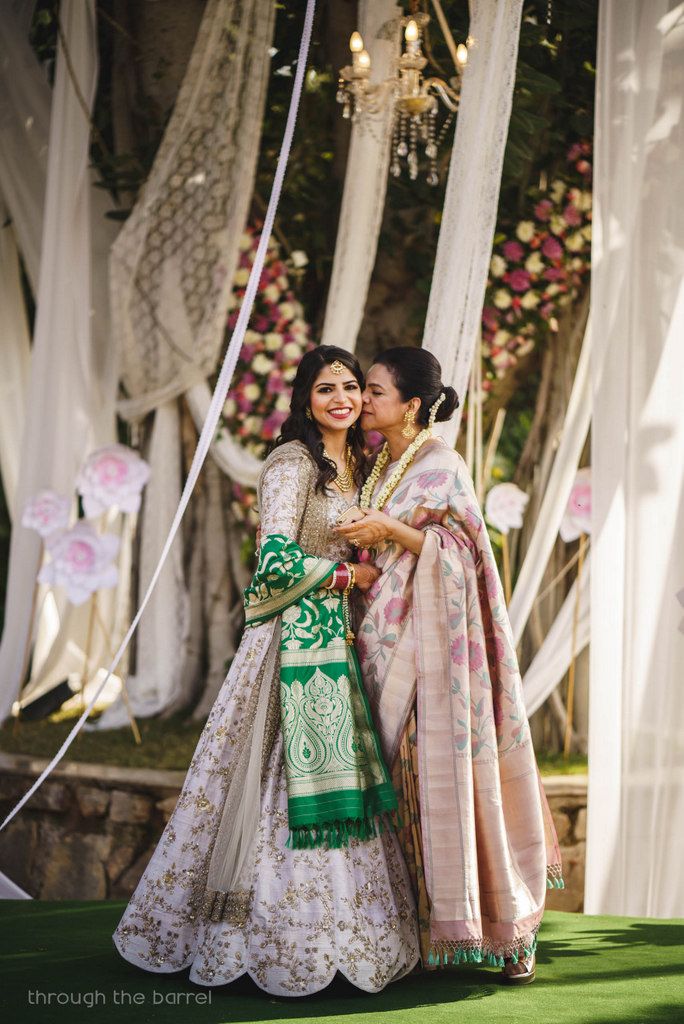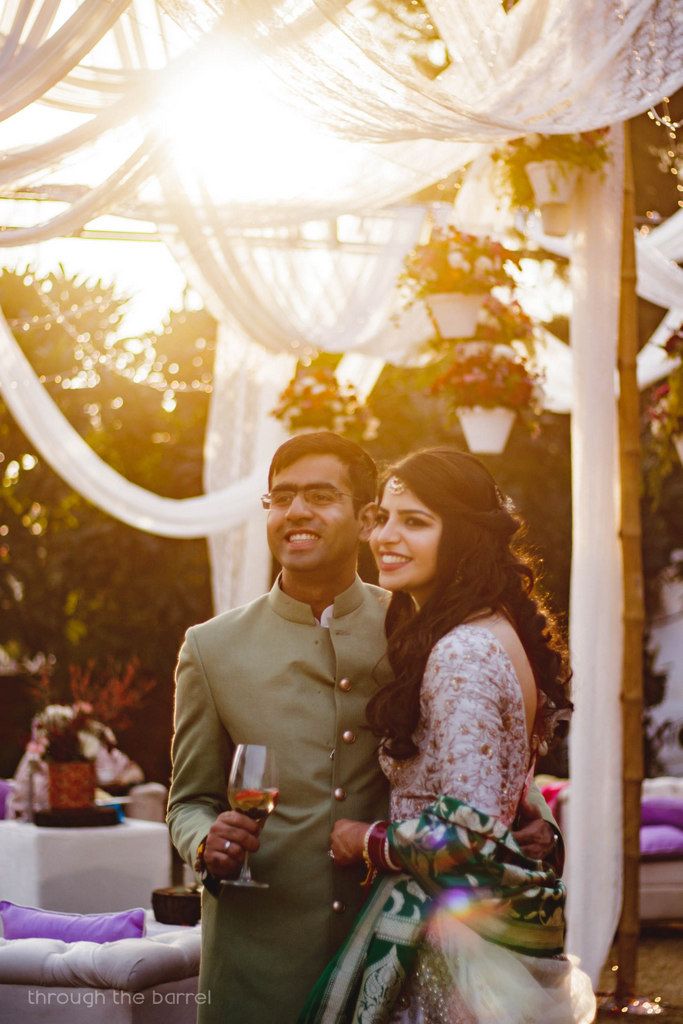 From The Bride:
I had two visions – (a) For the marriage – Archit and I, both, perceived marriage as not a big milestone, rather the day we decided to spend our lives together as a bigger milestone. For the marriage, we had it clear that as we did not believe much in religious customs, we'd want to get married only around our nearest ones. And hence went in for a civil marriage (b) For the wedding – Honestly, seeing the scale of things in Delhi and the outrageous expenditure involved, initially, we both weren't too keen on a large celebration. However, sooner rather than later, we realised that this would be the only way we will have our friends and family around us especially the ones who stay far.
So we did go ahead with a structure of traditional celebration, but focused on only keeping the fun elements.
Well we did envisage a slightly different wedding celebration. Some ideas were to have a varied idea of fun, and some elements were more to spread awareness and impart courage. Some relatively uncommon elements were:
(A) Cricket match – Well in the spirit of healthy competition and fun, it was girl's side vs the boy's side! (And the girl's side won). This was the first get together with closer ones, and thereafter both sides really bonded and hit off well through the rest of the celebrations
(B) No pheras and pandits – Only and only signing papers. Luckily both sides were seamlessly supportive of the same and it was as overwhelming as other forms of marriage seem like
(C) Milnis for all women – Not just the moms, but all women did milnis (buas, massis, grandmothers, etc.)
(D) A twist of eco friendliness – We had two large functions, a cocktail and wedding reception, except for aerated drinks packaged in PET bottles, there were no plastic water bottles (glasses and dispensers only), no plastic straws, no plastic stirrers, etc. used. A big thanks to our wedding planners – Wedding Duo, bar tender, Clayton and the caterers – Kwality and Puneet Sikand (The Kitchen Art Co.) Further, except for 6-7 hard copy invitations, all other invites were in digital form
(E) Partially failed attempt at 'No gifts' – Archit had a no gifting request and mine had a no gifts, else would be donated request (with a limit of Rs. 1,100). Though, I would not say that we fully succeeded, but didn't get gifts/ lifafa's from atleast 40-45% of the crowd. Even out of those who gave lifafas, a good chunk was restricted to Rs. 1,100. Our aim was to send out a message that weddings should be about fun and enjoyment over stressing over selecting the gift and how much to put into the lifafa. The trend these days has sort of made it into "pay for your plate" kind of practice. In case they really wanted to, they could limit it to an amount of Rs. 1,100, which was mentioned by me in our card. Nevertheless, I wouldn't lie that yes, we did end up receiving and accepting many gifts, which we do also treasure.
Vendor Reviews: 
The photography and videography teams were the ones we were most nervous about. They in a way would create all the memories for us to look back upon. After meeting Pranav ( Through the Barrel) and Aman (Film Screen), we were a little at ease. Our brief to them was to click the moments and not create them. We didn't want the typical posed pictures and really capture us with everyone and through the events. We were still a little sceptical if this would actually happen but I remember mentioning to Archit the day after the wedding that I don't remember seeing too much of Pranav and Aman yesterday, I hope we didn't scare them and they hardly captured us. But I think their work speaks for itself. Absolutely brilliant candid moments captured and the trailer is something I can watch a 100 times and it still brings a big smile to our face!
I have never been a make-up person and I don't like how brides are so overdone on the day of their wedding and don't look like themselves. Aliya pushed me to meet Annalia (makeup artist), she had worked with her for her own wedding and she understood my apprehensions. From the go, Annalia knew exactly what I was talking about and gave me all the confidence after my trial. She was very patient with me through the back and forth of my outfits and deciding on my final look. On the final day, I couldn't have been happier! I was so comfortable and felt just like myself.
Headed by Aliya and Vishal, the Wedding Duo team was a superb choice made for planning our wedding, as they went all out to deliver exceptional client service. Concisely put: Very creative and full of ideas, yet very accommodating and inclusive to our ideas, choices and budgets (not overbearing). They were exceptionally agile and responsive, making them seamless to deal with. Well connected/ networked and very resourceful. Solution oriented (turning around the decor for a function 2 weeks short- still beautifully executed)!! Very well organised and planned, leading to no lapses (at least none that glaringly came to our attention). Friendly and helpful - Went beyond their scope to help in stuff required at home and smaller functions, not under their purview.
Jayanti Reddy's team made my life so easy. Sitting at home I ordered my outfit with them in Hyderabad and it was delivered at my doorstep right on time! An absolutely seamless experience with Nelofer from JR's team, went to the extent of sending swatch samples from Hyderabad, a trial for my blouse before delivering it all perfectly as per my expectations! The cocktail outfit was from Ridhi Mehra. Initially, we went through some back and forth on the design but Ridhi's expertise really created magic and gave me exactly what I had in mind (actually better than what I had in mind). Muted, something I was absolutely comfortable in, through the whole evening and through all the dancing! There were no pinks and reds and I don't think I have any regrets!
The perfect choice for your bar! Clayton (bartender) was extremely professional, not overbearing, seamless, andmature. He well understood our choices, requests and demands. He was extremely practical with his advice on quantities, brands and types of cocktails. Needless to say that Clayton and his team (also headed by Rahul), did a splendid job with delicious cocktails, both for the day and night!! Would confidently recommend him for taking care of your bar!
Puneet Sikand (The Kitchen Art Co.) was hands down the champ in his field. Excellent food, presentation and service. Hospitality, the way the best of five star hotels need to learn from. Their concept of having a butler service, was out of this world as it was flattering, practical and none of the main people were left hungry/ thirsty. Sameer's team (Kwality) also provided superb food and menu choice, great and unique presentation. The manager Sameer, was a great leader for his team, making sure food is served piping hot even at 3:30am! Very hard working and efficient team.
The Unplugged Project are one of the main reasons our wedding reception was a big hit! Their knack to understand the audience's choice and vibe, their selection of songs, the mashups, was perfect for wedding crowd which ranges across ages and places from everyone comes from. Not a single soul left without letting their hair down! Their stage presence and engagement with the audience, made them a very friendly and interactive band – Very easily standing out above the rest!
I didn't want the run of the mill designs of elephants, lotuses and Mughal jaalis. Aishwarya, the designer behind our Save The Date and invites from my side, had made my friend's wedding card and that's how I got in touch with her. She worked with us through our story, us as people, our vision and managed to recreate a wonderful interpretation and yet a very delicate invite. The 'save the date' was totally personalised and everyone had a good laugh when they received it. Suneet (CAF, Chandigarh) (Archit's side) were also a very professional team! They were very creative, helpful and patient, with helping create a digital DDLJ themed invite!
I am a complete non-dancer and Karan managed to make me do 3 dances and one of them included a bit of a solo!
On the other hand, Archit- a born performer, had the best time with Karan planning the surprise for everyone and adding all the Bollywood masala to the performances. He was the choreographer from both the sides and from Day 1 kept our song lists a secret to let it be a surprise for the other side. He mixed so well with the families and treated the performances like his own family wedding. Our song choice was also a little different with none of the usual latest songs- but he never forced his own ideas on us. Though he did add audio clips in between with dialogues making them even more fun! Karan was absolutely brilliant and a joy to work with!
Vendors: Venue – Amaara Farms (Wedding reception), Lata Greens (Cocktail) and The Grand (Mehendi); Makeup Artist – Makeup by Annalia★ 5 ; Photographer – Through the Barrel★ 4.5 ; Videographer – Film Screen★ 5 ; Wedding Planners And Decorators – Wedding Duo★ 5 ; Bridal Outfits – Jayanti Reddy★ 4.8 (Wedding reception), Ridhi Mehra★ 4.6 (Cocktail); Bar Tending – Clayton Gracias from Behind Bars; Caterers – The Kitchen Art Company★ 5 (Wedding reception) and Kwality Caterers★ 4.7 (Cocktail); Live Band – The Unplugged Project; Save the Date and Wedding Invites – Aishwarya (Girl's side), Suneet, CreateAFlutter★ 5 , Chandigarh (Groom's side)