A Minimalist Delhi Wedding With Refreshingly New Outfits And An Old-School Love Story
BY Soha | 01 Mar, 2019 | 7279 views | 7 min read
Two amazing things that made us go Whoa! about this wedding- the gorgeously minimal white Sabya lehenga that this bride pulled off and with such grace (Yes, a white wedding lehenga; one of many, shall we say?) and the couple's sweet 'love-at-first-sight' story that began 10 years ago! It takes an entire army to bring to life a wedding as refreshing as this one, special shout out to Designer Events Inc★ 4.9 for planning and executing everything to perfection. And to Shutterdown - Lakshya Chawla★ 4.9 who took all the gorgeousness one notch higher with their splendid shots! 
Meet Ritika & Akshay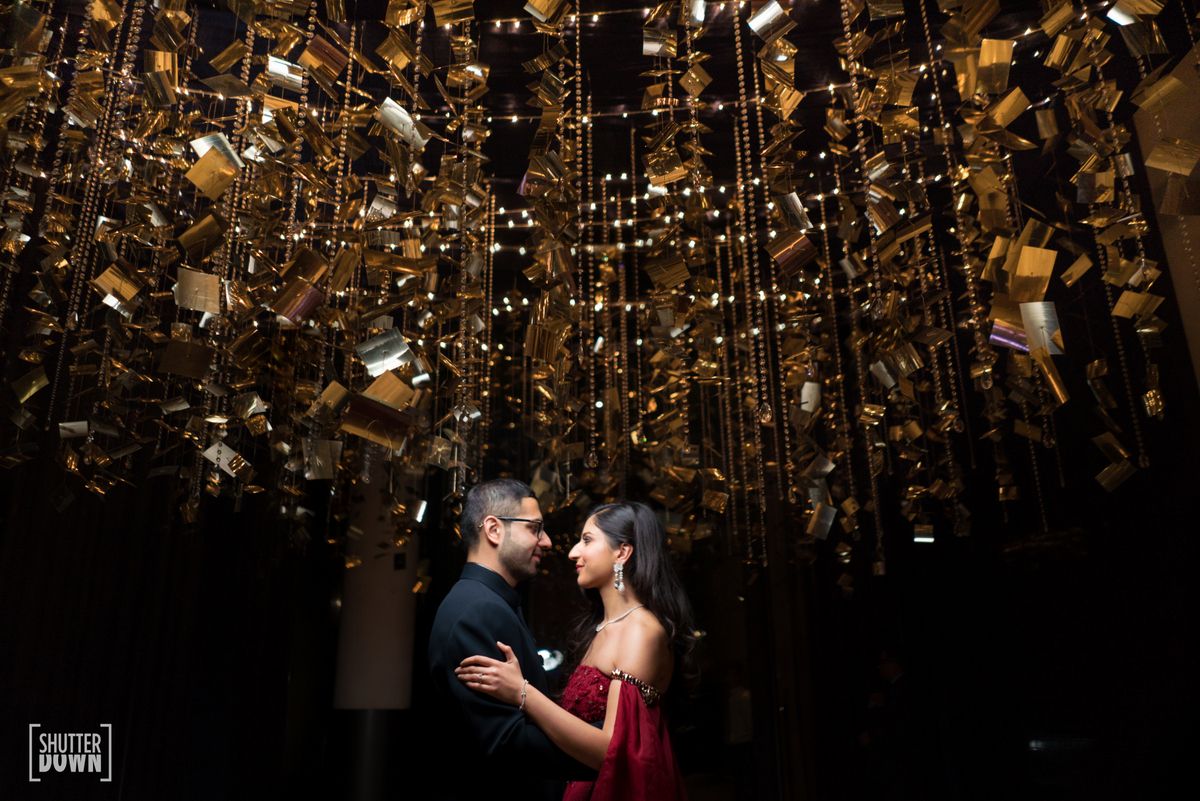 Their's is a typical Bollywood love story. "Akshay and I have a quintessential, old school Bollywood love story!," starts Ririka.
"It began along the lines of Hum Aapke Hai Kaun! We met ten years ago when my brother got married to his cousin sister, and I developed a massive crush on him right then, as a kid! He was my first and only love, and I eventually told him how much I couldn't stop gushing about him, 5 years ago! I'm quite the real life version of a Shah Rukh Khan film, I couldn't hold it in and couldn't wait to profess my love! And, being the biggest DDLJ fan, I even proposed with a miniature cowbell which I bought as a kid to someday give to my future 'Raj' ;)".
"However, since I'm a London-er and Akshay lived in Delhi, we knew we would have to work through a long distance relationship. Throughout this time we learnt so much about each other - all the good and all the bad, and that just made our relationship so much stronger and it withstood the test of trust, time, patience and love! After years of travelling between London and New Delhi, our LDR finally came to an end! In January 2018, we got engaged in Paris and in December 2018, we finally tied the knot in the most magical way possible! It was exactly the scene I'd dreamt of with him since I was 13!," she shares.
Mehendi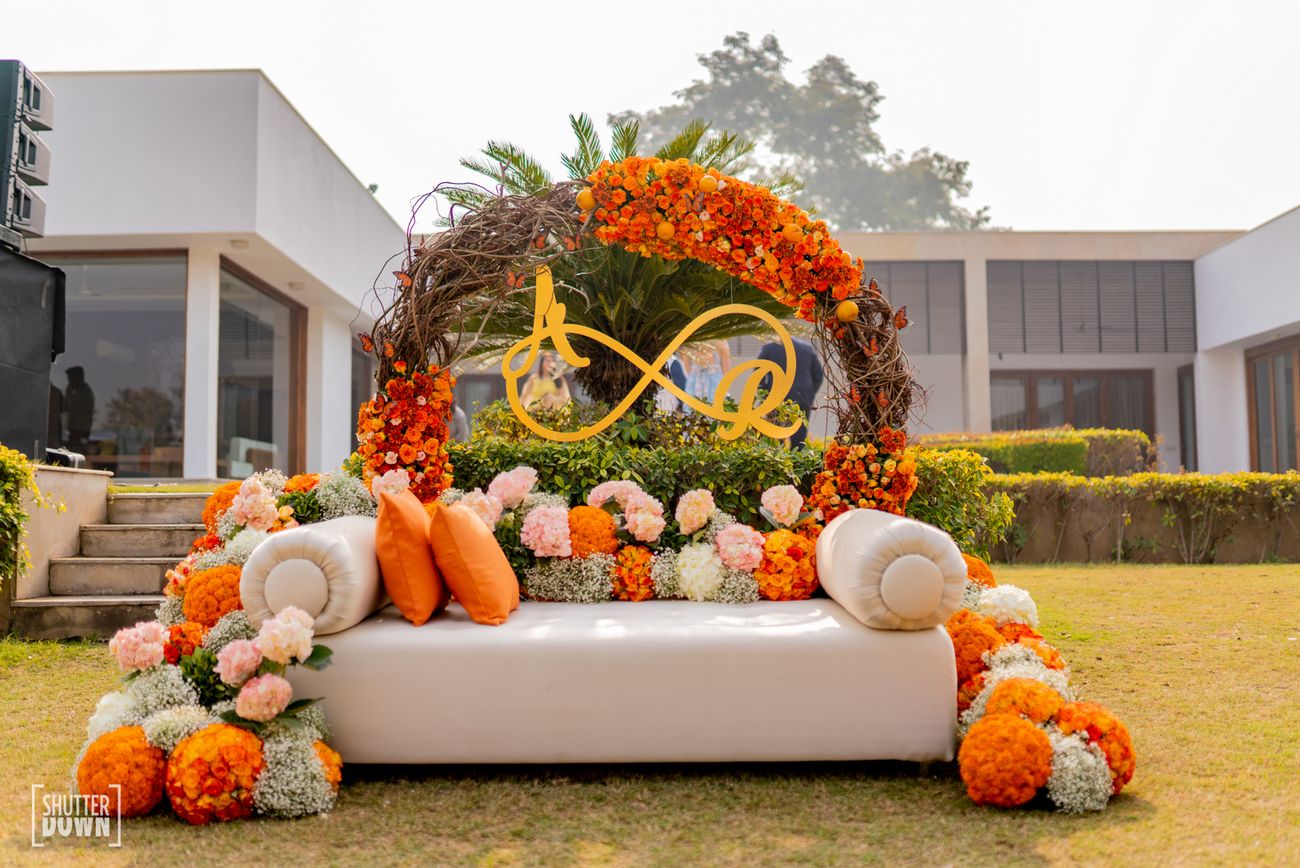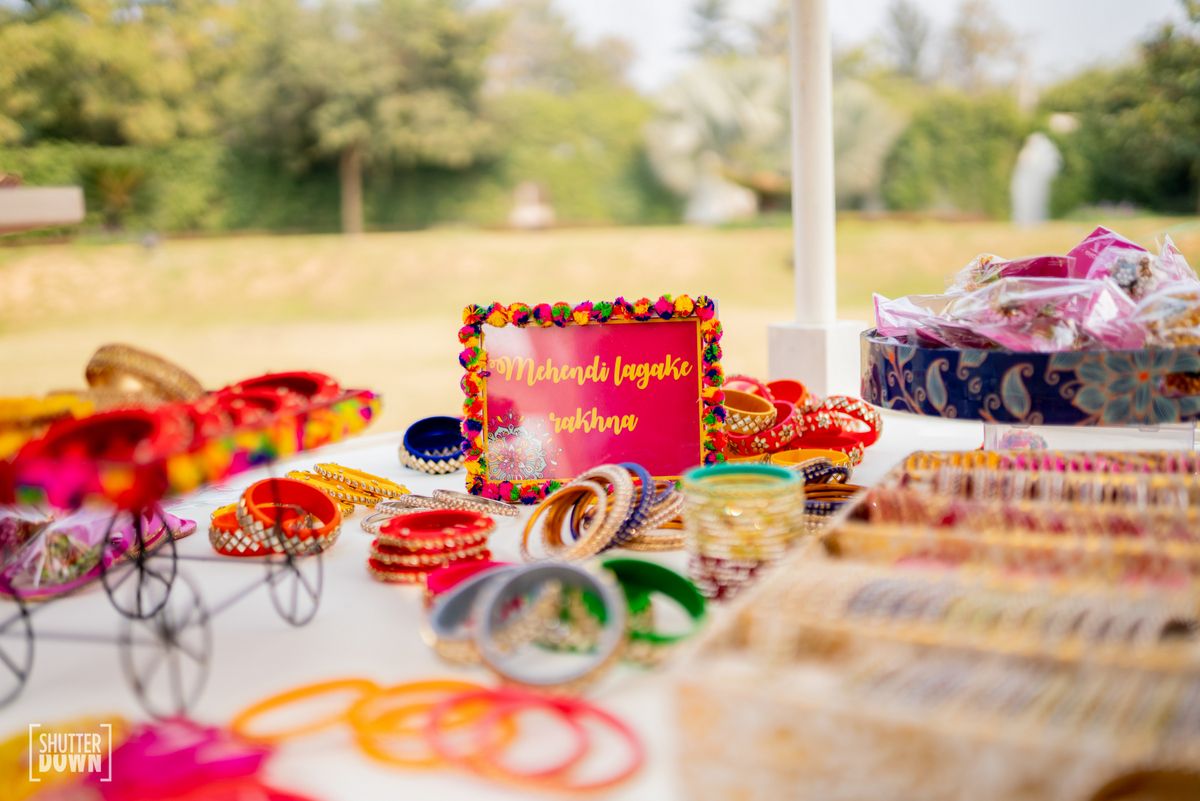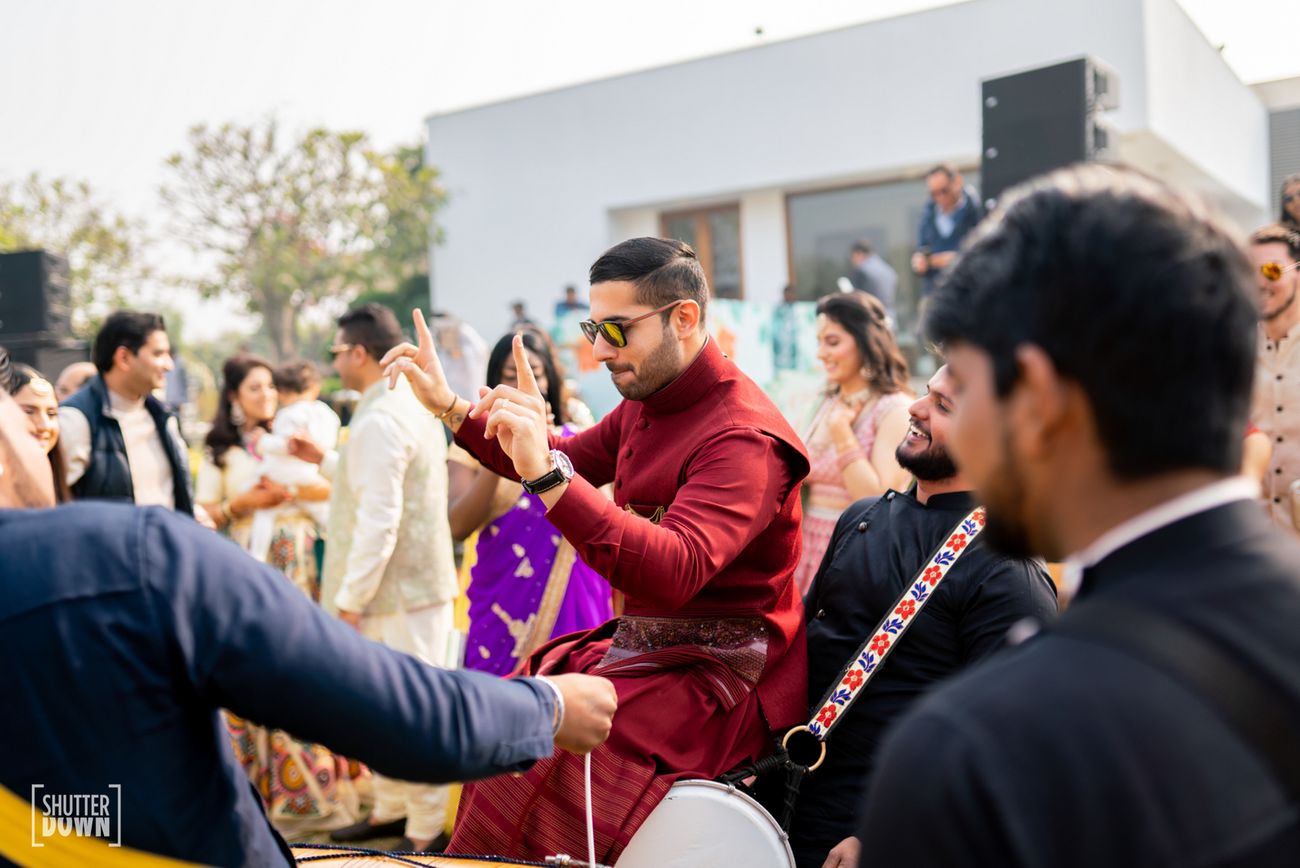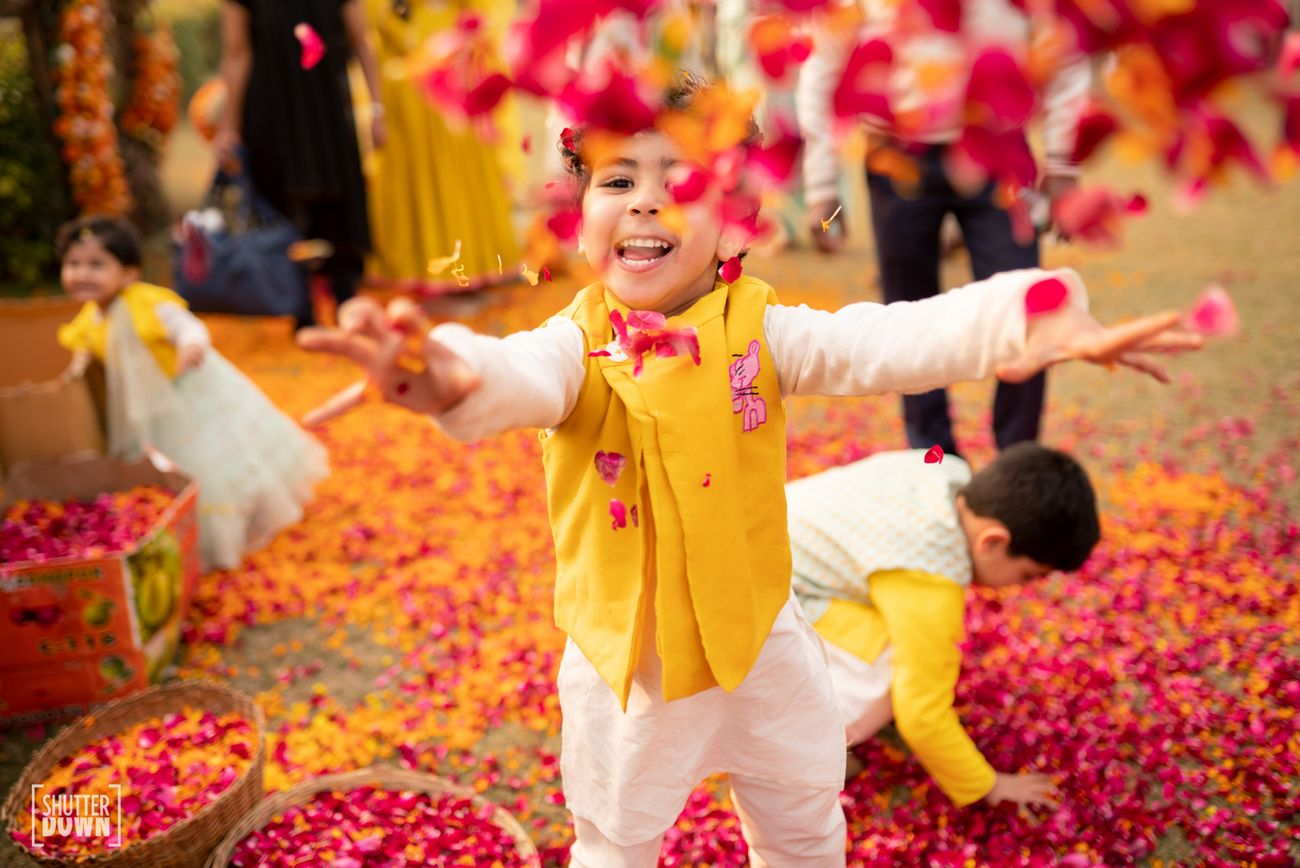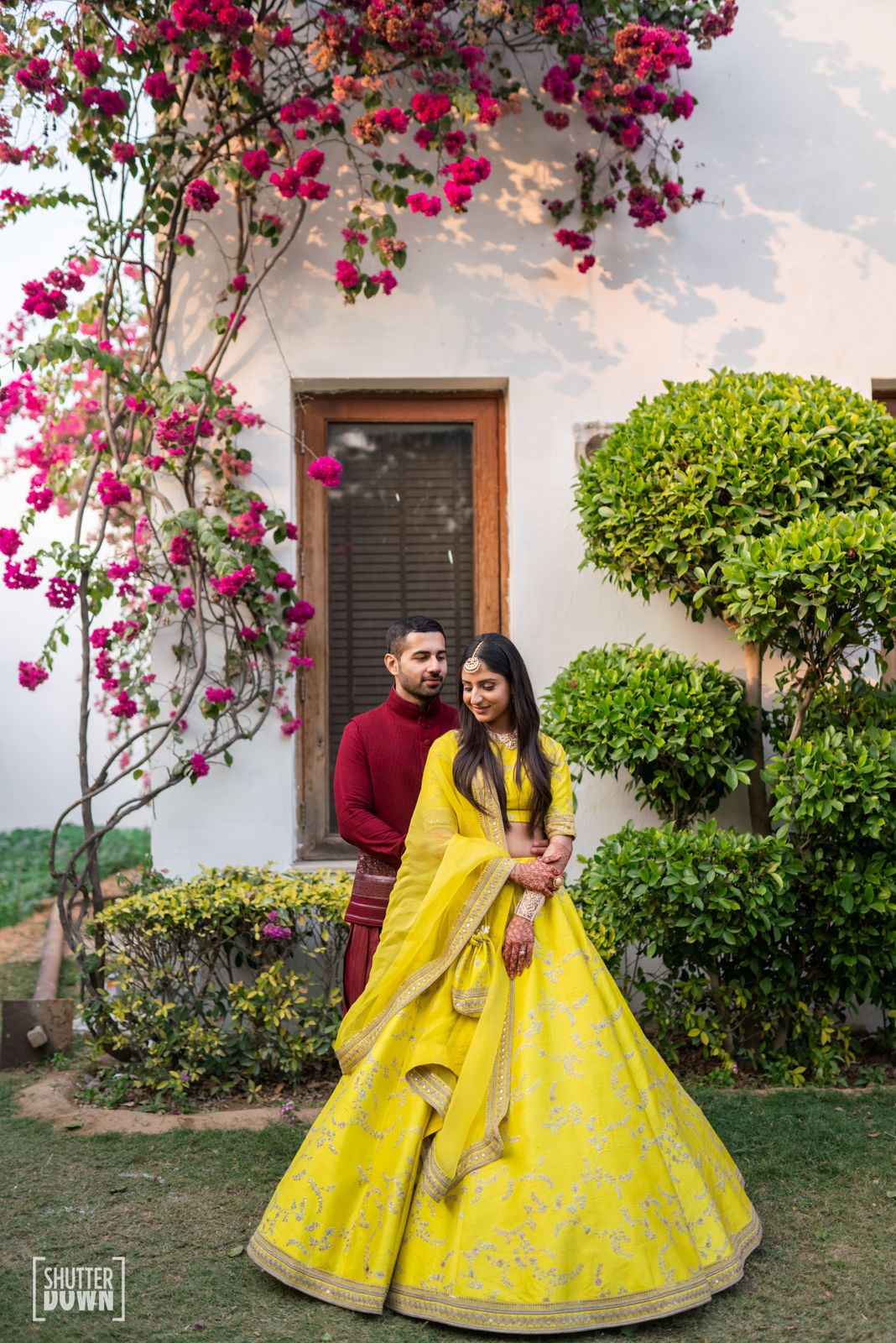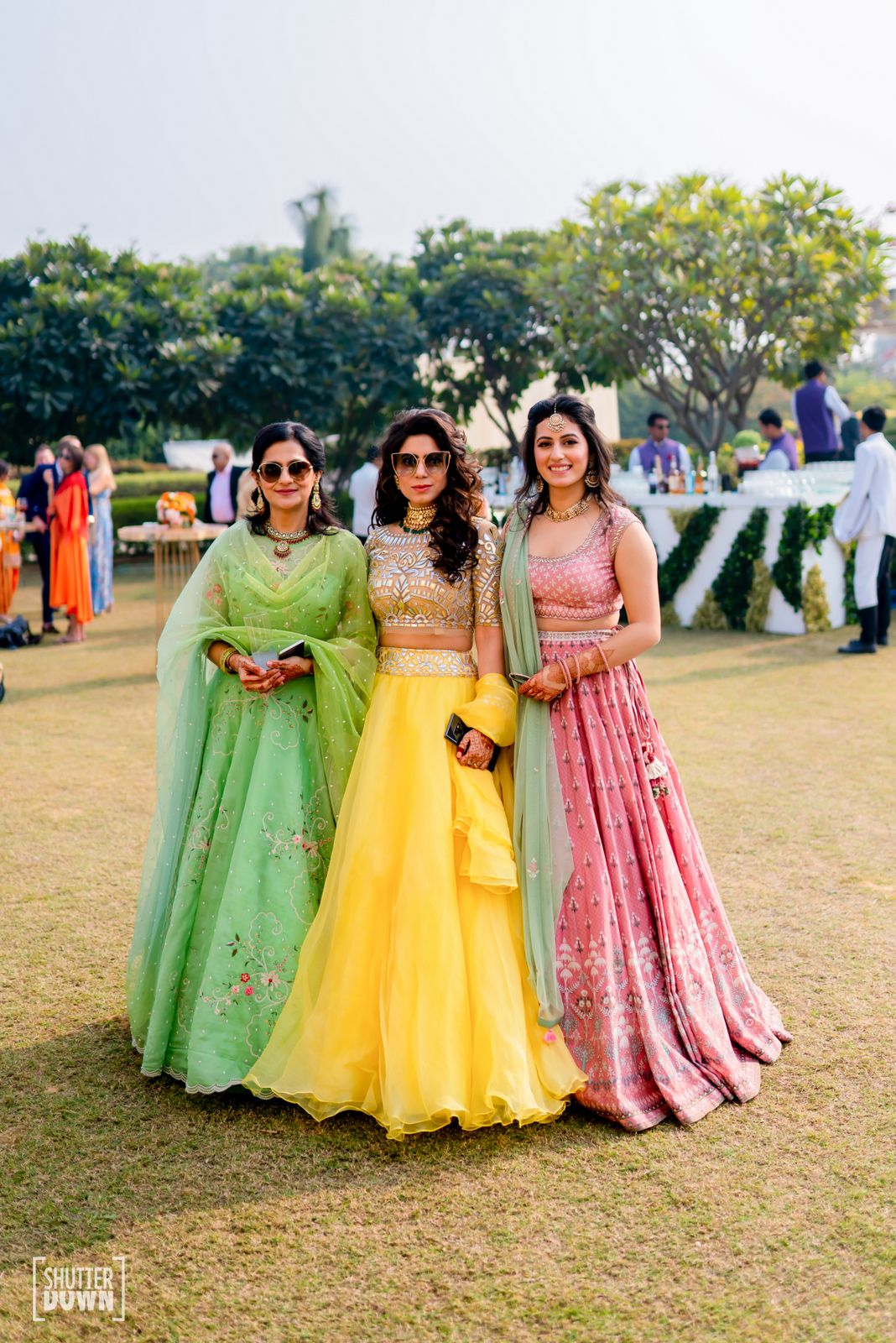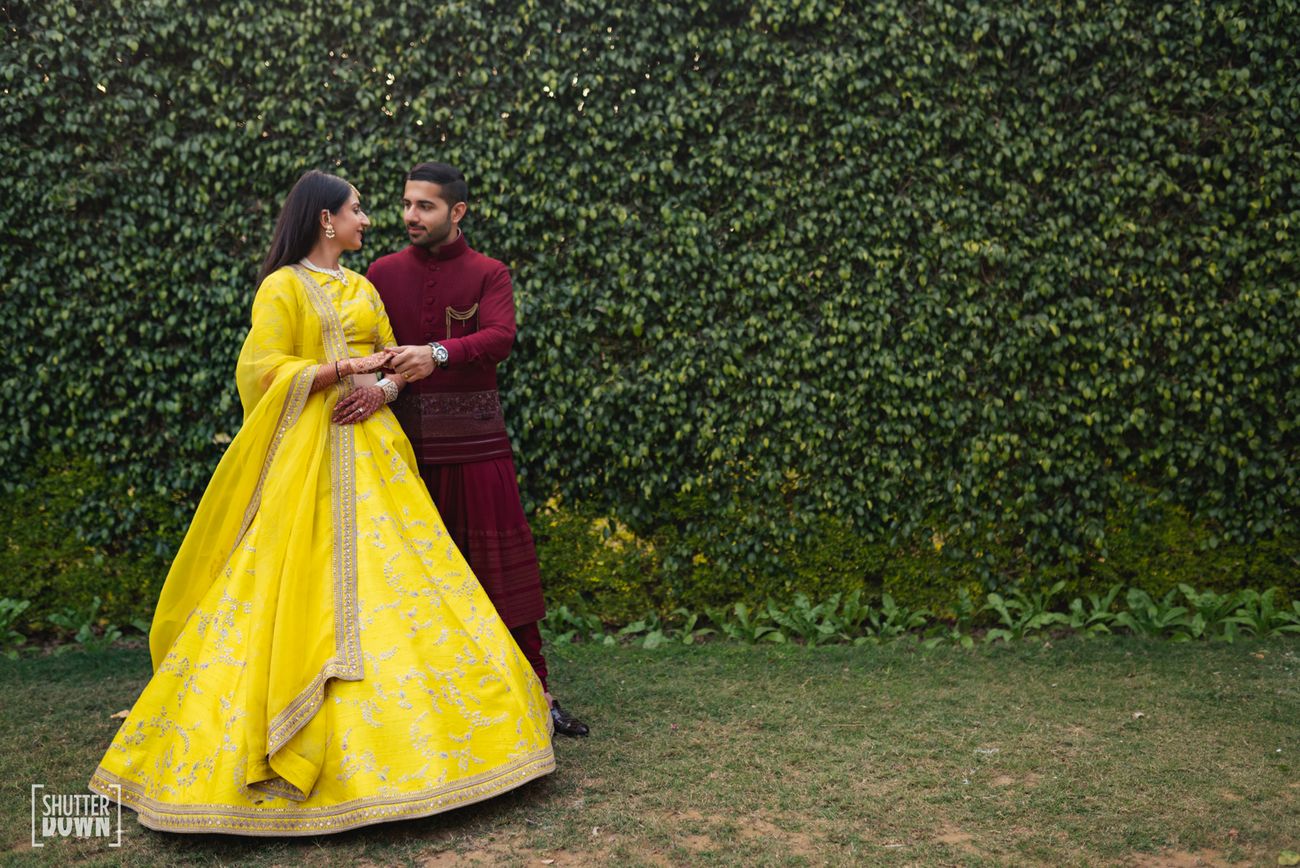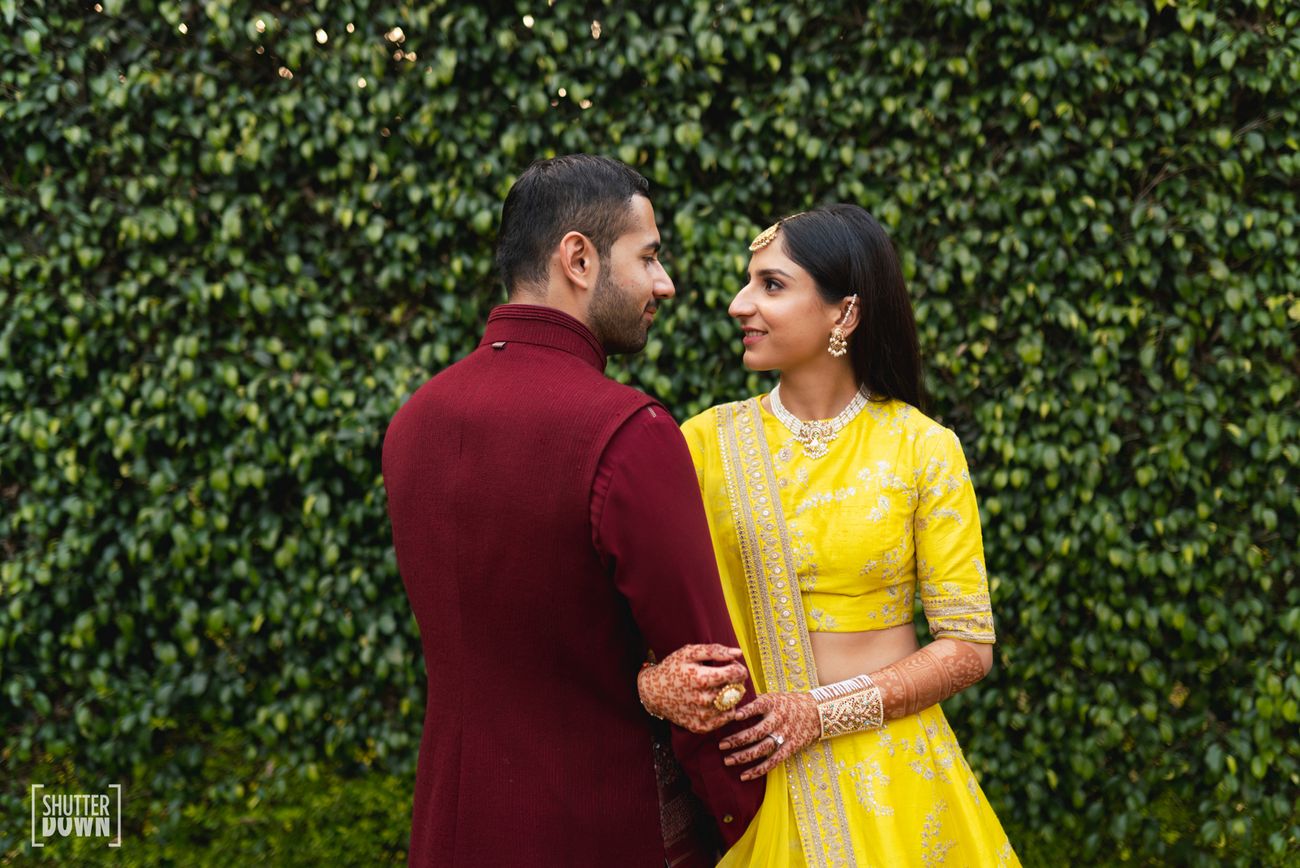 Cocktail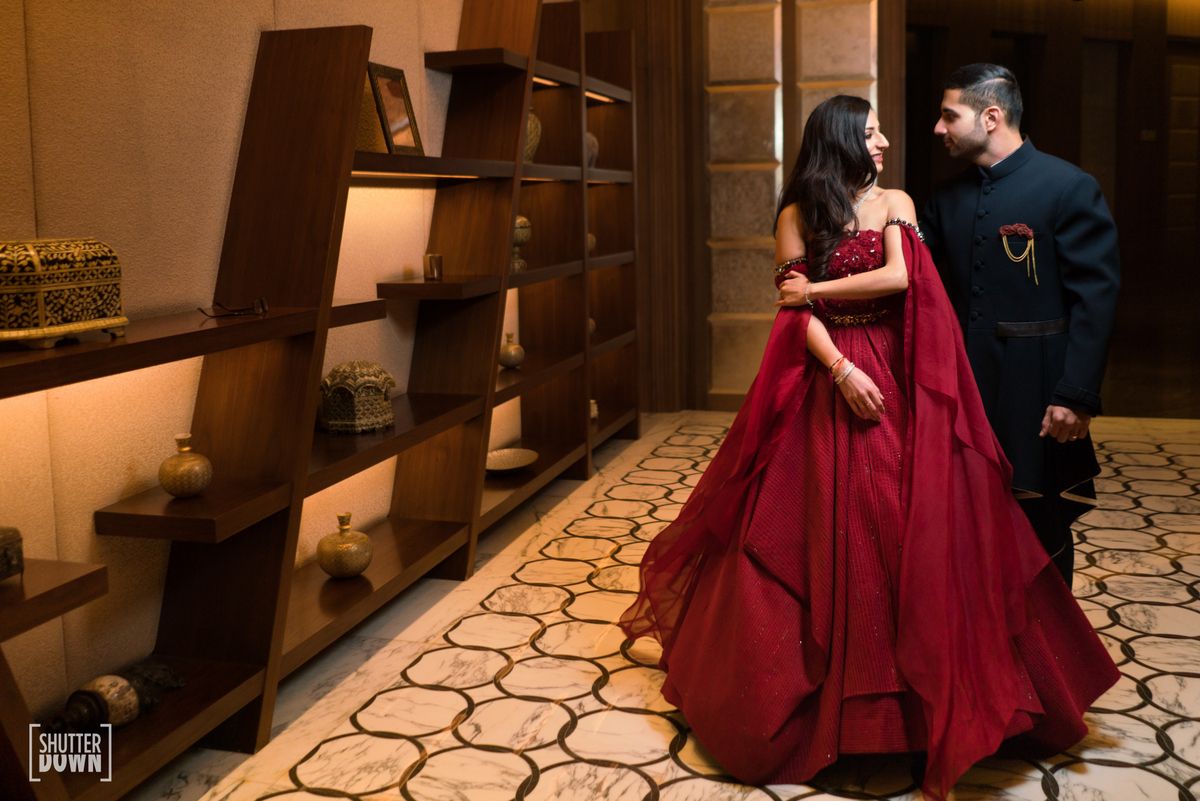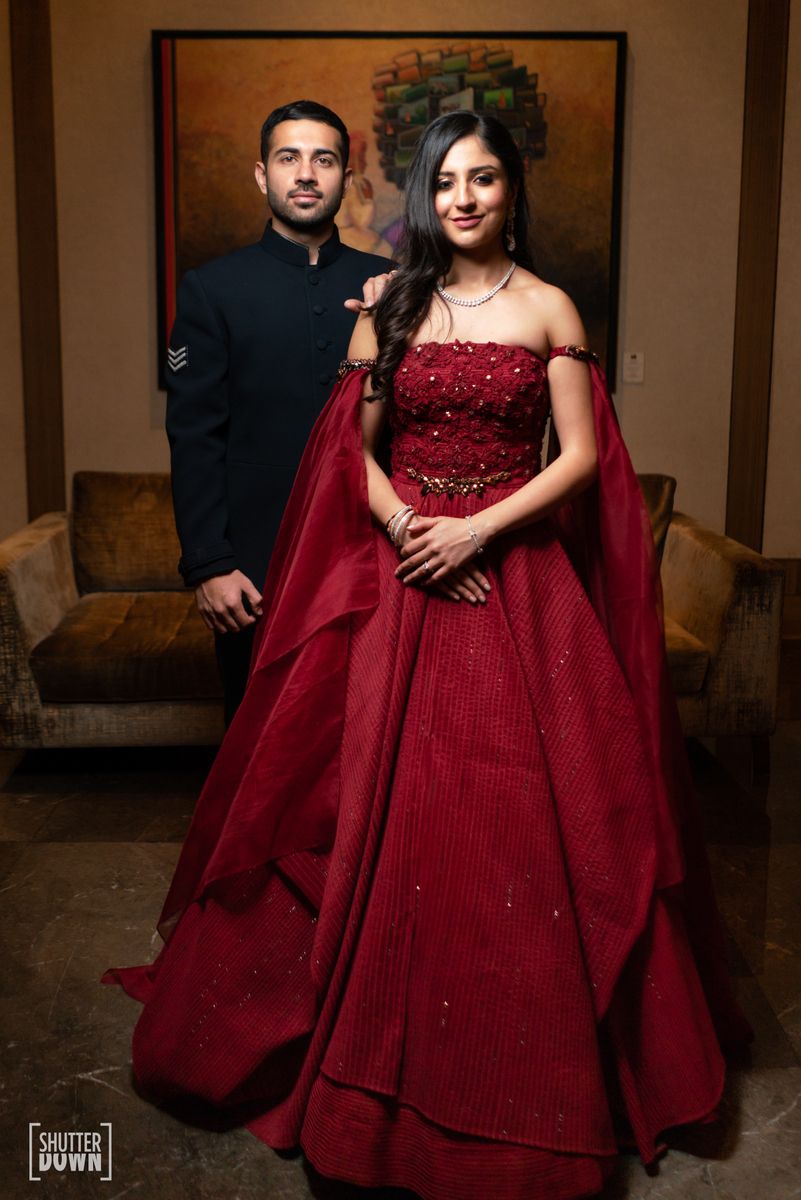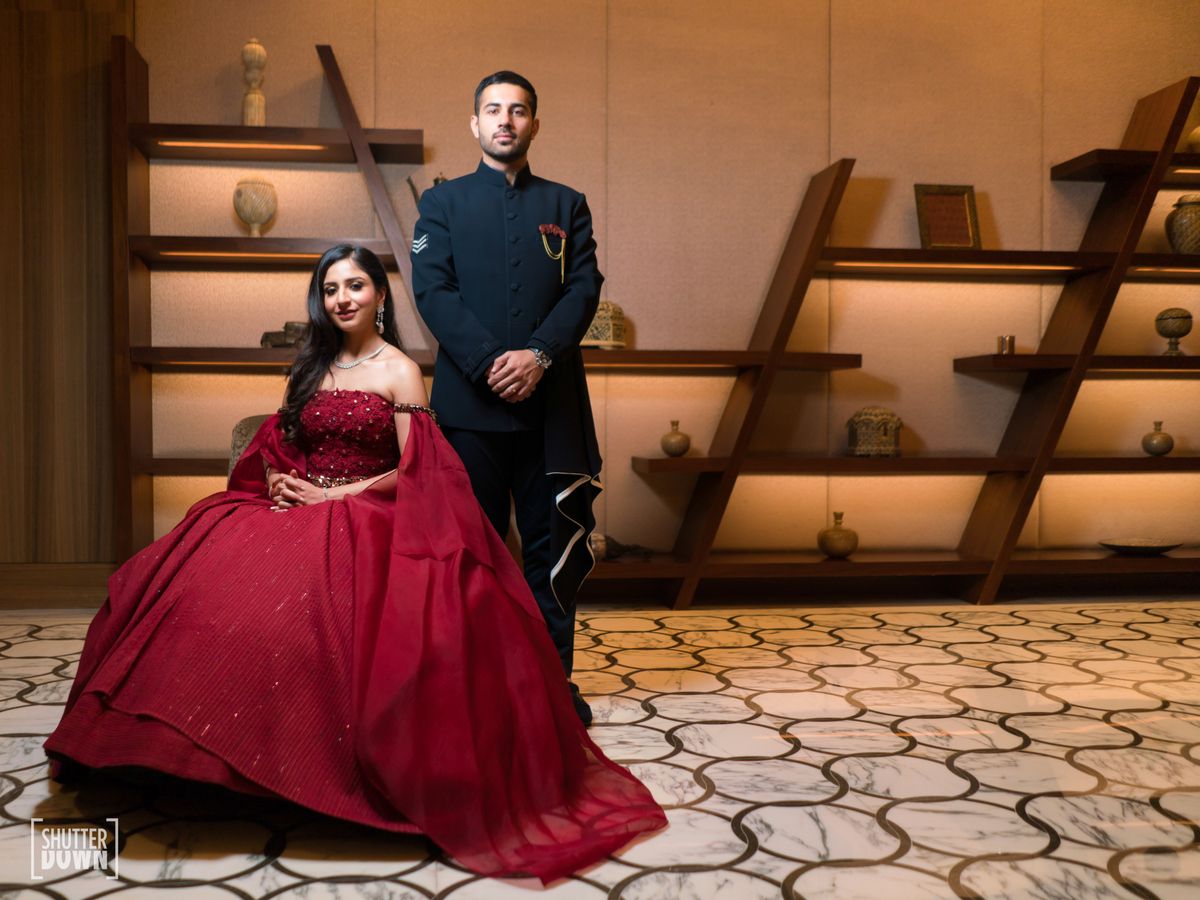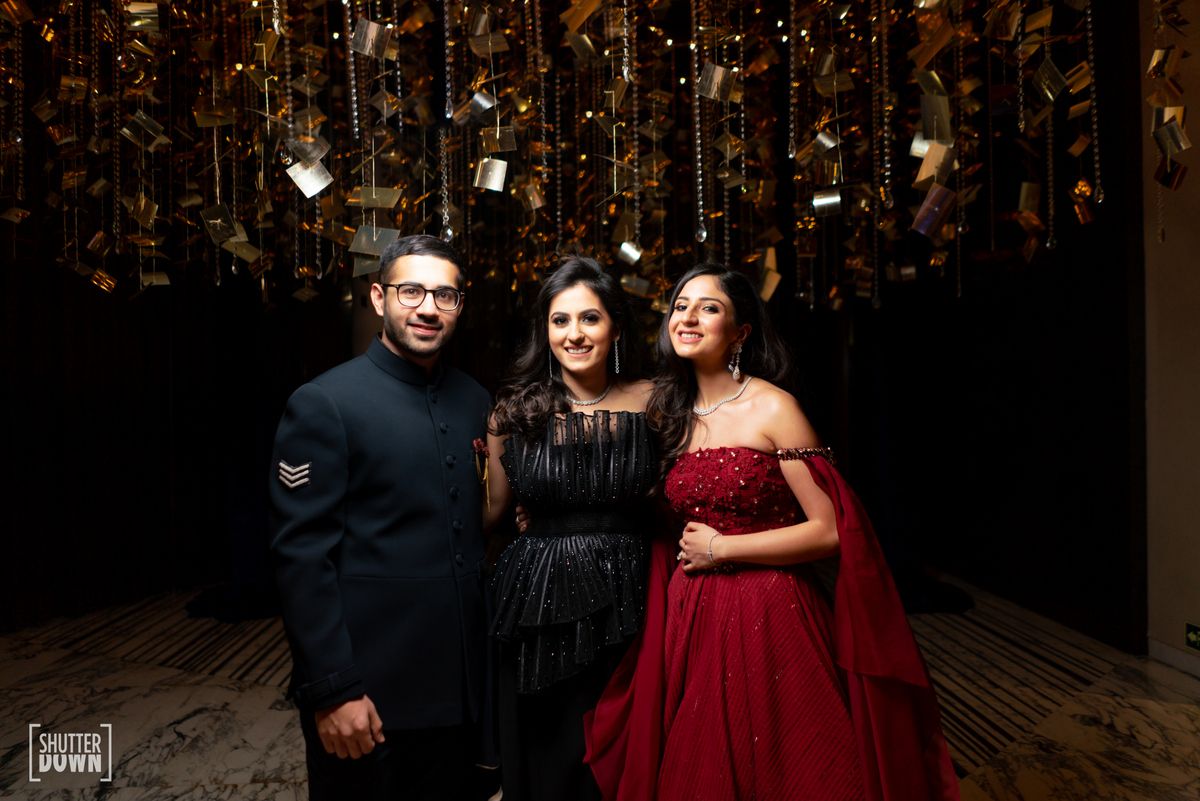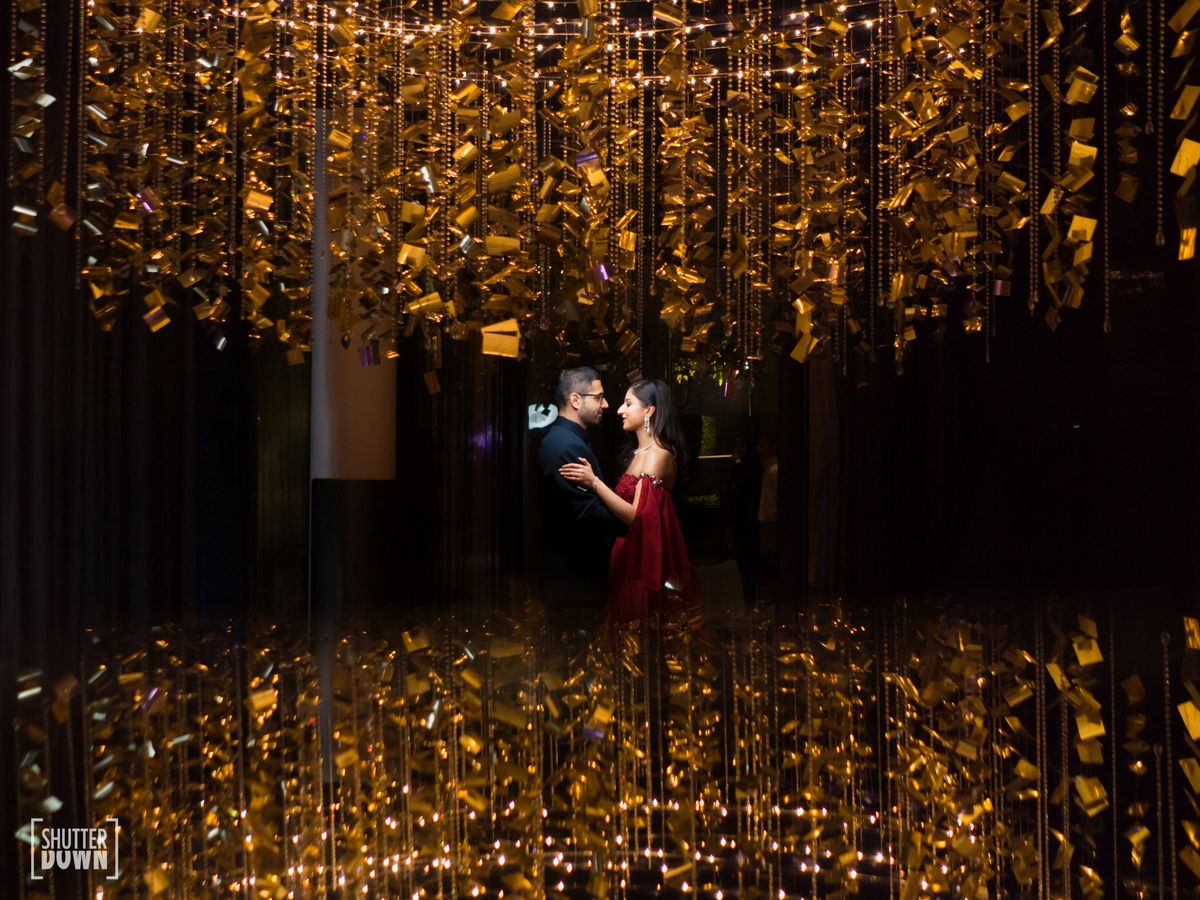 Wedding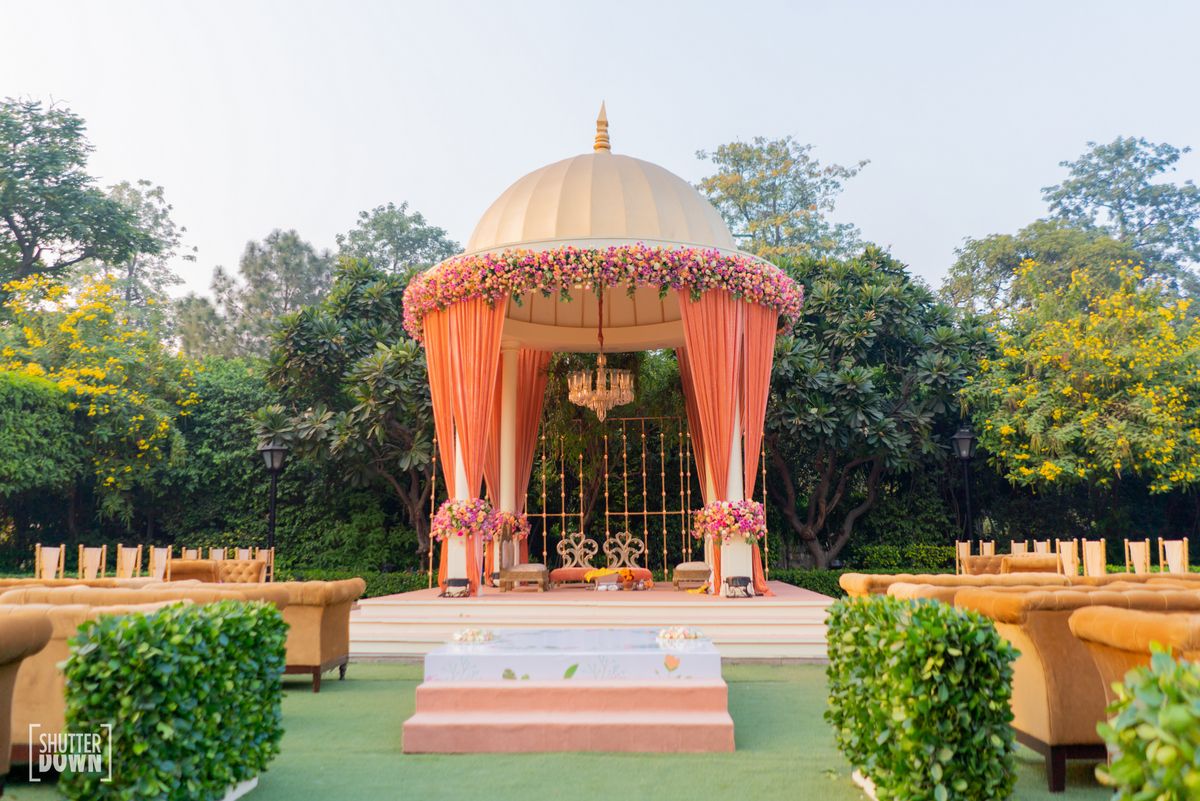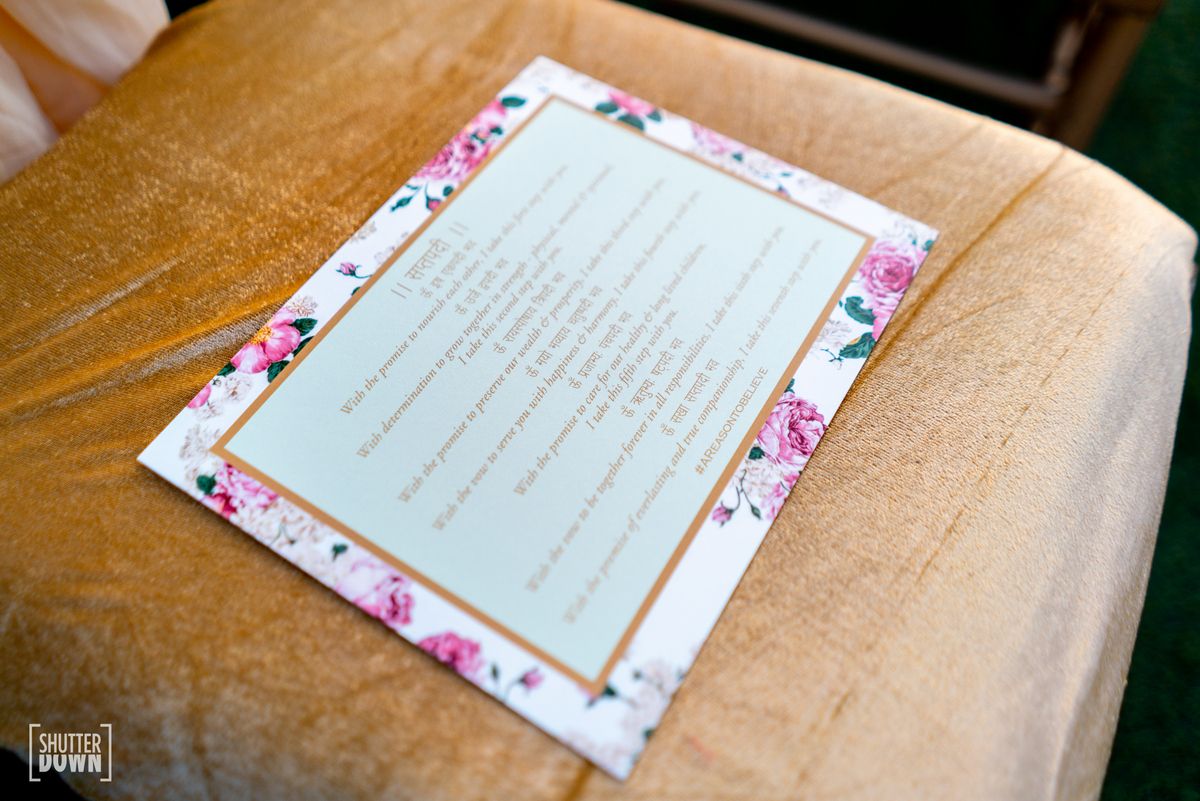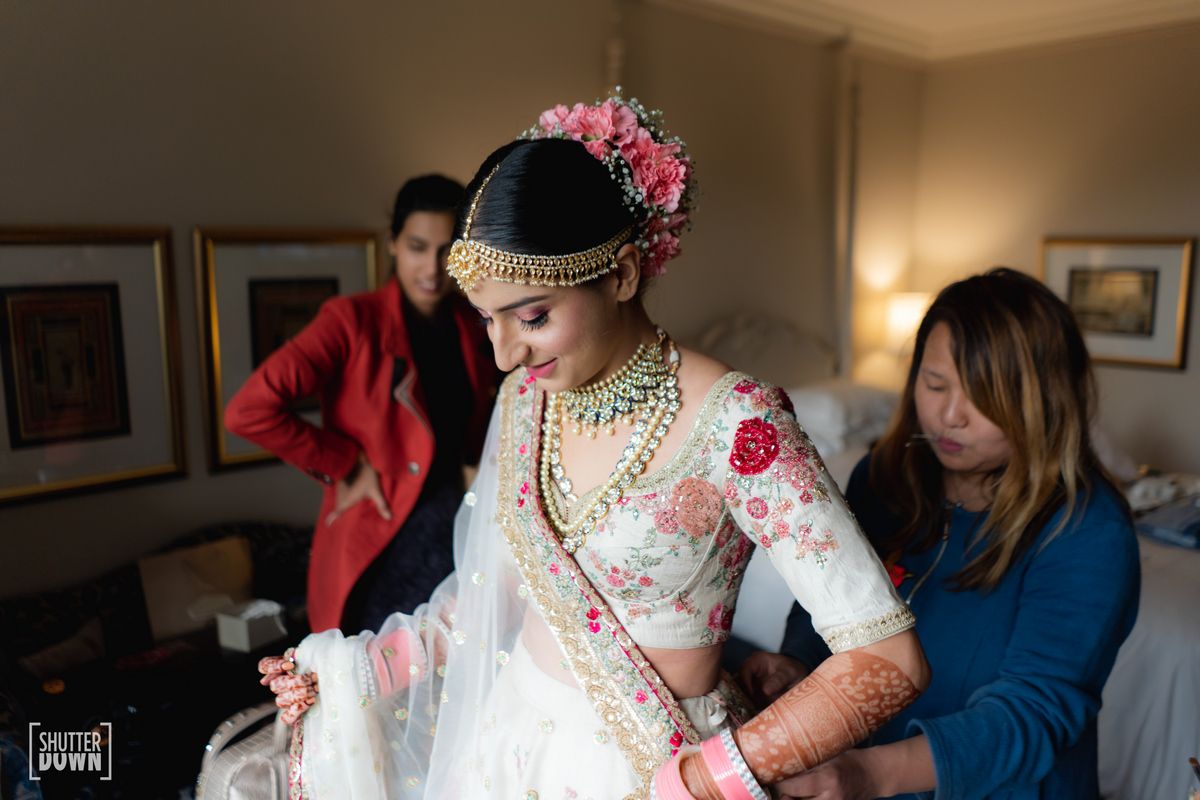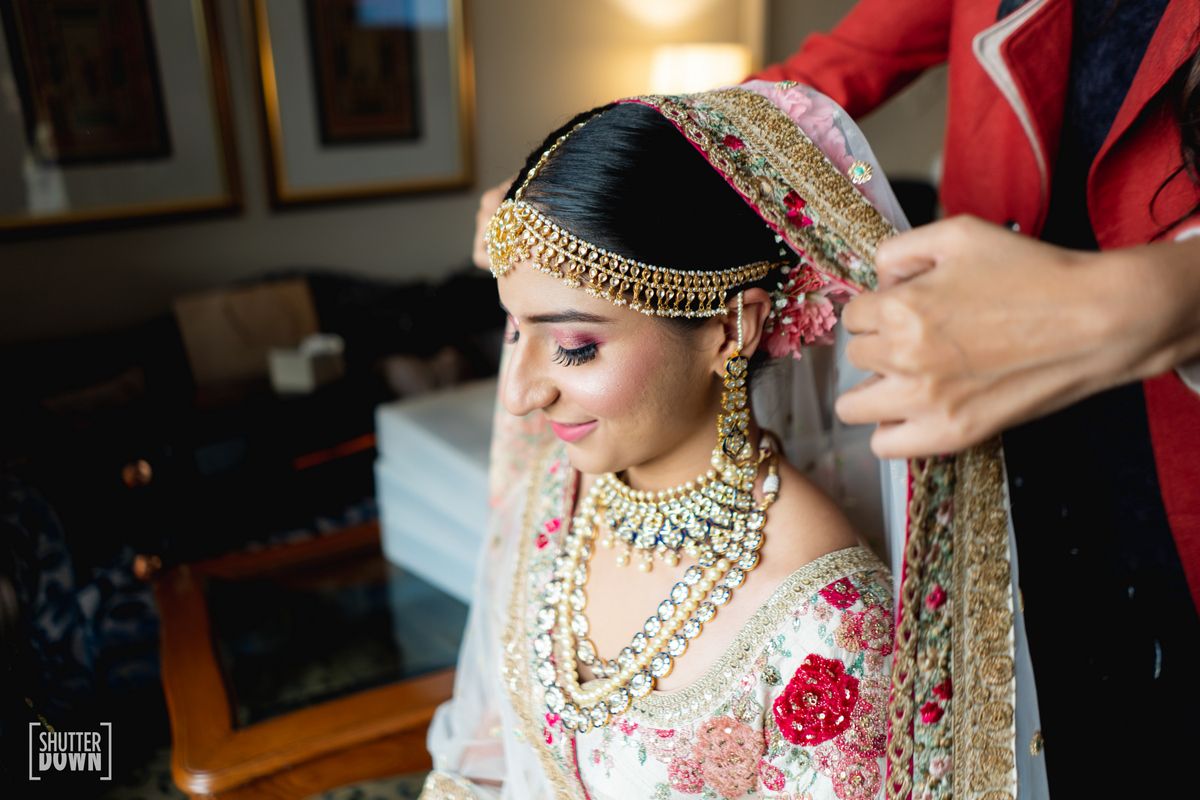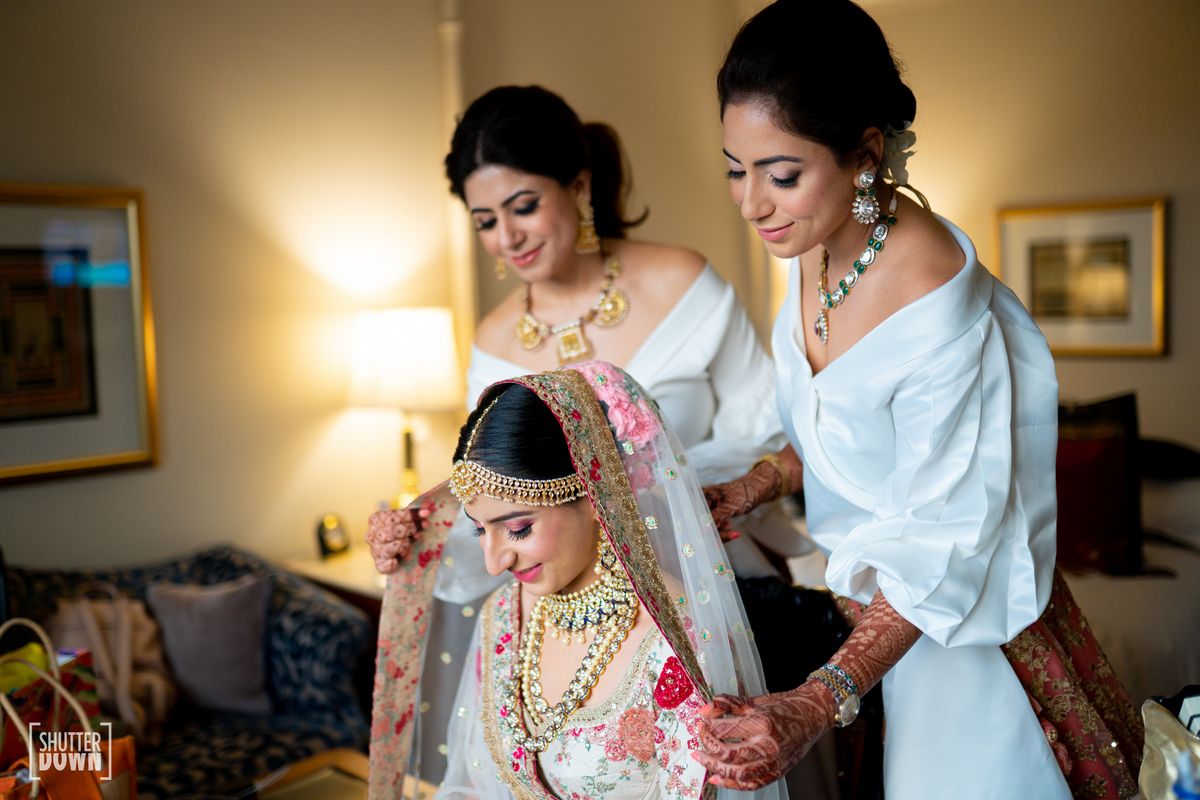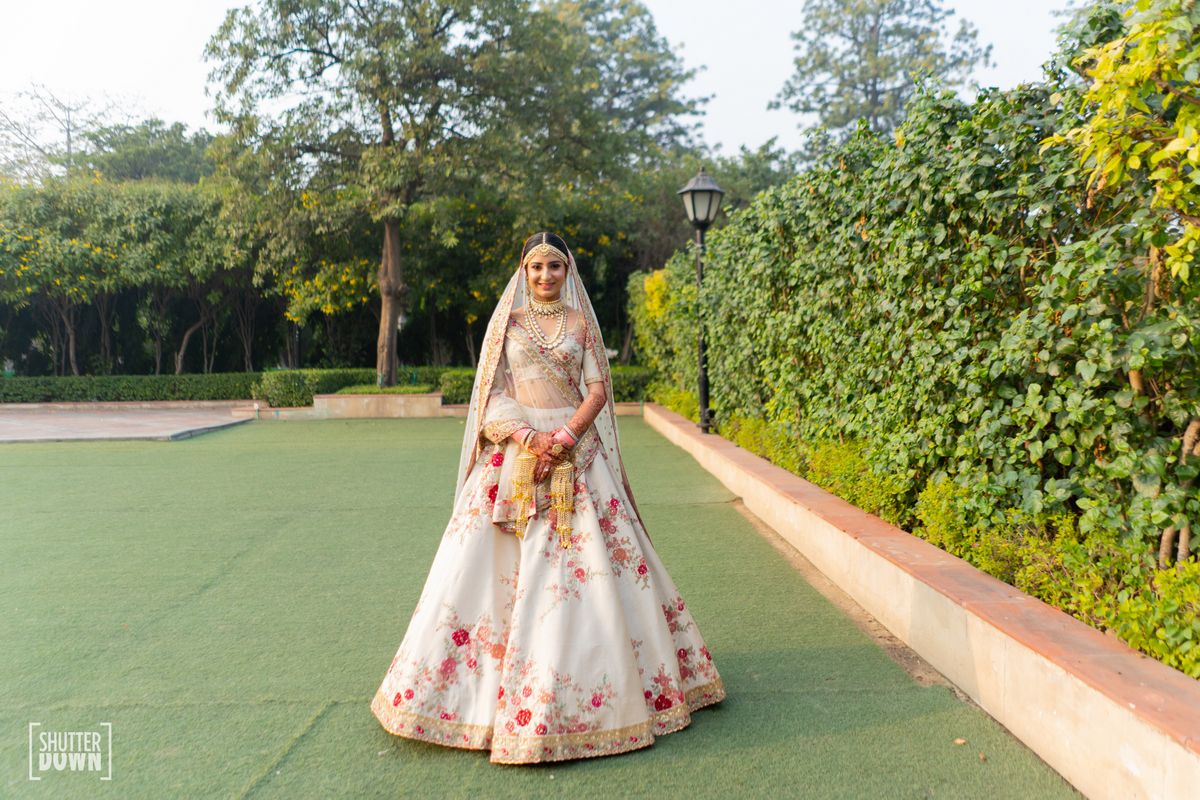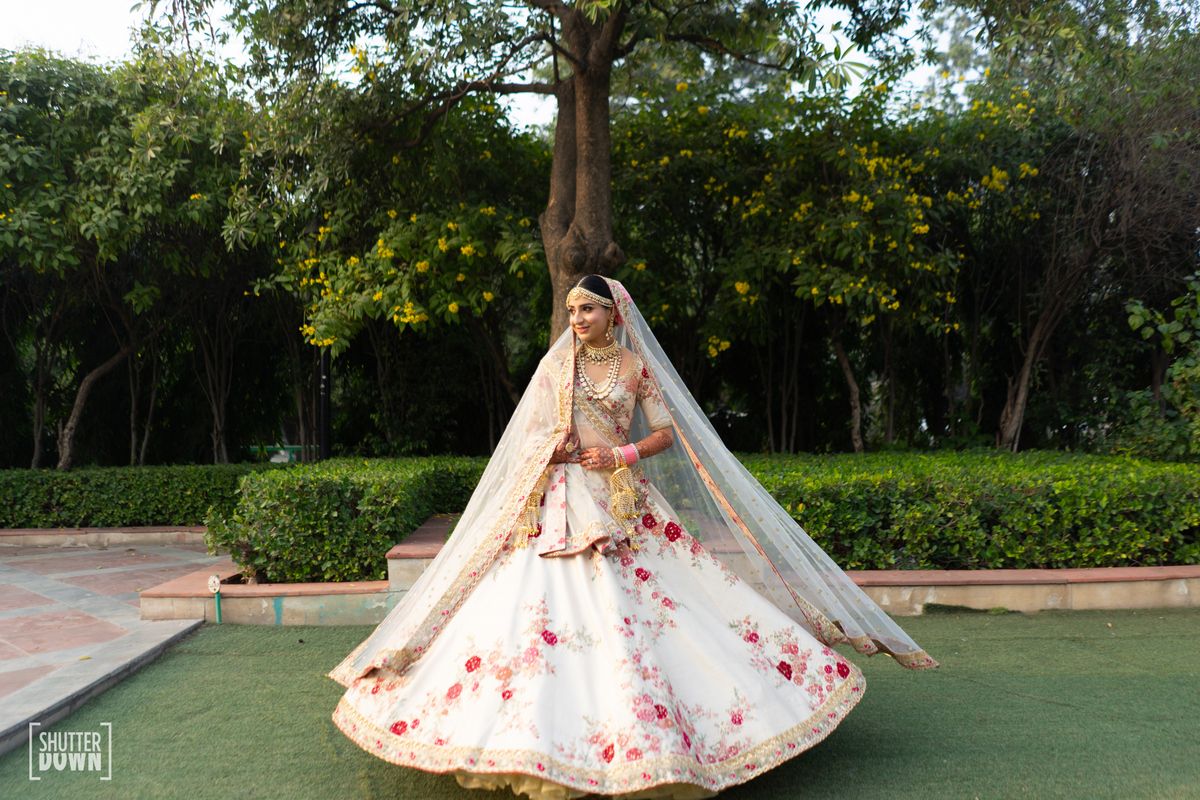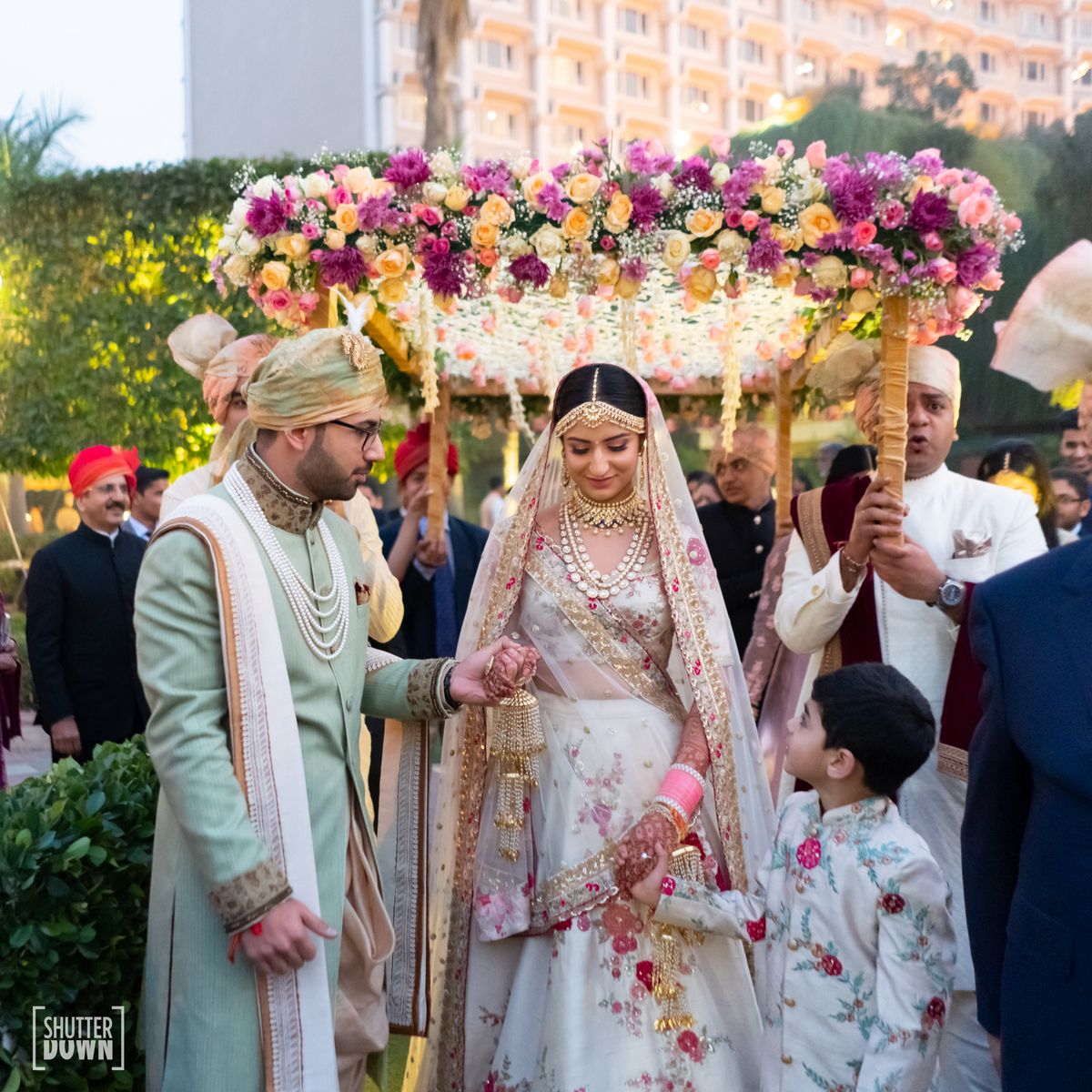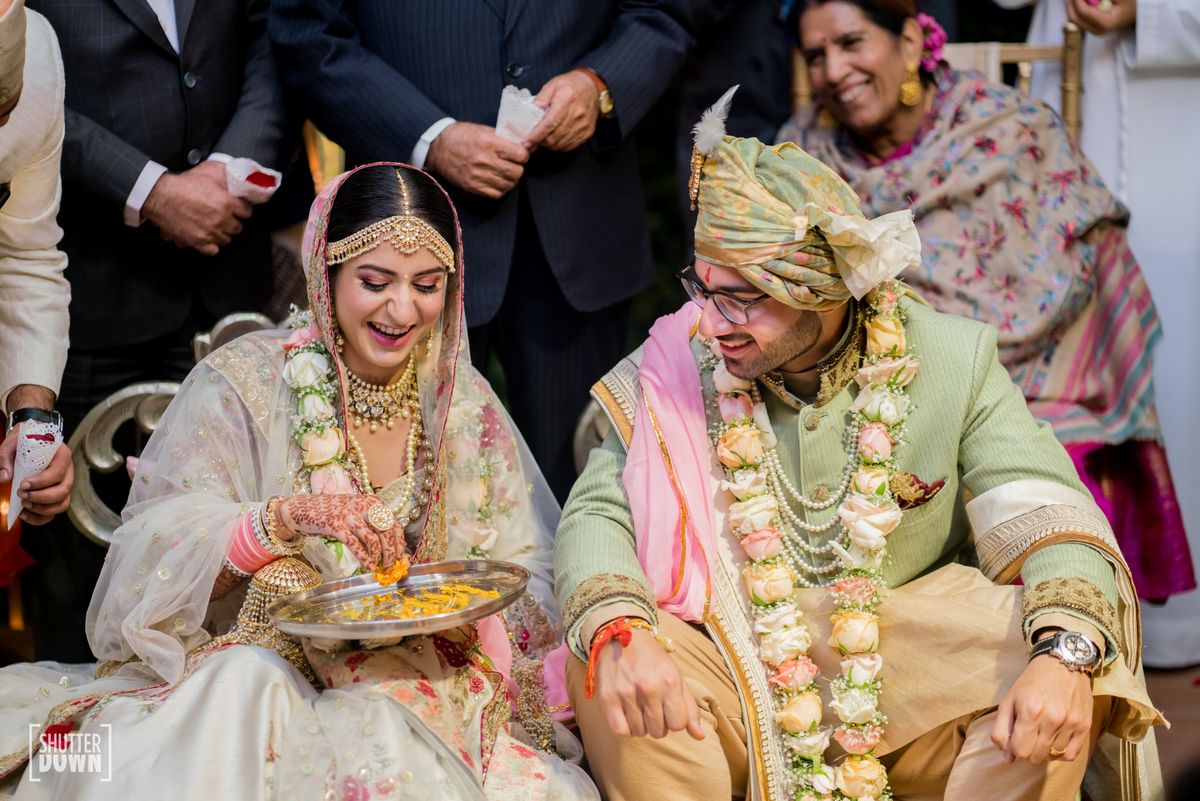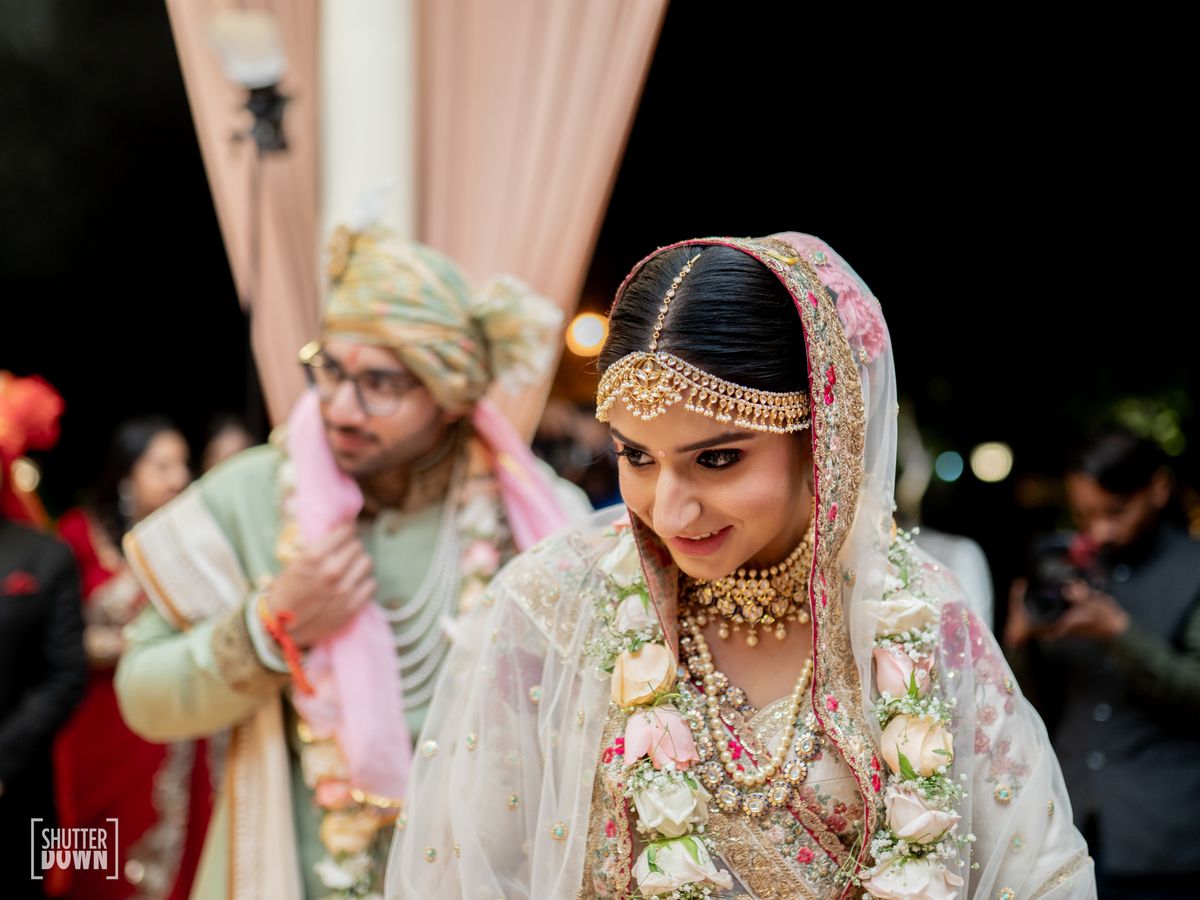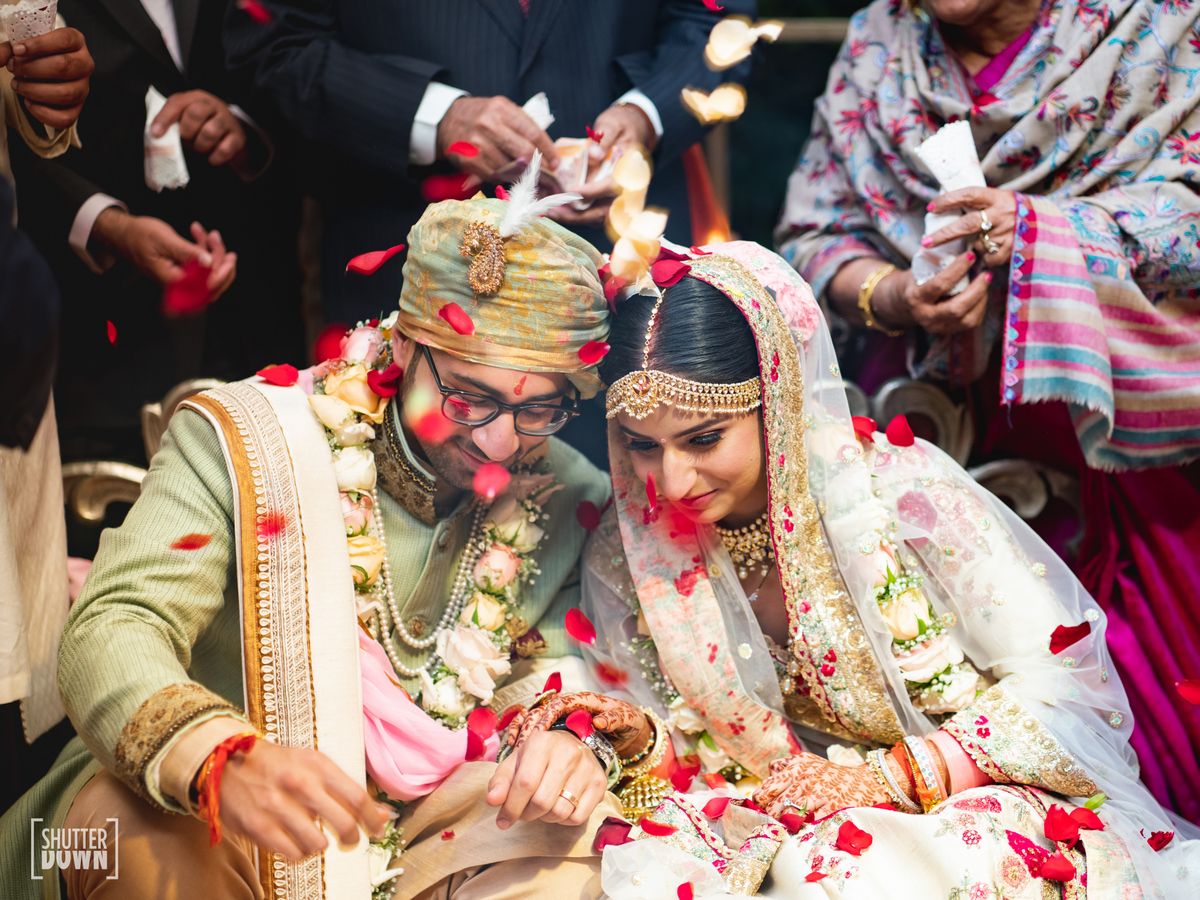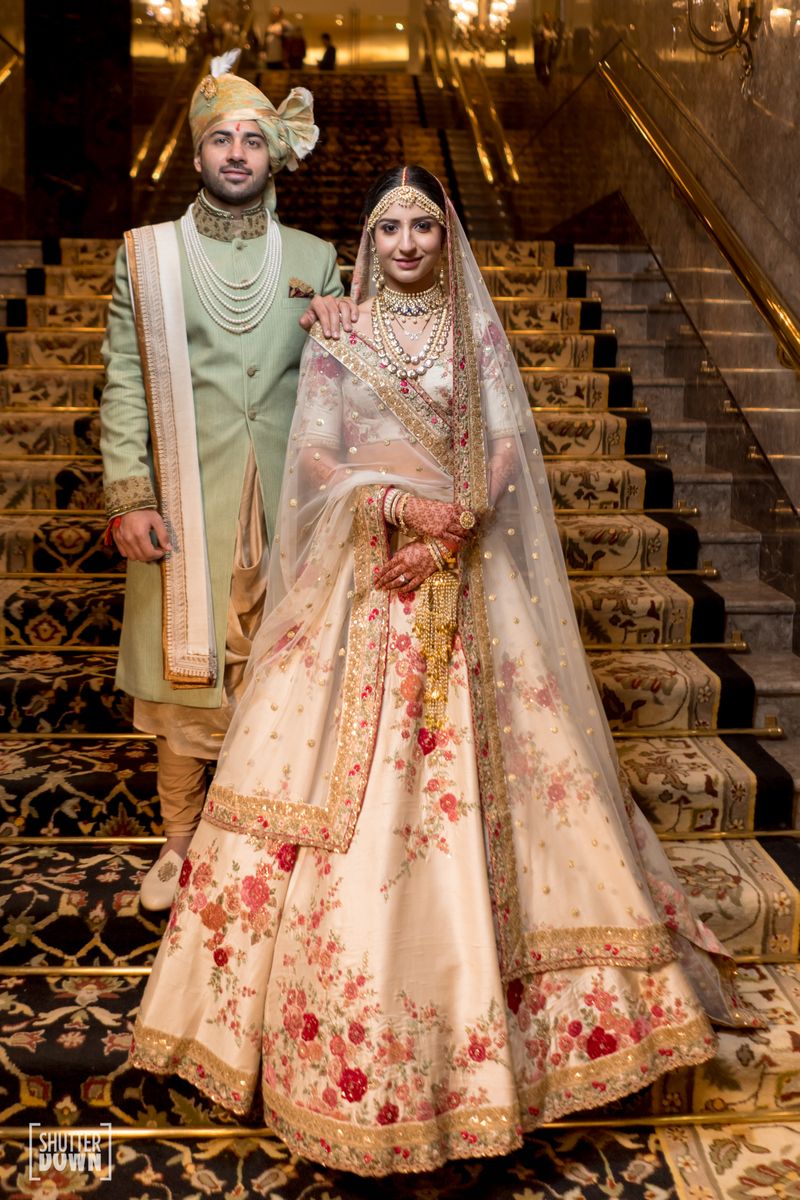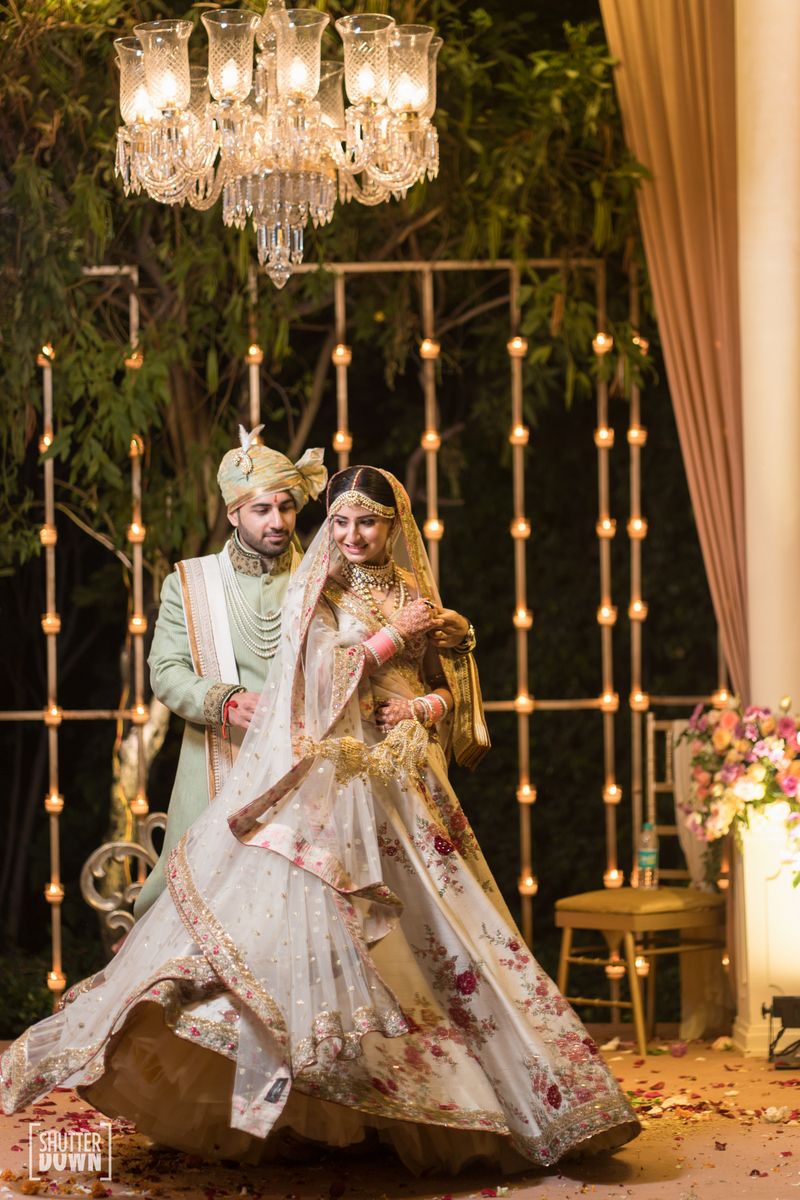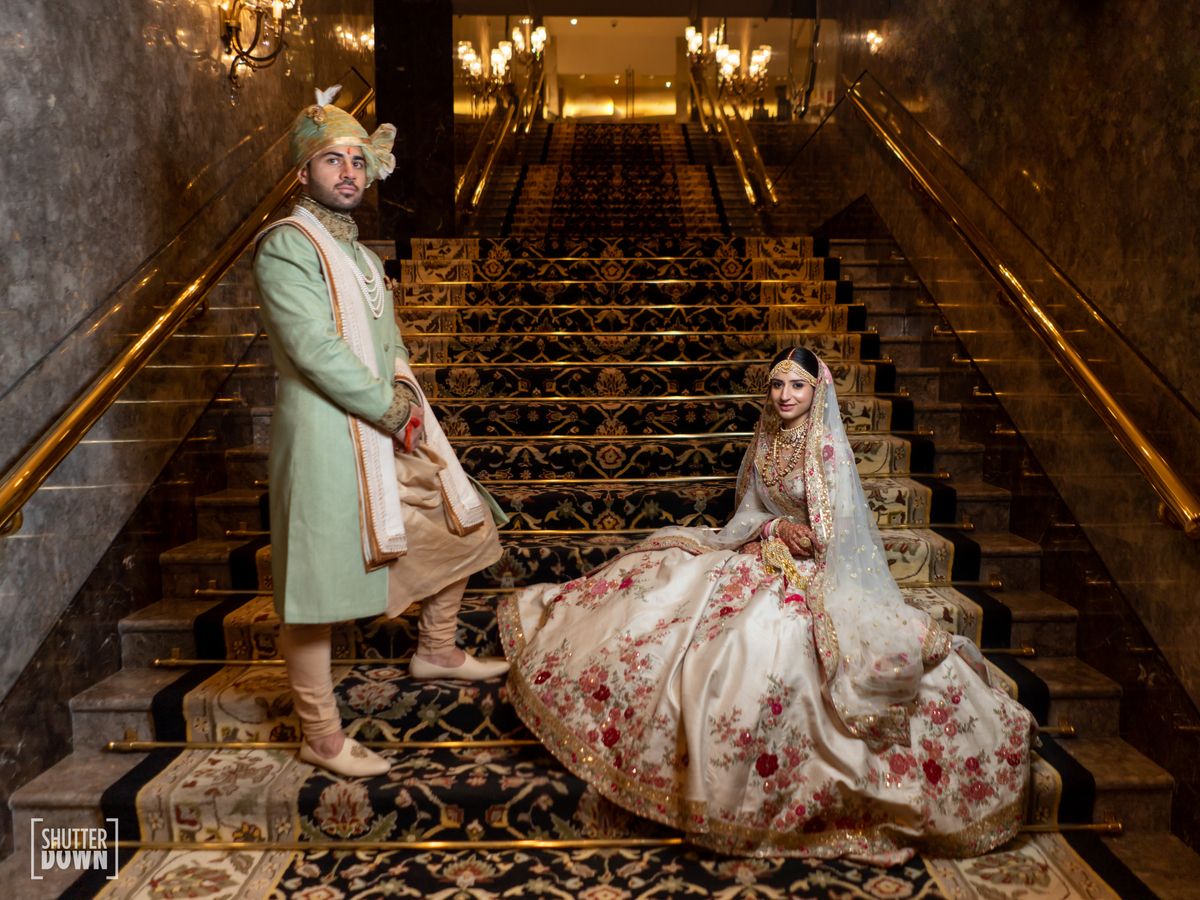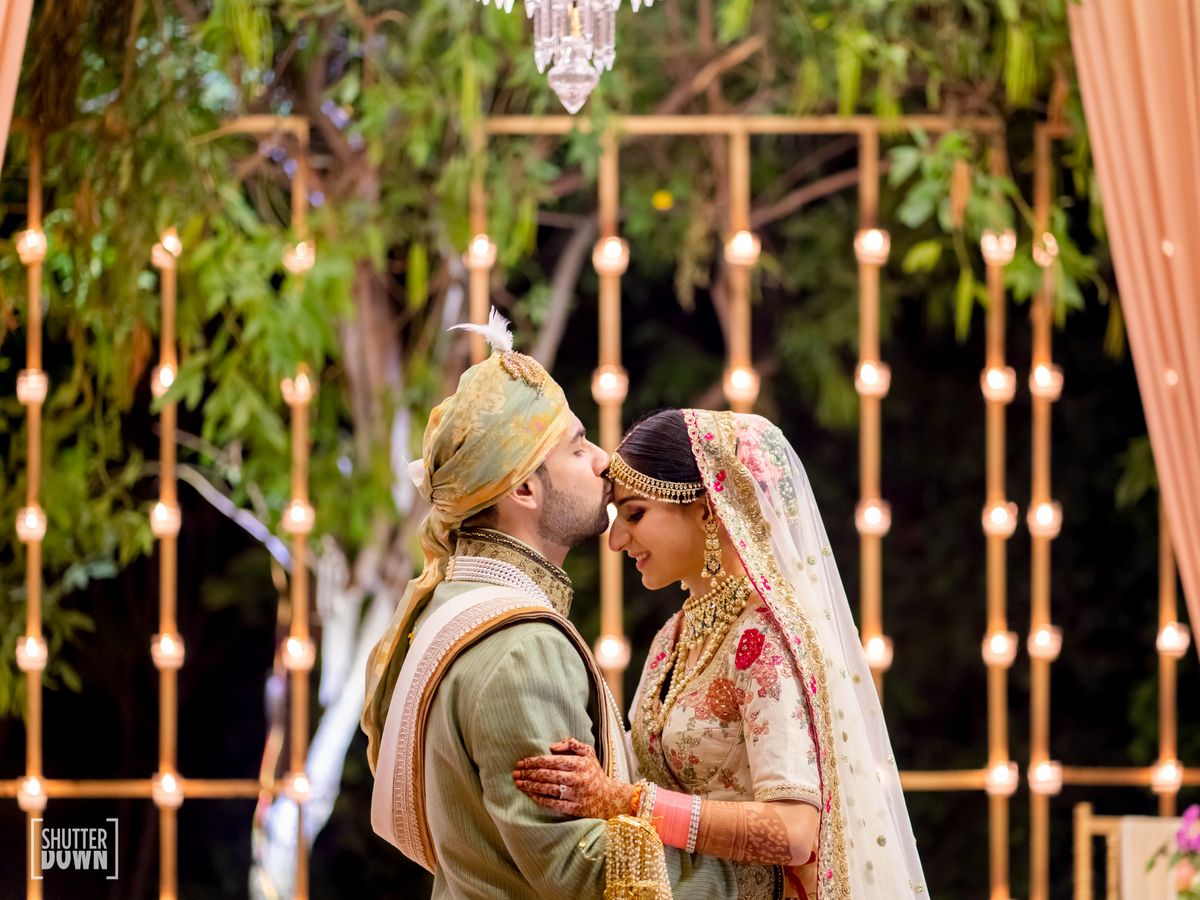 From The Bride
"Our wedding was a perfect blend of love, magic and joy and I'd refer to it more as a celebration of true love (ergo our # was #AReasontobelieve)! We wanted our closest loved ones by our side throughout our celebration and our entire vibe through each element was playful, romantic, and fresh.
In terms of outfits, I still can't believe this myself, but it literally took me 10 minutes to finalise my wedding lehenga! I always knew that Sabyasachi was the way to go, and I was so in love with the first lehenga I tried on - it was absolutely perfect for me and the vibe I was going for - romantic, classic and simple! I facetimed with my Mom and Bhabhi in London and with their approval I ordered it then and there! I also didn't let Akshay get a glimpse of my lehenga because I wanted to surprise him right on the day of the wedding!
Akshay picked out all of his outfits from Shantanu and Nikhil all on the same day, within an hour too! Also, we made it a point to personalise an array of little elements with our logo. Akshay and I got matching tattoos a couple of years ago which represented our infinite and boundless love, so we incorporated the design of our tattoo into each celebration, through floral backdrops, our invitations, the translation of our wedding pheras, the cones of rose petals, welcome letters and everything! We loved seeing our symbol of love at every celebration. We even drafted an eighth vow together, which was to love and understand each other across time and space - and remain infinite that way! :)
Designer Events Inc : A 5/5 rating would still fall short in truly reflecting the excellence, love and positivity that the entire DEI team brought to our wedding. Literally every member of the team tirelessly worked throughout our wedding to ensure that everything follows through perfectly. They wouldn't ever let any of the of the last minute stress get to us. They were available 24/7, always by my side and there wasn't a single element throughout the wedding that they didn't take care of. From making sure the bride is fed throughout the photoshoots, to working their magic and fixing up any last minute wardrobe malfunctions! They became a second family to all of us, and constantly ensured that families have the best and most carefree time! I couldn't even picture a wedding without team DEI! They deserve every bit of appreciation because they truly left no stone unturned in delivering everything and so much more - to perfection! By far the best decision we've made in the entire wedding process, words don't do it justice ❤
Comme Sogno Vero (5*): Ankiit's work was stunning, he understood our taste and had an unending list of fabulous recommendations. I'd recommend him to anyone who is looking for vibrant yet elegant designs, and he can make anything possible.
Misha Vig (5*): Misha and her team were an absolute delight to work with. She's the calmest, and most accommodating MUA, and the attention to detail she possesses is a gift! She's magic, and each of the looks she created were so much more than I expected. She made me look like the prettiest version of myself and always listened to and understood what I wanted, and what I felt comfortable with. Our experience together was super fun, and I'd totally recommend her for anyone that wants to glow naturally, feel comfortable and look their best on their wedding day!
Shutterdown (5*): Lakshay and his team were awesome to work with! They were fun, made us feel really comfortable and captured some insanely beautiful shots! I had no idea we could look that good :P. They presented us with their deliverables on time, and often even prior to the expected date. They'd instantly deal with any request and accommodate it. We are super glad we chose them, they're the best in town - efficient, fun, talented and thoroughly professional!
Shalini Mehendi Artist (2*): I wouldn't really recommend Shalini because her finishing was extremely poor, and some of my friends even mentioned that it looked like a child's doodle! She isn't really open to creating new designs and usually does the same thing on every bride. She was nice as a person, but Mehendi's are supposed to be fun and she came across as quite intimidating and wasn't very welcoming towards my friends and relatives around me. I wasn't really happy with the finishing of my Mehendi or the overall experience. For your Mehendi, you'd want someone that takes part in the joy ..
Our wedding was absolutely unforgettable, and for that we are beyond thankful to our incredible dream team, including our wedding planners who literally made everything possible and didn't let a hint of chaos get to our families. Organising and managing a full fledged Punjabi wedding with half of the guests coming from numerous cities was definitely not easy but they made sure it all came together without a single hiccup!," adds an evidently overjoyed Ritika.
Vendors: Venue: Cocktail: The Mansion at Hyatt Regency, Delhi; Mehendi: Private Farmhouse; Wedding and Reception: Taj Palace New Delhi ; Makeup Artist: Wedding and Cocktail: Misha Vig Makeup Studio★ 4.9 , Mehendi: Kashika Kapur★ 5 ; Photographer: Shutterdown - Lakshya Chawla★ 4.9 ; Wedding Decor: Comme Sogno Vero by Ankiit Malhotra★ 5 ; Wedding Planner: Designer Events Inc★ 4.9 ; Bridal Outfits: Cocktail: Shantanu and Nikhil, Mehendi and Wedding: Sabyasachi Mukherjee★ 4.9 ; Mehendi Artist: Shalini Mehendi Artist; Groom Outfits: All outfits by Shantanu Nikhil Groom wear★ 4.9 ; Invitations: White Mirage★ 4.8  , House of Design★ 3.9 ; Wedding cake:  The Sweet Boutique★ 4.8 ; Choreographer: Vishal