A Pink Soiree with an effortlessly chic bride : Avantika & Subir
BY The WMG Bride | 19 Jul, 2014 | 2215 views | 5 min read
Some brides have this effortless sense of style and Avantika is definitely one of them. Traditional Indian outfits but with her own unconventional twist, this one is swoon material ! Favourite thing about this wedding- hard to pick one, but it would have to be between the gorgeous , unusual pop of blue in her jewellery against the raspberry lehenga as well as the saturated pomegranate color of her anarkali. So lovely!  All of it, shot through the brilliant lens of the Phototantra team.
Meet Avantika & Subir
What happens when a pretty and affable girl meets a dapper and suave Punjabi munda, you would expect fireworks but Avantika says the contrary "It didn't result in fireworks contrary to what one may believe! He came across as very confident and his sense of humor was borderline mischievous. I always knew if there's one quality that would floor me is great presence and self-confidence in a man. I had never met anyone who possessed these, so to have finally met someone who was all this and much more took me unexpectedly and I became slightly hesitant and restrained. After a series of chats online I got to know more and more about him and realized how many sides there are to his personality. I was definitely charmed and we decided to meet on our first date. The rest is history!"
 The Engagement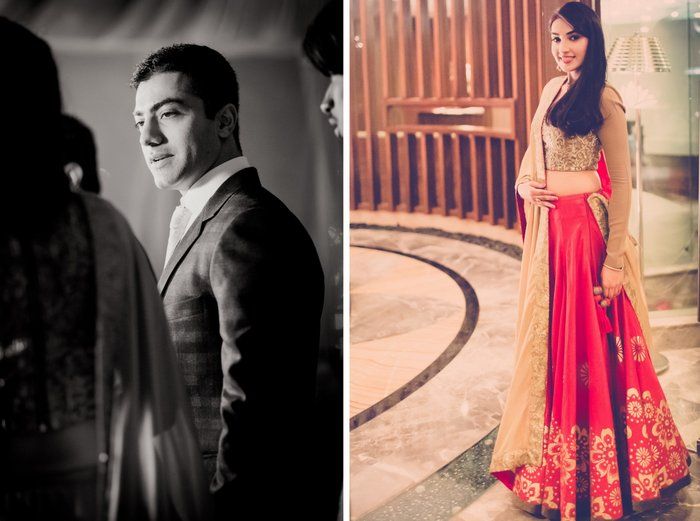 The Mehendi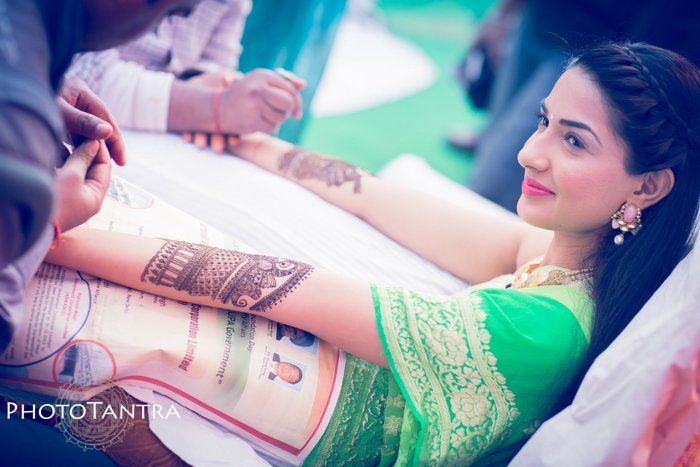 Love the pastel earrings and the hairdo. So chic!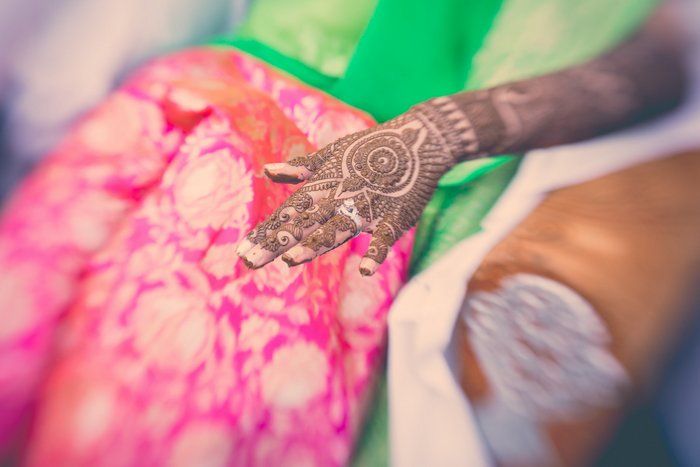 Wish we had a full length of the mehendi outfit- it looks so gorgeous. A hot pink banarsi lehenga skirt with a shaded lime green dupatta . Vendor details at the bottom
The Arya Samaj Wedding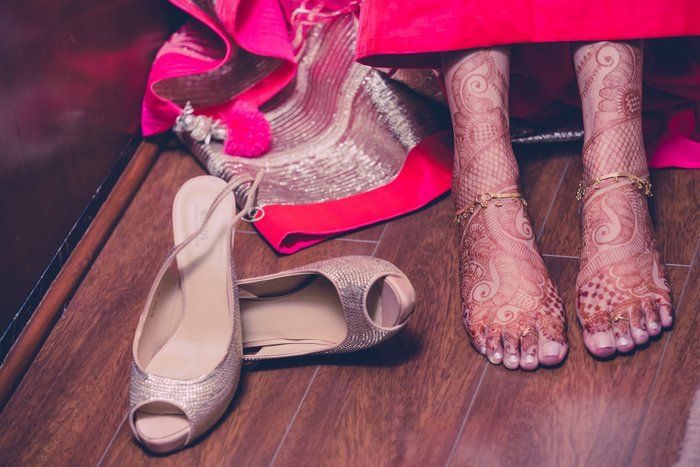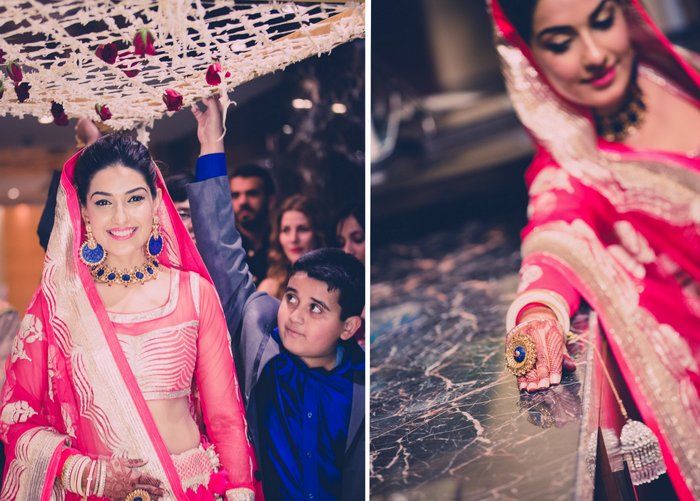 The cocktail ring and the striking contrast of the blue jewellery against the raspberry pink outfit is stunning!Also just the single kalira.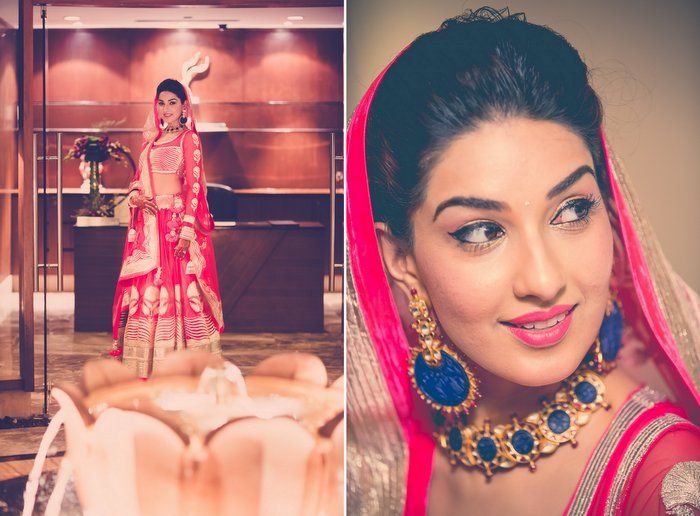 The blue jewels! Gorgeous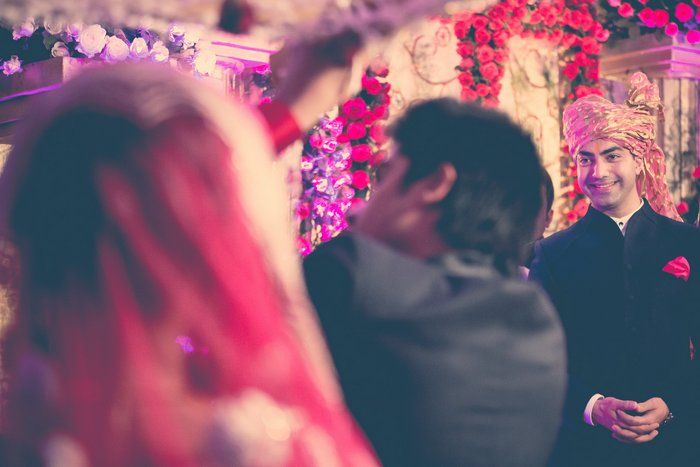 The groom looks at his bride for the first time.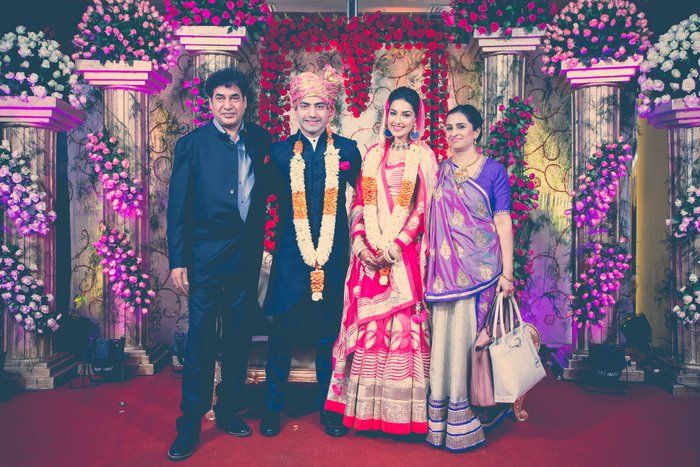 The Gurudwara Wedding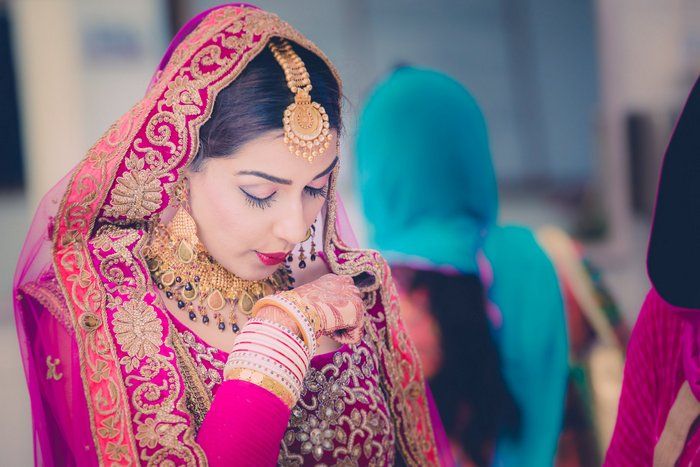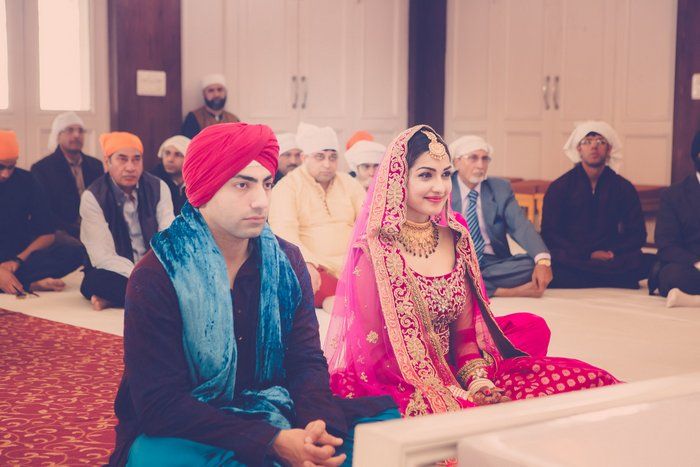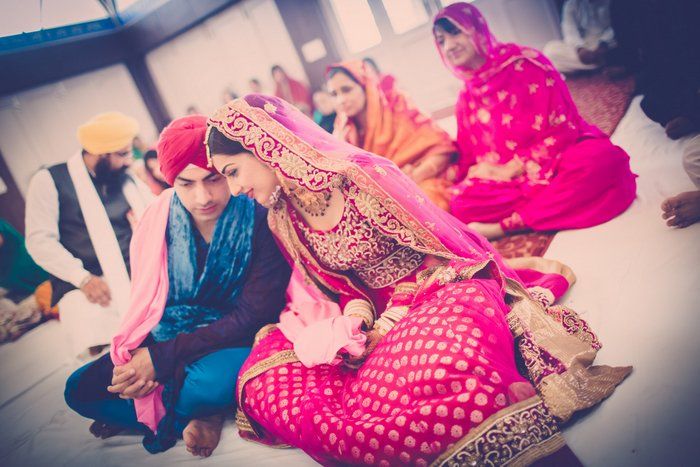 Love the saturated Pomegranate color of the anarkali!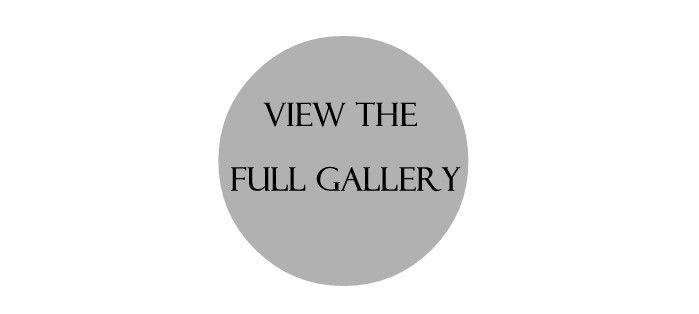 From the bride
: My parents, my younger brother and I were basically the entire event planning and organizing team. My parents were very sure that they did not want the task of putting together their only daughter's wedding affair in the hands of a complete stranger . We innovated in small details,  My mehendi ceremony, which was hosted by my parents at our residence rooftop, carried the theme '
Kathputli
'. There were small design details such as kathputli dolls that hung on top of the bandhni shamiana and marigold flowers that were extravagantly hung to accentuate the colors of a mehendi ceremony. The wedding reception had a  theme we  called
"Rose Soiree".
It was to be an evening rendered in pink hues inspired by the color of my lehenga. The key element I wanted in the décor was bunches of luxurious roses. That was the only flower used and everything from the stage to the tabletops to the 'jai maalas' was adorned with pink hued roses. Subir belongs to a Sikh family and I hail from an Arya Samaji family so we had two styles of pheras, The Anand Karaj at the gurudwara and the Arya Samaj pheras at Radisson hotel. I have always been very particular about the way I dress and present myself, and everyone in my family as well as all those who had met me in Subir's family expected me to dress slightly
unconventionally
. My style is very feminine and I was most drawn to pinks and coral. My mehendi function outfit was a pink and gold banarsi silk lehenga with a contrasting green and gold dupatta. The pink lehenga that inspired the main eve of our wedding was by Varun and Nidhika that I got customized to my specifications. It was a rich fuschia pink with silver-gold gotta work. It was a bold statement piece and I knew the minute I saw it that it would do full justice to my personality. I wore contrasting lapis lazuli and polki work jewelery that was custom designed for me by Apala . It was a bold choice of jewelry and my decision worked . Subir also chose to wear slightly unconventional attire for this evening. He wore a raw silk bandhgala tail coat by Rohit Bal in Navy. He and I complimented each other perfectly as his navy matched my jewelry perfectly while my lehenga matched his fuschia pocket square. My pheras outfit was a pomegranate colored floor length anarkali with pearls and crystal embroidery; my dear mother in law gifted it to me. The jewelry was a custom designed gold set that accentuated the traditional and vibrant attire. The wedding would not have been possible without the entire team that helped us achieve our vision. From the staff at Radisson Blue to the brilliant Phototantra team who gave us memories for a lifetime, every one involved did a spectacular job.
[handbook]
Phototantra is a  member of the Wed Me Good Handbook. To know how members are chosen, please read our FAQ.
[vendor]
Venues
:  Mehendi venue: Rooftop of Brides home; Engagement at Uppal Orchird, Wedding Eve at Radisson Blue NH8, Anand Karaj at Vasant Vihar Gurudwara
 | 
 Decor
  : Confetti Decorations 
|  
Makeup
: Radisson Blue Salon
|Wedding Photography & Videography : Phototantra
|
 Engagement lehenga (gold blouse and red lehenga) by Samant Chauhan | Mehendi outfit lime green and pink :Customised by Sue Mue boutique
 | Arya Samaj wedding lehenga by Varun & nidhika from Aza | Pomegranate Anarkali for Anand Karaj from Boutique in Lajpat Nagar |   Groom Engagement Suit by Marzoni | Groom Arya Samaj wedding outfit by Rohit Bal  |  Groom Gurudwara Wedding outfit by Heritage in South Extension | Invitations by Art Papyrus 
| Jewellery: Apala by Sumit (blue set) and Tanishq (all gold set)