A Wintery Engagement in Delhi with 50 shades of Orange !
BY The WMG Bride | 26 Jul, 2014 | 5175 views | 4 min read
Anyone seen the 50 shades of grey movie trailor recently? While we are still coming to terms with how non Grey, Mr.Grey in the movie looks- we couldn't help but notice this absolutely gorgeous engagement in Delhi has 50 shades of orange !!! The brides coral Indo-Western outfit is one of the more unique outfits we have seen in a long time and that gorgeous
cake by Firefly
is like a cherry on top  shot by the talented
Mahima Bhatia
. But what is the craziest part of this event? That both the bride and groom got their rings engraved with wordings for the other and by coincidence ended up with the same line from Lord of the rings !
Meet Radhika and Bharat
Bharat is Radhika's best friends elder brother and though the common topic among them was 'Chartered Accountancy', that is not how they fell in love.  She recounts "We fell in love while being on the run! Like literally! Our friends consisting of some 10 of us, started waking up every morning at 
6 am
 to prepare ourselves for the Airtel Half Delhi Marathon. Within a week, everyone bailed ! But at the end, me and Bharat had this weird vibe or connection where inspite of all our friends ditching us, used to get up each morning and jog so that we could meet and talk and spend some time ! So it was finally in November 2013, when he went down in his knee and proposed to me with a beautiful ring. Yes, I GOT 2 RINGS!!! I'm a happy happy girl! One, when he proposed and one on the engagement"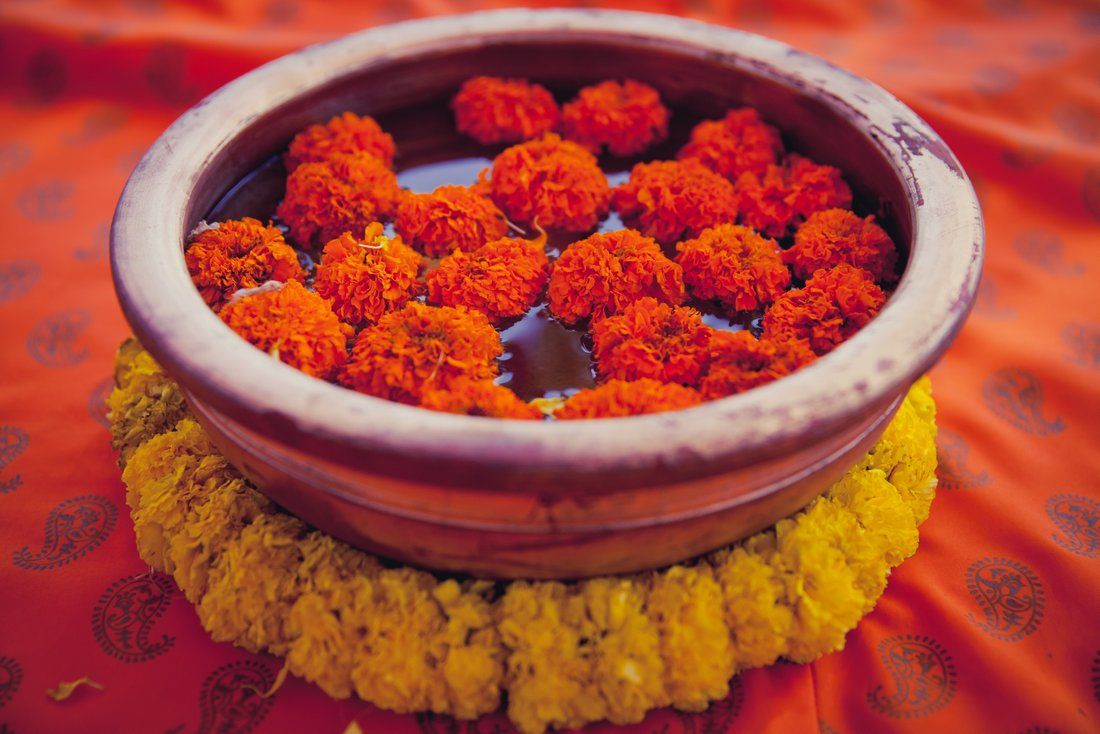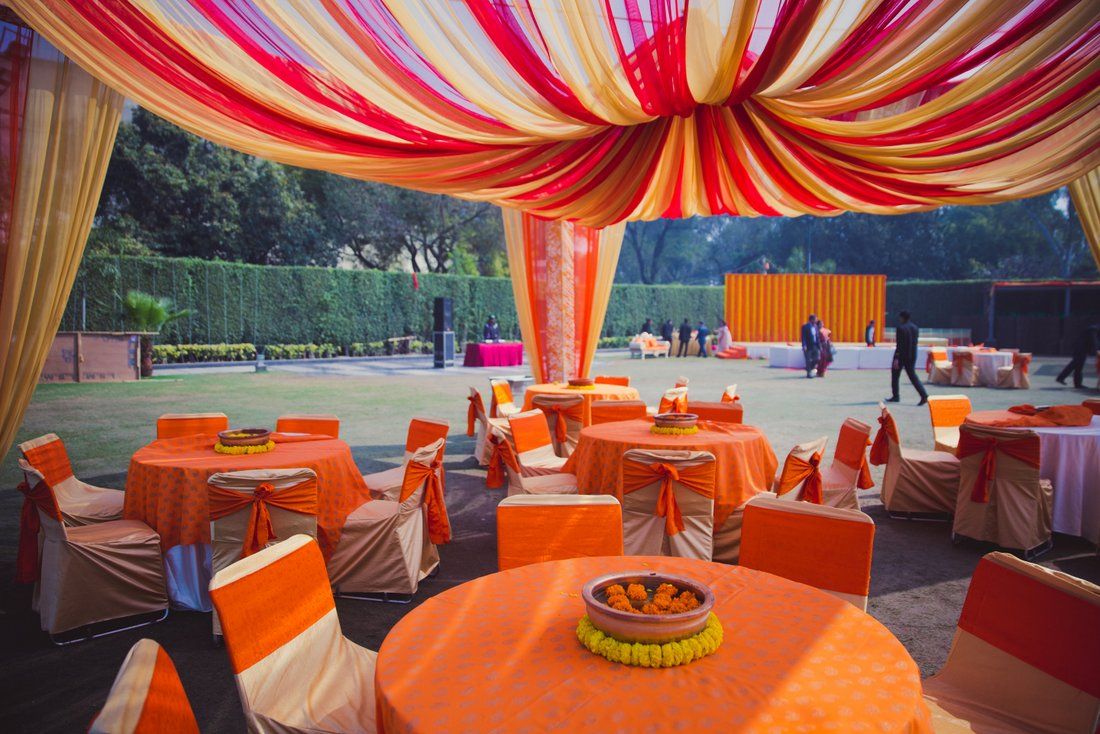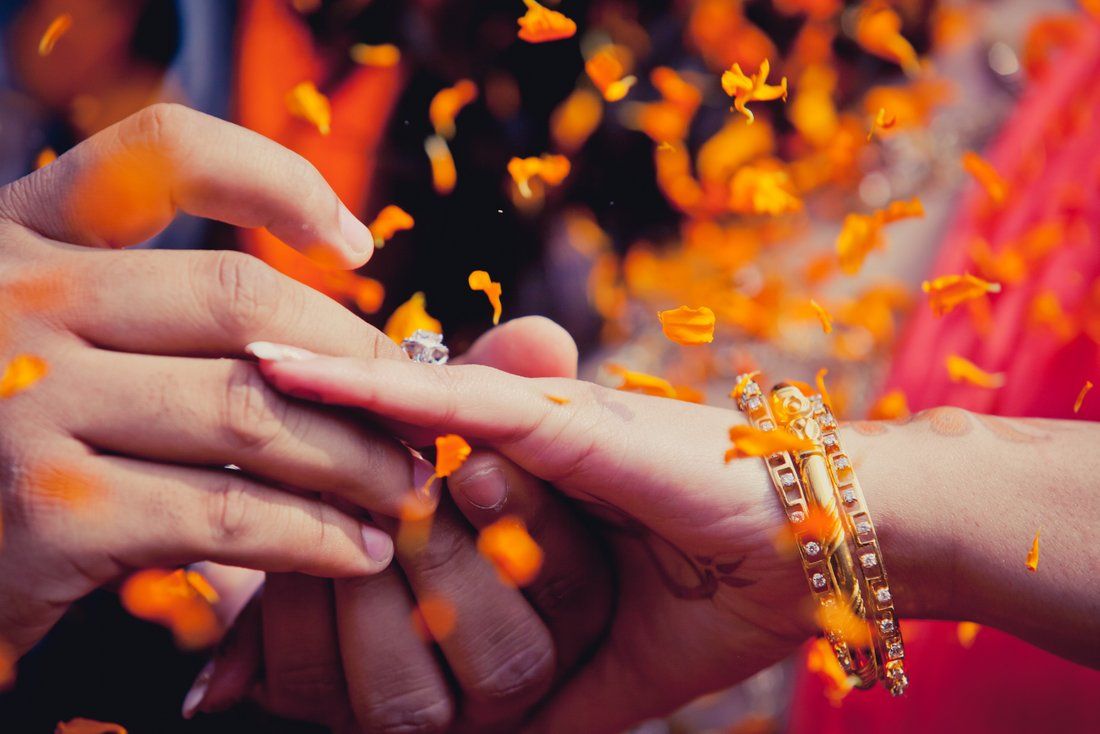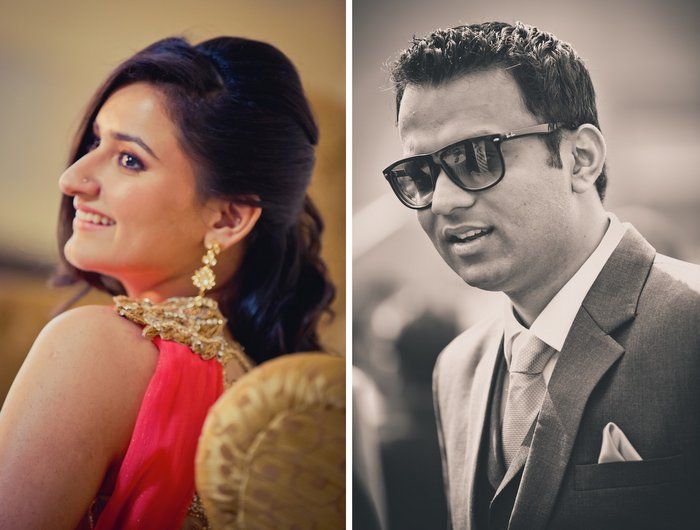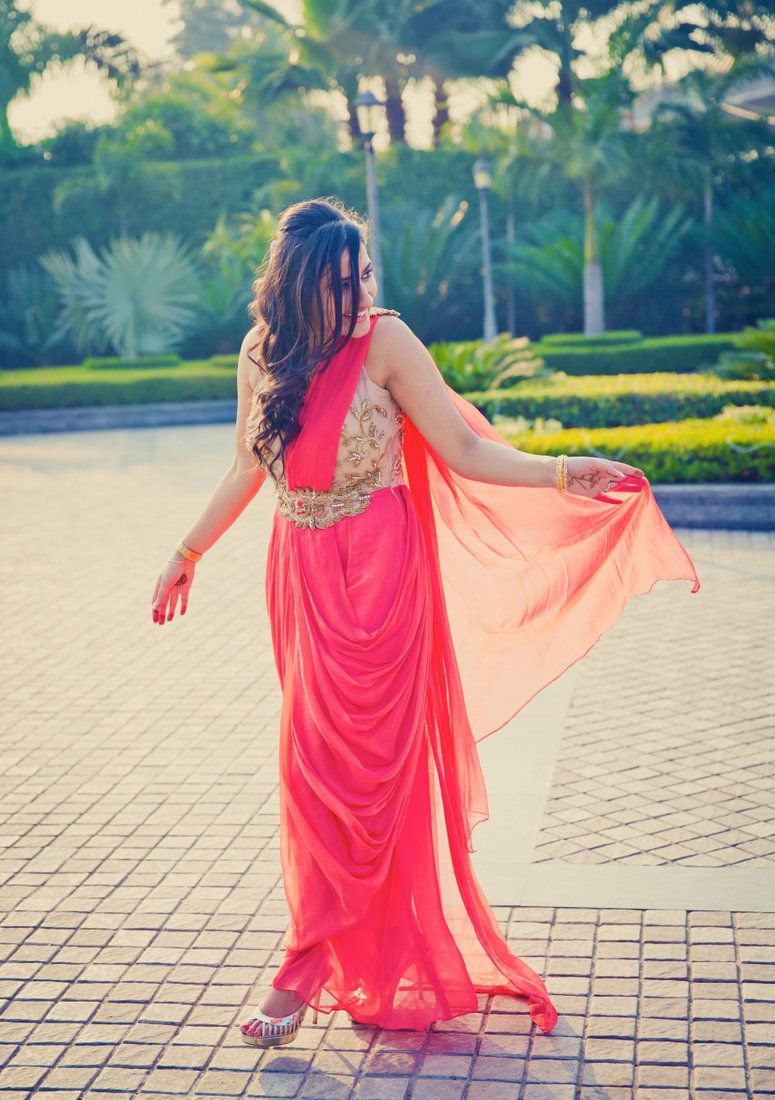 Love the gown-sari , and coral will always have us at Hello. Vendor details at the bottom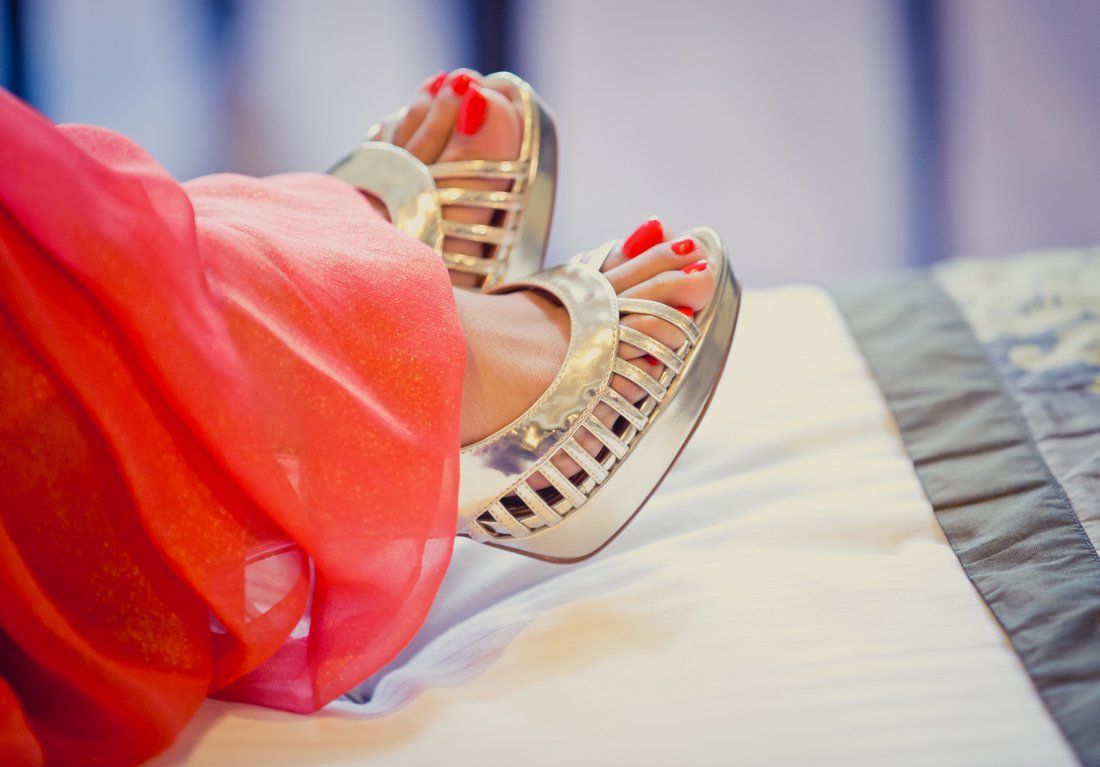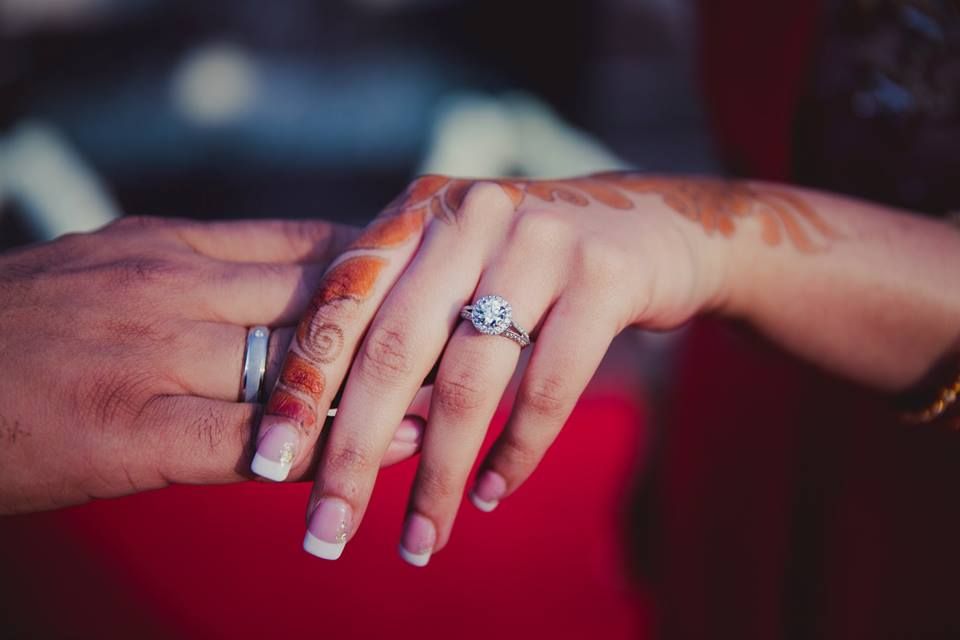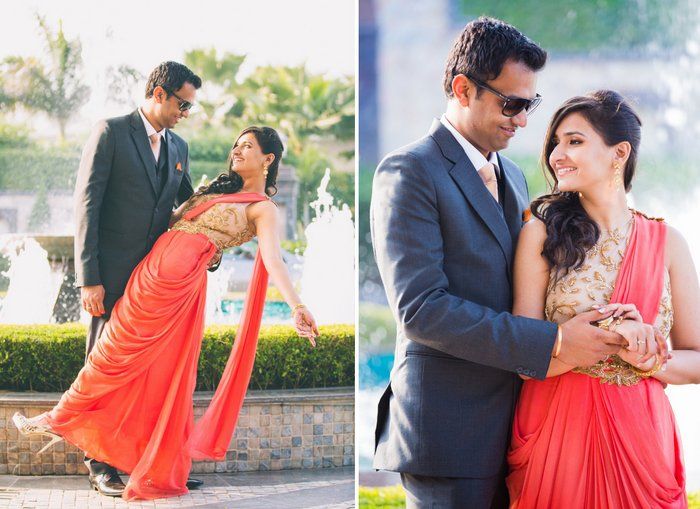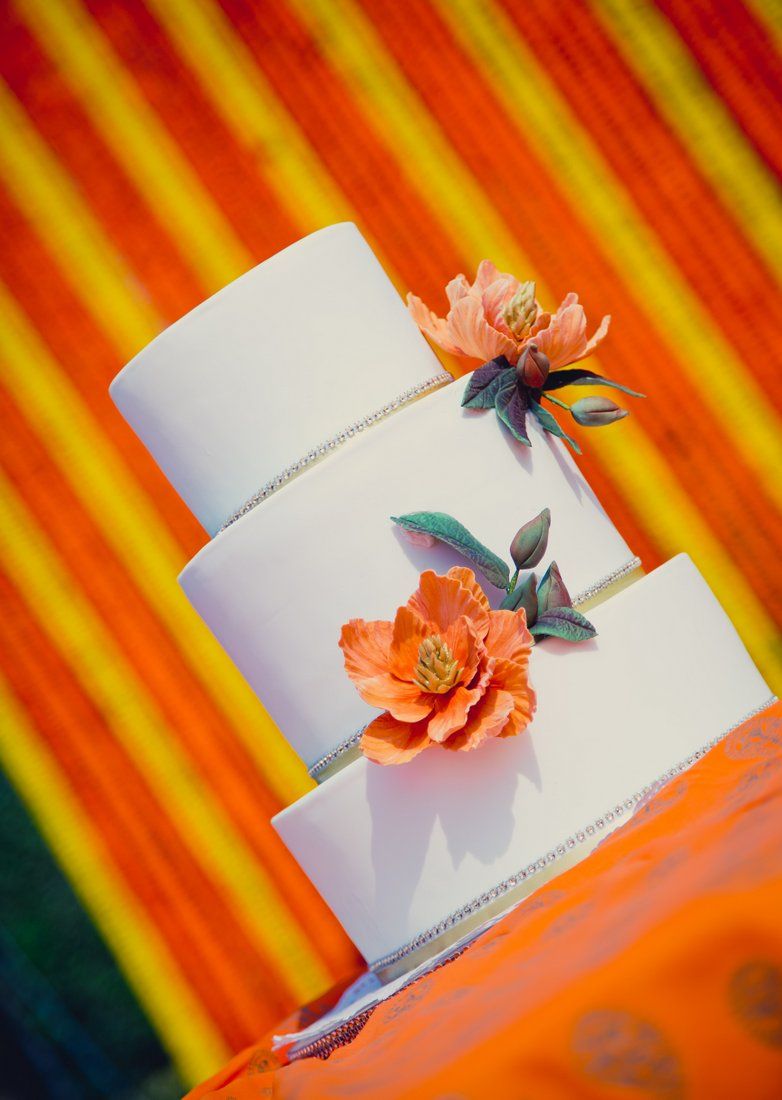 That cake!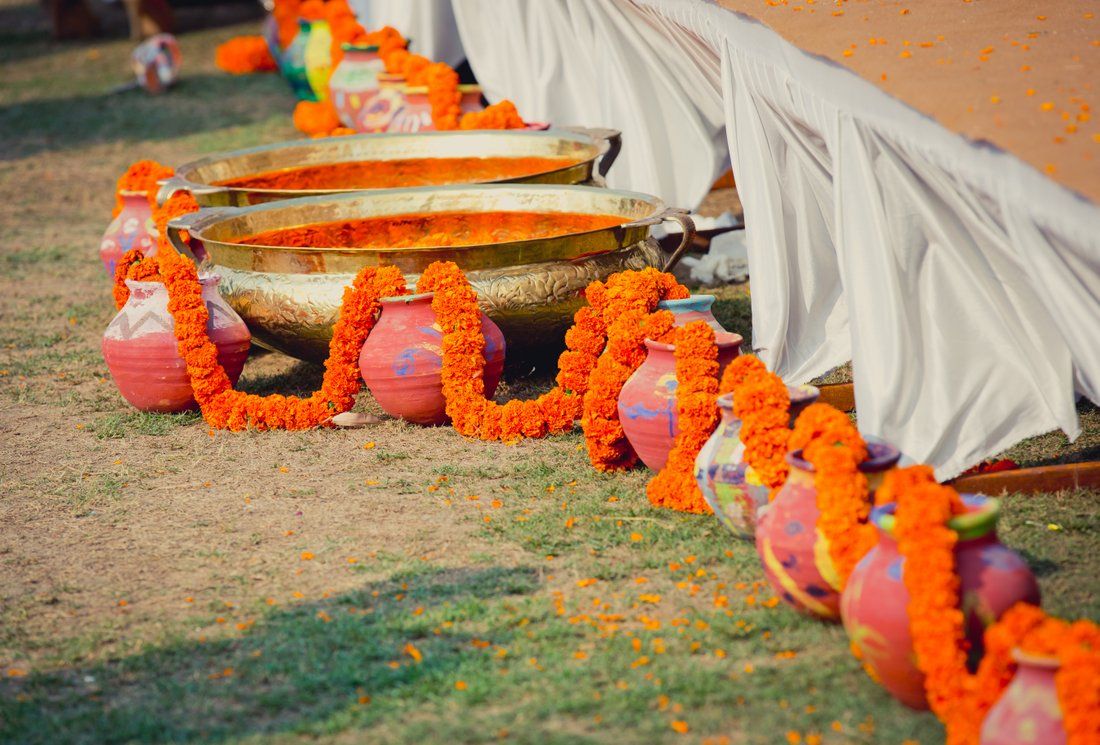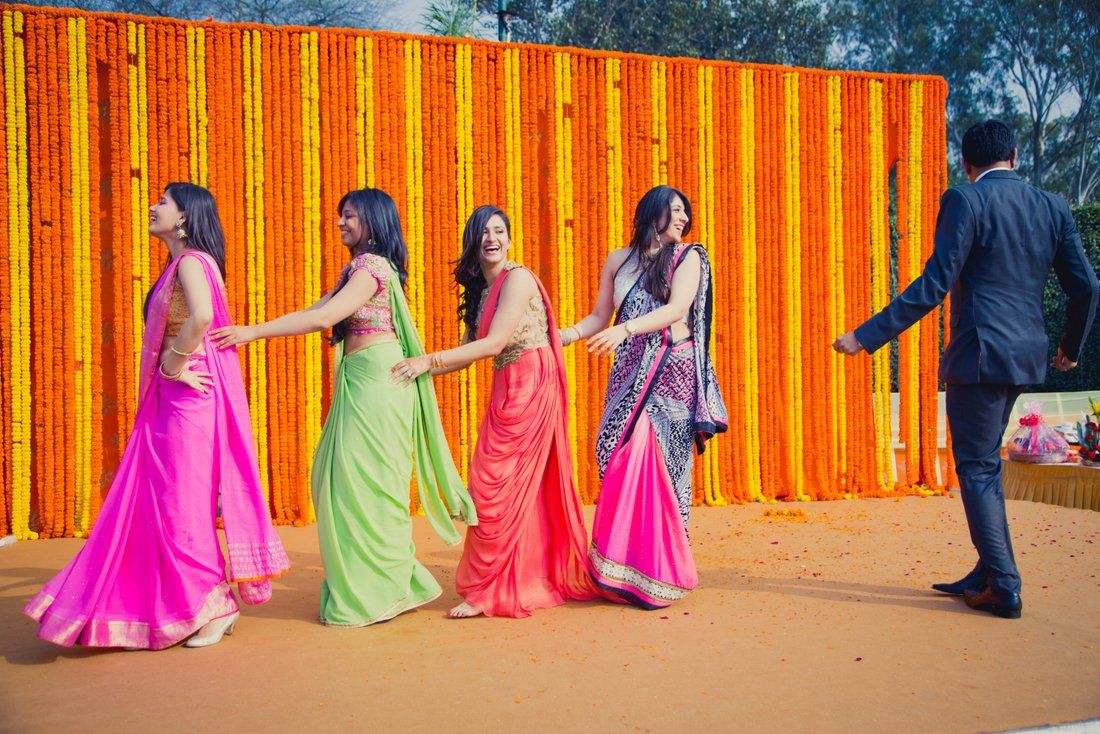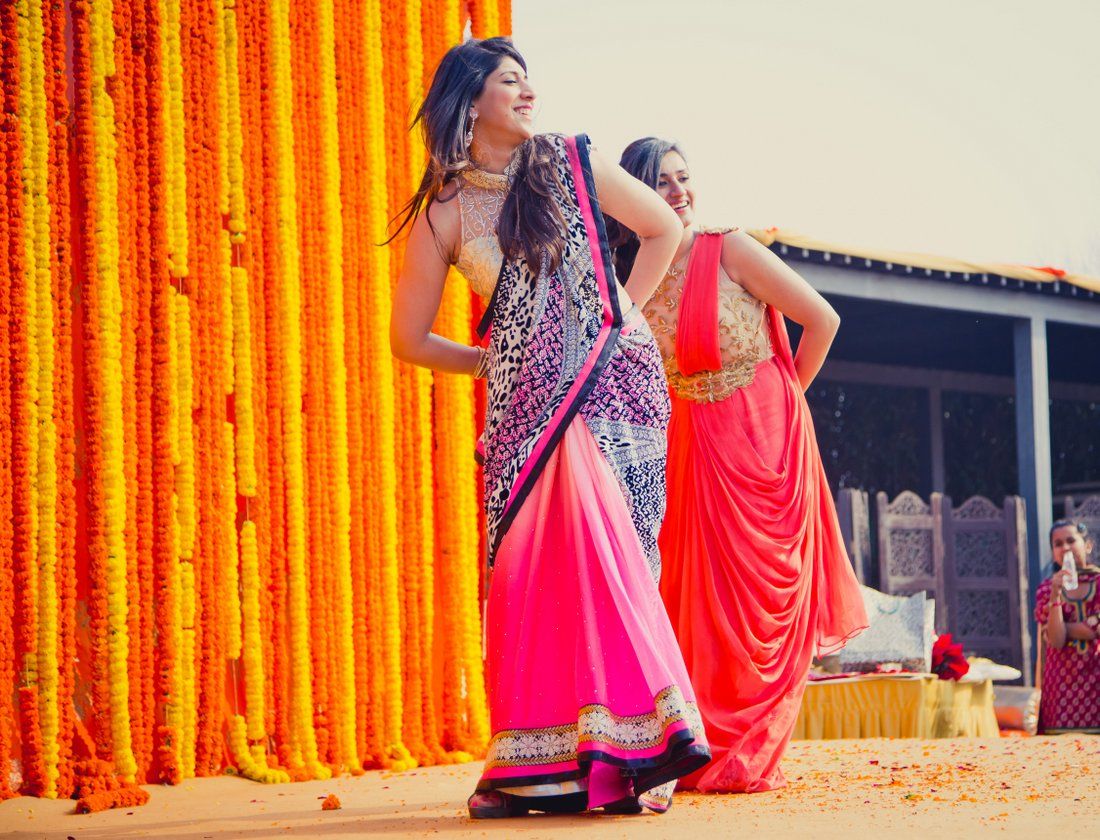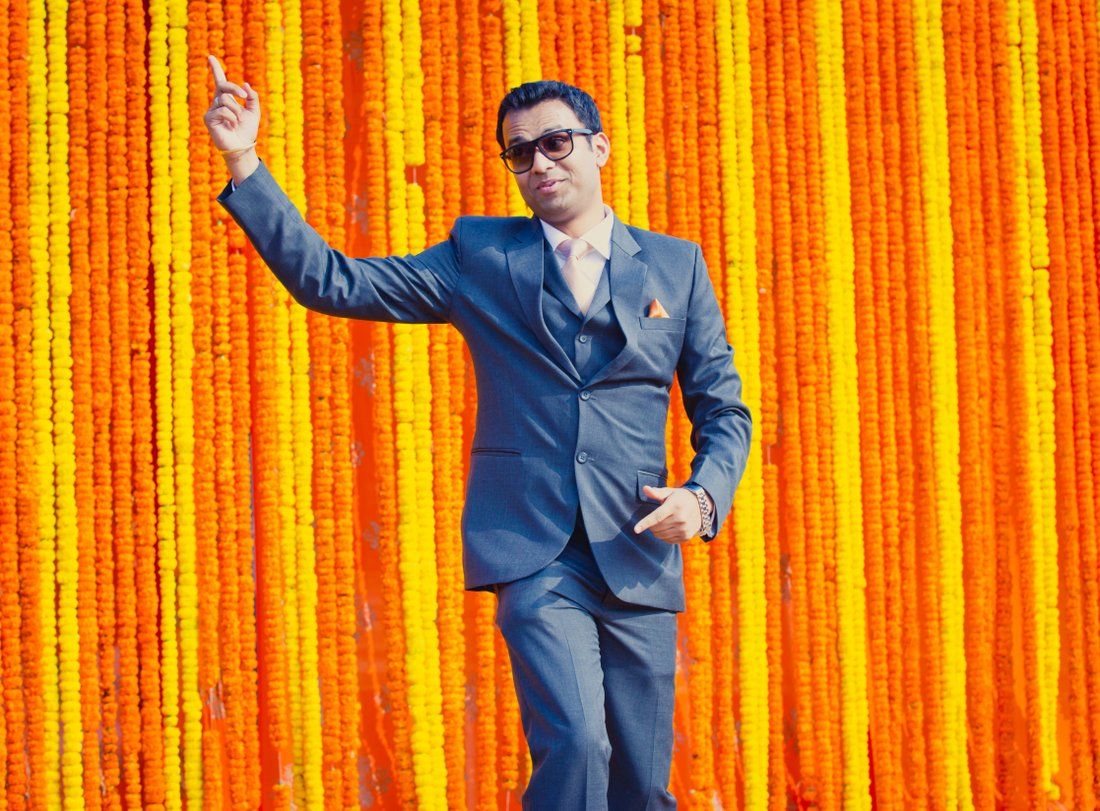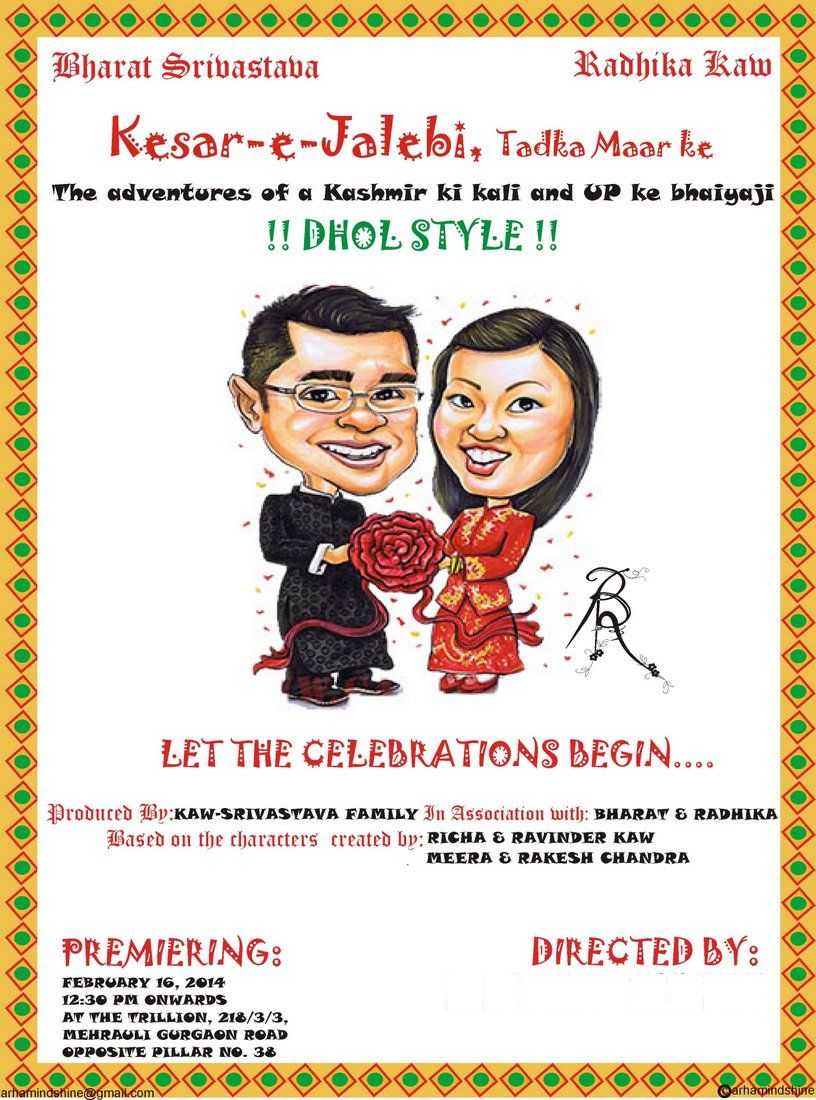 Radhika , What is this we hear about the freaky engagement ring co-incidence?
I always believed that  engagement rings are special, I made sure both our rings were engraved with messages to one another. It was a surprise which we would get to know once we exchange our rings. But look at our destiny . Both of us are a fan of the film series called THE LORD OF THE RINGS! And a very famous line from that series is- "MY PRECIOUS". I got that engraved on his ring in FRENCH and he got it engraved on mine in LATIN. Like, it was crazy when we read it later!
I wanted our engagement to be a day function and be held in the open because I believe Delhi Winters are just beautiful.  So the setting was just perfect and provided for stunning photography. The main theme of the event was shades of orange, because I was wearing coral and thought it would be a complementary backdrop.
Love your coral gown-sari ! Was it a conscious choice to go the concept sari route?
I knew that  I would adorn every single Indian outfit at my wedding. But for the engagement, I was 20000 percent sure I wanted to wear something Indo Western.  But I didnt want one of satiny- shimmery materials on me, neither did I want a fluffed up barbie doll gown. I wanted a simple, sophisticated and a straight classy gown that looks like a saree. I designed my gown myself from scratch with several brainstorming sessions with Rashima (Vendor details below) .
It is a beautiful coral saree gown with a golden/beige net bodice having subtle zari work all over front and back and little zircons to give it a shine. The net in the front has a lining but the back was only net. She used a shining georgette for the draping below with a lining and the palla that was pre-stitched together with zari work on the shoulder as well as the waist.
Which vendors really stood out in their work?
Everyone we worked with did such a stellar job!  Right from our Cake from Firefly (details at the bottom) which was a three tiered 5 kg cake Vanilla flavoured at the top and bottom with butterscotch crunch in the center , to our decorator who used the humble Gende ke Phool to create a traditional Indian, orange set up, to our photographer  Mahima Bhatia. She's young! So she gets what the client is asking for, and I don't remember posing for any pictures except the couple shots- overall the photographs have turned out super stunning.  I wasnt too happy with the video, but even after 5 months of the engagement, we are still working on it. HAHA!
 [handbook]
Firefly Cake is a  member of the Wed Me Good Handbook. To know how members are chosen, please read our FAQ.
[vendor]
Venues:  The Trillion  |  Decor  : Nempal (on Panel of Trillion)|  Makeup:  Vidya Tikari Senior Artist |Wedding Photography : Mahima Bhatia|  Brides Coral Saree-gown by Ministry of Design by Winky & Rashima in Shahpur Jat  | Groom wear by Libaas |  Heels : Charles & Keith | Cake: Firefly Cake Boutique