Adorable DIY Delhi Wedding With an Instagram-Worthy Photo Booth!
BY The WMG Bride | 12 Jan, 2016 | 3297 views | 3 min read
Stop what you are doing folks, because this brides creativity is going to kind of blow you away. Welcome our budget bride, Noni who painstakingly created a dream of a wedding - she made her invites and distributed Genda flower seeds with them,  she even drew decor ideas and shared it with her decorator to get the right amount of zing into her wedding. We are super impressed by the sweet lehenga, the fun gendha phool seeds that came with the invite and the coolest photo booth idea ever - the green wall with "We decided on Forever" written on it. All this was beautifully captured by
Photo Buddies Photography.
Meet Noni & Siddharth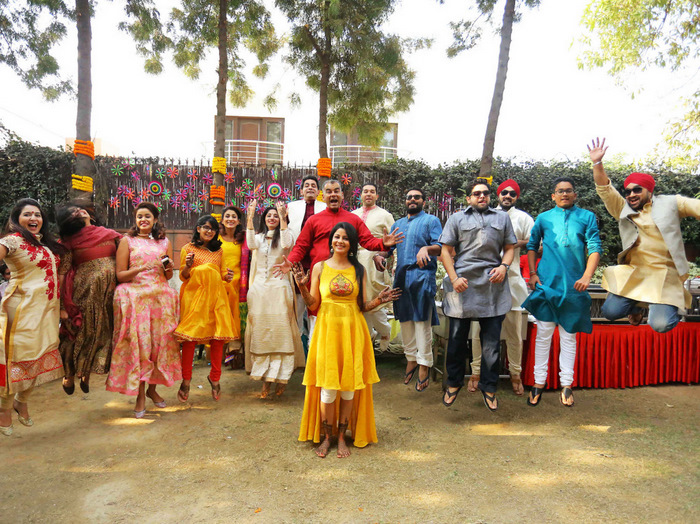 From The Bride: 
"I got married on 
22th Nov and
  thought it was a budget wedding , we managed to make it a fun and pretty one! Right from the wedding card which came with an envelope of
genda phool
seeds to the quirky kurta pajamas made for my 10-month nephew with telephones, elephants, owls, mantras at Nehru Place.
My nani always told my mom that she would like to see me in a pink lehenga and with my frequent visits to Jaipur for wedding stuff (nani stayed there!), I finally found the one lehenga of my dreams - in pink. My nani was so happy, she blessed me and unfortunately she passed away before my wedding at the age of 94.  She was with us in our thoughts on my wedding day.
My brief to the designer of my lehenga was that it should be something I can have fun with on my own wedding, which I surely did. The best thing about my outfits is that they were light and let me walk around without worrying about anything slipping out or me getting exhausted. I wasn't stuck to one corner but was chilling and meeting everyone #lehengagoals. 
I was so blank as to who to book for make-up, but thanks to WedMeGood, I checked out a lot of MUAs and booked Jasmeet Kapany and she was perfect!" says Noni.