Alternative Venues for a pre-wedding shoot that are not "Done & Dusted"!
BY The WMG Bride | 26 Nov, 2014 | 752 views | 5 min read
So you have your wedding coming up, and one thing that you definitely would be looking forward to in the run up to the big day is the
pre-wedding shoot
. Whether you are hiring a
professional photographer
or just telling a friend whose good behind the lens, there is something special about taking a day off to get some great pictures for your fiance. The kind of unspoken love, joy and excitement that one can capture during a pre-wedding shoot is absolutely unmatched! If you don't get one done, we're telling you you're gonna regret it! What's the first thing that comes to mind when one says pre-wedding shoot? Of course, gardens, parks, beaches... but don't they seem passé now? If you want to have a stunning set of photos that will surely stand out, then try something hatke! There are so many new places and concepts to discover, which will make for some mind-blowing photos!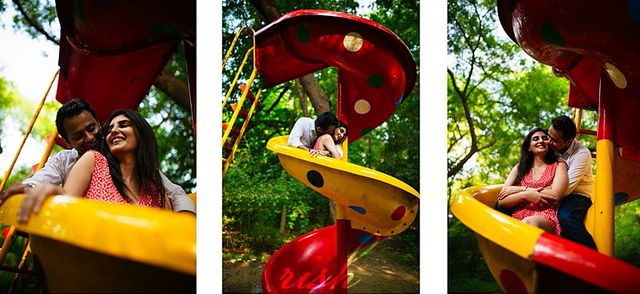 Photo by Rish Photography
> Amusement Parks/ Colony Park with Slides
Imagine the colour and the enthusiasm in the photos! Amusement parks scream happy, and that's what your photos will also be! You can have pictures on the giant wheel, or on some very retro-looking jhoolas! Photos with cotton candy stands, or those-balloon shooting games will also look super cute and colourful! You might have to take prior permission if you plan on going to a well-known amusement park, so make sure that's in place before you plan it out. Alternative: If you don;t know of any amusement park that would have this kind of space, just head to a good park in your colony which has rides- just a slide, a seesaw, and a merry go round is all you need.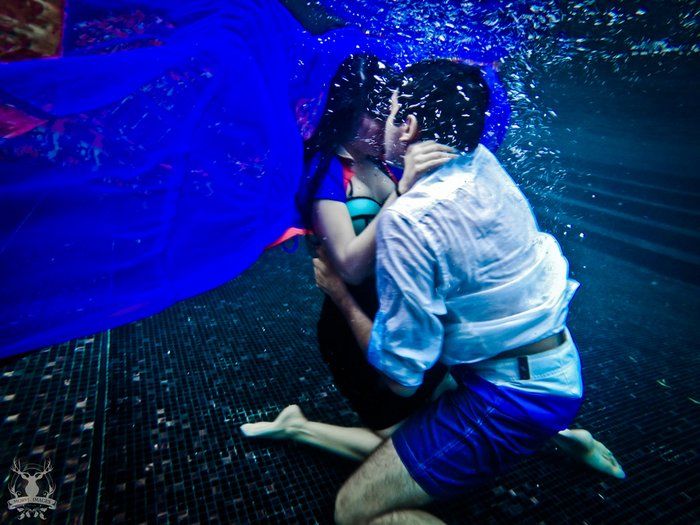 Photo by Morvi Images
> Underwater
If water is your thing, then chuck the beach, try an underwater thing! This could be a destination shoot where the waters are clear, you could try the Andamans or Lakshwadeep- a pre-wedding honeymoon plus shoot! If that's too much, then you could also do it in a big swimming pool- but of course, the effect isn't going to be the same! But just picturise both of you kissing each other under water... now that's one image you don't get to see too often! Hydrophobics, you consider the other options!
Photo by Lifeworks Studio
> Horse Stable
Know a friend who owns a horse or someone who can get you inside a stable. Dress like yr going for a polo match and let your photographer create a story around you, your husband and the horse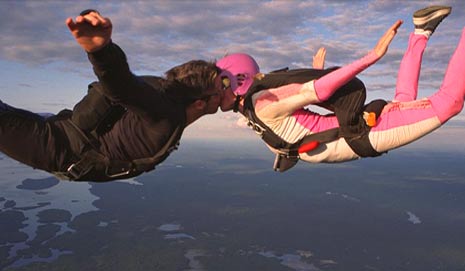 > Go totally insane with adventure sports
If you've read WMG's interview with Morvi from Morvi Images, she talks about having a pre-wedding shoot while sky diving or in a hot air balloon- now that would be absolutely divine wouldn't it? You could choose a destination abroad or do it in India itself. You could go up in a hot air balloon in places like Pushkar or Lonavala, or have a private ride arranged in the outskirts of almost any big city!
Photo by Hitched & Clicked
> At a restaurant/ dining room with english teacups aka "Breakfast at Tiffany" 
This could be so simple- just your dining table, a pot of flowers, tea, cookies and some floral print cutlery. Or just head to a restaurant which has a similar setup for a gorgeous pre-wedding session. You could also dress the part and make it vintage and english like Breakfast at Tiffanys!
Photo by Matt Andrews
> In the kitchen
While your kitchen may not seem like the most romantic place to have a pre-wedding shoot, think of all the fun you could have with cake batter, spatulas and utensils in general. Plus lets be honest- a bit of whipped cream and chocolate syrup is all you need to get a bit frisky
> Post'er' it! 
Pick some posters of your favourite Hollywood and Bollywood movies, and you could replicate them with both of you starring in it! These can be featured during the wedding, and imagine how cool they'll look on the walls of your new house!
Hire a private yacht!
If you're in or near Mumbai or Chennai, then having a pre-wedding shoot in the beach is common, but how about you hire a private yacht for a day? Won't that be fun and very very uber glam? You can wear your nautical best, rock your best sunglasses and imagine the awesome pictures you can get- day or night!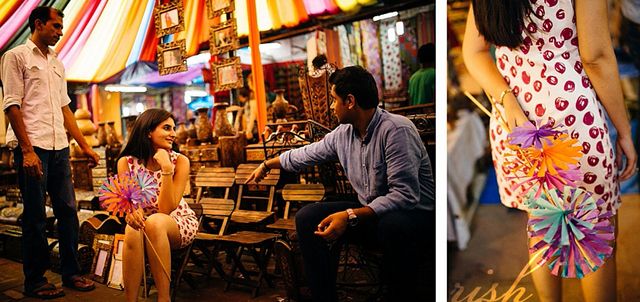 Photo by Rish Photography
> In the heart of the haat!
You could shoot at a nice colourful crowded market as well. Try something like Hauz Khas village or Dilli Haat. If you're down south, something like a Soul Santhe in Bangalore is also going to be an excellent location for it. You can get one of those busy images where everything is in motion and you're the only ones still! Colour is going to be all around!
So here are our recommendations for a pre-wedding shoot that's a little out of the ordinary... of course, you can prep up any boring location with some fun props like balloons, bubbles and umbrellas! So go ahead, give any of these a shot... the rates of course, will depend on the complexity of the shoot and whether travel is required! Have any more suggestions for an interesting pre-wedding shoot? Let us know in the comments below!