An adorable pre-wedding shoot with bridesmaids in tow
BY The WMG Bride | 13 Oct, 2015 | 1141 views | 4 min read
 When a pre-wedding shoot comes with different themes and fun ideas that no one else has used before - our ears and eyes perk up. One such pre-wedding shoot was Madhuri & Rohan's shoot. From a football and ballet juxtaposition to a greek-style girly shoot to a western cowboy flick - there was so much drama and so much creativity at this shoot which was shot beautifully by
Morvi Images Photography
 at
The Perfect location
Meet Madhuri & Rohan
"I have been planning my pre-wedding shoot in my head ever since I got engaged this year in January! And I was so excited to find a photographer like Morvi who was equally excited about it. I felt like I found my soul mate in this department :P. Rohan, my fiance is extremely filmy but I knew he wouldn't do any of the cheesy running around the trees kind of shots. I did not want to do a usual pre-wedding shoot myself. I wanted something that brings out who Rohan and I are as individuals. That's when the brain storming with Morvi started. Months and months of sending each other reference shots, ideas, late-night messages and we finally zeroed in on what we wanted to do." she says.
"Rohan's first love is football . He 's played the sport at state level and it is something that is extremely close to him . Dance is my first love, its something I have been doing since childhood and finally turned into my profession so I knew I wanted something that revolves around both our passions . At first I thought it might look stupid but Morvi was confident we will pull it off" she adds. "Rohan's obsession with football is where I got the idea for the Manchester United Save-the-Date Tees as well. He was extremely wary about doing the shoot and only did it for me so I made it fun for him by adding elements that he can relate to. My dog , Romeo is the most important person in my life and I knew I wanted him to be a part of it. He looks like the dog exactly out of the movie Marley and me and it was tough to make him stay still even for a second so hats off to Morvi for attempting to get a shot with him!" she recounts happily.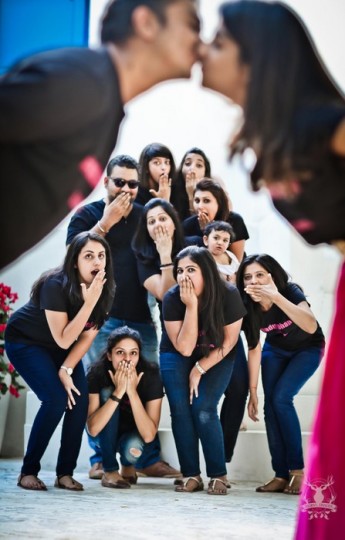 "I am blessed with the most amazing set of bridesmaids who have been there for me throughout. I knew I wanted them to be a part of the shoot. They all planned a bachelorette for me in Thailand for which I gave them personalised hampers, each of which included a Madhu-Rohan tee with a personal message. My sister Divya's read "Maid of Honor / ATM", One of my friends Rupani, her's read "Managing the bridezilla". Mine said "Main Apni Favorite Hoon" and Rohan's read "Ek baar jo maine commitment kardi!" - it was good fun. I even had a team bride onesie done for my 11-month-old nephew Rajveer. The hamper also included all other essentials for the trip like wine, party smart etc :P." "I also knew we had to use all these T-shirts for the shoot to show them off. So there we were 9 of  my bridesmaids, Rohan, my brother-in-law Raj and my nephew Rajveer ready to be a part of the shoot . I saw a fuschia pink dreamy skirt by Masala Chai, Dubai  a few months ago and I just knew I had to get it for this shoot even though we hadn't finalised anything by then. I think shooting with all the people I love was the best thing ever!"
"The last shot was completely suggested by the perfect location team and I felt like I was starring in a Yashraj Movie ! The location is absolutely amazing and their team helped us through and through. I would recommend every bride to be to consider shooting there. And if you are looking for a photographer , then your search ends at Morvi . She is absolutely amazing , so good with everything she does and she gets personally invested with you trying to capture each and every moment of your journey," adds Madhuri.
Vendors:
Pre-wedding shoot photography by
Morvi Images Photography
; Venue:
The Perfect location
 ; Bride's Pink Skirt by
Masala Chai
, Dubai; Customised tees by
ilogo.in
.