An Elegant & Intimate Delhi Wedding With A Bride Who Wore Her Mother's Bridal Saree
BY Aakanksha | 29 Mar, 2019 | 1398 views | 6 min read
In a typical east meets west fashion, Meenakshi & Matthew's wedding was a celebration of two cultures, and everlasting love. While they did have a grand wedding, they both tried to do things as environmentally favourable as possible. Their favours were personalised and planet-friendly, so was the decor at their Mehendi & Reception. And we loved how they struck a balance between having a big fat Indian wedding and keeping it planet-friendly. However, it was their simple wedding that was the most stunning. Held at Meenakshi's ancestral home in Delhi, the ceremony took place on her rooftop and the baraat crossed lanes and gullys to reach her! It was like reliving the olden times through their wedding. And to top it all of was the excellent photography by Avnish Dhoundiyal Photography★ 5 . 
Meet Meenakshi & Matthew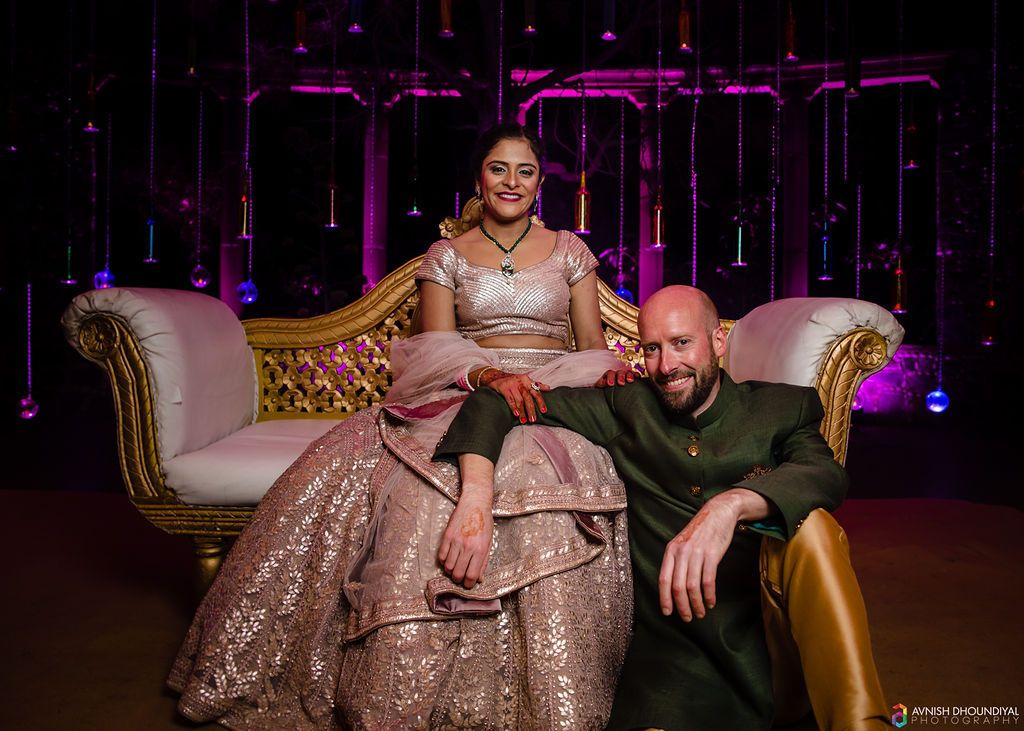 The Mehendi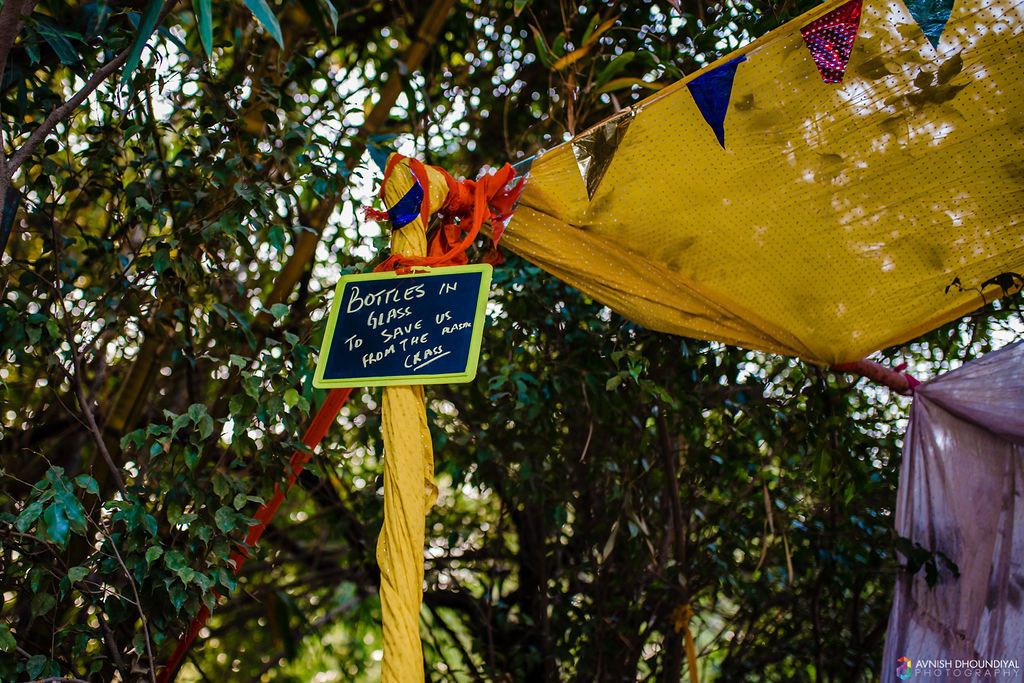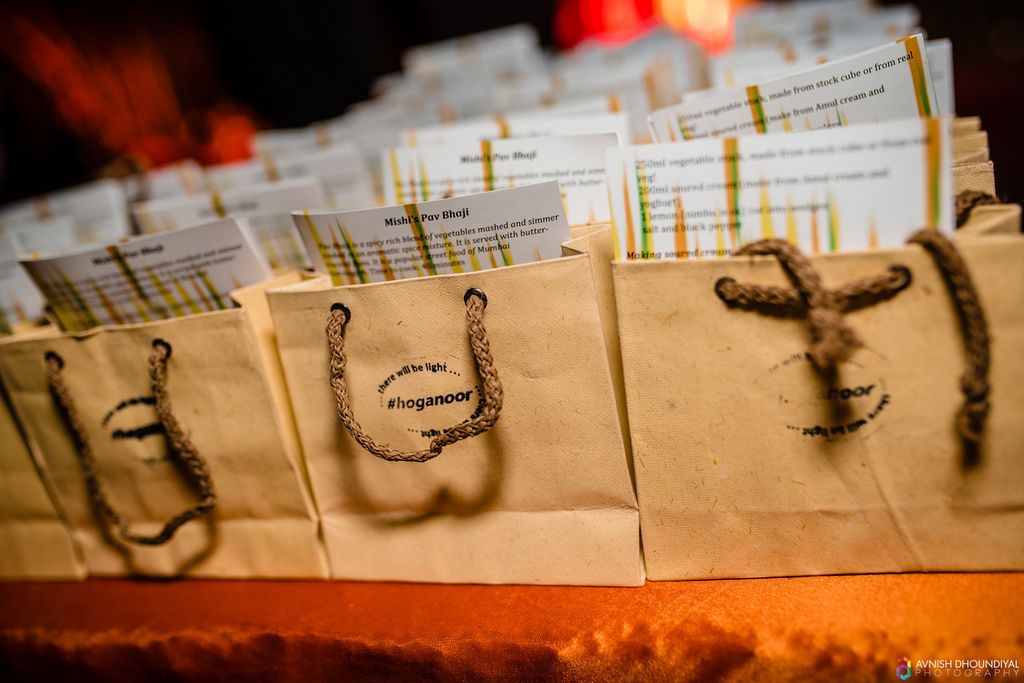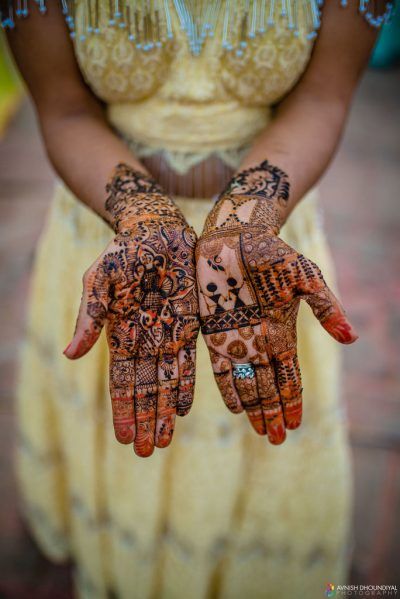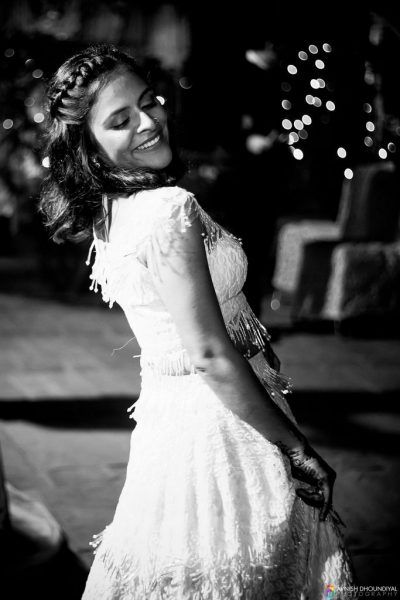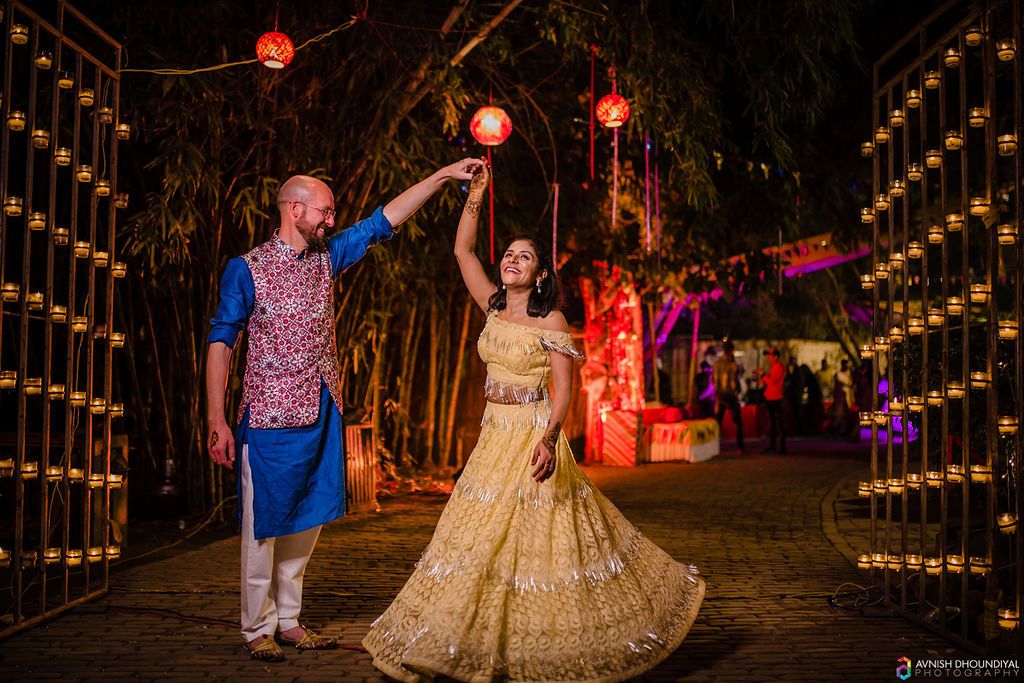 The Wedding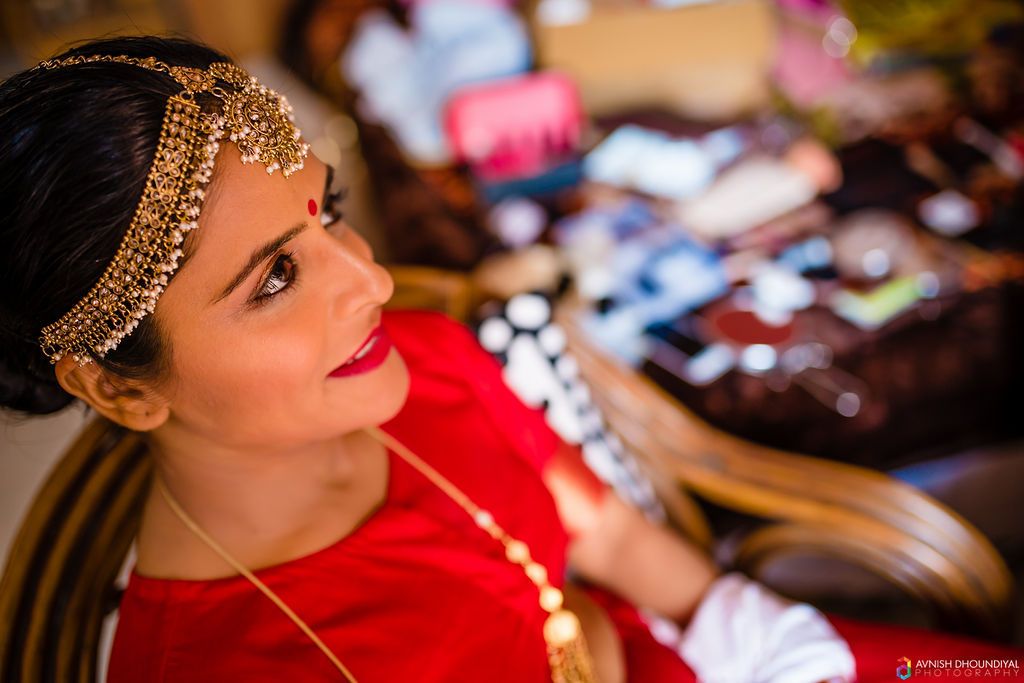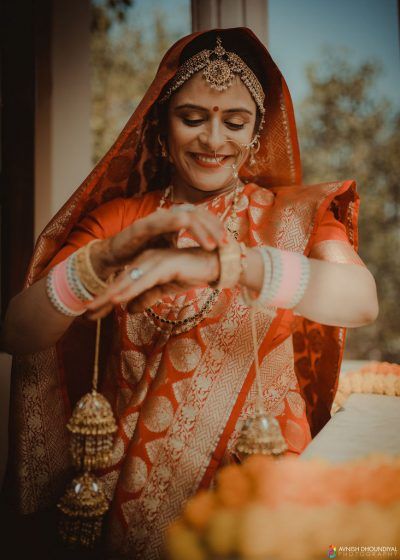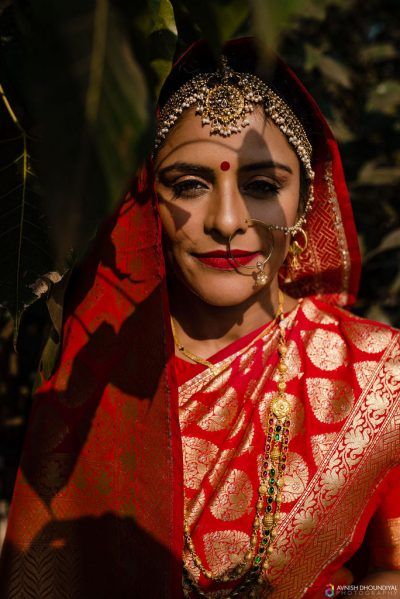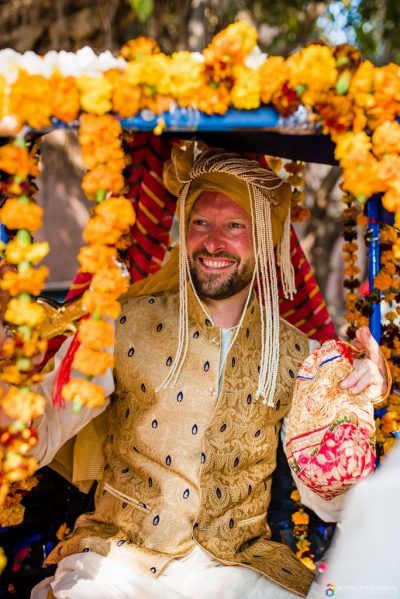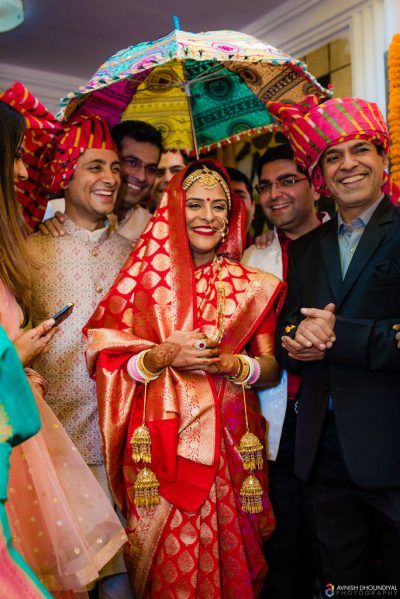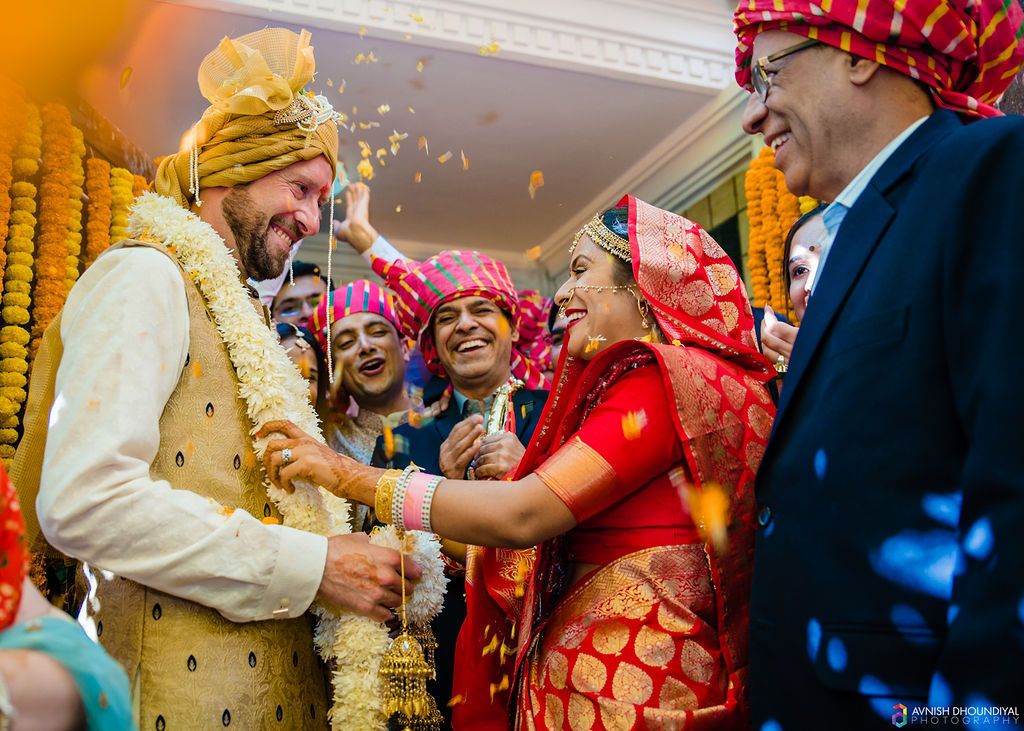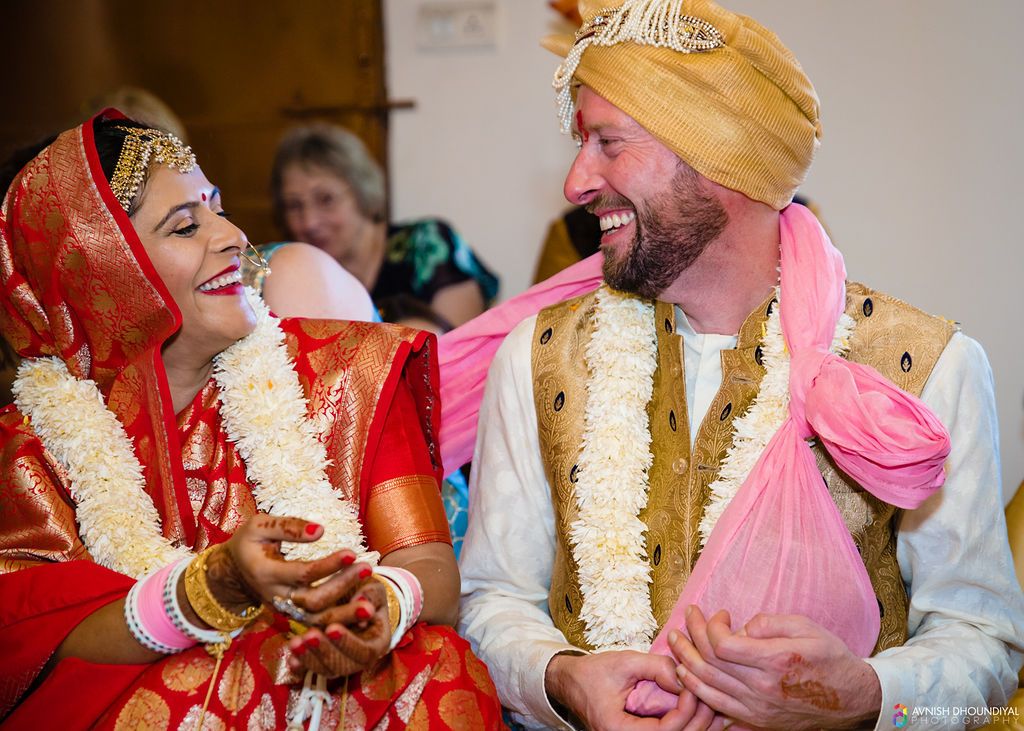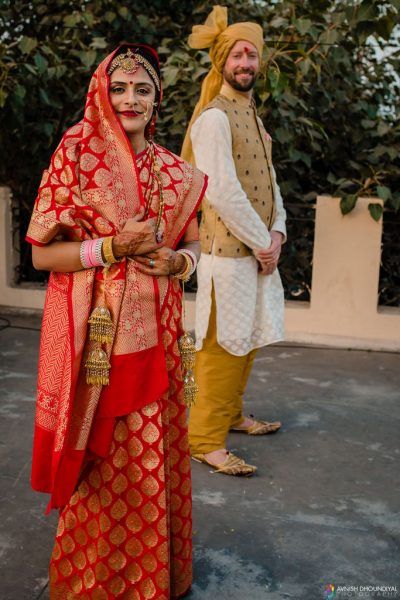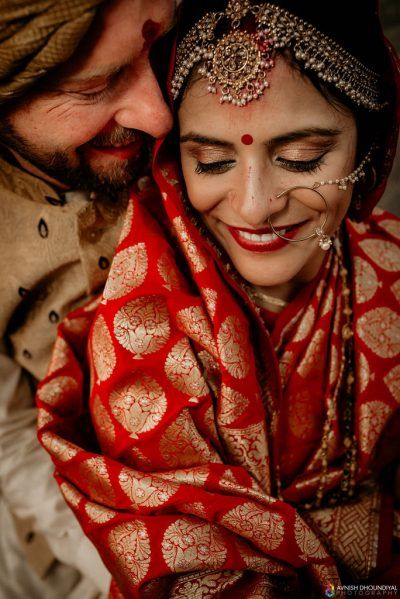 The Reception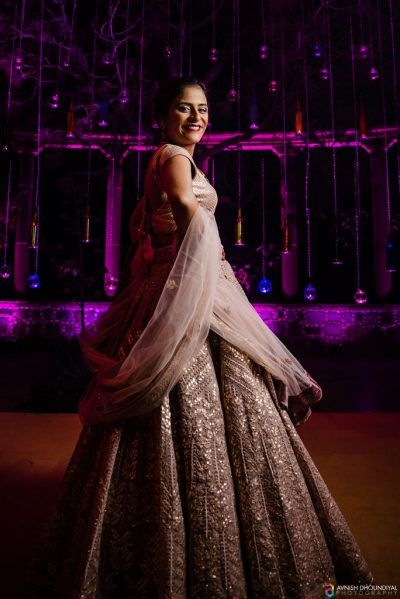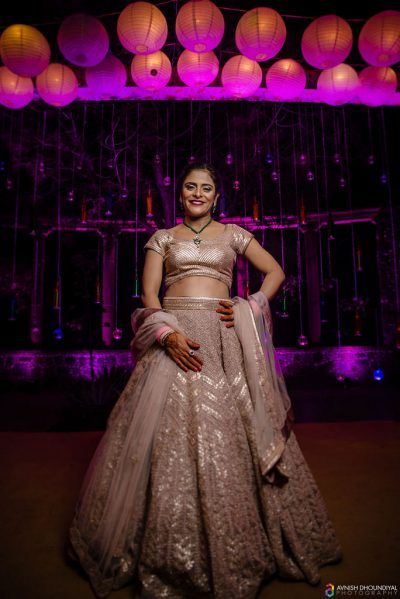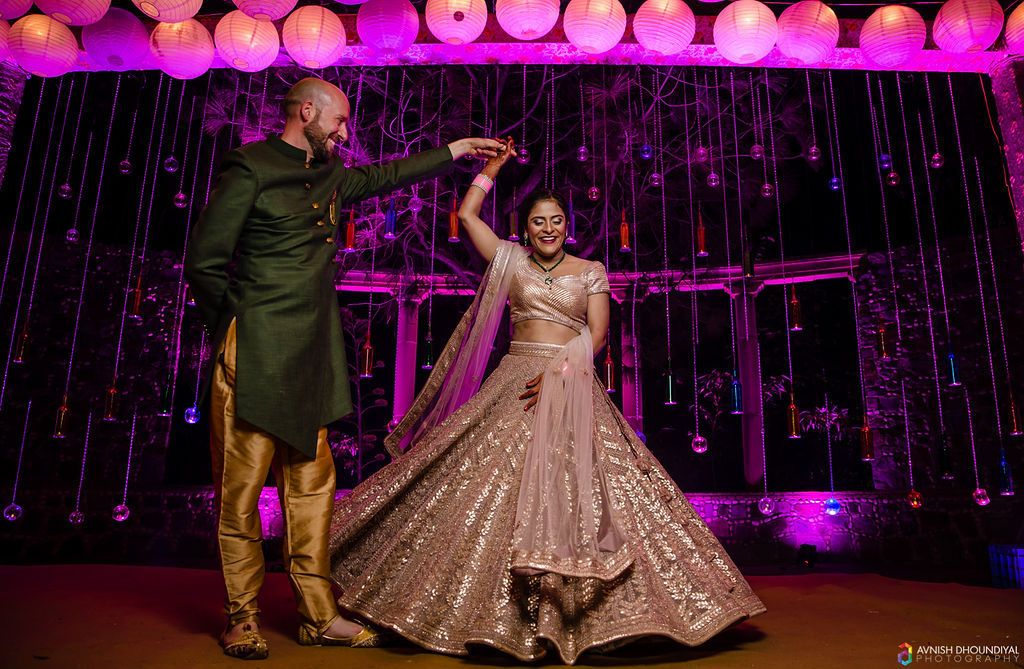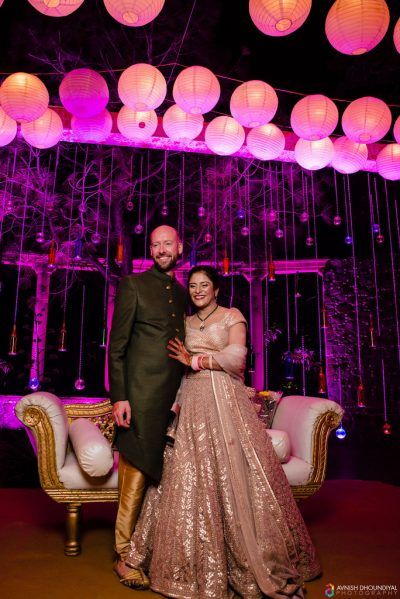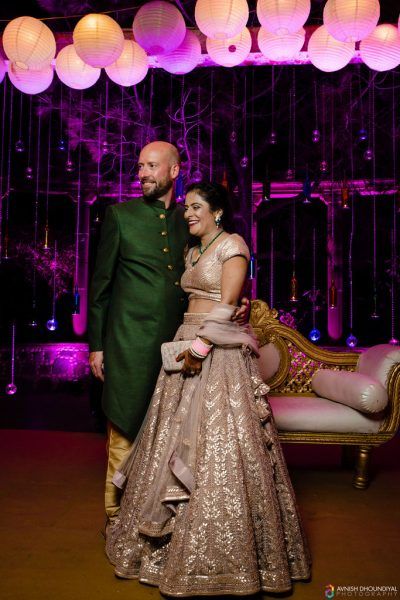 From The Bride: 
We met via a dating app, and when we decided to get married, in our head it was gonna be a simple court marriage. But life, and both our parents, clearly had a different plan. We ended up having a big Indian wedding but we were also conscious of environmental impacts of our celebrations. We didn't want to compromise on the fun and traditions but we didn't want to use things of plastic when we could clearly avoid it. So we had to strike a balance. Beginning with wedding favours- we gifted bamboo straws, which we requested our guests to bring to the wedding (Matthew did a lovely message note to go in the straw bag), bottles of itra and a traditional sweet box from my hometown in Punjab. The wedding invites too were kept simple and basic. 
We decided to have a sun-downer mehendi cum sangeet, followed by a simple wedding ceremony and the celebrations to be culminated with a reception. To do away with single-use plastic bottles at the wedding, we bought 300 ml glass bottles, filled them up with filtered bottles, sealed them and used them at all functions. We put stickers of "hoganoor- there will be light" (Matthew Hogan + Meenakshi Kapoor) on the bottles to give them a personalised feel. 
My mum got married at her home and in a red banarasi sari. I wanted to do the same. So we had a really simple wedding on our terrace with just family (Punjabi khandan) and friends on the following day. I wore my maternal grandmom's heirloom hoops and kept the look simple. Matthew brought his baraat on a cycle rickshaw with his family playing musical instruments and dancing on the beats of drummers. Our entire neighbourhood was leaning off their balconies to get a better look of the baraat. I too got a peek from the balcony of my room on the terrace. It was like reliving the olden times.
The same day we threw a reception dinner at the Garden of Five Senses. The decor here didn't use any single-use flex, plastic or exotic flowers. There was a tree in the centre of the garden which I really wanted to make part of the stage decor. My decorator designed the stage around it and it came out to look ethereal.
My mehendi dress and reception lehengas were created by my brother and dad in-house. A friend of mine took responsibility of my makeup and launched her makeup career with me. My brother did a fun photoshoot for us so we could make Thank You Cards for our guests. We are planning to give away the props used in the wedding for others to reuse. WedMeGood inspired me and helped me DIY so many things at my wedding! I am truly glad that you guys were there to help me and guide me throughout my wedding planning.
Avnish was a delight to have as a wedding photographer. He made me and Matt really comfortable, didn't bat an eyelid about our low key choices and in fact, brought some of the best moments out. He became like a family by the end of the two days of the ceremonies. He gave his honest advice on my looks and on the decor. He made the best use possible of my house in the photoshoot, captured the emotions really well and gave me an amazing collection of photos. Seeing the images is like reliving those two days. I couldn't have asked for a better photographer, for sure. Arora Tent House: Gaurav did decor for all three functions we had. He gave his best and worked around different themes for all functions. He seamed together conflicting visions and created a beautifully blended look for the reception. There was a pine tree in the the garden which I really wanted to have as the centre of the stage decor. Gaurav designed the stage around it and it came out to look ethereal. Saltt Caterers: We had quite a few tastings before we decide to go with Saltt for the reception dinner. The menu suggested by them in the tasting was quite unique and everything on it was delicious and we were sold then and there. The desserts (caramel phirni and Tiramisu were my personal favourites) in particular stood out. Several of our guests complimented my dad on the food. Bharat's Professional Food & Beverage: Bharat ji took care of snacks and dinner at our Mehendi-sangeet sundowner. Everything they served was full of taste. The presentation was nice too. Smaraki Samantaray: Smaraki is a close friend and a makeup Vlogger. I watched few of her videos and I knew I wanted her to do my makeup. I told her I wanted to use only cruelty free products, she responded "Anything you say. You are the bride" I felt like we created all the different looks together. They were all natural, minimal and real. I felt like best version of myself in all those. Brij Tailors: Brij Tailors made outfits for all the male members of our family. They did a wonderful job at it. Sunil Kapoor, Meenakshi Creations Pvt Ltd.: I wanted a quirky, fun, flirty outfit for my sangeet and an elegant, subtle and yet outstanding and exquisite dress for the reception. I loved both my dresses (my reception lehengas even had a pocket!). P.S. They created gorgeous outfits for my mom and for Matthew's family as well. The Garden of Five Senses: When we were looking for venues for the pre and post-wedding functions, I knew I wanted an outdoor setting but I didn't want a Farm House or a Five star Hotel. The Garden of Five Senses fitted the bill. We used two different lawns for the two functions and they both were already so beautiful that they only needed lighting to have them to shine out. The natural elements there were just perfect and required minimal decorations. After the decor, the place transformed into a dream venue. I couldn't have asked for better.