An Elegant Udaipur Wedding With A Bride In The Most Stunningly Unique Outfit
BY Aakanksha | 04 Feb, 2019 | 3289 views | 9 min read
What happens when you marry your best friend? Meet Jahanvi and Varun, a couple who met on a trek and ended up getting married in a beautiful ceremony in Udaipur. It was an elegant affair, with tons of inspiration for every bride-to-be. The bride, Jahanvi, wore a red and gold kanchivaram sari, with a deep red Orhni, and effortlessly created one of the most unique looks we've seen in a while. But it was her paternal grandfather's gold belt that she adorned with her saree that made her outfit so special! Jahanvi's bridal looks were effortlessly created by her make up artist Sahibba K Anand★ 4.9 and heartwarming photography by Bhumi and Simran Photography★ 4.9 was like the cherry on top for this just perfect wedding! 
Meet Jahanvi & Varun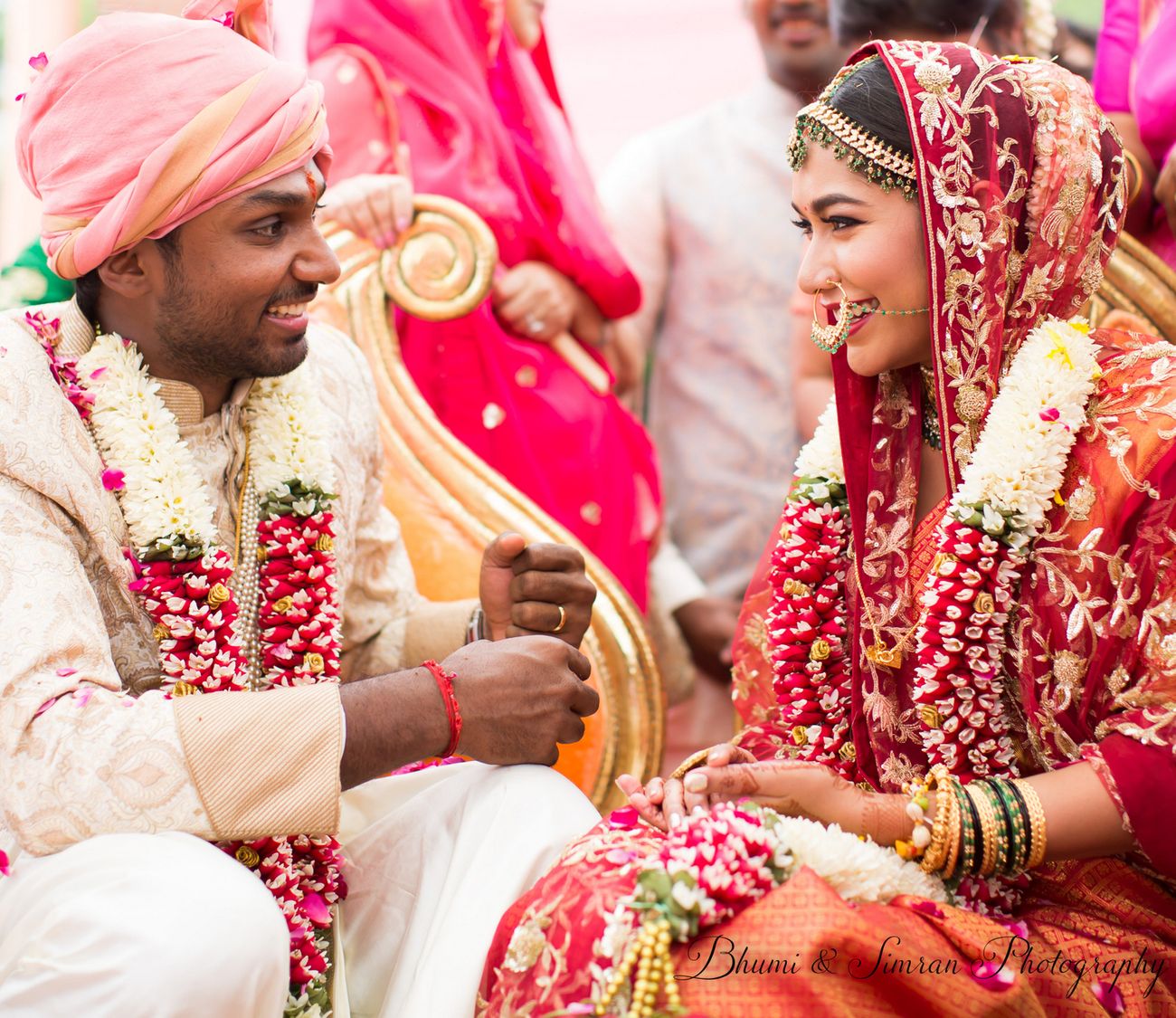 Here's a sneak-peak into their love story, and how they met, "Varun and I first met whilst on a trek in Himachal in 2014, he's a couple of years older than me and we became friends. We used go trekking about twice a year, so even though he's from Chennai and I Delhi, we used to meet each other a fair bit. We'd always walk together on our treks, so naturally we'd chat a lot. He'd also come to Delhi for work, and pass through Delhi when he was doing his MBA in Mohali. He was my one friend who'd want to come for my morning workouts rather than go out at night, which suited me perfectly. He's very into fitness which is inspiring for me, and he loves being outdoors which I definitely do. At some point we started liking each other and then in 2017 he asked me to date him "medium distance". It was wonderful because we able to stick to our daily schedules, whatsapp and phone calls were sufficient for us, and we'd see each other once a month. My parents had met him before I had on another trek, so they were friends with him before I was, which is funny. After we started dating though he met them formally to inform them that we were dating as well, it was very sweet and cool." 
The Cocktail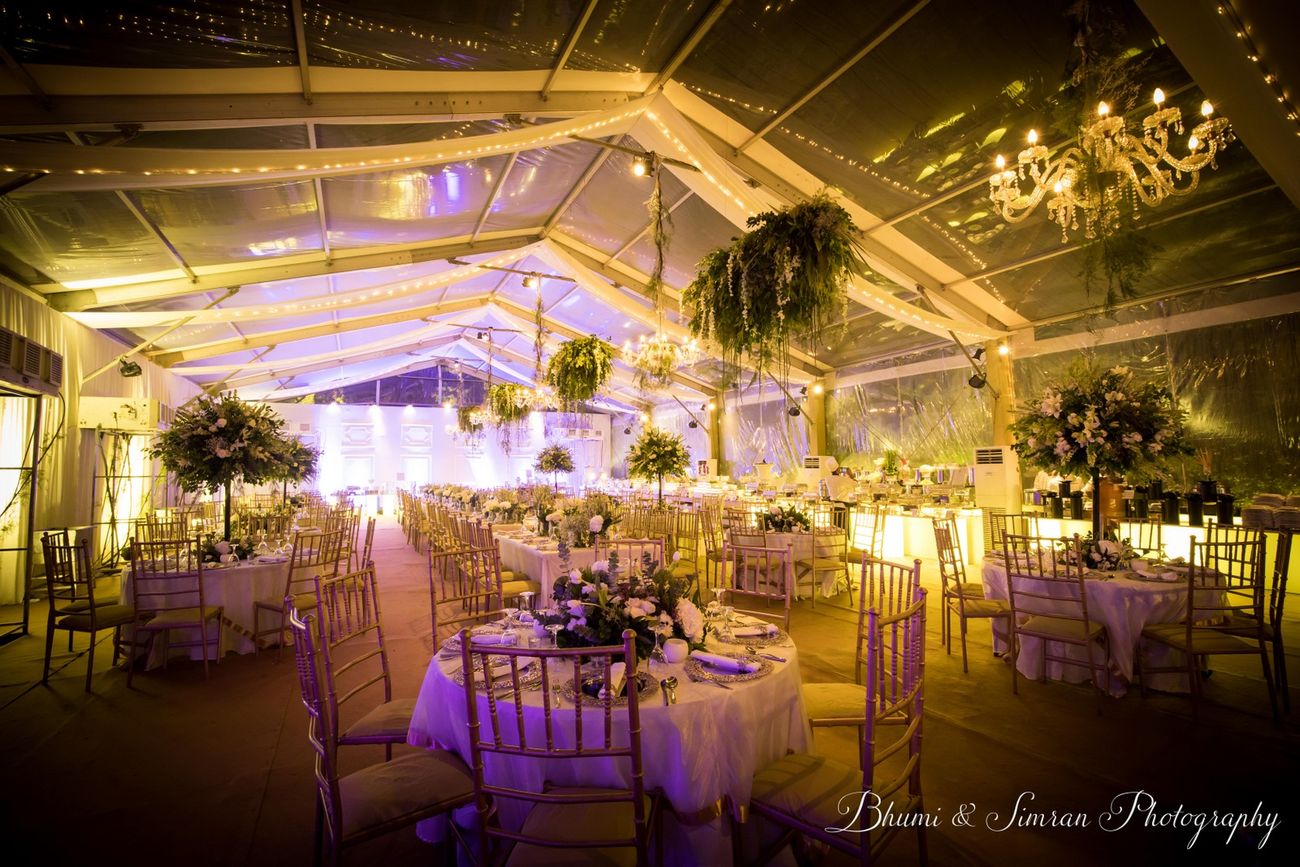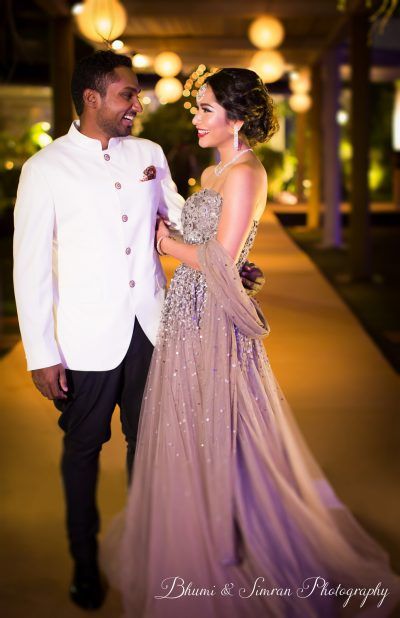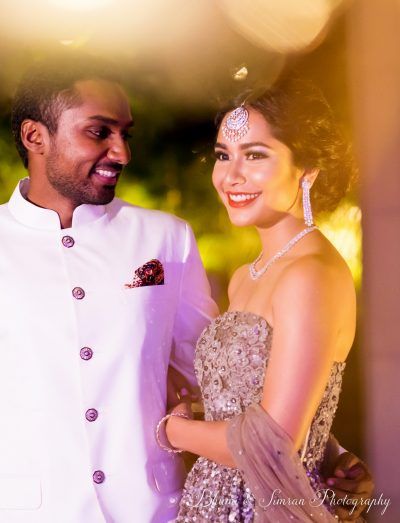 The Mehendi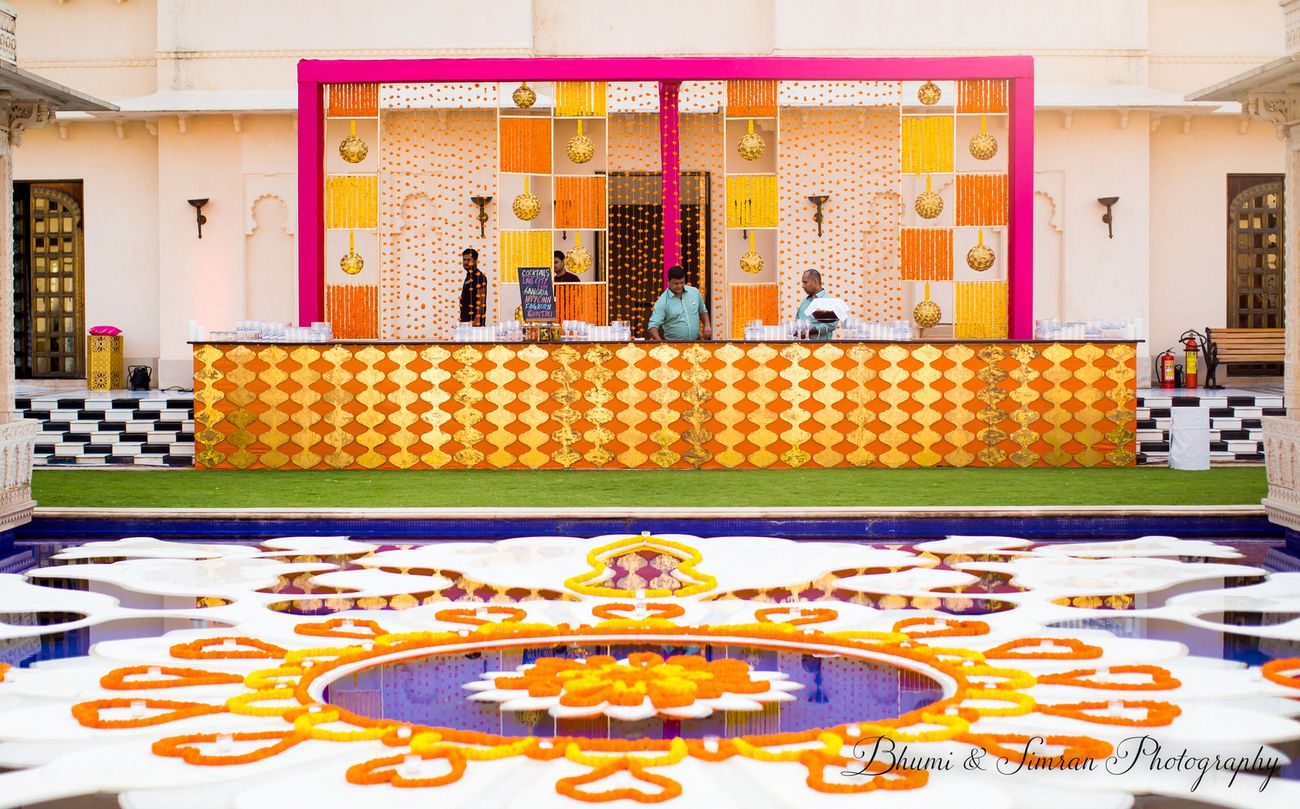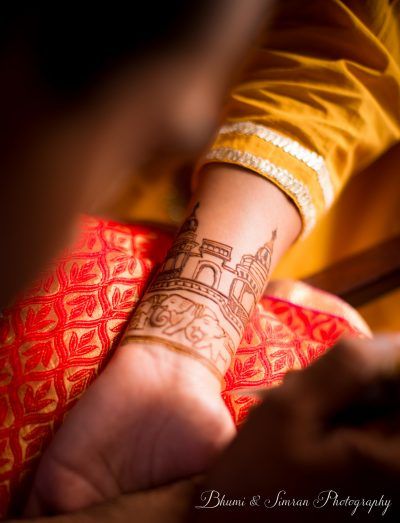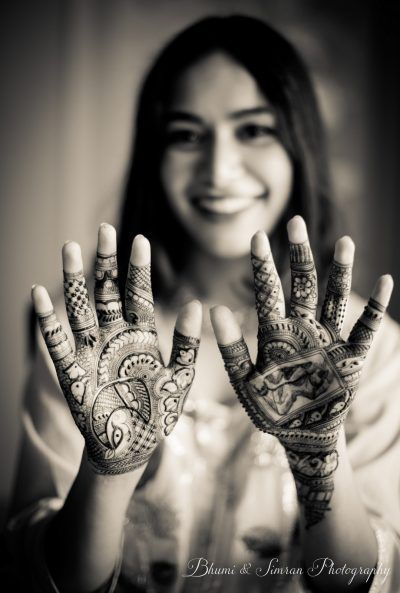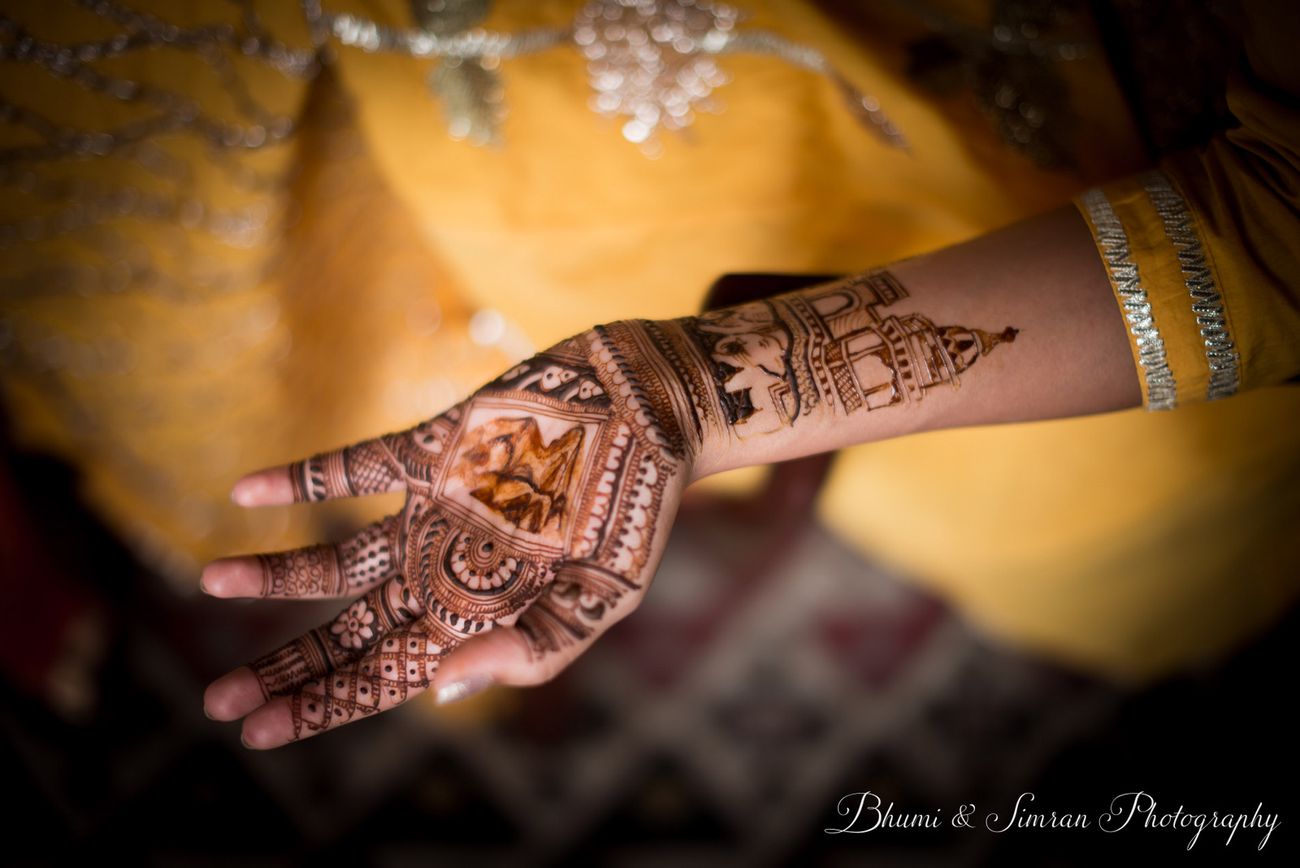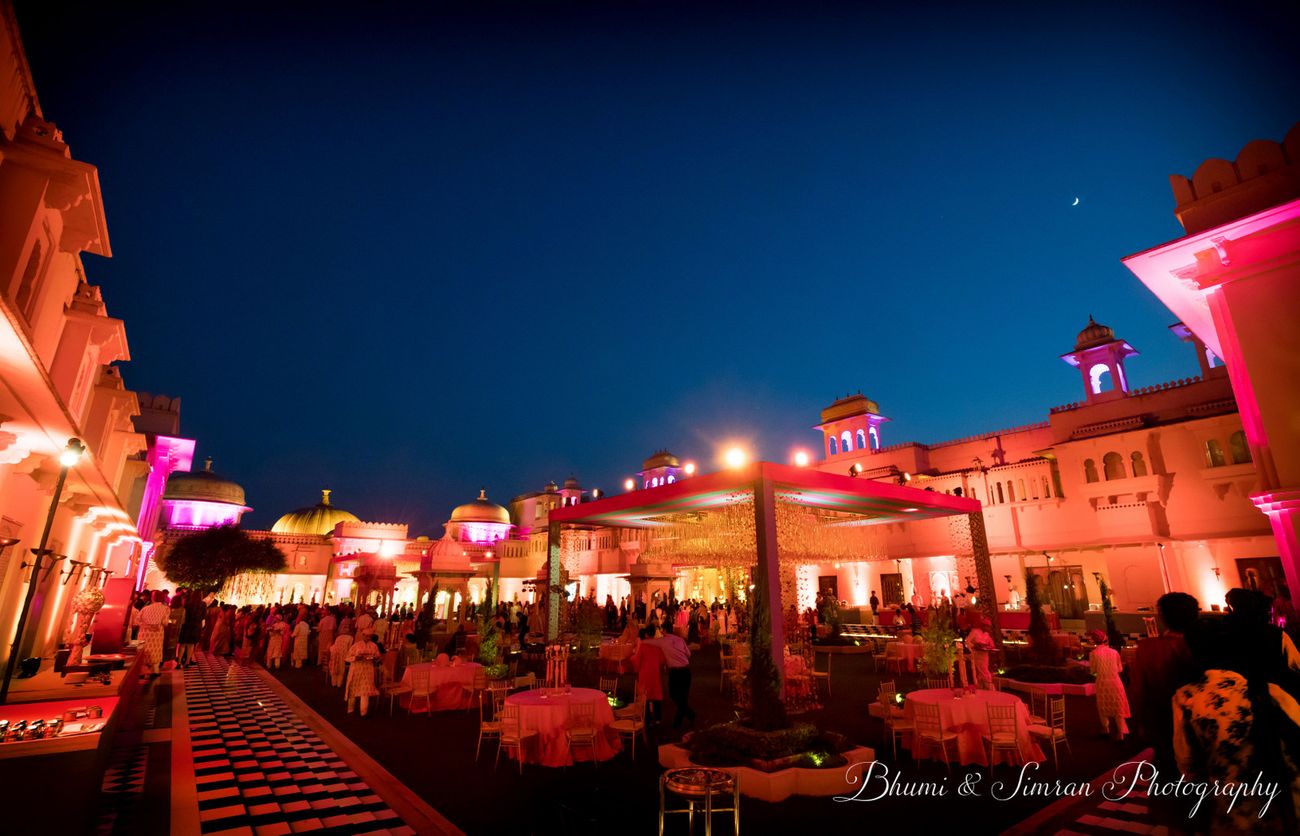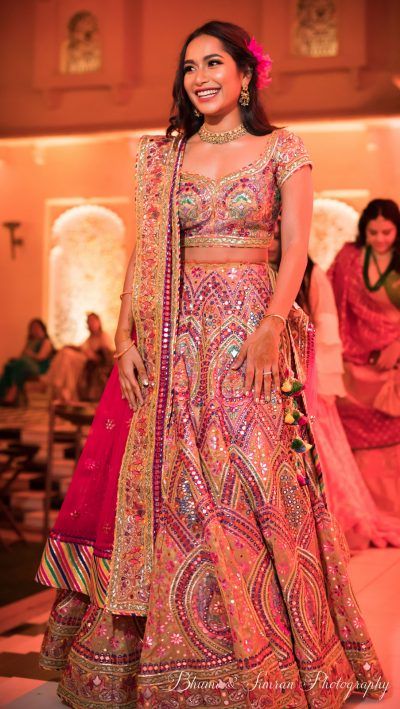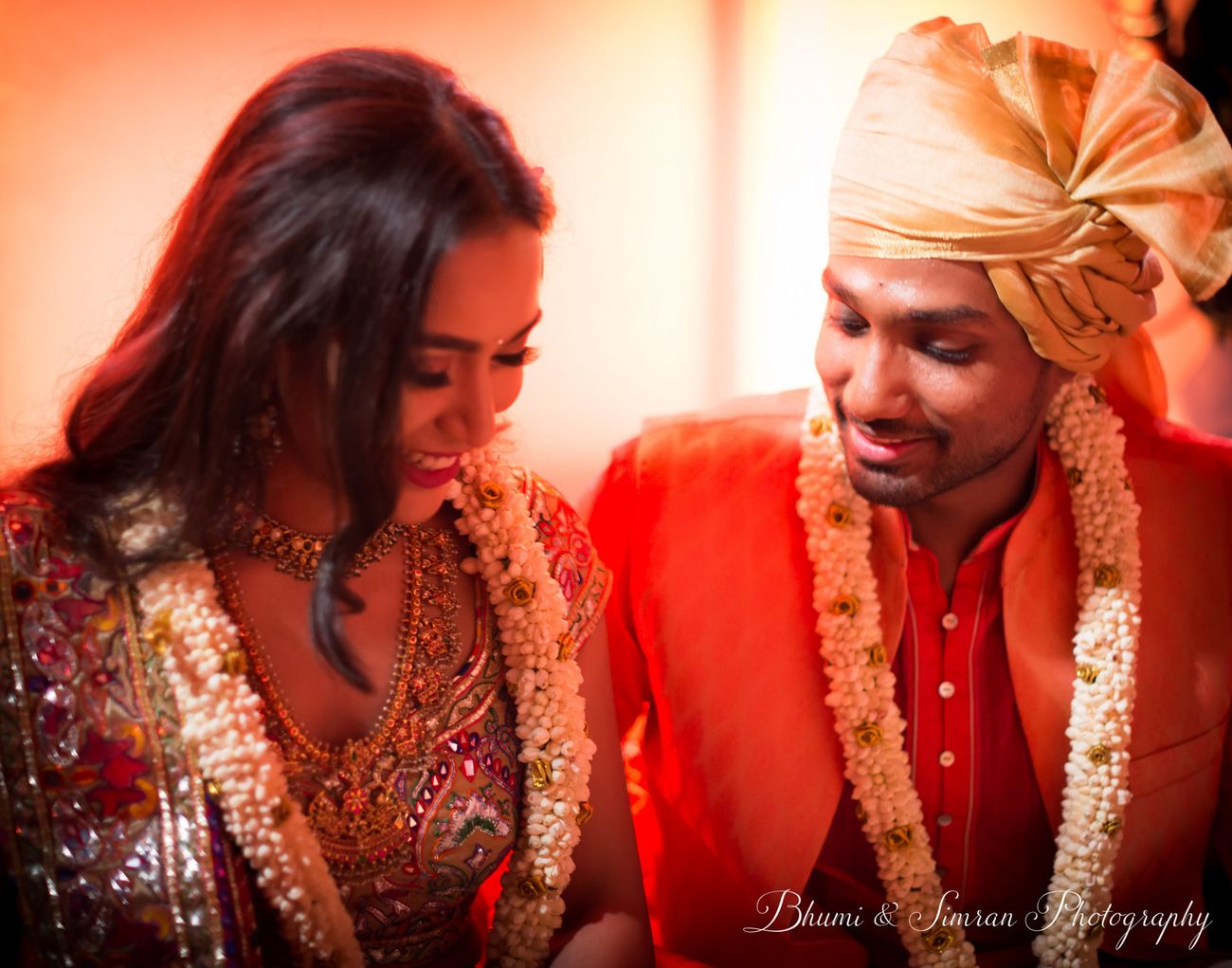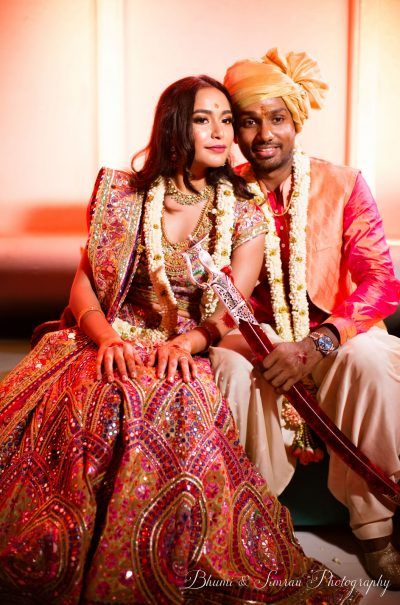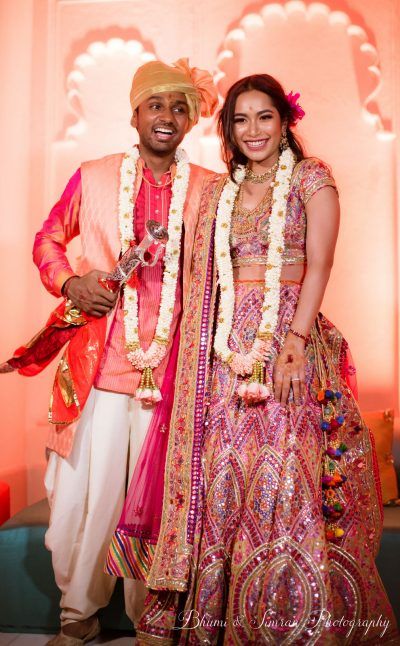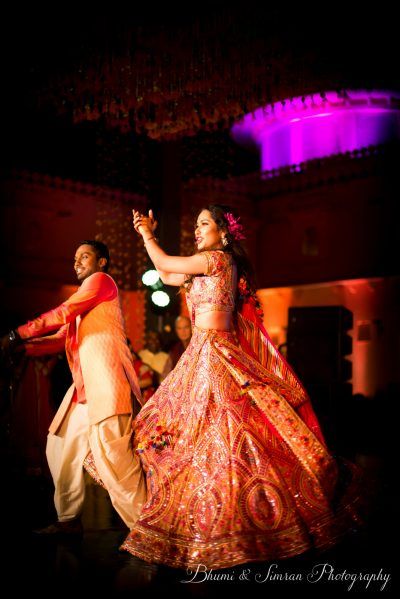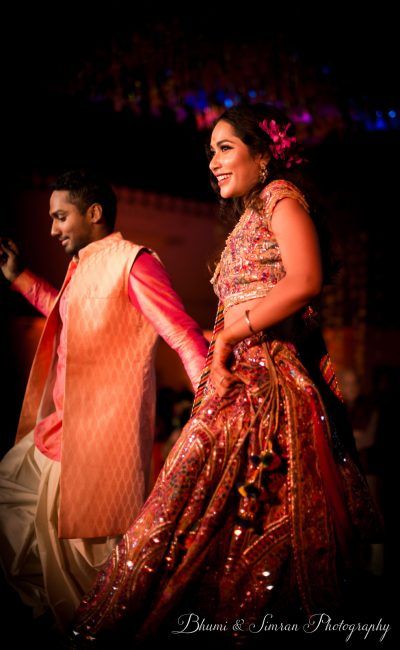 The Wedding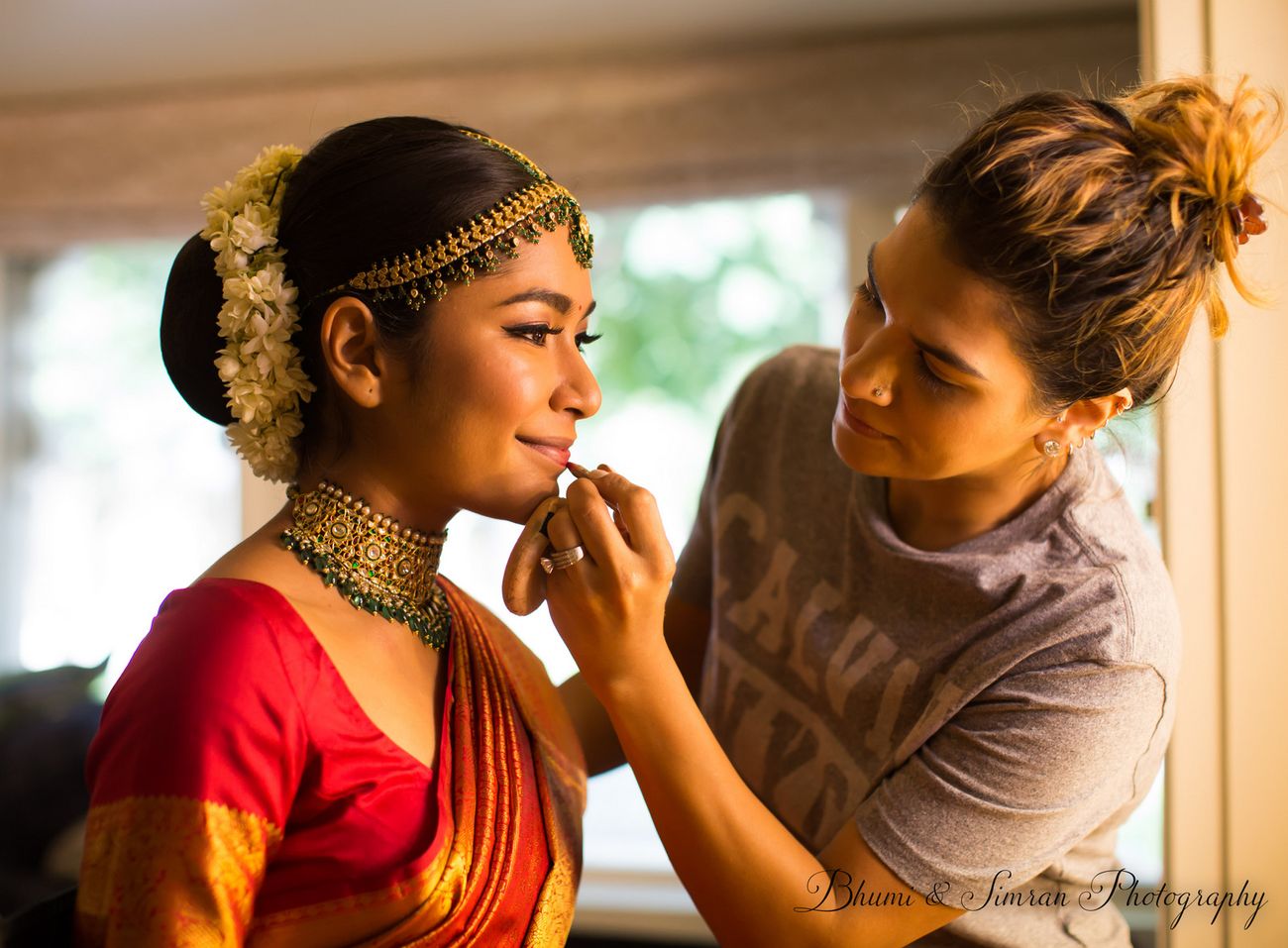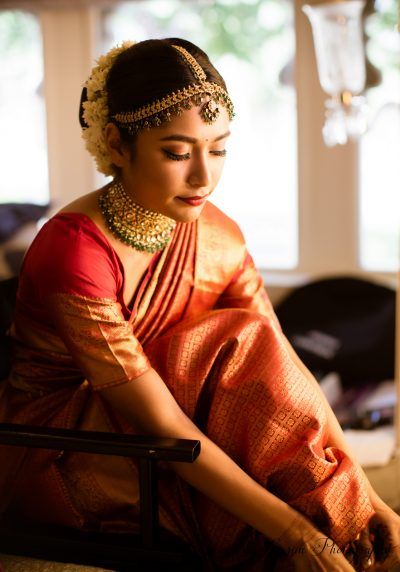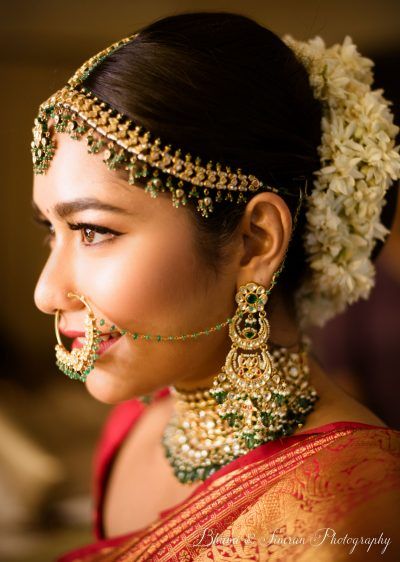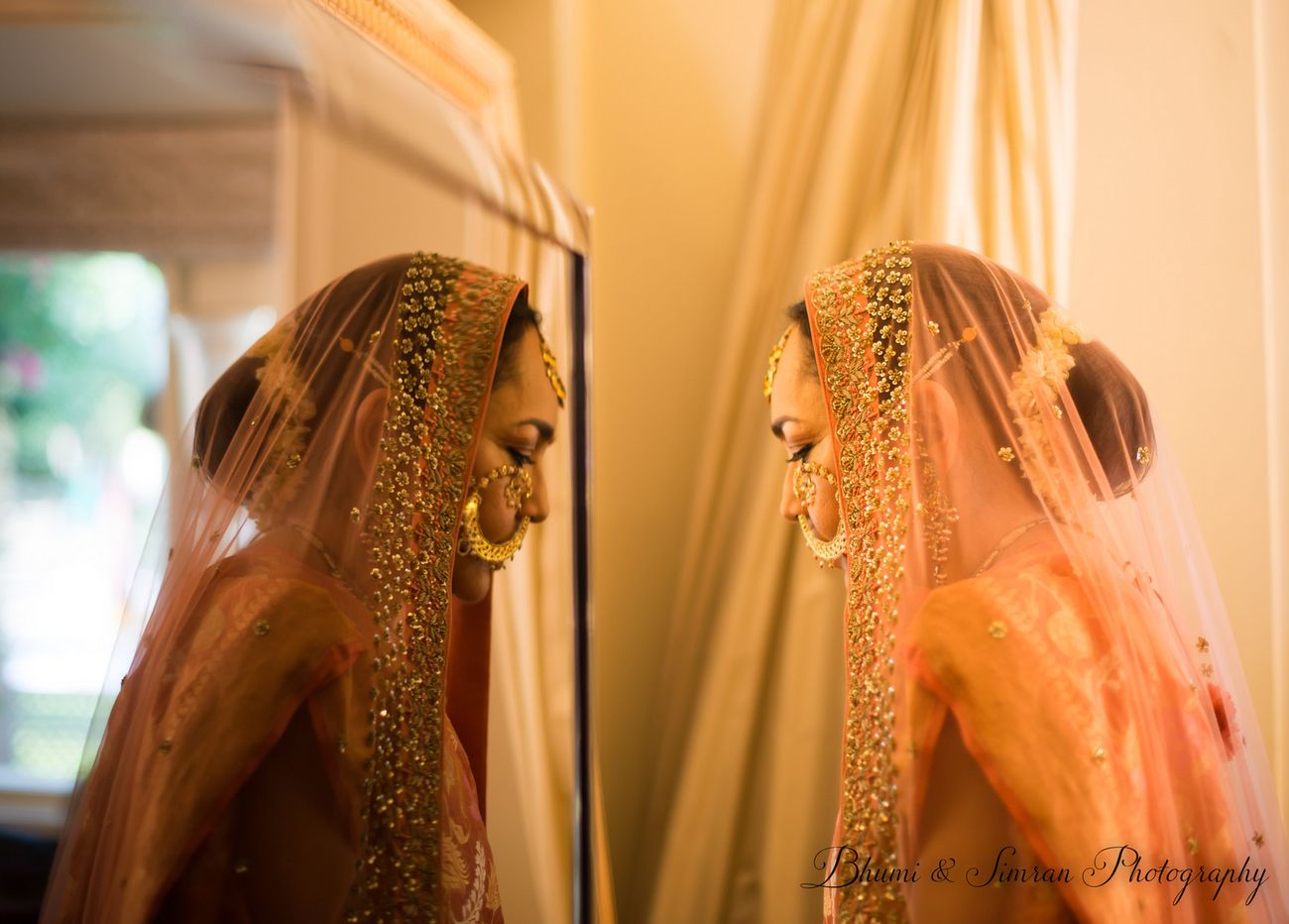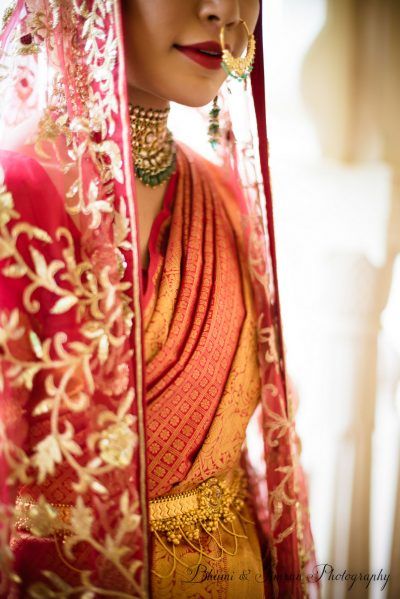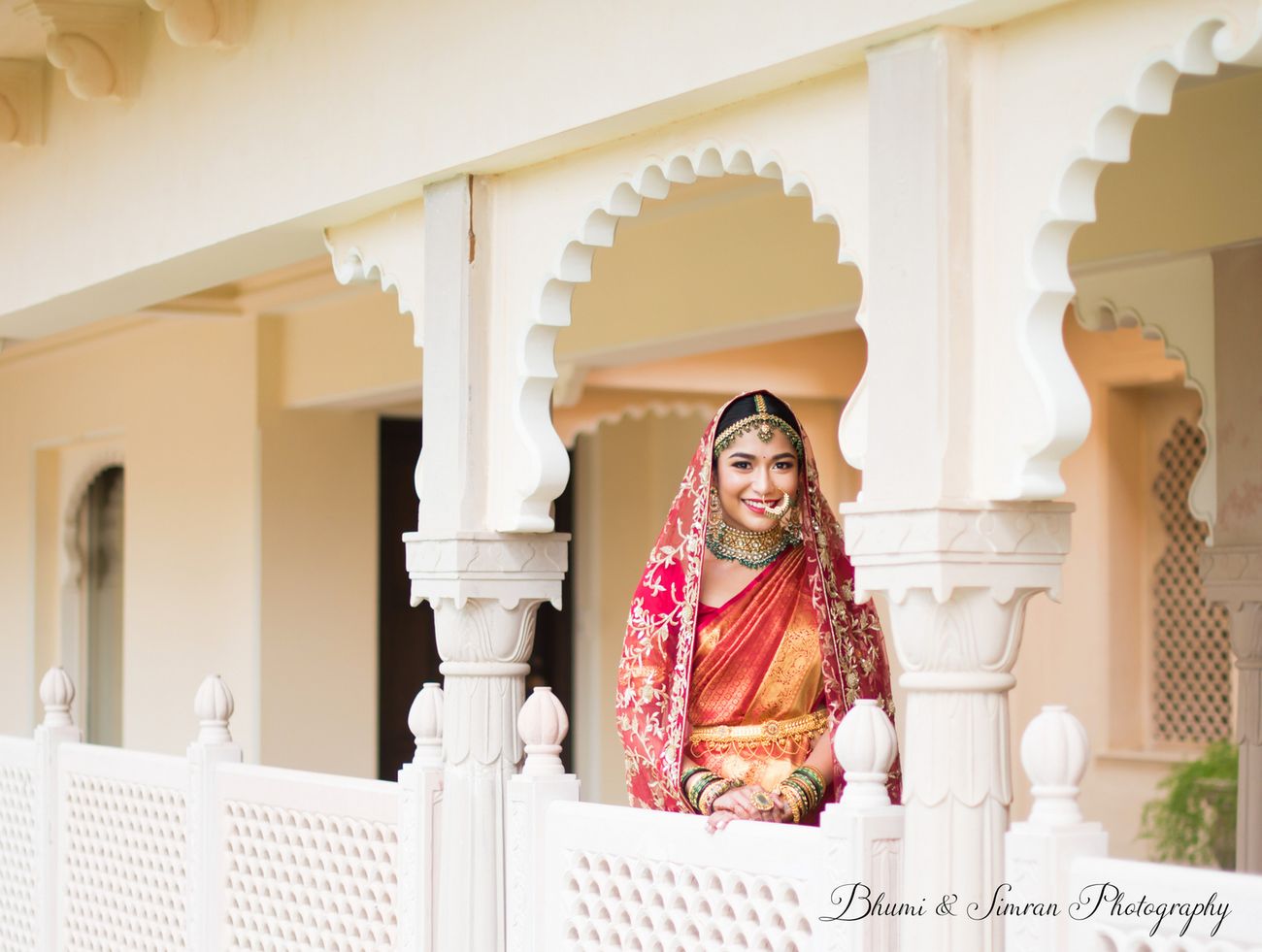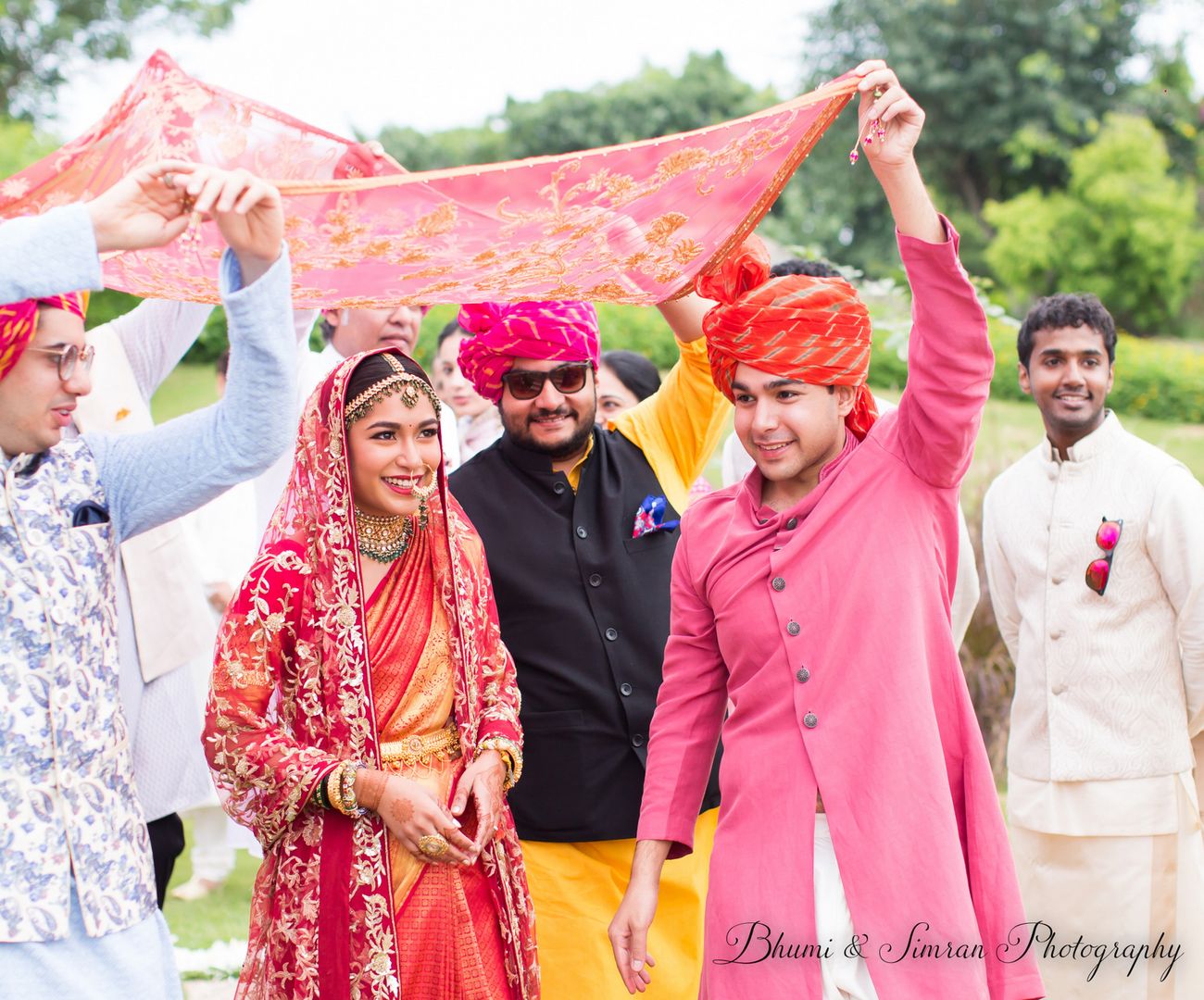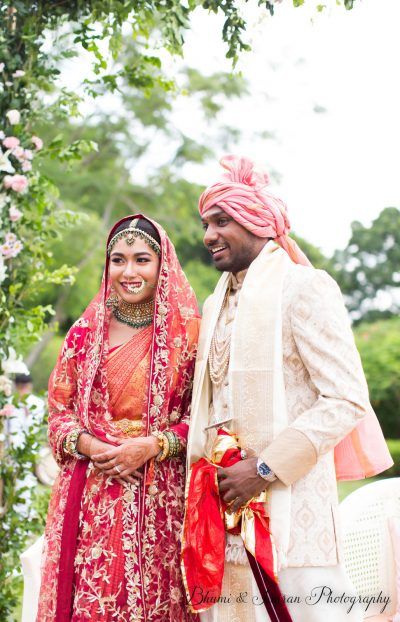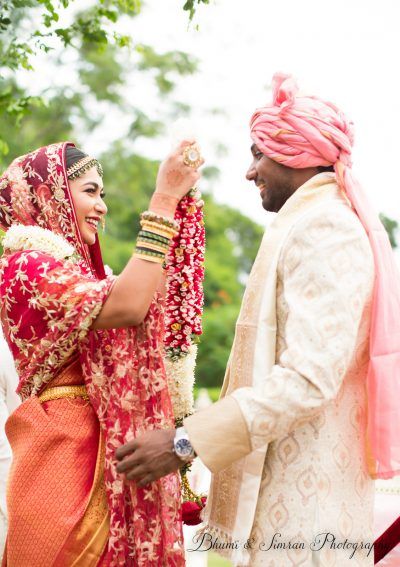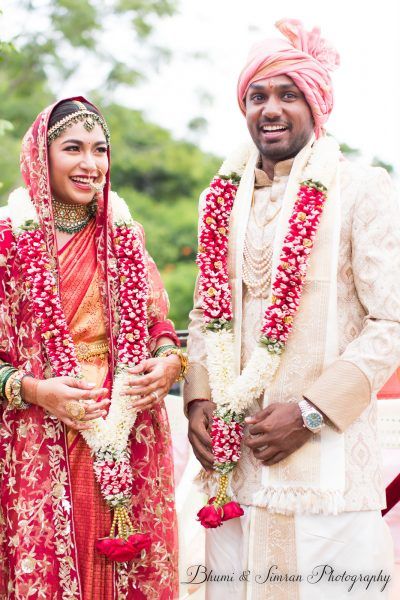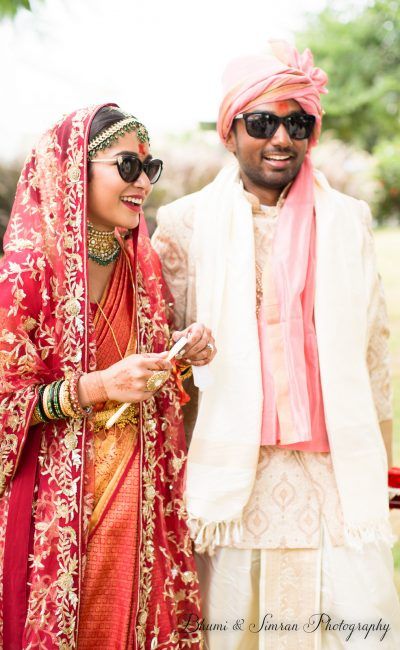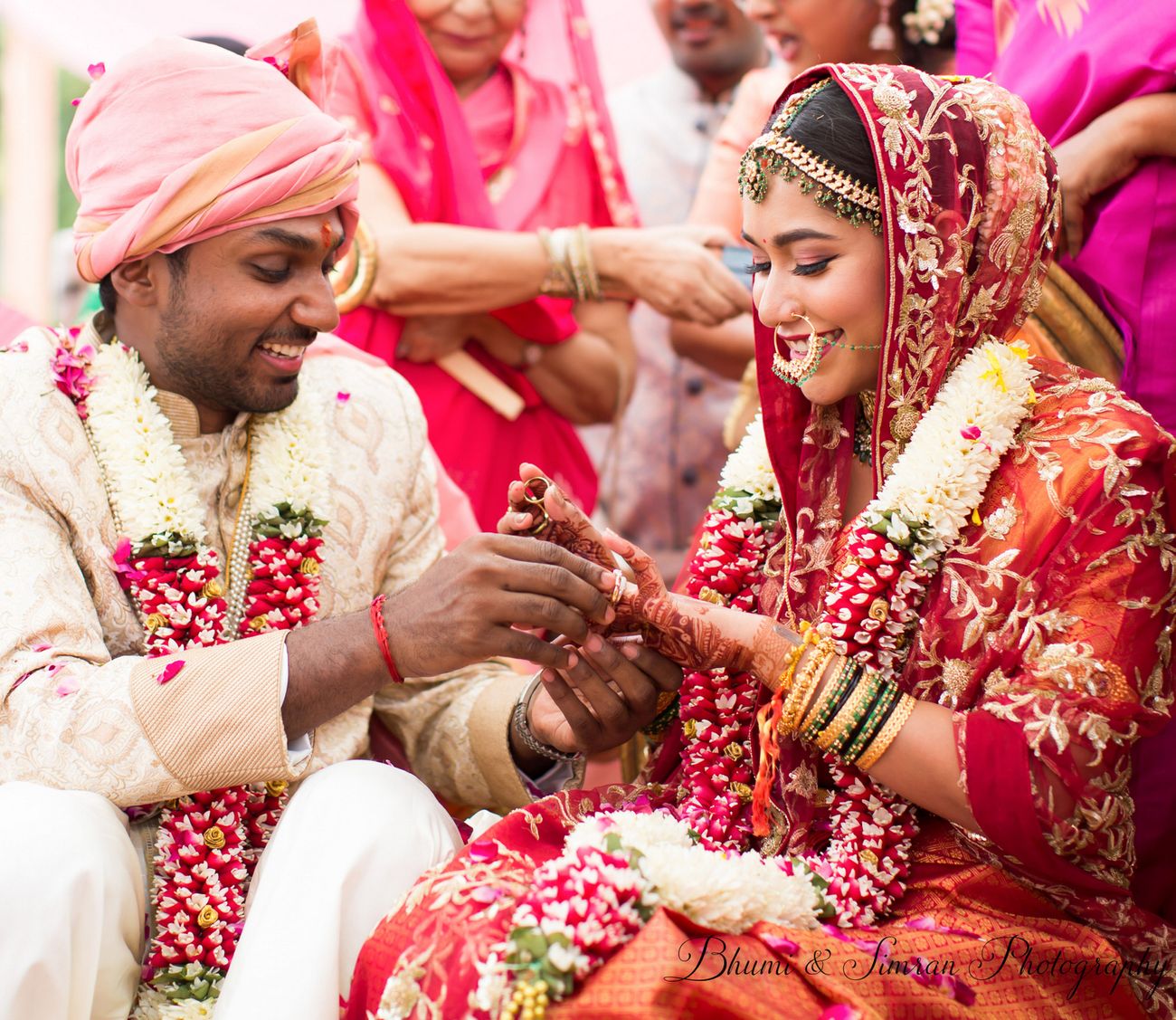 From The Bride: 
We had our wedding in Udaipur. Rajastan is just a great spot for weddings, the buildings, people, food everything is fabulous. My parents had visited Udaipur a few years ago and fell in love with it. I wanted everything to be elegant, I was very sure of the look I wanted for each event. I also wanted the wedding to be extremely fun! 
Couple Outfit Details And Reviews:
I wore a grey strapless gown by Atsu, with a matching stole, for the cocktail night. The bodice was covered with beads and sequins. I wore a tika with it to make it look a little festive. I wore a gold gown with beads and sequins, by Atsu only, for my wedding party as well. Atsu was wonderful to work with, super patient and helpful. For the mehendi sundowner, I wore a gold lehenga from Da Biri. It was covered in mirror work, stitched on in multicolour thread. I loved this look. Also coordinating everything with Da Biri was easy as they're very professional. I paired it up with traditional jewellery. My favourite look was my wedding look! I wore a red and gold kanchivaram sari, from Sundari Silks, Chennai, tied in a the traditional Tamil way. I had a gold belt (my paternal grandmother is from Kerala and she had given it to my mum at the time of her wedding). I also wore a traditional Indian polki set. I completed the look with a deep red orhni, with gold work on it, from Ushnak mal, Delhi, to cover my head. I had always wanted to wear red for my wedding, but something less obvious, and my wedding look was exactly how I had imagined. And I wore a baby pink kachivaram saari in the traditional Tamil style for my reception. 
Varun wore a white bandgala and black trousers from Ravi Bajaj for the cocktail night. His mehendi sundowner outfit was an orange kurta pajama set from Vivek Karunakaran. For the wedding he wore a cream panchakacham (dhoti looking pants) with a bandgala of the same colour. He also had an angavastram (his dad and two brothers had the same). For the wedding party, he adorned a light/muted orange bandgala and black pants from Ravi Bajaj and for the reception her wore a dark grey bandgala set from Aliph. 
Vendor Reviews:
Sahibba is an amazing makeup artist! My sister suggested some looks for me, and Sahibba adapted them to suit me perfectly. She's very patient and very hard working, she made sure everything was flawless always. She uses the best brands. She's also such a positive person, I felt very happy and calm during my (very long) hair and make-up sessions. The lady whom she brought along for hair was also very pleasant, patient and skilled. My mum also loved what she did for her, we'd never looked better. 
MorBagh, Delhi is a lovely spot, with a very pretty garden, beautiful trees and greenery everywhere. They have a house which you can use to get ready at and store anything you need. The ground is big and you can set up a tent. The main feature is a big glass hall ideal for a big crowd. The people working there are also friendly and helpful. However I don't recommend having an event there in the summer and monsoon months as they are not equipped to deal with heavy rain (the place basically gets flooded) and their A/Cs aren't effective. During the lead up to my Cocktail night the place was a mess with water logging and my dad had to personally oversee fixing that up as they were quite lost. The A/Cs in the glass hall were not effective on the night, it was pretty warm in there. A lot of the flowers in the hall ended up dying before the event. Obviously that was frustrating. Oberoi Udaivilas, Udaipur is obviously beyond stunning. So many areas as just beautiful, no one can deny it. They're also very hospitable, they were very forthcoming with help. the Manager was lovely as well, he really reassured my parents of a smooth wedding, and it was. The food was fabulous at both functions as well. Very happy with this location. Trident, Udaipur & Chunda Palace were two places where Varun's friends and families stayed. Both the properties were amazing and the staff were friendly and helpful. These two hotels were the perfect stays for our destination wedding. The Leela Palace, Udaipur is a gorgeous property as well, opulent and extravagant as most Leela properties are. Its got some lovely spots for wedding functions. The food was great as well. However, coordination with this hotel wasn't as easy. The management isn't as helpful as the other places, and they can be a bit standoffish. They didn't make it easy for my décor team to set up. We had one party here and the music went off about 3 times for well over 10 minutes each time. Some of my guests left that even because of they thought the party had finished in the middle.
Namrata Mamak was our wedding decorator and she is a huge asset to anyone who work with her. I knew what I wanted exactly and I made a PPT for it to be clearer. She came back to me with my idea magnified and made much better. She's cost conscious and doesn't cost you into anything over the top. Her styling is varied and she can execute any style, elegantly. Her fabrics and clean and ironed, her flower arrangements are impeccable. We couldn't have been happier/luckier. Every event was so tasteful and a dream. She also gives great advice and recommendations, and actively helps coordinate your other vendors. There was a lot of welcome hand holding on her part and she is just fantastic. She is extremely hardworking and talented. The undivided attention we got made our work so easy. We had Cox and Kings managing our hospitality. They are easy to work with the have good knowledge of everything. They bring in good people to manage the guests. My guests were raving about the easy of communication and coordination with them. Definitely recommend. Srinivasan's team were my Mehendi artists. I got these guys from Delhi, they're very good. They do beautiful mehendi for the guests as well. The bridal designs are intricate, and take quite a long time to execute though. However they'll make anything you want, very artistic. Bhumi and Simran were my photographers. These guys are great! Their pictures are very natural and well edited. Nothing filmy, just lovely. They are so pleasant, everyone loves them. Again, very calming personalities, which you desperately need during your wedding. They blend into the crowd so well. RPS Productions, my videographers, were AMAZING! Their work is so cool, as I saw when I met them. I need to send some footage in at the moment so I don't have my movie, but my trailer is fantastic. These guys are so creative! 
We had two bands and a DJ play at different functions. DJ Bhavuk played at all three parties, and they were huge successes. He really knows how to read a crowd, its amazing. Everyone was dancing till the early am. This amazing band, Chizai from Delhi, blew everyone away. Definitely worth checking out, really cool sound. This goan band, True Blue, played at the party after my wedding and blew everyone away. We were all on the floor dancing. Also definitely worth checking out. They're wild. We had YSDC choreograph our dances. These guy are very easy to work with, very talented, very patient. The girl who taught us (Ambika) was so sweet we loved working with her. They helped me through choosing my songs. I asked for fun and easy danced, no frills, and thats exactly what I got. But the steps looked so good! They're too good. 
Vendors: Venue: MorBagh, Delhi, Oberoi Udaivillas, Udaipur, The Leela Palace, Udaipur; Makeup Artist: Sahibba K Anand★ 4.9 ; Photographer: Bhumi and Simran Photography★ 4.9 ; Videographer: Rock Paper Scissors Films★ 4.8 ; Wedding Decor: Namrata Mamak; Wedding Planners & Hospitality: Cox and Kings; Bridal Outfits: Atsu (Cocktail & Wedding Party), Dabiri Couture (Mehendi), Saree from Sundari Silks Chennai★ 5 , Chennai (Wedding) with an Odhni from Ushnak Mal Mool Chand★ 4.8 ; Mehendi Artist: Srinivasan; Groom's Outfits: Ravi Bajaj★ 4 (Cocktail & Wedding Party), Vivek Karunakaran (Mehendi), Aliph (Reception); Wedding Entertainment: DJ Bhavuk, Chizai, True Blue; Choreography: YSDC Wedding Choreography★ 3.8