An Intimate Mumbai Wedding With A Bride Who Designed Her Own Outfits
BY Aakanksha | 16 Sep, 2019 | 272 views | 5 min read
What do you do when you can't find the perfect outfit? You compromise or you go out there and design your own? Well, Yashoda did the latter. She opted for gorgeous sarees for her wedding and reception and designed her own outfits for mehendi and haldi! Her wedding saree was a gift from her mother-in-law and she paired it up beautifully with a pink banarasi shala. Her haldi outfit was typically yellow but with an off-shoulder blouse and it looked rocking! Kodoclicker★ 5 clicked this aesthetically pleasing wedding with finesse and we bet you'll be as impressed and inspired as us! 
Meet Yashoda & Parth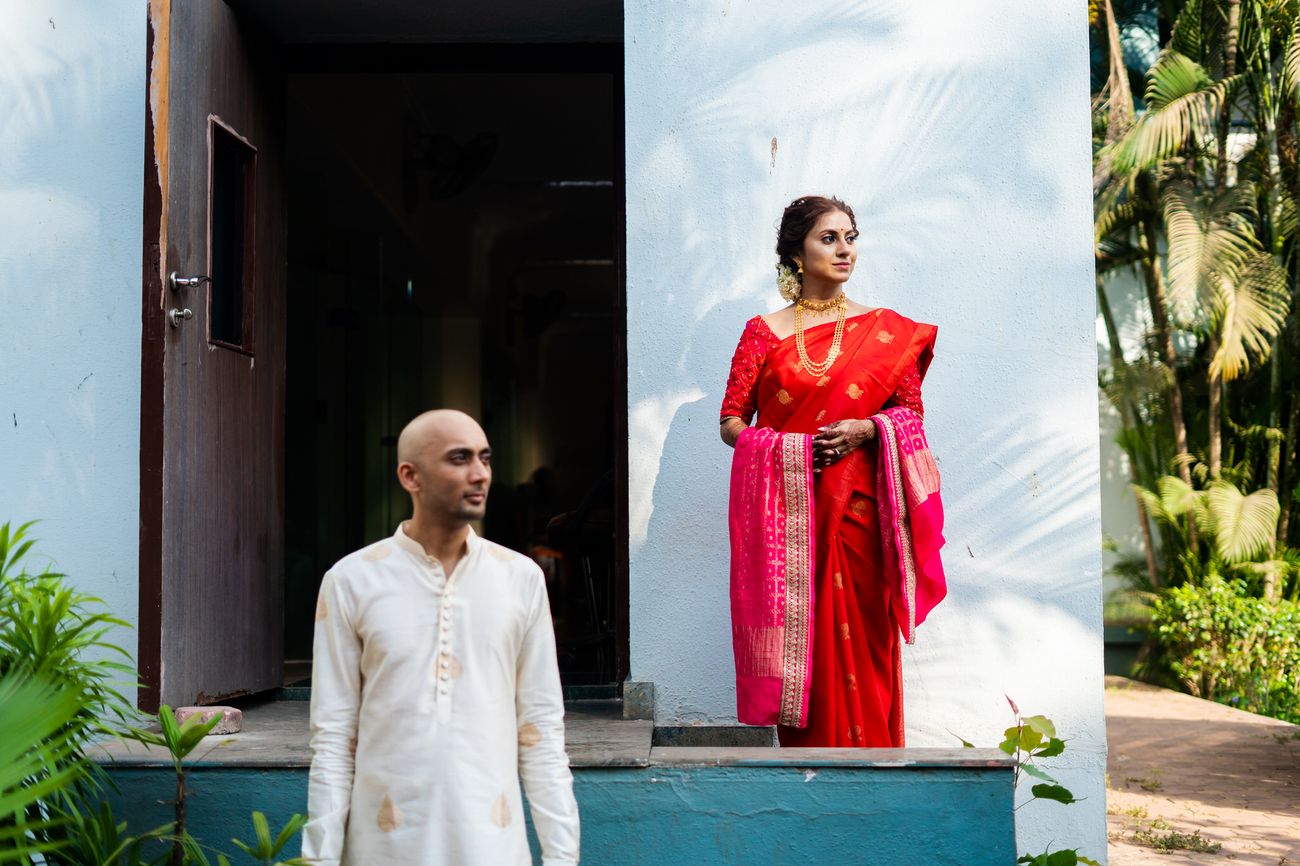 The Mehendi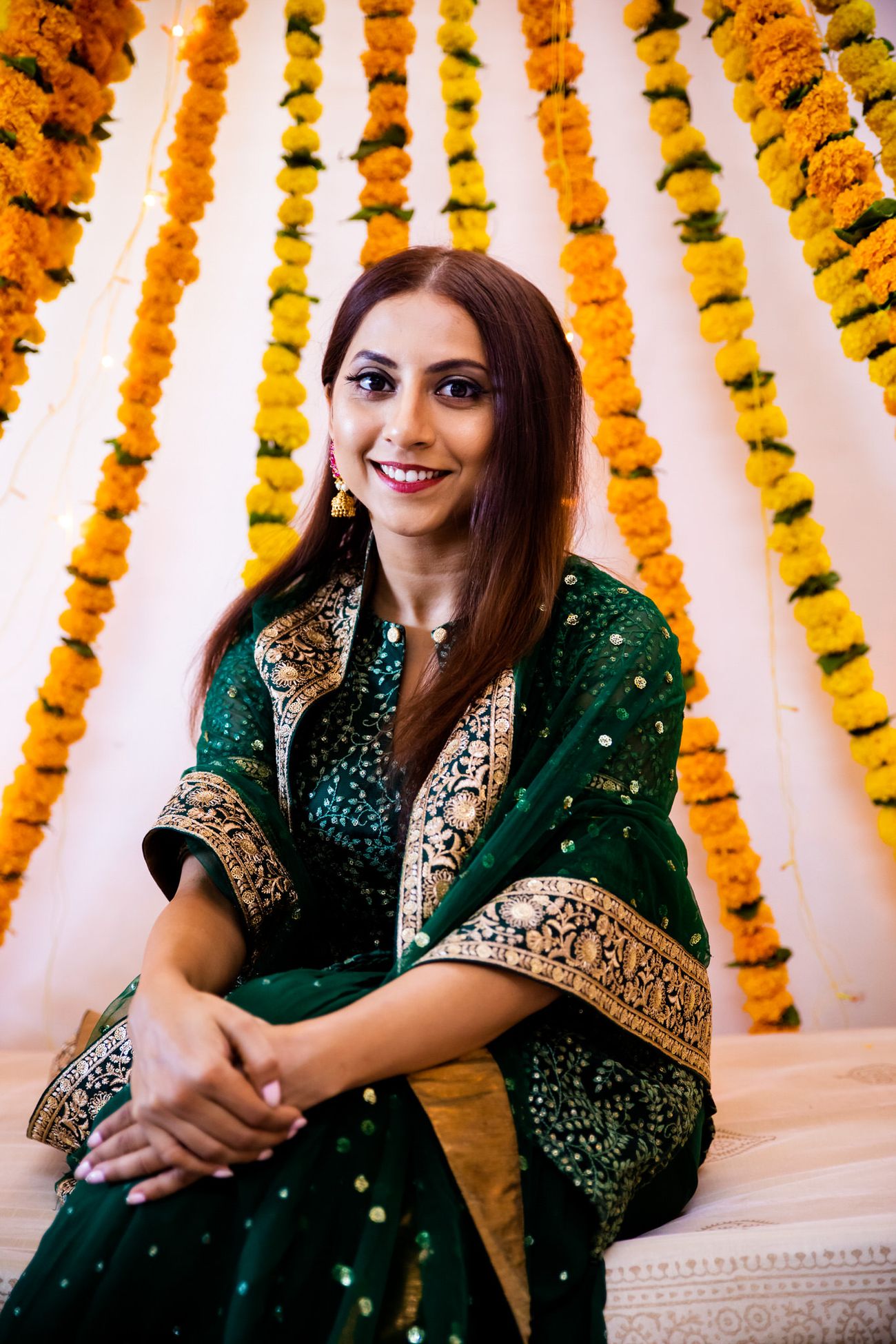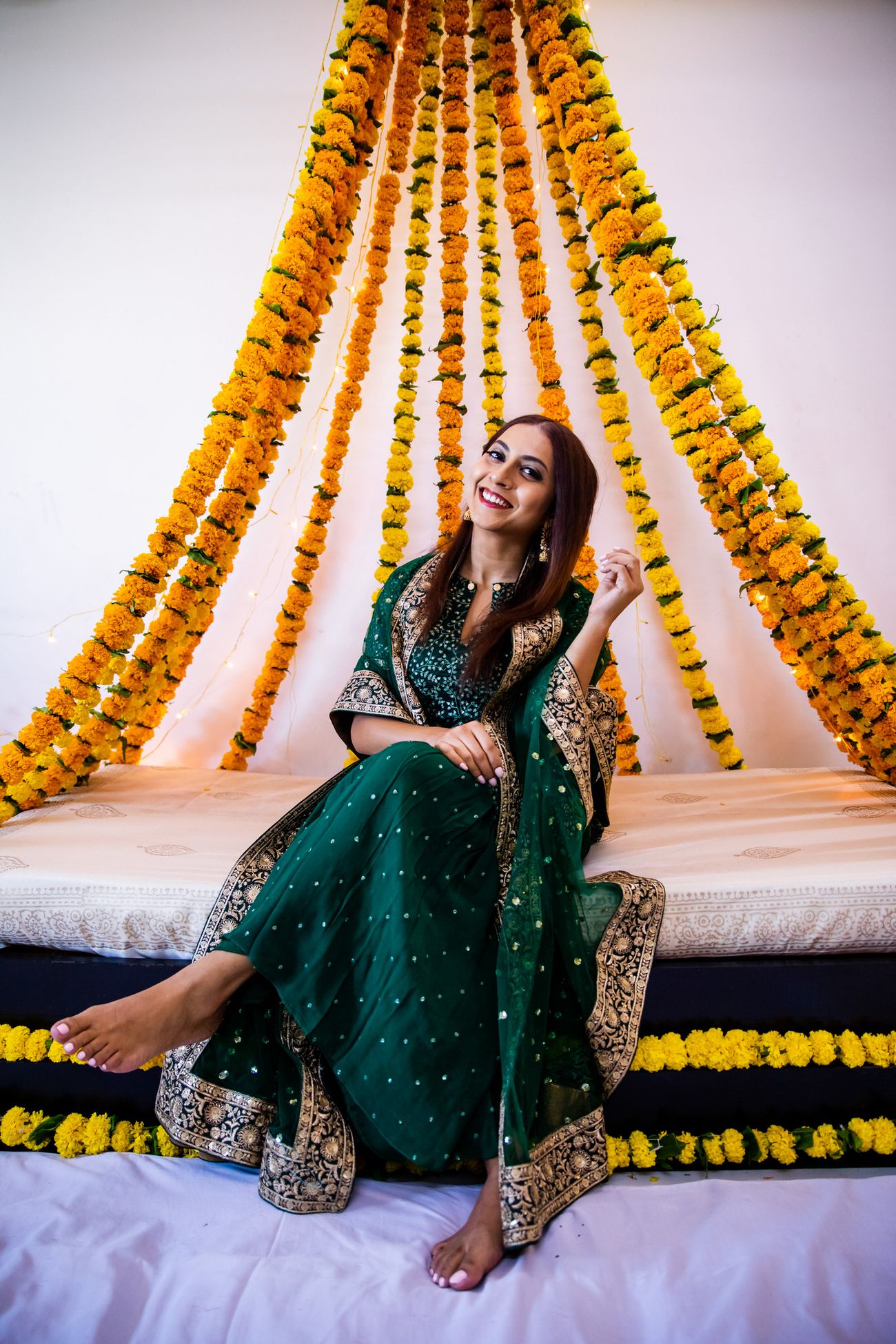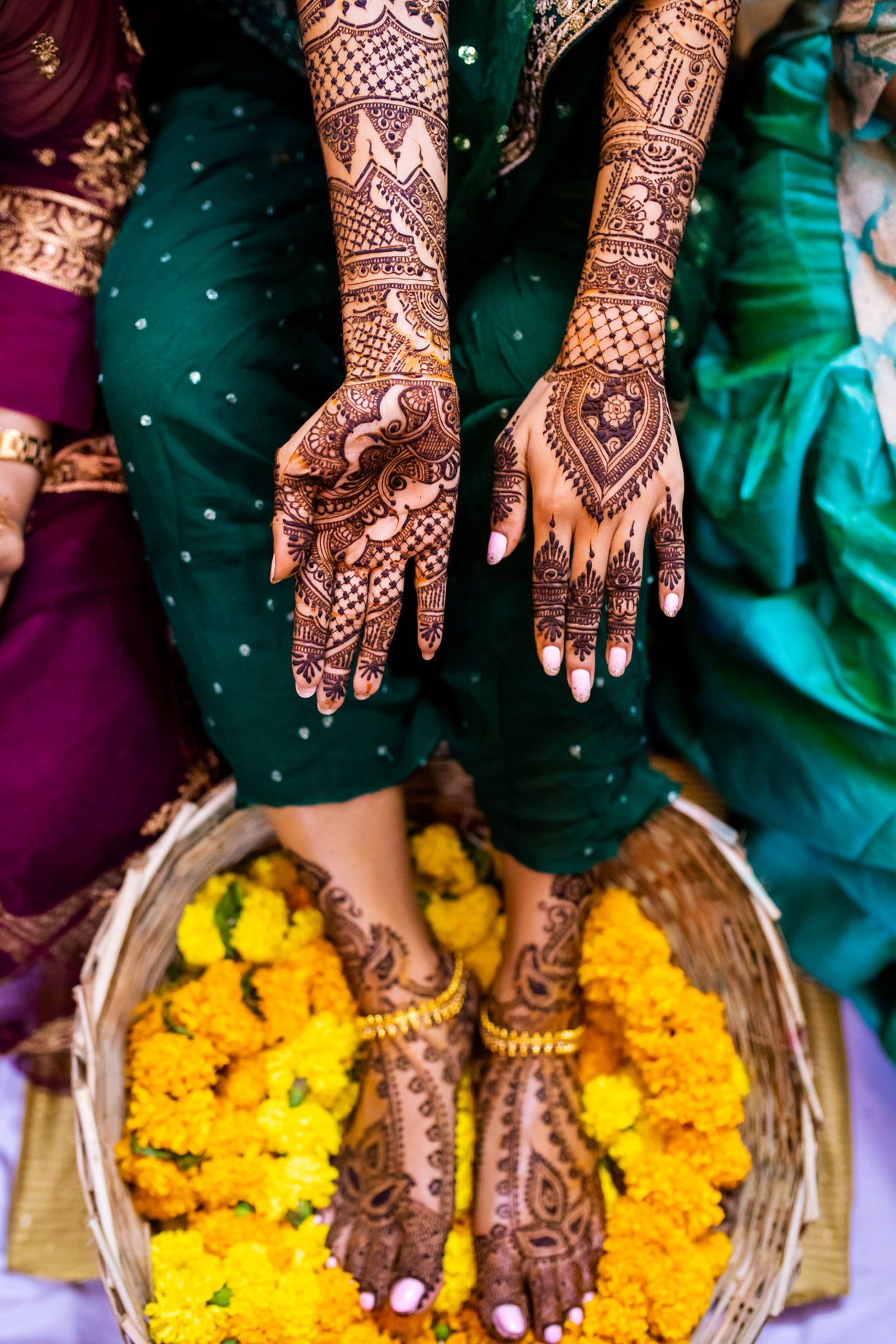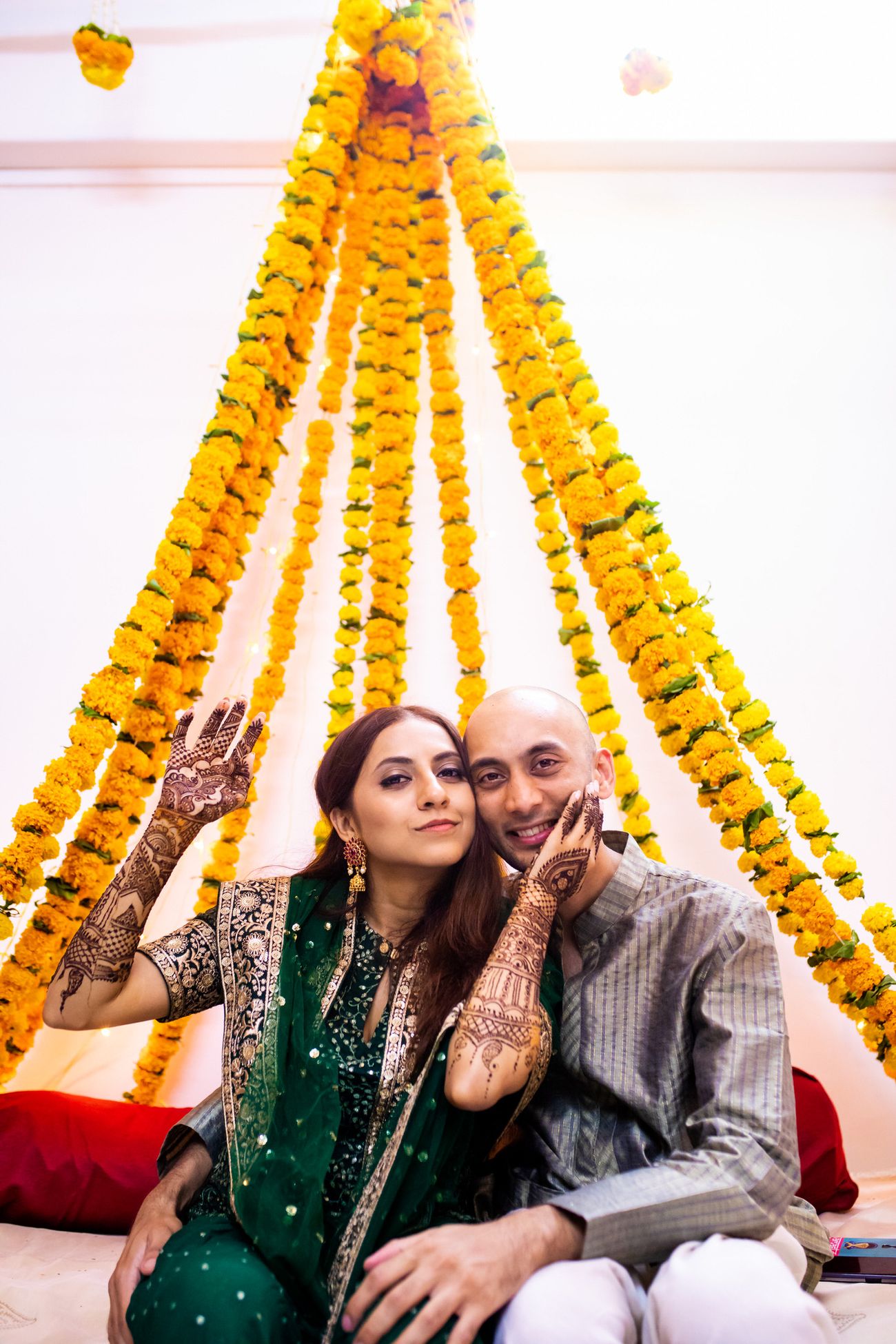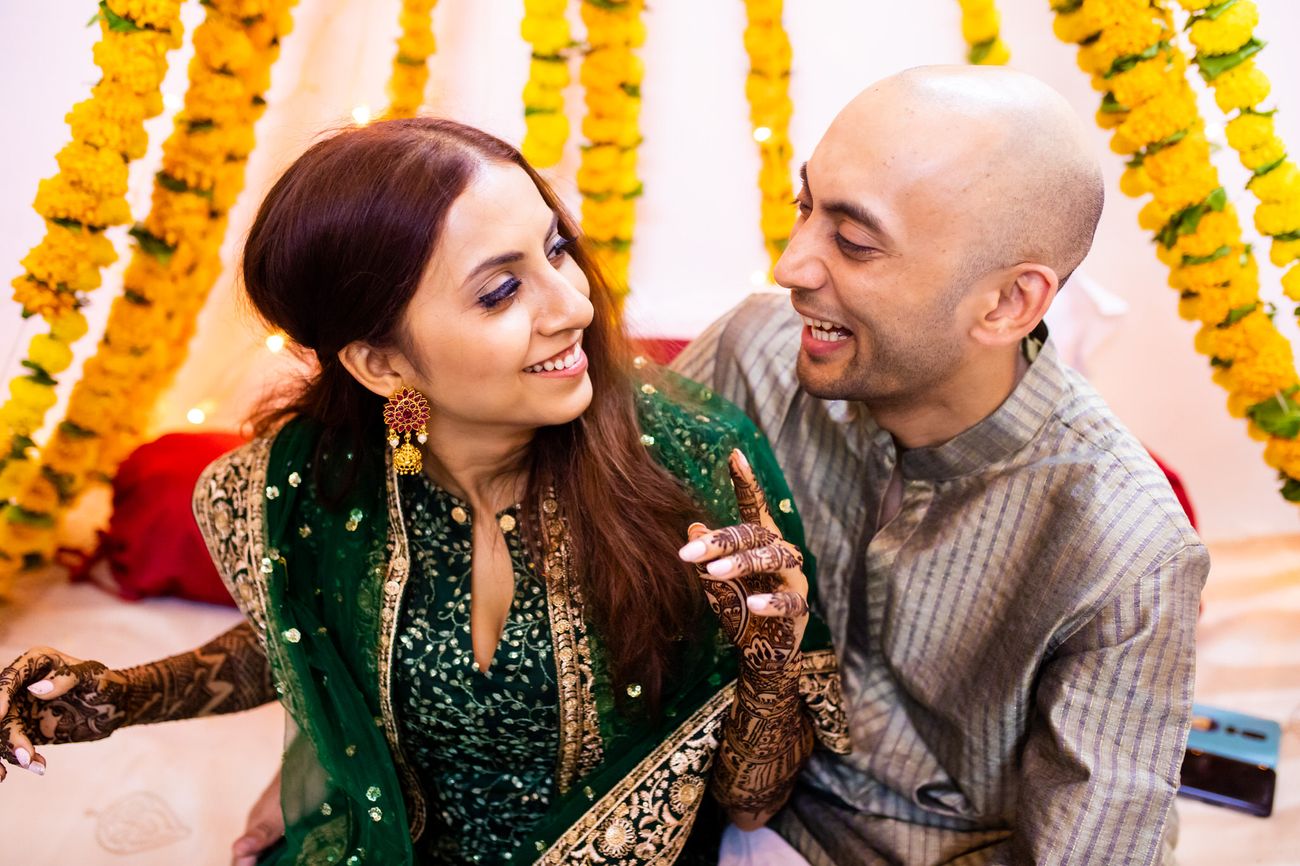 The Haldi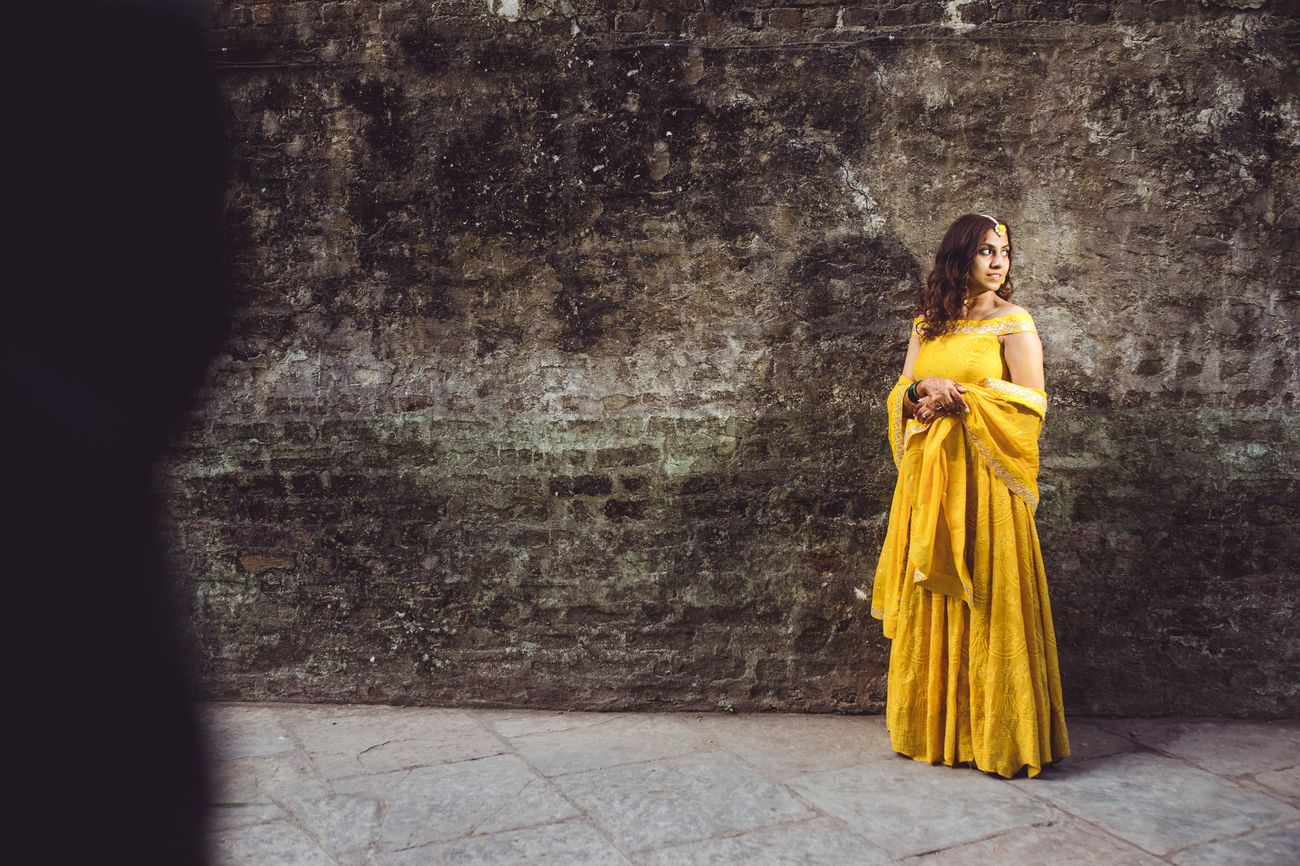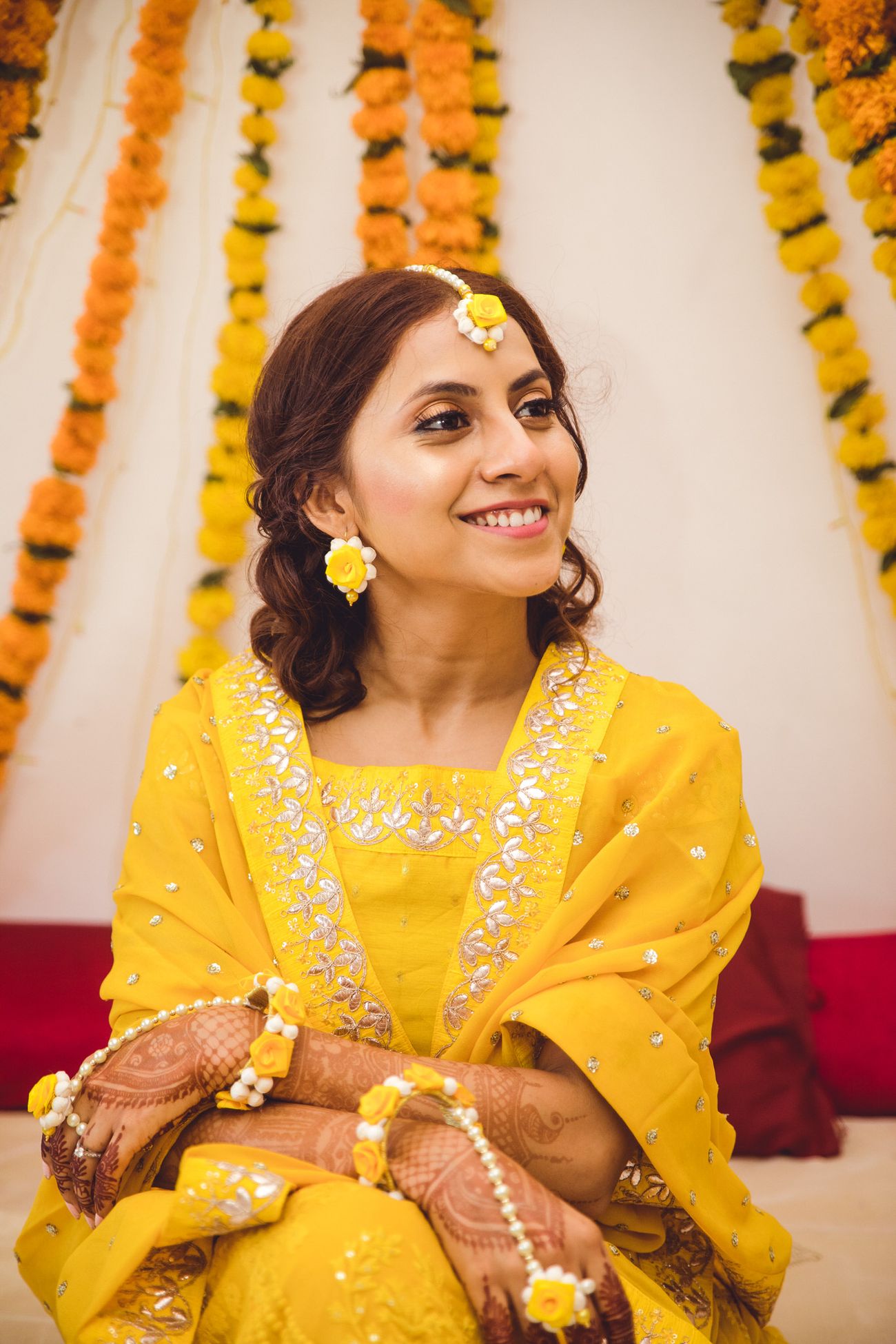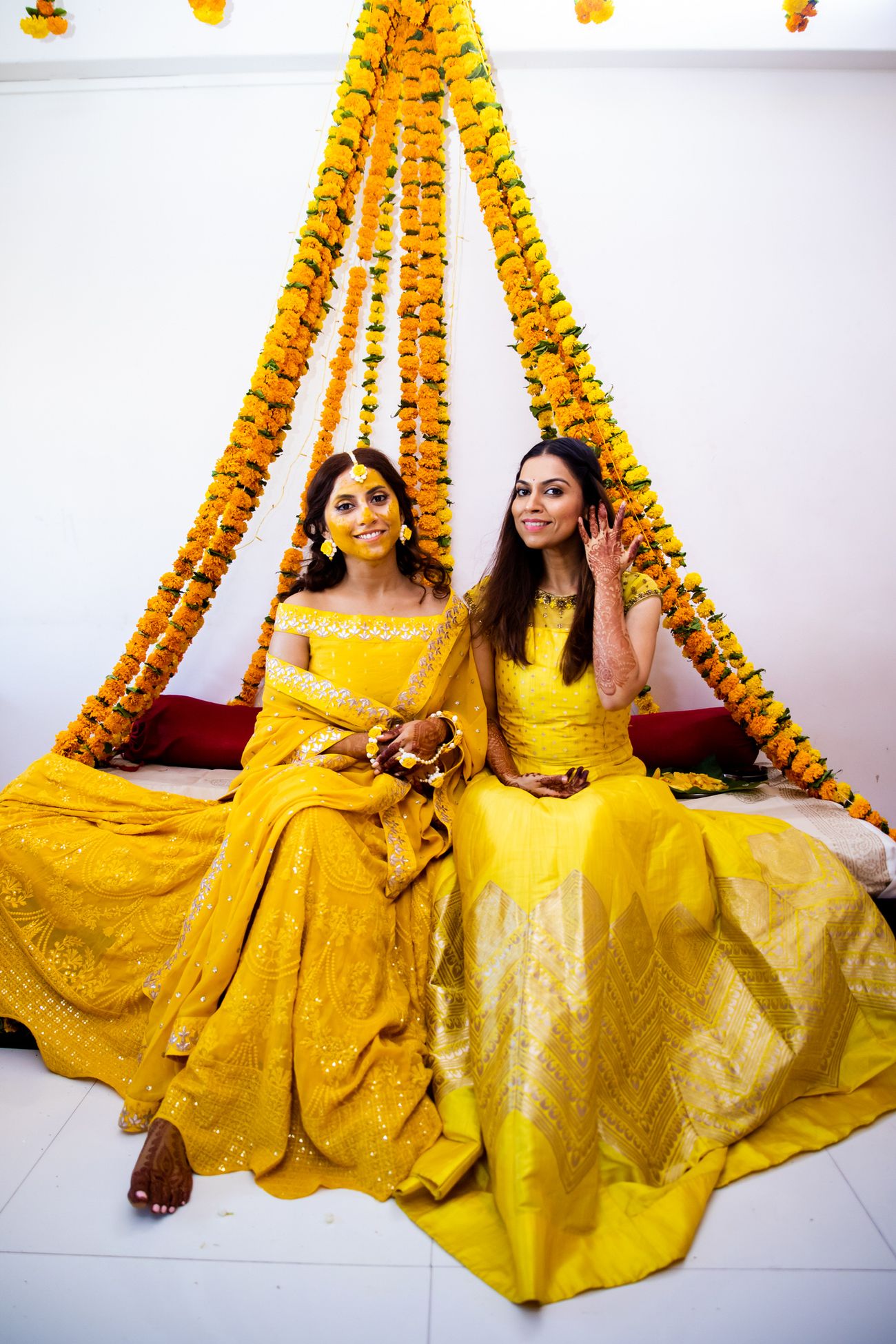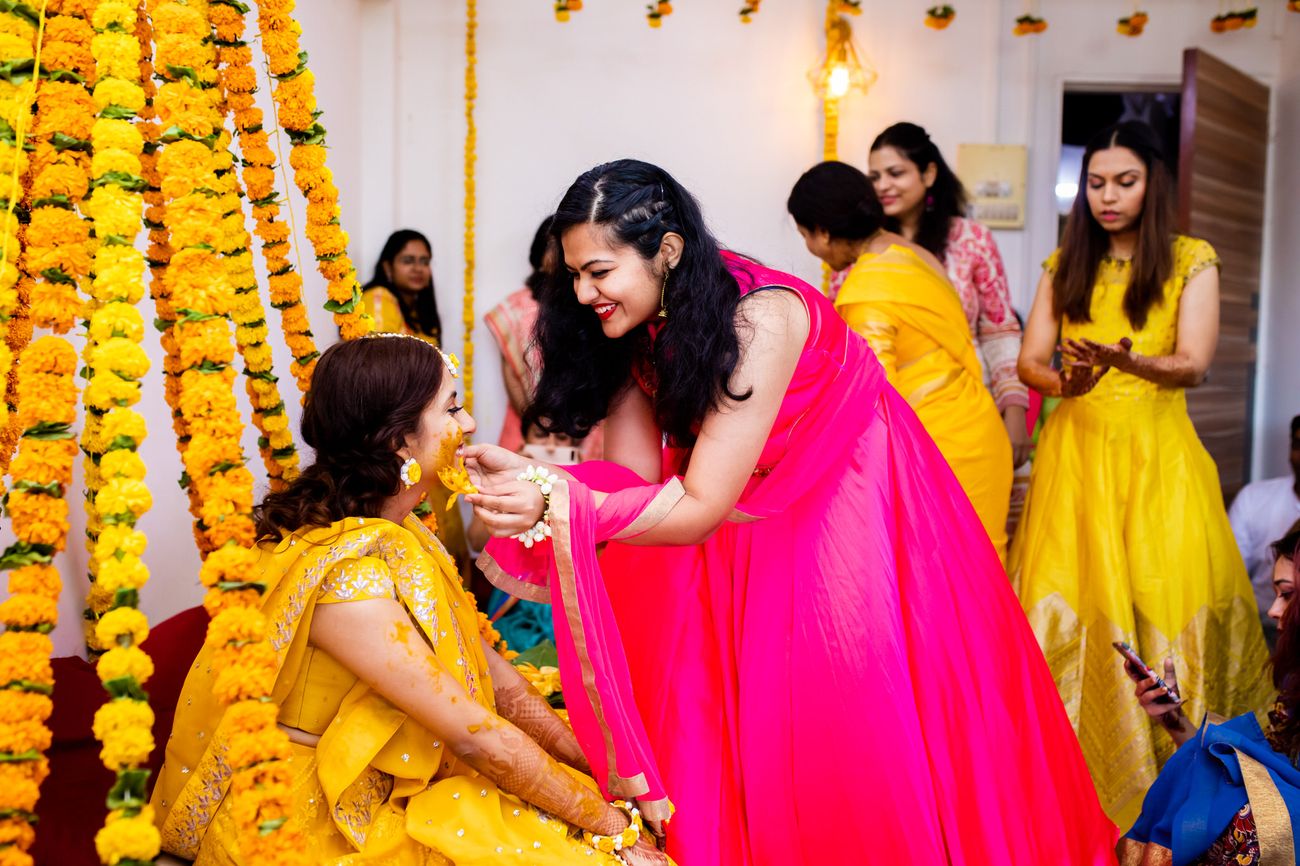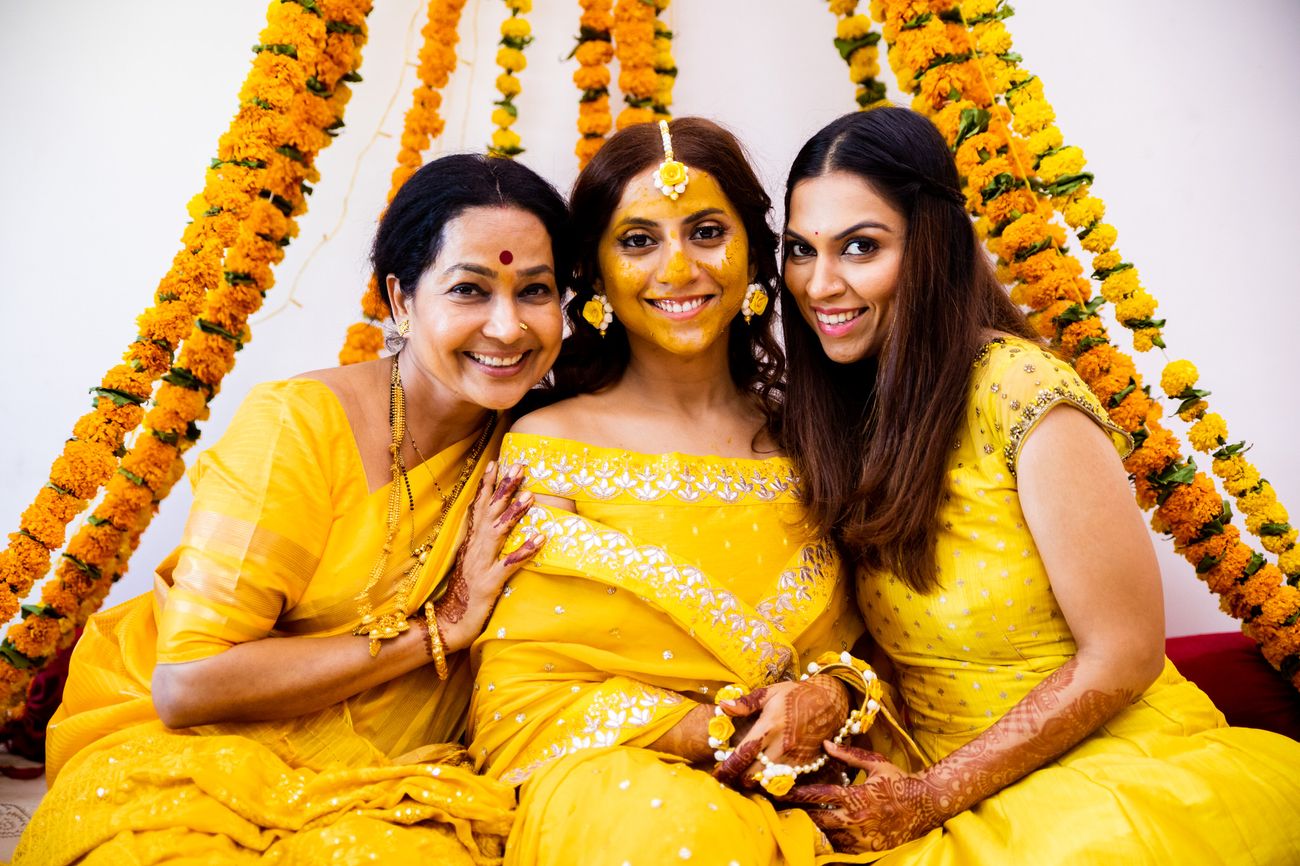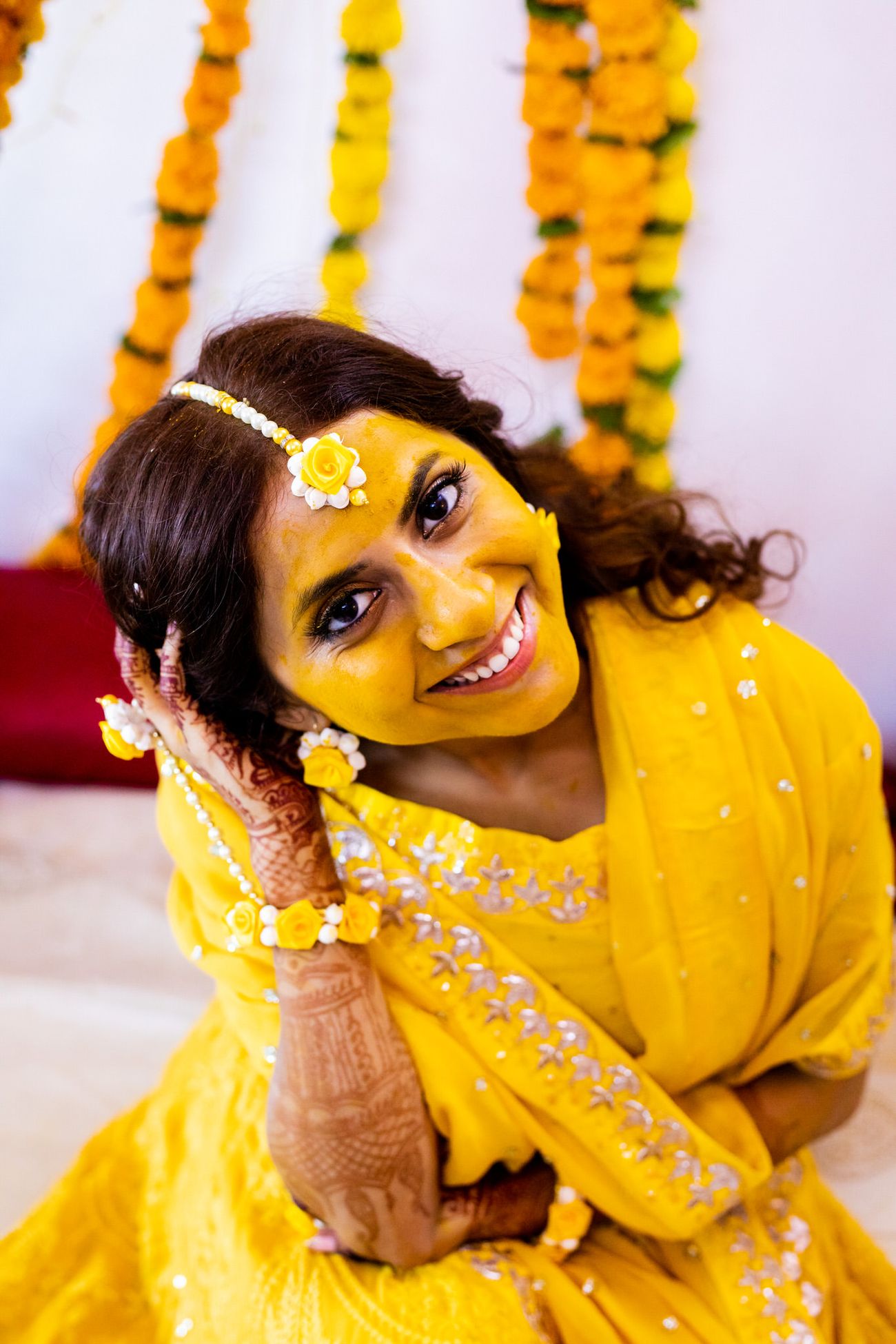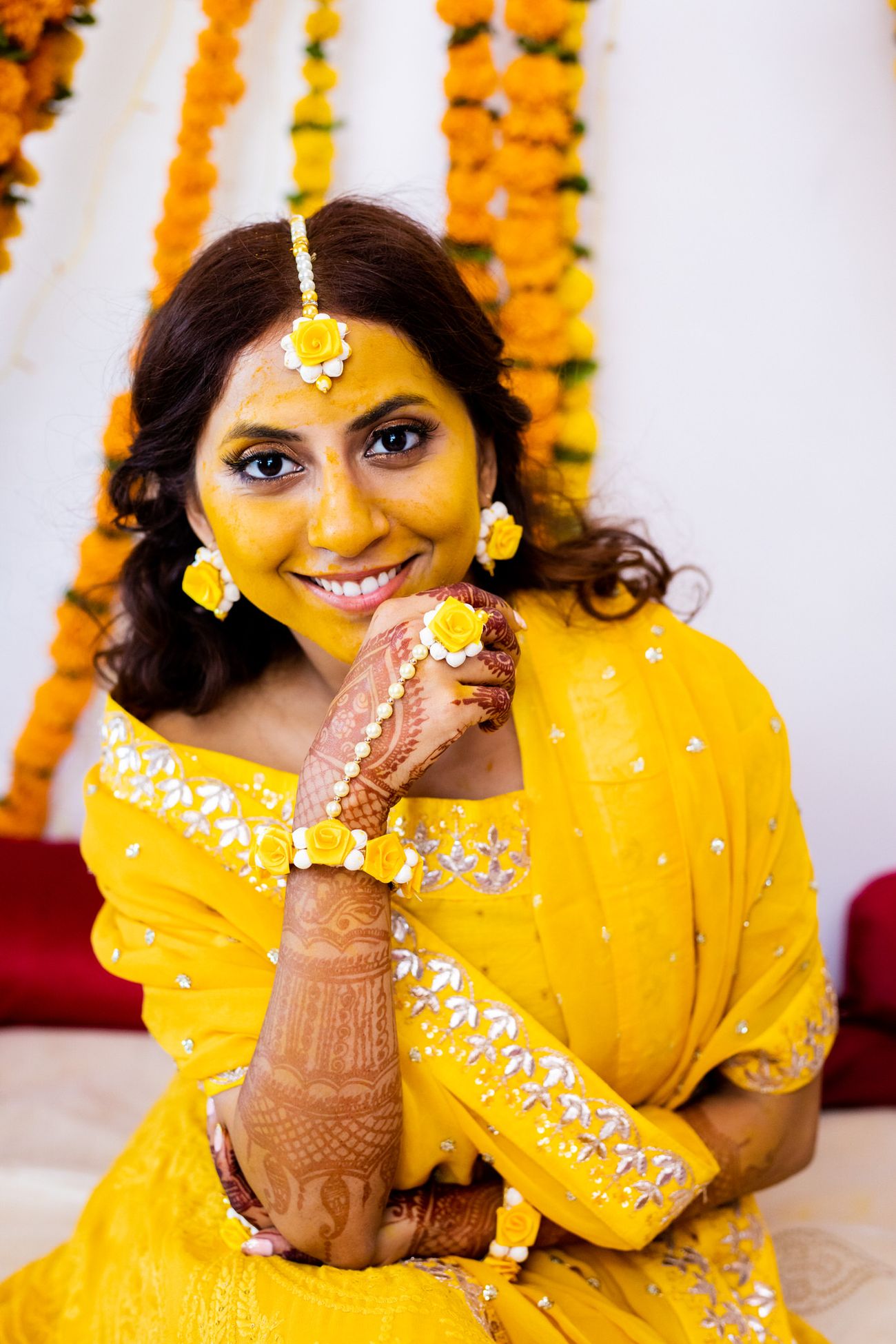 The Wedding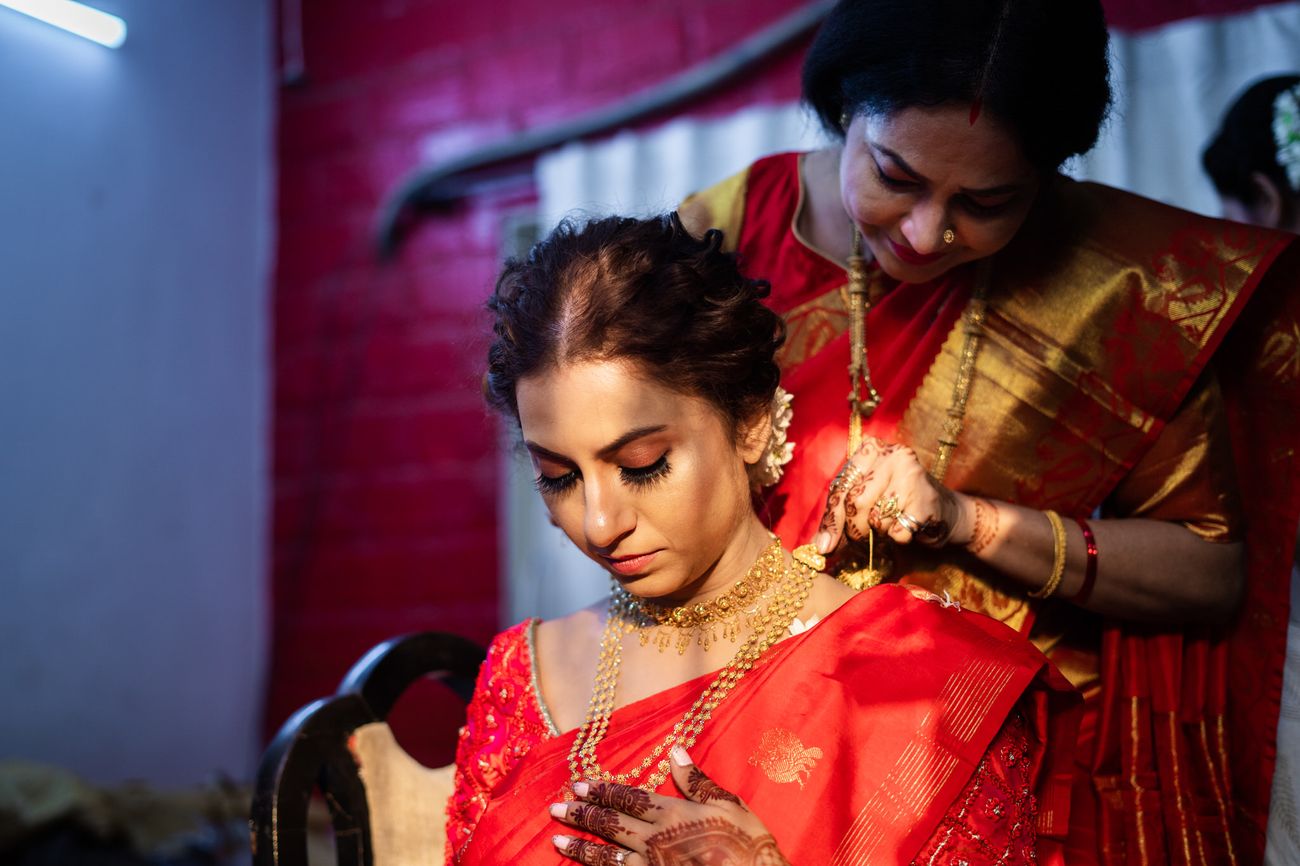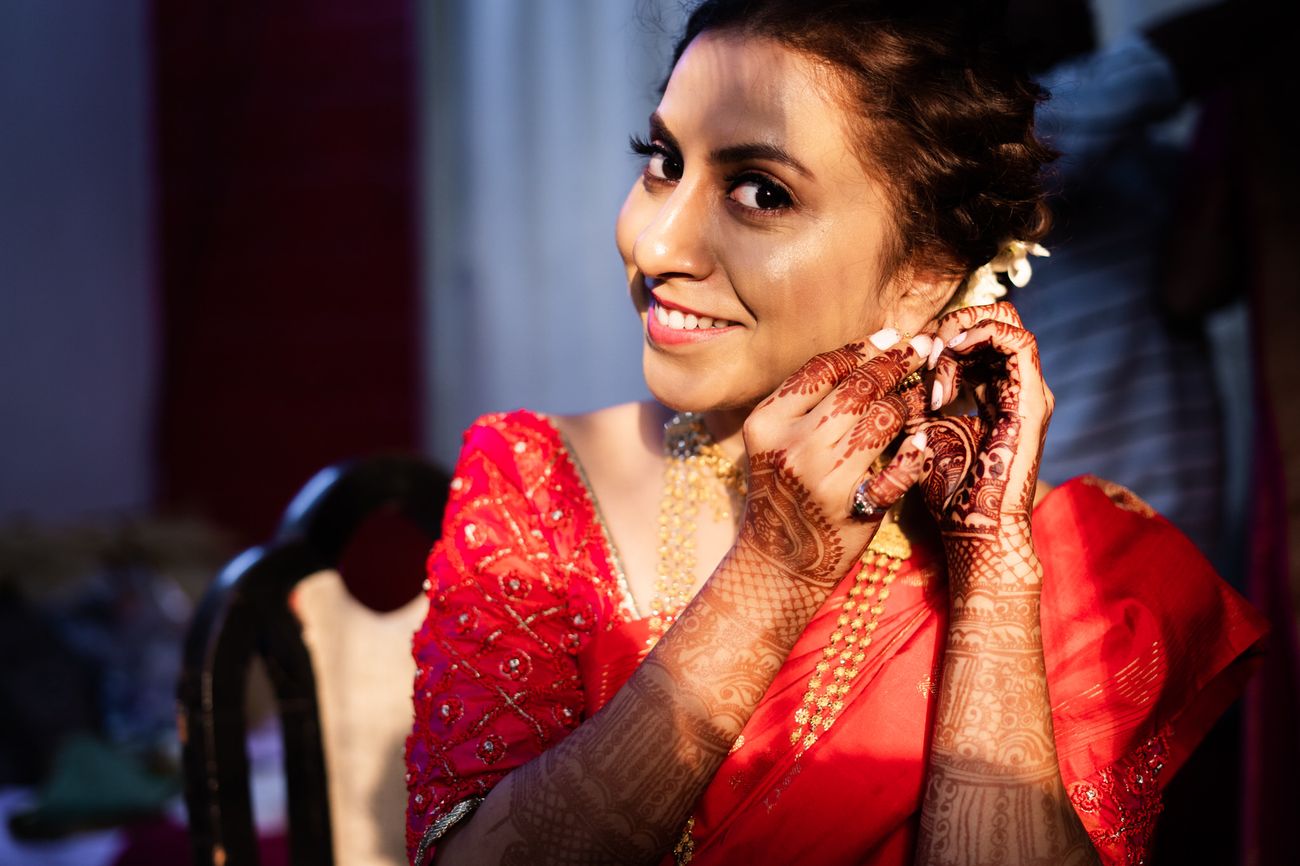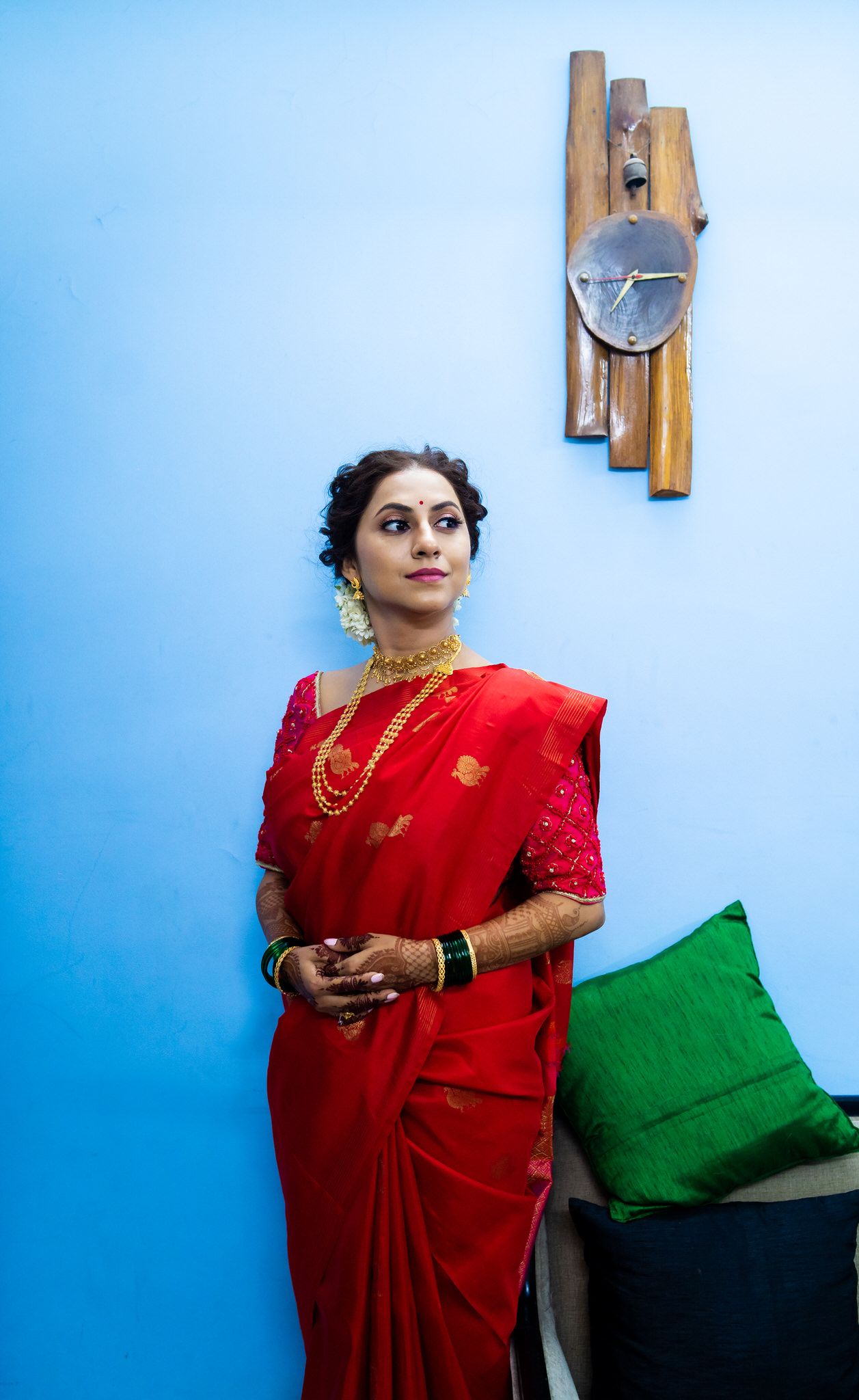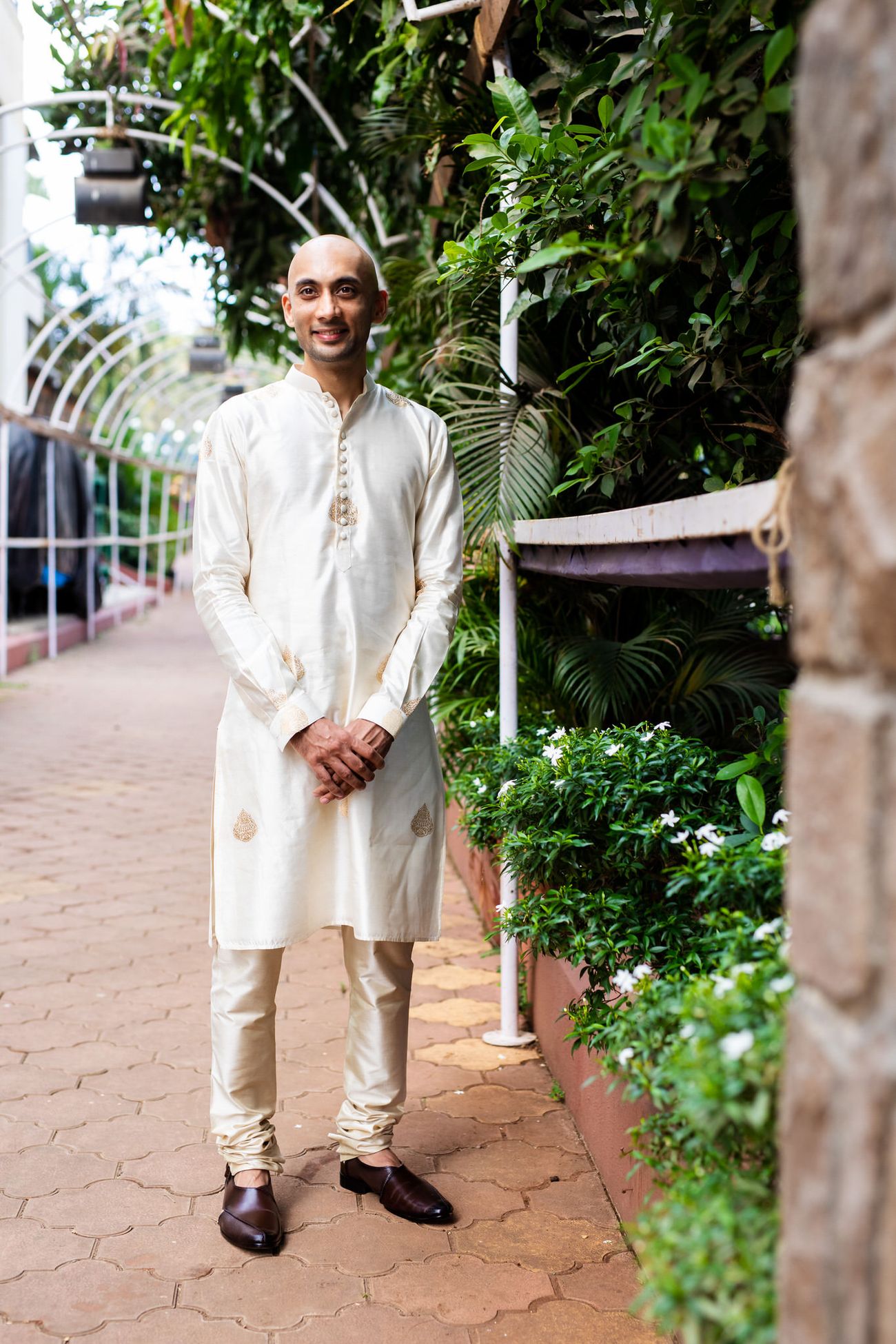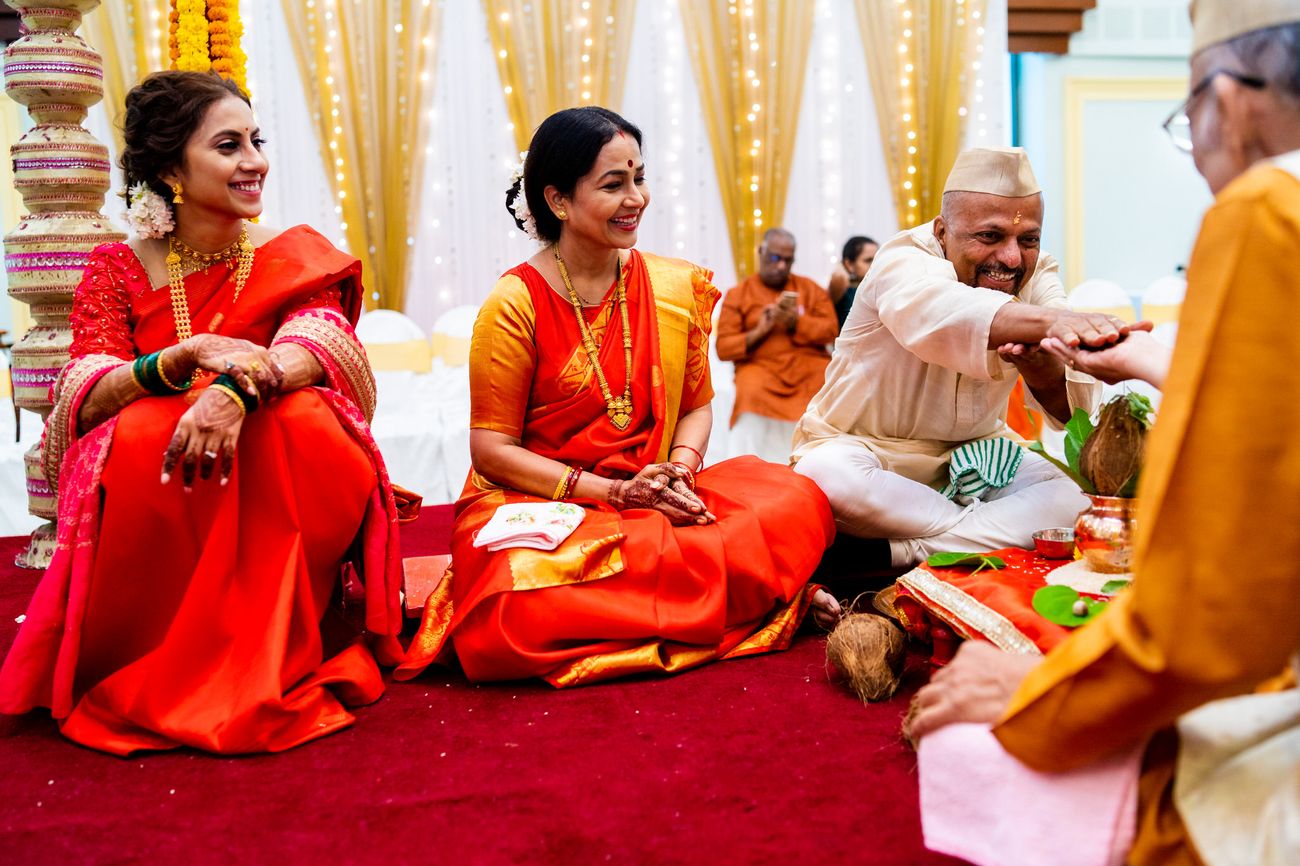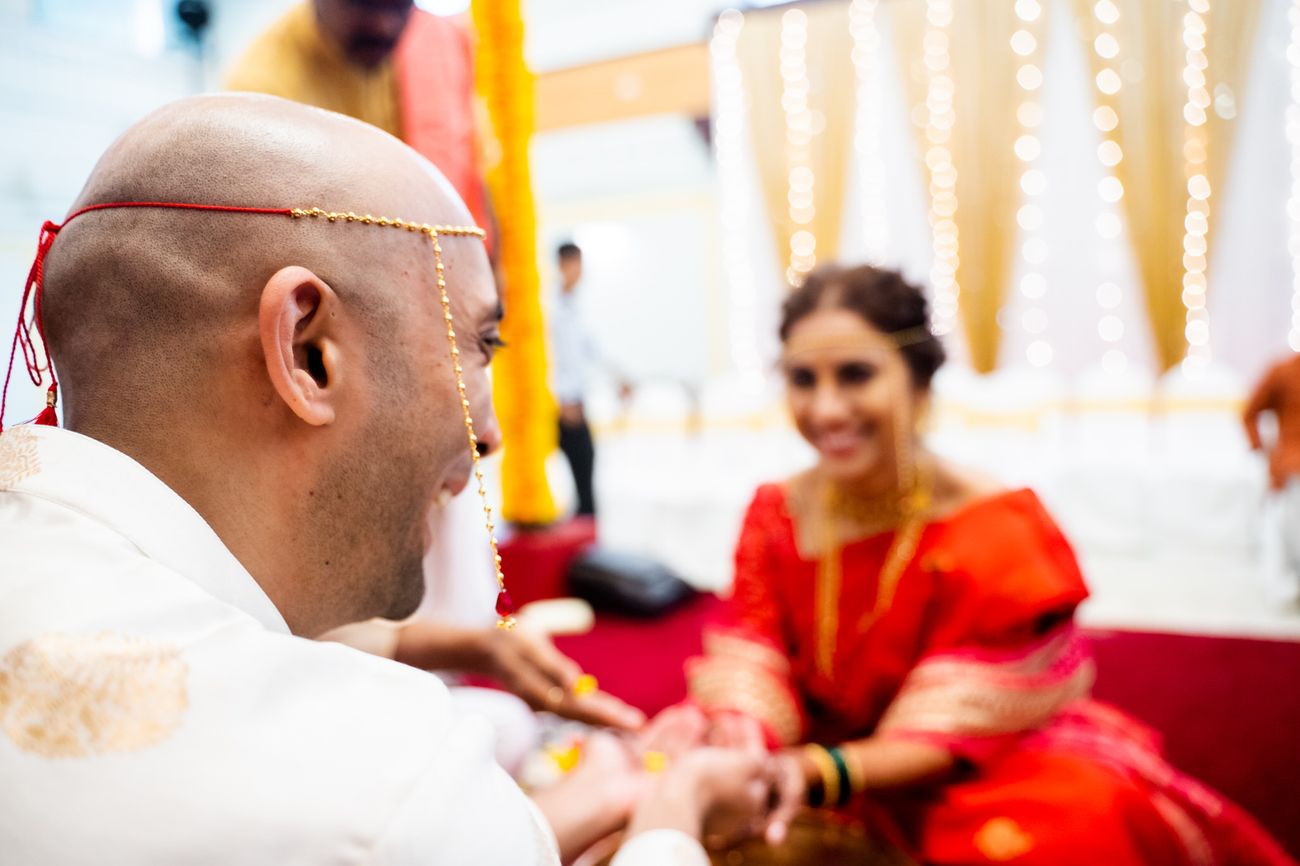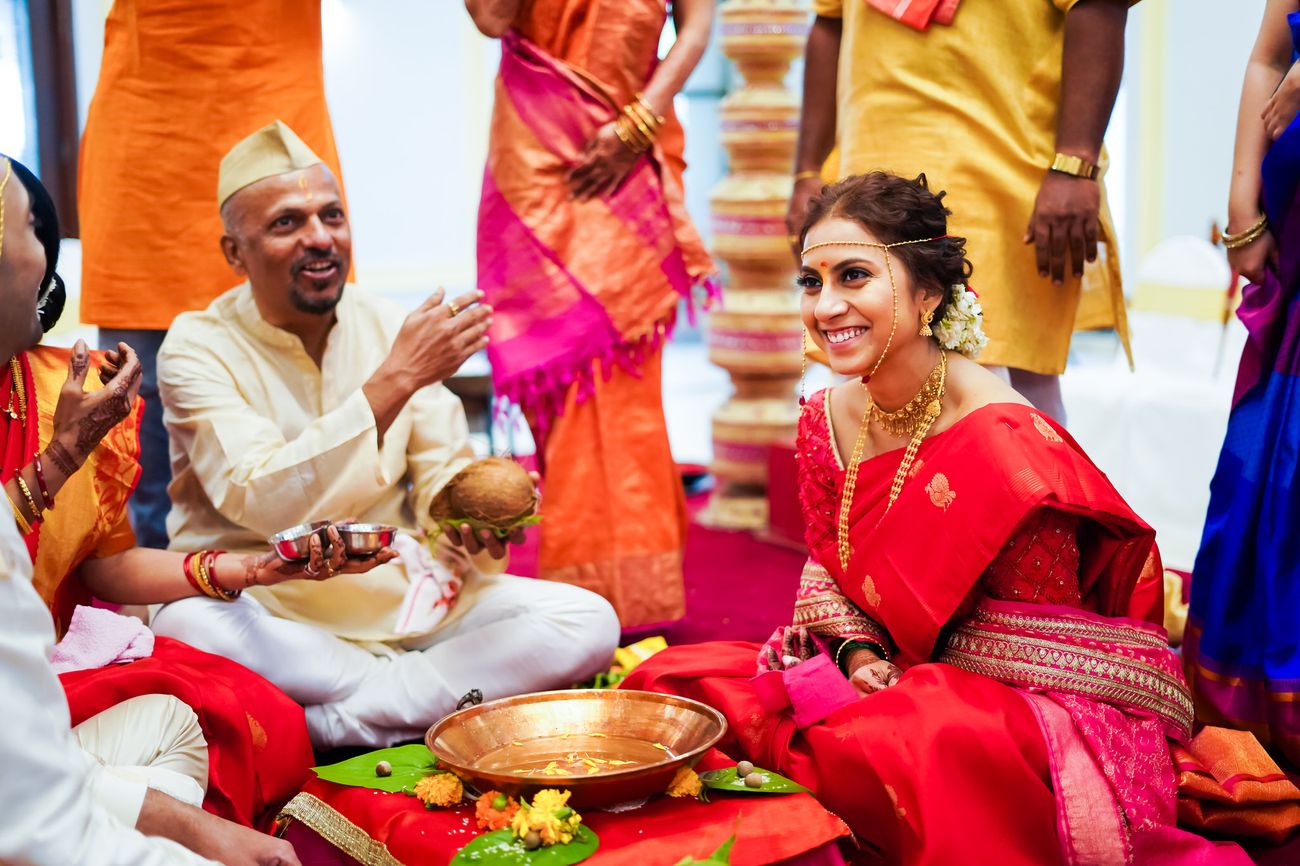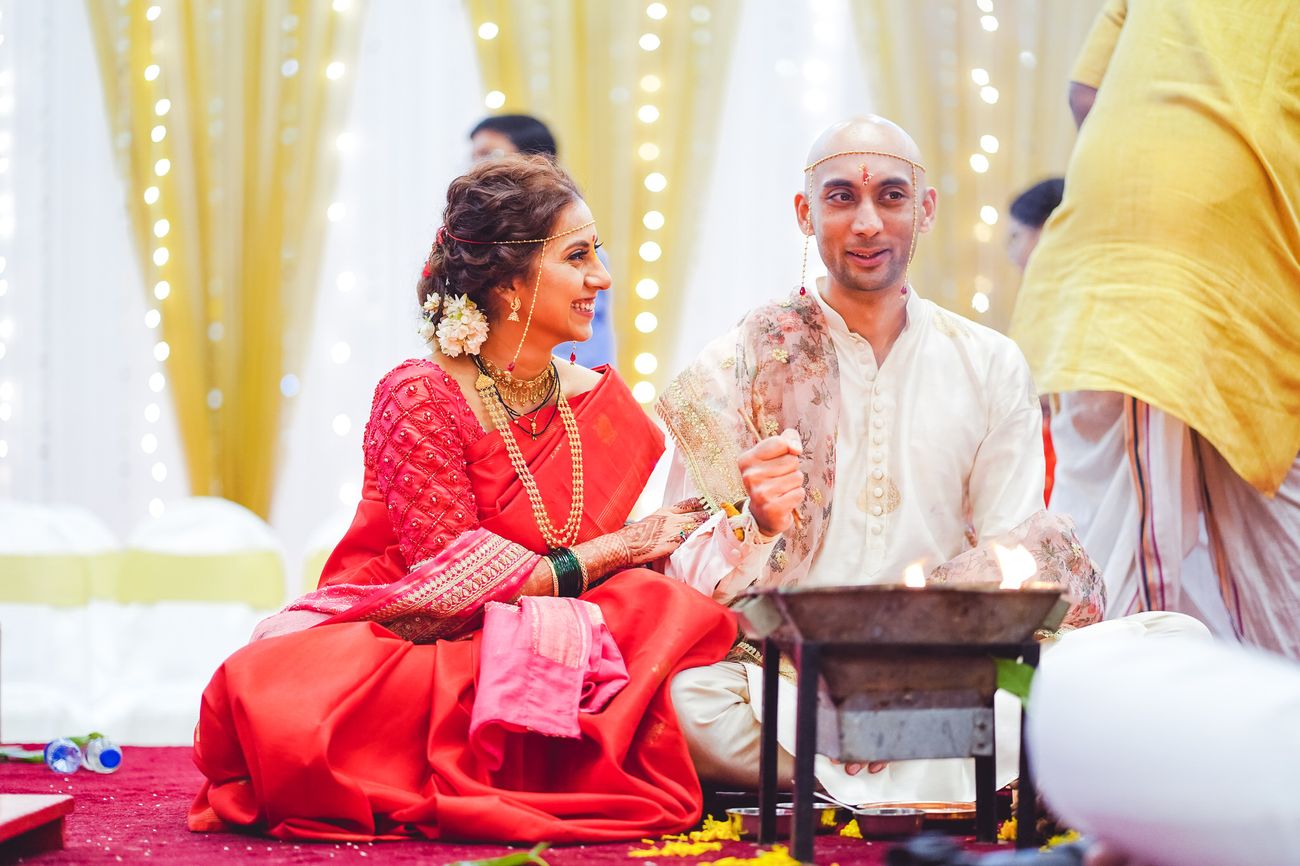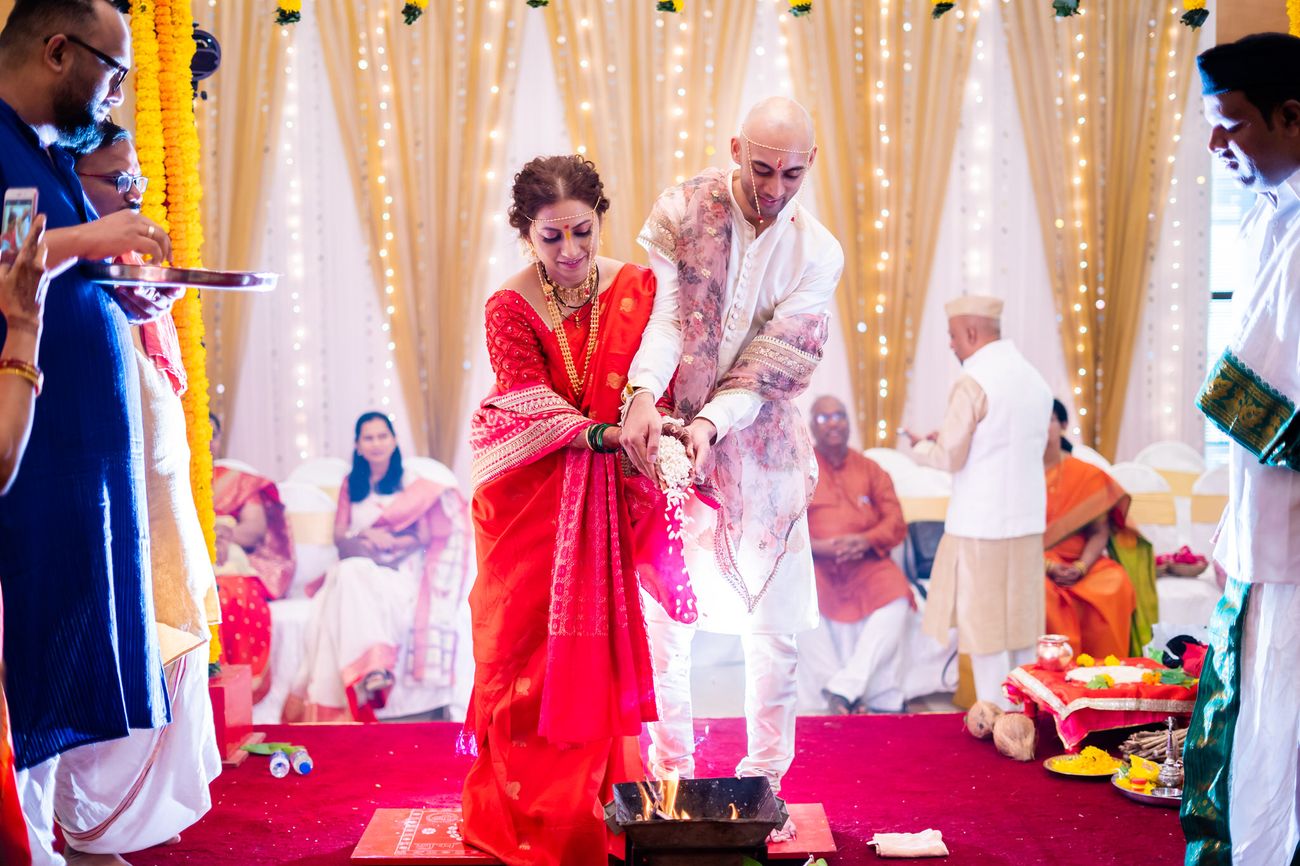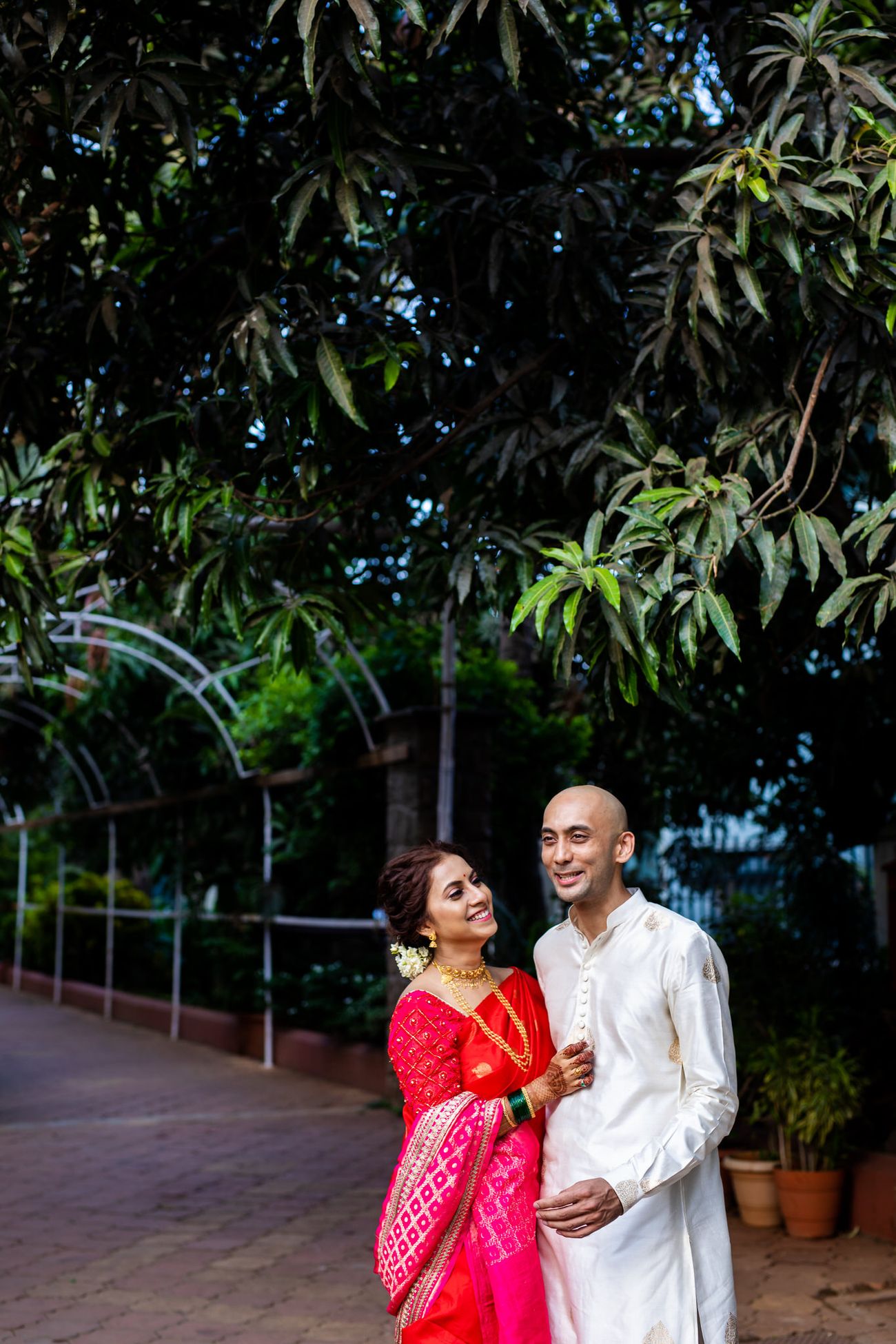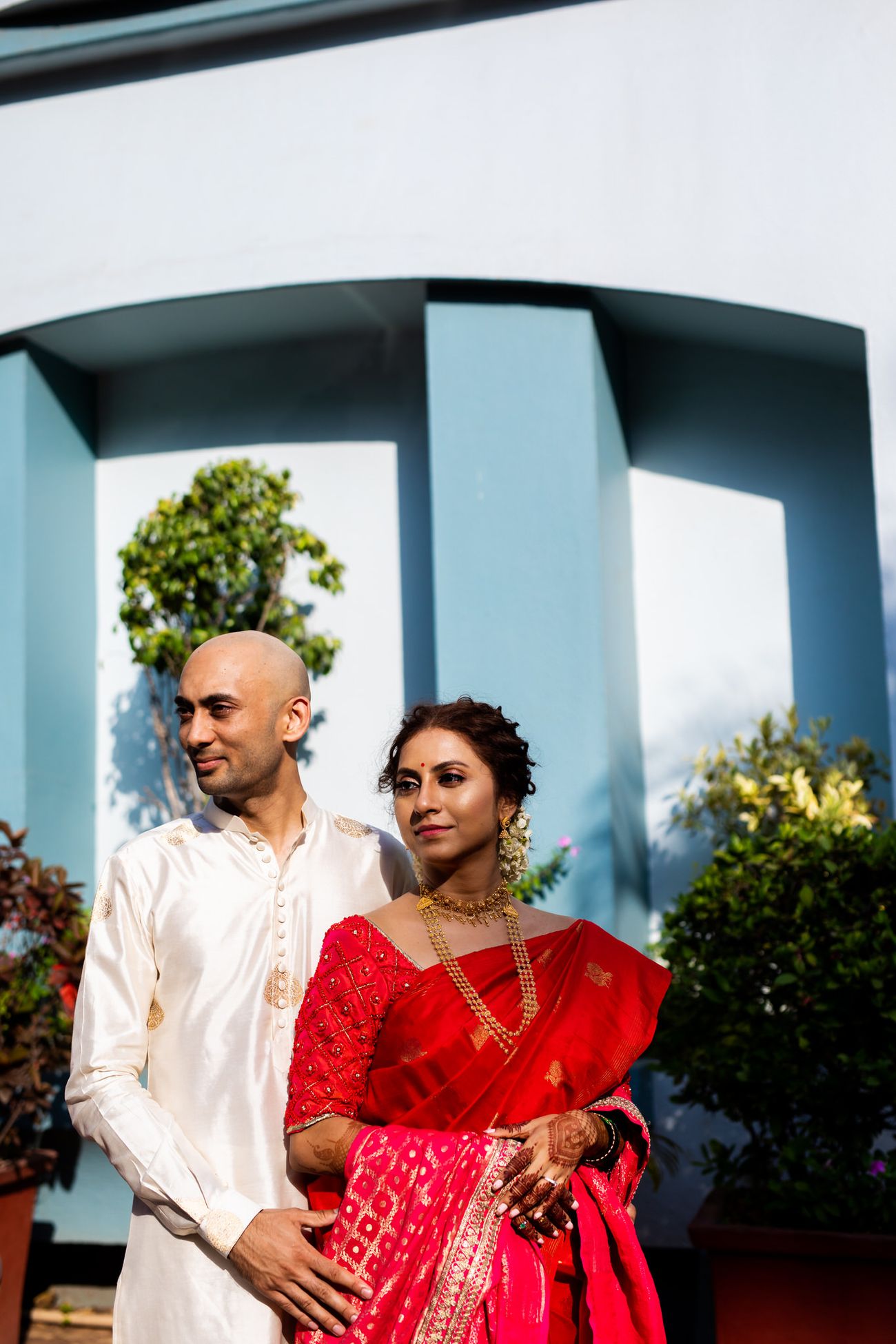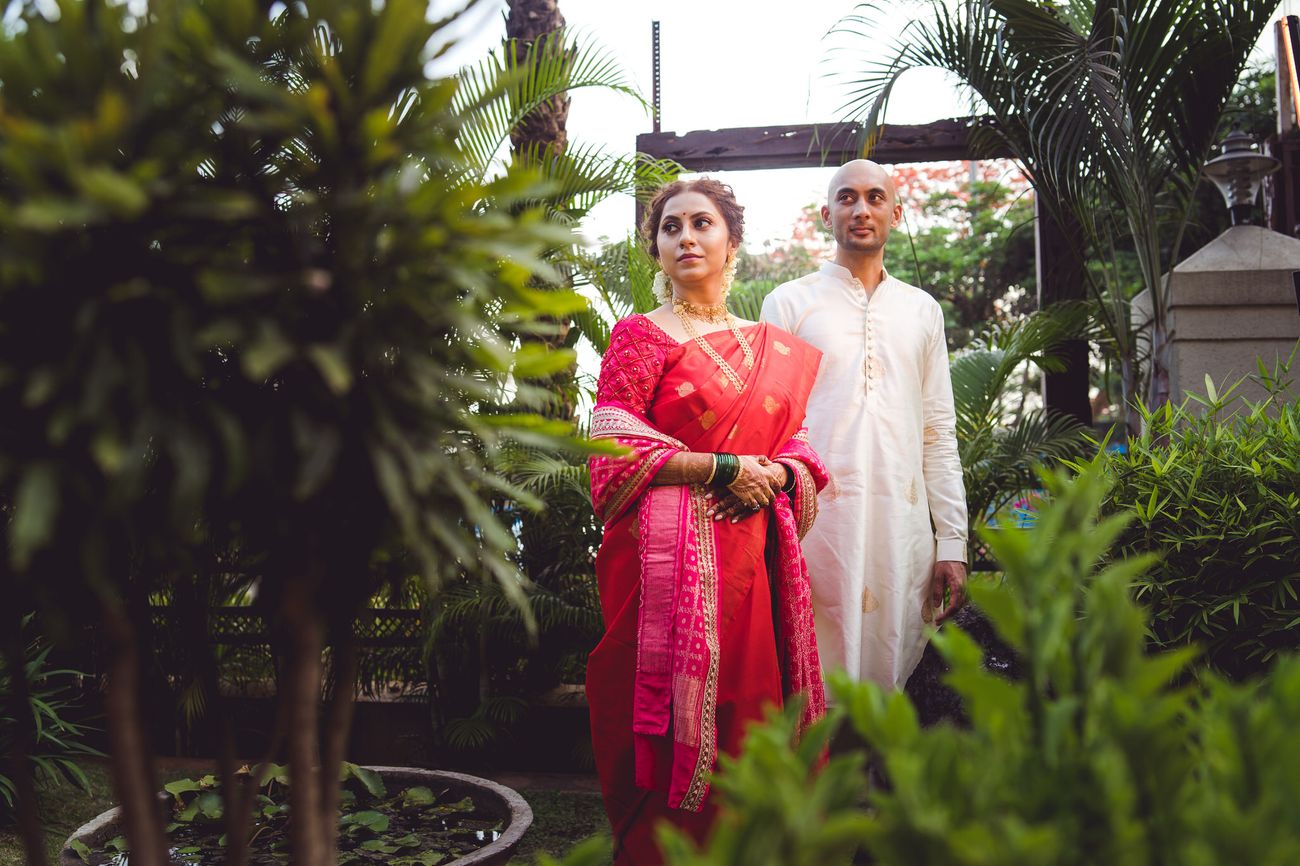 From The Bride: 
I just had 2 months to plan everything! It was a Maharashtrian wedding. I did not want typical yellow saree or Marathi Nauvari saree. My mother-in-law got a red saree from Chennai. The saree was stunning and rich but also it was too simple. At first I thought I should buy something more heavy! But then I also thought, as it was a morning wedding, too heavy wouldn't look good for the vidhis. And my husband never wanted to wear a sherwani. He wanted a simple kurti so I opted for the red saree given by my mom-in-law! But I got the blouse embroidered by my tailor which looked lovely! I went to every possible clothing store in Mumbai to find the perfect 'Shela' that Maharashtrian brides carry. Finally I found one pink Banarasi shela which is basically a dupatta with gold zari work on it. It complimented my red saree and pink blouse so well! My jewellery for this look was in all real gold. The choker belongs to my mother-in-law which she gifted to me! And the other necklace and earrings and bangles I got it made from our family jeweller in Vile-Parle. For the reception though, I wanted something that stands out and yet graceful. I was tired of looking at lehengas. Everyone is doing lehengas for their weddings nowadays ! So I wanted to break the rule! (Also, what do you do with the lehnga after the wedding?!) I was in Chennai again for work and I was looking for another Saree in gold tissue like material. And lucky me, I found one plain gold zari saree!(in Nallis) And it looked amazing with the bottle green colour blouse. The stunning jewellery on this saree (the chocker, mangtika and earrings) is by Purabpaschim (Ankit Khullar). The overall outcome was so gorgeous and charming. All the days I spent roaming around the city in the April heat was totally worth it! And of course Instagram and Pinterest helped a lot!
Except for Sarees, I designed all of my outfits! Being a fashion photographer, I kinda knew what would look good on me! At first, like all brides, I started to visit all the stores and designers from Sabyasachi, Anita Dongre to multi-designer stores like Aza and Kalki. I tried lots of lehengas and other outfits for different events. Got scratched and hurt so many times while trying these clothes! So finally I decided to design my own stuff! I had 4 events. One was my court wedding. For that I bought a Raw Mango saree which is my favourite! Second was my Mehndi. I wanted to wear a Sharara so first I stared visiting fabric stores in Mumbai. It was a long process of finding the right material, right combination, and the perfect colour. some fabrics I had to die in a specific colour. My tailor is very skilled and I'm so grateful for him! He did his job really well! I stitched a yellow lehenga with an off shoulder blouse for my haldi which followed the same process of finding the right fabric and designing it on my own! It was a really long, time consuming and tiring process but I enjoyed it so much!! I love fashion and fabrics and I imagined how will it look in the photos. For me the end result was all about the photos! Being a photographer myself, I gave immense attention to photographic aesthetics!
Vendor Reviews: 
Matoshree (Maharaja Suprimo Hall) at JVLR was our venue and it was quite good. The high ceilings and huge chandeliers make a hell lot of difference!
It was my mom! Shubhangi Latkar. She is an actress and a professional makeup artist too! I did not think much about the makeup. I told her what I wanted. I wanted to look like me! She did a fabulous job!!
Kodoclicker! Me and Varun go way back and I know him since a very long time. I've seen him as an engineering student turned into this amazingly talented photographer! I've seen his journey and I trust him so much with his camera. And well, he did an excellent job! Loved his team and the way they documented every small details and emotions. His associate photographer Pooja has a brilliant eye too! They all gelled up so well with the family in a couple of days. I feel extremely lucky to have known Varun!
Vendors: Venue: Matoshree (Maharaja Suprimo Hall) at JVLR, Mumbai; Makeup Artist: Shubhangi Latkar; Photographer: Kodoclicker★ 5 ; Bridal Outfits: Yashoda Latkar (Mehendi & Haldi), Nalli Silks★ 4.7 (Reception)