An Intimate Mumbai Wedding With A Gorgeous Glass Mandap!
BY Aakanksha | 23 Jun, 2021 | 269 views | 9 min read
Vatsala & Akshay's wedding mandap totally blew us away. The couple got hitched in an intimate ceremony in Mumbai and the mandap was one of the highlights! The whole decor, beautifully executed by To The Aisle★ 5 , was done with the theme of cherry blossoms, but it was the glass panels around the mandap that stood out. In combination with the florals, and aesthetic draping, it was in perfect contrast to the bright red saree Vatsala wore. 
And yes, Vatsala's looks were the glam quotient of their intimate celebrations. From a navy blue outfit for sangeet to a traditional red bridal saree, she rocked each and every look and we bet you'll bookmark it just as we did. 
Meet Vatsala & Akshay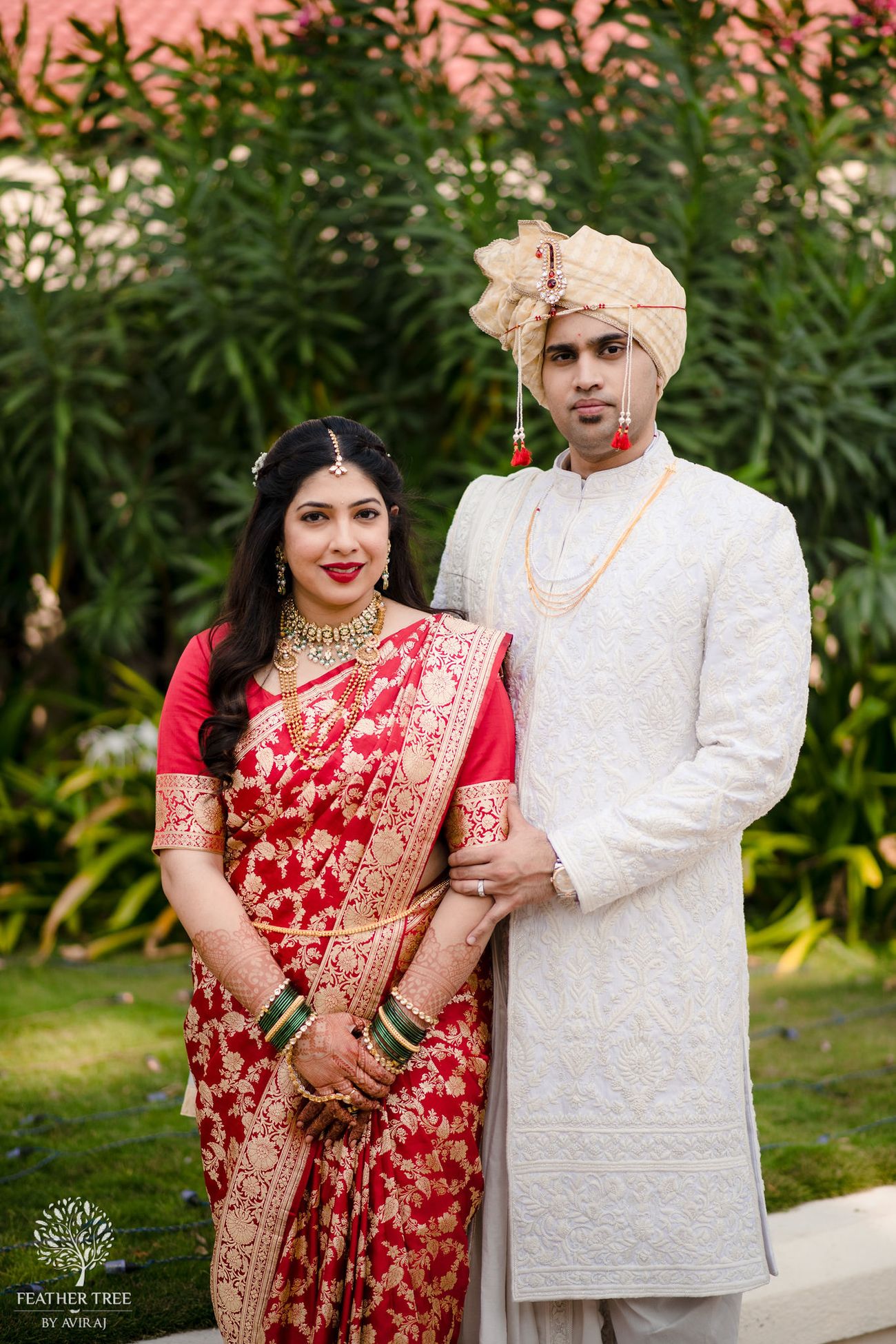 Akshay and I met through a close friend of ours, Aditya, in Bangalore. I was leaving Bangalore to move to Toronto for my MBA and Aditya came to visit me. We were going out to dinner and he asked if he could also invite his friend Akshay and I said, sure why not? We got along well at dinner and people had to remind us there were other people sitting at the table apart from us! Later that night, Akshay told Adi – 'Vatsala is pretty cool – she has a je ne sais quois about her". I told him I was a big fan of Virat Kohli and he invited me to watch the Royal Challengers IPL game the next day with Adi and him. He asked me out on a date while we were there. Both of us love Asian food so on our first date, he took me to a Rim Naam for Thai. That date lasted 5 hours long! We knew we had something special, so we were determined to make it work in spite the fact that I was moving away soon. It wasn't easy, but many facetime dates, late night messages, and flights later, Akshay also moved to Toronto for his MBA and we were finally together! We survived an MBA degree together, moved in together, and started a life together in Canada.
When we decided to get married, there was no proposal. It was a decision we just came to naturally. One day while we were on hike, he turned around asked me- do you want to do this? Do you want to get married? It wasn't the fancy proposal I wanted and there was no ring involved but all that mattered was that I was getting to marry this crazy yet wonderful human being! But I did get my Cinderella moment when right before we got engaged, he gifted me a pair of sneakers (Akshay is a big sneaker head) and said he can't wait to marry me! I wore those sneakers with my lehenga at our engagement party.
The Cocktail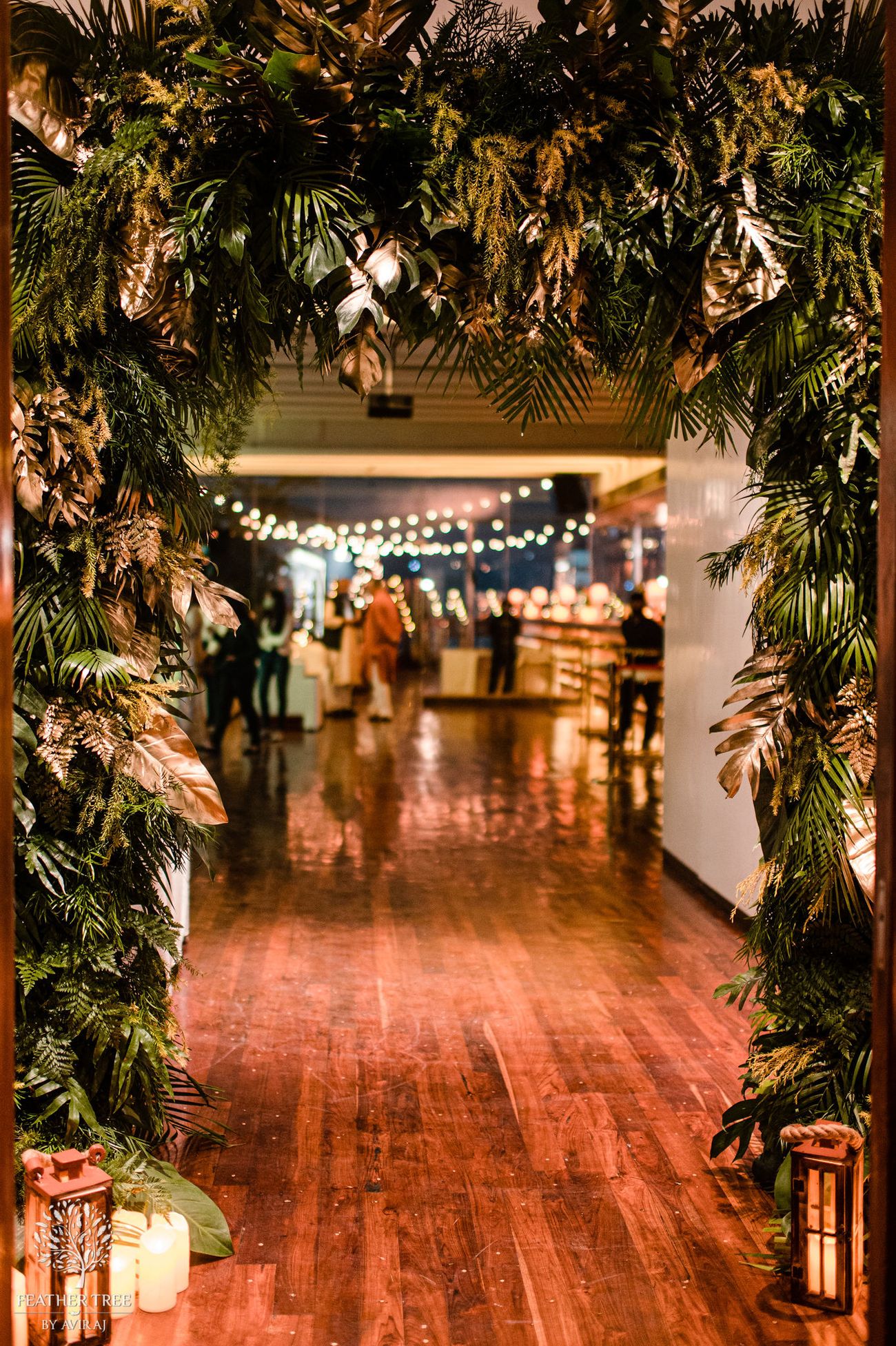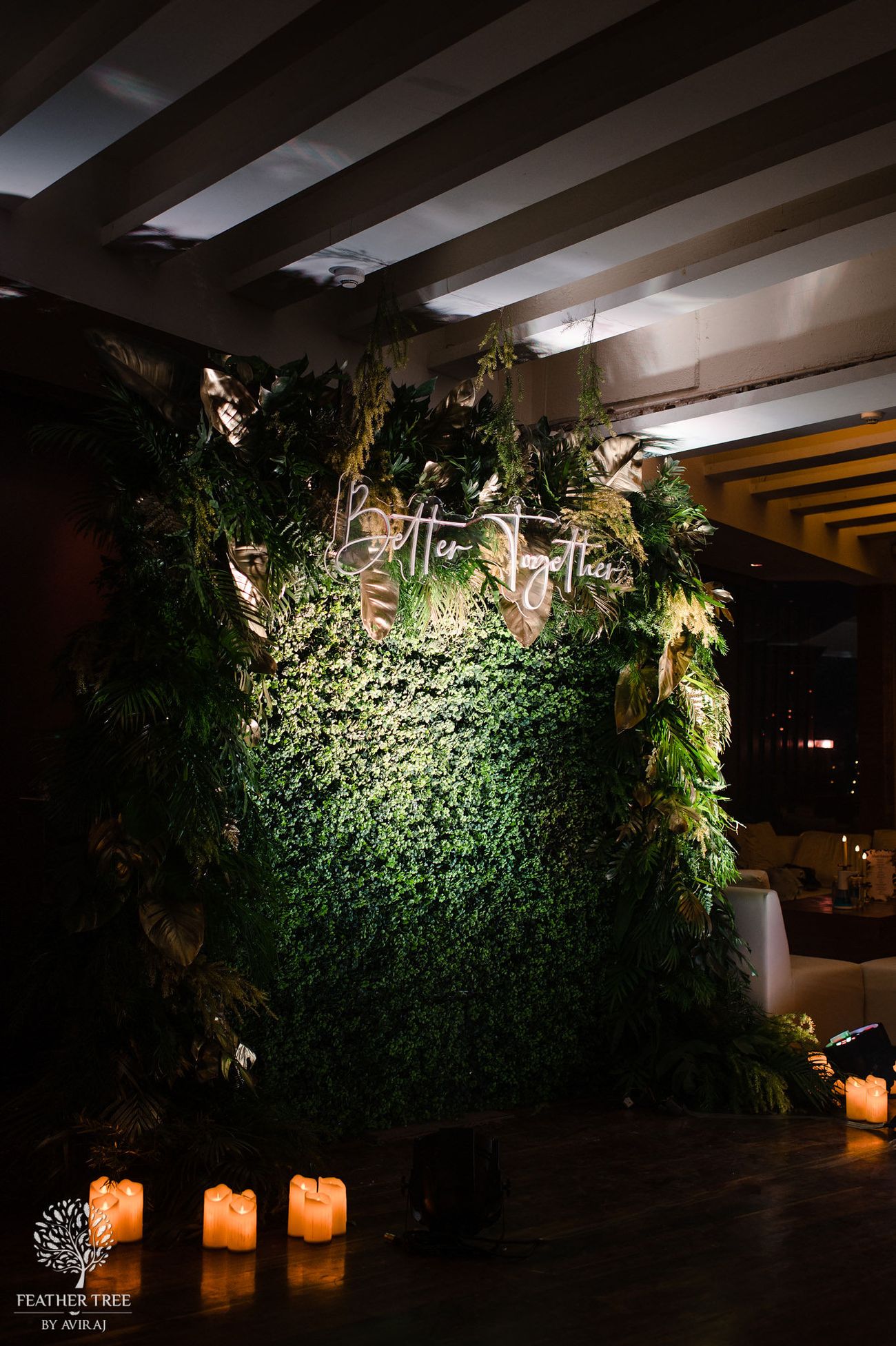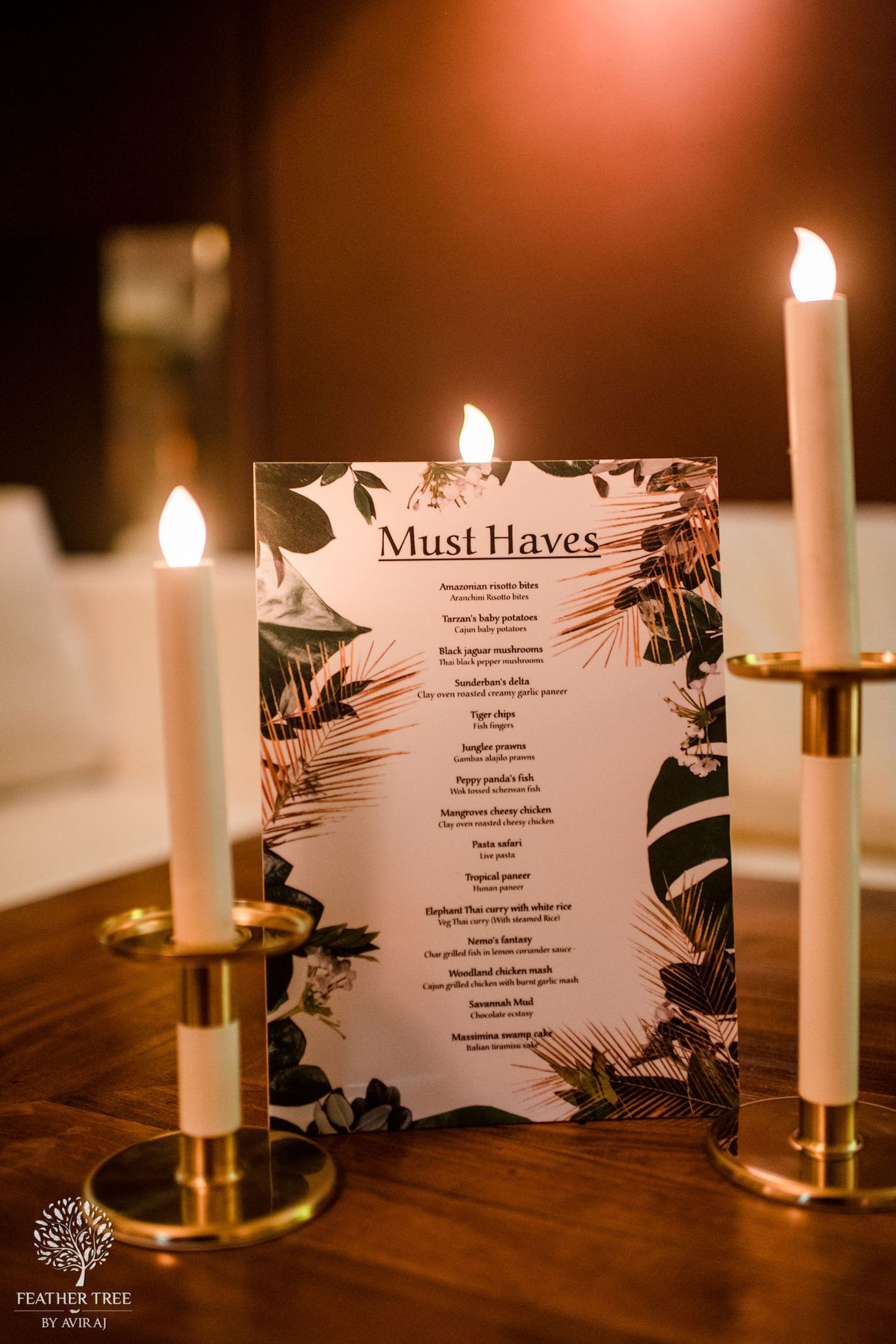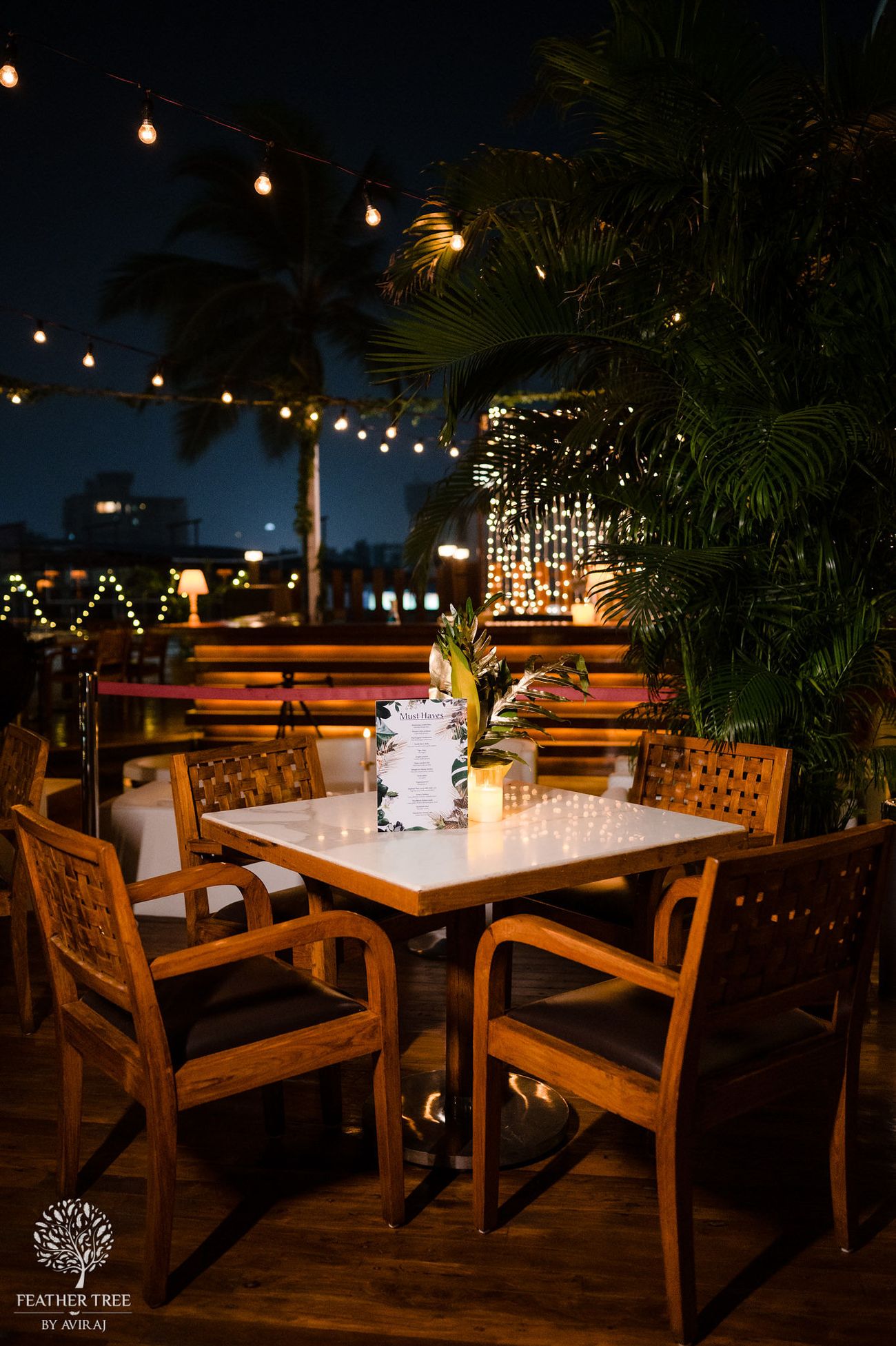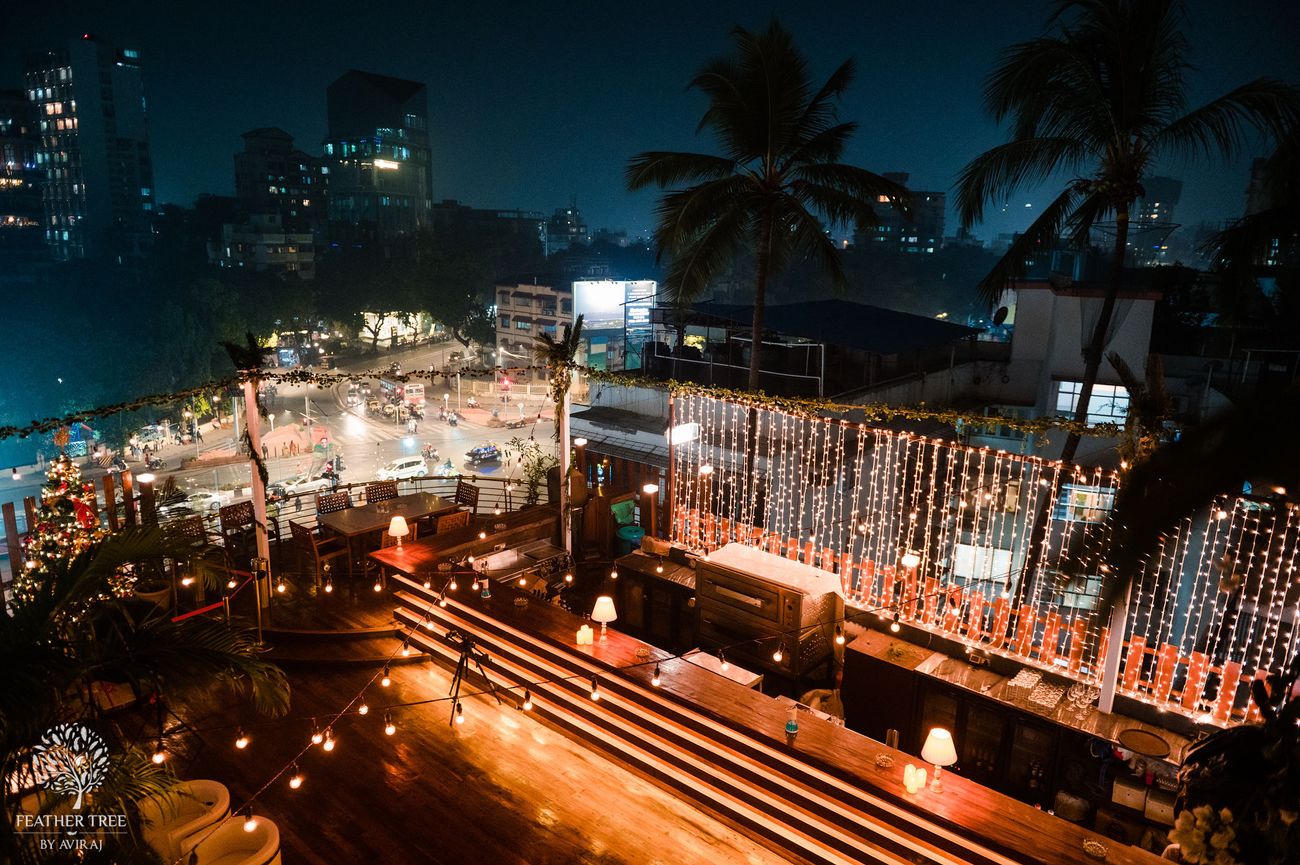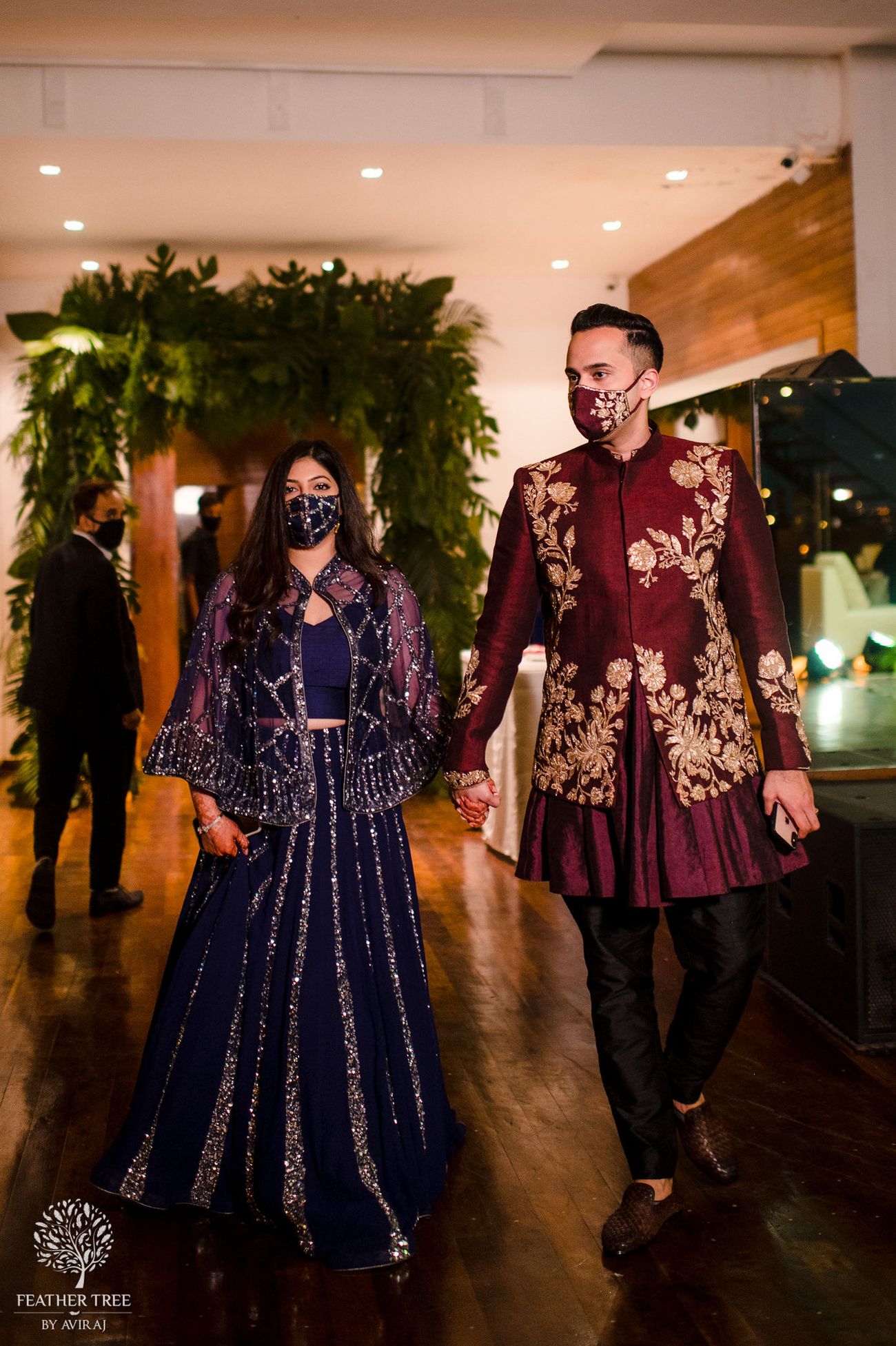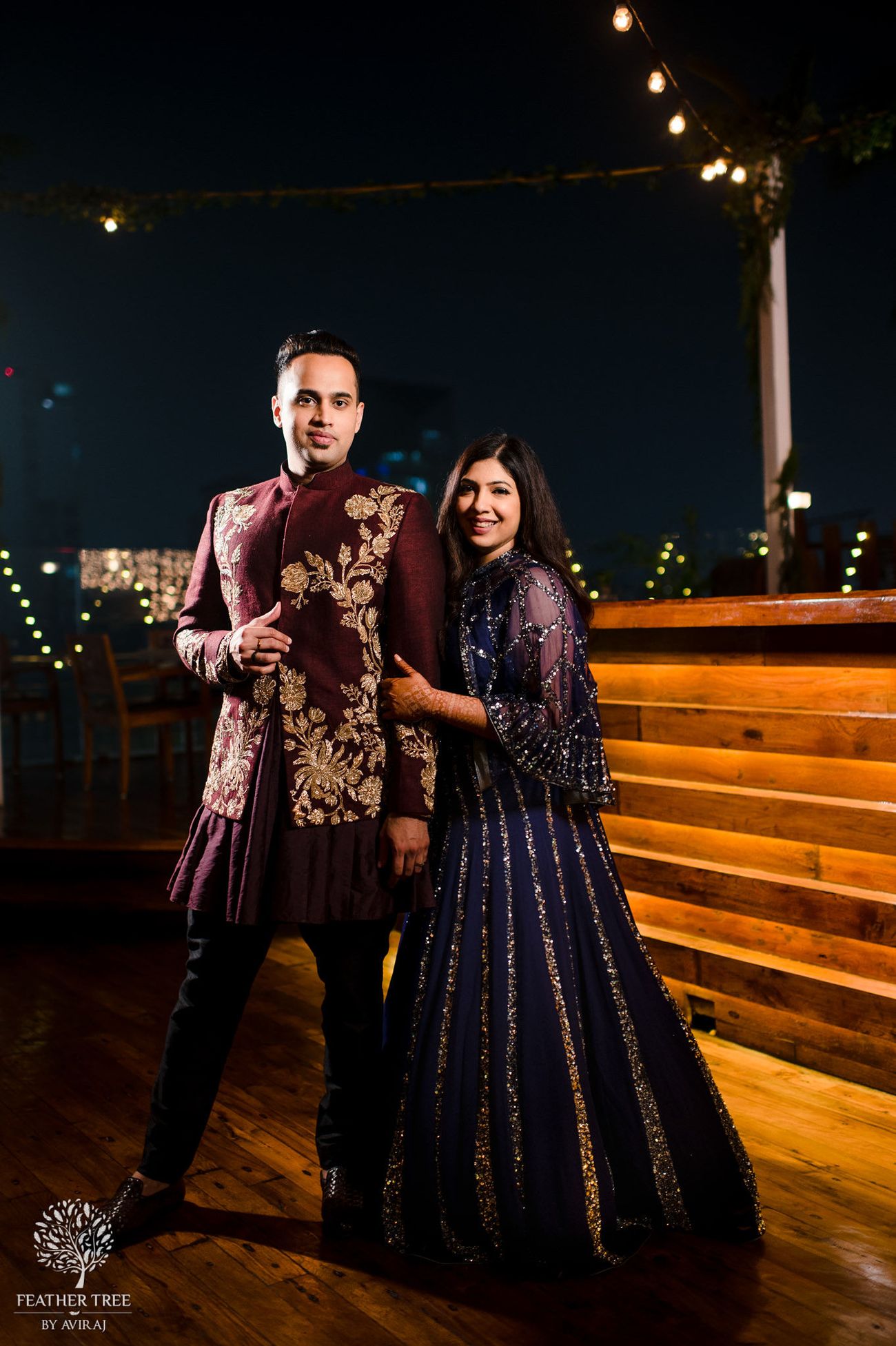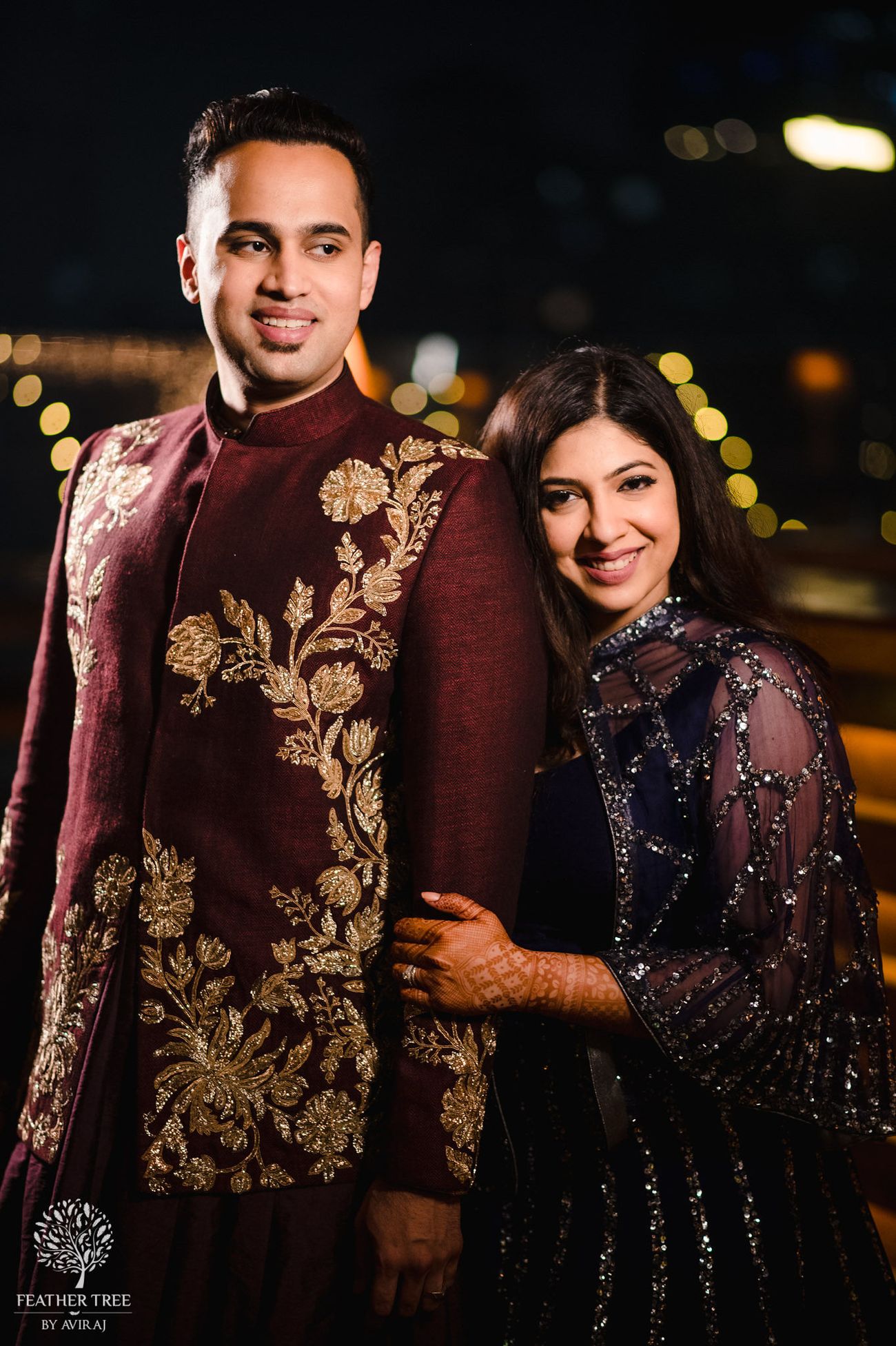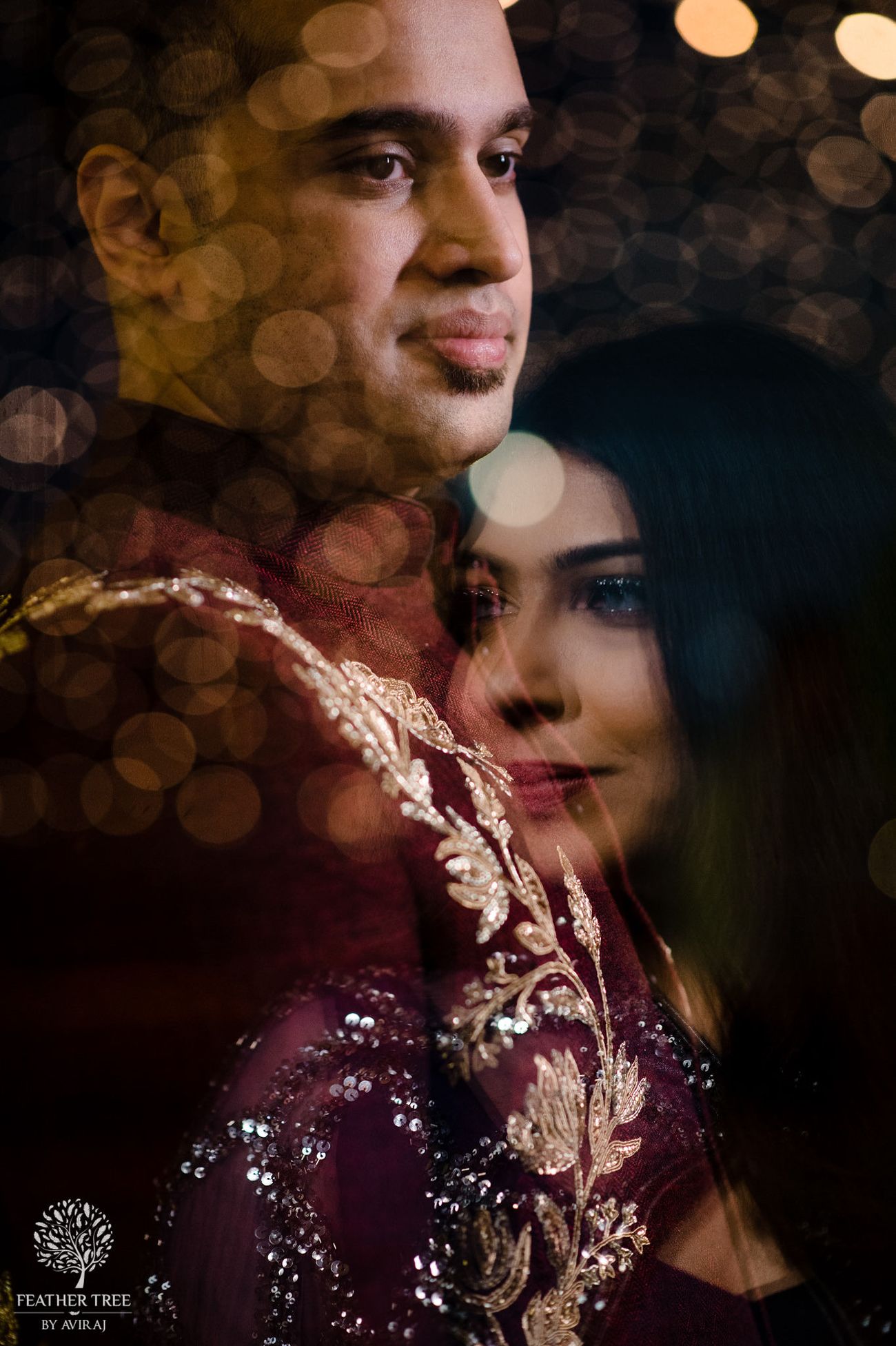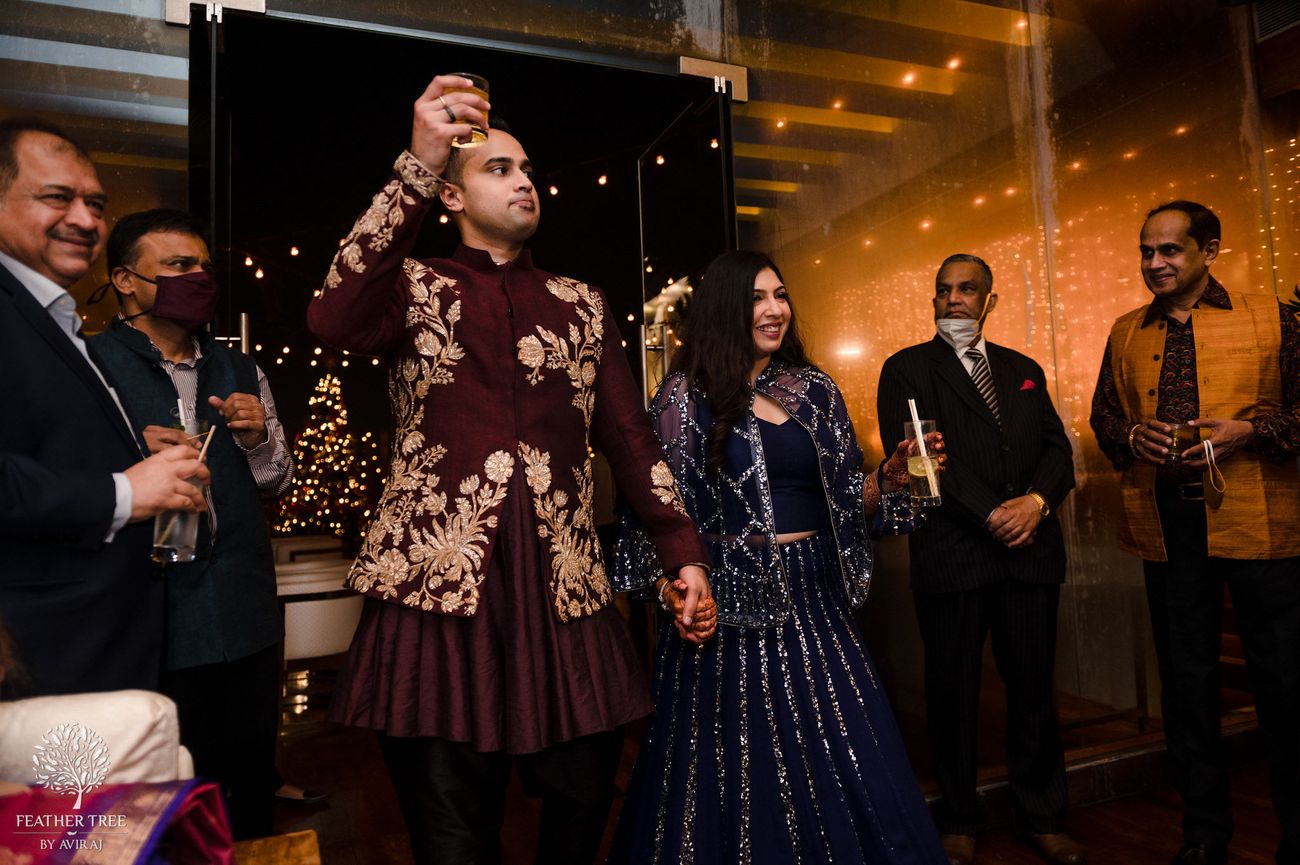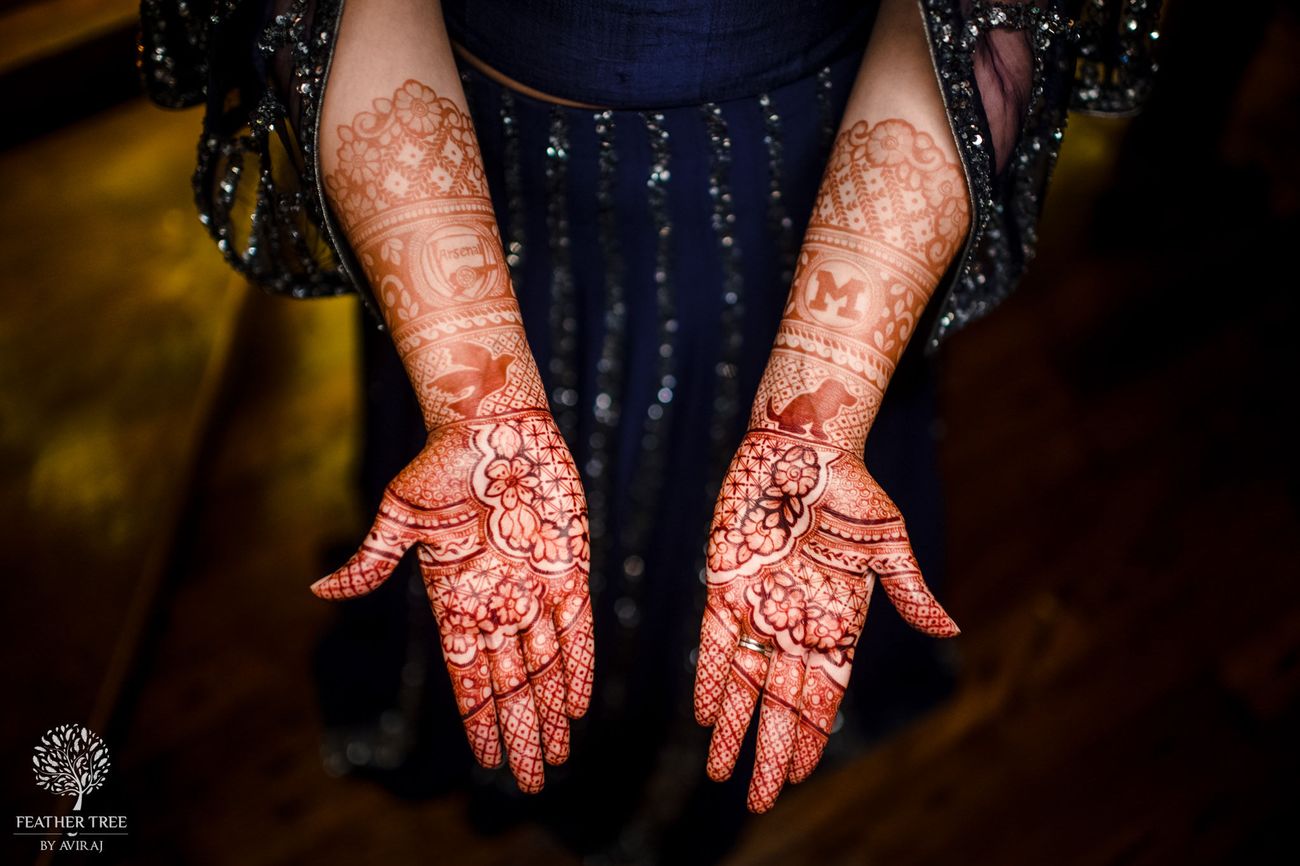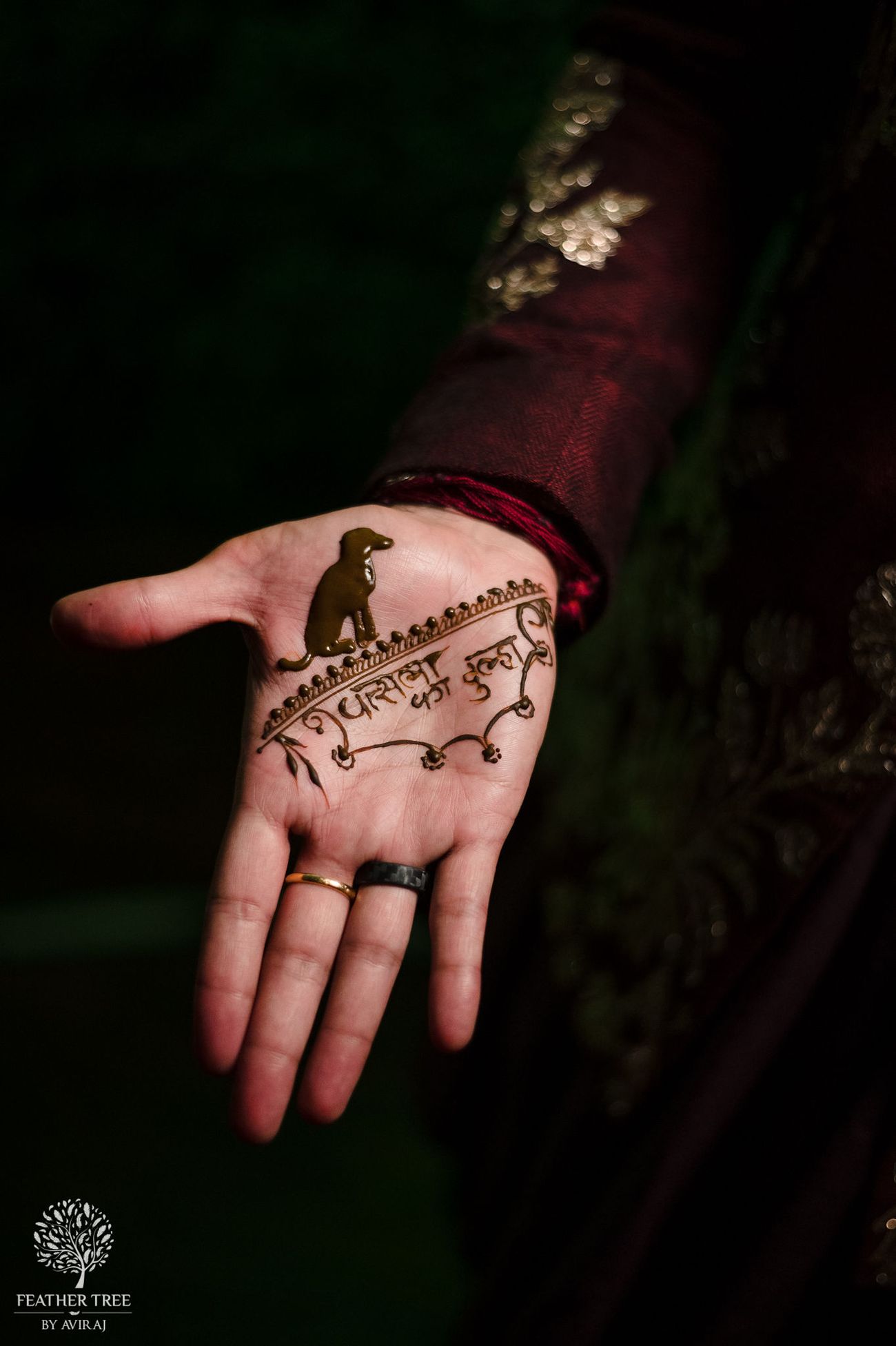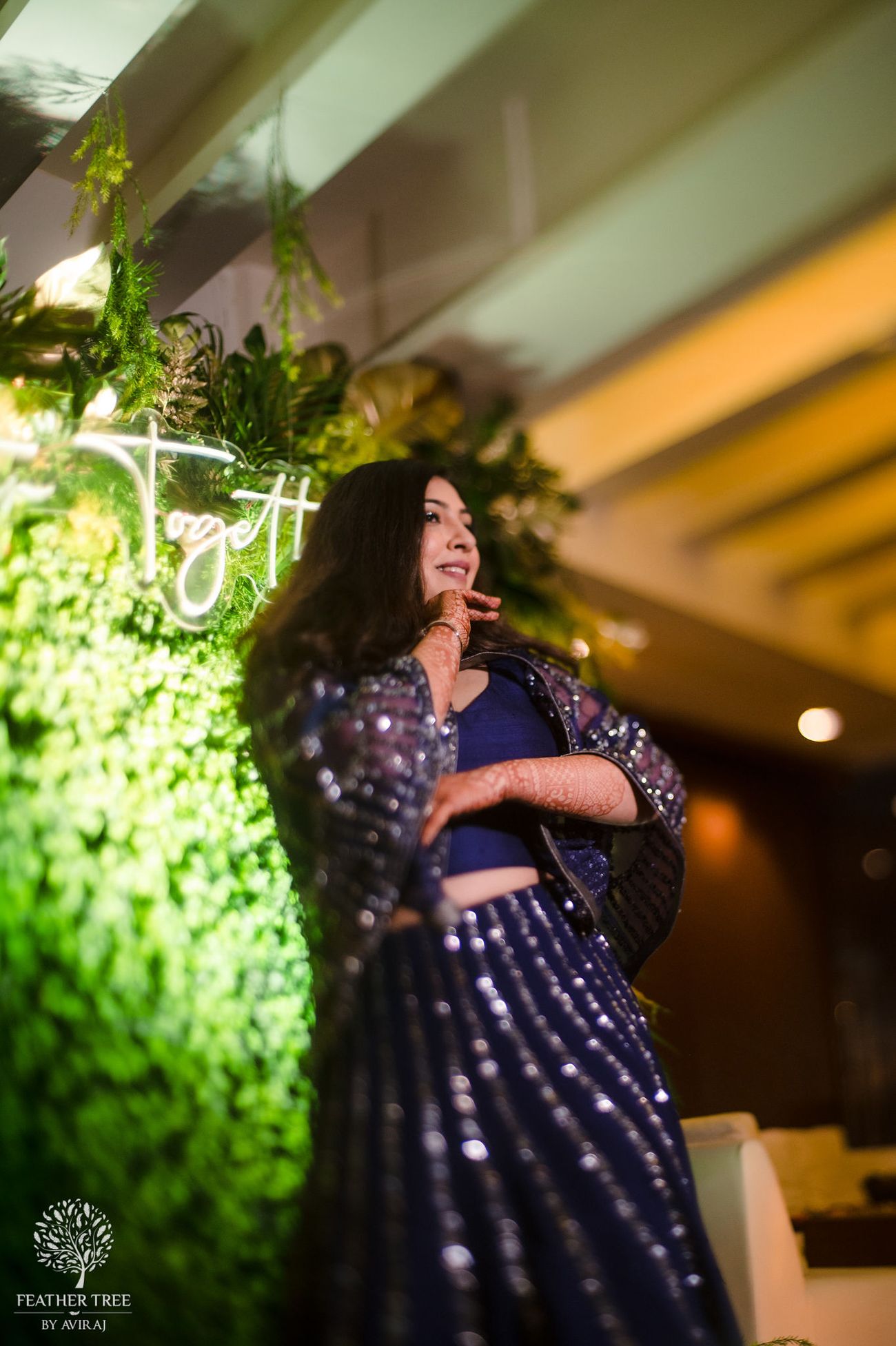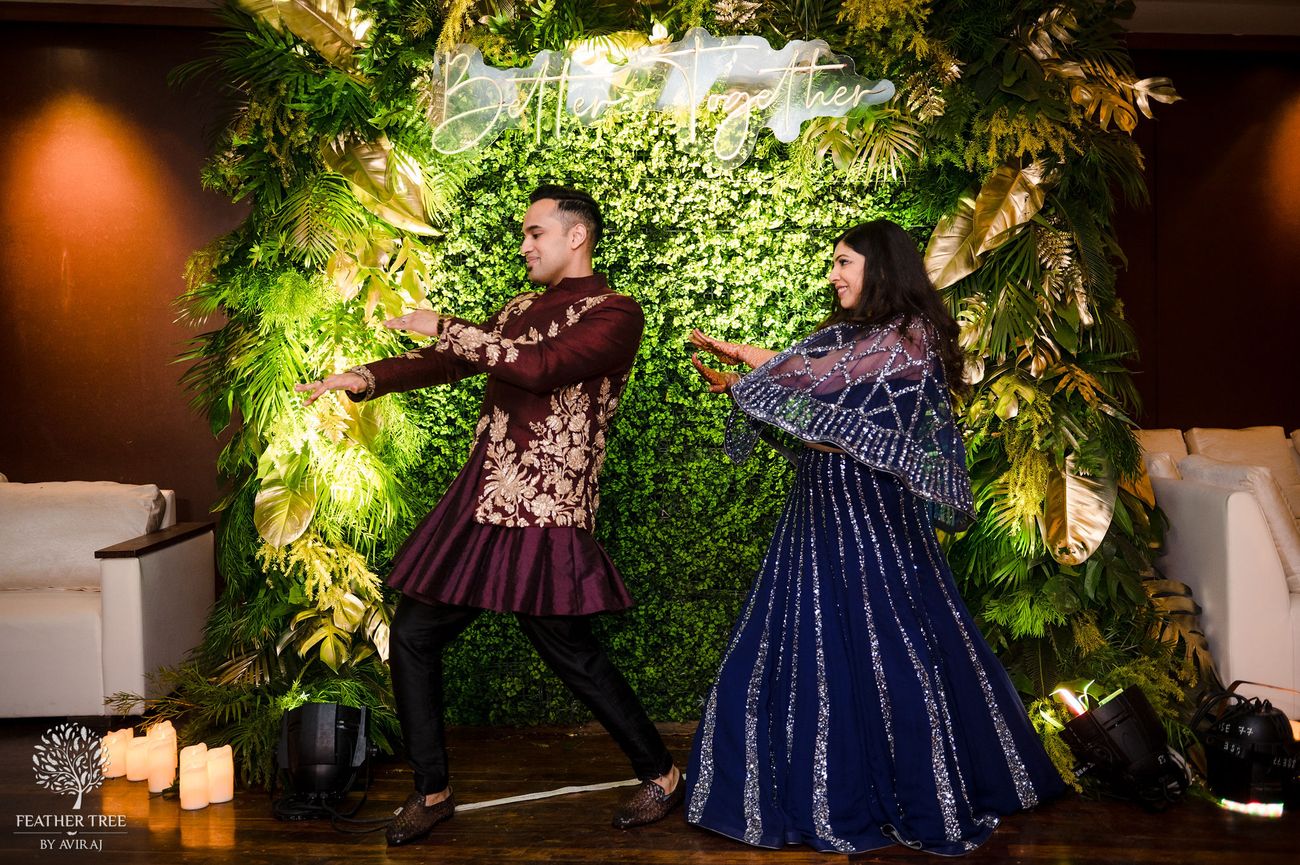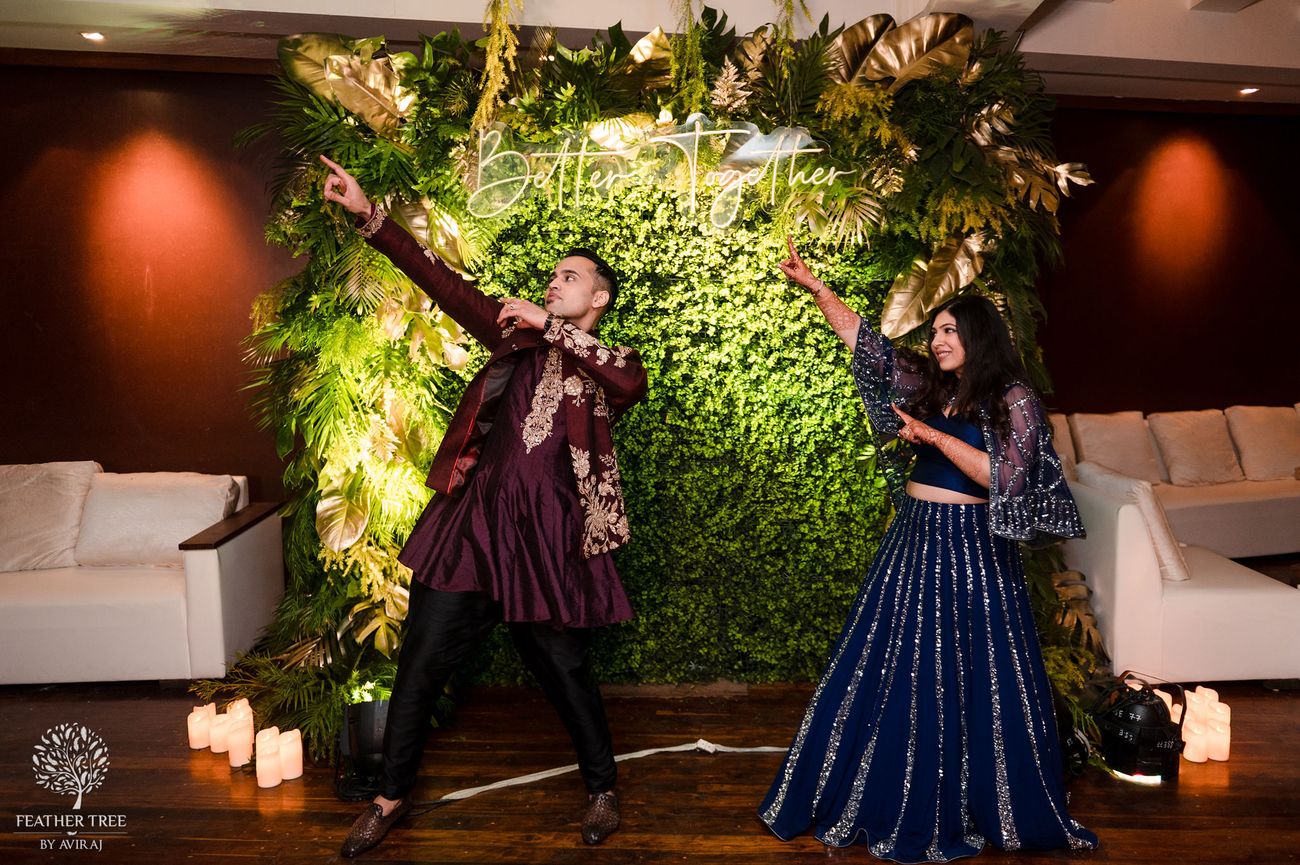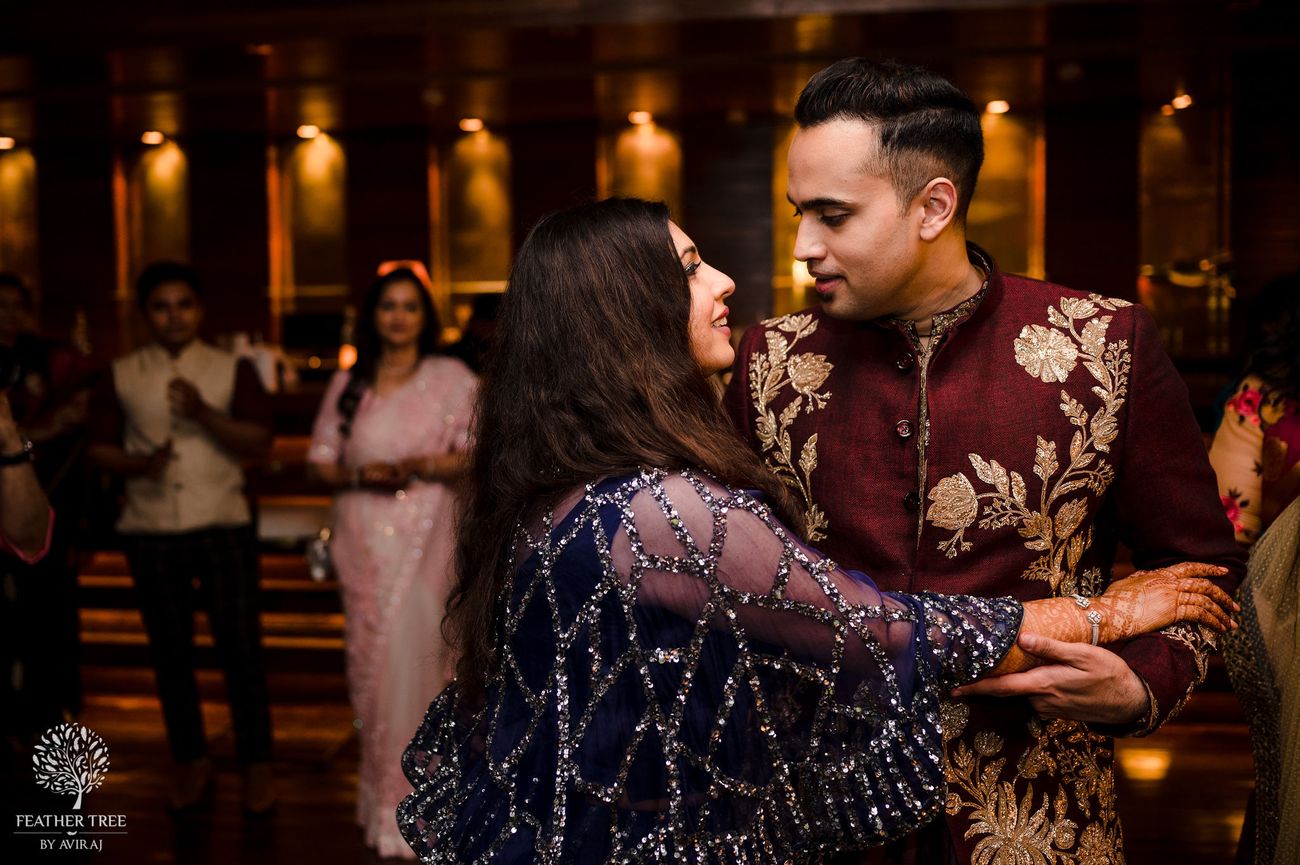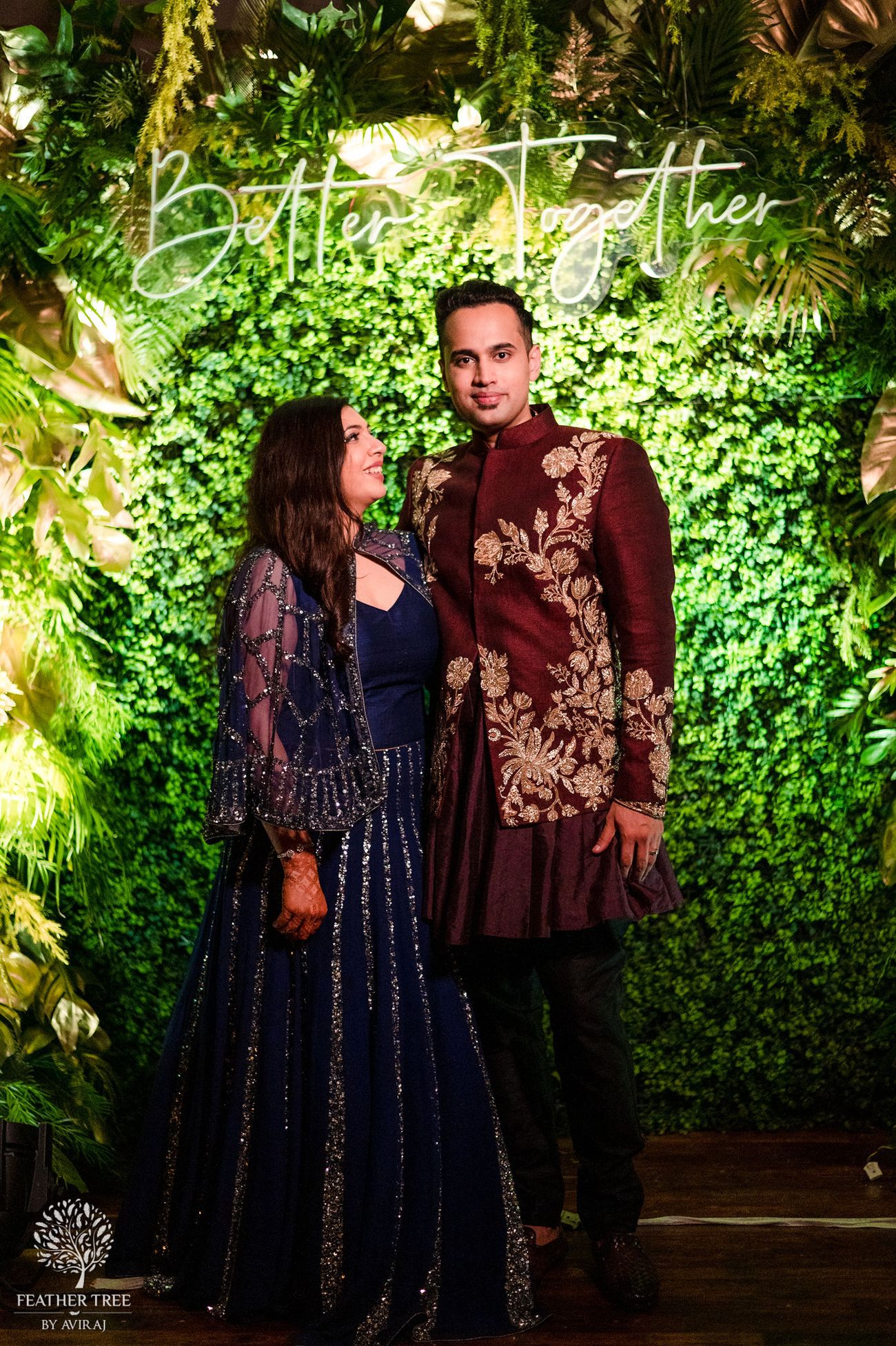 The Wedding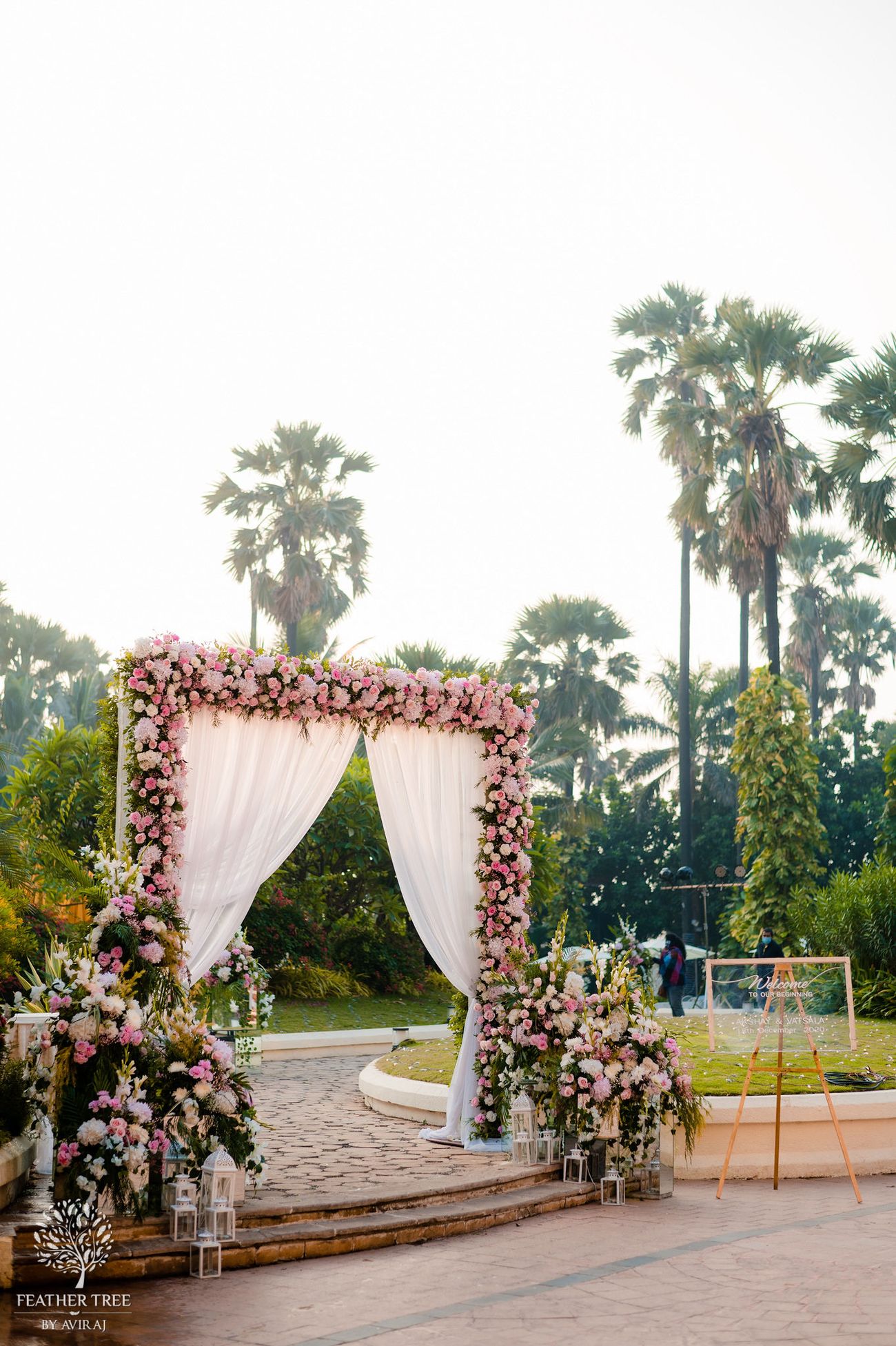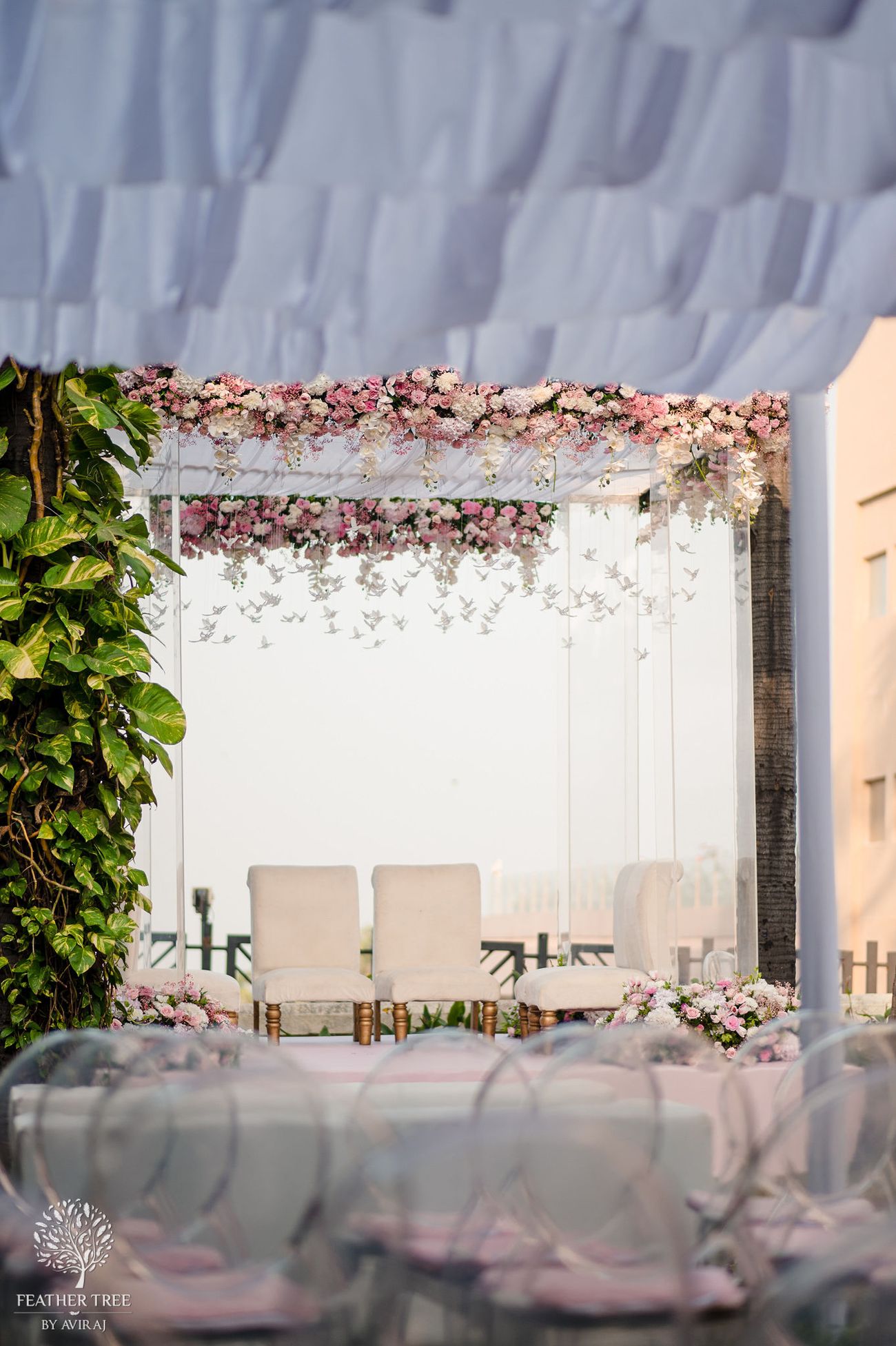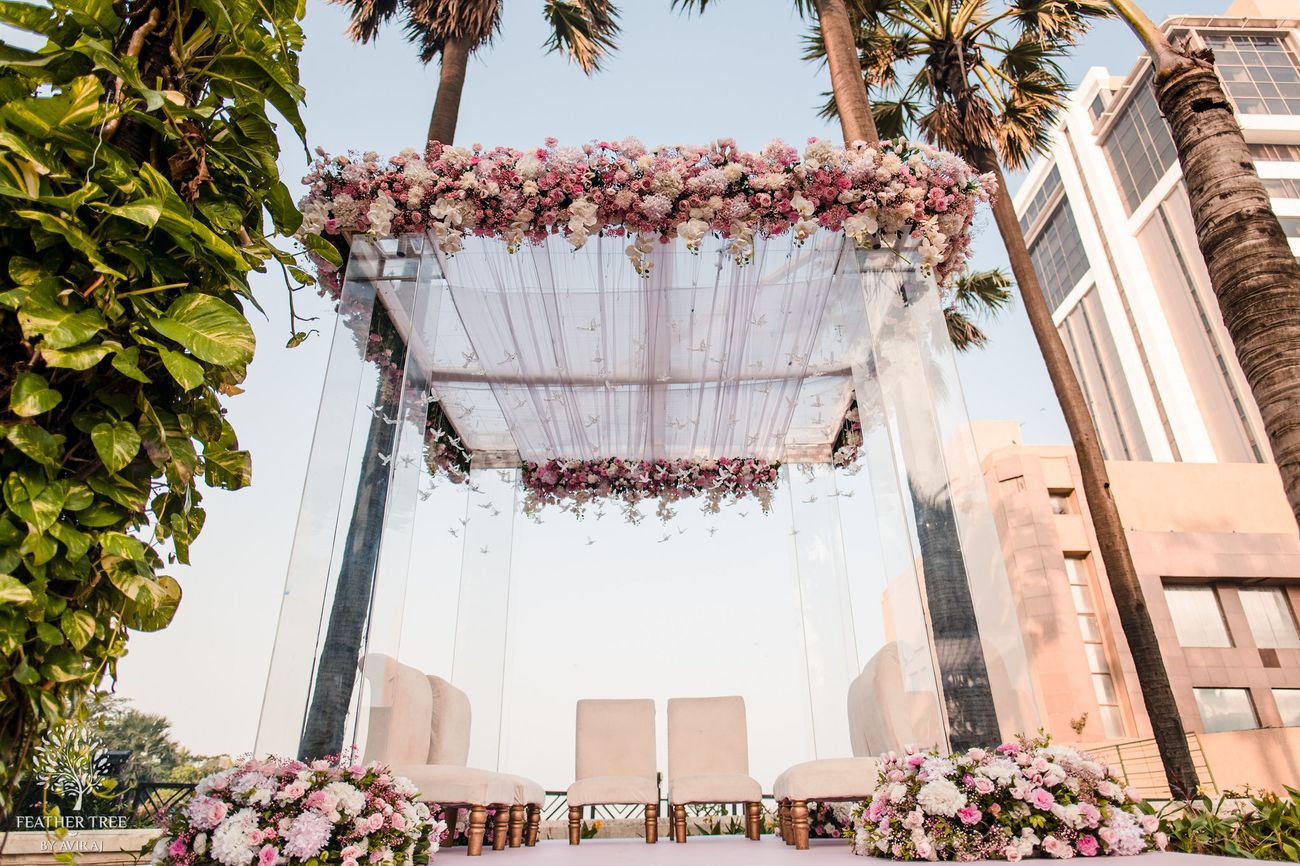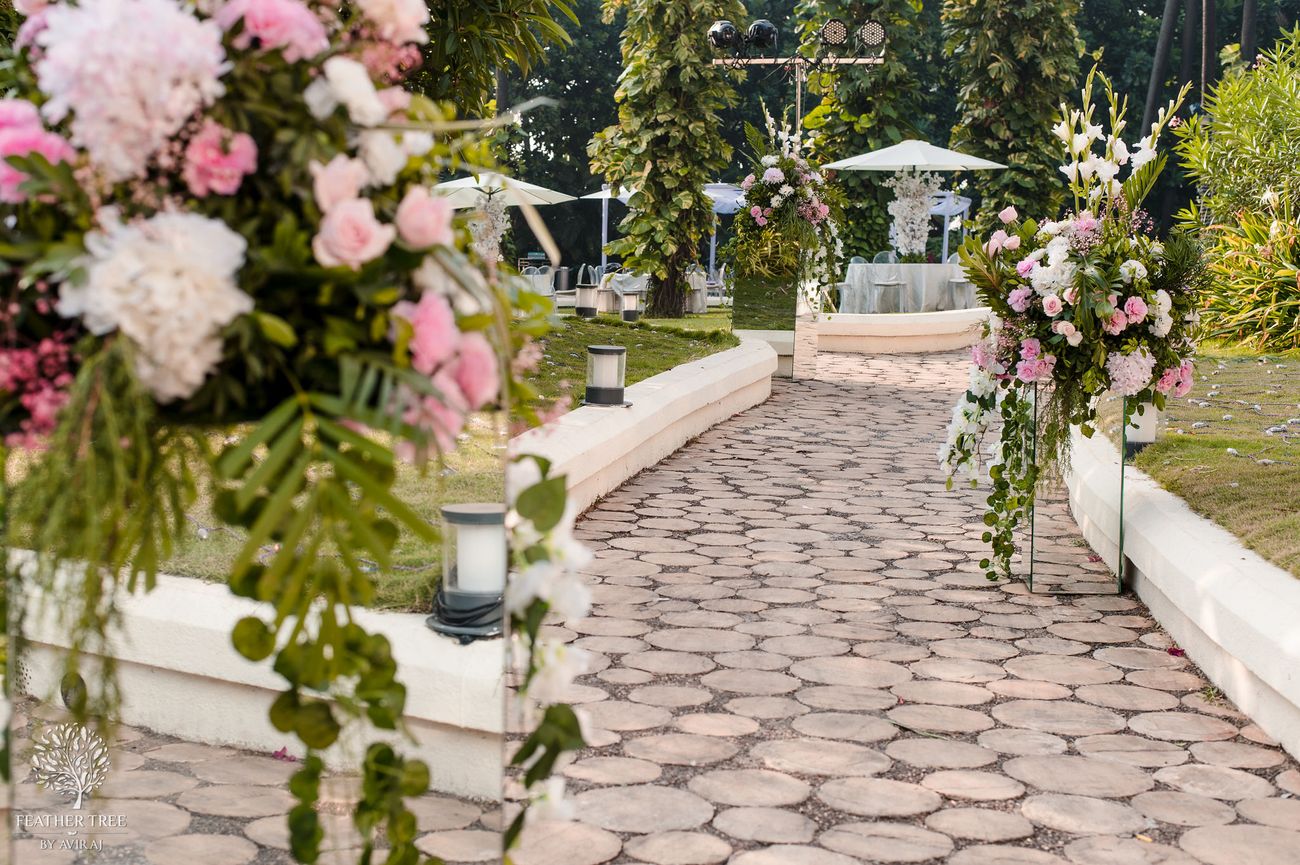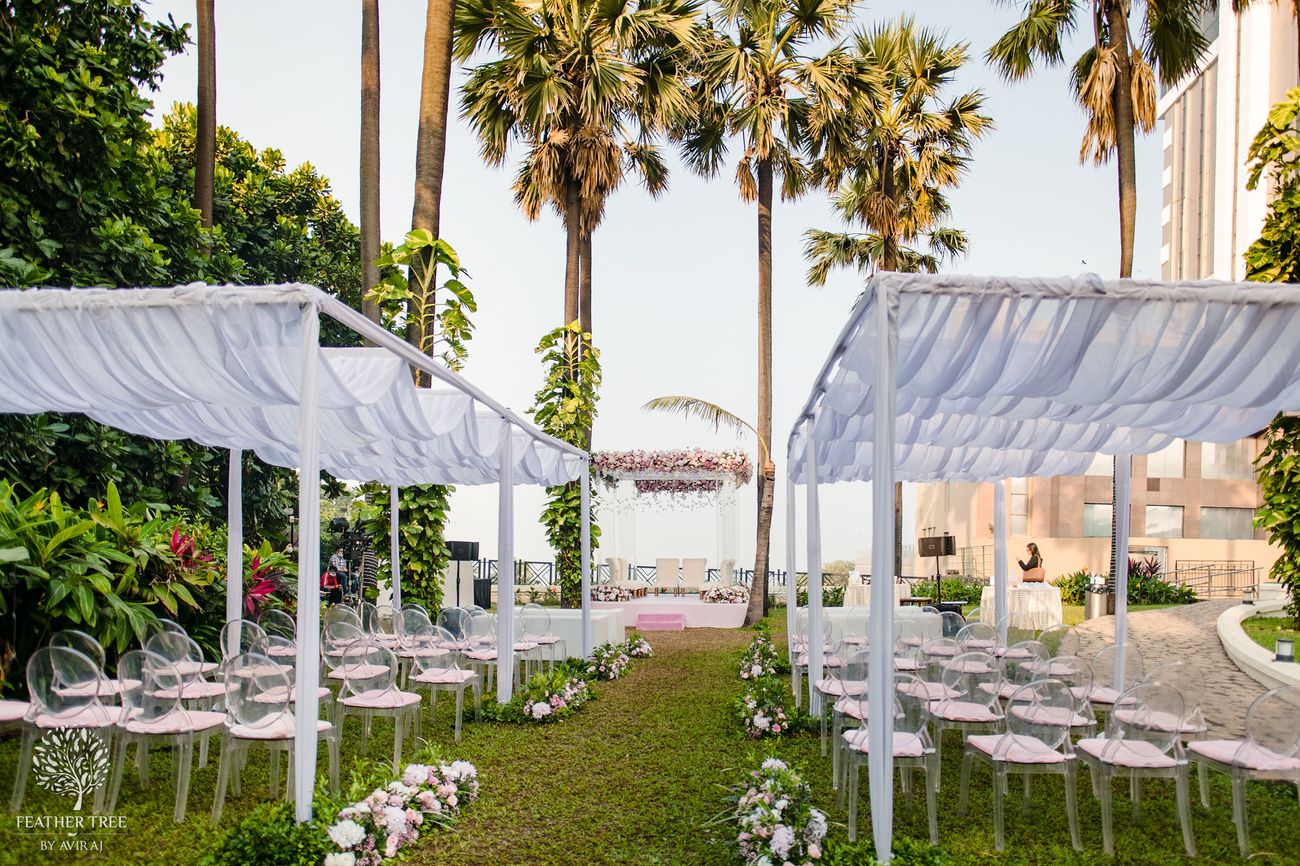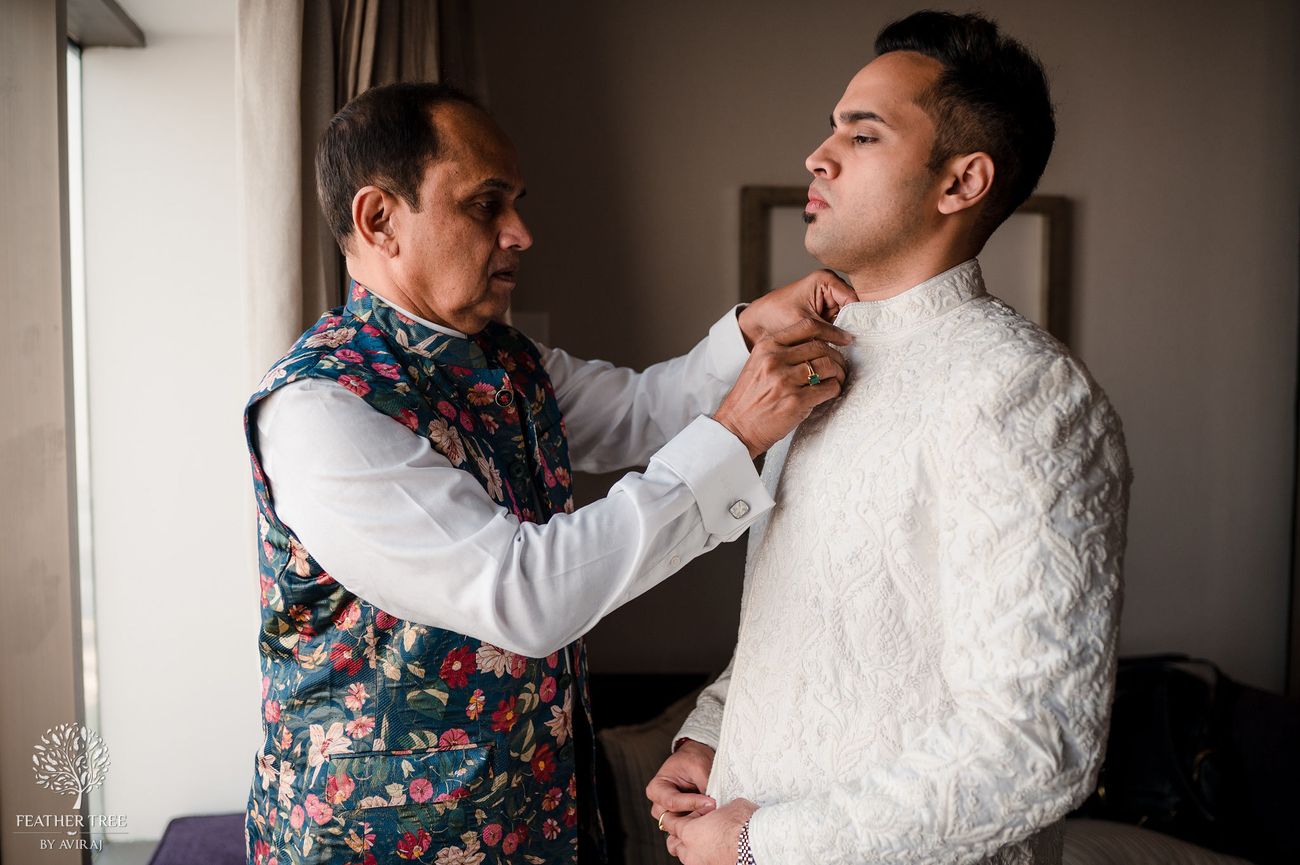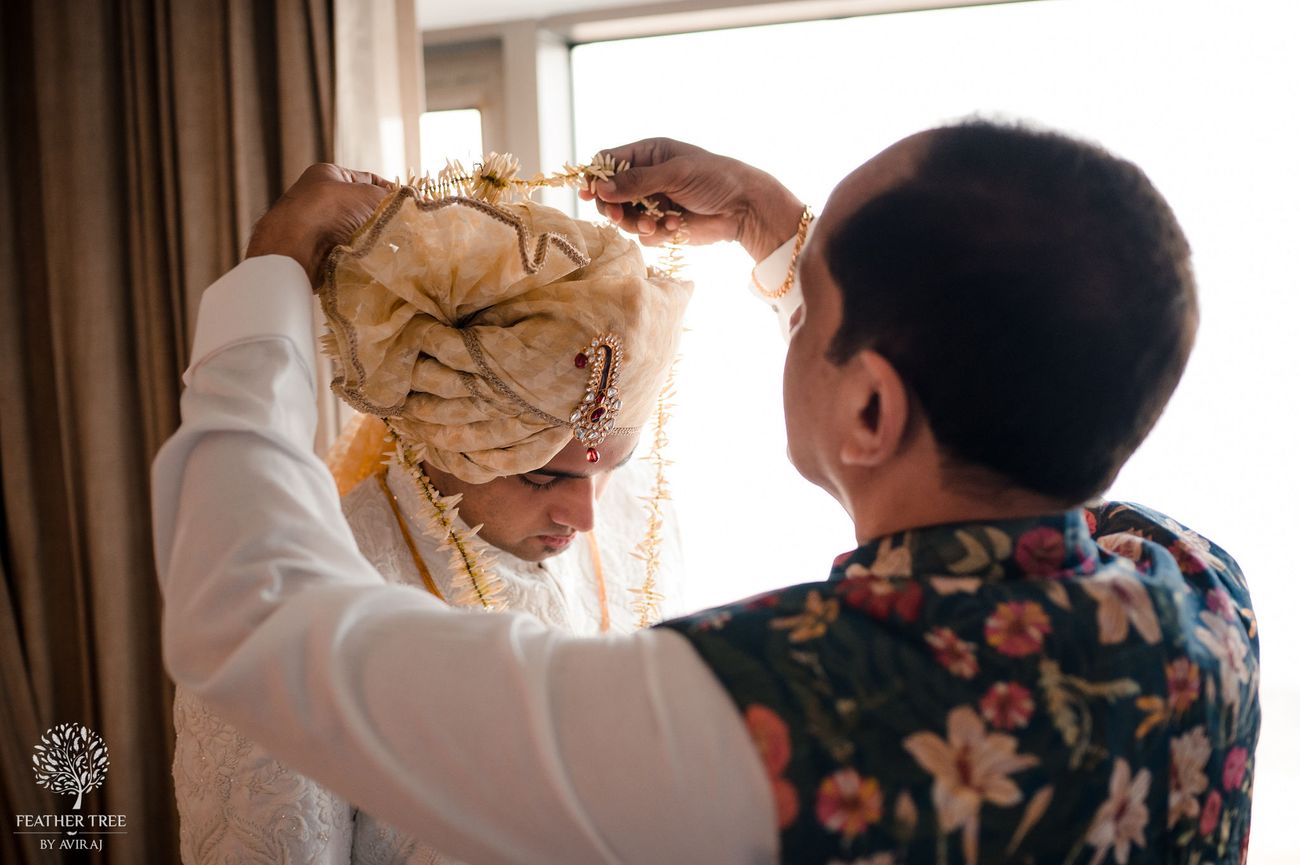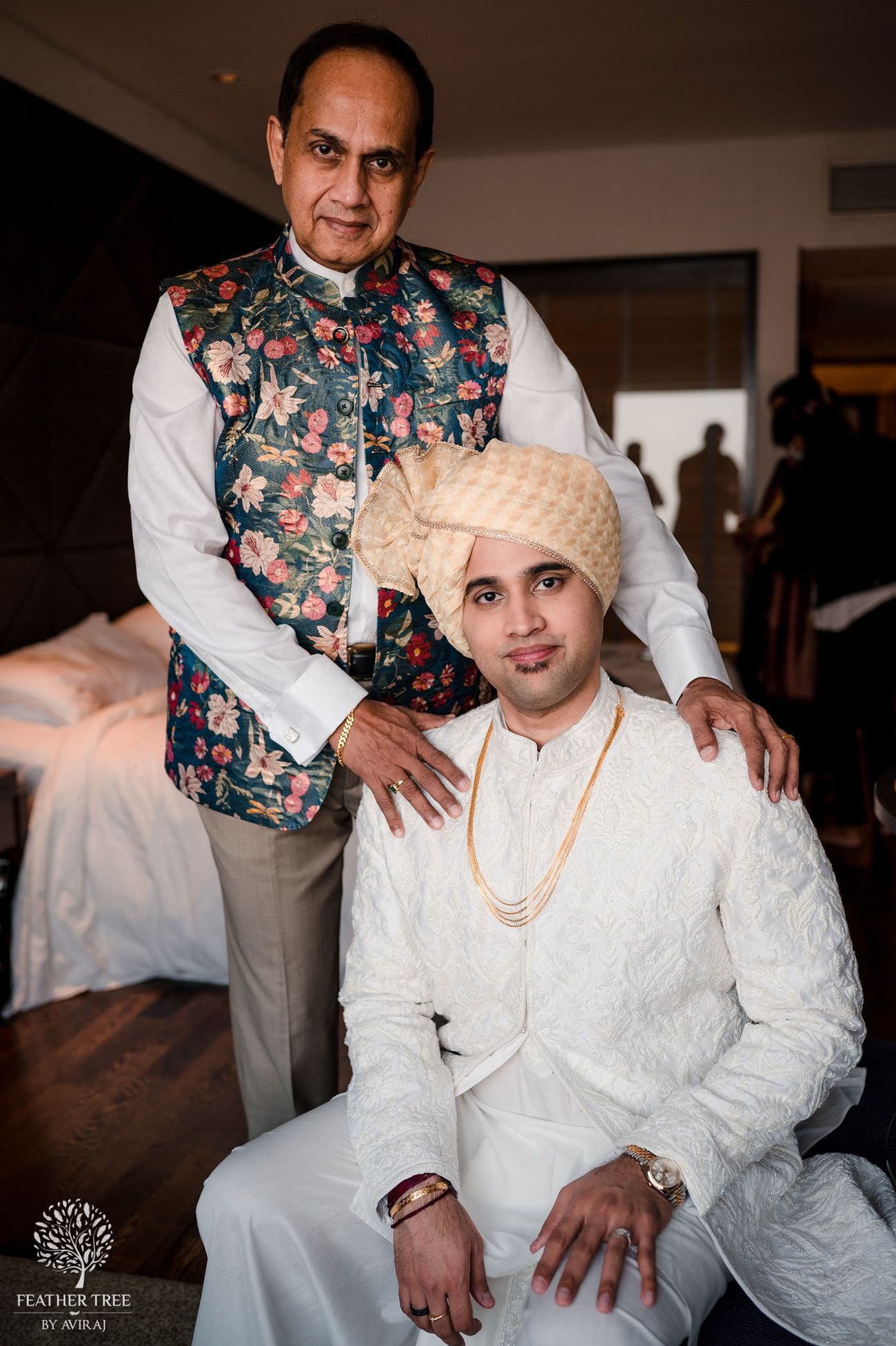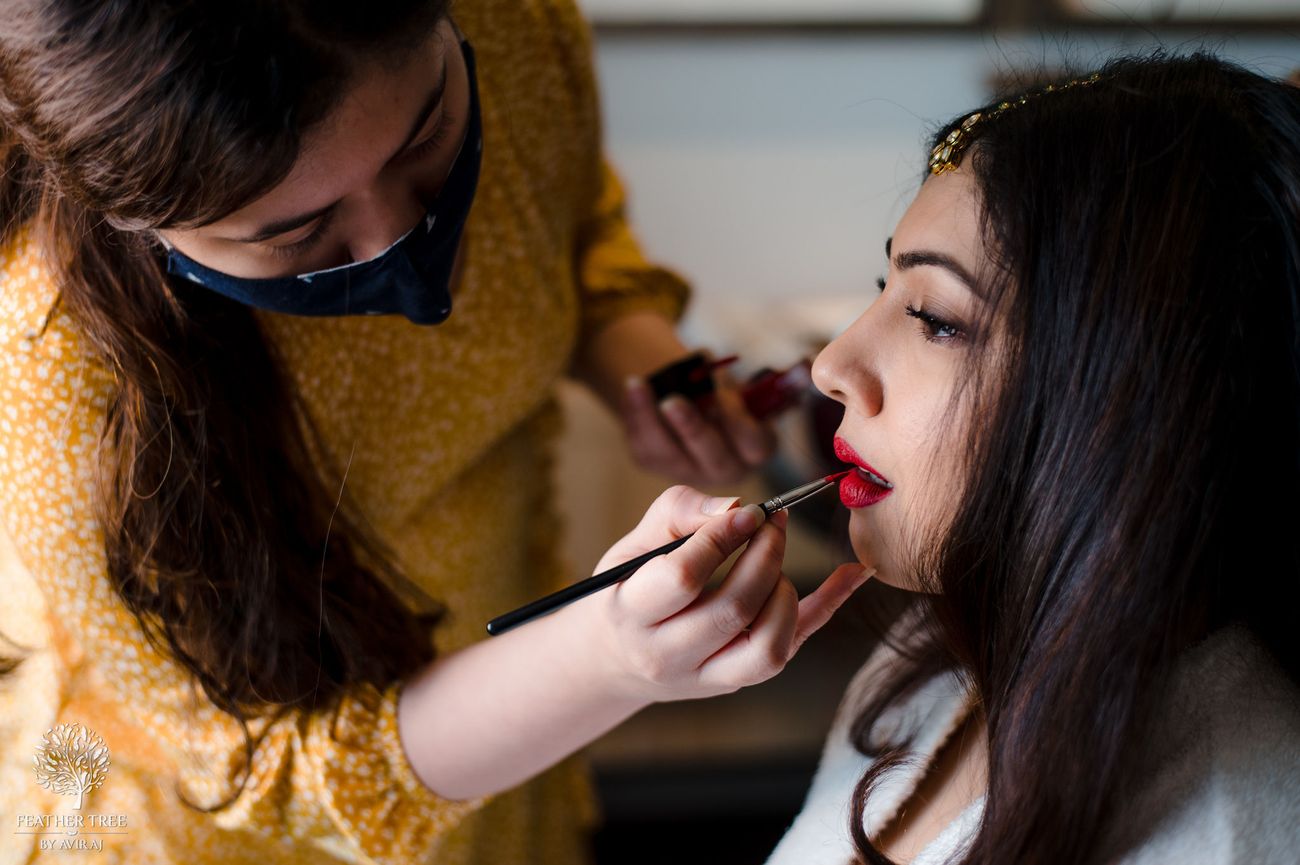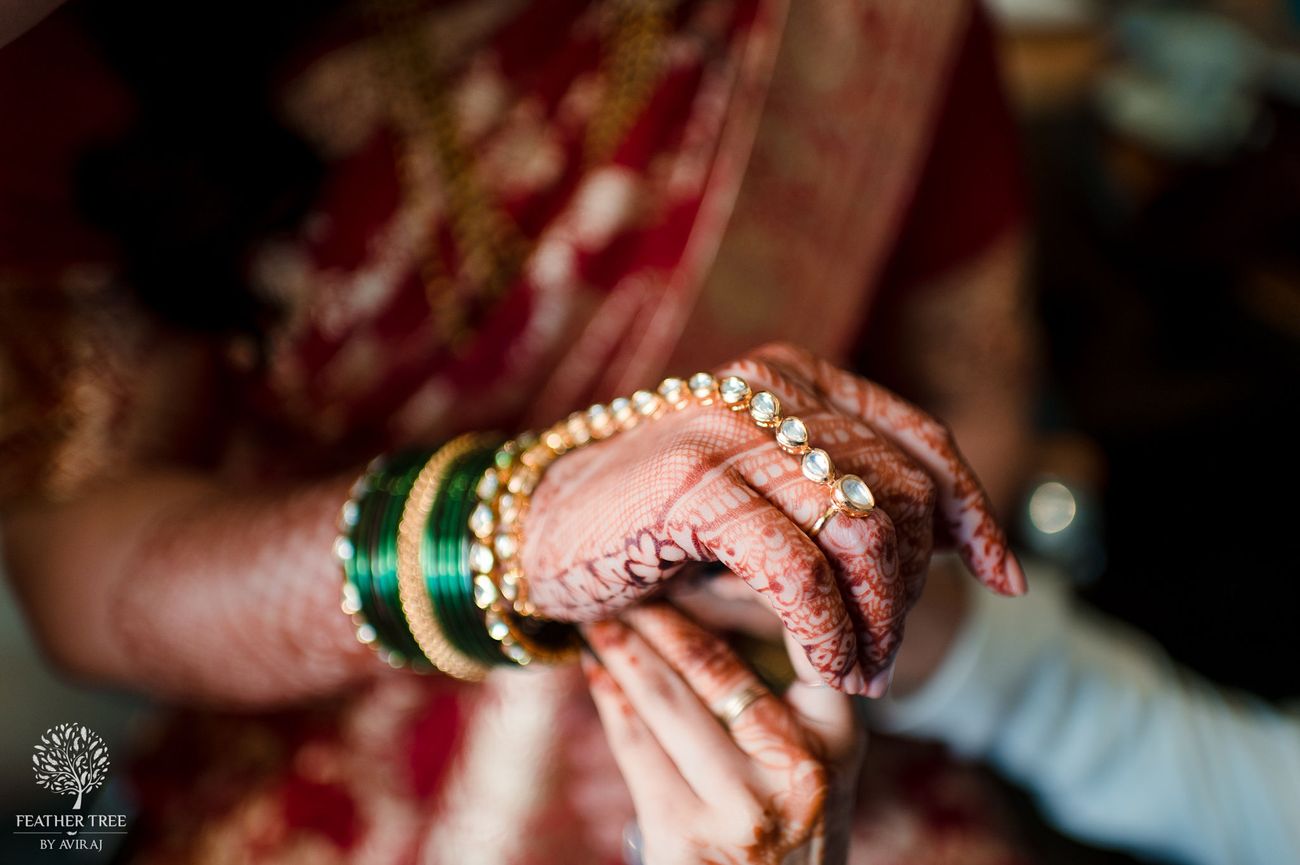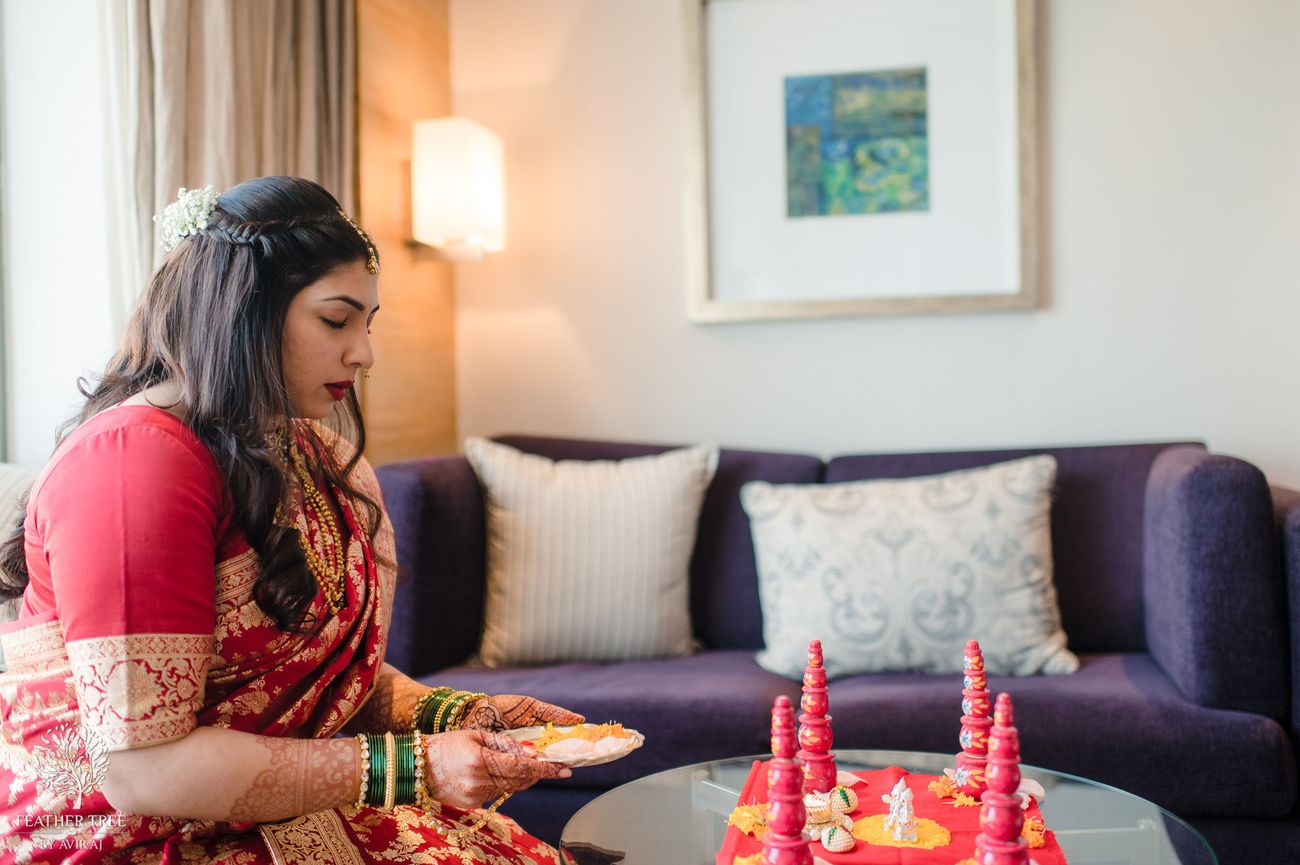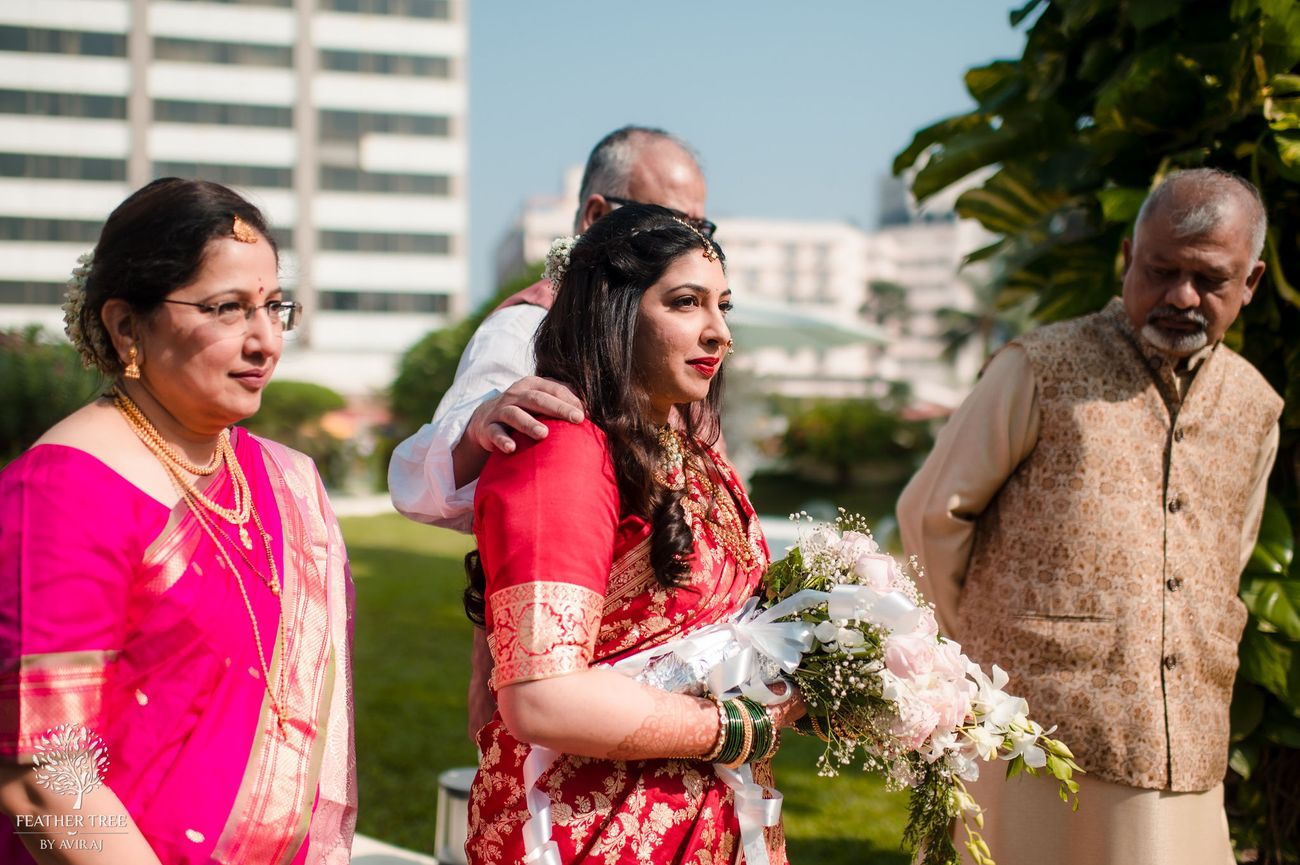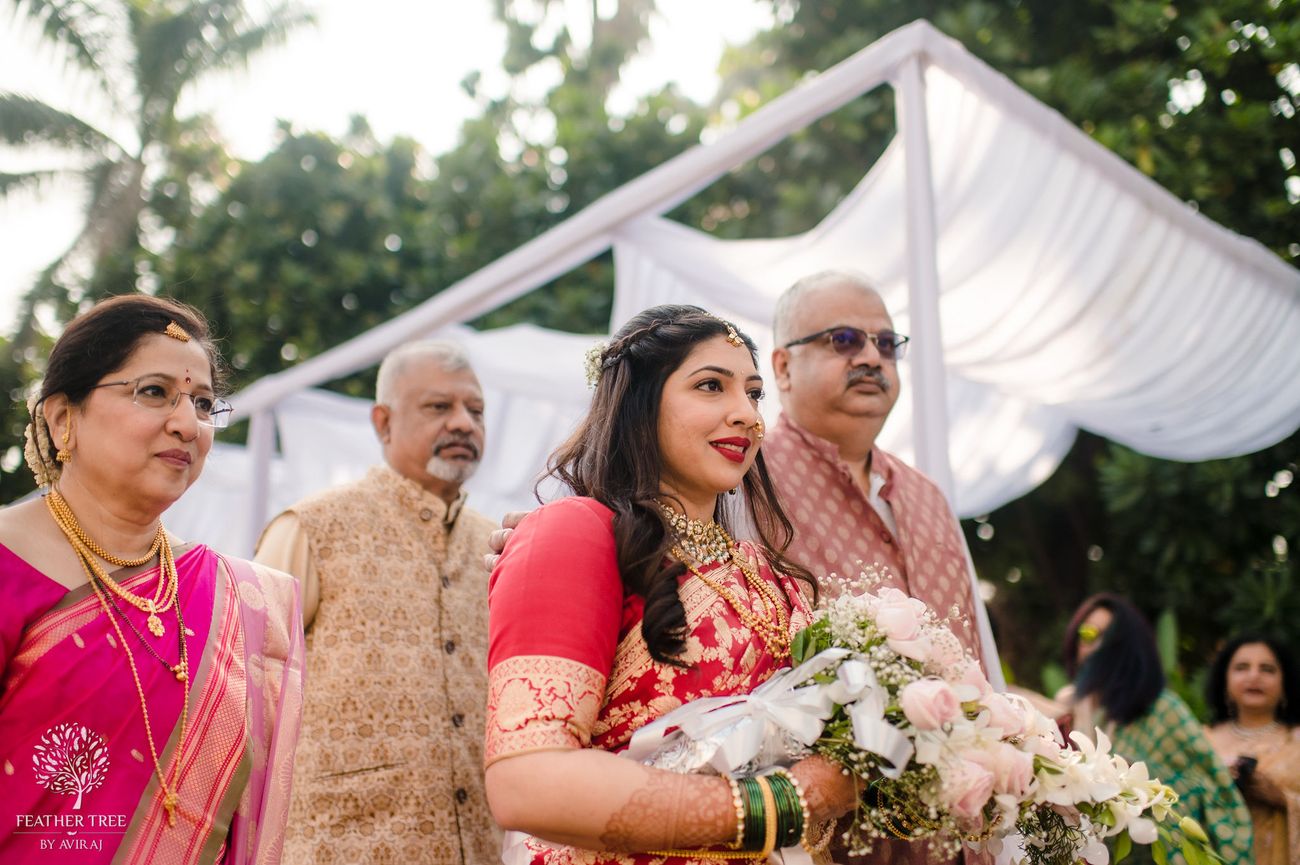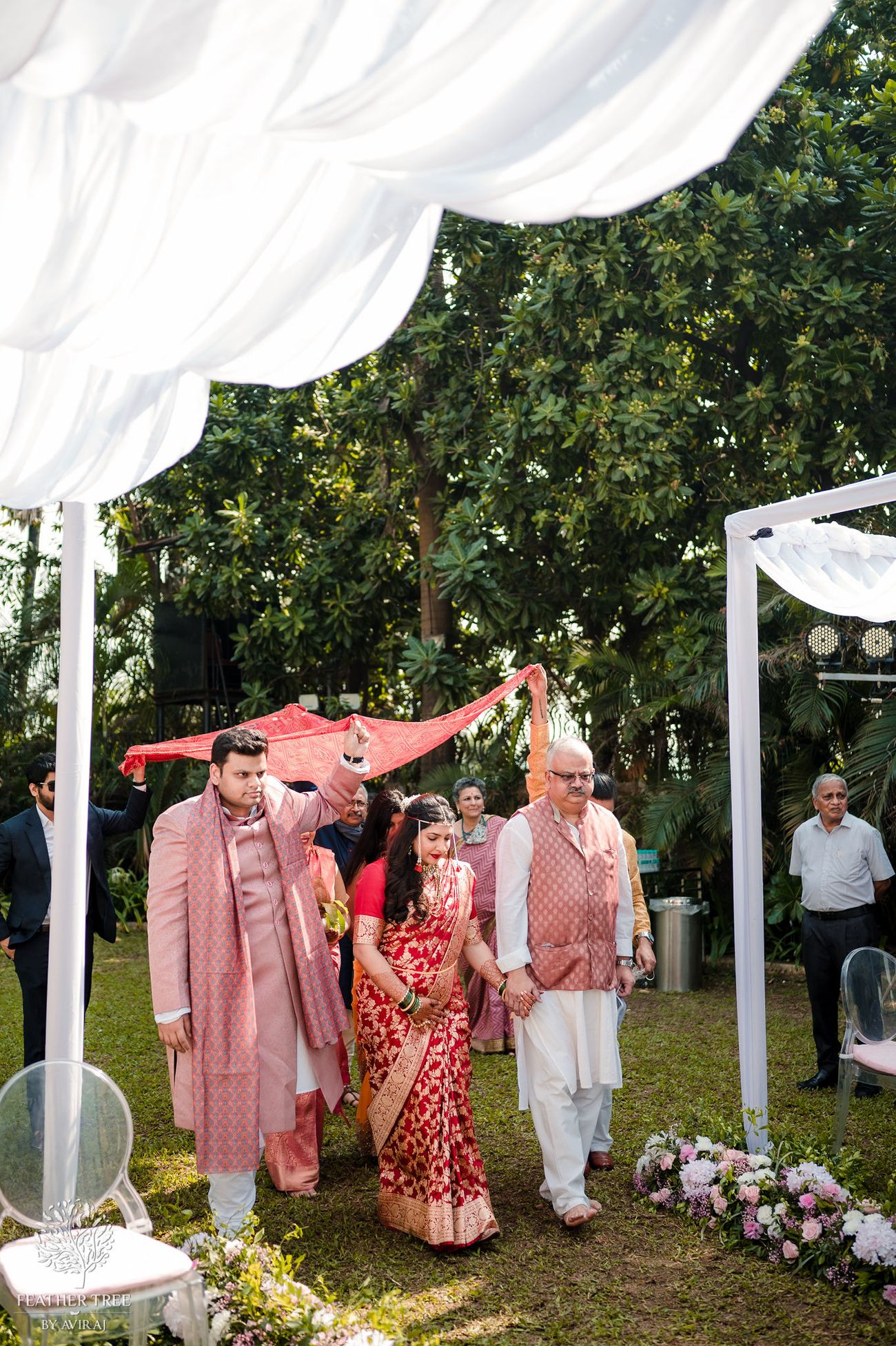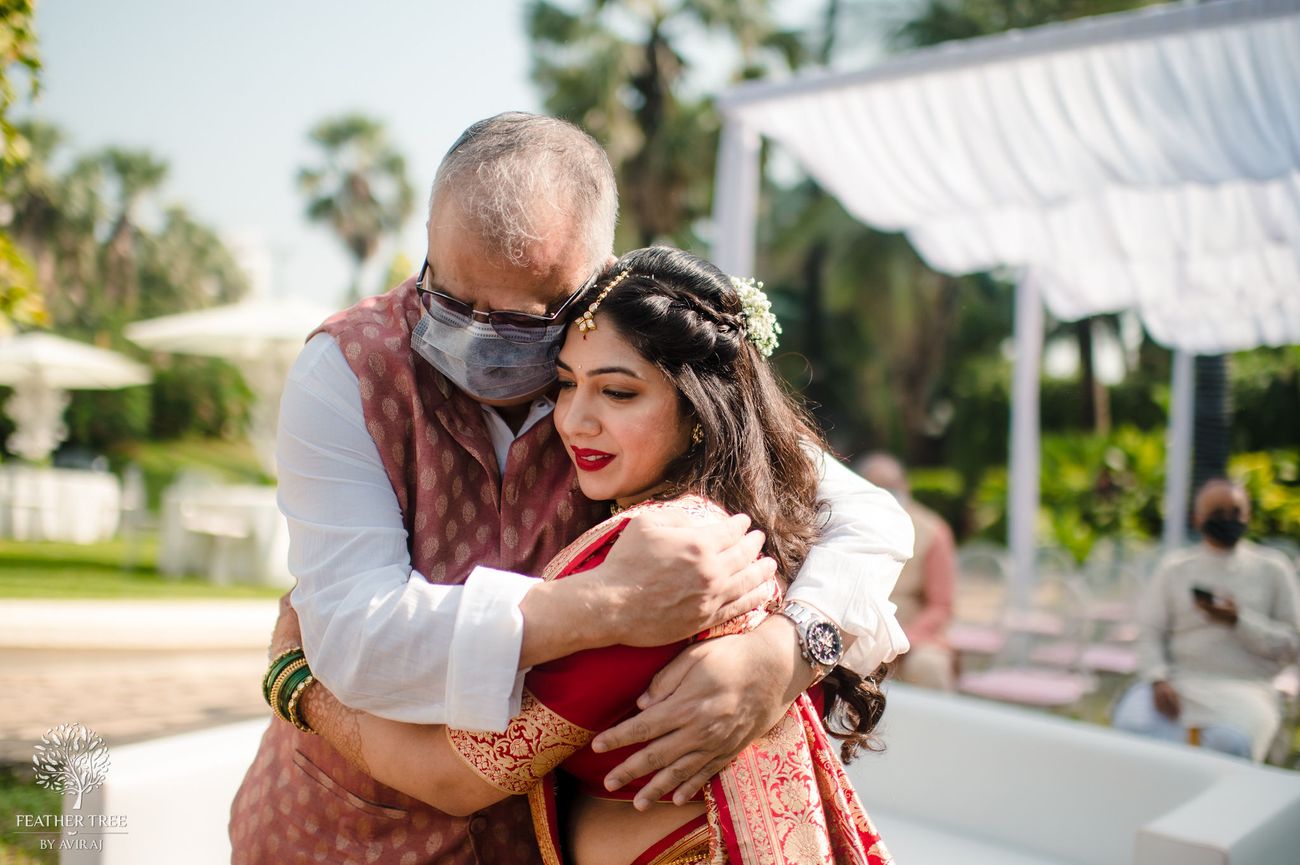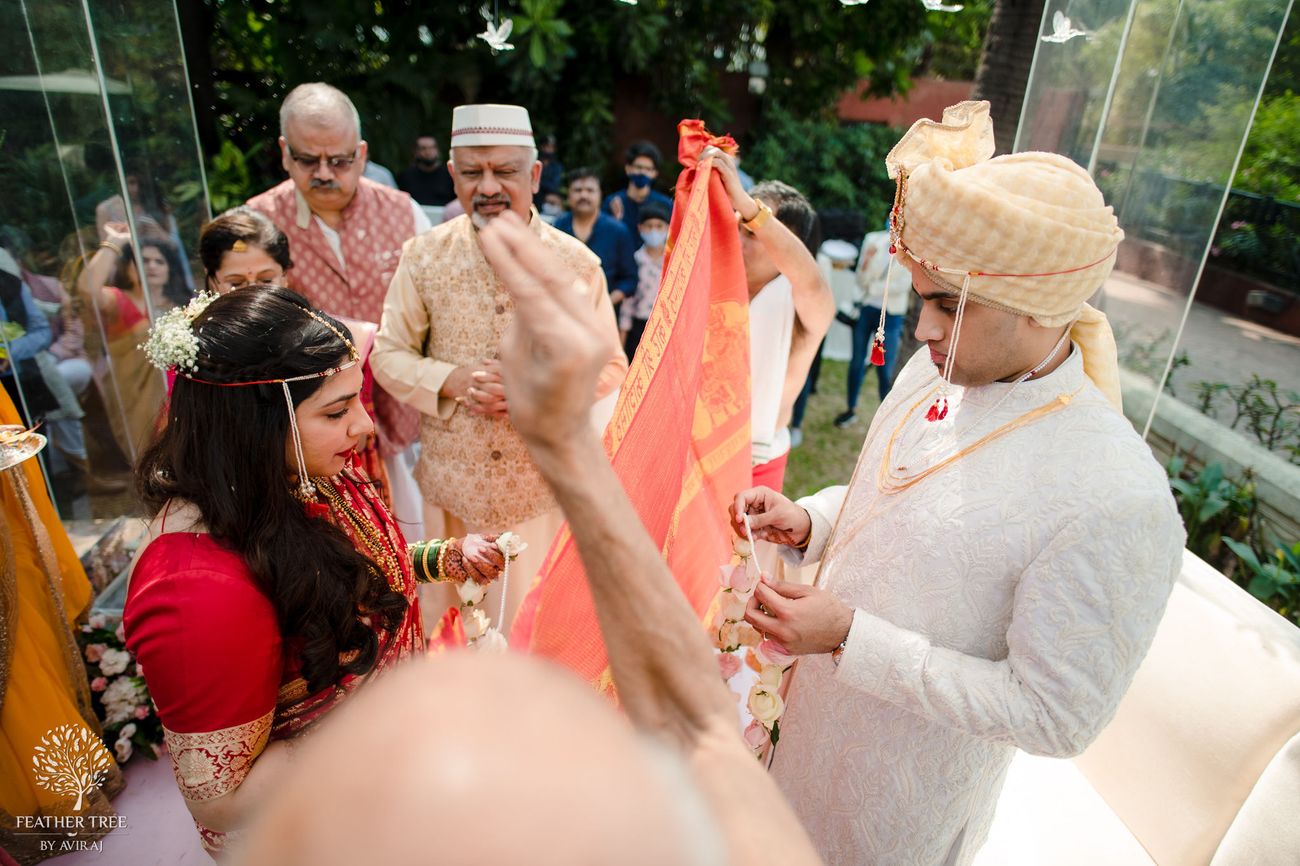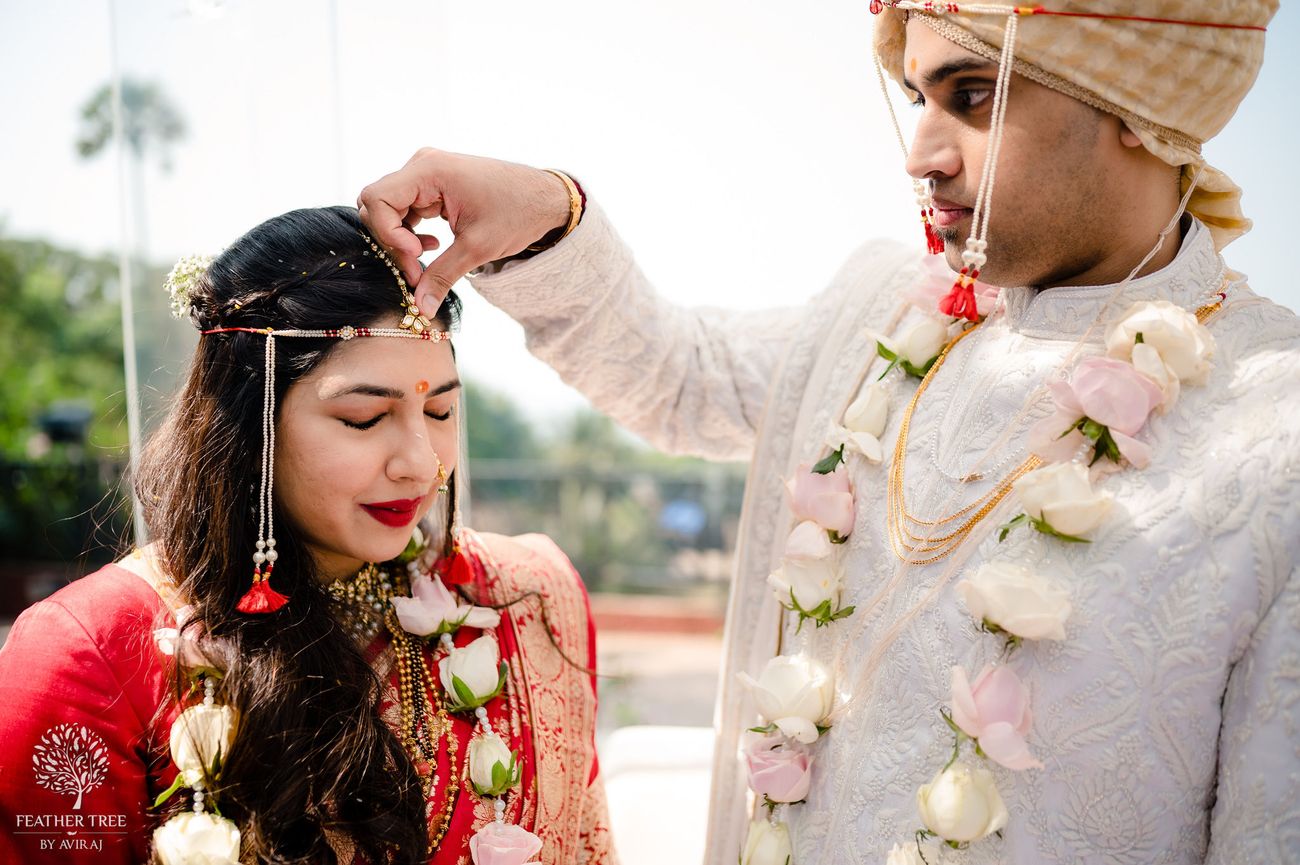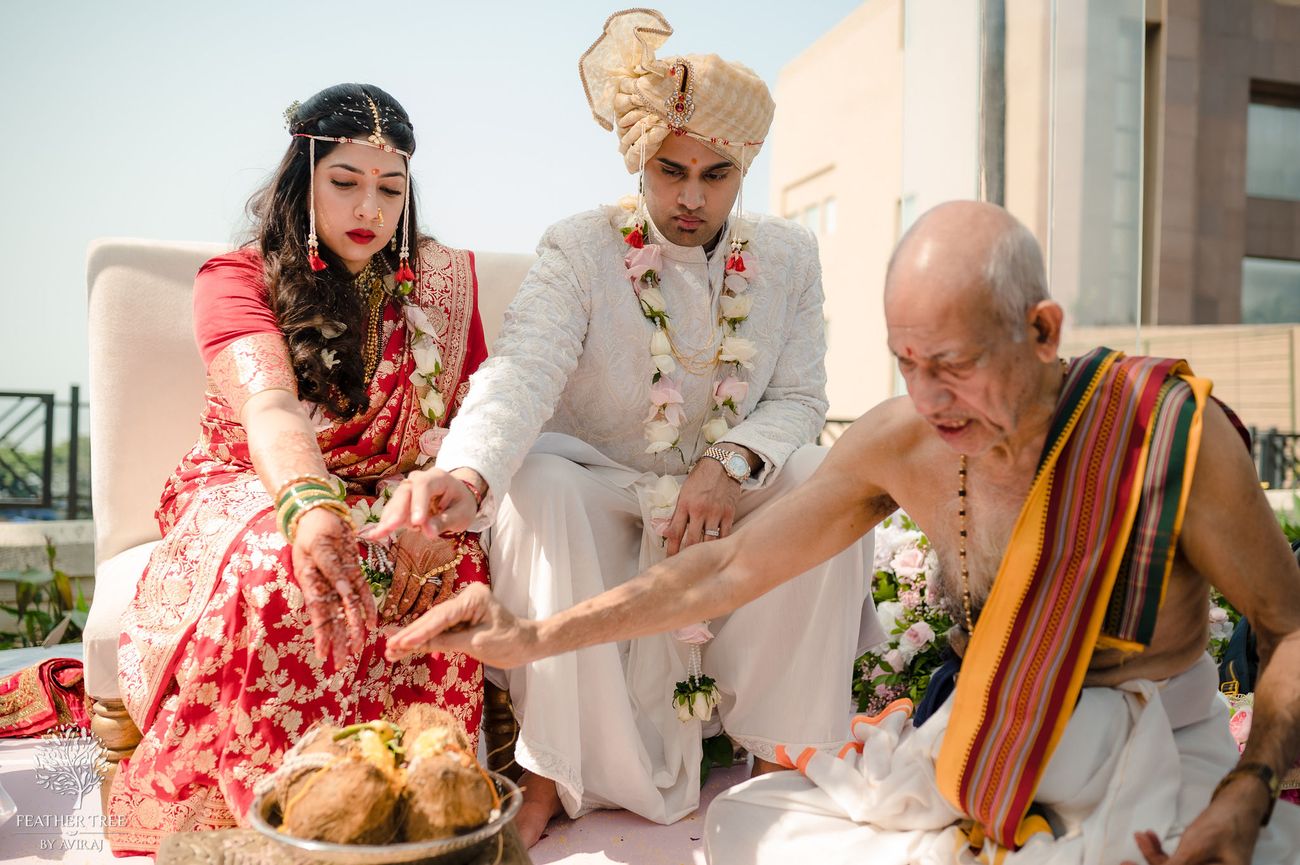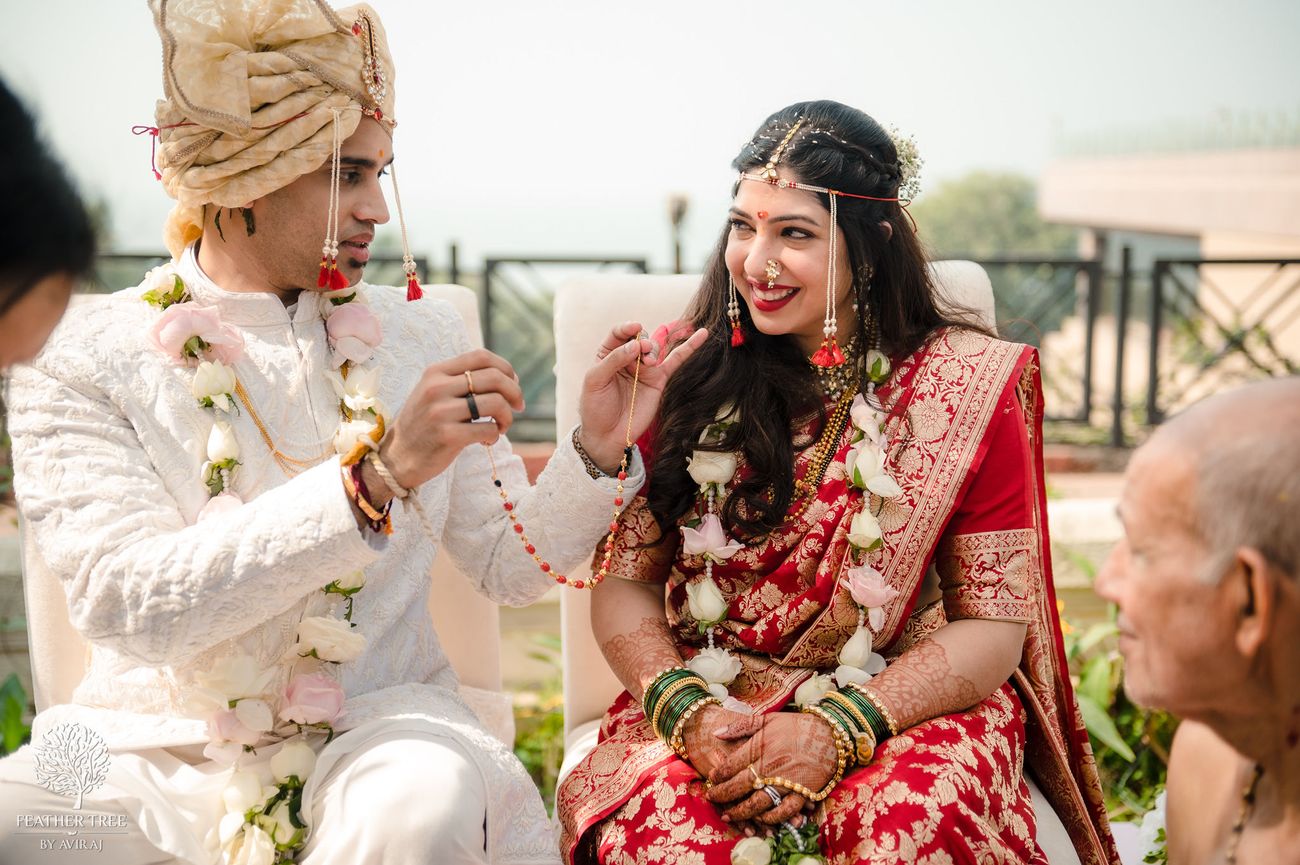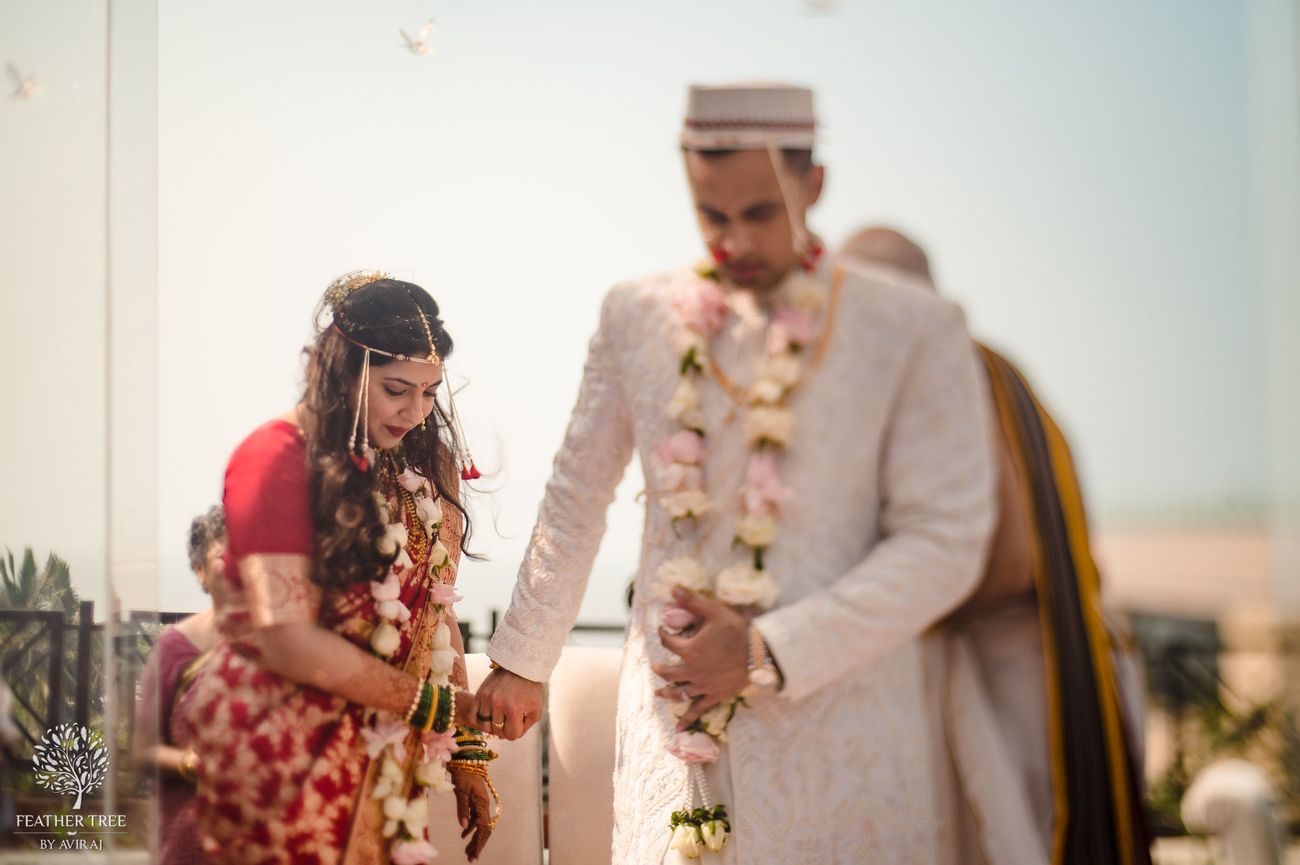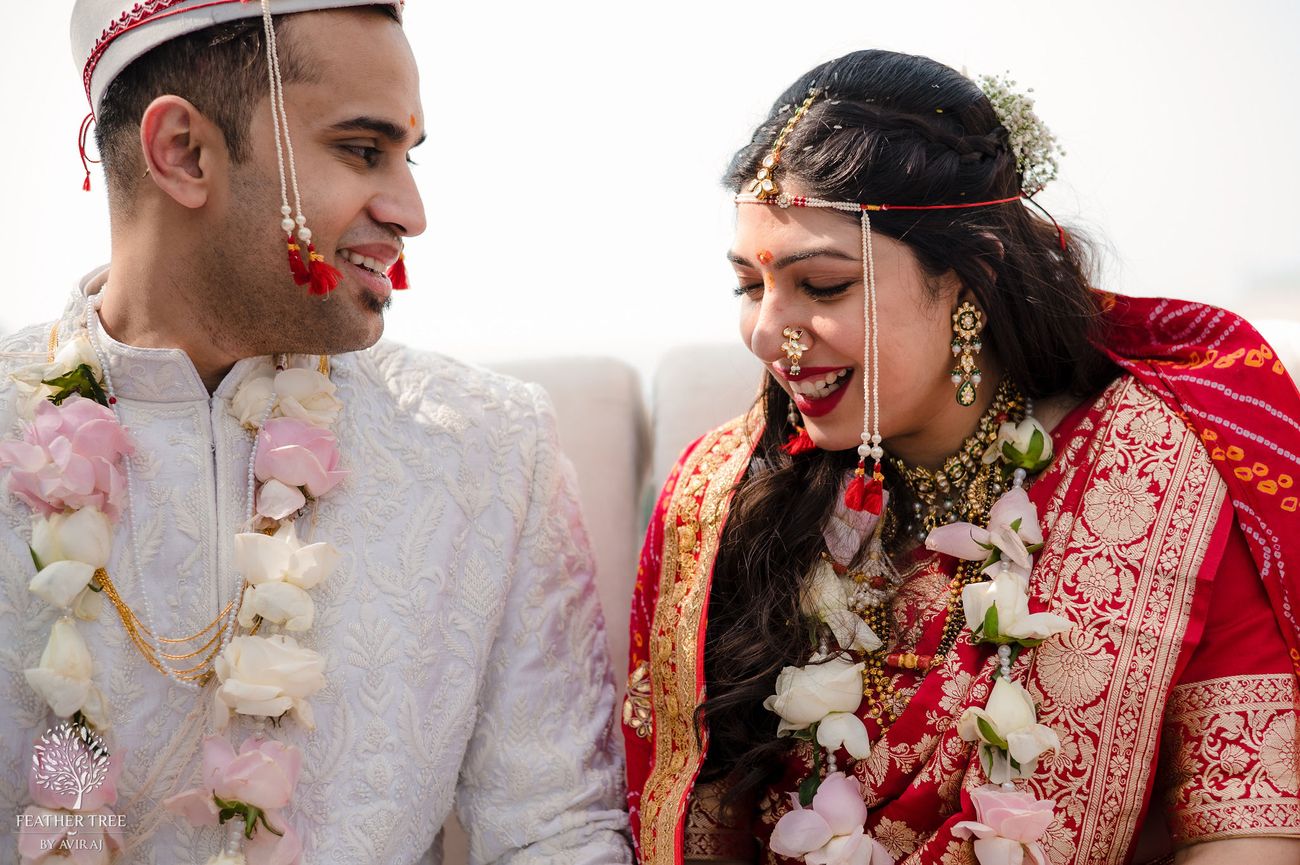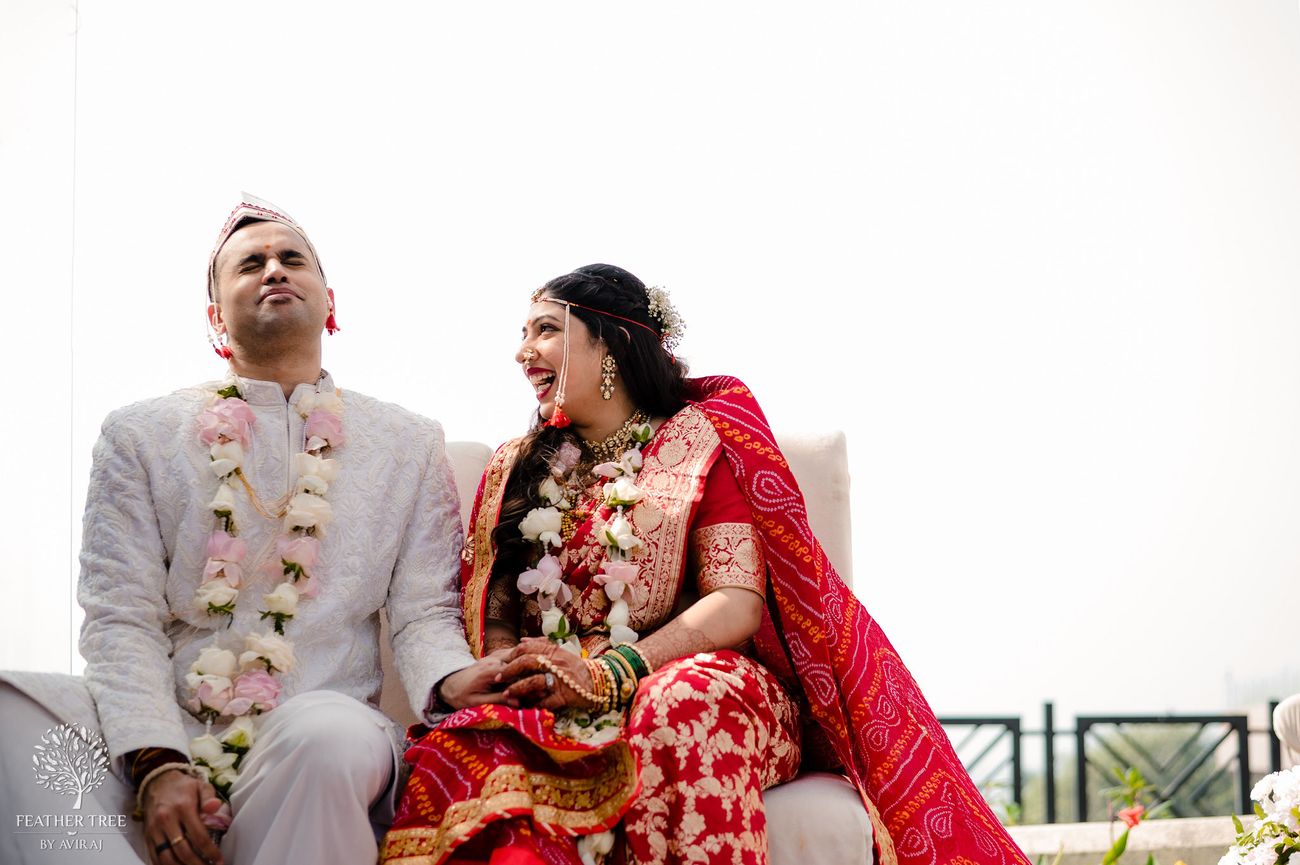 The Reception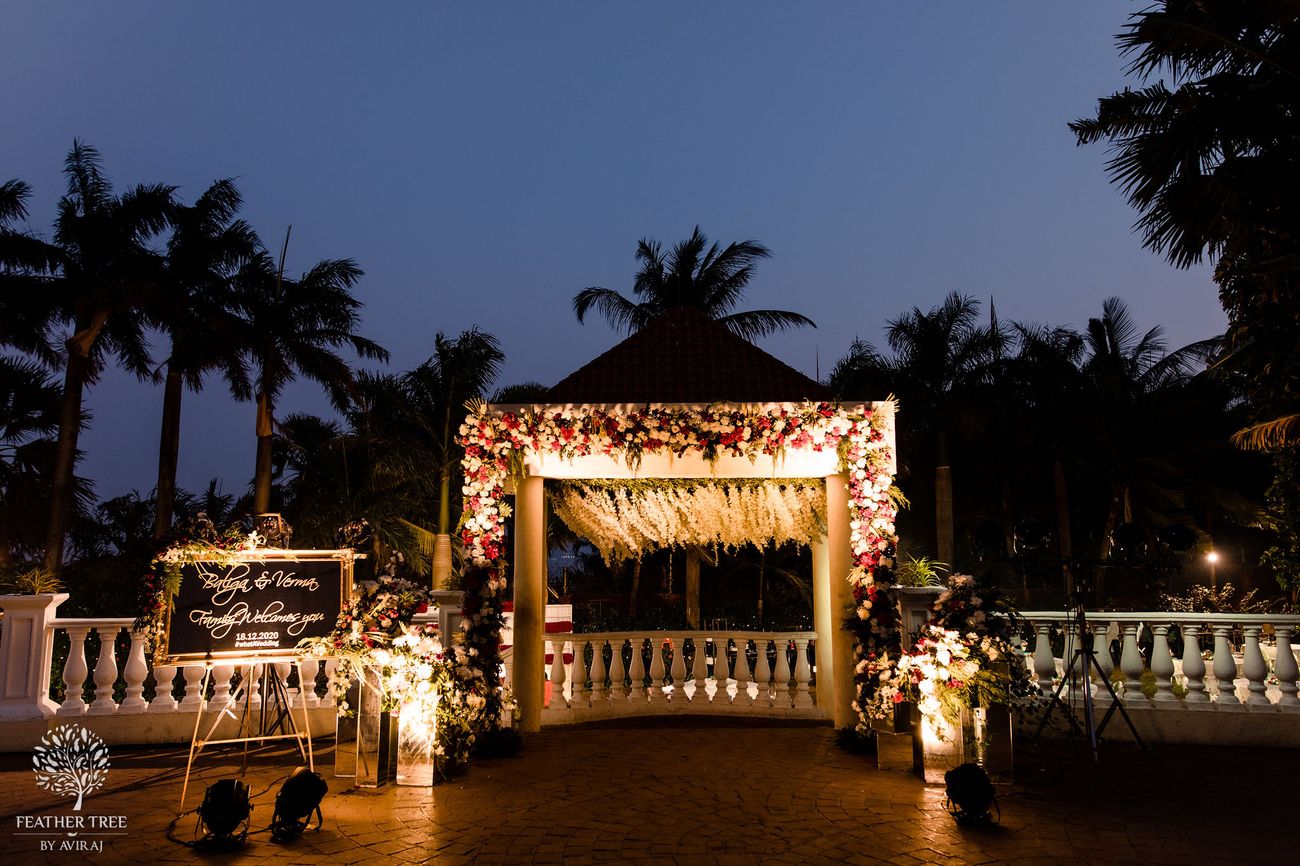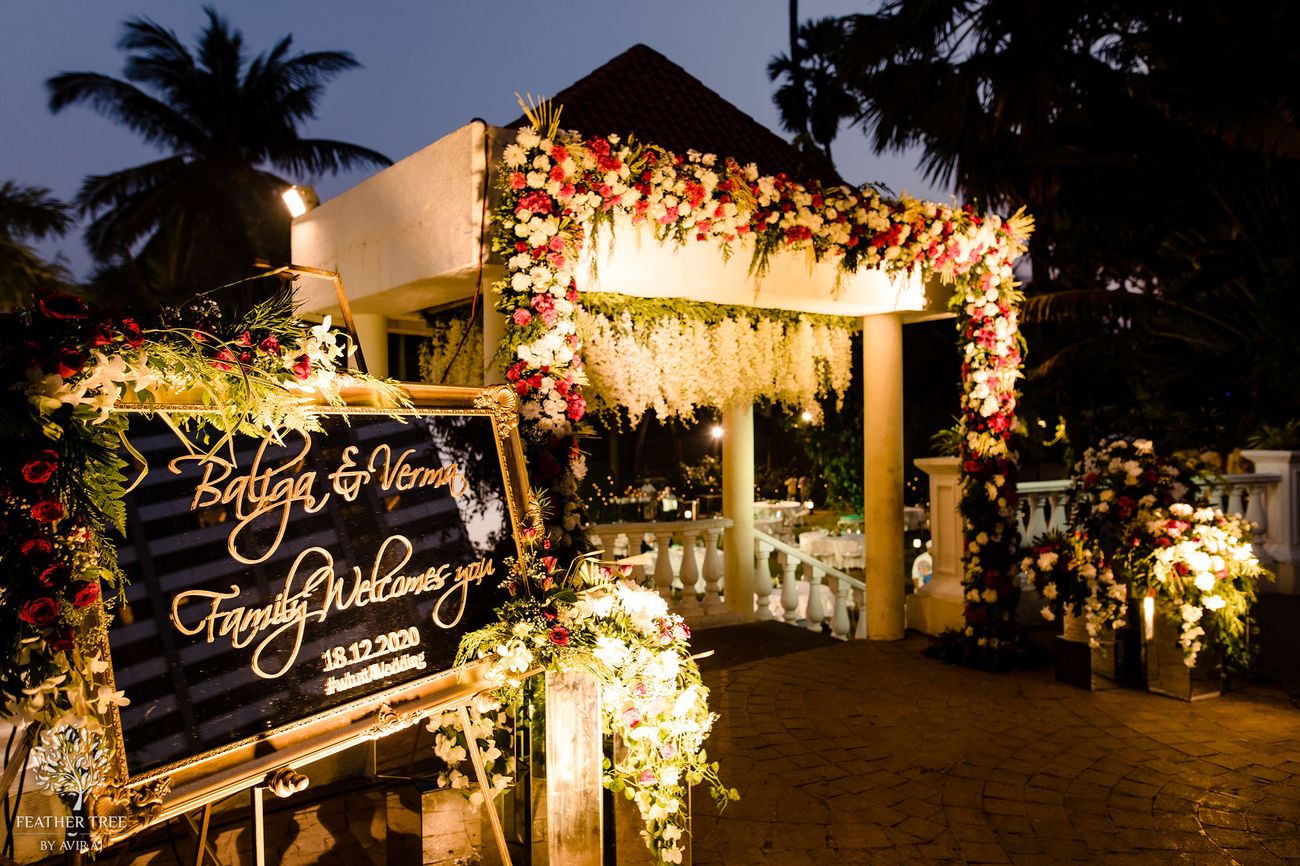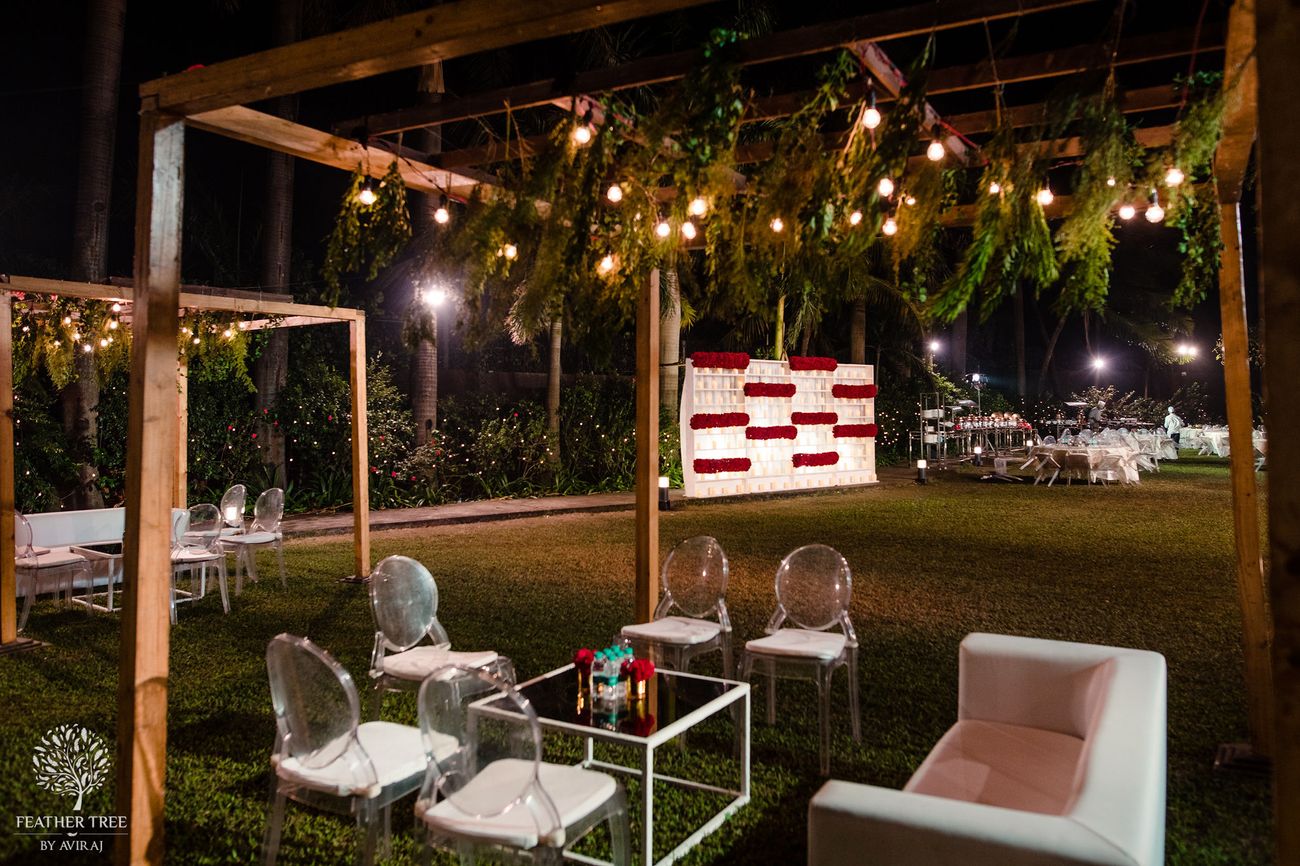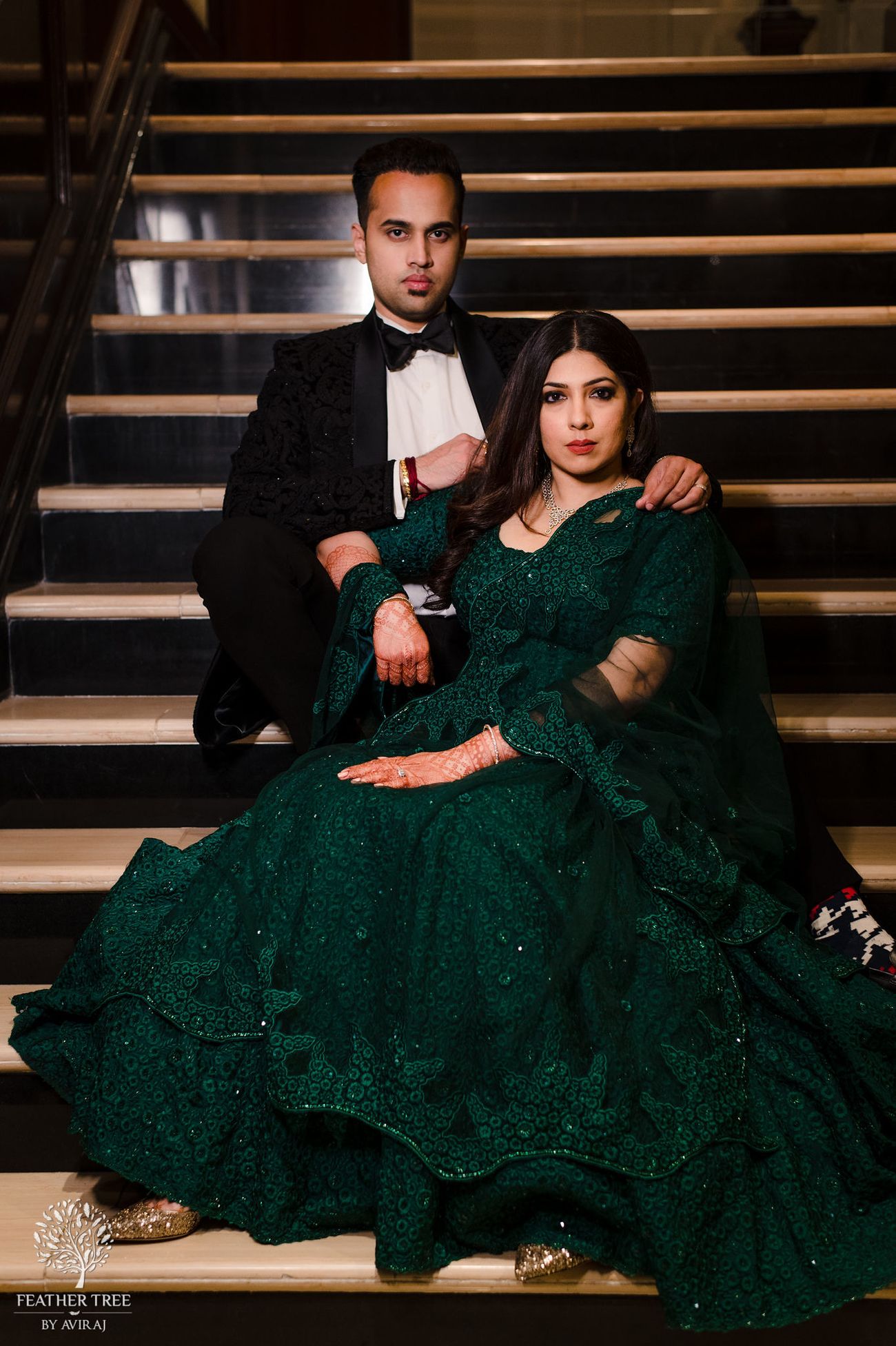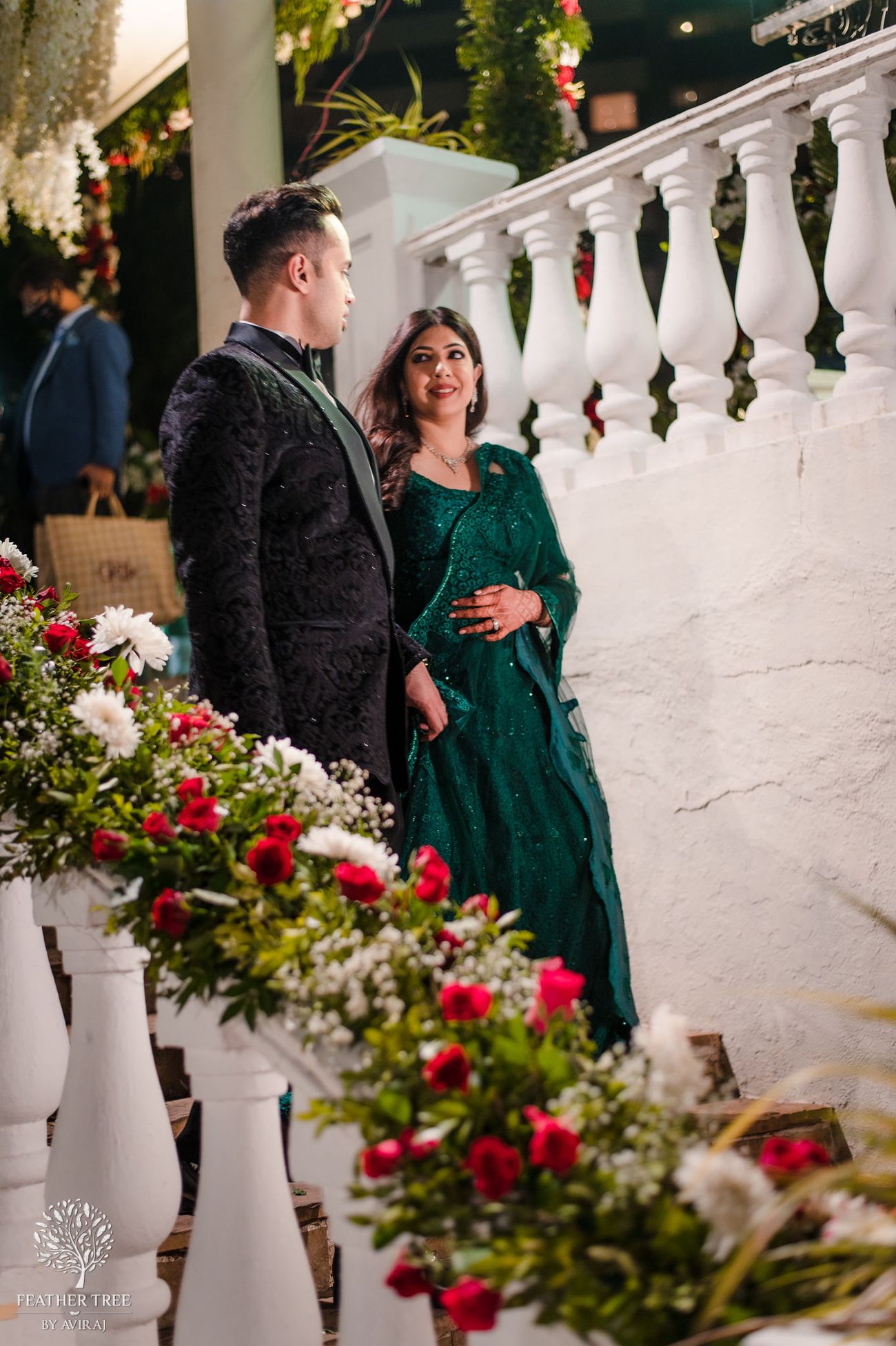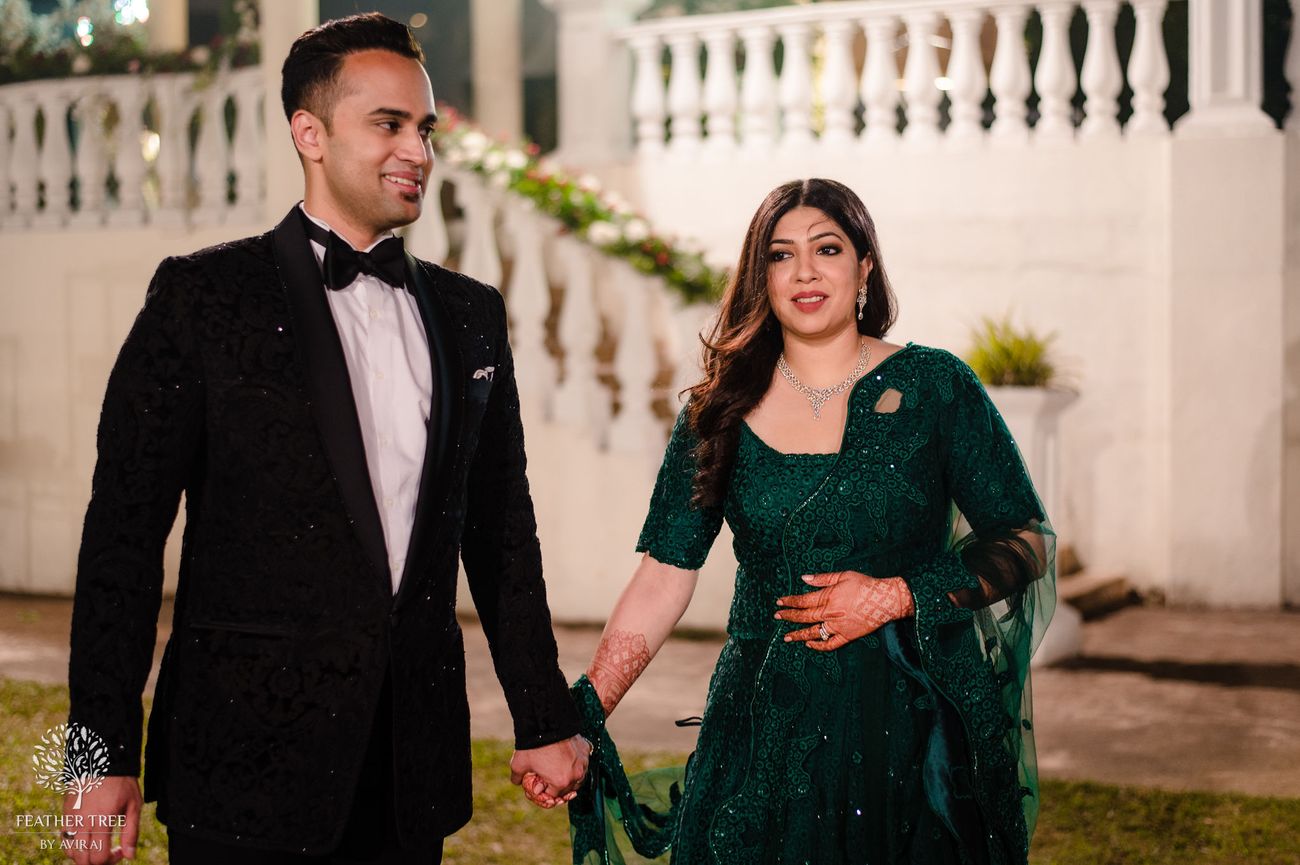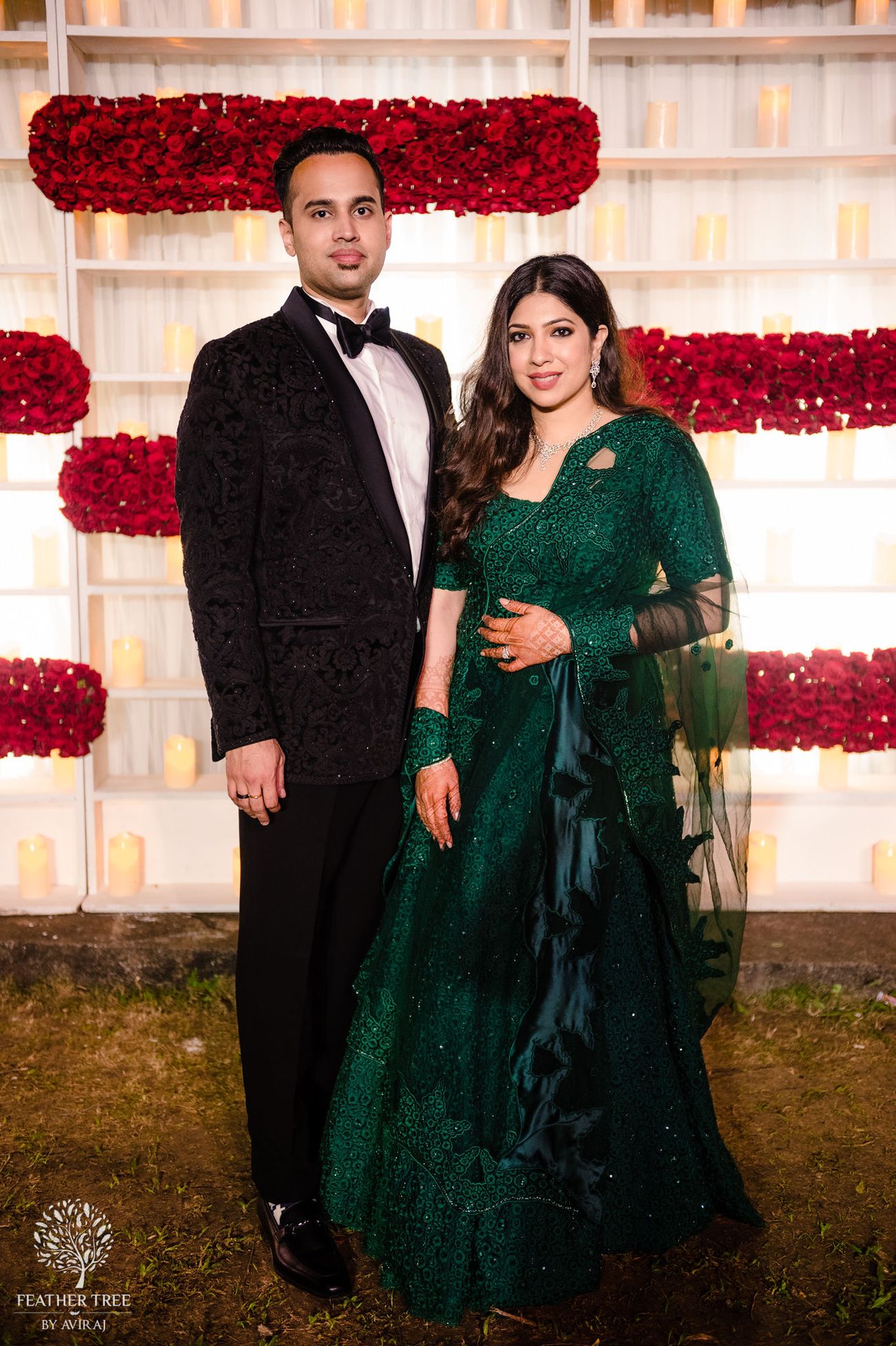 From The Bride: 
Our wedding was a mashup of cultures. Akshay is Konkani and I am half Maharastrian, half Bihari. Our wedding was Konkani style mixed with a few elements from my Maharastrian and Bihari background.
Personable and minimalistic is what I wanted to go for - I didn't want some grand decor. It had to have meaning to us and incorporate the elements from our relationship and what we like to do together as a couple.
We had a cocktail event the day before our wedding at Escobar in Bandra, Mumbai. The theme for the event was enchanted forest. Akshay and I love plants and have many at our home in Toronto. We also spend a lot of time outdoors on hikes and in nature so we wanted to incorporate our love for greens into the decor. For the wedding, the theme was Cherry Blossoms. We went to see the Cherry Blossoms for our first date when he came to Toronto and we wanted to go to Japan for our honeymoon (we still will once we are allowed to travel) as well so took our love for all things Japanese and incorporated that into the decor. I wanted it to be light and airy with a lot of natural light.
We wanted to incorporate a lot of personal elements into our wedding. The wedding logo was designed by my talented sister, Ketaki. Our guest luggage tags had the Mumbai, Jamshedpur and Toronto skyline designed on it with our wedding logo (Akshay is from Mumbai, I am from Jamshedpur, and we live in Toronto). For our sangeet performances, we picked She Move it Like… by Badshash (Akshay loves his style) and Coca-Cola ( because of my love for Coke). For the wedding, I chose 'Tum Jan Paas' by Prateek Kuhad as my entry song since Akshay had sung that song for me at a party (in spite of being not-so-good singer). For our pheras, I picked an instrumental sitar version of A Whole New World from Aladdin as its Akshay's favorite Disney movie. I even wanted to incorporate our loved ones who are no more into the wedding so we had a special table in memory of them with pictures at the wedding. My parents and my Chachu walked me down the aisle.
Vendor Reviews: 
Venue: Cocktail - Escobar, Bandra, Wedding and Reception - Taj Lands End
Great space for an intimate gathering, the food was delicious, and the staff was very courteous and professional. Special shoutout to the DJ who kept us on the dance floor right till the end ! The food for both events at Taj Lands End was really well appreciated. We had our wedding and reception at the poolside lawn and it was serene. There was a cool ocean breeze, lots of natural light and the hotel and the staff made sure that our event went off well. They were also very cognizant about sanitization given we had a covid wedding
MakeUp Artist: Safa Malim
I found Safa on Wedmegood. I loved her natural and subtle style and after I did a trial with her, I knew she was going to be the one to do all my looks! Safa discussed all my looks beforehand and made sure that I was comfortable with everything. She created 3 amazing looks on me for 3 functions which were appreciated by everyone. She was patient, punctual, and made me relaxed and comfortable throughout the process. Her recommendations for the look were on point, yet she never pushed me to try something I wasn't comfortable with. She also did my mother and sister's makeup and we all received many compliments on Safa's subtle but flawless looks! I would definitely recommend booking her.
Planning, Decor Design & Concept: To The Aisle
Our wedding planner was Prerika Puri from To The Aisle. I could not have chosen better wedding planners for my wedding than To the Aisle. The team goes above and beyond to make sure you have the wedding of your dreams. They were available throughout the planning process (despite being in different time zones) and understood my vision perfectly. They created the perfect intimate wedding. Prerika and her team are like family at your wedding and make sure everything runs smoothly. Prerika understood my vision for the decor and managed to pull it off perfectly. Even the smallest of details were taken care of. All the events were planned well which kept me stress free. It was a day filled with love and happiness and I'm glad the team at To The Aisle had a big role to play in it. You wont regret booking them for your wedding. Thank you Prerika and Team To The Aisle for giving me the wedding I always wanted!
Photographer: Feather Tree by Aviraj
To begin with, Aviraj and his team are rock solid. They ooze professionalism, class, a hard work ethic to get the perfect moment, and everything in between. The way they shot our covid wedding and our small intimate ceremony was a class act of storytelling and conceptualizing. From the get go, he worked with us to set up some unorthodox shoots because we told him we were up for experimenting. His work intersects often with the fashion and modelling world and we wanted to channel that energy for some of our portrait work. The results were fantastic. Coordinating with him across timezones and working with multiple stakeholders, planners, family, etc. was effortless as he made himself available for reworks, feedback, and workarounds. Aviraj and his team were patient, understanding, and captured our wedding brilliantly. We were happy to work with the Feather Tree team and we highly recommend them!
Mehendi Artist: Pooja Gada
My mehendi was done beautifully by Pooja Gada and her team. I wanted the mehendi to have all things that Akshay loves so we had the Michigan school logo (Akshay went to Michigan for school), the Arsenal logo, and a black lab to honor dog Tasha who is no more. Pooja was able to execute these brilliantly.
Vendors: Venue: Cocktail - Escobar, Bandra, Wedding and Reception - Taj Lands End; MakeUp Artist: Safa Malim★ 5 ; Planning, Decor Design & Concept: To The Aisle★ 5 ; Photographer: Feather Tree by Aviraj★ 5 ; Decor Production: Fleuron India★ 5 ; Bridal Outfits: Cocktail & Reception - Sameer Patel Designs, Wedding - Nalli Silks★ 4.8 ; Bridal Jewellery: Cocktail - Danay Jewels, Wedding - Tanishq, Delhi★ 4.8 , Reception - PP Krishnan Kutty Sons; Bridal Shoes: Cocktail & Wedding - Fizzy Goblet★ 4 , Reception - Jimmy Choo; Groom Wear: Sameer Patel Designs★ 5 ; Mehendi Artist: Pooja Gada★ 4.9