An Intimate Wedding in the Andamans ...
BY The WMG Bride | 18 Jun, 2014 | 3109 views | 4 min read
When you decide to get married in the Andamans, there is little else you need to create a gorgeous affair. Add to that the magic of
Varun Suresh's
lens and you have got yourself stuff picture postcards are made of. When we asked Simran about featuring her wedding, she expressed surprise
"But my wedding was hardly any grand affair to write about- there are no designer clothes or fancy decor
" she exclaimed. BOY, was she wrong. With a wedding party of just about 87, a stunning beach side resort, a makeup artist that ditched at the last minute, and just a fuss free, family vibe this one is a definite treat !
Meet Simran & Hiren
They met while she was an executive producer at a sports show and  she wanted to shoot at his location. Simran recounts "I think we both found each other cute from the moment we met :) And after giving dating a shot for a bit we realised that our feelings for each other were special. On our second anniversary he popped the question, and the rest is history"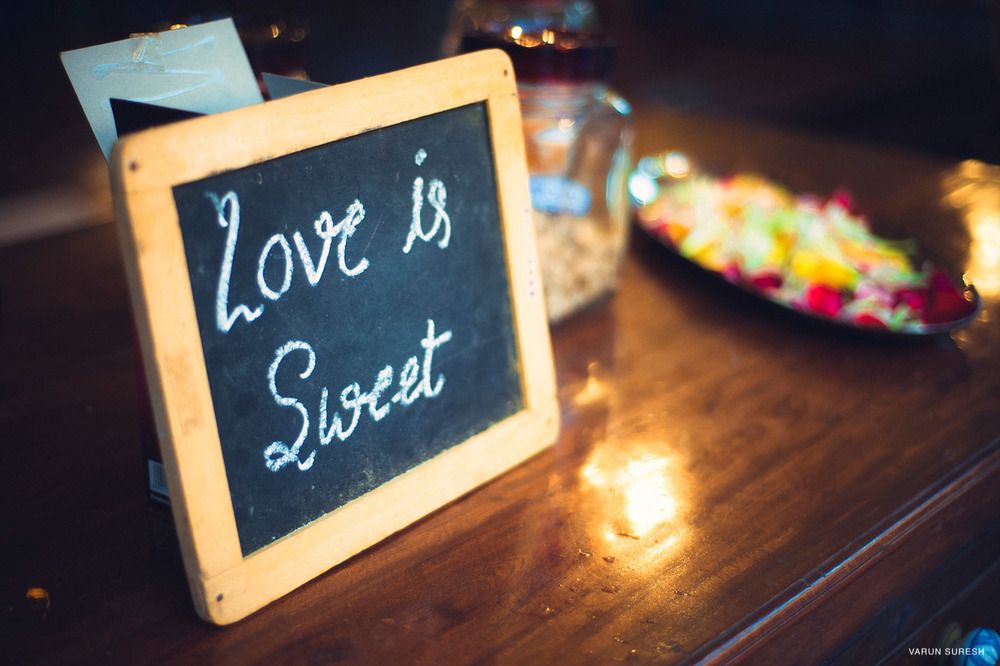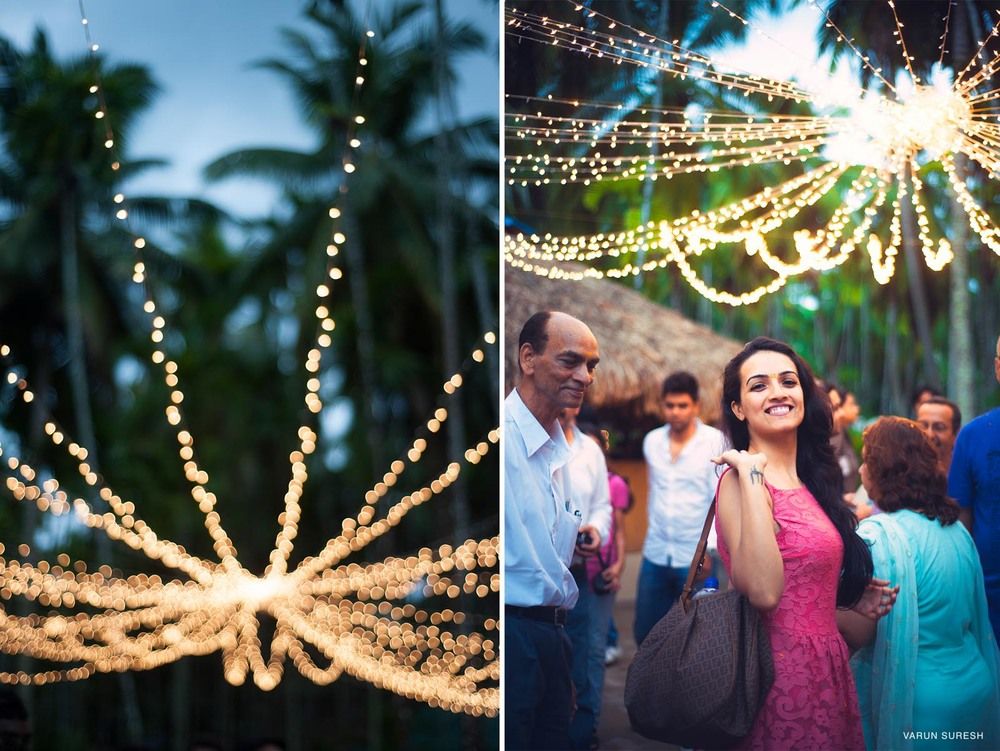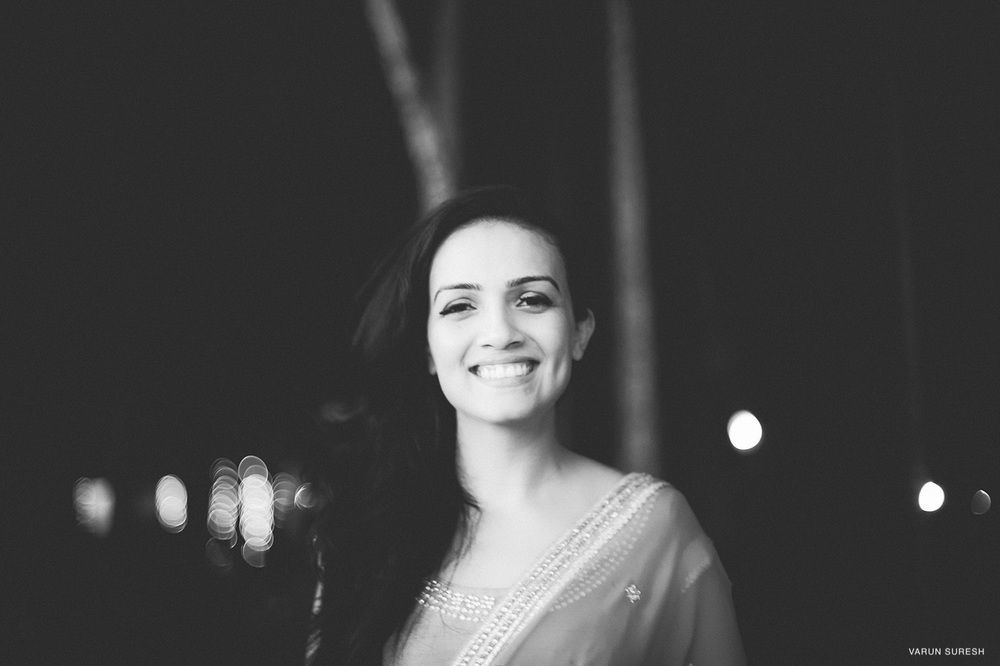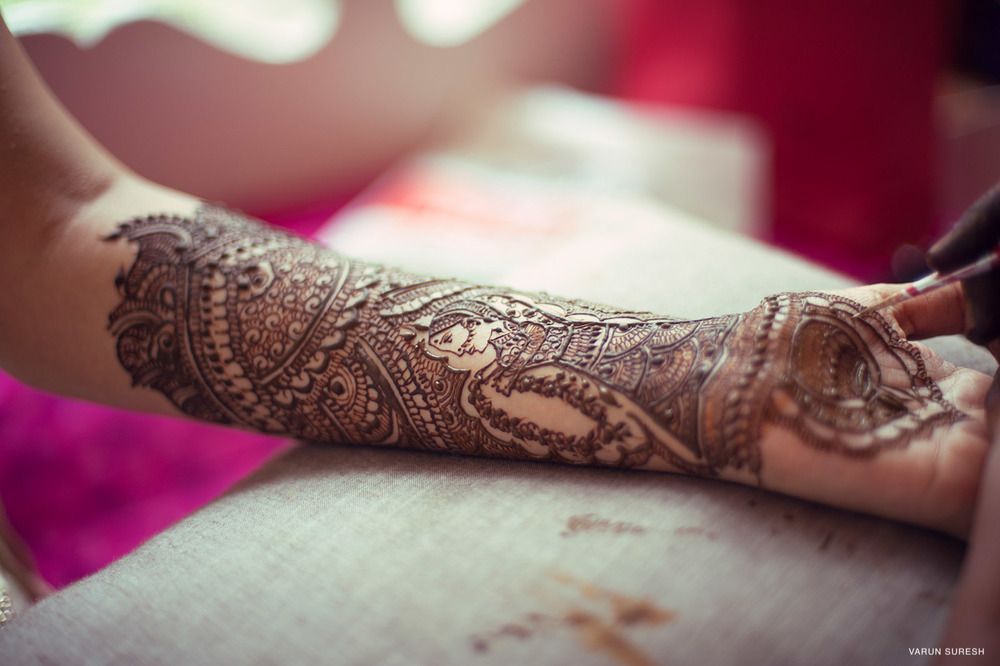 Such pretty mehendi in the Andamans?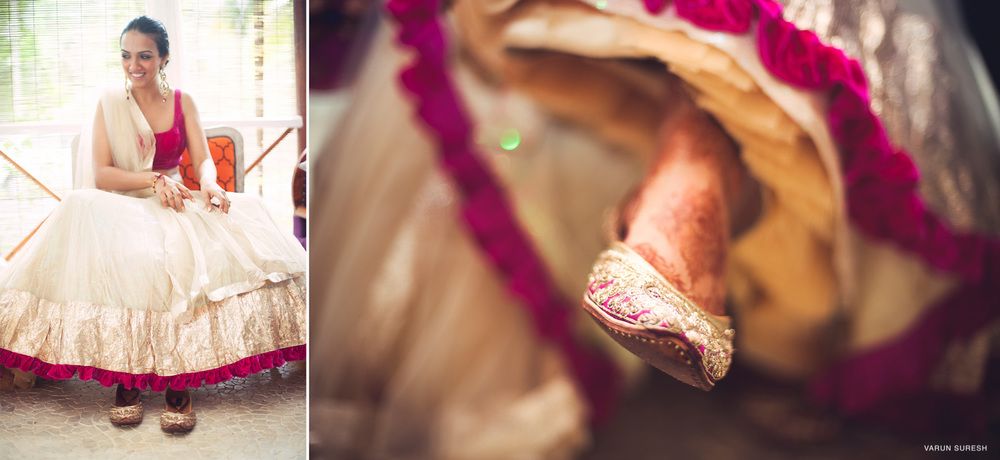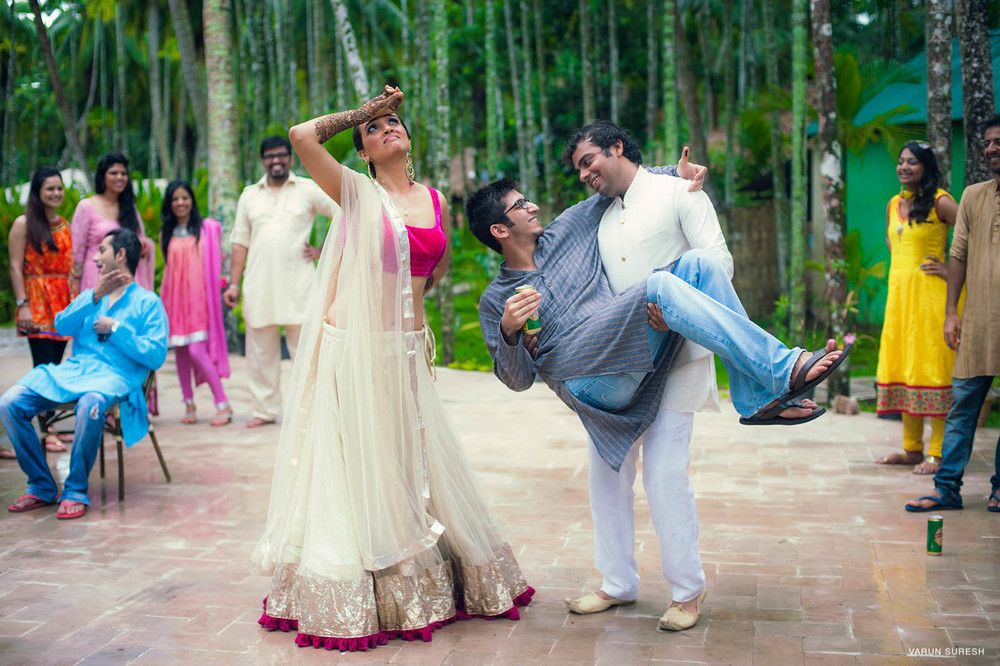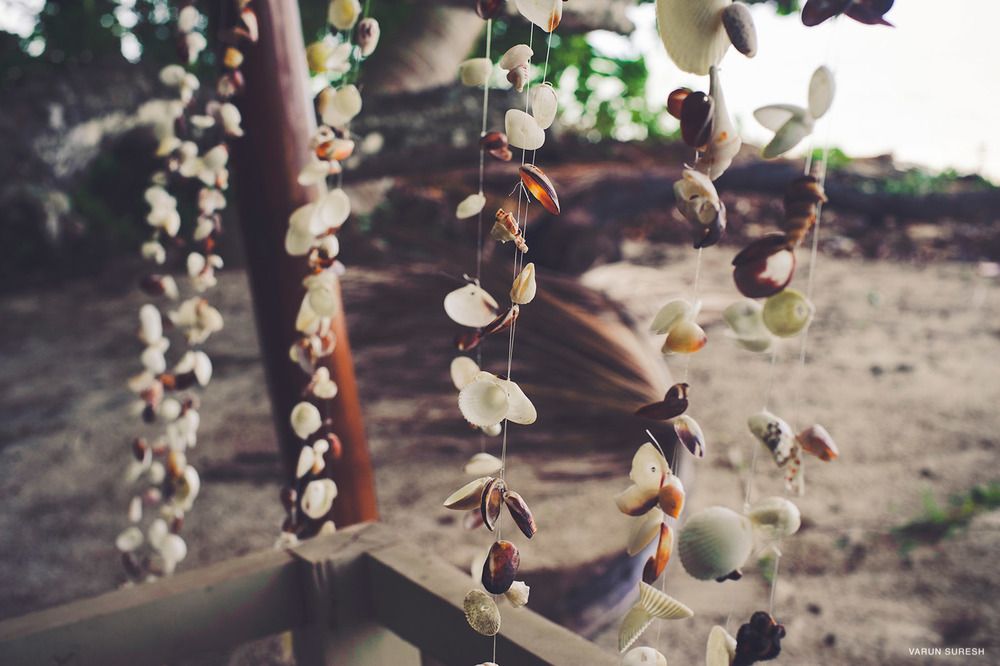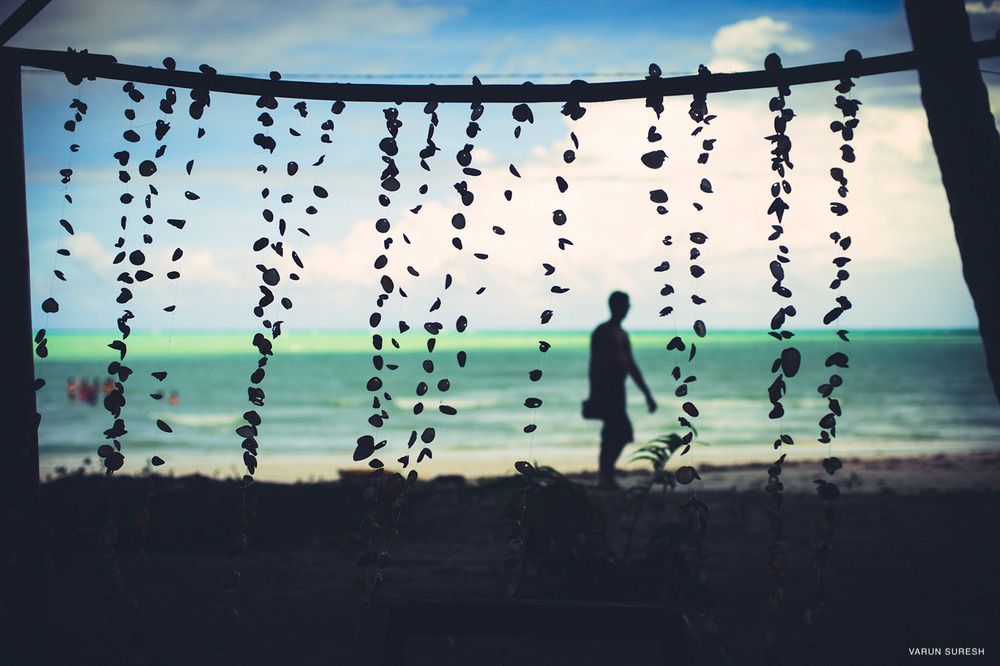 What a STUNNING location!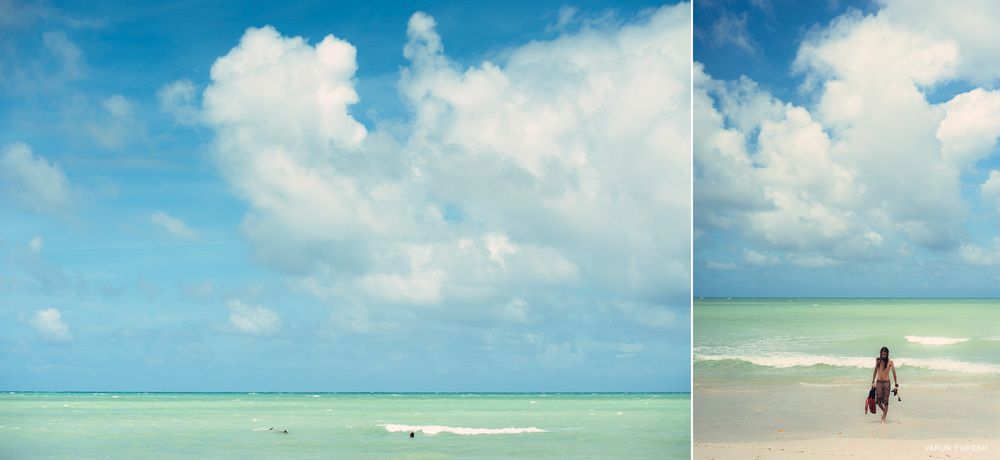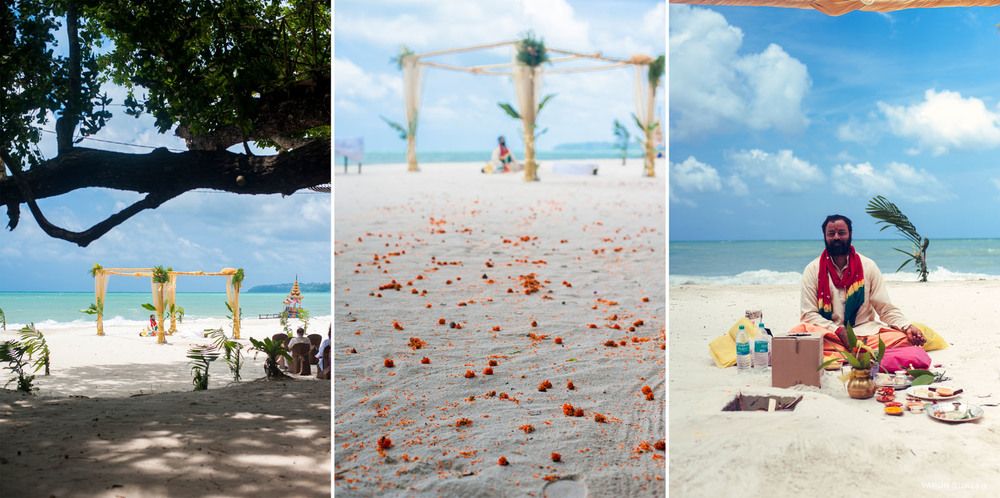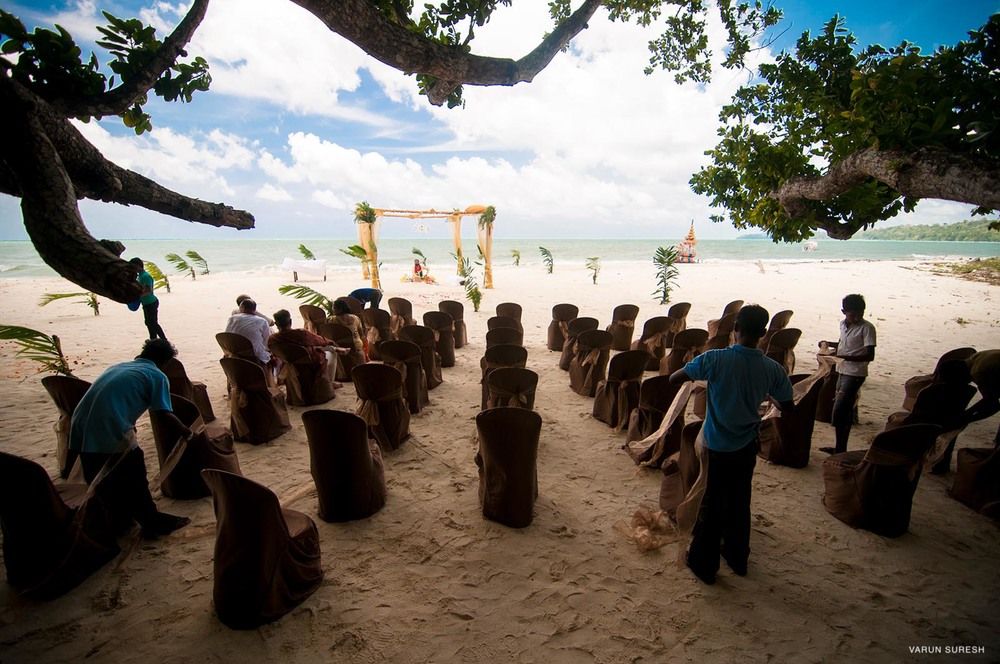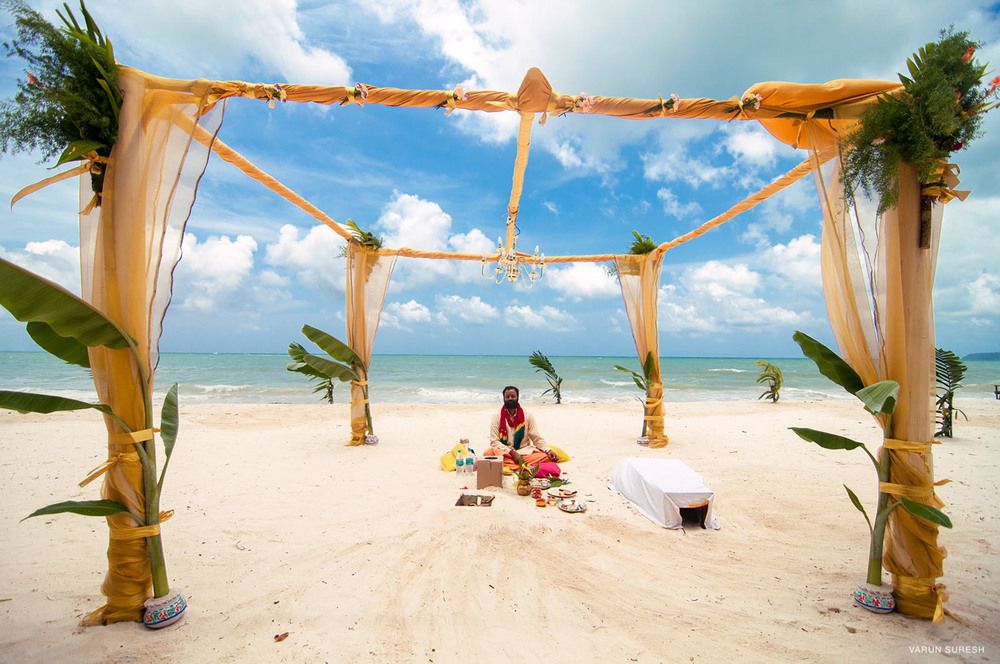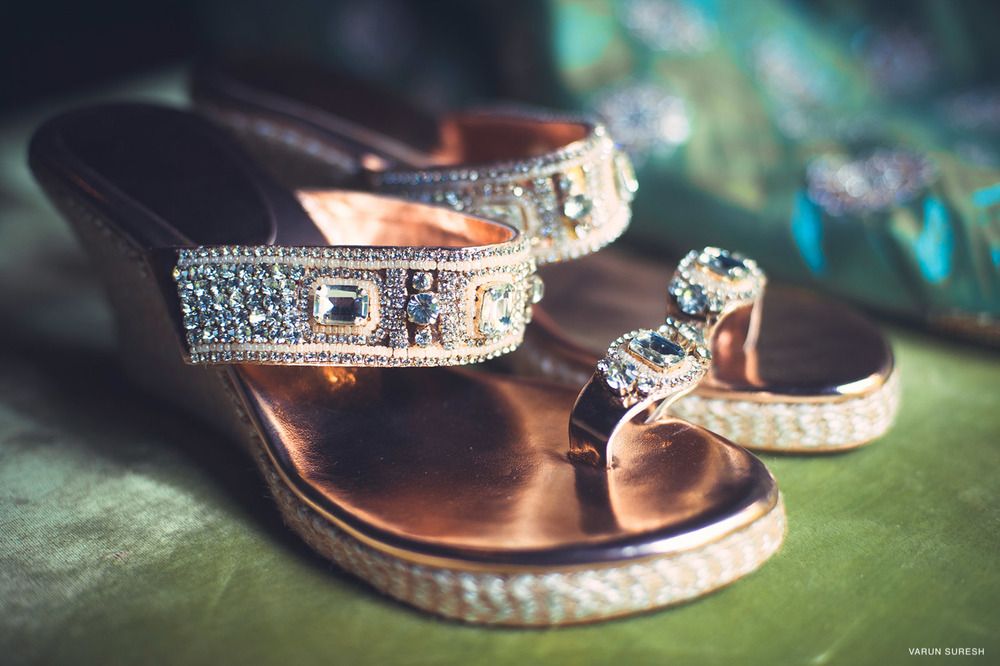 Those shoes are going to be a gorgeous addition to our Bridal Shoe Gallery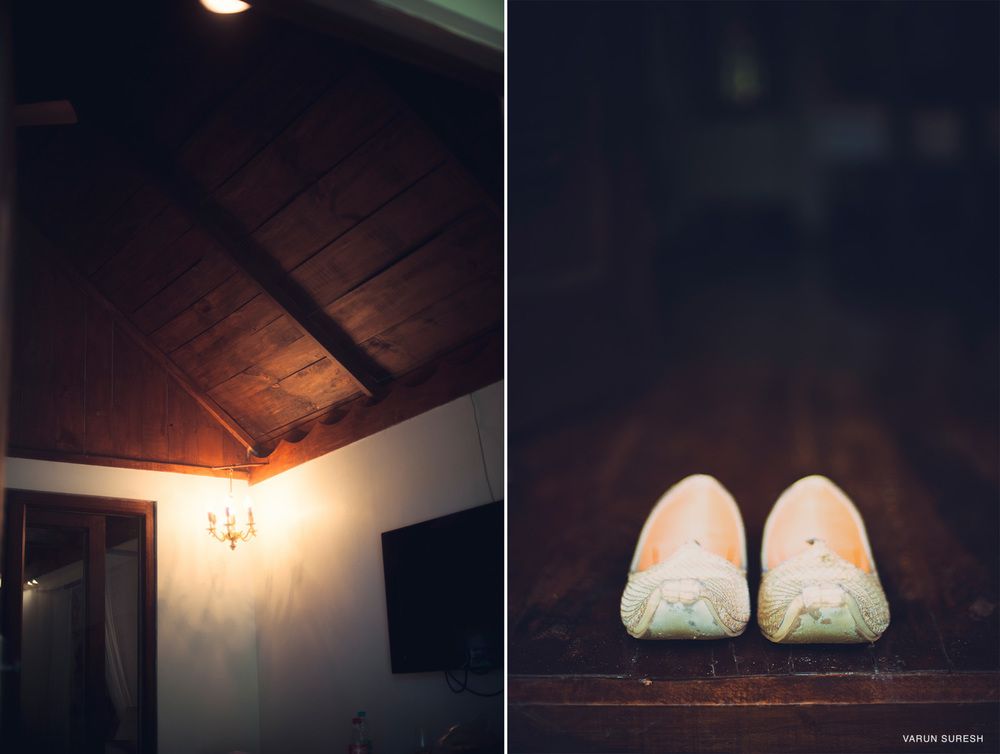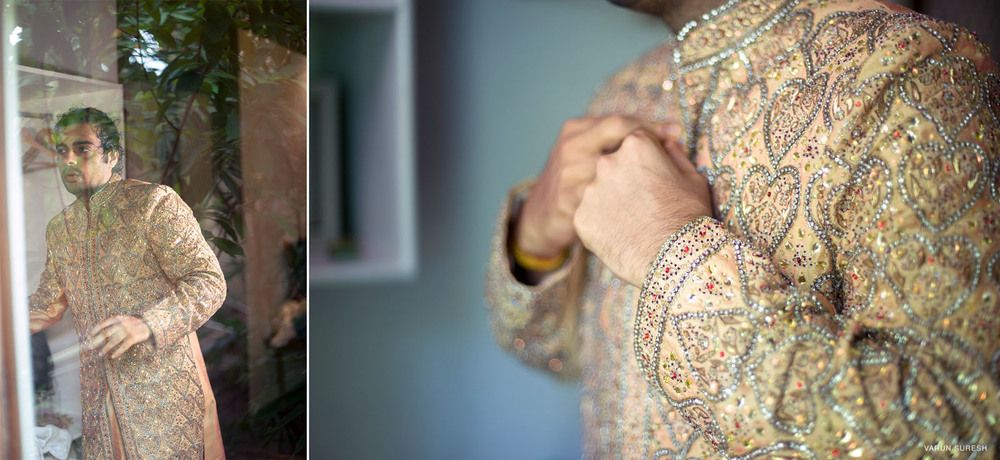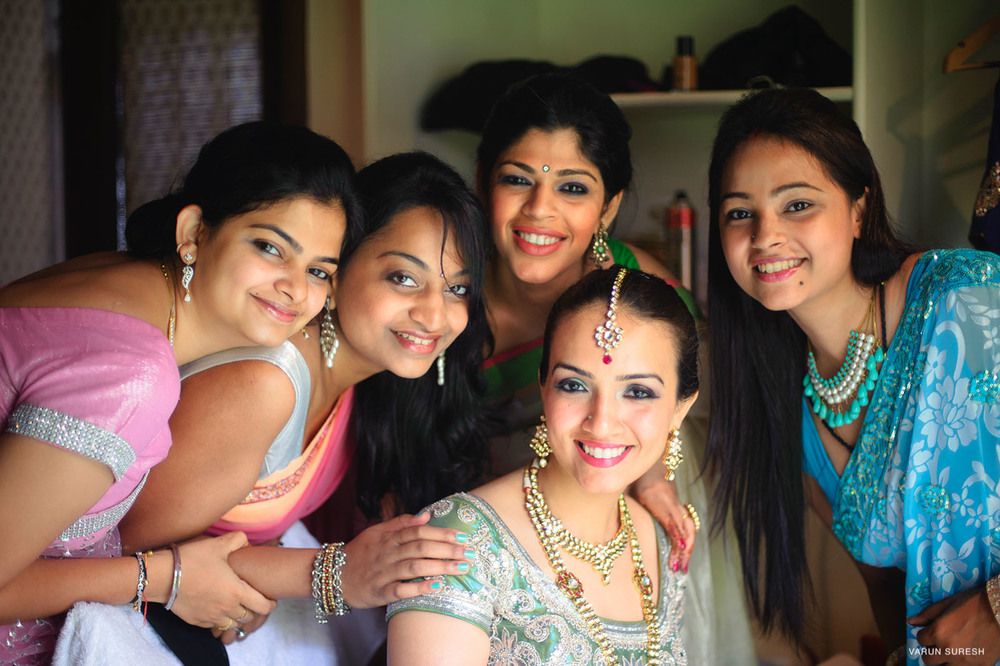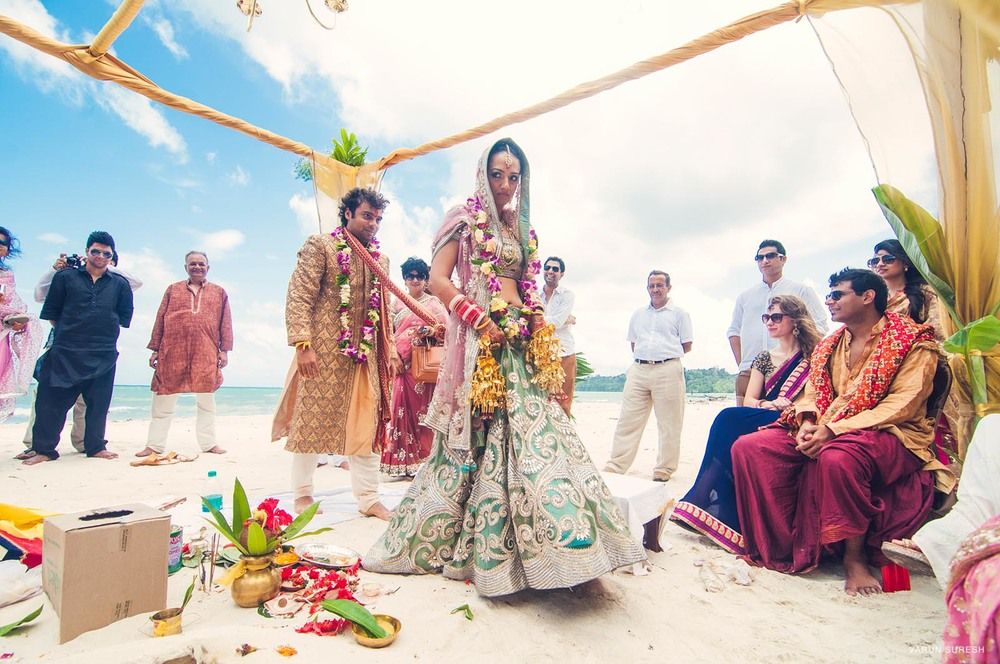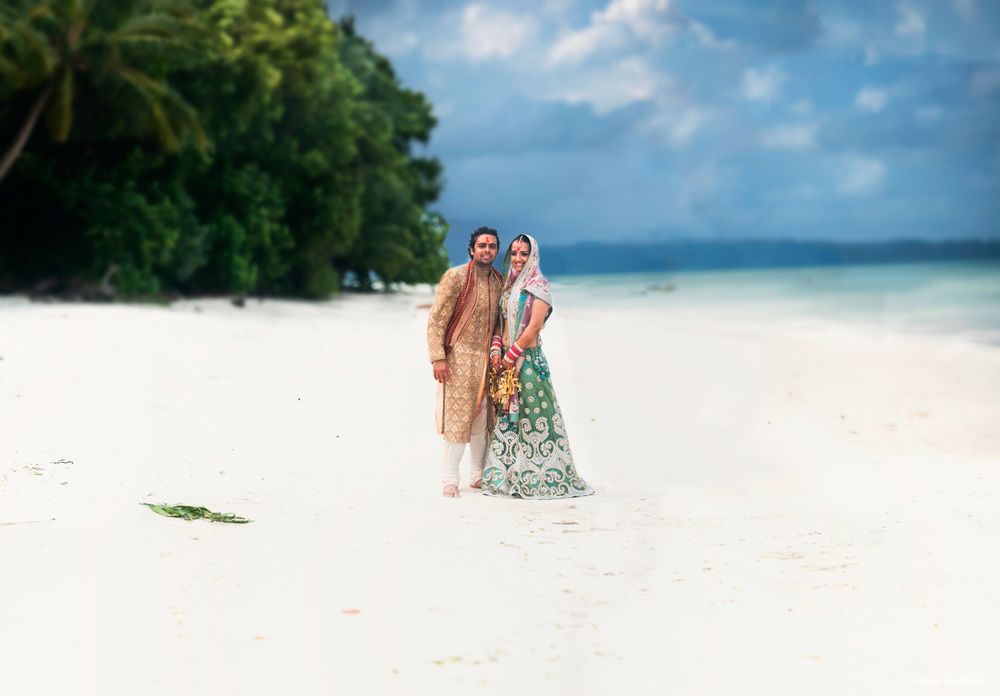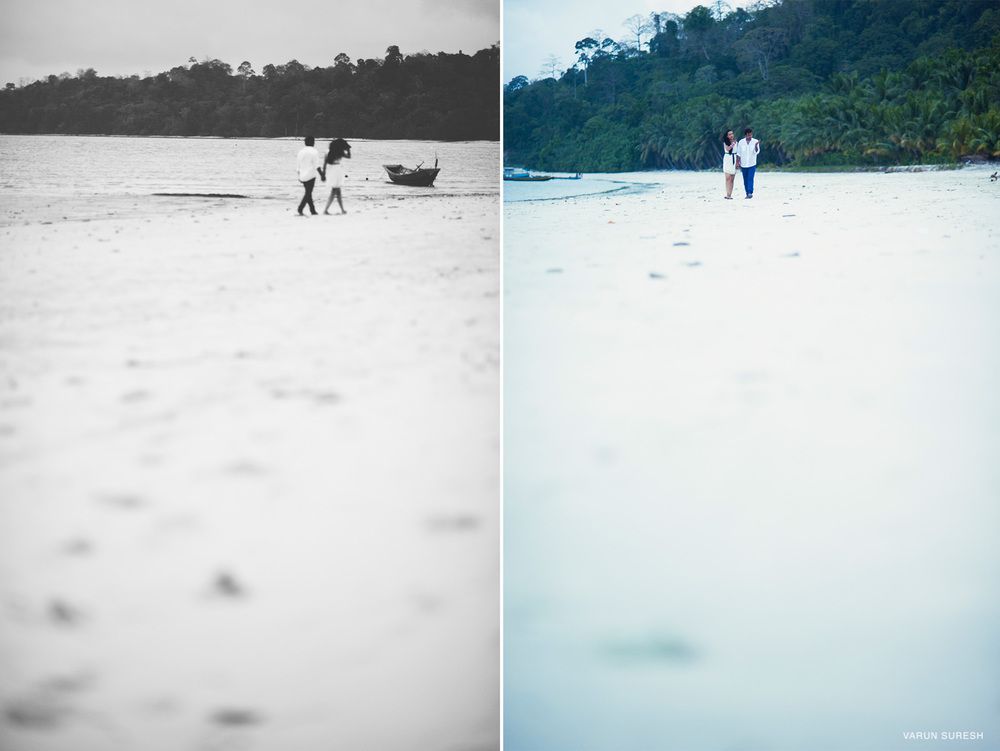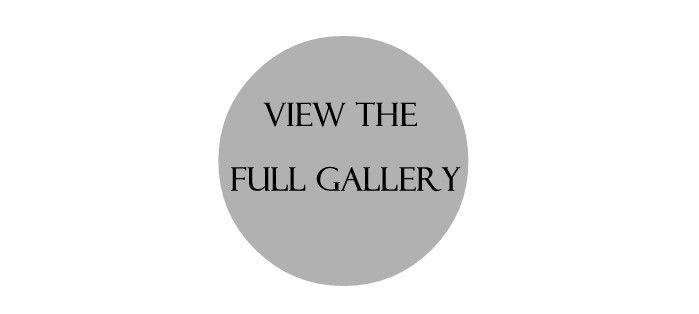 From the bride "
Right from the onset we were certain that we didn't want a run of the mill wedding. We both have respect for traditions but both felt that Indian weddings tend to be an unnecessarily drawn out affair. Something that just didn't appeal to us. Since our location was so stunning, a lot of our activities were centered around the beautiful beach where we got married.  I think ours is a true example of a non-fuss shaadi. We had friends who would start the day with a bottle of beer and that just set the tone for the rest of it. 
A big warning to anyone who's interested in getting married in the Andamans! The islands are still fairly untouched by commercialisation so there are actually no decorators available there!  I anyway dislike a lot of decoration and wanted the kind of more organic stuff that was around when my parents got married. Simple genda and mogra decoration, which the resort staff pulled off beautifully. 
When it came to my outfits, my only criteria was that I didn't want to look like every other bride and wanted something that won't look dated when I look at my pictures 20 years from now.  I chose the sea-green and dusty pink lehenga  the minute I l tried,because I could imagine it against  the glittering sea in the background. Not that it didn't kill me to finally not wear red at my wedding!! But every time I feel the pinch of ditching red, I look at my pictures and realise that I took the right decision! For my Mehendi I wore an ivory lehenga which shimmered every time I moved. It made me look like a princess! What else could one want! For the beach party I wanted to wear white as it would feel like a white wedding then. I wanted something in pure chiffon, and I found just the right one at Amber & Shirrin, but it was a dress. They customised it a little to my brief and its one of those pieces that I can wear again easily.
As a token of thanks, we took everyone scuba diving  after the wedding. In fact one of my cousin's proposed to his girlfriend under water, he had a ring and everything! And we arranged for champagne for the them when they got out. How sweet was that! I would say that everyone goes for these big huge weddings now a days, but frankly, sitting under the stars the night before my pheras, with a friend playing the guitar and ALL my closest friends and Hiren with me made me feel so full of love and gratitude for the amazing people in my life. I wouldn't have it any other way.
Two people who were beyond great - Munjoh Resorts and Varun Suresh. Varun  managed to capture the beauty of the location and make us look so good! I would recommend him to anyone who wants their pictures to say a story :) 
[handbook]
Varun Suresh   is a member of the Wed Me Good Handbook. To know how members are chosen, please read our FAQ.
[vendor]
Venues
: Munjoh Ocean Resort, Havelock Island Andamans.  
| 
Makeup
: Bride herself 
| 
Photographer
 : Varun Suresh| Sea green Lehenga from Om Prakash Jawahar Lal Delhi
 |White dress from Amber & Shirin Mumbai 
|   Decor : Munjoh Ocean Resort