30+ Arabic Bridal Mehndi Designs For The ladies Who Want Something Unique!
BY Garvita | 08 Feb, 2019 | 477149 views | 6 min read
The fascination towards Arabic bridal mehndi designs has grown manifolds in the last few years! It gives a breath of fresh air to the traditional mehndi designs, with its modernity and uniqueness. Arabic mehndi involves a mix of floral artwork along with geometric patterns, resulting in gorgeous, bold designs.
Every day we stumble upon interesting mehndi designs, on the basis of creativity. Arabic mehndi is the easiest to apply, hence, it's more popular amongst the modern brides. Since it's less complicated to be designed, it exhibits a very minimal and elegant vibe. In order to leave you awestruck, we've lined up few stunning Arabic mehndi designs. Time to save some inspiration ideas!!
Detailed Arabic Mehndi Design
We love how this design is a mix of details with spaces! It gives an illusion of being fuller despite minimal.
Rose Arabic bridal Mehndi Design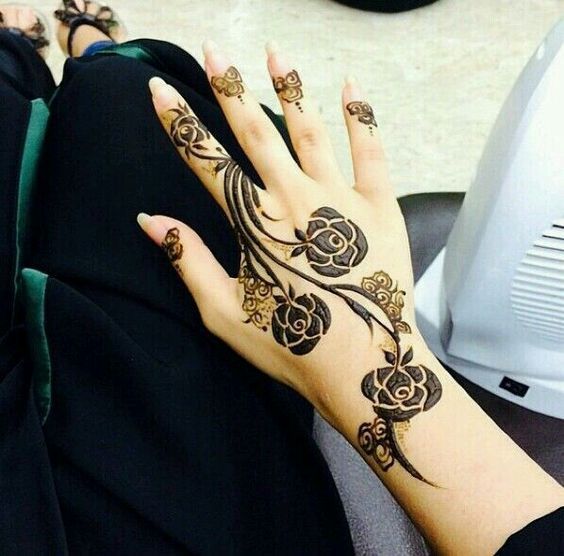 If yours is an intimate wedding and you don't wish to go overboard with the mehndi design, then this one is a perfect choice for you!
Arabic Mehndi Design with Glitter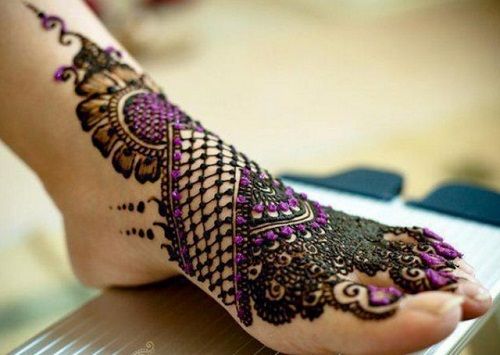 We haven't seen a lot of brides incorporating glitter in their mehndi! Though it's temporary but would be visually appealing, to say the least. Psstt.. .You can also match the same with your lehenga color.
Simple Finger-tip Arabic Mehndi Design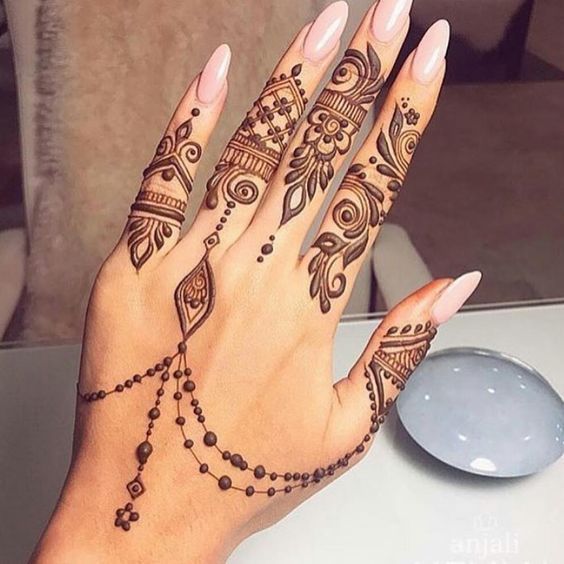 We know this one's quite simple but it would look really beautiful at nuptial ceremonies like Roka, engagement and more! Extensively detailed on the fingers with little design on the palm. Rich look, indeed!
Minuscule Simple Arabic bridal Mehndi Design for hands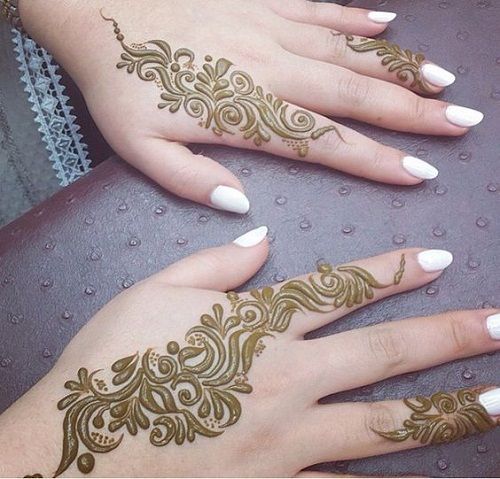 This is one of those Arabic mehndi designs which may look easy at first glance but is actually created with eccentric patterns! In short, it's an eccentric design with an unconventional punch. Perfect for your bridesmaids!!
Leaflet Arabic Mehndi Design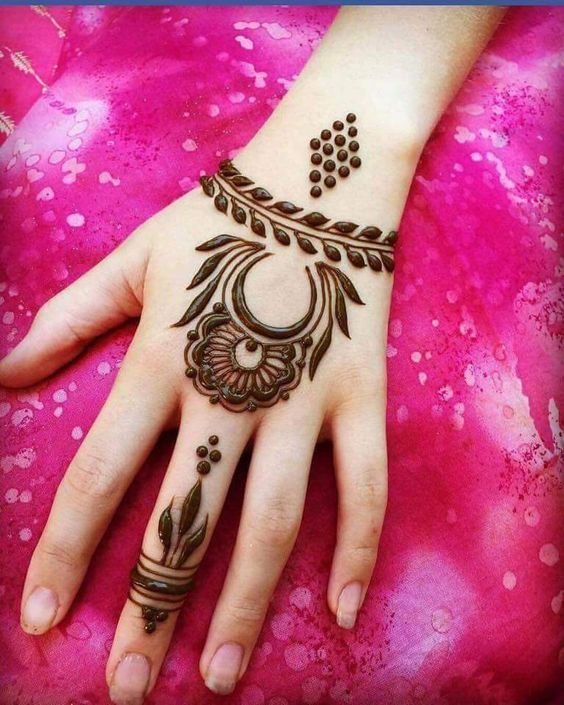 This design is all about a beautiful presentation of leaves and dots! Since Arabic designs involve thick mehndi, this design would look really rich once the color sets in.
Jaal Arabic Mehndi Design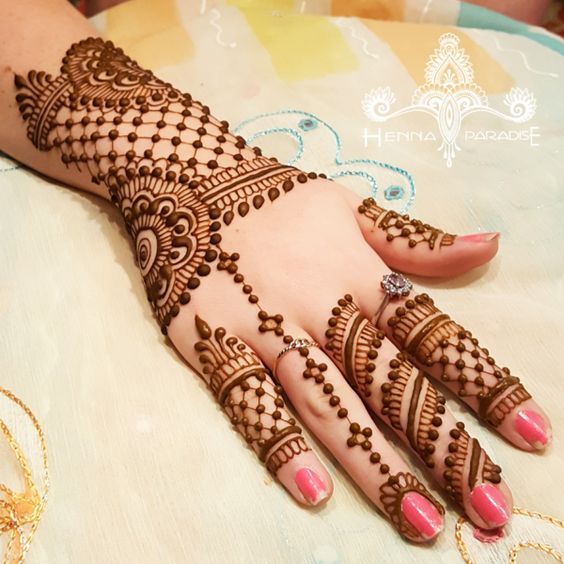 While we all have seen traditional jaali designs, but this one's more effortless! It involves no other complementary patterns, thus bringing the entire attention to the beautiful jaal details.
Hand-harness Arabic Mehndi Design for hands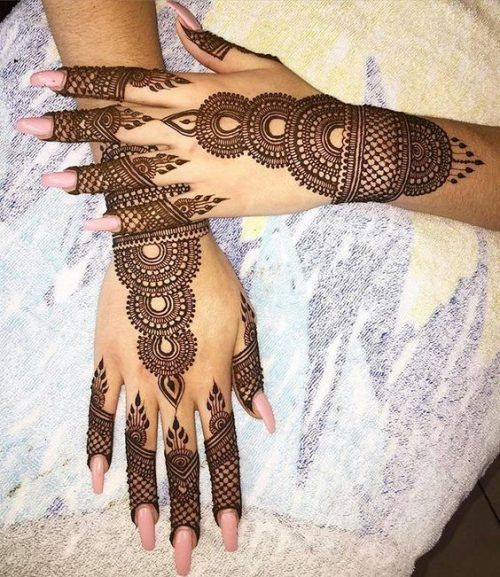 This one exhibits a magnificent vibe, doesn't it? The bracelet design around the wrist going all the way towards the middle finger,  look like a gorgeous haathphool!
Beaded Arabic Mehndi Design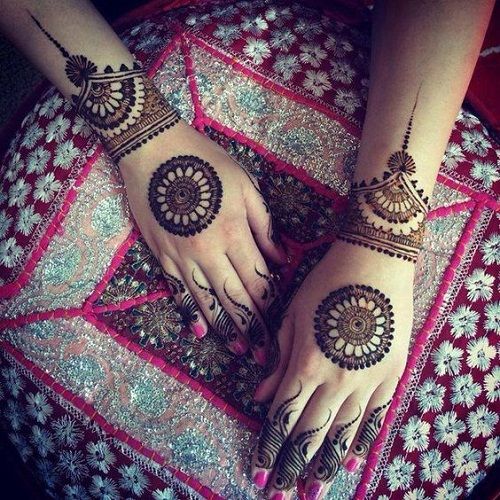 Here, the design is creatively drawn with extensive use of beads! The mandala adds an enchanting vibe to the design and the fusion between these two makes it one of our favourites.
Couple Portrait Arabic bridal Mehndi Design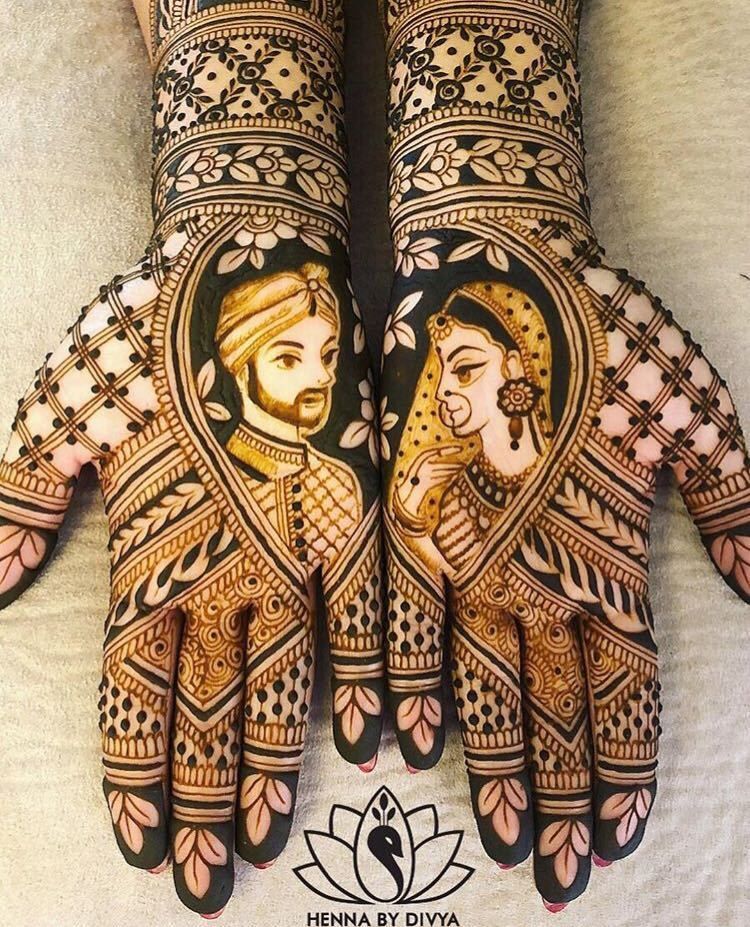 Portrait mehndi is trending a lot these days! While it looks nice in traditional mehndi design, but with Arabic mehndi, it looks more prominent and neat. The one above is an innovative design that also exhibits a modern vibe.
Elaborate Arabic Mehndi Design for full hands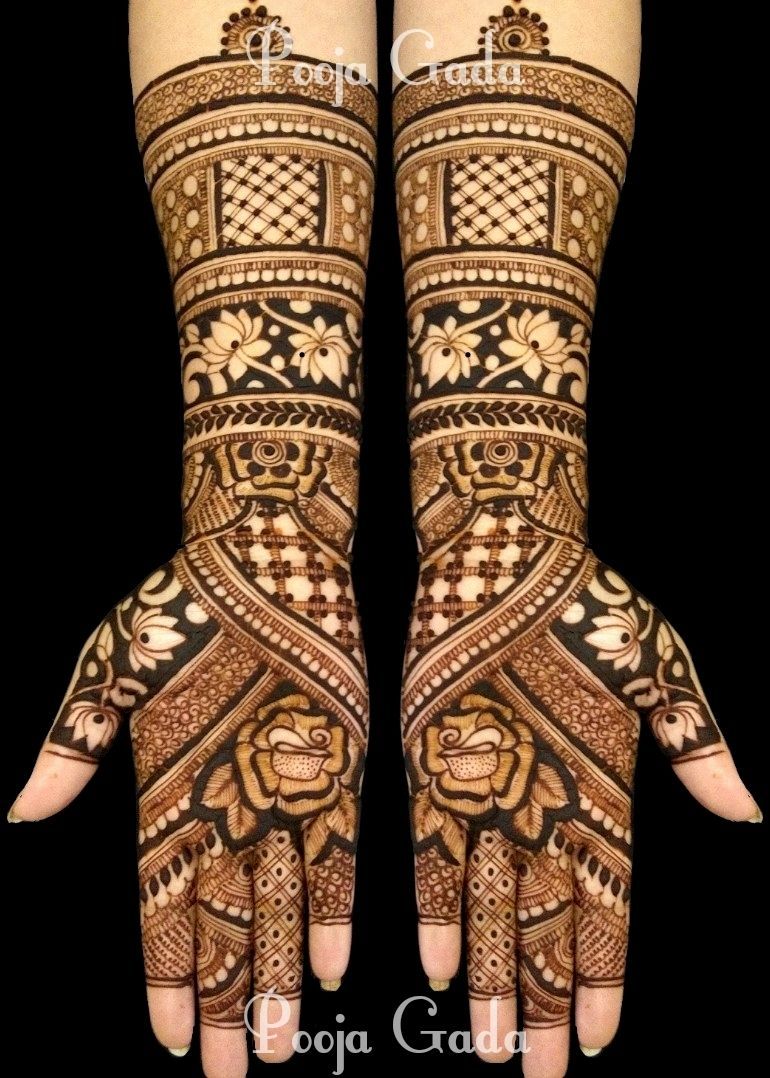 Image via Pooja Gada
This design consists of various layers of mehndi illustrations! It is intricately detailed with a mix of patterns like rose, lotus, jaal and more, and will look stunning with the black stain.
Simple Arabic Mehndi Design with Motifs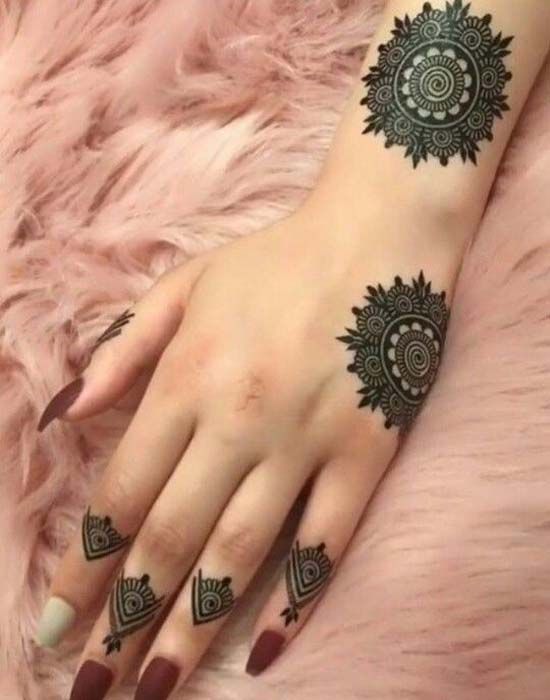 The highlight of this design is the elaborate motifs that accentuate the hand. In short, an interesting pattern that surely is a sight to behold!
Ornamental Arabic Mehndi Design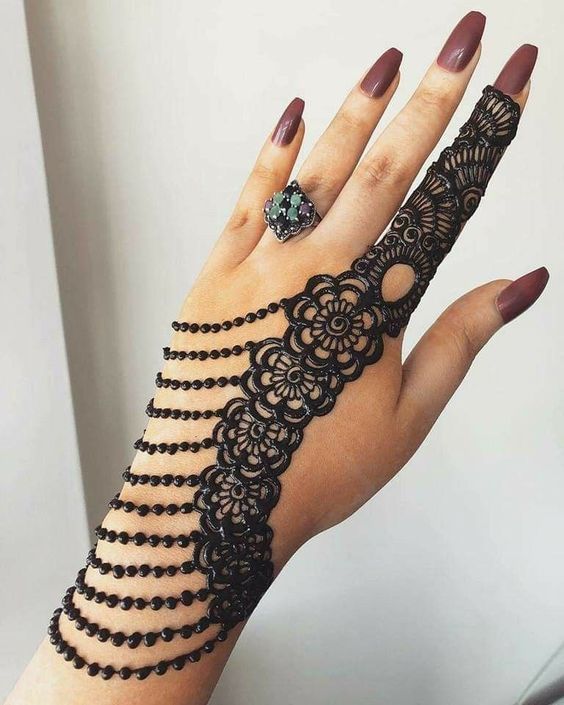 A floral vine running from the wrist to the index finger attached with dotted strings gives an ornament like appeal. Though it's minimal but very eye-catching!
Lateral and Simple Arabic Mehndi Design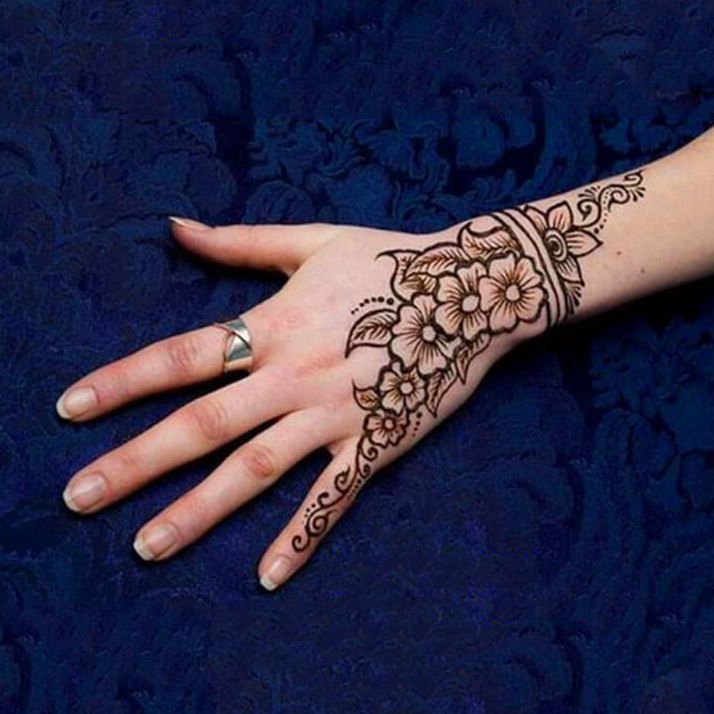 While the design is of a typical floral pattern, but it's created along the lower surface of the hand! So if you're someone who doesn't prefer mainstream patterns then this one is apt for you.
Geometric Arabic Mehndi Design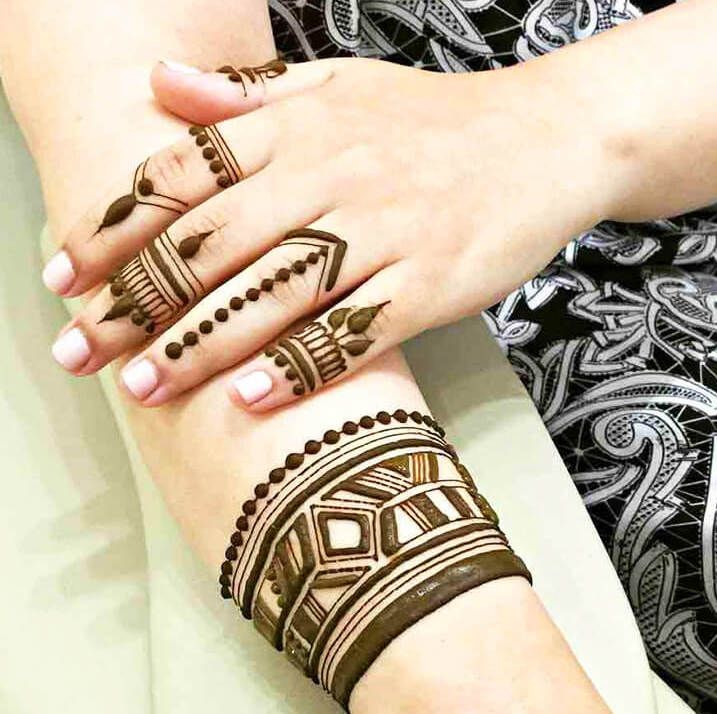 It's an amazing tribal tattoo-like, geometric patterned Arabic mehndi design for hands. Looks the best when designed in black mehndi. Visually appealing!
Simple Arabic Mehndi Design on Wrist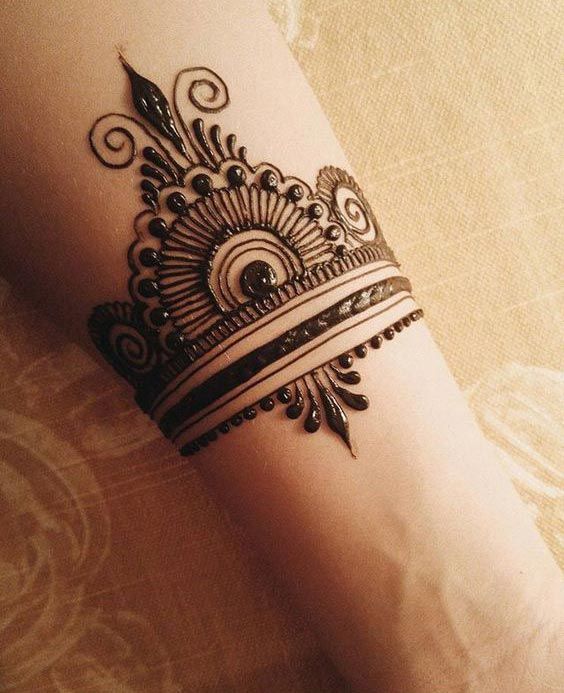 This design around the wrist looks so breathtaking! In case you don't wish to get henna drawn on your hands, you've found the perfect substitute. Also, it's really easy to make!
Intricate Arabic Mehndi on Feet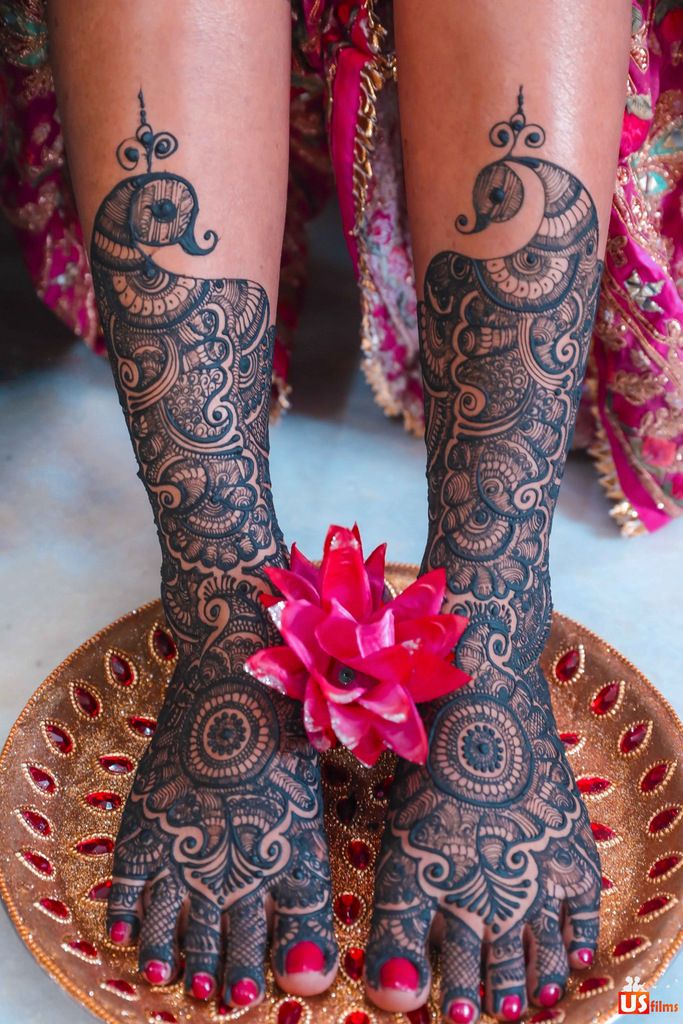 Image via US Films
Do you prefer heavily detailed mehndi on your feet? Then how about giving this design a shot! The deeper application is done all over the feet and calves, making it a lot more alluring.
Minimal Arabic Mehndi on Feet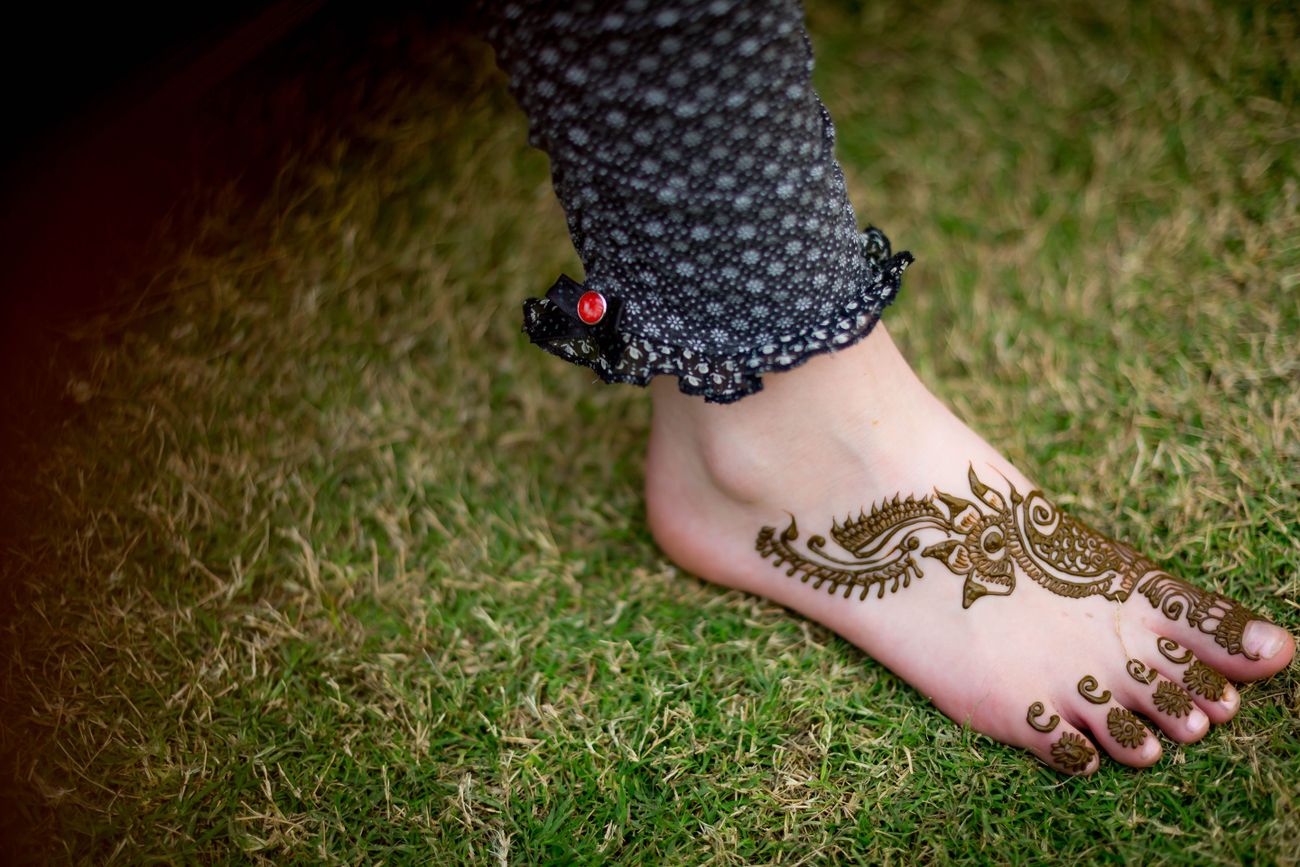 Image via Black and White
How about going extra on the hands and keeping it minimal on the feet? Well if that's the plan, then you should consider this Arabic mehndi design.
Floral Arabic Bridal Mehndi Design for full hands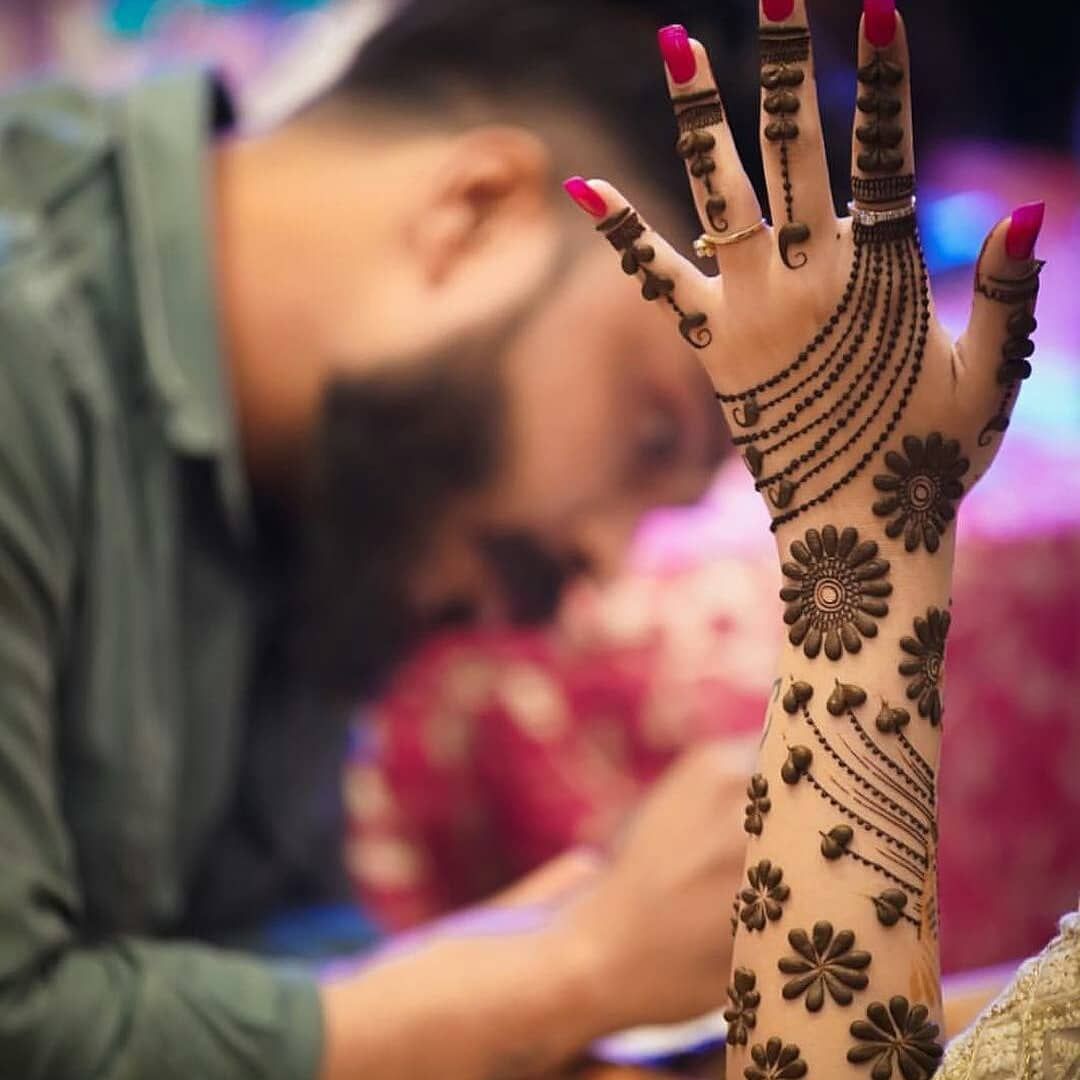 Image via Instagram
Who would have thought that a mehndi pattern with just one design would look so enticing? Thick floral motifs all over the hand look simple yet attractive.
Contemporary Arabic Mehndi Design for hands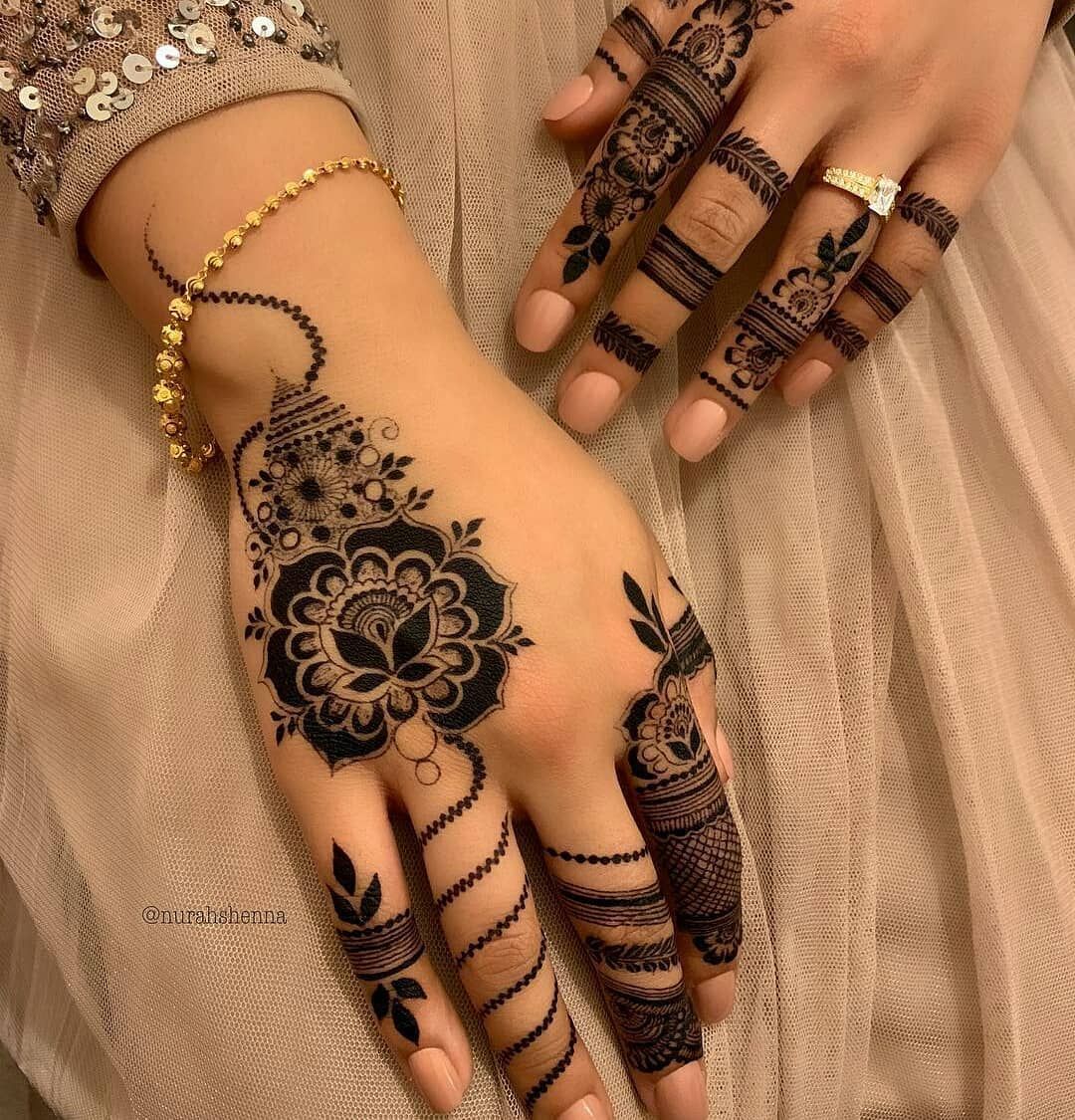 Image via Instagram
This one's absolutely gorgeous! It's elegant, extremely detailed and very feminine. This modern design would look amazing at any occasion and needs a lot of expertise to be created.
Peacock Arabic Bridal Mehndi Design for full hands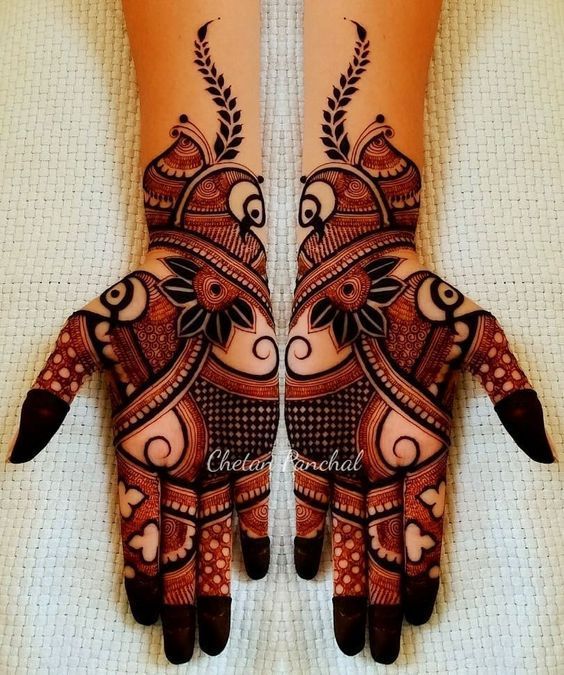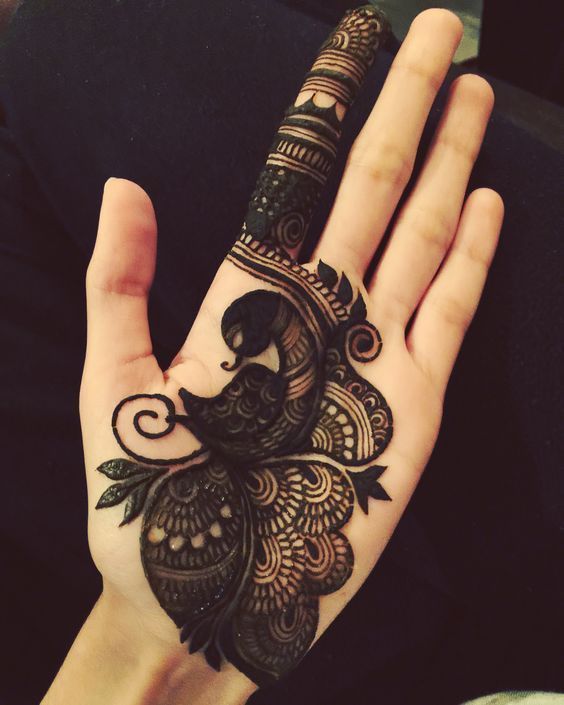 Arabic mehndi design goes hand in hand with a peacock pattern! The designs above are brilliant examples of the same. Someone who is not an expert can also make a peacock design easily.
Mesh & Detailed Arabic Mehndi Design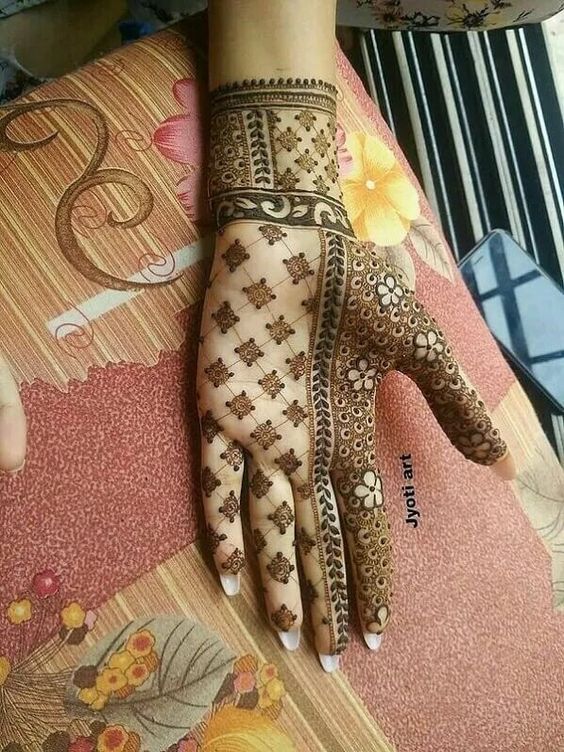 This one is a mix of mesh with floral/ leaves pattern. It proves to be a stellar example of out-of-the-box Arabic mehndi designs. Unique, to say the least!
Butterfly Arabic Mehndi Design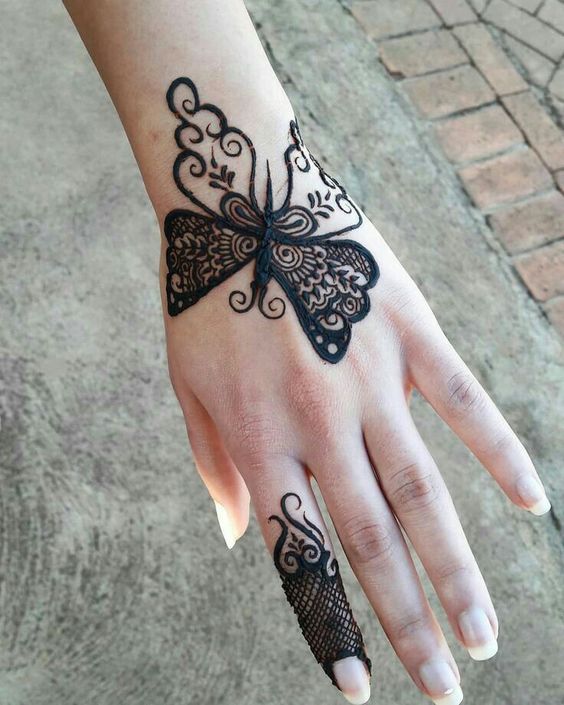 Woah! This one is definitely for the millennials. It is the newest trend in Arabic mehndi art, and one cannot help but give it a try. Thanks to its sheer beauty!
Contrasting Arabic Mehndi Design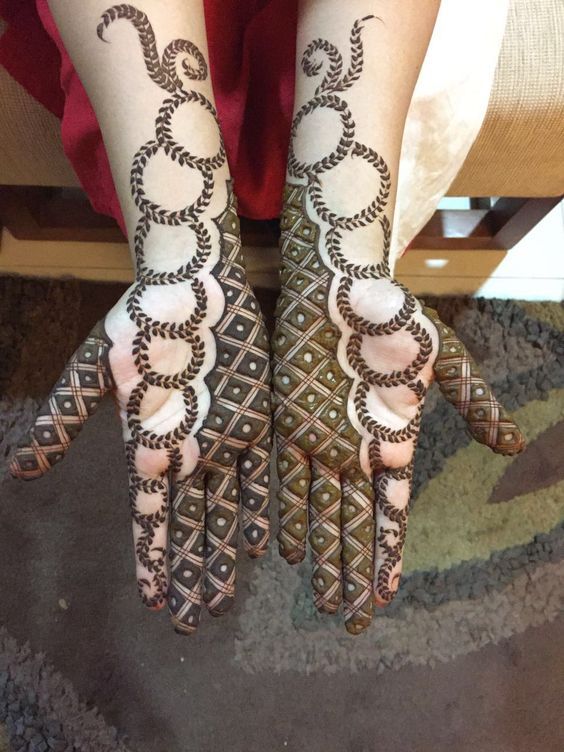 Two totally opposite patterns featured together. It's the simplicity of this design which makes it popular amongst modern women! Don't they complement each other perfectly?
Leaf Branch Arabic Mehndi Design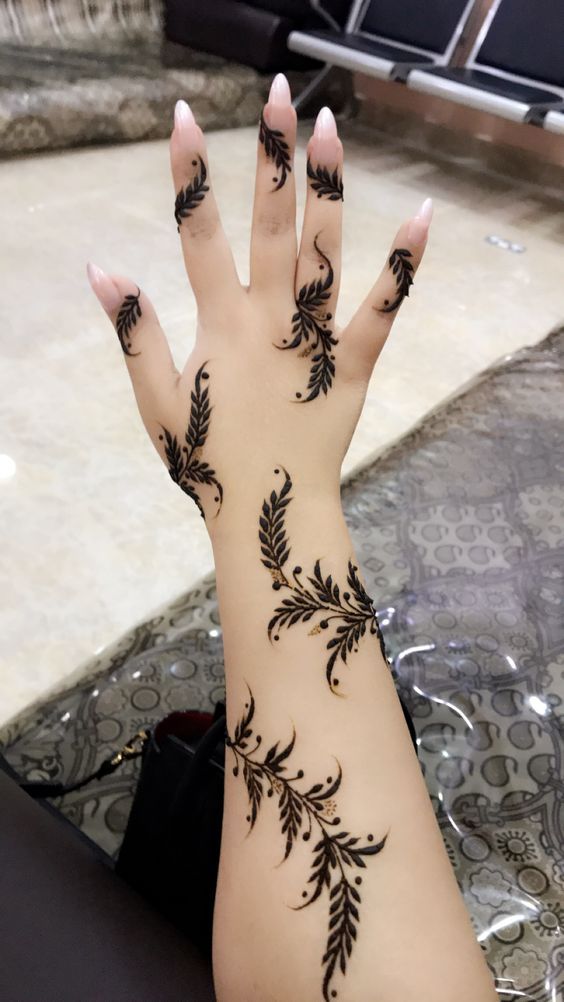 This one's just about foliage! Little leaf branches scattered around the hand and forearm. Definitely a fresh design, which is also extremely beautiful.
Arabic Mehndi Design with Traditional Elements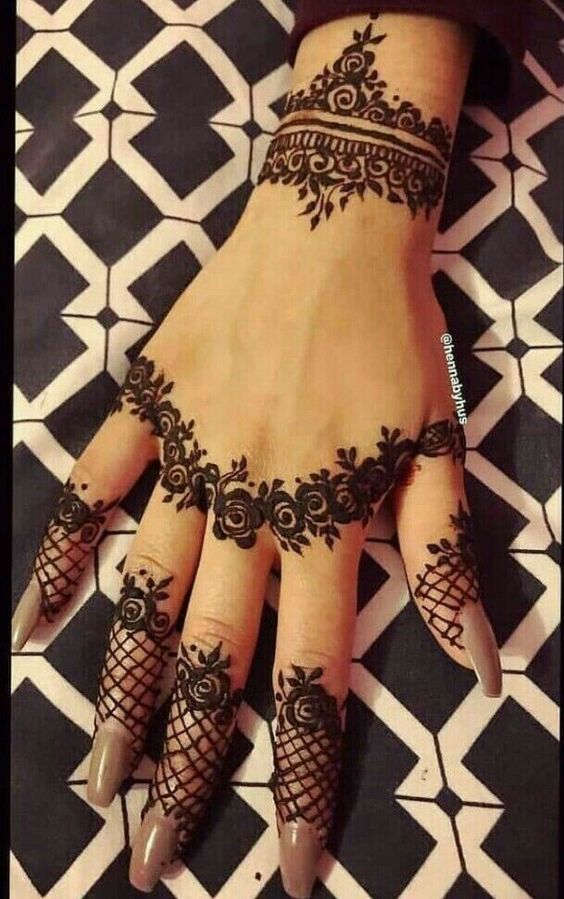 An English rose vine along with basic mesh looks really elegant. It's an amalgamation of both traditional and modern vibes. You won't be able to resist this one!
Lotus Arabic Mehndi Design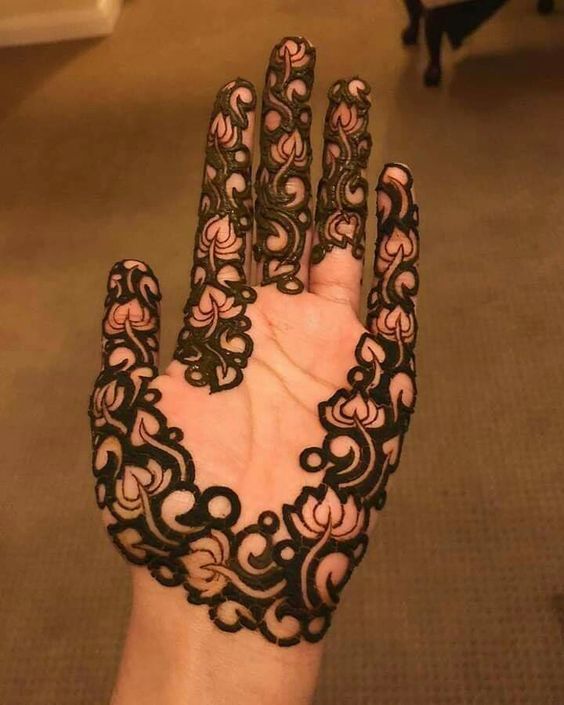 We love how unruly this design looks! The swirls and twirls created while incorporating the lotus pattern makes the design undeniably enchanting.
Exquisite Arabic Mehndi Design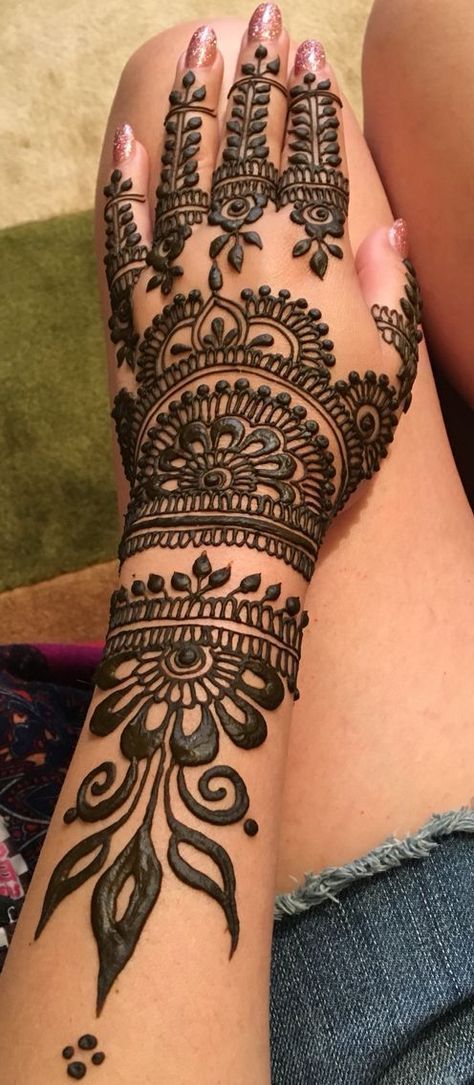 Don't we all just love intricate, full hand designs? Despite being rich, this design doesn't look cluttered. You won't require artistic skills to create this one. Ideal for the new-age brides!
Palm Cuff Arabic Mehndi Design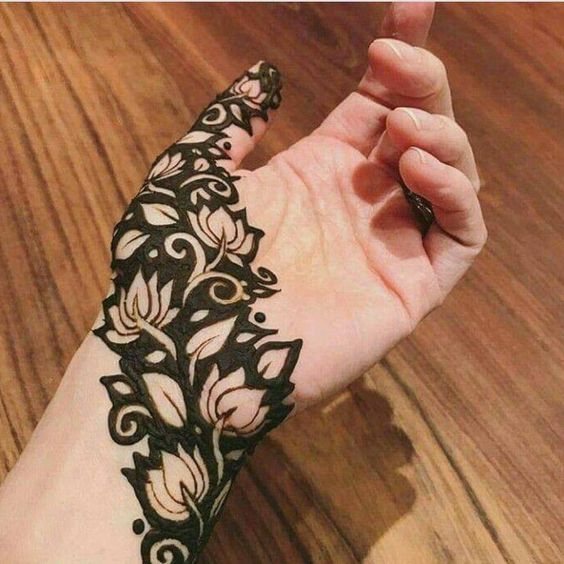 Palm cuffs became quite a rage a few years back! Now that the trend has declined, we decided to add a mehndi design which gives an impression of that jewellery piece. We love how this one display patterns like lotus & leaves with so much panache.
Arabic Mehndi Design with Spaces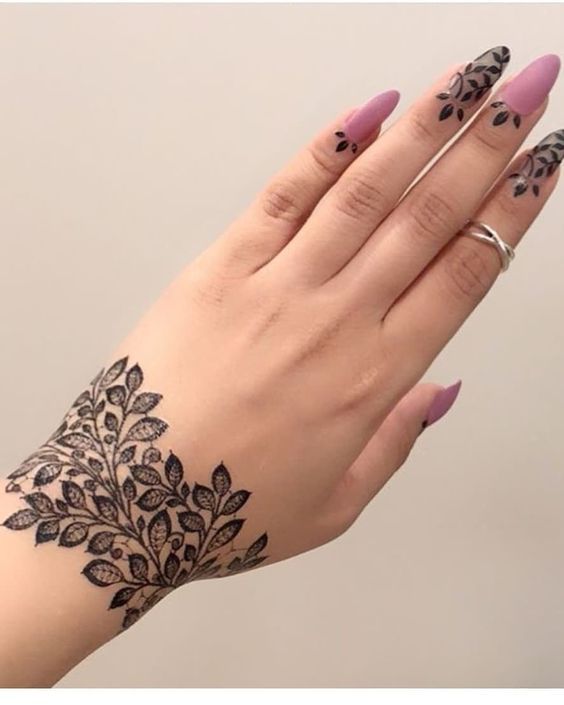 In this pattern, a large portion of the hand is kept empty! The design on fingers will gorgeously accentuate your manicured nails that'll leave everyone around in awe. An inspiration worth saving!
Aren't those some really amazing Arabic mehndi designs? Can't help but fall in love! So, if you're a bridesmaid and you have a mehndi ceremony to attend, then you've got a plethora of trendy options to choose from. And if you're a bride-to-be then how about hosting an Arabic mehndi ceremony?! Innovative, to say the least.
We have many more beautiful mehndi designs for you to browse!