Breathtaking Destination Wedding In Thailand With A Bride Who Rocked Blue
BY Sakshi | 20 Oct, 2022 | 2 views | 7 min read
If you think blue isn't a colour for brides, just one look at this bride will make you want to wear only blue on your wedding! Real Bride Malvika nailed each and every look on her wedding- right from a jungle themed pool party to a fabulous wedding by the beach. Her outfit choices were on point as were the amazing themes and decor- everything set as per the moodboard decided by the bride. The photography by The Wedding Files★ 4.9 brought out the beauty of the events onto film, and we loved every digital moment they captured!
Meet Malvika and Akshay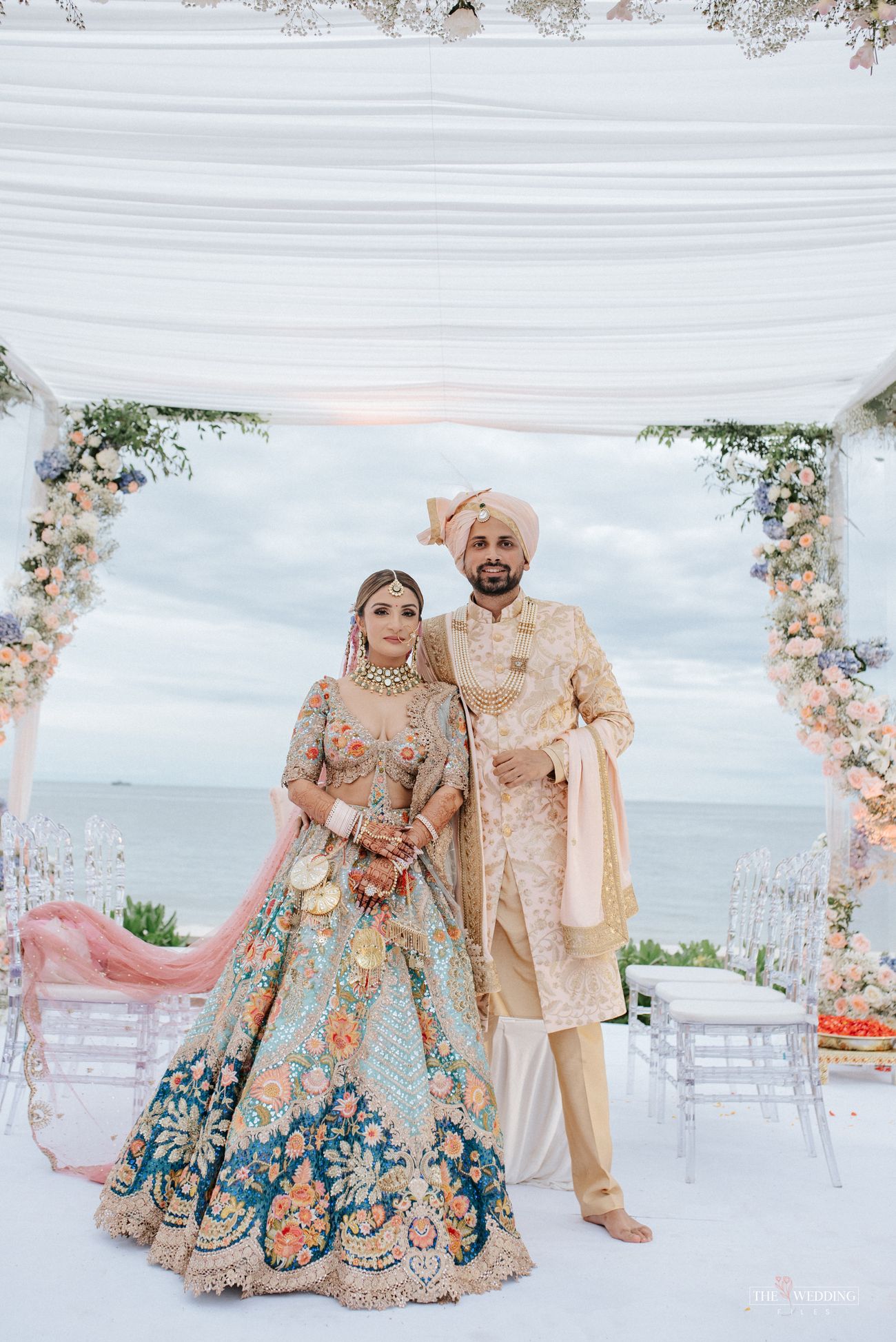 Akshay and I met in the summer of 2016. I am born and raised in Dubai and Akshay was visiting Dubai for a family vacation. A mutual friend told Akshay to get in touch with me to show him around the city, and that's how we became friends. We stayed friends for years up until before the pandemic hit and that's when we got super close and realized we've fallen in love. Unfortunately the pandemic hit and we could not even meet to see where our relationship was going but we stayed patient and strong until we could meet. The love was so effortless and the connection was so pure, it was worth fighting for and now 2.5 years later we are happily married, its like I got to marry my best friend and nothing makes me happier. As cliche as it sounds, Akshay and I were just destined to be together because we came from different parts of the world and still managed to bring this relationship from friendship to marriage after 7 years of knowing each other. The long distance was totally worth it!
Mehendi & Welcome Dinner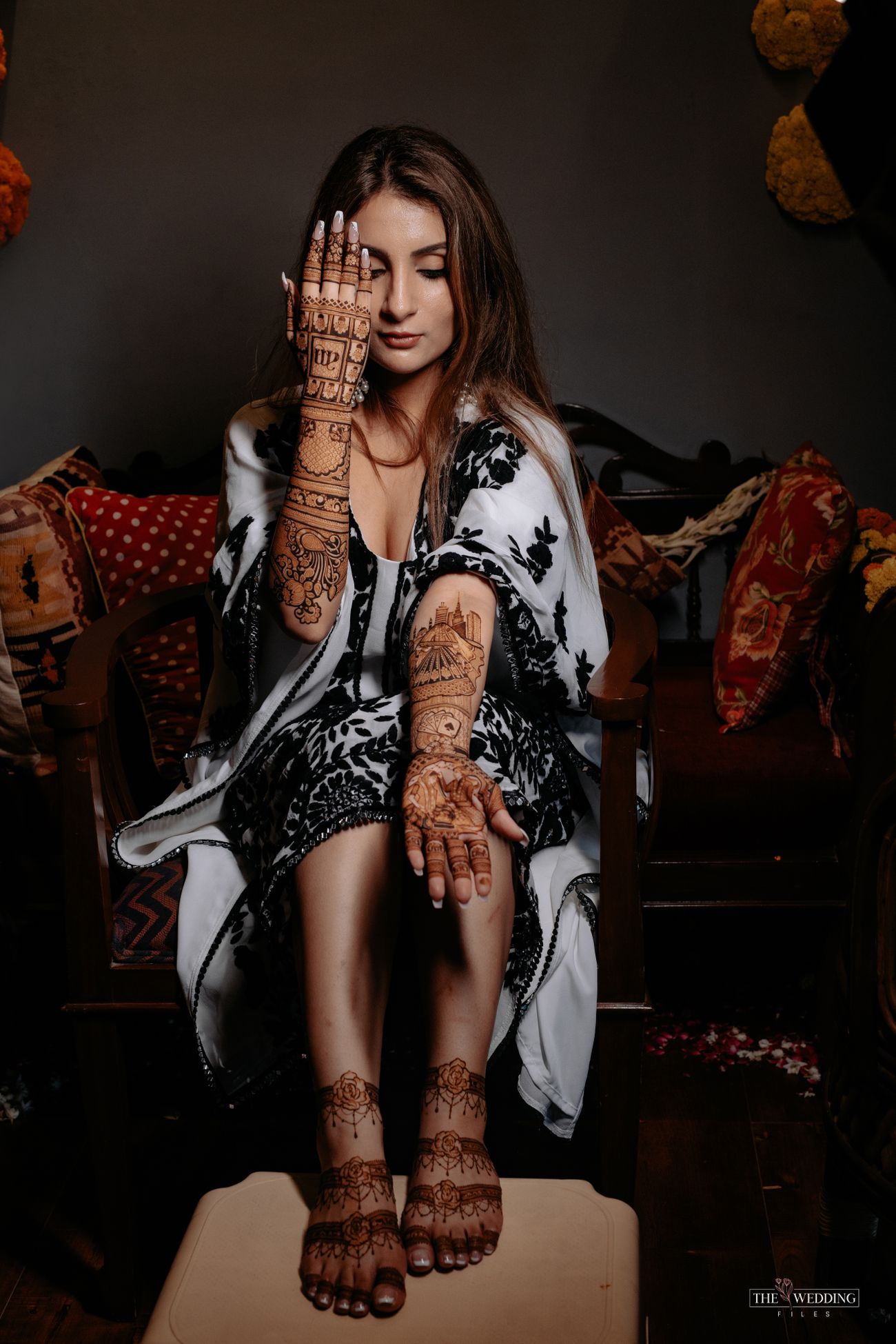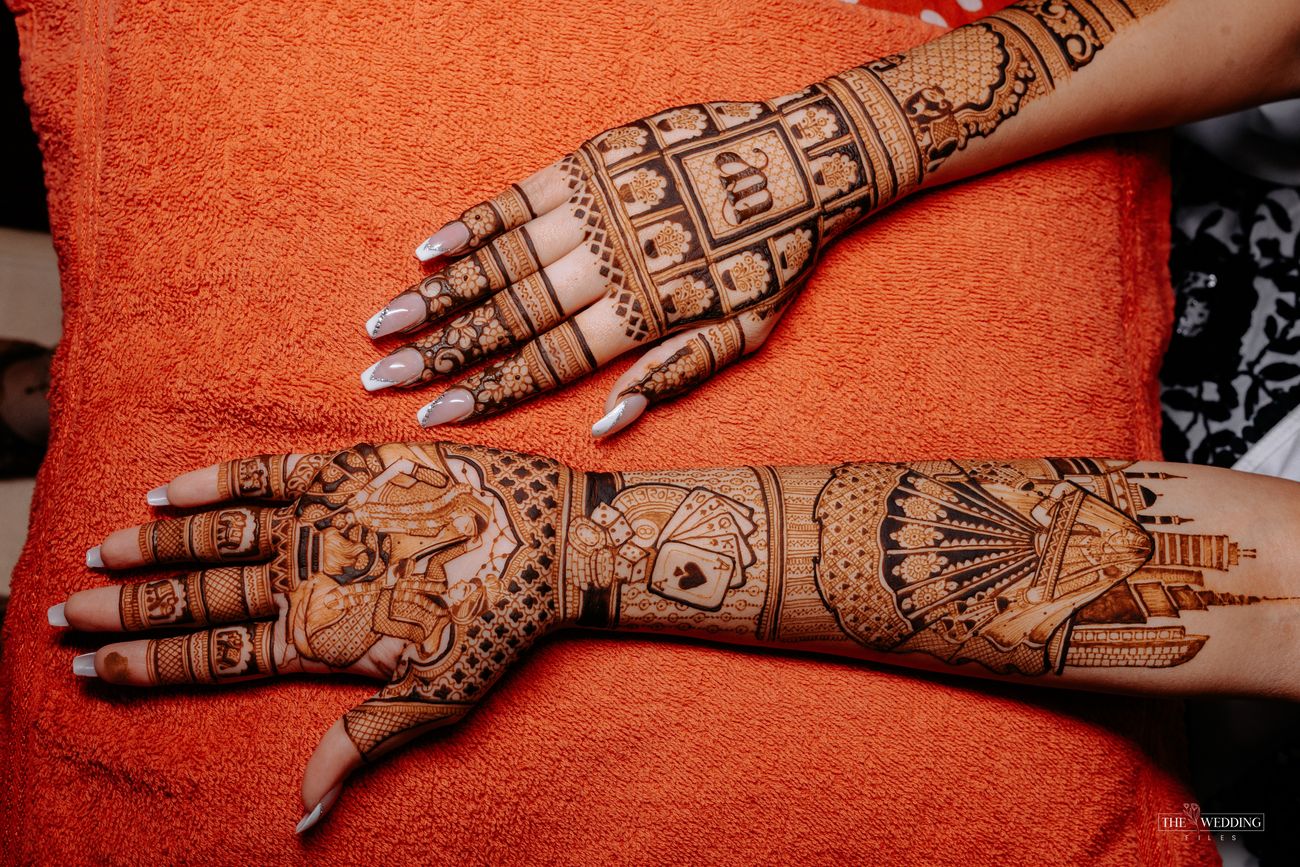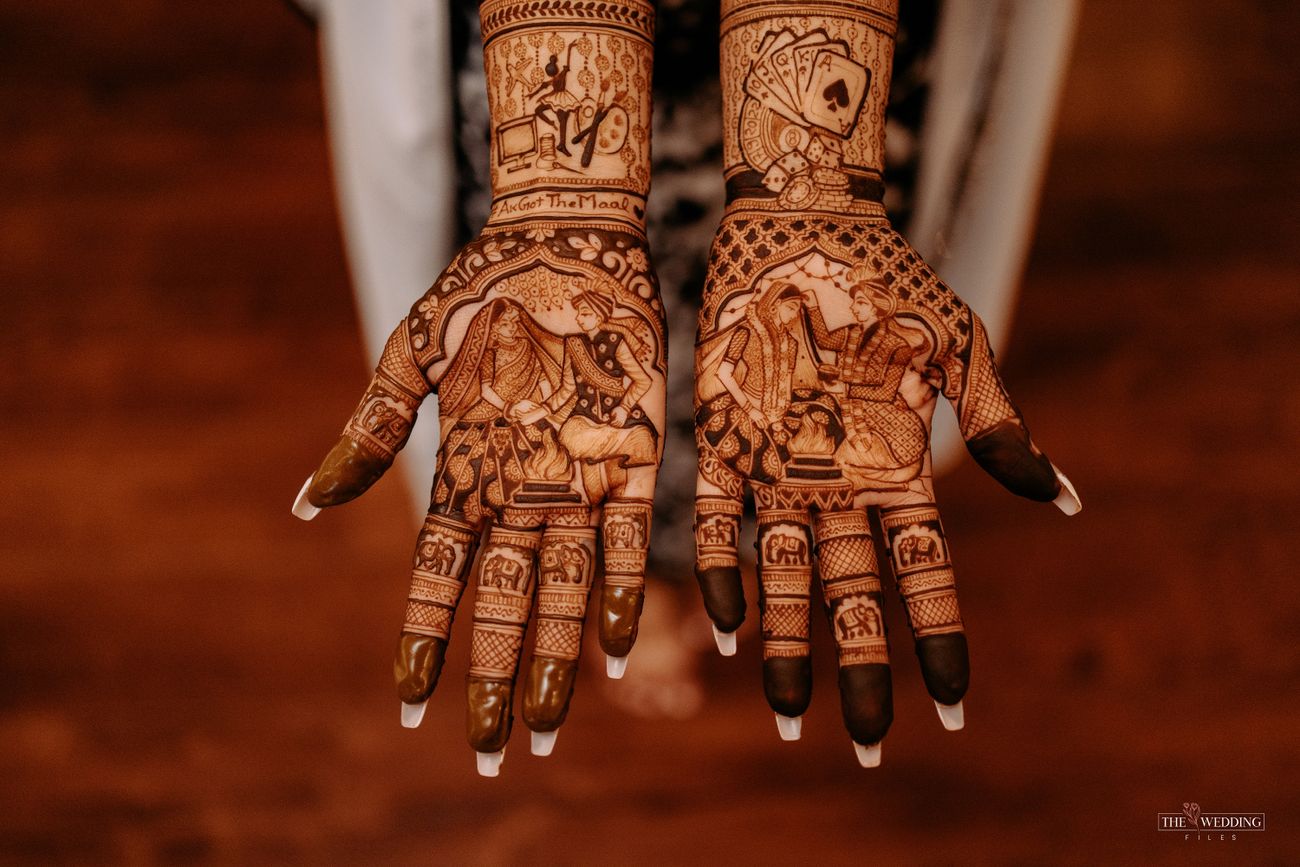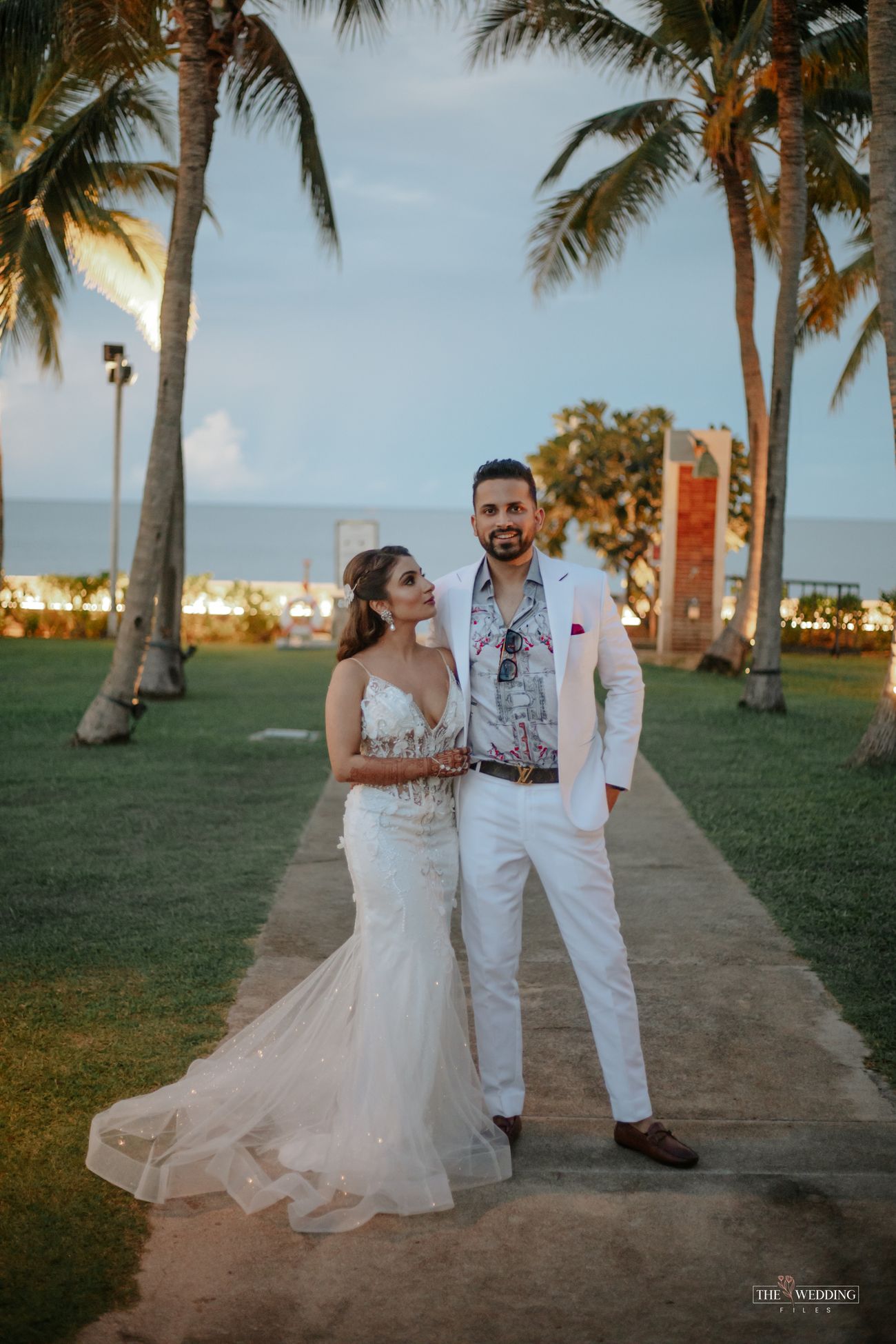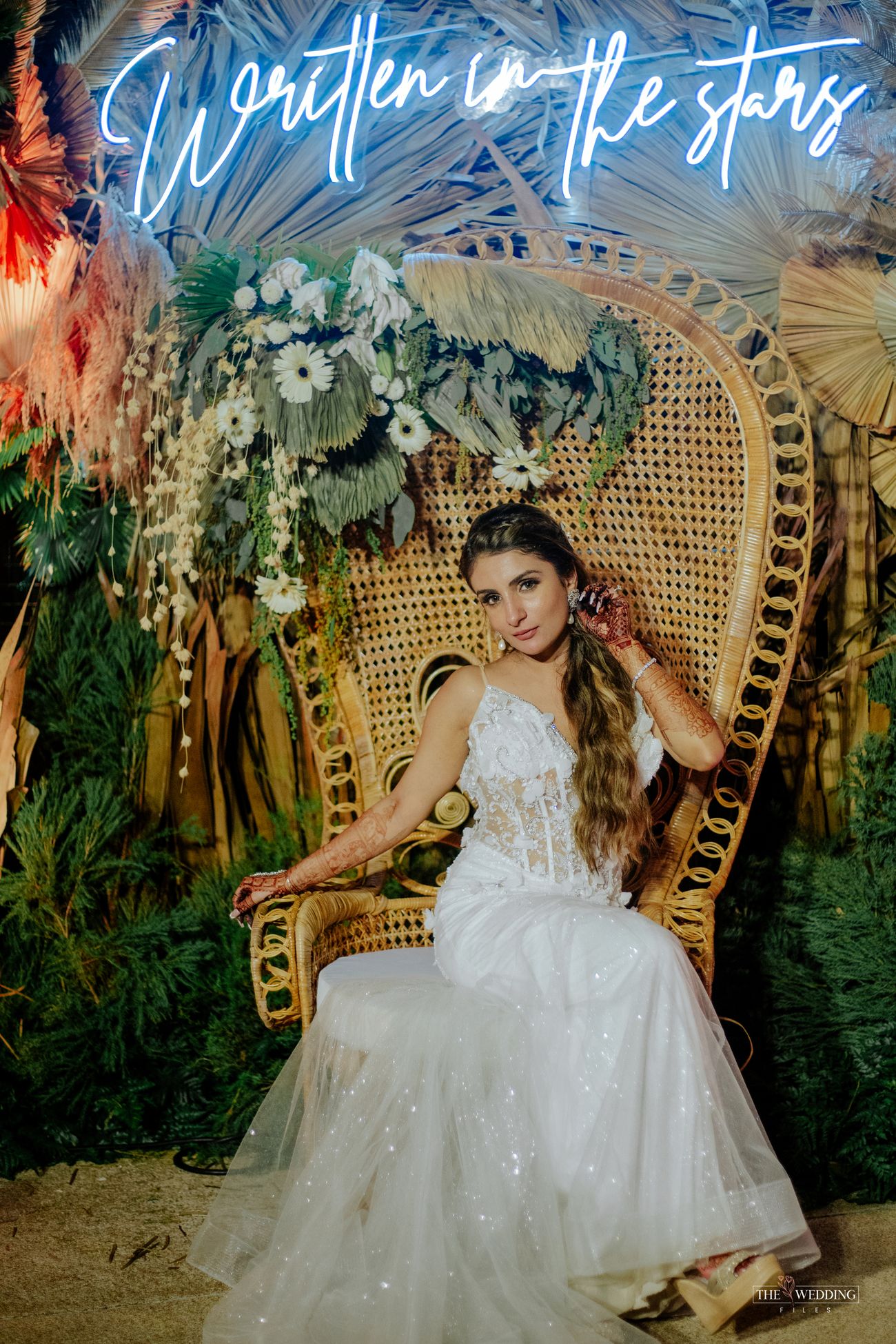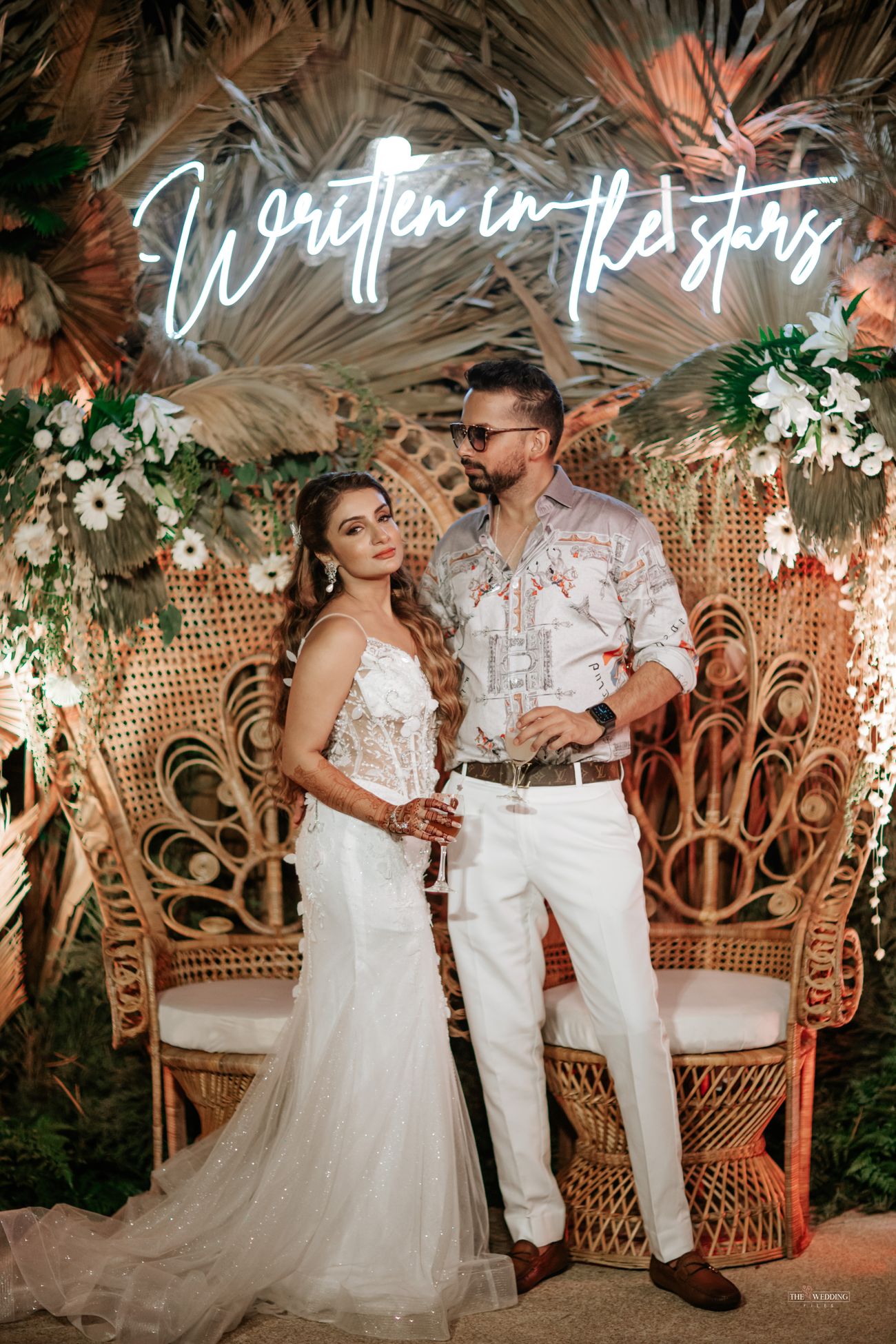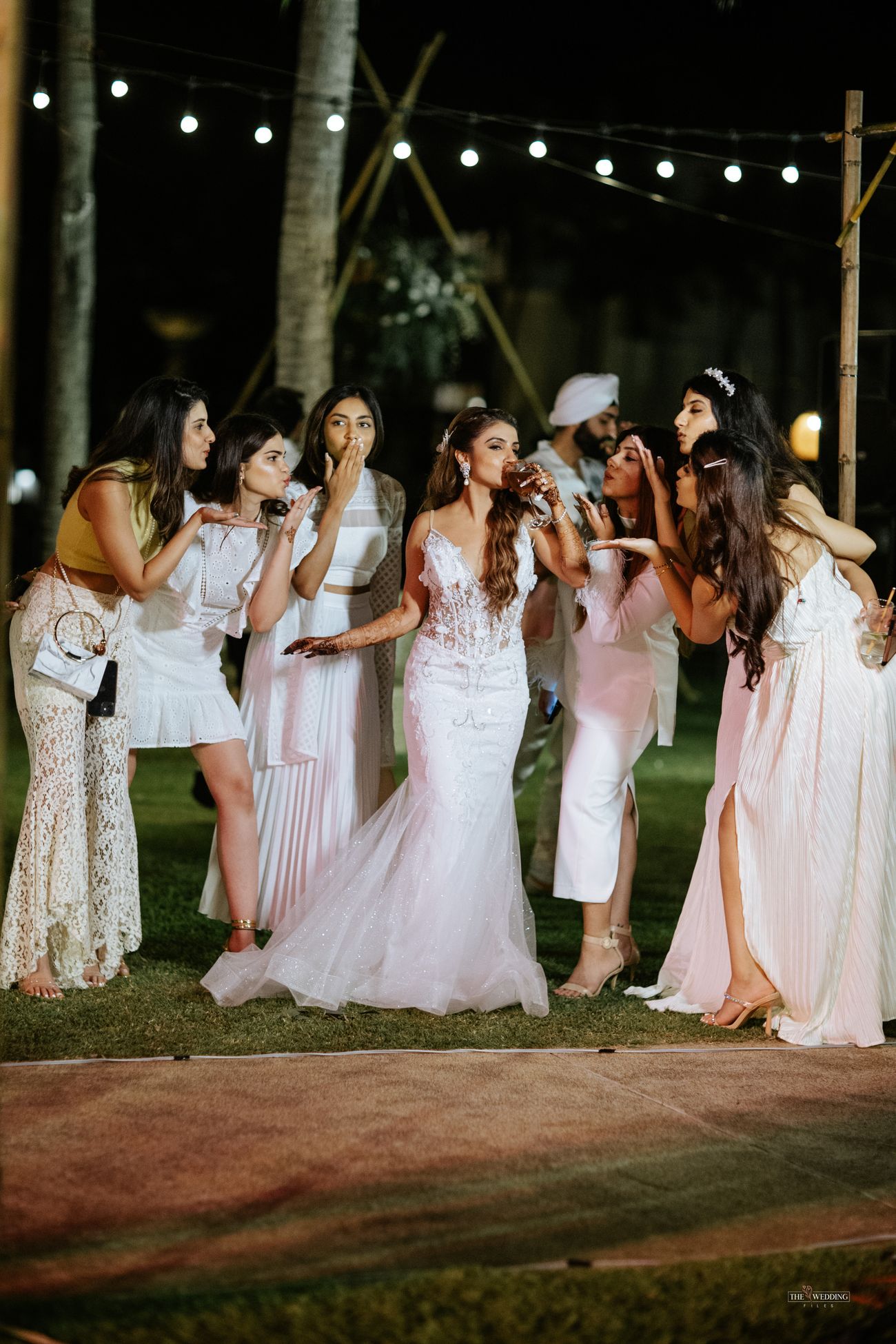 Pool Party
The theme for the event was Amazonico Forest. I chose an outfit that would be a color block outfit because I set the entire theme to be animal and foliage inspired with quirky photo booths and animal prints. So color block would mean standing out. I chose the Kiara Advani outfit that went viral for this look.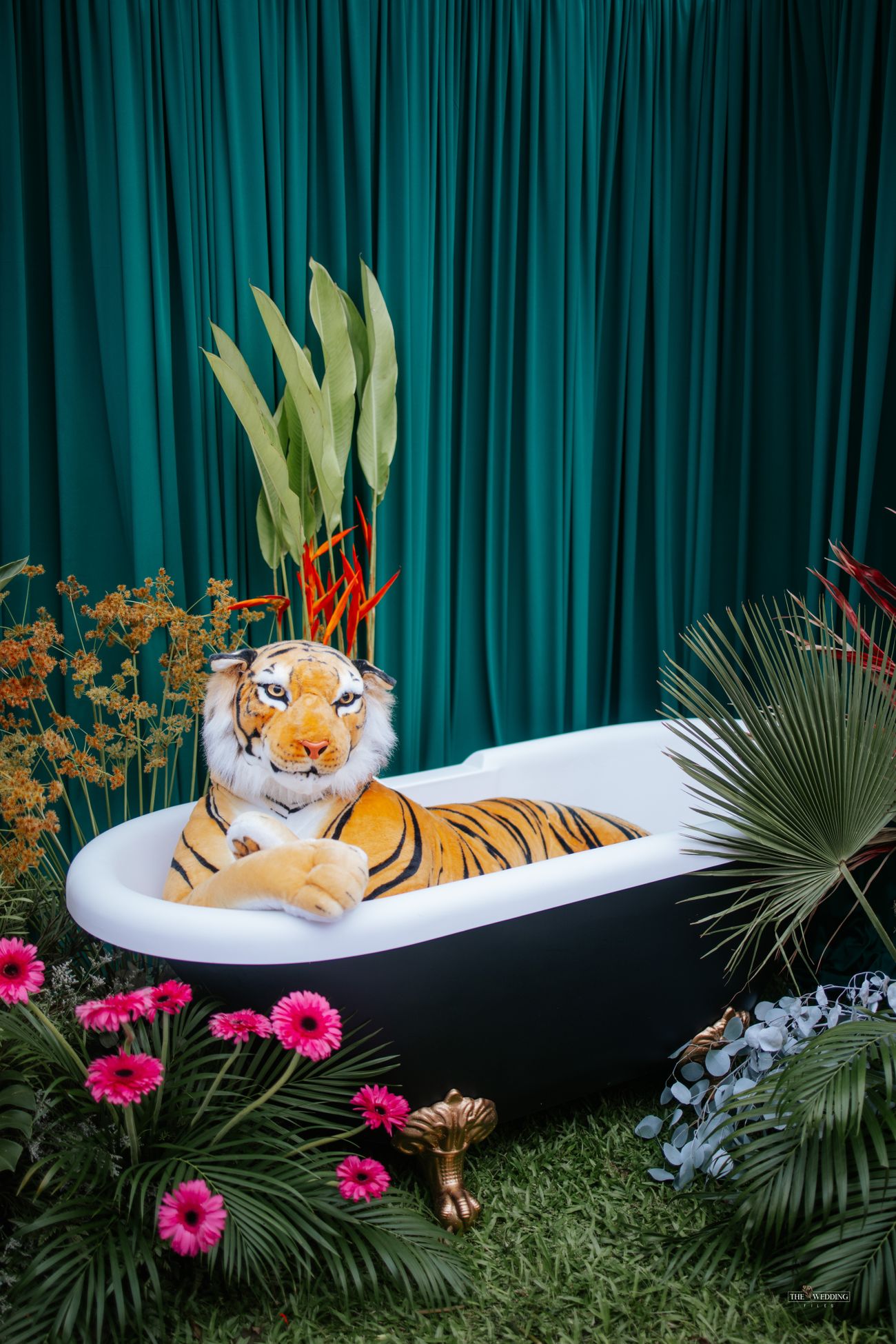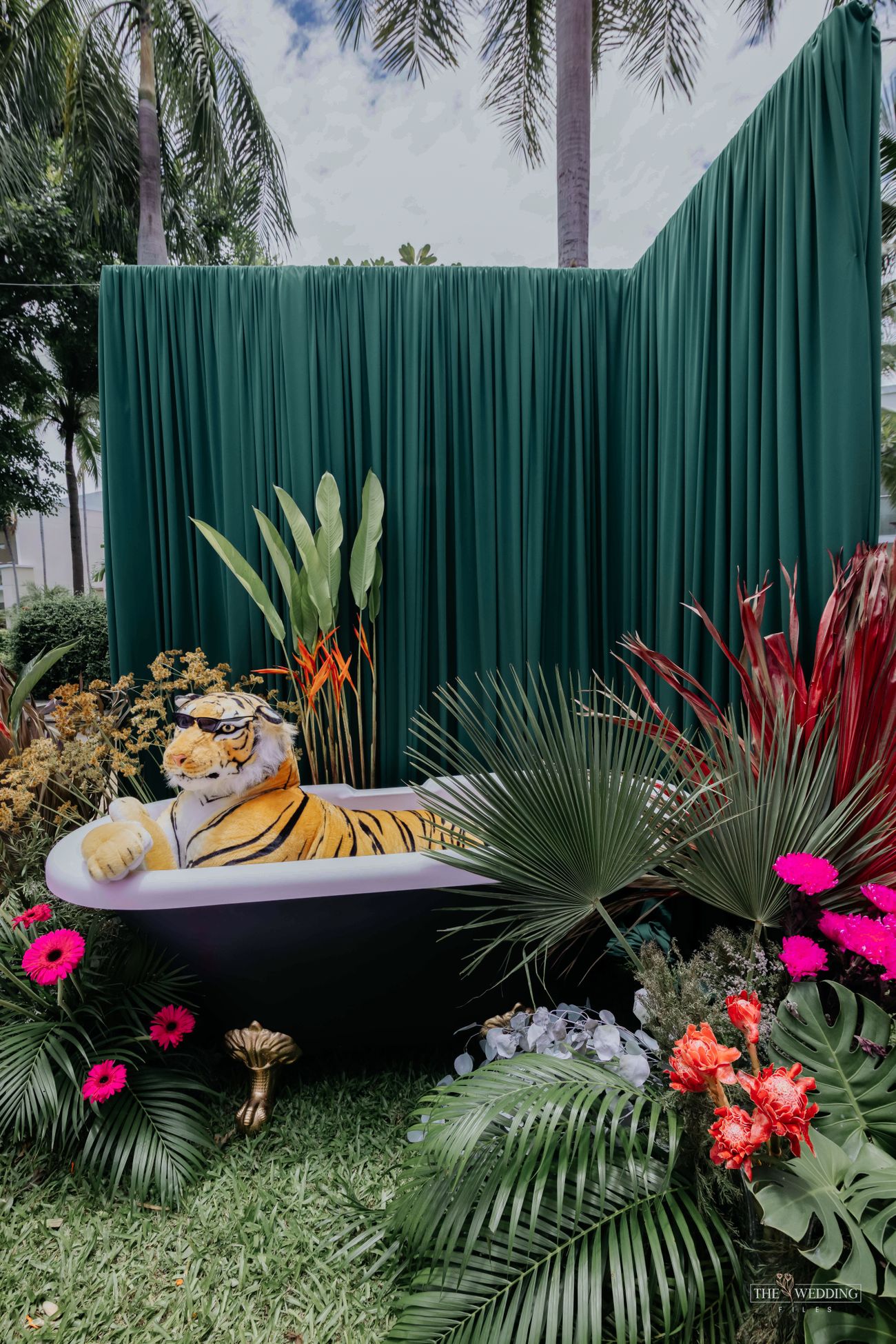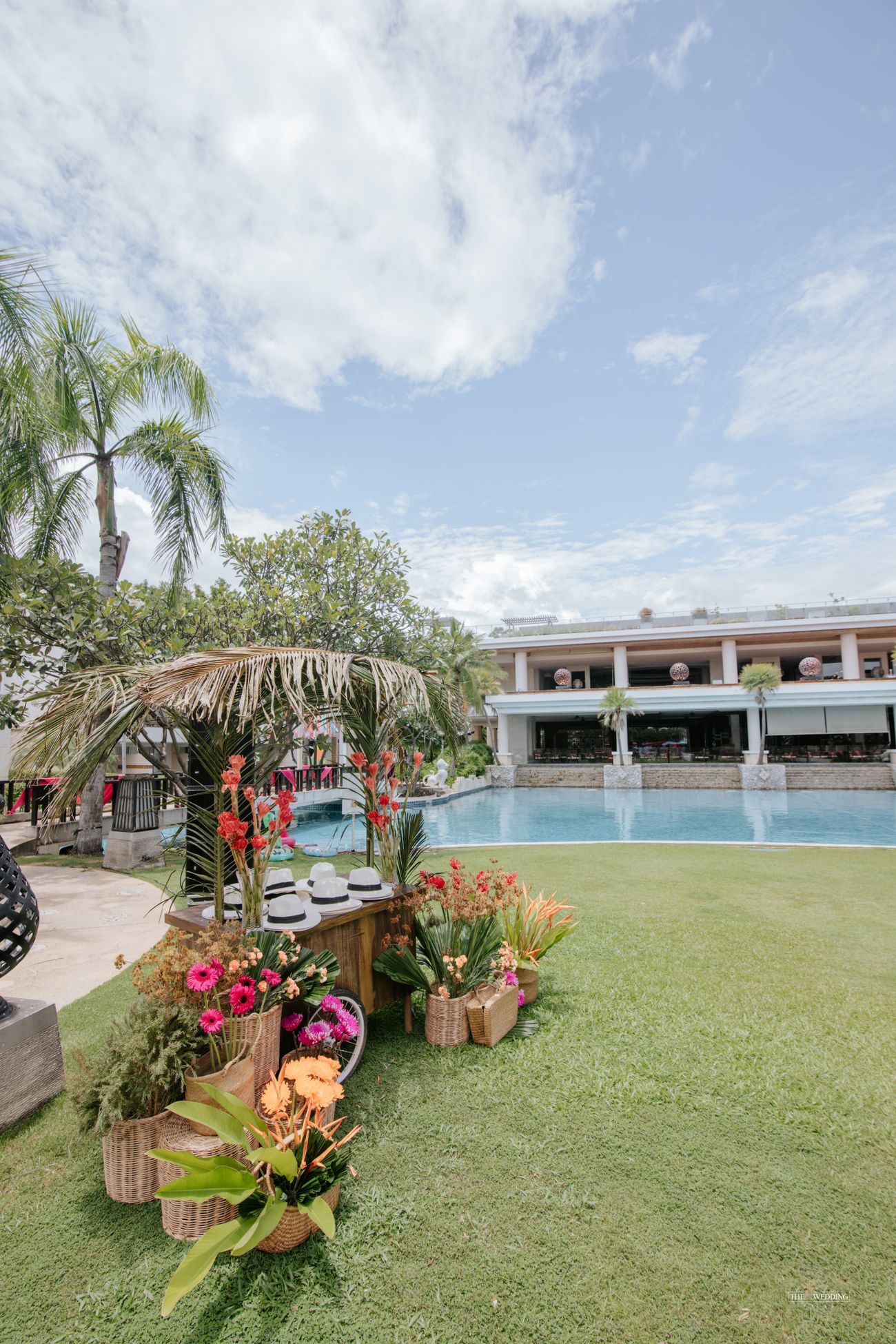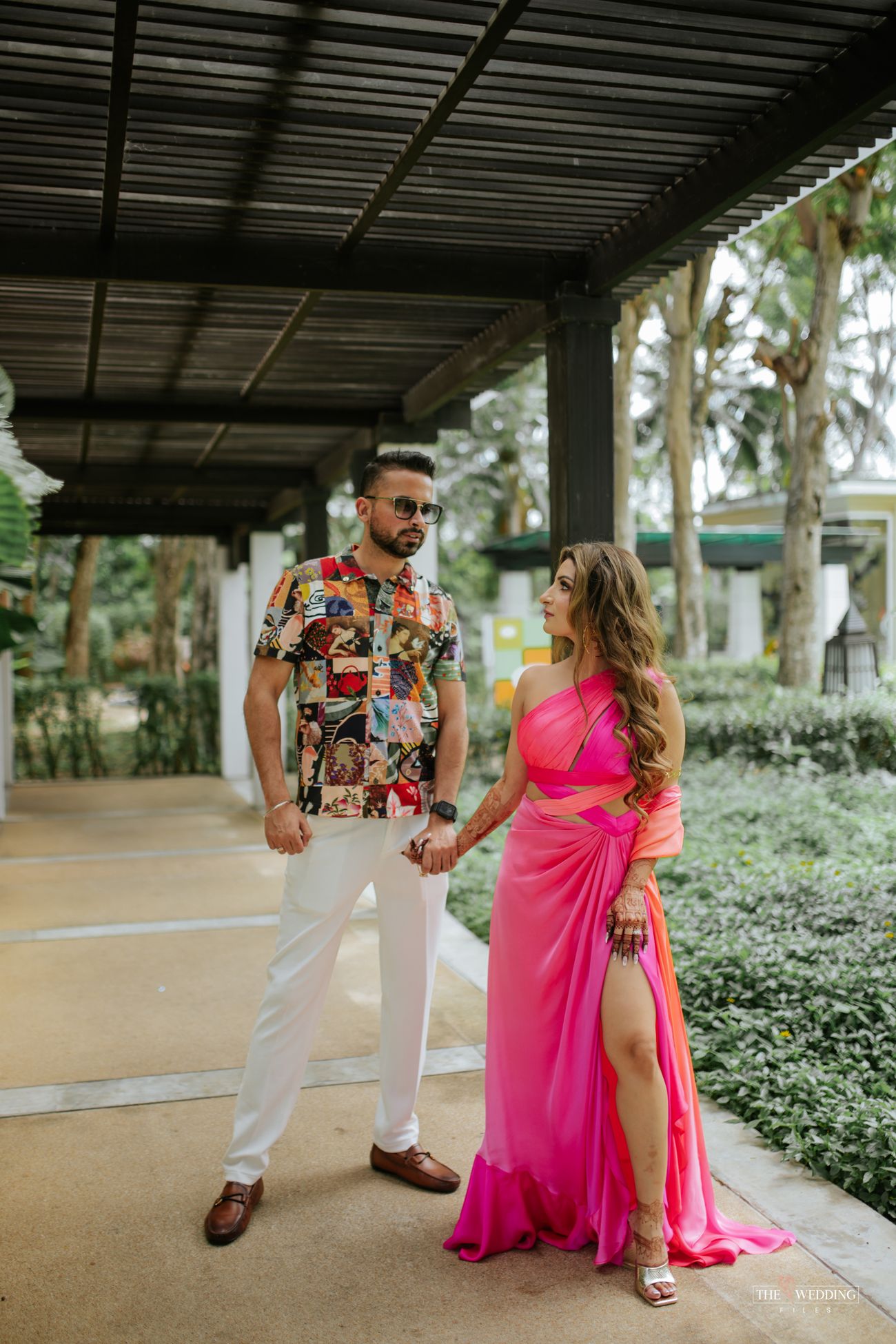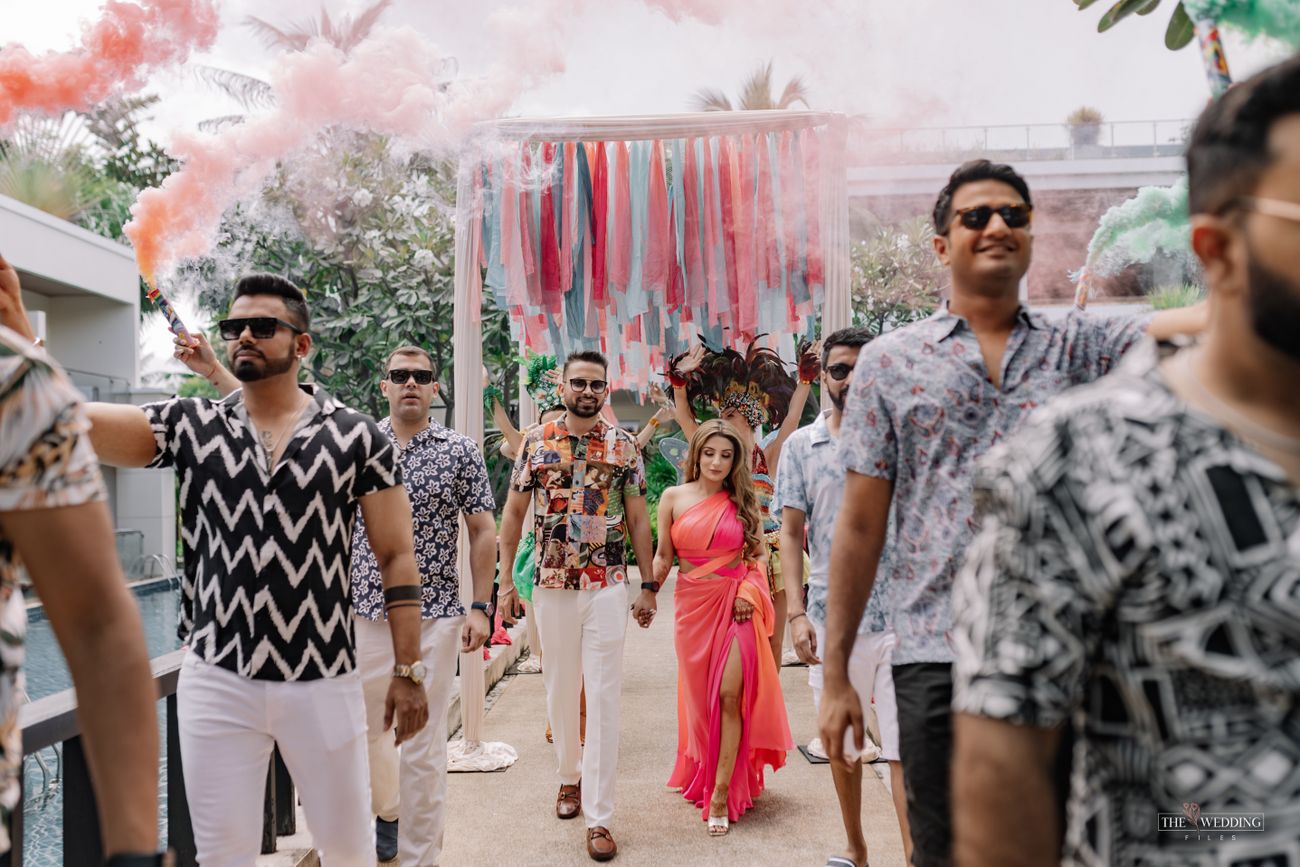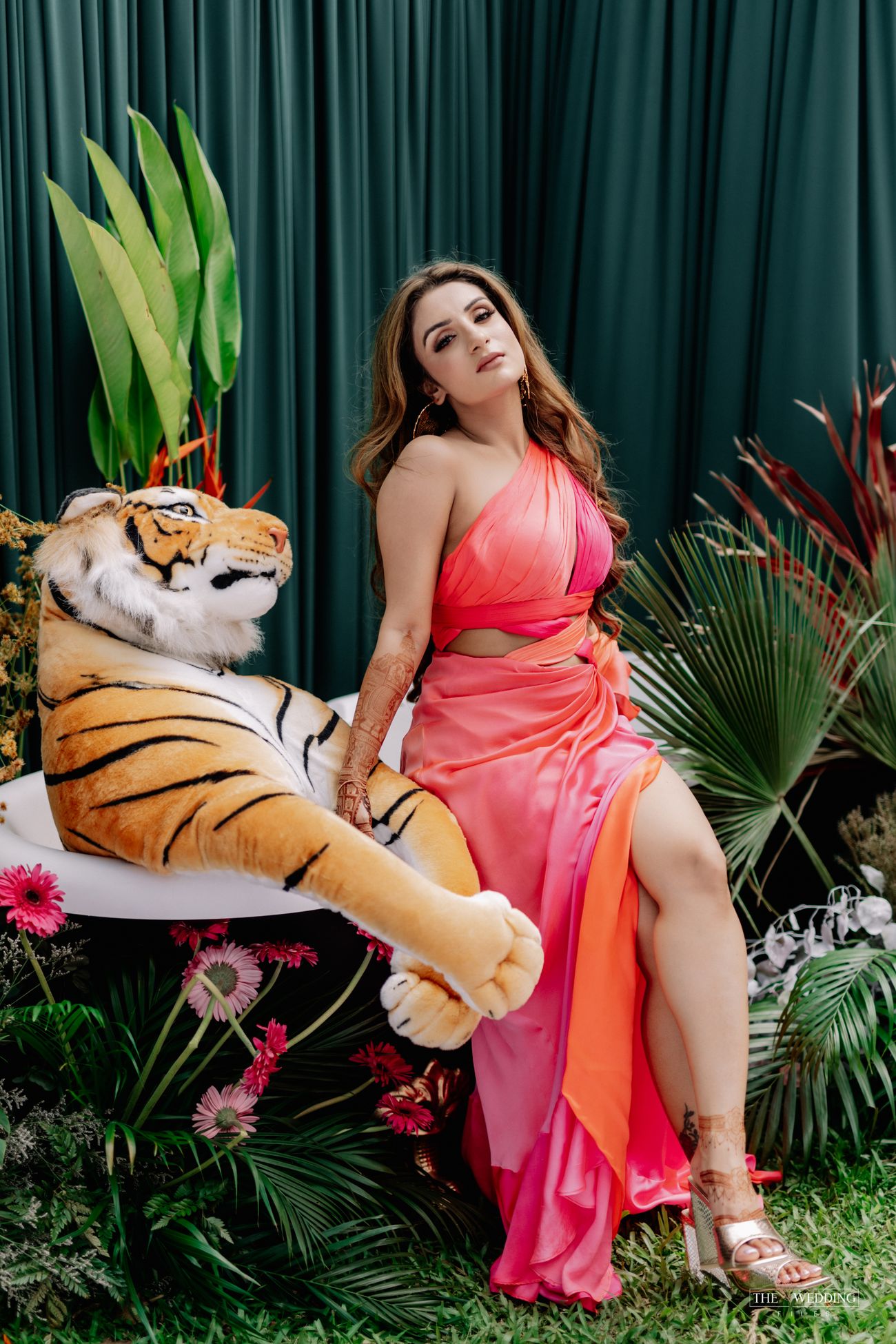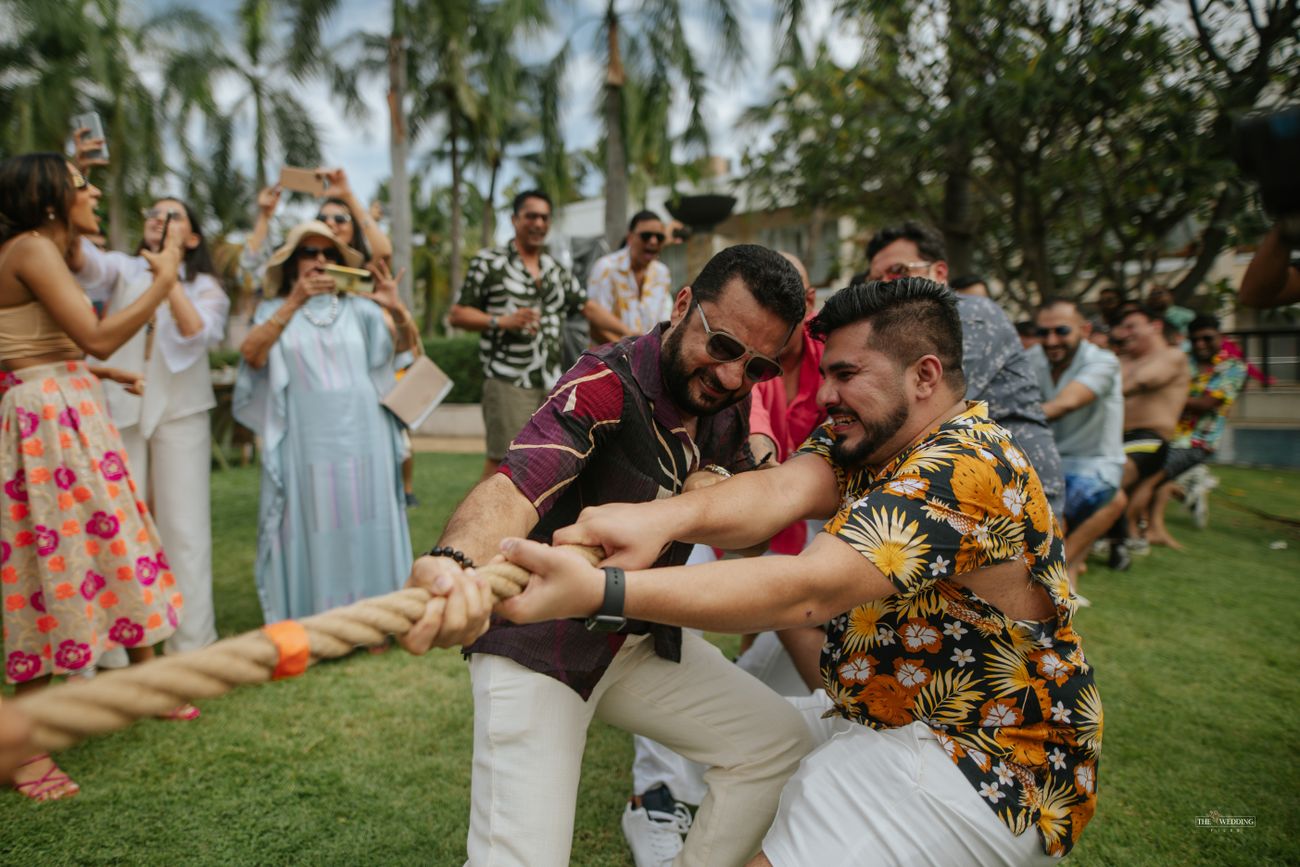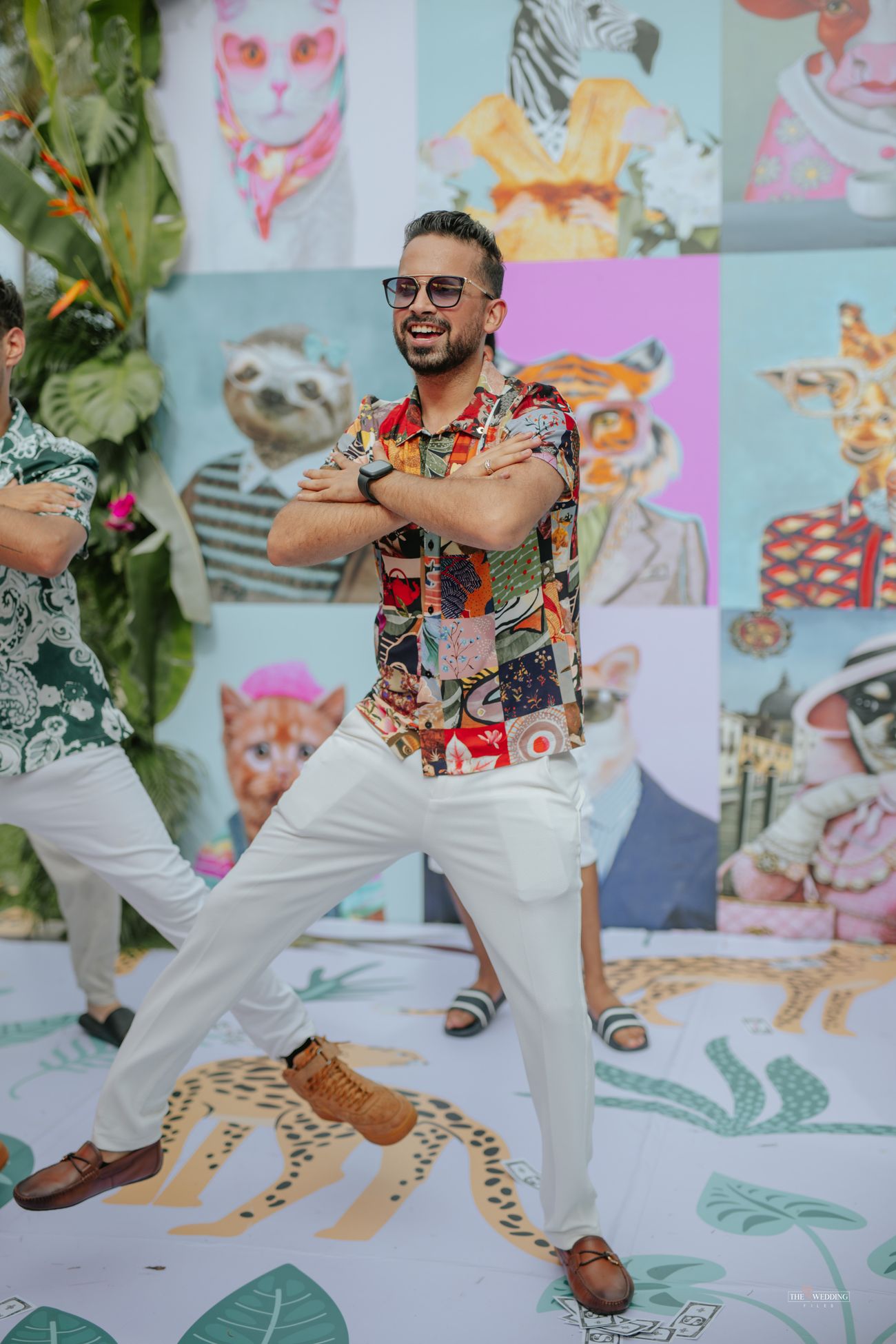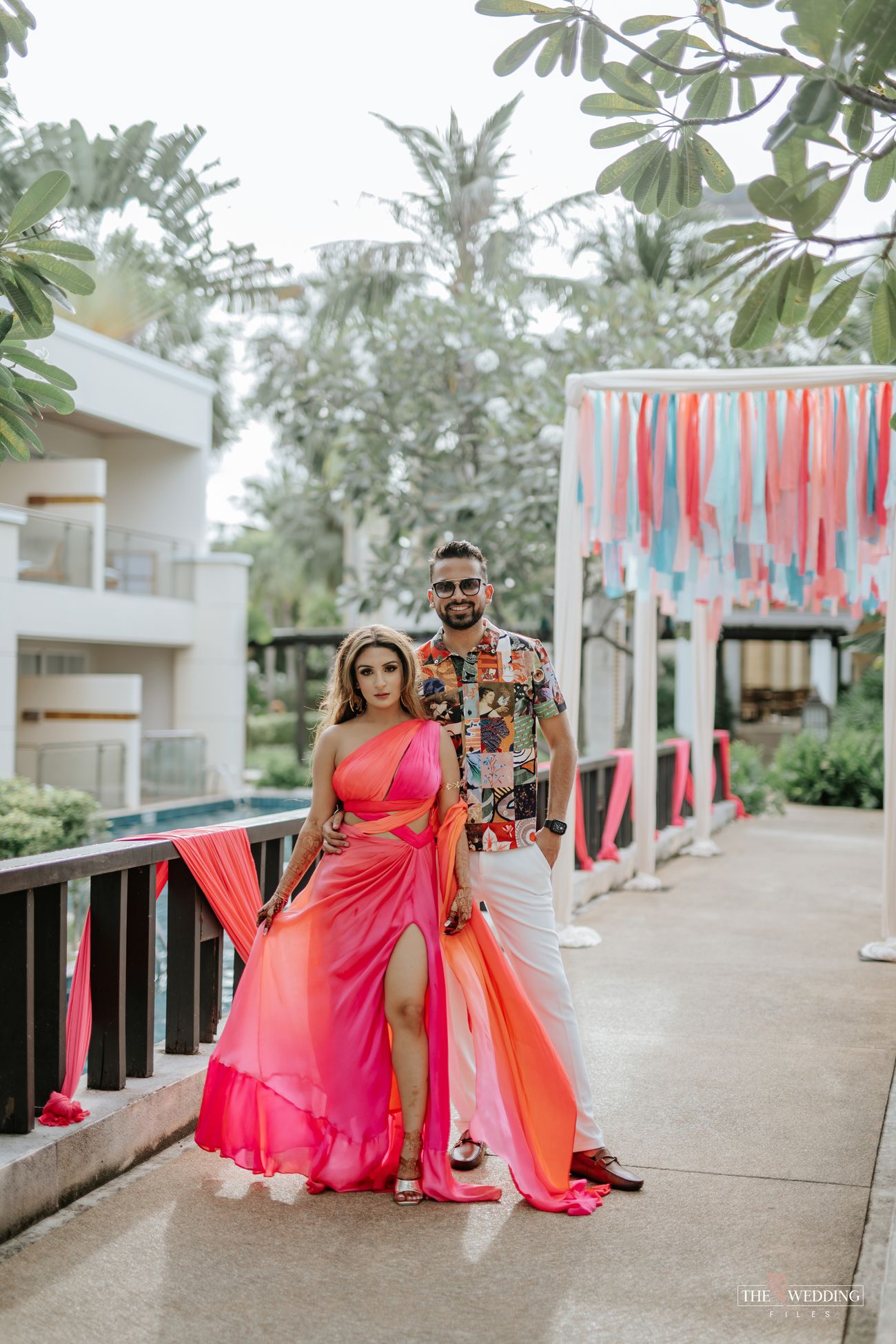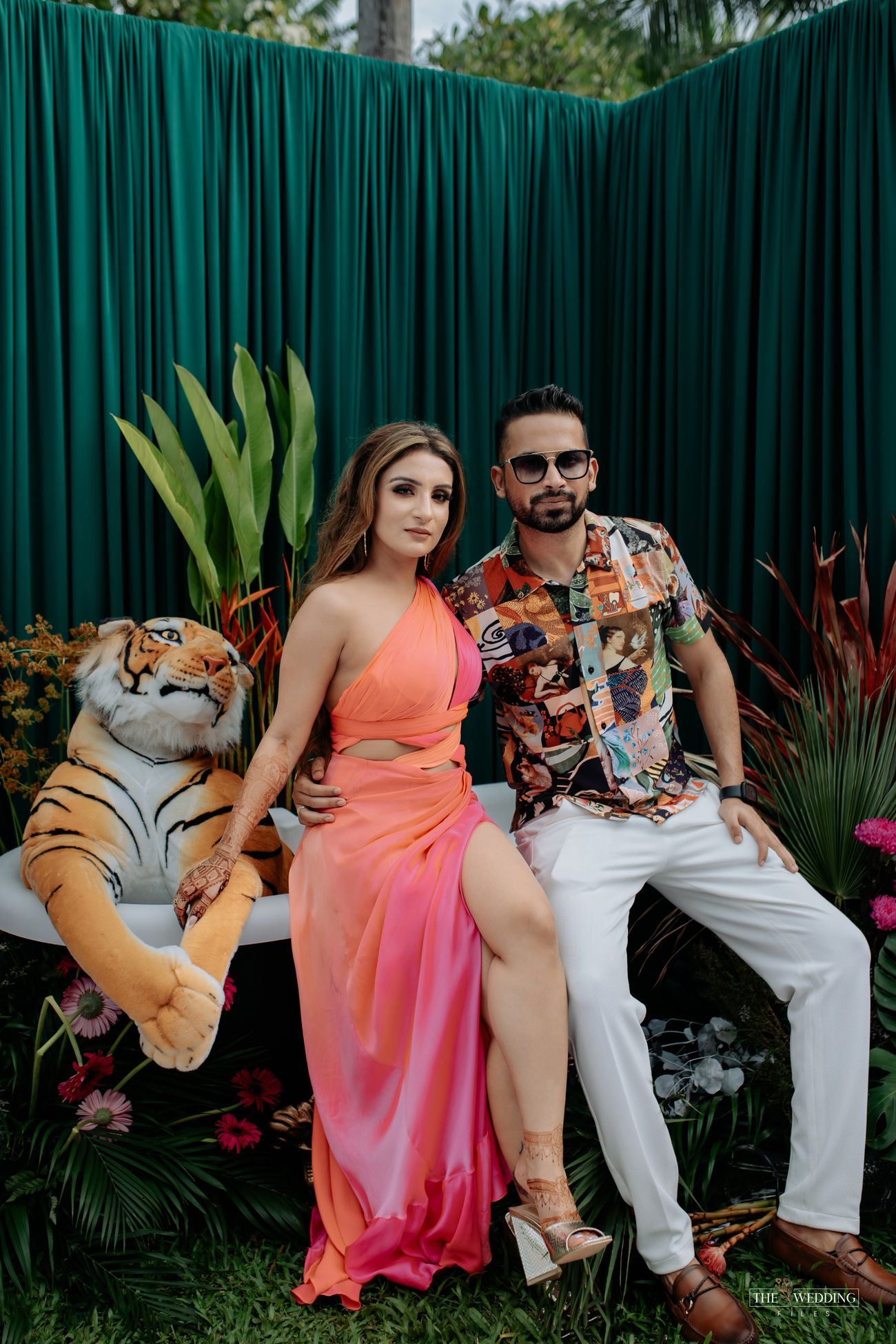 Sagan
My outfit was a deep emerald green with a monochrome green eye look.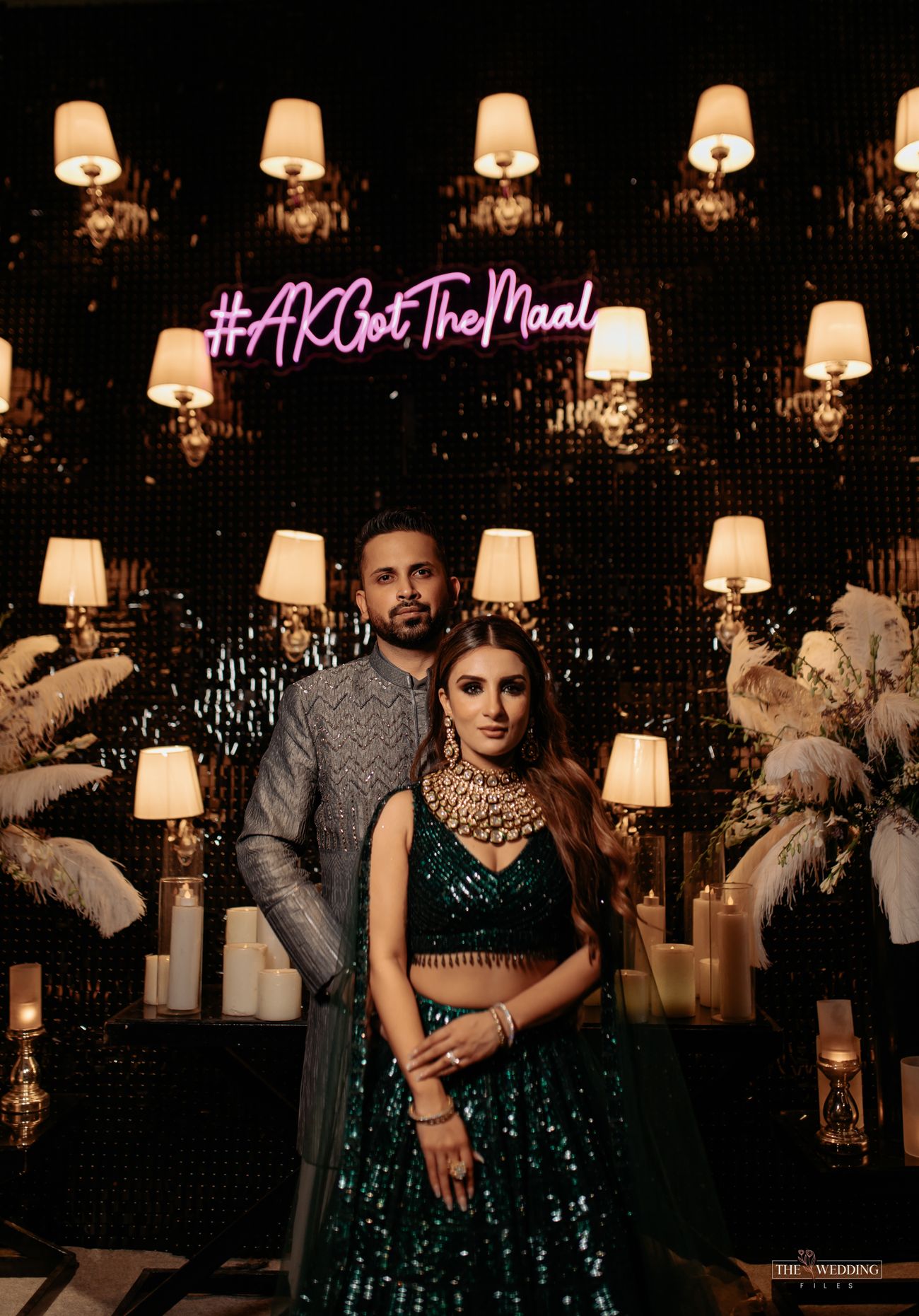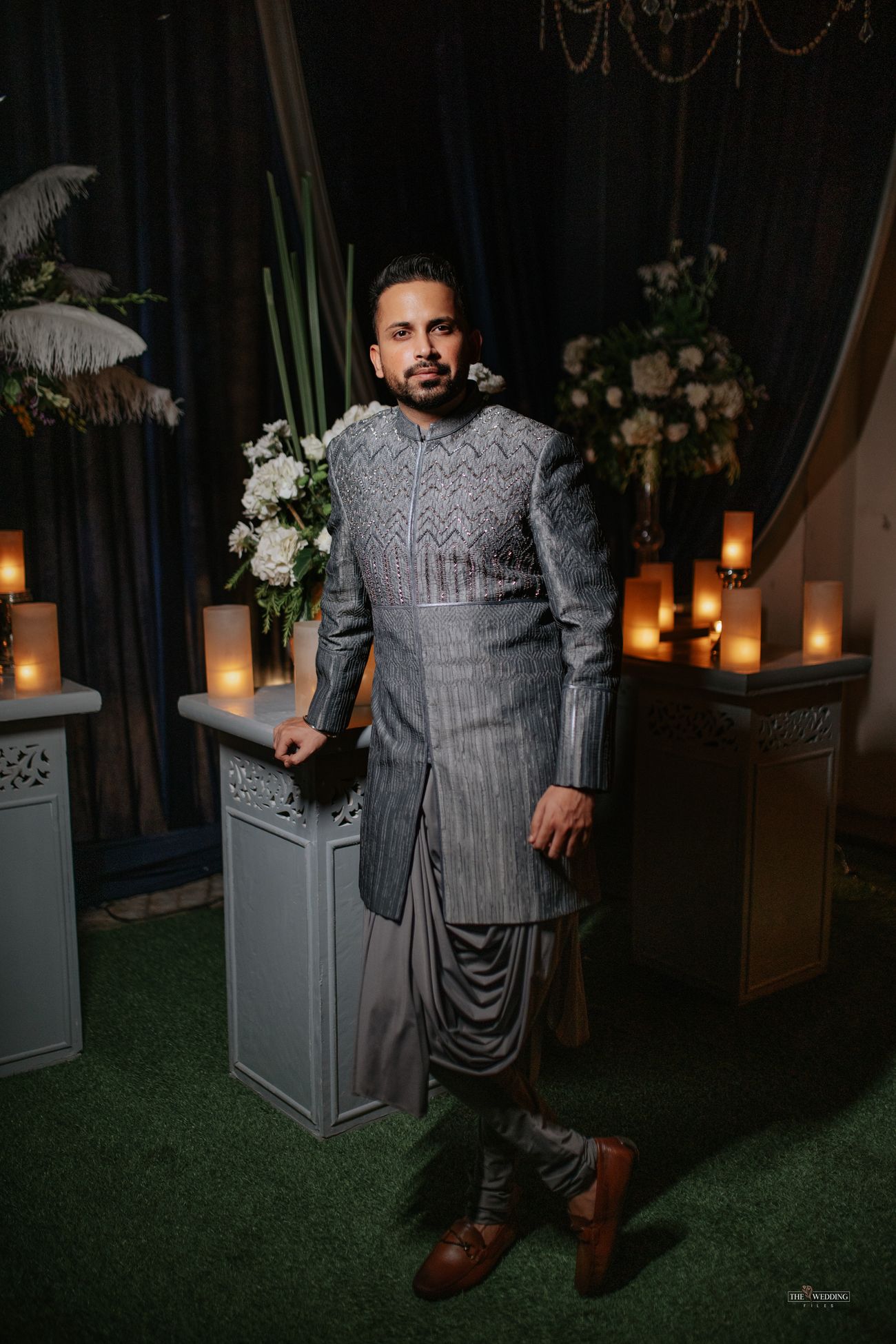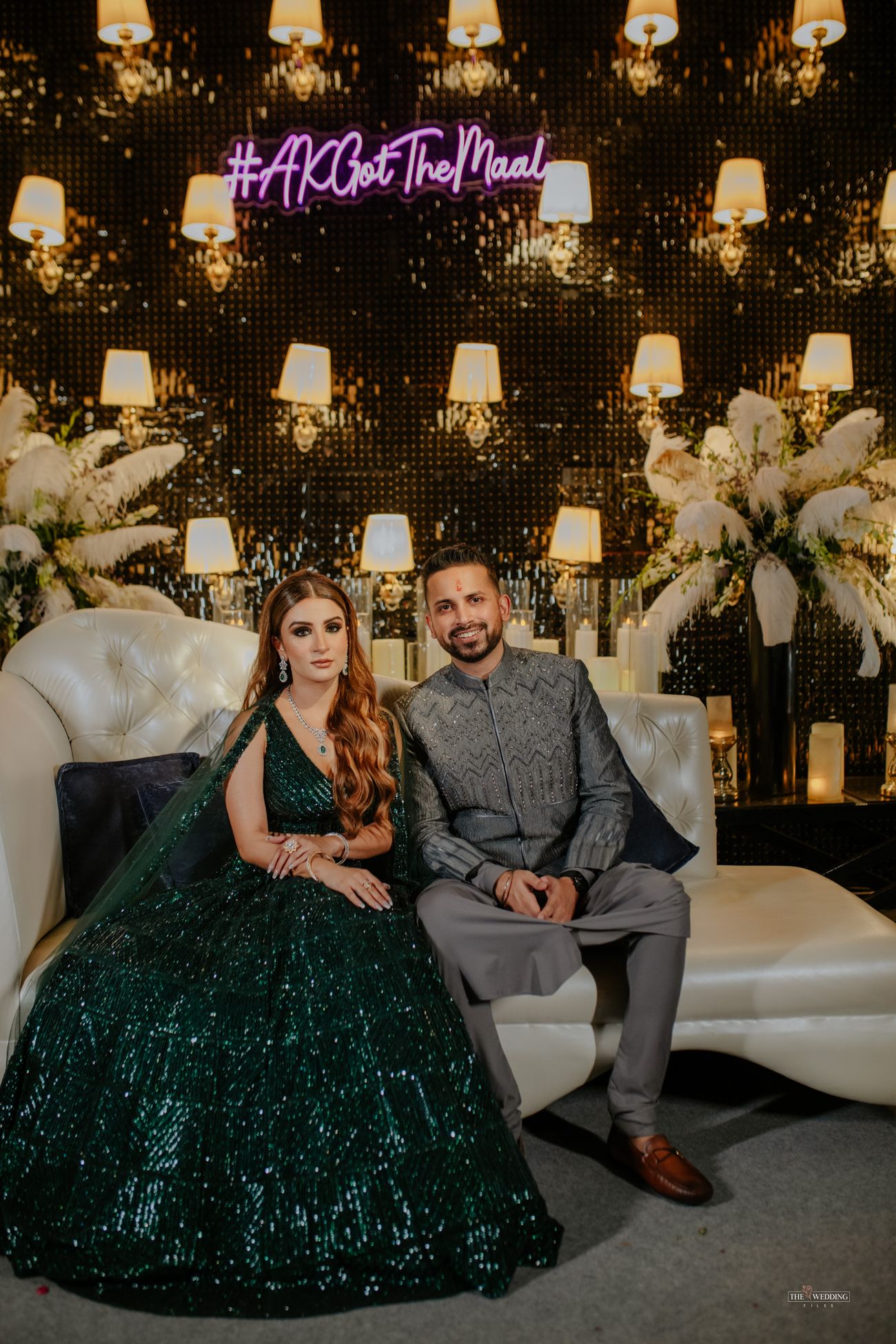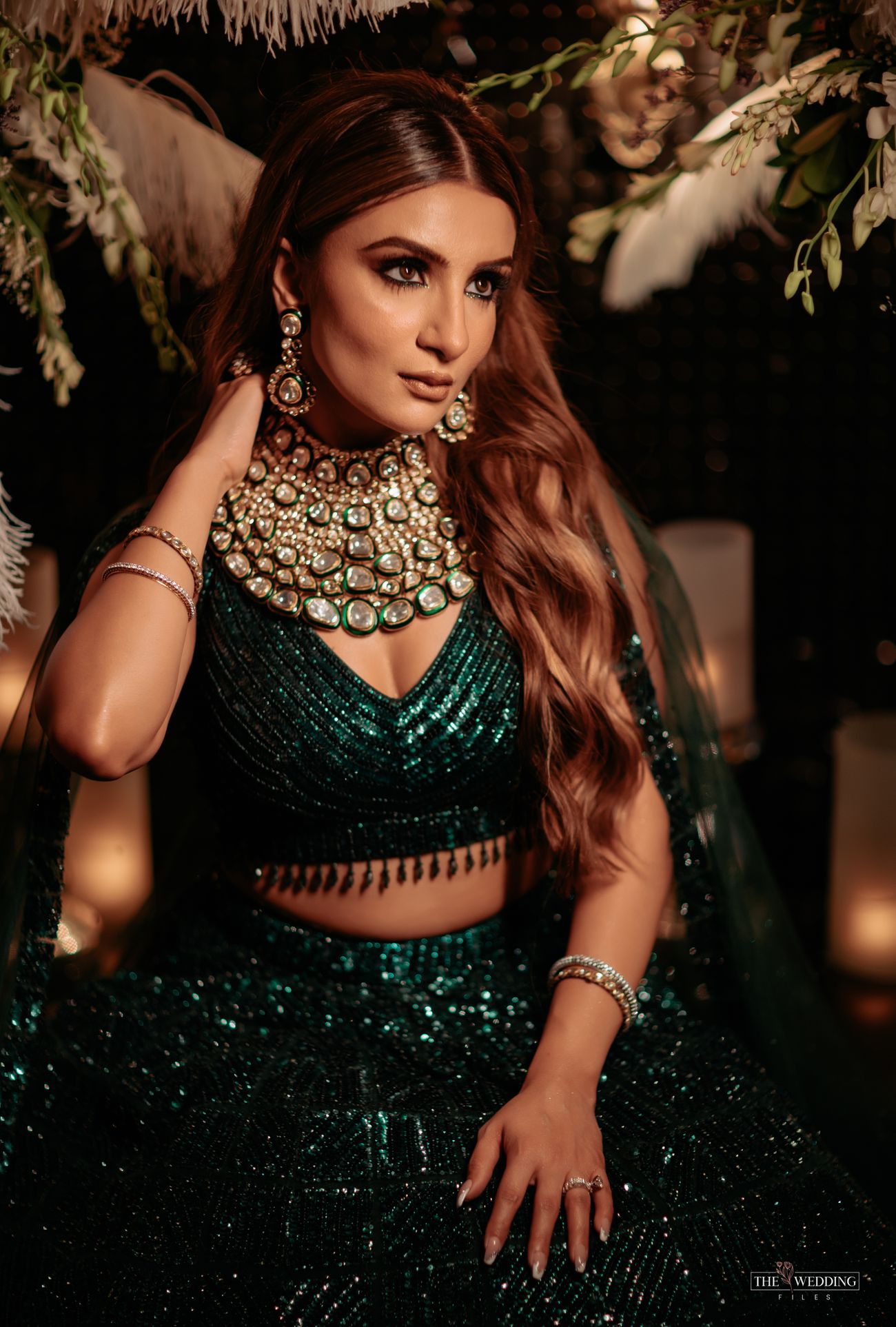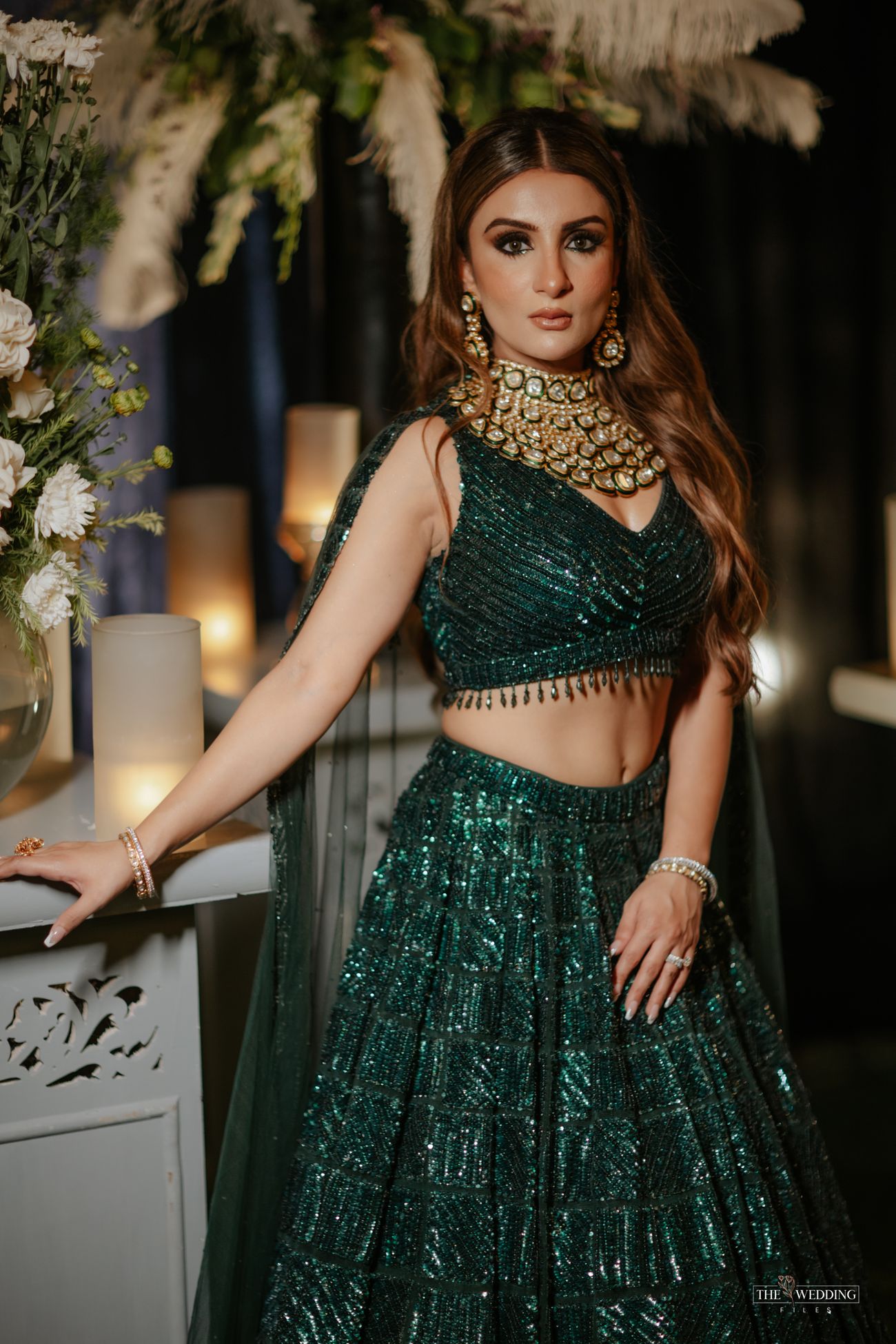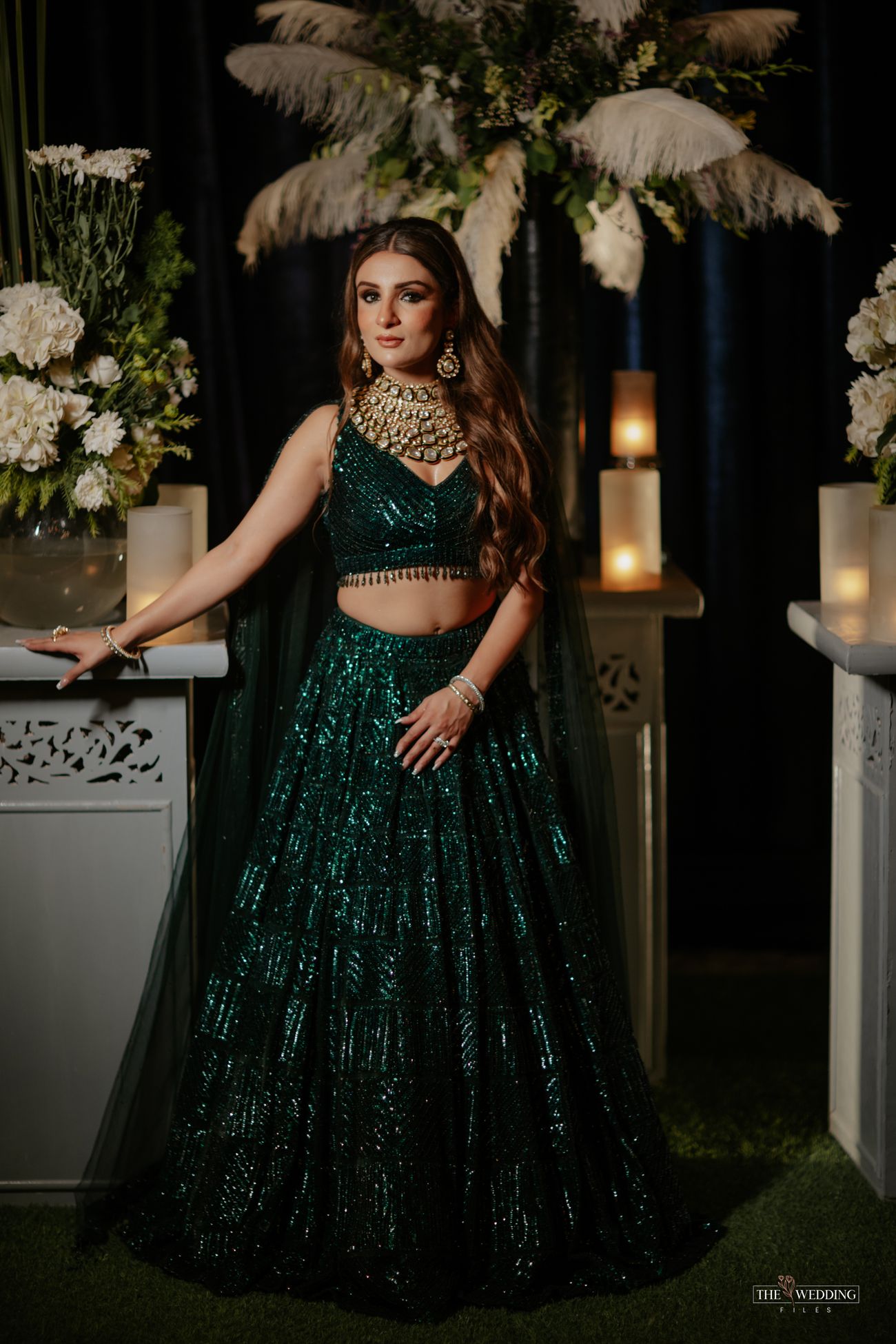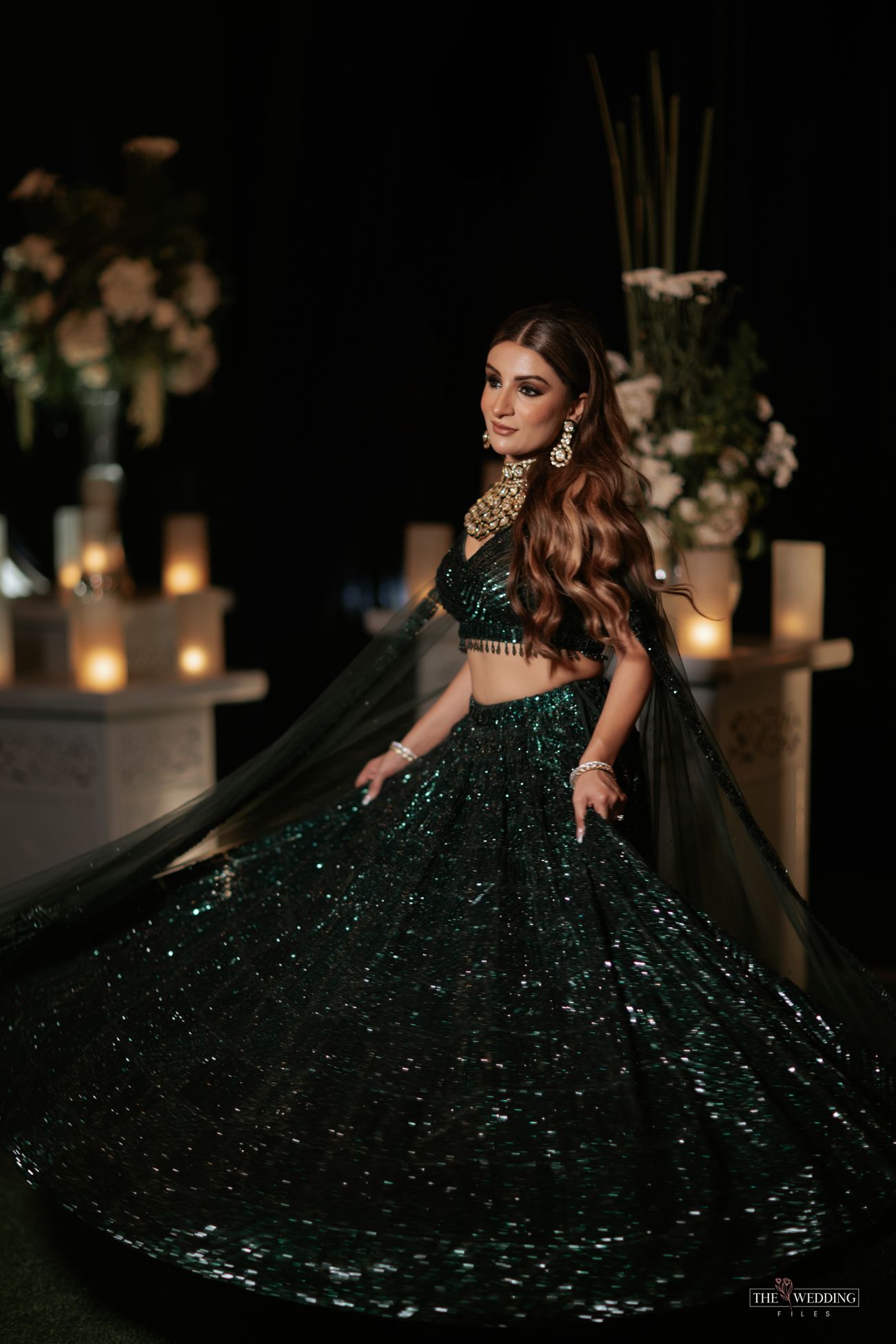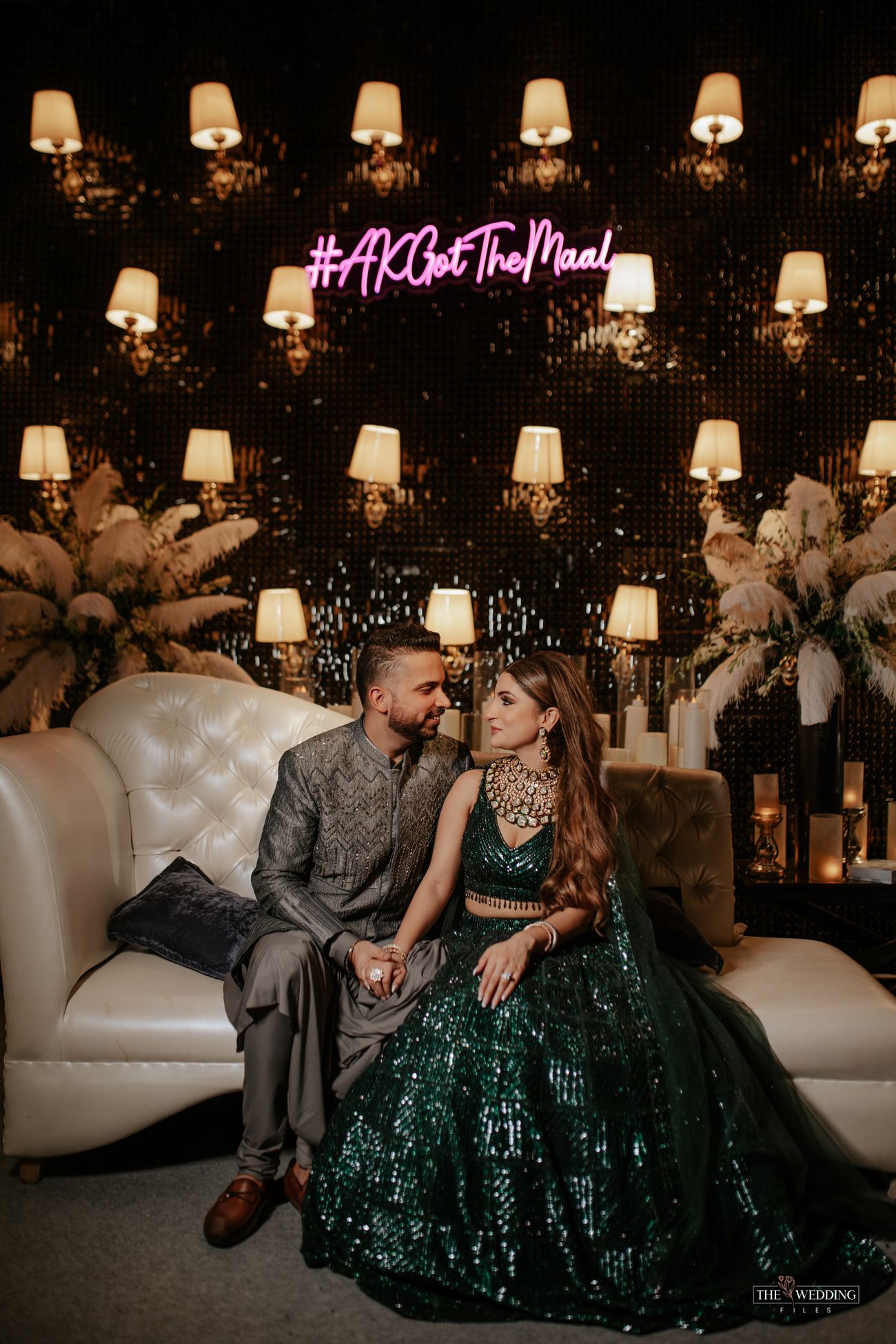 Cocktail
I bought this outfit from turkey from a local couture designer. I knew I wanted couture and wanted to wear a deep red. My outfit inspirations all included corset like figure hugging dresses. I found the perfect embellished dress in turkey and envisioned a snatched high pony look for this outfit with Pooja Khurana.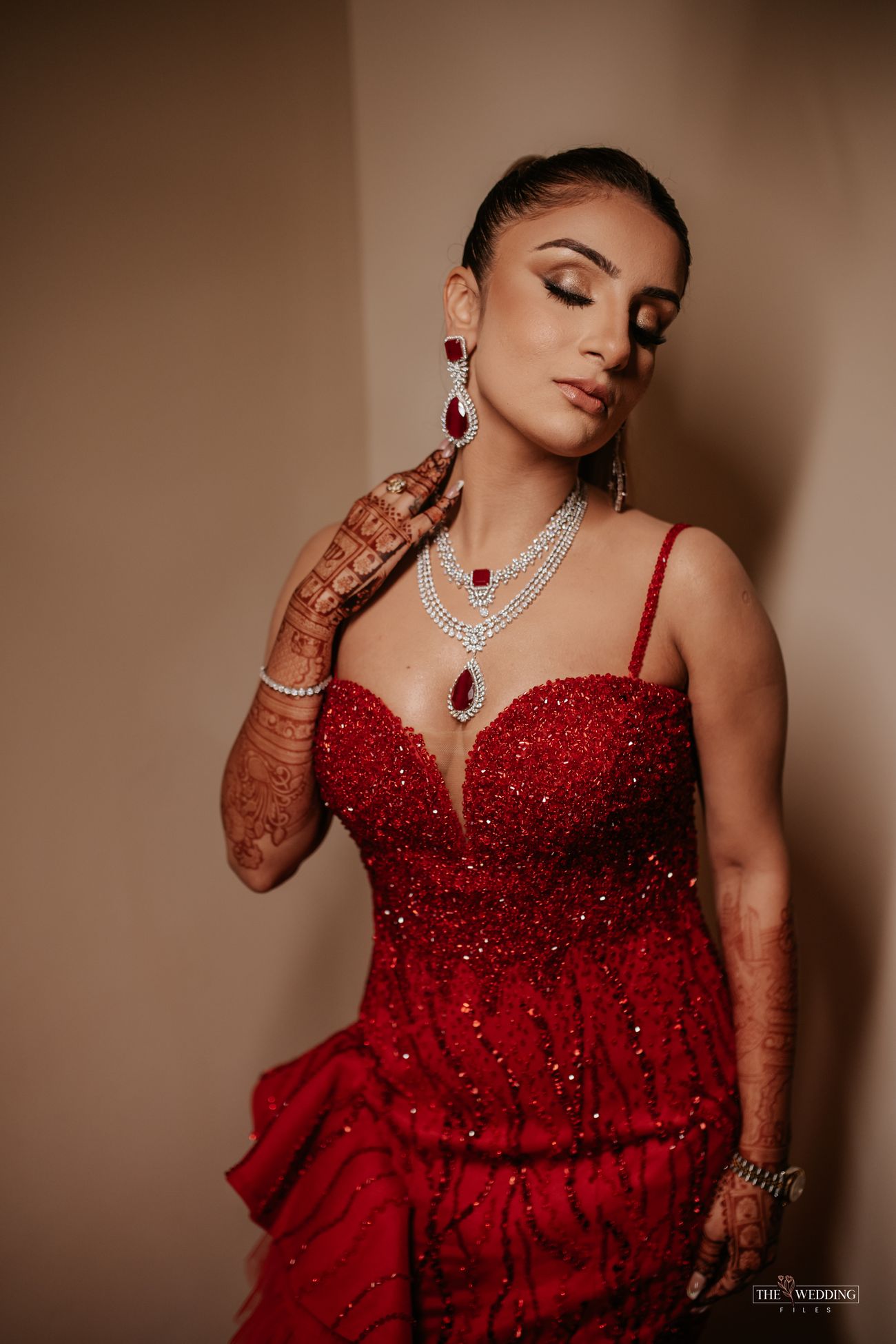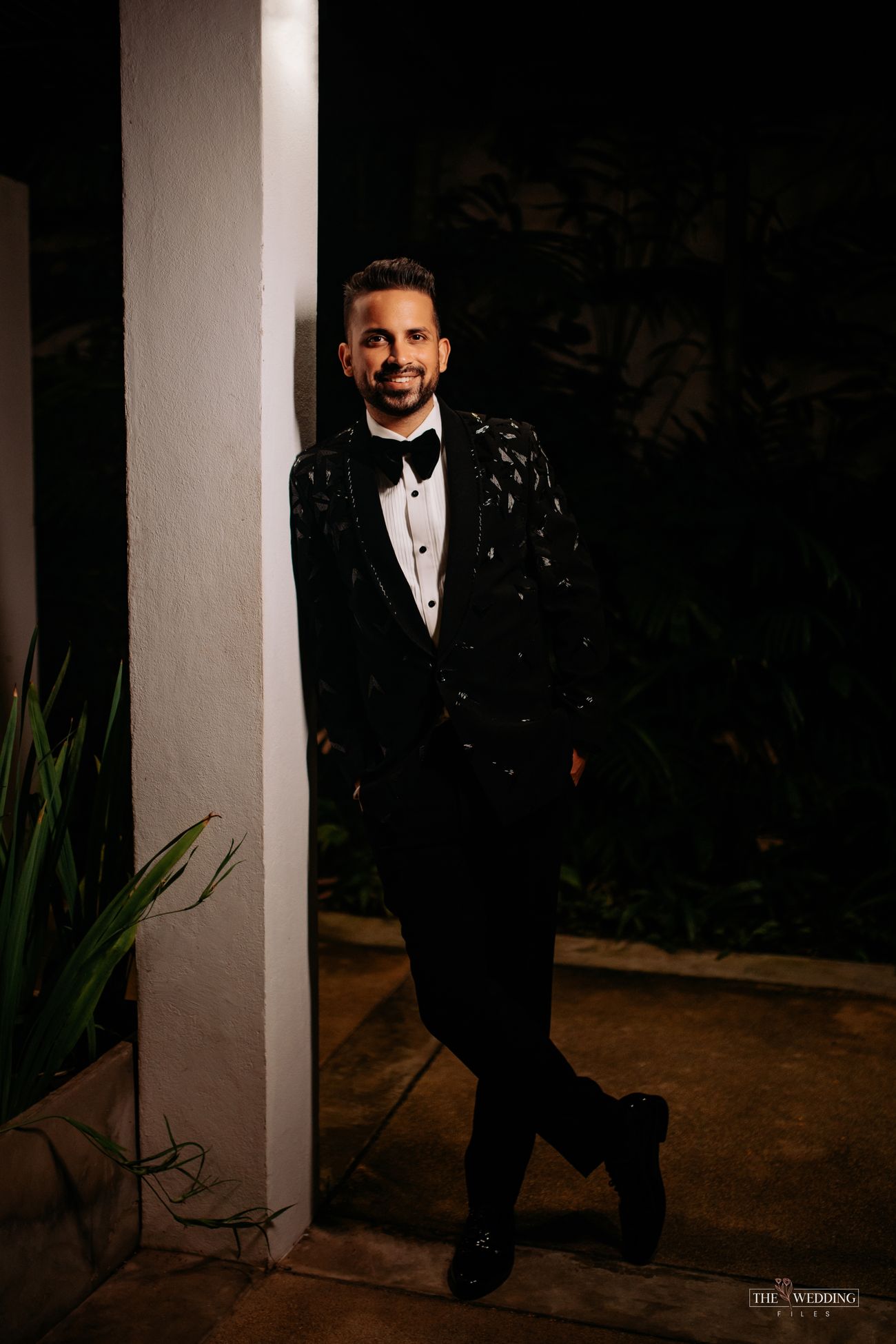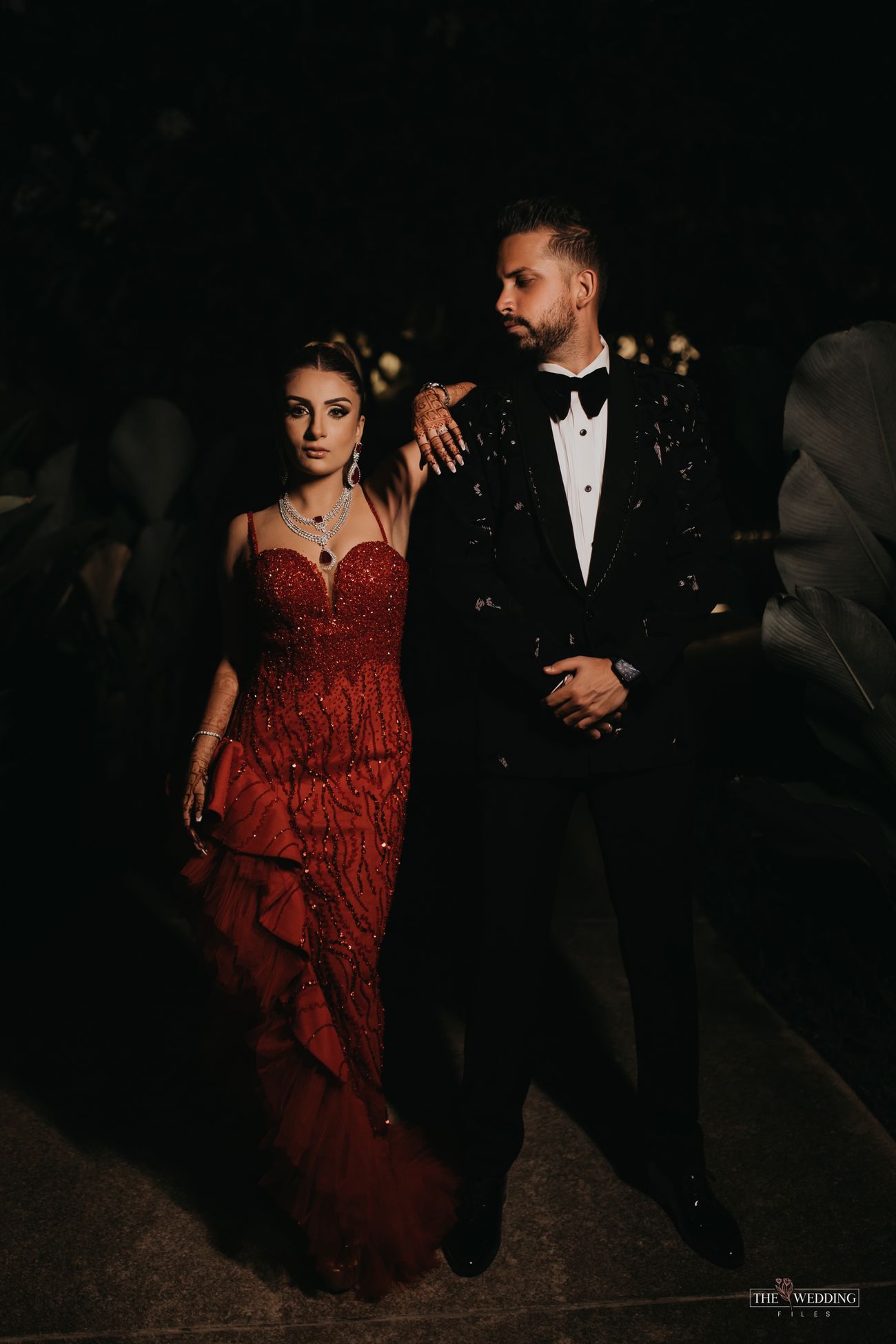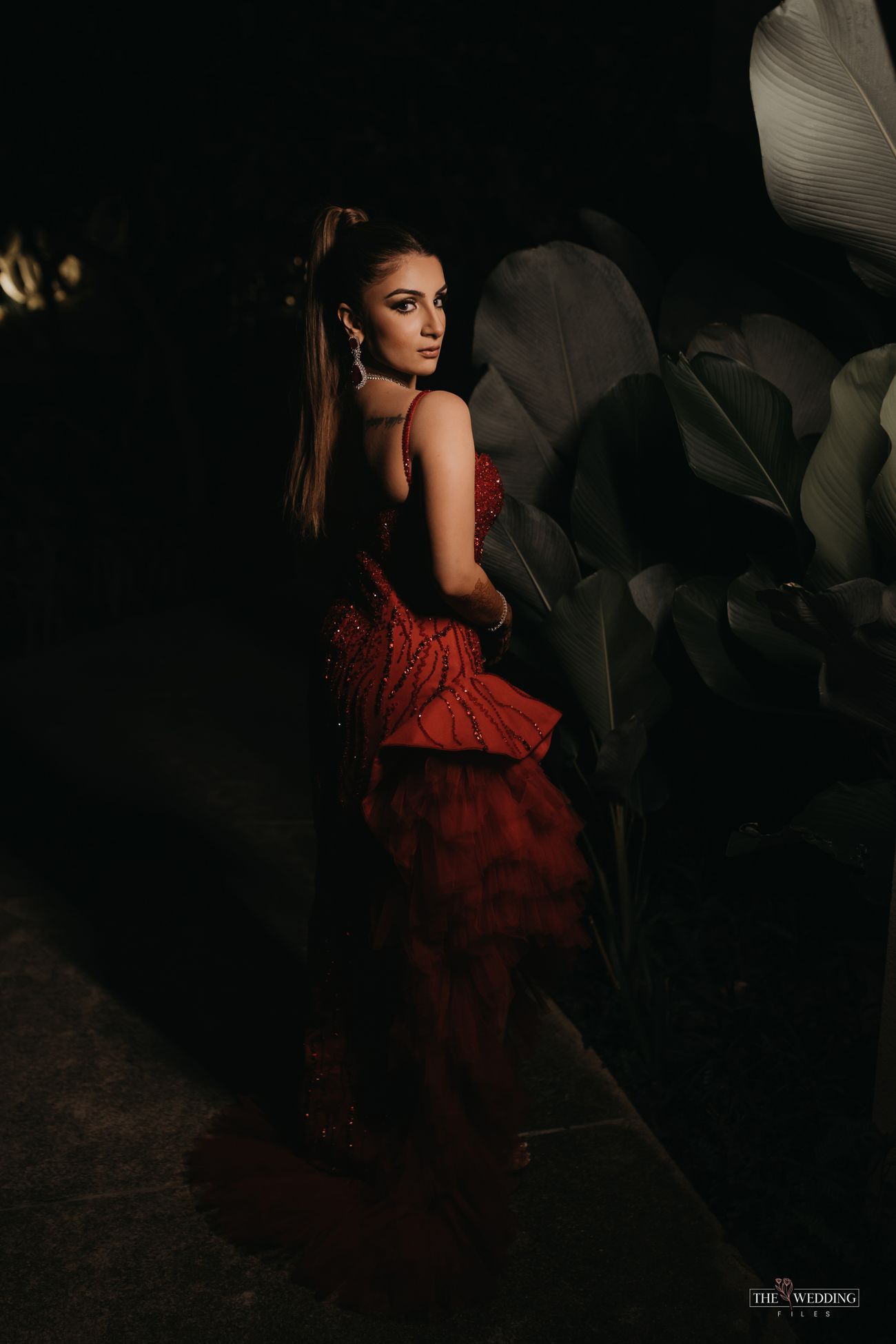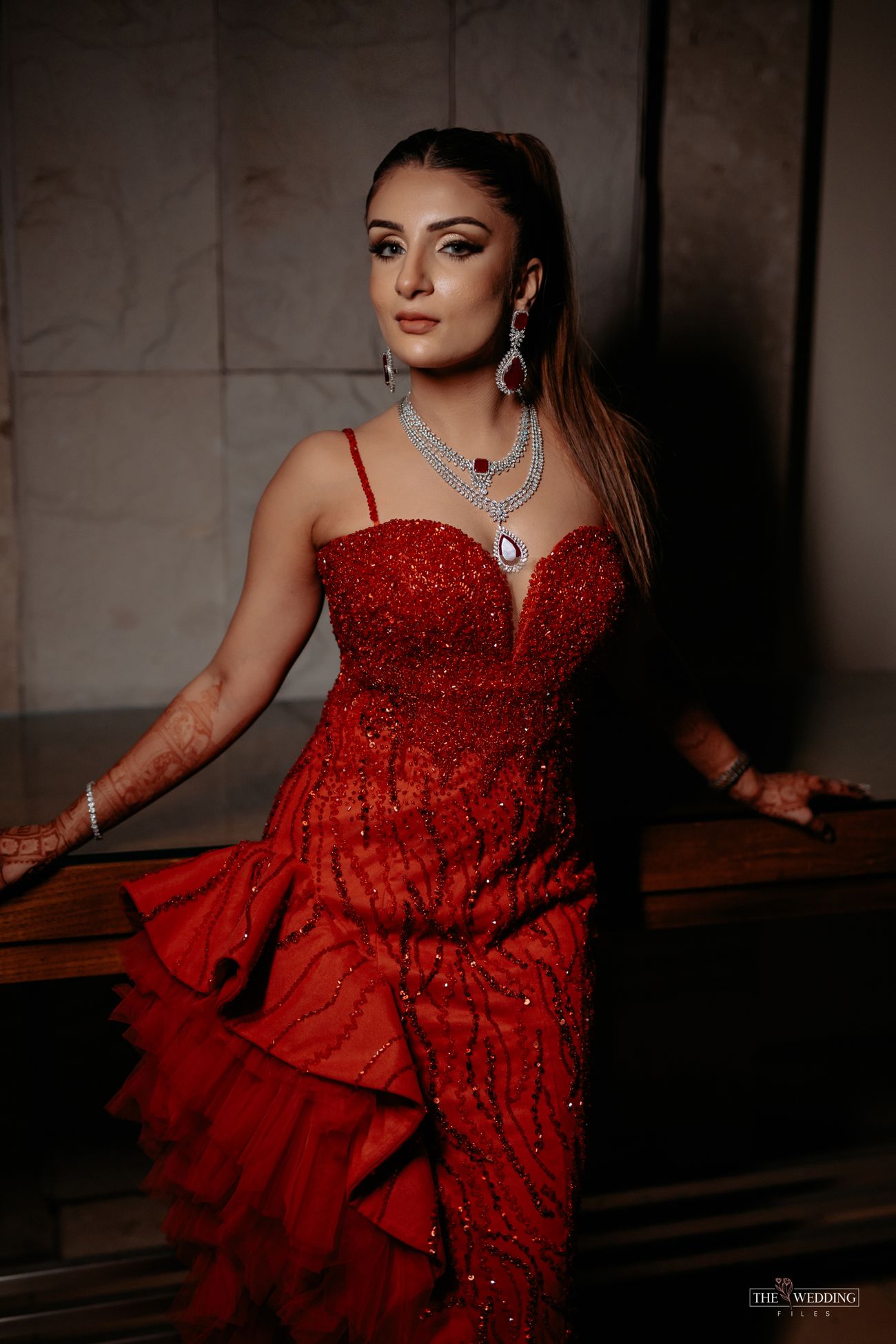 Wedding
My outfit was inspired from Disney's Jasmine. I wanted to look like a desi Disney princess and I found the perfect ensemble at Rimple to fit my inspiration board! It was love at first sight that outfit!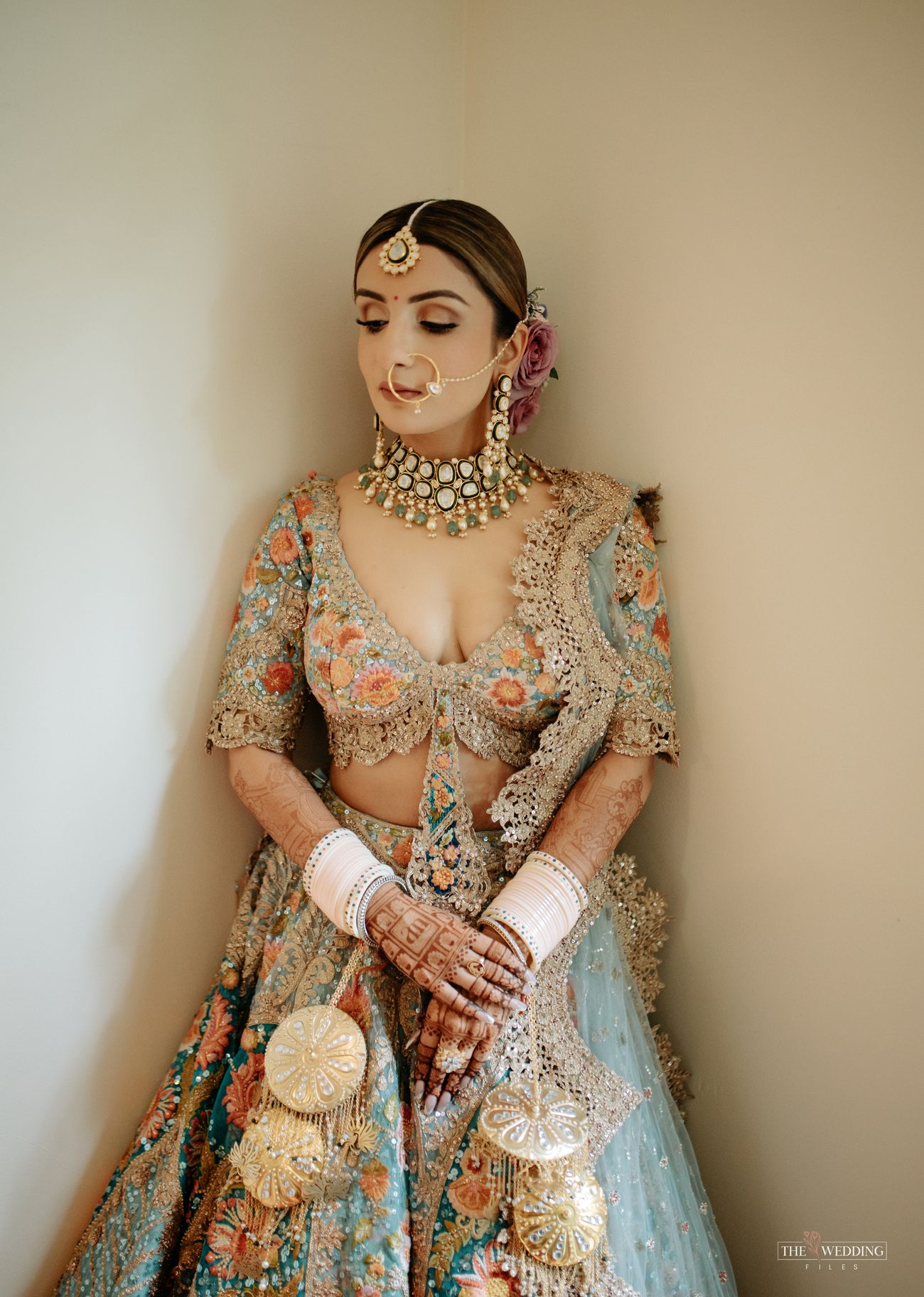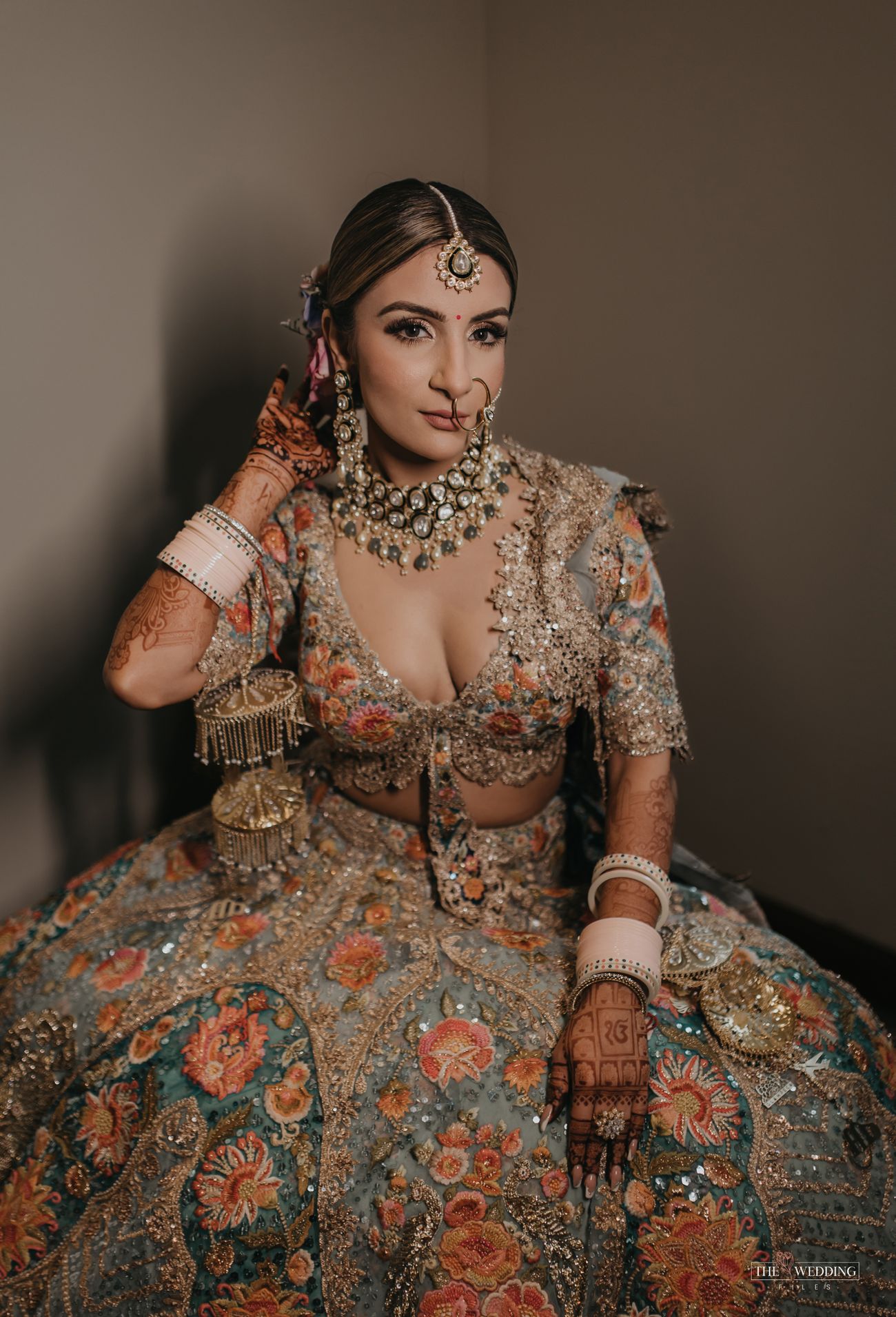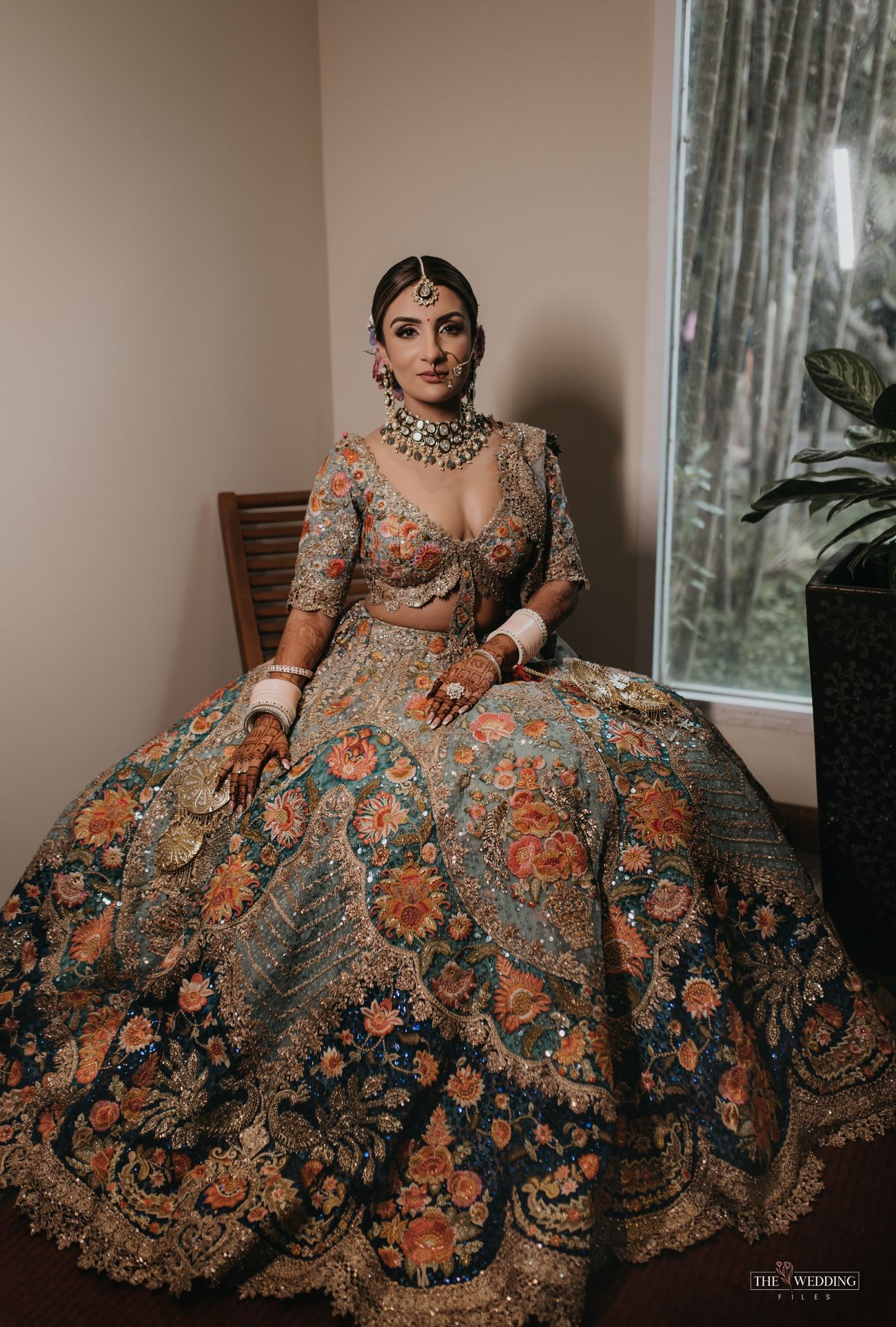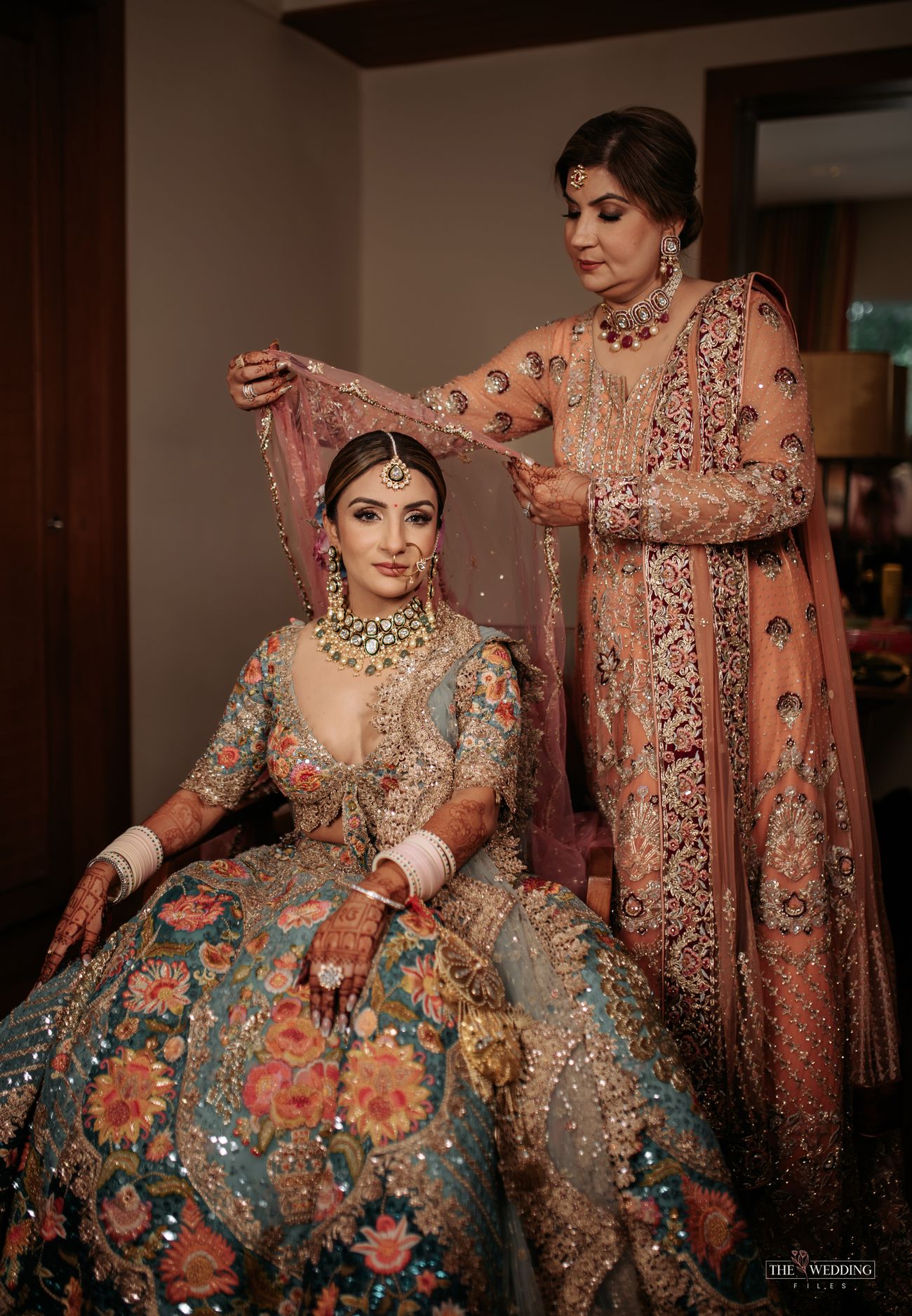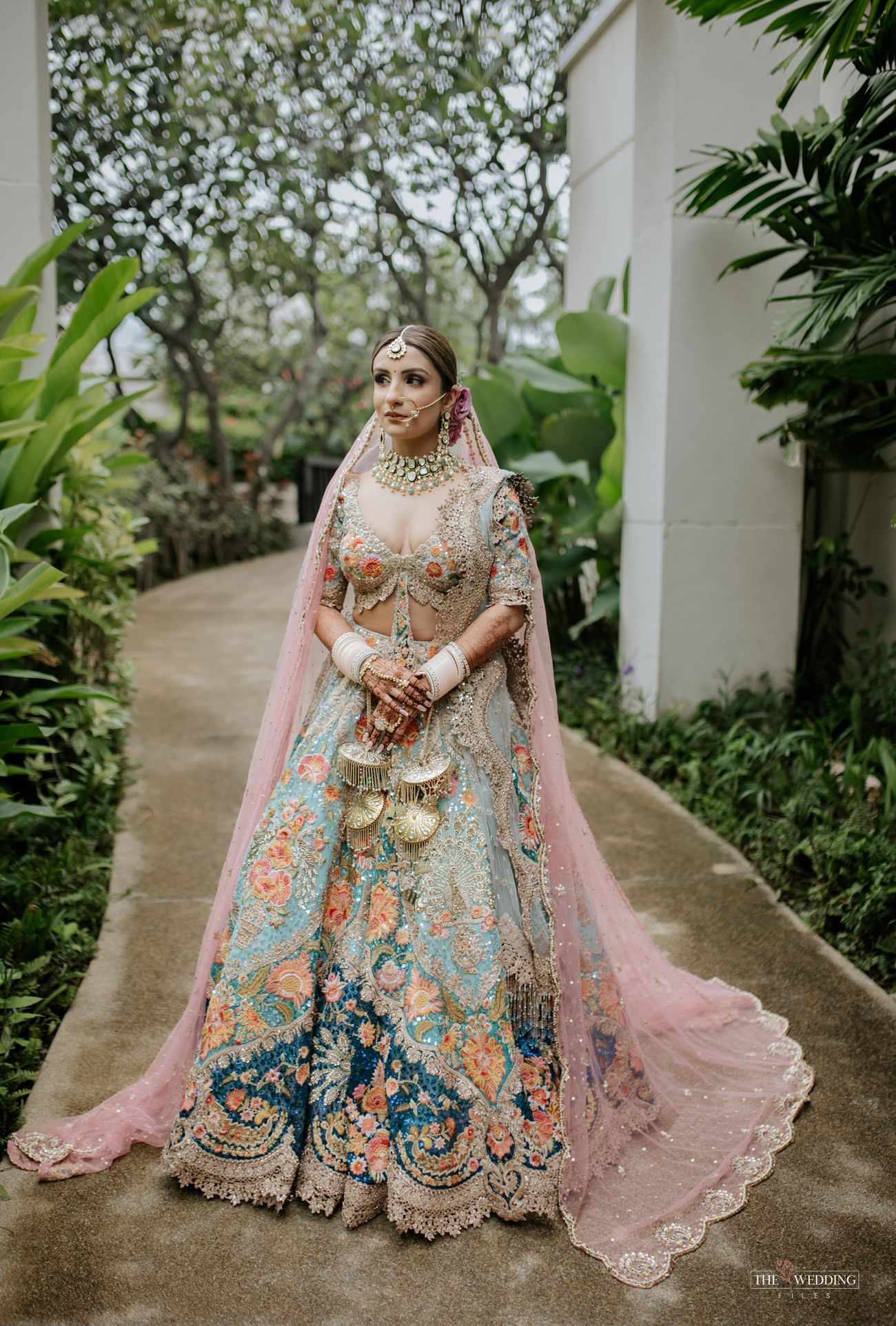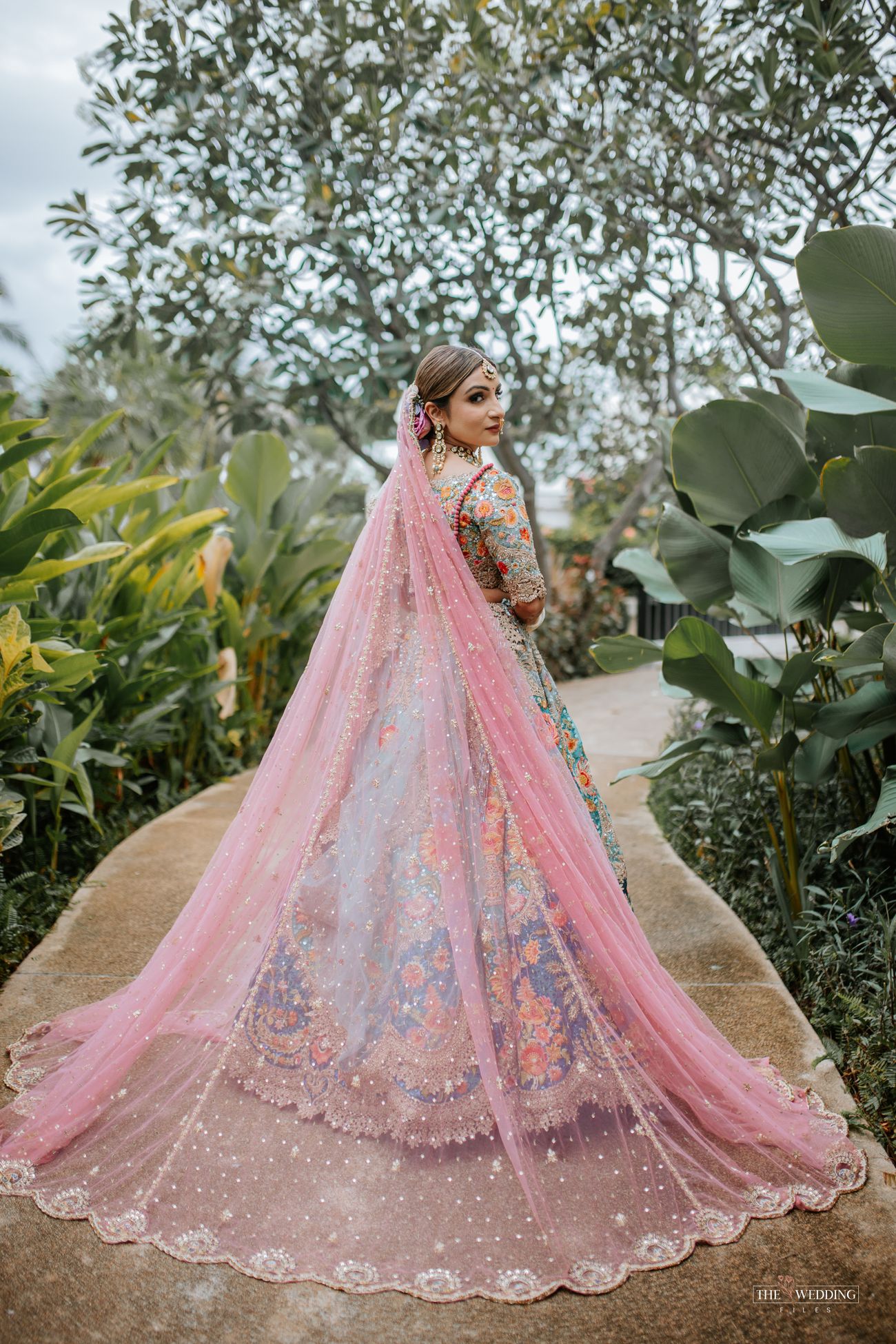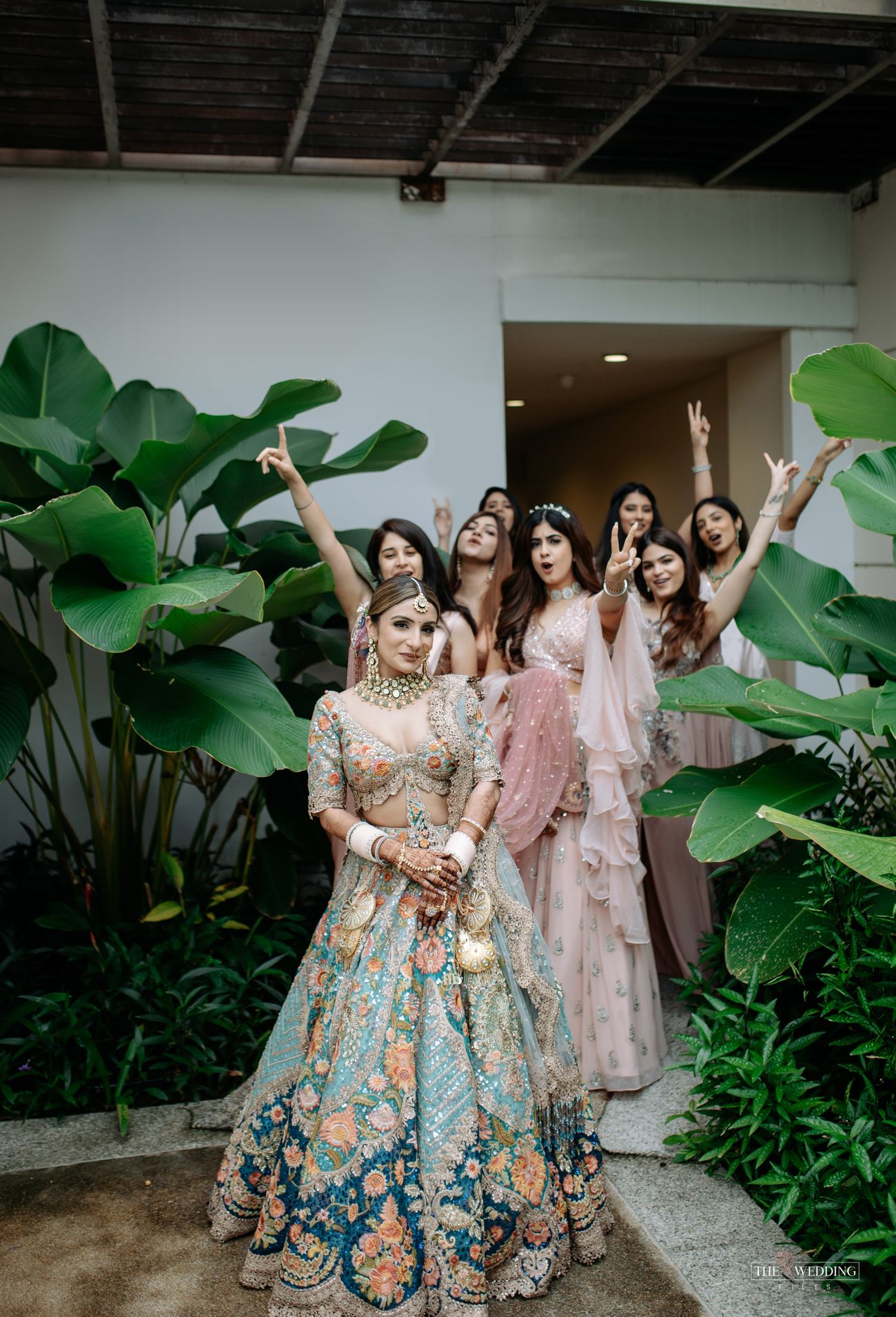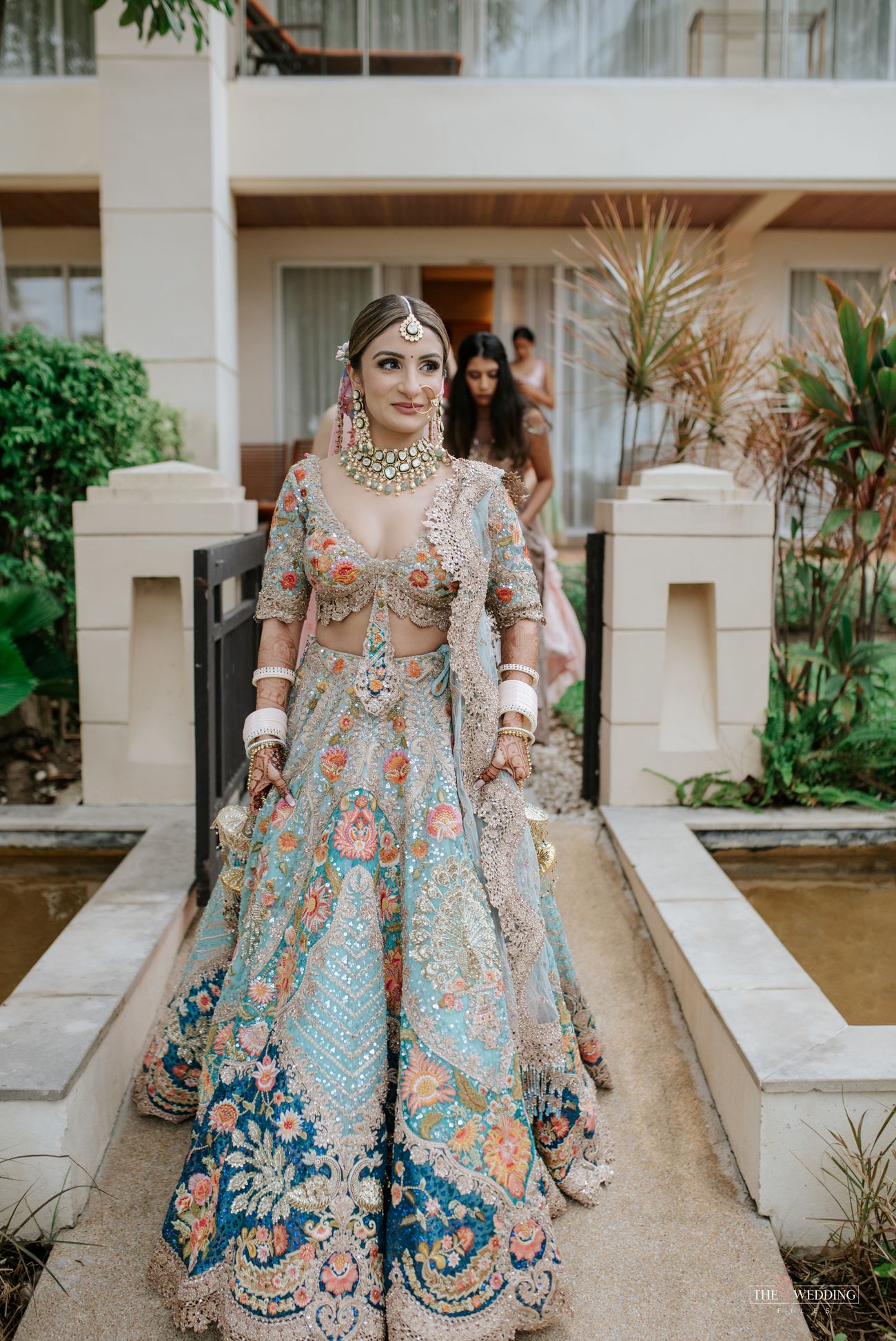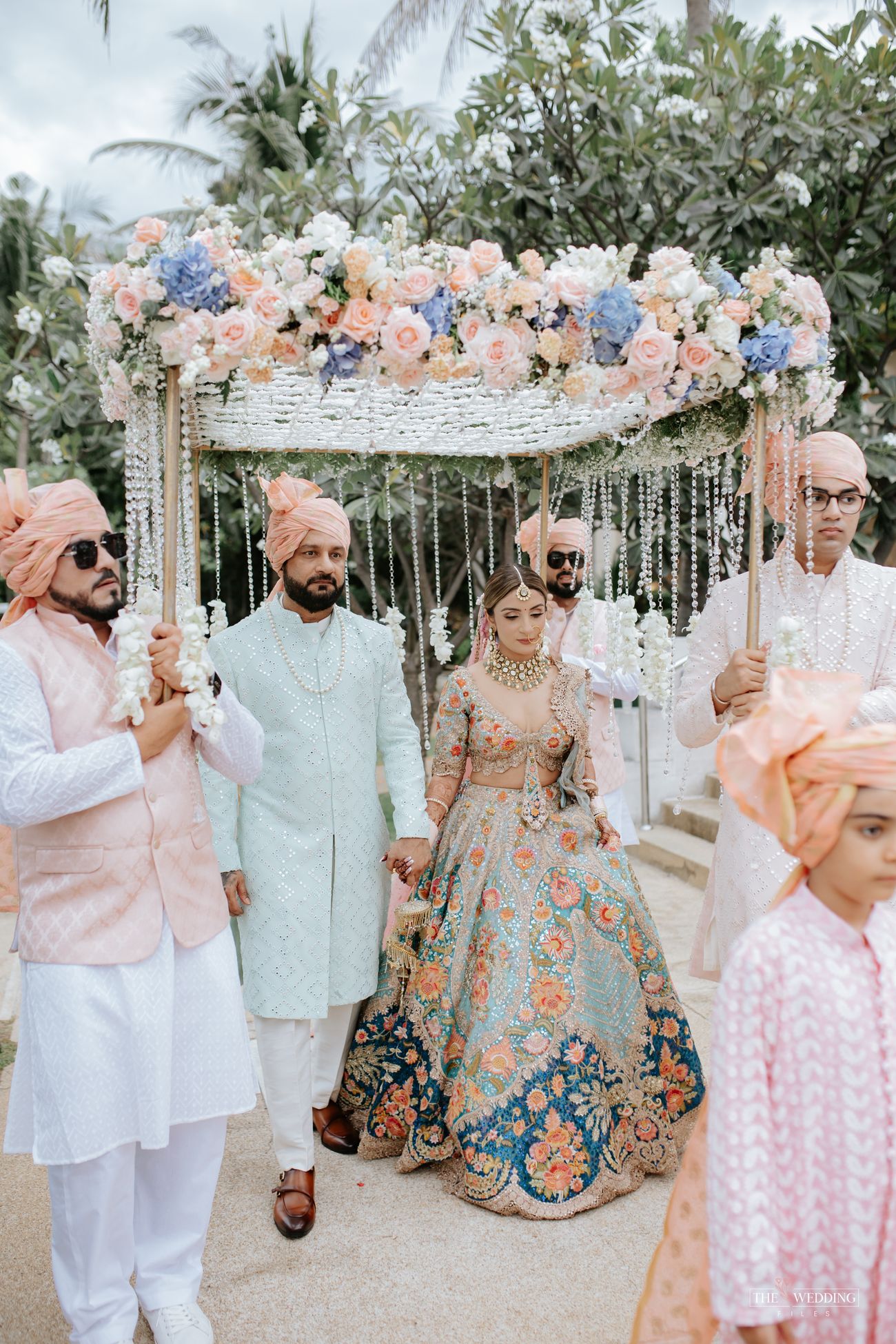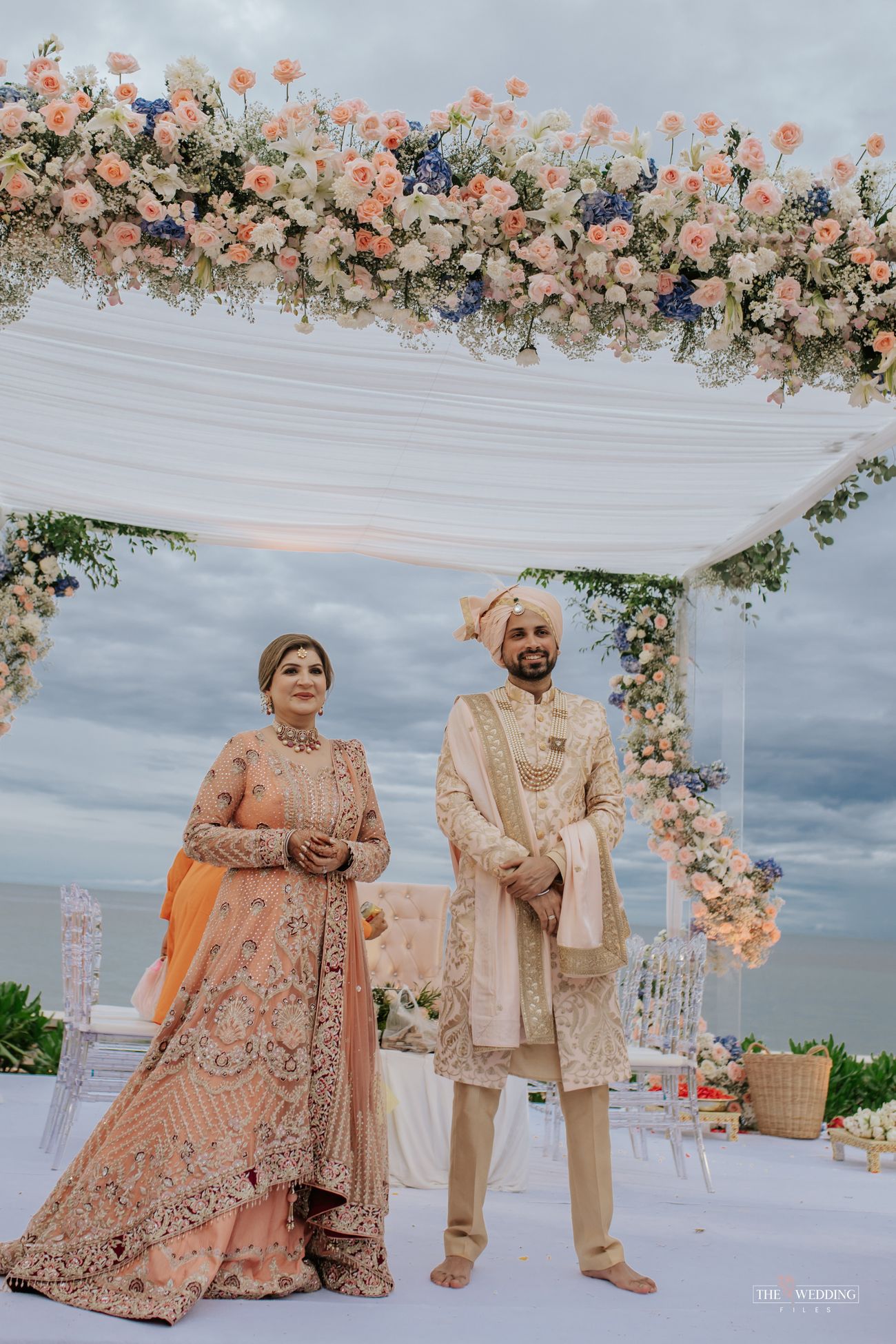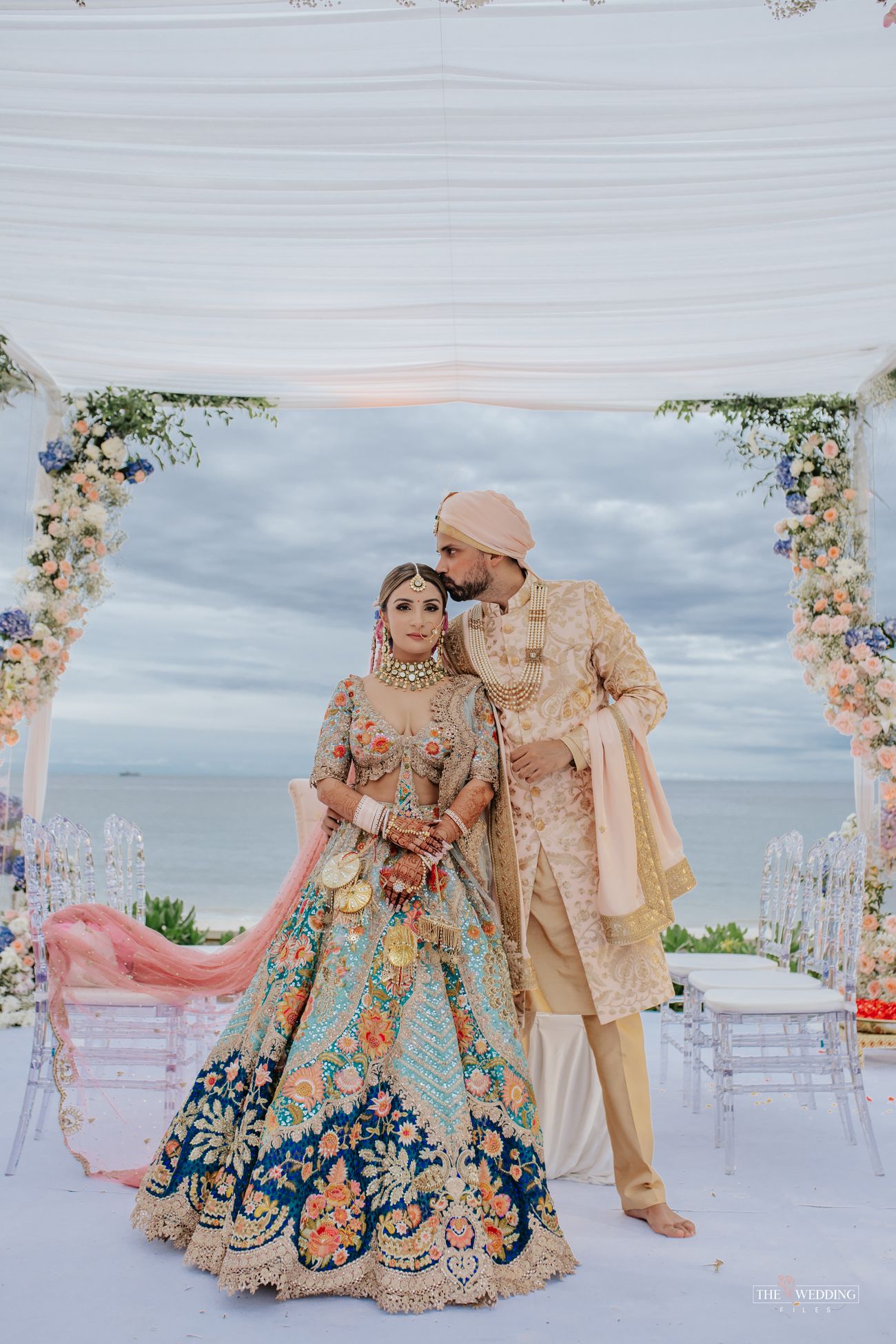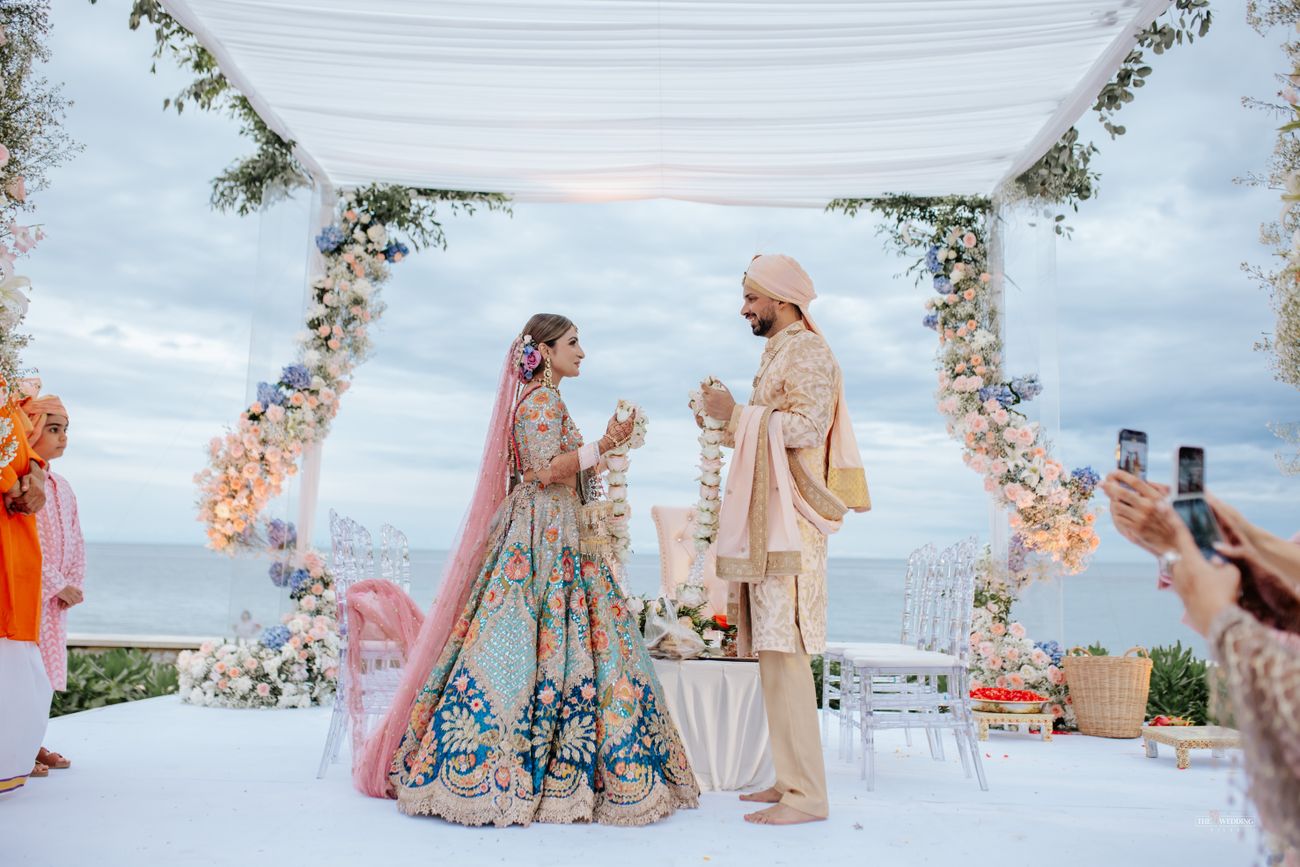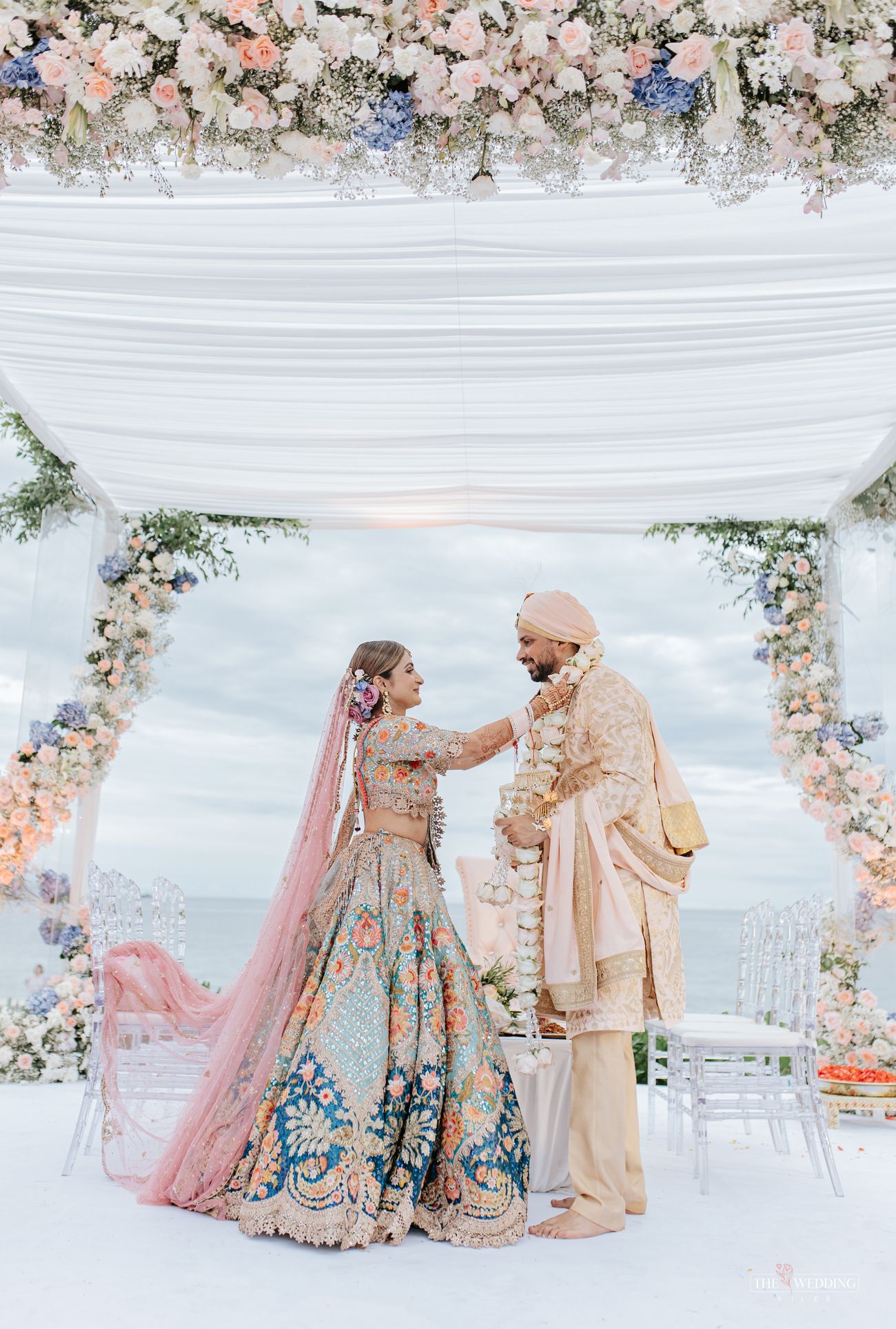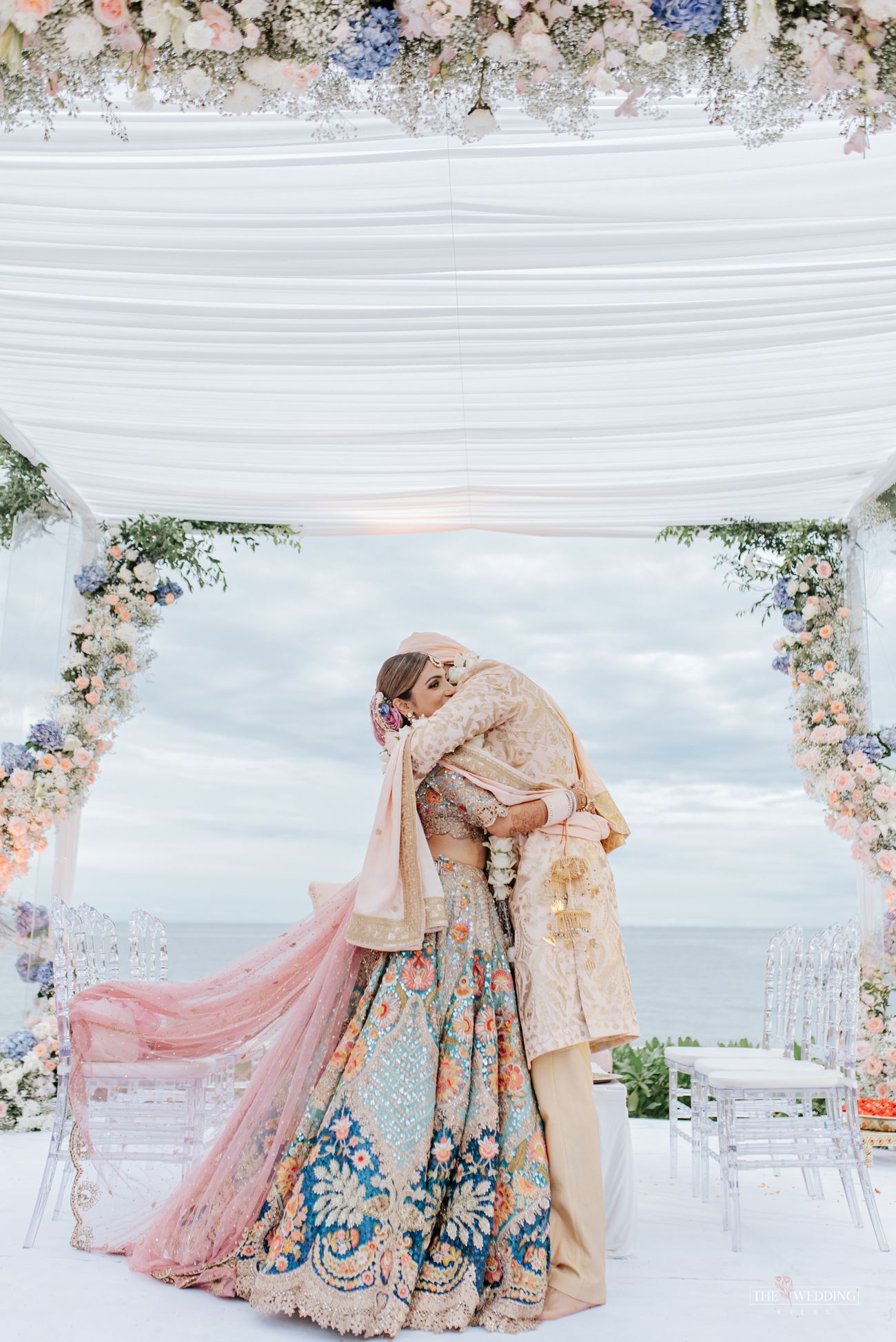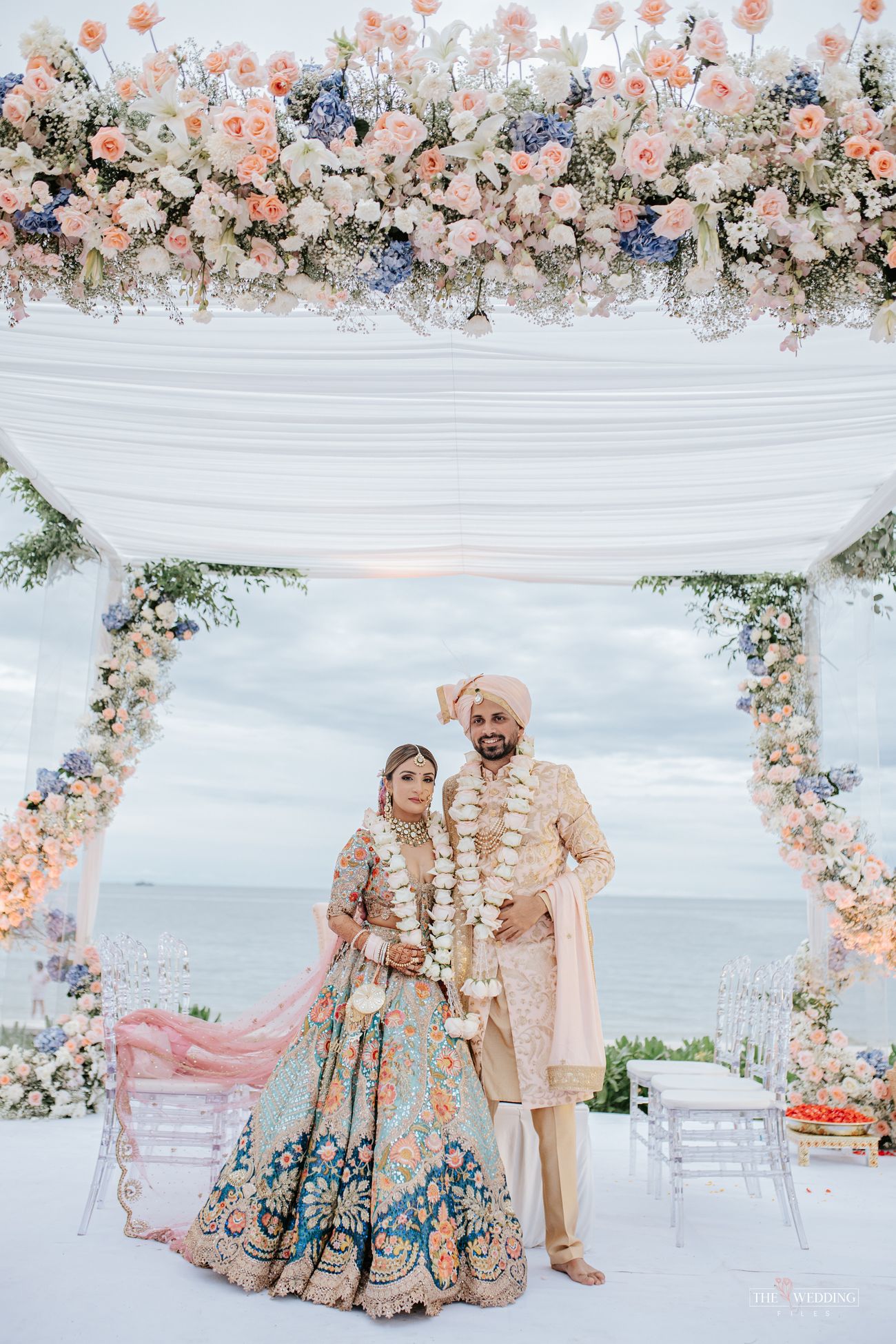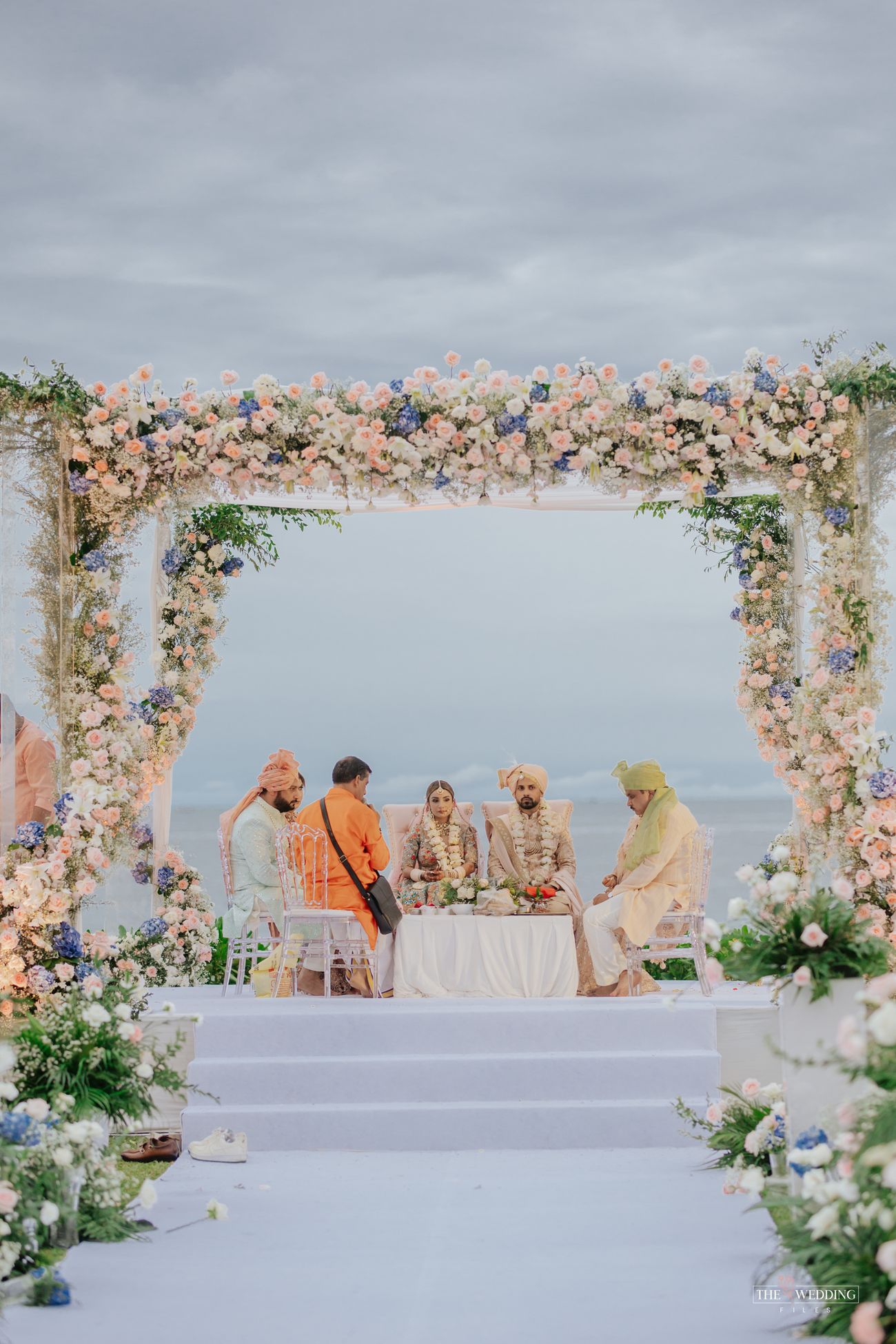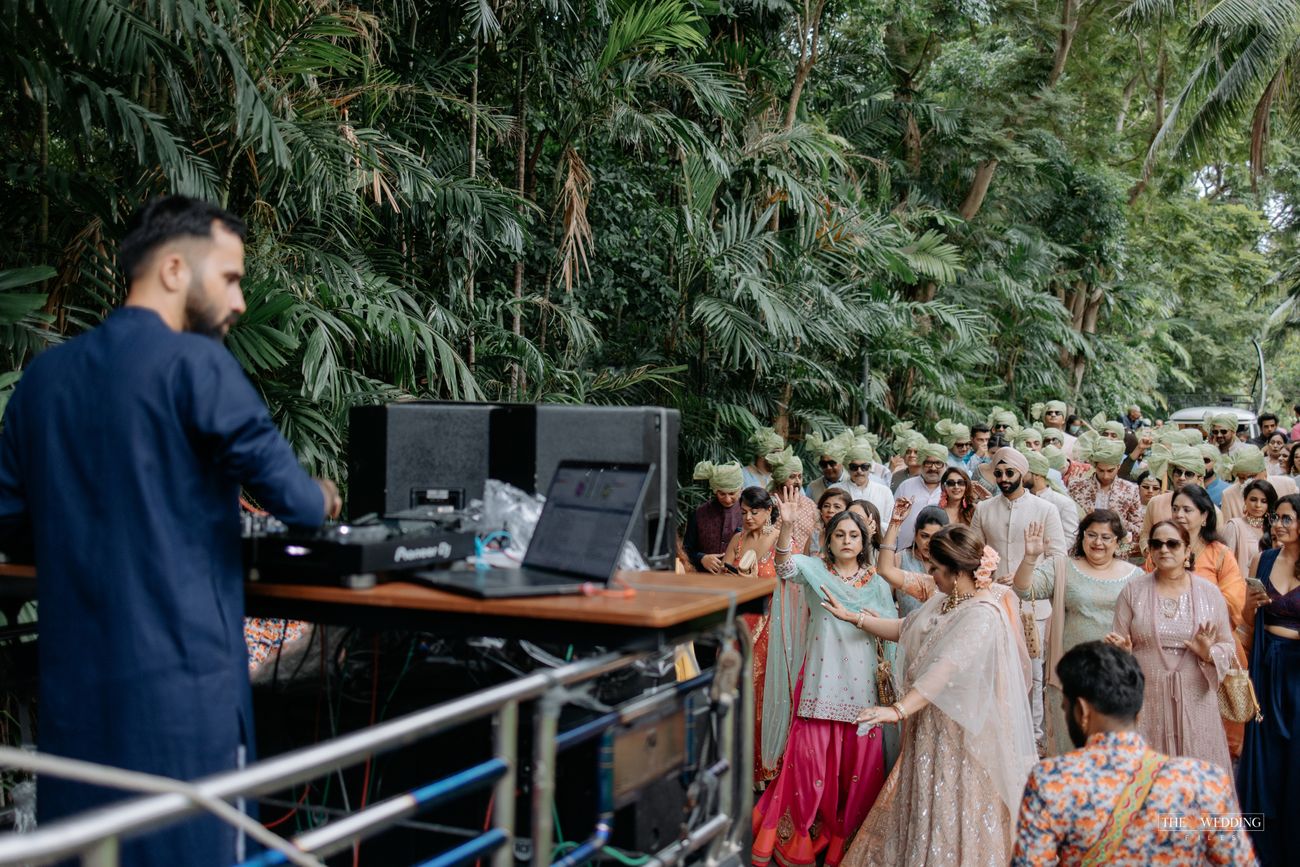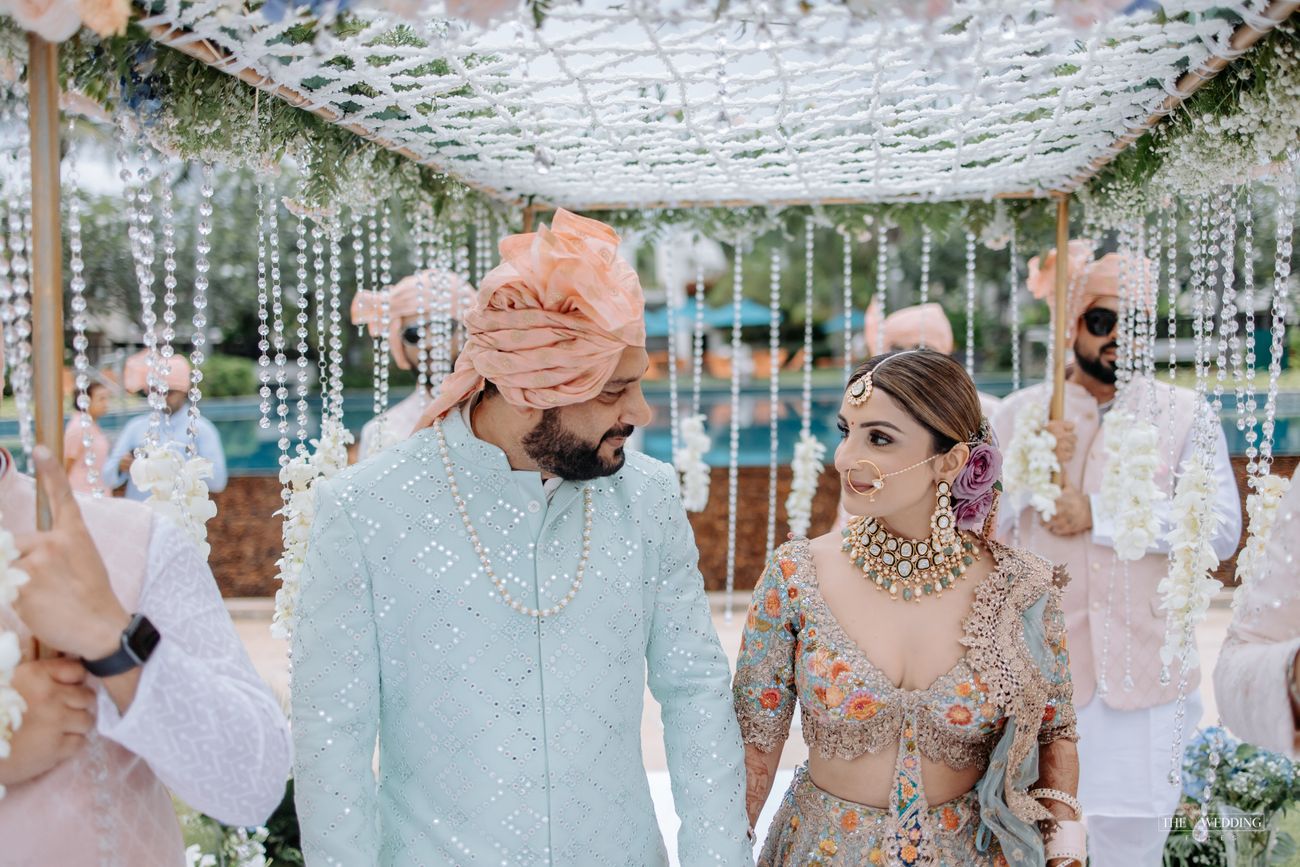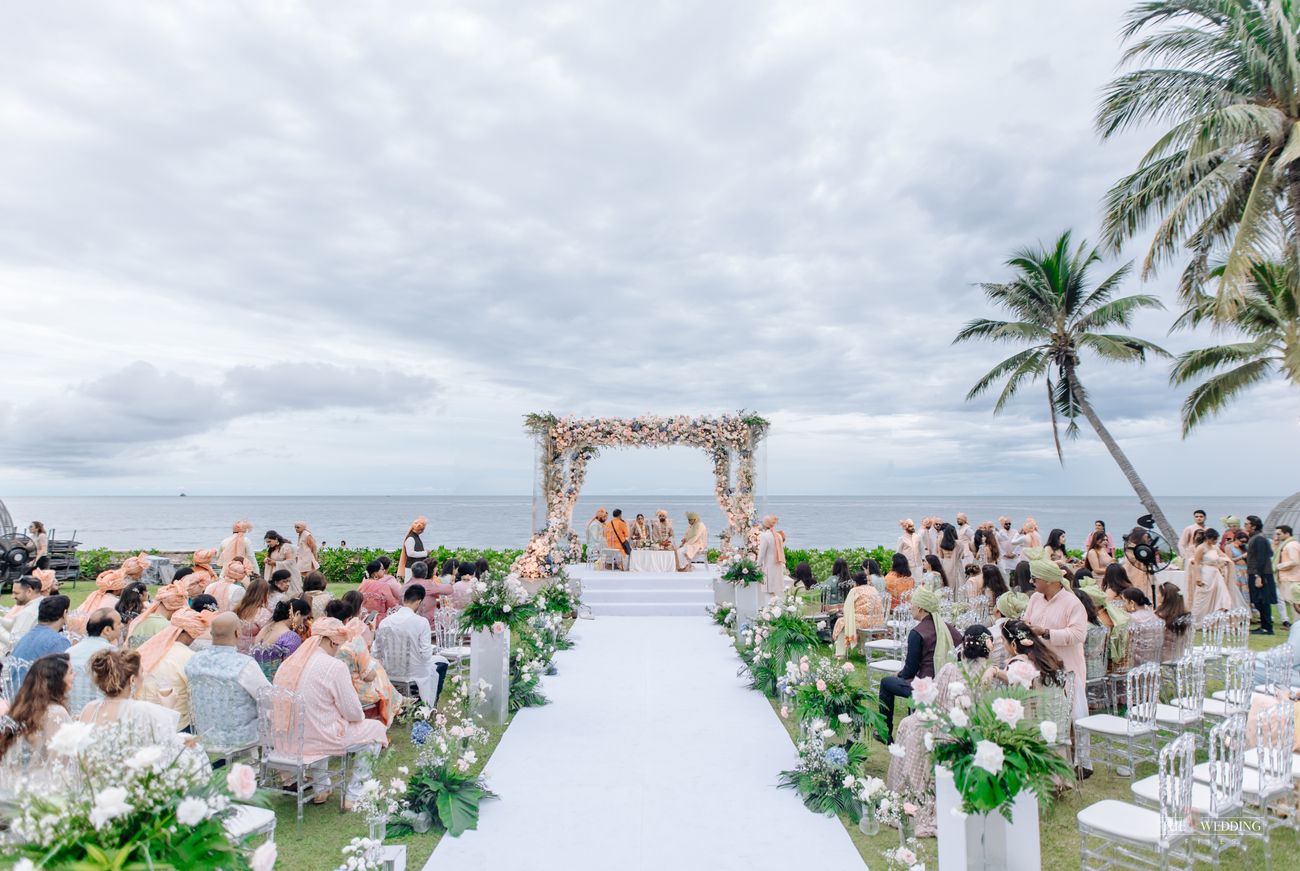 After Party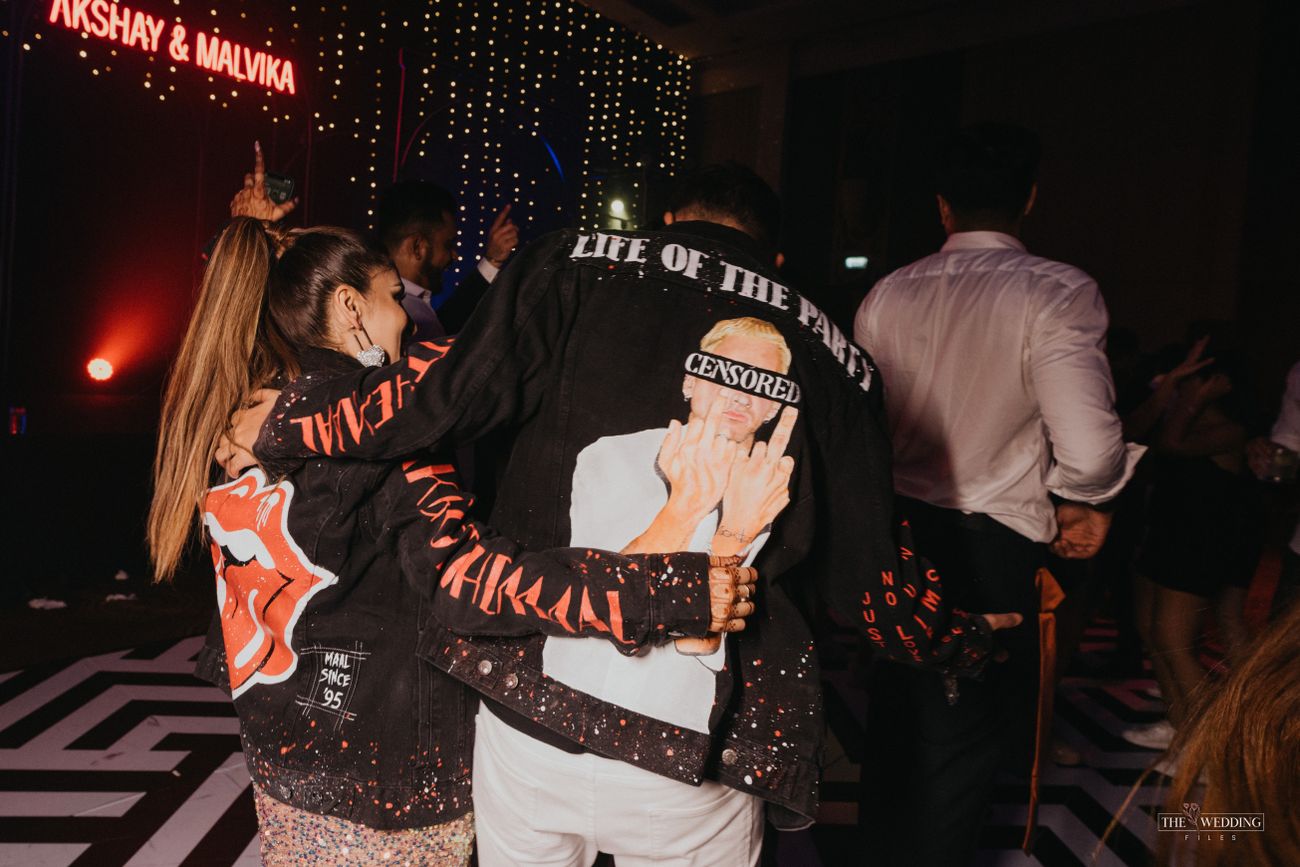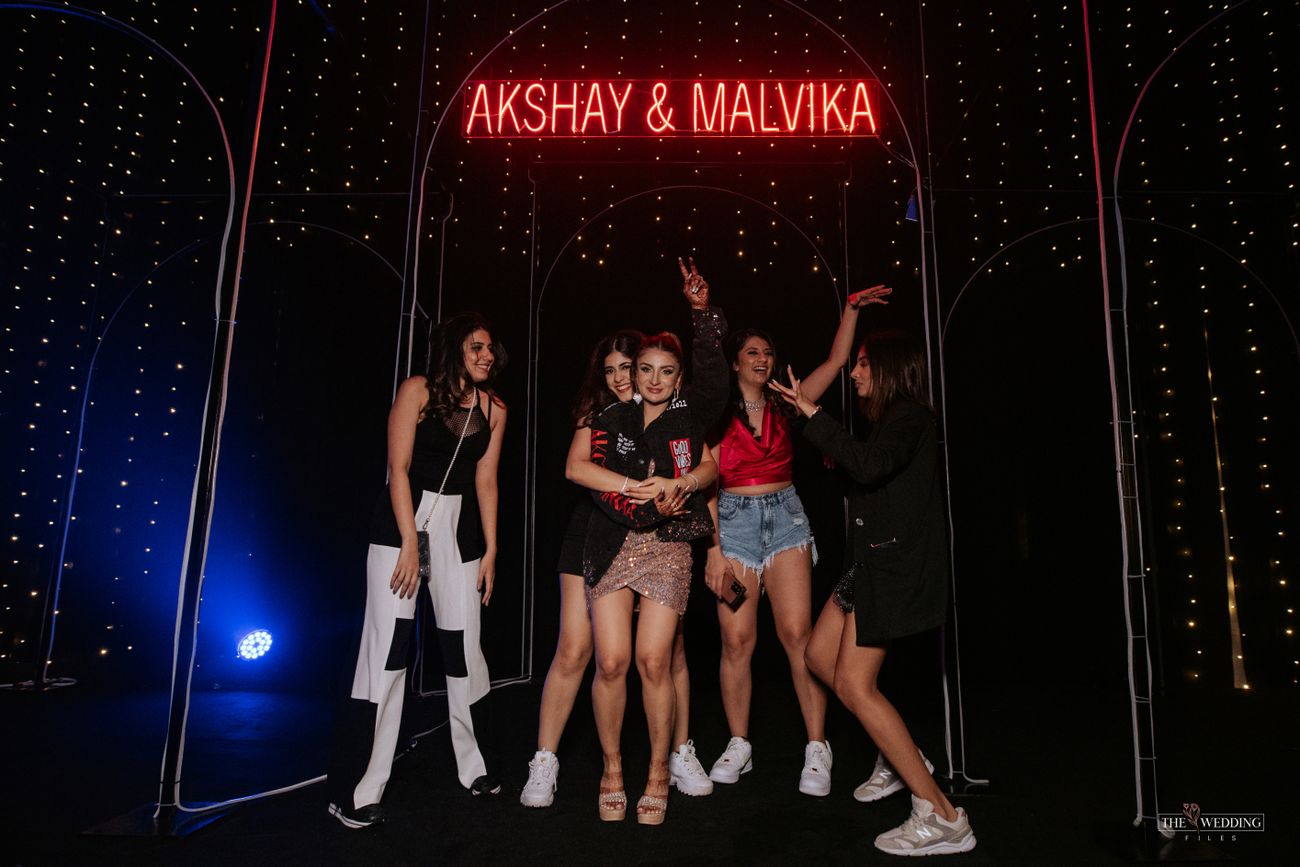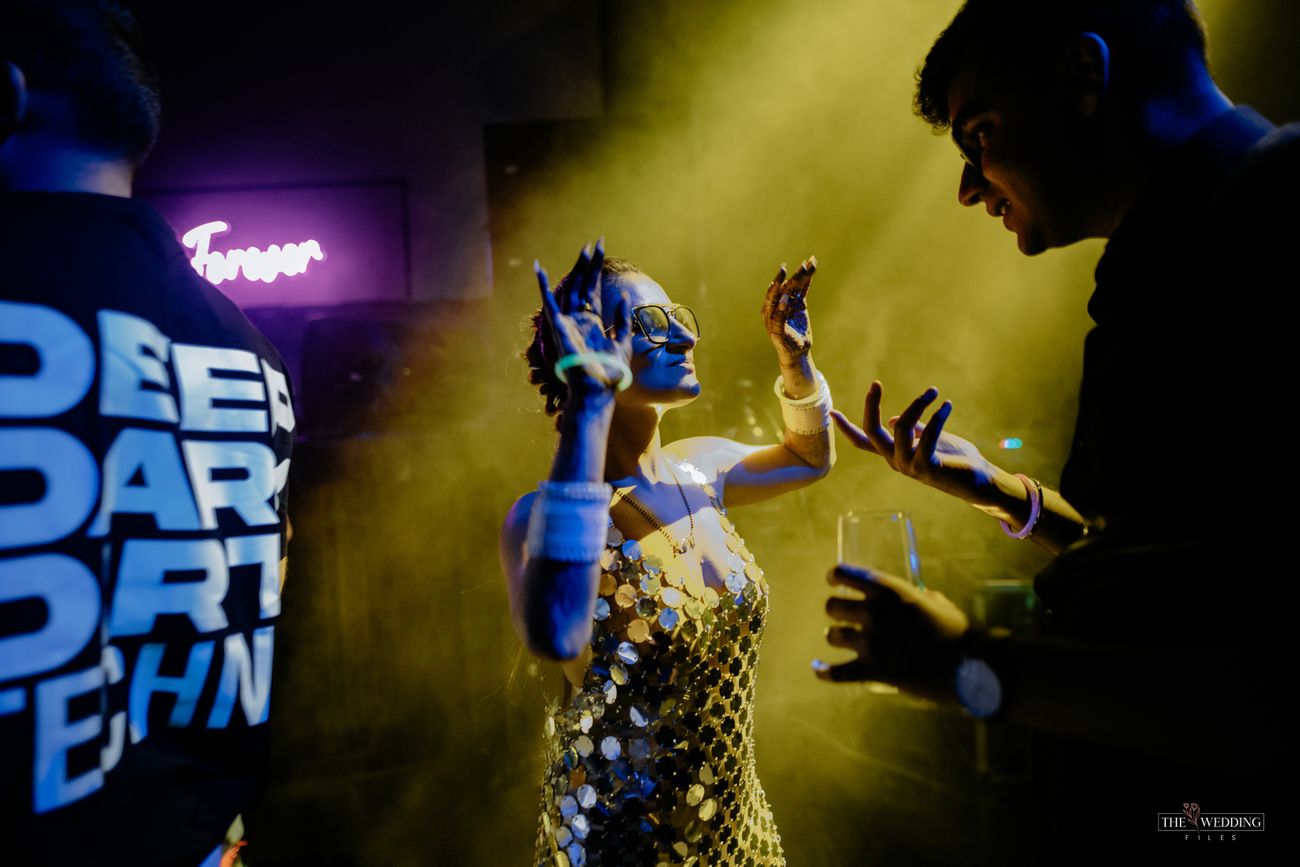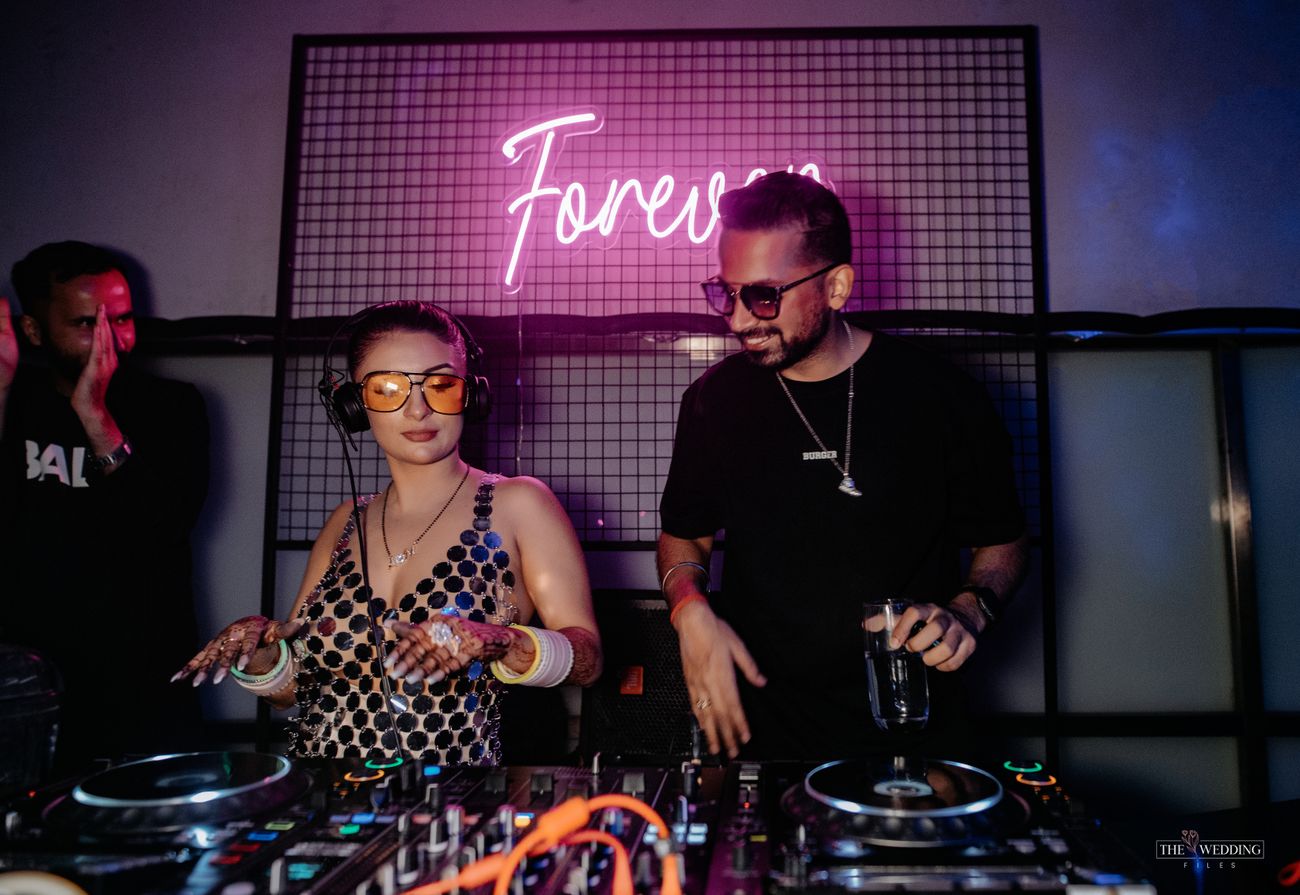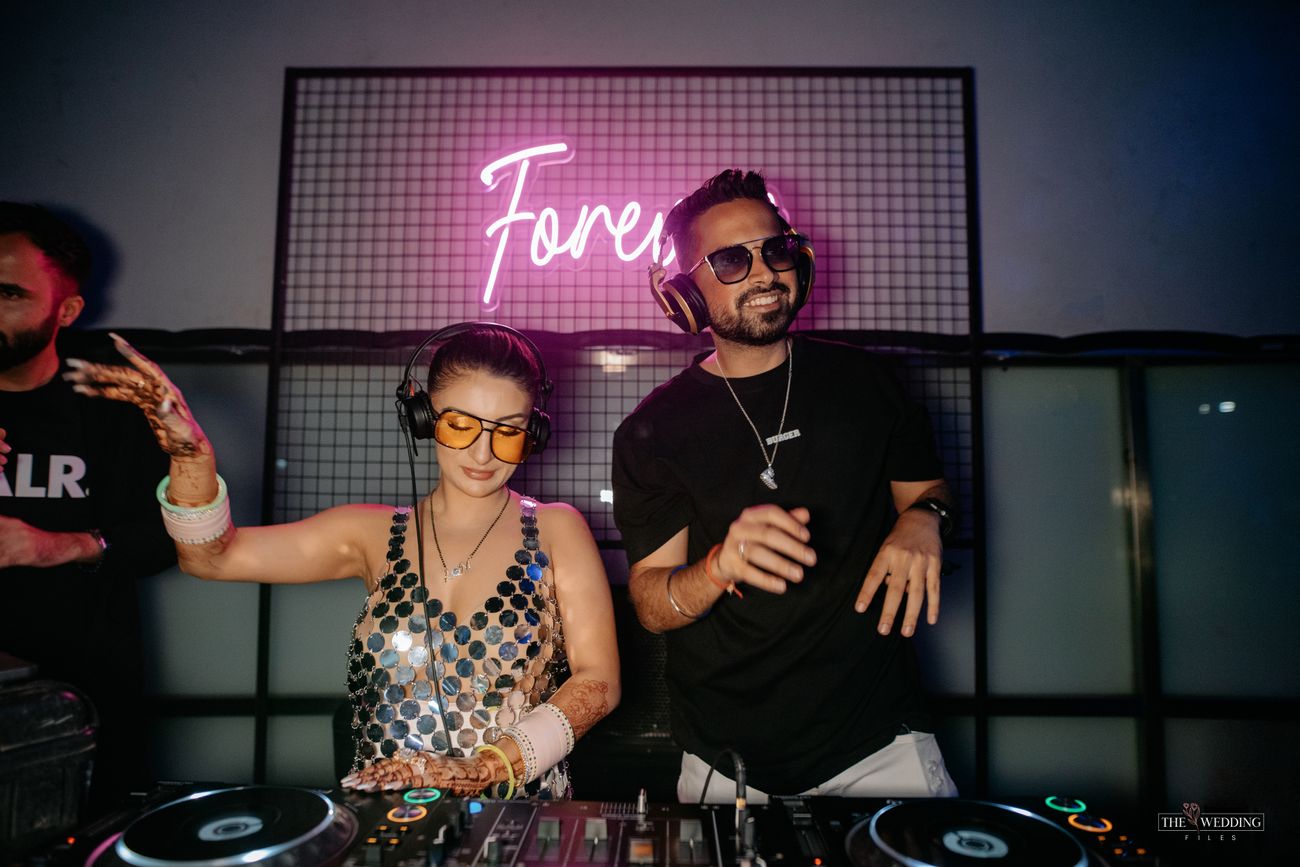 From The Bride:
We got married We decided to get married at a beautiful beach resort 3 hours from Bangkok city called Sheraton resort and spa, Hua Hin. #AkGotTheMaal was a September wedding for 2.5 days in Hua Hin, Thailand. It was an intimate wedding of 200 guests. The guests were all from different parts of the world since the bride's side was based in Dubai and the groom's side from Delhi. Since there were two countries involved we decided to do a completely different country for the wedding altogether and that was Thailand! the vibe I wanted was fun and colorful and I wanted to enjoy my own wedding so I kept a cap of not more than 200 guests.
To begin, I created moodboards and shared it with my decor team. I had a very clear vision of my events and decor so that made it easier to plan things during the wedding. 

Advice to couples for wedding graphics :
Get a professional branding designer on board to conceptualize your logo, events, invites, stationary and decor. Make sure its all in sync with each other. It should all look like its blending! I felt like a lot of people oversee this. This moodboard building really helped me create a whole vibe for the wedding.  
About WedMeGood
The WedMeGood App was a life savior! I would always check reviews on the WedMeGood App before I would book my vendors! Honestly, that really helped me make the best decisions when it came to vendors.
Vendor Reviews
SHERATON RESORT & SPA, Hua Hin (I had always wanted a dreamy sunset beach wedding in Thailand. I knew my wedding was going to be intimate, detailed and fun. i wanted to enjoy my wedding so I opted for Sheraton resort & spa, Hua Hin since the venue had excellent spacious rooms with pool access. So the entire property was connected by a large pool so you can literally swim to other guests rooms! How cool is that? Also, the mandap was so close to the beach, it was love at first sight haha. We wanted our wedding to be memorable and fun so we opted for this property since it checked all the boxes of our fairytale wedding.)
Makeup Artist: Pooja Khurana
POOJA is a perfectionist! The level of talent and skill she possesses is what makes her best in the industry. I am super happy with the decision I made of picking her for my makeup at the wedding. Such brilliant work with so much attention to detail, she helped me create such different looks with all the outfits I had picked. I give a lot of credit to her hairstylist @archanarautela as well! They make a wonderful duo and you should definitely hire them for your wedding. I would love to add, I found the PK team super grounded which made her stand out from the others in industry. I think a level of comfort is important when you choose someone to do your makeup and I found that in her and her team.
Wedding Planner: Event By The Wedding Galore
The team from Thailand planned our wedding. They were on point with all the work and really helped us with the nitty gritty during our wedding. Anita & Kavneet are a fantastic duo. They have their duties divided with handling the hotel venue/room allocations & Vendors. Everything from accounts to handling the guests when they arrive was managed to the T! Definitely need a planner when you opt for a destination wedding like Thailand where language is such a barrier. Wedding Galore is who you need to hire to make your wedding stress-free!
Photography: The Wedding Files
Amrit Arora is an excellent photographer and has a very well trained team! they were so easy to work with Amrit is a very hands-on photographer who has done so well for himself at such an early age. The deliverables were quick and the whole team was understanding and down to earth and understood our requirements so well. I would 100% recommend The wedding files for your professional wedding photography! book them without a doubt!
Mehendi Artist: Sonamistry_mehandi
Excellent work! She and her team are super skilled and they are like artists! Such beautiful intricate work! absolutely loved her work!
Vendors: Wedding Branding : @malvikabehal_designs; Venue: Sheraton Hua Hin, Thailand; Photography: The Wedding Files; Wedding Planner: Event By The Wedding Galore; Makeup Artist: Pooja Khurana (Cocktail, Pool Party, Wedding); @makeupbykashikadhingra (Welcome Dinner); Hair: Archana Rautela; Mehendi Artist: Sonamistry Mehandi; Bridal Outfit: Seema Gujral (Sagan), @jovanifashions (Welcome Dinner) Rimple and Harpreet (Wedding), @monishajaising (Pool Party), @ebrusanciozturk (Cocktail), After Parties: Custom jackets by @valkyreclothing and Day 2 by @boohoo Bridal Jewellery: @rajwadapolkiofficial (Wedding), @riantijewels (Welcome Dinner and Cocktail), @simranchhabrajewels (Pool Party); Custom Kaleeras: Be Abhika; Groomwear: Qbik (Sagan), Shivan and Narresh (Pool Party), @mayankchawla_menswear (Cocktail), @dhruvsehgalclothing (Wedding); Decor: Pavarit; Emcee- @punitlalwani; DJ - @Nitesh.dj