Bridal Emergency Kit, Hangover Kit & More: 5 Kits You Need At Your Wedding And What Should Be Inside Them!
BY Soha | 22 Jul, 2019 | 1992 views | 3 min read
Well, you're going to think you're a 100% ready for your big day, but next thing you know, your bra is poking you from the inside so hard, it almost becomes difficult to move. Or imagine posing for your wedding pictures with your lipstick beginning to bleed? Or your mascara leaving unflattering trails all across your face as you cry during the pheras. Nope, we're not trying to scare you. But hey? Anything can happen anytime, right? 
While you cannot avoid what happens at your wedding day, you can definitely prepare for it in advance so damage control is always on it's way for you! How? We made a list of handy kits and what they should include for your wedding celebrations! Take a look!
A Bridal Emergency Kit
Because who knows when an emergency might strike? This kit will come in handy to take care of anything and everything!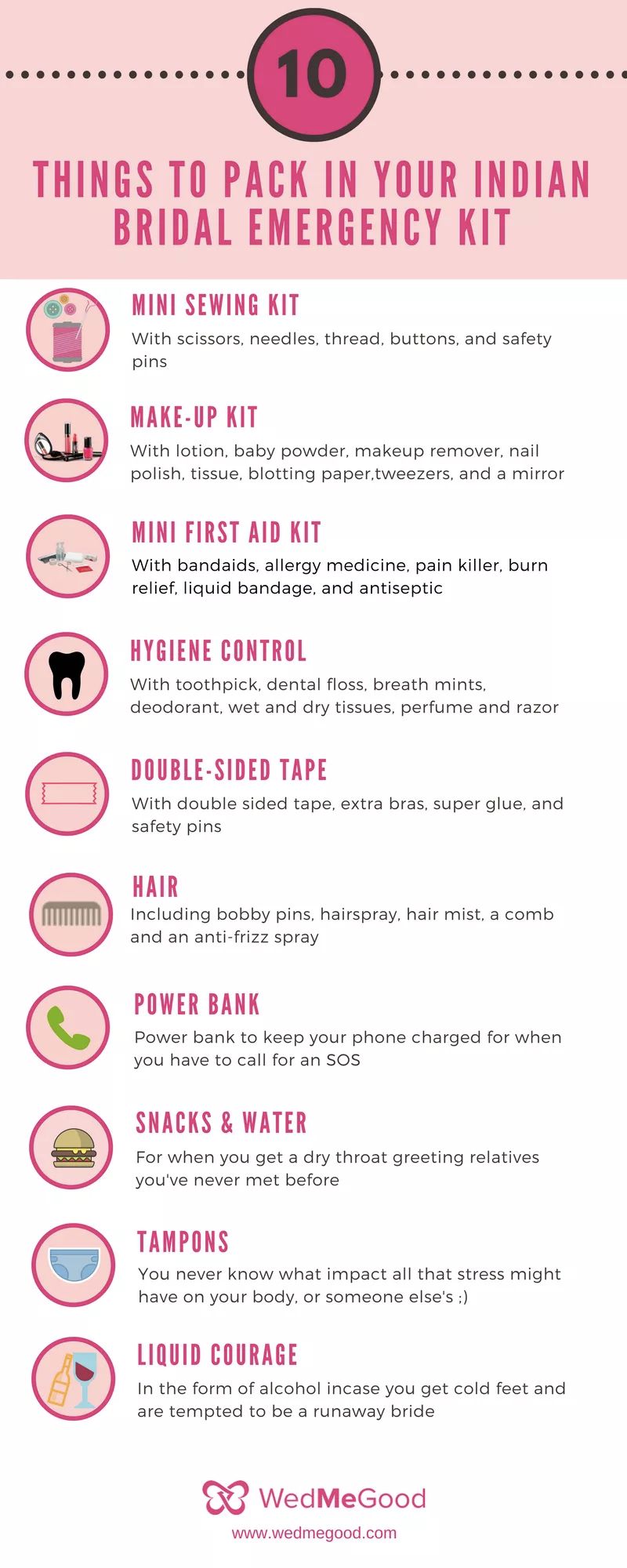 A Hangover Kit
Weddings mean celebration, and more often than not, parties can turn crazy! We understand, we truly do! But who wants to show up half drunk, half hungover even at a friend's wedding, forget your own! We've got you covered!
 1. Party smart capsules- to be consumed 30 minutes before alcohol consumption to prevent headache & nausea.
 2. Vomit bag or paper bags- no harm in being prepared!
 3. Small water bottles- because all that alcohol will make your throat dry. Very dry.
 4. Herbs- Cumin or Turmeric are great herbs that helps to mop up the acid residue and helps in detoxification as well.
 5. Lemonade & lemons- they're known world over to help cure a bad hangover. You can also carry other lemon based drinks, but the high content of sugar in them may fail to serve the purpose. 
 6. Basic Medicines- hangovers mean headache, nausea or feel dehydrated. So, to avoid all of this make sure to include some medicines like disprin, paracetamol, saridon, alka seltzer etc. 
 7. Mint candies- Chewing on peppermint or citrus-flavored candies can make you feel fresh and more 'awake'
 8. Band-aids- In case you end up hurting yourself during your hangover. 
A Getting-Ready Emergency Kit
You've got your outfit ready, everything dry-cleaned. Your MUA has already created his magic on your face and hair. All you got to do now is wear your outfit, but wait! Is that a creased dupatta? A Getting-Ready Emergency Kit is supposed to do just that- help you when getting ready!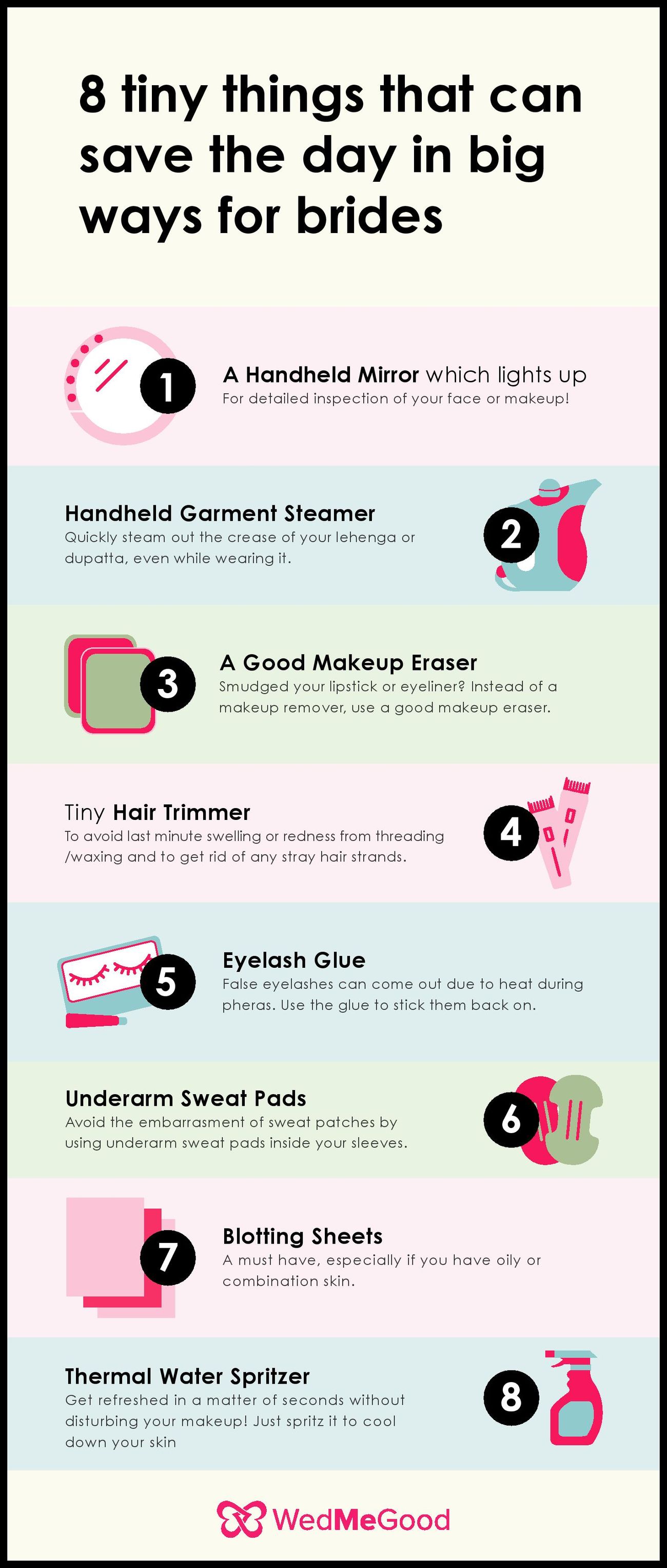 A Touch-up Kit
Summer weddings remind us of pretty pastel outfits, pool mehendi/haldi parties and lots of interesting mocktails. But how can we forget a heavy lehenga, jewellery that almost feels like it's ready to poke you to death and high-heeled stilettos. Add onto that the rising temperature and a face caked with makeup products. Uh, goosebumps!
Girl, you take a call! If you're all in for a summer wedding, then so are we! And it shouldn't mean you'll have to struggle through the celebration. A touch-up kit will ensure you can take care of running mascaras and bleeding lipstick at the first sight!
 1. Blotting Paper- to soak up sweat 
 2. Face Mist Spray- to freshen up your face and give it that much-needed glow!
 3. Compact Powder - to smoothen skin, absorb extra oil and without adding too much texture 
 4. Q-tips- to take care of bleeding or spoiled mascara/eyeliner
 5. Miniature Perfume- to keep you smelling and feeling fresh throughout
 6. Compact Mirror - so you can steal a look when you can't rush to a washroom for a full check!
 7. Lipstick- carry the lipstick shade that your MUA has used on your lips and re-apply whenever required.
A Just-In-Case Kit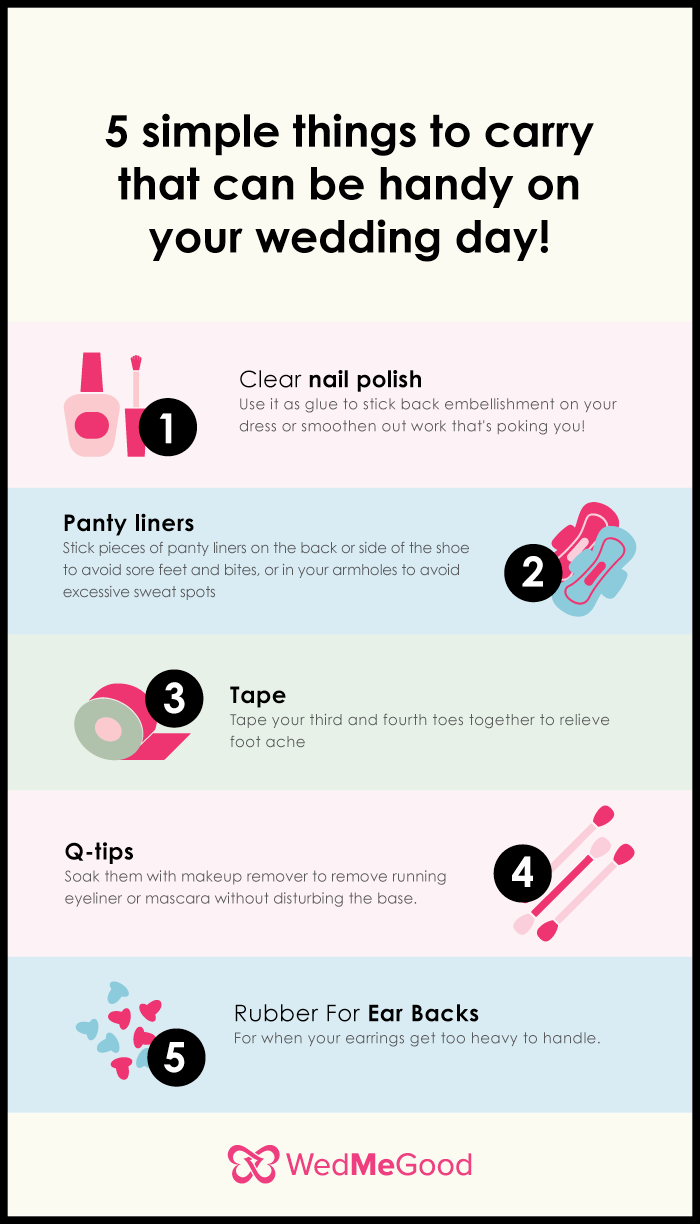 Ready to go? Hell yes!!