Bridal Lehenga Shopping in Chandni Chowk: Bride Urvashi Recounts
BY The WMG Bride | 26 Mar, 2014 | 8779 views | 4 min read
When a bride enters those hidden bylanes of Delhi and is able to pick out a nice outfit amidst that cheap mish mash of Swarovski and bling (my eyes, my eyes !!) ,  I'm all ears . Infact this bride  describes herself as someone who used to make faces as soon as she heard Chandni chowk, but eventually found both her bridal lehengas there ....wanna see what she got and what her experience was like? Read on..
The Engagement Lehenga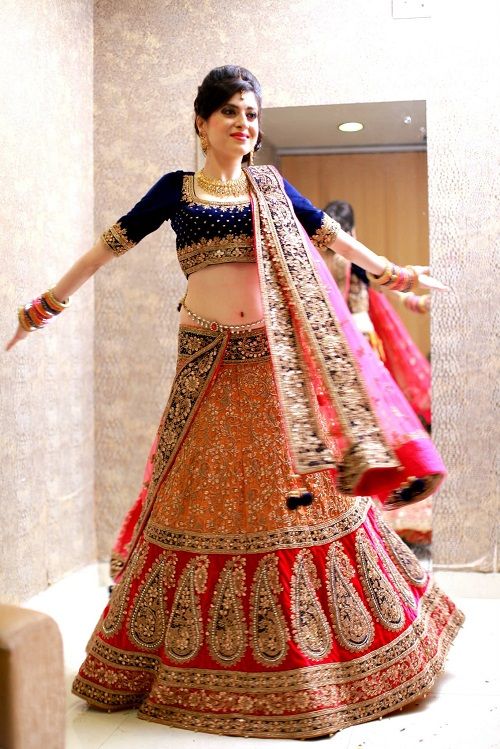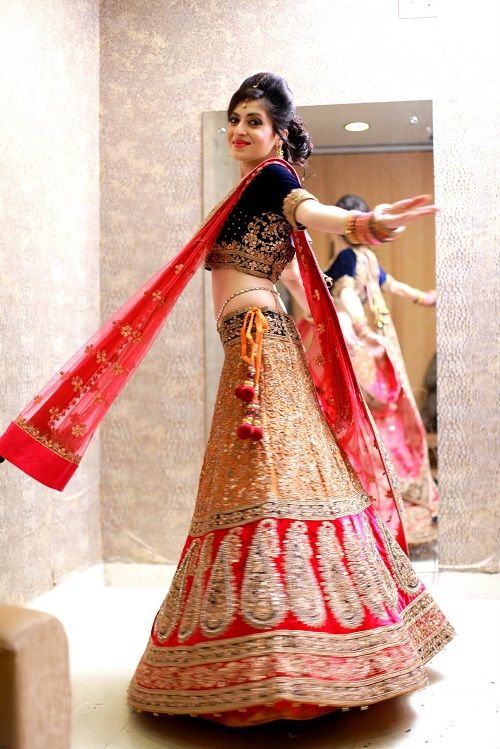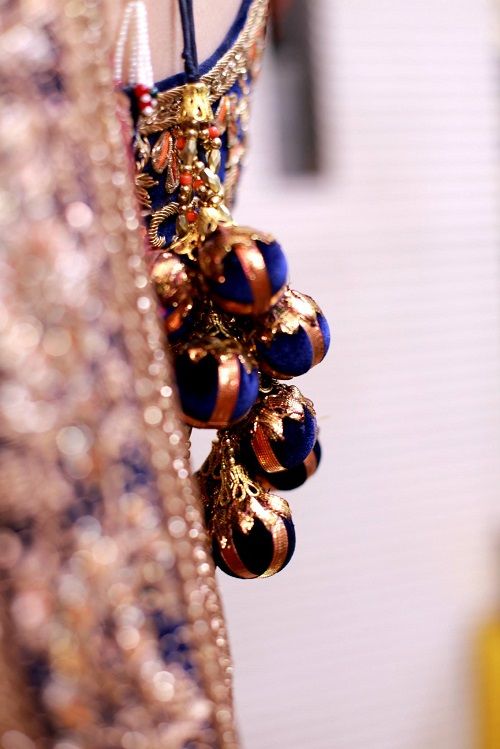 Urvashi, I really like your Sagan Lehenga !!! Where from?
Once I had found my wedding lehenga (story below), I had to visit few more shops in Chandni Chowk as one of my friends wanted to search for her lehenga. While doing that I came across a shop named Pakeeza (Edit: This is Pakeeza Plaza which we spoke about here) . My eyes immediately came to rest on this one lehenga with bits of orange and gota patti work. I just asked the sales guy out of sheer excitement to bring that outfit here and couldn't control myself then to try that outfit.  However , I wanted more options so I did make a customary trip to Rajouri and other places and even though I found some nice options, my heart was set on this one piece.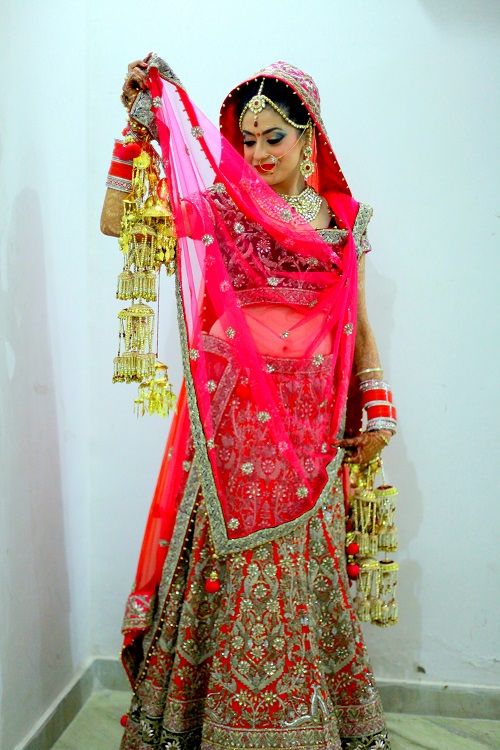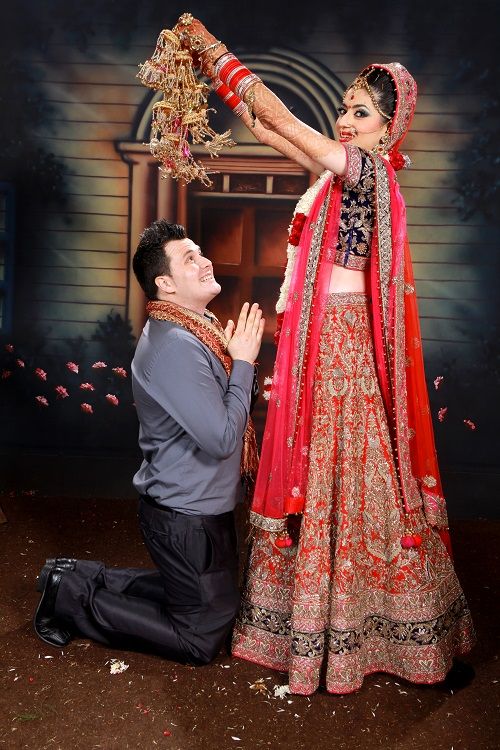 What about your bridal lehenga? How easy/ hard was it to find that one?
In August first week, I had nothing in mind but to finalize my wedding lehenga and  searching everywhere, I saw some really beautiful pieces in Frontier Raas but they were obviously going out of my budget and everything I liked was above 2lakhs, which was beyond  my budget.
So I went to C.C and my aim was to visit Om Prakash Jawahal lal only because I had so much hope from that shop.  I started to see lehengas in the 80K range, but somehow didn't find them that beautiful (Once you start seeing the more expensive stuff, you never like the cheaper ones) . I asked him okay raise the budget a bit and now show me. Just by listening to  that, he got all excited and asked his fellow sales guy to get that xyz design.  As he got that one piece, my mum and I were both fixated on it- while there were panels it also gave an 'Overall work' kind of feeling to the lehenga.
So, then came meet-the-reality part when I asked price of it. He said, "1 lakh 65 thousand''.
How did you get it in budget? I think this would be a good lesson for girls who fall hopelessly in love with exorbitant lehengas..
Actually the owner checked the lehenga and asked me not to worry as that lehenga was very heavy and had a lot of  kalis. So he suggested:
Reduce 2 kalis on the lehenga because on my waist it wouldn't matter and we could afford to do that
He then said It would be 1 lakh 28k after reducing kali and after discount I can give you at 1lakh 15k, final price.
Meanwhile I also stated that I want double dupatta :D. Then came my mum into the picture and she bargained and after like a while they both agreed at 1lakh 5k including an extra dupatta "
Good Deal Urvashi !  For those of you in similar situations try:
Removing bits of the border (You wont believe how a tiny inconsequential border adds like 8000 bucks to a lehenga
Reducing the size of the ' booti' in the dupatta
Reducing some kalis (This would work only  if you are skinny, otherwise I dont recommend it - we are kali-obsessed here)
Engagement/Sagan outfit from: Pakeezah Plaza, Chandni Chowk
Wedding Lehenga from : Om Prakash Jawahar Lal, Chandni Chowk
About Urvashi : Urvashi is a lifestyle blogger at Vogue & Vittles. Give it a look ladies!