Bride with a Round Face? Here's What to Keep in Mind!
BY Sakshi | 12 Oct, 2016 | 6559 views | 4 min read
Calling all girls with round faces! Yes, we are the ones who have tried out all sorts of facial exercises and contour kits! Whether a round face comes with a slim or a plump body, having a round face has its own pros and cons. You look younger than your age, but you also tend to look plumper than you are in photos! There's nothing wrong with having a chubby face... except for the fact that when it is your wedding, there are going to be random photos clicked from every angle, which might not look very flattering for a round face. But there are somethings you can keep in mind so that your face does not look 'rounder' than it already is! Here is how to do it right!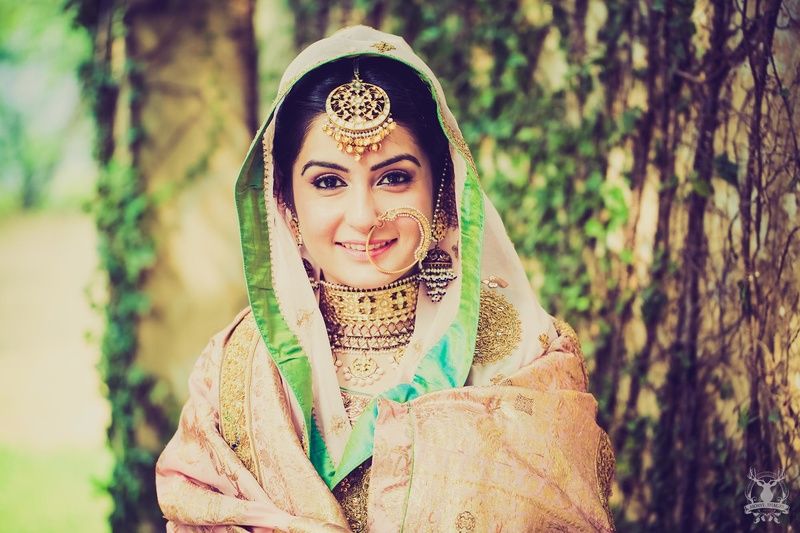 We love how Mannat's arched eyebrows and long earrings balance her face shape.
Photo Courtesy: Morvi Images Photography★ 5
Jewellery
Dos
Elongating the neck is the key to making a round face look slimmer. So pick a necklace that starts and ends below the collar bone. You can always layer it up with a longer necklace as well.
Choose jewellery designs which are angular and pointy instead of round.
Oversized and statement jewellery pieces like a vintage nath look amazing as they can distract from the roundness of the face.
Don'ts
No choker necklaces as they tend to make a round face rounder. Make sure not to pick a necklace that starts and ends very high up the neck.
Avoid round jewellery designs. Whether it is the end of your maangtikka, mathapatti the earrings or the pendant of your necklace, Round designs will make the face look rounder.
Hairdo
Dos
If you have a round face, it is better to create texture and bounce to help slim down the face and break up the shape.
Opt for having your hair in a mix of an updo and down in a loose style, preferably with bits coming around the face, which can take off from the roundness.
Having a sideswept fringe is a good idea, as opposed to a blunt cut fringe.
Give some volume under the dupatta when you put it on the head, otherwise the face can tend to look chubby.
If you want to leave your hair loose, pick voluminous wavy hair over flat ironed and straight hair.
Don'ts
Flat hairdos tend to make the face look chubbier, so don't get something tight and flat.
Stay away from a super straight or sleek hairdo as this can make the face appear even rounder.
Makeup
Don'ts
Rounded eyebrows without an arch tend to make a round face appear rounder.
Get harsh contours which can appear muddy in photos during a side profile shot.
Overdoing the blush can make your cheeks look rounder.
Do's
Eyebrows are very important. Shape your brows with a high arch which can give your face the illusion of being longer.
Contouring and highlighting can work very well, if done correctly.  Contour the sides of your face with a darker shade and highlight the central features with a lighter powder and highlighter.
Try a winged liner look, which can distract from the roundness of the face.
Opt for luscious, glossy lips over matte, which attract attention to the center of the face.
Accentuate the collar bones.
Outfit
Do's
Opt for a V-neck or round neck blouse and choose one as deep as you're comfortable with. This tends to give the illusion of a longer neck.
Get a flattering blouse which fits at just the right places.
Keep the dupatta drape as sleek and minimal as possible.
Don'ts
Don't opt for a high neckline like a boat neck blouse if you have a chubby face. It will make the neck look shorter.
Stay away from sleeveless blouses or outfits if your upper arms are chubby as well. They will make you look plumper in photos when your face gets photographed.
Don't drape your dupatta in a very puffy way- it will make you look chubby in photos.